10 Best Ski Resorts in Colorado
Discover the best ski resorts in Colorado from family-friendly slopes, expert-only backcountry terrain, the best mountain for powder, and more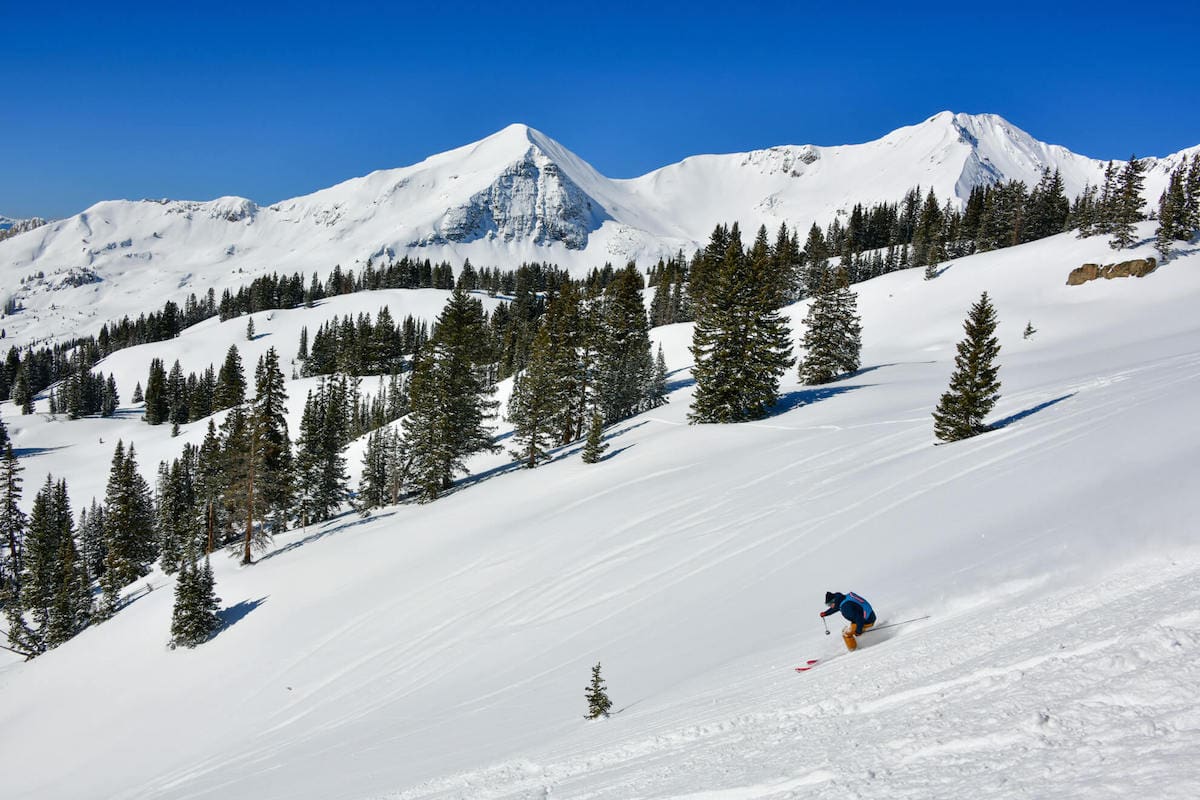 Colorado has over 20 ski resorts in the state, making it increasingly hard to pick which ones to visit. Each Colorado ski resort differs in terrain, location, peaks, and lodging so figuring out which resort suits steamyou and your comfort level is very important.
If you are heading out to the Colorado slopes then you'll definitely want to narrow down which ski resort you should hit. Below you'll find 10 of the best ski resorts in Colorado, with something for everyone on our list.
Best Colorado Ski Resorts – Mapped!
Most Family Friendly: Vail Ski Resort
Vail is one of the most renowned ski resorts in the United States and for good reason. The ski resort has an abundance of lodging options, an incredible village with countless restaurants and shops, and terrain that benefits both beginners and experts alike.
Vail has an exceptionally good beginner area for kids and those that are wanting to learn, along with some of the best instructors if you are looking for a little extra help for you or your little ones.
But this ski resort isn't just great for beginners or families. Vail also has some of the best back bowls in not only Colorado but the world for the more experienced skiers and snowboarders to really let loose and go exploring!
If you are looking for something extra special to do on the mountains head over to Blue Sky Basin with your own lunch meats and vegetables. They have grills outside warmed up so that you can make your own meal for the family without having to spend the hefty prices at the slope-side restaurants.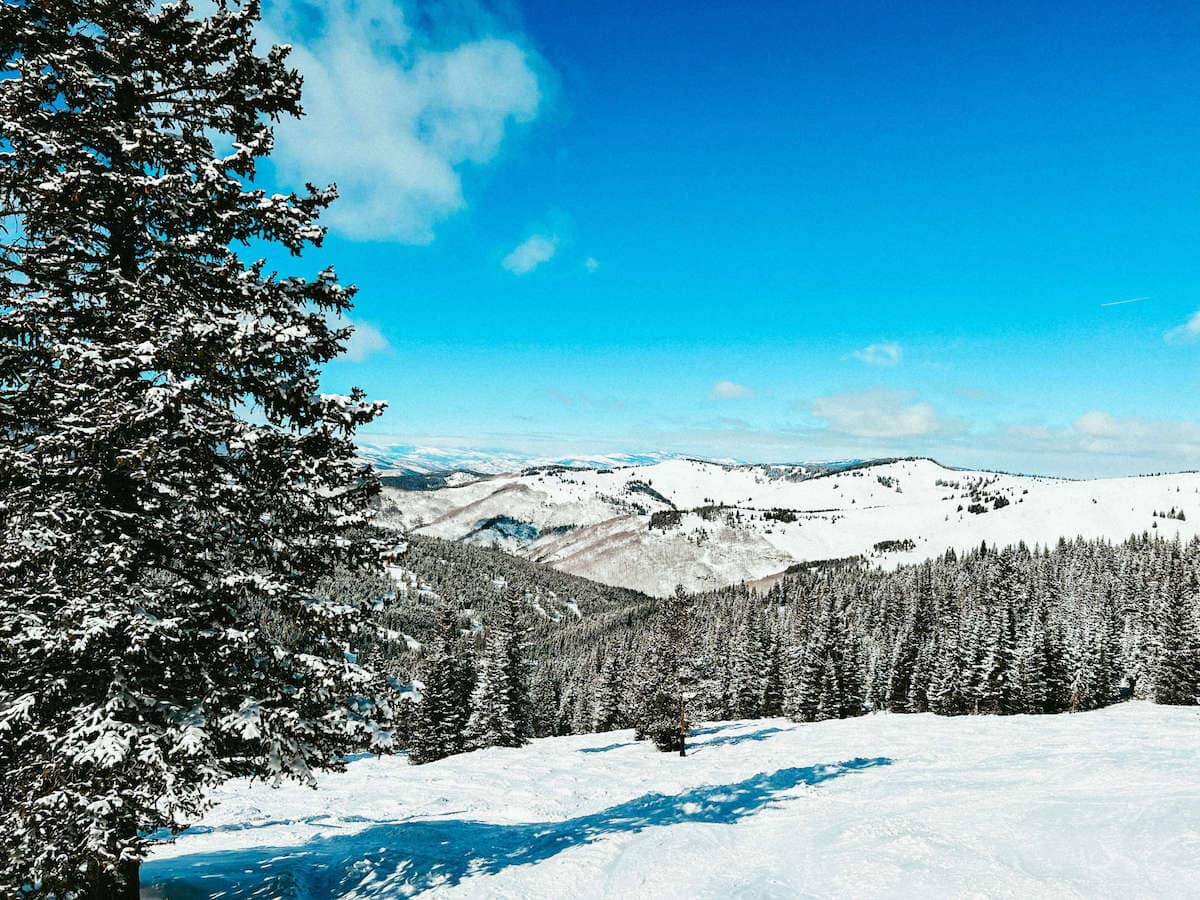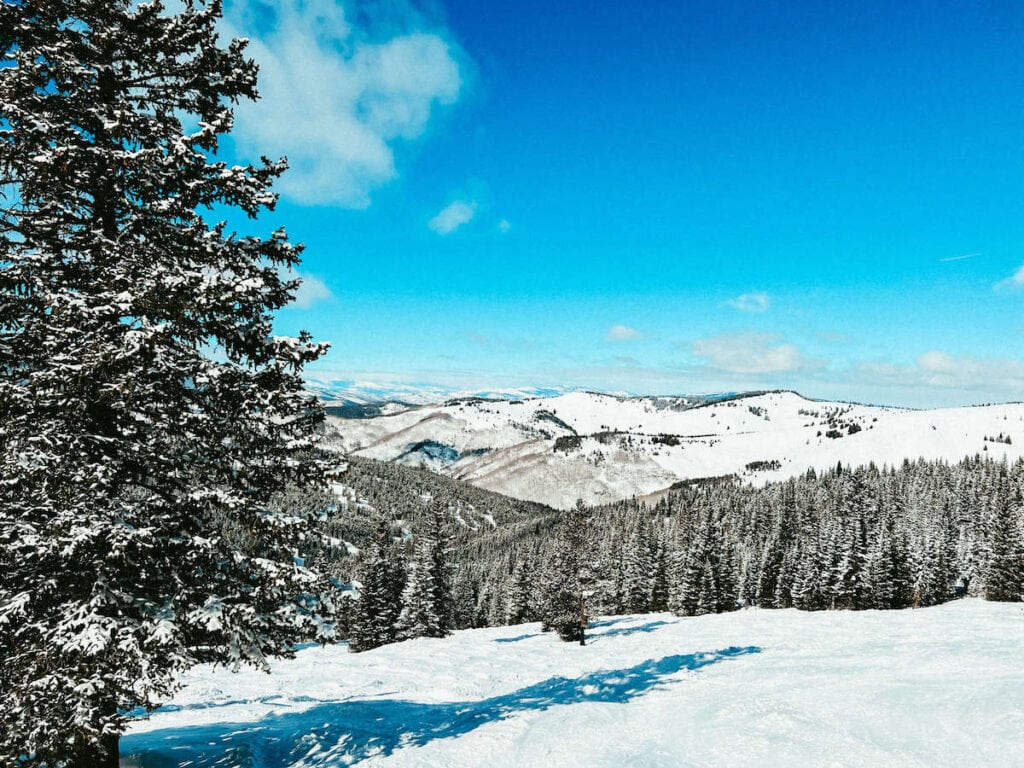 Best Ski Town: Breckenridge Ski Resort
Breckenridge, or Breck as the locals call it, is an amazing ski town with a massive main street filled with shops, restaurants, bars, and breweries. Breckenridge Ski Resort still has slopeside dining and accommodations, but a quick gondola ride down from the slopes is a much larger town.
This is because Breckenridge was a town before it became famous for its ski resort. All of the restaurants and businesses on Main Street were already established and are now thriving even more so due to the popular ski resort.
Not only is Breckenridge a phenomenal ski town to visit but the ski resort has the highest ski lift in North America making it a bucket list destination for many skiers and snowboarders alike.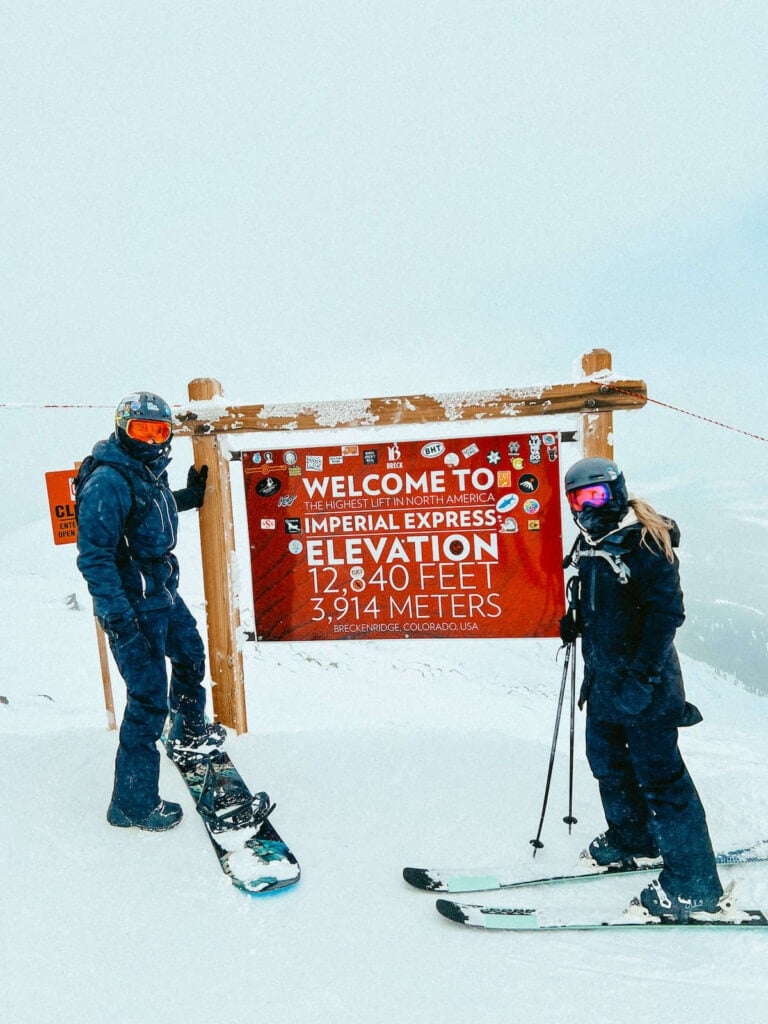 Most Dog Friendly: Winter Park Resort
Before moving to Colorado, we had no idea just how popular it was to bring your dog to the slopes. Countless people bring their dogs with them to the ski resort parking lot and it's one of our favorite things to do with our pup now.
Winter Park Resort is a great place to bring your furry friend. In the Mary Jane parking lot and ski area, you can ski straight to the parking lot which makes it very convenient to swing by the car for lunch and let the pup out.
Additionally, many people seem to have this same mindset in this parking lot because there are always multiple dogs getting walked or playing with each other. It makes for a great social scene with people hanging out by their cars, cooking some breakfast or lunch, and letting their dogs enjoy the snow with them.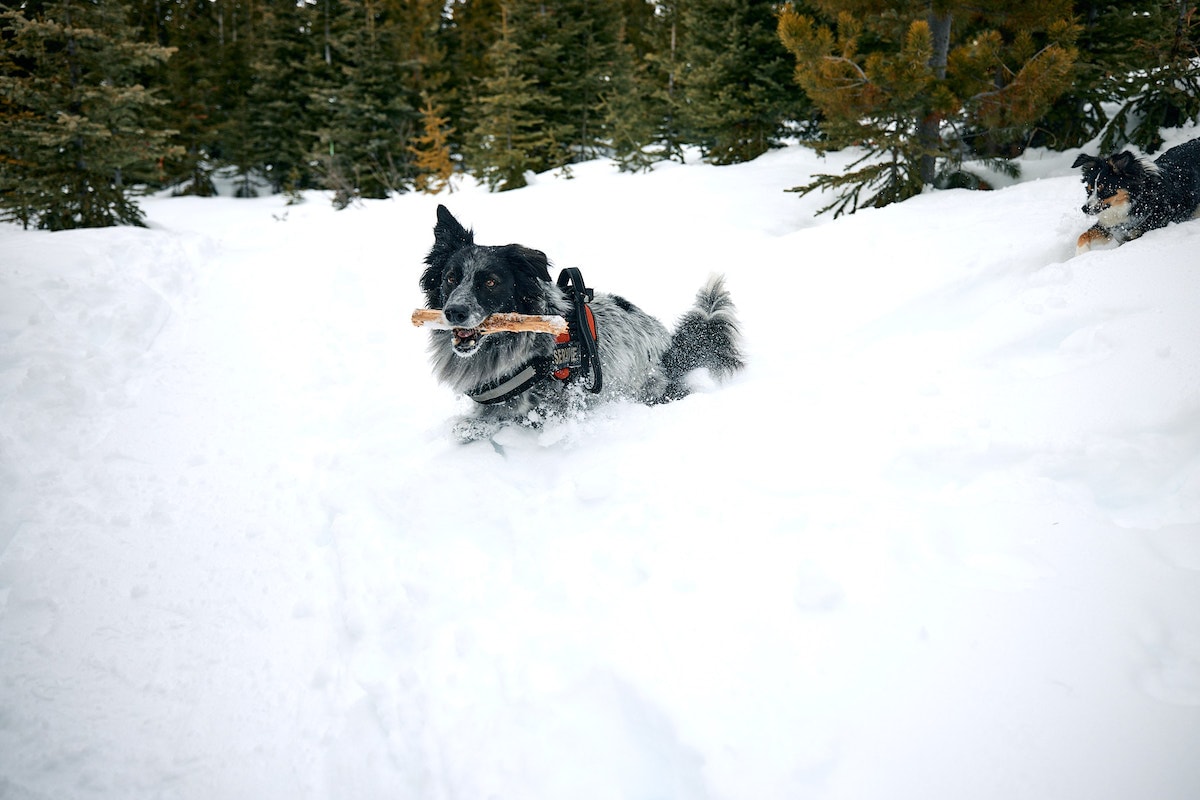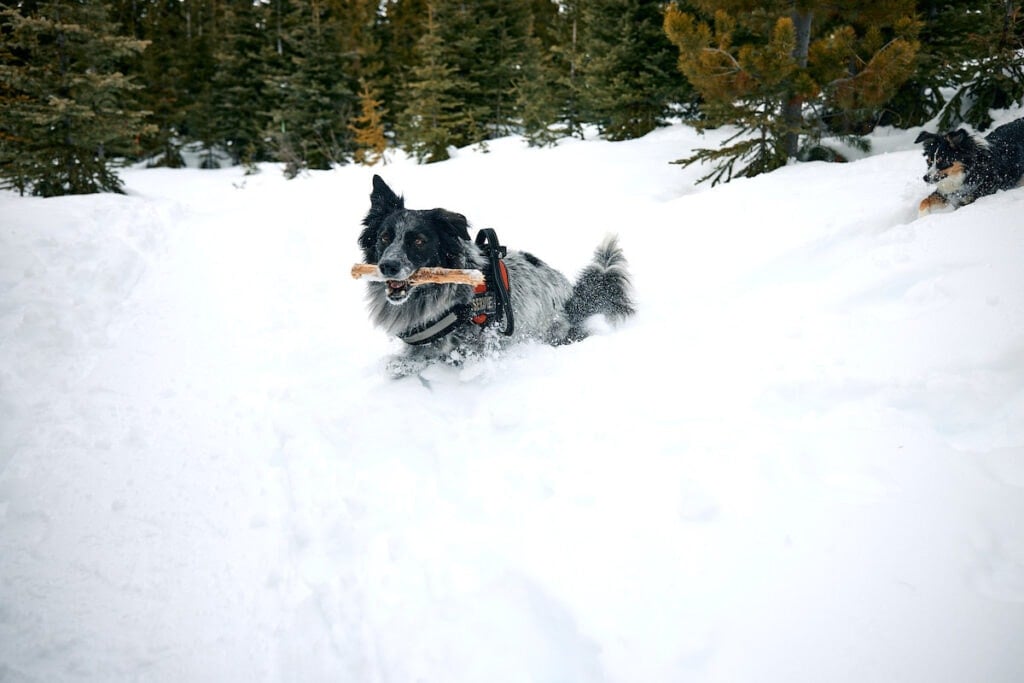 Best to Avoid Crowds: Arapahoe Basin
Arapahoe Basin, or A-Basin as the locals call it, is an ideal ski resort to avoid crowds because there is no lodging directly at this ski resort. This keeps quite a few of the tourists away, but the resort is just a short 90-minute drive from Denver or 20-25 minutes from the Dillion and Frisco. Arapahoe Basin is also on the list of "Colorado Gems" — 11 small and affordable ski resorts in Colorado's Rocky Mountains that still have an old-school charm.
Arapahoe Basin has much more of a local's vibe and the terrain can be as intense and steep as you want it to be if you're an experienced skier or expert snowboarder looking for an adrenaline rush… after all A-Basin is known as "The Legend."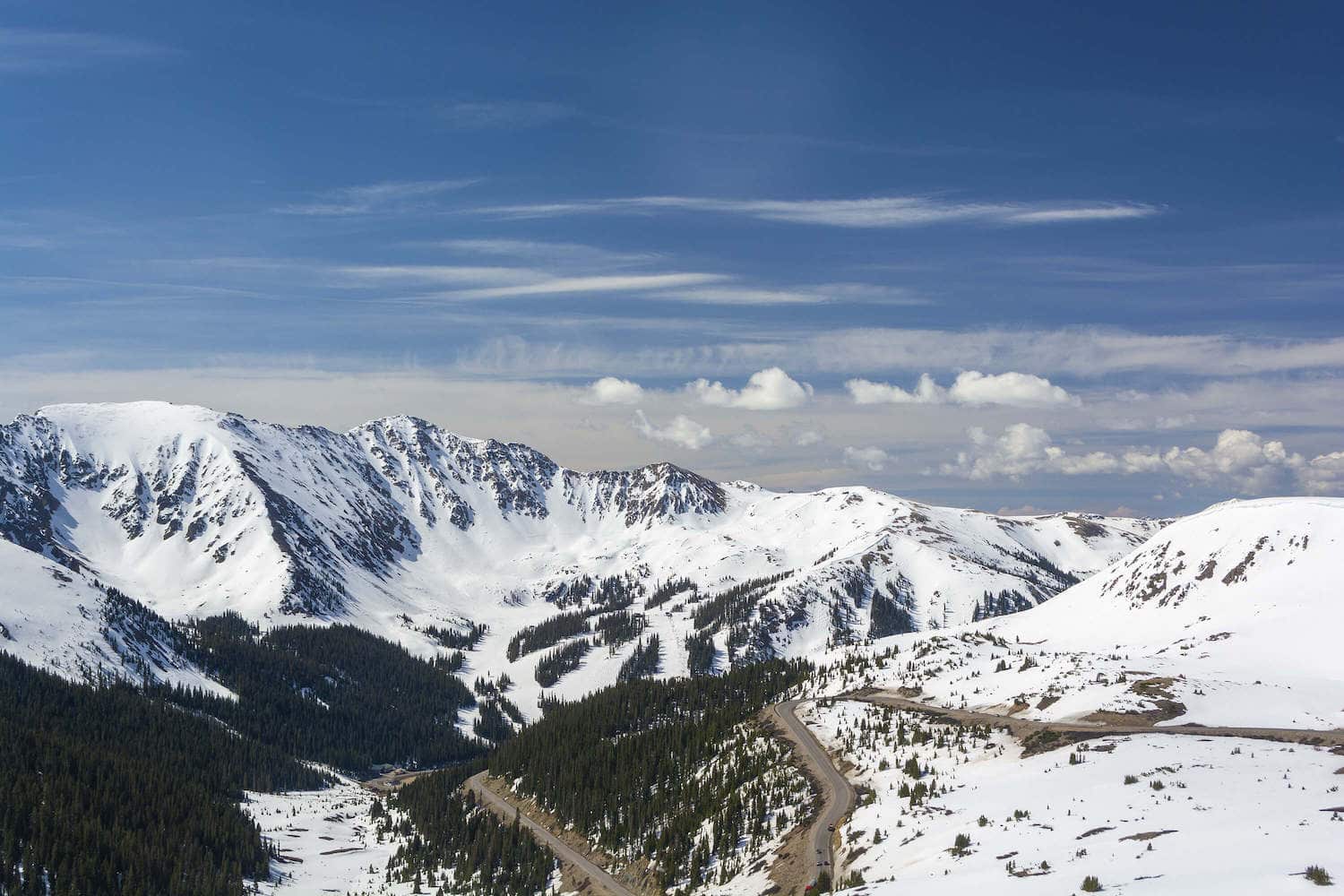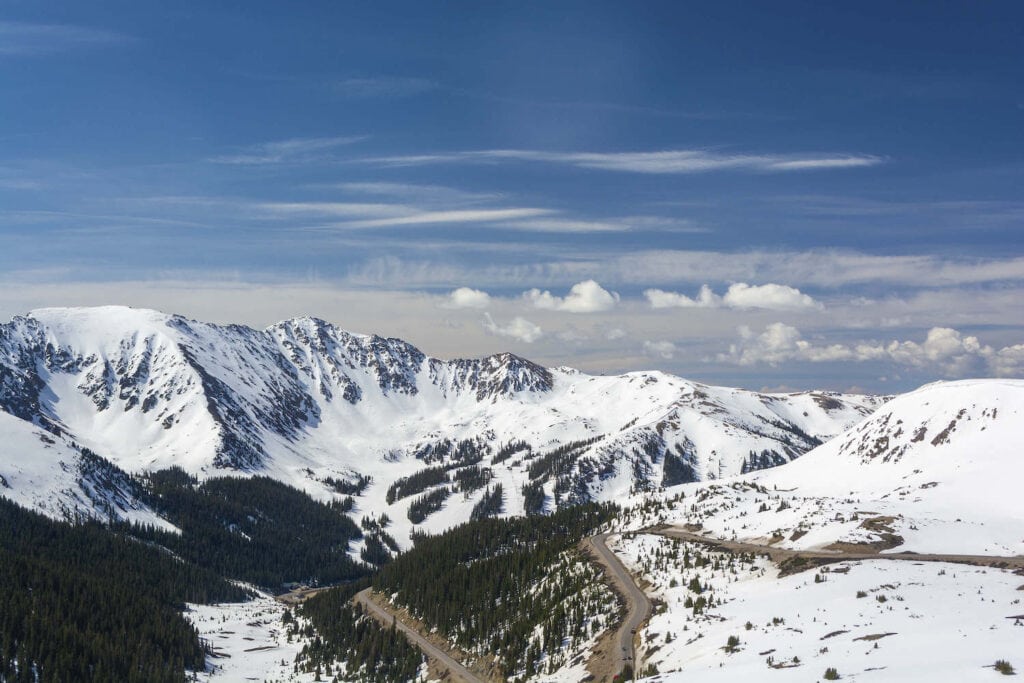 Best for Beginners: Keystone Resort
Keystone Resort is one of the best Colorado ski resorts for beginners. They continue to build more lodging and expand their base amenities and restaurants, but more importantly, they have beginner terrain at the top and bottom of the mountain.
This allows skiers of all levels to take in the magnificent mountain views. Additionally, Keystone doesn't seem to get as crowded as some of the other more popular ski resorts such as Vail and Breckenridge. For beginners, this makes for a much more comfortable cruise down the Schoolmarm Family Ski Trail that runs all the way from the summit to the base.
Keystone is one of the best mountains for beginner skiers and snowboarders but don't be fooled – if there is an experienced skier or two in the group there is some wonderful black diamond tree skiing on the backside of the mountain. Furthermore, they are opening a new lift and back bowl for the 2022-2023 ski season, making it extremely convenient for skiers of all levels.
>> Read Next: Beginner Ski Tips for Adults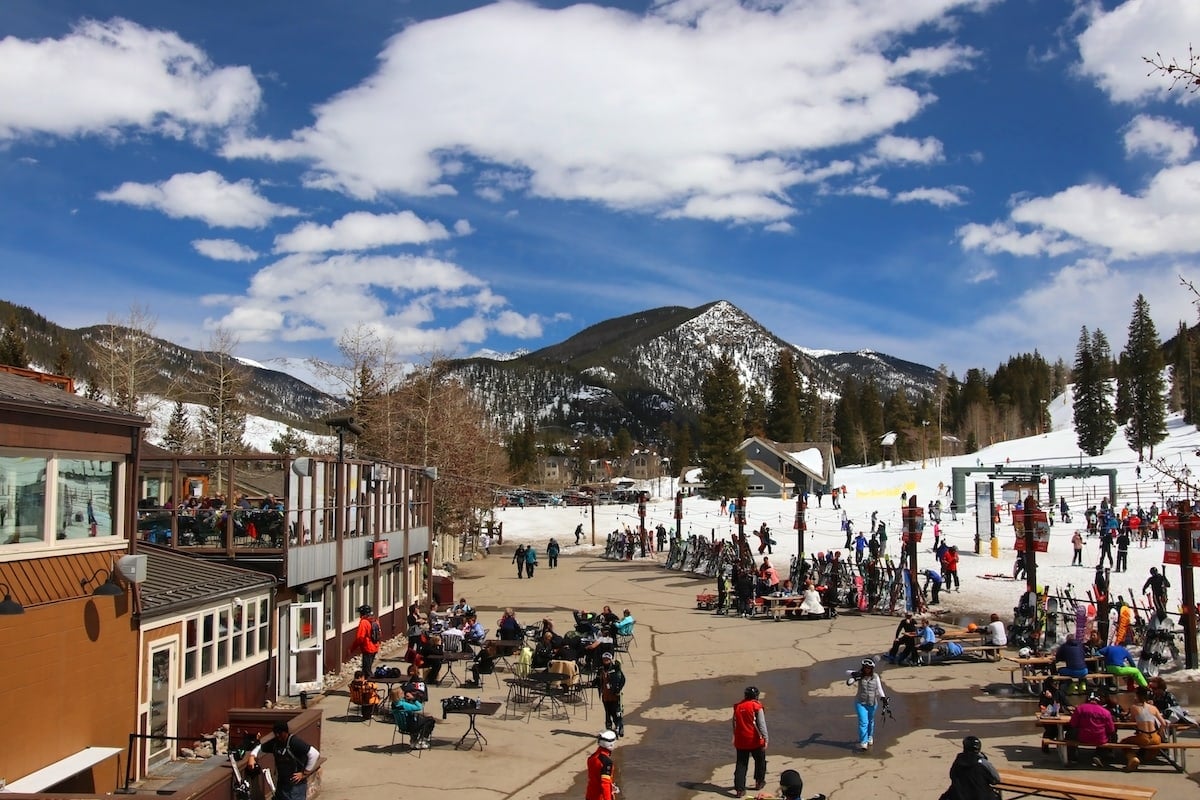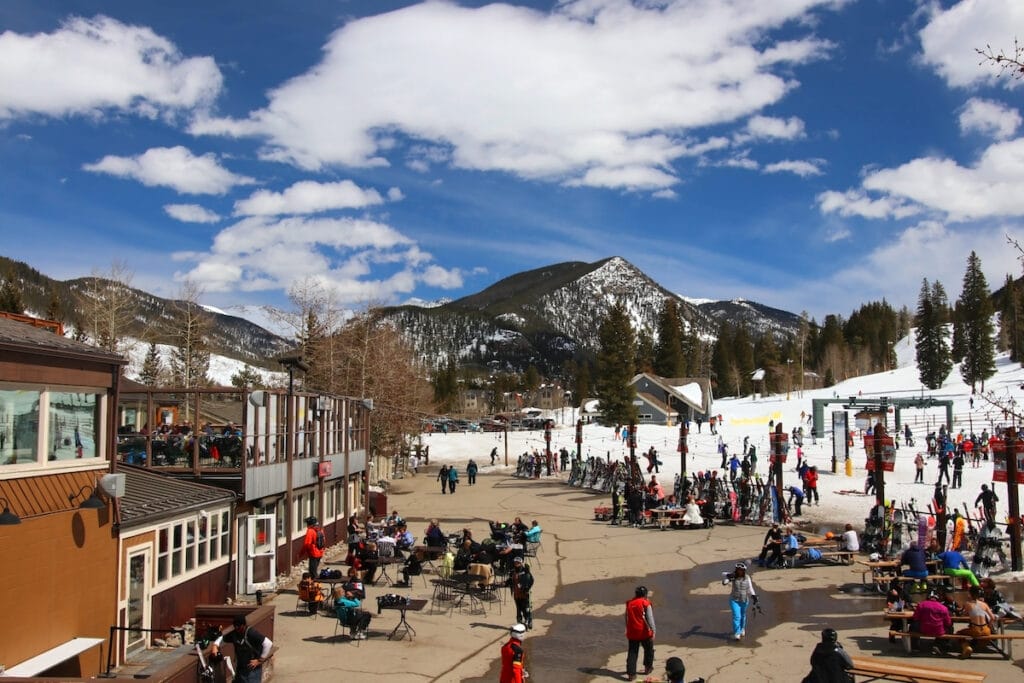 Ideal for Experts: Telluride Ski Resort
Telluride is a great ski resort for experts and advanced skiers because of the amount of double black diamond and extreme terrain that is accessible by lift. Telluride's highest percentage of terrain is actually expert, double black diamond, and extreme terrain, at over 30% of the mountain. Meaning that over a third of the mountain will be a double black diamond or harder slope.
Their hikeable extreme terrain is also some of the more accessible with a portion of it having stairs to the access point. Additionally, Telluride Resort has over 100 terrain park features allowing experts to test their skills on various obstacles.
Telluride is also one of the resorts farthest from a large airport, so it will naturally keep some of the crowds and casual skiers away, making it even better for those expert skiers and snowboarders.
The town of Telluride is gorgeous with picturesque mountain views and you can essentially ski directly into town making it very convenient for those expert skiers wanting to indulge in some après ski. If you're looking to save some money but still want to ski Telluride, look into staying in the town of Ouray. It is about an hour's drive, but the views are incredible the entire way.
Telluride is a great Colorado ski resort for a multitude of reasons and if you're an expert skier or snowboarder, you must check it out.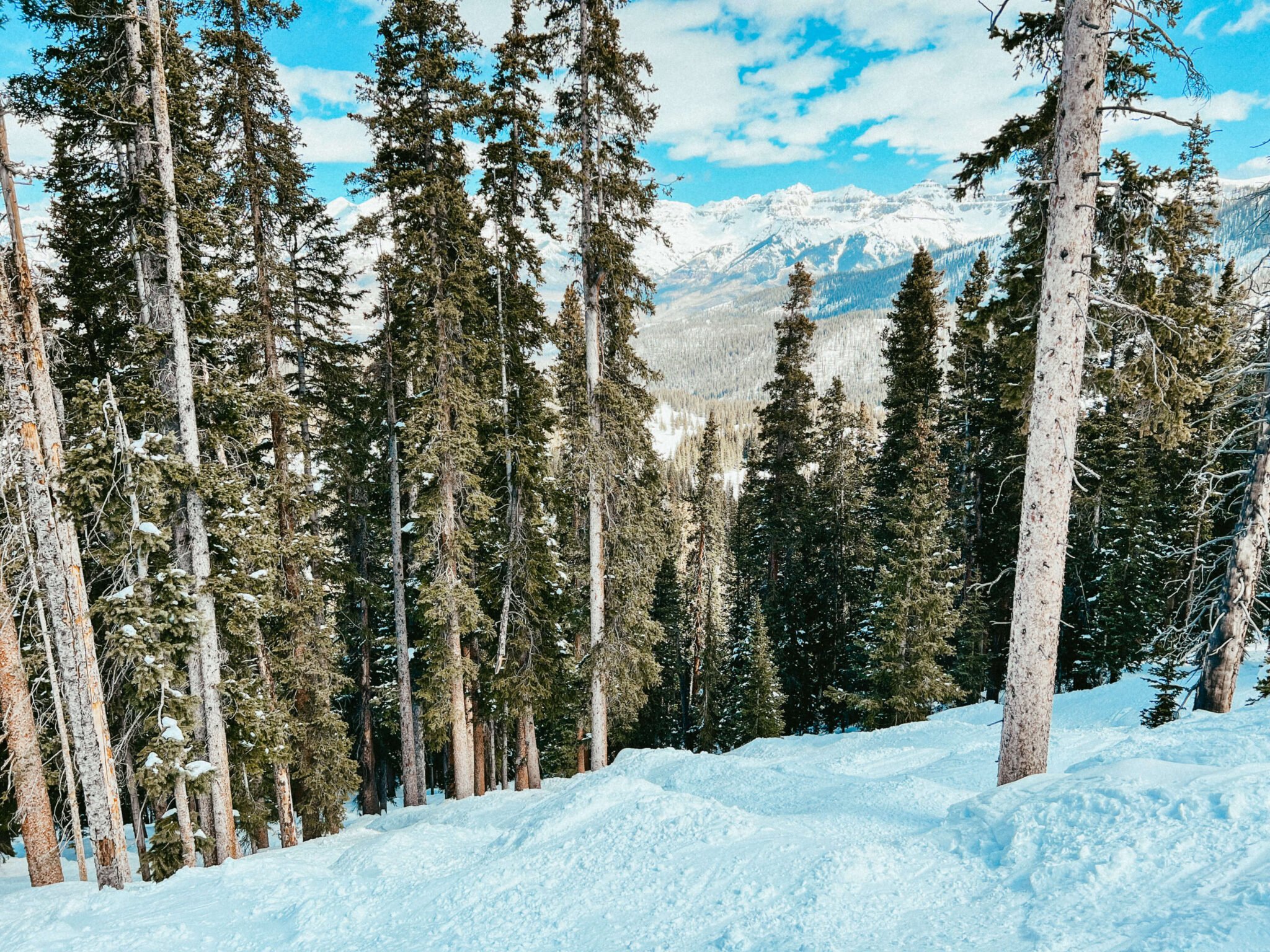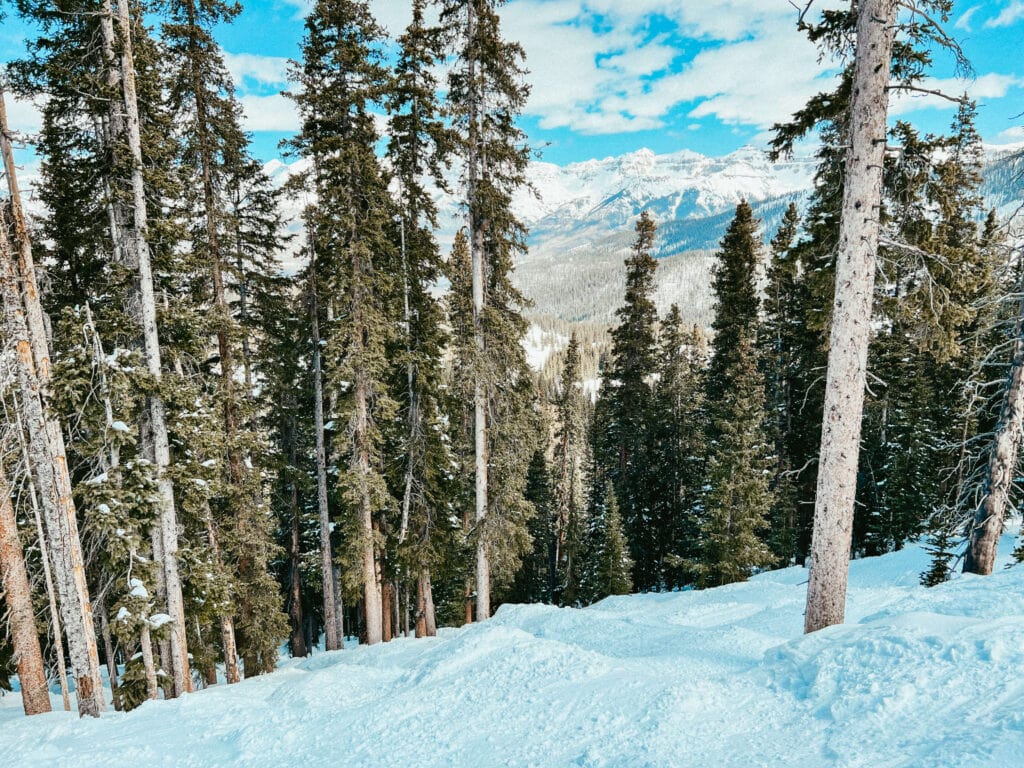 Best Powder: Steamboat Ski Resort
Steamboat Springs is world famous for its fluffy, light-as-air, champagne powder. Steamboat gets hit with massive snow storms which often results in pristine conditions, making you feel like you are floating in the air while skiing through hip-deep powder.
The slopes may not be as steep as Telluride, but there are definitely plenty of black diamond runs with alpine trees and glades to get lost in after a big powder storm making it ideal for intermediates and experts alike.
Additionally, the town is like a combination of Telluride and Breckenridge. Steamboat Springs is far enough from Denver to keep away the crowds but has a large main street with countless shops, dining options, and bars for everyone to enjoy after an epic day of skiing in powder. It's also one of our favorite weekend road trip destinations from Denver.
Most Convenient: Aspen Ski Resort
Aspen is a wonderful town with an abundance of skiable acres. The ski resort is actually a combination of four different mountains including Aspen Snowmass, Aspen Mountain, Aspen Highlands, and Buttermilk.
However, Aspen may be most well known for its luxury and convenience. You are able to ski directly into town to some of the highest-end shopping such as Louis Vuitton and Chanel. Additionally, there is a free shuttle that will transport you between the four mountains and an airport 10 minutes from town serviced by 3 major US airline carriers, making it extremely convenient (albeit expensive) to fly into.
If you don't mind the price, Aspen is really an incredible combination of several Colorado ski resorts wrapped up into one. Whether it is a five-star dining experience you are looking for, shopping in high-end stores such as Prada, or you just want to kick back and enjoy a local brewery, Aspen seems to have something for everyone… as long as you don't mind paying for it.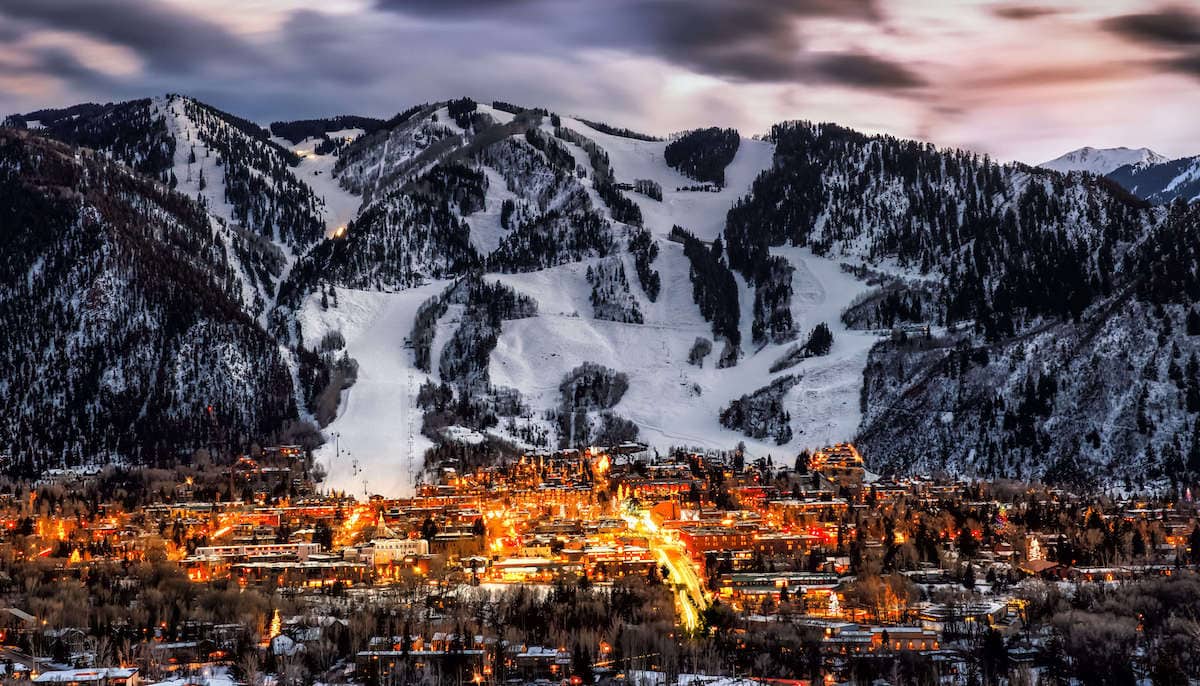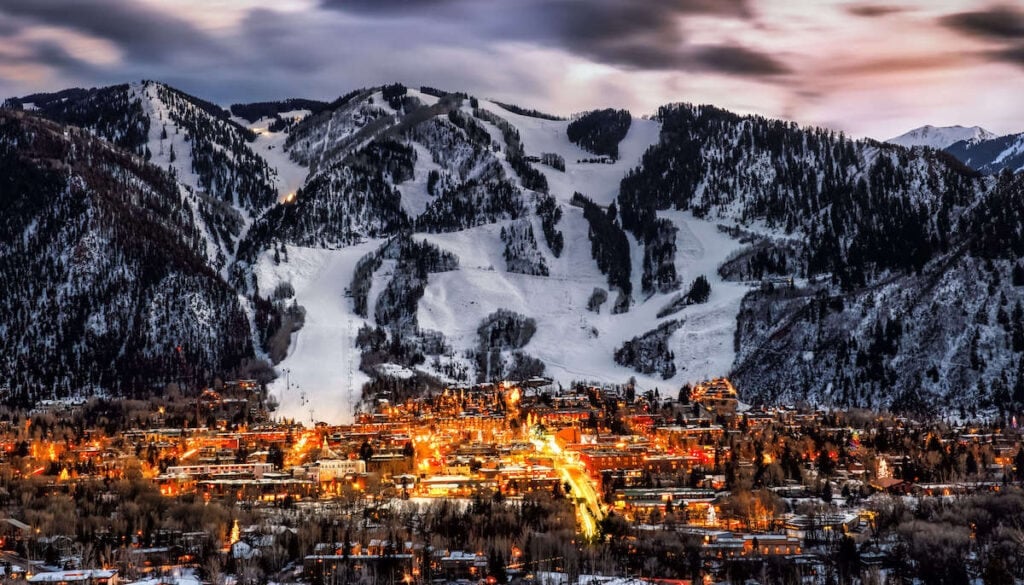 Best Hidden Gem: Crested Butte Ski Resort
Crested Butte is one of Colorado's best-hidden gems. Some people may know of this ski resort, but it's not nearly as popular as its sister resorts Vail and Breckenridge. Crested Butter is located about 4 hours Southwest of Denver and because of its long drive, this keeps many of the tourists away.
Fewer visitors mean more untouched powder, shorter ski lift lines, and fewer crowds. Crested Butte's village also boasts magnificent mountainous views and countless dining options and shops to choose from.
If you love hidden gems and are looking for a more local ski experience, you must check out Crested Butte.
>> Read Next: Crested Butte Winter Travel Guide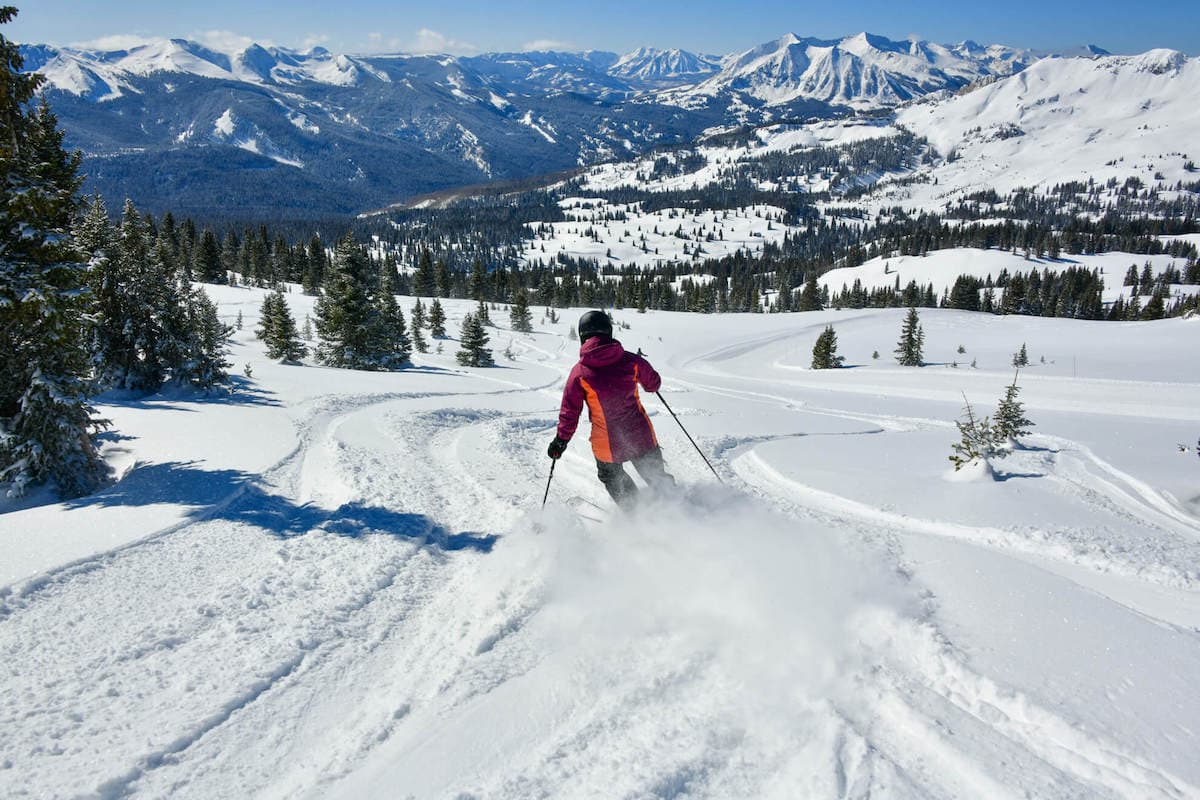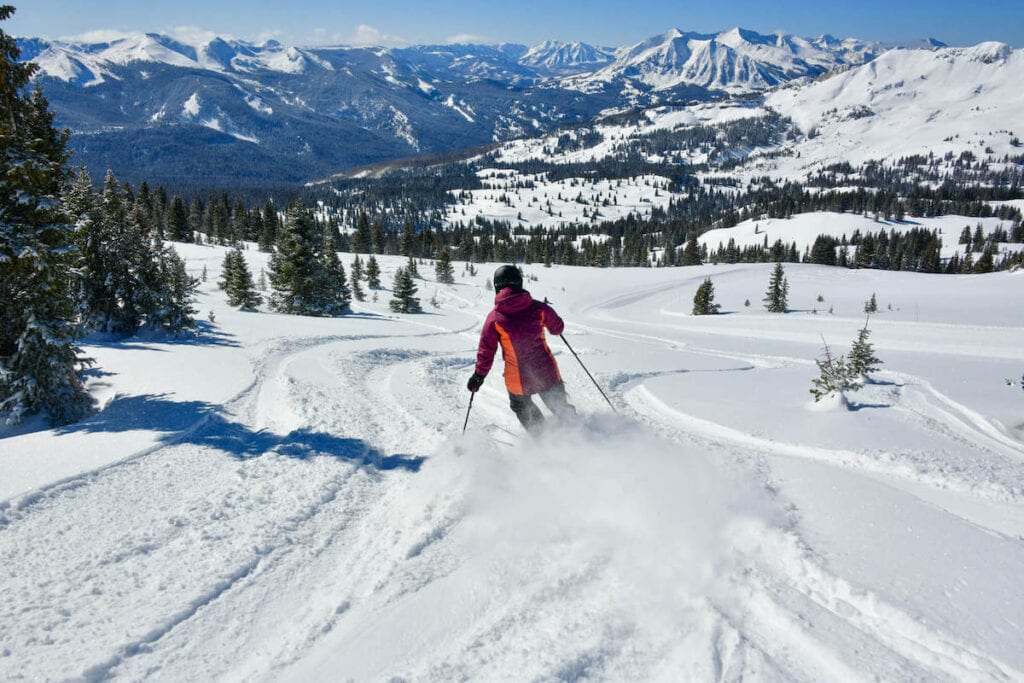 Most Luxurious: Beaver Creek Ski Resort
Beaver Creek is known for their luxurious and charming village that boasts heated sidewalks that allow visitors to walk casually through the resort without having to worry about trekking through snow.
Not only do they offer a magnificent village with splendor benefits, they have countless slopes catered to expert skiers and snowboarders such as backcountry skiing that requires no hiking but merely hopping off of convenient lifts.
Another oddly satisfying perk offered by Beaver Creek Ski Resort is that they hand out free warm chocolate chip cookies every day at 3:00 PM at the bottom of lift 6. This is such a unique and fun experience for skiers and snowboarders because after a long day on the slopes, a warm cookie is satisfying on a whole new level.
We hope this list helps you find the ski resort in Colorado that perfectly suits you and your ski level. If you want to save some money on lift tickets, we highly recommend you check out the Ikon Pass or Epic Pass for the best deals.
Related blog posts:
What is your favorite ski resort in Colorado? Would you add any to this list? Let us know in the comments!