5 Things I Learned in the Alta Ladies Day Program
Learn about the the Alta Ladies Day Program, a 6-week all-female class where you focus on improving technique & exploring new terrain at Alta Ski Area.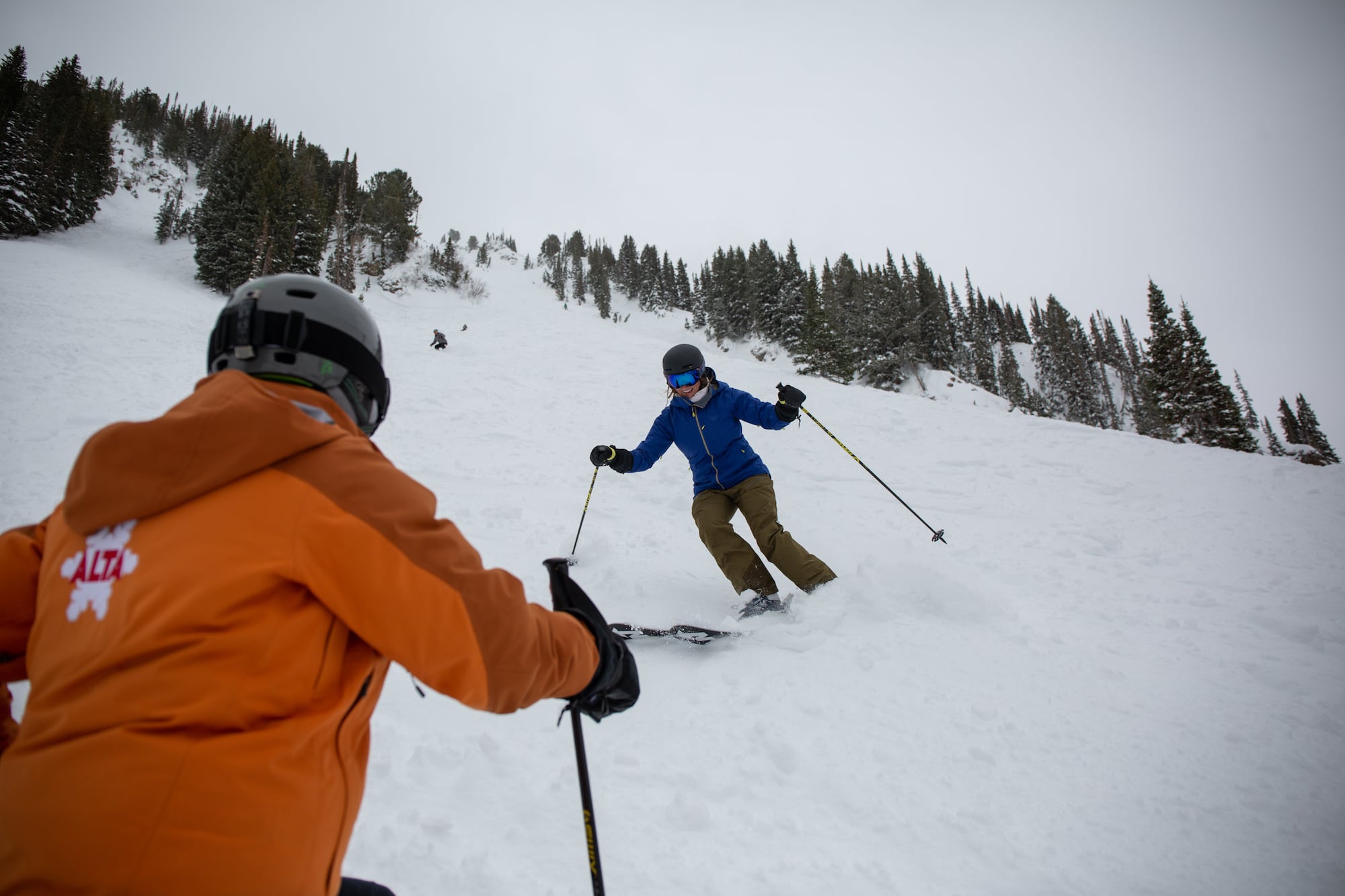 5 THINGS I LEARNED IN THE ALTA LADIES DAY PROGRAM
Thanks to Alta Ski Area for hosting me in the Alta Ladies Day Program. As always, all words and opinions are my own. All photos taken by Alta Ski Area Photographer Rocko Menzyk.
My skiing backstory: If you've been following Bearfoot Theory since I started blogging, you've watched my evolution as a skier. As a kid, I skied somewhere around 5 days a year. However, I never could seem to get it down, and by the time I was in college, I swore off skiing for good. My feet always hurt, I was scared of falling, and I could never keep up with my friends. This was not my idea of fun, I'd tell myself.
So I quit, went to college hours away from the nearest mountain, and it wasn't until I was 32 and a recent Salt Lake City transplant that I considered picking it up again. I figured the only way I'd survive a Utah winter was by at least giving it a try.
So I got myself an Alta Ski Area season pass, bought a pair of used skis from a friend, and threw myself into it face first. If after one season I still didn't like it, then hell, maybe I'd move to So Cal or somewhere where the sun shines 365 days a year.
Now in my third full season, skiing has changed my outlook on winter. Winter is no longer this thing I dread, and I always have an excuse to get outside, even on the coldest, snowiest of days. I've also made new friends, met my partner (on the chairlift!), and made progress in overcoming my fears.
With that said, I owe much of my progress to the instructors at Alta Ski Area. Skiing with friends who are better than me has helped, but sometimes good skiers aren't the best communicators. Also, when I ski with my friends, my focus is on keeping up, rather than slowing down to refine my technique, and with that, I've developed some bad habits.
Unlike skiing with your friends, ski instructors know how to communicate and demonstrate the small changes you need to make in your form and technique. Furthermore, in a ski lesson, you move at a pace that allows you to actually focus on those changes.
This winter, I decided to join an all-female instructional program called Alta Ladies Day. It's a 6-week program that meets every Thursday for a 2.5-hour lesson with the same instructor and the same group of women. I was paired with Alta Instructor Sylvie Richard and 6 women who skied at a similar level as myself.
Now, I've taken a number of lessons and even did a ski camp at Alta back in 2017. Among all of the things I've done to improve, I can confidently say that the Alta Ladies Day program was the most effective program I've participated in.
In this blog post, I share 5 things I learned in the Alta Ladies Day Program.
[separator style_type="icon" /]
My Bad Habits
Learning your bad habits is the first step to improving your ski technique. Within an hour of the first lesson, Sylvie helped me identify my issues. I learned, like many beginner and intermediate skiers, I have a habit of turning my body across the hill in an effort to control my speed, rather than connecting my turns down the fall line. This upsets my rhythm and causes me to tense up. As a result, I tire out really fast, as it's a very inefficient way to ski.
To correct this, Sylvie taught us that our upper bodies should be still and always face down the hill. We practiced turning while keeping our upper body as still as humanly possible, controlling our skis only with our lower bodies.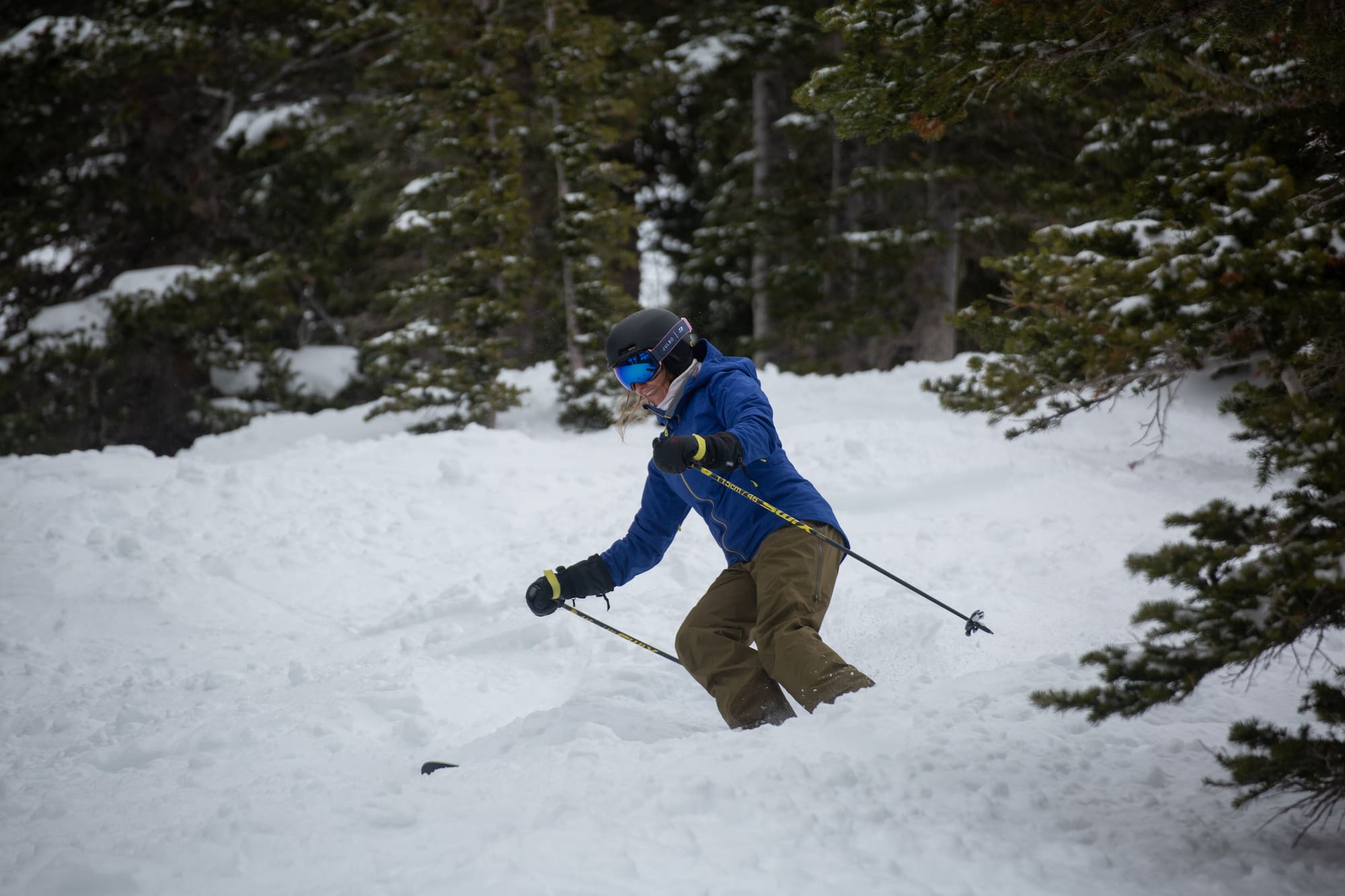 I also learned that I need to pole plant sooner and a bit more aggressively. Pole plant – turn – pole plant – turn. Active, strategic pole planting combined with a downward facing upper body helps keep that rhythm of skiing down the fall line.
Every woman in the class had their own things they wanted to work on, and Sylvie did a great job giving everyone got the individual instruction they needed while still attending to the needs of the group.
[separator style_type="single" /]
Reinforcement is Key
Bad habits are hard to break. I loved the structure of the Alta Ladies Day program where we met every week for 6 weeks. Every week, Sylvie reinforced the concepts and that repetition week after week made a huge difference in my overall progress. I did a 4-day intensive ski camp where I learned a lot of the same skills, but it's hard to overcome habits and institute real changes in your skiing in such a short period of time. By spreading the instruction out over six weeks, it gave me a chance to practice on my own in between lessons and see real results.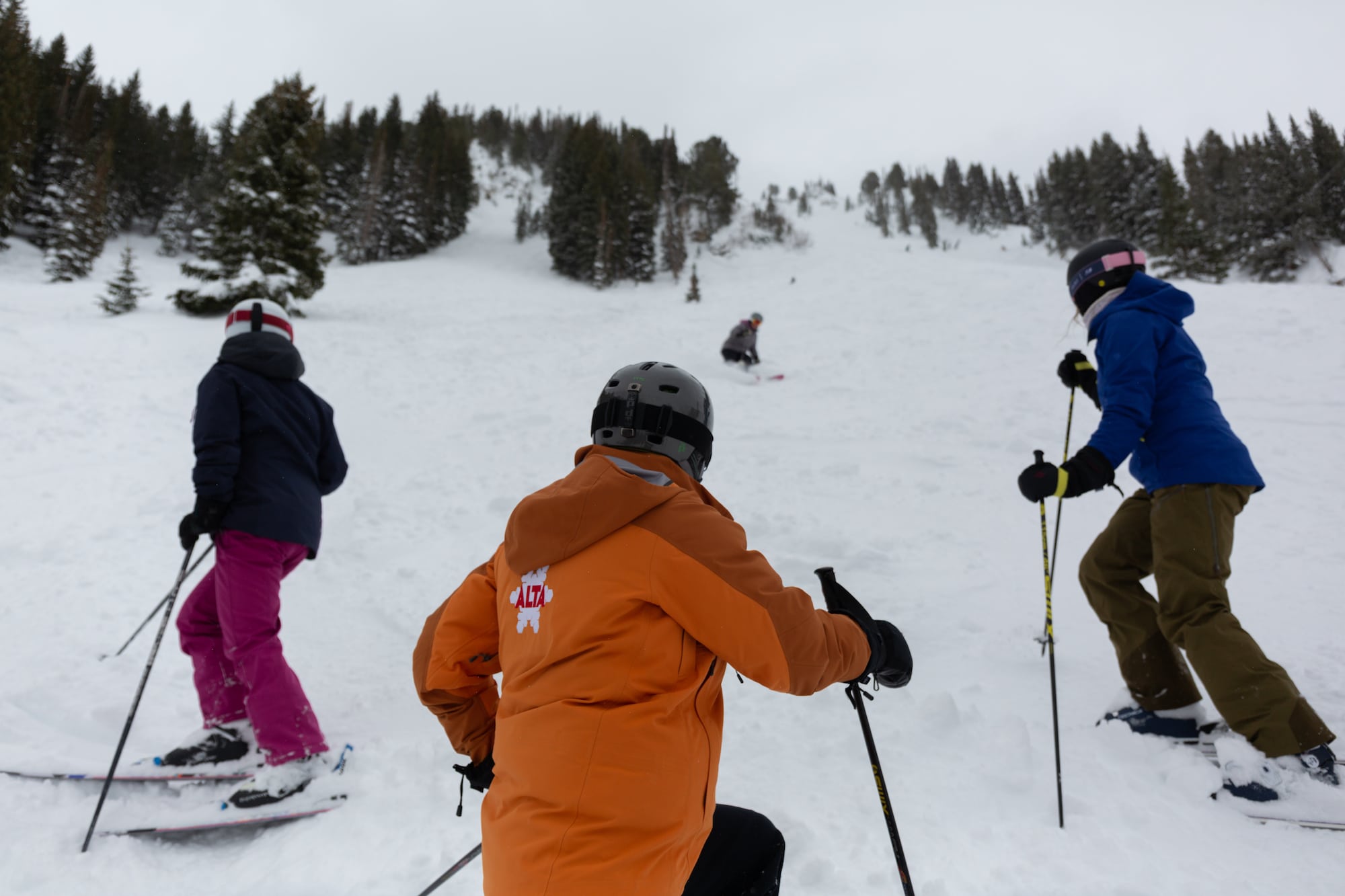 [separator style_type="single" /]
Building Confidence on Alta's Terrain
If you're a Salt Lake local or you've skied Alta on vacation, you know that much of the best terrain is accessed via long, sometimes harrowing traverses – like the High Traverse. These traverses are tough enough on their own, but when really good skiers are whizzing by you left and right, it can be a little intimidating.
I've skied the High Traverse dozens of times, but for some reason this year, my confidence has suffered. I took a couple of gnarly spills early on in the season, one that resulted in a broken rib, and I've been really hesitant to get out there and challenge myself.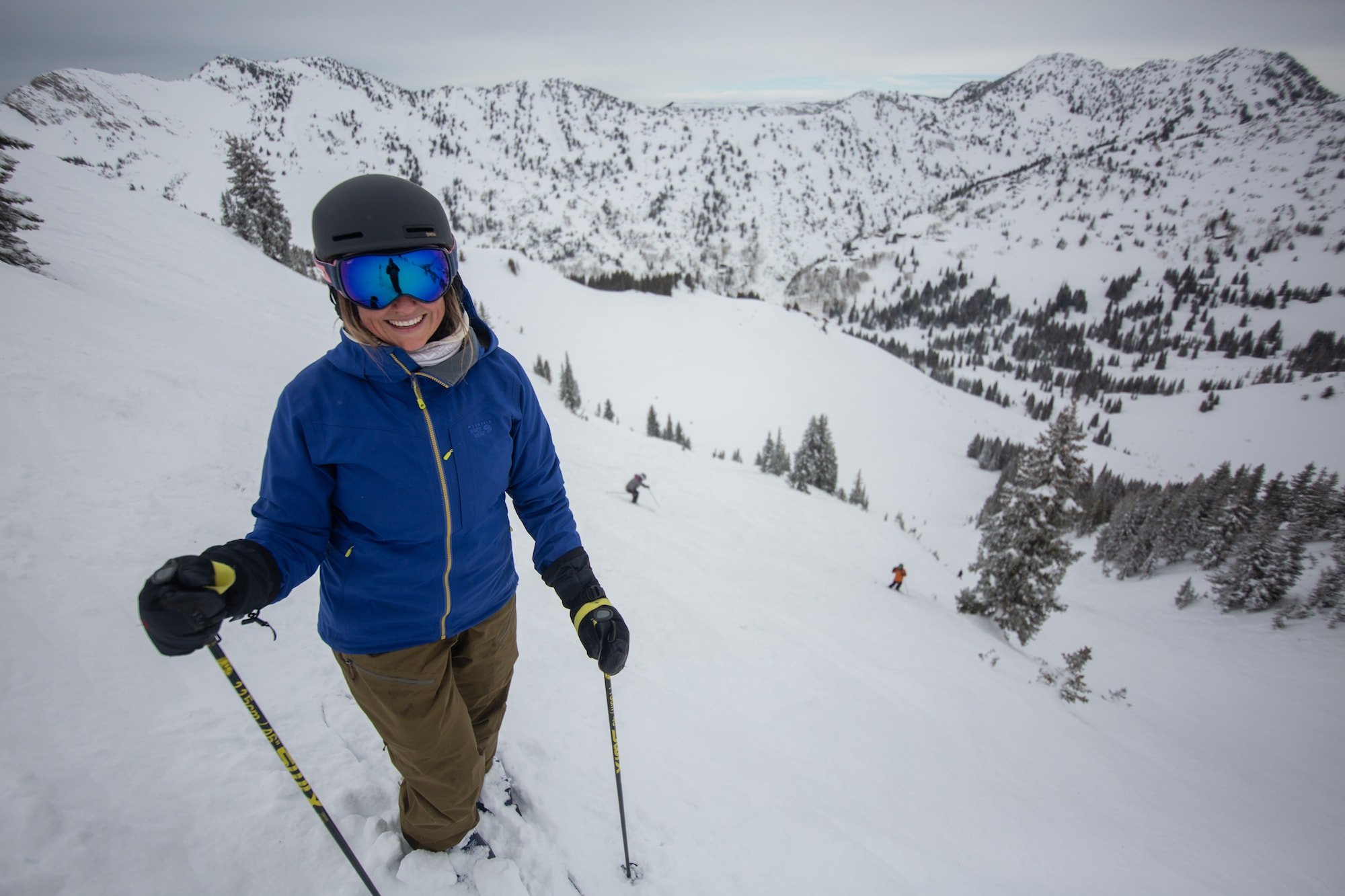 On the 5th week of our class, Sylvie suggested we go ski High Rustler, one of Alta's most famous steep runs. We took our time getting out there, pulling over periodically to regroup, and I realized the High Traverse was not as scary as I've built it up to be this season. Once we got out to High Rustler, we found amazing snow. That experience helped me get over my mental block, and it's reignited my desire to push myself and to reap the benefits that come with that.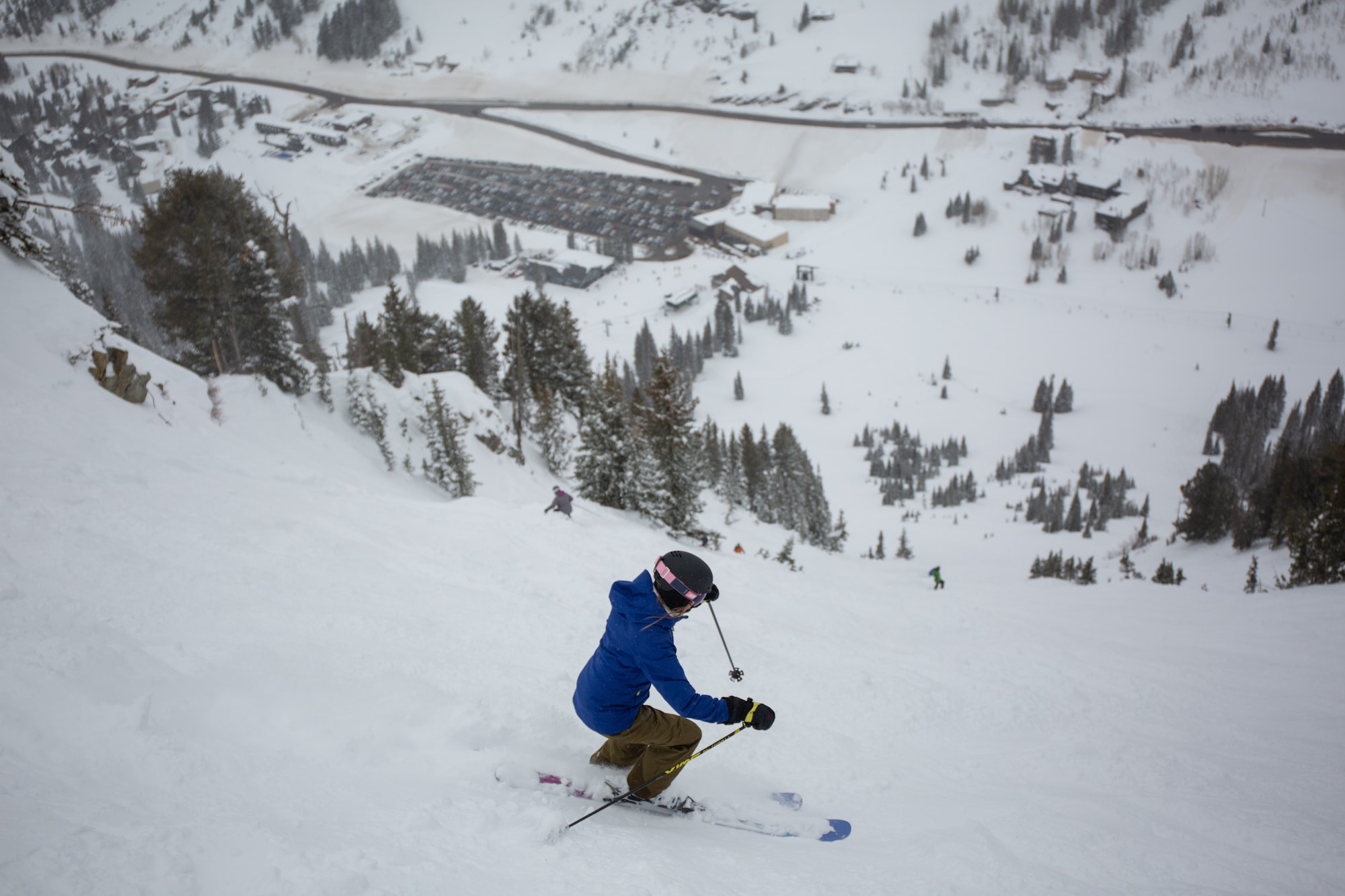 [separator style_type="single" /]
Women Make For Supportive Ski Buddies
More often than not, I ski with men, or I ski alone, and I don't have a big network of women that I ski with regularly. While I'll give it to my male friends for being patient, there is no substitute for finding awesome women to ski with.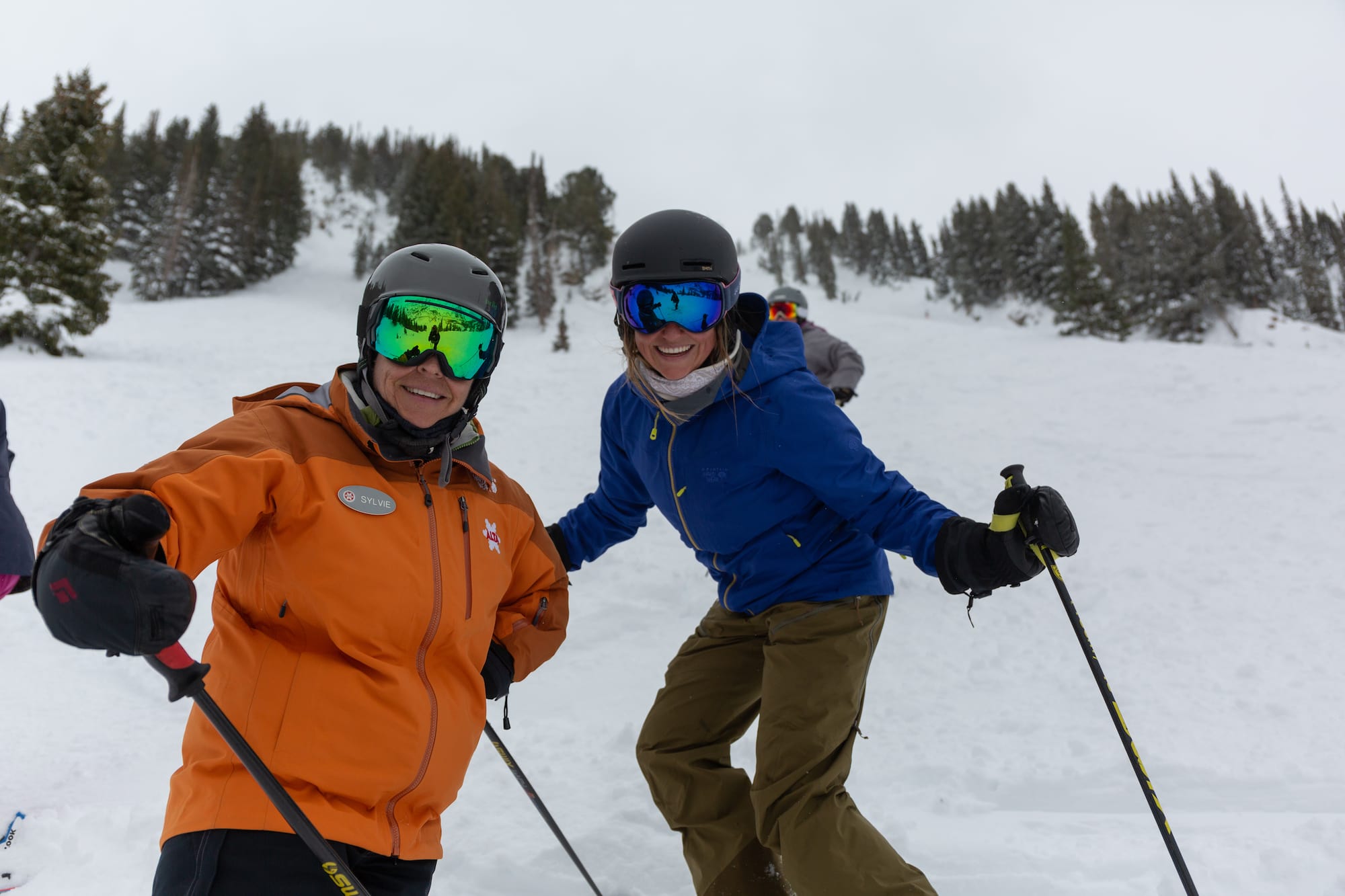 The Alta Ladies Program introduced me to an inspiring group of women from their early-30s to their 60s, and something about skiing with supportive ladies across a wide age group resulted in a boost to my self-confidence. I never felt judged, too slow, or second-guessed my abilities, and my group helped me shift my mindset. We had a blast together, laughed at our missteps, and became friends over the six weeks. On the final day, we celebrated with a group lunch at the Rustler Lodge, which was included in the cost of the program.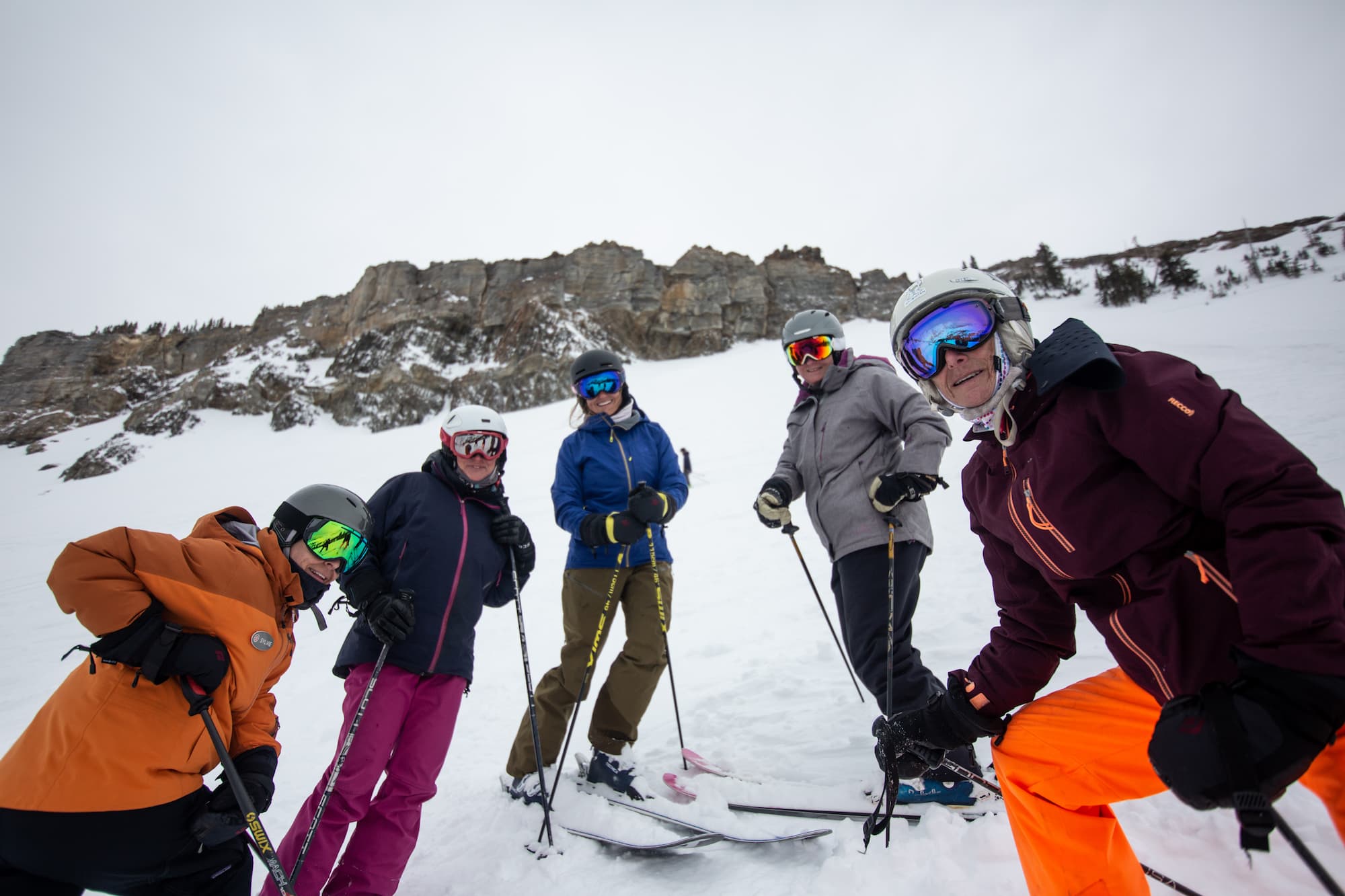 [tagline_box link="https://bearfoottheory.com/force-of-nature-outdoor-women/"]See our top 11 ways to connect with other outdoor women
[/tagline_box]
[separator style_type="single" /]
How to Ski Powder
Skiing powder is an art. You can ski groomers all day, but as soon as a big storm hits, it poses an entirely new set of challenges. Alta has already received over 400" this year, and we were lucky to have 5 out of 6 classes fall on powder days!
Sylvie taught us a bunch of pointers to help keep us upright in deep snow. First and foremost, speed is your friend and maintaining momentum as you ski down the fall line gives you a lot more control. Second, she taught us to keep more even pressure on both skis as compared to skiing groomers. Finally, it's ok to fall. Powder is soft, so there is no reason to be scared of skiing aggressively.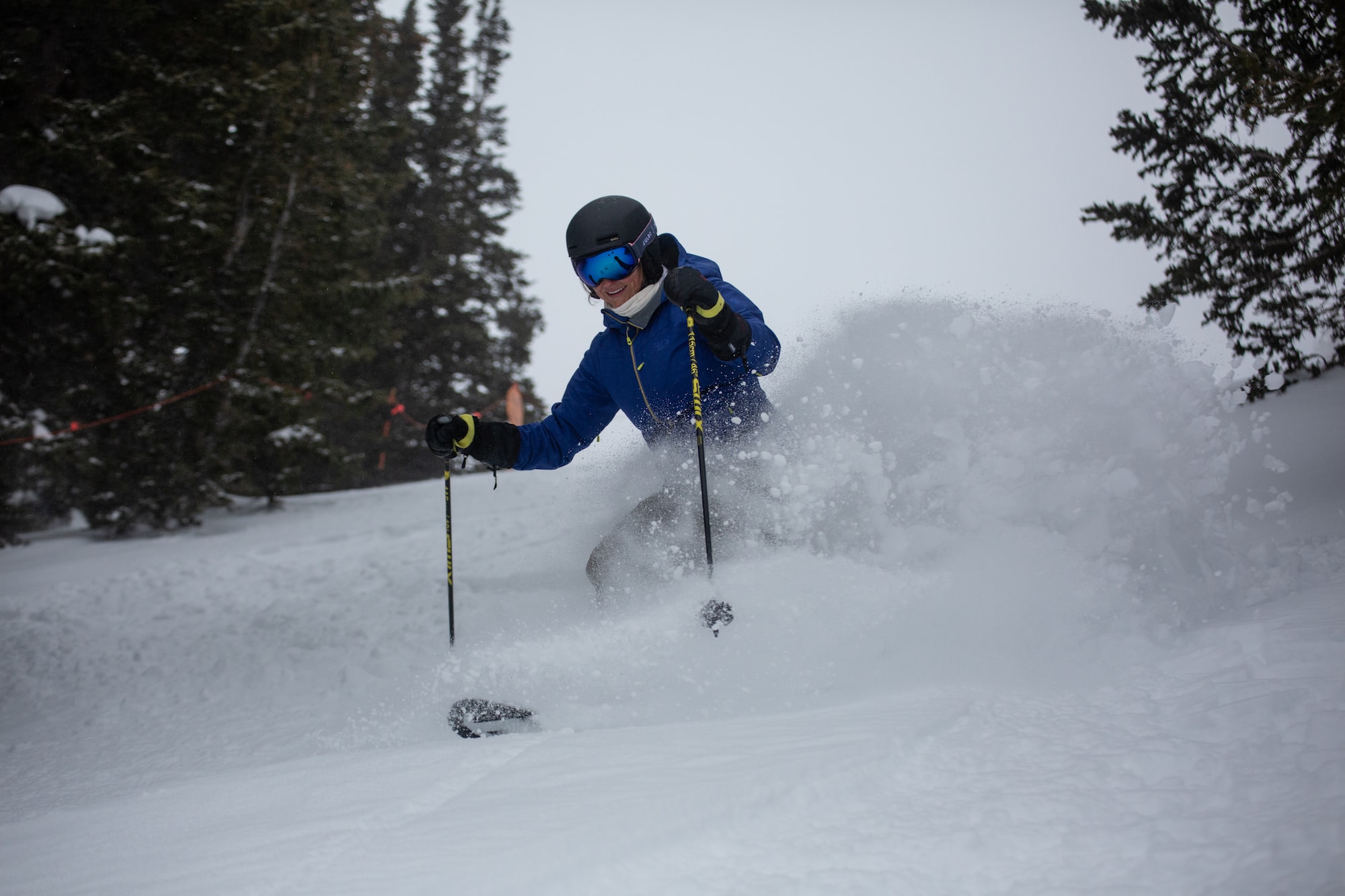 [separator style_type="single" /]
More Information on Alta Ladies Day
The Alta Ladies Day program takes place once a year. There is one orientation session in December, where instructors evaluate your skiing, so they can place you in the proper group. Then the full program starts in January and runs for 6 weeks, meeting every Thursday from 9:30-12:00pm. The program is for intermediate to advanced skiers.
For more information on the Alta Ladies Day Program and current fees, visit the Alta Women's Programs & Camps webpage on Alta's website.
[separator style_type="single" /]
Got questions about the Alta Ladies Day Program? Leave a comment below!
[content_box title="Read Next" icon="fa-star-o" backgroundcolor="#eaeaea" iconcolor="" circlecolor="#74c3ae" circlebordercolor="#74c3ae" outercirclebordercolor="#74c3ae" image_width="21″ image_height="21″]
[/content_box]