Montana In Winter: 8 Adventurous Activities (Besides Skiing)
From hot springing to dog sledding to skijoring, get outside on your Montana vacation with these 8 adventurous winter activities.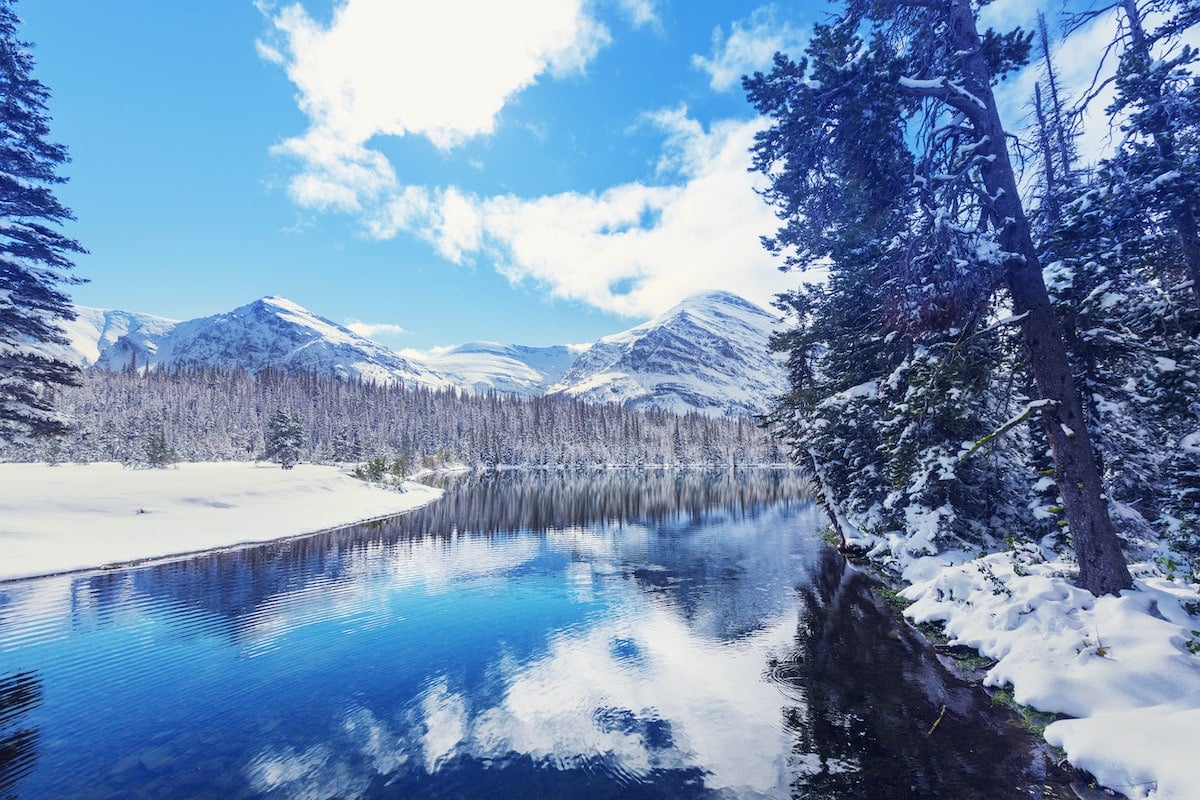 *This post was originally sponsored by Visit Montana back in 2017 and has since been updated. It's a winter destination I've had my eye on for quite some time, and in this blog post, we've rounded up 8 adventurous winter activities in Montana that offer the ultimate #MontanaMoment.
When most people think of Montana, they picture Glacier National Park's colorful valleys and high alpine lakes or bison roaming through the wildflowers of Yellowstone National Park. But have you ever thought of visiting Montana in winter? Not only can you find solitude in some of Montana's most scenic destinations throughout the winter months, but Montana also offers a wealth of unique winter activities, some of which are found nowhere else.
Sure there's epic resort skiing at Big Sky and Bridger Bowl, but you can also try ice climbing or skijoring and end your day by soaking your muscles in some very inviting hot springs.
Ready to check out Montana in winter? Here is our list of 8 exciting winter activities that will get you outside to experience the best of what a Montana winter has to offer.
Important Note: Before planning any trips, please do your research to ensure these areas are open to visitors, follow local guidelines, and do your part to be a responsible visitor. That means taking precautions against COVID-19 like wearing a mask and social distancing. Also, as we ask with all of the destinations we share, please follow Leave No Trace guidelines and practice good trail etiquette.
8 Unique Things To Do In Montana In Winter
1. Dog Sledding
You don't have to travel to Alaska to mush with a team of dogsledding pups. Whether you want to experience a dog sled ride or be a spectator, there are plenty of opportunities in Montana all winter long.
Dog Sled Adventures in Olney, Montana offers a 12-mile trail they refer to as the "Eskimo Roller Coaster." If you aren't finding yourself this far north in Montana, there are also companies in Big Sky as well.
In January & February, the Darby Dog Derby, Race to the Sky, and Flathead Classic are all great spectator events to catch if you're not too keen on sledding yourself.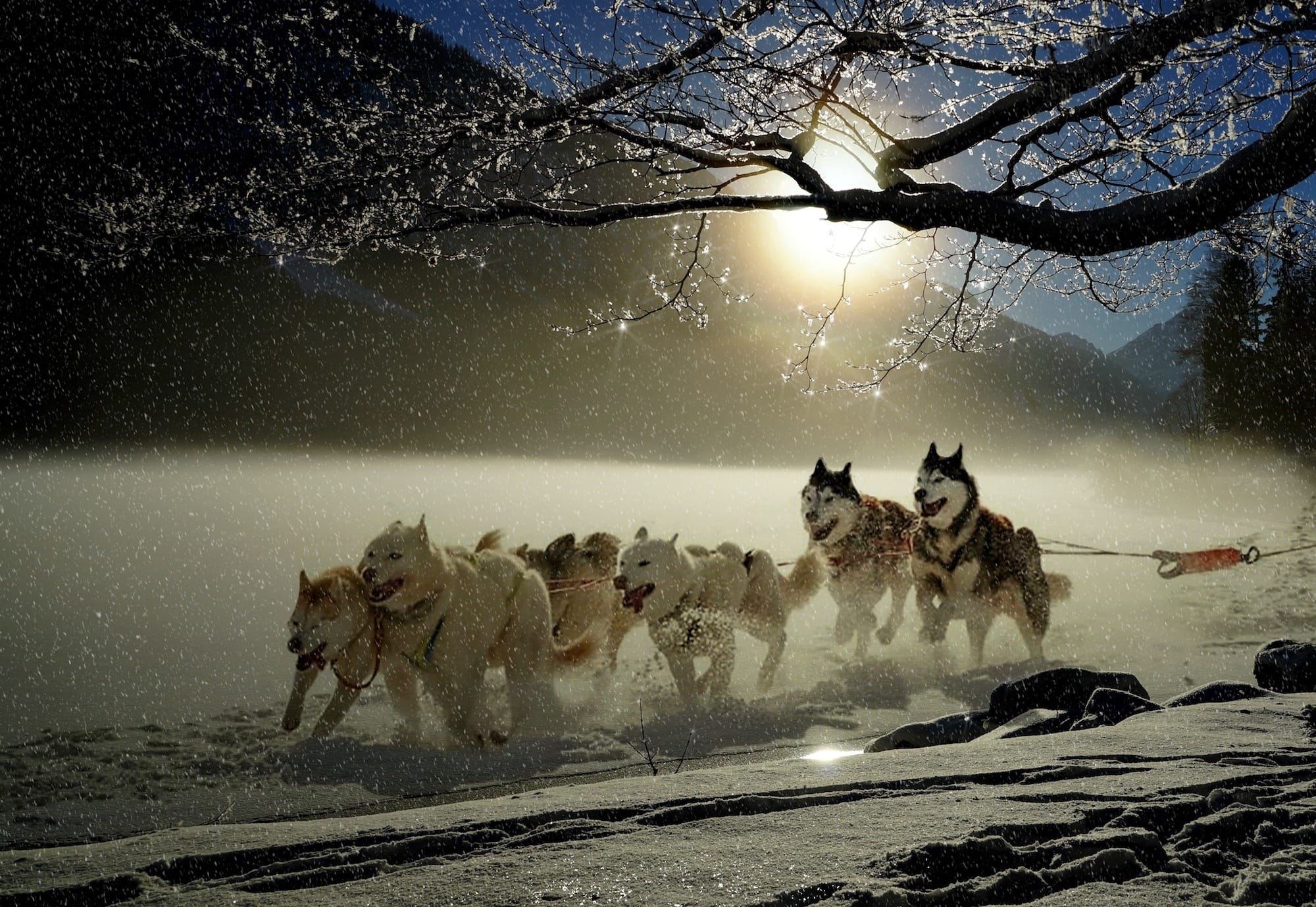 2. Winter Fat Biking
Mountain biking in Montana isn't just for summer visitors. Whitefish, Montana offers numerous winter fat biking trails, with a few rental locations in town. Whitefish Bike Retreat offers lodging, rentals, and winter trail access on the 22-mile Whitefish Trail. The trail provides a gorgeous ride through the woods, with glimpses of nearby lakes and the Whitefish Mountain Range.
If you are new to winter fat biking, they also offer a 3-day winter fat biking clinic with both a male and female instructor that includes accommodation.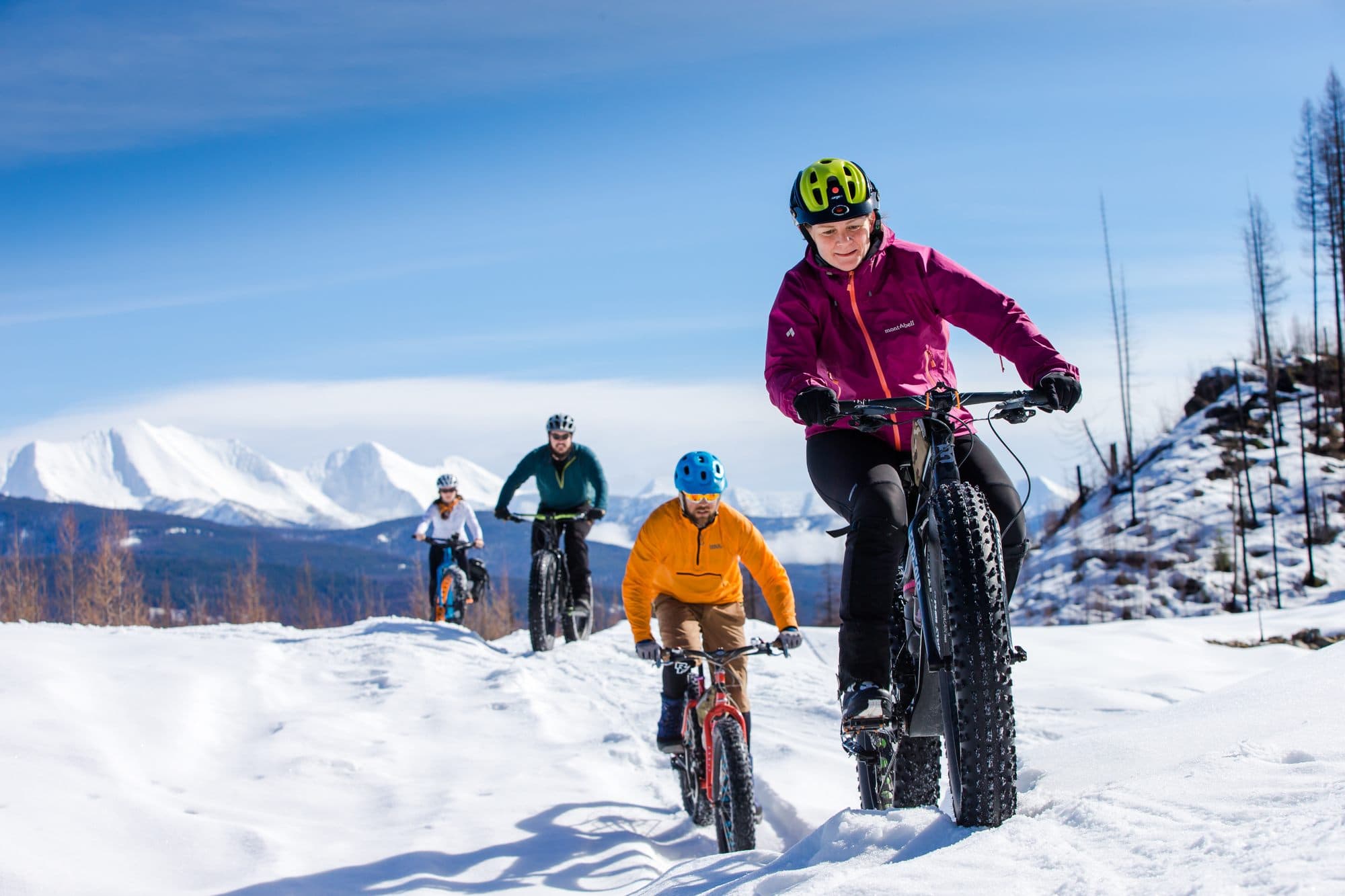 3. Shack up in a Backcountry Hut
Resting on a gorgeous ridge, the Downing Mountain Lodge is a dreamy & accessible backcountry ski lodge located an hour south of Missoula in western Montana. This winter getaway has a hot tub, communal fireplace, catered food, and immediate access to 2,800 feet of vertical skiing.
If you aren't comfortable venturing there on your own, you can enlist a private guide to show you around the Bitterroot Mountains. Prior avalanche training is required. For a full list of Montana's backcountry huts, check out the Montana Backcountry Alliance.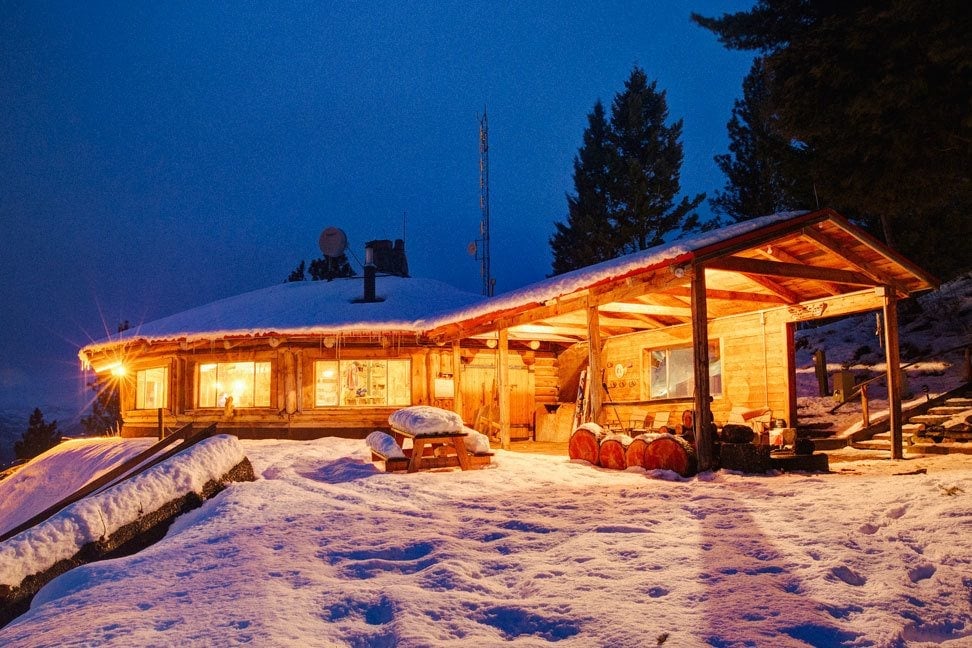 4. Snowshoe & Winter Camping in Montana's National Parks
Less than 4% of Yellowstone's 4 million annual visits happen in the winter. That means winter is an incredible opportunity to have Montana's National Parks all to yourself. Glacier National Park and Yellowstone National Park both offer free ranger-led winter snowshoe hikes where you can learn about the wildlife, history, and ecology of the areas.
If you're looking to overnight in Glacier National Park, one of the most adventurous things to do in Montana in winter is a multi-day snowshoe (or cross-country ski) tour offered by Glacier Adventure Guides. On these trips, you'll learn navigation skills, tricks for staying warm, and even get to build your own igloo that you'll sleep in. From your base camp, you'll explore frozen waterfalls, icy gorges, and have places that are typically packed in the summer all to yourself.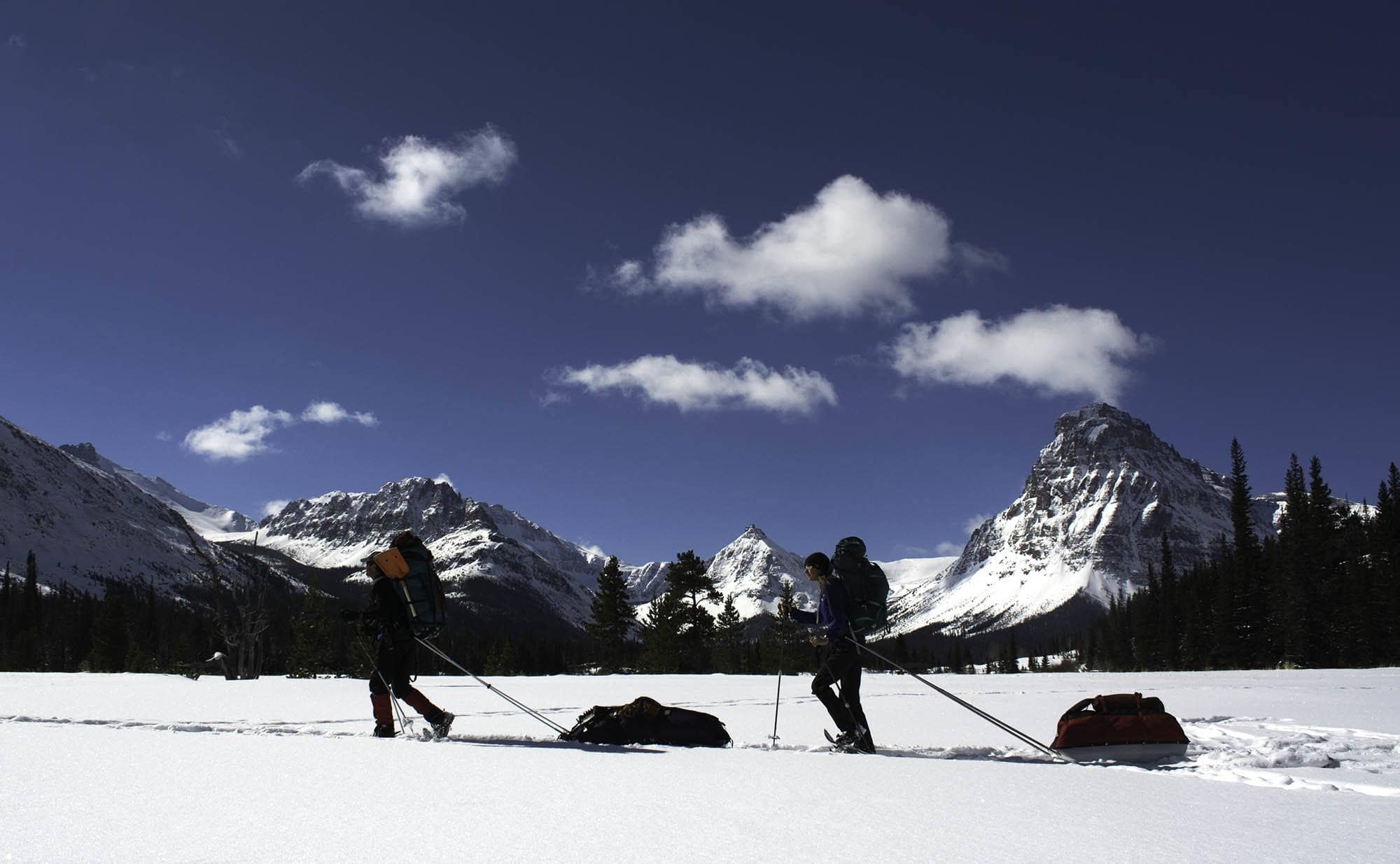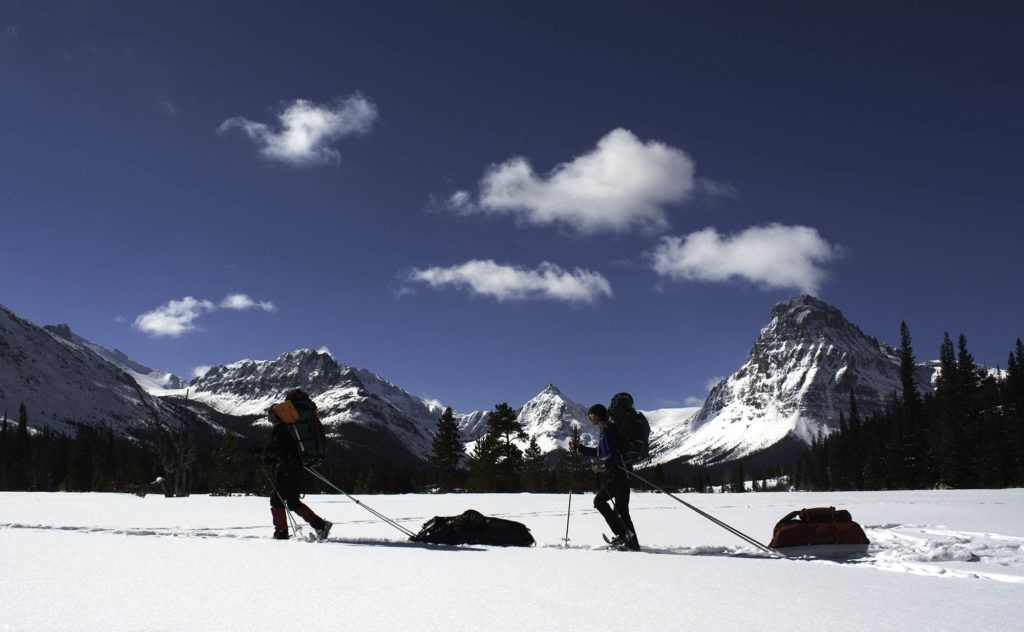 5. Try Skijoring (or Watch a Skijoring Competition)
Skijoring is the ultimate mix of Montana's cowboy culture and tricked-out skiing. Originating in Norway, the sport of skijoring involves skiers being pulled by a horse or dogs through a course full of jumps, gates, and obstacles.
Skijoring has become a favorite winter activity in Montana – so much so that the World Skijoring Invitational is held in Whitefish every January. At this high-speed (and high-stakes) competition, spectators can place bids on the skijorer they think will take the cake. The event takes place the last weekend in January prior to the Whitefish Winter Carnival where you can dance the night away at the disco party, freeze your buns off during the penguin plunge, and cheer on the fancy floats during the Grand Parade.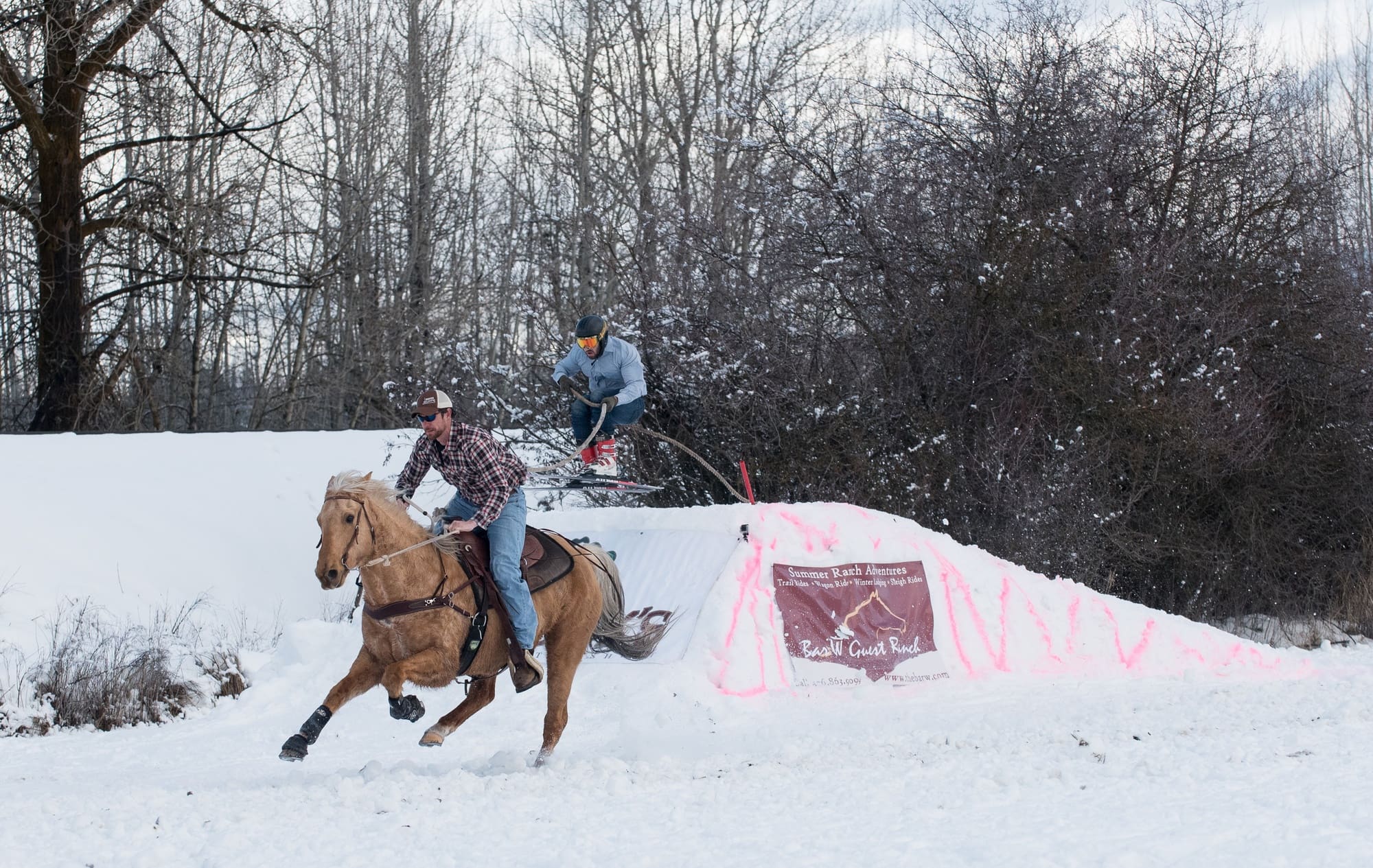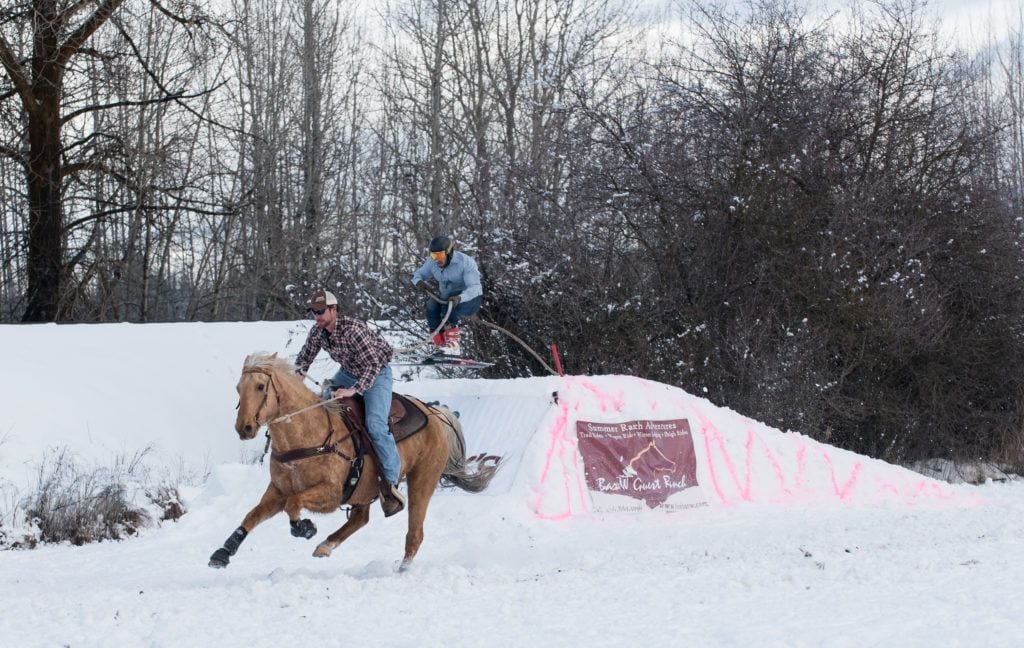 6. Go Ice Fishing in Montana in the Winter
Spend a day out on the ice fishing for dinner. Northern Pike, perch, trout, and kokanee are just a few of the species you can try to land. If you're new to ice fishing and want a guide to show you how it's done, Flathead Lake Charters offers guided ice fishing near Whitefish Mountain Ski Resort. They know what's biting on what bait and they bring their own ice shelter so you don't freeze out in the cold. Plus, they'll fillet whatever you catch so you can enjoy your hard day's work at the dinner table.
Just make sure you pack a thermos with a hot drink, lots of warm layers, and a fishing permit.
7. Learn to Ice Climb
Crampons, ice screws, ropes, and intense mental fortitude. If those things excite you, then ice climbing might be for you. This Montana winter activity will challenge the mind and the body while offering incredible views that are only accessed from the top of a tall wall of ice.
If you are new to ice climbing. Montana Alpine Guides offers courses for all levels in Hyalite Canyon, just outside of Bozeman. Depending on conditions, there are over 150 routes from October-April, making it the ice climbing mecca of North America.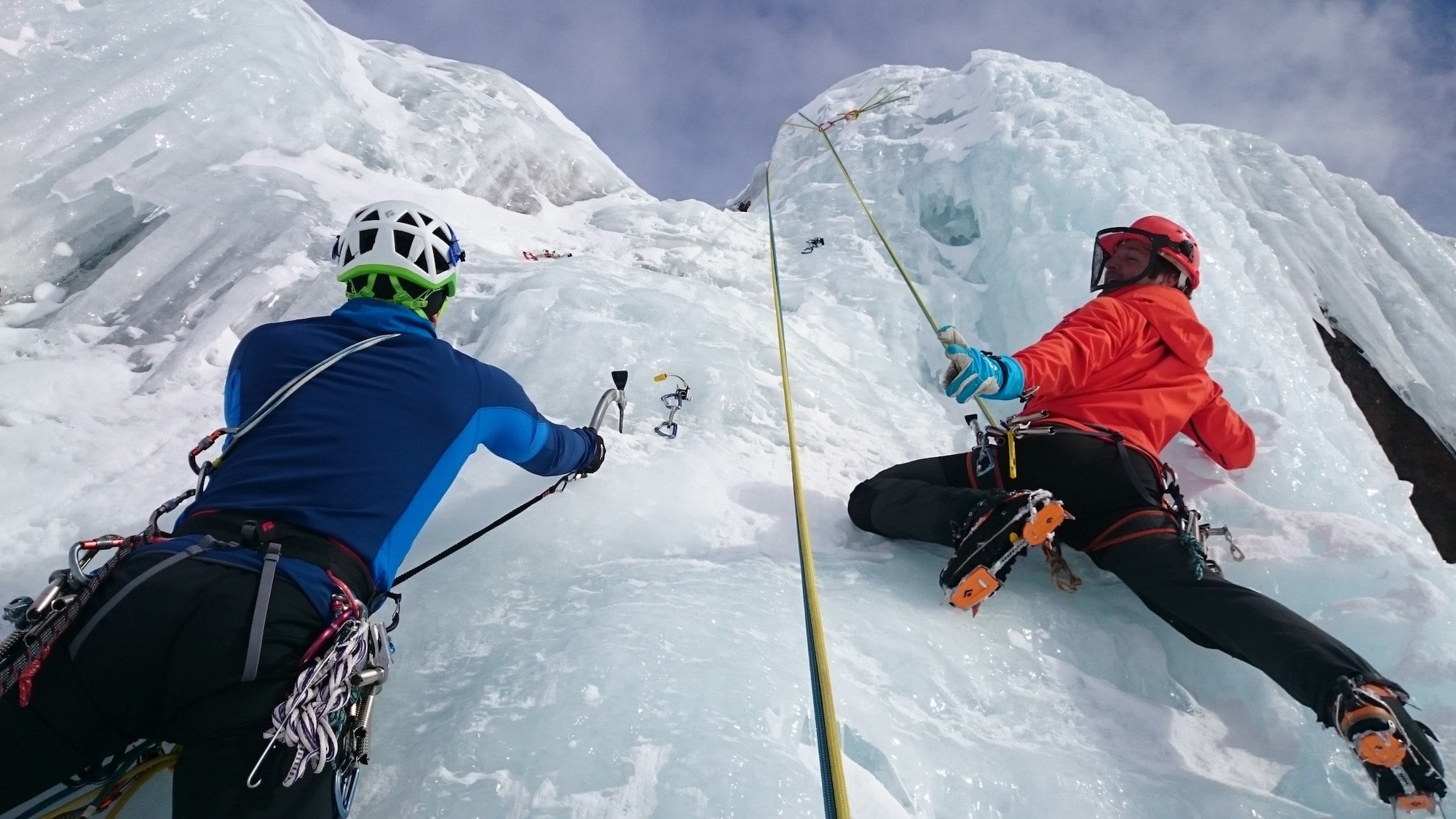 8. Visit A Hot Spring Resort
There is nothing better than soaking your muscles in some hot springs after a long day of adventuring. Luckily, with over a dozen different hot springs resorts, Montana offers a lot of options.
Norris Hot Springs, located in the Madison River Valley, has campsites with hook-ups. You can jam out to live music poolside, drink local beer and stuff your belly with fresh produce grown right on site.
Another option is the Chico Hot Springs Resort just north of Yellowstone, where you can choose between a private log cabin or a retired caboose decked out with a gas fireplace and a pedestal bathtub.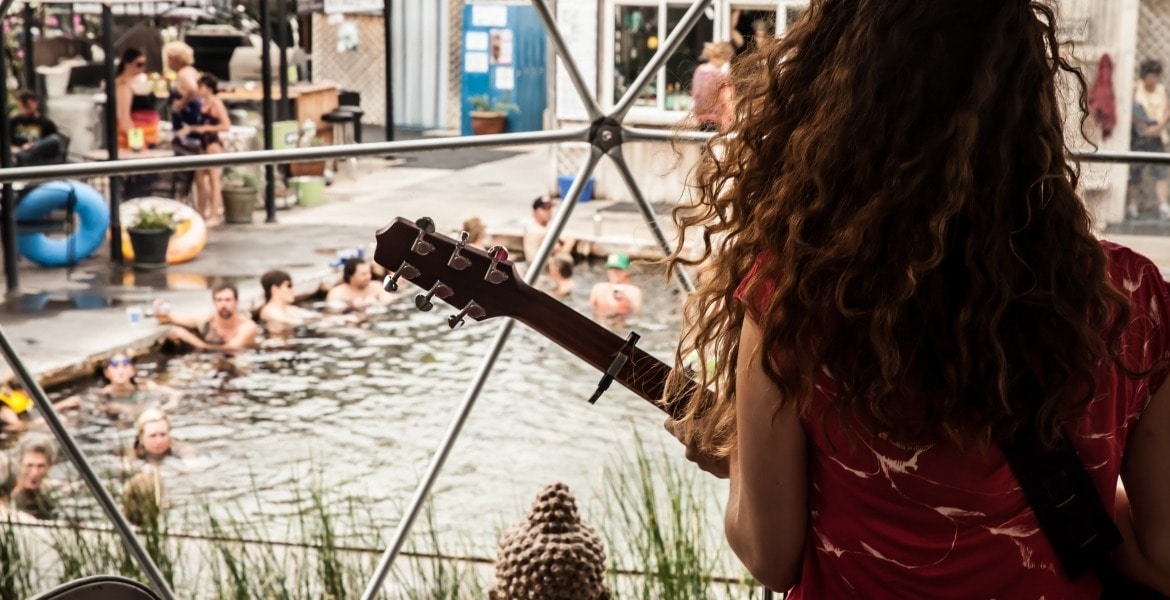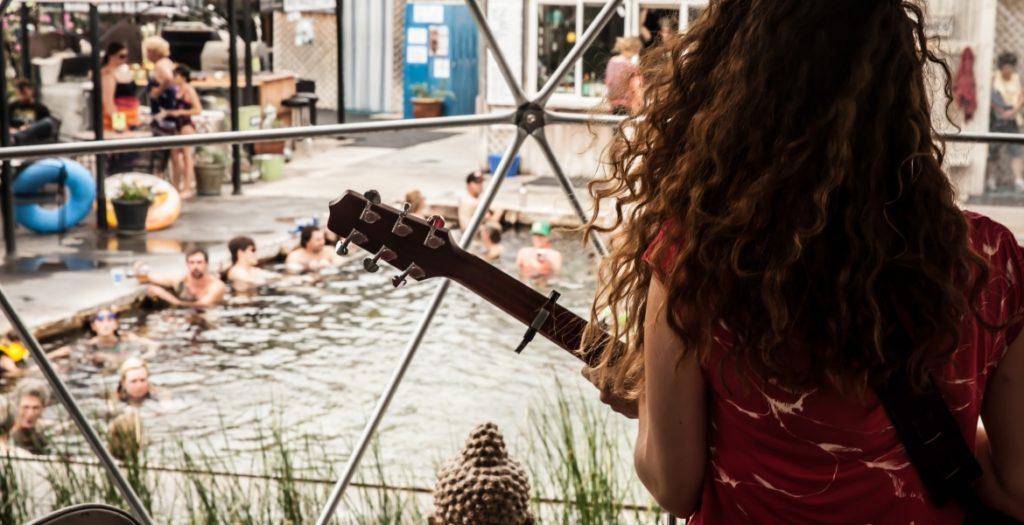 ---
Montana is an amazing place to visit during the winter months and has so many amazing opportunities for adventure. We hope this post inspires you to plan a visit to Montana in winter!
What adventurous winter activities in Montana would you like to try this winter? Leave a comment below!