HAWAII PACKING LIST FOR HIKERS & OUTDOOR ENTHUSIASTS
*This post is sponsored by Backcountry.com – where you score the best deals on the gear on this Hawaii packing list. Also, don't miss their Summer Camping Guide for their top gear picks for your summer adventures.
We recently returned from a two week trip to Hawaii where our goal was to hike, camp, stand-up paddle-board, and more. We wanted to spend our time burning calories and exploring Kauai's lush landscapes, rather than sitting by the pool (although there was plenty of that too). Before our trip, I had all kinds of questions like:
What are the best kind of shoes to wear hiking on muddy Hawaii trails?
Did I need a puffy for cold nights for the higher elevations at Waimea Canyon?
How could I best protect my skin from the hot sun with the right clothing and gear?
After two weeks there, I learned exactly what a Hawaii packing list should look like for outdoor enthusiasts. In hindsight, I brought way too many "normal" clothes (which aren't included in this list), but we pretty much nailed most of the outdoor gear. The key is finding the balance between packing light, being prepared for wet weather, and having what you need to enjoy the outdoors in this tropical paradise
In this blog post, I share my detailed Hawaii packing list for hikers and outdoor enthusiasts that will ensure you are prepared for an adventure-packed vacation.
PIN ME!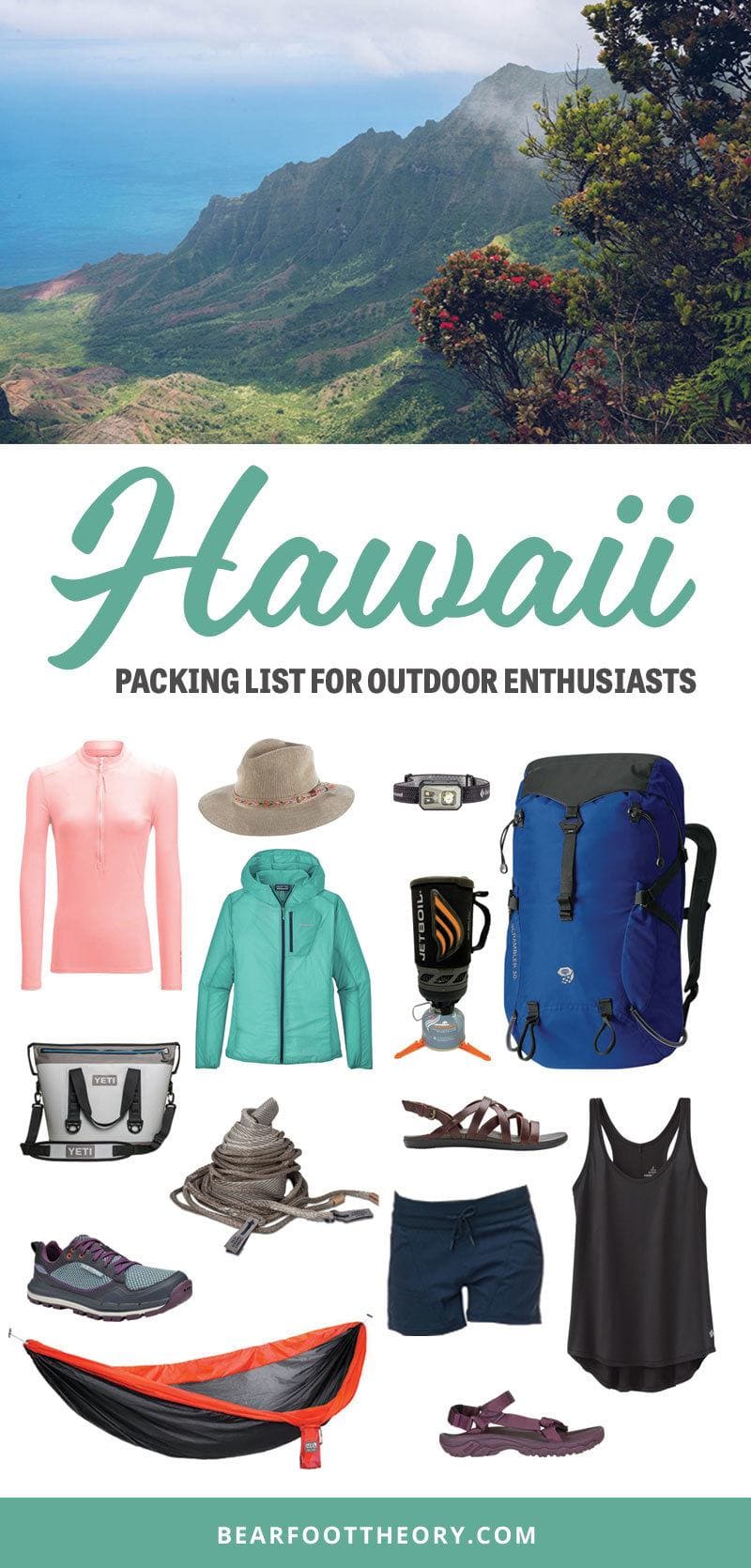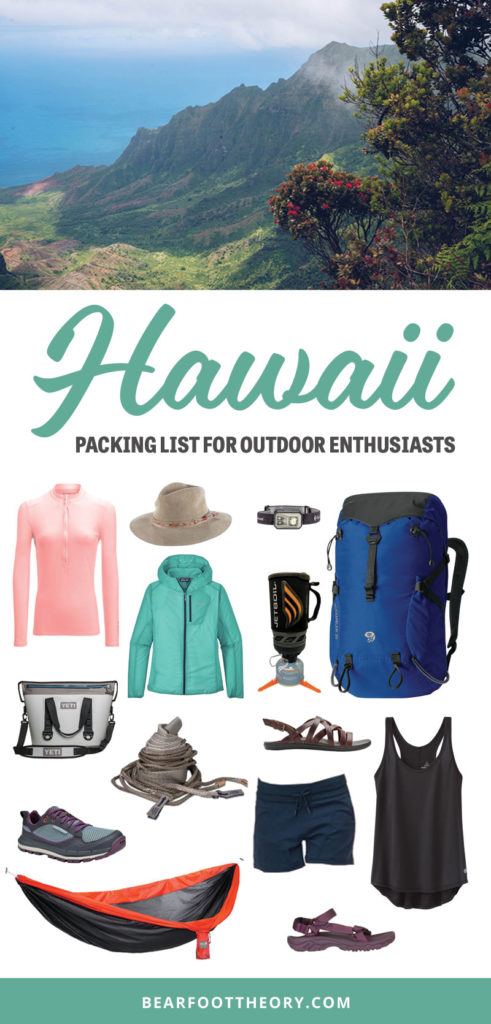 Hawaii Hiking Apparel Recommendations
Carve Designs Cruz Rashguard (Favorite Color: Flamingo)
I love how flattering and comfortable this Carve Designs rashguard is. You can wear it surfing, SUPing, snorkeling, hiking, or even just lounging around. The extra coverage is great for active sports (where you might be worried about your swimsuit staying in place)…but even better, it protects your skin from the sun. Certain sunscreens contain harmful chemicals that are bad for your health AND the reefs, so wearing this rashguard helps reduce the amount of sunscreen I need to protect myself from painful sunburns. It comes in a few different colors to suit your mood…you can see pink and blue in the two photos below.
The North Face Aphrodite 2.0 Shorts (Favorite Color: Blue)
While I'm a big fan of hiking in spandex, in Hawaii I wanted shorts that were a little more versatile. Shorts that I could wear to the beach, to the pool, on the trail, or out to lunch. These North Face Aphrodite Shorts have an elastic waistband (COMFY!), and the shorts are loose fitting but not baggy or saggy. My favorite feature is the pockets. I'm so used to hiking without them in my spandex, I forgot how useful pockets can be. It made it easy to access my phone for photos or to carry my ID and credit card if we were headed to the store. Finally, the material dries quickly, whether they are wet from a swim or washing them in the sink (be prepared to get muddy on the trails!)
Prana Revere Tank Top (Favorite Color: Black)
The lightweight, breathable Prana Revere Tanktop was built for active outdoors vacations. It wicks moisture, dries quickly and resists odor. Even when I got sweaty in the humidity, this Prana tank didn't stick to my skin or feel clingy.
If you're not a fan of tank tops or want more sun coverage Kim, BFT's former Community Manager, swears by the Prana Foundation Short-Sleeve v-neck shirt. It's lightweight and great as a travel t-shirt that can survive the trail or a casual dinner out.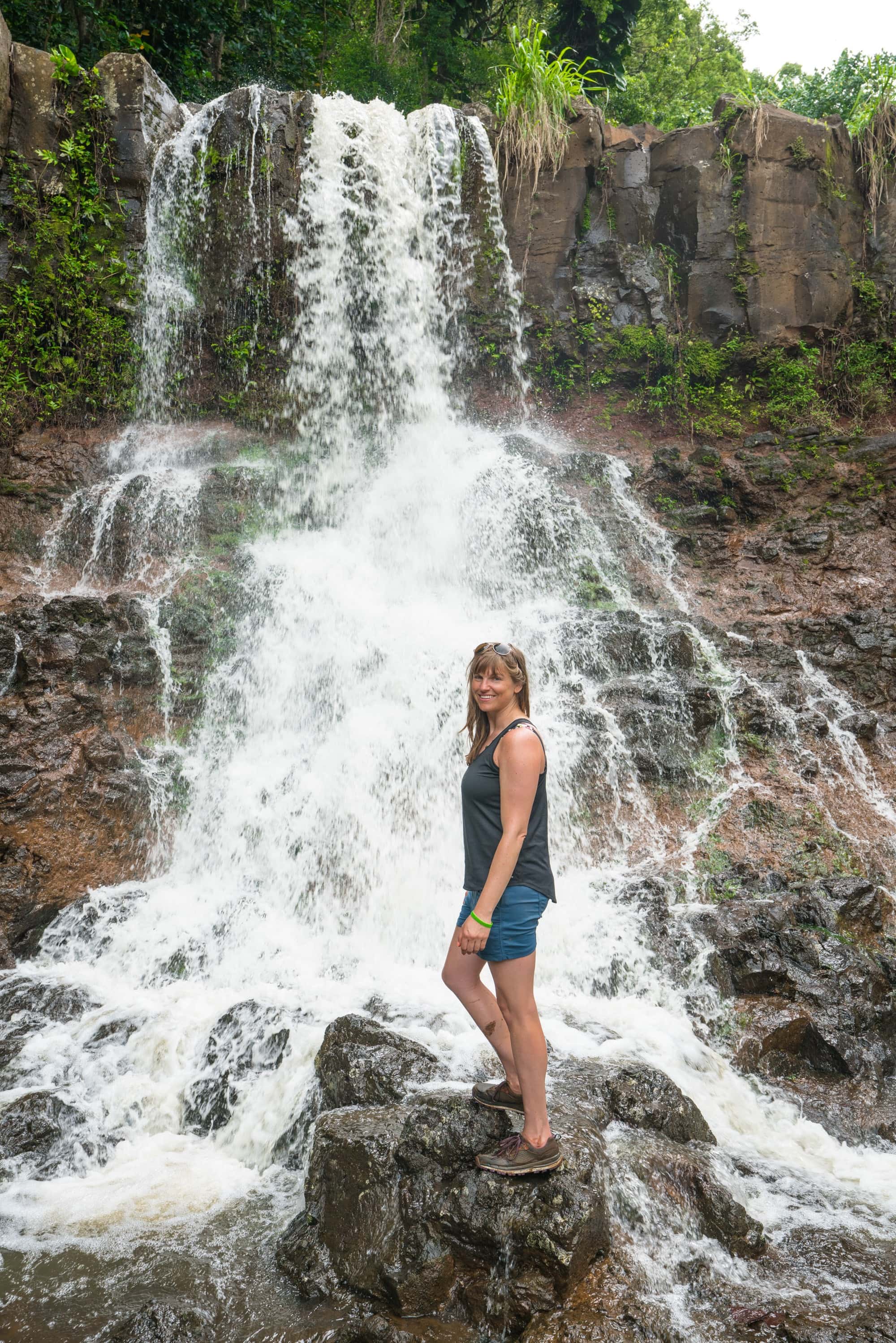 North Face Aphrodite Shorts paired with the Prana Revere Tank Top
Patagonia Houdini (Favorite Color: Strait Blue)
The Patagonia Houdini is hands-down the best lightweight (3.3 oz) windbreaker I've tried. It's also water-resistant which is great for Hawaii. It rains a lot on Kauai, but every rain storm we encountered was a warm one, so a traditional Gortex rain jacket would have left me a hot sweaty mess. Instead, this Patagonia Houdini provided a little extra protection when it started to drizzle. I also wore it during our doors-off helicopter ride where we encountered some pretty strong winds. It was the perfect extra layer, and for how little it room it takes up, it's kind of a no-brainer.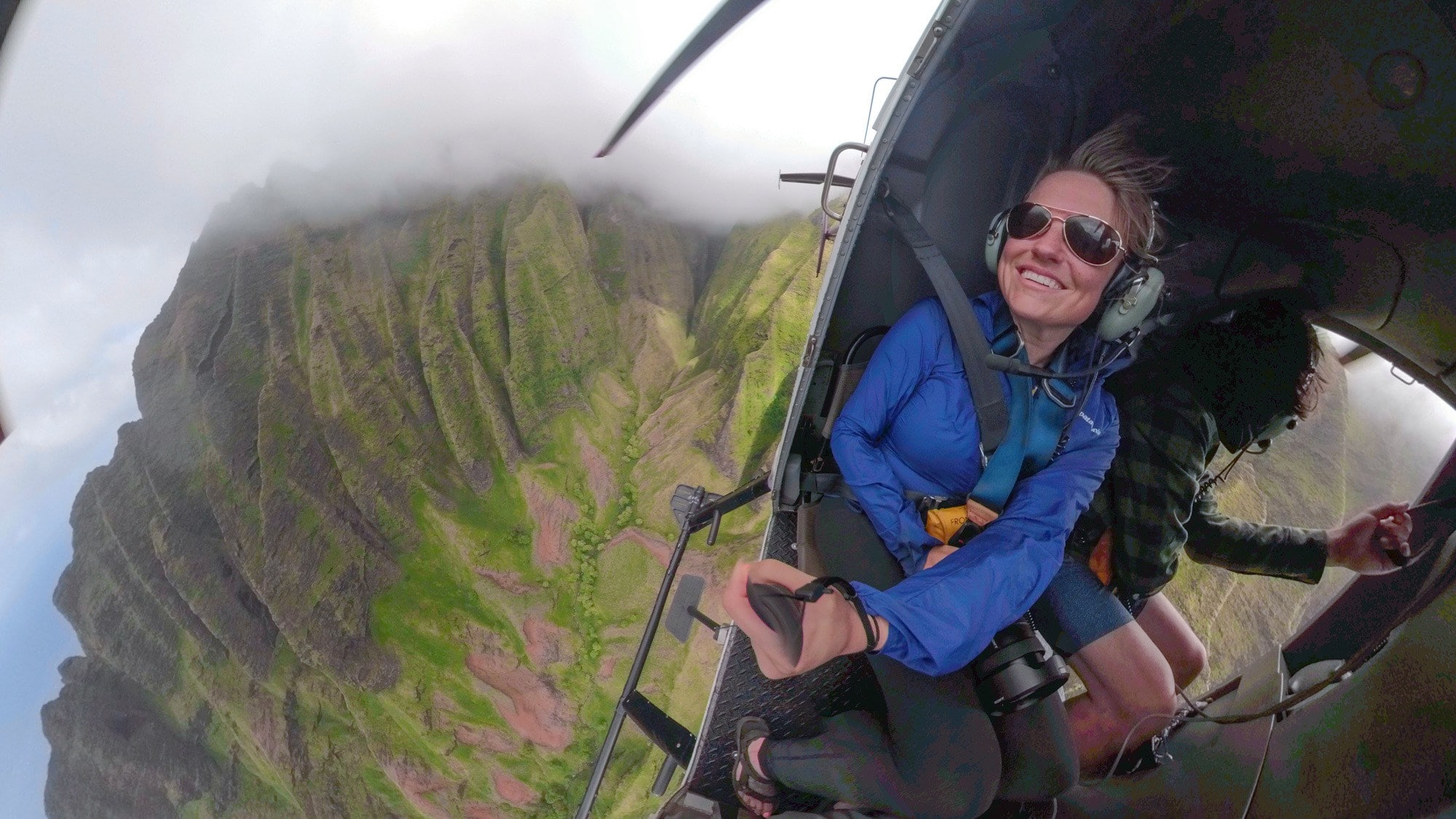 Confession…I get a lot of questions about my favorite sunhat…turns out I actually got it at a gas station in Escalante, Utah. If you are looking for something similar that has a wide brim and can protect your face and neck from the sun, this Pistil Luka Hat has a similar style.
Hawaii Hiking Shoe Recommendations
Shoes for Hawaii are almost as important as your clothing! Since the weather and terrain can change drastically from day to day it's important to have sturdy footwear for exploring the trails & beaches.
Astral Tr1 Junction Water Shoe
Before our trip, I was doing a lot of research about the best shoes for hiking in Hawaii. I decided to leave my waterproof hiking boots at home and opted for a more breathable shoe made for wet, slippery, and muddy trails – which was exactly what we found. I first heard of Astral shoes from my three OARS River guides last summer, who were ALL wearing them because of how well they perform on wet rocks and slick surfaces. The model I decided on is the Astral TR1 Junction shoe, which provides incredible traction in a lightweight breathable hiking shoe. Many times I found myself in ankle deep mud, plodding through rivers, hopping over boulders, or climbing over tree limbs, and this shoe gave me confidence. The shoe is made of mesh, so it drains, but no rocks get in. It also has a sturdy toe and brim around the bottom of the shoe to give you stability on uneven surfaces. Every now and then I find a new piece of gear that I'm elated about…and these shoes are it.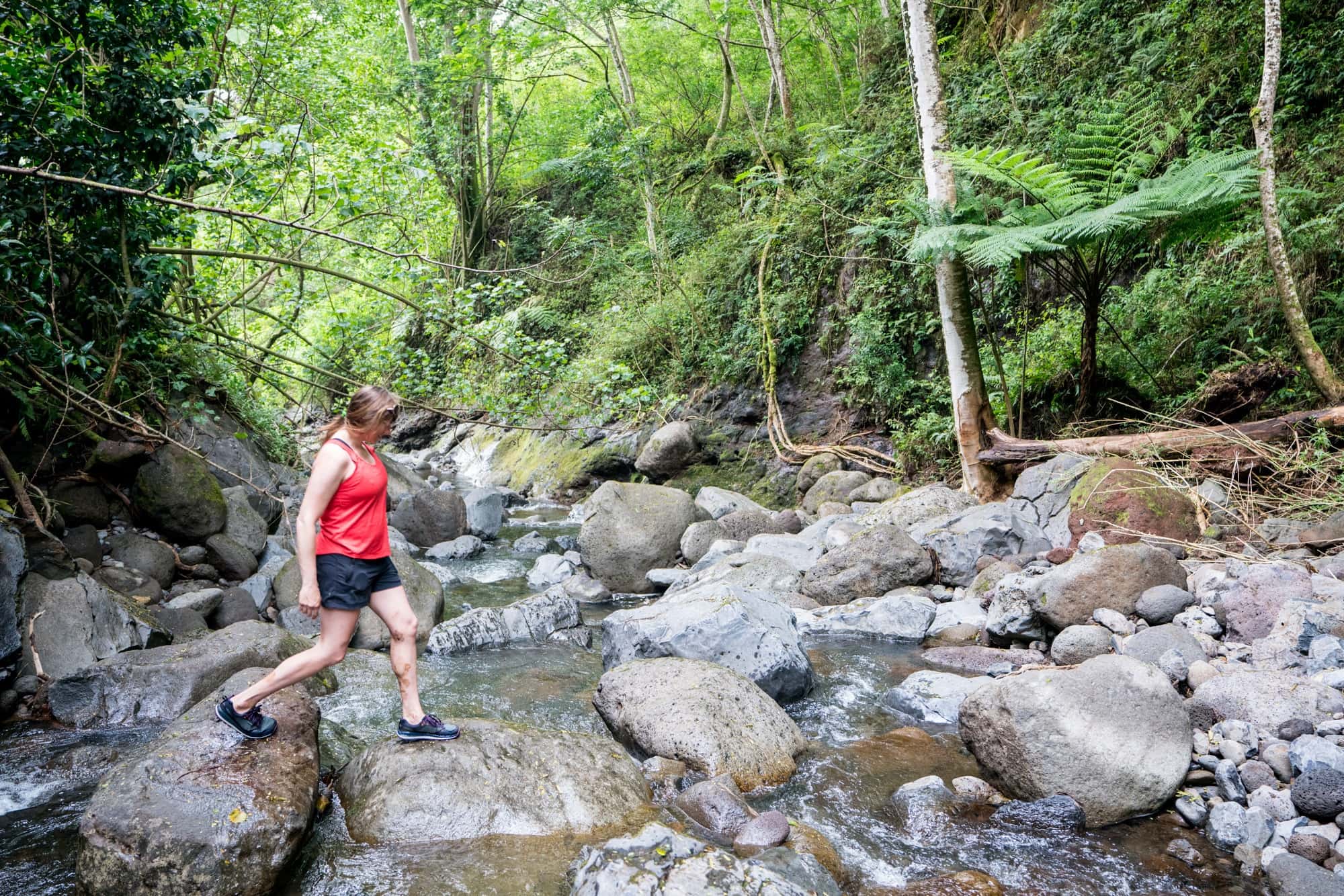 Olukai 'Awe 'Awe Sandal (Favorite Color: Dark Java)
These Olukai 'Awe' Awe Sandals are a stylish, but comfortable pair of sandals. Pair them with the North Face shorts I mentioned above to the beach or with a cute sundress for a nice dinner out.
Teva Hurricane XLT Sandal (Favorite Color: Solid Fig)
If you've read my other packing lists recommendations, you know I love my Teva Hurricane Sandals! I rarely wear flip flops because they cause some tendonitis in my foot to flare up. Instead, I like sandals, like these Tevas, that are strapped to my foot so I don't have to use my toes to grip my sandals. The Teva Hurricane sandals are lightweight, but they still provide some structure and grip for walking around at camp at night or on a wet trail. They are constantly coming out with fun new colors and designs, and I also like that you can pair them with socks for chilly nights or on the airplane.
Hawaii Outdoor Gear Recommendations
Yeti Hopper Two 30 Cooler
Hawaii is hot and having a cooler is pretty much a must unless you want to eat and drink all of your meals out. Remember, cocktails at a beachfront bar in Hawaii can be up to $20. We brought our Yeti Hopper 30 Cooler for drinks, sandwich fixings, and other staples we like to keep around. Our model can hold 24 cans of beer and plenty of ice. In the car, it kept the ice and the food cold for 2 full days before we had to replenish…and for a soft cooler, that is pretty amazing. We checked the Yeti Cooler with the rest of our luggage and used it to carry a few things that didn't fit in our normal bags. The shape makes it fairly compact, and it is also perfect for an overnight kayaking trip. However, if you don't ever plan on needing to strap it to a kayak, then I think the Yeti 18 Flip Cooler (which is smaller) is an easier shape to pack and carry around.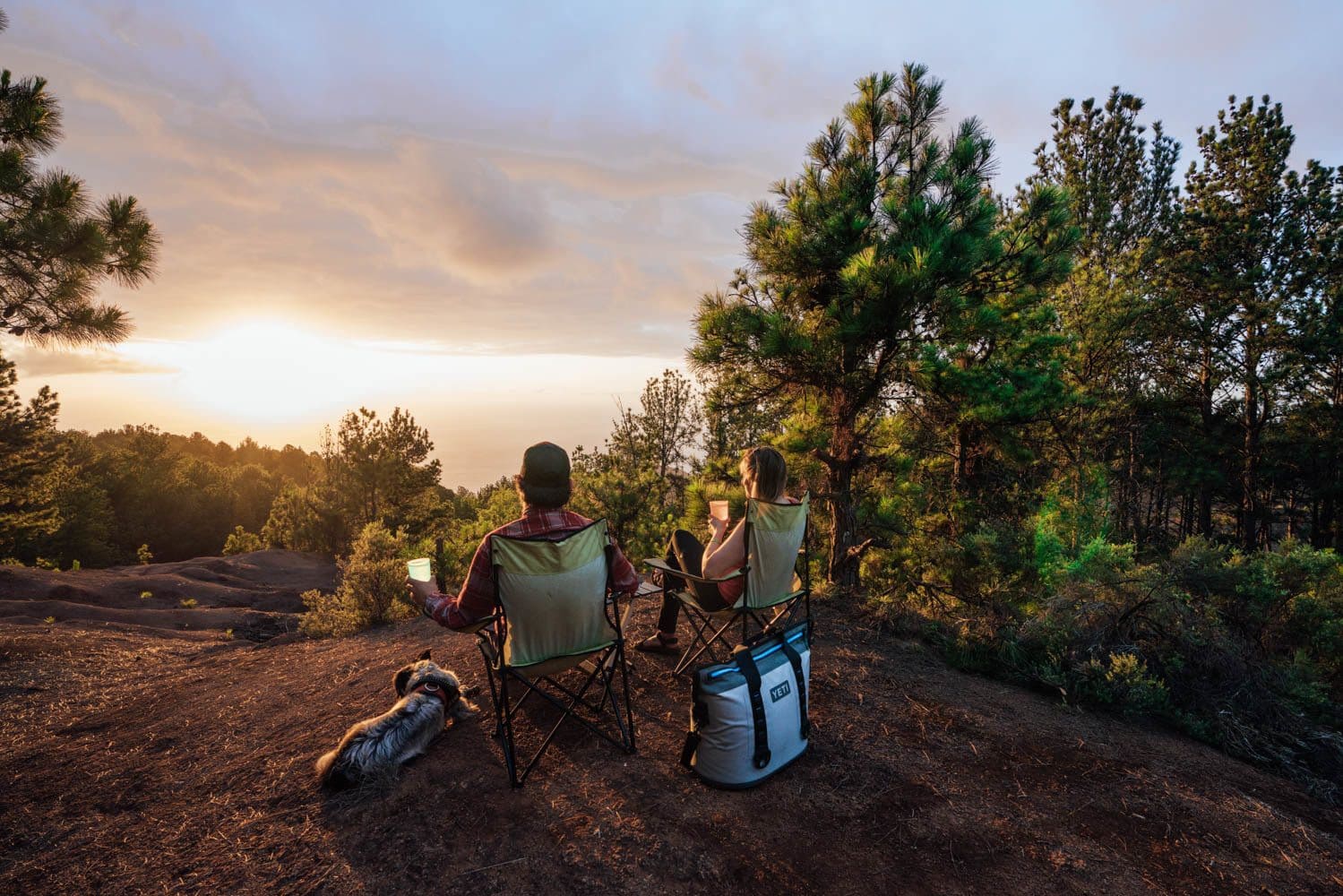 Black Diamond ReVolt Headlamp
A headlamp is a Hawaii packing list essential if you plan on camping or even late night walks on the beach. The Black Diamond ReVolt Headlamp has multiple settings, including ultra bright and red night vision – which comes in handy when you want to have a conversation without blinding your friends–or when you're sharing a van with your significant other. It also has a locking mechanism to prevent it accidentally turning on in your bag. What really distinguishes this headlamp from the rest is that is works on rechargeable batteries that you can recharge using a solar panel or USB outlet. So while it may be slightly more expensive than the average headlamp, you won't have to carry extra batteries, which will end up saving you money and weight.
This compact Jetboil stove is one of the most efficient backpacking stoves on the market and it's perfect for exploring Hawaii. Weighing just under a pound, the Jetboil can bring 2 cups of water to a rolling boil in 2 minutes. With one fuel canister, which you'll have to pick-up once on the island, you can boil up to 42 cups of water, so you'll probably only need one canister for your entire trip. This lightweight cooking system is awesome for boiling water and making coffee (so you can save money on coffee out), as well as heating up simple meals.
**Don't forget you can't fly with fuel canisters but once you're on the island you can pick up fuel at Walmart or a hardware store.
Mountain Hardwear Outdry Backpack (Favorite color: Blue)
Ryan and I had two different day packs on our Hawaii packing list – my camera backpack and my Mountain Hardwear Outdry Scrambler pack. Every day we hit the trail, we chose the Outdry. The Outdry is completely waterproof so you could hike in the rain, take it to the beach, or put the pack on the wet ground without worrying about what was inside. It's also made of a durable material that can withstand being thrown around on rugged terrain – like lava rock. The newest version of this pack has been upgraded with a pocket for a hydration bladder.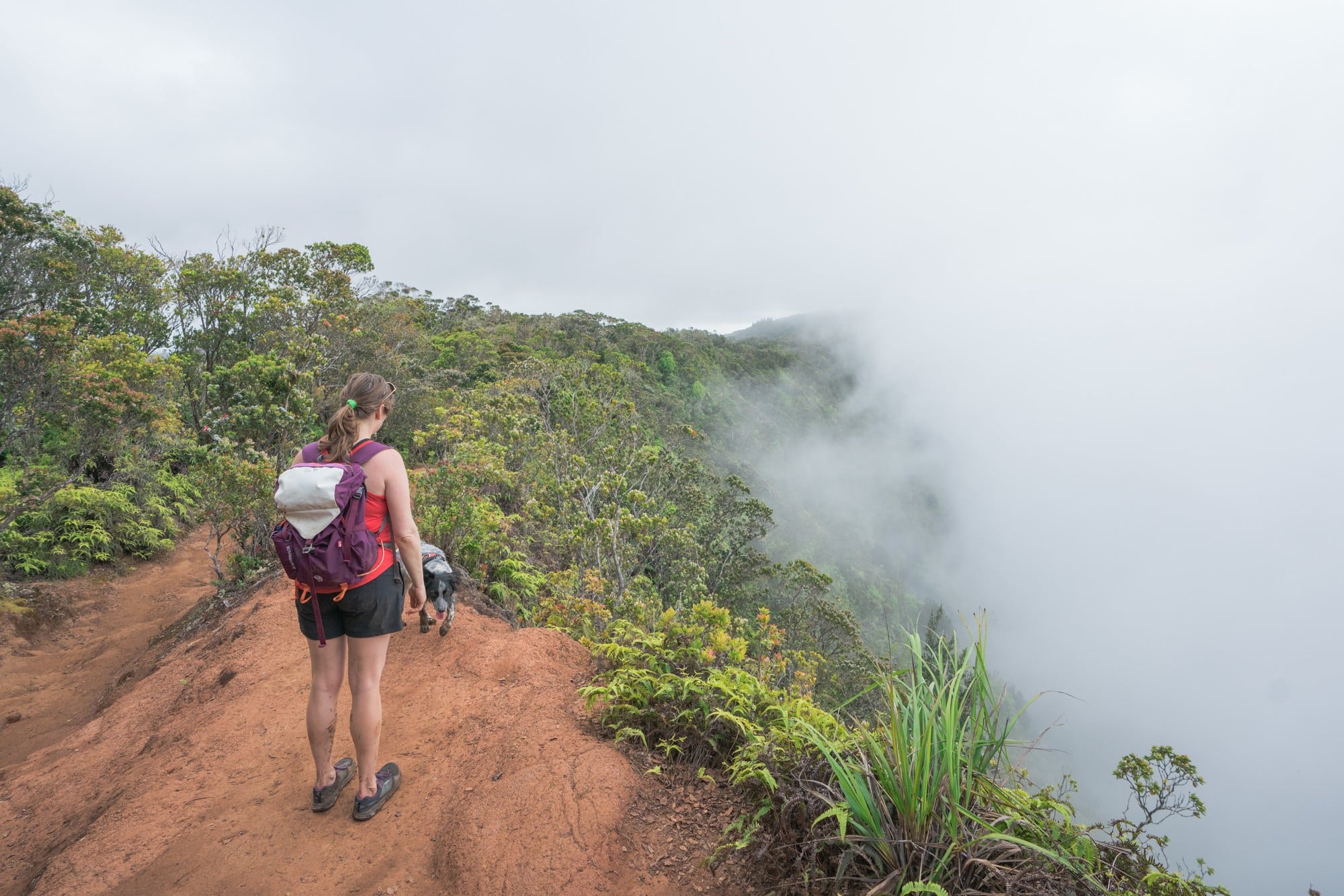 Eagles Nest Outfitters SuperSub Hammock & Straps
Who doesn't want to take a hammock nap on the beach in Hawaii? A hammock may sound like a luxury item to add to your Hawaii packing list…but this lightweight hammock by ENO will hardly take up any room in your bag. With their Helios suspension straps, set up between a couple of shady palms is a cinch.
Have you been to Hawaii? What else is on your Hawaii packing list for hikers and outdoor enthusiasts? We'd love to hear about your travels in Hawaii and how you prepared. Leave us a comment below.