Van Cabinets, Tables, and Storage Options
Discover the best options for van cabinets, tables, and indoor storage to ensure your van conversion has plenty of functional storage space.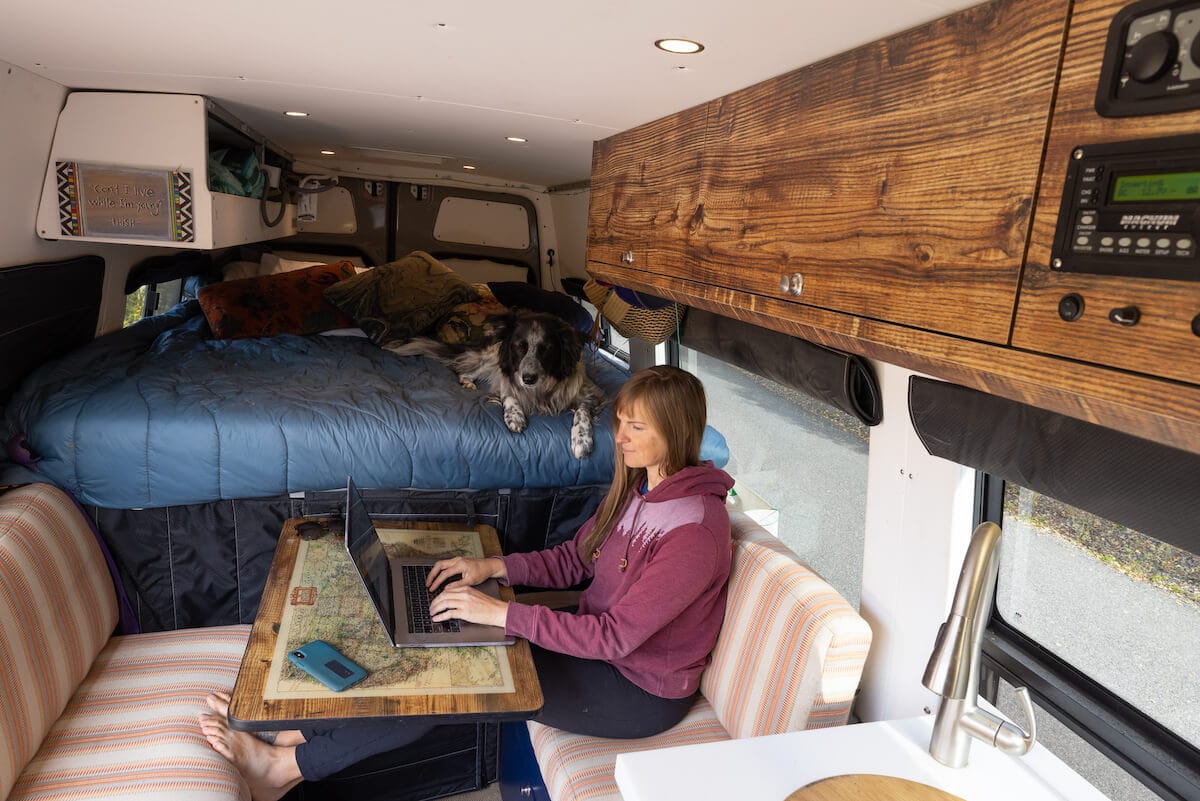 We've all been woo'ed by beautiful van cabinets that make a van feel super homey, like a gorgeous cabin. But before you decide on reclaimed barn wood, there are some things you should consider. The materials you choose for your cabinets will determine how durable they are to withstand the bumps in the road. Woodwork can also add a ton of weight to your van conversion.
In this blog post, we'll go over different van cabinet options including materials that make a sturdy build, latches to hold things in place on the road, and popular table options for van life. Finally, I'll share some additional storage options that have worked well for me in my Sprinters over the years as well as some other handy ideas we've seen around.
Discover the different options for van cabinets, tables, and storage options in this blog post.
Van Cabinets
Installing durable cabinetry in your van is a must. Unlike a brick and mortar house, your home on wheels needs to withstand great pressure from the constant vibrations of the road. So, choosing high-quality, strong materials that are able to withstand such pressure, as well as temperature swings, is imperative in having a long-lasting build that can handle all the roads you'll encounter.
Whether you plan to buy something prefabricated, do it yourself, or hire someone else, keep in mind all of the different materials that go into building cabinetry and make sure they can handle the job.
You'll be surprised at how much extra space cabinets provide; they turn empty areas into valuable storage. Some vans only have cabinets in their galley, while other vans have a long row of cabinets. You won't want to store anything too large or heavy in cabinets high off the floor, so keep this in mind as you think about how much cabinet space you need vs other storage compartments and areas on the van. Remember that not every inch of your van needs to be covered with cabinets. We'll cover some additional storage options later in this post.
Now let's get into some of the well-known, durable van cabinet materials available:
Plywood Cabinet Options
There are various types of plywood suitable for cabinetry made from pine, fir, and birch. But remember your weight and payload limits. It's ideal to install something lightweight and strong; a lot of materials are beautiful to look at but might weigh down the van.
Marine-grade plywood is a popular option for cabinets. The cabinets in my second Sprinter van were 13-layer marine-grade plywood which is very strong, durable, and made to withstand environments with lots of movement, like boats on an ocean. Those cabinets are covered with a thin layer of laminate from a company called Wilson Art. A less expensive way to give your cabinets the look you want is to sand and paint them.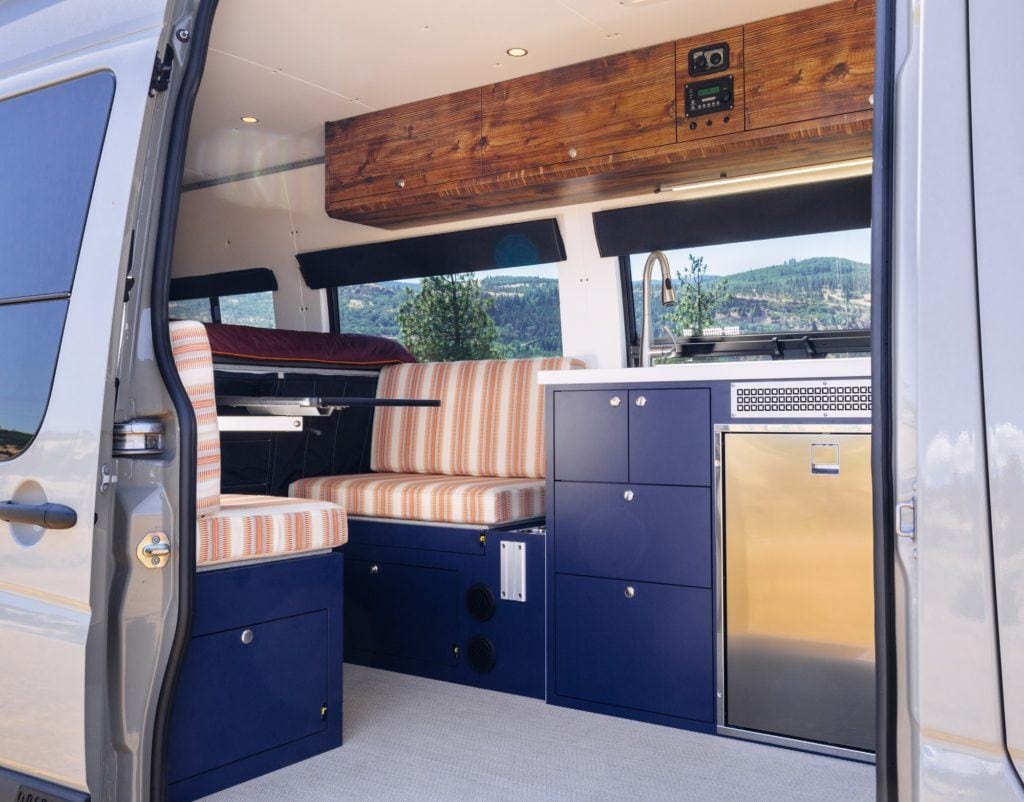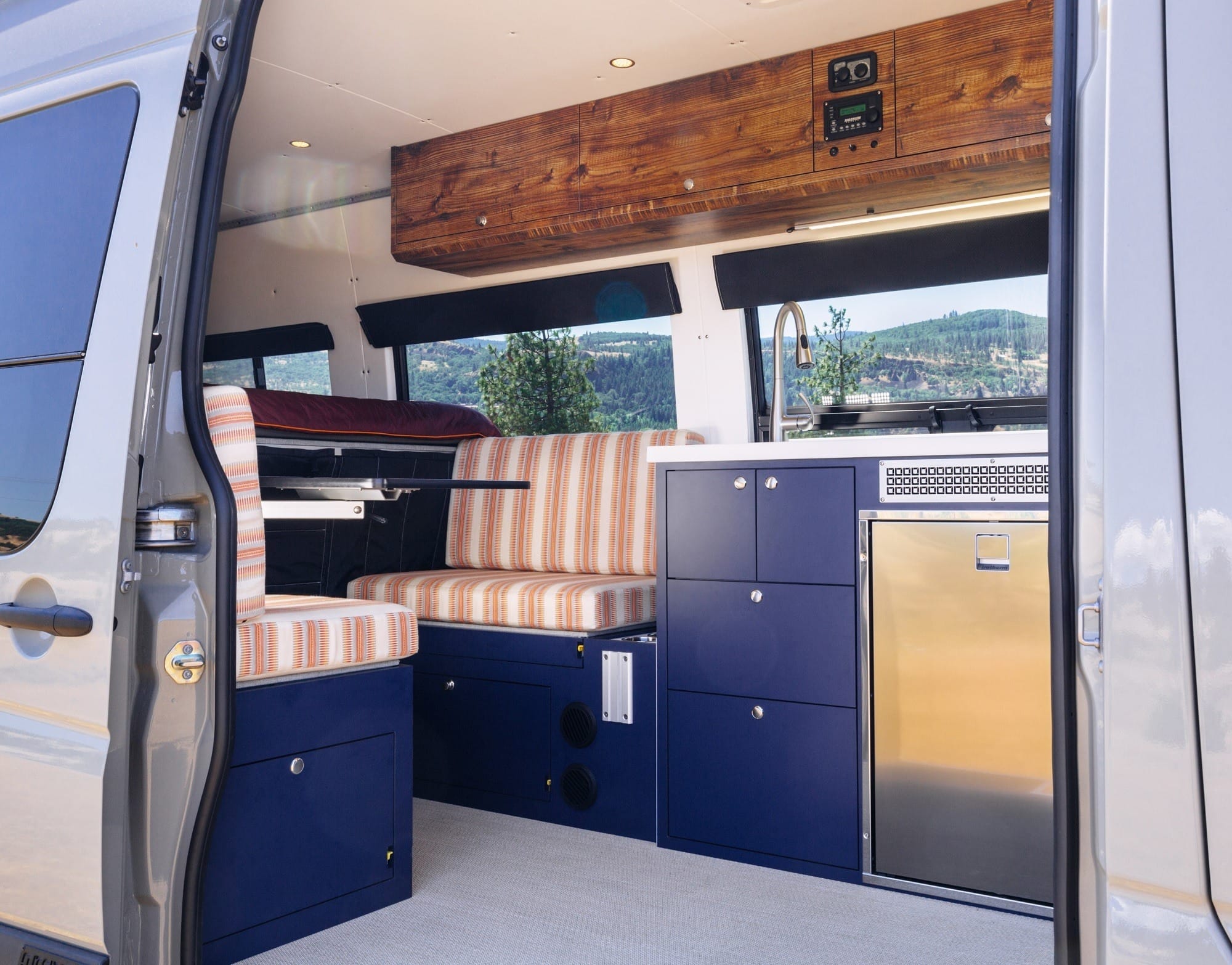 It's also a good idea to build your cabinets with a material that is moisture-resistant to prevent deterioration and mold growth. Using some sort of sealant helps prevent this issue, and a lot of materials are sold pre-sealed. This is also important for the large temperature swings you might experience in your van. You don't want your cabinets to swell or shrink with changes in temperature, which can happen with wood that isn't sealed. This is an important consideration that will improve the longevity of your cabinetry.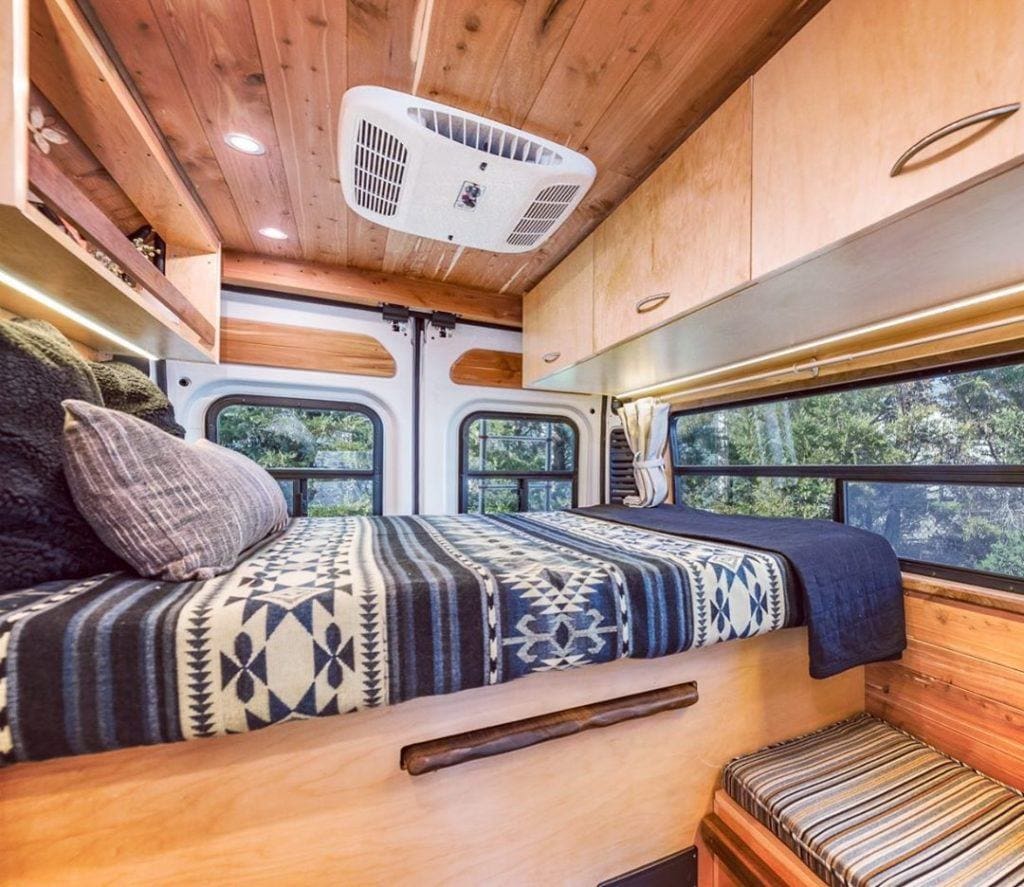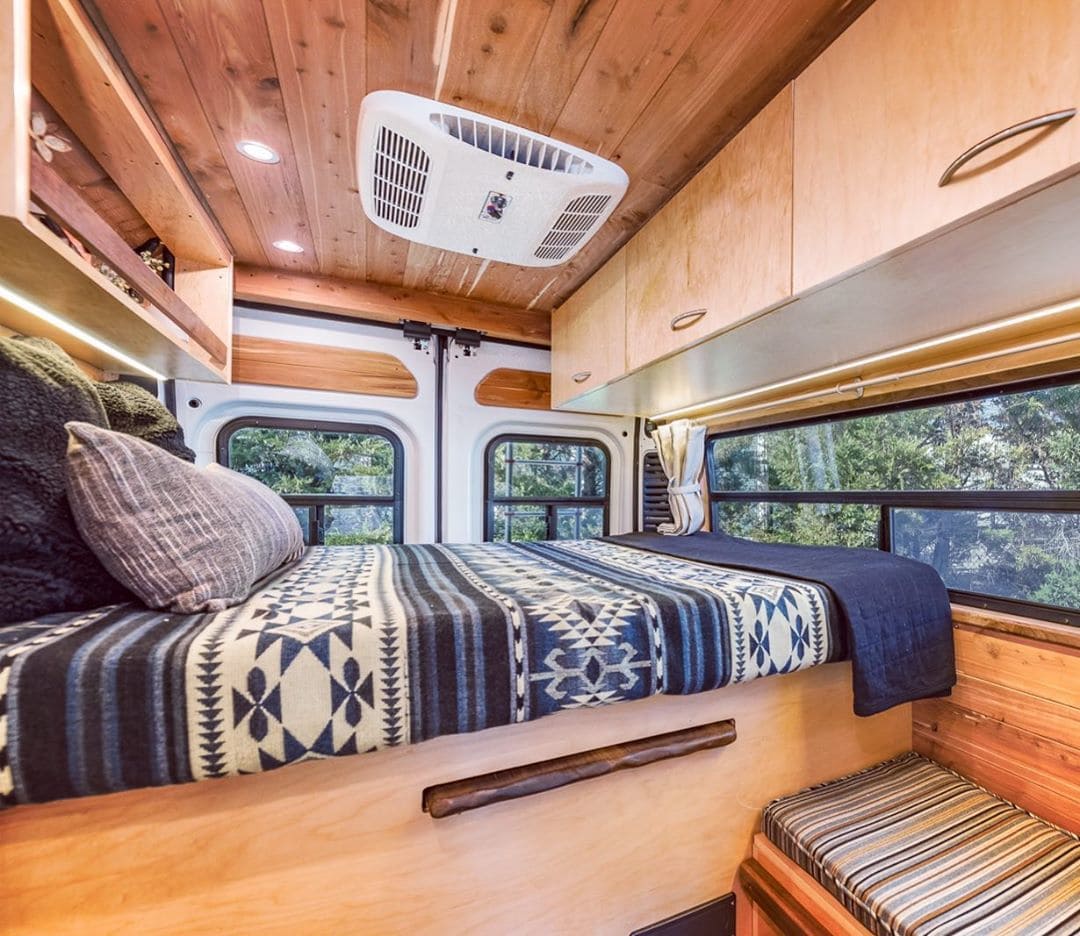 Prefabricated Van Cabinets
Prefabricated cabinets are a viable option if designing and installing custom cabinets doesn't sound fun to you, and there are many companies now making prefabbed cabinets specifically for vans. If you plan to DIY your van conversion, this could be an easier method than building your own cabinets to get beautiful, functional results. Some people report that cabinet building is one of the trickiest parts of the overall structural build, so it's worth exploring this option.
Recently I've been seeing more cabinets built out of aluminum. I don't have personal experience with this, but I wouldn't be surprised if we see more and more conversion companies going this route since aluminum is lightweight, durable, and doesn't warp with temperature changes.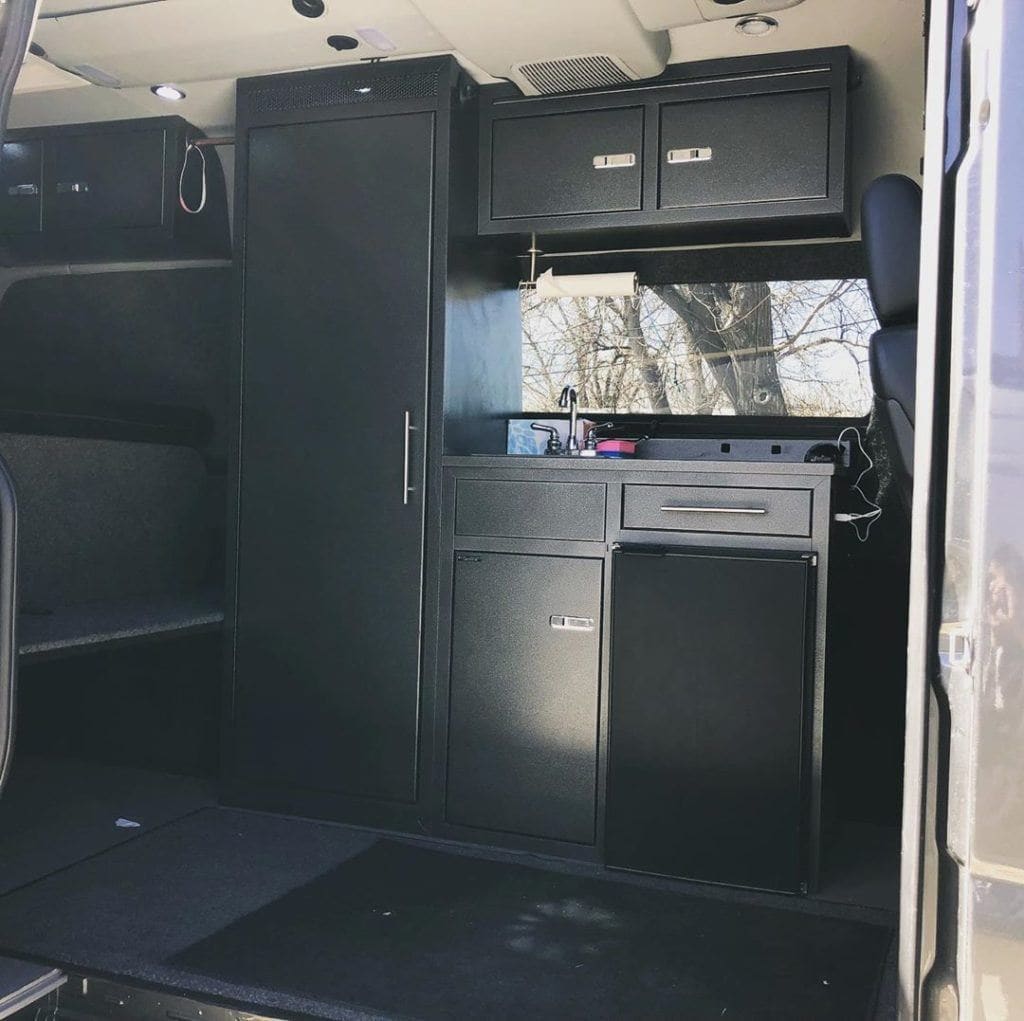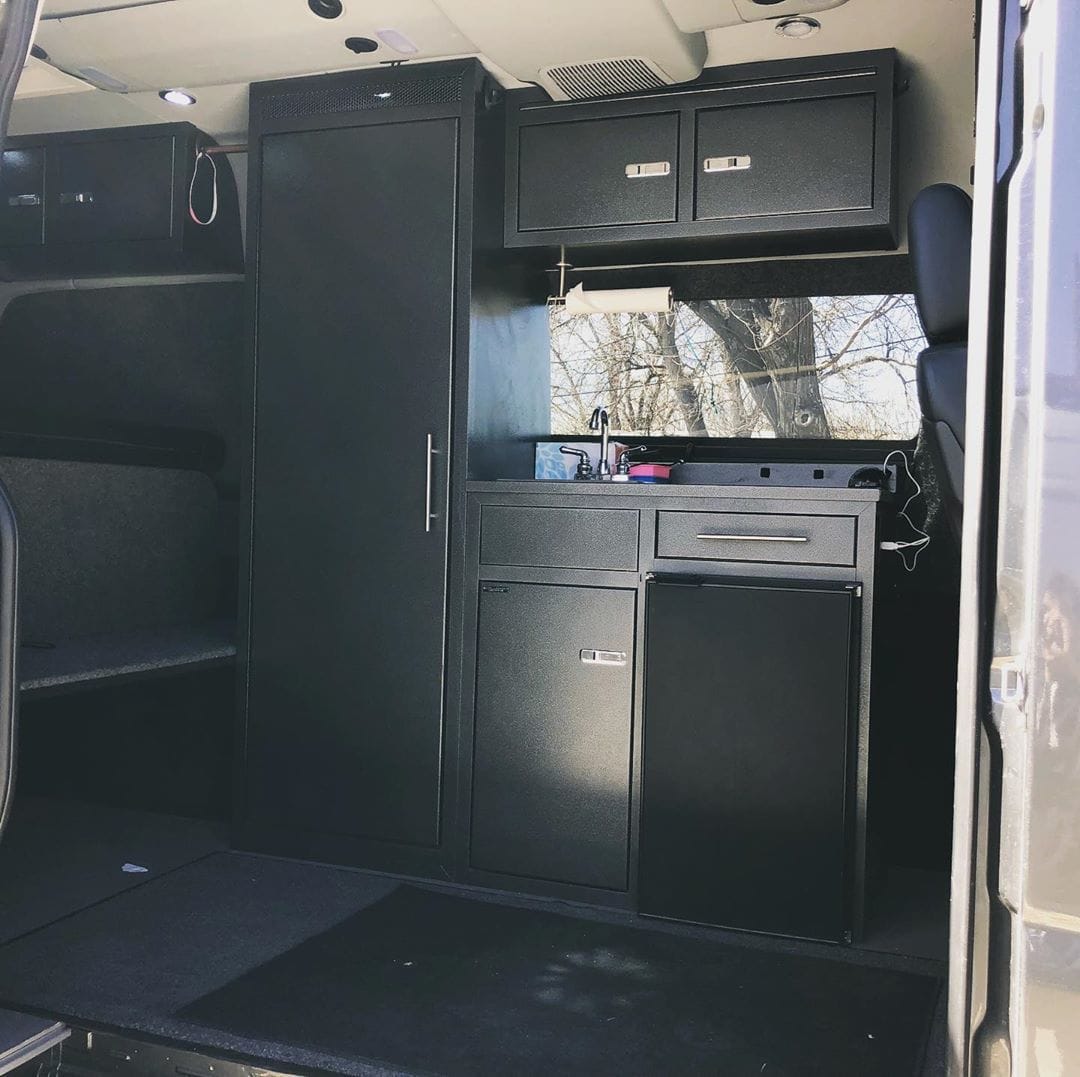 Latches
The other important part of your cabinetry is the latches that will prevent your cabinets from opening while you are driving. This happens more often than you might think, even on smooth roads, and it's not fun to hear your pots and pans crashing when your drawers fly open. Push-button latches and grabber latches are popular options that work well. Barrel bolts are an industrial-looking option that works well too. Marine distributors are a good resource for latches since they're commonly used on boats.
The final thing I'll mention is how your cabinets are installed can make or break the durability of your van. You can't just screw your cabinets into the wall and call it good. At best, you'll have stripped holes on your drawers. At worst, you'll have your cabinets falling off the wall. I'll link to some DIY resources in the resources section, but for those of you looking to hire someone to do your conversion, this is an area you'll want to ask questions about. You'll want to know what the infrastructure behind the walls looks like and how the builder will ensure that the cabinets are strong, durable, and will stay put over the lifetime of the van.
Tables for Camper Vans
Depending on your setup, you'll likely want some sort of table in your van. Whether it's for eating, working, or playing games, having a sturdy tabletop in the van makes it a lot more liveable. Here are some popular tables for camper vans:
Lagun Table
One of the most popular camper van table styles is the Lagun table that sits on a swivel mount, like the one I had in my second van. The Lagun table has become super popular in recent years due to its adjustable height and flexibility of position. The downside of the Lagun table is finding a place to store the tabletop when not in use.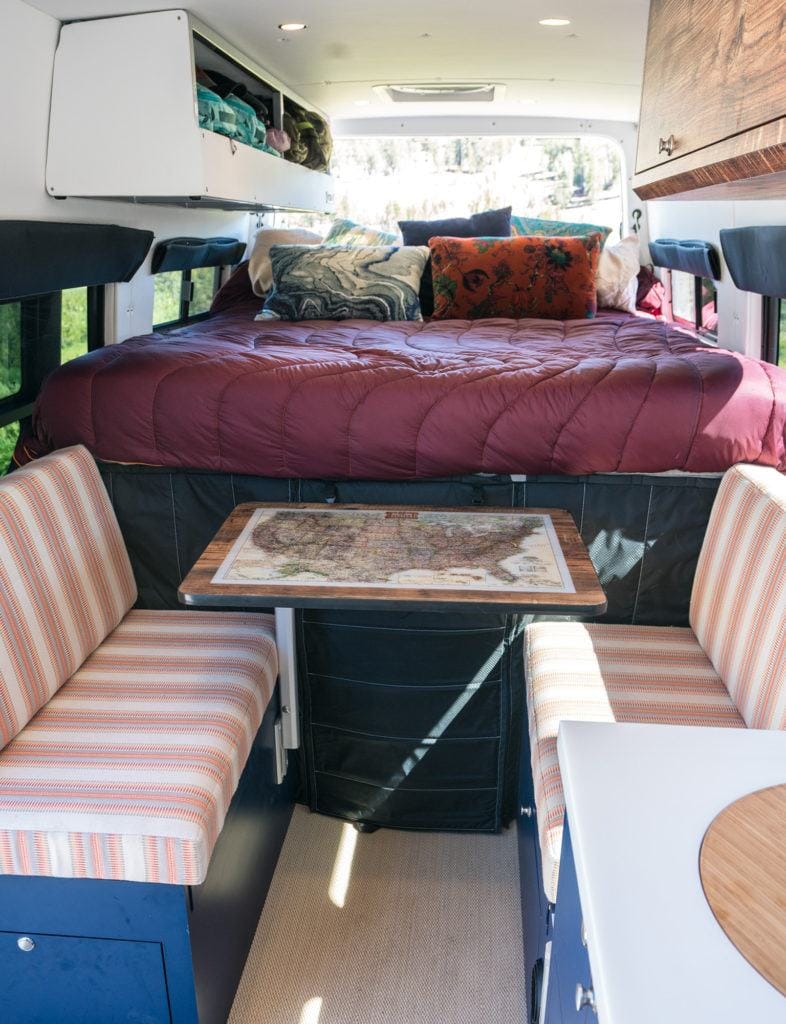 Tabletop with Removable Base
A tabletop with a removable base pops into the floor when you want to use it, making it a versatile option that doesn't take up a ton of room. This is what I went with in my first Sprinter van, but ultimately decided I wanted something with a smaller footprint.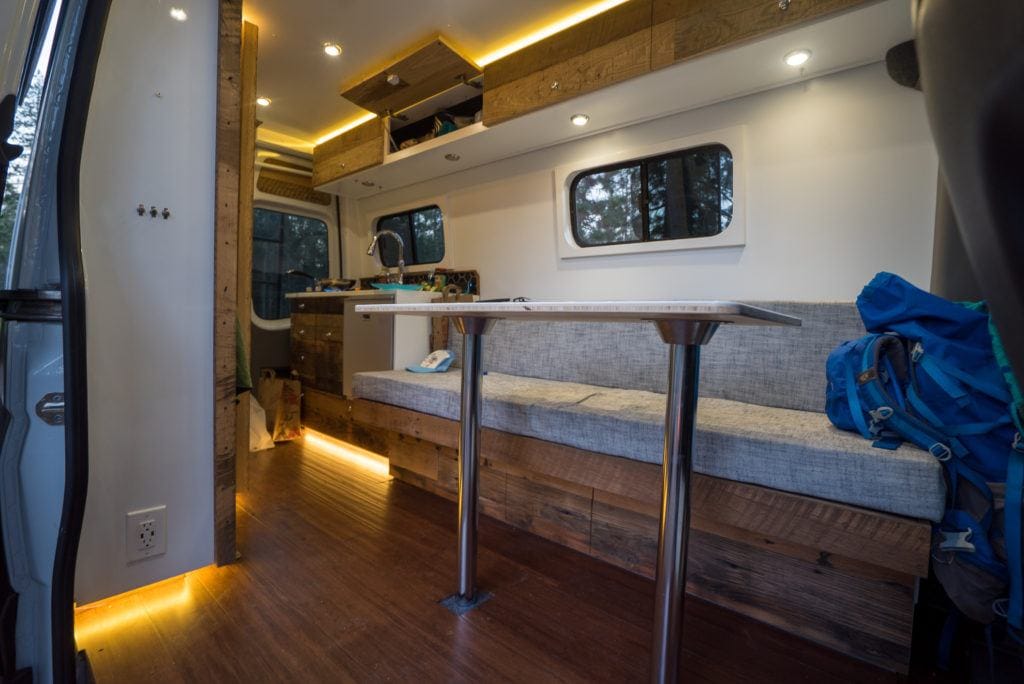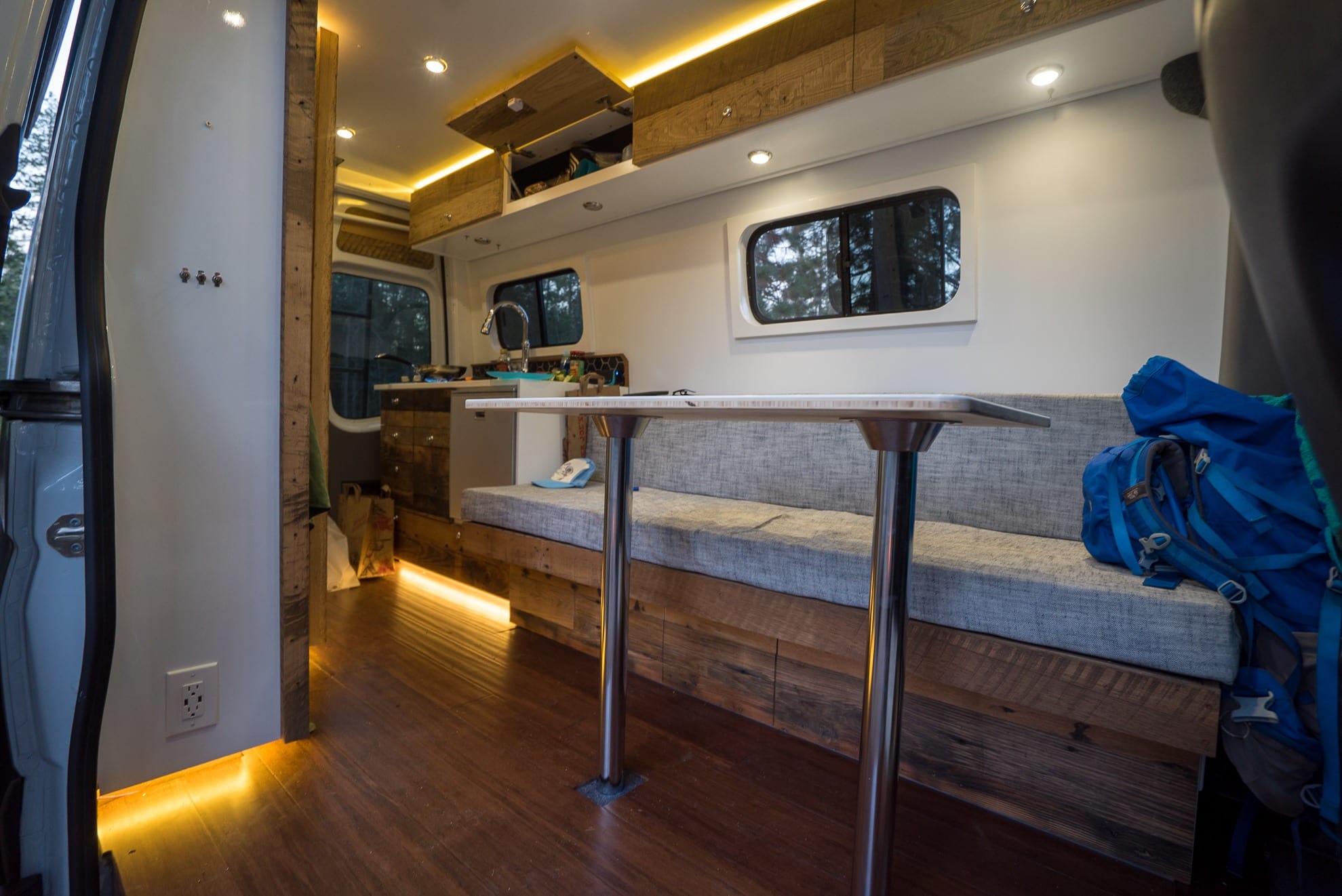 Table on a Hinge
Another option is to have a table on a hinge that flips up when you want to use it and sits flush with another cabinet or a wall when not in use. The benefit here is that it's super easy to set up and you don't have to worry about where to store the table when not in use.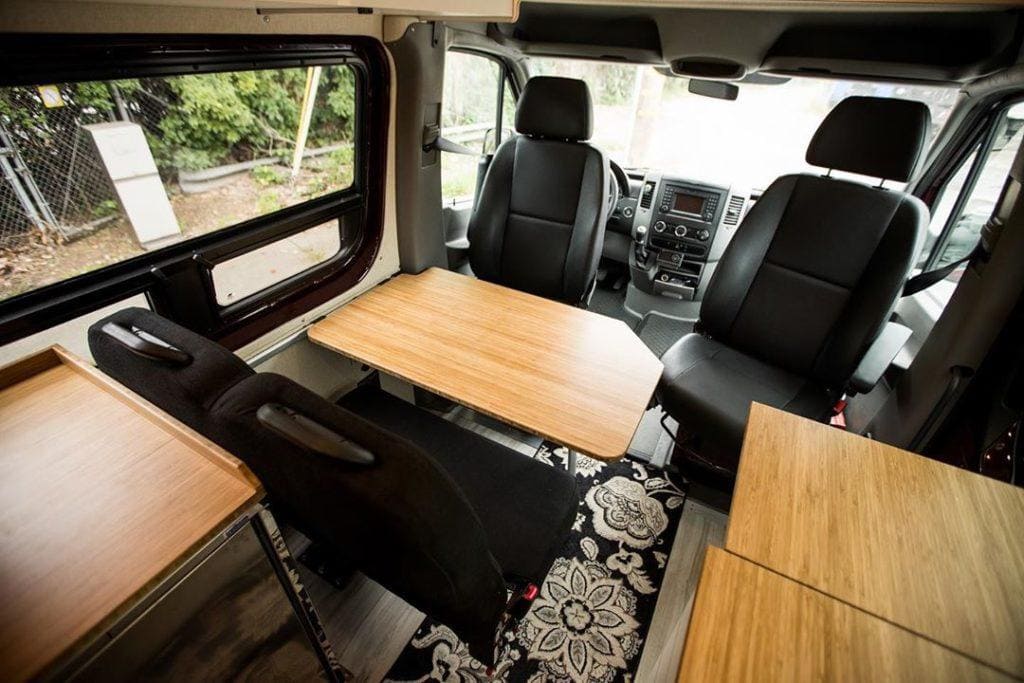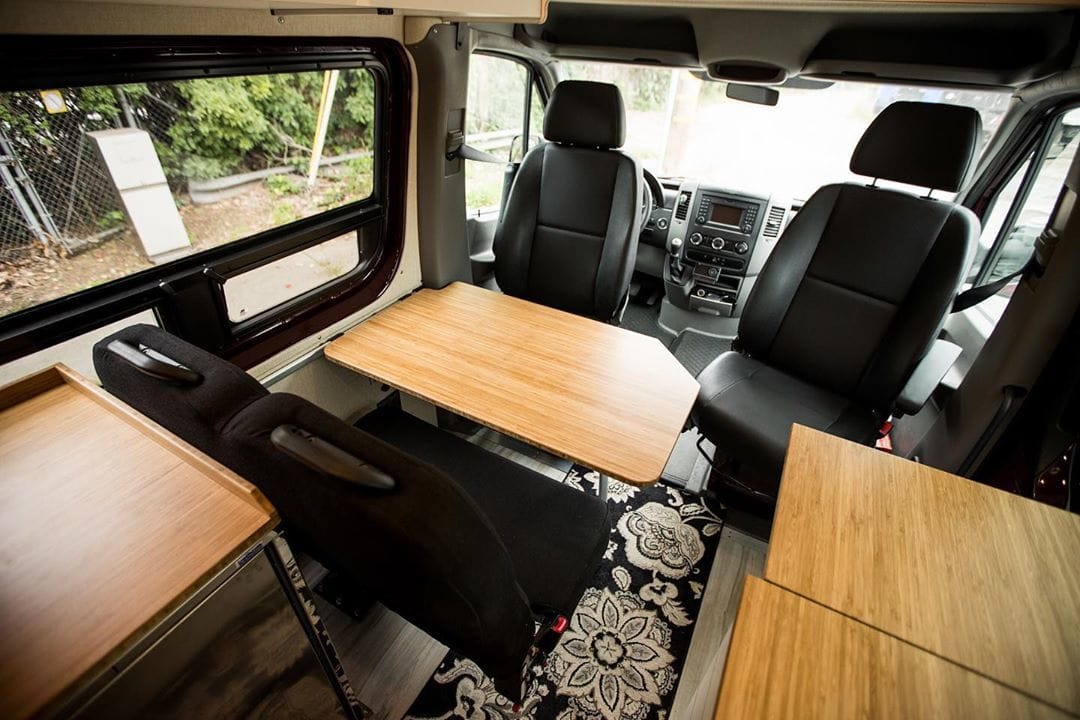 Slide Out Table
Another camper van table option is a slide out table from the bed. The benefits of a slide out table are that it's easy to set up and doesn't require additional storage. However, this can be more complicated to build yourself.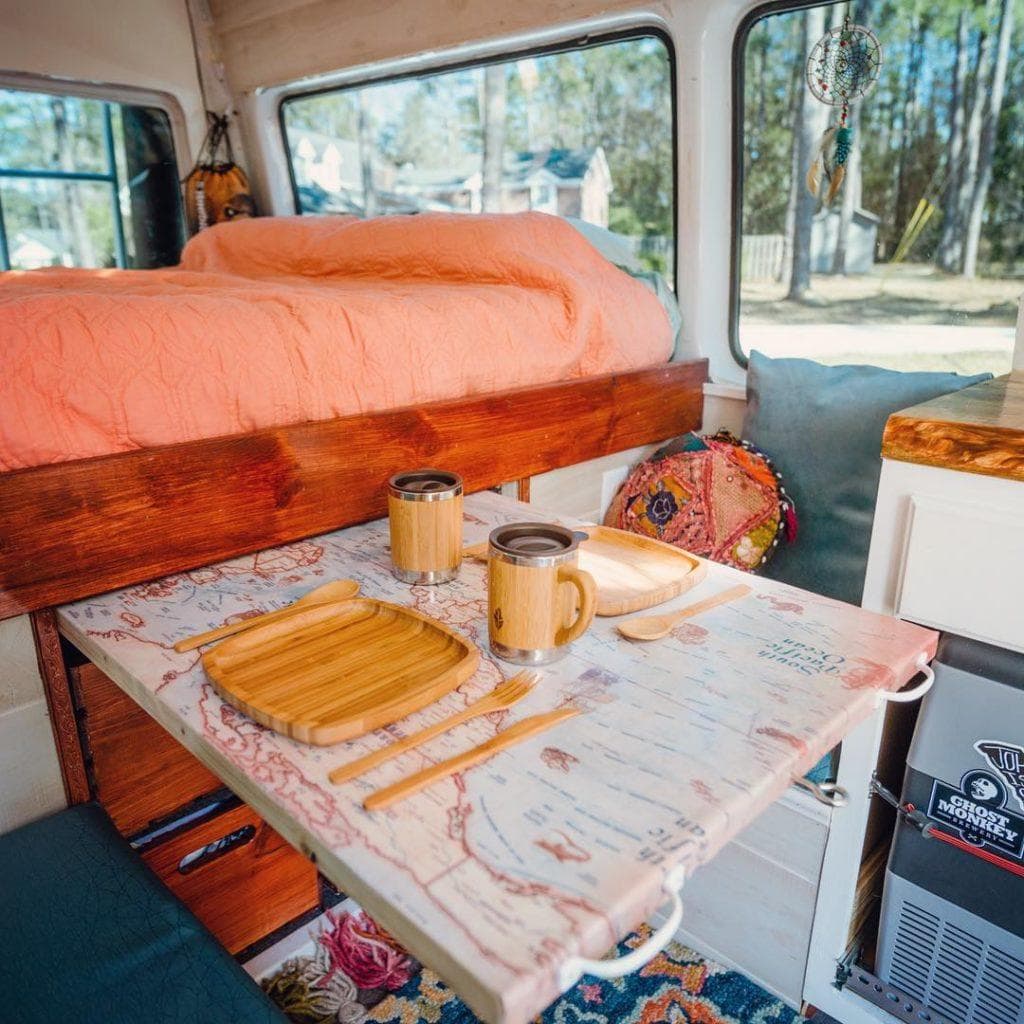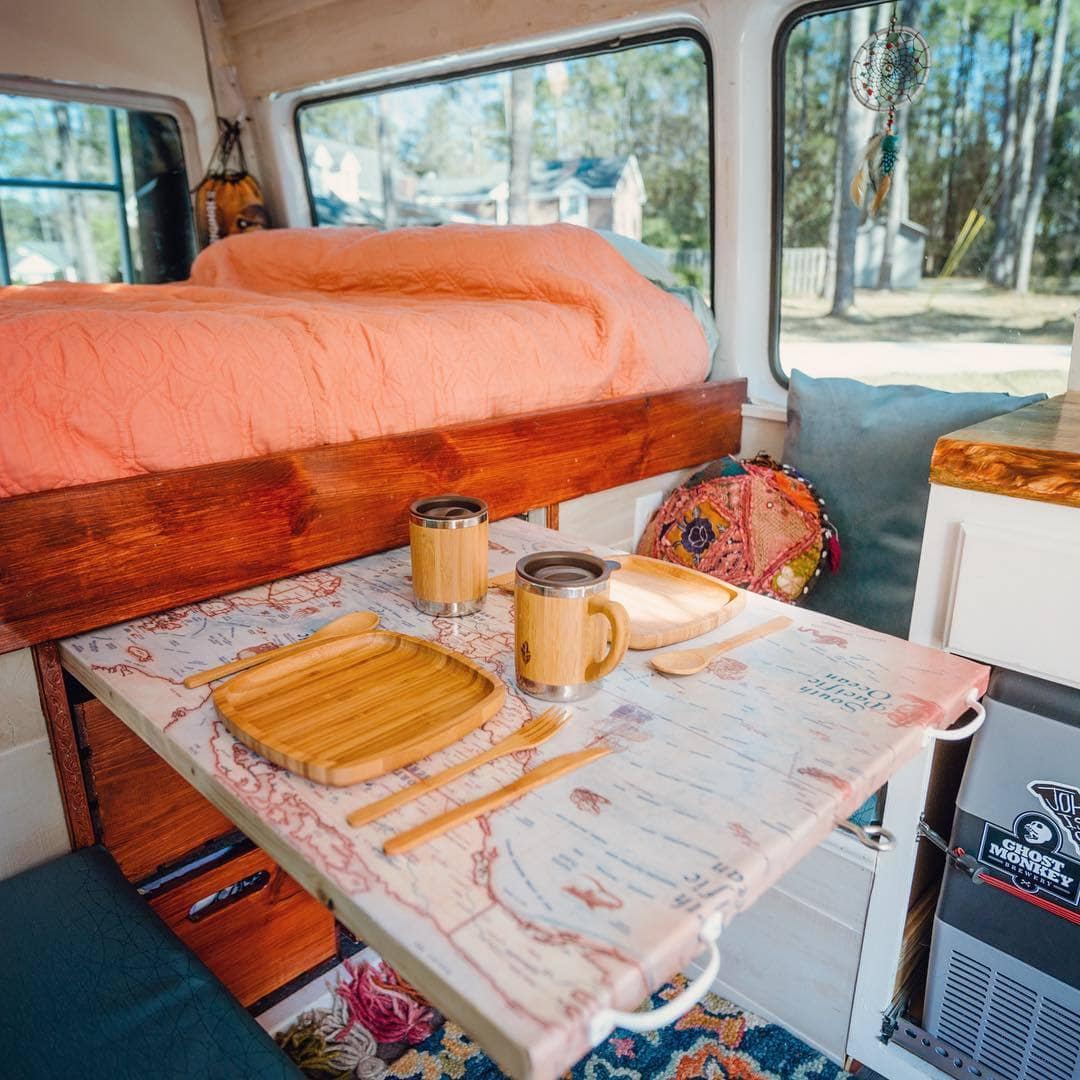 Regardless of the configuration you decide on for your van table, you'll want a tabletop that's light, yet durable that doesn't easily scratch.
Other Van Storage Ideas & Considerations
In addition to cabinetry, you'll likely want to include some additional storage solutions in your van as well after you pair down on your belongings to fit in the van. Having multiple storage options and a place for everything will make it much easier to keep your stuff organized and maintain a tidy living space where you can relax.
The options are pretty endless, but I'll mention a few popular choices:
Plastic bins are a lightweight, inexpensive, portable, and durable storage alternative to installed cabinetry that makes loading and unloading the van easy. You can also consider building storage into anywhere that space isn't being used efficiently, like under the benches in your dinette for example. Mesh bags are handy for storage as well and are often used on the inside of the back doors or anywhere you want to be able to quickly and easily stash a few things. There are also custom van storage options, like these from Adventure Wagon.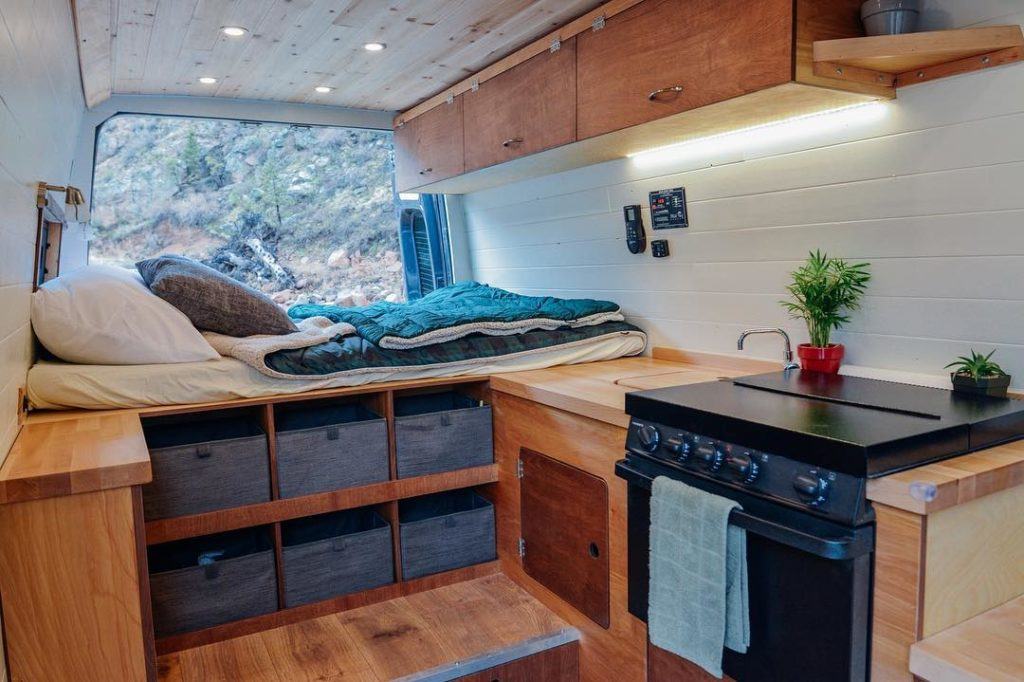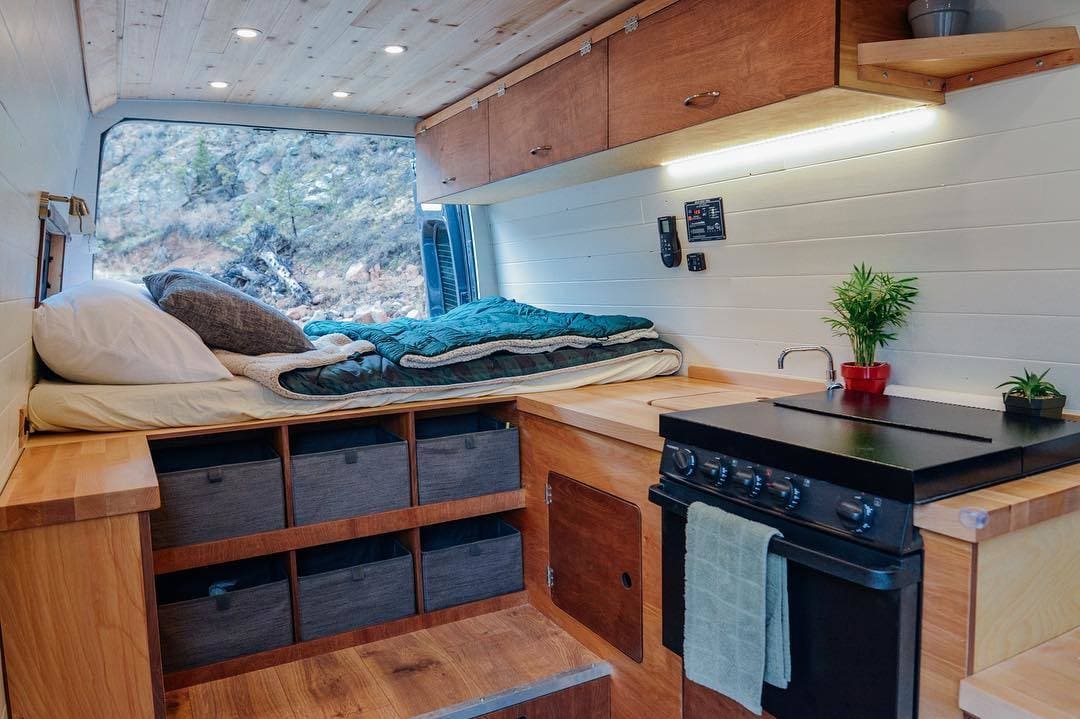 As you're planning storage in your van, think about where you'll store your shoes as this is often an overlooked detail. I keep my shoes in a hamper basket under my bed where they are easy to access since we often change our shoes a couple times a day. But feel free to get creative. I've seen people use hanging shoe organizers off of their back door or cleverly designed shoe shelves that are a part of the build, like into the door step.
One final thing I'll say on storage is that within your cabinets, you'll likely want to organize your stuff into small compartments or bins so everything doesn't slide around when you're on the road. I got most of my smaller bins at the Container Store which has pretty much every shape and size container option imaginable.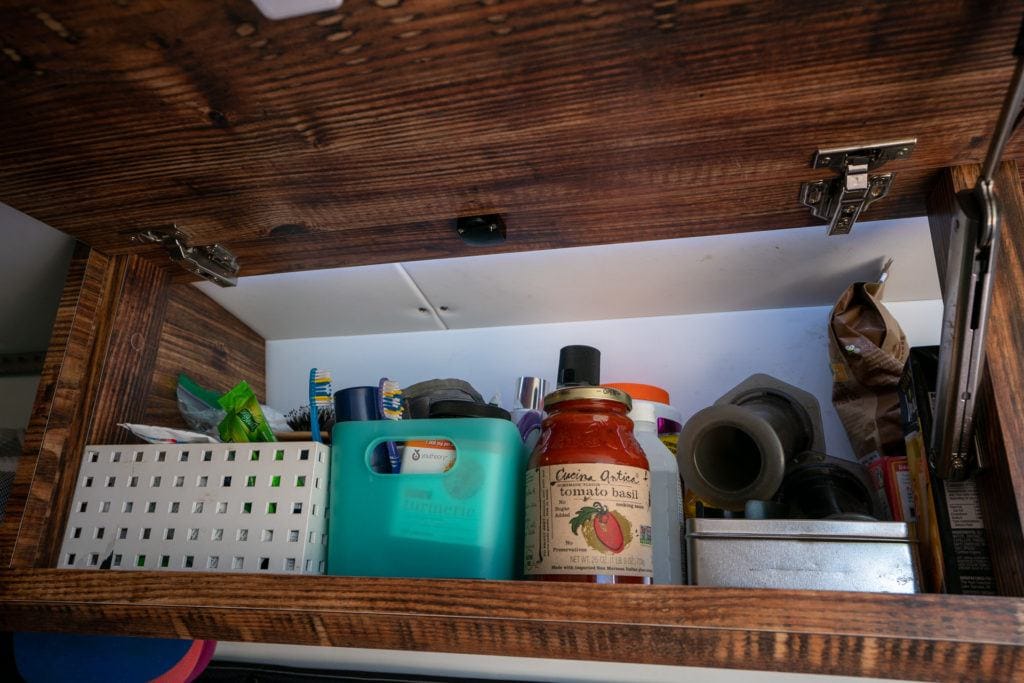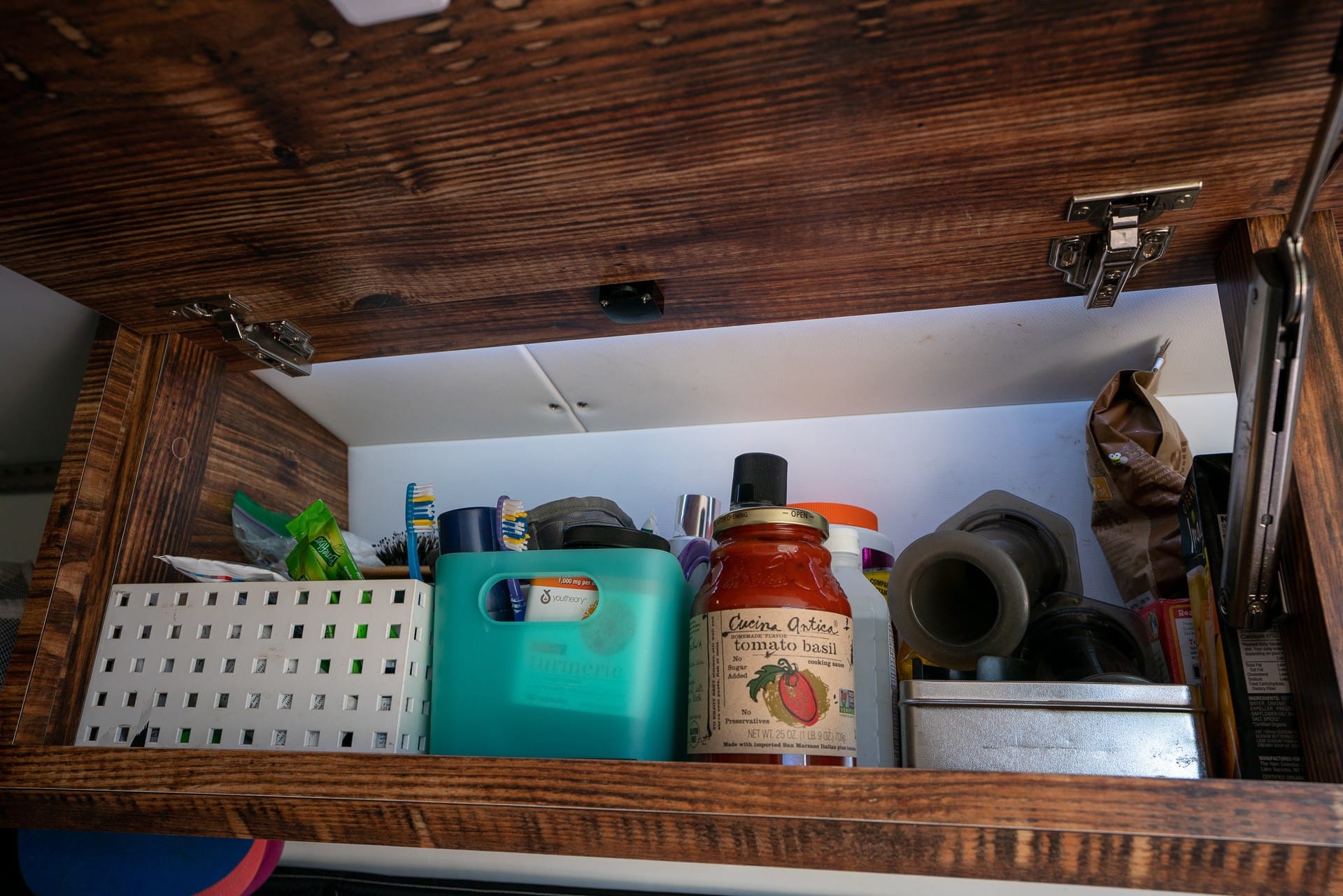 Ultimately, you'll want to get an idea of what you anticipate bringing along with you in the van so you can plan your storage appropriately. Think clothing, shoes, electronics, gear, appliances, kitchenware, food, towels and bath items, entertainment, and anything else that you think you'll want on the road.
Resources Section
Helpful DIY Cabinet Articles
Instagram accounts featured in video
What type of van cabinets are you planning for your build? Share your questions, tips, and experiences down in the comments, and make sure to sign up for our van life newsletter here.