Camper Van Upholstery & Cushion Tips
Upholstery is a way to give your van some flair. Get tips for choosing upholstery that is fun AND easy to clean.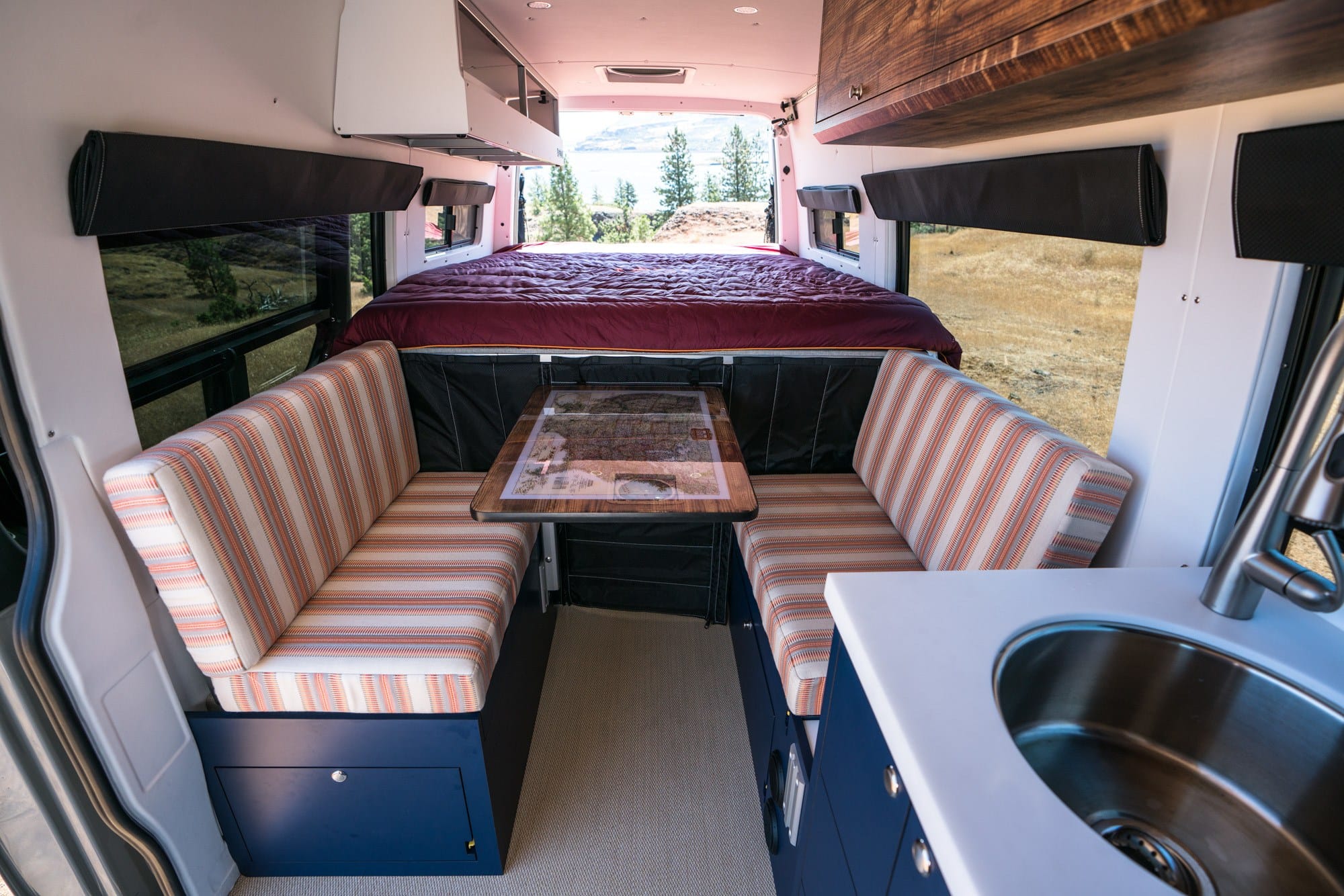 If you're a fan of living in a van, you know that the best part is being able to go anywhere and everywhere you want. But even the most hardcore adventurers need some creature comforts, and that's where camper van upholstery and cushions come in.
Having nice – and durable – fabric for camper cushions can add a ton of personality and a pop of color in your van and make it feel like home. But there are a few considerations to keep in mind when choosing your upholstery like avoiding colors that show dirt more easily and opting for materials that are easier to clean.
In this post, learn about different camper van upholstery materials and tips for choosing cushion colors for easy cleaning
Fabric for Camper Cushions & Upholstery
There are several different options when it comes to choosing fabric for your camper cushions that fit a range of styles and budgets. To help you decide on a fabric, online fabric dealers will often send samples in the mail if you want to feel the material and see how the colors will match up with your cabinets and other design choices.
Marine Grade Fabrics
Stain-resistant and UV-resistant RV and marine-grade fabrics are popular because they can withstand the ways of the road. They're designed to last longer and perform better than less expensive materials. That being said, they also come with a higher price tag, which might be worth it if you plan on living van life to the max.
Sunbrella is a leading brand for high-performance indoor/outdoor fabrics and is what the cushions in my second van were upholstered with. Sunbrella fabric is durable, easy to clean, and fade-resistant.
Another marine-grade fabric worth looking into is SilLeather. The walls in my second van were covered in this faux leather, which could also be used to upholster camper van cushions. It's an eco-friendly material made with 100% silicone and designed for rugged use. Plus, it's water-resistant, easy to clean, and it doesn't off-gas like some other harsh products.
Traditional Upholstery Options
For more traditional upholstery options you can go with vinyl, leather, or cloth, which is what most vehicles have. These materials can be found through a professional RV or marine dealer or a local upholstery shop that can install them for you. Alternatively, you can DIY your own van cushions and upholstery for a low-cost and budget-friendly method.
Hemp upholstery is another option. It's usually more expensive than the others mentioned above, but it's worth checking out if you want an eco-friendly and natural material.
---
Tips for Choosing Upholstery Colors
You want to choose your upholstery colors carefully, particularly if you are going with a cloth fabric and especially if you have pets. Living in a van comes with dust and dirt and light-colored couch cushions and bedding are hard to keep clean.
I typically keep my dinette cushions covered with a towel because our dogs jump up on the cushions to get up into the bed. It's literally impossible to keep them clean, especially with how light they are. Luckily, the Sunbrella fabric is machine washable, so they are stain-resistant. But if you want things to look and feel clean, you should avoid white and light colors.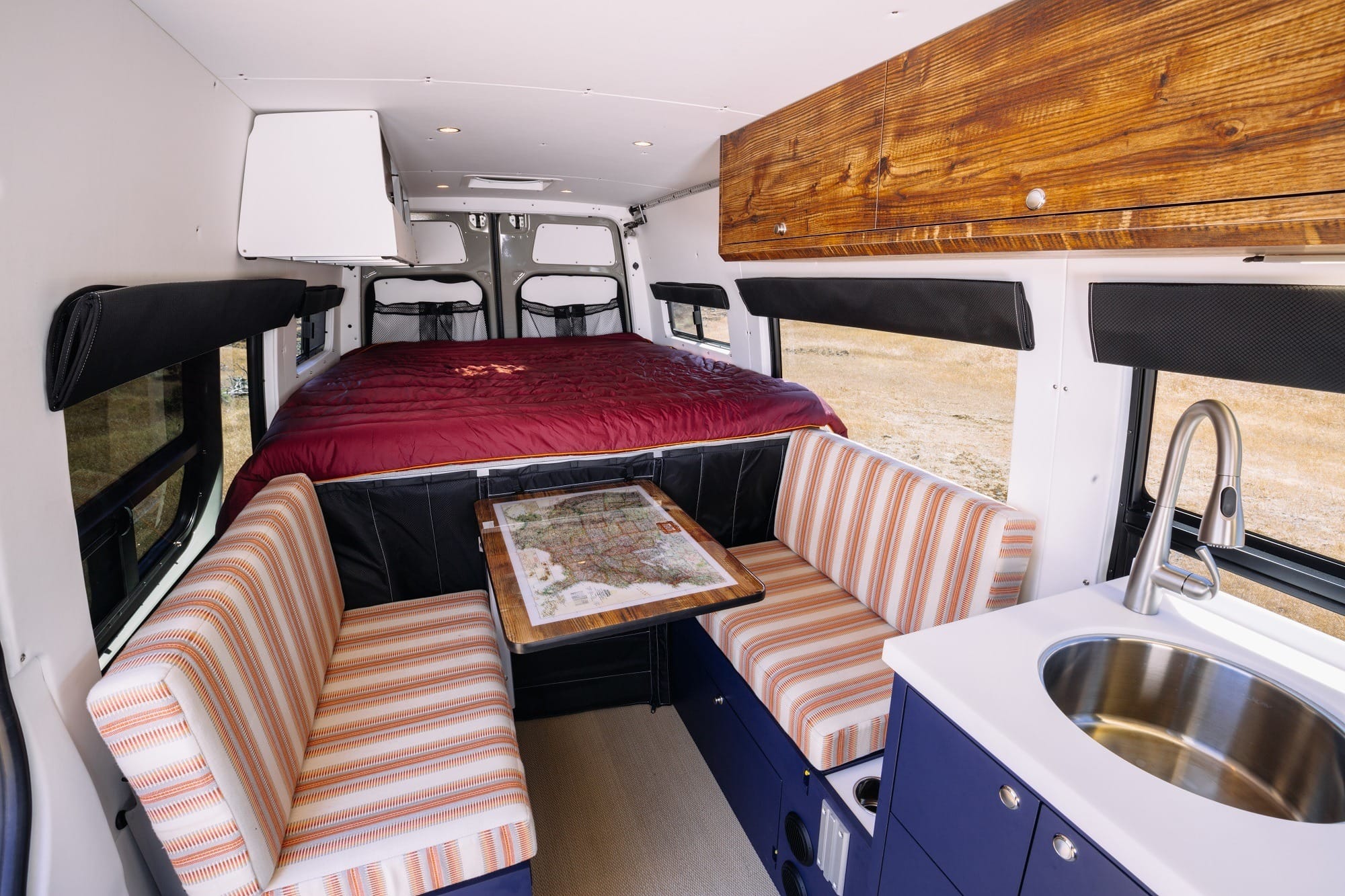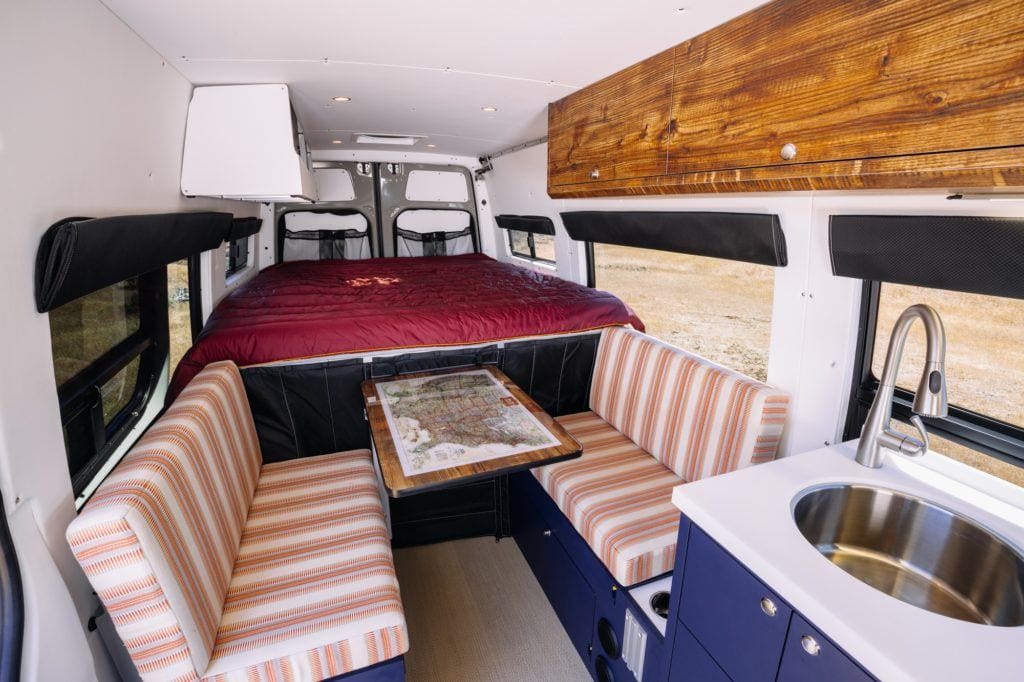 ---
How to Make Camper Van Cushions
If you want to save a bit of money on your build, making your own camper van cushions is an easy way to do that. It will take some time, precise measurements, and some sewing skills, but if you're up for all that, then go for it! Here is a detailed instruction guide on how to make your own camper van cushions.
One word of caution, I don't recommend using the 'no-sew' approach that some van lifers use to staple their fabric onto wooden boards. This doesn't allow you to easily wash your cushion material and can result in dirty and dusty cushions down the road.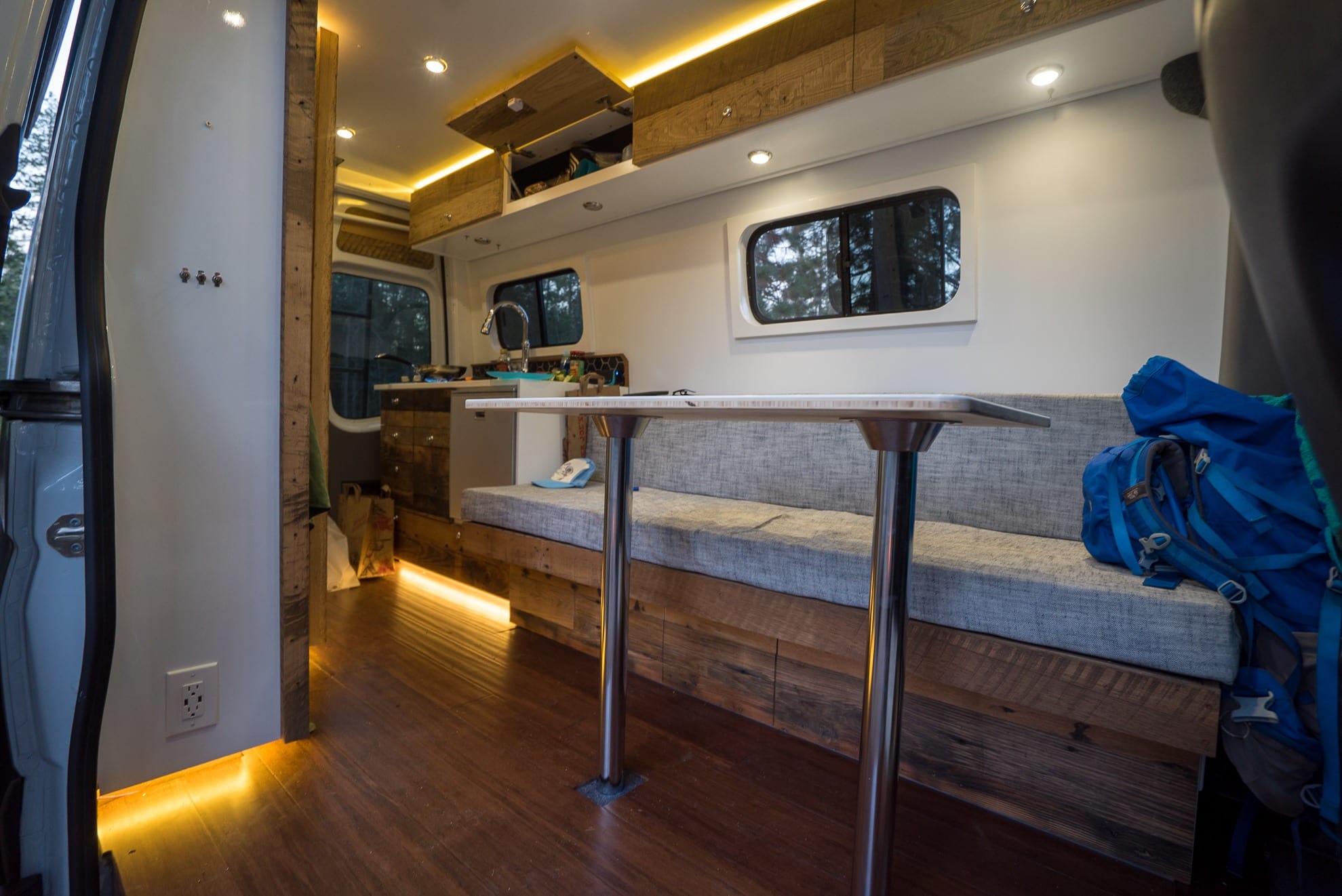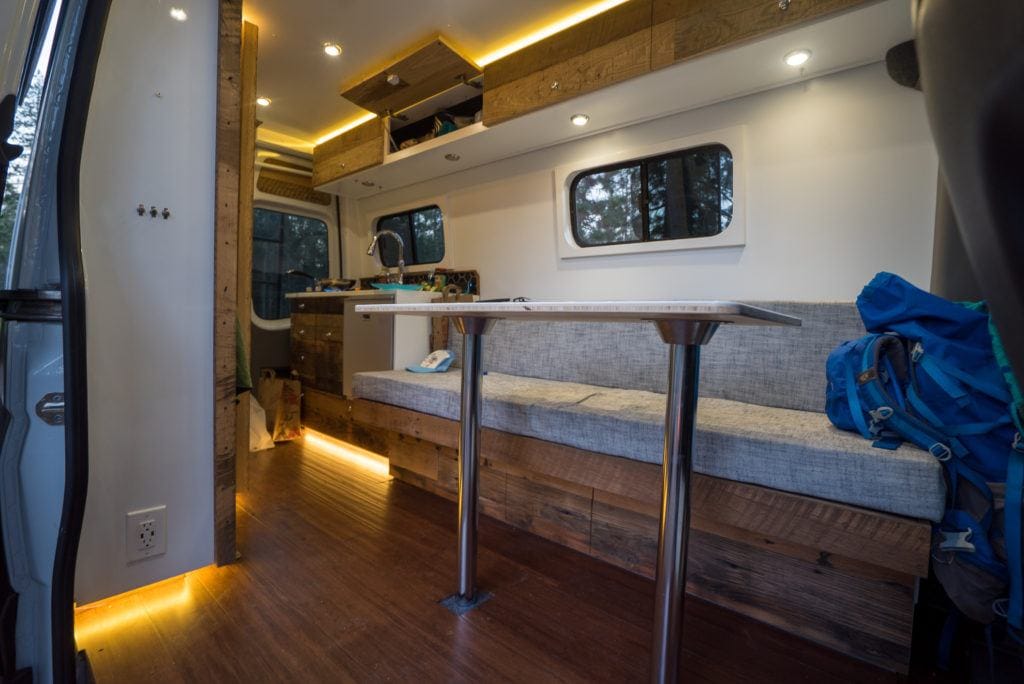 Camper Van Upholstery Resources
Van Life Essentials Packing List
Below are a few of my favorite pieces of van life gear and recommendations for the road:
---
What camper van upholstery materials are you using in your van? What other tips or resources do you have to share? Leave a comment below and make sure to sign up for our van life newsletter here.