40 Best Outdoor Gear Deals During REI's Gear Up Get Out Sale
I rounded up the best deals on my favorite outdoor gear and apparel during REI's Get Up Get Out Sale that runs from November 10-20, 2023.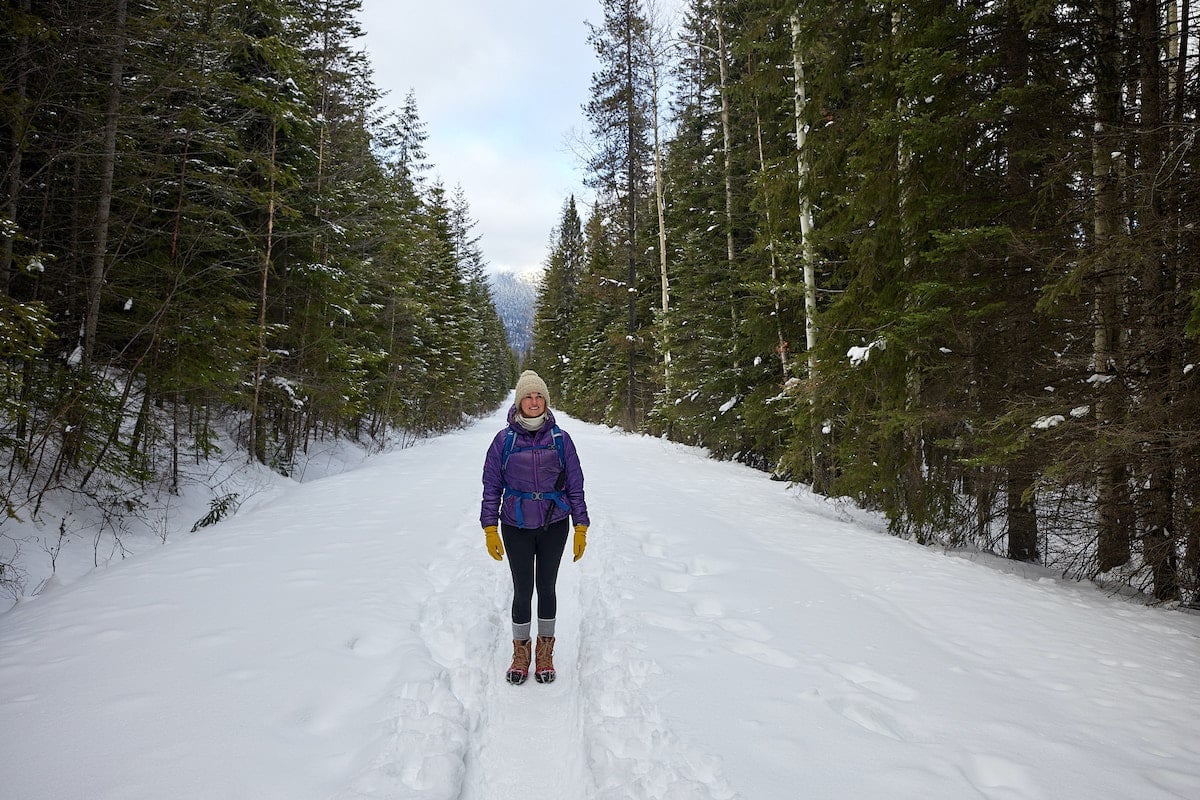 Every fall, the REI Gear Up Get Out sale brings awesome savings on top outdoor gear and apparel. This year's sale is taking place between November 10 – November 20, and it's a great time to stock up on winter gear, holiday gifts, or outdoor products that you want for next summer.
I've joined forces with REI to bring you the BFT Team's favorite handpicked deals so you can grab them while they're on sale.
Make the most of the rest of the fall and prepare for your winter adventures by scoring up to 30% off top items. Act fast – quantities are limited!
---
Best Deals on Apparel
1) REI Co-op Rainier Rain Jacket – 30% off
In need of a new rain jacket? You're in luck! The REI Rainier Rain Jacket is one of the best lightweight and affordable waterproof shells out there. At just $100 (plus a 30% discount during the GUGO sale), it's a great option for those looking to get outside in wet weather while not breaking the bank.
This rain jacket has a ton of great features including pit zips for breathability, a stowable hood when it's not needed, and it even packs down into its own little pouch for easy carrying. It's best suited for light rain showers, so if you're looking for a more heavy-duty rain jacket check out the REI Co-op XeroDry GTX Jacket (also on sale).
2) REI Co-op Wallace Lake Flannel – 30% off
As the temps start to drop, I like to pull out my cozy Wallace Lake Flannel Shirt. It's the perfect weight for cool evenings or chilly mornings, and it almost always makes it onto my van life clothing checklist since it can be dressed up or down.
Sourced from organically grown cotton, the Wallace Lake Flannel is super soft, yet still durable enough to wear on any outdoor adventure.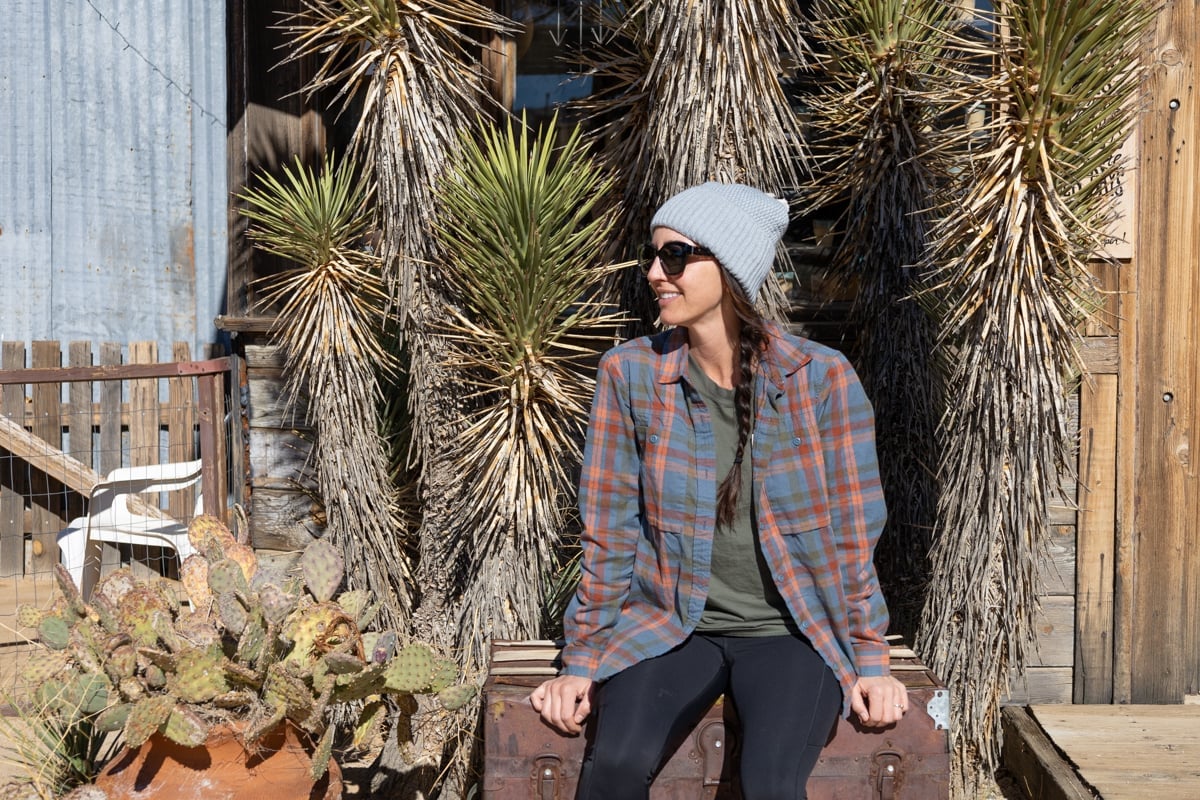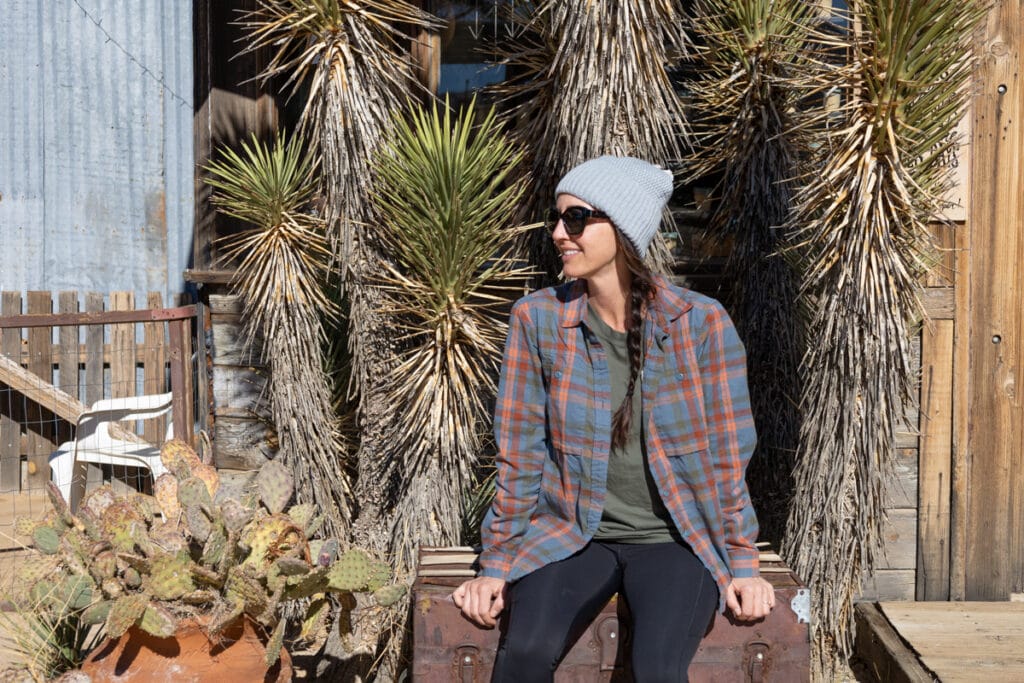 3) Cotopaxi Teca Fleece – 25% Off
Fleece layers are ideal for cold-weather sports like winter hiking, snowshoeing, or skiing. Fleece material is not only cozy and warm, but it also wicks away sweat and dries quickly.
The Cotopaxi Teca Fleece is one of my favorites due to it's soft, thick fabric, and fun bright colors. It's also affordable and it's made from recycled and repurposed materials to prevent fabric from ending up in a landfill.
4) REI Co-op Wallace Lake Waffle Sweater – 30% off
Oversized sweaters are great for lounging at home or enjoying a mellow day outdoors. I love the REI Wallace Lake Waffle Sweater because it's so versatile. I took it to Europe with me when I was 5 months pregnant and was able to wear it on the plane, on walks, and to dinner. It was so cozy, and I loved how the loose fit looked both in pre- and post-pregnancy.
5) REI Co-op Rainier Full Zip Pant – 30% off
There's a saying that goes "There's no such thing as bad weather, only bad clothing." If you want to get outside year-round, sometimes that means heading out for a hike in the drizzly rain or when there's a chance of a downpour.
But adverse weather doesn't have to mean soaking wet clothes. Stay dry with a pair of REI's Rainier Full Zip Pants. These rain pants are fully waterproof and can easily be slipped on over your hiking boots thanks to the full-length leg zippers. They also pack down pretty small, so they can easily be stuffed in your daypack when not needed.
6) REI Co-Op Sahara Shade Hoodie – 30% off
Sun protection is super important when you're heading outside to play and the REI Co-op Sahara Shade Hoodie is one of of my favorite sun protection shirts.
I wore this shirt nearly every day on a trip to Maui. The loose fit kept me surprisingly cool even though it has long sleeves and it never developed any odors from sweat or daily use.
If you're looking for more sun-protective clothing recommendations and tips check out our guide on sun protection for hikers.
7) REI Co-op Flash Hybrid Tights – 30% Off
I prefer to hike in leggings because I find them to be more comfortable and versatile than hiking pants.
One of my favorite pairs of hiking leggings (that can also be used for camping and lounging) are the REI Co-op Flash Hybrid Tights.
These leggings feature a nice wide waistband and high-waisted fit, so they don't roll down or dig into my stomach like some other tights I've tried. They also have a deep side pocket to keep your phone within easy reach when you want to snap that perfect photo.
8) Smartwool Thermal Merino 1/4 Zip – 25% Off
This year, grab 25% off all Smartwool apparel, including our favorite Thermal Merino Quarter-Zip Top. Perfect for cold winter hikes, as a skiing base layer, or for chilly nights on camping trips, this top is ready for any adventure.
Merino wool has a ton of great properties for playing in the outdoors: it wicks sweat to keep you dry and warm, it doesn't smell (even after hours – or days – of wearing), and it's highly breathable to help with thermoregulation.
If you don't want a zippered neck, check out the Classic Thermal Crew version. You can also go full base layer by pairing the top with Smartwool's Classic Thermal Merino Bottoms (men's).
9) The North Face Heritage Patch Pullover Hoodie – 30% off
I'm a sucker for a good hoodie and The North Face Heritage Patch Pullover checks all the boxes for a cozy sweatshirt. It has a generous kangaroo pocket to keep your hands warm and a drawstring hood to keep out the chill. Made from 100% recycled materials, we also love that it's eco-friendly and sustainable.
10) Cotopaxi Fuego Hooded Down Jacket – 25% Off
A warm down or synthetic jacket is a necessity for cold-weather adventures and one of our go-to team picks is the Cotopaxi Fuego Hooded Down Jacket. Not only does it look great with fun color choices, but it's also super warm, water-resistant, and certified to the Responsible Down Standard. It also comes in a non-hooded version if you prefer that style.
Looking for something a little lighter? All Cotopaxi Jackets are 25% off!
11) Outdoor Research Aspire II Jacket – 25% Off
Sometimes a light rain jacket won't cut it when it comes to playing outdoors in wet weather. When I need a fully waterproof jacket, I reach for my Outdoor Research Aspire II (or the Foray II for men).
This top-of-the-line rain jacket is designed for serious weather with a GORE-TEX outer shell and fully taped seams to keep raindrops out. But it's also breathable and has strategic vents to help keep you cool and dry from the inside.
Looking for some rainpants to match? All Outdoor Research Aspire Rainpants are 25% off, too.
12) Icebreaker 200 Oasis Crew – 25% Off
Looking to hit the slopes this winter or get out for some winter hikes? A good moisture-wicking base layer is essential for cold-weather activities.
The Icebreaker 200 Oasis Crew Long-Sleeve, made of merino wool, is awesome at regulating your body temperature and wicking sweat. This keeps me dry so I don't get chilled on my winter outings.
If you're looking to shop for the whole family, all Icebreaker items on 25% off!
Note: This shirt runs a bit small, so I recommend sizing up. Also make sure you follow the washing instructions to prevent shrinkage. I weigh 140 pounds and am 5'5″ tall and find the women's large to be the right size.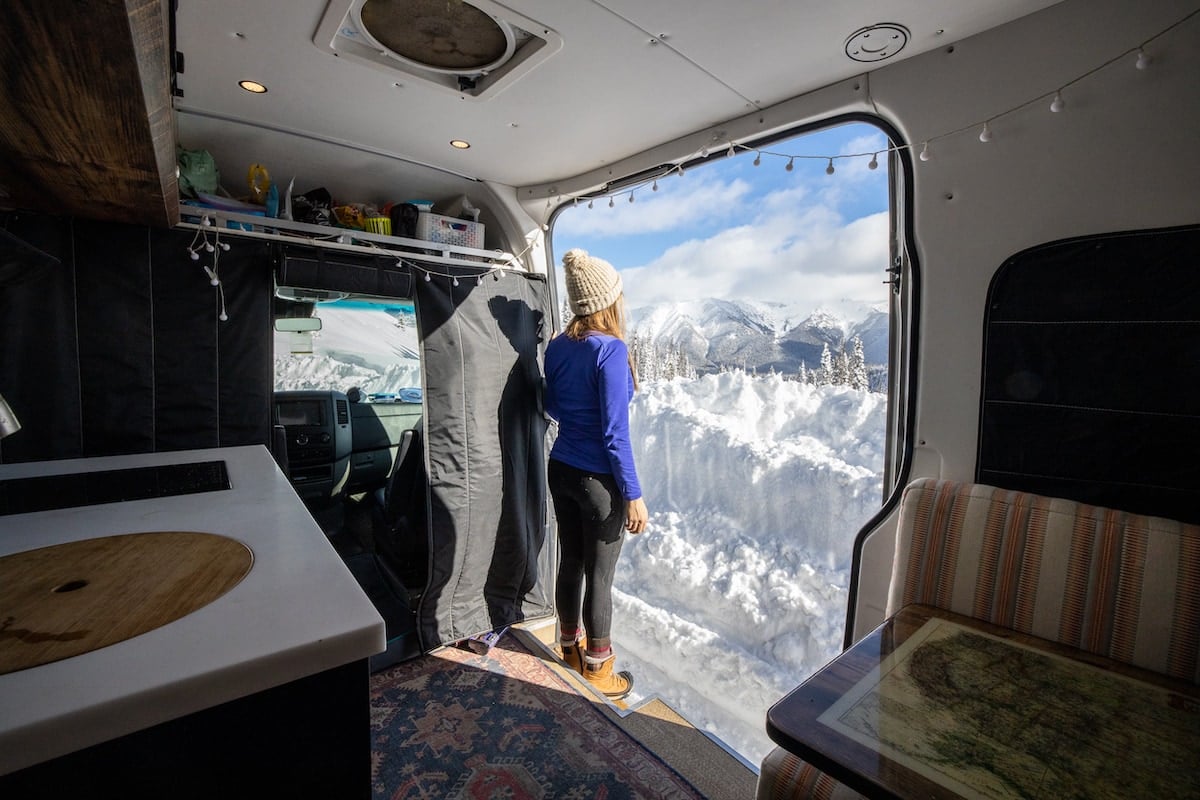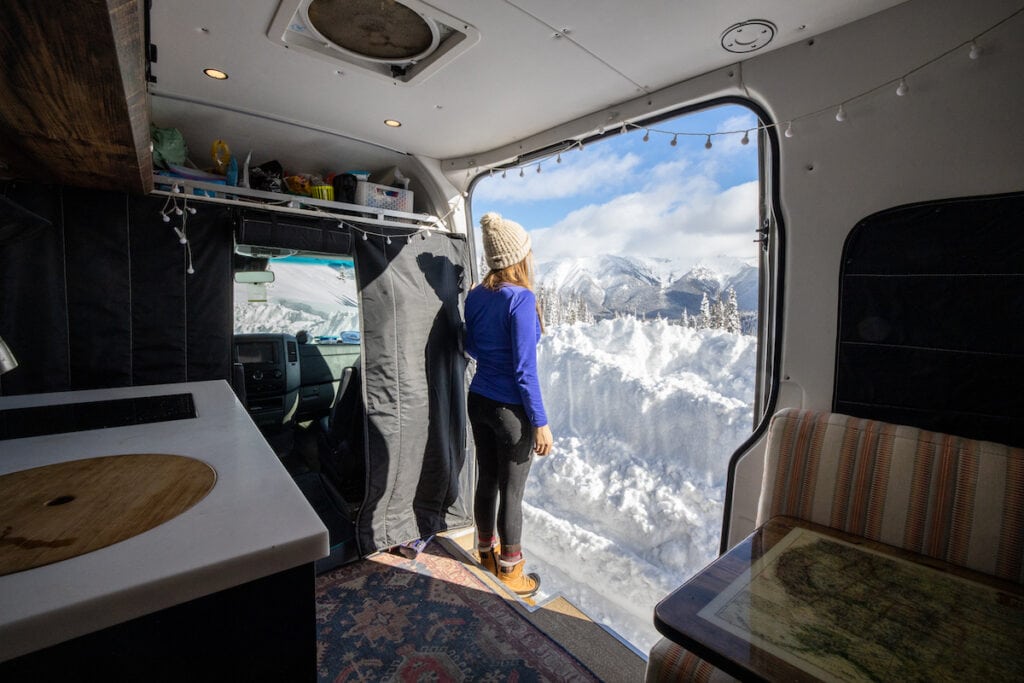 ---
Best Car Camping & Van Life Deals
13) Stanley 16 Oz AeroLight Transit – 25% off
Lately I've been trying to swap out all of my plastic items, like my Nalgenes, for stainless steel, but often that means lugging around heavy bottles on my excursions. This Stanley 16 oz AeroLight Transit water bottle is 25% off and is 33% lighter than Stanley's other water bottles. It's insulated so it prevents your water from getting warm in the sun, and the locking lid prevents spilling or leakage. I also love the slim design because it fits in the side pocket of my backpack when I'm traveling.
14) REI Co-Op Wonderland 4 Tent – 30% Off
The nice thing about car camping is that you can pack for comfort. For me, that means a nice, big tent that you can stand up and move around in.
The REI Co-Op Wonderland 4 Tent is the perfect shelter for car camping adventures because it's super roomy with two side doors. It's over 6 feet tall and can sleep 4 people (or bring your dogs). It's also very sturdy so you can leave it set up when you head out for a hike and not worry about it getting blown away.
Looking for more car camping gear recommendations? Check out our Car Camping Essentials Checklist.
15) REI Co-op Camp Roll Table – 30% Off
If you're going on a road trip, you need a solid camping table to prep meals on, to dine on, or to play games on. The REI Co-op Camp Roll Table packs down to the size of a camp chair, making it super easy to stow away (it even comes with a carrying case). It's also relatively lightweight at 8.8 lbs and the aluminum top is heat-resistant so you can use a camp stove (like the Eureka Ignite Plus) on top.
16) REI Co-op Skyward Chair – 30% off
Looking for a budget-friendly camp chair? The REI Co-op Skyward Chair is a classic style accordion chair that is sturdy and comfortable for the price. It even has a versatile cup holder that can fit a variety of beverage sizes.
If you want to sit and relax while planning your next hike or adventure, the Skyward chair is also designed with a side stash pocket to keep books, maps, your phone, and anything else you want to keep on hand while lounging at camp.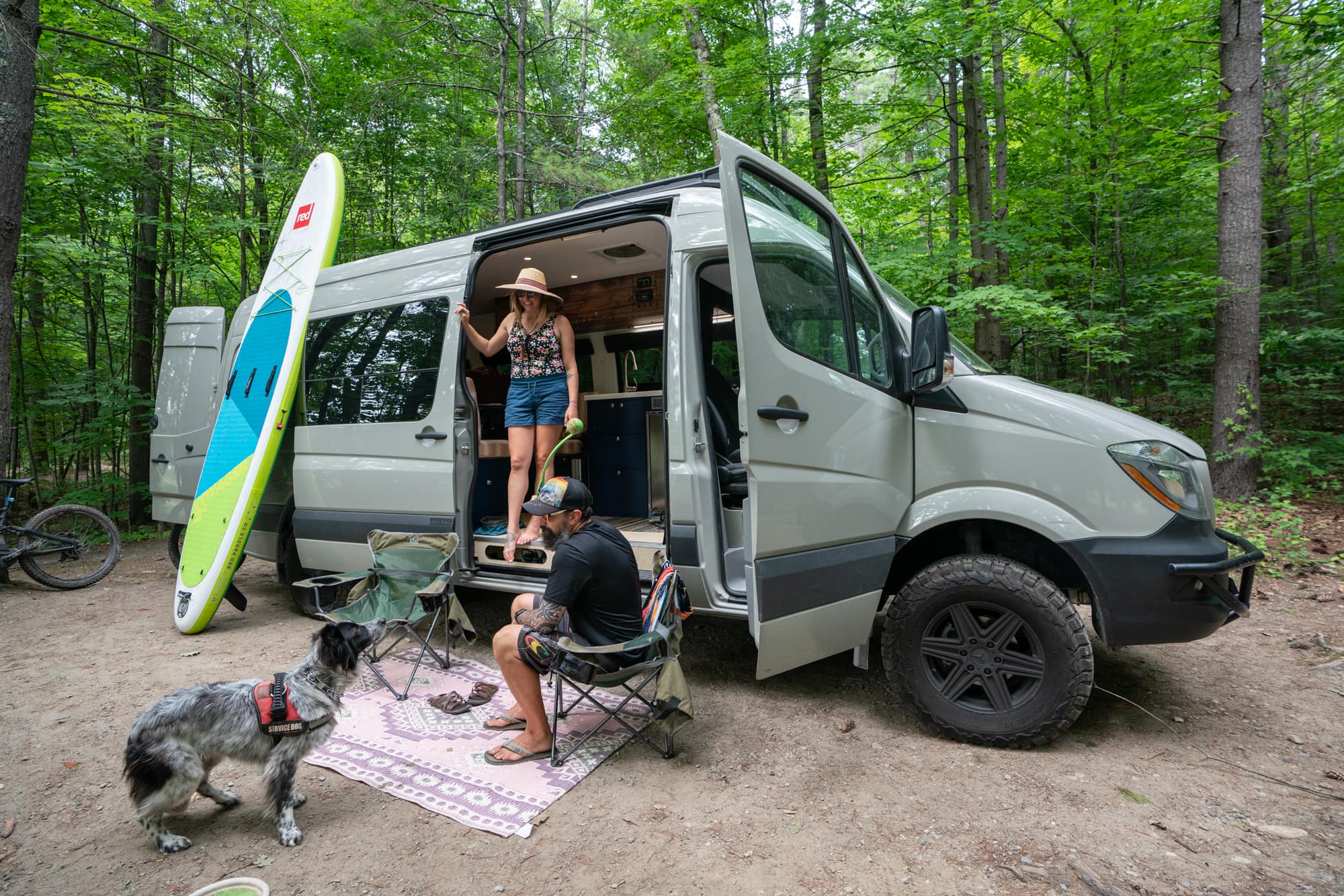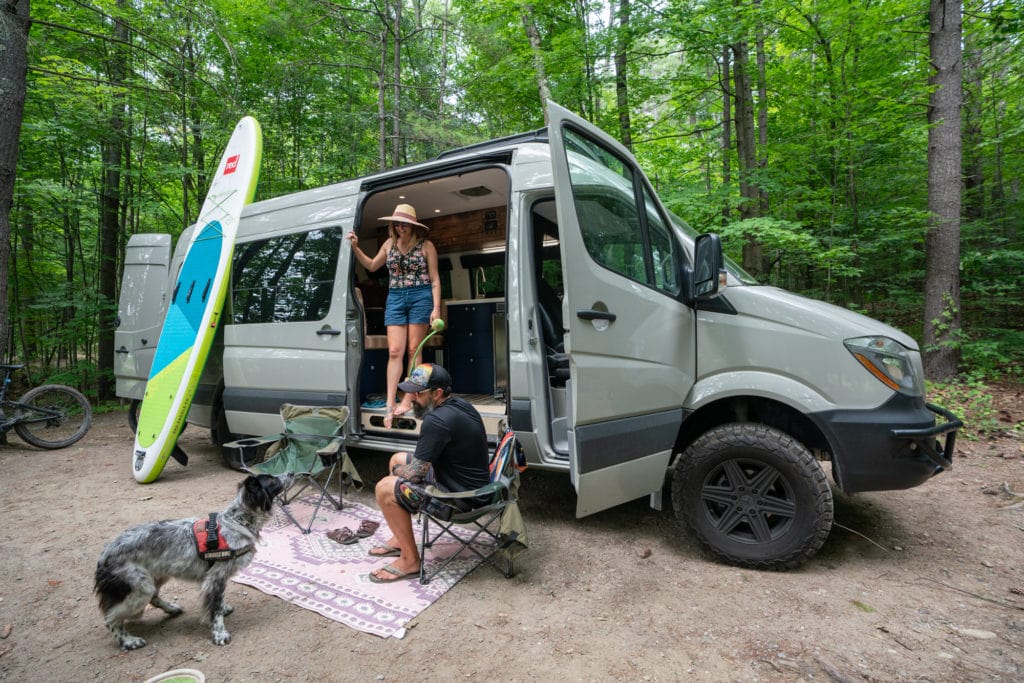 17) REI Co-Op Siesta Hooded 20 Double Sleeping Bag – 30% off
Double sleeping bags are a great way to stay warm and cozy on cold-weather camping trips. But what about temperature regulation for hot sleepers? The REI Co-op Siesta Double Sleeping Bag features dual 2-way zippers on each side – including down at the footbox – so both people can control how warm they want to be. You can also separate the top and bottom to create two separate quilts for warmer nights.
BFT team member Linda and her husband use this on trips in their camper van and they love it. I also took it on a camping trip in Maui, and both Ryan and I found it to be very comfortable.
The single version is on sale too for 30% off during the REI Gear Up Get Out Sale!
18) REI Co-Op Big Haul 28L Duffel – 30% off
Duffel bags have a lot of great uses from organizing van life to packing for a big trip. The REI Co-op Big Haul 28L Duffel is my choice for short weekend trips. It's the perfect size for carry-on luggage or you can easily stash it in the trunk on a road trip. I use it daily in the winter to keep all of my ski gear (helmet, goggles, mittens, boot heaters, midlayers, etc) stashed and organized in my car.
What sets this duffel apart from others is its stowable backpack straps and storage sack that keeps it small and contained when not needed.
If you need a bigger size, it also comes in 40, 60, and 90 liter versions, as well as a rolling duffel with wheels. All of these are 30% off during the sale.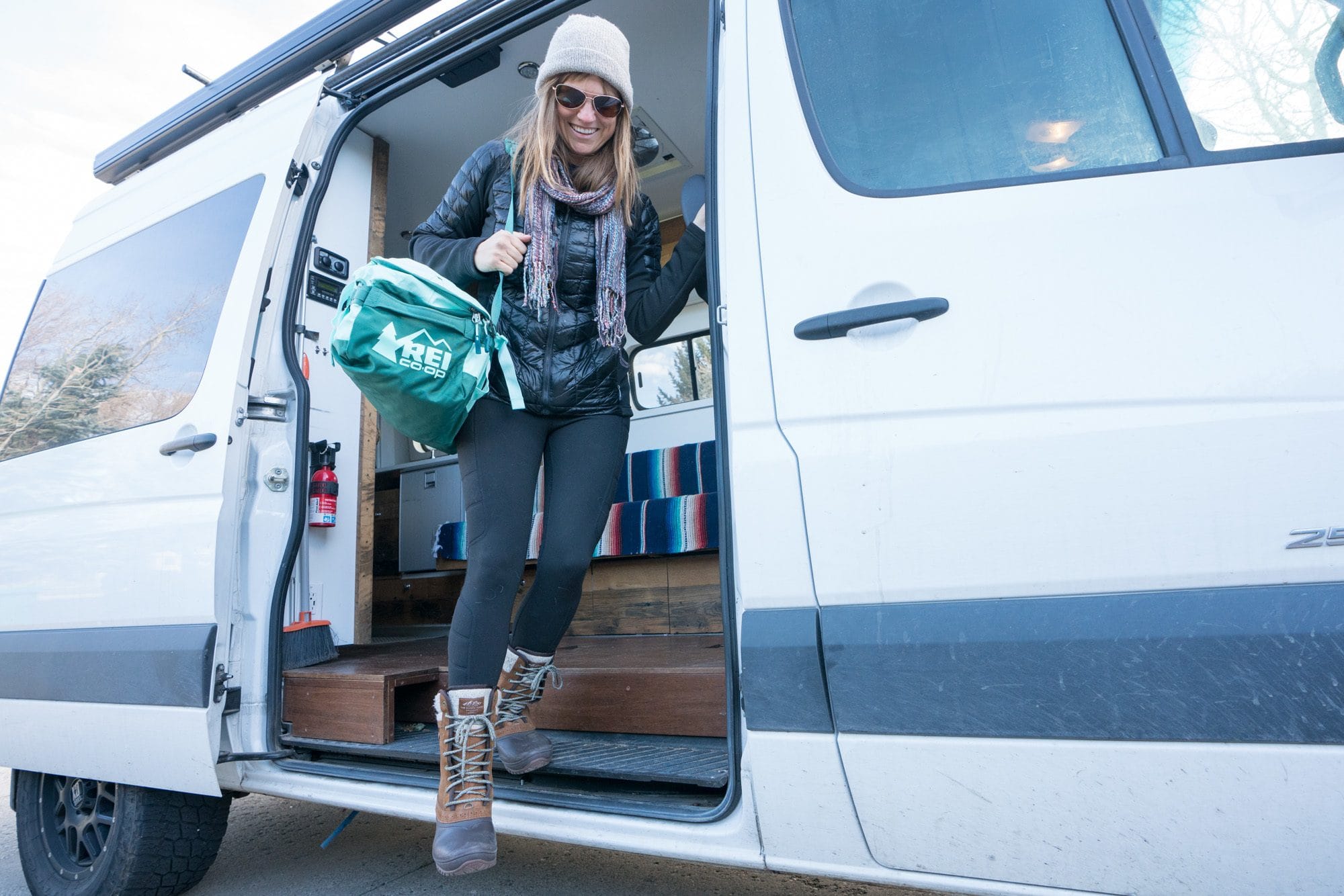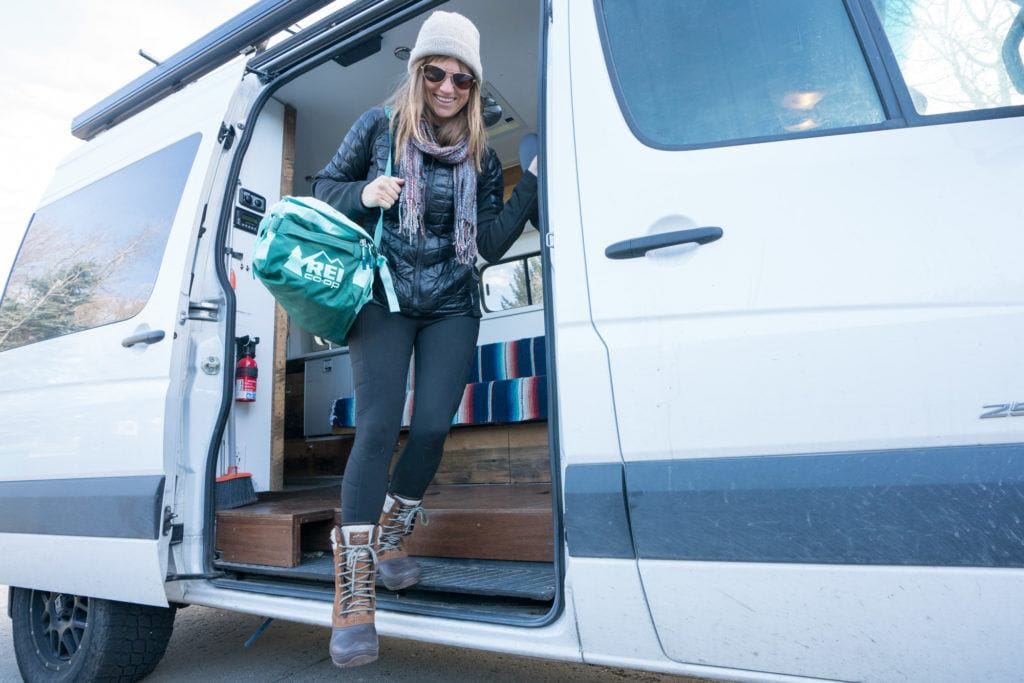 19) REI Co-op Camp Dreamer Slip-Ons – 30% off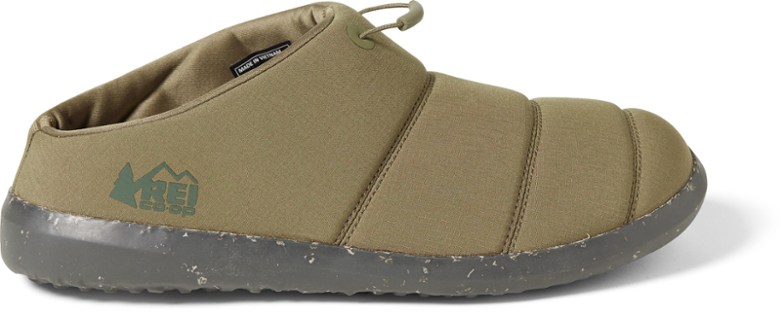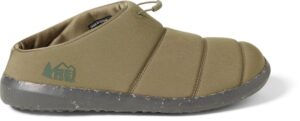 I like to have a pair of warm camp slippers when I head out on a camping adventure or pack up the van for a road trip. The REI Co-op Camp Dreamer Slip-ons are the perfect companions because the rubber sole is durable enough to wear in rugged conditions, but the upper part feels like a cozy sock. They're so comfortable, I even wear them at home!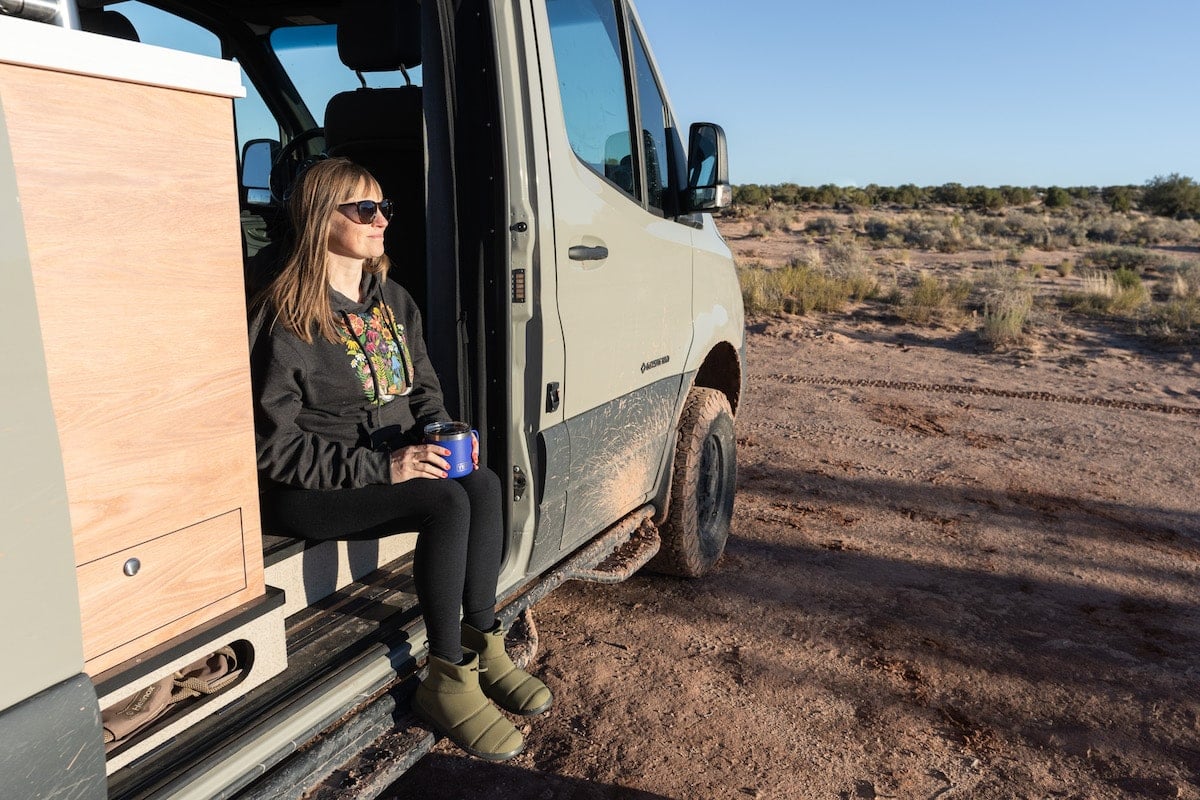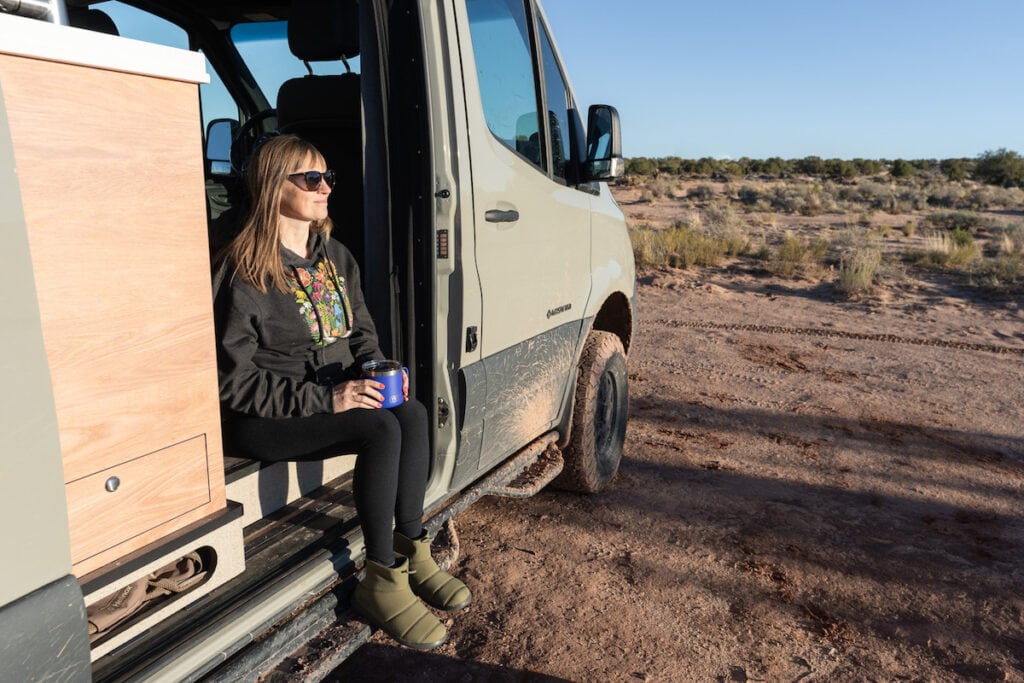 20) PackTowl Personal Towel – 25% Off
You don't want to bring your home bath towels on a camping trip because they get heavy when wet and can take forever to dry. Instead, pick up a lightweight and quick-drying PackTowl. These towels come in four different sizes – beach, body, hand, and face – and are great for drying off after impromptu swims or a much-need campground shower.
21) Sea to Summit 10L Folding Bucket – 25% Off
Camp buckets are great for a lot of things: washing up after meals, carrying water back to camp, collecting dirty dishes, or catching gray water if your van doesn't have a gray water tank.
I like the Sea to Summit 10L Folding Bucket because it's a great space-saver and it folds down into its own little pouch. It also has measurement lines on the inside in both ounces and liters, which is helpful if you're cooking for a large group.
Best Deals on Hiking & Backpacking Gear
22) REI Co-Op Trail 25 Daypack – 30% Off
The REI-Cop Trail 25 backpack is a good day pack for lighter loads when you are traveling or hikes when don't need a full hip belt. It is plenty spacious your hiking essentials and has lots of pockets to keep your gear and snacks organized. It also features a sleeve for your hydration reservoir (not included, but you can purchase one separately).
If you plan on hiking in the rain, this pack also comes with an integrated rain fly to keep your essentials dry.
23) REI Co-Op Trailmade Trekking Poles – 30% Off
Trekking poles really help me when hiking, especially on longer treks with steep downhills or on trails that cover technical terrain. They give me confidence, soften the impact on my knees, and help provide stability.
If you're new to using hiking poles, the REI Co-op Trailmade Trekking Poles are a great entry-level pair. They are lightweight, shock-absorbant, adjustable, and comfortable to hold for long periods of time.
If you want an even lighter pair or a different style, all REI Co-op trekking poles are 30% off during the Gear Up Get Out sale.
24) MSR Windburner Stove System – 25% off
The MSR Windburner Stove System is the top Jetboil competitor for backpacking stoves and is considered superior for windy conditions and high altitude. It's 25% off during the REI Gear Up Get Out Sale.
This 15.5 oz kit includes a 1L pot with a lid, a bowl, and a super-efficient stove that boils water in under 5 minutes.
The MSR Windburner is compatible with other MSR cooking accessories and kits, which are also 25% off.
25) REI Co-op Half Dome SL 2+ Tent – 30% Off
Good backpacking tents can be expensive, so use the GUGO sale to score one at a discount. The REI Half Dome SL 2+ Tent is a freestanding tent that is designed with a ton of great features like dual doorways, color-coded poles for easy set-up, webbing straps to hang gear, a roomy floor plan, and much more.
The Half Dome isn't the lightest backpacking tent out there, but at 3lbs 15oz it's roomy enough for 2 people plus gear and/or a dog. This tent also includes a footprint, which is is typically sold separately for most backpacking tents.
26) Sea to Summit Telos Tent – 20% off
If you're looking for lighter backpacking tent, check out the Sea to Summit Telos TR2. Weighing only 3lb 5oz and constructed from durable material, it's designed for multi-day backpacking adventures in rugged environments.
BFT Team Member Linda tested out this tent and one of her favorite features of the Telos is its fast pitch system, which allows you to set up a shelter just using the fly and footprint (sold separately). With a full mesh ceiling, this tent also provides maximum ventilation and excellent stargazing if you want to sleep without the rain fly.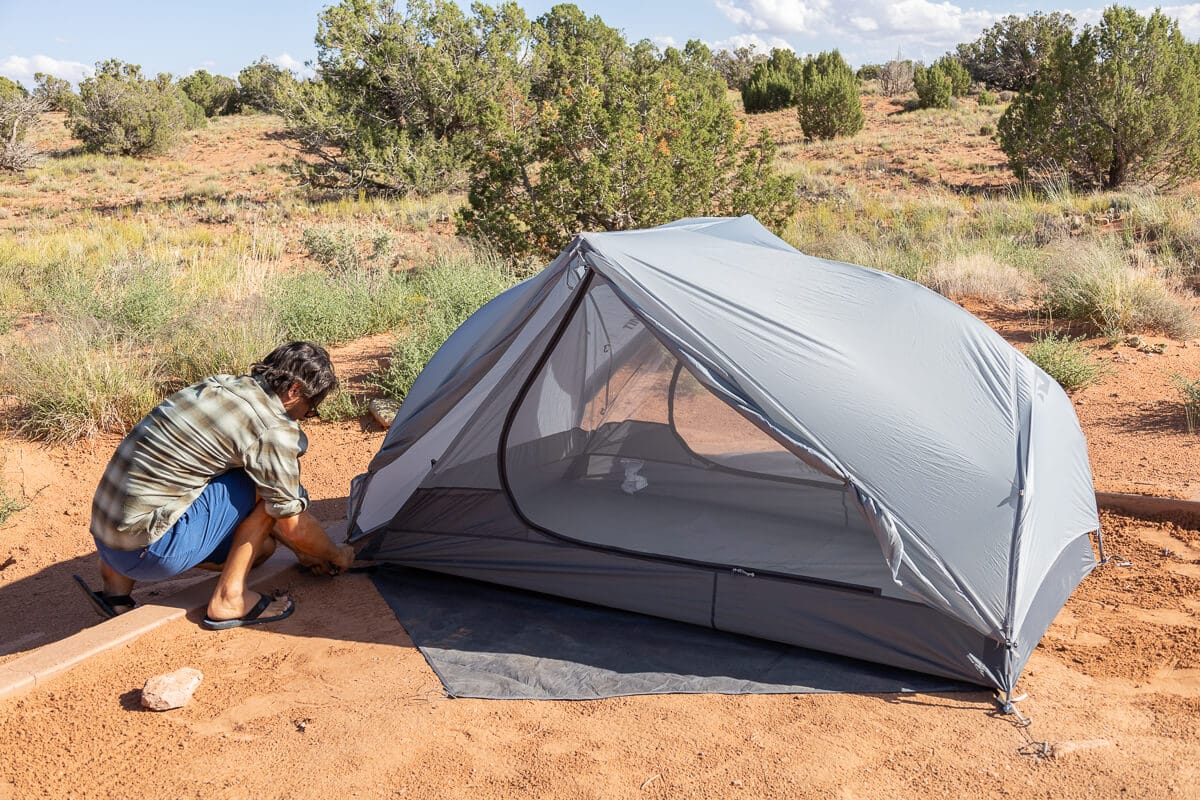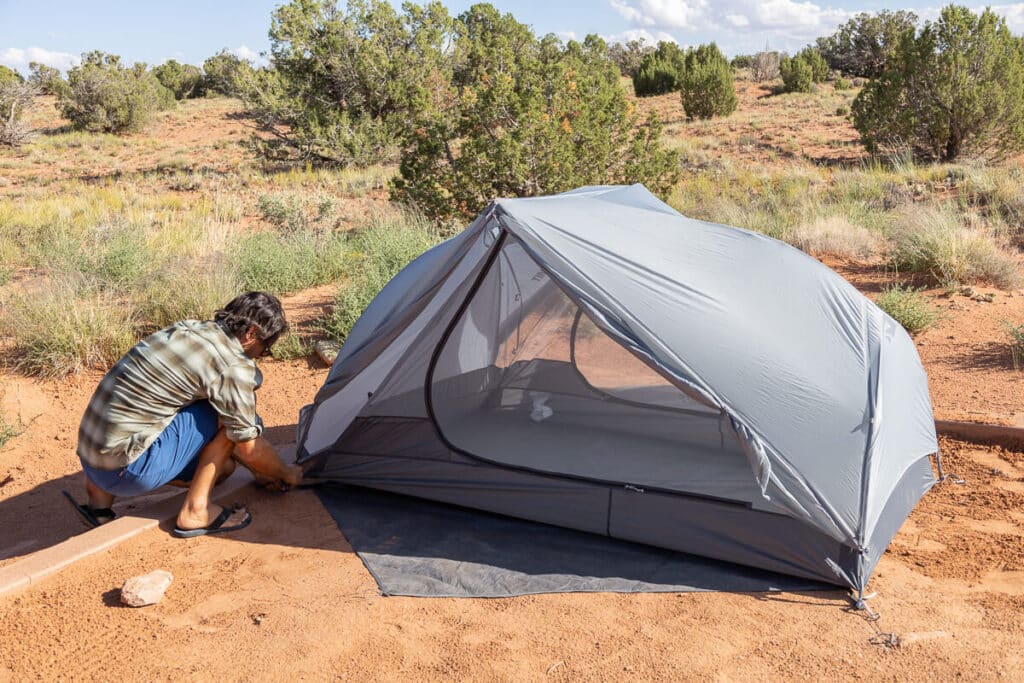 27) Sea to Summit Aeros Pillow Ultralight – 25% off
For a lot of people, falling asleep while camping can be a challenge. If you find it difficult to get a good night's rest in a tent, I highly recommend grabbing the Sea to Summit Aeros Pillow. This inflatable pillow is much more comfortable than a rolled-up jacket, and it barely weighs anything.
One of the best features of the Aeros, though, is its PillowLock system. It attaches to any Sea to Summit Sleeping Pad (also 25% off), so it stays in place under your head throughout the night.
28) Sea to Summit Ember Ultralight 25F Quilt – 30% Off
Backpacking quilts have gained popularity over the last few years for their versatility and ultralight weight. The Sea to Summit Ember 25F Quilt is designed for 3-season backpackers looking to shed ounces while still staying warm.
Designed with four straps to secure it to your sleeping bag and a 'shape-shifter' drawcord to snug it closer on cold nights, the Ember is one of the most versatile quilts we've come across and it's 30% off during the GUGO sale.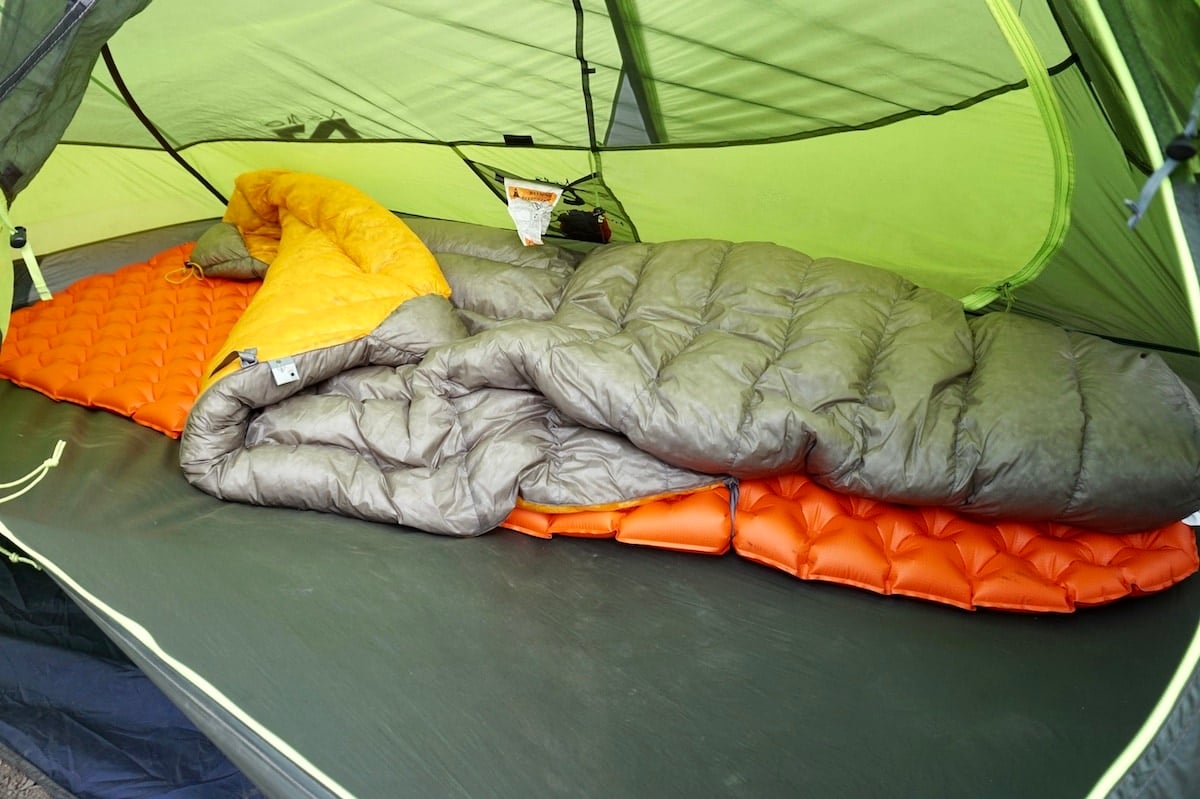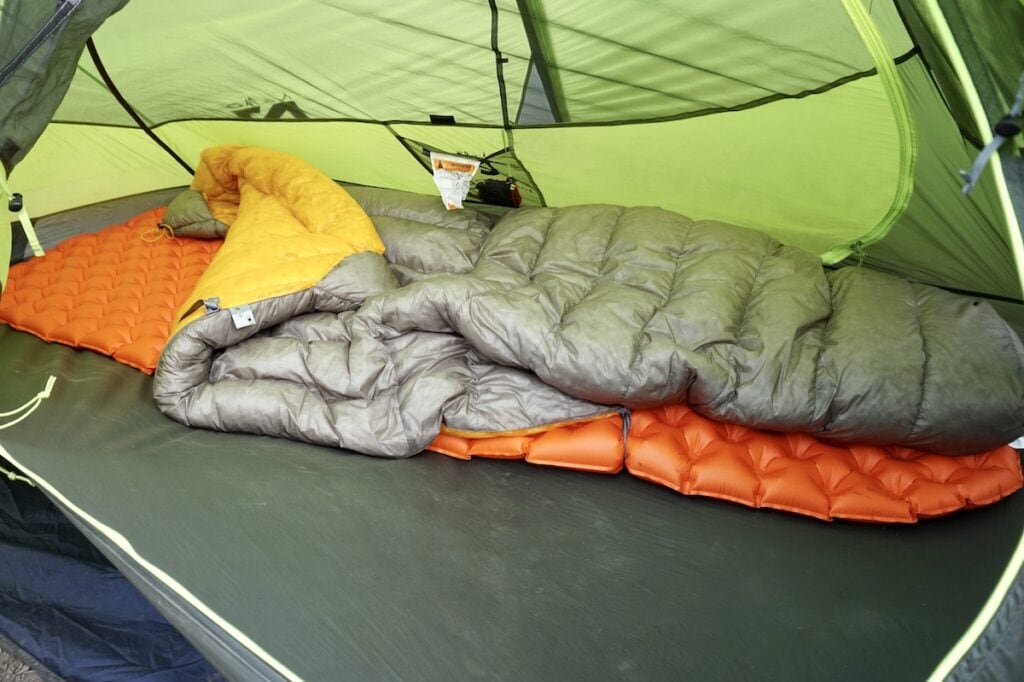 29) Sea to Summit Ether Light XT Air Sleeping Pad – 30% off
When it comes to sleeping pads, I definitely like to prioritize comfort and warmth over ultralightweight options. But with the Sea to Summit Ether Light XT Insulate Sleeping Pad, you don't have to sacrifice any of those things. Weighing 1 lb 1.5 oz (regular) with a pad thickness of 4 inches and an R-value of 3.5, it's one of the lightest yet most comfortable and warm pads we've tried.
Former BFT Team Member Courtney used the Ether Light Insulate sleeping pad on many of her overnight backpacking trips and loved how comfortable it was, especially as a side sleeper.
It also comes in an uninsulated option if you don't need the extra warmth.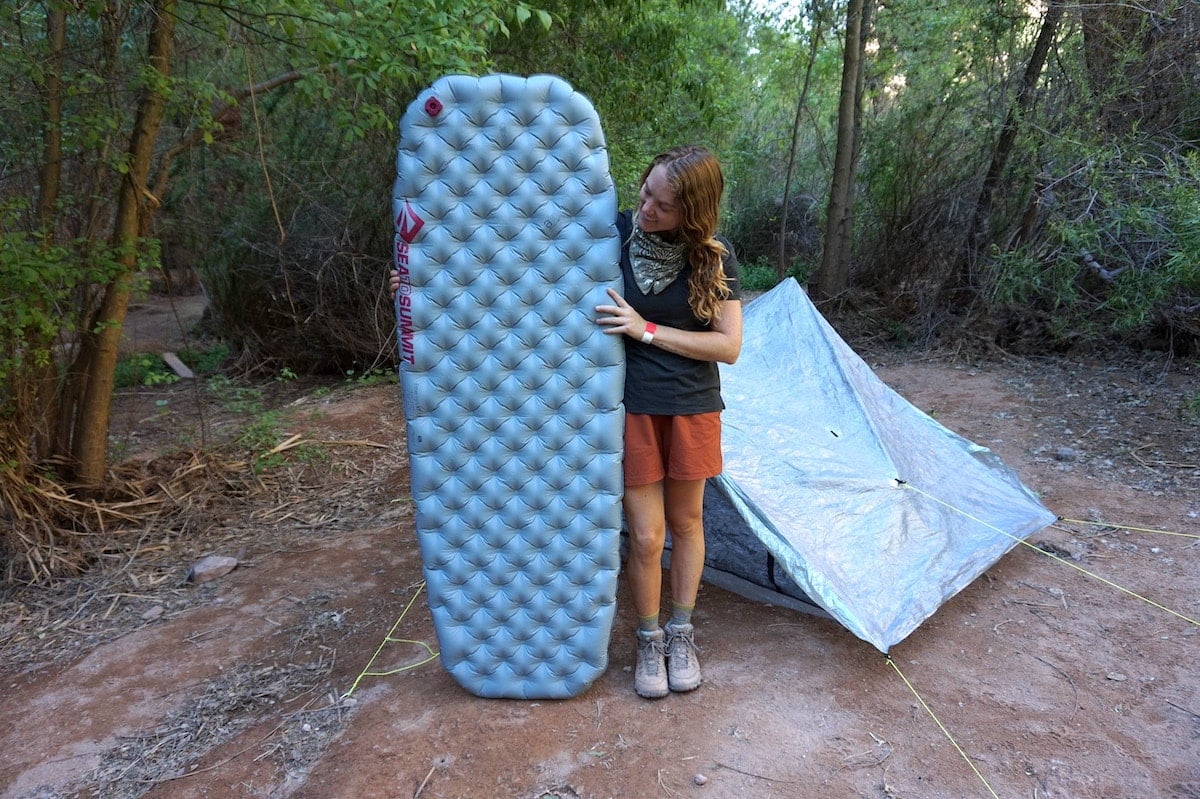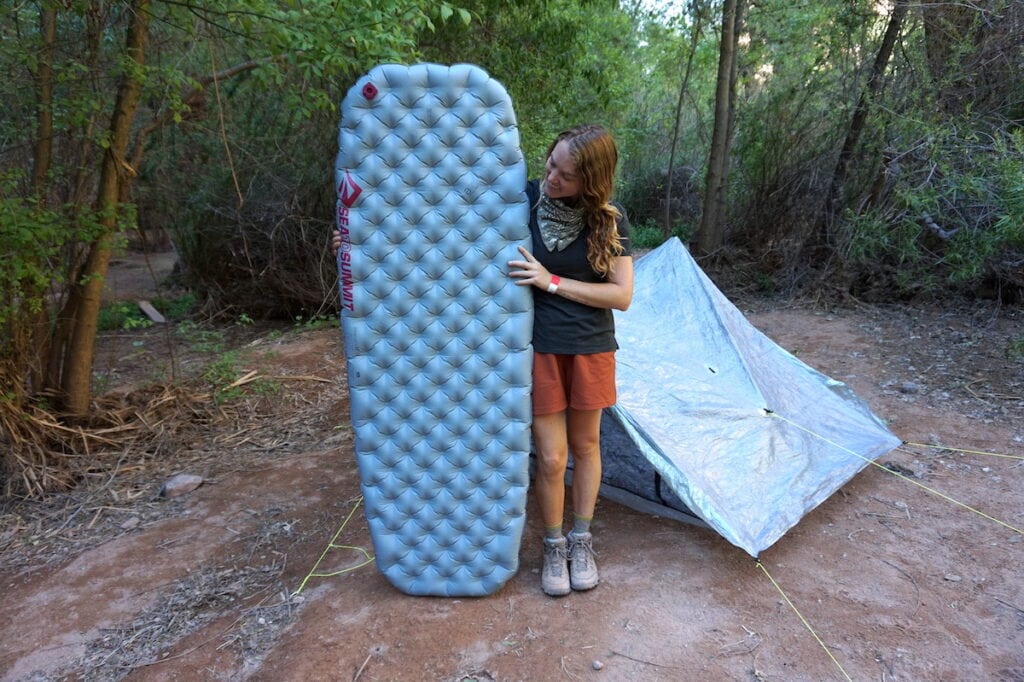 30) Garmin inReach Mini – $100 Off
Staying safe in the backcountry should not be taken lightly, which is why I always carry my Garmin inReach satellite communication device whenever I know there will be limited cell service.
This handheld device allows you to communicate with friends, family, and rescue teams in case of an emergency. It's important to note, though, that a Garmin inReach subscription is required to use the device. You can learn more about the subscription here.
During the GUGO sale, score $100 off an inReach device, which is a great deal!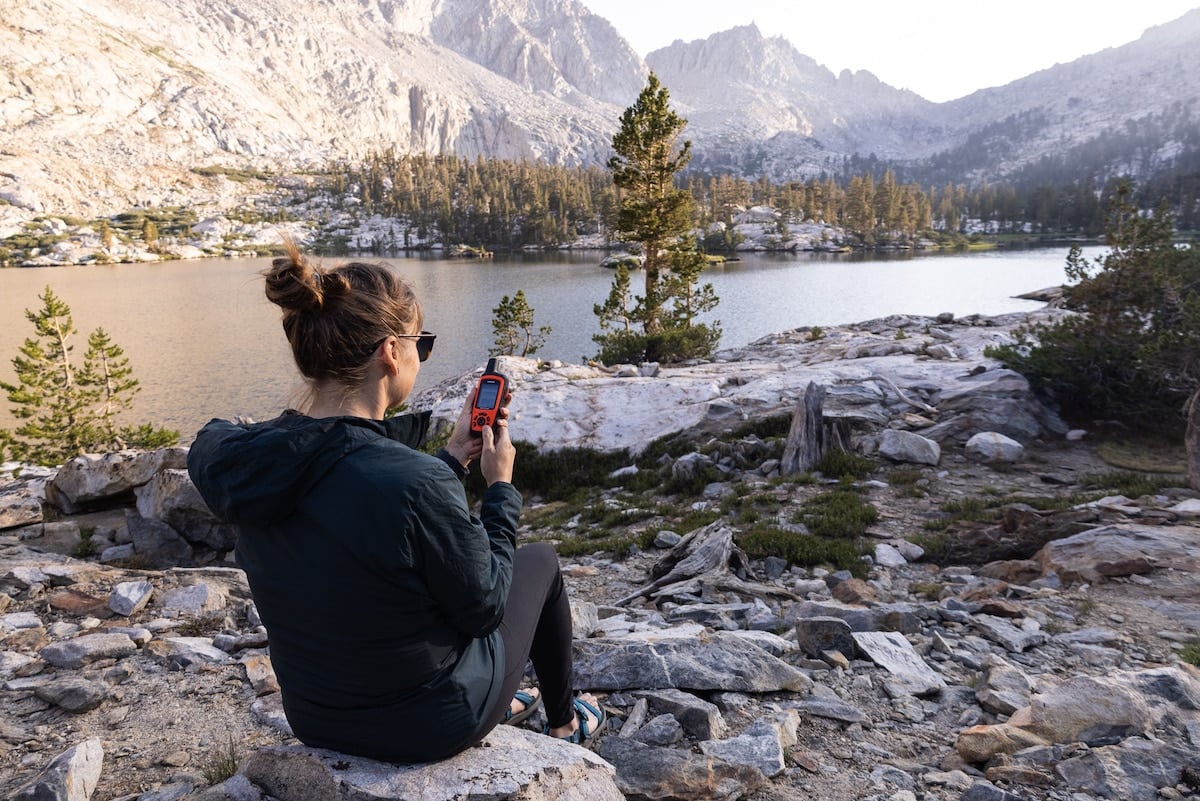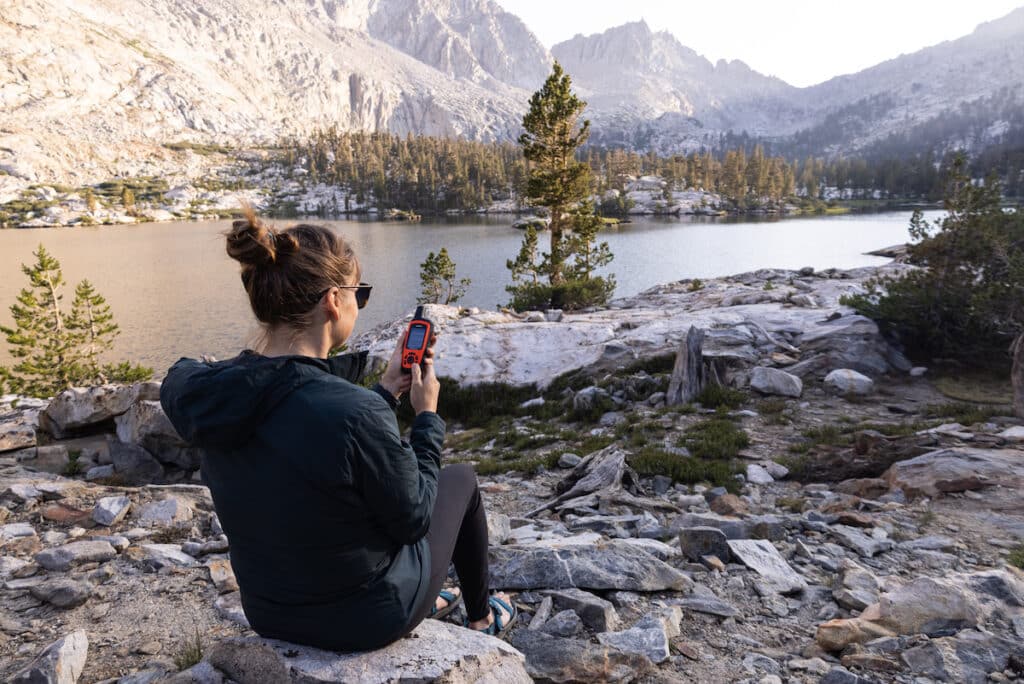 ---
Best Deals on Accessories & Electronics
31) Garmin fēnix Watch – $200 Off
The Garmin fēnix 7X Solar Watch is definitely an investment, but it's no ordinary watch, and at $200 off, it's a great deal.
In addition to telling time, this watch also tracks GPS, provides health and wellness monitoring (including heart rate), allows you to customize training plans, includes preloaded maps, and so much more.
Becky, our behind-the-scenes assistant, uses her Garmin fēnix Watch to track every mountain bike ride. I also have a previous version without the solar charging (also $200 off) that I use for hiking.
32) REI Co-op Trail 2 Waist Pack – 30% off
Fanny packs are great for a lot of things from traveling to short hikes to running errands around town. The REI Co-op Trail 2 Waist Pack is the perfect size for all these activities and more. It has a secret stash pocket for a credit card or cash and the larger pockets can fit essentials like sunscreen, snacks, and even a lightweight wind shell. If you prefer patterns, check out the fun print Trail 2 options.
33) REI Co-op Sahara Rain Hat – 30% off
Keep your head dry and prevent raindrops from dripping down your neck with the REI Sahara Rain Hat. This hat is fully waterproof, but it's also great for sunny days thanks to the wide brim and moisture-wicking inner lining. You can also fold up each side and secure them in place with snaps for a different look and versatile style.
Looking for something different? All REI hats and accessories are 30% off!
34) REI Co-Op Trailsmith Beanie – 30% off
A warm, cozy beanie is a staple for any cold-weather outing, and the low-profile REI Co-op Trailsmith Beanie is a great option for winter hikes since it doesn't take up much room in your backpack. This simple design is made from 100% recycled fabric and includes a soft brushed-fleece lining. It's the kind of beanie that will look good on anyone!
35) REI Co-Op Eco Coolmax Crew Socks – 30% off
The REI Co-op Coolmax Crew Socks are lightweight, breathable, and sweat-wicking – everything you would want in a good pair of socks. They're also comfy and warm. If you're between sizes, we recommend sizing down. BFT Teammate Linda wears a size 7 in women's and would have gone with a small as the medium is a little big. Want to try a different pair? All REI socks are 30% off during the GUGO sale.
---
Best Deals on Winter Gear
36) Outdoor Research Skytour AscentShell Jacket – 25% off
If you've been using a rain jacket for your winter hiking outwear or you are just looking for an upgrade, the sale (when all Outdoor Research outerwear is 25% off) is a smart time to invest to a waterproof winter shell.
An excellent choice for sweaty winter adventures, like winter hiking and cross country skiing, this Outdoor Research Skytour AscentShell Jacket is lightweight, breathable, and stretchy to keep you comfortable on the move.
With pit zips and a two way zipper that can zip down from the neck or up from the hips, you can easily vent the jacket on the uphill stretches to better regulate your temperature. You also don't have to worry if you encounter any weather as this jacket is completely waterproof with fully taped seams.
37) Outdoor Research Trailbreaker II Snow Pants – 25% off
Another upgrade to your winter hiking clothes, these Outdoor Research Trailbreaker II Snow Pants will ensure you stay warm and dry on your winter adventures. The are completely waterproof on the bottom (where they are in direct contact with snow) and water resistant everywhere else. Like the jacket above they are stretchy and breathable, with zippered thigh vents to fine tune your temperature.
Note: the women's version tends to run a bit long, so if you have shorter legs, these might not work for you. I'd also pick something different if you are learning how to snowboard (and spending a lot of time on the ground) since the butt is only water resistant.
38) Smith I/O MAG S ChromaPop Snow Goggles – 20% off
Nothing breaks my confidence and ruins a day of skiing like a pair of goggles I can't see out of. These Smith I/O MAG Chromapop Goggles (women's) / (men's) come with a cloudy and sunny day lens that you can swap out as light conditions change. Out of all of the goggles I've tried, these are some of these easiest to change out thanks to the magnets that secure the lens in place. They also have an anti-fog coating, so they perform well even on the snowiest of days. Want a different size or style? All Smith Goggles are 20% off during REI's Gear Up Get Out Sale.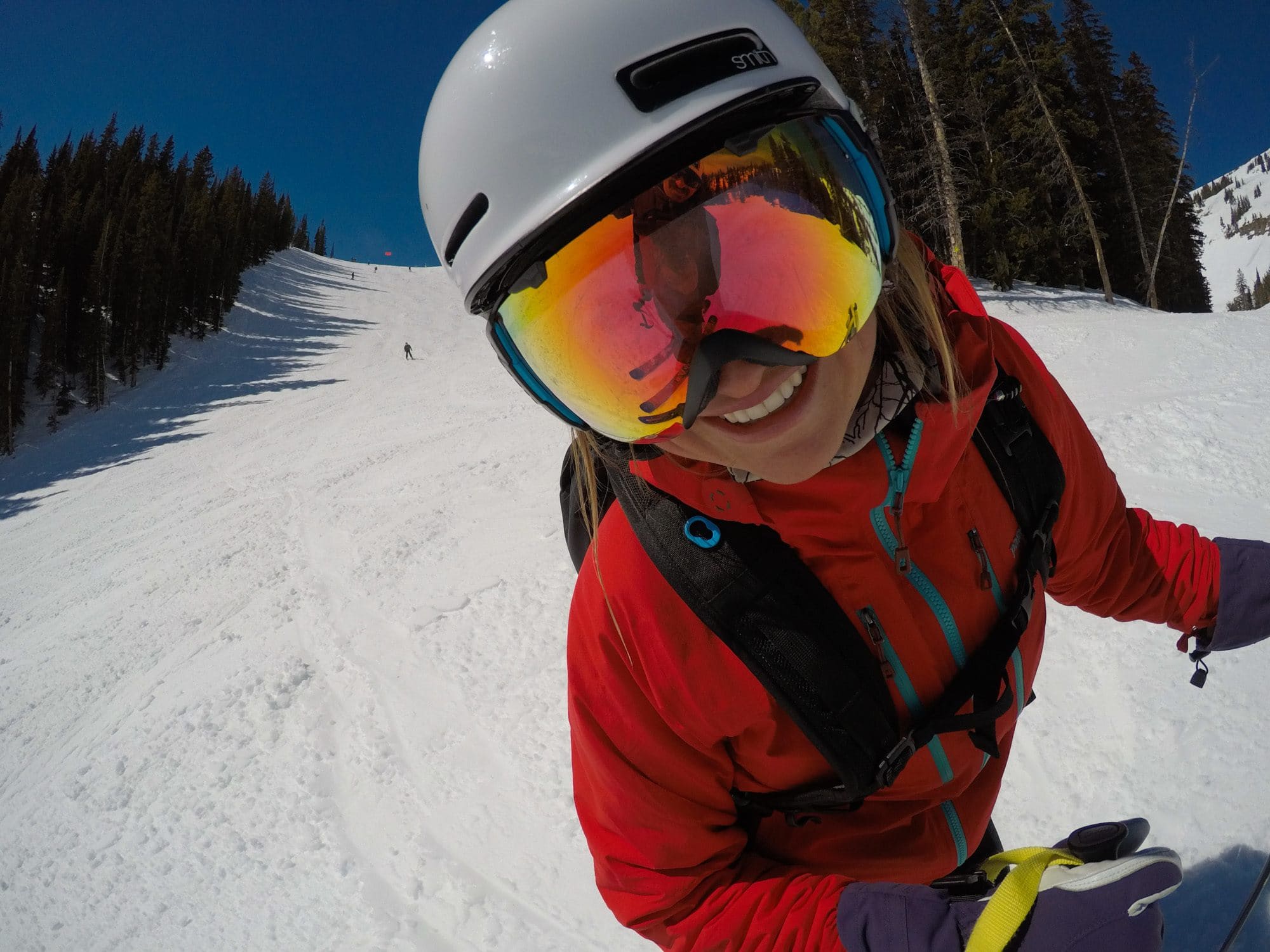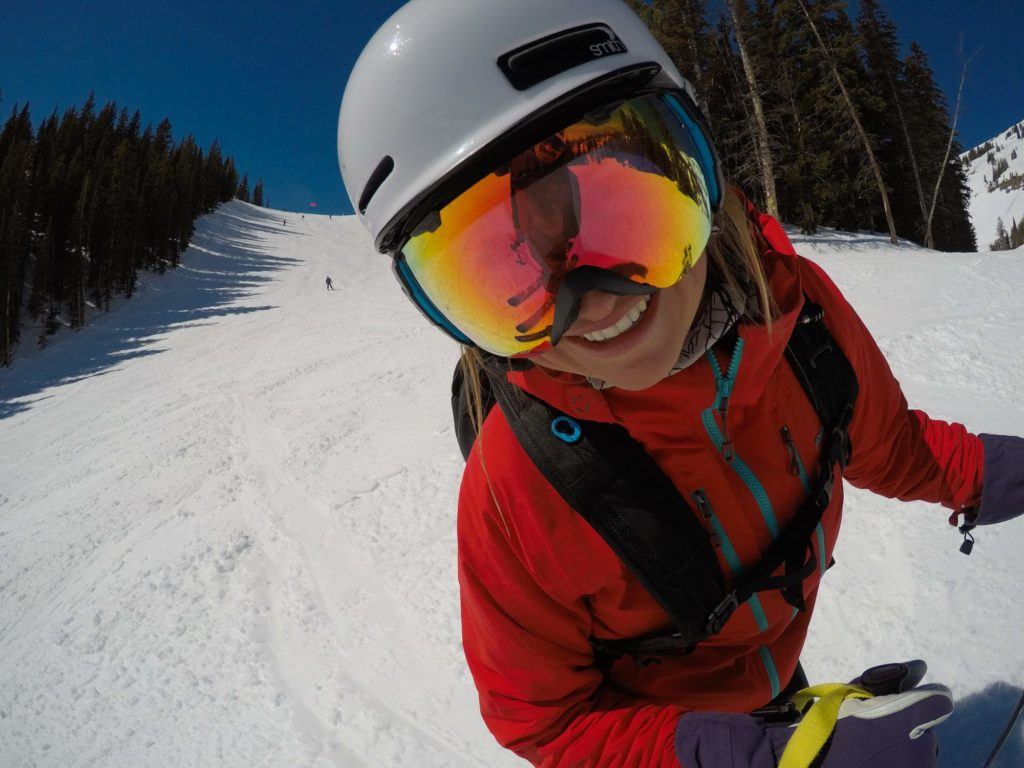 39) Smith Mirage MIPS Women's Snow Helmet – 20% off
I love this Smith Mirage Snow Helmet because it's low profile while still providing maximum protection in case of a spill. The MIPS technology, which you should look for in any helmet you buy, reduces rotational impact on your brain, which has been shown to effectively reduce concussions and traumatic brain injury.
Apart from the protective features, this helmet features vents that you can open on a hot day and is compatible with earbuds if you like to ride while listening to music.
All Smith Snow Helmets for both men and women are 20% during the sale.
40) Kahtoola MICROspikes Traction System – 20% off
One of my top winter hiking tips is to always carry a pair of microspikes. Microspikes fit over your shoes and provide extra traction when you are hiking on ice so you don't slip and fall.
These Kahtoola MICROspikes are some of my favorite. They are so easy to put on, stretch to fit over bulky winter hiking boots, and perform really well, even on steep trails. I used mine in British Columbia during my February Powder Highway Roadtrip, and they gave me so much extra confidence when the trail got slick. Because they are so lightweight, it's no big deal to throw them in your pack just in case you end up needing them.
If you want something beefier, all Kahtoola Traction devices are 20% off.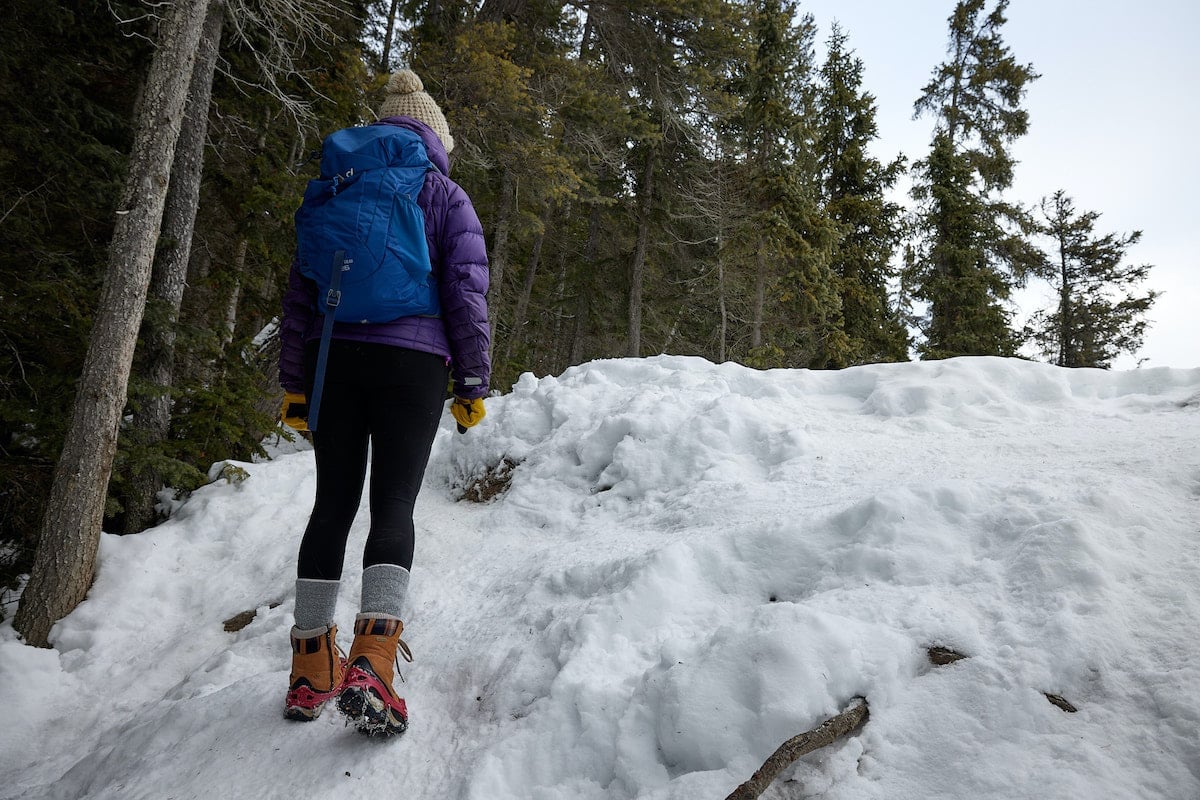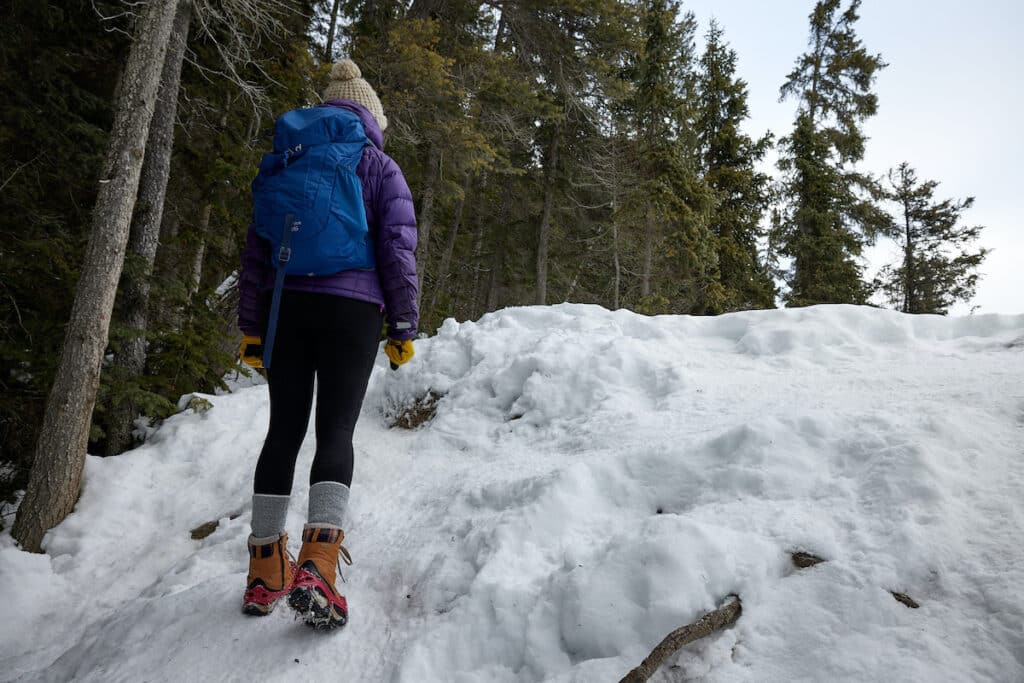 Save this post to Pinterest
What's on your wishlist for the REI Gear Up Get Out Sale? Leave a note in the comments below!