30 Eco-Friendly Gifts: Sustainable Gift Ideas That Give Back
Find the perfect eco friendly gifts with this list of sustainable gift ideas from outdoor gear to clothing and gifts that give back.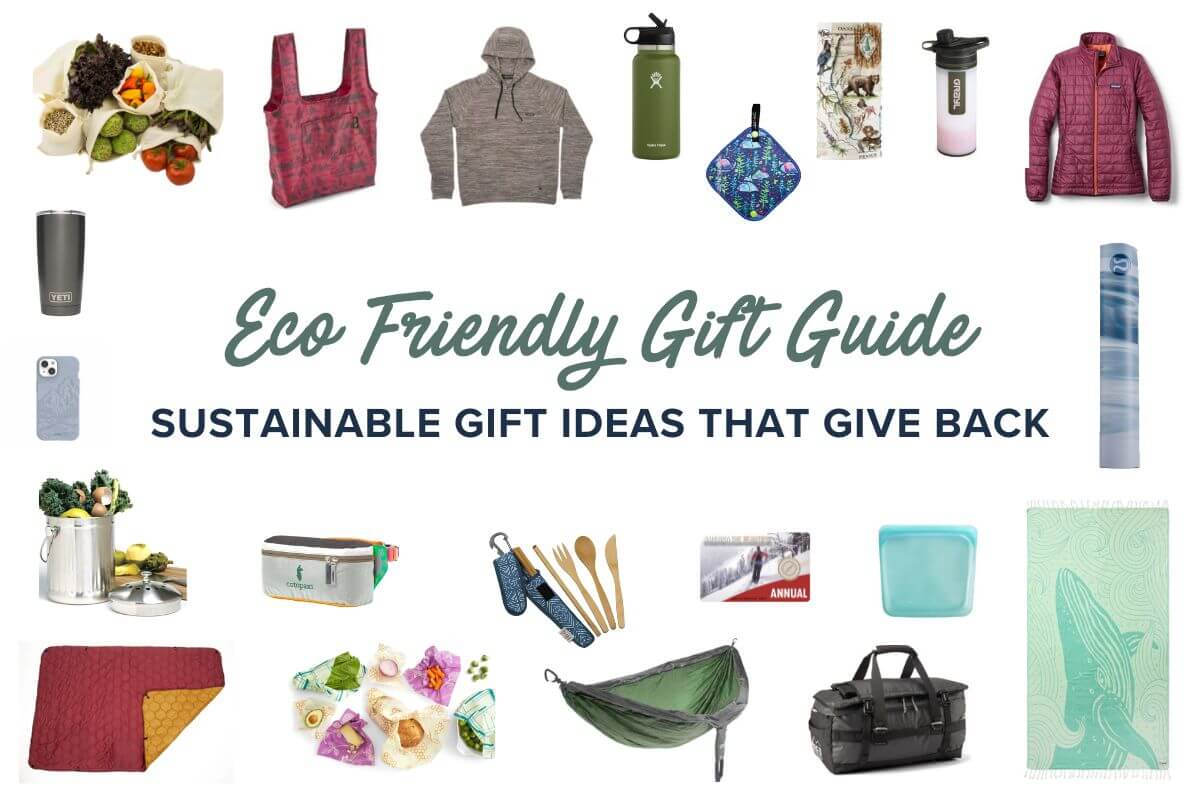 As outdoor enthusiasts, it's our job to do what we can to reduce our impact on the planet, and even better, to help others do so as well. This list of sustainable gift ideas features products that can help you and your loved ones reduce waste while supporting brands and organizations that are working to make the world a better place.
Remember, you vote with your dollars and every purchase is a statement of the kind of world you want to live in. So whether you're looking to reduce waste in your life this holiday season or help a loved one become more eco-conscious, this eco-friendly gift guide will give you plenty of ideas.
Here are 30 sustainable gift ideas that give back to help cut back on waste and reduce your environmental footprint this holiday season.
Sustainable Gift Ideas that Reduce Waste
Our favorite sustainable gifts that reduce single-use plastics and other waste.
Stasher Bags
We're all about items that reduce trash and dependence on single-use items, and Stasher Bags are a favorite for saying no to zip lock bag waste. They're made of silicone, easy to clean, and a convenient way to pack your lunch or store leftovers. You can even bake or boil in them, which is great when you don't have a microwave (hi you van lifers) and Stasher's newest silicone bags stand up by themselves so there's no risk of spilling dinner.
Stasher Bag is a certified B Corp and member of 1% For The Planet, meaning a portion of their annual sales goes towards supporting environmental non-profits. Plus, we love their Instagram for eco-minded and plastic-free inspiration.

Check price: REI | United By Blue | Eartheasy
United By Blue Packable Tote
Everyone should have a reusable bag. They're handy for everything from grocery shopping to toting around your toiletries to and from campground showers. And since many states are moving toward banning single-use plastics including shopping bags, a reusable tote bag is even more necessary for everyday errands.
This United by Blue packable tote packs into itself, making it easy to throw in your purse, stash in your car, or take along on your travels so you'll never need a plastic bag again. As an added bonus, United by Blue removes one pound of trash from oceans and waterways for every product purchased.

Check price: United By Blue
Simple Ecology Reusable Produce Bags
In addition to bringing your own reusable grocery totes to the store, it's also a great idea to bring these Simple Ecology Muslin Produce Bags to use in lieu of plastic produce bags. These muslin bags are great for loose fruits and veggies as well as any items you buy in bulk like rice, beans, oats, and other grains. Produce bags also help keep your food fresher for longer while you're traveling. If you're looking for an eco-friendly gift that reduces waste, these bags are a great option!
Check price: Amazon
Hydro Flask Wide-Mouth Water Bottle
With all the great options for reusable water bottles nowadays, there's really no need (or excuse) to buy plastic single-use ones. The Hydro Flask wide mouth w/ straw lid 32 oz water bottle is our favorite. It's a good size for all-day hydration, keeps your drinks hot or cold, has a straw for easier drinking, and it's easy to clean and carry. If you're looking for something smaller or a bottle without a straw, Hydro Flask has lots of different styles and options.
We also love Hydro Flask because they support non-profit organizations focused on building, maintaining, restoring, and providing better access to parks.

Check price: Hydro Flask | REI | Backcountry
YETI Rambler Tumbler
The YETI Rambler Tumbler will keep your coffee or tea hot (or cold) for hours and is perfect for drinks on the go. It's spill resistant, fits nicely in your cup holder if you're on the road, and the lid comes apart for easy cleaning. Fill it up at home or at your local coffee shop instead of using a disposable to-go cup which often isn't recyclable.
Check price: YETI | REI | Backcountry
To-Go Ware Premium Bamboo Utensil Set
Plastic utensils are a big source of unnecessary waste. To help cut back on the number of plastic forks, spoons, and knives that make their way to landfills, keep a reusable utensil set in your car or bag. This one is made from lightweight (but durable) bamboo and the bag is made from 100% post-consumer recycled plastic bottles, so you can use them again and again. They're also a great choice for camping and backpacking trips!
Check price: REI
Kula Cloth Reusable Pee Cloth
For women, staying fresh and clean on camping trips or in the backcountry can be a challenge. Most women rely on disposable wet wipes or toilet paper to wipe after peeing, but we recommend this Kula Cloth instead. It might sound strange at first, but give it a try and we bet you'll become a convert.
The cloth is waterproof on one side and has snaps to keep it closed when not in use. Use it when hiking and backpacking and simply throw it in the wash when you get home. We love that this helps reduce toilet paper waste and encourages Leave No Trace practices, plus Kula often supports organizations, artists, and individuals working to diversify outdoor spaces. Be sure to check out their Kula for a Cause patterns, which donate 10-30% of the proceeds to various organizations.
Check price: Kula Cloth | REI
>> Read Next: Best Gifts for Outdoorsy Women
GRAYL Purifying Water Bottle
Say goodbye to single-use plastic water bottles, no matter where in the world (or backcountry) you are. GRAYL water bottles purify water from sketchy spigots, hotel sinks, rivers, lakes, and more to make clean, safe drinking water wherever you are – in only 8 seconds! We love the Grayl for its simplicity and speed – no filter attachments or extra items you need to carry – water gets filtered right in the bottle.
Chewpaste
Instead of using toothpaste that comes in single-use plastic tubes, switch to plant-based, plastic-free toothpaste with Chewpaste. Chewpaste is functional and sustainable, coming in a reusable and recyclable glass container with bite-sized tablets.
Bringing along toothpaste tablets is perfect for backpacking or weekend trips since you can pack the exact amount you need – the perfect gift for the eco-friendly backpacker or traveler in your life! Etee only carries plastic-free products, so be sure to check out their site for more plastic-free gift ideas.
Check price: etee
Marley's Monsters Organic UNpaper® Towels
This has quickly become one of our favorite eco-friendly swaps – no more single-use paper towels necessary with UNpaper Towels. These are a reusable, washable, and ultra-absorbent alternative made of 100% organic cotton that can simply be thrown in the wash after use. They naturally cling together so you can even roll them up around an old paper towel holder for easy access.
Check Price: United by Blue
Marley's Monsters Organic Cotton Facial Rounds
We love these reusable Organic Cotton Facial Rounds which replace at least 1,000 single-use cotton pads or balls every year you use them! Each pack includes 20 reusable rounds made from 100% organic cotton that can be thrown in the washing machine. These are also a gentler alternative for your skin — win, win!
Check Price: United by Blue
Bee's Wax Food Wrap
A natural alternative to plastic wrap for food storage, Bee's Wrap lets you swap out single-use plastic bags and wrap. Bee's Wrap is washable, reusable, and fully biodegradable. One of the greatest benefits of Bees Wrap is it's naturally antibacterial, so it will help keep food fresh longer. We love using Bee's Wrap in the kitchen and on road trips for an eco-friendly food storage option.
Check price: REI
>> Read Next: 10 Easy Ways to Reduce Your Environmental Impact
Sustainable Gift Ideas that Give Back
These eco-friendly gifts give back in a variety of ways, so you're not only purchasing a well-made product, but you're also supporting a good cause.
Buff Headwear Triple Crown Series
We've always loved Buff's multifunctional headwear for its versatility, but when we saw their Triple Crown Series we were especially excited. These Buffs are not only made with recycled materials (each one is made with 2 recycled plastic bottles), but Buff also donates 5% of the purchase price to one of three non-profit trail organizations with the mission to protect, preserve, and promote the "Triple Crown" National Scenic Trails. This includes the Pacific Crest Trail, the Continental Divide Trail, and the Appalachian Trail.

Check price: REI | Backcountry
ENO Giving Back Hammock
Give the gift of relaxation this year with a hammock. ENO's Giving Back DoubleNest hammock is light, compact, and big enough for two people. With every purchase of this hammock, ENO donates a portion of the proceeds to the respective organization.
2022 Organizations: Leave No Trace, National Park Foundation, Appalachian Trail Conservancy, Continental Divide Trail Coalition, Pacific Crest Trail Association, Roots Studio, and the Gond Community.

Check price: REI | Backcountry | Moosejaw
Cotopaxi Bataan 3L Fanny Pack
The super lightweight and versatile Cotopaxi Bataan 3L Fanny Pack is an eco-friendly fanny pack because as part of Cotopaxi's (Re)Purpose line, it re-uses leftover fabrics to keep them out of the landfill. We love this fanny pack for hiking, traveling, and everyday wear – it's roomy enough for all of your everyday essentials.
Cotopaxi is a brand we love because they're always doing good. They are a certified B Corp and they allocate 1% of their annual revenues to the Cotopaxi Foundation, which supports non-profit partners that work to alleviate poverty, provide education, and support refugees around the world.

Check price: Cotopaxi | REI | Backcountry
BioLite AlpenGlow 250 Lantern
Handy for any camping trip, road trip, or even for at home, BioLite's AlpenGlow 250 Lantern is one of our favorite gifts that give back. It's made with a high efficiency, long-lasting LED and is rechargeable to help you avoid disposable batteries. It's also water-resistant in case it rains and has a variety of lighting modes including dimmable warm white light, candle flicker, and colored lighting options.
Best of all, BioLite is working to bring clean, renewable energy access to communities in need while reducing CO2 emissions.
Sand Cloud Towels & Beach Blankets
For the outdoor-loving beach-goer, Sand Cloud makes lightweight, quick-drying, and sand-repelling towels and blankets for action-packed days at the beach.
Sand Cloud designs all of their products and packaging with sustainability in mind and 10% of their profits go straight to marine conversation. Their towels, blankets, and other offerings are a great eco-friendly gift for beach-lovers.

Check price: Amazon
America the Beautiful Pass
Give the gift of outdoor experiences this year. The America the Beautiful National Parks Pass provides access to more than 2,000 federal recreation sites throughout the country. It's good for a year from the month of purchase and covers admission for a driver and all passengers in a personal vehicle at per-vehicle fee areas or up to 4 adults at sites that charge per person.
As an added bonus, REI donates 10% of the sales of this pass to the National Parks Foundation which works to protect the parks we love.
Check price: REI
Gardyn Hydroponic Garden
Gardyn Hydroponic Garden is an indoor vertical hydroponic growing system that has dozens of organic greens, veggies, and herbs you can grow inside your house. Growing your own food is one of the most eco-friendly choices you can make, and this would make an amazing gift.
Kristen experimented with a Gardyn in her house last winter and was amazed at the results. Gardyn also donates their at-home grow kits to non-profits and other organizations that are working to make healthy food accessible to all.
Check Price: Gardyn
TenTree Juniper Hoodie
Made of organic cotton and recycled polyester, the TenTree Juniper Hoodie is an eco-friendly staple in our closet and makes the perfect holiday gift. They're committed to ethically manufacturing all of their clothing and have incredibly transparent factory information on their website. Best of all? With each purchase, TenTree plants 10 trees, and so far they've planted over 80 million trees.
Check Price: TenTree
Sustainable Gift Ideas Made From Eco-Friendly Materials
These eco-friendly gifts are made from sustainable materials such as organic cotton, recycled polyester, and other fabrics that have less of a negative impact on the environment.
lululemon Yoga Mat
The eco-conscious yogi in your life will love the lululemon 5mm Reversible Yoga Mat made with sustainably sourced, FSC-certified natural rubber. This mat provides plenty of cushion and has a grippy side designed to keep you stable even when sweating.
Check price: lululemon
Patagonia Nano Puff Jacket
Kristen has worn Patagonia's Nano Puff Jacket for years and it's one of her favorite pieces of gear. Super warm, windproof, and water-resistant, this jacket is incredibly lightweight and highly compressible making it easy to stuff in your daypack or in your car.
Insulated with 100% eco post-consumer recycled polyester with P.U.R.E.™ (Produced Using Reduced Emissions) technology, this jacket is also Fair Trade Certified sewn — an all-around amazing jacket that is also super sustainable. Plus, Patagonia has an awesome Worn Wear program where you can trade in your gently used Patagonia gear for store credit. You can find a hooded version of the Nano Puff here.
Check price: Patagonia | REI | Backcountry
Coalatree Evolution Hoodie
Coalatree is one of our favorite eco-friendly outdoor apparel brands. We love that they use recycled materials and have factory standards that utilize sustainable energy and water-saving technologies as well as non-toxic production methods.
The Coalatree Evolution Hoodie is made from recycled plastic bottles and coffee grounds and is ultra soft – it's hands down the most comfortable sweatshirt we've ever worn. Coalatree uses unisex sizing on some of their clothes, including this sweatshirt, so size down if you want a snug fit.
Check price: Coalatree
REI Co-op Big Haul 40 Recycled Duffel
The REI Co-op Big Haul 40 Recycled Duffel is made responsibly with rugged recycled ripstop nylon for incredible durability for all of your adventures. With removable duffel handles, stowaway backpack straps, and side/end handles, it's a very versatile piece of gear. It's also one of REI's best sellers and is a carry-on-friendly size with lots of handy interior and exterior organization pockets.
Check price: REI
Coalatree Puffy Kanchula Adventure Blanket
Whether you want to cozy up around the fire or gaze up at the stars, the Coalatree Puffy Kachula Adventure Blanket is a warm and snuggle-soft addition to your life. Water, spill, and dog-hair resistant, this is a great eco-friendly blanket option that packs up super small (it can double as a pillow in a pinch). It comes with a hood, so this can be a super cozy poncho too! It's made from recycled materials including bluesign® ripstop nylon.
Check price: Coalatree
Toad&Co Pajama Bottoms
Pajamas are the perfect cozy gift, and why not choose a sustainably made pair for the holidays? These Toad&Co Shuteye Pajama Bottoms are made of 100% organic cotton, which uses 88% less water and 62% less energy than conventional cotton, and are grown without GMOs or toxic chemicals. There is also a men's version available.
Check Price: Toad&Co
>> Check out our favorite sustainable clothing brands
Boody Bamboo Underwear
Eco-friendly underwear that is breathable, and comfy is sometimes hard to find – not with Boody. Made of organic bamboo viscose, these undies are breathable, odor-resistant, thermo-regulating, and moisture-wicking to provide all-day comfort.
Organic bamboo is grown without pesticides, insecticides, or fertilizers making this the perfect next-to-skin layer – plus, bamboo is naturally regenerative (meaning it's fast-growing and also helps prevent soil erosion) and requires way less water than other fabrics, like cotton.
Check price: Boody
Toad&Co Re-Form Flannel Shirt
Upgrade your flannel game with this recycled flannel shirt from Toad&Co. This shirt is made 100% of recycled materials including recycled polyester (which comes from recycled plastic water bottles) and recycled cotton (which comes from salvaged cotton textiles – including Toad&Co fabric scraps!). In 2021 alone, Toad&Co has recycled 37 tons of fiber, which is over 27 million gallons of water, 55,000 oz of pesticides, and over 400,000 miles worth of car emissions saved.
Check Price: Toad&Co
Pela Compostable Phone Case
Ditch your plastic phone case and upgrade to a Pela case, made from flax shive and a plant-based biopolymer. These phone cases are 100% compostable and come in a ton of fun prints, patterns, and solids for most phone brands. These phone cases are durable, protective, and an easy way to make a sustainable swap. We also love that Pela is a certified carbon-neutral company and donates a share of profits to various organizations fighting climate change and other environmental causes.
Check Price: Pela
More Sustainable Gift Ideas
Here are a few more of our favorite eco-friendly gifts.
Good to Go Vegan Meal Kit
Good-To-Go offers a ton of vegan (and vegetarian, and gluten-free) backpacking meal options that taste great and are packed with nutrients to keep you fueled on the trail. While most pre-made backpacking meals are full of preservatives, Good-To-Go is totally preservative-free and full of high-quality, organic ingredients. Just add water & voila! These have quickly become my backpacking meals of choice, but would also be a great sustainable gift idea for car campers too.
Check Price: Good To Go
>> Read Next: 5 Ways a Plant Based Diet Benefits the Environment
Compost Bin
Make composting a cinch with this sleek stainless steel countertop compost bin. Food waste is the largest category in landfills, making up over 23% of all waste, and keeping food scraps out of landfills is a huge way to live more sustainably. No more plastic bags or leftover tupperware containers for scraps – this stainless steel bin is odor-free and cute enough to leave right on the kitchen counter. Just empty it into your outdoor compost pile or tumbler every few days when it fills up.
Check Price: Amazon
Guppyfriend Washing Bag
Did you know that each time you wash your synthetic clothing (think: polyester, recycled polyester, nylon, and other fabrics commonly used for apparel), tiny bits of plastic shed and enter the water system? Microplastics are increasingly becoming a problem as they make their way from washing machines into rivers, lakes, and oceans, harming aquatic animals and ending up in our food.
Luckily, we can reduce the amount of microplastics entering the water system by using a Guppyfriend Washing Bag. By washing synthetic clothing in a Guppybag you actually reduce the amount of microplastics shedding altogether, and you can easily pick out and discard the microplastics that are shed in the bag.
Check Price: United By Blue
Wool Dryer Balls
Wave goodbye to the harsh chemicals in dryer sheets and switch to wool dryer balls – not only do these gently soften your clothes, but they also circulate your laundry more efficiently, reducing your drying time by up to 25%!
Check Price: etee
Make a Donation On Their Behalf
Sometimes buying a gift for an eco-conscious person is hard, especially if they request no gifts. Instead of buying something physical, why not donate to an environmental organization in their name? This is a thoughtful choice that will have a lasting impact. If you're unsure where to find a great outdoor environmental group to donate to, check out our blog post on the top environmental groups to support.
Check Out Our Other Gift Guides:
We hope this list of sustainable gift ideas helps make any gifting you plan on doing easier and more eco-friendly this year. If you have any other eco-friendly gift suggestions share them in the comments below!