Skiing the Powder Highway in BC: 2 Week Itinerary
Plan the ultimate ski trip on British Columbia's Powder Highway with ski resort info and tips on where to stay, things to do, best restaurants, and more.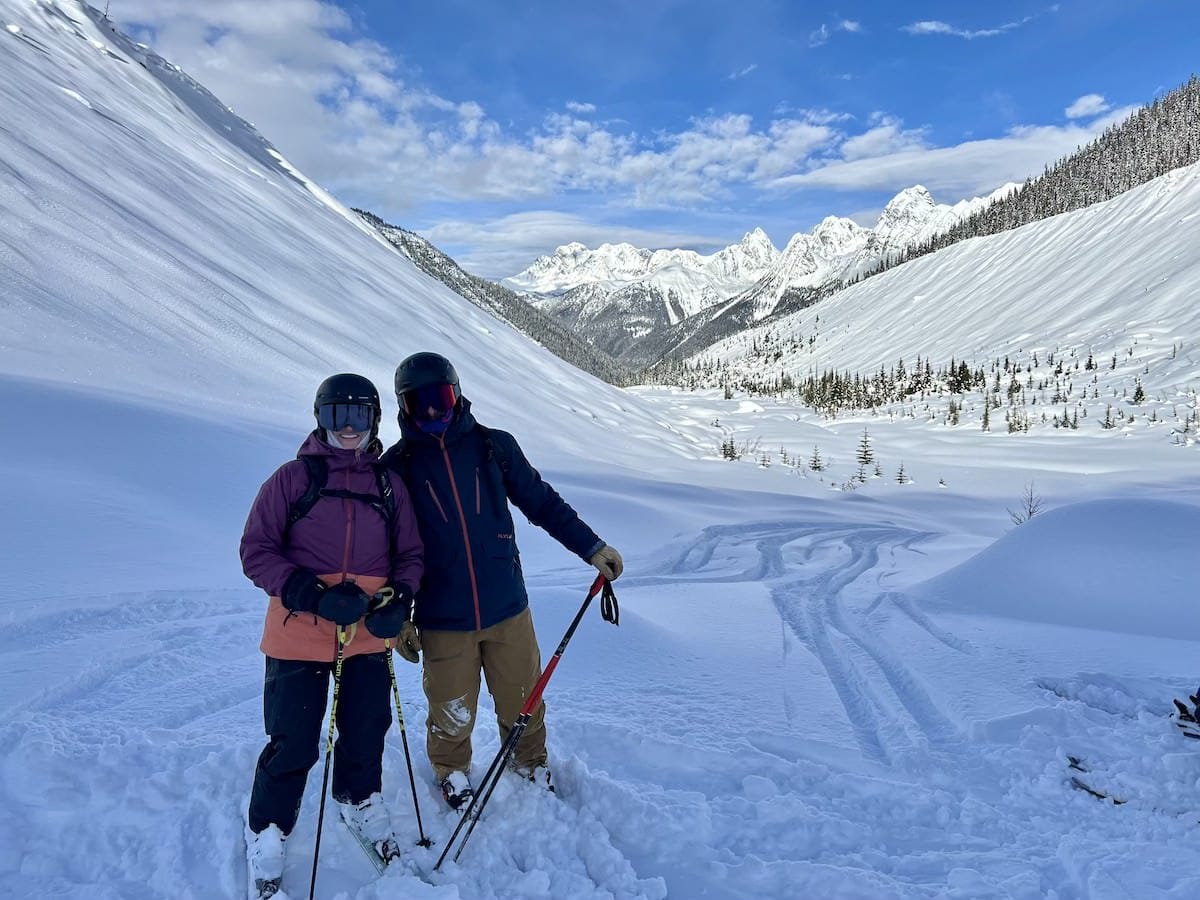 The Powder Highway is a ~700 mile loop located in eastern British Columbia's Kootenay Rockies that is home to seven different ski resorts, a number of vibrant little mountain towns, and super friendly locals. Known for (you guessed it)…powder, iconic ski resorts, and incredible terrain in some of the prettiest mountains in North America, this is a road trip that should be on every skier's and snowboarder's bucketlist.
I was recently granted Dual Citizenship with Canada (a story for another day), so I wanted to go up there and check out the Canadian Rockies and the towns I've been researching. Maybe I'd want to live in one of these small Powder Highway towns one day?
On our road trip, we visited 5 out of the 7 Powder Highway Ski Resorts, focusing our time in Fernie, Golden, Revelstoke, Nelson, and Rossland. We skied a total of 10 resort days, hiked the local trail systems with our dogs, explored the charming little towns, and even managed to squeeze in a day of heli-skiing. We had an absolutely amazing time.
The trip was a lot of work to plan and prepare for, so in this blog post, I'm going to share all of my tips for planning an epic ski trip on the Powder Highway. I've organized everything into an easy to follow two week itinerary which can be adjusted based on your personal travel desires. In addition to providing important details of the ski areas, I also include things to do on your off-days, awesome restaurants to eat at, and where to stay on the Powder Highway.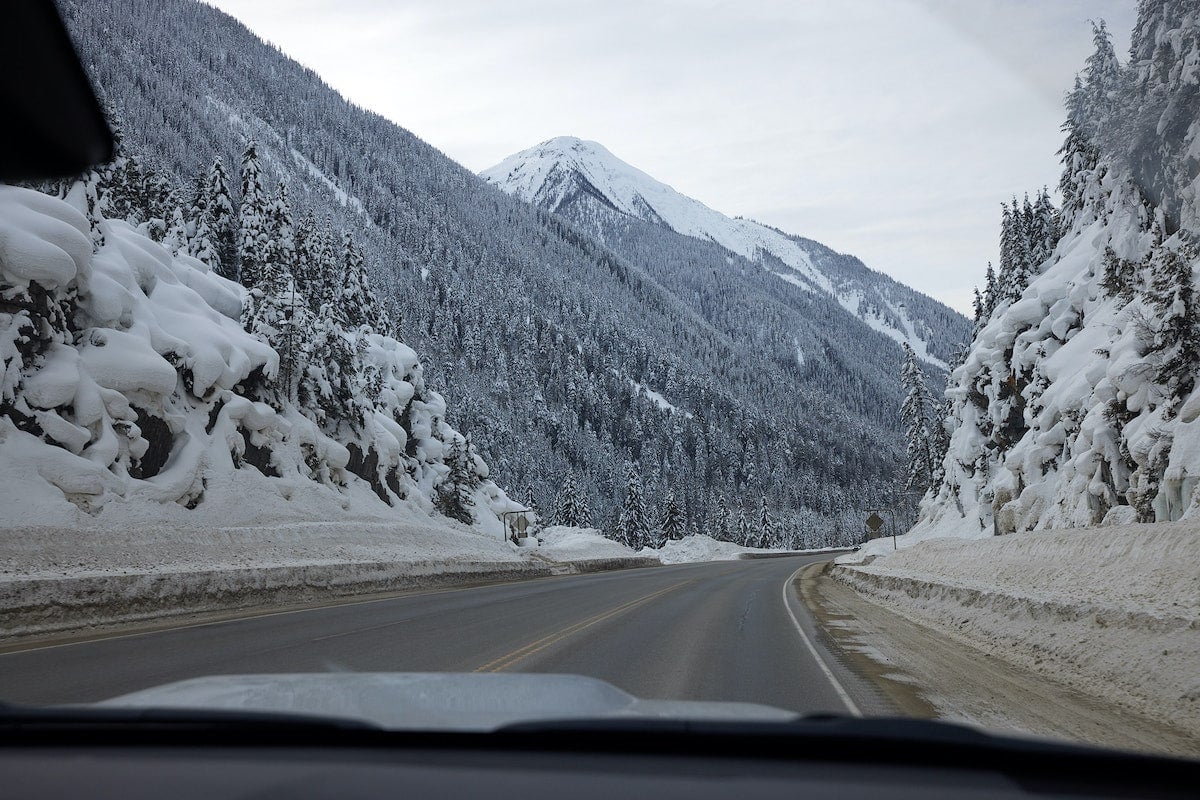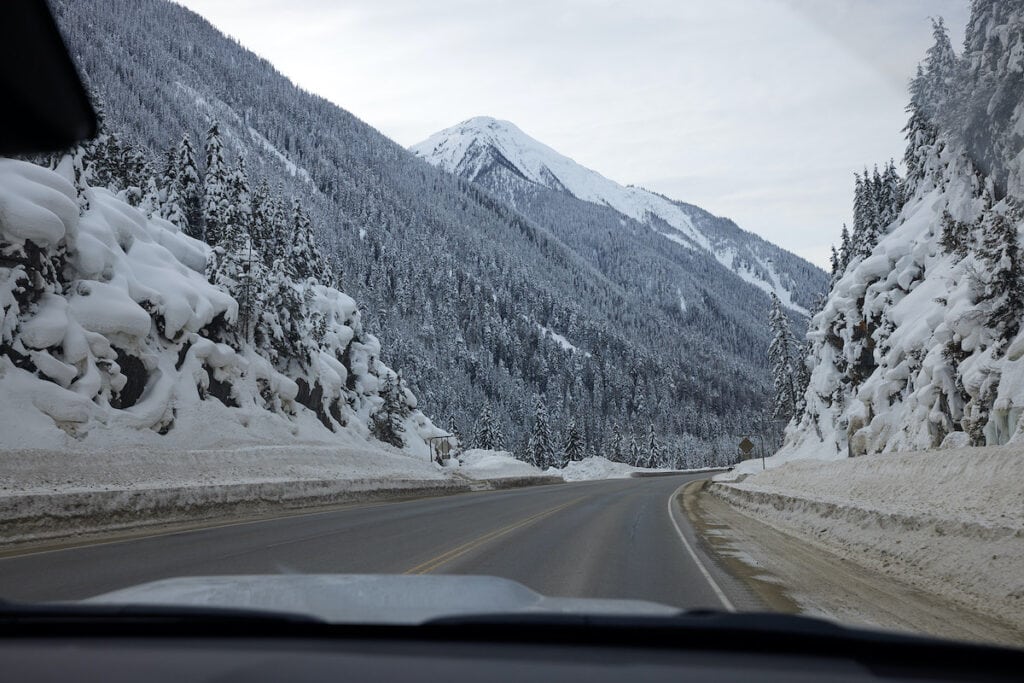 Also, if you have dogs, bring them along! We brought both of ours, and they had a blast too. All of the towns and accommodations I recommend are dog-friendly, and I include some daily suggestions for getting your pups outside too.
Side note: The local tourism boards covered the costs of our accommodations and lift tickets on this trip. As always, I strive to share my honest experiences and all words are my own.
Plan a ski trip of a lifetime on British Columbia's Powder Highway with the tips below.
Where is the Powder Highway?
The Powder Highway is in the Southeast corner of British Columbia. What makes it really convenient for travelers coming from the US is that Rossland, where you can either start or end your trip, is only 6 miles from the US/Canada border crossing in Frontier, Washington.
How to Get to the Powder Highway
You have a few different options for getting to the Powder Highway, depending on where you are coming from.
Driving from the US: If you are traveling from the Northwestern United States and you have a vehicle with 4×4, I suggest packing up your car and driving. We drove from Salt Lake City to Fernie where we hopped onto the Powder Highway in just over 12 hours.
Fly into Spokane: If you prefer to fly domestic, Spokane is 121 miles to Rossland.
Fly into Calgary: Calgary is the closest international airport to the Powder Highway. Calgary is 165 miles from Golden and 200 miles from Fernie. One option would be to start in Fernie and travel clockwise to Golden and then cut back to Calgary. This would have you skip the drive between Fernie and Golden to save time. Doing so, heli-skiing at Panorama like I did wouldn't be an option, but there are lots of other heli-skiing operators in every town.
What type of car do you need for the Powder Highway?
I highly recommend a vehicle with 4×4. Even though it didn't snow too much during our trip, the roads were still quite icy.
Regardless of whether your vehicle has 4×4, winter tires are required (indicated by M&S or the snowflake in a mountain symbol) on the Powder Highway from October 1 to March 31. We have the Bridgestone Blizzaks on our car, and they performed well in the conditions we encountered.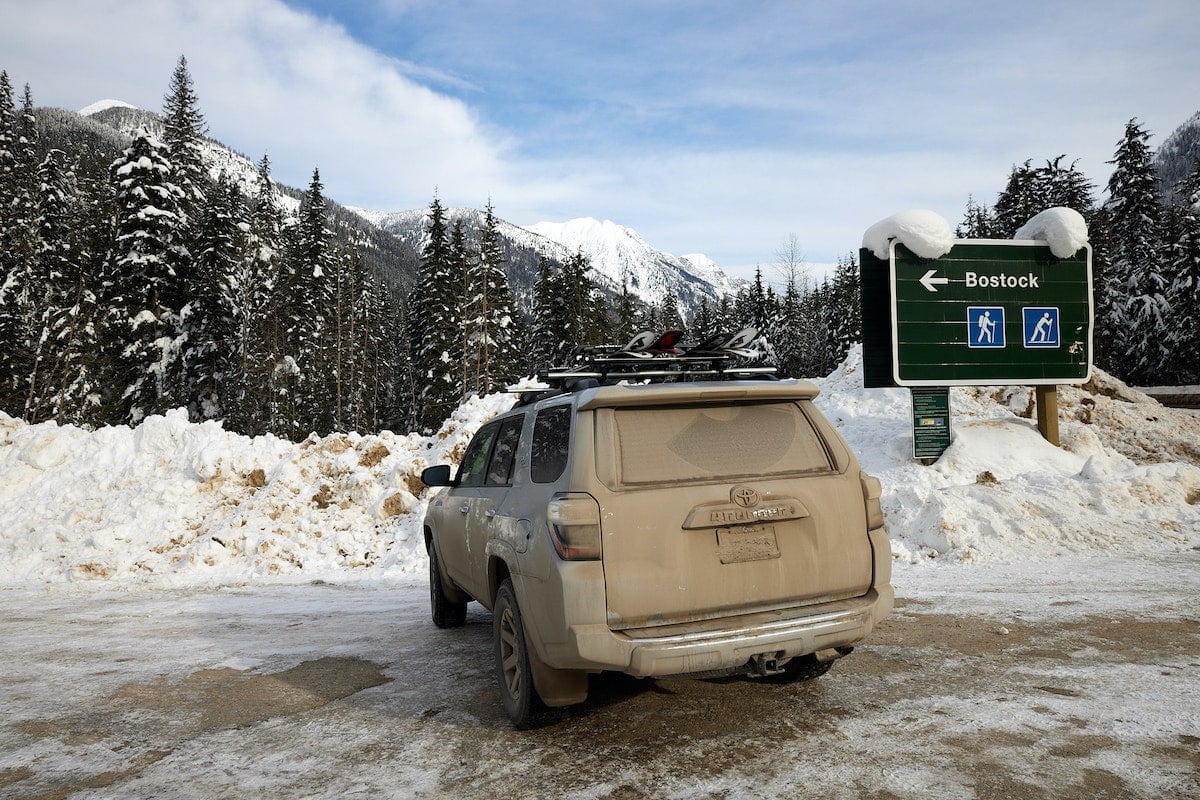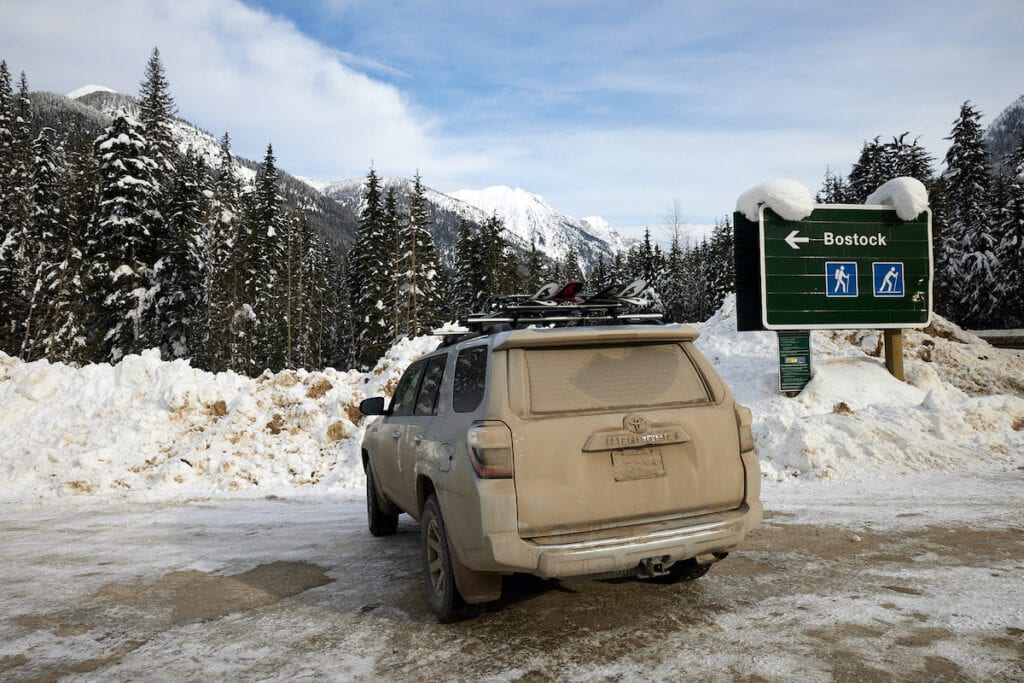 Powder Highway Map
Below you'll find my Powder Highway Map that I made in Google that also has other points of interest (restaurants, hotels, things to do) for your route. Bookmark this blog post so you can refer to this map on your phone during your trip!
Two Week Powder Highway Itinerary
How long do you need to complete the full Powder Highway? I'd say at least two weeks. We took three weeks and found the pace offered a nice balance of being able to explore fully without feeling too rushed. We spent four nights in each destination, with two days of resort skiing, and one full day off to hike or do another activity. Could I have spent even more time up there? Absolutely. But at least now I know what each place is like and which ones I'd really like to go back to.
Knowing that not everyone can take three full weeks off, here is a suggested 2 week itinerary for the Powder Highway. Below I'll share lots of tips and recommendations for each Powder Highway destination, so if you have more time, you'll have some ideas for how to spend it. And if you only have time for a quick trip, pick one or two of these destinations to enjoy.
We started in Fernie, so I'll start there, but you can easily adjust your starting point.
Day 1 – Drive to Fernie / Explore town
Day 2 – Ski Fernie Alpine Resort
Day 3 – Ski Fernie or Explore the local trails / Drive to Inveremere
Day 4 – Go Heli-Skiing from Panorama / Drive to Golden
Day 5 – Ski Kicking Horse
Day 6 – Ski Kicking Horse or Hike to Wapta Falls
Day 7 – Drive over Rogers Pass to Revelstoke / Explore town
Day 8 – Ski Revelstoke Mountain
Day 9 – Ski Revelstoke or go snowmobiling
Day 10 – Drive to Nelson. Consider a detour to Ainsworth Hot Springs or spend the afternoon exploring Nelson
Day 11 – Ski Whitewater
Day 12 – Ski Whitewater / Drive to Rossland
Day 13 – Ski Red Mountain
Day 14 – Ski Red Mountain or go hiking / Depart
Fernie, British Columbia
As far as towns on the Powder Highway go, Fernie might have been my favorite. It's got an adorable town center with great restaurants, cute shops and all of the essentials, without feeling too commercial. The ski area is a quick 5 minute drive from town.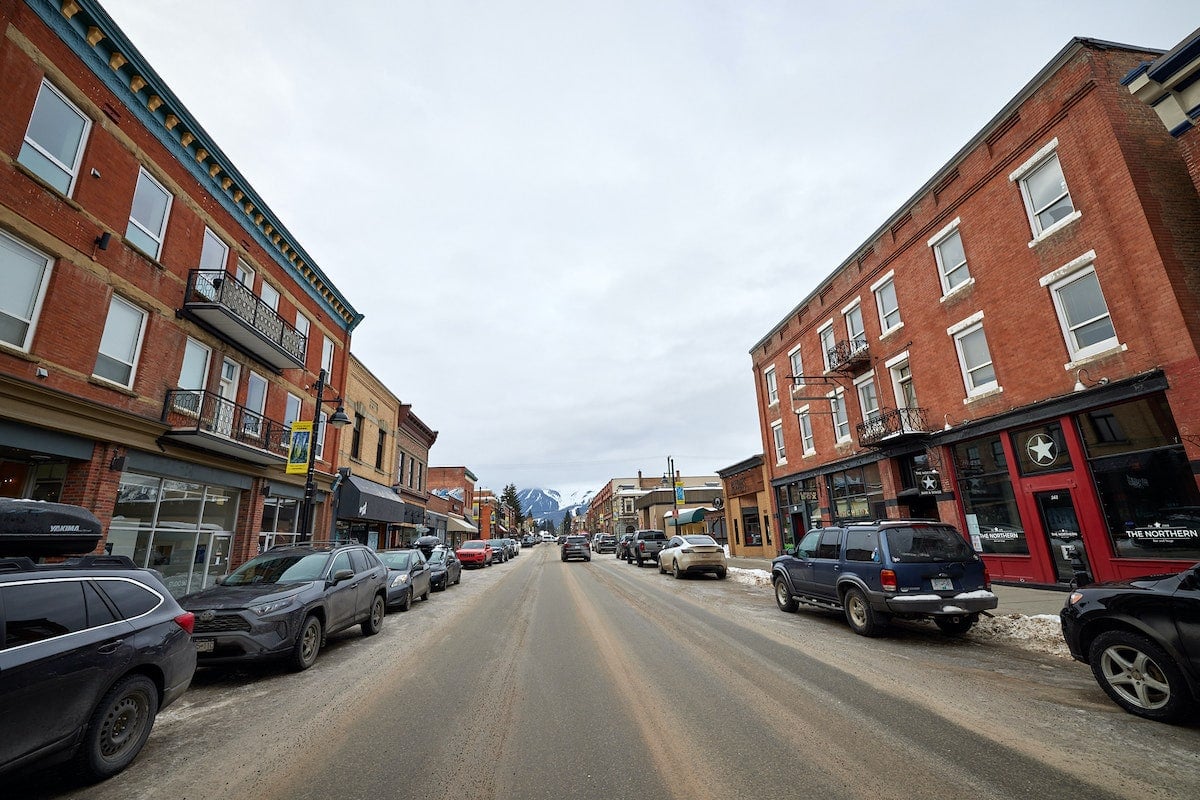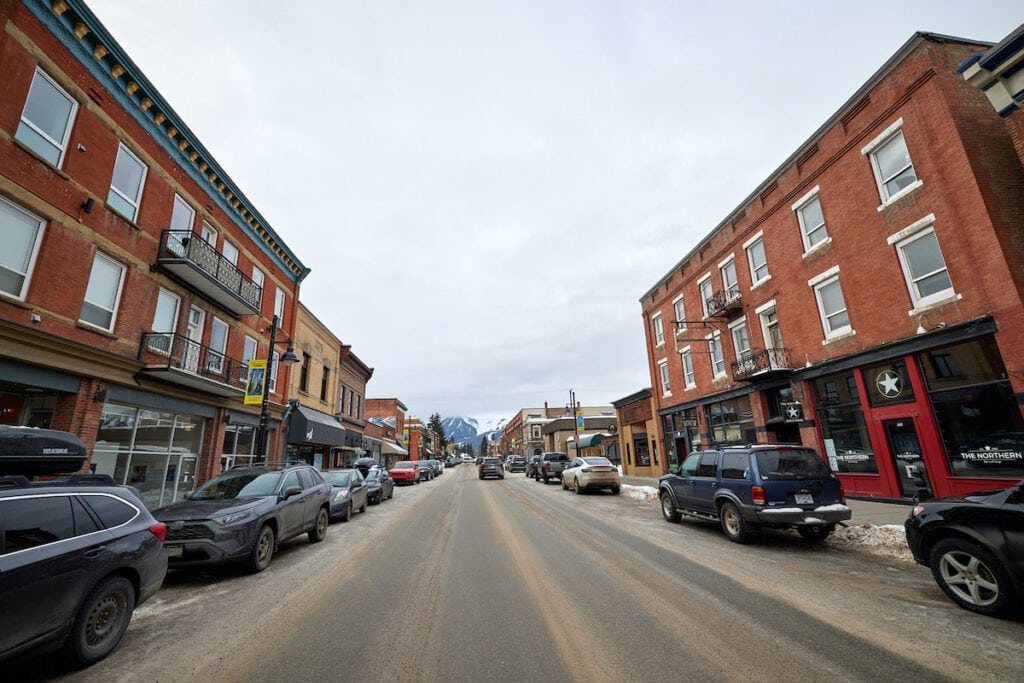 Skiing Fernie Alpine Resort
Fernie Alpine Resort is a sizeable mountain (2,500 acres) with a 7 main lifts and huge variety in terrain for both intermediate and advanced skiers. During our visit, the snow quality was variable, but once we found the right aspects, we discovered some beautiful soft pockets of snow, including wind buff which is my favorite type of snow. Because of the conditions, we didn't venture too far off-piste, but in addition to the 142 named runs, Fernie has 5 large alpine bowls that looked like they would be a lot of fun after a storm.
We were at Fernie on the weekend, and didn't have to wait in any lines. The mountain is very family-friendly, and we saw a lot of kiddos ripping around lower on the mountain.
Right in the heart of the Lizard Range, the views all over the mountain were gorgeous and gave us a sample of what we were in for as we drove further north.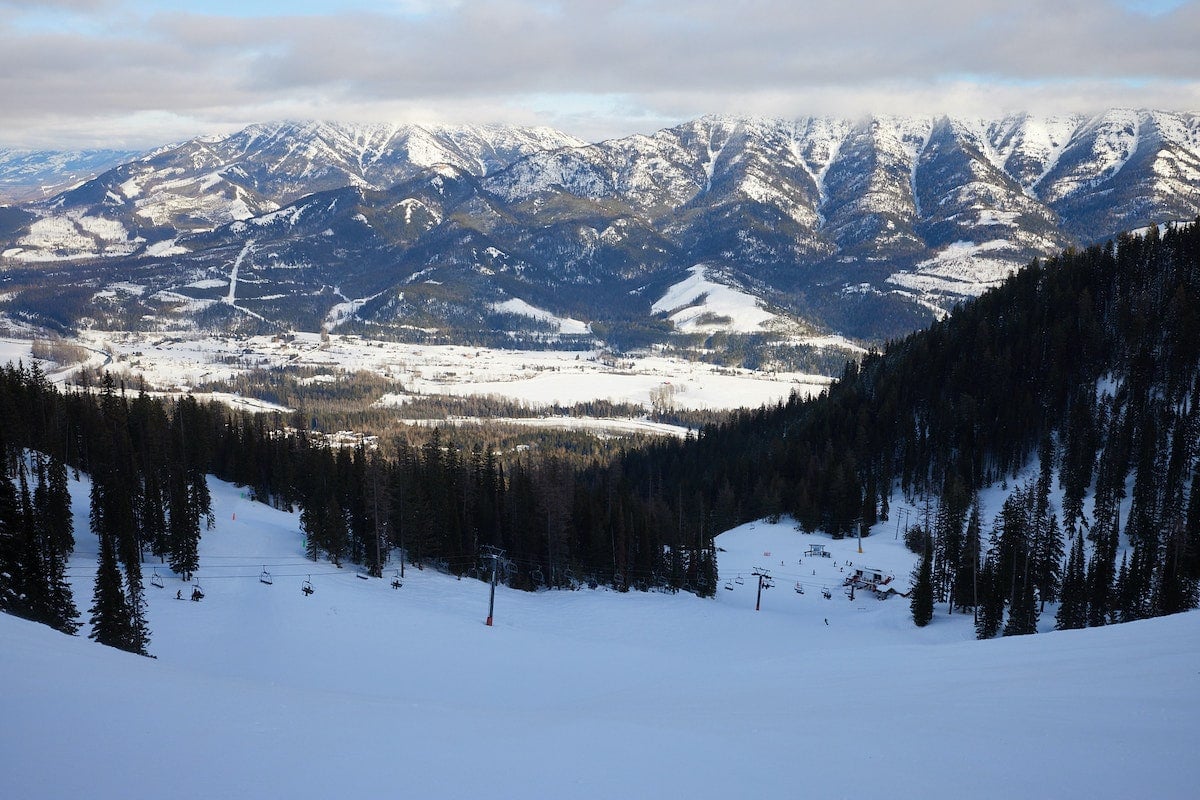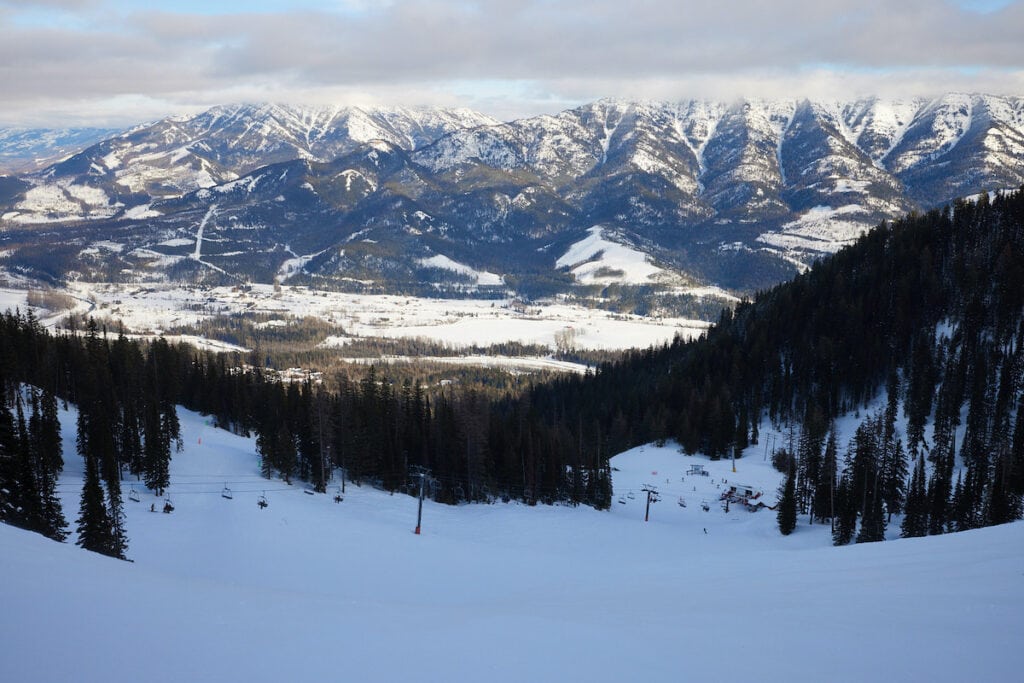 Other Things to Do in Fernie in Winter
Go Snowshoeing – Fernie has an extensive trail network for winter exploring. We enjoyed a loop in Mount Fernie Provincial Park, including a nice easy stretch of trail along Lizard creek that offered picturesque views. I highly recommend snowshoes even if it doesn't look like you need them. We spent a lot of time post-holing and really wish we had brought snowshoes along. Snowshoe rentals are available at the local gear shop in town called GearHub Sports. Make sure to pick up a Fernie winter trail map while you're there. This is also a great place to stop into if you need to pick up any additional gear or winter layers for your trip. We didn't have time to do it, but I also heard great things about snowshoeing to Fairy Falls.
Hike to the Montane Hut – This is a multi-use trail network that is super convenient to town. They have dedicated nordic-only trails for cross country skiing, as well as multi-use dog-friendly trails for winter hiking, snowshoeing, and fat biking, which you can also rent at the GearHub. For a fun adventure, follow the Montane Blue Trail for just over 3 miles to the Montane Hut where you can warm up and enjoy wide open views of the Elk Valley.
Walk the Fernie Town Trail – Enjoy an afternoon stroll along the Elk River. If you stay at the Snow Valley Lodge like we did, this is easily accessible from the hotel.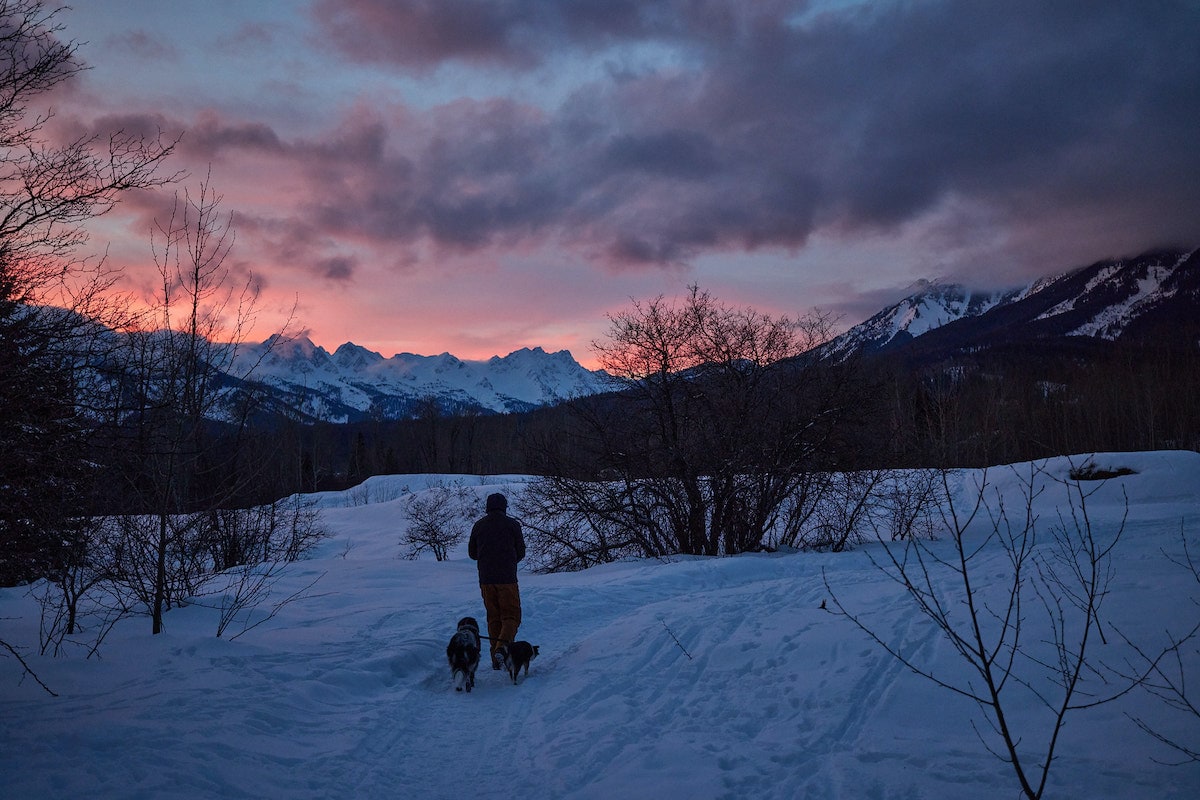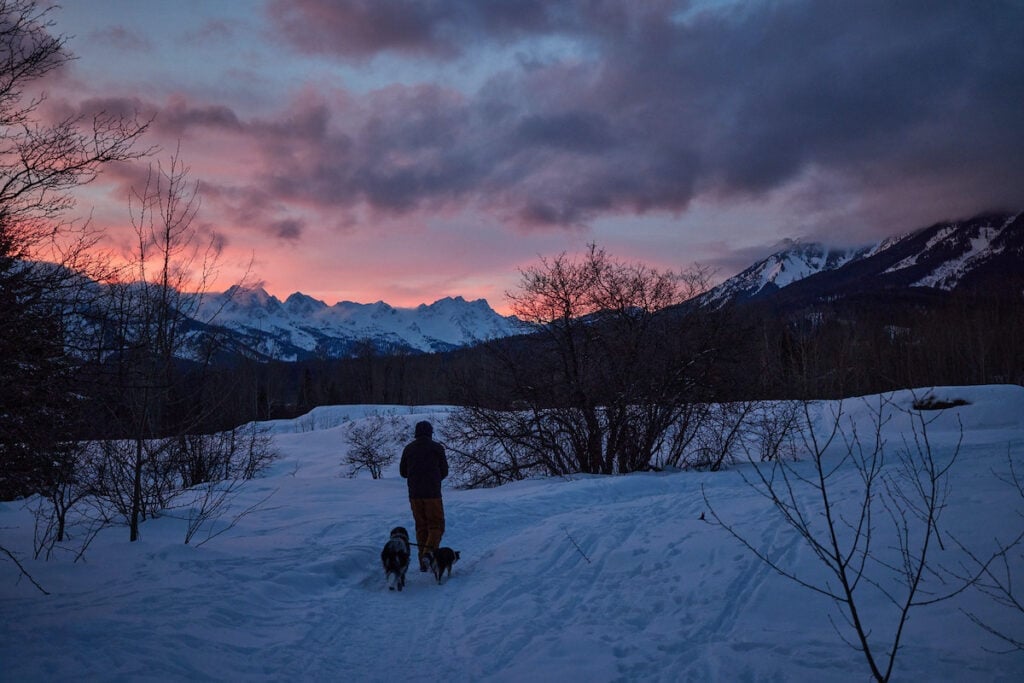 Where to Stay in Fernie
We stayed at Snow Valley Lodging, where we stayed in two different types of rooms. The first night we were in a One-Bedroom Dog-Friendly Suite with a queen sized bed and a small kitchen. The rest of our trip, we stayed in one of the Tiny Houses, which gave us a taste of of tiny house life. The tiny house was tastefully decorated, very clean, and the furniture was comfy. The kitchen had everything we needed, and they also had a cozy dog bed and treats for our pups which was a nice touch. Overall, we loved the novelty of the tiny house, but as a warning, the tiny houses are very small. With all of our winter gear and two dogs, we felt a little bit cramped. If we were to visit again in winter, we'd probably choose the one bedroom suite room we were in the first night.
The Snow Valley Lodge was a great location within walking distance to several restaurants and the Town Trail, as well as a 5 minute drive to the town center. They also had free fat bike rentals available at the hotel.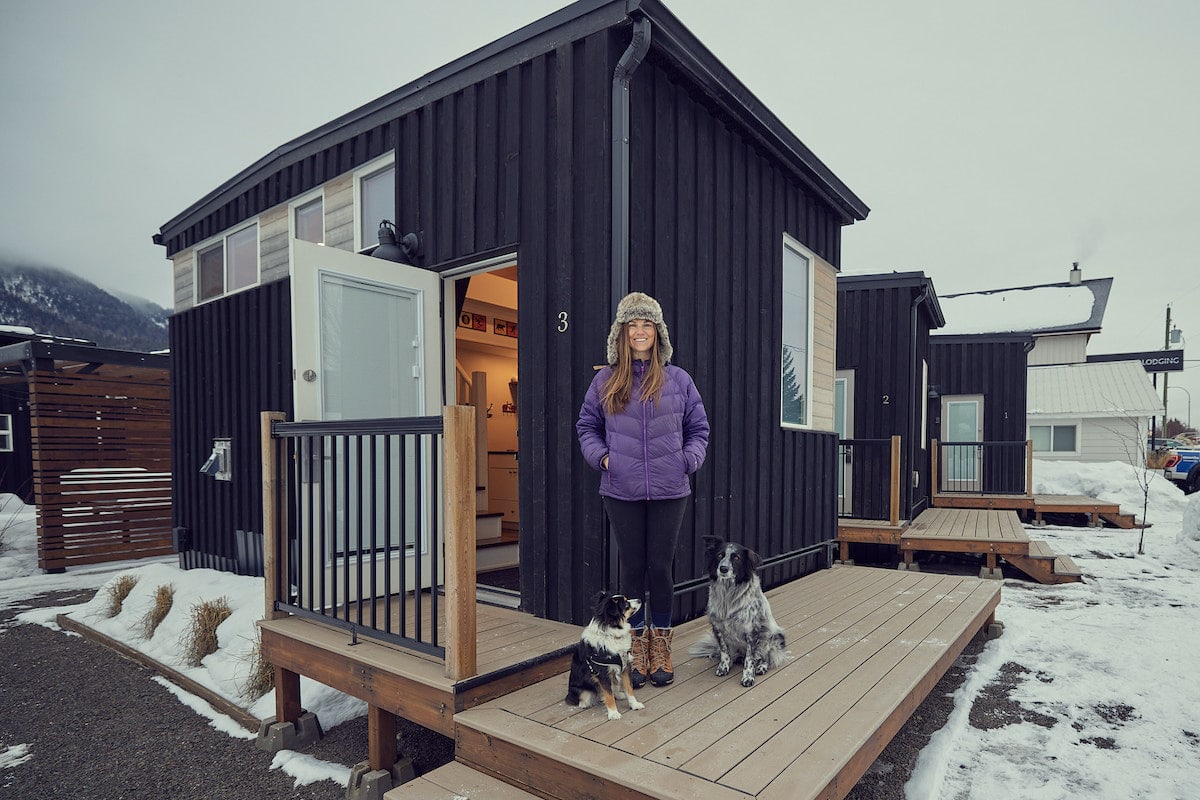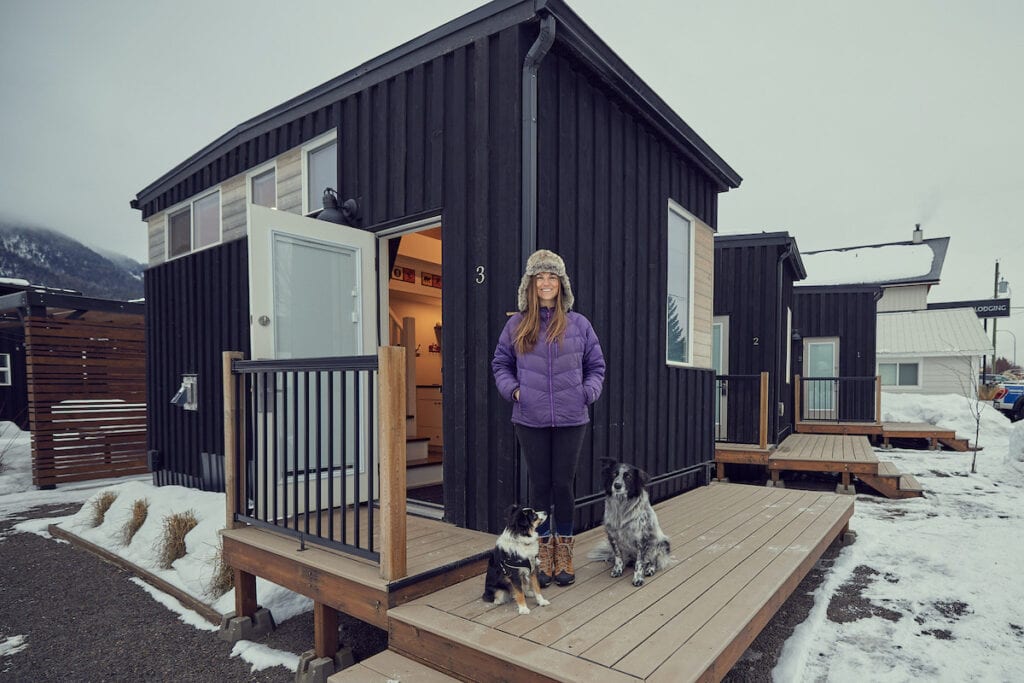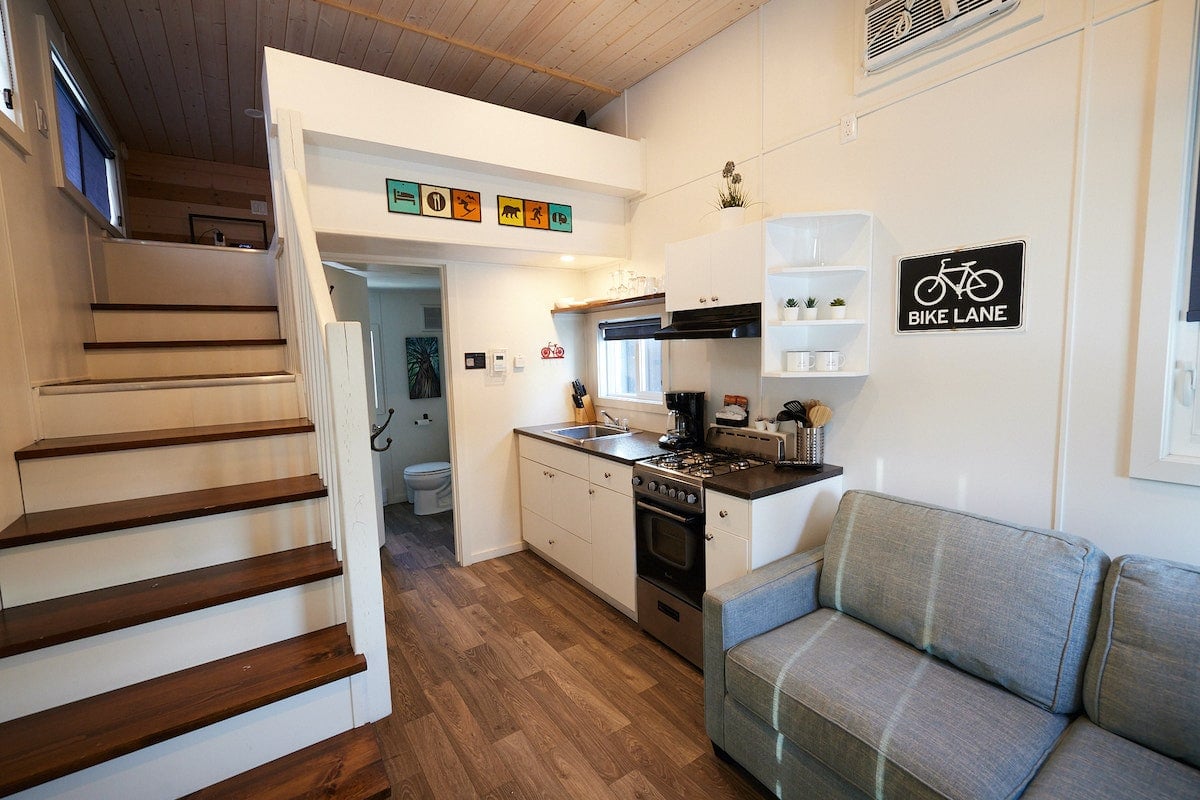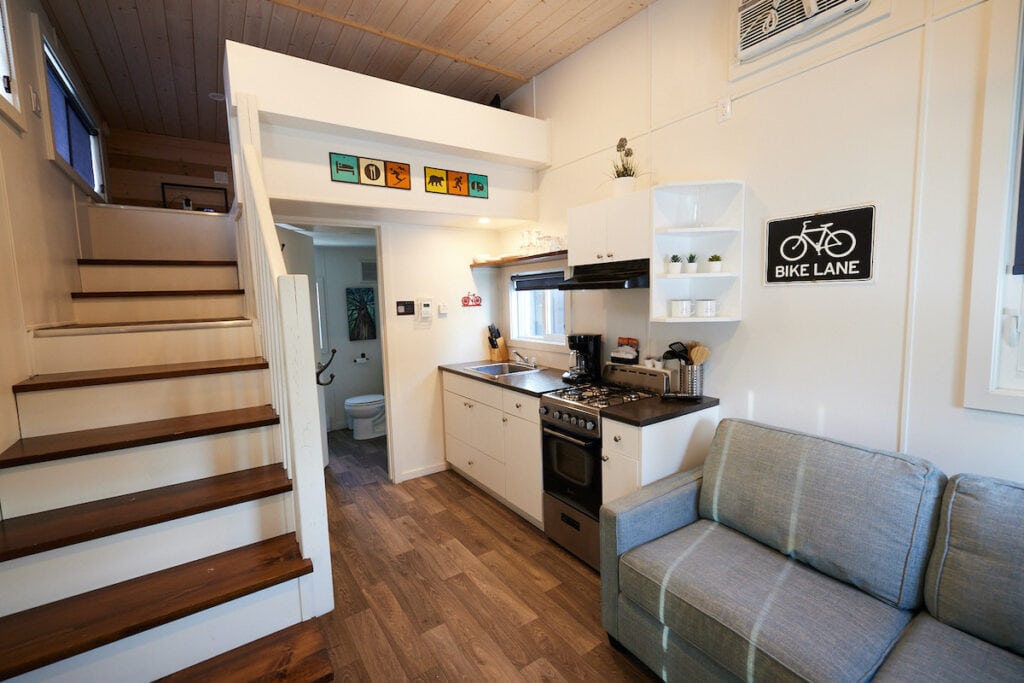 Where to Eat in Fernie
For such a small town, Fernie had no shortage of good food. Before I get into recommendations, I'll mention that I am on a plant-based diet (I don't eat anything that comes from animals). All of the restaurant suggestions in this blog post (unless otherwise noted) serve meat and dairy, but they also had enough plant-based options to keep us plant-based folks happy.
Invermere and Panorama
We only spent 1 night in Inveremere, the night before we went heli-skiing. We didn't ski Panorama Mountain Resort, but I have heard that it has some of the prettiest views out of all of the ski resorts on the Powder Highway.
Heli-Skiing at Panorama
We decided to spring for one day of heli-skiing on our trip. We went with RK Heliski which is located near the base of Panorama. We went with them because their prices were less expensive than the operators near Revelstoke and Golden, and they offered heli packages for intermediate off-piste skiers (me!). Plus they had availability on our travel dates. Win-win-win! I'd never been heli-skiing before this, so I was feeling pretty nervous, but I'm so glad we did it because it was a blast and nothing we skied felt too scary or beyond my capabilities. The biggest thing is you need to be comfortable skiing variable conditions and have a decent amount of experience off of the groomers. We spent most of the day above the clouds in bright blue skies with non-stop views in every direction.
We did the 5-run package and were in a group of 8 people with two guides. I felt very comfortable with our guides and our pilot.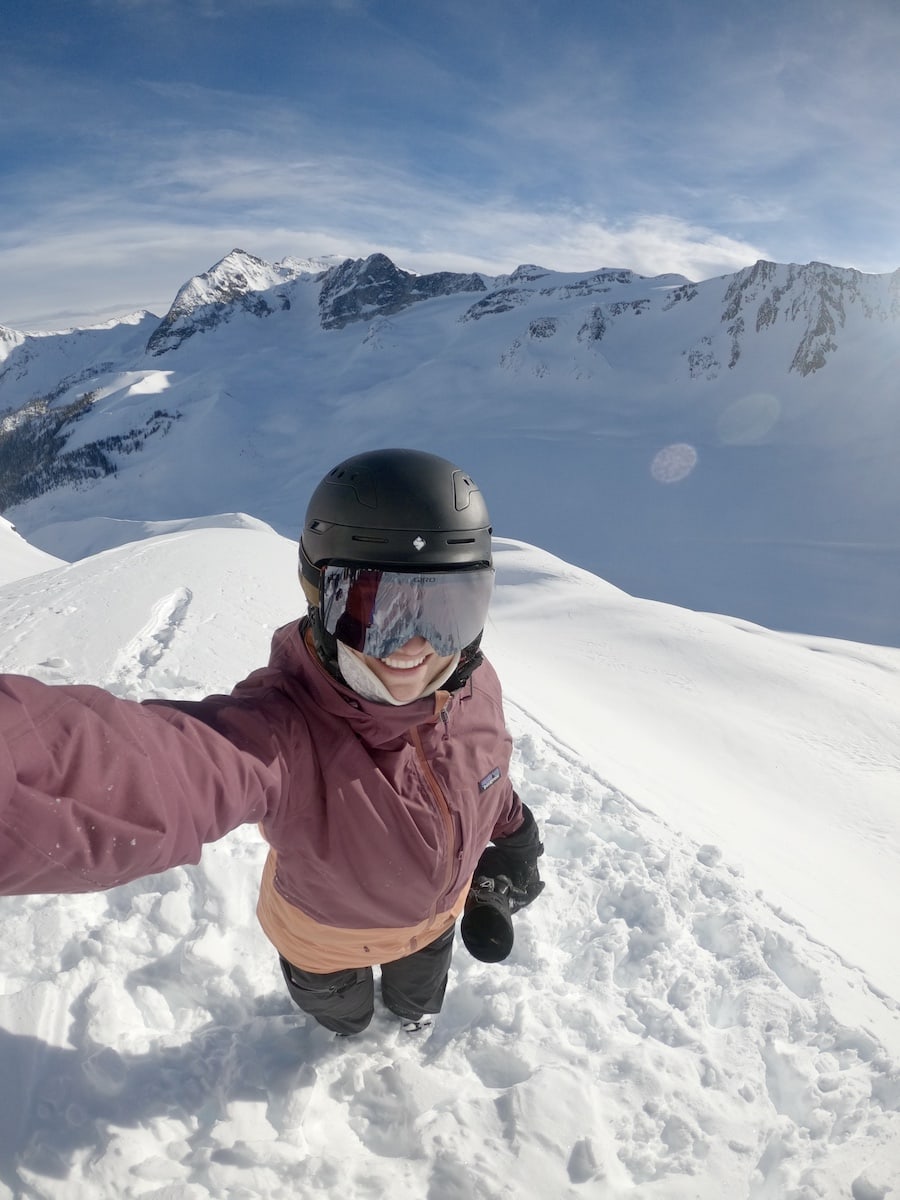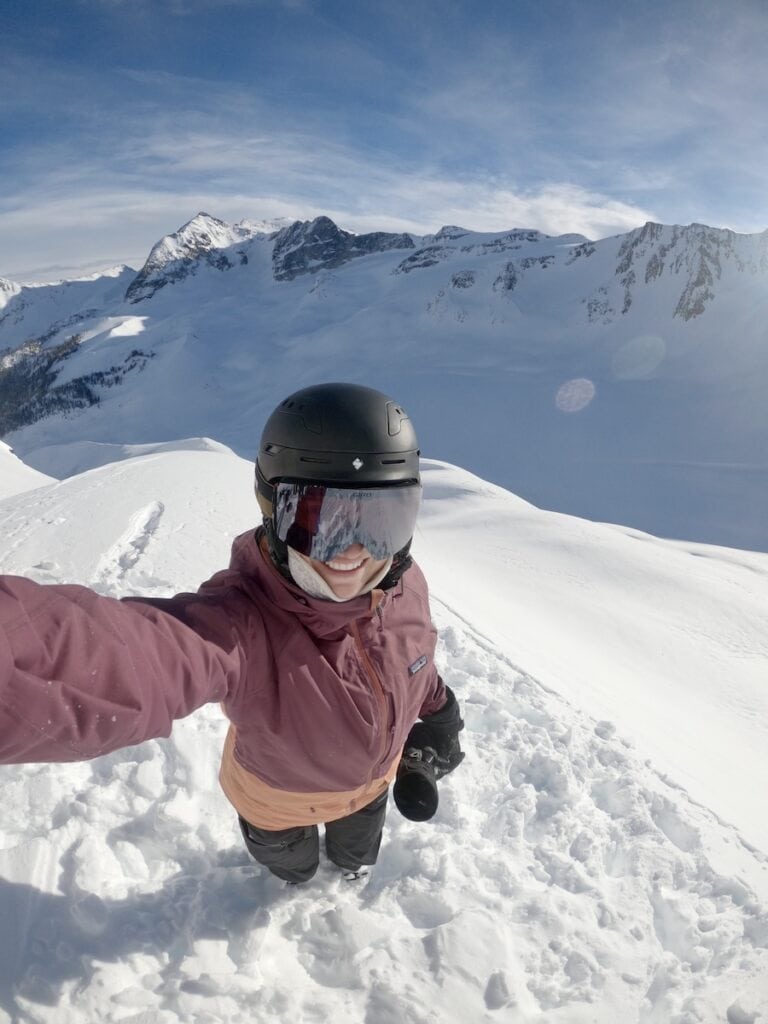 Other things to do in Invermere in Winter
Lake Windermere Whiteway – Over 18 miles long, this ice skating trail on frozen Lake Windermere is the longest in the world. Don't worry if you don't ice skate, it's also suitable for walking or nordic skiing, and it's dog-friendly too. A convenient access point is Kinsmen Beach.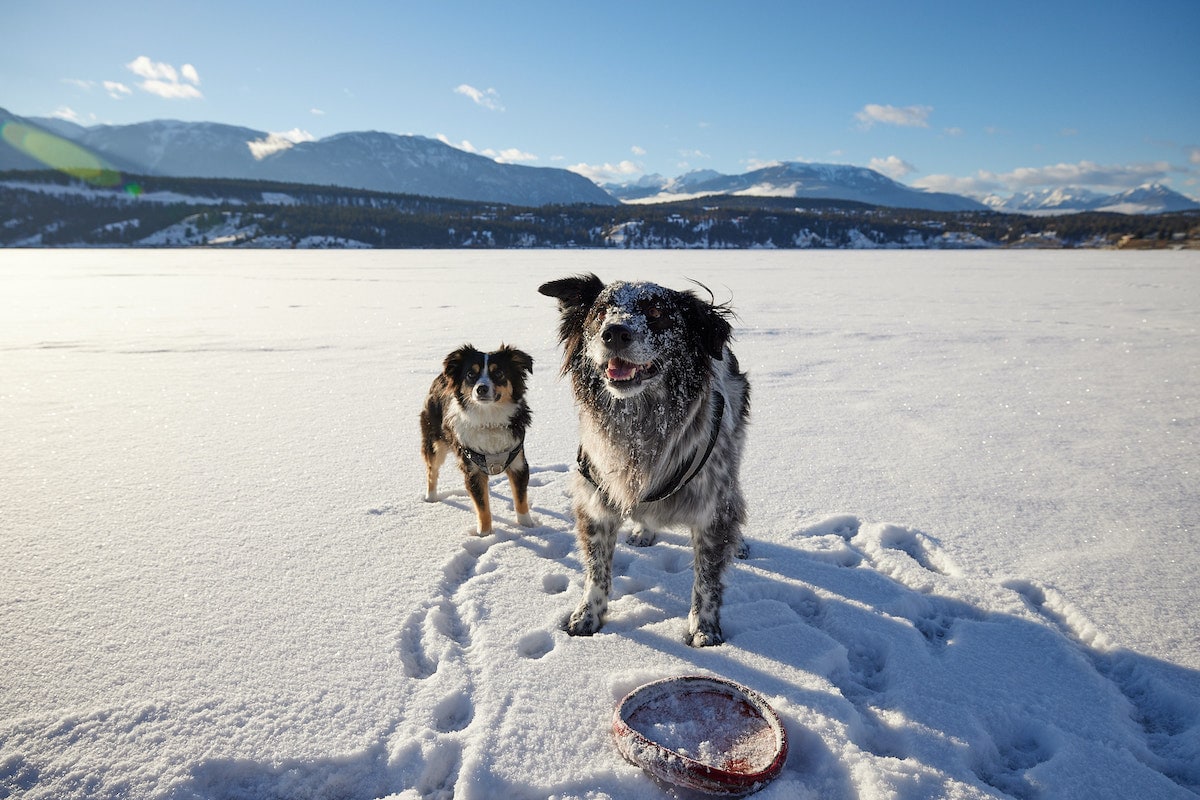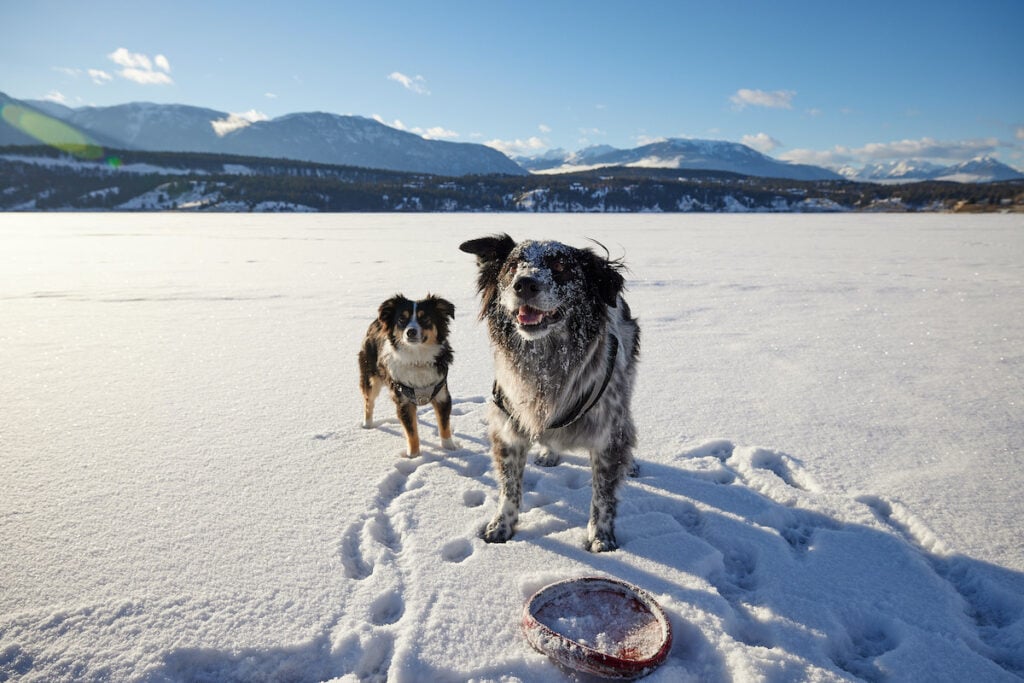 Where to Stay in Invermere
We would have stayed at Panorama, but everything was really expensive and last-minute availability was limited Instead, we stayed at the Cooper Point Resort in Invermere. Our room was clean, spacious, and quiet.
Golden, British Columbia
Golden is home to Kicking Horse Mountain, known for it's "champagne powder" and a surplus of advanced terrain. As a small town (population 3,700) with industrial roots, I was impressed with Golden's fantastic restaurants and cozy accommodations. The town was very easy to get around (no Google maps needed) and had all of the essentials you might need while you're traveling. If you're looking for party scene, Golden is probably not your place. But if you're looking to get outside in the heart of the Canadian Rockies, get ready for some jaw-dropping beauty.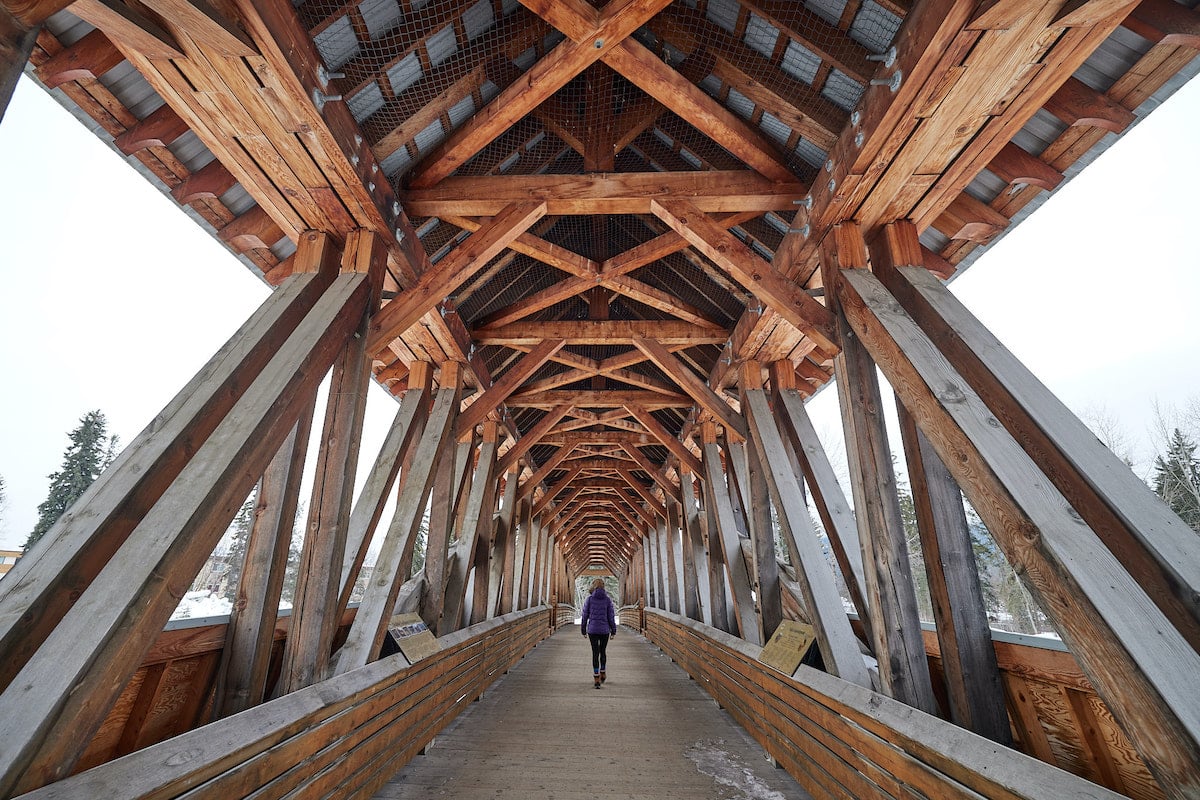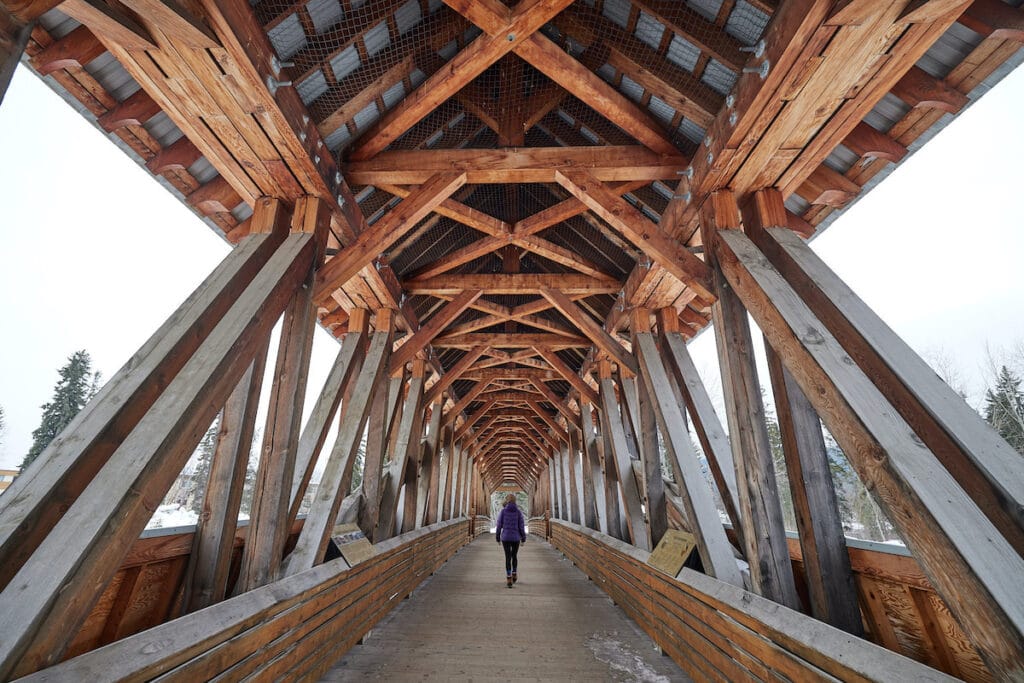 Skiing Kicking Horse Mountain Resort
With 4,314 feet of vertical and over 3,400 acres to explore, Kicking Horse is a large, steep, and rugged mountain that intermediate to expert skiers will love. There is only one way to get to the top, and that's the Golden Eagle Express Gondola. Once you're up there, you can ski one of Kicking Horse's 85 named chutes, cruise the open bowls, or stay high and ski the gladed areas around the Stairway to Heaven Lift which is named appropriately for the incredible 360 degree view at the top.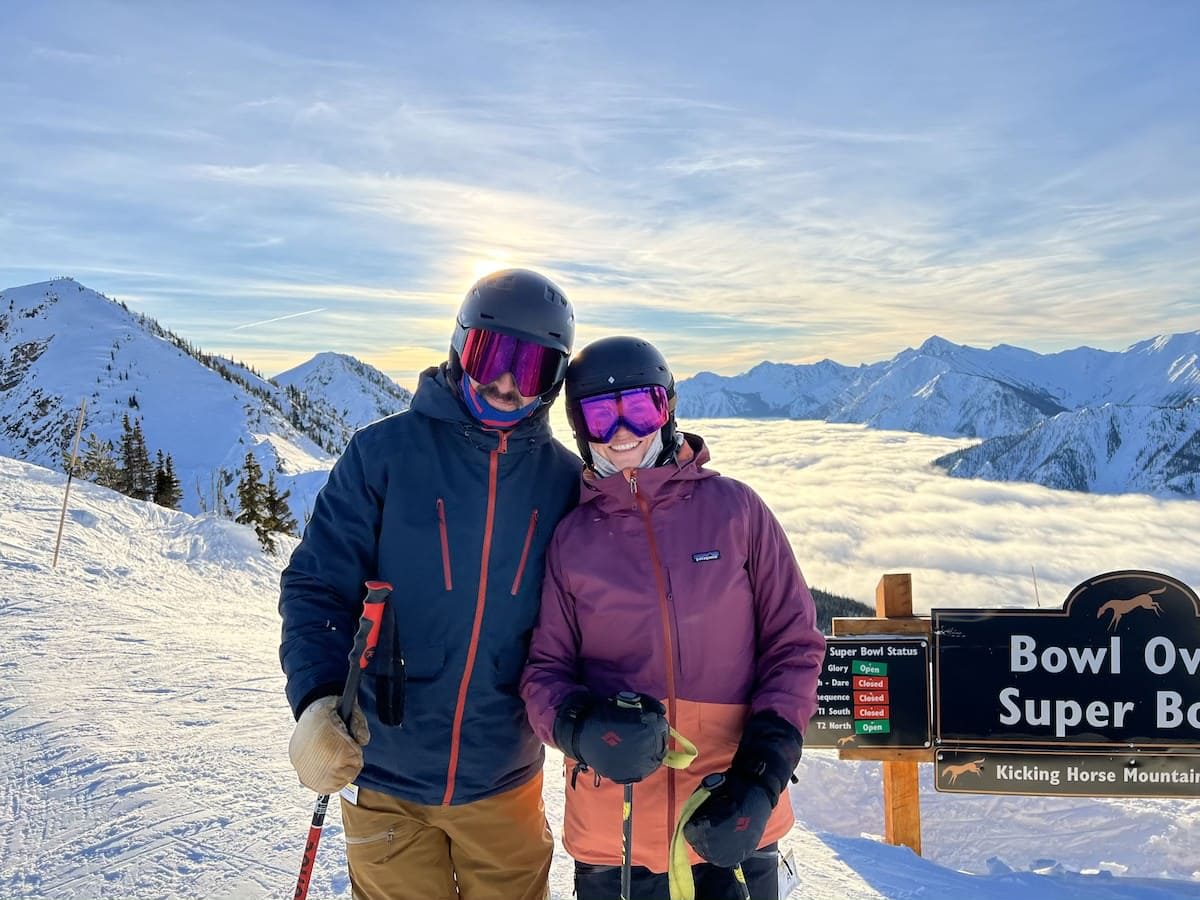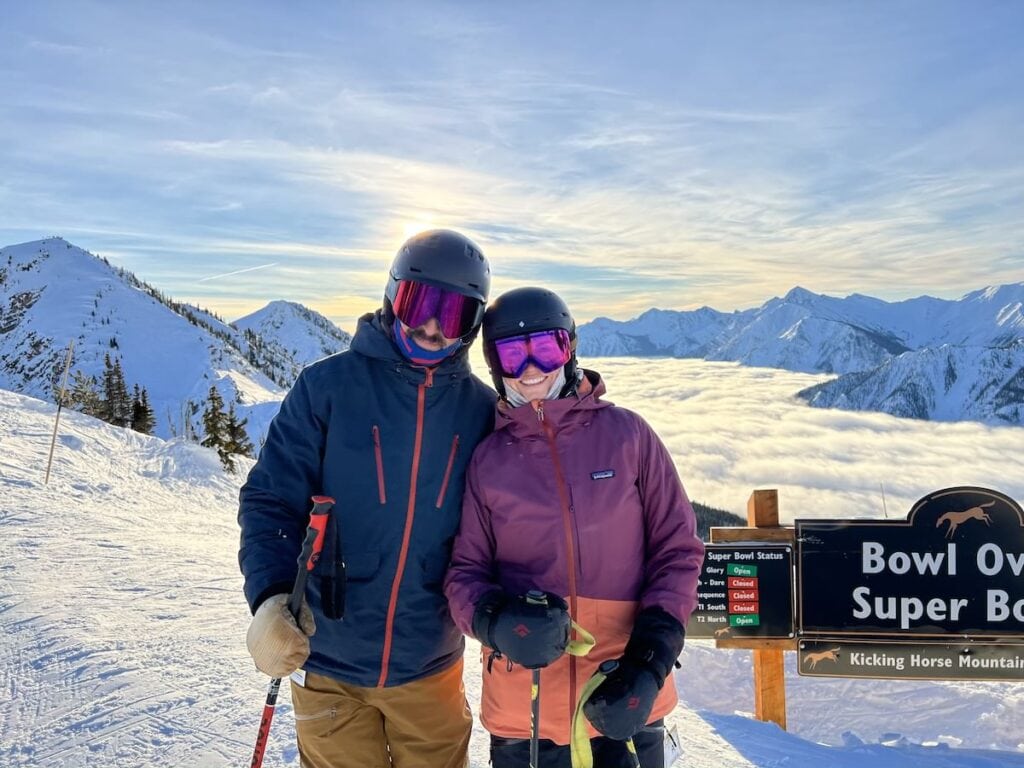 There was more hike-to terrain at Kicking Horse than any other mountain we visited on the Powder Highway. On our second day, we hiked to the top of Terminator 1 Peak which gives access to additional advanced and expert terrain. There were a few parts of the hike that were pretty steep and intimidating, but thankfully the boot pack was well defined. If you haven't done a lot of hiking in ski boots, I'd definitely recommend a backpack with straps to carry your skis, so can you can use your poles to balance and propel you uphill. We skied down T1's South Ridge and were able to find some nice stashes even though it hadn't snowed in a while.
Note: If you're not a confident or experienced skier, skip the hiking and stick to the areas you can easily traverse to.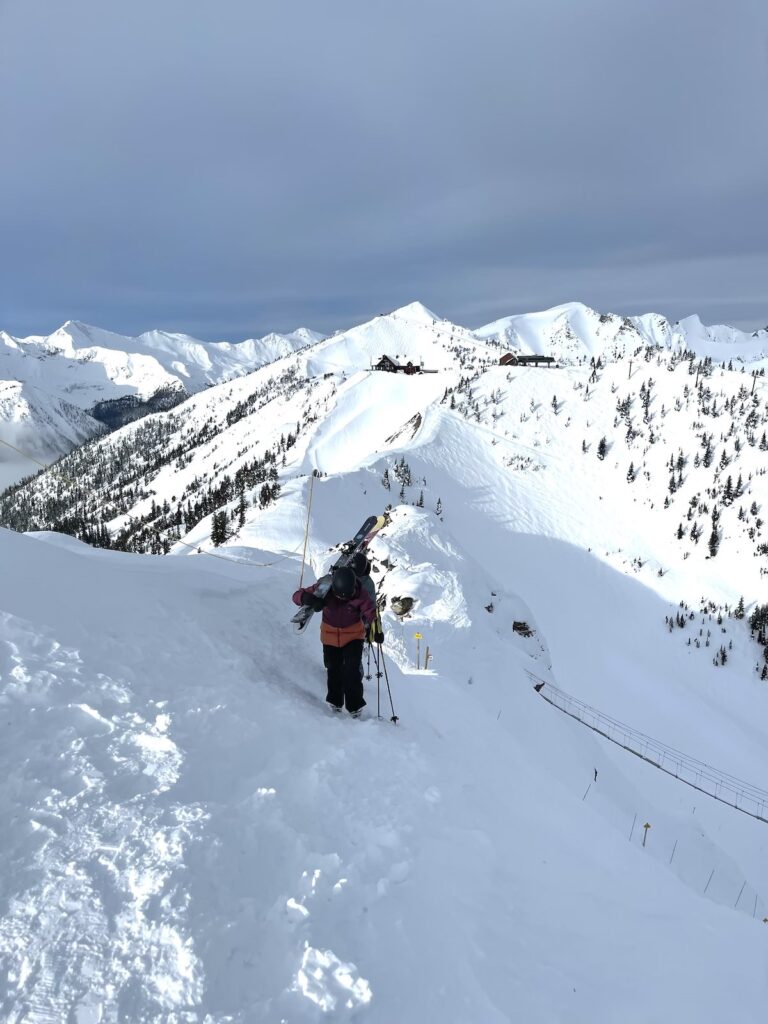 Snow quality at Kicking Horse lives up to it's reputation. It was light and fluffy and reminded me very much of Utah. Despite the dry spell, off-piste was chalky, and the groomers skied fantastic.
Kicking Horse also has a lot of lift-accessed side country for those who want to get even more rad. If you want to explore these areas, get knowledgeable about avalanche conditions and be prepared with proper backcountry gear (backpack, beacon, probe, shovel, etc) which you can pick up at Golden's Avalanche Safety Store.
Other Things to Do in Golden in Winter
Hike to Wapta Falls – If you have an extra day in Golden, I highly recommend the winter hike to Wapta Falls in Yoho National Park. With the cold temps and low water levels, Wapta Falls partially freezes over, and it's a truly stunning site. It's just under 5 miles round trip, and most of the trail is flat besides the final approach to the falls. Unless you go right after a big snowfall, snowshoes aren't needed, but microspikes are highly recommended if you want to get close to the falls. The area near the falls was cold and misty, so make sure to layer appropriately for winter hiking. Parking is right off Trans-Canada Highway 1 about 18 miles east of Golden.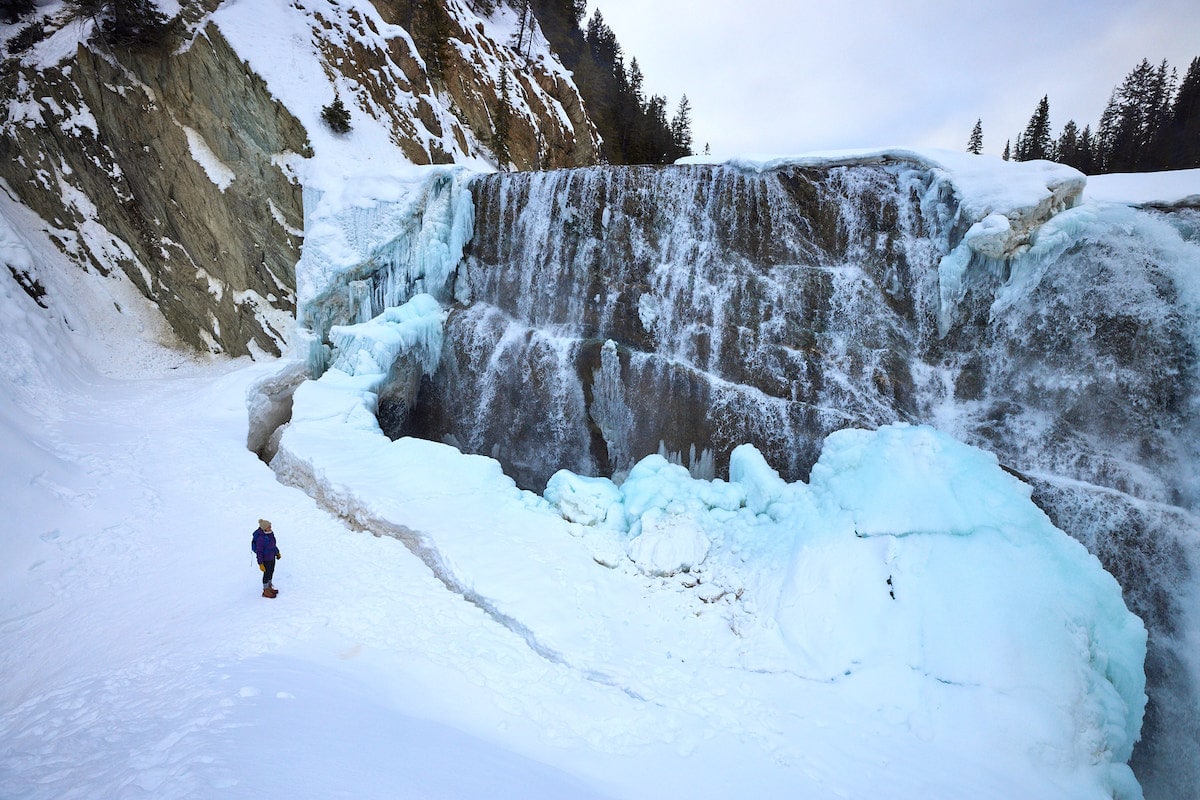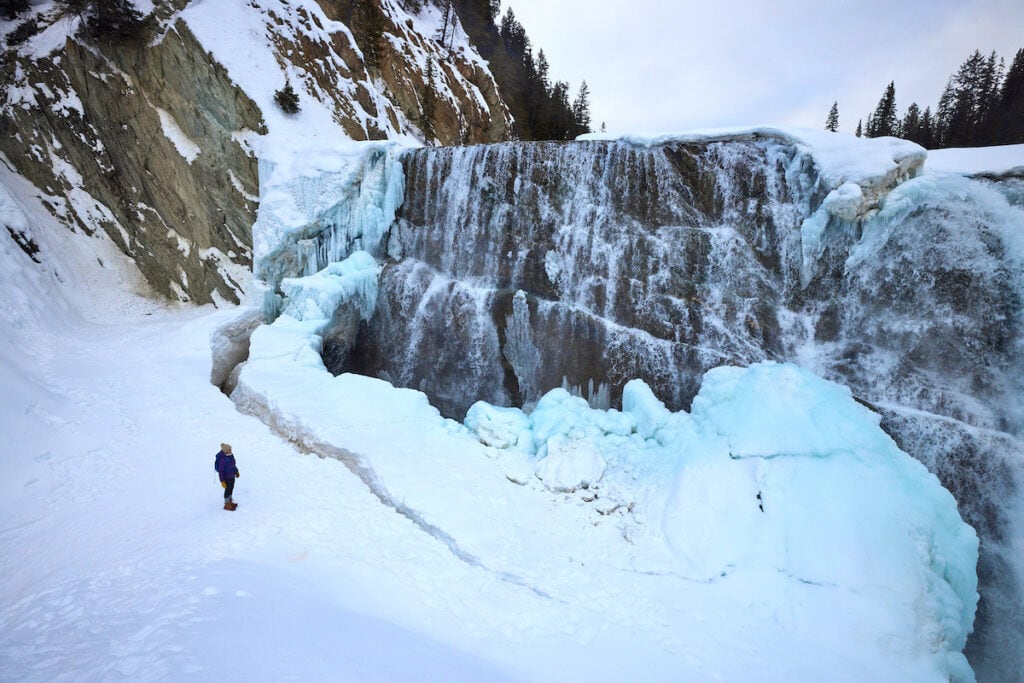 Where to Stay in Golden
We stayed at the Cedar House Chalets in Golden, and we had our own stand alone cabin that was the most private of our trip. We had our own private driveway and didn't see any other guests during our 4 night stay. Our chalet was the dog-friendly Sunflower Chalet which had two bedrooms, a full kitchen, wood burning stove and our own private hot tub with a view of the mountains.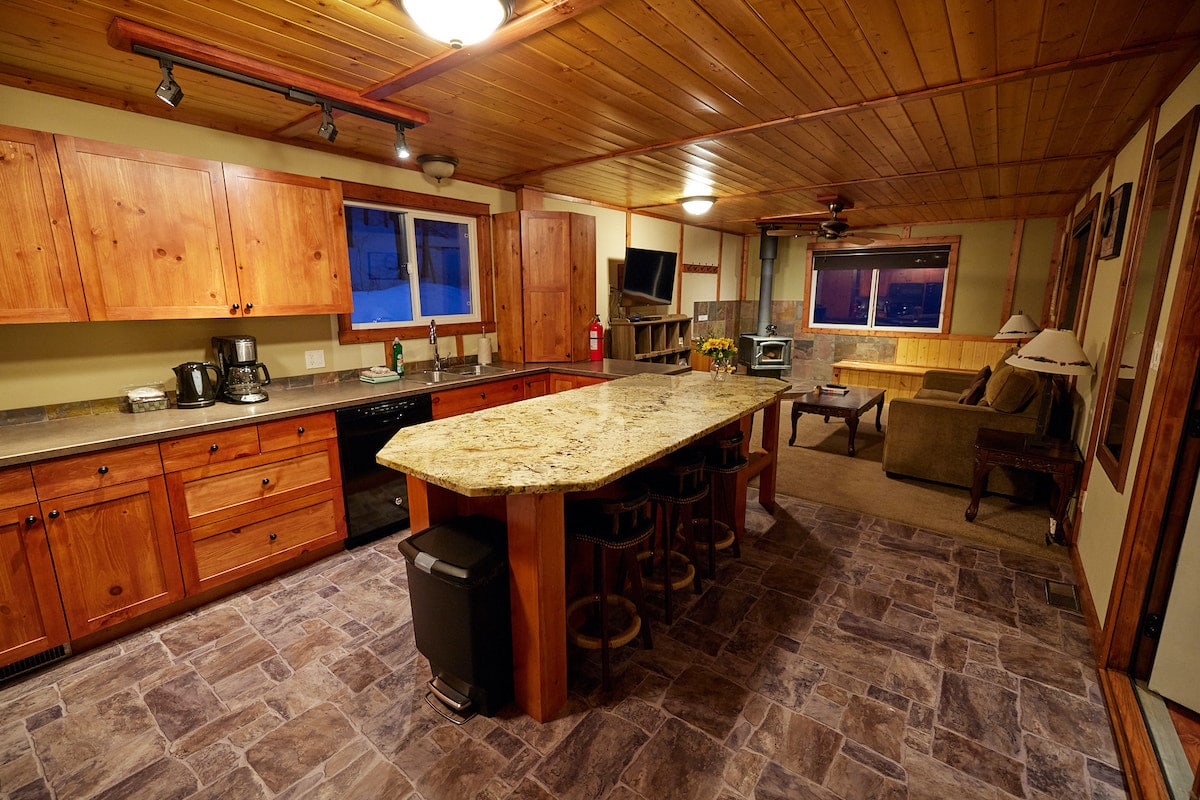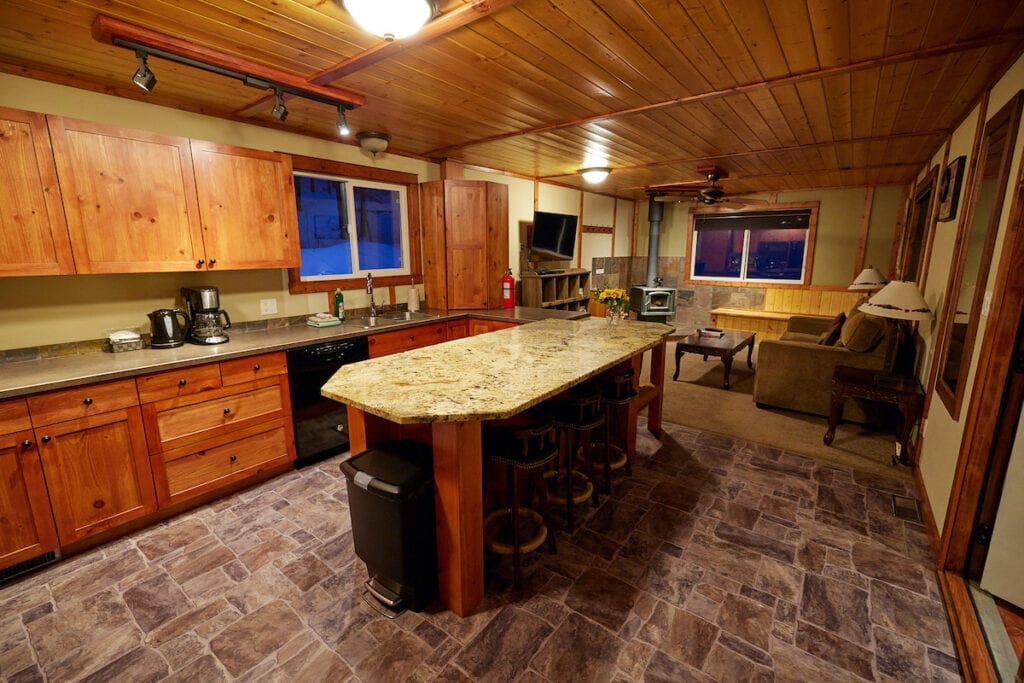 Where to Eat in Golden
The food in Golden was some of our favorite on this Powder Highway trip, and it just so happens that our three favorite restaurants were all right next door to each other.
Whitetooth Bistro – refined mountain dining with a focus on fresh ingredients and creative flavors
Reposados – awesome tacos, cocktails, and vegan churros! Make a reservation to dine in your own private igloo
Rockwater Grill – really tasty pub food along with live music (in normal times)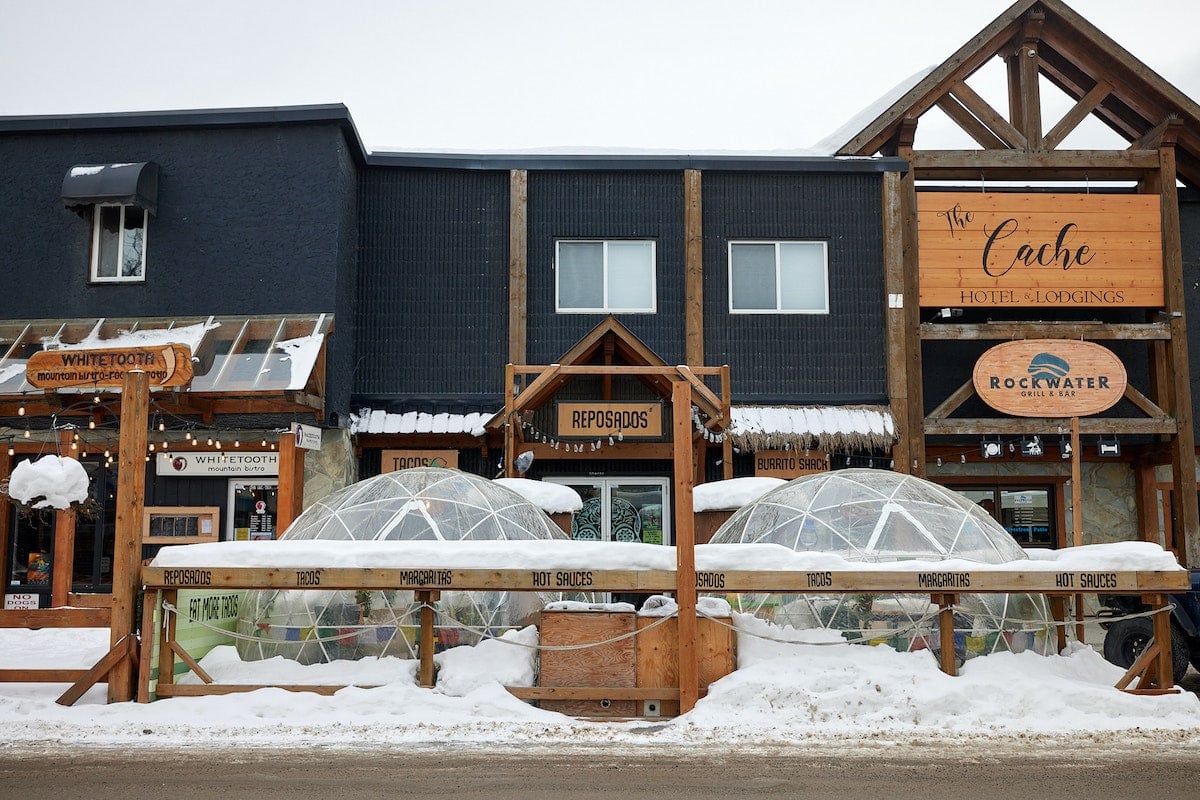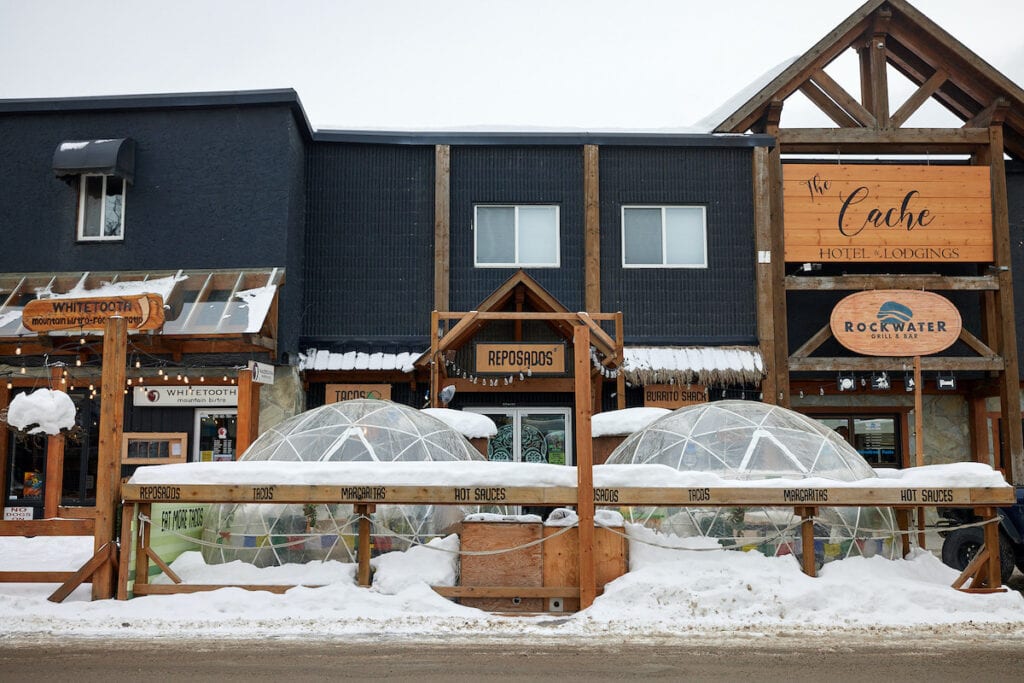 Revelstoke, British Columbia
Revelstoke is the most well known destination on the Powder Highway. Maybe it's because Revelstoke Mountain has the most vertical of any mountain in North America. Or maybe because the area is stunningly beautiful, nestled between the Monashee and Selkirk Mountains with endless outdoor recreation. The town has ample tourist infrastructure, is incredibly dog friendly, and your time here will certainly go by too quickly.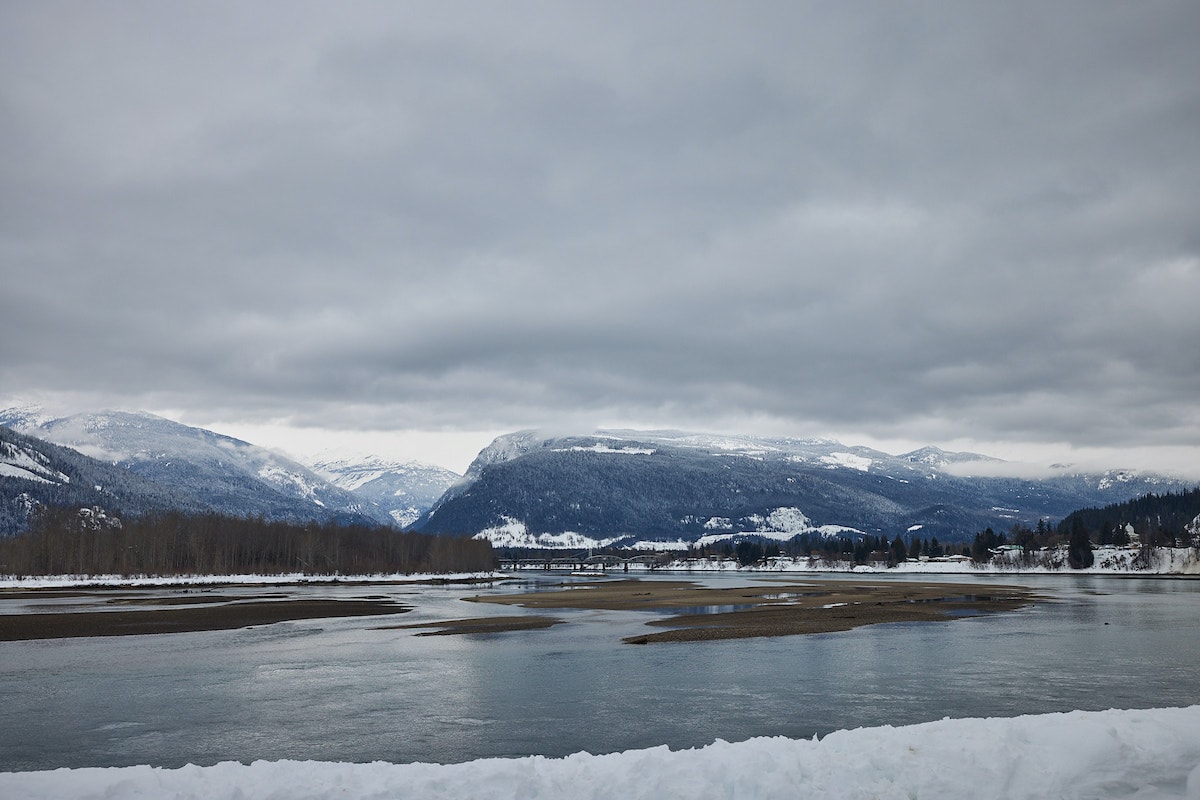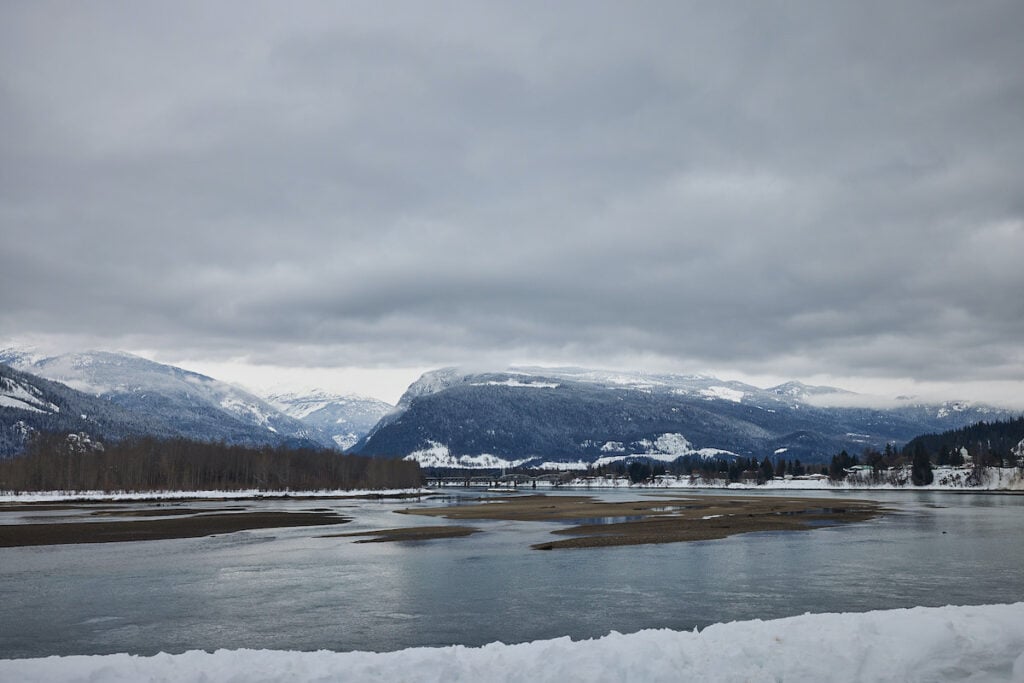 Skiing Revelstoke Mountain
With 5,260 feet of vertical and 3,121 acres, you're legs will be burning after a day at Revelstoke Mountain. But make sure you save some energy for day 2. Due to it's sheer size, I highly recommend devoting two full days to skiing Revelstoke so you can explore all of the nooks and crannies.
No matter where you want to go on the mountain, you first have to get on the base gondola. It's the only way up, and the lines on a weekend powder day can get backed up, so be prepared. We skied on a Sunday after a fresh foot of pow, and luckily the lines dispersed once we got up from the base. We spent most of our time up top, lapping the Stoke Chair and the Ripper chair, occasionally taking a groomed run down to the upper gondola loading station.
Most of the skiing here is below the tree line, so your opportunities for tree skiing are pretty endless. Just pick a line and go. In some areas you do need to be careful though to avoid unexpected cliffs.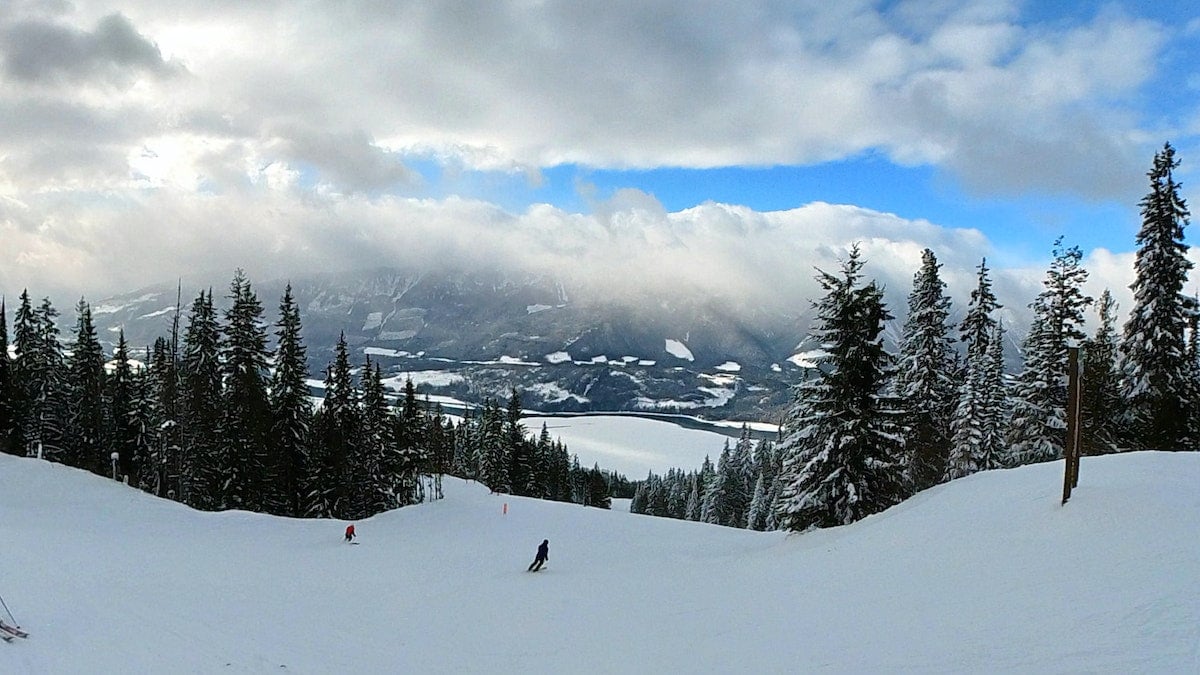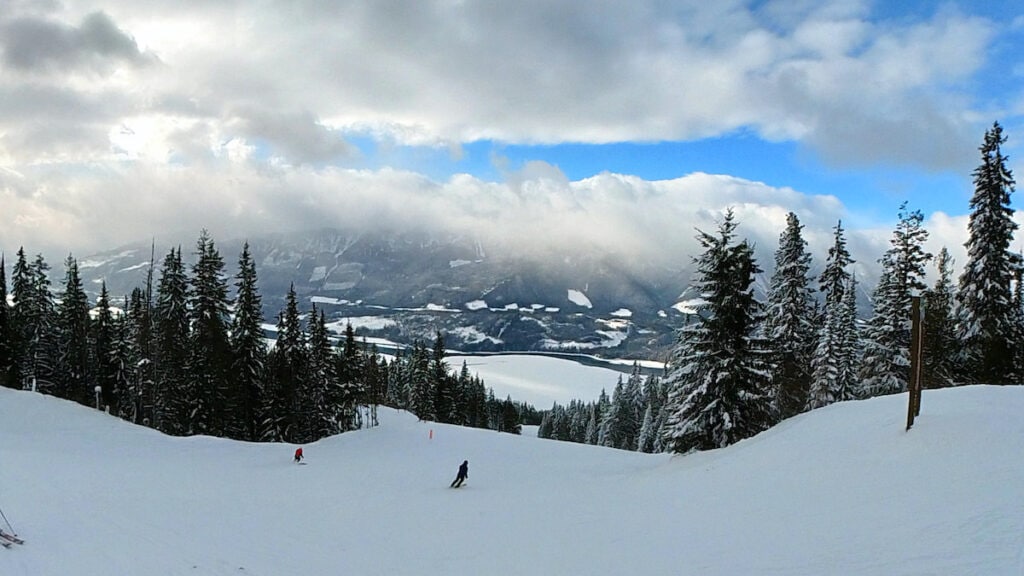 North Bowl is a short boot pack that was way less steep than the hike we did at Kicking Horse. We got there just after it opened and found ourselves in knee deep powder. Just be warned that the journey back to the lift along Big Woody is a long one. This is also the one area of the mountain we didn't have any cell service, so be careful not to lose your ski buddies.
Note: Revelstoke is on the Ikon Pass and Mountain Collective Pass.
Other Things to Do in Revelstoke in Winter
Snowmobiling – With 40-60 feet of annual snow in the high alpine, Revelstoke offers some of the best snowmobiling in North America. Due to avalanche risk, I highly recommend going with a guide so you can have a safe, fun day of exploring. My partner Ryan did the Sledder Tour with Great Canadian Tours, which was a 3.5 hour off-trail snowmobile tour. He got some huge face shots, but he also got stuck and had to dig himself out a number of times due to the fresh, deep snow. No off-trail experience is required, but it sounded like pretty challenging riding conditions for someone who has never ridden off-trail. If you're looking for something more mellow, their Snow Fun and Lakeview tours stick to established trails (which would be more my pace). Before you go, check with them on the gear and apparel you need to make sure you are prepared.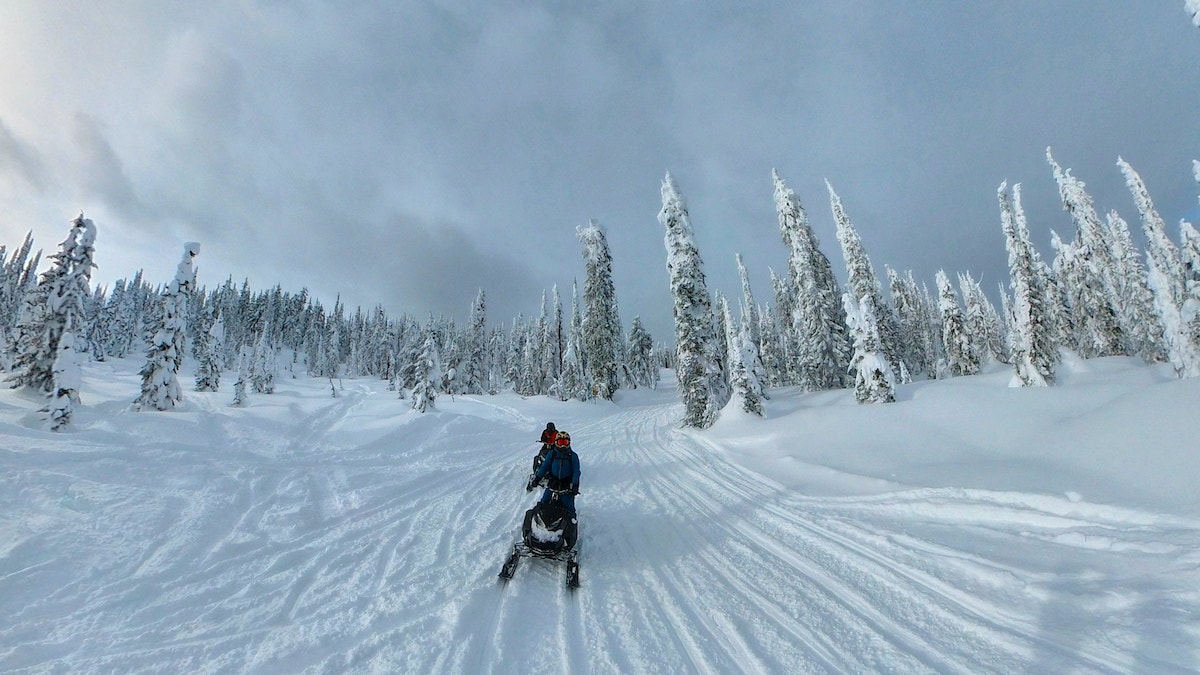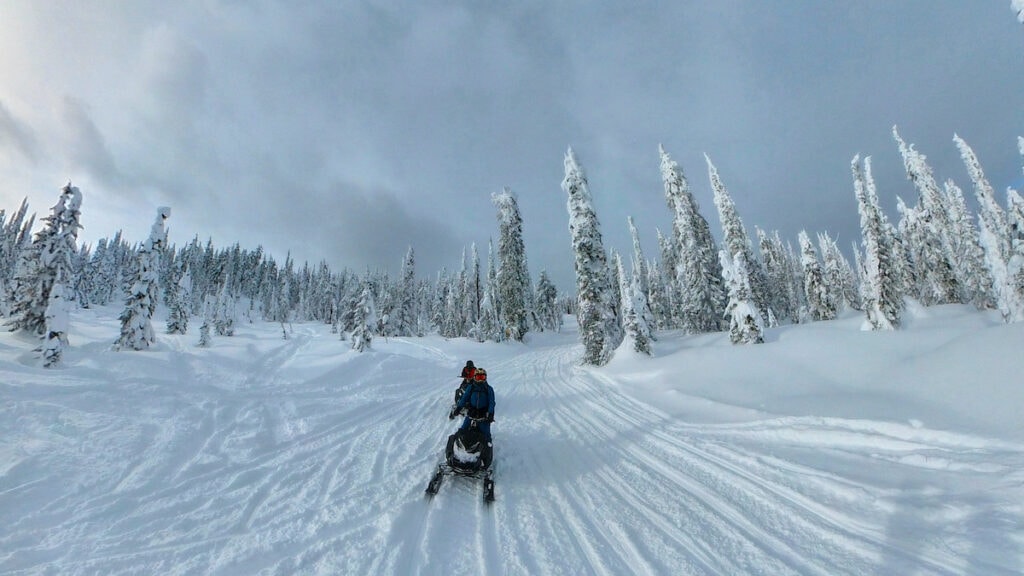 Walk Along the Columbia River – Revelstoke sits on the bank of the mighty Columbia River. If you park at Centennial Park in town, you can walk on the paved Greenbelt (leashes required for dogs) or on a series of dirt paths (off-leash ok) that go for miles.
Where to Stay in Revelstoke
We stayed at the Boulder Mountain Resort in one of the pet-friendly One-Bedroom Luxury Premium Cabins. Our cabin had a king-sized bed that was incredibly comfortable (the best of our trip), an amazing steam shower that felt so good after skiing, and a well stocked kitchen with coffee, tea, and everything you needed to cook with. I really loved our stay here. They also had RV campsites and a number of smaller cabins that also looked very cute.
My only complaint about our stay here is we were in cabin #1 which was closest to the hot tub. The hot tub was supposed to close at 10pm, but every night people were in the hot tub talking loudly and playing music much later and we could hear those conversations very clearly from our bedroom. If we were to go back, I'd request a cabin furthest from the hot tub (which would also be furthest from the road).
The location was on the opposite end of town from the ski resort, but it still only took about 15 minutes to get to the mountain each day.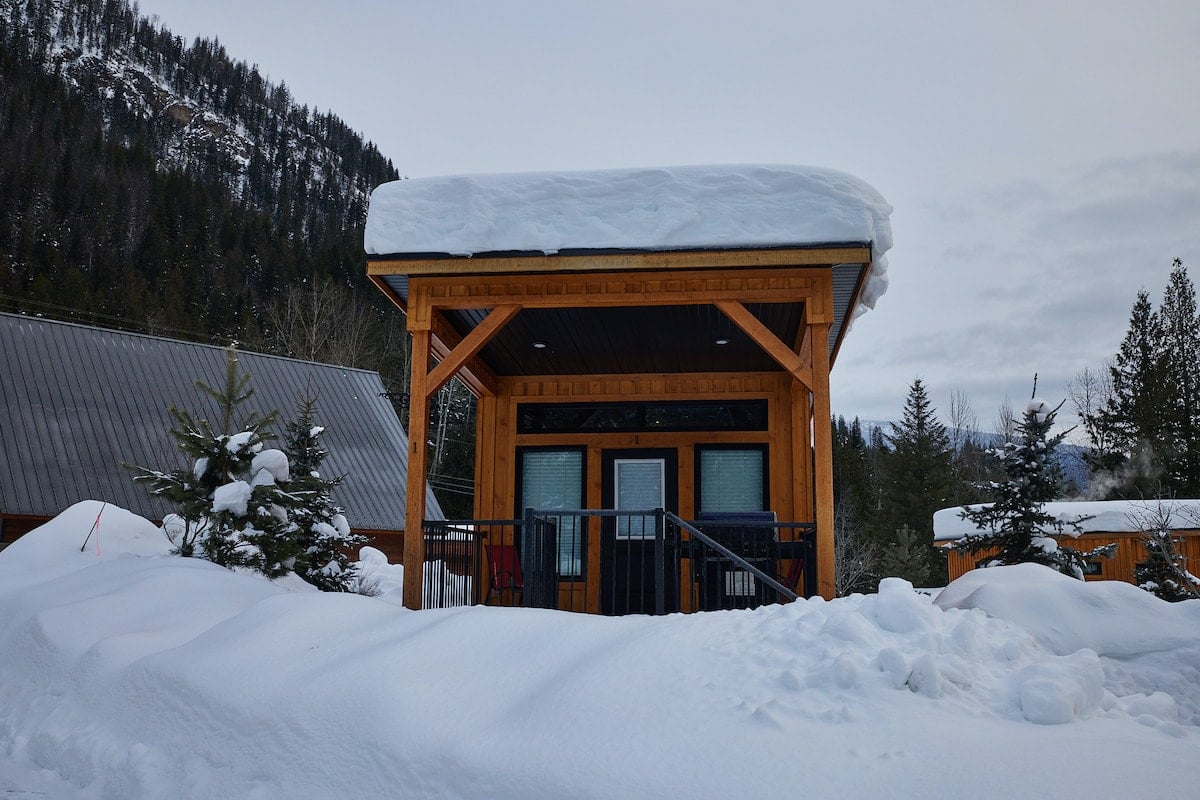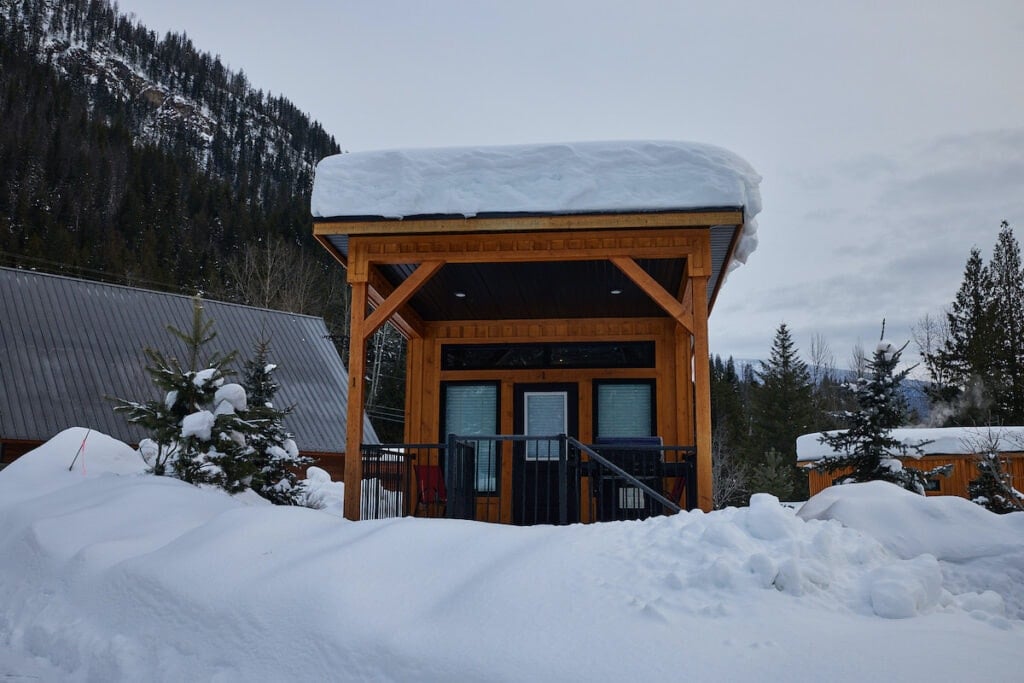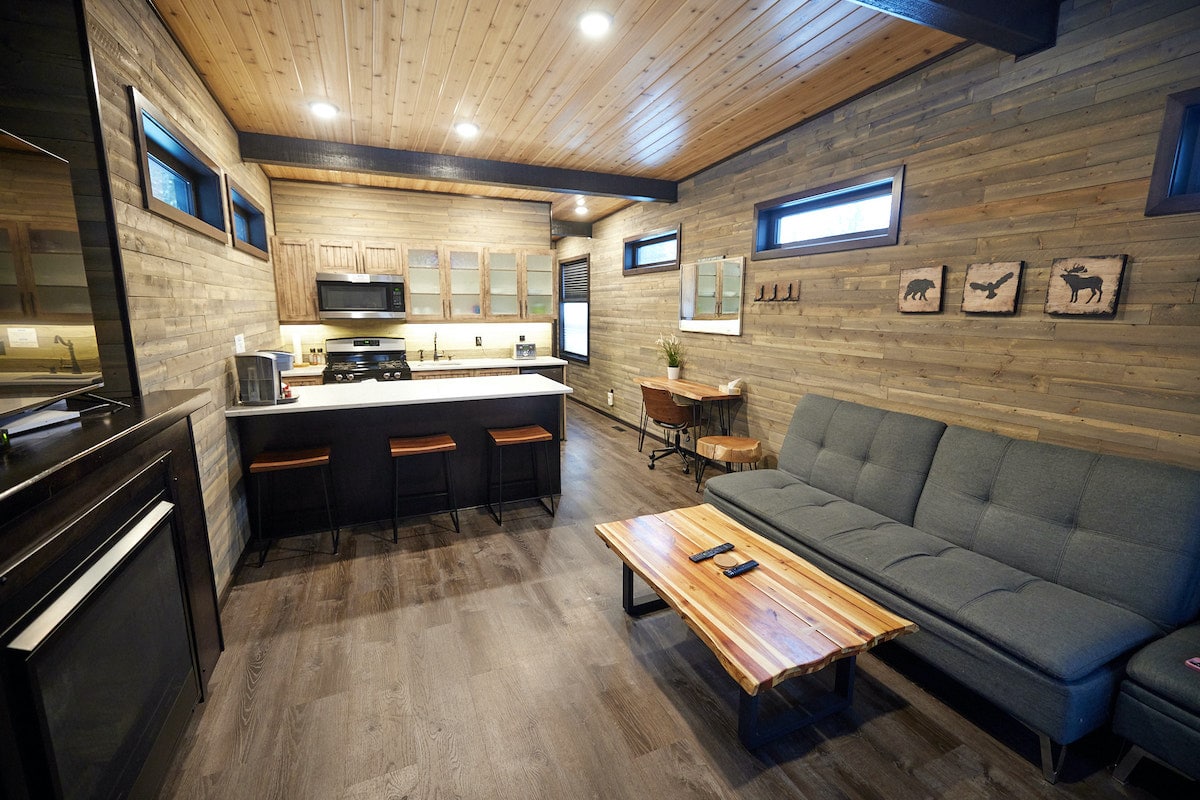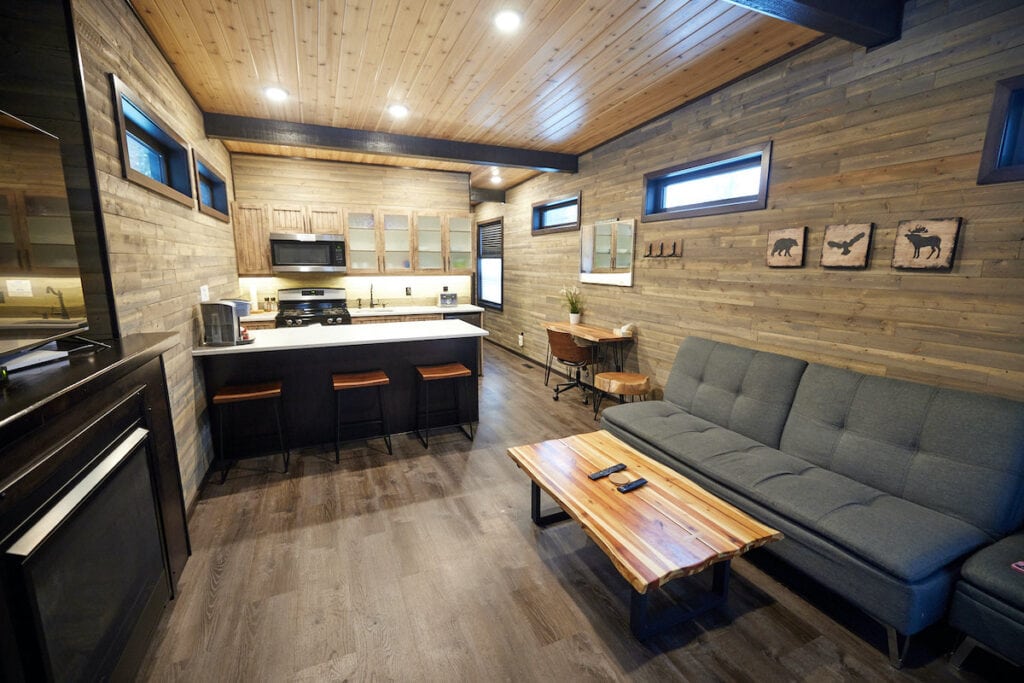 Where to Eat in Revelstoke
Revelstoke has lots of restaurants, and on the weekend, they do get busy, especially with limited dine-in capacity. It wouldn't hurt to make a reservation. Here are a few of my favorites: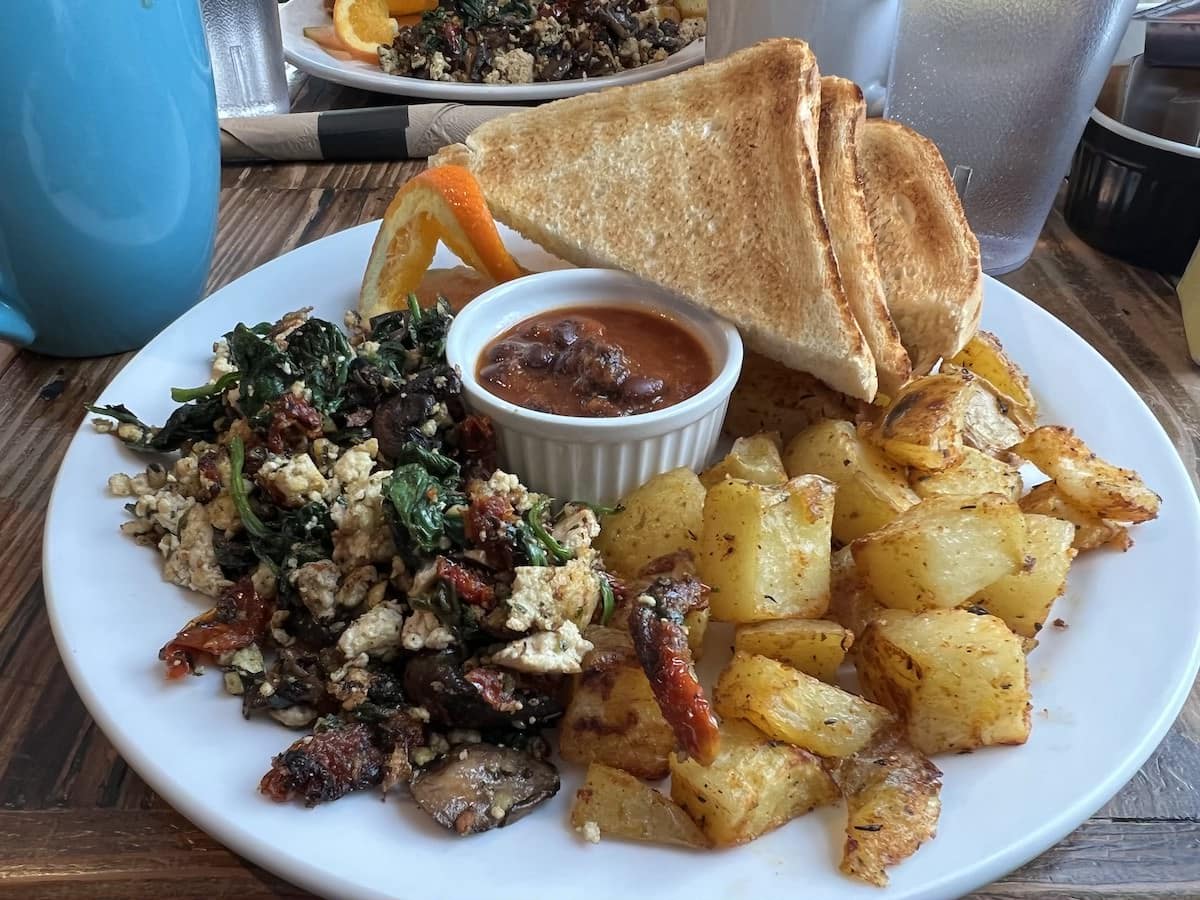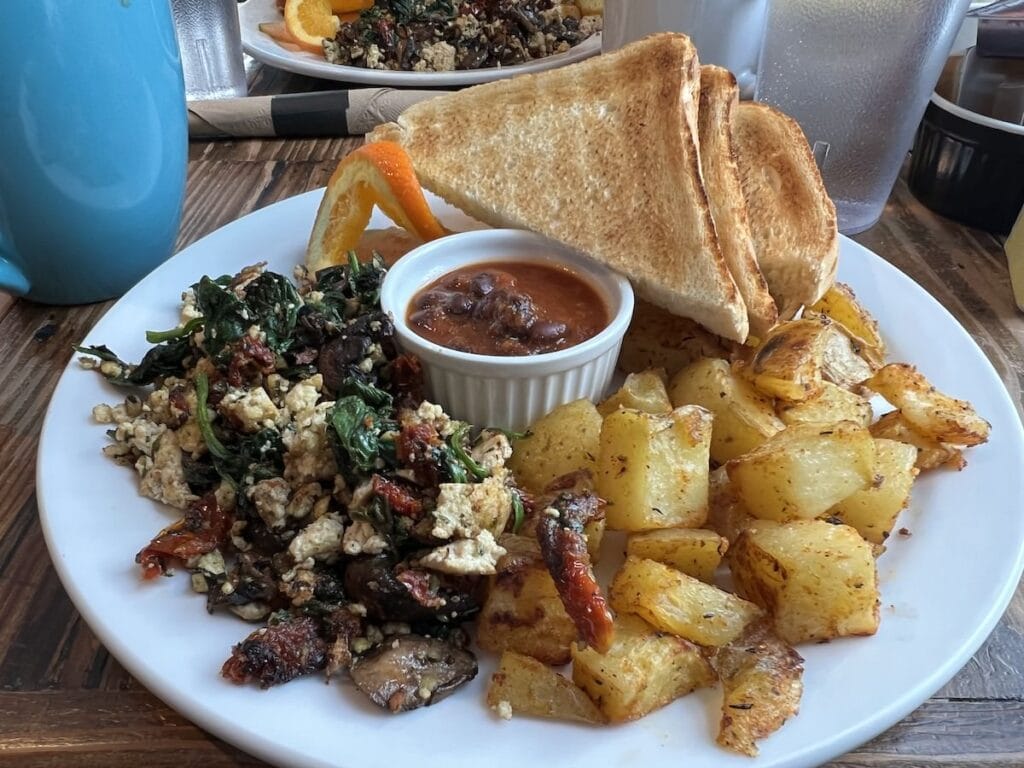 Nelson, British Columbia
Sitting on the West Arm of Kootenay Lake, the waterfront town of Nelson was the largest and most vibrant on our trip (population 10,600). If you want live music, great restaurants, yoga classes, spas, and a bustling downtown, Nelson is the spot for you. Despite all of the modern amenities and entertainment, Nelson is a Heritage City with 350 restored heritage buildings making it a really beautiful town.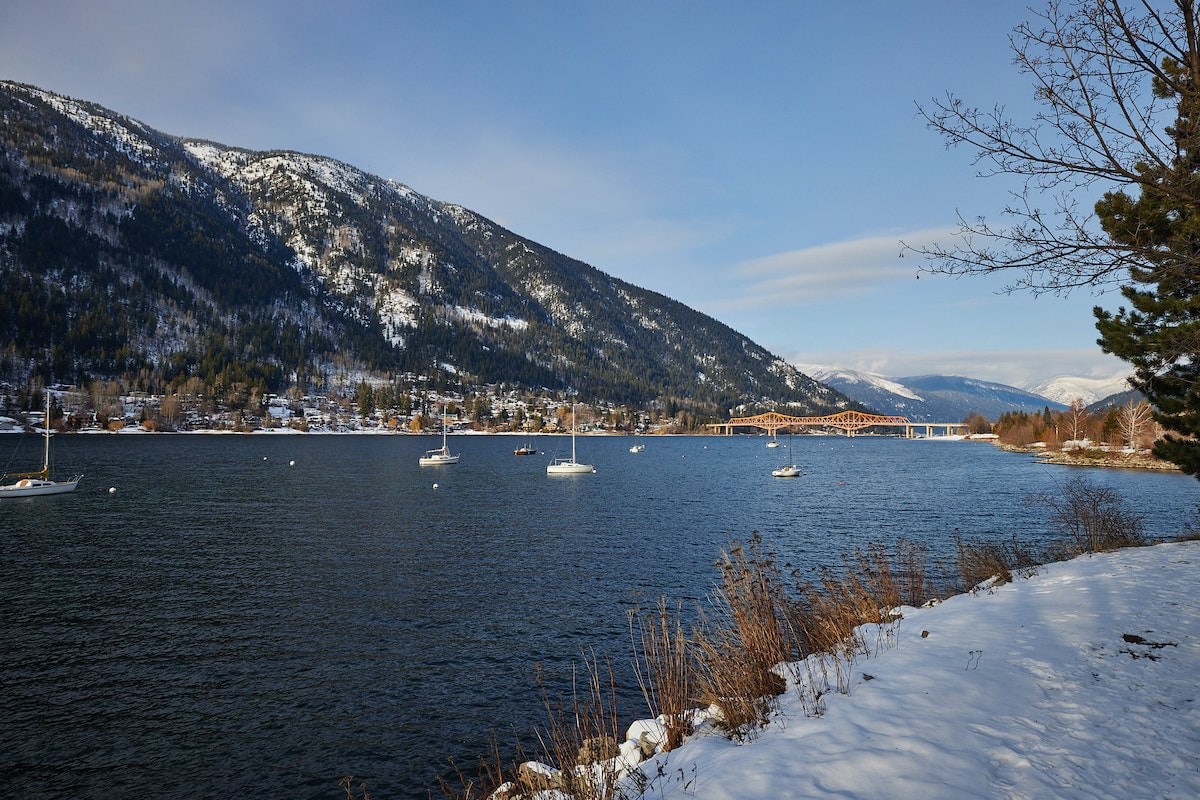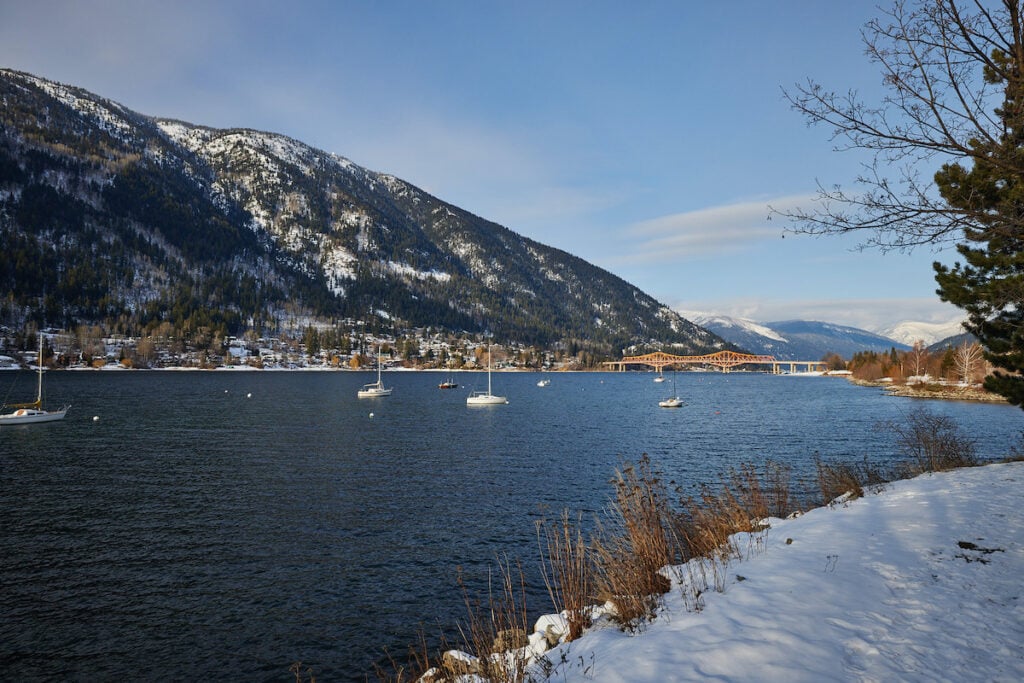 Skiing Whitewater Ski Resort
Whitewater Ski Resort in Nelson's Selkirk Mountains has big mountain skiing with an old school vibe. While I can't speak to how busy the weekends get, midweek there we no lines at any of Whitewater's three lifts, and we skied right on the lift every single run. There are no hotels at the resort, nor is Whitewater on any of the multi-resort passes, and we got the sense that most of the people on the mountain were local – an atmosphere I really dug.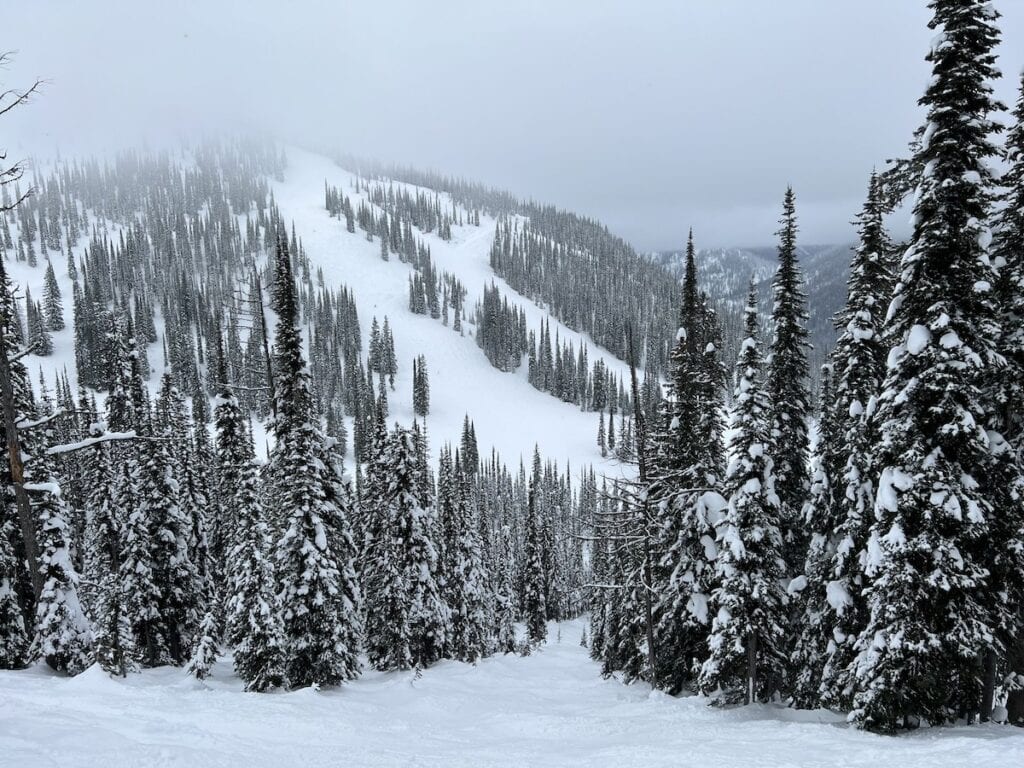 Whitewater averages 40 feet of light, dry powder a year, and has some of the best tree skiing I've ever done. Normally I'm intimidated by tree skiing, but the trees at Whitewater were perfectly spaced, making for some really fun turns, even for intermediate skiers. Like many resorts, tree wells do pose a hazard at Whitewater, so educate yourself and always ski with a friend.
While Whitewater is smaller than the other resorts on the Powder Highway, Whitewater has incredible lift-accessed backcountry, which adds a ton of acreage to the skiable terrain for those who are prepared with the avalanche education and gear.
If you're sick of french fries and burgers or PB&Js at your car by now, the food at Whitewater Ski Resort was some of the freshest I've ever found at a ski area with a variety of plant-based options. I highly recommend grabbing lunch in the day lodge.
We were lucky to get a few surprise inches of fresh snow on our second day, and that taste of Whitewater's cold smoke, as they call it, left us wanting more. Whitewater Ski Resort is one of the Powder Highway Mountains that I'd love to return to, especially on a deeper day.
Other Things to Do in Nelson in Winter
Ainsworth Hot Springs – I forgot my swimsuit at the hotel in Golden, so we didn't have a chance to explore Ainsworth Hot Springs, but I wish we had! Located 30 miles north of Nelson, you can take a day trip up there or you can stop in on your drive down from Revelstoke. Reservations are required for day use, so check their website for details.
Walking on the Great Northern Rail Trail – If you're looking for a convenient, off-leash friendly place to exercise your dog after skiing, this is your spot. We also saw a number of people nordic skiing here. See the Google Map above for where to park. The trail is also accessible from the Lodgen Lodge where we stayed.
Explore town – Out of all of the towns on the Powder Highway, Nelson is definitely worth taking a couple of hours to walk around the downtown area.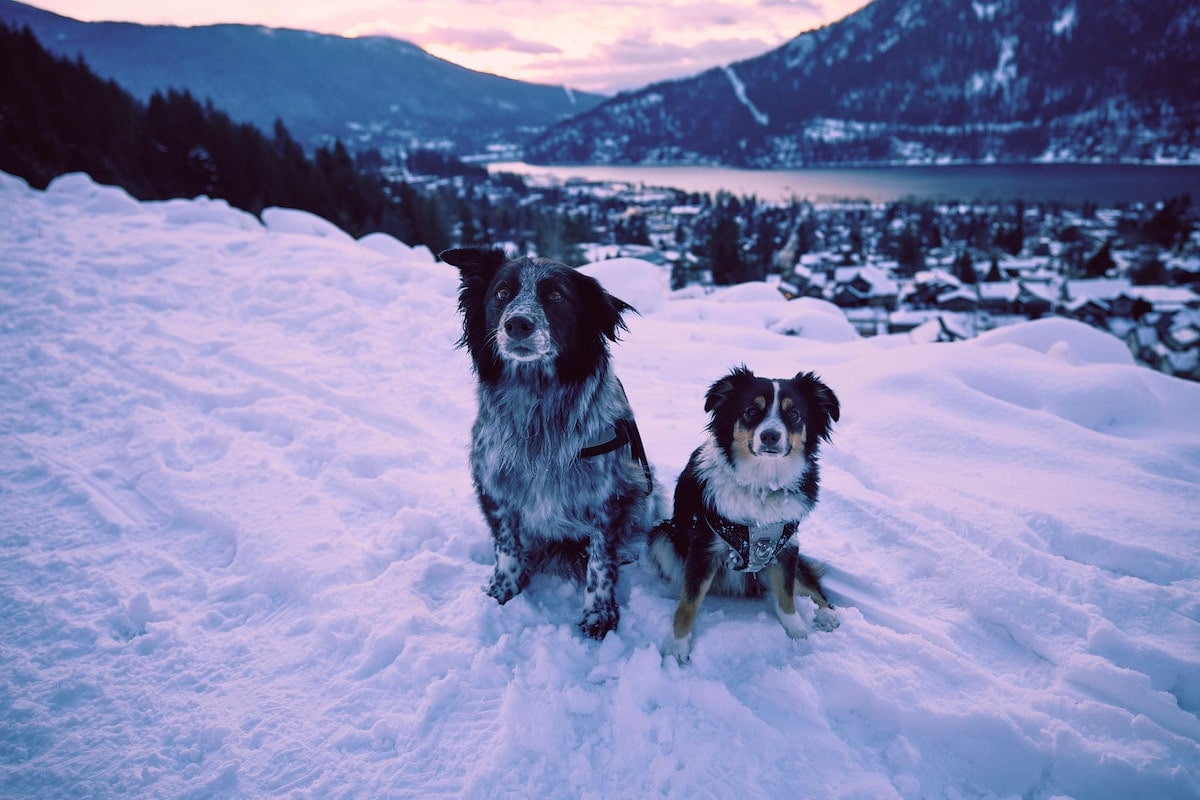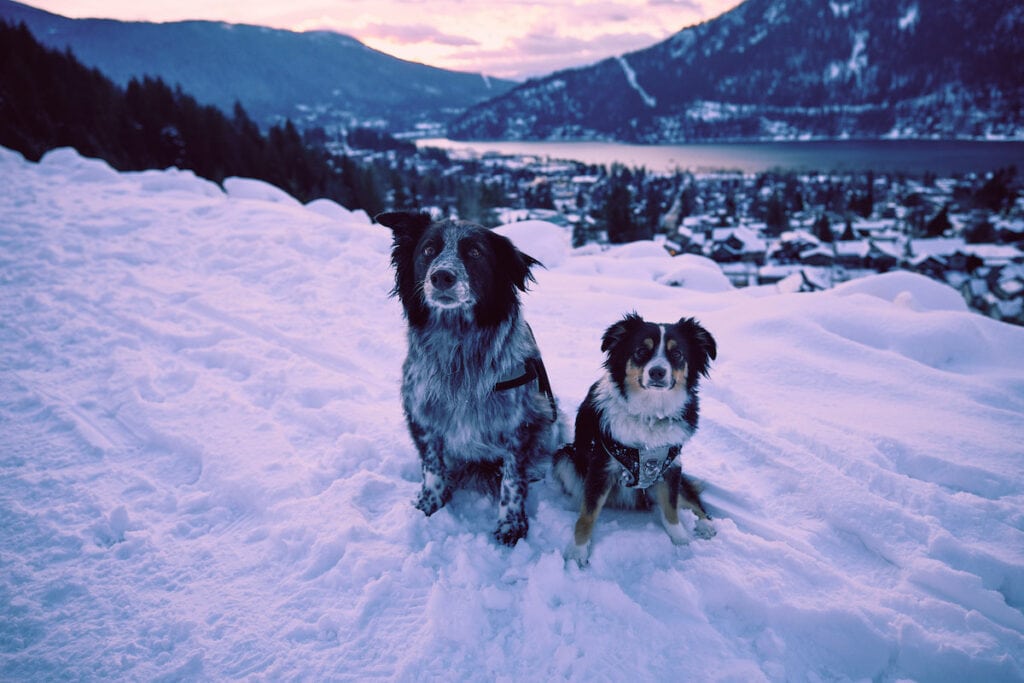 Where to Stay in Nelson
Nelson has a number of convenient hotels right in town, but we opted for a more unique and rustic experience. We stayed at the Lodgen Lodge, which was a 15 minute drive to Whitewater and about 25 minutes to Nelson. The Lodgen Lodge consists of four different stand alone cabins nestled in the woods far away from roads and other structures, offering the ultimate peaceful getaway and a chance to unplug. Cabins are accessed by a short walking path, and the owner helps transport your luggage to your cabin. The lack of cars contributes to a really quiet environment.
We stayed in the pet-friendly Cottonwood Cabin which was the most isolated of the cabins. It has two bedrooms, a huge balcony, a wood burning stove, a dining area, kitchen, and a massive soaking tub. The cabin was cozy, thoughtfully appointed with decor from the owner's travels, and I absolutely loved waking up in the loft looking out the window into the snowy forest.
Walking trails are accessible directly from the cabins, and free snowshoes are available for guests to use. Keep an eye out near the viewpoint for the liquor cabinet that's nailed to a tree. The owners stock it, along with clean shot glasses, so you can warm your belly on a cold winter's day….even though I don't drink, I thought that was a fun touch.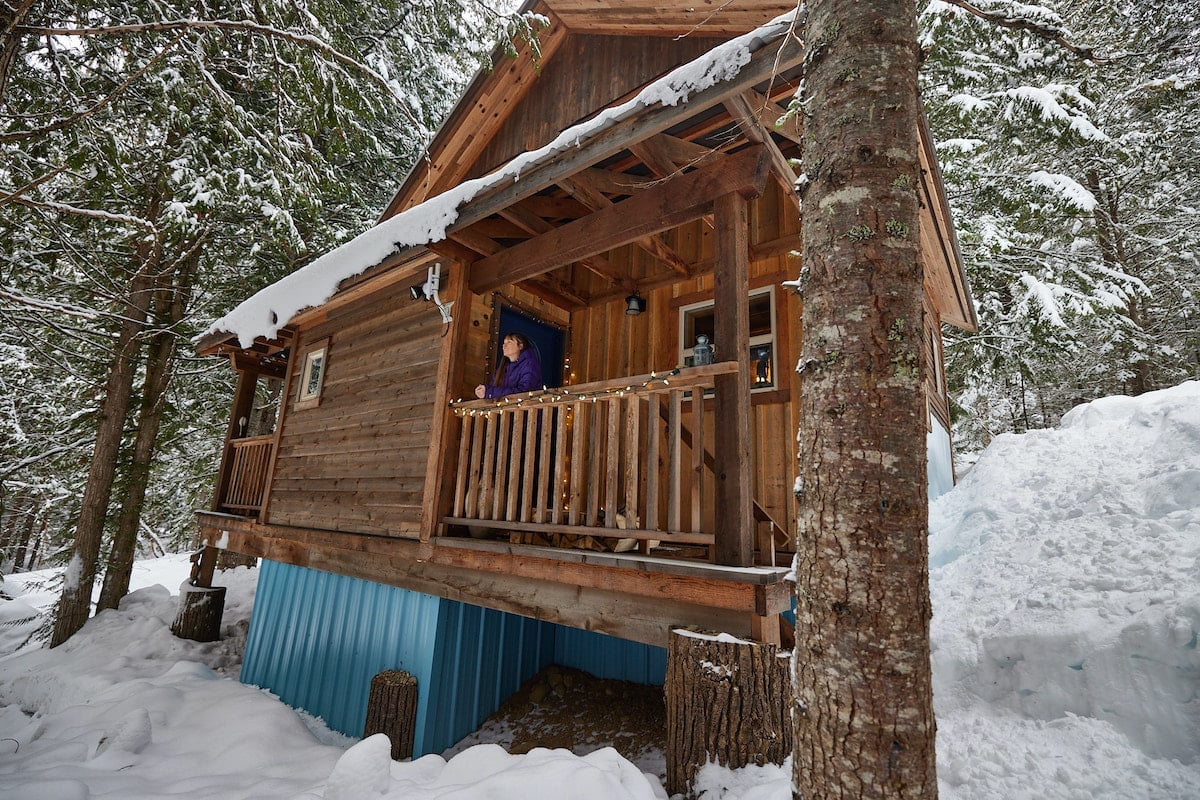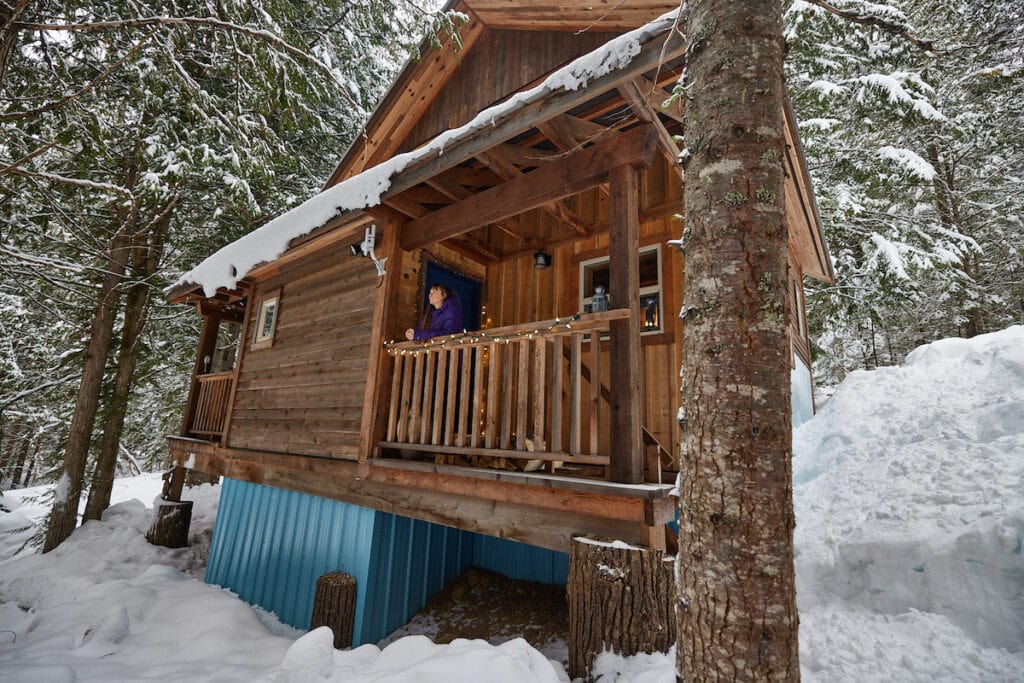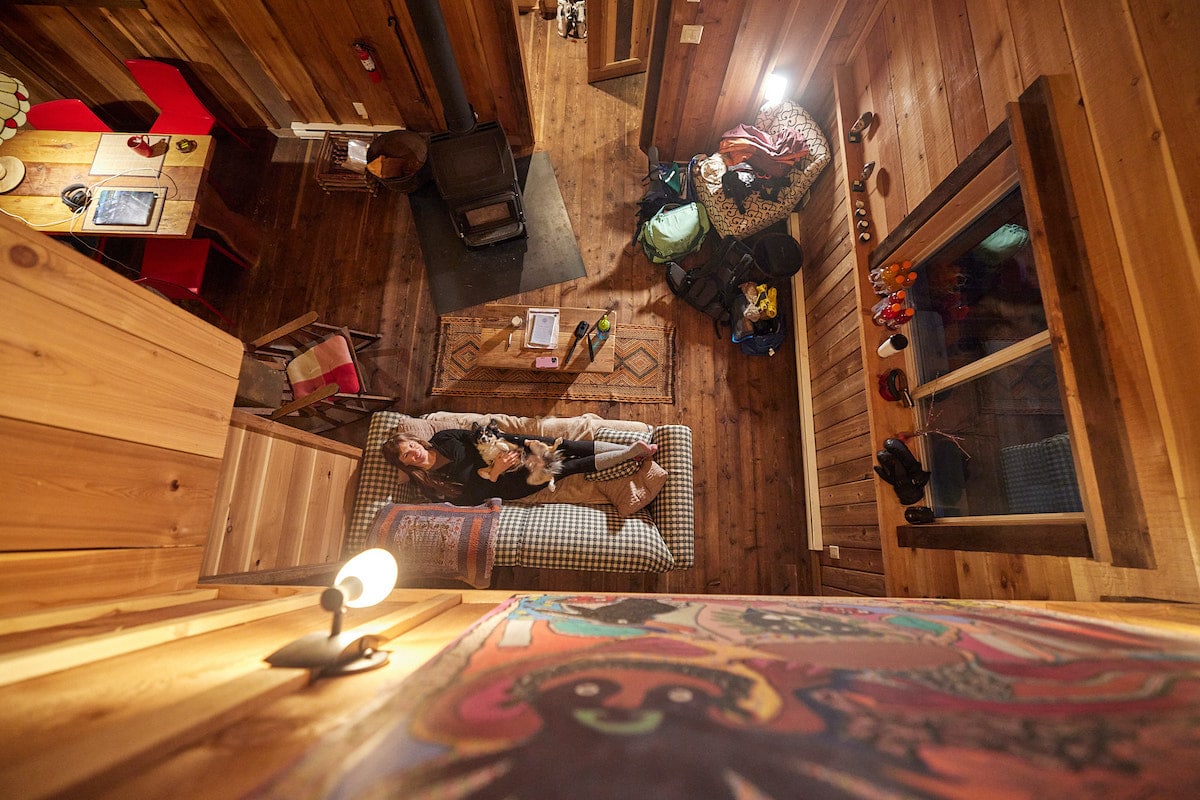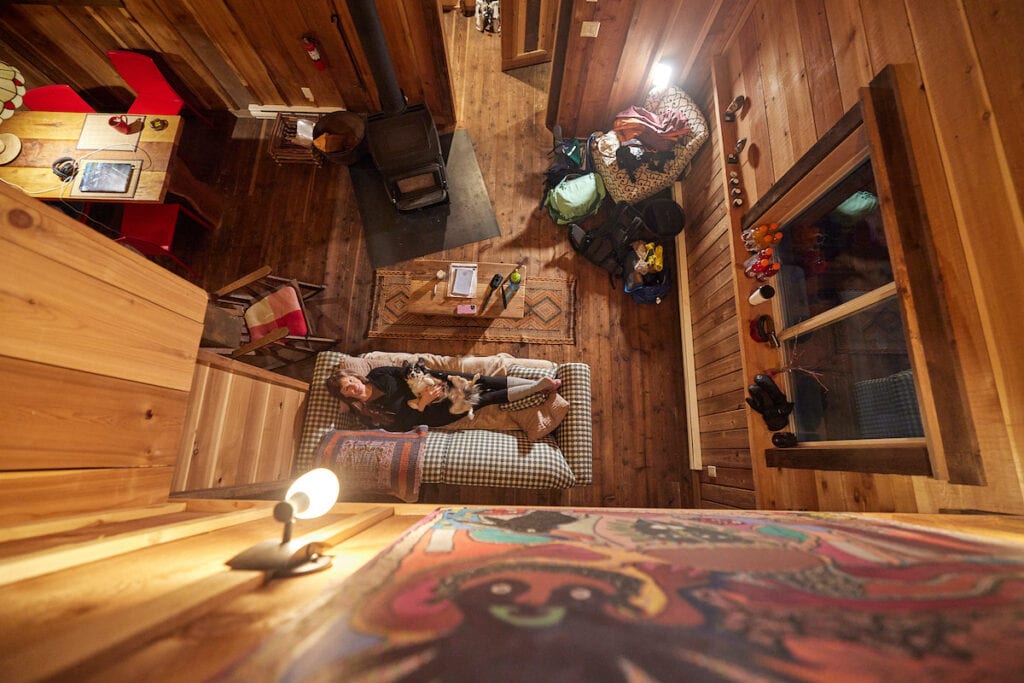 Where to Eat in Nelson
Nelson was the only place we found on the Powder Highway with a fully plant-based restaurant, which we were obviously excited about. In addition, Nelson has an eclectic mix of options, and we only had time to scratch the surface.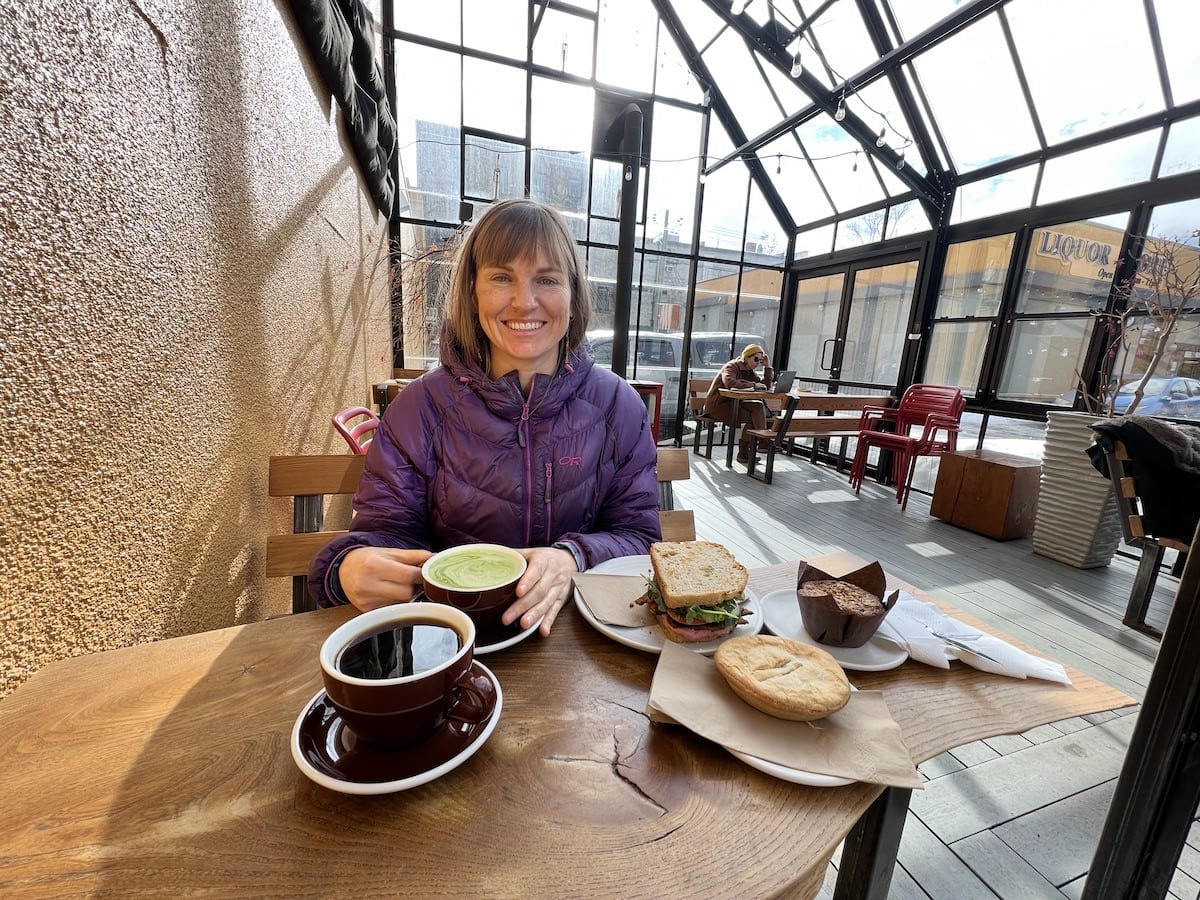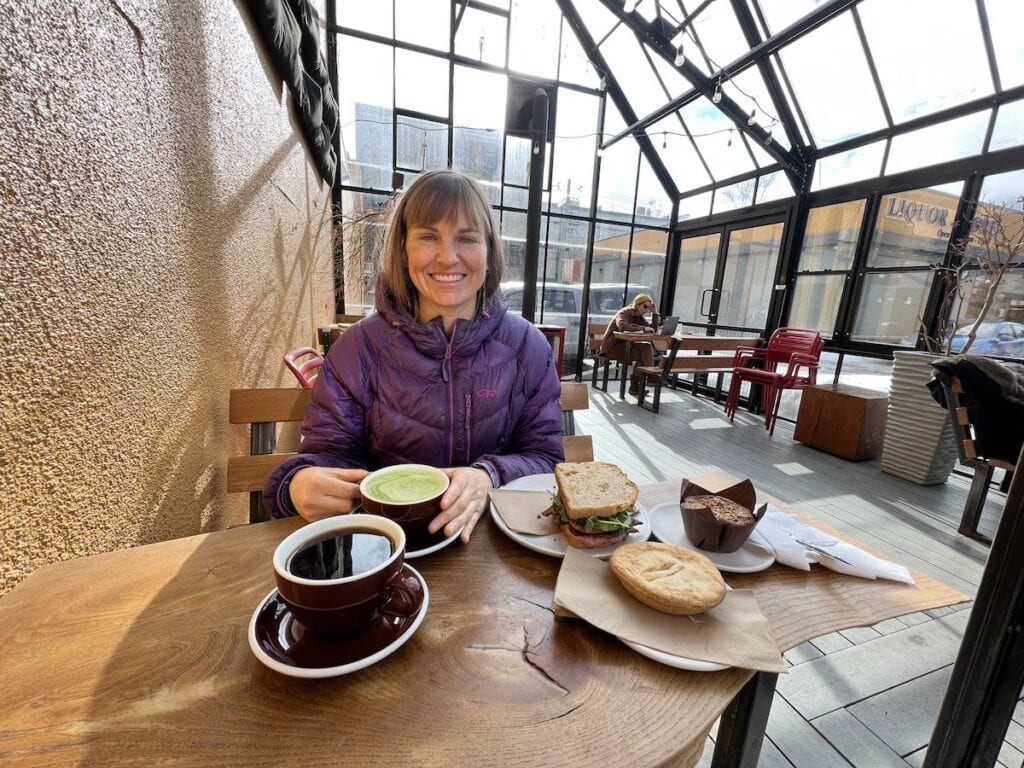 Rossland, British Columbia
Rossland, home of RED Mountain, was the last stop of our Powder Highway itinerary. Located in the southwestern Kootenays, this Gold Rush era town is 10 minutes from the US/Canadian border and a quick 2 hour drive from Spokane, making Rossland an excellent winter destination for Americans, even if you can't explore the entire Powder Highway. You won't find any chains, traffic lights or fast food (except a Subway) in Rossland. Instead, you'll find cool boutique shops and tasty restaurants in historic buildings, a huge network of trails, a fantastic cat skiing operation, and the oldest ski resort in Western Canada.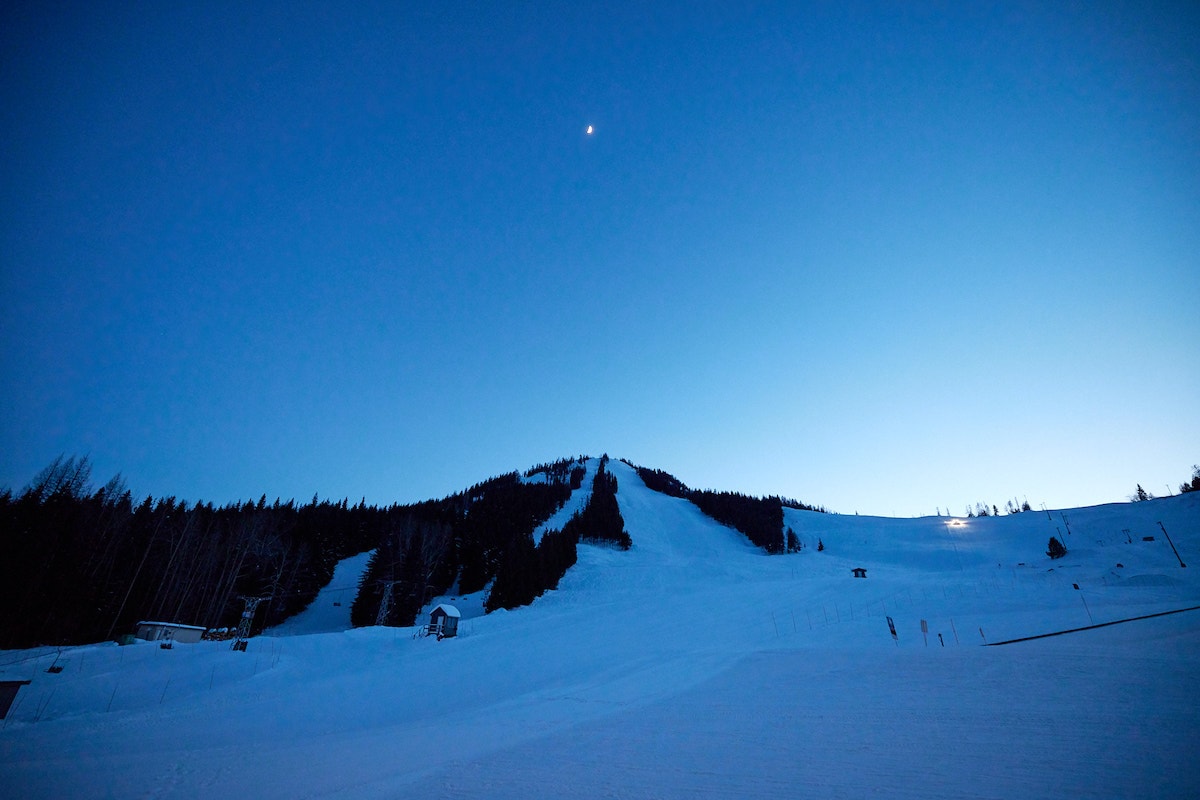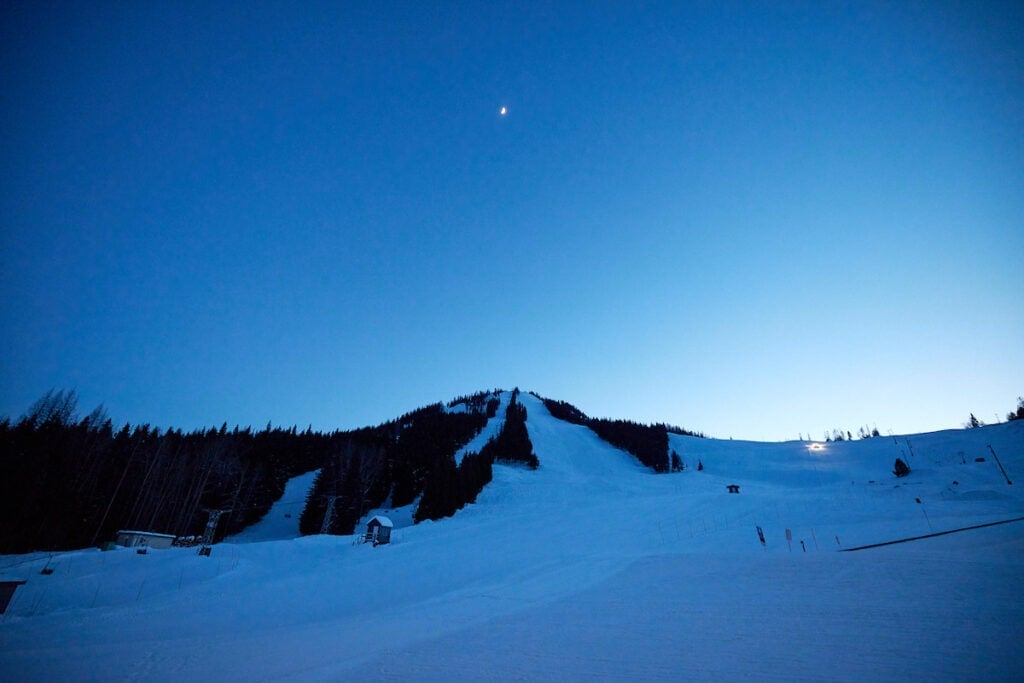 Skiing RED Mountain
RED Mountain is deceivingly large, with 5 different skiable peaks, 8 lifts, and 3,850 acres to explore. To help you get a lay of the land, RED offers free mountain tours every day at 9am and 12:30pm that leave right from the base.
Unfortunately snow coverage was a little thin during our visit, so we were careful to not venture too far off the beaten path. Instead, we enjoyed bluebird skies and had a fabulous time cruising RED's wide groomers, some of which were pretty steep.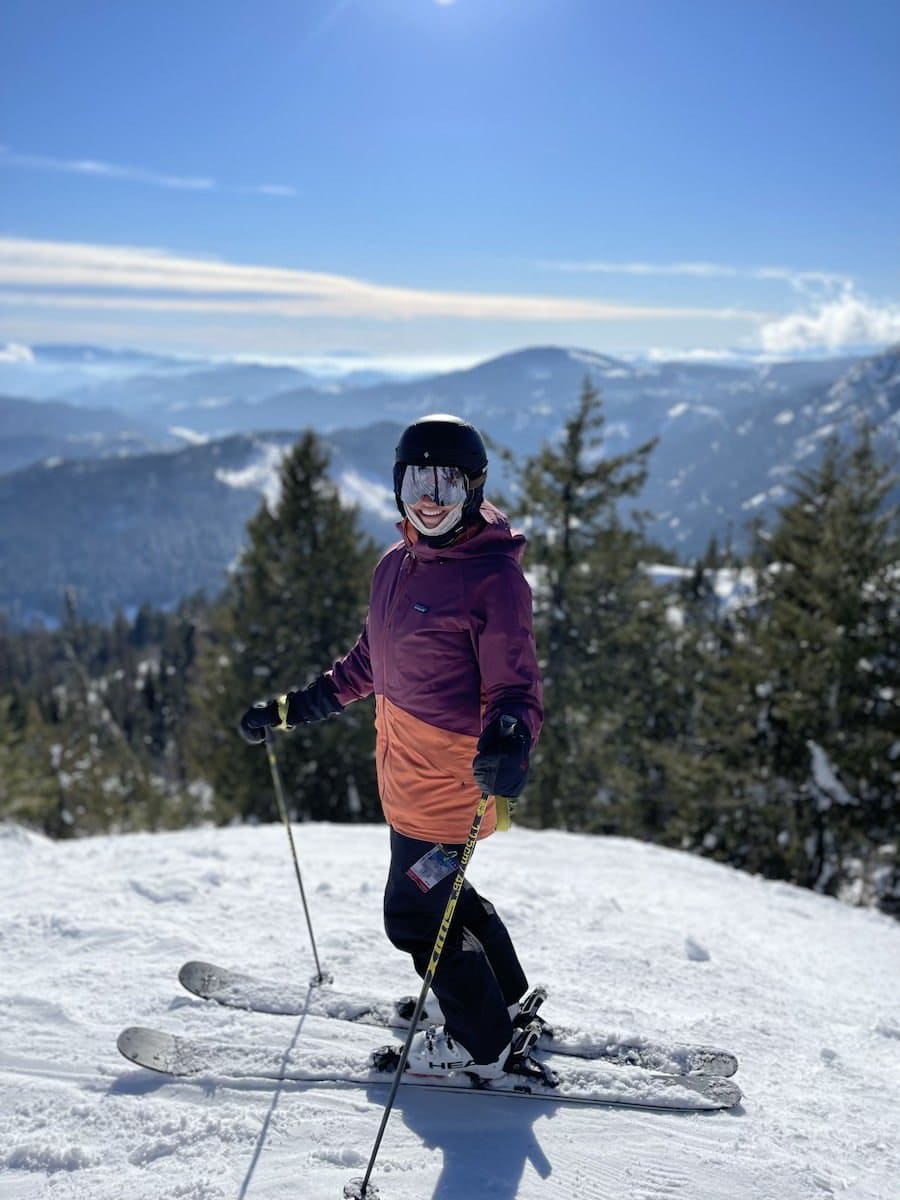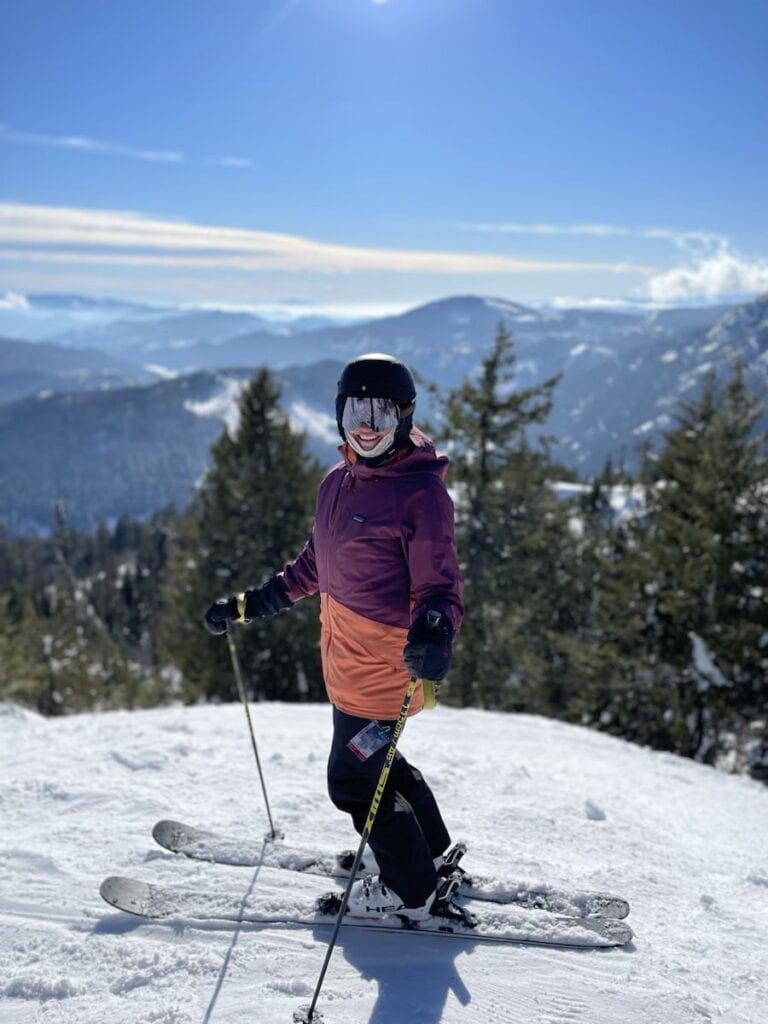 One of the most unique things about RED Mountain is they offer $10 cat rides that transport you to the top of Mt. Kirkup. These cat runs give you access to 1,600 feet of vertical in ungroomed bowls, trees, and hopefully lots of fresh snow, and I can only imagine how fun that would be on a powder day. No reservations or avalanche gear is required. We didn't get to experience this on our February 2022 trip since cat operations are temporarily suspended due to the pandemic. The latest status can be found here.
Note: If you have an Ikon Pass, you get 7 days at RED Mountain and the Resort also offers some additional perks, so make to to enquire when you arrive.
Other Things to Do in Rossland in Winter
Winter Hiking – We spent a day doing the Mt. Crowe Cabin Loop, an 8 mile hike to a series of day use warming huts. We did a little bit of post-holing, but overall the trail was well compacted, so we didn't need snowshoes or microspikes. The trailhead is just north of Strawberry Pass and is shown in the Google Map above. In addition, there is also a dog-friendly trail system accessible directly from the base of RED Mountain or from the Centennial Trailhead near town.
Visit the Get Lost Adventure Center – Onsite at RED Mountain's Get Lost Adventure Center, you can sign up for guided backcountry Cat Skiing, winter paragliding, fishing and more. They also rent fat bikes and can point you to the trails I just mentioned.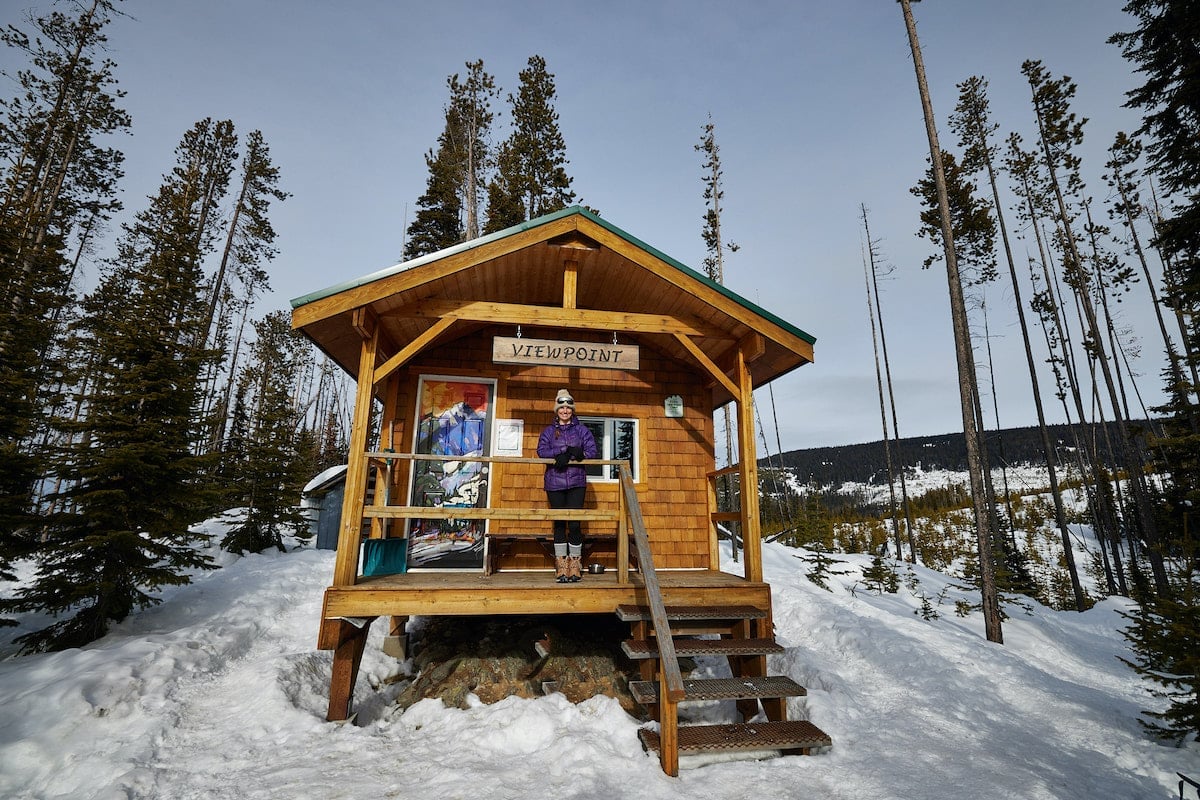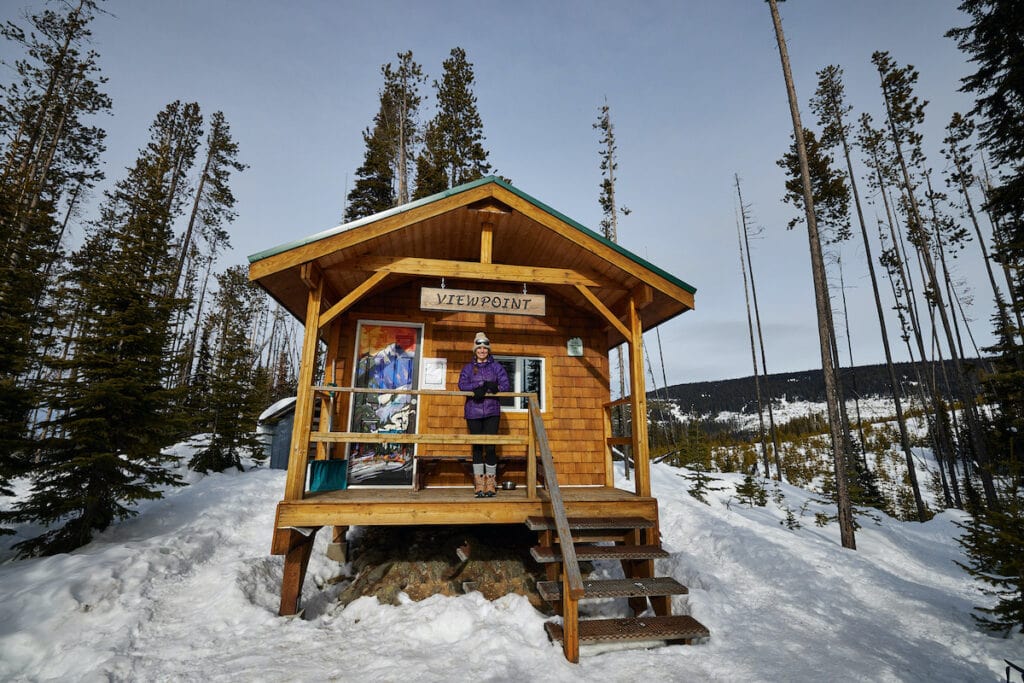 Where to Stay in Rossland
The Josie Hotel is a boutique luxury hotel at the base of RED Mountain that offers a ski-in/ski-out experience. From the moment you walk into the lobby, you know you're in for a treat. Our room with a king-sized bed was spacious and comfortable, the Velvet Restaurant (and room service) was delicious, hotel staff were very helpful, and to top it off, the Josie is dog-friendly.
When you arrive, the hotel staff grab your skis and take them to the ski concierge desk. I didn't realize what a convenience this was until we were able to boot up in our room, take the elevator down to grab our skis, and walk right out the back door to the chairlift which was a mere 50 feet away. After driving so much and lugging all of our gear around for the last few weeks, this was an absolute delight.
After skiing make sure to book one of the private cedar barrel saunas to ease your muscles or sit by the fire on the outdoor patio to watch as the stars come out. The Josie also has a spa, but it was closed during our stay.
The Josie is a splurge, so if it's out of your budget, there are a number of hotels including a hostel at the base of RED Mountain.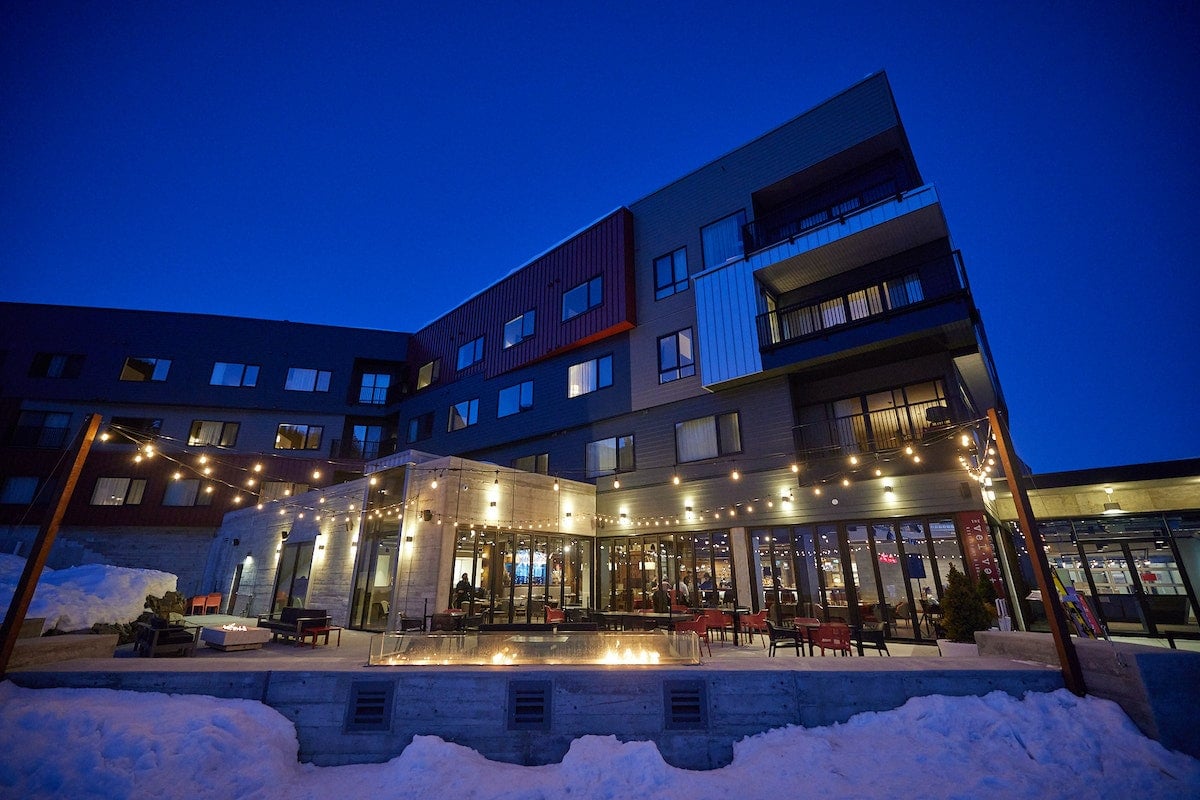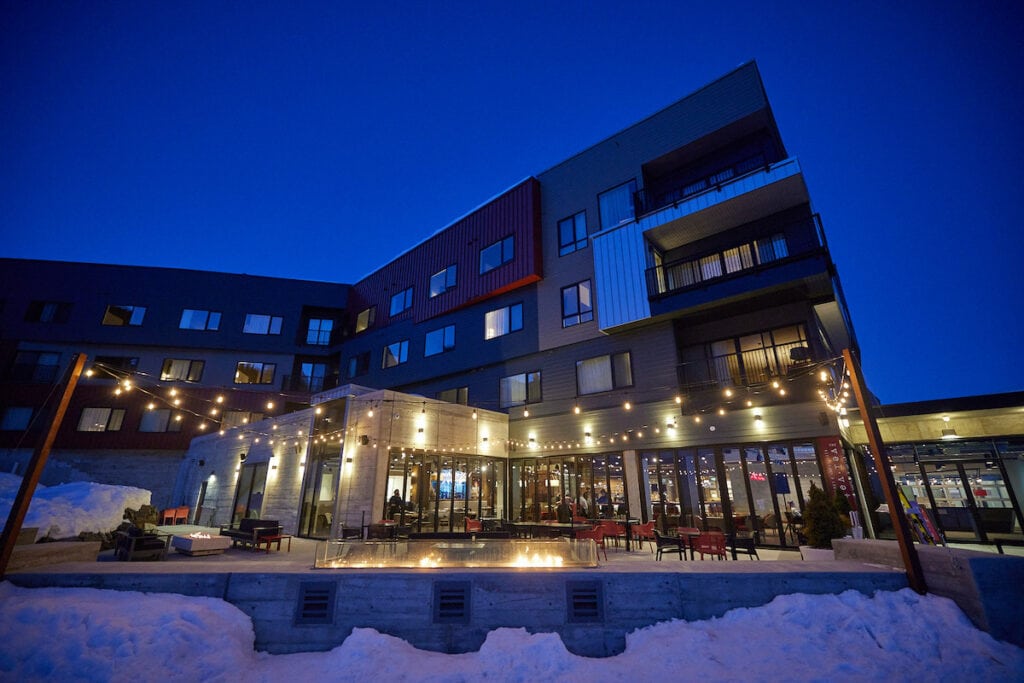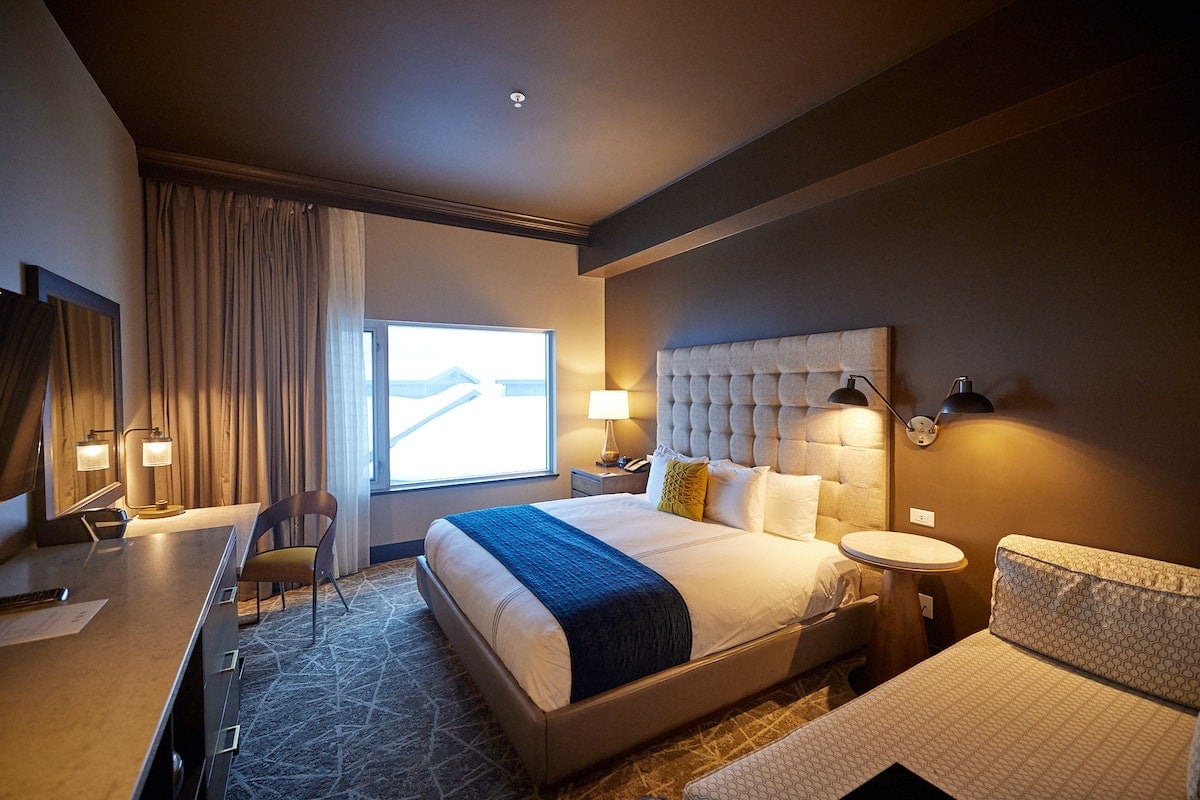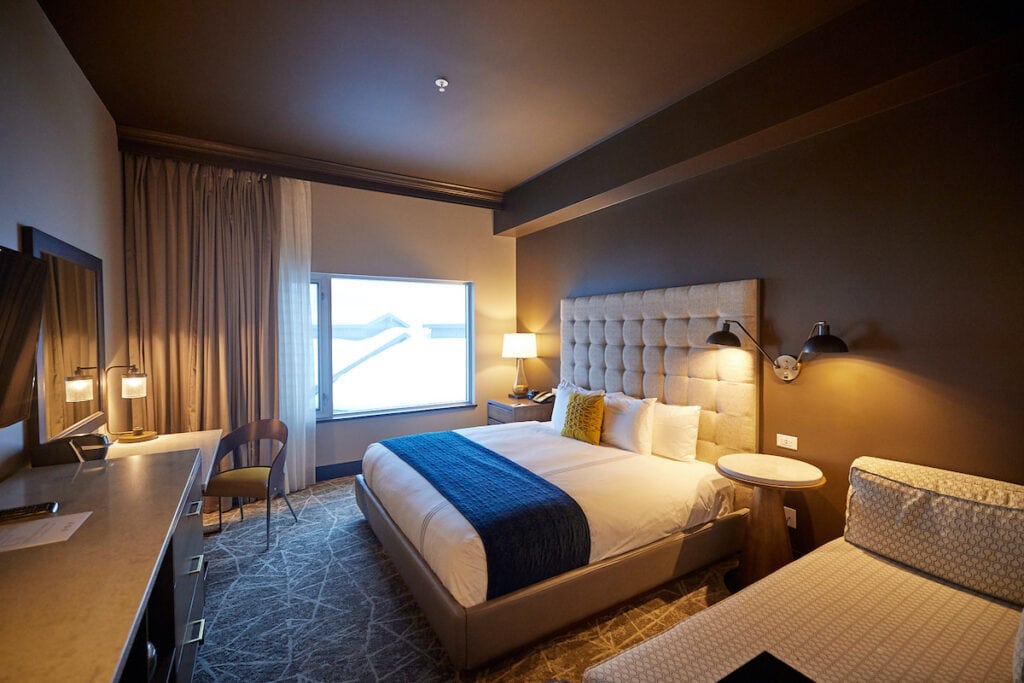 Where to Eat in Rossland
Rossland is small, but there are plenty of restaurant options to satisfy you during your stay. These were our favorite spots.
Velvet Restaurant – Located inside the Josie and open for breakfast, lunch, and dinner. Seasonally inspired food and drink. While plant-based options weren't indicated on the menu, the chef was very accommodating.
Flying Steamshovel – Modernized pub food. Get the bang bang cauliflower!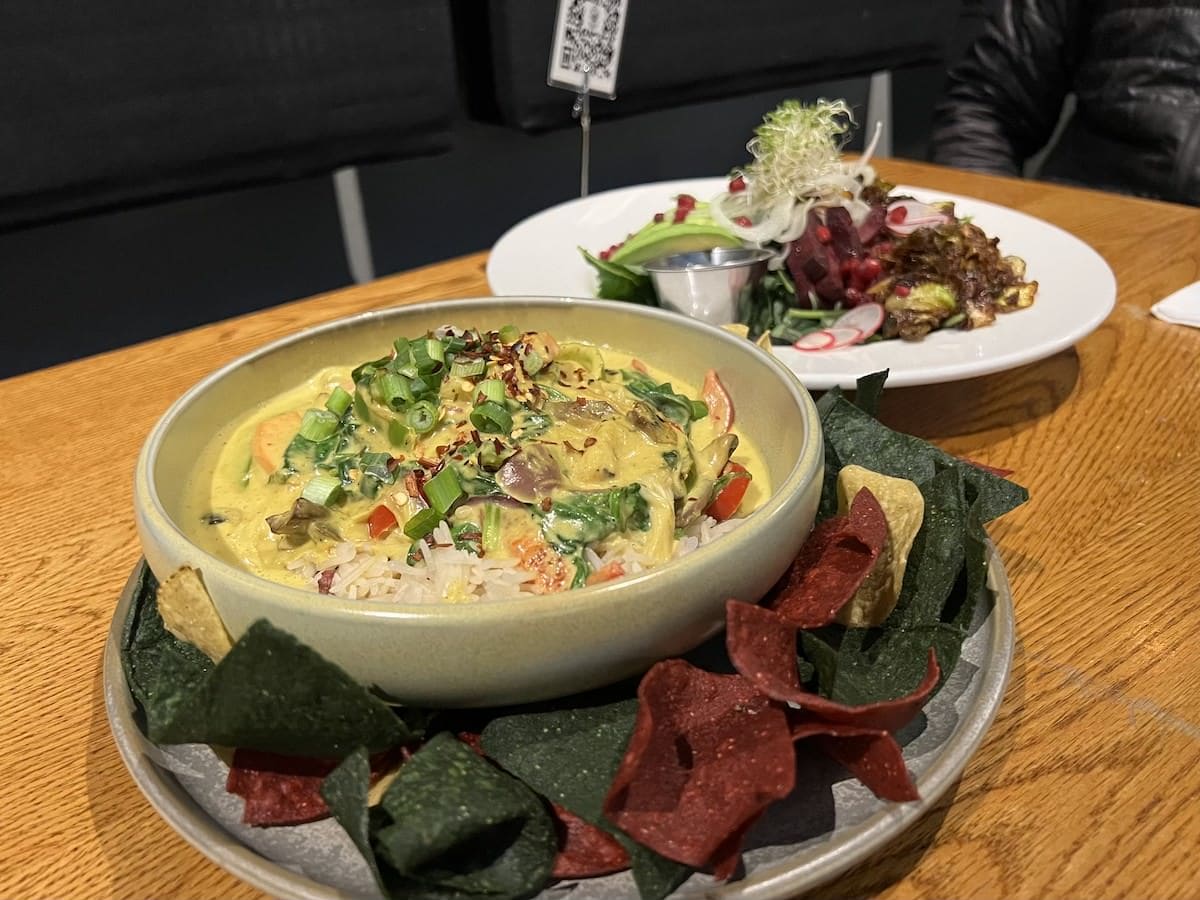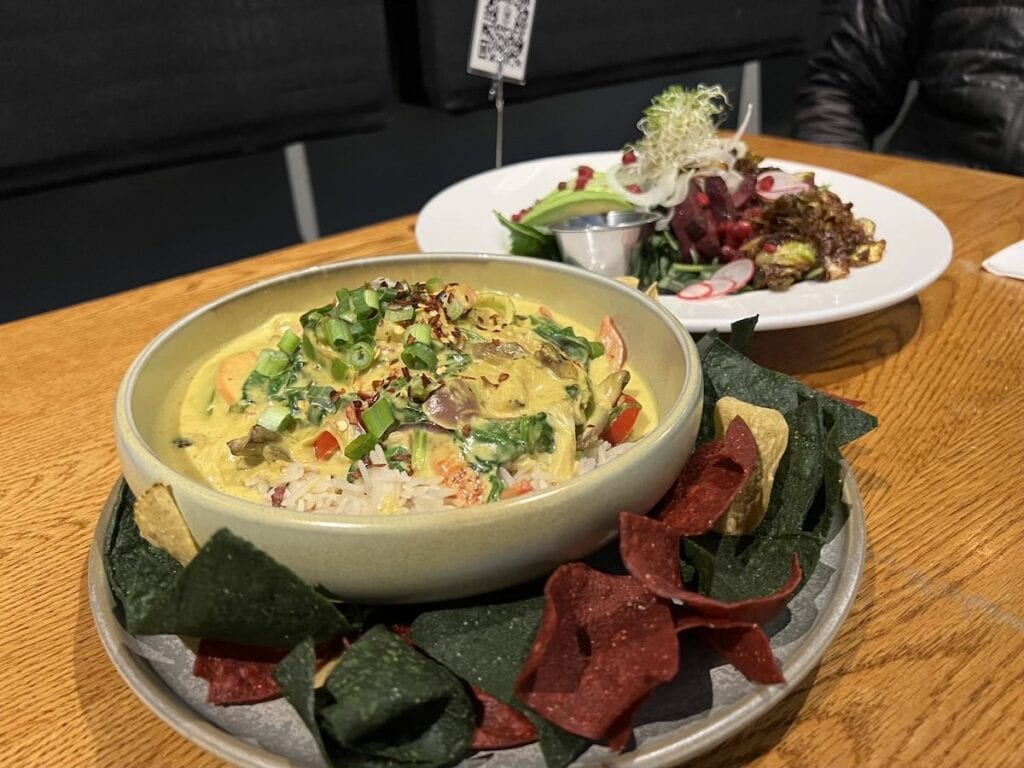 Skiing the Powder Highway is up there in my all-time favorite winter trips ever. If your a skier or snowboarder, I hope this blog post inspires you to take a trip up there.
Got questions or comments about the Powder Highway? Leave them in the comments below.