41 Best Gifts for Outdoorsmen (2023)
Find the perfect gifts for the outdoorsmen in your life from practical yet stylish apparel to rugged hiking, camping, and outdoor gear.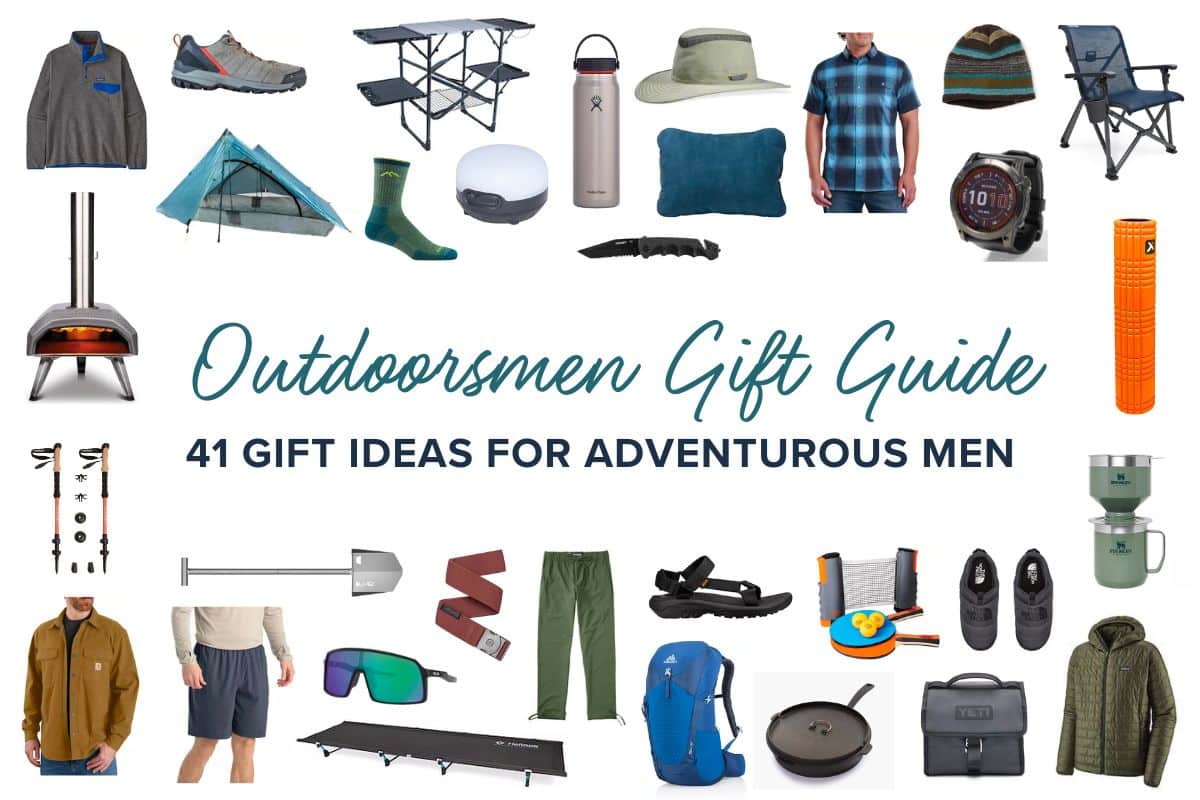 Searching for that perfect present for the outdoorsy man in your life? Well, your quest ends here. With the help of my partner, Ryan, and the Bearfoot Theory team, I've curated the best gifts for outdoorsmen that cater to every hiker, camper, paddler, and outdoor man in your life to help him spend more time in nature.
These gifts are practical, durable, and perfect for any adventure. So whether you're searching for something for your partner, brother, dad, or friend, I've got you covered.
Discover our list of the best gifts for outdoorsy men, no matter if they're just getting started in the outdoors or a seasoned explorer.
---
1. KÜHL Response Short Sleeve Shirt
Shop now:
When it comes to combining style with trail-tested durability, the Kuhl Response Short Sleeve Shirt stands out (and is a personal favorite of Ryan's). The moisture-wicking properties mean it's great for the trails and there's enough freedom of movement without the fit being too baggy.
Plus, the versatile checkered pattern ensures the outdoorsy man in your life will be just as ready for a post-trail dinner as he is for the hike itself. If there's one shirt that seamlessly bridges the gap between function and outdoor fashion, this is it.
2. Patagonia Nano Puff Hoodie
Shop now:
Lightweight yet undeniably warm, the Patagonia Nano Puff Hoodie is one of the best gifts for outdoorsmen. It packs down small enough to easily fit in a daypack making it perfect for hiking and backpacking, but it's classy enough to wear in everyday life, too. This jacket will last you for years of adventures. If you're on the lookout for a gift that is super practical while still being sleek, this Patagonia jacket should top your list.
3. lululemon Surge Jogger
Shop now:
BFT Team Member Linda's brother swears by the lululemon Surge Jogger. He loves them so much that he bought a pair as a gift for her brother-in-law. Whether you're into running, walking, or training or just need a comfortable, functional pair of pants for lounging, these joggers are up for anything. They're the perfect blend of comfortable and stylish, which makes them a top pick for errands, travel, and just about any casual outing as well. If you're looking for a versatile gift that the outdoorsman in your life will love, these joggers are the way to go.
4. Free Fly Men's Breeze 8″ Shorts
Shop now:
The Free Fly Men's Breeze 8″ Shorts have solidified their spot as the perfect multi-use short in any guy's gear collection. Crafted from a unique bamboo blend, these shorts are incredibly soft and comfy while having impressive moisture-wicking capabilities.
Ryan has worn these shorts on all sorts of outdoor adventures on land and water and has never had any issues with chafing. They dry pretty quickly too, making them ideal no matter where you're going.
5. Oboz Sypes Waterproof Hiking Shoes
Shop now:
I've been a huge fan of Oboz since 2017 and quickly converted Ryan, too. Their hiking boots are comfortable right out of the box with no break-in period required, are lightweight and breathable yet waterproof, and have great tread for all kinds of terrain.
The Oboz Sypes are my favorite all-around hiking boots out there — great for hiking, backpacking, and even just walking the dogs around the neighborhood. Their low profile doesn't scream "hiking boot" either, which Ryan appreciates. You can read my detailed review of the Sypes here.
6. Darn Tough Socks
Shop now:
Socks might be an old-school holiday gift, but hikers will be thrilled to receive a pair or two from Darn Tough. I've long been a fan of their socks – plus they come with a lifetime guarantee. Crafted in Vermont with merino wool, they promise an unmatched blend of comfort, durability, and moisture-wicking properties.
Ryan's favorite is the Hiker Micro Crew Sock which has extra padding in all the right places (aka fewer hot spots and blisters), but there are tons of different cuts, colors, and patterns available too.
7. lululemon Always In Motion Boxers
Shop now:
Upgrade your guy's boxer collection with the perfect stocking stuffer — a 3-pack of the lululemon Always in Motion boxers. BFT Team Member Linda bought these for her husband for Christmas last year and he loves them – super soft and smooth, comfortable waistband, lightweight, and quick drying.
Plus the design promises a snug yet non-restrictive fit, making them perfect for everything from high-intensity hikes to relaxed everyday wear.
8. Coalatree Trailhead Pants
Shop now:
Linda's brother-in-law can't stop talking about the Coalatree Trailhead Pants and even dubbed them "the best pants ever." And honestly, I can see why. They're rugged and ready for some serious outdoor action. Think hiking, camping, or just lounging around. Yet, they clean up so well, that you can easily sport them at work or even on the golf course — they also have belt loops.
The 4-way stretch means they're comfortable without feeling too baggy plus the elastic waistband makes them feel just as cozy as your favorite joggers. A surprise feature is that they can fold right into themselves, making packing a breeze.
9. Eddie Bauer Adventurer 4S Long-Sleeve Flannel
Shop now:
I don't know about the guy in your life, but Ryan can always use another flannel. Flannels make a great holiday gift, and Ryan loves the Eddie Bauer Adventurer. It's got a classic flannel look with a tapered, modern design. It's soft and comfy — plus it comes in a bunch of colors. Whether you're setting up camp in the mountains or just need something stylish for a dinner out, this flannel does the trick.
10. Patagonia Lightweight Synchilla Snap Fleece Pullover
Shop now:
The Patagonia Lightweight Synchilla Snap Pullover is a great fleece jacket that's perfect for hanging around the campfire or lounging on the couch. Designed with soft, recycled fleece, it provides warmth without being bulky — and it's eco-friendly!
Durability? It's Patagonia, so expect this piece to stand the test of time. I love the classic design and with several color patterns to choose from, you can find the right color combo for the outdoorsman in your life.
11. Tilley LTM5 Airflo Hat
Shop now:
The Tilley LTM5 Airflo Hat is a great gift pick for the man who values sun protection. This hat boasts a UPF 50+ rating and the brim offers 360-degree protection. It's lightweight and the crown has ventilation to provide ample airflow, plus the wicking sweatband manages the moisture. It has a water-repellant finish and it's buoyant in case it ends up in water. There's also a hidden pocket to store a key, ID, or cash and a chin strap that you can tuck away when it's not windy.
12. Oakley Sutro Prizm Sunglasses
Shop now:
The Oakley Sutro Prizm Sunglasses are sure to turn heads — in the best way possible. But these funky glasses are more than just a statement. Equipped with Oakley's Prizm lens technology, they provide great visual clarity, enhancing color, contrast, and detail in tons of different lighting conditions. Their wraparound design also offers side protection against wind, dust, and UV rays.
A close male friend of mine owns these and loves them paddling, hiking, biking, and while driving his van. They come in a variety of colors from bold to neutral so there's sure to be a pair that fits your outdoorsy man's style.
13. The North Face Nuptse Mule Slippers
Shop now:
Slip on The North Face Nuptse Mule Slippers and you may want a pair for yourself! These insulated slippers ensure your feet remain toasty warm even when temperatures plummet. The rugged outsole ensures a firm grip and can be worn both inside and outside. After a long day conquering trails or setting up camp, there's nothing quite like slipping into some comfy shoes, so these make a great gift!
14. Carhartt Canvas Fleece Lined Shirt Jacket
Shop now:
The Canvas Fleece Lined Shirt Jacket is a staple for those chilly outdoor escapades — and it's a really stylish piece of clothing, too. Crafted with Carhartt's signature durable canvas, it promises resilience against wear and tear, lasting for years. The fleece lining acts as a shield against the cold, so it's great for those chilly temps as a layer or standalone jacket. And with its versatile button-front, it's super easy to layer and regulate temperature control.
15. Pistil Beanie
Shop now:
A beanie is an easy gift for any guy on your list — we love Pistil Designs because they're super comfortable and look great on everyone. There's a ton of different color and pattern options so you can pick the perfect one for the guy on your gift list!
16. Arcade Ranger Belt
Shop now:
The Arcade Belt is Ryan's go-to belt choice for both outdoor adventures and everyday wear. It's made of recycled material and super stretchy, which is ideal for hiking since it moves with your body. The micro-adjustable buckle dials in your exact fit and it comes in a bunch of colors. But the best part? It's machine-washable so it cleans up nicely after an adventure.
17. Pit Viper Sunglasses
Shop now:
If you've been spring skiing at any ski resort in the Western US, you've seen people sporting Pit Vipers. Ryan has 3 pairs and gets compliments on them daily. They're polarized and provide wraparound side eye protection which is ideal for outdoor adventures. With a ton of color and pattern choices, you're bound to find a pair that matches your guy's style.
18. Teva Hurricane XLT2 Sandals
Shop now:
The Teva Hurricane XLT2 sandals top the list for paddling adventures, easy water hikes, backpacking camp shoes, and all-around outdoor adventure sandals. They've got good arch support compared to a regular flip flop and the straps allow for maximum stability. The rugged rubber outsole ensures a solid grip, making these a great choice for most outdoor adventures. Plus they come in some funky color combos and patterns to really express your style!
---
19. Montem Ultra Strong Trekking Poles
Shop now:
A good pair of lightweight trekking poles is a hiking and backpacking essential that makes a great gift for any outdoorsman who likes to hit the trails. Montem's Ultra Strong Trekking Poles are a top-rated best seller because they're durable, lightweight, easily adjustable to fit any height, and they're budget-friendly. They also come in a variety of fun colors so you can pick out the perfect pair for the outdoorsman in your life.
20. GCI Outdoor Slim-Fold Cook Station
Shop now:
Hunting for a gift that elevates the outdoor camp kitchen experience? The GCI Outdoor Slim-Fold Cook Station is it. This is the table we carried in our second Sprinter van that Ryan – the designated camp chef – absolutes loved. The multi-tier design and integrated hooks mean you have tons of space for chopping veggies, organizing and storing your cookware, and using your camp stove. It collapses down pretty small too, making storage and transport easy.
Mader with durable steel, it held up really well (and trust me, we put it through the wringer for 4 years), while the heat-resistant aluminum countertop ensures it can handle the heat from stoves or grills.
21. YETI Trailhead Camp Chair
Shop now:
The YETI Trailhead Camp Chair is a top gift pick for its durability, comfort, and quality. This chair makes it easy to maintain a comfortable position with good back posture and is very easy to set up and pack away. It's super sturdy with solid construction so it'll last you years and it has a weight capacity of 500 pounds. It's an all-around awesome chair for car camping and even for at home in your yard. You can read my full YETI Trailhead Camp Chair review here.
22. Gregory Zulu 30 Pack
Shop now:
The Gregory Zulu 30 Pack checks all the boxes that I look for in a hiking daypack, making it a great gift for the outdoorsman in your life. The robust suspension system ensures weight is distributed evenly. The breathable back panels also mean great ventilation for a less sweaty back, according to Ryan who uses this as his go-to pack. It's durable while still being lightweight. The 30L capacity is super spacious for a day pack without feeling bulky, plus there's tons of pockets and compartments to keep your gear organized and easily accessible.
23. Zpacks Duplex Ultralight Tent
Shop now:
If you're looking to gift the upgrade of an ultralight tent, the Zpacks Duplex should be your #1 pick. This is the tent that Ryan and I have used since 2019 (although, we have the 3-person Triplex since we often backpack with our dogs) and could not rave about more.
Weighing a mere 18.5 ounces, this tent uses trekking poles for setup instead of tent poles and is surprisingly super solid even in windy and rainy conditions. It's single-walled, meaning no rain fly, and the flooring is thick enough that you don't even need a groundsheet. You can read our full Zpacks Duplex Ultralight Tent Review here.
24. My Medic Ready Pocket First Aid Kit
Shop now:
Give the gift of wilderness first aid with the My Medic Ready Pocket First Aid Kit. It's compact, making it easy to stash in your backpack or car trunk, but don't let its size fool you.
Packed inside are essential first aid items that can come in clutch when the unexpected happens — and they're color-coded by injury type so it's easy to find what you're looking for. From minor scrapes to those "oops" moments on the trail, this kit ensures you're ready to handle it all.
25. Rocky Talkie Two-Way Radio
Shop now:
Never take staying connected for granted, especially during off-grid outdoor adventures. I found this out the tricky way on my Powder Highway ski adventure. I had grabbed two Rockie Talkies for Ryan and me, making sure we could link up on the slopes without cell reception. Yet, the one day we left them behind? We spent a solid hour separated without any phone service to help. It was frustrating, to say the least.
Rockie Talkies have a wider range than your typical walkies, making them perfect for skiing, hiking, and other outdoor adventures where staying connected is super helpful.
26. Black Diamond Moji+ Lantern
Shop now:
The Black Diamond Moji+ Lantern makes a great stocking stuffer! Petite enough to fit in the palm of your hand yet powerfully bright, this lantern is dimmable and emits a soft light from the frosted globe. I love having a couple of these on hand to create some campsite ambiance and for playing games at night. You can use regular batteries or a rechargeable BD 1500 Li-ion battery (purchased separately). It even has a small hook so you can hang it in your tent and it's water resistant.
27. RTIC Soft Pack Cooler
Shop now:
For anyone who's ever sipped a lukewarm drink on an adventure and thought, "There's got to be a better way," the RTIC Soft Pack Cooler is your answer. It comes in various capacities from 12 cans to 40 cans and multiple color options. I've always been a fan of RTIC as a more affordable version of YETI but with the same impressive temperature control — this cooler keeps drinks cool for up for 24 hours and it's 100% leakproof.
28. Helinox Lite Cot
Shop now:
Elevate your camping and backpacking experience with the Helinox Lite Cot. Perfect for people who just can't seem to get a good night's sleep in the backcountry, this cot takes away some of the common aches and pains of sleeping on the ground by comfortably elevating you just a few inches off the ground.
It's only 2 lbs and packs down to roughly the size of 2 Nalgene water bottles, so this can even be a "luxury" backpacking upgrade. One thing to note is that the cot can create a draft underneath, so it's best for warmer weather camping.
29. YETI Daytrip Lunch Bag
Shop now:
YETI makes some of the most durable and insulated coolers on the market, so their Daytrip Lunch Bag is on our wish list for packing backcountry food and drinks to-go. The outer material is water-resistant meaning this can withstand light rain or even be strapped down to a kayak without getting your food all soggy. It fits a 6-pack of cans (although, it won't fit much else with that many cans inside).
The insulated design means that it'll keep hot foods hot and cold foods cold for hours — but not at the same time. So whether you're packing soup for a chilly paddling adventure or want to keep some beverages cold for a summit celebration, this lunch box has you covered.
30. Therm-a-Rest Compressible Pillow
Shop now:
Give the gift of comfort with the Therm-a-Rest Compressible Pillow. Perfect for road trips, air travel, or even backcountry camping, this pillow guarantees a good night's sleep. Surprisingly compact when packed, this pillow unfolds to offer generous cushioning, thanks to its foam filling that expands to create a cushy pillow. No inflation required, which both Ryan and I find to be way more comfortable than the competition. The polyester cover is soft to the touch and there is a cinch cord to tailor to your firmness preference.
31. Hydro Flask 32 oz. Lightweight Water Bottle
Shop now:
Ditch the single-use plastic water bottles and upgrade your loved ones to a Hydro Flask 32 oz. Lightweight Water Bottle. Made specifically for hiking and backpacking, this bottle is 25% lighter than Hydro Flask's other water bottles. The wide mouth means you can add ice easily and the double-wall vacuum insulation keeps drinks cold for up to 24 hours and hot drinks hot for up to 12 hours.
32. Stanley Pour-Over Set
Shop now:
With its sturdy stainless-steel construction, the Stanley pour-over set is resilient against the rigors of outdoor use, making it the perfect gift for the outdoorsy guy in your life. The design is pretty straightforward and easy to use, plus the integrated steel filter means you don't need to worry about single-use disposables. The cleanup using a pour-over set is a cinch and best of all – Stanley offers a lifetime warranty on all their products.
33. Six Moon Designs Silver Shadow Ultralight Umbrella
Shop now:
The Six Moon Designs Silver Shadow Umbrella is a great gift for the man who overheats and wants to stay cool while hiking and backpacking. This ultralight (weighing only 8.9 ounces!) umbrella reduces the temperature and keeps the sun off your skin and can be attached to your backpack for hands-free use. Plus it can also be used for rainy weather too.
34. Barebones All-in-One Cast Iron Skillet
Shop now:
The Barebones All-in-One Cast Iron Skillet is the ultimate upgrade for the camp chef in your life. Its design is inspired by Japanese cookware and designed for cooking over an open fire. Extremely durable and built to last, this cast iron piece evenly distributes heat, making sure every bite is cooked to perfection. It comes in 3 different sizes – 6″, 10″, and 12″ – and has a Dutch oven-style lid. It also comes pre-seasoned so it's ready to go straight from the box.
35. Hyperlite Camera Pod
Shop now:
Crafted from ultralight, durable, and weatherproof material, the Hyperlite Camera Pod is ideal for safeguarding camera gear on rugged terrains. But here's the kicker: it not only serves as a protective case but also doubles as a camera bag while hiking, eliminating the need for an additional bag. Whether tucked inside a backpack, attached with a carabiner, or clipped to the front for quick shots, it's the perfect companion for every trail photographer.
36. Coast DX330 Serrated Folding Knife
Shop now:
Every outdoorsman needs a quality pocket knife and the Coast DX330 Serrated Folding Knife is a versatile, budget-friendly option under $20. It's the quintessential tool that can be used for cutting guylines, chopping veggies, and tons of other multi-purpose uses in the outdoors. It can even be used as a cord/seat belt cutter and a glass breaker for responder preparedness. With a belt clip and easy fold design, this compact, lightweight knife is a great everyday pocketknife companion. Snag this for a stocking stuffer!
37. Trigger Point Grid 2.0 Foam Roller
Shop now:
Recovery and recovery are as crucial as the adventure itself and the Trigger Point Grid 2.0 Foam Roller has been a favorite tool of ours for years. With its patterned surface, this foam roller targets and massages tight muscles, helping to release knots and improve mobility. It's great to use after hiking, backpacking, paddling, or even long drives where you feel stiff. And its durable construction means it'll withstand consistent pressure without losing shape.
38. Garmin Fenix 7s GPS Watch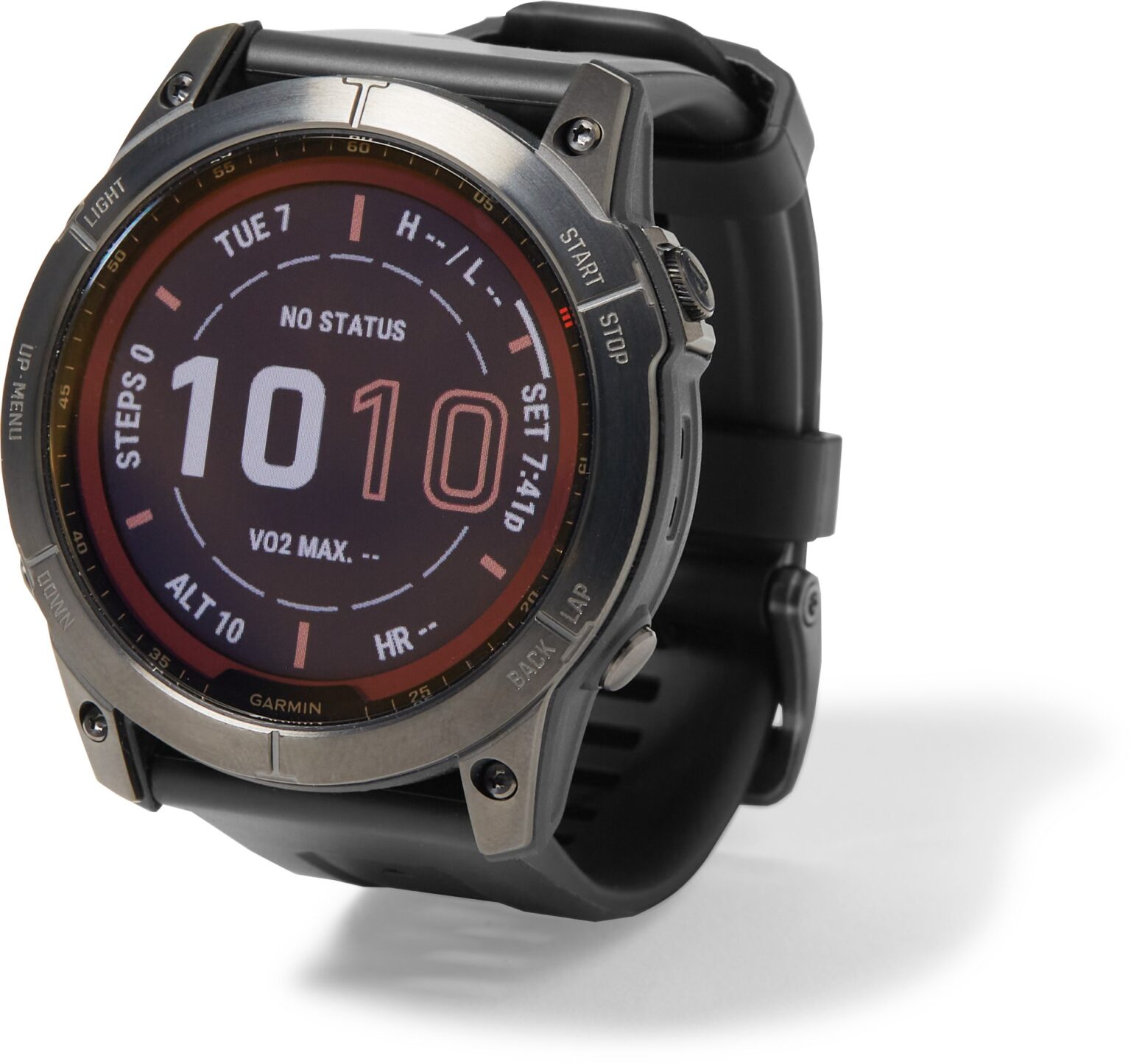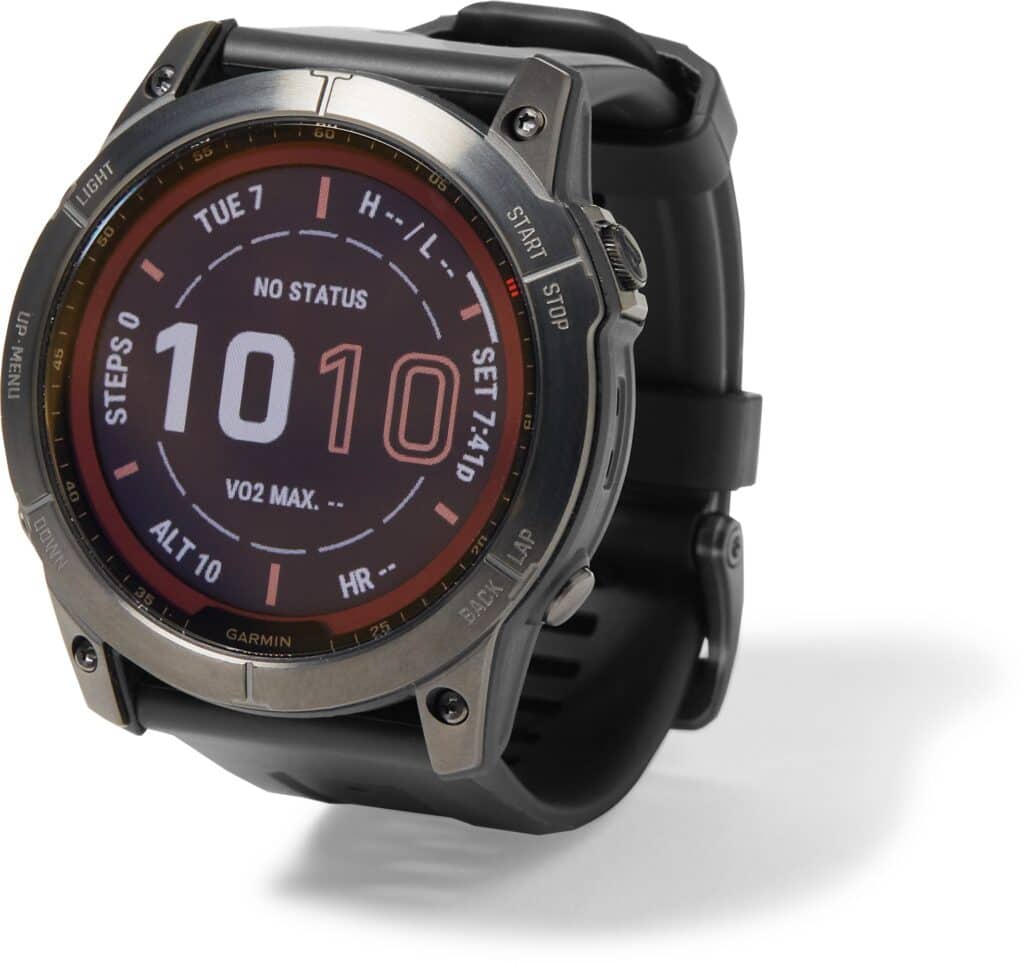 Shop now:
For those seeking a gift that combines cutting-edge tech with the rugged demands of outdoor adventures, the Garmin Fenix 7s GPS Watch fits the bill. This advanced smartwatch offers an array of functions to enhance outdoor activities. With its built-in GPS, it provides accurate tracking of outdoor routes, distances, and elevation. The fenix 7X also incorporates advanced navigation features, including topographic mapping and route planning, ensuring you stay on track during your adventures.
39. DMOS Nomad Shovel
Shop now:
Every adventurer needs a solid yet compact shovel, and that's where the DMOS Nomad Shovel comes in. It breaks down into two pieces making it perfect for tossing in the back of your vehicle, river trips, camping, beach days, and tending to campfires. It's made of super lightweight aluminum that won't rust and is ready for countless years of adventures. It easily fits any backpacks, totes, or trunks, and can be cleaned by just hosing it down.
40. Ooni Karu Pizza Oven
Shop now:
Transform casual backyard gatherings (or camping trips) into memorable pizza parties with the Ooni Karu Pizza Oven! This oven allows you to use wood or charcoal, or a gas burner (sold separately), to make flame-cooked, restaurant-quality pizzas on a hot stone in as little as 60 seconds. It's perfect for hosting!
Plus this pizza oven is relatively lightweight at 26 lbs. and doesn't take up a ton of room. This is the perfect gift for the camp chef.
41. GSI Outdoors Freestyle Table Tennis
Shop now:
Bring out your competitive side with the GSI Outdoors Freestyle Table Tennis. This set is an affordable alternative to a ping pong table as the net attaches to your dining room table. It's the perfect way to add a little bit of fun while you're indoors and it takes up almost no room to store. Win-win!
Save this post to Pinterest
With these picks, you're bound to find the perfect gifts for the outdoorsmen in your life. Which gifts are you eyeing? Do you have questions about any of these recommendations? Leave a comment below!