Preparing for Full-Time Van Life: 6 Questions to Ask
Are you ready for full-time van life? Here are 6 questions to help you find out.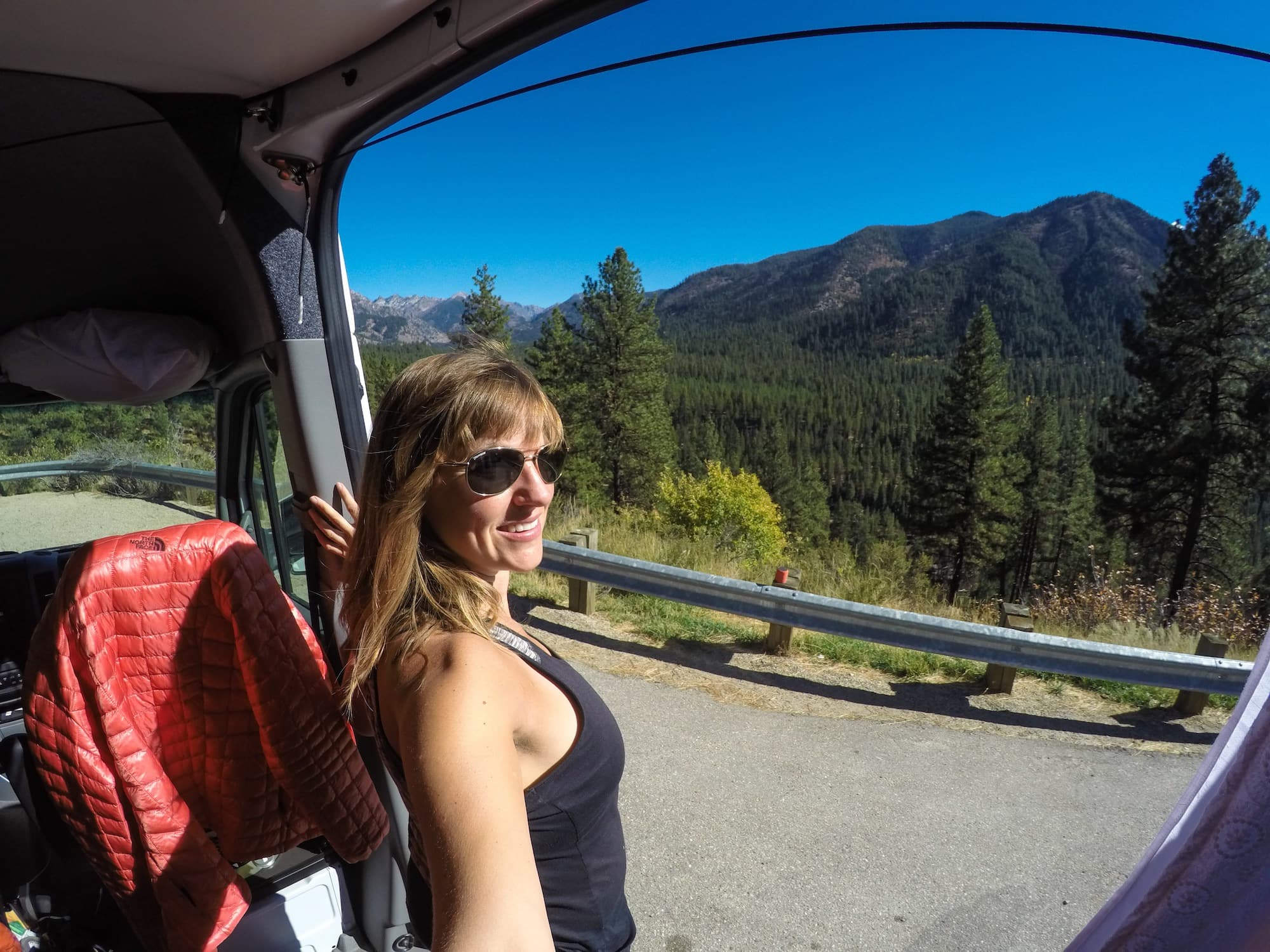 PREPARING FOR FULL-TIME VAN LIFE: 6 QUESTIONS TO ASK
If you are thinking about Sprinter Van life, in the process of buying a Sprinter Van, or in the middle of building out a Sprinter Van, you might be grappling with the question of whether you should give up your home and live indefinitely in a van full-time. In 2016, right after getting my Sprinter Van, I spent nearly a year completely apartment-free. It was a liberating time, but it also came with challenges. In this blog post, I share 6 questions you need to ask yourself before taking the plunge into full-time van life. These questions will help you evaluate the pros and cons and whether you are ready to give up a conventional life (at least for a bit) for the unknown.
*This post is sponsored by REI, my favorite gear company whose mission is to get all people outside, including those of you who want to try van life. For more information and tips about full-time van life, see this post on the REI blog.
[separator style_type="icon" /]
My Full-Time Van Life Experience
When I got my Sprinter Van, I was sure that I wanted to be a full-time vanlifer. I wanted to be bill free, rent free, and have the freedom that came with that. I sold a lot of my stuff, including my car, put the rest of my belongings in a small storage unit, and moved out of my Salt Lake City apartment.
It was mid-August at the time, and my boyfriend Ryan took a few weeks off from his job, and we made our way up to Pacific Northwest for our inaugural trip in my Sprinter Van.
Up until now (2 years later), Ryan has been working full-time as a bartender in Salt Lake. So after those few weeks, I took him back to Salt Lake City and then did the rounds traveling around Idaho and California by myself visiting family and friends.
I had a blast those first few months as I slowly got into my groove with full-time van life.
Right before Christmas, I returned to Salt Lake, and Ryan and I took my van out to the Salt Flats for a night. It got dark at 4pm, and it was freezing cold, so we stayed in the van until the next morning. That was the first time I started to question my decision to live full-time in the van during the winter. Fifteen hours is a long time to be cooped up in a van, especially if you plan on doing it day in and day out…and that night it wasn't even snowing 🙂 . Of course, you can flock south, but my real goal for the winter was to continue to learn how to ski – a commitment I made to myself when I moved to Salt Lake a couple years prior.
That winter, apart from some week long trips down to the desert, I ended up spending a majority of my time crashing with Ryan in Salt Lake City until the season closed at Alta in late April. It was a productive winter for me, and I, of course, enjoyed being home with Ryan for an extended period of time. I launched a brand new version of my website, something I don't think would be possible had I been doing full-time van life, and I also got over 50 days in of skiing.
Once things started to thaw out, I hit the road again. My summer took me to Southern Utah, Arizona, Idaho, Canada, Wyoming, and California, and I slept in the van for over 140 nights, many of those solo. In between my long stretches, I returned to Salt Lake for a couple of weeks here and there to visit Ryan.
This past winter, I decided to nest in Salt Lake again. Ryan and I actually ended up buying a home in Salt Lake City together, and we are renting the basement out to one of our friends. My goal for the winter was to undertake a few big projects, including expanding the Bearfoot Theory team. The balance I'm finding works for me and makes me the happiest is to spend my winters here skiing and working really hard. Then I can spend more time playing when I'm on the road full-time from May through November. I guess this makes me a part-time full-time van-lifer.
Now is full-time van life right for you?
[separator style_type="single" /]
Is full-time van life right for you?
When considering the pros and cons of full-time van life and whether you are ready to give up your home altogether, there are a number of questions you should ask yourself. None of these questions are meant to discourage you, but instead, are meant to help you evaluate if full-time van life is right for you. Part-time is always an option so if you aren't ready to take a permanent dive, you can always use a van on the weekends and for vacation.
1) Do you have to work, and if so can you do so remotely?
Full-time van life can be very different depending on if you have to work or not. This blog has been my full-time job for 4 years now. I have three employees, often put in 60 hour weeks, and reliable wi-fi is very important. Luckily I love what I do, but this means when I'm living in my van, there's a lot of days sitting in coffee shops and staying in towns vs being off-the-grid. My experience as a full-time van-lifer is very different than someone who is able to quit their job altogether and live off of their savings for a year or two, completely on their own terms.
I will say working on the road takes diligence. When an adventure is staring you in the face every morning, it takes dedication to sit at the computer rather than lacing up your hiking boots.
If you aren't sure about working from the road, I suggest going on a road trip for a couple of weeks and seeing how productive you are. You might find that you love remote work and that there's no office with a better view. Or you may decide that you'd rather have a home base to work from, so your work doesn't suffer, and have your van serve as an easy way to escape on the weekends or for vacation.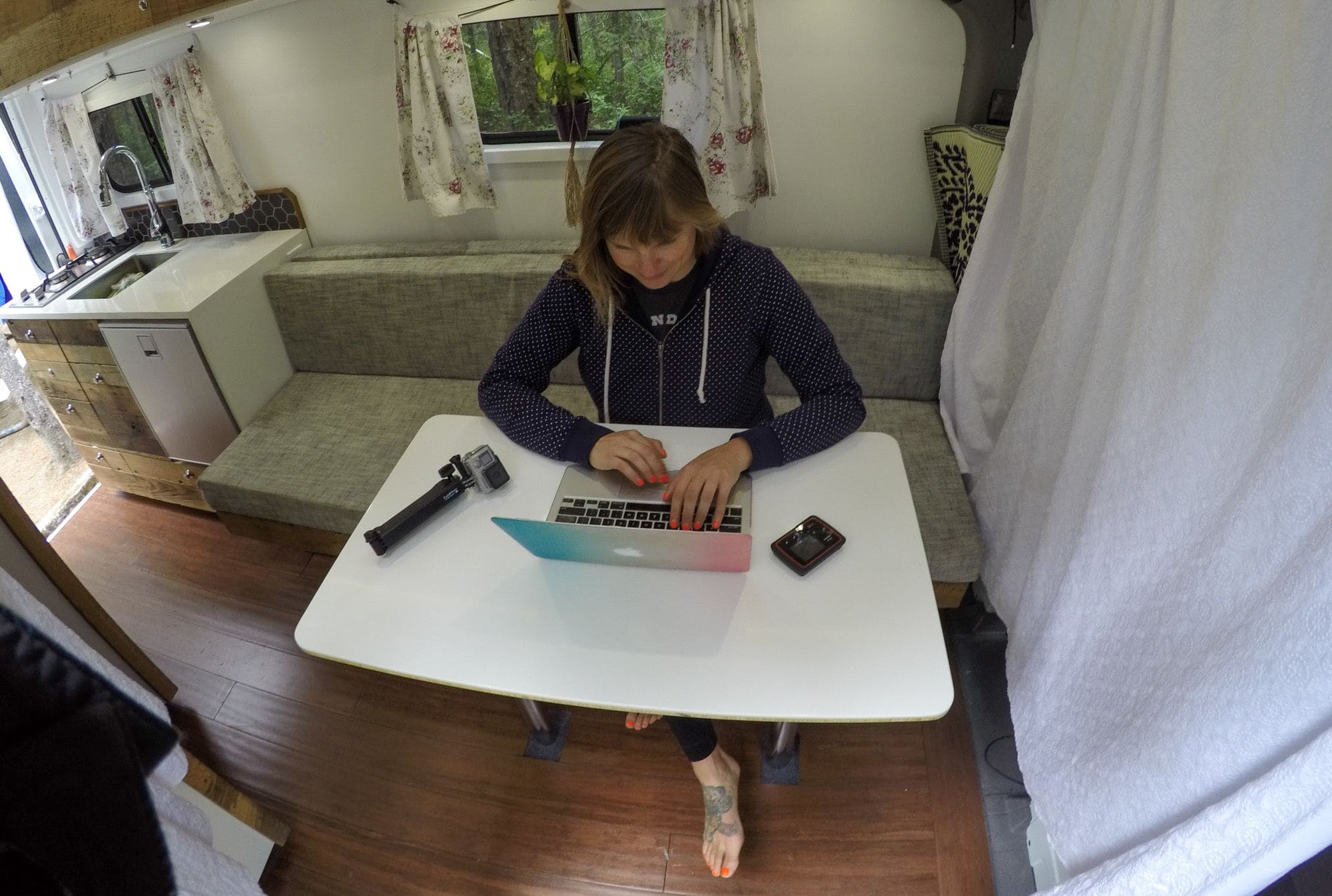 [tagline_box link="https://bearfoottheory.com/campervan-rental-companies-us-road-trip/"]Want to "test-drive" vanlife? Read our guide to renting a campervan for your next US vacation.
[/tagline_box]
[separator style_type="single" /]
2) How long do you want to be on the road?
If you're sure you want to be on road for a year or more then full-time van life is probably for you. In that case, it makes sense to give up your normal home and go fully mobile. You'll save money on rent, bills, and other expenses that come with a house.
If you aren't sure about the length of time you want to travel or you know it's less than a year, consider subletting your house or having a friend take over your room while you are on the road. If you decide that full-time van life is for you then you can always take care of those logistics once you make that decision. If you try out van life for a couple of months and realize that you do in fact need a permanent residence, you'll be happy that you didn't give up your living space.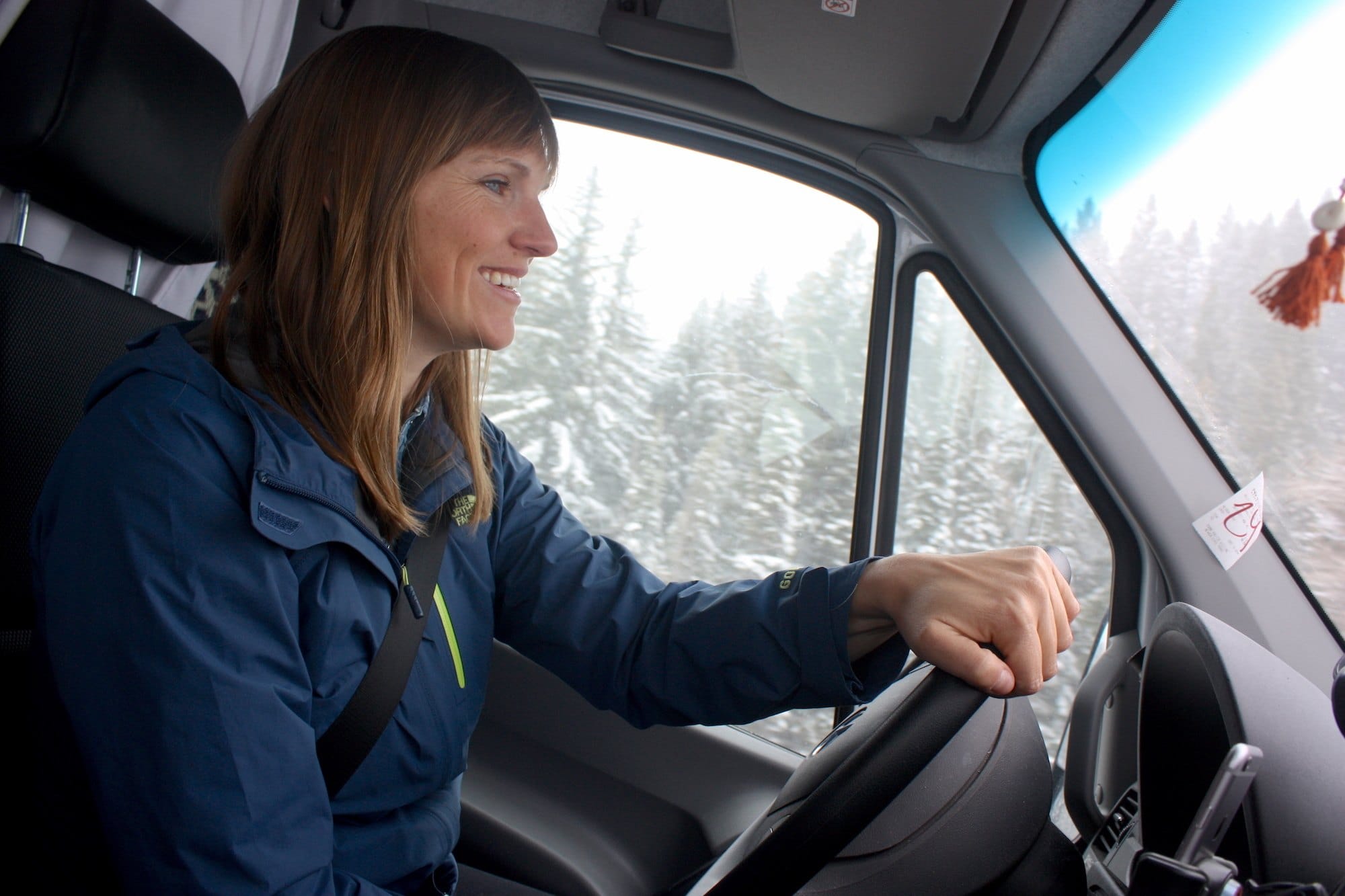 [tagline_box link="https://bearfoottheory.com/sprinter-van-faq-vanlife-questions/"]Have lots of vanlife questions? Check out my vanlife FAQ.
[/tagline_box]
[separator style_type="single" /]
3) How much do you value your stuff?
Should you sell your stuff or put it into storage? As someone who has moved nearly 20 TIMES IN 10 YEARS, I've done the buy and sell, buy and sell routine way too many times. Every time you do this, you lose money when you return and you have to rebuy everything you sold. The flip-side is a storage unit also costs money. When I had my stuff in storage last year, I was paying $125 a month, which added up to $1500 a year. That to me was worth it because I didn't want to go through the hassle of purchasing everything again, and I figured I'd probably break even either way.
If you have a lot of valuable stuff then storage is probably the way to go…unless you aren't really attached to it and plan on being on the road for several years. If your stuff is cheap and you think you'll eventually want to replace it, then by all means, sell what you can. This will give you a little extra cash when you are starting out, and you won't be held back by your stuff that is sitting in a storage unit in a city you might not want to come back to.
[separator style_type="single" /]
4) How will full-time van life affect your relationship?
Do you have a significant other? Can they join you on the road? Do they want to?
I met Ryan right as my Sprinter Van was being converted. I had already made the decision to give up my apartment and hit the road. But then love threw me a left curve. I appreciate solo travel and had a wonderful experience, but Ryan being here in Salt Lake and me being gone all of the time didn't always feel right. And then when I was home, I felt a little bit guilty that the van was sitting in the driveway, and I wasn't utilizing it as much as I planned on.
Spending my winters in Salt Lake and my summers in my Sprinter was the compromise we found that worked. It wasn't always easy, but with a lot of communication and priority-setting, we made it work. Now 2 years and lots of planning later, Ryan is taking 6 months off from work, so he can travel in the van with me full-time. I'm excited for this next chapter and the experiences we will get to have together.
If you and your significant other are hitting the road together, then you need to plan for that too. Is one of you clean and one of you messy? You'll need to work together to find a balance that works. Are you a planner and your partner likes to wing it? Full-time van life as a couple is full of compromises at every corner, and if you aren't willing to work together it can really strain your relationship, particularly since you have nowhere to escape your tiny quarters.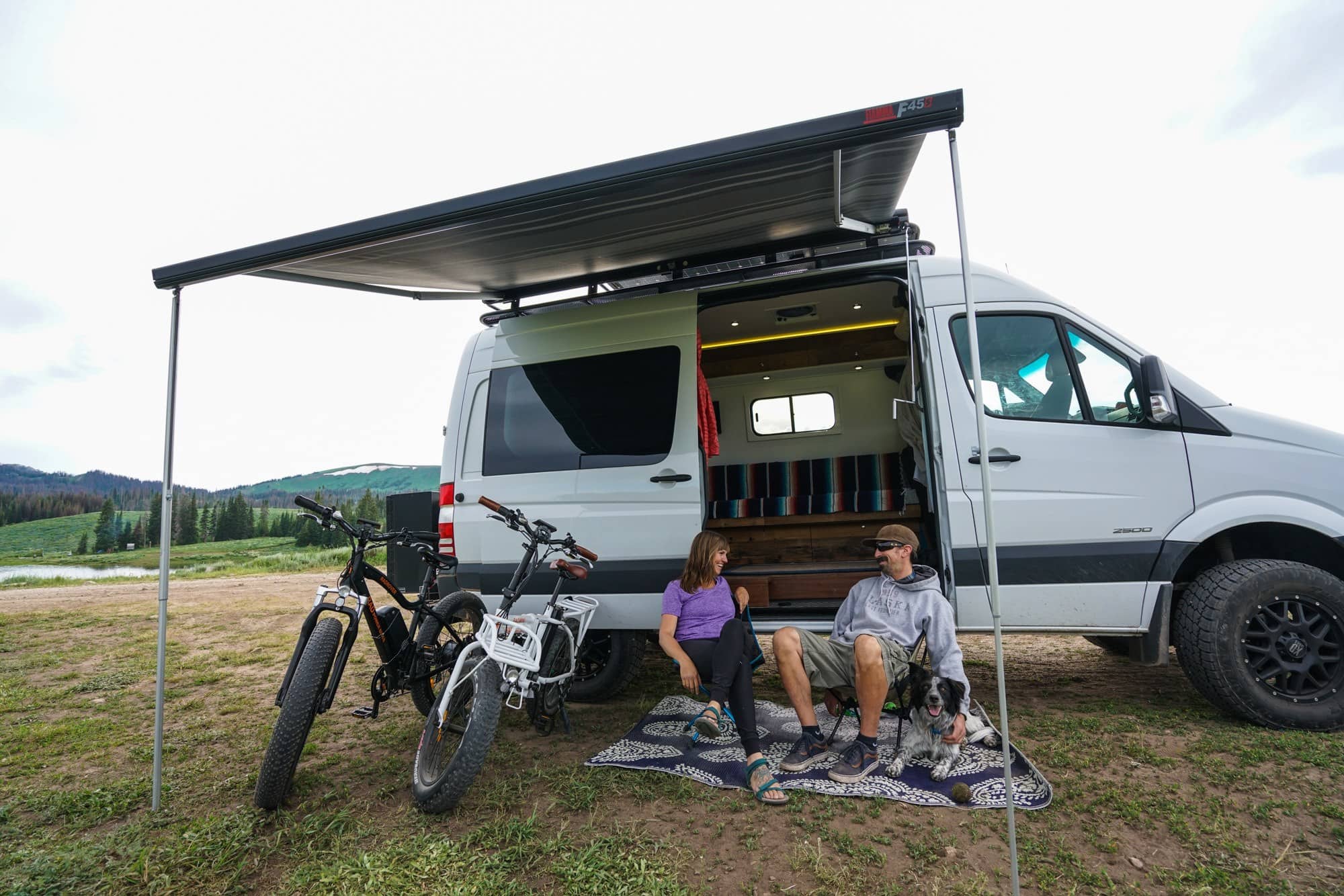 [separator style_type="single" /]
5) What's your plan for winter?
Van life in winter comes with a lot of different challenges.
Here are a few to think about:
It's cold – if you plan to ski, a heater and good insulation is an absolute must, as are warm blankets and lots of warm layers.
It gets dark early – what are you going to do to entertain yourself at night? Going to bars and restaurants to fill up your time gets expensive quick, so you'll need to embrace a hobby and be ok sitting inside the van for extended hours in the evenings. Cooking, reading, journaling, playing games, knitting – the kinds of hobbies that don't take up a lot of space.
Campgrounds are closed – many campgrounds in the winter are closed, leaving you with little options, particularly in mountain towns.
I'm still interested in doing a full-winter in the van to check out different ski areas, but it absolutely takes some advanced planning. If you want to learn more about spending winter in a van, check out this blog post on REI's website by my friend Kathleen of Tiny House Tiny Footprint.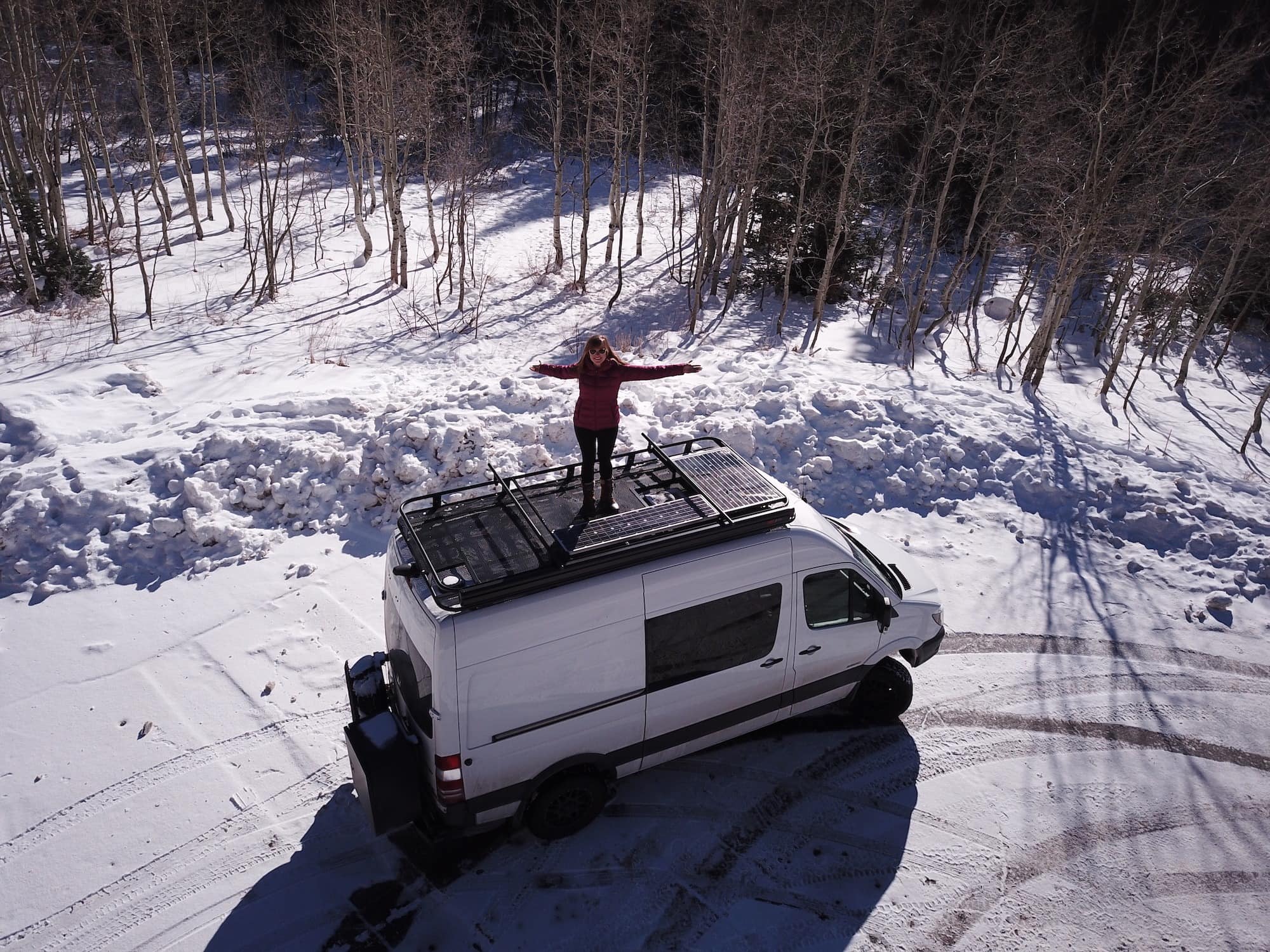 [tagline_box link="http://www.avantlink.com/click.php?tt=cl&merchant_id=e295c418-295a-447c-b265-734e25f82503&website_id=5eb8addb-6c27-4cd2-aca0-9aab9ae1d61f&url=https%3A%2F%2Fwww.rei.com%2Fblog%2Fcamp%2Fsurvive-winter-adventure-rig"]Get more tips for full-time van life in winter[/tagline_box]
[separator style_type="single" /]
6) Do you have the right gear?
Van life is all about minimizing, and you certainly don't need a Sprinter Van and all the latest gear to have an amazing van life experience. There are plenty of people who do it in old Econoline Vans, or even their cars, like my friends Megan and Michael from Fresh Off the Grid. Michael is over 6 feet tall and they spent 13 months living out of their Ford Focus Hatchback. Through that experience, they were able to explore the US and launch their new career as the leading outdoor cooking bloggers.
The point of that is full-time van life can definitely be done without a ton of fancy schmancy stuff. At the same time, there are some essentials you need to get by on the road. With limited space, compact, lightweight, and multi-use is key, and sometimes the versions of the stuff you have at your actual home don't always work for the van.
Here are some examples of gear you'll need to live in a van full-time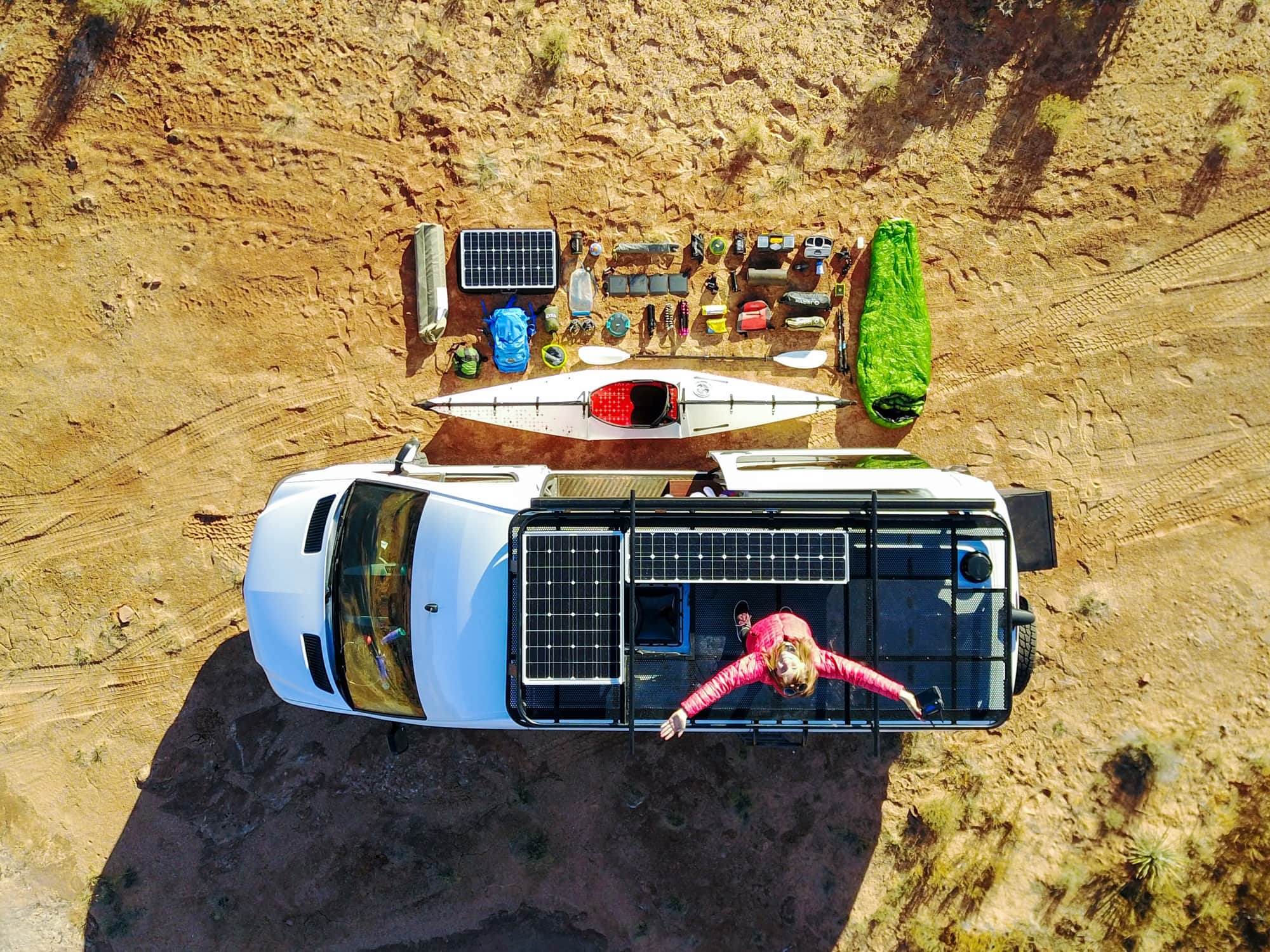 [separator style_type="single" /]
Are you preparing to make the jump to full-time van life? What questions do you have? Leave us a comment below!
[content_box title="Read Next" icon="fa-star-o" backgroundcolor="#eaeaea" iconcolor="" circlecolor="#74c3ae" circlebordercolor="#74c3ae" outercirclebordercolor="#74c3ae" image_width="21″ image_height="21″]
[/content_box]