Best Ultralight Backpacking Gear
Find the best ultralight backpacking gear for your next adventure from ultralight tents, ultralight sleeping bags, and more.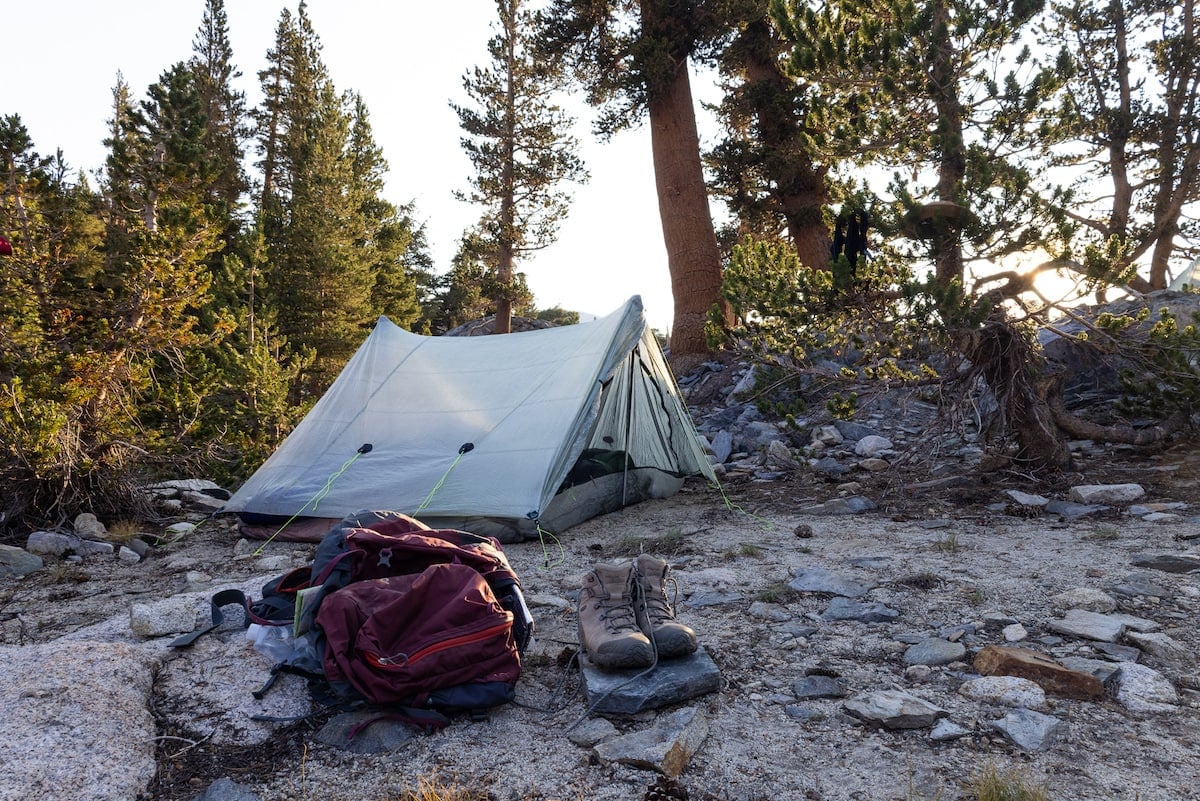 Ultralight backpacking allows the adventurous spirit to see the world on their own feet without carrying the discomfort of a heavy load. Whether you're headed out on a thru-hike or you want to create a system that will keep you comfortable on your local backpacking trails, ultralight gear helps you hike farther and more comfortably.
Learning how to drop a few pounds from your system is a great way to reduce the strain on your body, but figuring out where to start and what to look for in your ultralight gear choices can be really intimidating.
In this blog post, we cover everything you need to know about ultralight backpacking. We've also created a simple ultralight backpacking gear list for "the big three" items (tent, sleeping bag, and backpacking pack) that include some of the best products on the market to help you slim down your pack weight.
---
What is Ultralight Backpacking?
Ultralight backpacking is a form of foot travel that involves carrying an extremely light load. While it isn't uncommon for some backpackers to carry 30 (or even 40) pound loads, lightweight backpackers carry a base weight (everything in their backpack except for food and water) of 20 pounds or less, and ultralight backpackers aim to reduce their base weight to under 10 pounds. Superlight backpackers carry a base weight that amounts to fewer than 5 pounds.
Backpackers' reasons for switching to an ultralight setup vary, but many choose to do so because a lighter load puts less stress on your joints. This means that you can generally travel faster and more comfortably than you would with a 30 or 40-pound pack.
A lighter load may also help you to stay injury free, simplify the packing process, and create space for a few luxury items.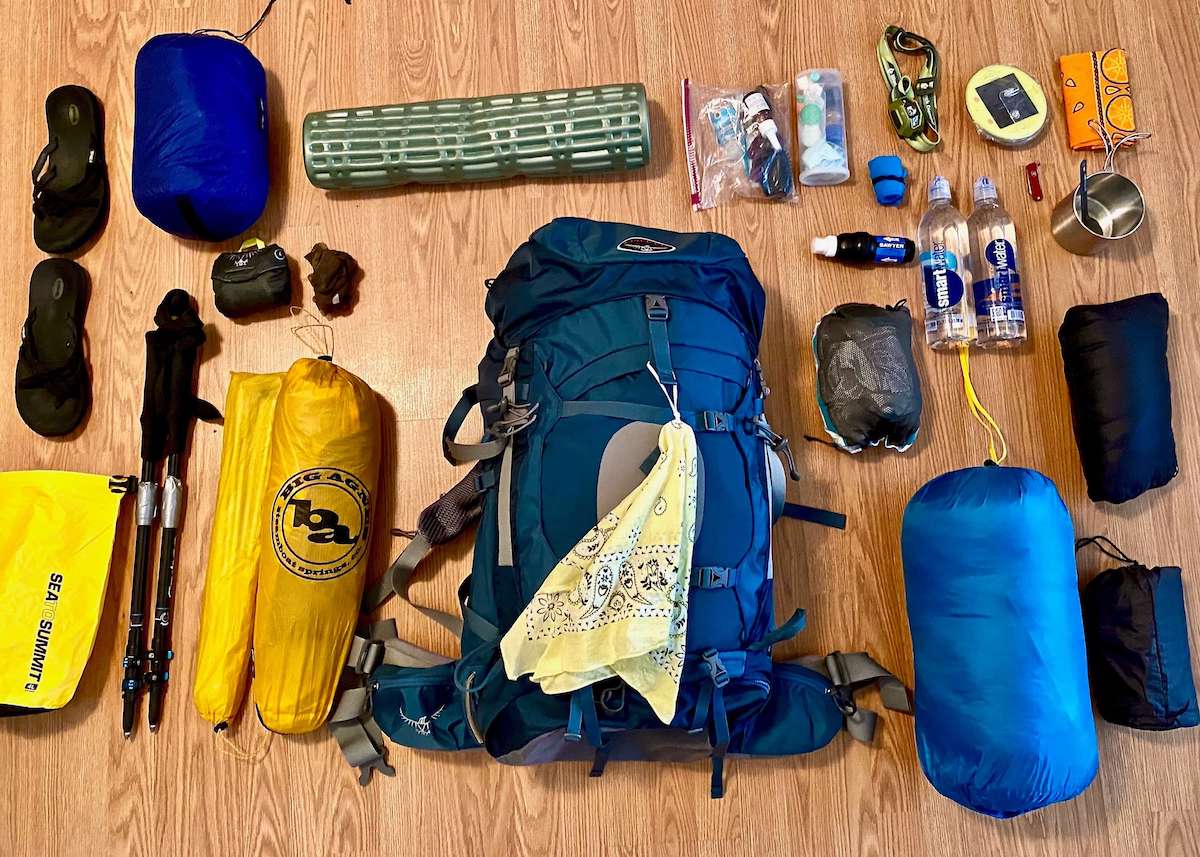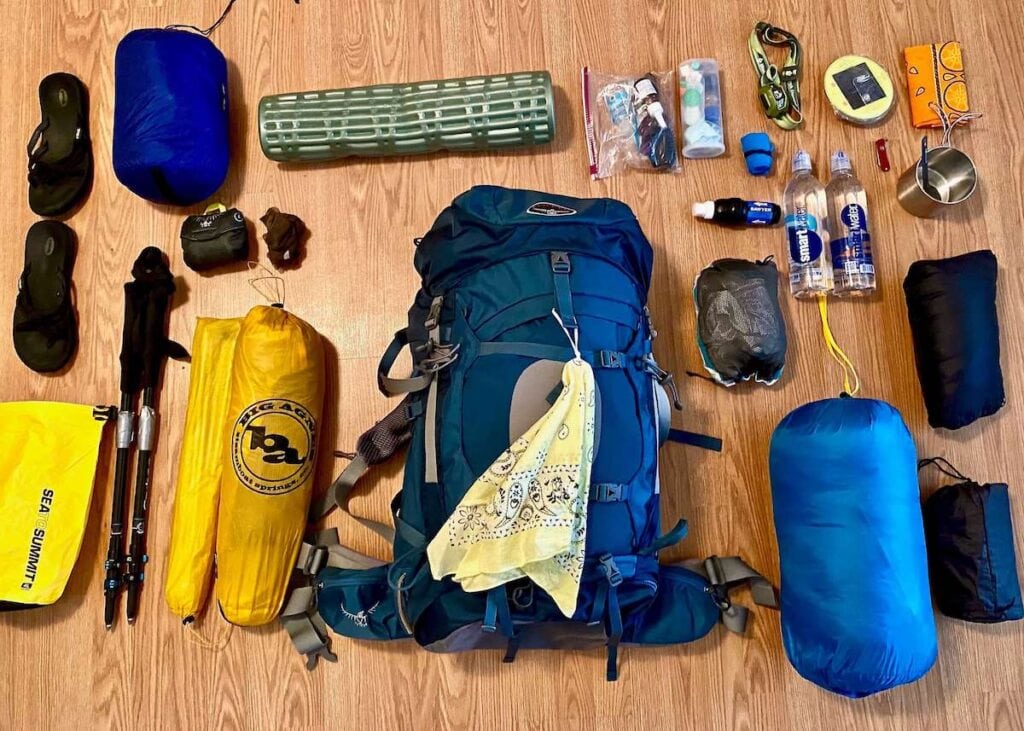 ---
Factors To Consider When Choosing Ultralight Gear
A lot of backpacking gear comes with an "ultralight" label. But there are no industry regulations that categorize just what that means. A few factors that you should consider while you're choosing ultralight gear include:
Is it affordable?
Is it reliable?
Is it safe?
Ultralight Gear Affordability
Ultralight backpacking gear often comes with a hefty price tag. But, depending on the product that you're choosing, it might also give you thousands of miles or several years of non-stop use. If you're working within a strict budget, this is one of the factors that will be most important to you.
Fortunately, it is possible to find lightweight or even ultralight products on a budget.
Another way to save money on ultralight gear is to buy used or wait for sale periods like Black Friday, Labor Day, and Memorial Day.
Read More
Where To Find Budget Gear
Ultralight Gear Reliability
There's a common misconception that ultralight gear is flimsier or less reliable than standard backpacking gear.
While many of the materials that are used to construct ultralight gear are thinner, they're not necessarily more prone to abrasions or punctures.
Still, make sure to take a look at a piece of gear's reliability ratings prior to making your purchase.
Ultralight Gear Safety
Some ultralight backpackers choose to go without popular backpacking items like a stove to shave a few ounces. In some situations, doing so may be an appropriate decision. But keep in mind that comfort items like a stove are also safety items since they can help you fend off hypothermia and boil water.
It's never worth sacrificing safety gear (like a satellite communication device or first aid kit) in the name of ultralight backpacking.
Once you decide to go ultralight, the most important pieces of gear that you should focus on are your "big three": your tent, backpack, and your sleeping bag, which is what we'll talk about below.
These items are generally the heaviest items in a pack, and keeping their total weight below 6 or 7 pounds will set you up to hit that ultralight mark.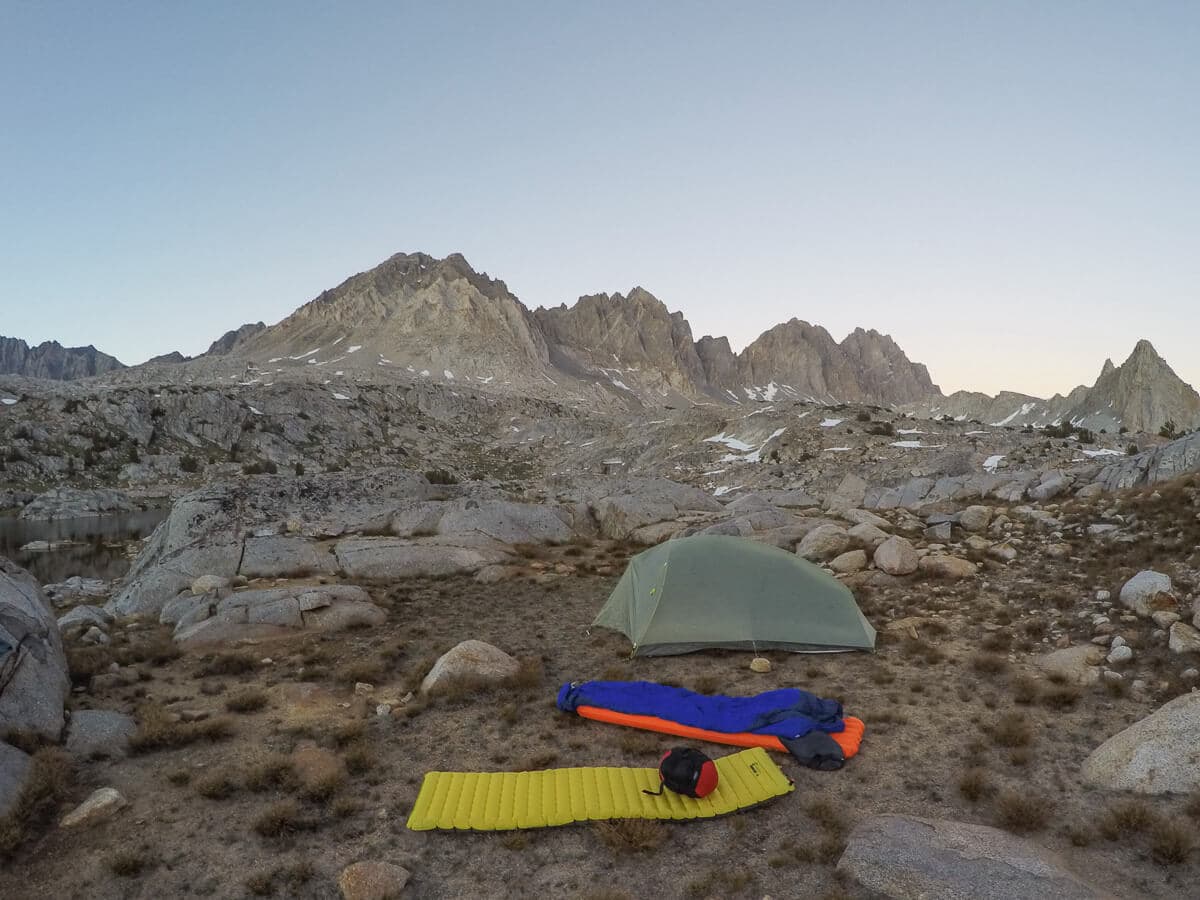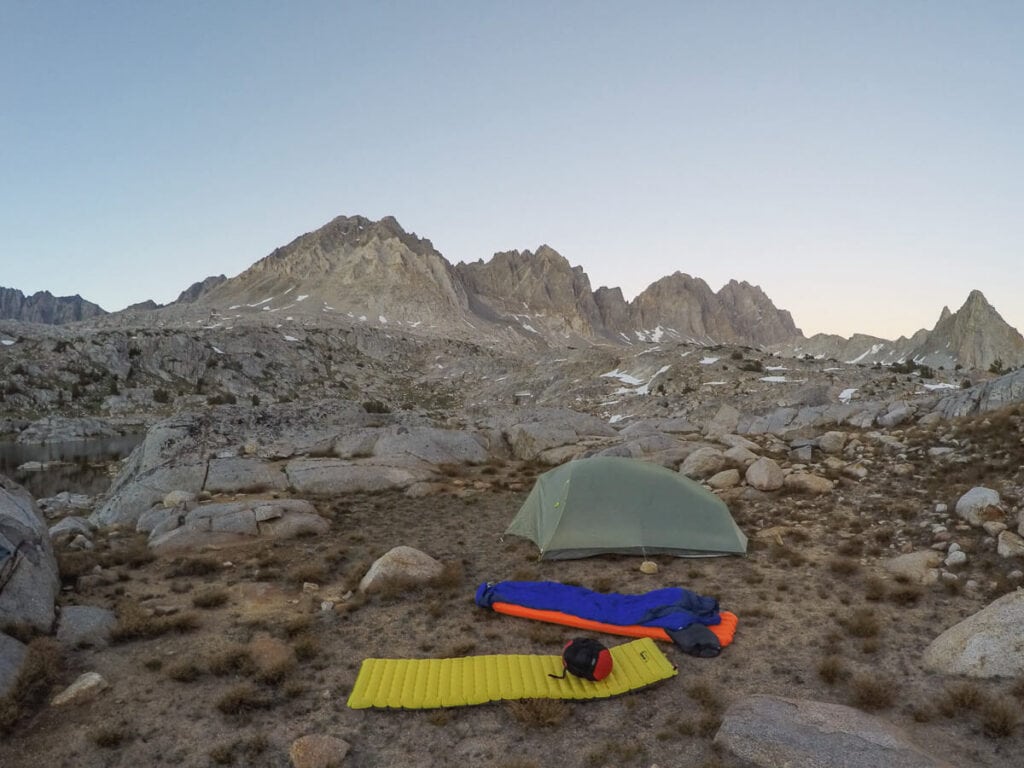 ---
Best Ultralight Backpacking Tents
Ultralight tents come in a lot of different shapes and sizes. Backpackers can often be found in freestanding tents, semi-freestanding tents, trekking pole tents, tarps, hammocks, and bivvies.
Each of these styles caters to a specific type of hiking.
A bivy, for example, is what a hiker might use for a quick and light trip into the backcountry where you need less protection from the elements, while a freestanding tent offers a solution for backpackers who want to be able to set up their home anywhere.
The following picks are some of the most time-tested, lightweight options on the market:
ZPacks Duplex Tent
Great for: solo or partnered usage, thru-hikes, anyone who wants to sit up in their tent.
What we like: Extremely lightweight, very spacious, utilizes trekking poles for set up
What we don't like: Learning curve for set up, can have condensation build-up
The Zpacks Duplex Tent is one of the most popular ultralight tents on the market. It's a two-person tent, but it's lightweight enough that lots of people use it as a spacious one-person tent.
With a sturdy build, backpackers can expect it to stand up to most environments with confidence although it's important to note that you do need two trekking poles to set it up. Alternatively, you can opt for the Freestanding Flex Upgrade.
Backpacking with a tent like the Zpacks Duplex allows you to shave off a significant amount of weight from your setup thanks to the Dyneema(R) fabric, which is also highly waterproof.
A well-treated Duplex will last any backpacker thousands of miles. You're unlikely to meet a Zpacks Duplex owner who hates their tent – and that's saying something! BFT Founder Kristen uses the Zpacks Triplex (3P) tent which is great for backpacking with a partner and a pet.
The main drawback with this tent is that it traps both heat and moisture, which means that you could end up with a little bit of condensation in your tent. But keeping it ventilated will reduce moisture in your tent.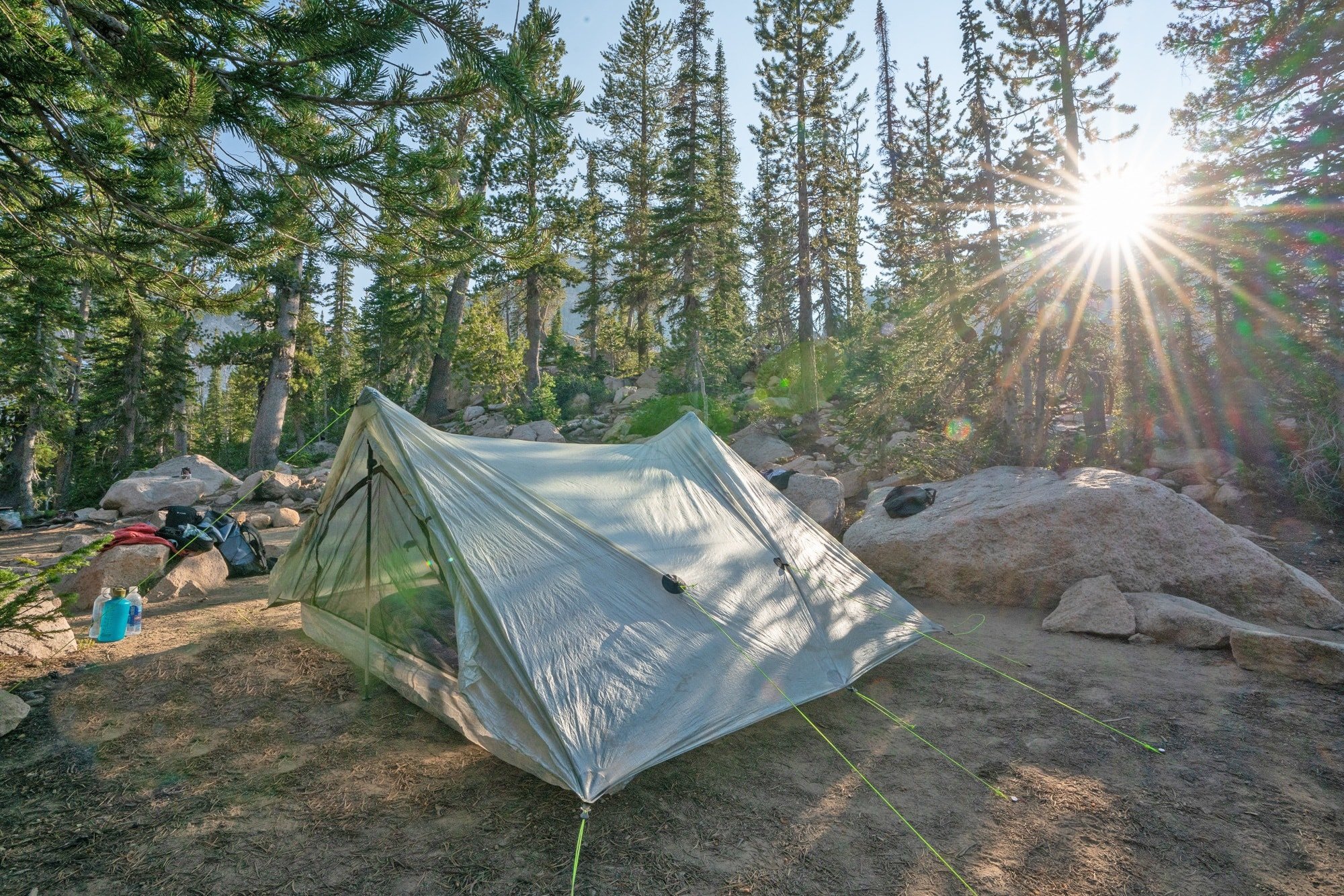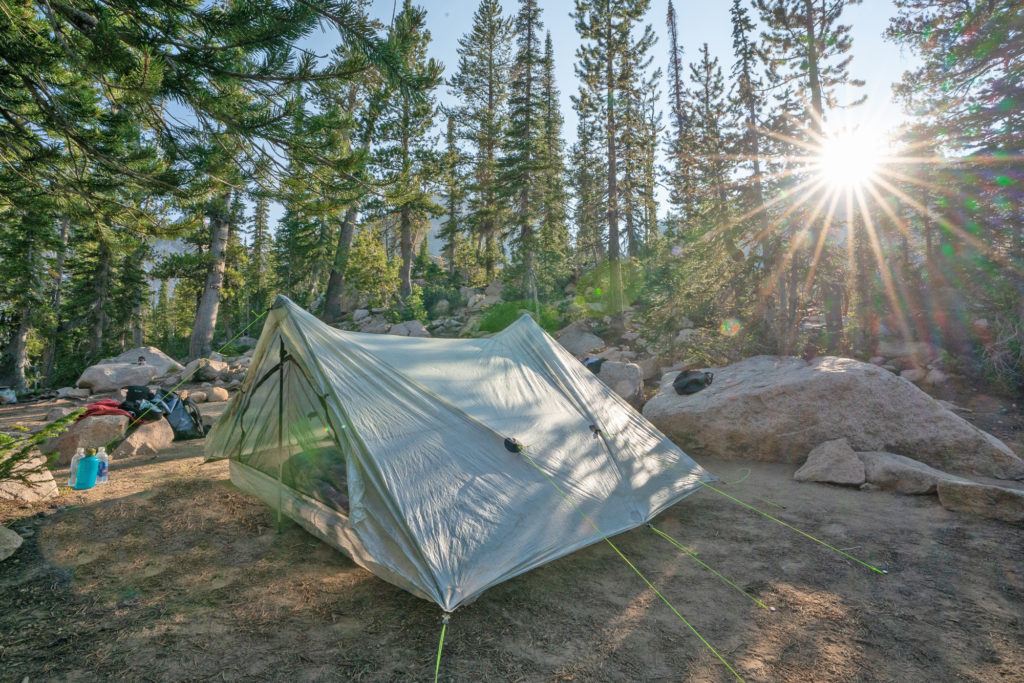 MSR Hubba Hubba 2-Person Tent
Great for: Camping on rock outcroppings and places with hard ground where freestanding tents are easier to set up
What we like: Spacious, durable, freestanding tent, great in inclement weather
What we don't like: Not the most ultralight tent option on the market
The first time I took the Hubba Hubba 2-Person Backpacking Tent out for a spin, I was immediately impressed with its internal space. My friend and I camped together in this tent without fighting for room and both of us were able to stretch our bodies out without hitting the walls.
The Hubba Hubba is a great tent for those who like to camp in spots with hard or questionable surfaces because you can set it up and camp inside of it even if you're unable to properly stake it out.
This tent also comes with two doors, which means that you don't have to crawl over your partner to get out in the middle of the night.
The main issue I had with this tent was packing it down to a compact size. With the help of a compression sack, you can minimize the space it takes up. But in the standard sack that it comes in, it can be really hard to make it small.
Join our community for access to our free member resources!
Download Handy Outdoor Packing Checklists & Trip Planning Guides
MLD Cricket Pyramid Tarp
Great for: Desert campers, dry environments
What we like: Lighter than just about any other tent, very packable
What we don't like: Can be uncomfortable in wet and stormy environments, no protection from insects
It takes a certain kind of person to become truly comfortable with a pocket tarp. But the MLD Cricket Pyramid Tarp makes it easy to make the transition and it's almost half of the weight of other popular ultralight tents.
This tarp has a pyramid style, which means that it gives you a little bit extra protection than a simple square or rectangular-shaped tarp.
Users can customize their tarp, choosing the material and color of the guy lines that they desire. Depending on what choices you opt for, you may add or cut a few ounces.
This tarp requires two trekking poles to set it up but the process is relatively simple and the guylines make it easy to create the right pitch and level of tension that's appropriate for your campsite.
Those who are new to using tarps as their main shelter should stick to arid environments while they're getting used to the MLD Cricket Pyramid Tarp.
But once they get the hang of it, it'll likely become their go-to shelter because of its weight savings and versatility.
---
Best Ultralight Sleeping Bags
One good way to support your ultralight gear goals is by upgrading your sleep system. Consider swapping your sleeping bag out for a quilt.
Quilts function like a sleeping bag, but instead of tucking it down beneath your body, you strap it around your sleeping pad for insulation.
And, since quilts utilize less fabric and down than most sleeping bags, they're generally much lighter than a traditional mummy bag.
Enlightened Equipment Revelation Quilt
Great for: Those who prefer a customized quilt, warmer sleepers
What we like: Cozy, versatile, simple design, lighter than most sleeping bags
What we don't like: Learning curve with strap system to prevent drafts and cold spots while you're sleeping
Enlightened Equipment's best-selling quilt is the Revelation Quilt. This time-tested classic comes in a variety of different temperature options and is fully customizable.
Its iconic zippered foot box keeps your toes warm even when the temps dip low. And, if you want, you can unzip everything and use this quilt like a blanket.
I owned a 0-degree Revelation for a number of years. There were numerous times when I woke up to frost on the ground and frozen water bottles, but I didn't notice the extreme temperature drop because I was so cozy inside of my Revelation.
BFT Founder Kristen uses the Enlightened Equipment Accomplice which is the 2P version of this quilt. It's still more lightweight than some other 1P sleeping bags.
These quilts are reliable, long-lasting, and lightweight, which makes them a great option for ultralight backpackers.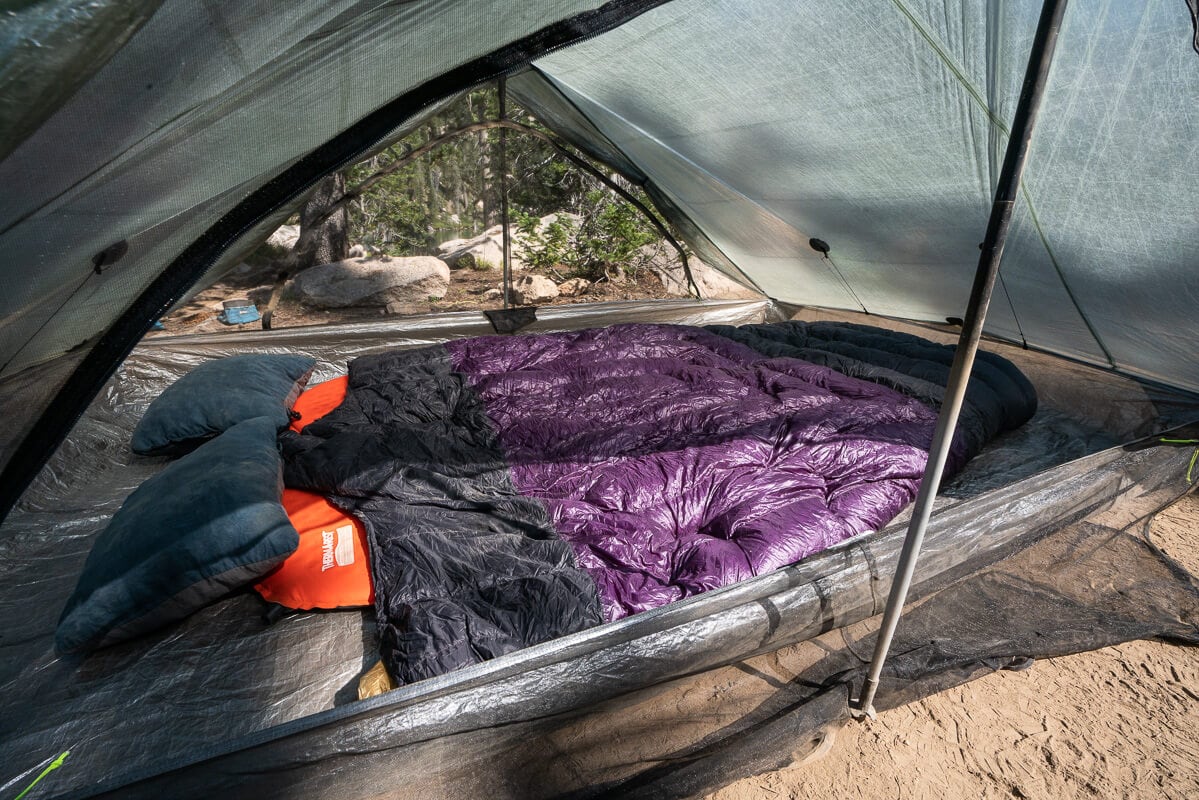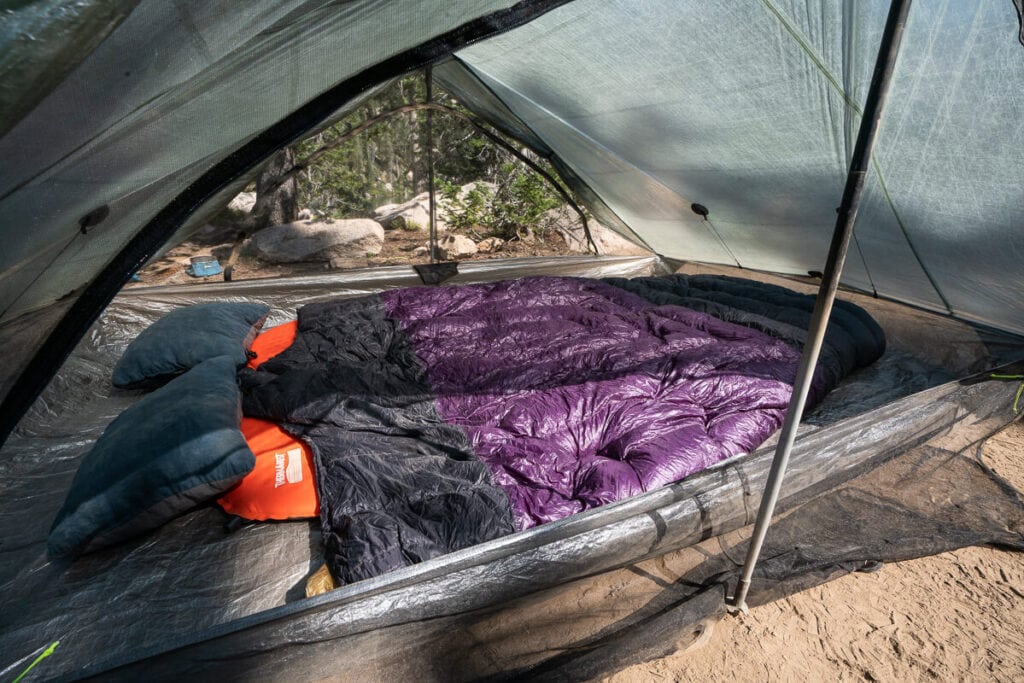 Katabatic Flex Quilt
Great for: Cold sleepers, quilt sleepers who hate a draft
What we like: Long-lasting, warmer than competitive quilts, easy to use
What we don't like: expensive investment
The Katabatic Flex Quilt is my go-to 'bag' for all 3-season backpacking due to its lightweight design and adjustable style. My regular 22-degree, 900-fill power quilt costs $410 and weighs 22.8 ounces. But it packs a serious punch!
In fact, the temperature range on this product is more generous than many competitive products, keeping you warm down to 10 or 15 degrees without issue.
This makes it a terrific pick for cold sleepers and a staple item for many ultralight backpackers.
While this bag is one of the more expensive options on the market, it seldom disappoints its user.
Outdoor Vitals Summit Down Sleeping Bag
Great for: Ultralight backpackers who prefer a traditional sleeping bag style
What we like: Center zipper, warmth, durability
What we don't like: Not the lightest option on the market
Outdoor Vitals is known for inspiring innovation by carefully crafting new ways to experience the outdoors. The Summit Down Sleeping Bag is the perfect example.
This sleeping bag features a center YKK zipper, allowing you to zip or unzip your bag with either arm, and then you can splay it open from the middle.
The sewn foot box keeps your feet extra warm during use and the shell is made out of 10 denier ripstop nylon that is DWR treated in order to reduce saturation during use. This bag is best for ultralight backpackers who aren't quite ready to give up the coverage of a conventional sleeping bag but still want a lightweight option.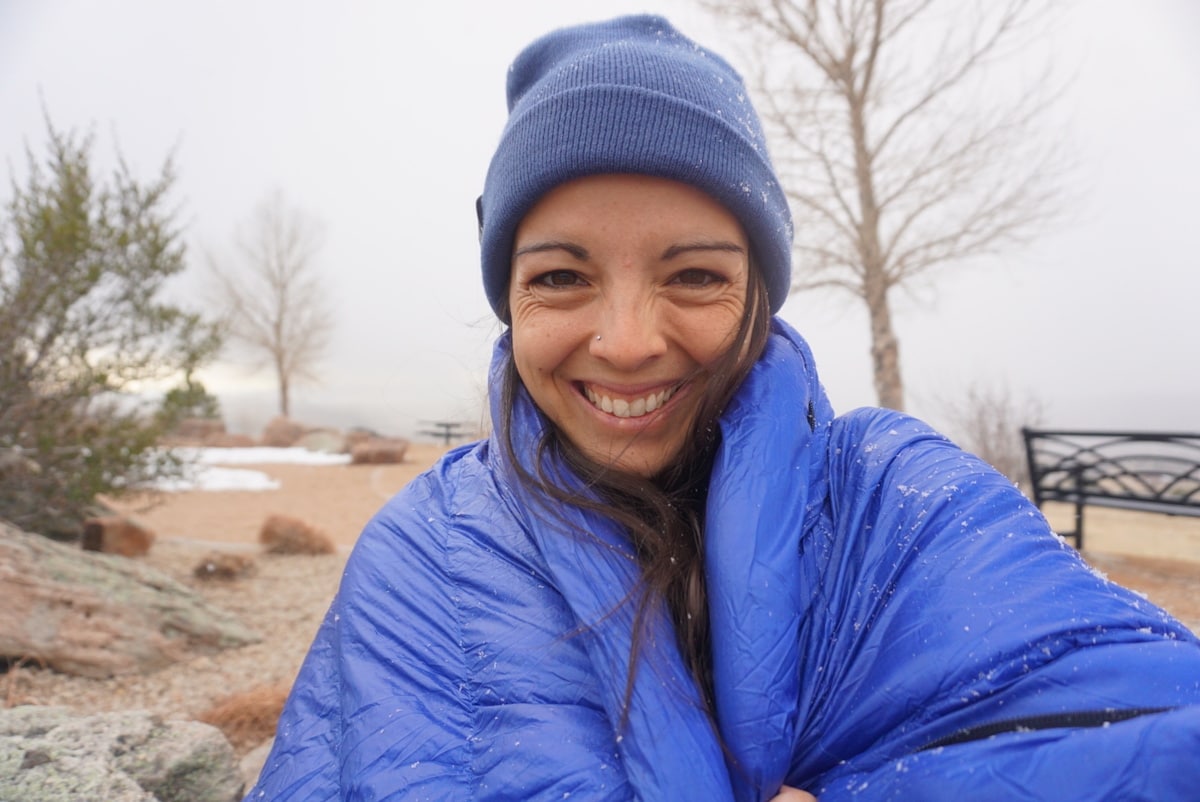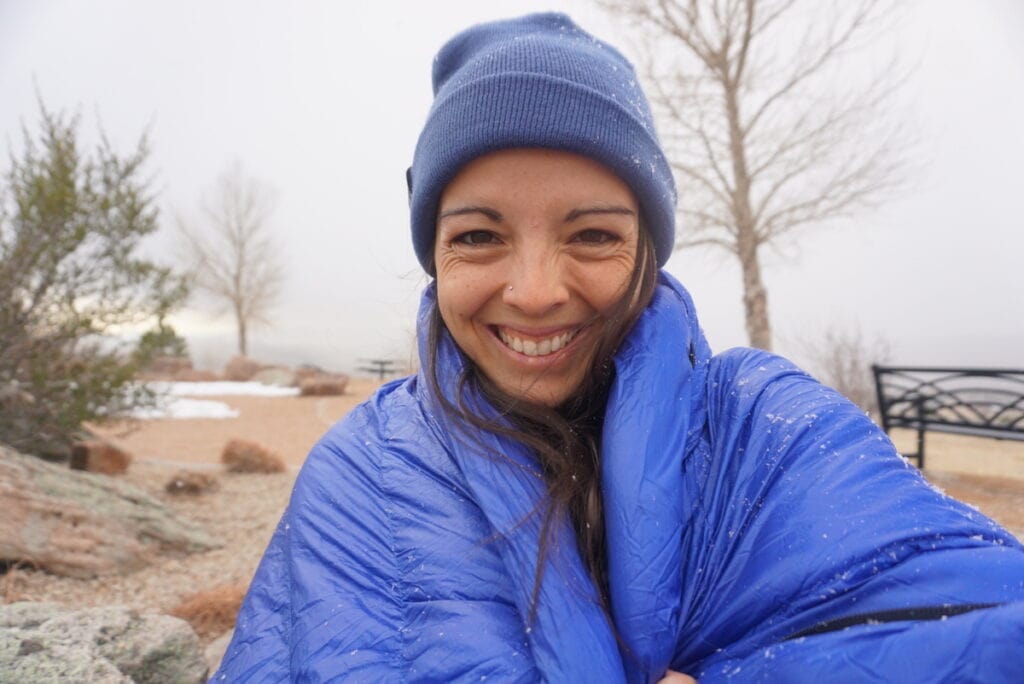 ---
Best Ultralight Backpacks
Ultralight backpacks allow you to carry everything you're using on your back without significantly adding to the load. Fine-tuning your pack's weight is a great strategy you can use to shave a few ounces.
The most important factors to consider include the amount of support that you need, the torso and hip belt length, the pack's capacity, weight restrictions, and weather resistance.
The following packs provide reliable, time-tested solutions for ultralight backpackers.
Hyperlite Mountain Gear 2400 Southwest
Great for: Desert backpackers, every-weather backpacking
What we like: Spacious, great weight-to-capacity ratio
What we don't like: Thin material
If you've ever seen a dialed-in ultralight backpacker before, they were probably carrying the Hyperlite Mountain Gear: 2400 Southwest Backpack.
This pack is a classic option for those who want a strong, durable backpack without the weight.
Available in 40L/55L/70L capacities, this pack comes also in two different color options. The DCF fabric creates a water-resistant barrier between the elements and your belongings. And it's designed to support long-term use.
The Hyperlite 2400 Southwest Backpack is a great pick for both ultralight backpackers and hikers that are looking to make the transition to an ultralight system. This is because it's a lightweight product but its weight capacity is also higher than standard ultralight backpacks.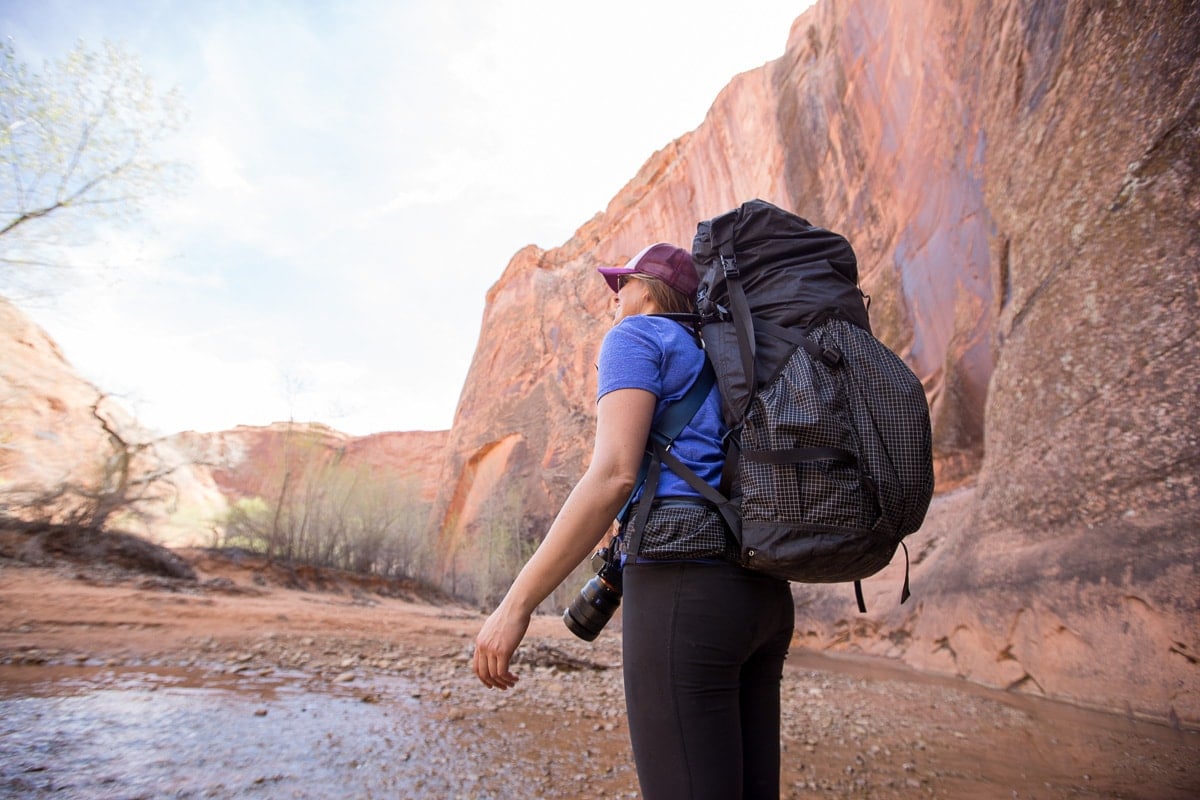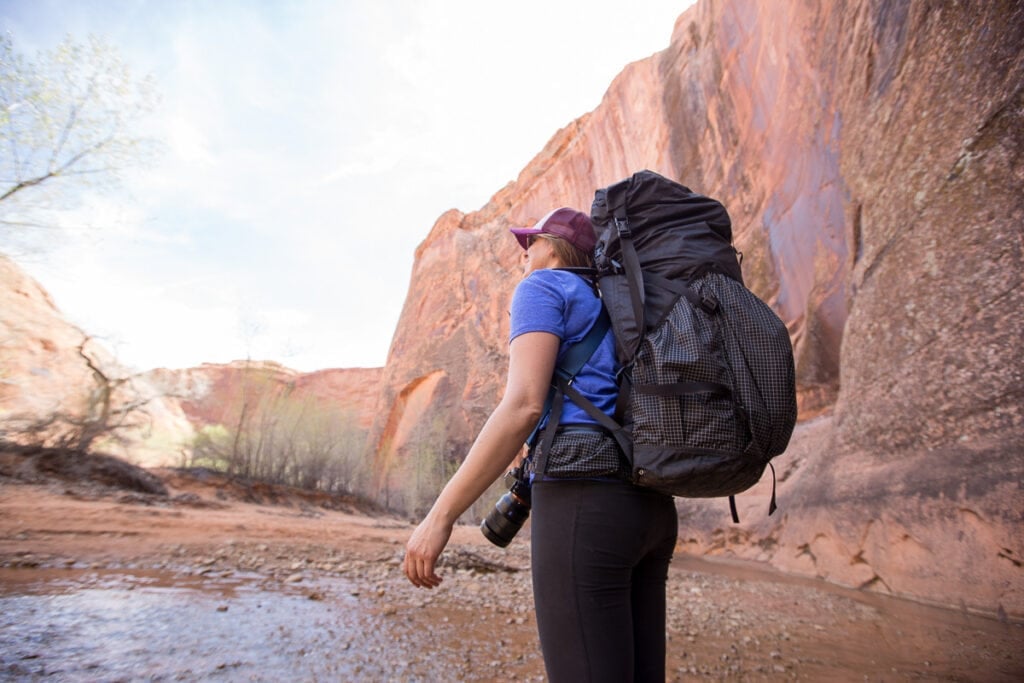 Superior Wilderness Designs Long Haul
Great for: Versatile backpackers, thru-hikes, backpacking in different climates
What we like: Customization, color options, water-resistance, can be made with more durable materials
What we don't like: Shoulder mesh may cause chafing
The Long Haul is one of Superior Wilderness Designs' most rugged and reliable backpacks. It's a customizable pack that comes with 50 liters of internal storage and 10 liters of external storage.
Its large capacity makes it great for multi-day and week-long trips and everything in between. Do you need to be able to carry a bear canister? No problem. This pack has your back.
I carried the Long Haul pack for a thru-hike of the Colorado Trail, for travels across the world, and in casual environments and it quickly became my most-trusted piece of gear. Even after nearly half a decade of use, this backpack continues to perform reliably in every environment in which I use it.
It's also made with a removable frame, which I love because you can adjust it and its weight to accommodate your comfort and backpacking style.
This is a great backpack for anyone who likes a personal touch to their gear, along with a bulletproof backpack performance.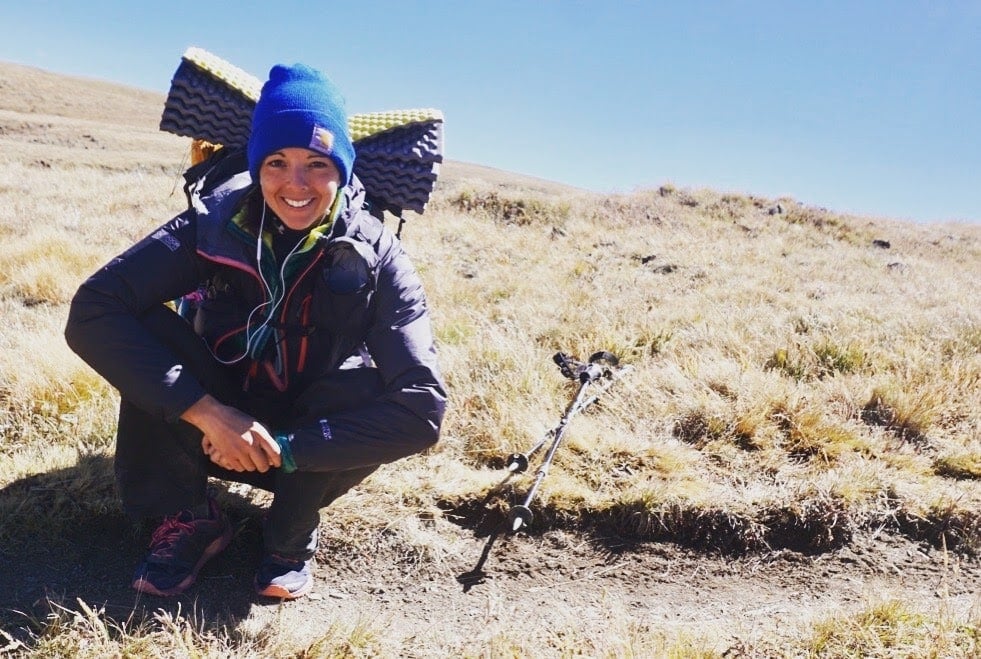 Granite Gear Virga 2
Great for: Uber ultralight backpackers, short trips, advanced backpackers
What we like: Affordable price, easy-to-use strap system, roomy internal and external space
What we don't like: Not great for medium to heavy loads
Ultralight backpackers can often be found cutting weight and giving themselves shakedowns on the weekends. It's an unfortunate side-effect of a seriously-dialed-in system.
But uber ultralights are another breed, entirely. They look for the lightest backpacks and then continue shaving ounces off of their system. And for this style of person, the Granite Gear Virga 2 backpack might be the right pick.
The Granite Gear Virga 2 is a frameless backpack that comes in three different torso sizes with a conventional roll-top closure. This pack features all of the basic necessities like space and tool loops, but it weighs just 19 ounces – or about half of the weight of some ultralight backpacks.
But because of its lightweight design, it's not the most comfortable pack to use for medium to heavy loads. It's best used for short trips or longer trips with an extremely light load.
When paired with its affordable $149 price, this backpack has enough catchy features to turn heads all over the country.
---
Additional Ultralight Backpacking Gear Considerations
The best way to optimize your backpacking setup is by focusing on the "big three" items. But backpackers also look at essential gear like sleeping pads, tent stakes, pots, stoves, cook systems, sunscreen, electronics like a GPS device and headlamp, and clothing like your base layer, hoodie, rain jacket, and boots to see where they can swap for more lightweight gear.
You can and should continue making adjustments to your kit even after you've designed your first system to give yourself the best and most comfortable ultralight backpacking gear setup possible.
Learning how to go ultralight can take some time and effort. But once you've dialed in your big three items, it's a lot easier to do so.
A few additional gear items that may help you to achieve your ultralight goals include: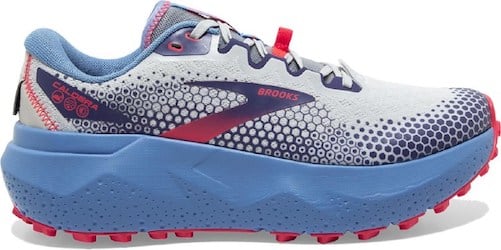 Brooks Caldera 6 Trail Shoes
1lb 2.2 ounces (pair)
These trail runners shave some weight without forfeiting comfort and support. It's not uncommon to find shoes that weigh 22 ounces or more. These come in at half of that.
Shop at:
---
Tips For Shaving Weight From Your Pack
While keeping your "big three" ultralight is the easiest way to lighten your load, there are other easy ways you lighten your load while backpacking: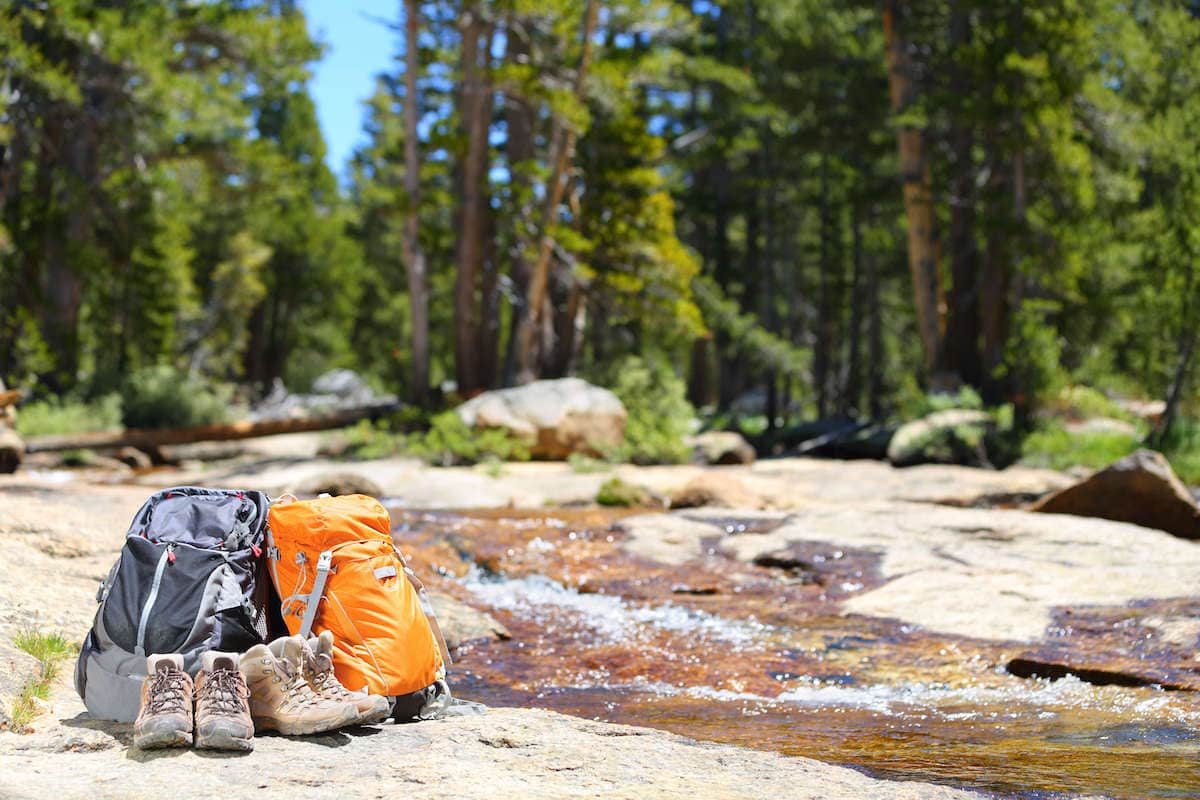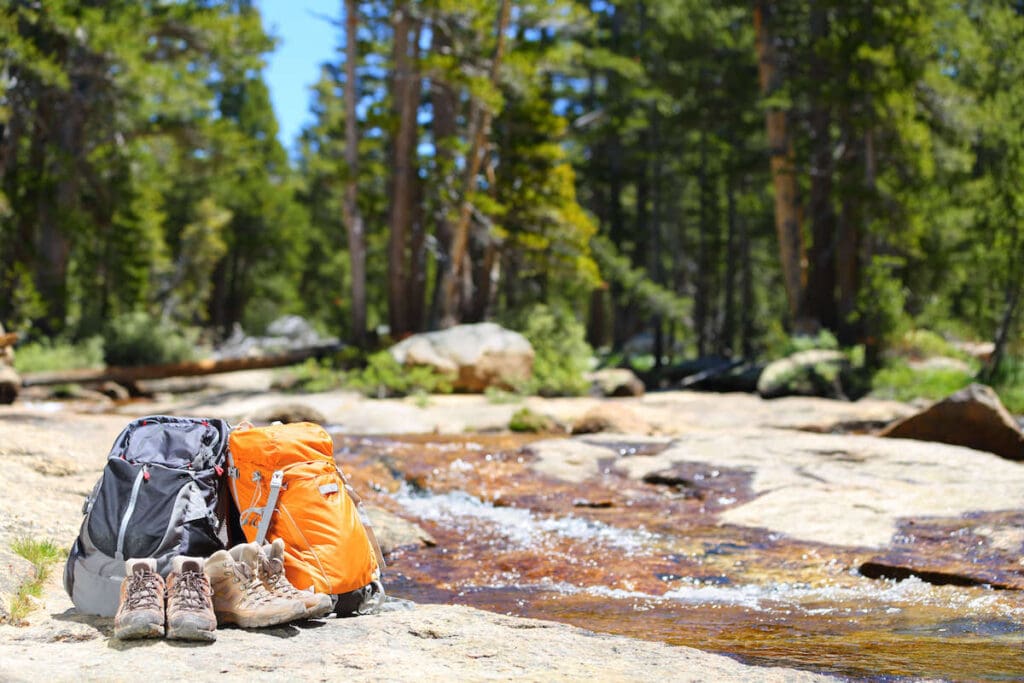 I hope this post helps you on your journey toward ultralight backpacking. Remember that there is no 'right' gear set up and it may take you a few trips or even years to dial in your approach. Most of all, have fun!
Still getting your ultralight backpacking gear dialed? Keep learning with these backpacking gear blog posts:
Are you an ultralight backpacker? What are your go-to 'top three'? What other tips can you share? What other questions do you have? Leave a comment below!