How To Backpack Cirque of the Towers in Wyoming (+ Itinerary!)
Learn all about backpacking the Cirque of the Towers in Wyoming's Wind River Range including planning, permits, when to go, tips, and more.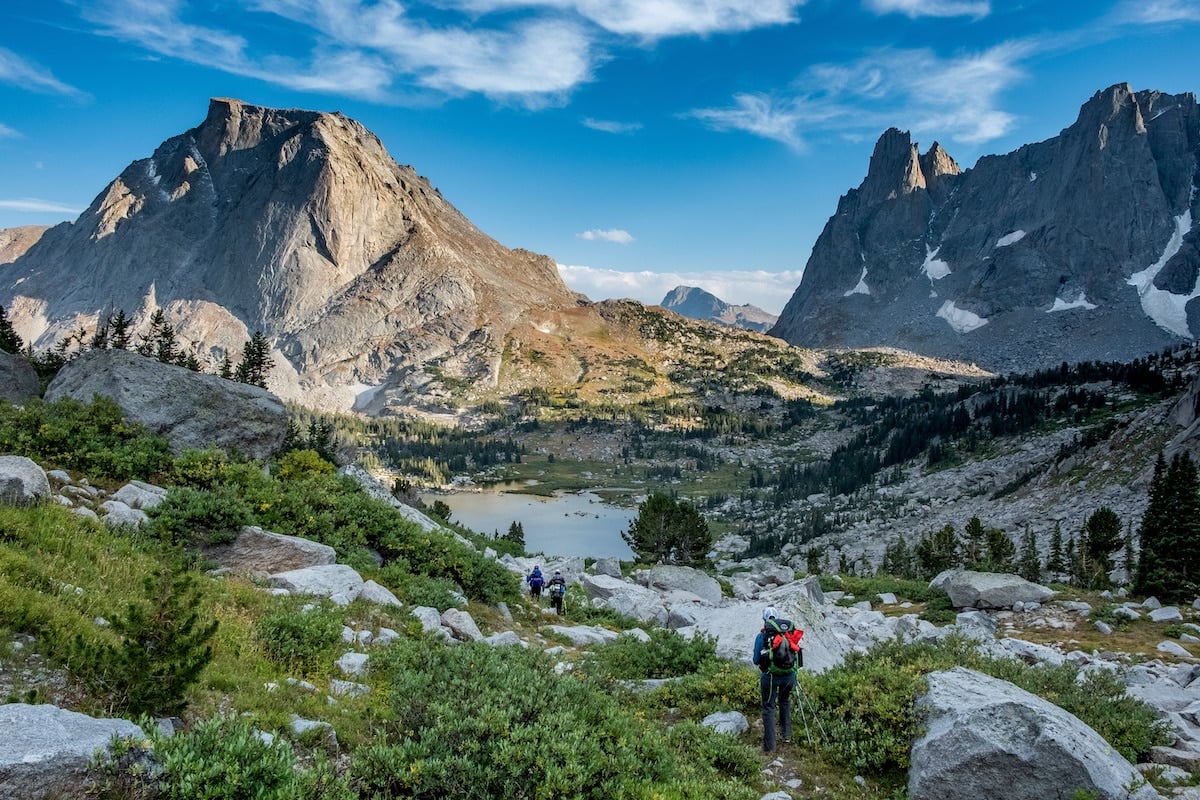 The Cirque of the Towers not only sounds like it could be the next installment of the Lord of the Rings movie franchise, but it could also easily stand in for the trilogy's mythological Middle Earth.
One of the jewels of Wyoming's Wind River Range, the Cirque of the Towers is a ring of 12,000-foot-high granite peaks that crown the Continental Divide — and it's an epic backpacking spot.
But the area's remote location (two hours southeast of Grand Teton National Park) and long multi-day approach keep crowds at bay.
In fact, you don't even need a permit for this backpacking trip!
For years, the Wind River Range was my ultimate fantasy place to visit. It seemed like every time I saw a stunning photo of sharp silvery granite peaks in a magazine the caption always pointed to the Winds.
When I finally backpacked into the Cirque of the Towers for 4 days one early August, the scenery and setting easily surpassed my high expectations, and below I share everything you need to know to plan your own Cirque of the Towers backpacking trip.
Join our community for access to our free member resources!
Download Handy Outdoor Packing Checklists & Trip Planning Guides
---
Cirque of the Towers Backpacking Overview
There are several ways to approach the Cirque of the Towers but the closest access trailhead is the Big Sandy trailhead, about 2 hours of driving from Pinedale, Wyoming.
This drive includes 27 miles of dirt roads, the last 10 of which tend to be rough but are usually passable in a 2WD car.
It's possible to hike to the Cirque as a 18-mile out and back via Big Sandy Lake over Jackass Pass but if you have the time, it's much better to make a 25-mile loop.
The loop can be hiked in either direction, but clockwise is better for navigation and elevation gain.
The route I took (and what is outlined below) starts from the Big Sandy trailhead and heads due north past Meeks Lake and onto the Continental Divide Trail. Then you'll head east to Shadow Lake and begin making your way up the drainage past several unnamed lakes to cross the Continental Divide at Texas Pass.
At the top, you'll get your first look down into the Cirque, which is tucked on the east side of the Continental Divide. Plan to spend at least two nights in the Cirque (it's too gorgeous not to!), then you'll leave over Jackass Pass to the south, hiking past Big Sandy Lake to return back to the Big Sandy trailhead.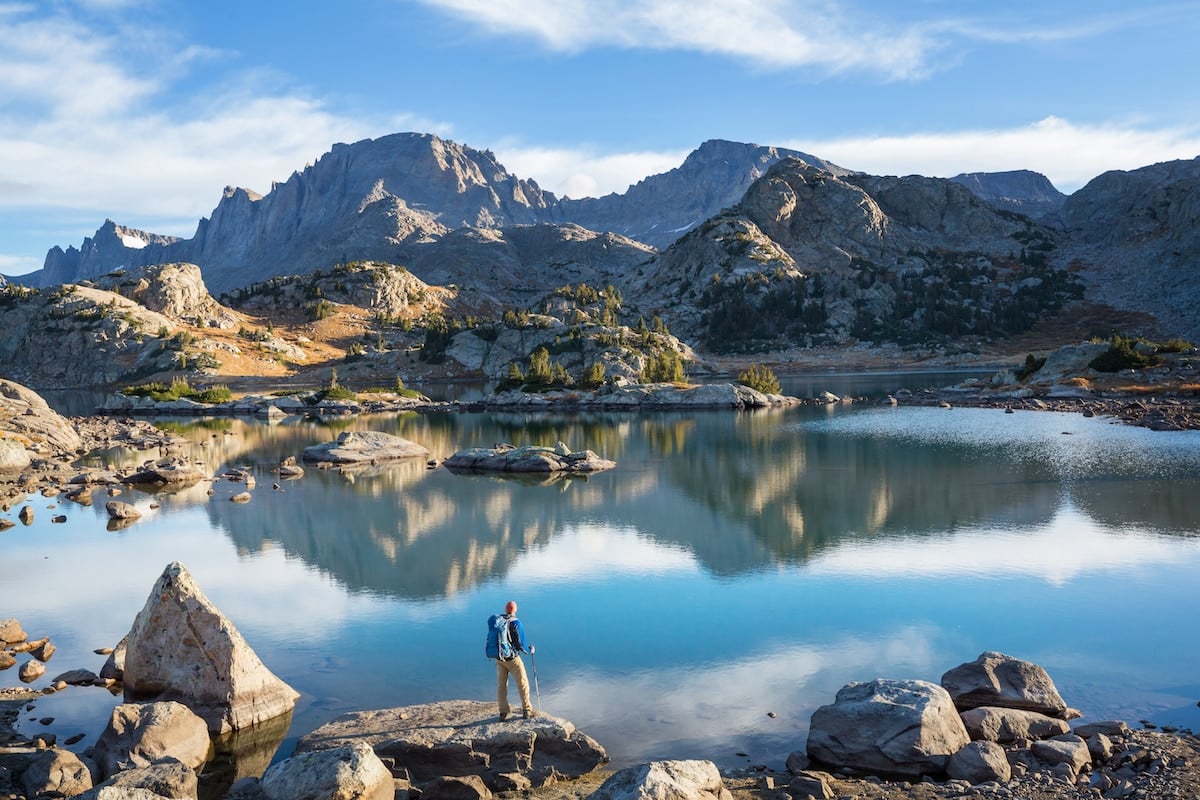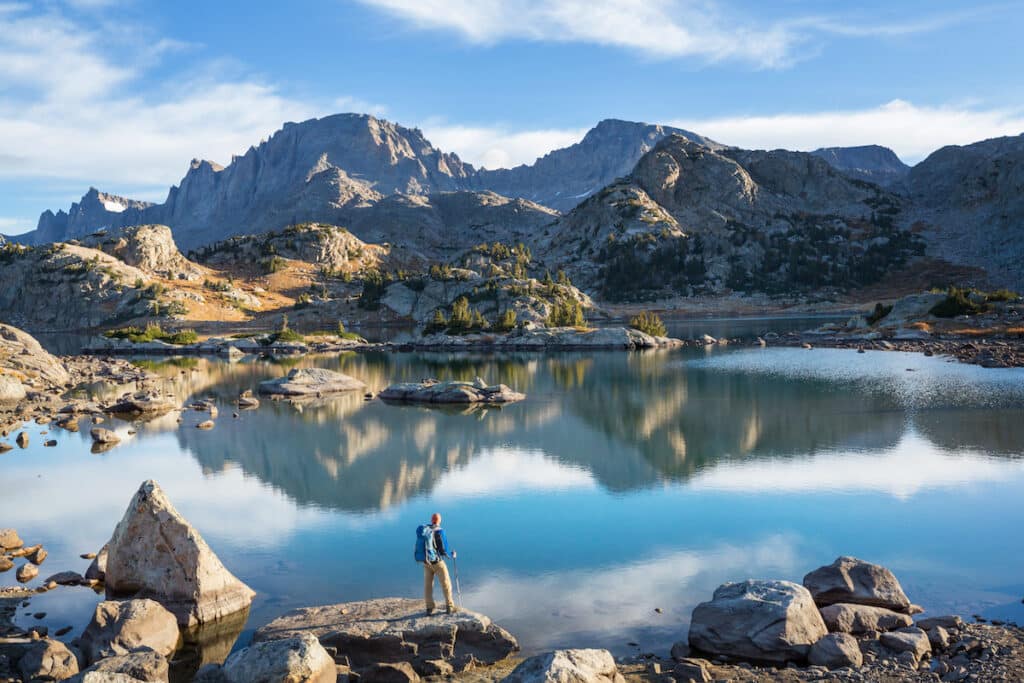 CIRQUE OF THE TOWERS TRAIL STATS
Total Distance: 25 miles
Total Elevation Gain: 3,900 feet
Lowest Elevation: 9,085 feet (Big Sandy trailhead)
Highest Elevation: 11,434 ft (Texas Pass)
Difficulty: Strenuous
Dogs Allowed: Yes
Permits Required: No
Recommended Time: 5 days/4 nights (including 1 layover day in the Cirque)
Cell Service: None
---
Best Time To Backpack the Cirque of the Towers
The Wind River Range has 40 peaks over 13,000 feet and hundreds over 12,000 feet. This high and remote mountain range is famous for its deep winter snow that doesn't melt out until late summer.
The best time for a Cirque of the Towers backpacking trip is in August or September when the snow has melted from the passes and the bugs have tapered off. But keep in mind that winter returns quickly to the Winds and major snowstorms can occur in September and October.
On low snow years, the Cirque of the Towers may be accessible in June and July, but mosquitoes and biting flies are worse earlier in the summer, usually peaking from mid-June to mid-July. July and August are also when wildflowers are most present in the Winds.
Both of my backpacking trips into the Wind River Range – to the Cirque of the Towers and Titcomb Basin – took place in early to mid-August and the timing was perfect. The days were warm, the nights cool (but not cold), and the bugs were very manageable.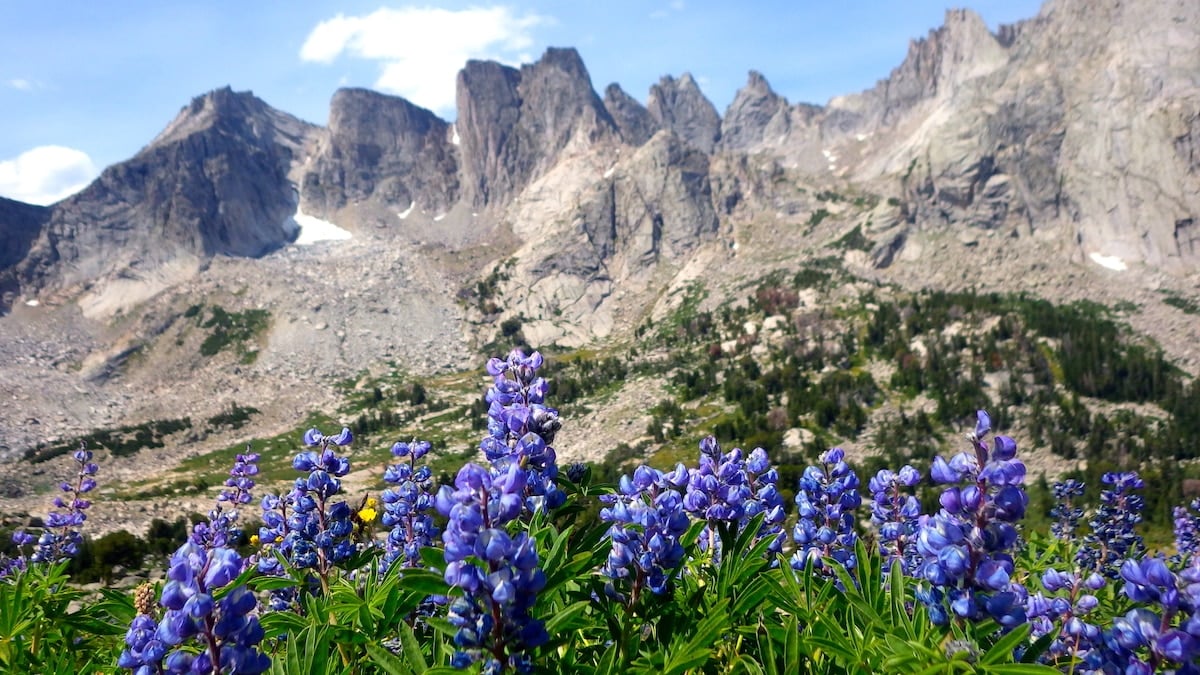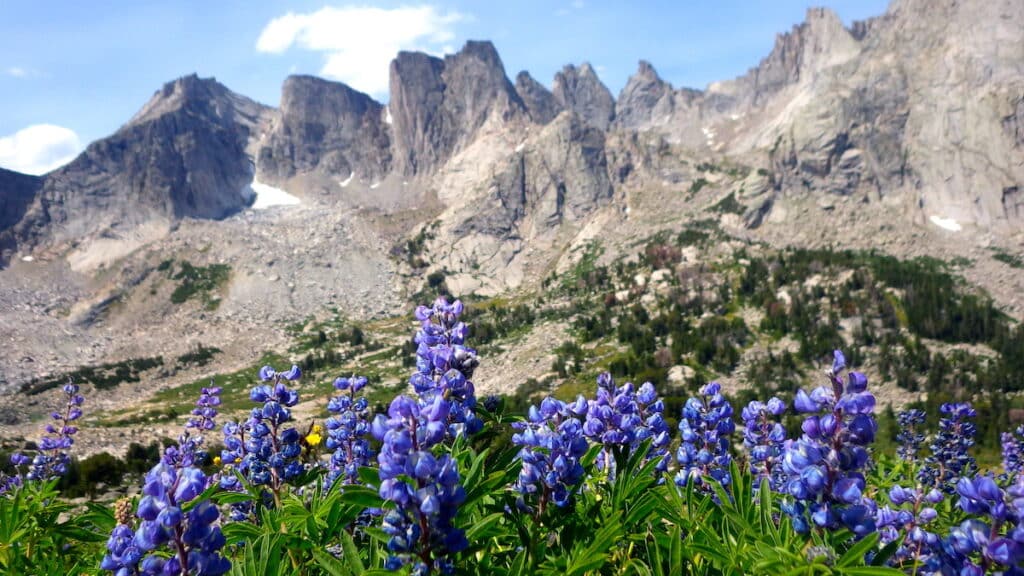 ---
Cirque of the Towers Backpacking Permits
Permits are not required for backpacking trips into the Winds.
The only people that need permits are organized groups (like Boy Scouts) and overnight stock users (horses, mules, donkeys, llamas and pack goats).
However, you must self-register at the trailhead.
Registration stations are found at all major trailheads, where visitors are asked to sign in and leave comments. These registers are used by the Forest Service to keep track of backcountry usage and conditions.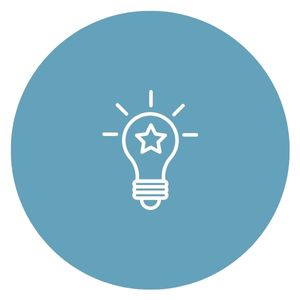 Tip: Be sure to leave your itinerary with a trusted friend or family member, along with instructions on how to alert authorities if you do not return as planned.
---
Getting to the Cirque of the Towers
The Wind River Range is located in west central Wyoming, two hours southeast of Grand Teton National Park. The closest towns are Pinedale on the west side of the range, Lander to the east, and Dubois to the north.
All of these towns have grocery stores, restaurants, and hotel rooms but none of them have major airports.
The closest airports to Cirque of the Towers are:
Jackson Hole, Wyoming (1.5-hour drive to Pinedale)
Salt Lake City, Utah (4-hour drive to Pinedale)
From Pinedale, it's about a 2-hour drive, partly on rough (but 2WD passable) dirt roads to the Big Sandy trailhead.
There is little to no cell service outside of Pinedale so be sure to download driving directions, trail maps, and check weather reports before leaving town.
For both of my Winds trips, we drove from Montana and picked up supplies and celebrated our trips with victory meals in Pinedale. If you have time, the Museum of the Mountain Man in Pinedale is worth a stop!
---
What To Know Before You Go
Elevation
The Big Sandy Trailhead sits at 9,000 feet of elevation, so you'll start this trip at high elevation and hike even higher.
The 25-mile loop gains around 3,900 feet of elevation, with a high point on 11,434 foot Texas Pass. The Cirque itself sits at just over 10,000 feet, surrounded by half a dozen towers over 12,000 feet.
Altitude sickness can be a real problem for people not acclimated to high-altitude backpacking — get our top tips for preventing altitude sickness here.
If you're coming from a lower elevation, you may want to plan to spend a couple of days in Pinedale, Wyoming, at 7,100 feet before starting your hike.
Weather
The Winds are big mountains that spawn big weather patterns, year-round. Snowstorms are possible any month of the year and thunder, lightning, and hail storms are common in the summer months.
To reduce lightning danger, plan to hike over passes and up peaks early in the day and avoid high points by mid-afternoon.
Pack adequate rain gear, including a lightweight tarp, and be prepared for hiking in the rain.
Mornings, evenings, and nights can be chilly even in the summer so bring lots of layers, a warm hat, and gloves. I also recommend a sleeping bag rated to at least 20 degrees.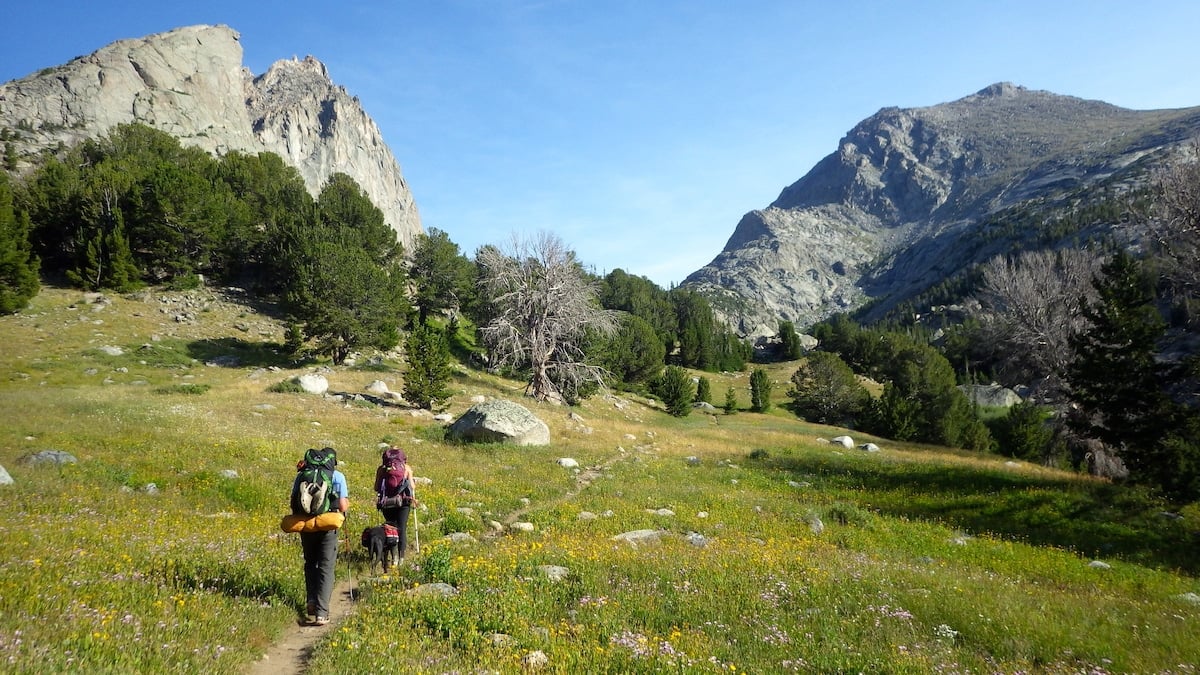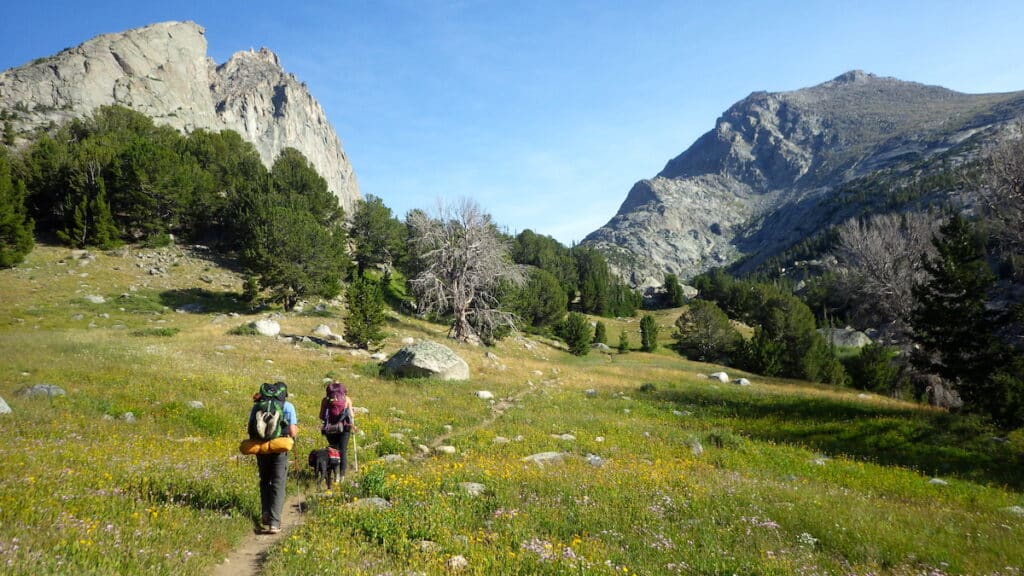 Campsites
The Cirque is one of the most popular destinations in the Winds so don't expect solitude here. But the basin is big enough to accommodate several groups of hikers.
Obeying Leave No Trace campsite ethics, look for already-established campsites, with an already flattened tent spot. There are many campsites tucked among the boulders. Keep in mind you must also camp at least 200 feet from lakes and streams.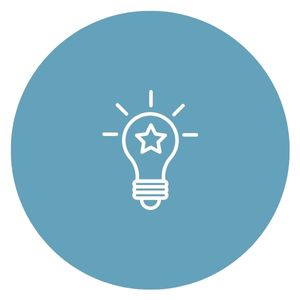 There are no campfires allowed in the Cirque (they are permitted in other areas of the Winds but the Cirque has very limited trees and firewood).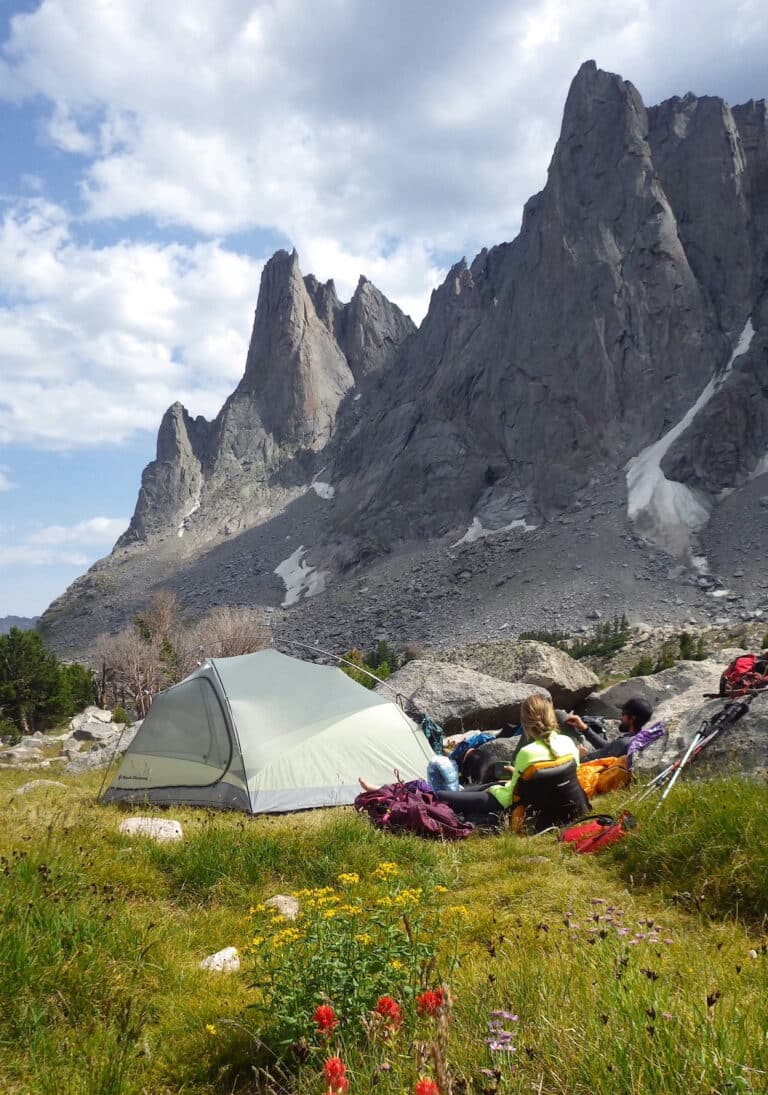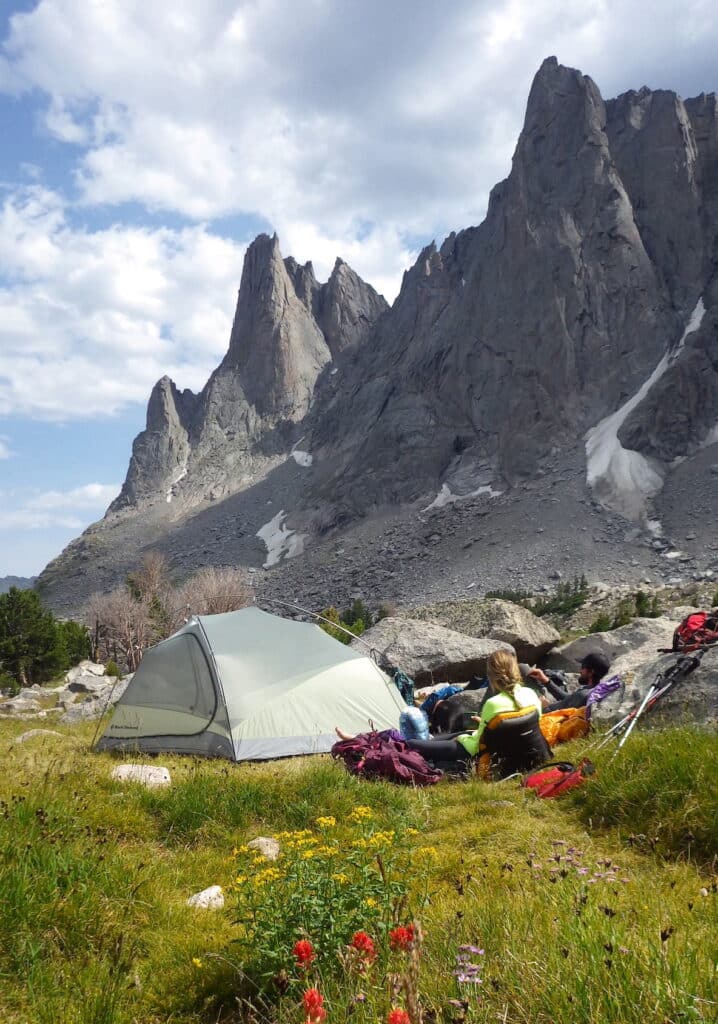 Bears
Bears only live in the most beautiful places so it should not come as a surprise that the Winds are home to many grizzly bears – and even more black bears.
To avoid bear encounters, make noise while you hike, carry bear spray on your hip, and be diligent about keeping a clean camp.
Proper food storage is mandated in the Winds. Food and scented items must be kept in IGBC-approved bear canisters or hung at least 10 feet off of the ground and 4 feet out from the tree.
However, much of the Winds (including the Cirque) is above treeline, where there are no trees for hanging food so I'd highly encourage you to use a bear canister.
Canisters can be rented for a small donation from the district ranger office in Pinedale.
Marmots
The most commonly spotted animal in the Winds is the adorable but potentially destructive marmot.
You're likely to see them in the alpine, sitting on top of boulders, surveying their territory, often emitting high-pitched shrieks. They're cute but they are also infamous for tearing apart backpacks, raiding tents, and carrying diseases.
Never feed a marmot or any wild animal, no matter how cute! Human food is unhealthy for them and feeding teaches them to expect food from people. Also, as much as their squeaks may taunt your dog, do not let your dog chase or harass marmots or any animal!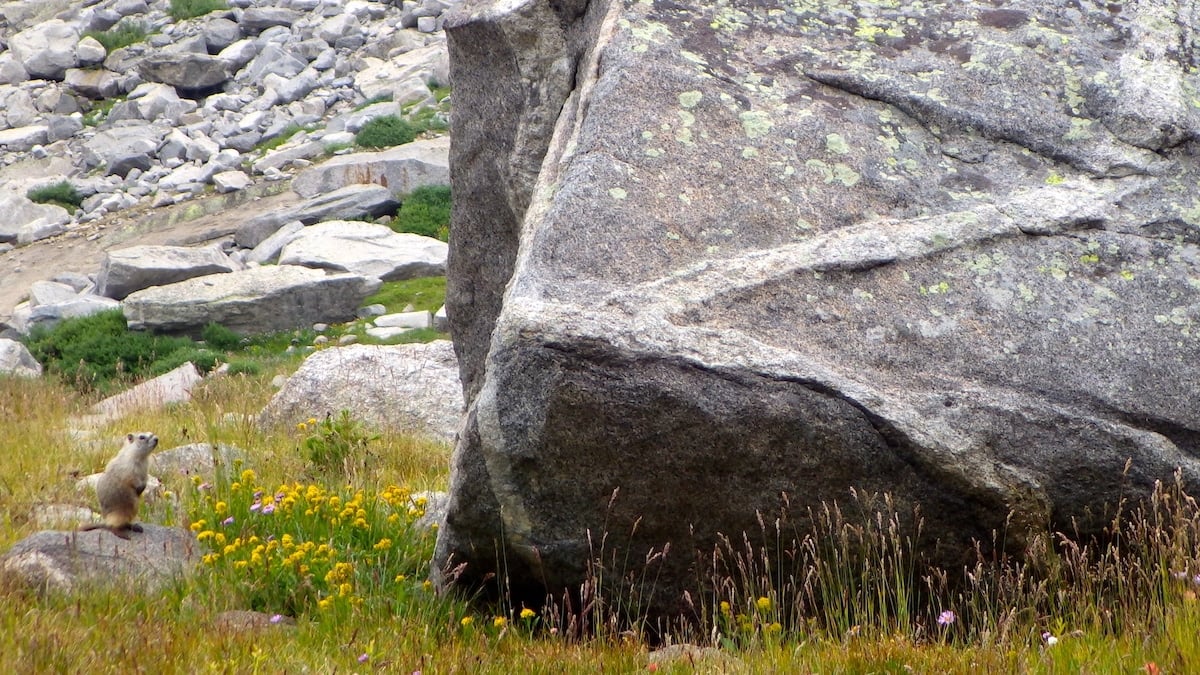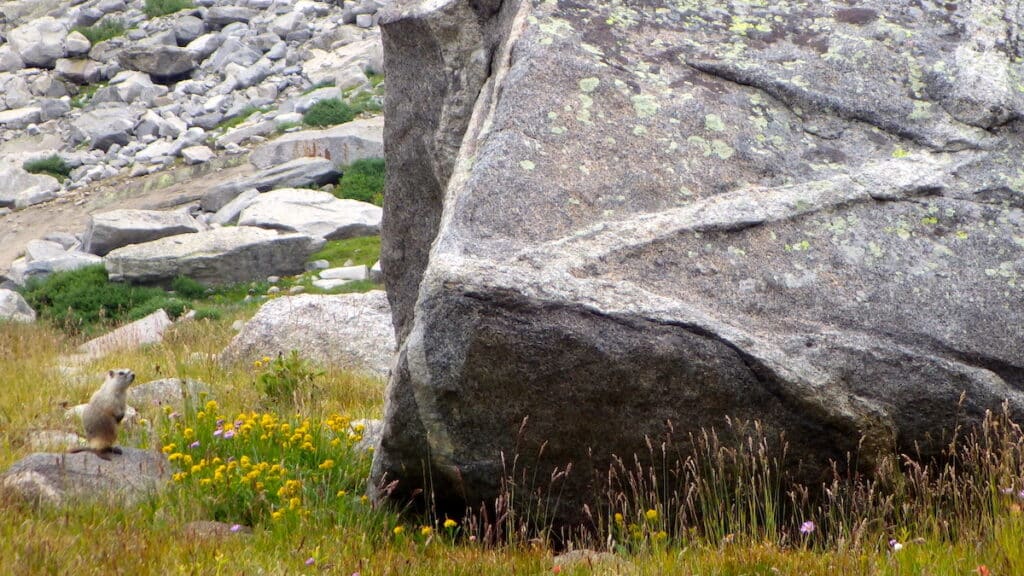 Bugs
The only animal more feared in the Winds than the bears are the bugs. With so much surface water, mosquitoes, gnats, and biting flies can be legendary here.
The micro-menaces hatch in early summer and usually peak from mid-June to mid-July. To avoid bugs, aim for backpacking in August and September.
Bug spray and bug-repellent-treated clothing can help, but a head net will do the most to preserve your sanity.
Water Sources
The Winds has thousands of lakes; too many to name. Creeks and rivers connect the lakes, as a winter's worth of snowmelt melts off the Continental Divide.
Snow and rain that falls on the east side of the divide drains to the Atlantic Ocean via the Gulf of Mexico, while precipitation that falls on the western side of the divide drains to the Pacific Ocean.
Visiting the Cirque from Big Sandy, you'll visit both sides of the divide, crossing over at Texas and Jackass Passes! You'll want to filter all your drinking water in the Winds but with so many sources, you won't need to carry more than two liters at a time.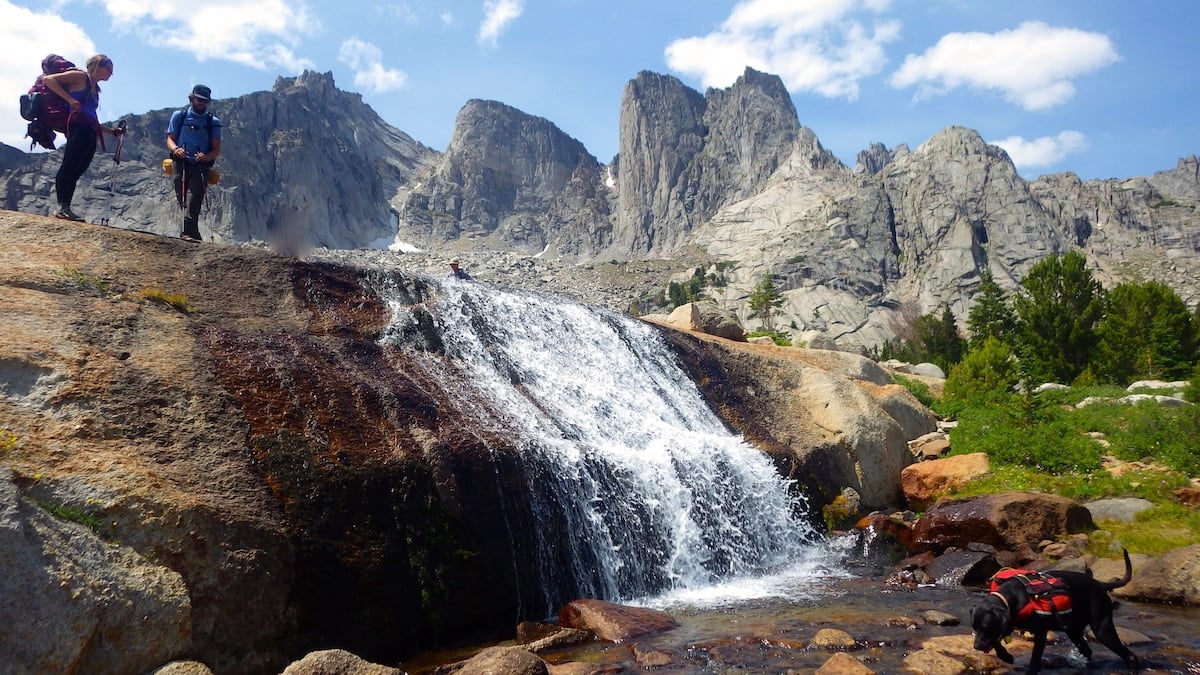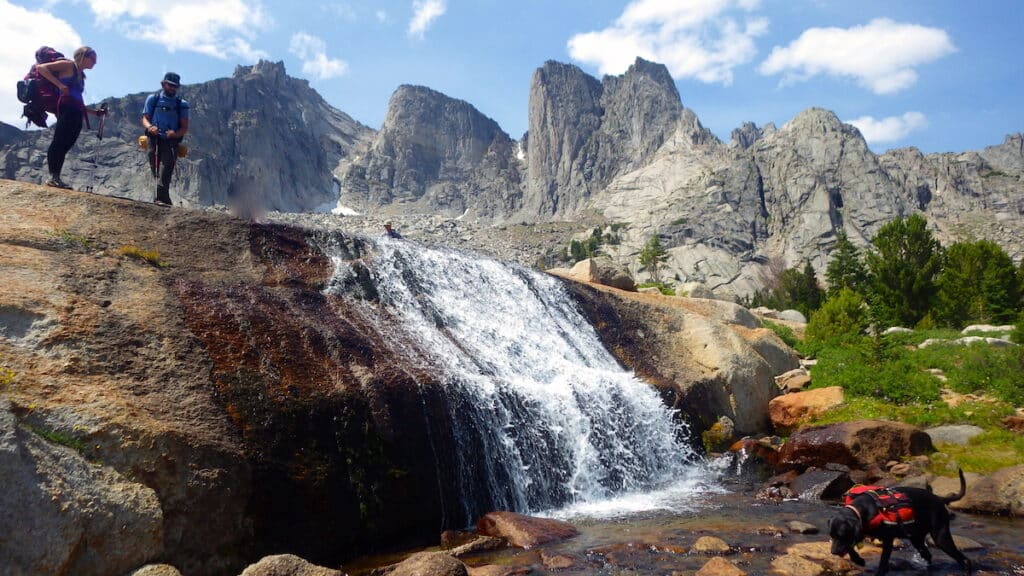 Horses, Mules, Donkeys, Llamas, and Goats (oh my!)
With plenty of water, lots of grassy meadows, and endless trails, the Winds are famous for being one of the best places in the US to travel with stock.
On my trip into Titcomb Basin (another popular backpacking route in the Winds), I encountered horses, mules, llamas, and goats! Due to the rugged terrain of both Texas and Jackass Passes, you won't see stock in the Cirque itself but you might encounter pack animals on the rest of the hike.
If you meet a pack string, or a single rider, say hello so the animals can identify you as human and step off the trail to let them pass. The riders may direct you where to stand, especially if they have a lot of animals but it's usually best to stand on the downhill side of the trail.
Be aware of your surroundings, however, and don't stand somewhere that you could get pushed off an edge by a spooking animal.
Dogs
Dogs are allowed everywhere in the Winds and there are no leash regulations but if your dog doesn't have excellent recall, consider leashing them in case you encounter wild or domestic animals.
Dogs can bring an irate bear back to you and domestic stock may kick or trample a dog that enters their space. Dogs should not be allowed to approach or harass other hikers, camps, or wild or domestic animals.
We had a dog with us during our trip, but this wasn't her first backpacking trip. I wouldn't recommend bringing your dog on this trip if they're not experienced with backpacking.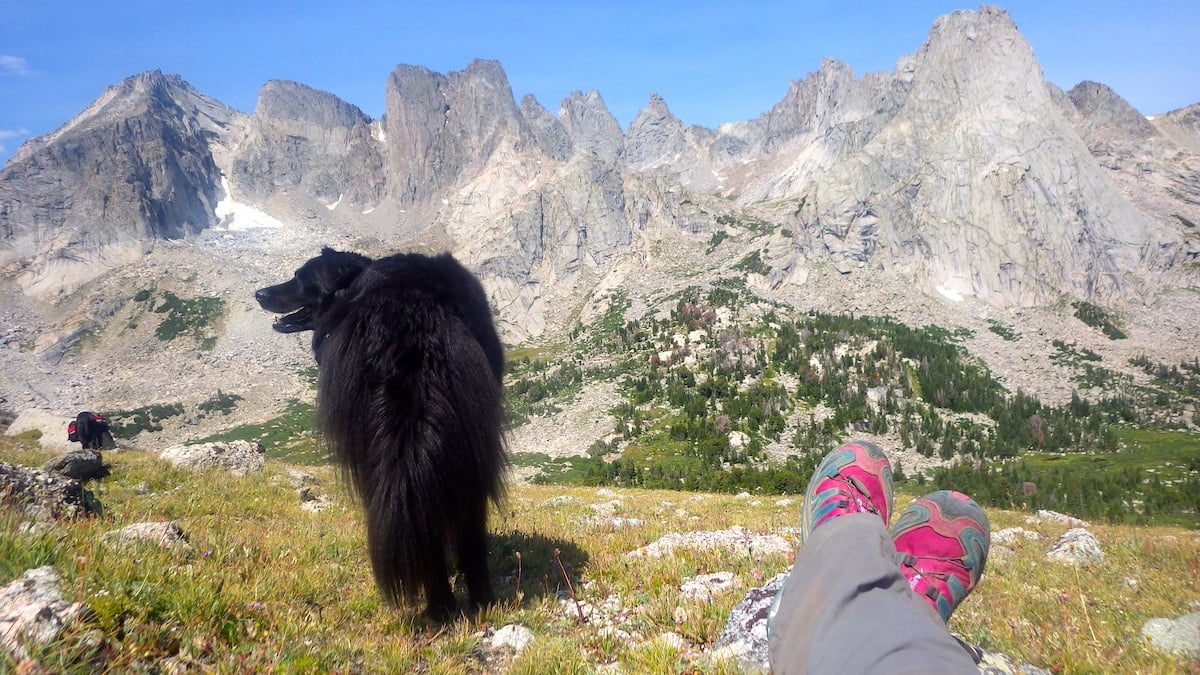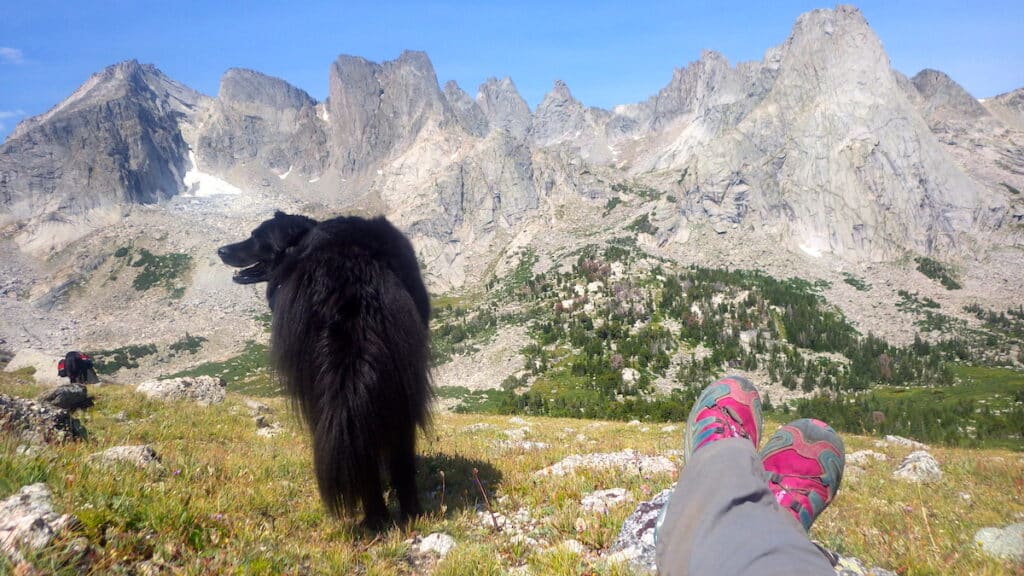 Technical Rock Climbing
The Cirque of the Towers is the most famous technical rock climbing spot in the Winds.
All of the 2,000 foot high towers, including Wolf's Head, the Shark's Nose, Warbonnet, Warrior, and Pingora Peaks, that surround the Cirque have been climbed and several of them can be reached via extremely exposed but relatively easy climbing routes.
Two of these routes–the northeast face of Pingora (rated 5.7+) and the East Ridge of Wolf's Head (rated 5.6)–are listed in the 50 Classic Climbs of North America.
The climbs might be rated 5-easy but they require significant outdoor climbing and multi-pitching experience, route finding, ropes, and traditional climbing gear (i.e. they are not bolted).
Even if you don't climb, you may be treated to some prime campsite entertainment as intrepid humans make their way to the tops of the towers.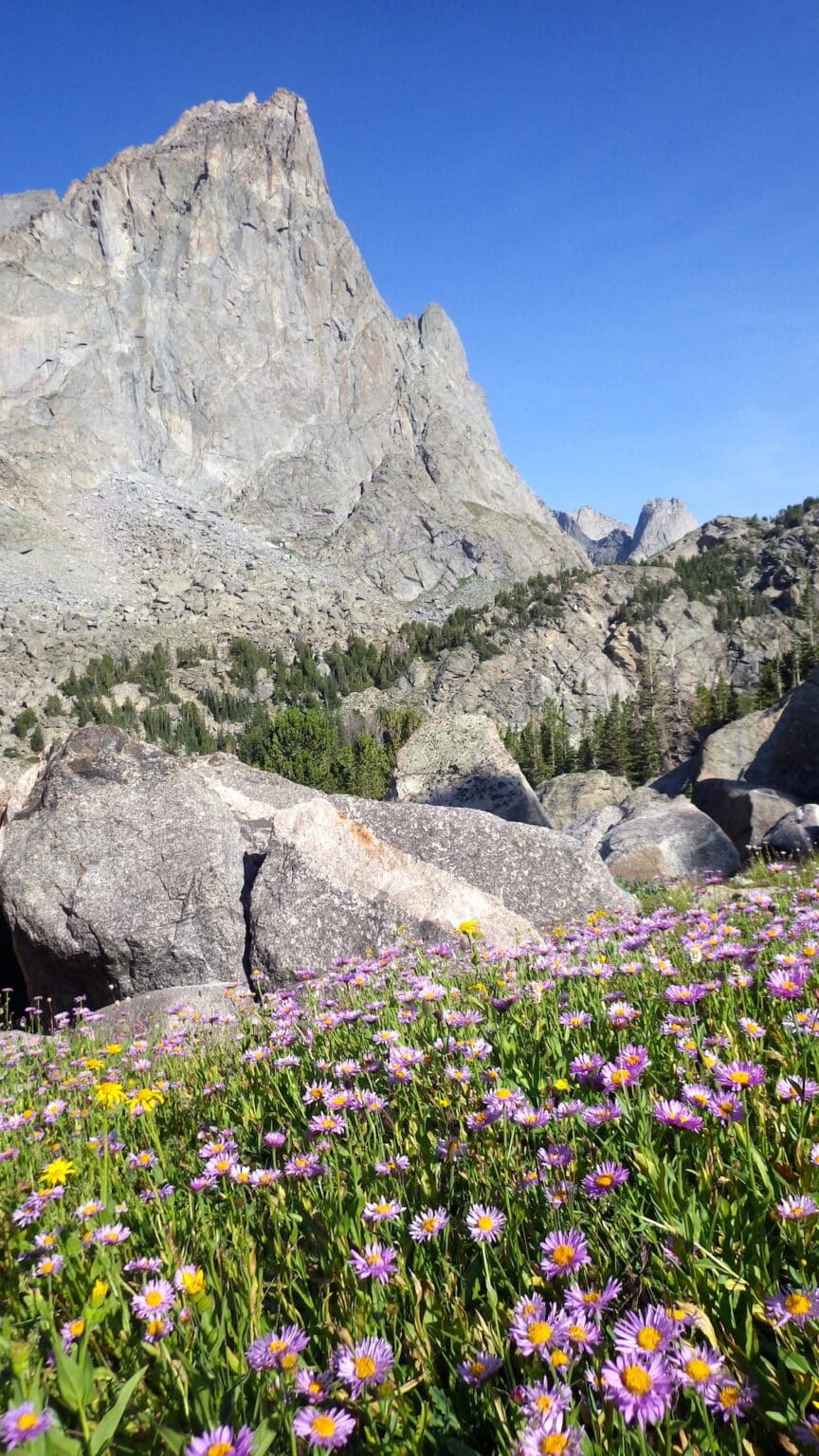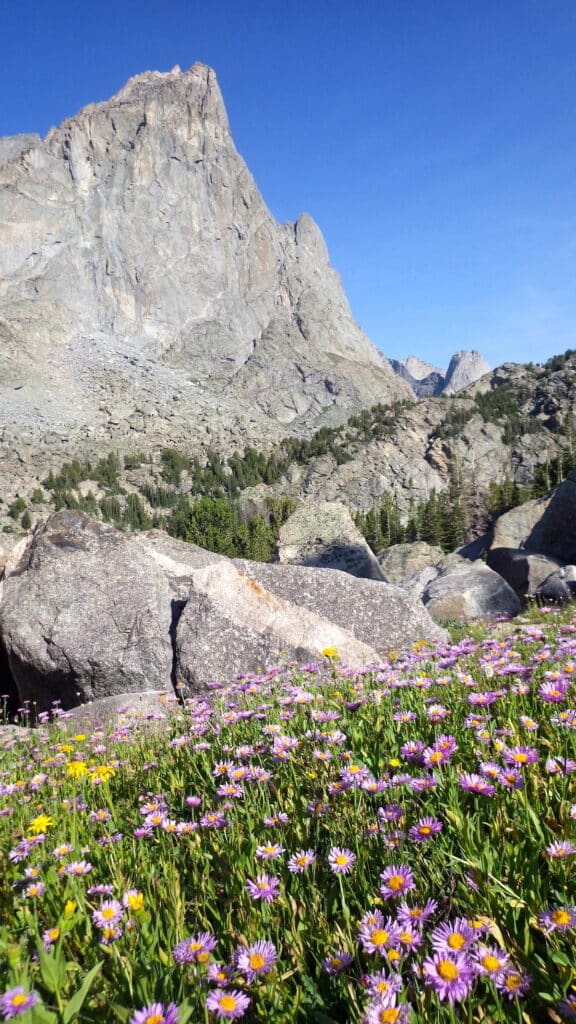 ---
Cirque of the Towers Backpacking Gear
Check out our 3-day backpacking checklist for a complete list of the items we take on every backpacking trip.
But here's a couple of specifics you'll need for backpacking the Cirque of the Towers:
Read More
Backpacking Gear Guides
---
Cirque of the Towers Itinerary and Trip Report
Day 1: Big Sandy Trailhead to Dad's Lake
Distance: 7 miles
Elevation gain: 685 feet ft
Highlights: Big Sandy River, Meek's Lake, Continental Divide Trail, Mirror Lake, Dad's Lake
On Day 1, you'll ease into your Cirque of the Towers backpacking adventure with a gradual gain for 7 miles to Dad's Lake, passing several other smaller lakes and many campsites on the way.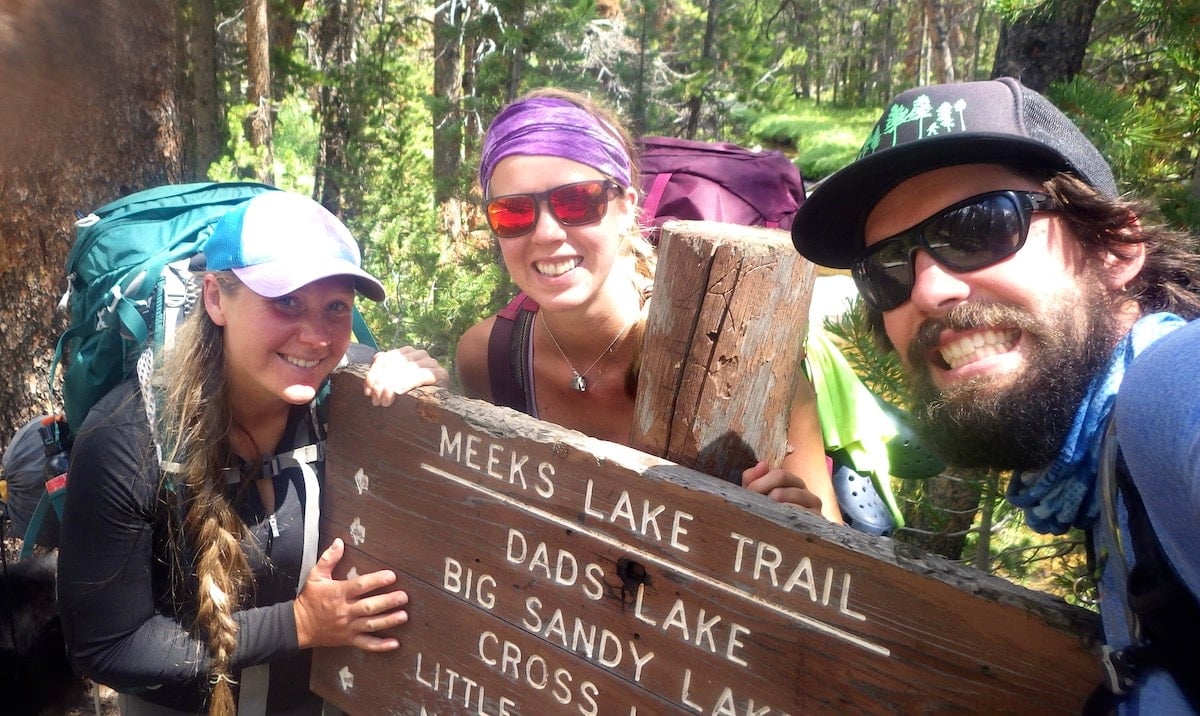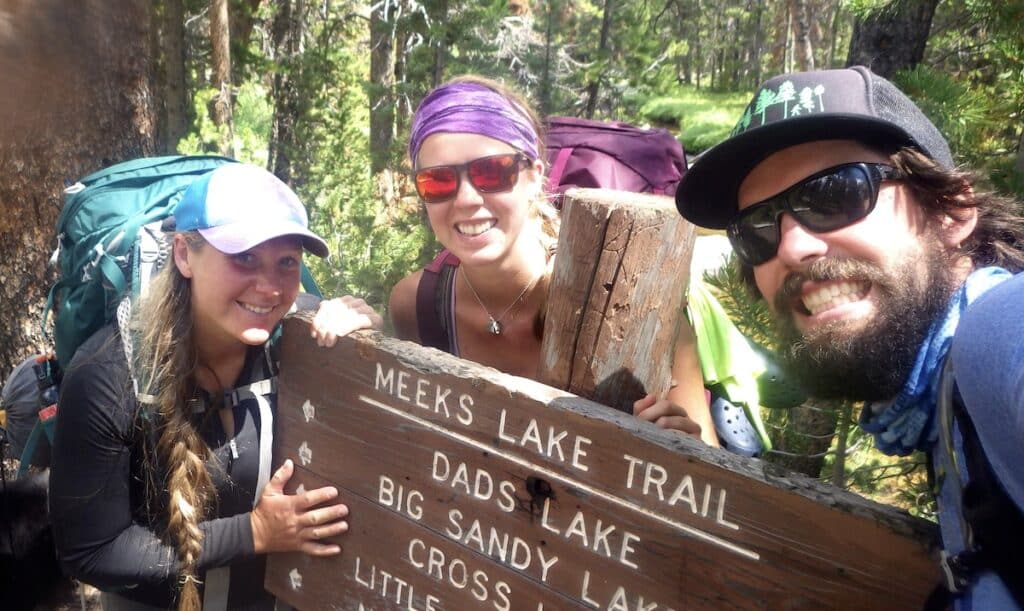 If you get an early start (camping is allowed at the Big Sandy trailhead), you could also pass up Dad's Lake and aim for Shadow Lake, 12 miles from the trailhead.
Soon after leaving the trailhead, the trail joins the Continental Divide Trail, a 3,100-mile-long route that runs from Mexico to Canada. Around 125 miles of the CDT runs through the Winds, keeping to the west side of the Continental Divide.
You may run into thru-hikers in this section, or in the Cirque, as many CDT hikers detour off the main route to visit the Cirque of the Towers.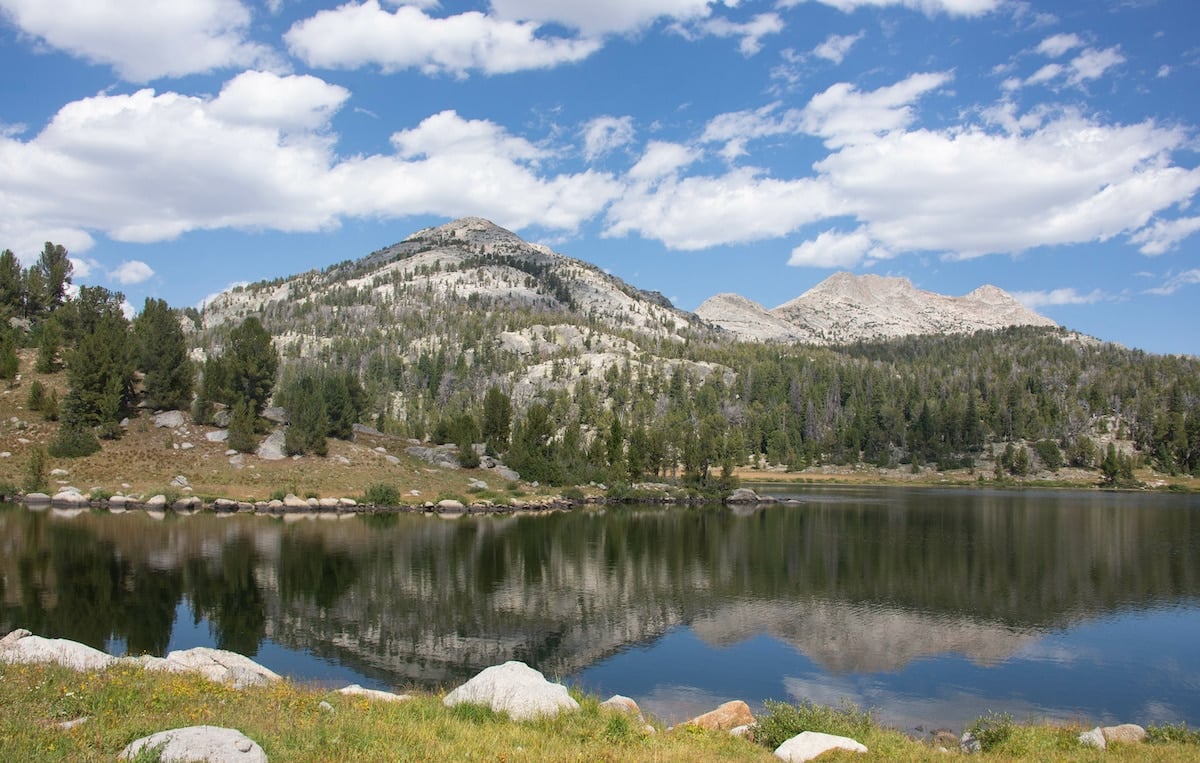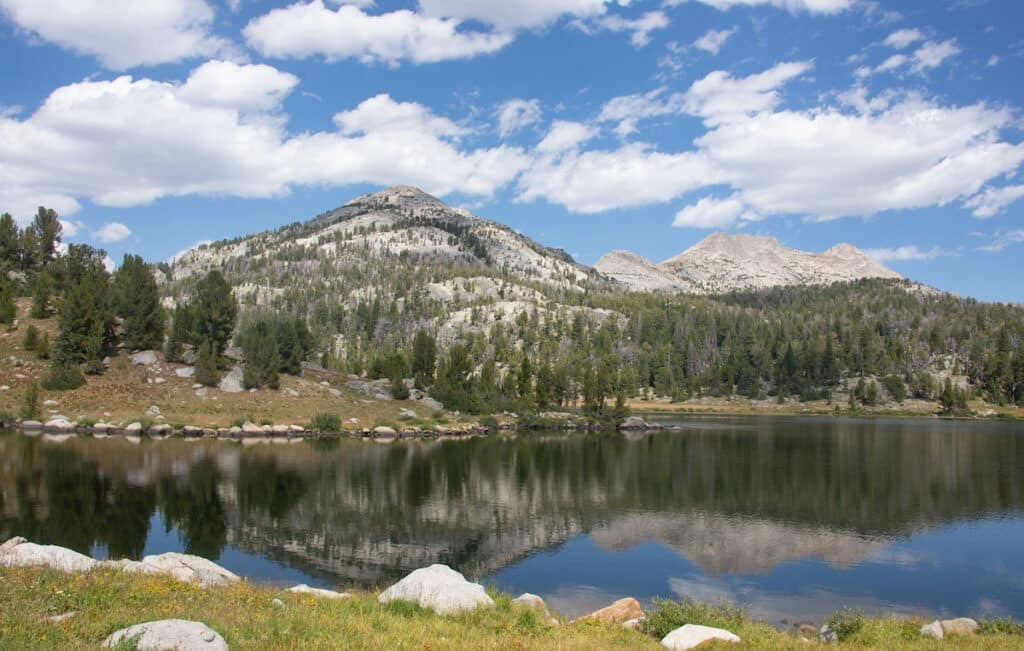 Day 2: Dad's Lake to the Cirque of the Towers
Distance: 9 miles
Elevation gain: 1600 feet
Elevation loss: 1350 feet
Highlights: Shadow Lake, Texas Pass, Lonesome Lake, Cirque of the Towers
On Day 2, you'll leave the CDT and head east towards Shadow Lake. There are many campsites along the shores of Shadow Lake (be sure to camp at least 200 feet from water, in keeping with Leave No Trace ethics).
This part of the hike requires some route finding as you make your way around the north shore of Shadow Lake and then climb up past a series of small unnamed lakes to the top of the drainage.
Near the top, be prepared for some minor scrambling and rock hopping as you cross the Continental Divide at Texas Pass. At the top of the pass, you'll be rewarded with your first views down into the Cirque.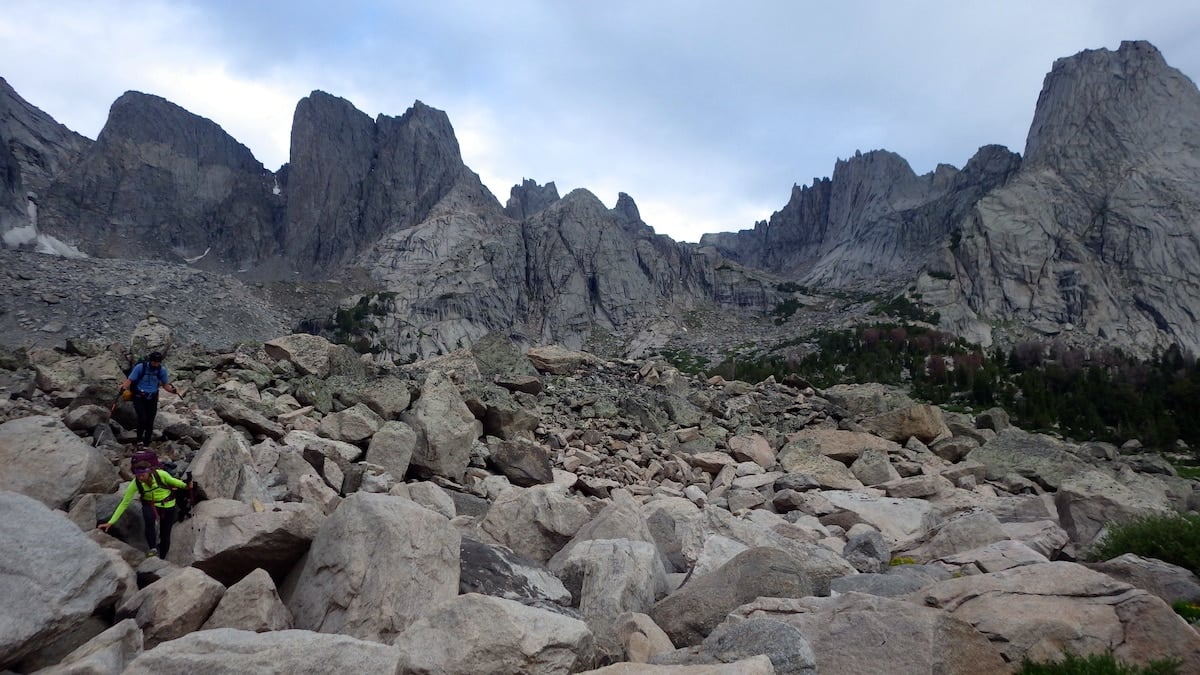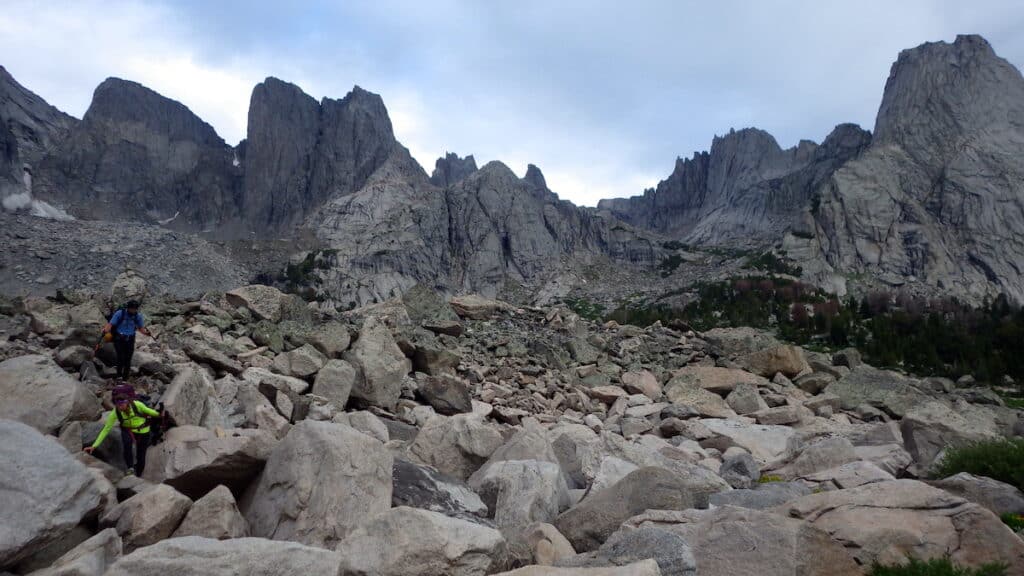 The Cirque is a round valley surrounded by half a dozen 12,000-foot granite towers, which soar nearly 2,000 feet over the valley below. The Cirque was scooped out by a glacier around 10,000 years ago during the last ice, when a mass of ice more than a mile thick sat in this valley, up against the Continental Divide.
Carefully hike down into the Cirque, being mindful of loose rock as you head towards Lonesome Lake.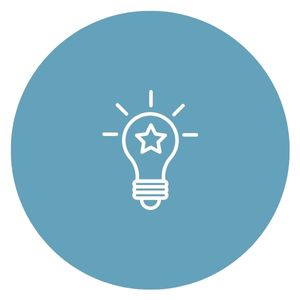 Although it looks inviting, there is no camping within 1/4 of a mile of Lonesome Lake, per camping regulations.
There are plenty of tent sites west of the lake, scattered around the Cirque. The best are tucked up against giant boulders. Remember that great campsites are found, not made. Look for pre-existing sites and avoid moving rocks or trampling vegetation.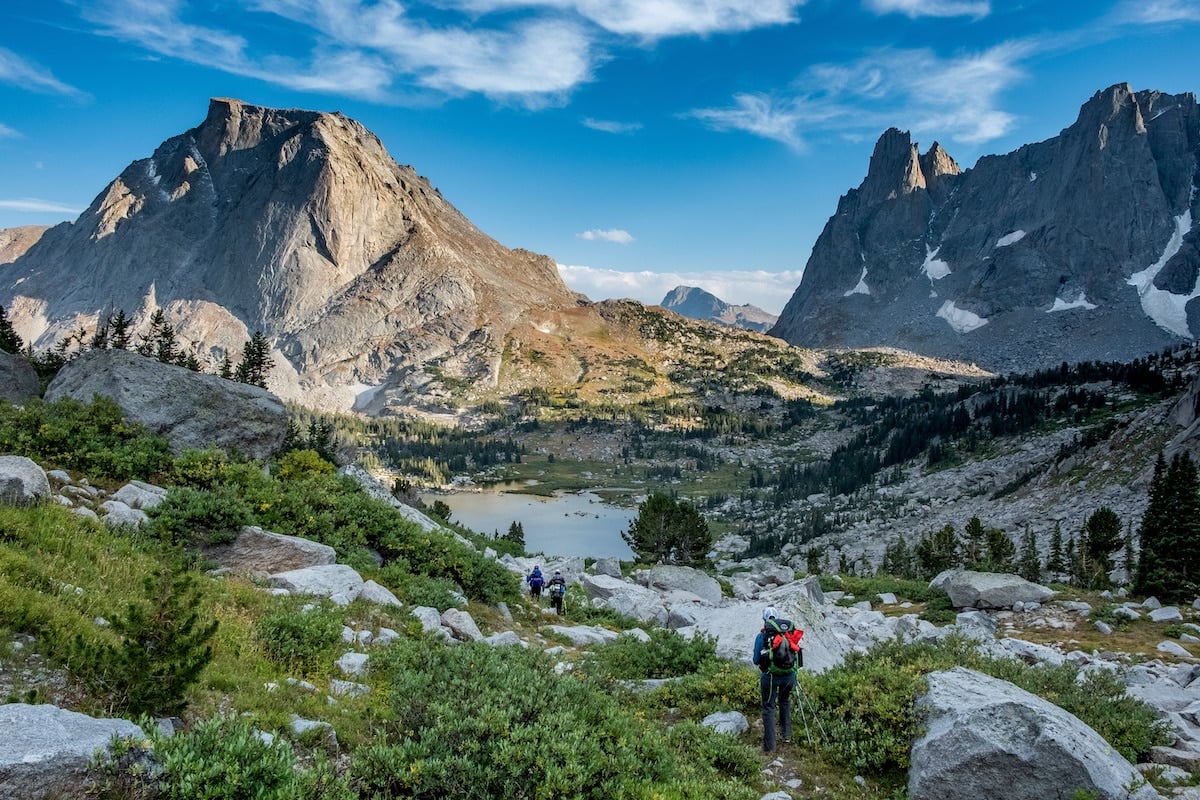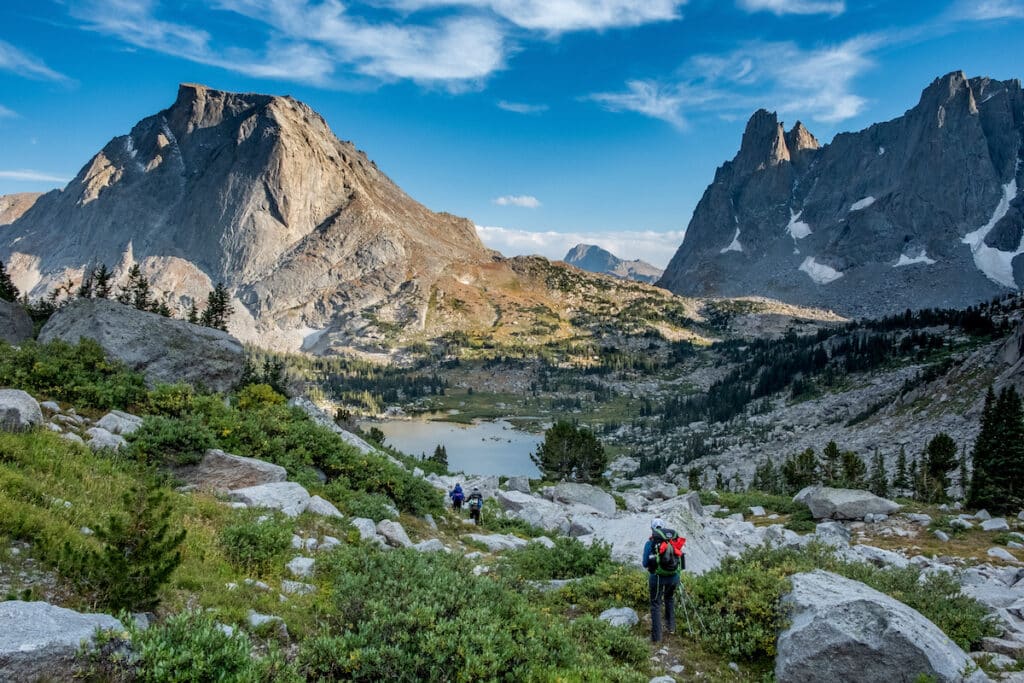 Day 3: Layover day in the Cirque of the Towers
Distance: Varies
Elevation gain: Varies
Elevation loss: Varies
Highlights: enjoying the Cirque of the Towers, Lonesome Lake, Lizard Head Meadows
Since you've worked so hard to get to the Cirque, you might as well spend at least a day basking in its glory! Plan to spend the day either relaxing at camp and watching rock climbers through binoculars or exploring the glacially-carved basin.
Potential side trips include circling Lonesome Lake, visiting Lizard Head Meadows to the east, or scrambling up the base of some of the towers.
The approach trails up to the base of Pingora Peak and Wolf's Head are well-trodden. Be sure to keep an eye out for climbers above you and an ear cocked for the warning cry "ROCK!" if somebody kicks a rock or drops a piece of climbing gear. You might also hear "rope!" as they throw the ends of their rope down to the ground before rappelling down from a climb.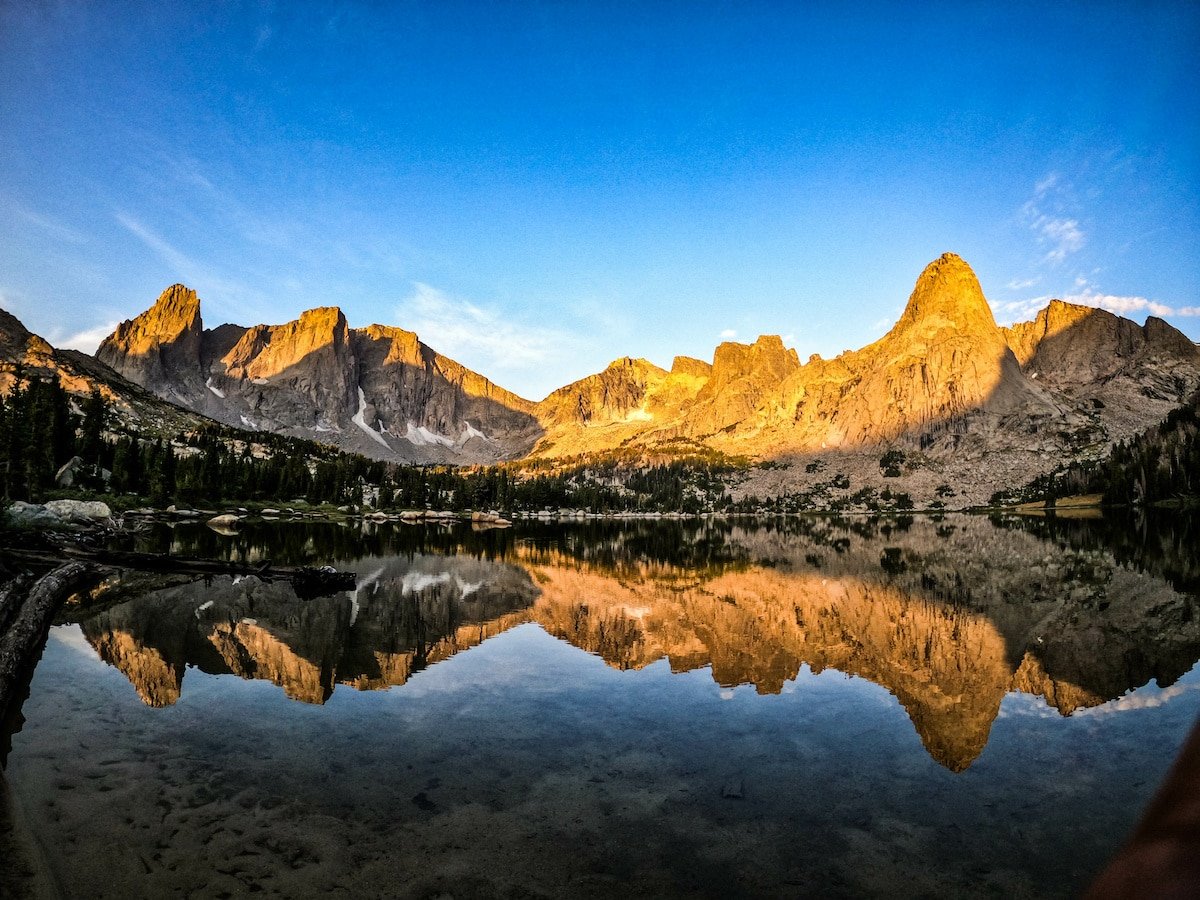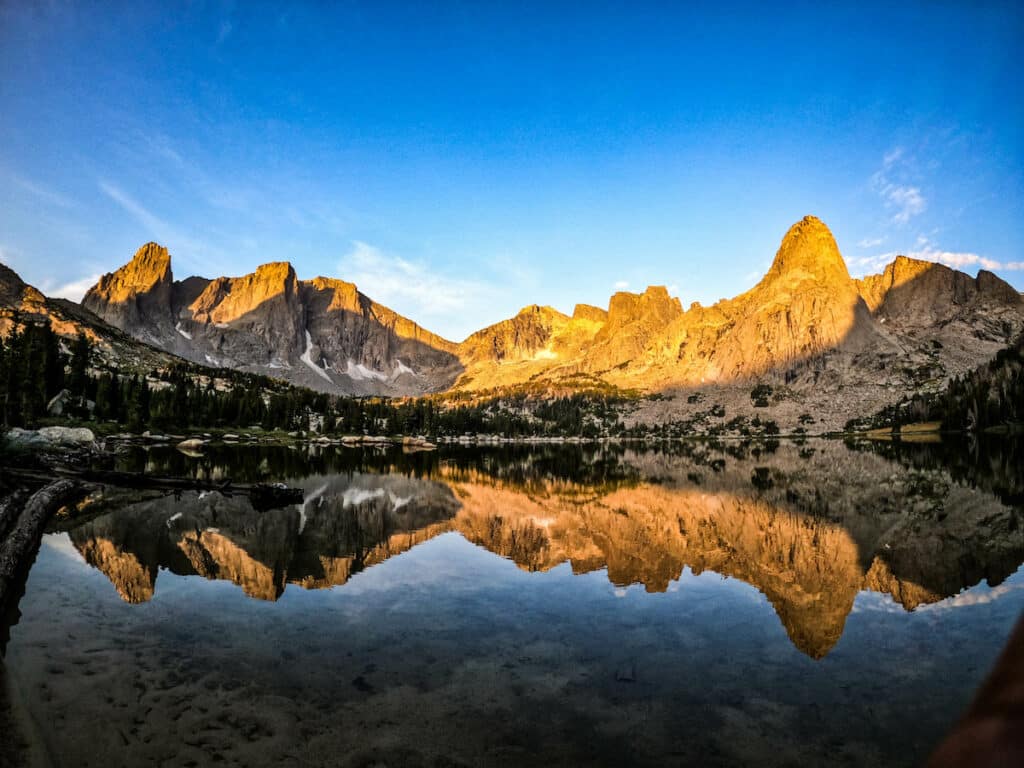 Day 4: Cirque of the Towers to Big Sandy Lake
Distance: 4 miles
Elevation gain: 610 feet
Elevation loss: 1090 feet
Highlights: Jackass Pass, Warbonnet Peak views, North Creek, Big Sandy Lake
On Day 4, spend the morning soaking up the Cirque before climbing over Jackass Pass to the south. This pass is less strenuous than Texas Pass but still gains around 600 feet in less than a mile.
At the top of the pass, pause for a last look at the Cirque before continuing down the pass, around the west side of an unnamed lake below 12,192-foot Warbonnet Peak.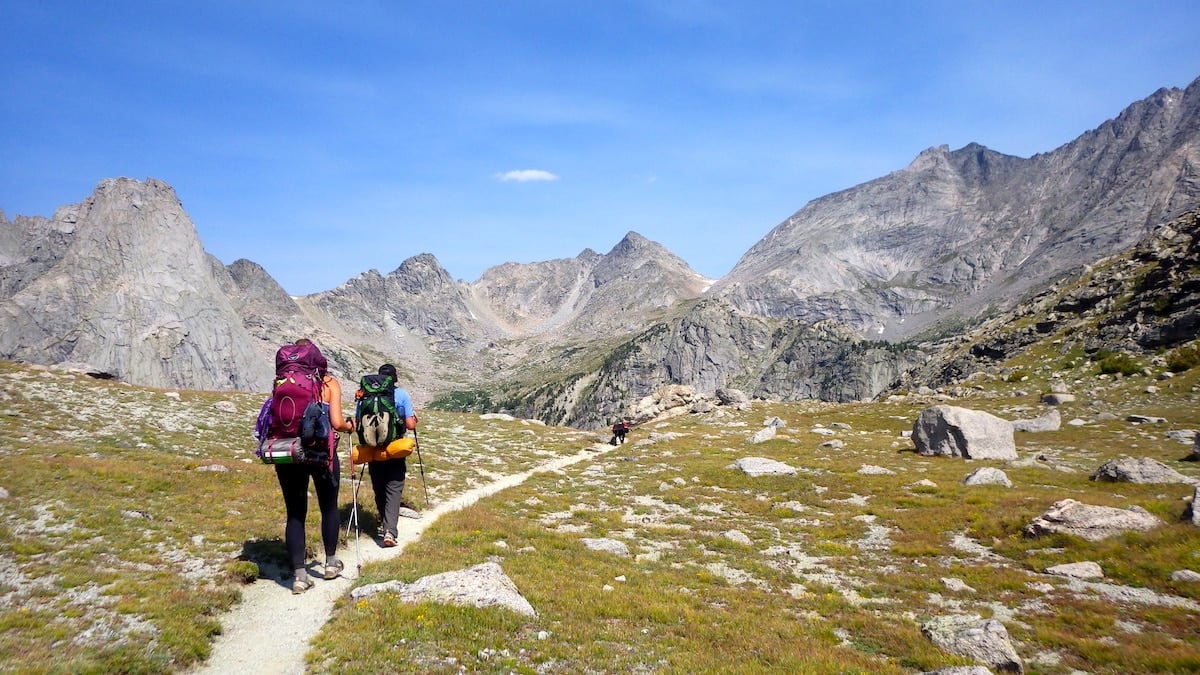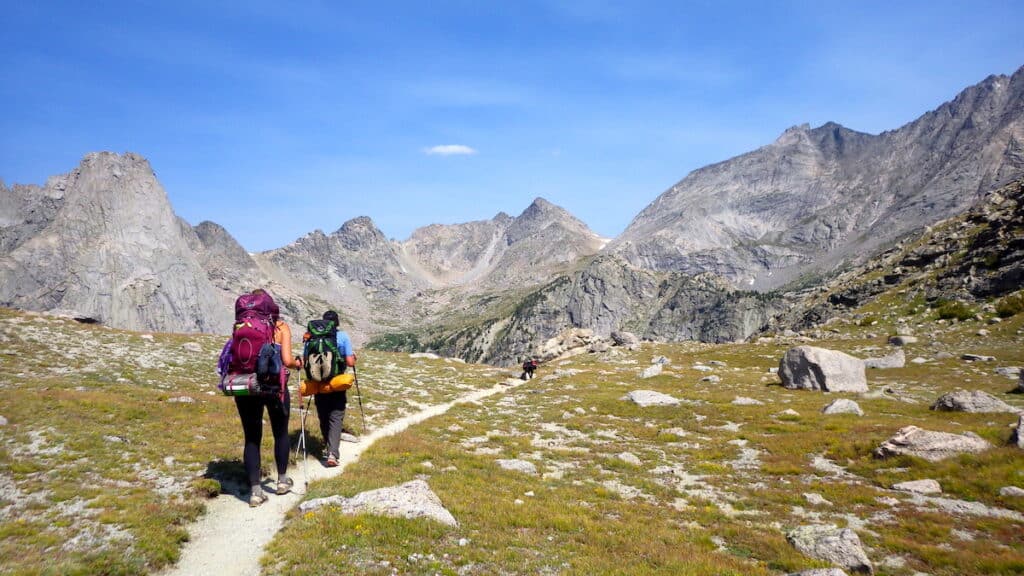 This part of the route requires some rock hopping and scrambling through a boulder field wedged between a granite wall at the base of Warbonnet and the lake.
Novice hikers and some dogs may have issues negotiating this section but it's passable with careful steps and route selection through the rocks. Next you'll pass another unnamed lake, this time on the east side, before beginning your descent down to Big Sandy Lake.
There are numerous campsites around the lake, but keep in mind this is a popular camping spot for parties coming and going from the Cirque. If you can't find an established site here, there are more options along the Big Sandy River and camping is also allowed at the Big Sandy trailhead.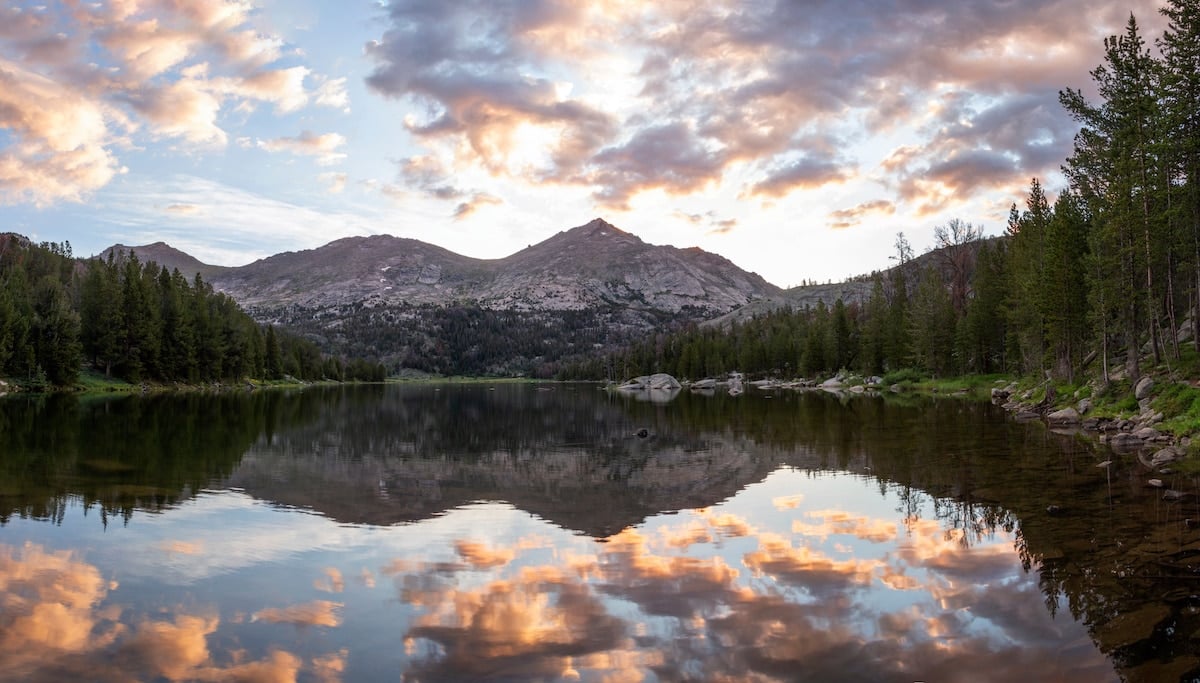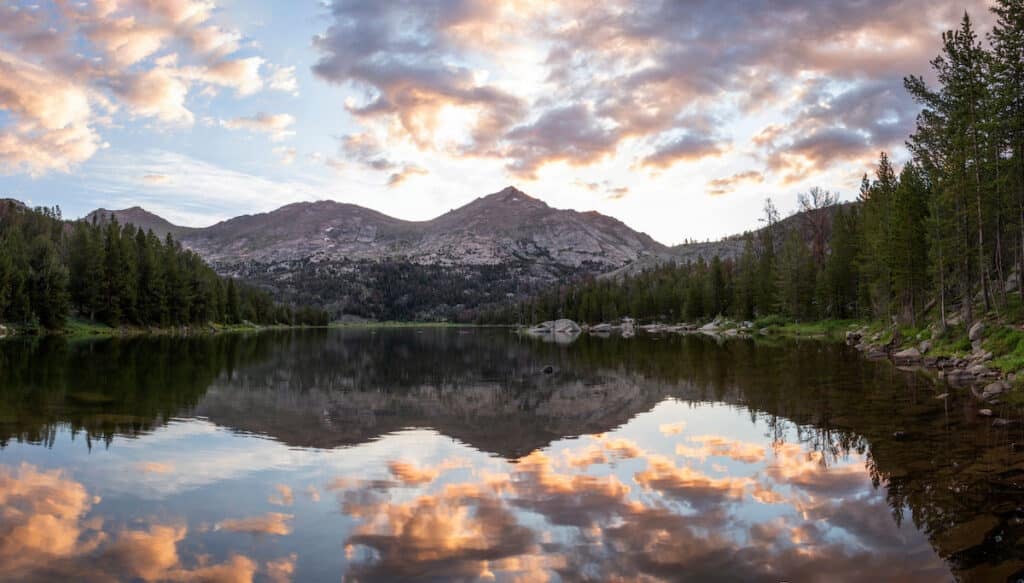 Day 5: Big Sandy Lake to Big Sandy Trailhead
Distance: 5.5 miles
Elevation loss: 610 feet
Highlights: Big Sandy Lake, Big Sandy River, Victory Meal in Pinedale!
On day 5, you'll follow the Big Sandy River all the way back to the Big Sandy trailhead to complete your 25-mile loop. Then return to Pinedale for a victory meal!
Are you interested in a Cirque of the Towers backpacking trip or have you explored this stunning route? Let us know in the comments!