The Ultimate 7-day Teton & Yellowstone Road Trip Itinerary
Follow this detailed 7-day Teton and Yellowstone road trip itinerary to travel to the best sites, hikes, and attractions in these two incredible national parks.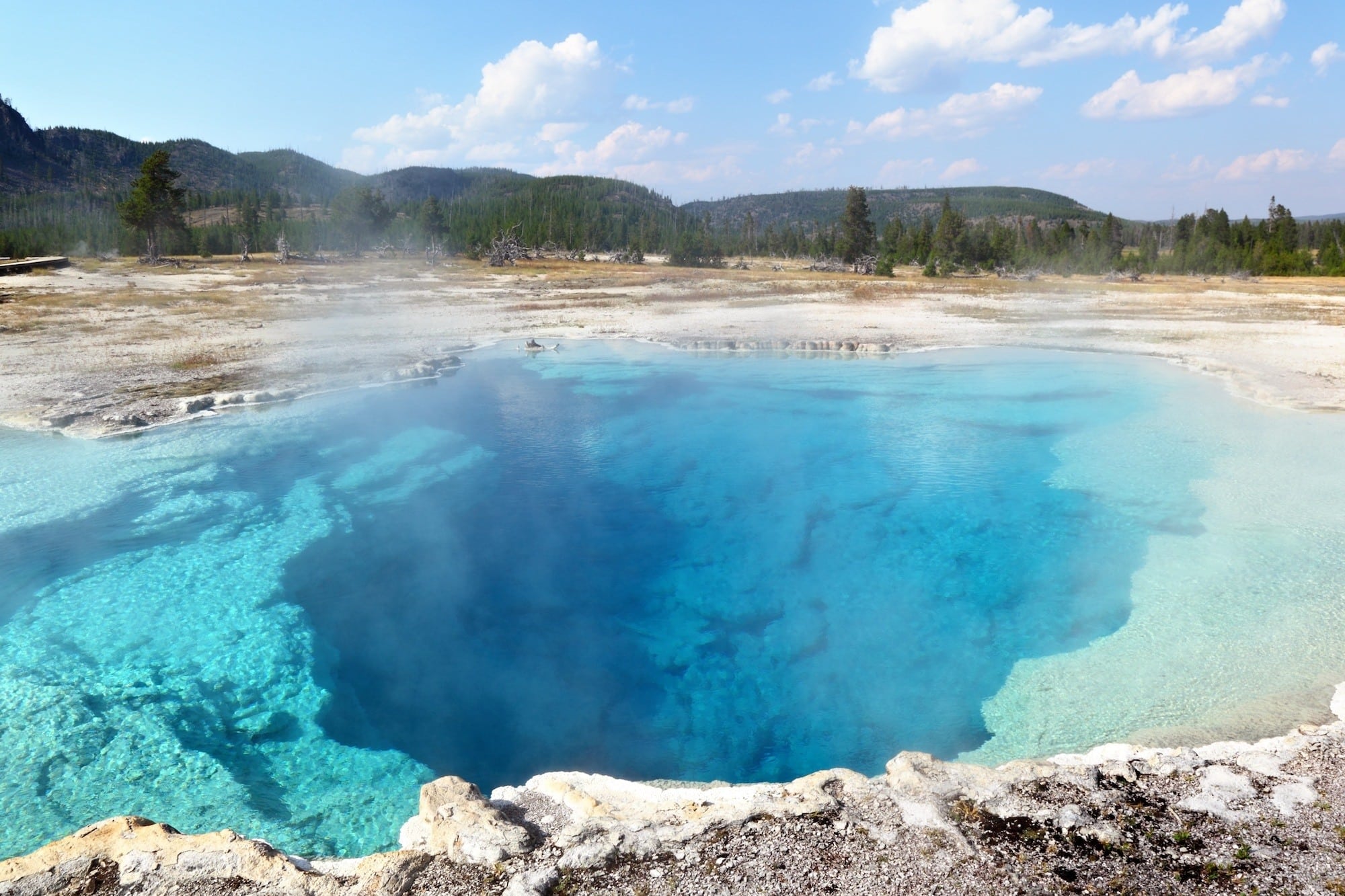 A few years ago, I went up to Jackson, Wyoming for an awesome winter weekend at the Triangle X Ranch just outside of Teton National Park. We did some cross-country skiing and snowmobiling, and ever since I've been itching to get back for some summer adventures. But with so much to do up there, planning a trip to the region can be overwhelming. That's why I was so excited when former Bearfoot Theory Community Manager, Kim Vawter offered to share her 7-day road trip itinerary that took her through both Grand Teton and Yellowstone National Parks.
Kim says, "Ever since reading about Bryce Thatcher's 1983 record for climbing & descending the 13,770 foot Grand Teton I've had a passion to visit the region. With Yellowstone National Park and Grand Teton National Park being just 31 miles apart, the two parks make for an incredible weeklong road trip. By following this Teton and Yellowstone road trip itinerary, you'll hit up a large number of the best sites in the parks in just 7 days without spending too much time in the car."
Below she shares her favorite spots, photos, and best travel tips for maximizing your time in the area. Sounds like an incredible week on the road if you ask me, and with the information she provides, planning a trip to Yellowstone and the Tetons is going to be a cinch.
Here's the ultimate road trip itinerary for a week well-spent in Yellowstone and Grand Teton National Parks!
As it goes in all of the destinations we share, please be a responsible visitor, practice good trail etiquette, and remember to Leave No Trace. This means packing out all of your garbage, being respectful to others on busy trails, and following the established rules.
How to Get to Yellowstone & Grand Teton National Parks
There are a couple of options for starting your Yellowstone road trip, depending on where you are coming from.
If you're flying, you can fly into Salt Lake City and enjoy a 5-hour drive to Grand Teton National Park. Or you can fly into the much more expensive, yet scenic Jackson Hole airport.
If you chose the budget-friendly version, there are two routes from SLC to Grand Teton National Park which make for a great loop. On your way up to Teton National Park, take I-15 North through Swan Valley and Victor, ID. This route provides a glimpse of the backside of Grand Teton, building anticipation for what's ahead.
Then for your return home, take US-89 S/I-80 W which follows the Snake River and makes for a nice change of scenery on the way back to Salt Lake.
Be aware that many of the roads close in both parks during the winter season (typically November through early May), including the southern entrance of Yellowstone.
For seasonal road closure information, see these pages on the official National Park Service Grand Teton and Yellowstone websites.
#1 campsite finder app
Try the Dyrt PRO free for 30 days
If you're going to be camping on your road trip, get a FREE 30-day membership to The Dyrt PRO, one of our favorite apps for finding campgrounds (use the code "Bearfoot" if you're signing up on mobile!). You can read reviews, view photos, save your favorite campgrounds, view maps offline, plan a route, and more!
---
Yellowstone & Grand Teton Road Trip Itinerary
This road trip itinerary starts with two days in Grand Teton National Park before venturing into the completely different, otherworldly scenery of Yellowstone National Park. Read on for tips on what to do and see each day of your trip to maximize your time in this area.
DAYS 1-2: Grand Teton National Park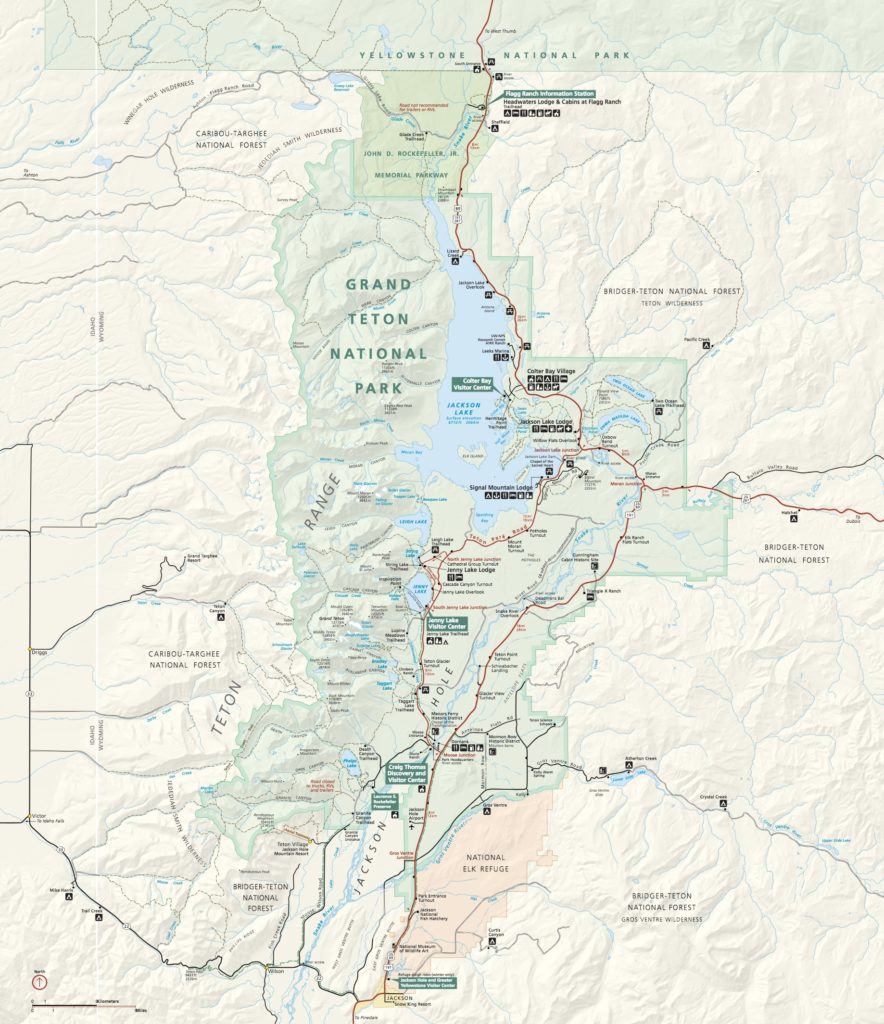 DAY 1
Get an early start and begin your day at the Grand Teton Visitor Center near the South Entrance. The park video gives you a great intro to the park. Then, after the video make sure to stay seated as they open the blinds to reveal a floor-to-ceiling window that showcases the Grand Teton.
Next, head over to explore the southeast corner of the park on foot. Start at the Death Canyon Trailhead and hike just over a mile to a gorgeous overlook that peers down 700 feet into Phelps Lake. This section of the trail is easy, gaining just about 200 feet. After taking in the views, continue from the overlook down the switchbacks that drop you into the entrance of Death Canyon—it's neat to see the large canyon walls loom above you! From here you can stay and hang out at the lake or venture further down into the canyon. Bears frequent the lake, so be on the lookout and bring bear spray! Check out this blog post for some notes on bear safety.
Post-hike head on over to camp at Jenny Lake for the evening. If the campground is full or you'd prefer not to camp, here is a list of alternative lodging in Grand Teton National Park. There is also camping available outside of the park. Check out this blog post for tips on finding free campsites.
NOTE: Campsites in Grand Teton National Park are now reservation only and sites will no longer be available on a first-come first-served basis. Reservations fill up quickly so plan your trip far in advance if possible.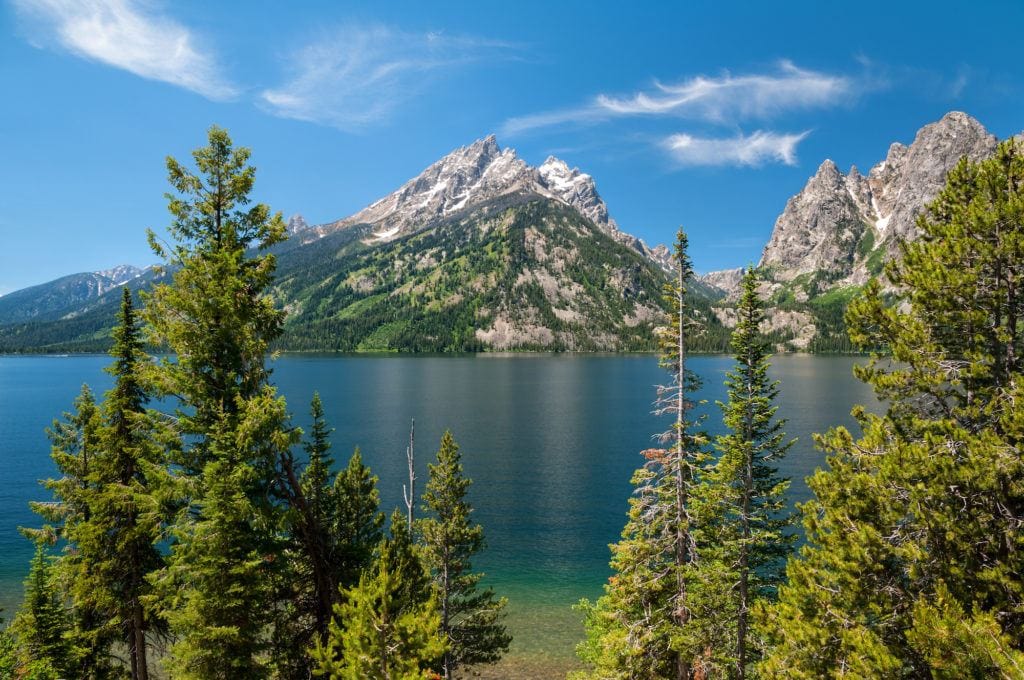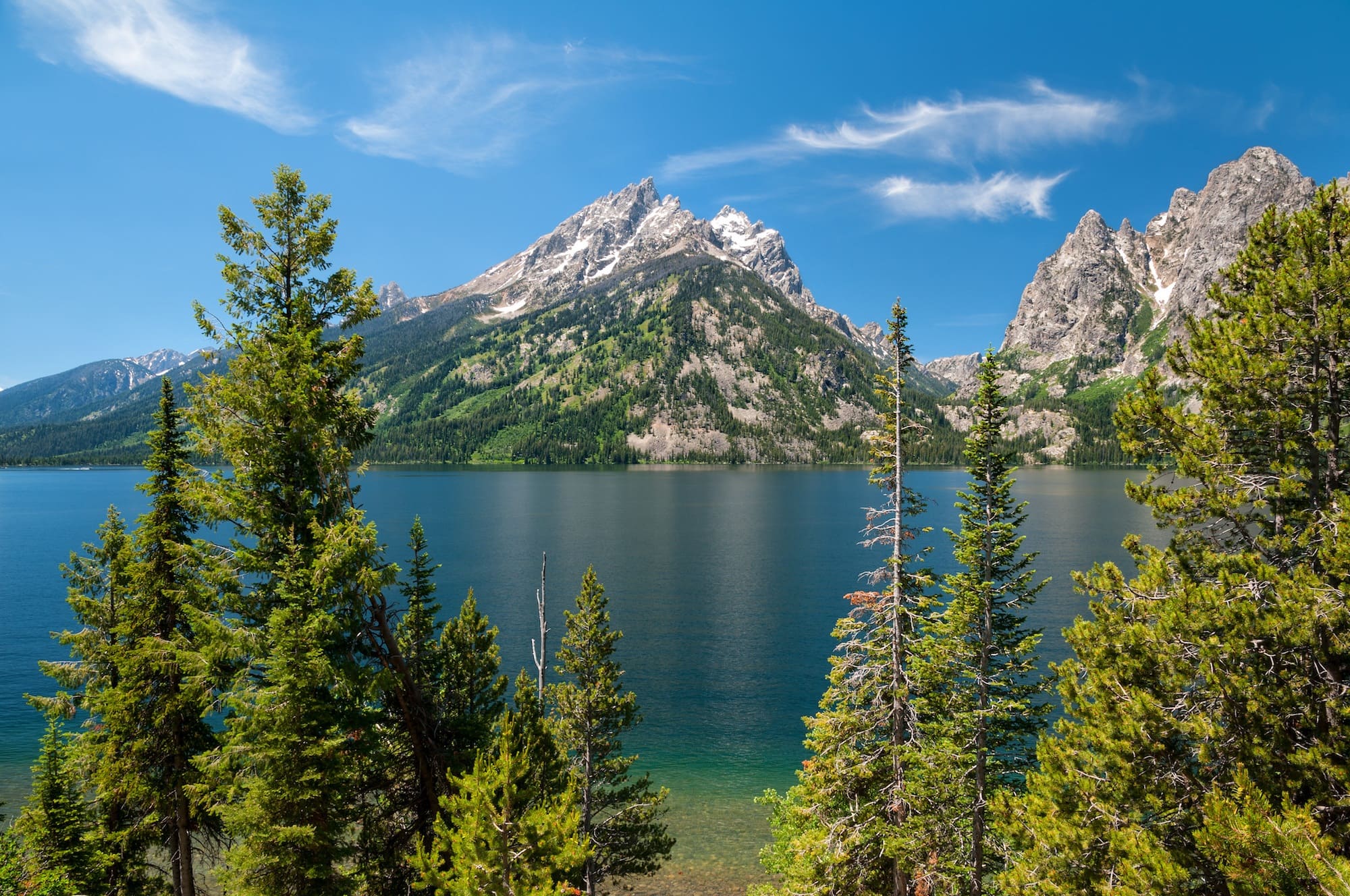 ** New to Hiking? Read Back to the Basics: Hiking 101 Tips **
DAY 2
Get on one of the first boats across Jenny Lake to the trailheads on the other side of the lake. You'll find short and simple trails leading you to Hidden Falls and Inspiration Point.
Escape the crowds by continuing on past Inspiration Point to Lake Solitude. From the boat landing, Lake Solitude is around 14 miles round trip with 2,400 feet of elevation gain. It makes for a longer day, but traveling below the jagged peaks of Cascade Canyon provides very different scenery from the prior day in Death Canyon. The trail meanders through lush forests, along a flowing river, and past several waterfalls. For more information on this trail, see this trail guide.
Another option is to walk around the lake, which will lengthen your trip by about 4 miles. So, the total hike would be around 17-18 miles.
One more thing to keep in mind is that moose frequent this area, so you might get to see one (or more). If you encounter wildlife, give them space and observe from a distance.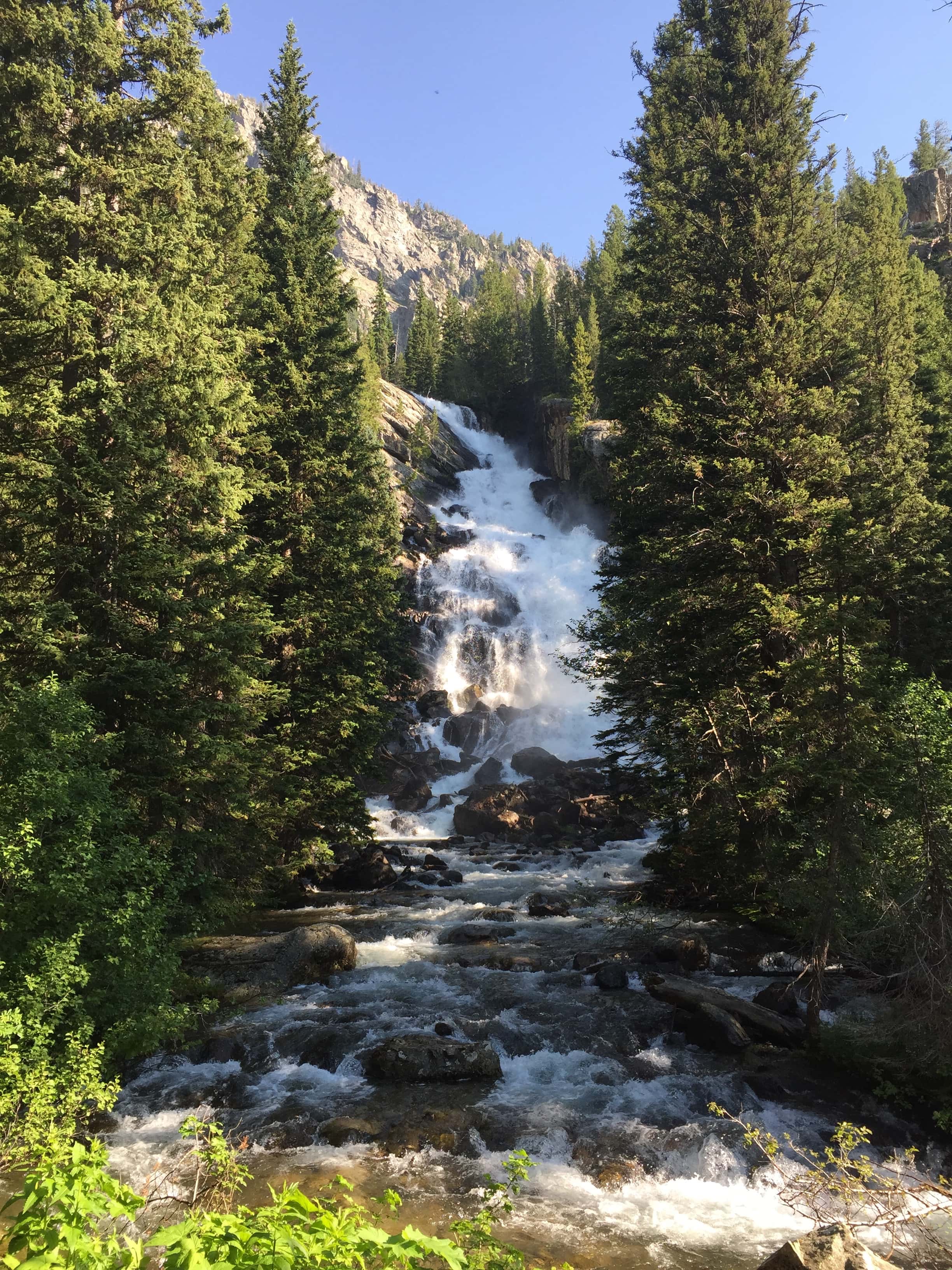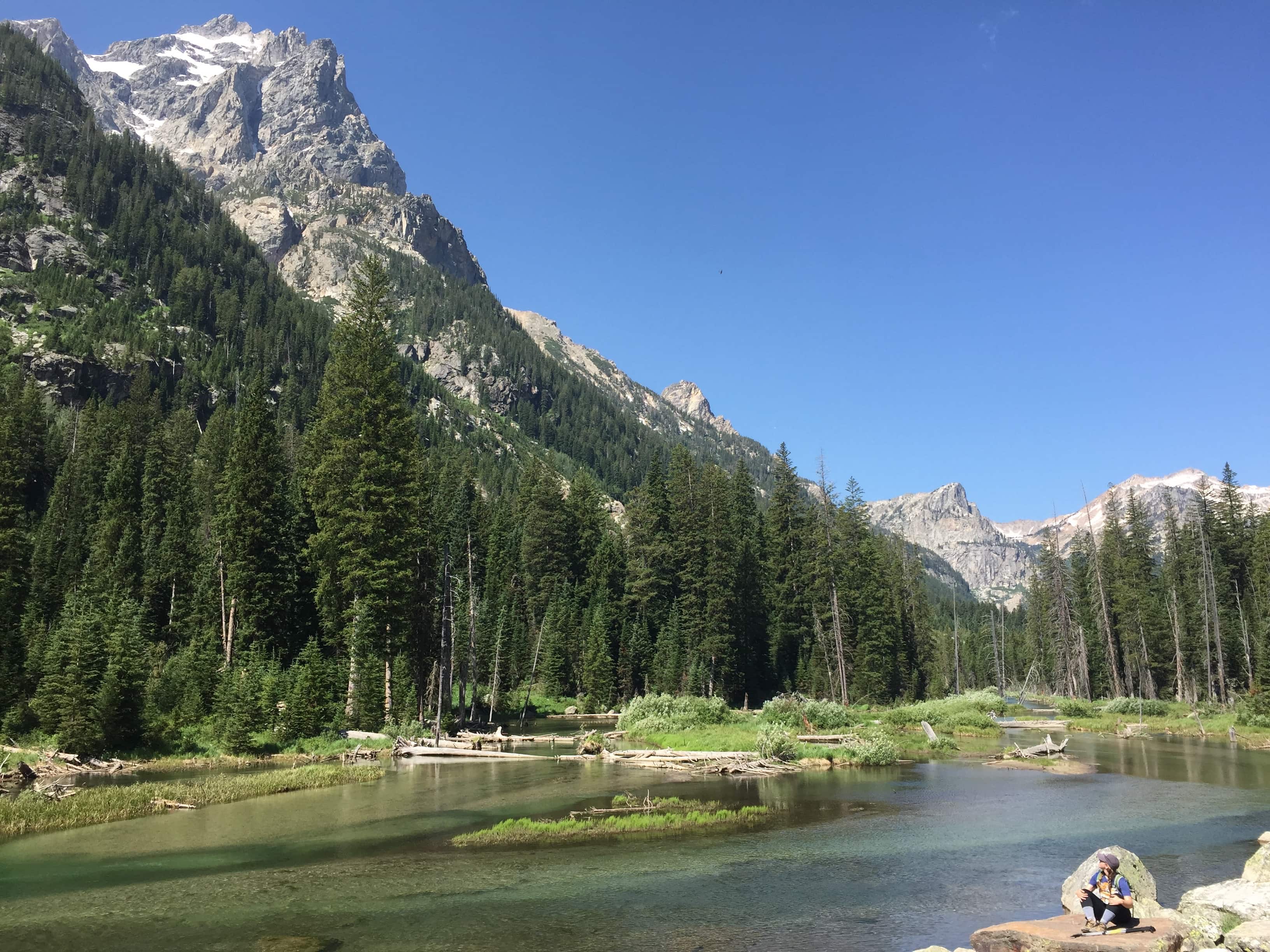 When you return from your hike, reward yourself with huckleberry margaritas and nachos at the Signal Mountain Lodge—it's a local favorite among the park staff and a delightful post-hike treat!
Afterward, drive up the Signal Mountain Road for an impressive aerial view.
For a change of campsite scenery, relocate your tent on night 2 to the Colter Bay Campground. This way, you'll wake up on day 3 a little closer to Yellowstone.
---
DAYS 3-6: Yellowstone National Park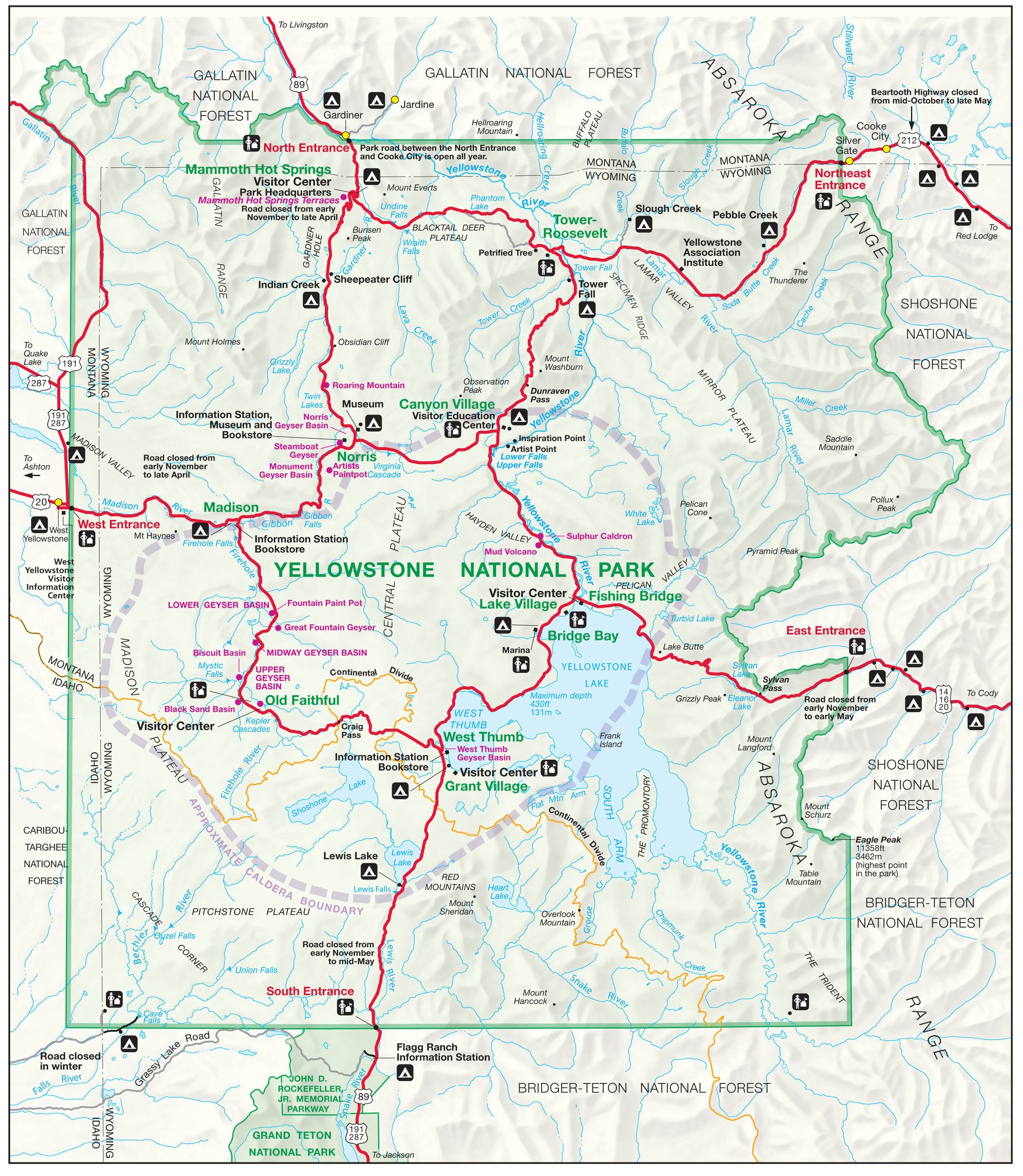 DAY 3
Yellowstone or bust! Be prepared to see a whole new world in a very short distance on your Yellowstone trip. My friend referred to Yellowstone as "extraterrestrial" or "something from another planet." And, it's true, it really has that feel.
On your way into the park, swing by the Grant Village Visitors Center to see the video about the famous 1988 Yellowstone fire that burned a third of Yellowstone— it helps visitors understand the devastation Yellowstone has faced, and why it has a rough appearance in certain areas.
One of the best parts of Yellowstone is that the main road is a loop, so you basically just keep working around the circle. On your first day, I recommend heading clockwise to Old Faithful and getting this tourist-packed attraction checked off the list. The geyser erupts every 90 minutes; there are signs everywhere in the area informing you of the next eruption. The viewing area is big, but it does get super crowded. So, I suggest arriving about 15 minutes before the eruption to secure a good viewing spot.
The visitor center is equally impressive and very informative. Don't miss the Old Faithful Inn tour, SERIOUSLY. You might think, "I came to a national park to explore the great outdoors, not a building…" but just wait until you walk into the lobby of the Old Faithful Inn. The tour is free and provides so much history about not only the hotel but the park itself and its first visitors. Then, once you've seen Old Faithful erupt, follow the boardwalk around to explore the Upper Geyser Basin, which has the largest concentration of colorful hot pools in the world.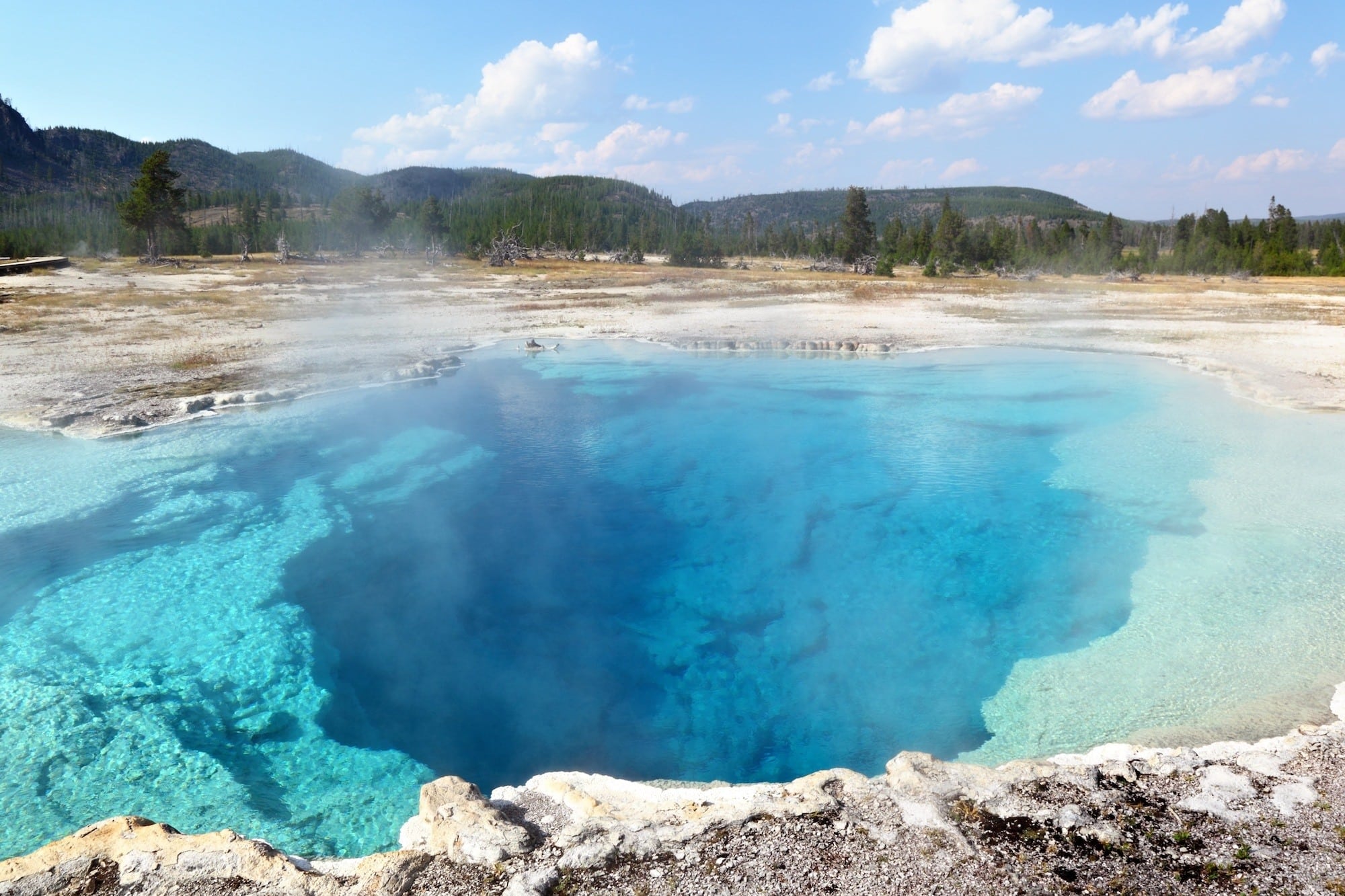 After you're done in the Old Faithful Area, hop back in the car and drive 5 miles up the road to the Midway Geyser Basin – home to the Park's most colorful geyser – Grand Prismatic Spring. There are two ways to explore Grand Prismatic. The first is a short hike on the boardwalk that puts you right at the base of the springs. The other option is to park at the Fairy Falls parking lot and take the 1.2 mile round trip trail to the Grand Prismatic overlook where you'll get a birds-eye view.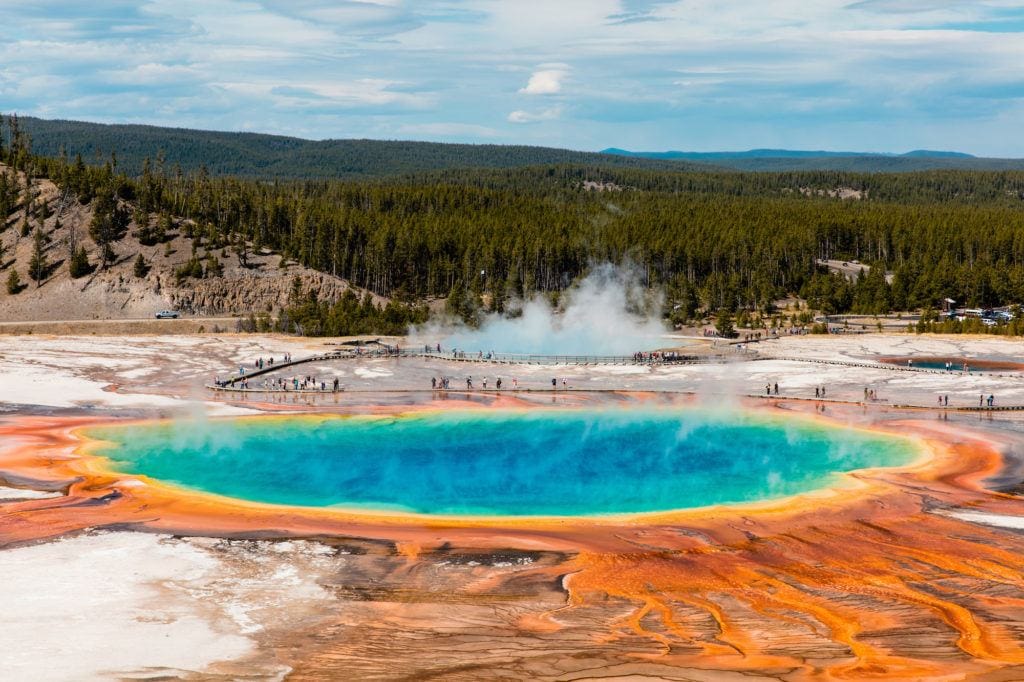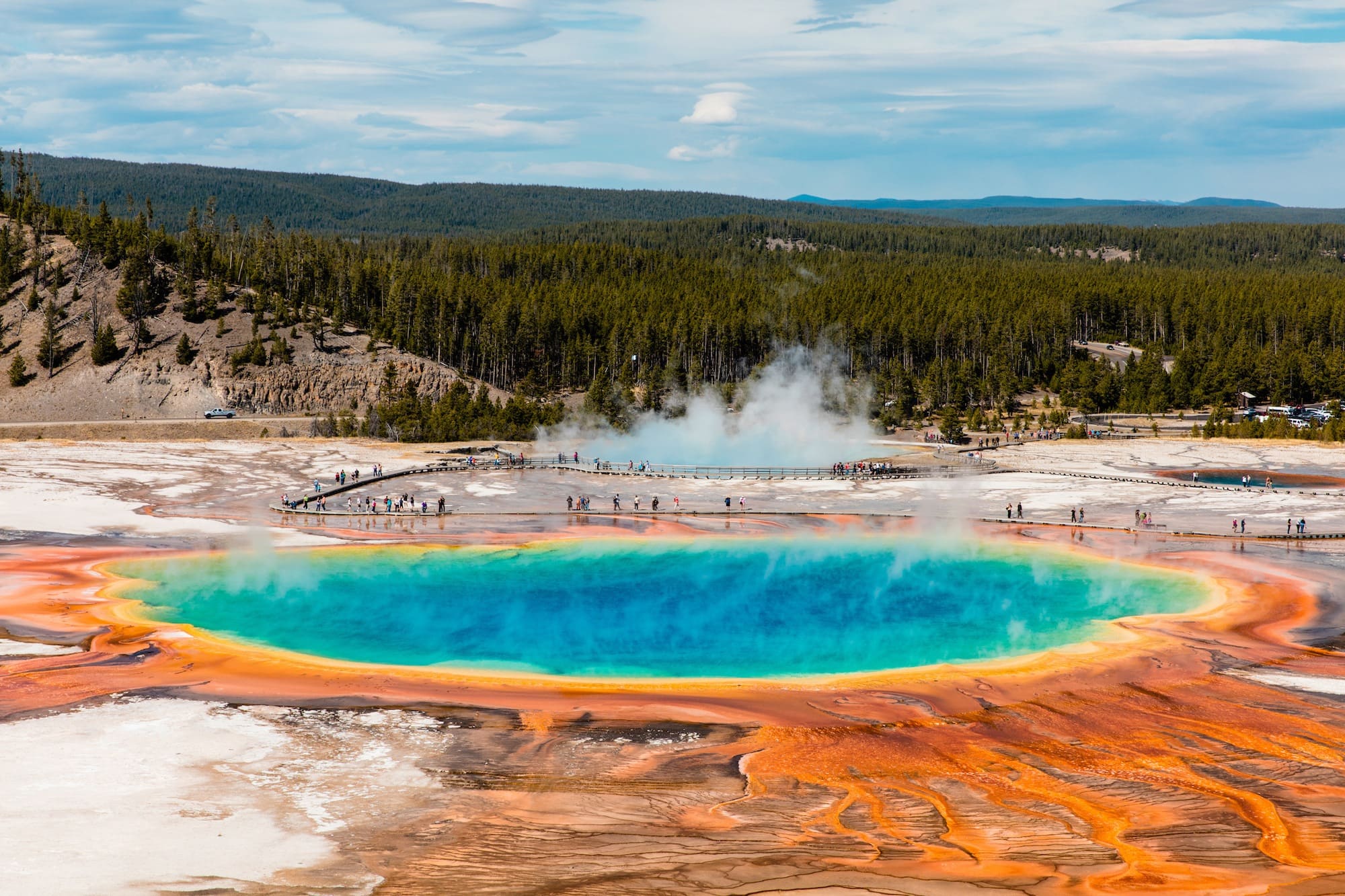 As the sun sets, head on over to the small town of West Yellowstone for a night at a local motel. This town also has a great little family-owned grocery store so you can restock on food (you will get bored with the park food really quickly—it is the same between both parks and at all stores in the parks).
Camping in Yellowstone is also a convenient option on your road trip as it minimizes the amount of driving you'll have to do, but it requires advanced planning. Check out our guide to the campgrounds in Yellowstone with tips for getting a reservation.
DAY 4
Today on your Yellowstone vacation, you'll head north towards Mammoth. Make a quick stop at the Park Ranger Museum to learn the history of the National Park Service. Then, if you aren't totally "geysered-out", stop at the Norris Geyser Basin for a short walk to stretch the legs and get your morning dose.
If you think you've seen it all after driving by the various geyser turn-offs… just wait. Mammoth Hot Springs is the definition of unique in Yellowstone and it's very different from everything you've seen so far. The water that pours over the hot springs has been in the ground for over 1,000 years and is responsible for all of the formations in the area as it cascades down. Take a peek into the Mammoth Hot Springs Hotel and check out the map room—it features a map of the United States made from several different kinds of wood. The Mammoth Hot Springs Visitor Center is also worth stopping in.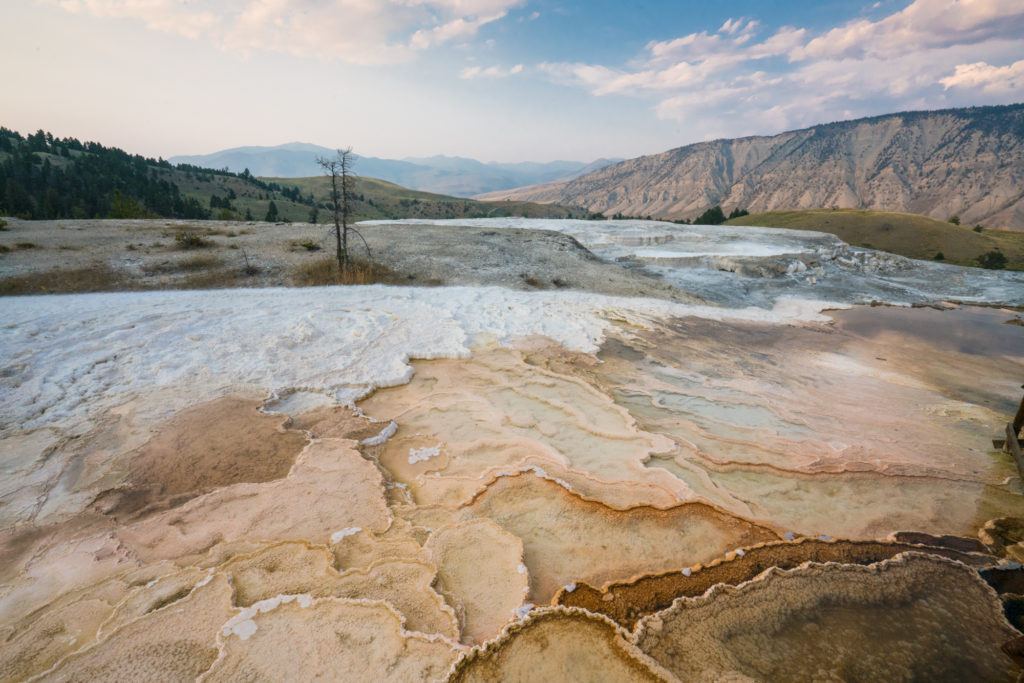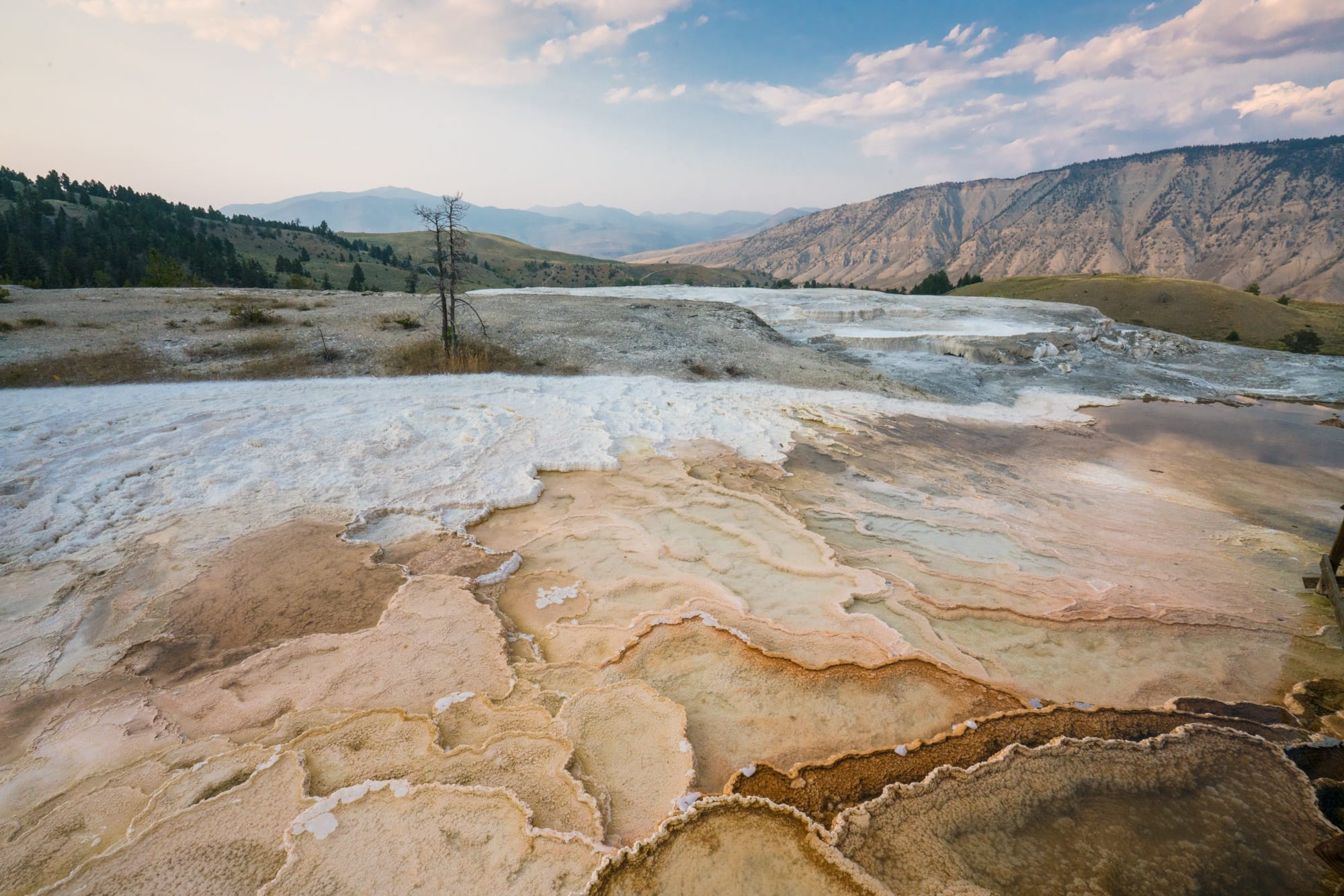 Next, head to the Tower-Roosevelt area and take a drive through Lamar Valley. It's a beautiful area and home to the largest concentration of bison in Yellowstone.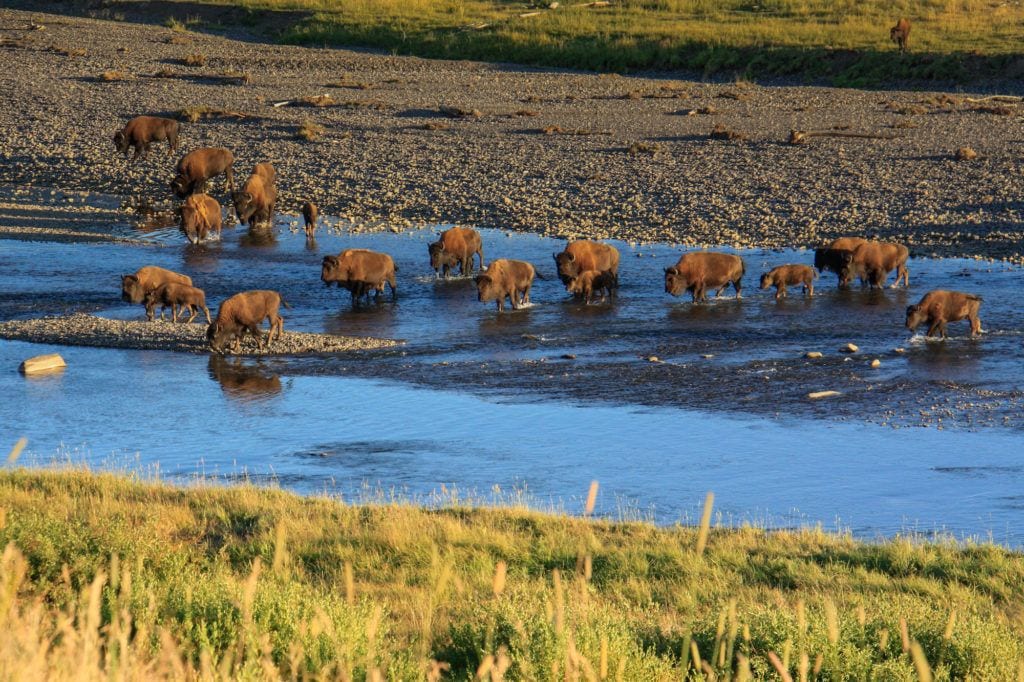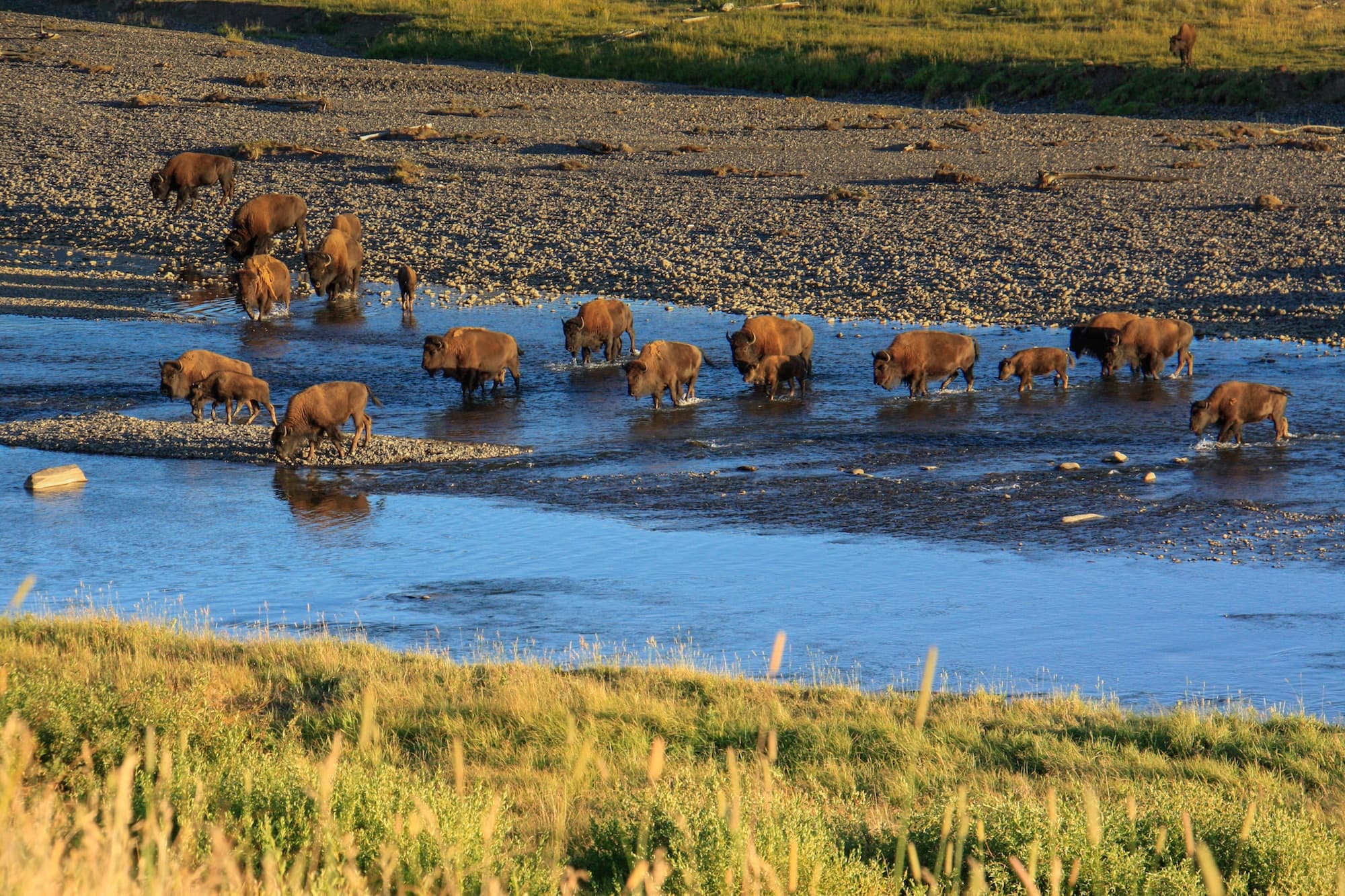 From here, continue on driving through Yellowstone's Canyon. It's a busy area of the park, but this drive is unbelievably beautiful, especially during wildflower season. Take your time and enjoy the scenery, especially the areas on this side of the park that were not hit by the 1988 fire. The power of the Yellowstone River and the upper and lower falls which carve the canyon is astounding.
Camp at Canyon Village for the night.
DAY 5
Kick off the fifth day of your trip by visiting Artist Point. It's a beautiful lookout on the edge of a cliff that showcases a cascading waterfall in the Grand Canyon of Yellowstone. The lower falls are 308 feet and are super photogenic. So, bring your camera and make a memory of one of the most photographed waterfalls in the country.
After this stop, keep cruising along the road to visit Sulphur Cauldron and Mud Volcano. These are the park's most acidic hot springs and are worth a stop along the way.
To wrap up the day, camp at Grant Village Campground at the south end of Lake Yellowstone. You'll pass the West Thumb of the lake, which formed 150,000 years ago after a big volcanic eruption. This campground is only open through June – September, so plan ahead accordingly.
---
DAY 6: Drive Back to Jackson
One of the great things about having a full day left to start heading home towards the end of our road trip is if you missed anything in the Tetons you now have the opportunity to check it out! I recommend heading to Jackson, Wyoming for a lunch stop and afternoon walk-about. It's a tourist town but has a unique tempo to it and lots of individual mom-and-pop stores.
Don't miss stopping in at the Million Dollar Cowboy Bar too. It has so much history and is a neat spot to get a drink. Then, as you're heading out of Jackson in the evening, grab dinner at The Bird just south of town. They have a beautiful outdoor porch perfect for watching the sunset and toasting the end of your vacation.
---
DAY 7: Head Home from Salt Lake City
Travel back to Salt Lake City and fly home! If you get to SLC and have a few hours to burn I highly recommend you check out Park City (famous for incredible winter skiing and hosting the Sundance Film Festival) or if you really want to indulge (won't lie, we did) then check out the Kura Door Spa. Their prices are average and all services include access to relaxation rooms, sauna, steam room, and yummy treats & tea. For food and drinks near downtown, check out Whiskey Street (21+), Red Iguana (killer classic margs and amazing guacamole), or Spitz (delicious donor kabobs).
If you have a full day in town, Kristen has written posts about some cool outdoor spots near Salt Lake, such as Diamond Fork Hot Springs and Red Pine Lake.
Are you planning a Yellowstone and Grand Teton National Park road trip or have you been? Share your comments, questions, and experiences below.