Backpacking the High Divide Trail (Seven Lakes Basin Loop) in Olympic National Park
Learn how to backpack the High Divide Trail & Seven Lakes Basin Loop in Olympic National Park and get a full trail report.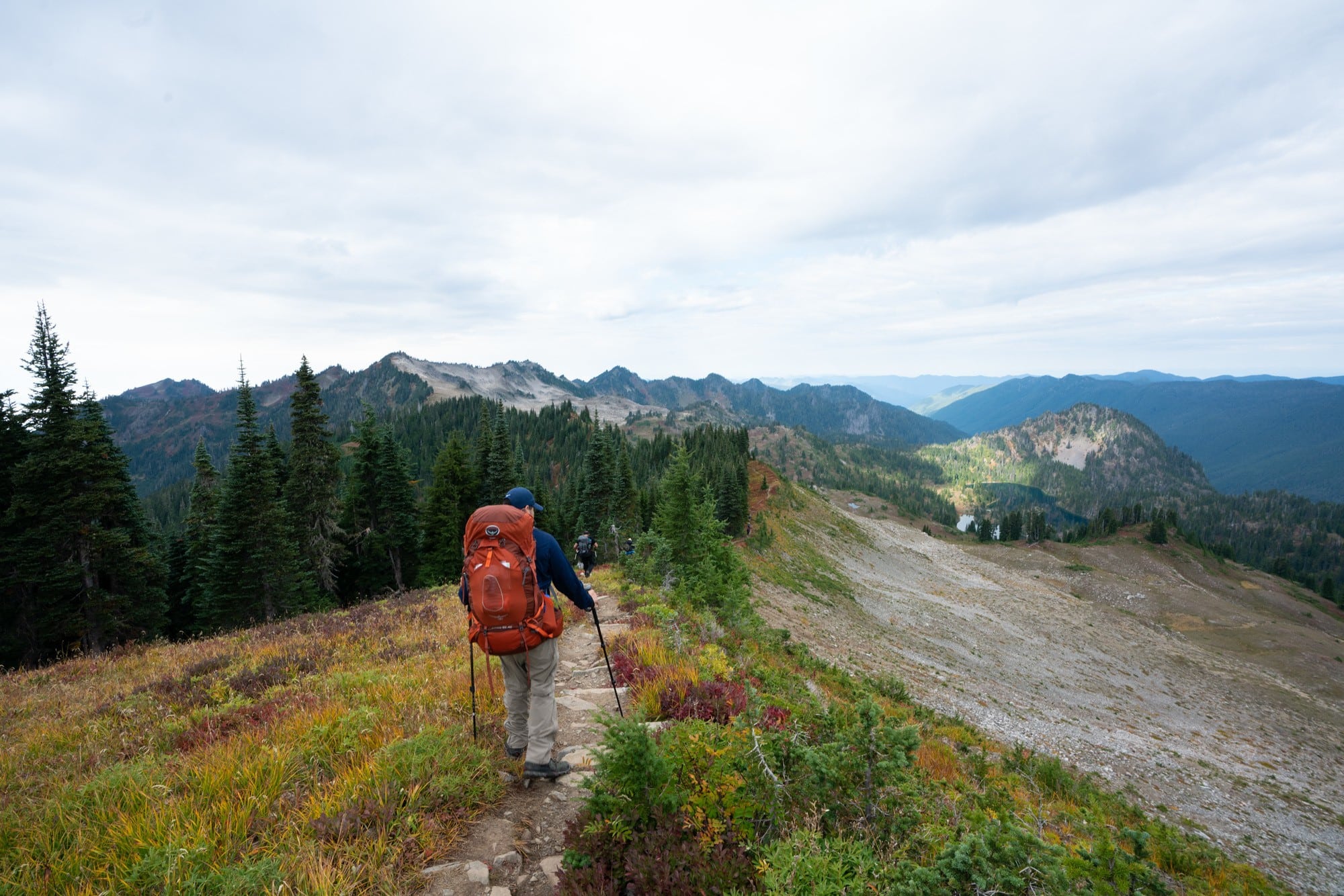 The High Divide Trail in the Seven Lakes Basin of the Olympic Peninsula is one of the most coveted hiking and backpacking routes in Washington State.
Filled with incredible views of jagged Olympic peaks, verdant rainforests, and glistening alpine lakes, this 19-mile loop is typically done as a 1 to 3-night backpacking trip, although some people do complete it as a day hike.
I hosted a Bearfoot Theory group trip on the High Divide Trail (also called the Seven Lakes Basin Loop) and we spent four days camping and exploring.
Spoiler alert: it was spectacular.
We started in the rainforest and ended up in the high alpine with clear views of the glaciers on Mount Olympus and incredible fall colors.
In this blog post, I recap our experience backpacking the High Divide and Seven Lakes Trail and share important information for anyone who is considering backpacking this iconic Pacific Northwest trail.
As it goes in all of the destinations we share, please practice good trail etiquette and remember to Leave No Trace. This means packing out all of your garbage, being respectful to others on busy trails, and following the established rules.
Join our community for access to our free member resources!
Download Handy Outdoor Packing Checklists & Trip Planning Guides
Watch my YouTube Video highlighting our backpacking trip on Olympic National Park's High Divide Trail and Seven Lakes Basin Loop:
---
The High Divide & Seven Lakes Basin Loop Basics
Distance: 19.1 miles
Difficulty: Difficult
Elevation Change: 5,387 ft
Time needed: 2-4 days
Permit Needed? Yes, for overnights (more info below)
Pass needed: Olympic National Park entrance fee or America the Beautiful Annual Pass
Dogs Allowed? No
Best time to go: July – September
The High Divide Trail is located in Olympic National Park on the Olympic Peninsula of Washington.
The trail begins at the Sol Duc River trailhead, which is located 3.5 hours drive from Seattle (via ferry or through Tacoma).
From there, the trail winds its way up through dense, moss-draped forests and past cascading waterfalls, eventually reaching the alpine environment of the High Divide, a mountainous ridge offering panoramic views.
The trail then skirts the edge of the Seven Lakes Basin, a series of pristine alpine lakes, before looping back down to the trailhead. This loop is known as the Seven Lakes Basin Loop.
---
High Divide & Seven Lakes Basin Loop Trail Map
---
Planning Your High Divide Trail Backpacking Trip
When to Go
July to September is the most popular time for hiking the High Divide/Seven Lakes Basin Loop.
We hiked in late September when the weather can be iffy with rain, but the fall colors were worth the risk.
Depending on the year, snow can also often be found on the trail until mid-July, plus the early season bugs can be brutal, so we don't recommend hiking in May or June.
Permits
A permit is required for spending the night in the Seven Lakes Basin.
Here are a few tips for obtaining a High Divide permit:
Camping
If you're backpacking the High Divide Trail, follow these camping rules:
Water Availability
Water from streams and lakes is readily available along the trail. I recommend having a water reservoir in your backpack or carrying a few soft water bottles.
Make sure to filter water prior to drinking.
Bear Canisters
National Park Service-approved bear canisters are required for storing food, garbage & scented items in Olympic National Park.
The Wilderness Information Center in Port Angeles has a limited number of bear canisters you can borrow if needed.
Bearfoot Theory Bear Canister Pick
Bear Vault 450
The BV450 is our top choice for the High Divide Trail because it easily stores 1-3 days' worth of food without being too bulky. It's also see-through so you don't have to go digging for what you want and it's NPS-Certified.
Human Waste
The High Divide Trail and Seven Lakes Basin are designated Wilderness and we want to keep them as pristine as possible.
Please follow these rules and tips when going #1 and #2:
---
High Divide Trail Packing List
For a complete list of what to pack for your High Divide & Seven Lakes Basin Loop trip, head over to our 3-Day Backpacking Checklist.
For wet climates like the Pacific Northwest, you'll want a few extra pieces of gear to stay dry and comfortable on the trail, especially if you hike in late September when air temps are cooler and the chance of rain is higher.
The thing to remember is that in rainy, humid climates, gear doesn't dry. So if you get soaked on day 1, you're going to be wet the entire trip.
This can be avoided by planning ahead and packing a few extra pieces of gear.
Here are a few items specific to this route:
Read More
Backpacking Gear Guides
---
My High Divide Trail Backpacking Trip Report
Day 0
I call this "Day 0" because this is the day we drove 3 hours from Seattle to a campsite near the trailhead, so we could get up early the next day to start the High Divide Trail.
If you leave super early from Seattle, you could skip camping the night before.
We stopped for lunch at Crescent Lake, which is a great spot to stretch your legs.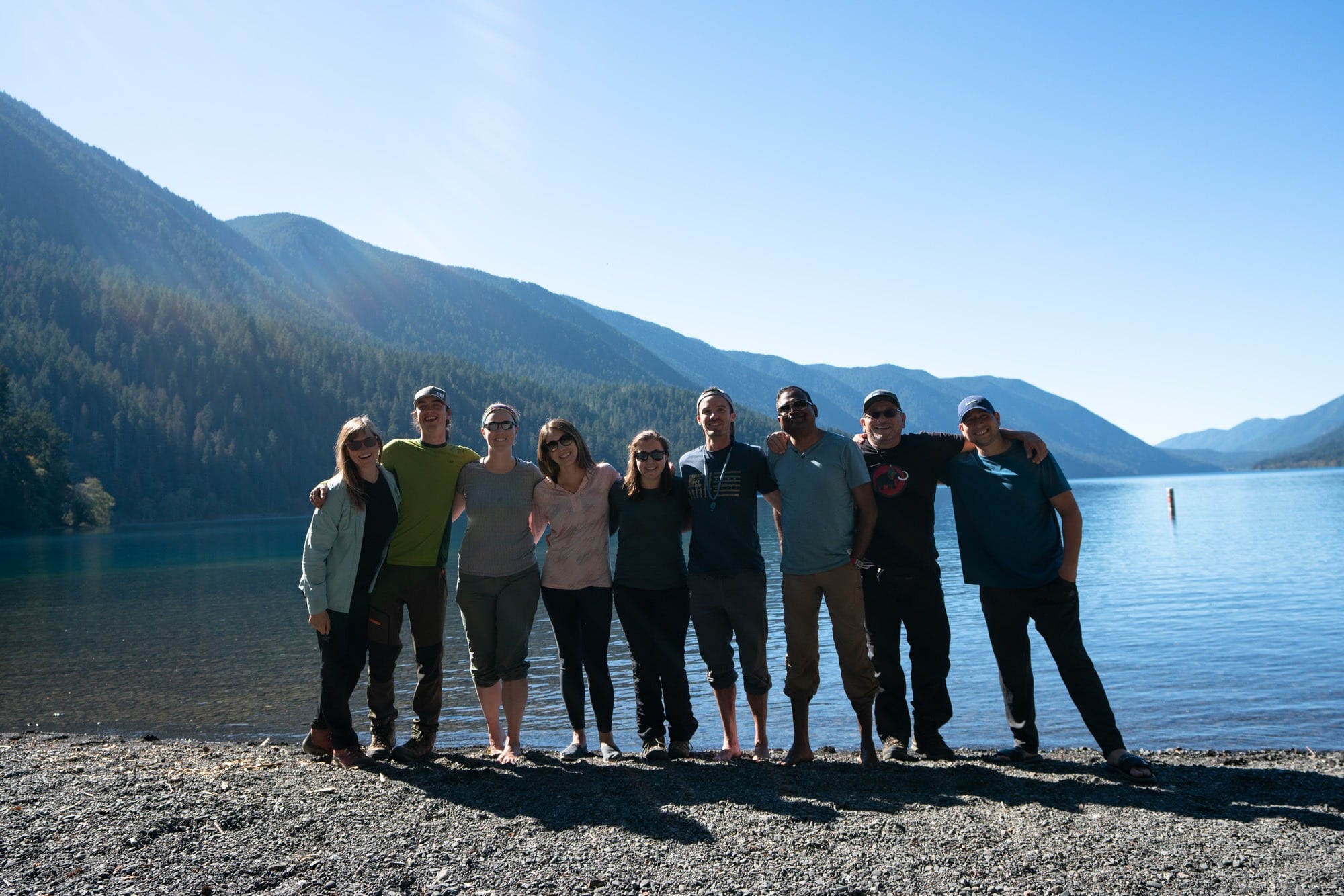 After a stop at the Visitors Center where we got the lay of the land, we continued on to the Salmon Cascades in the Sol Duc River, where boisterous salmon launched themselves up and over waterfalls as they make their way to their spawning grounds.
With plenty of daylight left, we reached our night's base camp where we'd be car camping and doing a gear check before an early night to bed.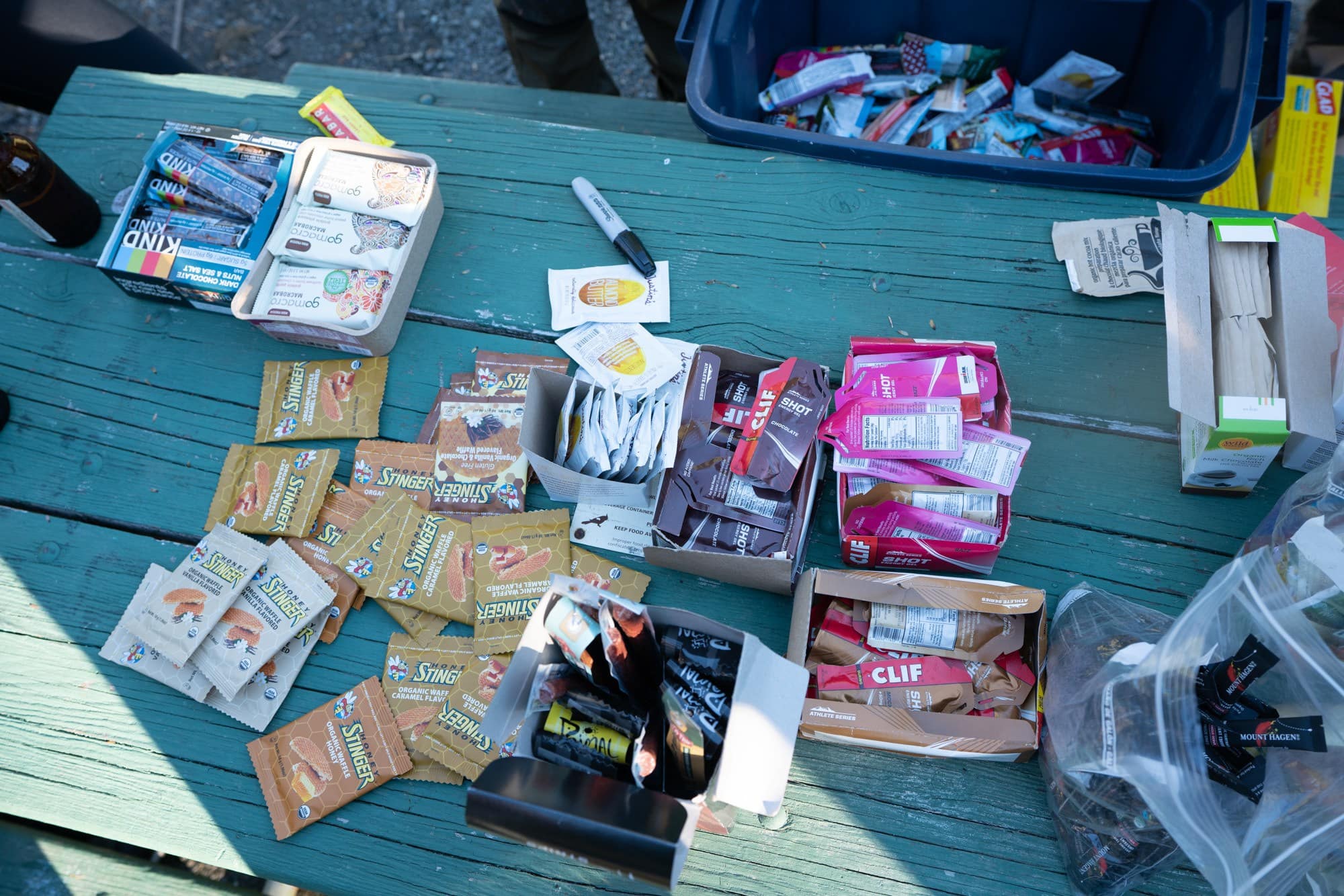 Day 1
In the morning we packed up camp and drove up the road to the Sol Duc Falls trailhead to begin our 3D/2N High Divide backpacking trip.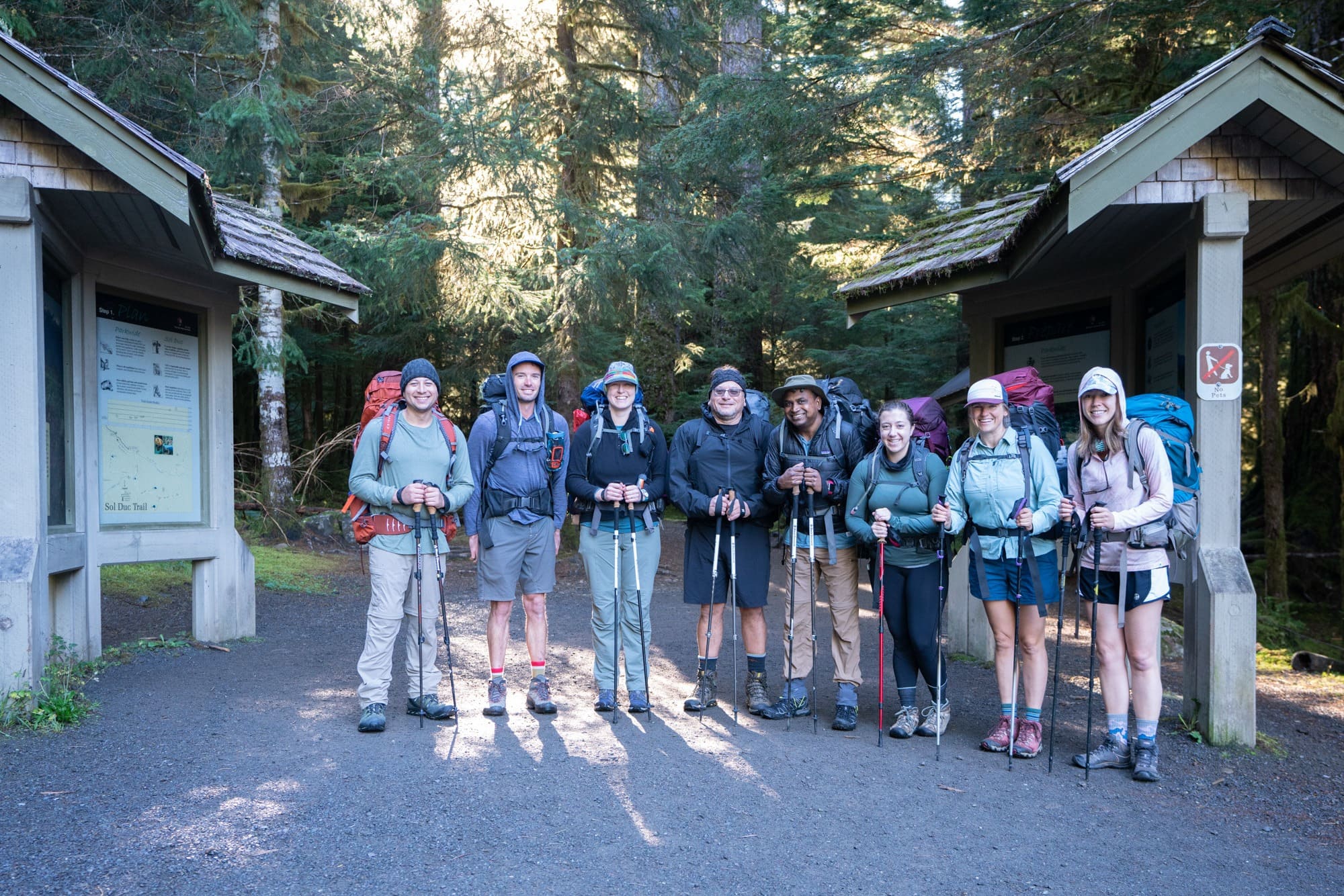 Our first full day on the trail was spent mostly in the rainforest, with a goal of approximately 7 miles and 2,000 ft. of elevation gain.
There were huge ferns, moss-covered trees, and the sound of the Sol Duc River rushing below.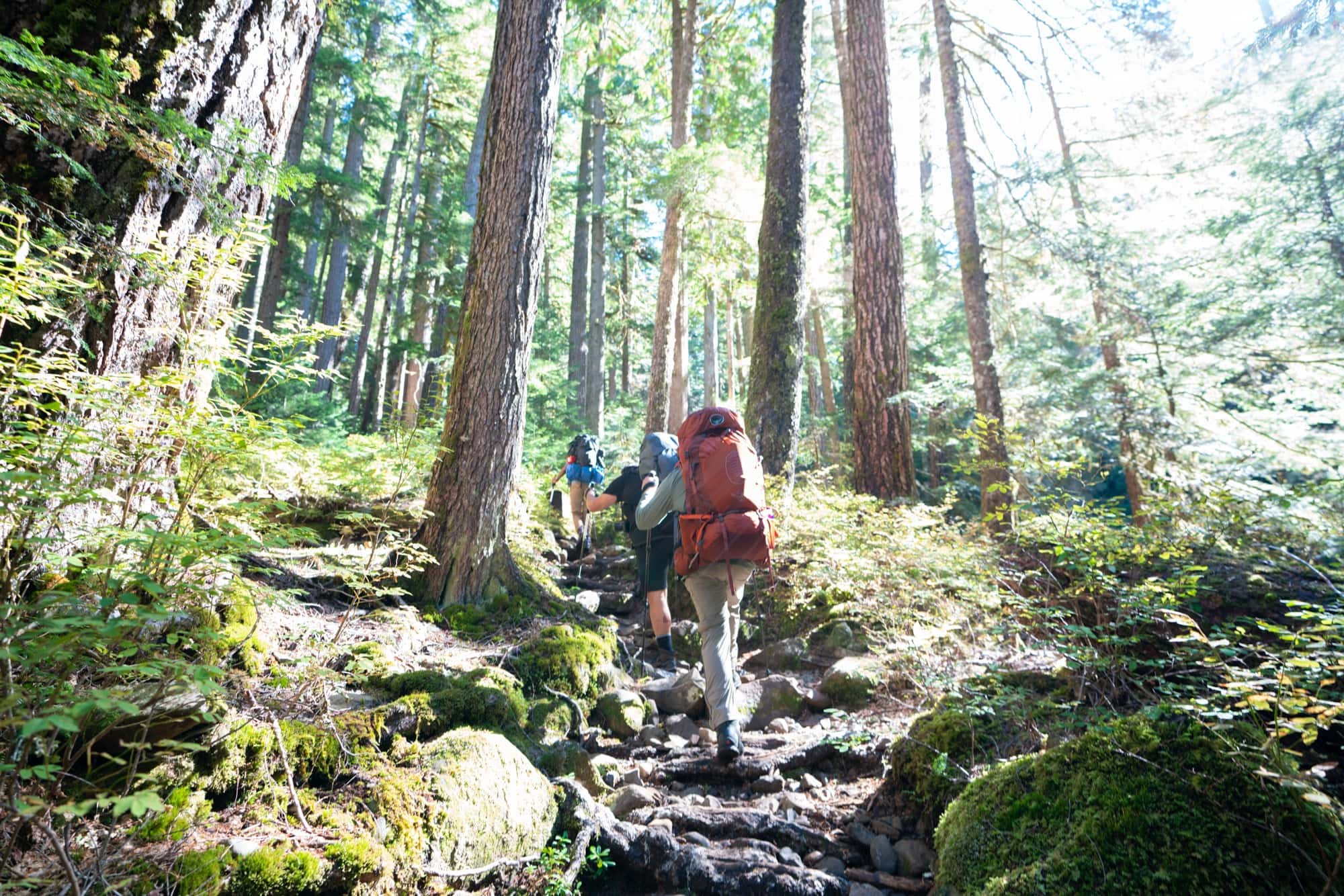 Just under a mile in, we took a short detour to Sol Duc Falls, which for most folks visiting the Park, is a destination in itself.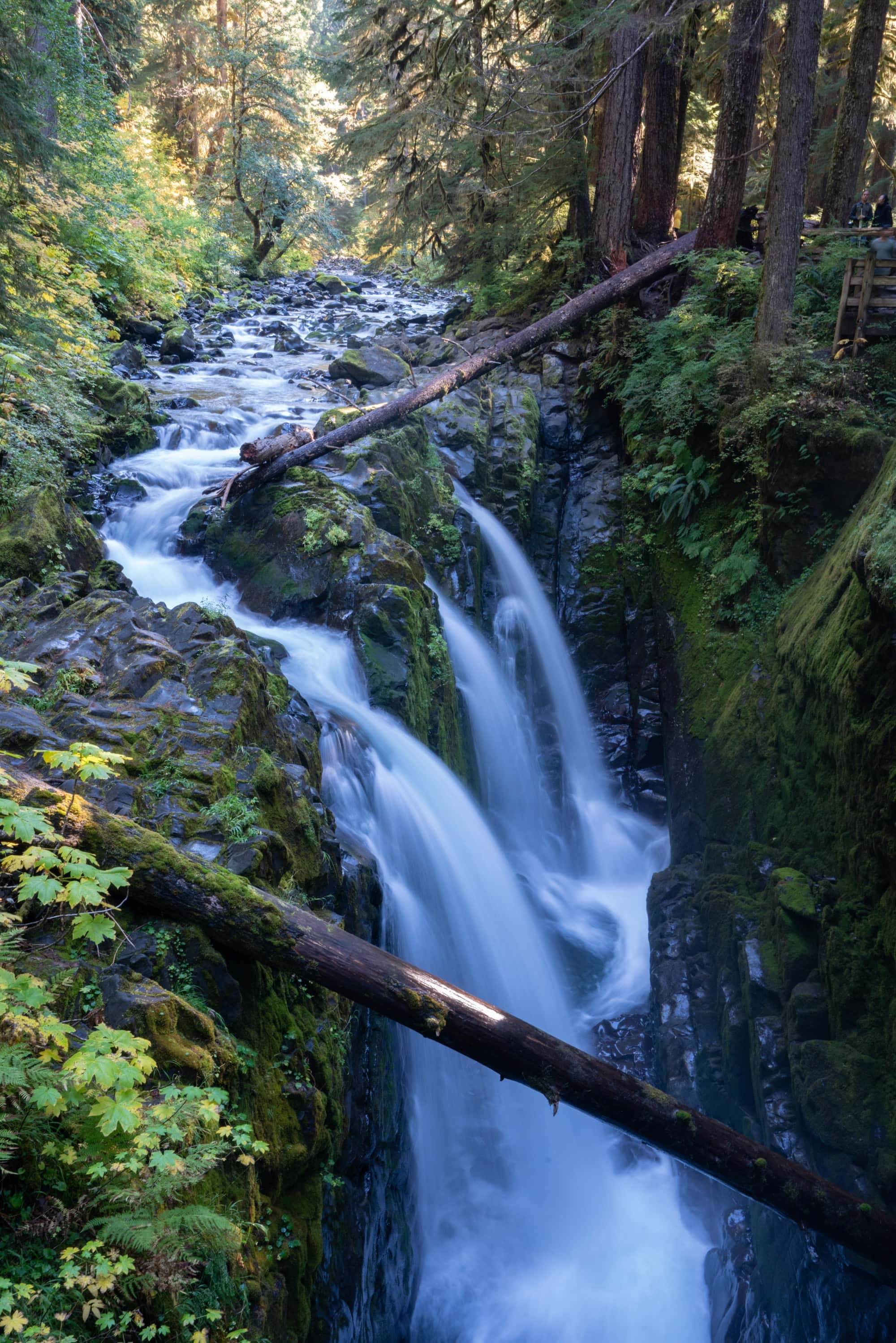 Most of the trail this day was a gradual incline. We crossed the river a few times on really cool log bridges, eventually reaching a series of switchbacks that dropped us off right at our first Group Camp.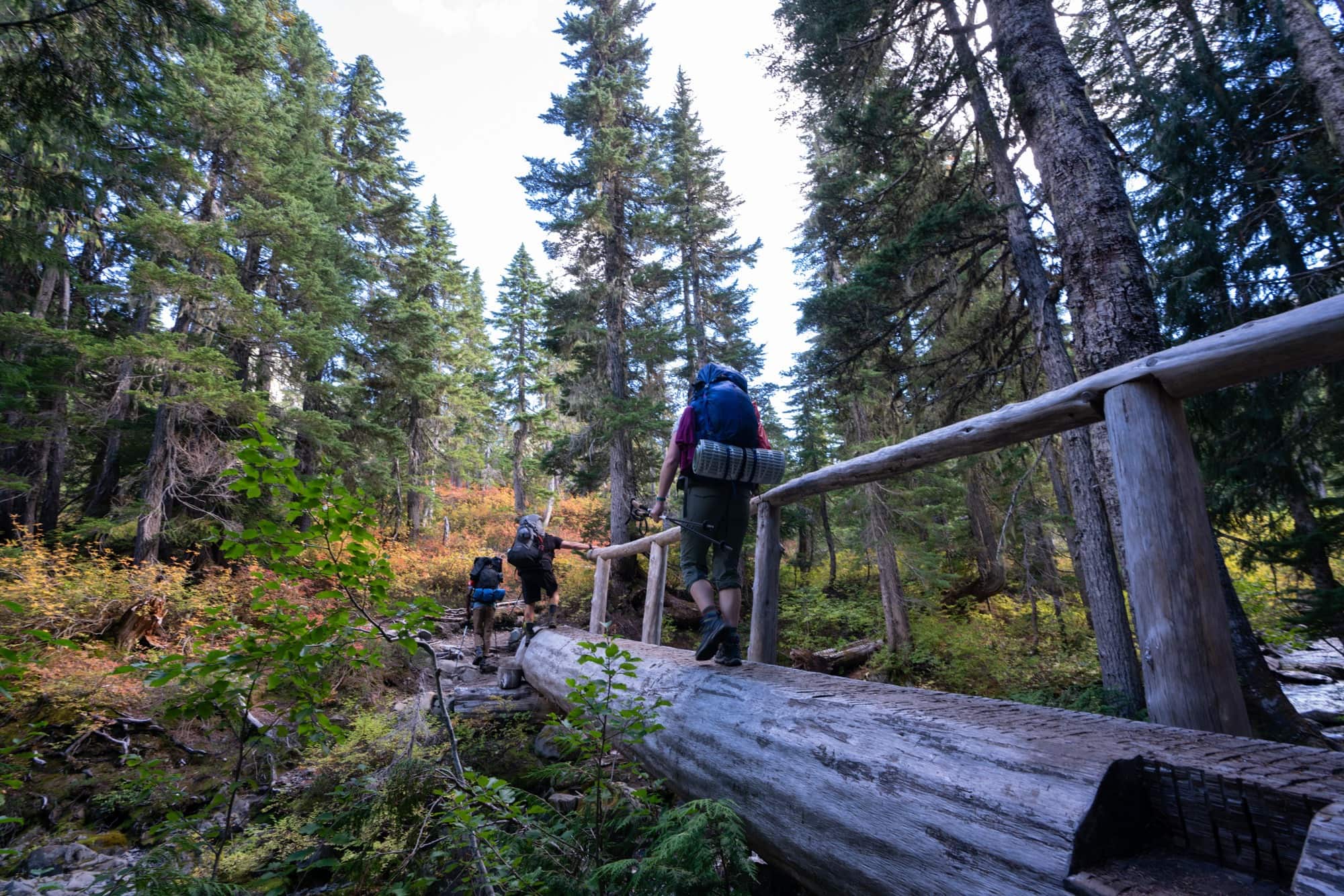 In Olympic National Park, all of the campsites on the High Divide Trail are permitted, so you must stay at your designated campground.
At the Group Campgrounds, we had space to spread out and, get this…. a clean toilet for doing our #2 business. I have to say, not having to dig a hole was a total luxury by our standards.
We were also next to a nearby meadow that got beautiful afternoon sun, which allowed us to dry off any gear that was damp from the night before.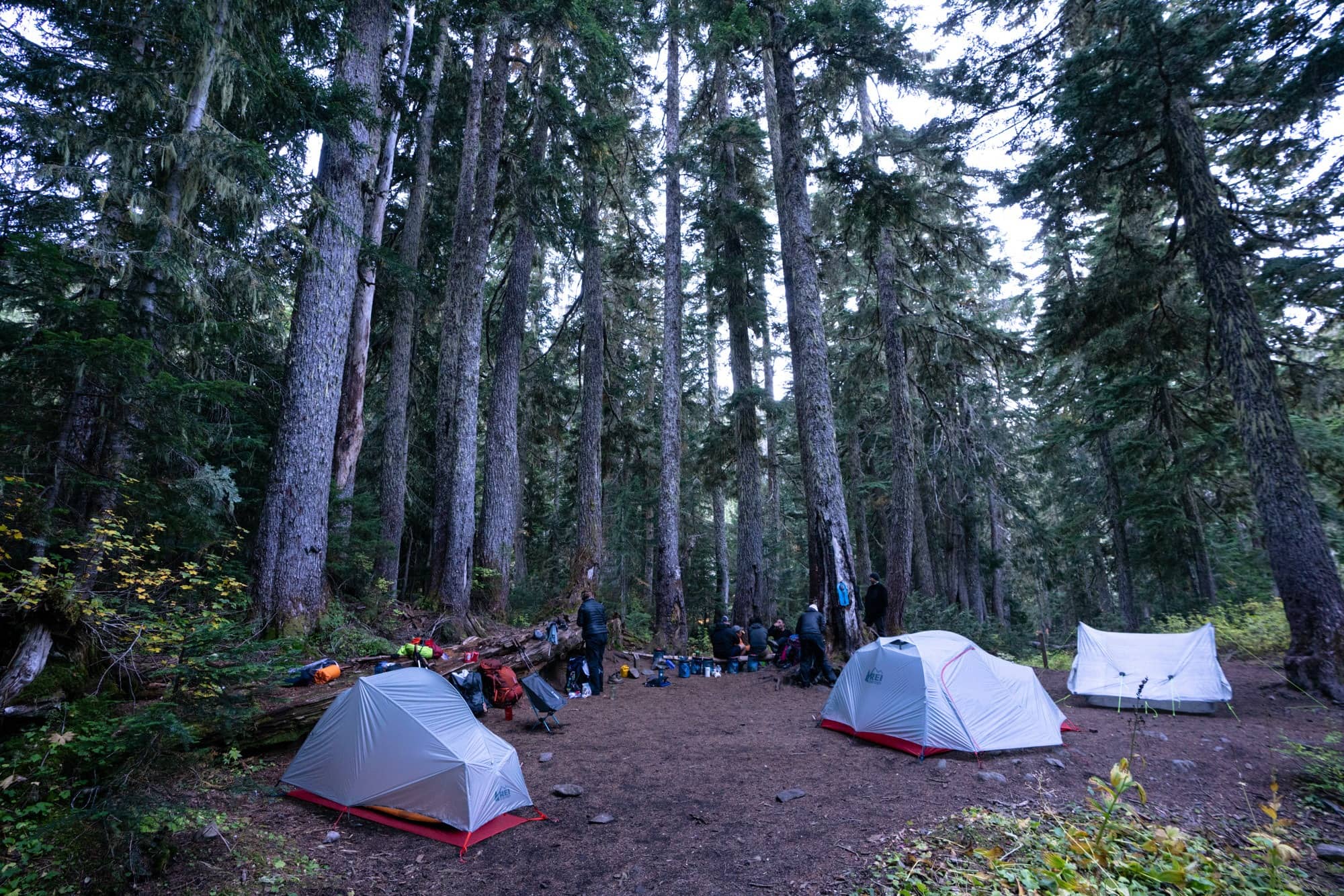 Day 2
This was everyone's favorite day on the trail. After breakfast and packing up camp, we kicked off hiking at 9:30.
We had a little more climbing to do to reach the High Divide Trail and soon we transitioned out of the forest to above the treeline.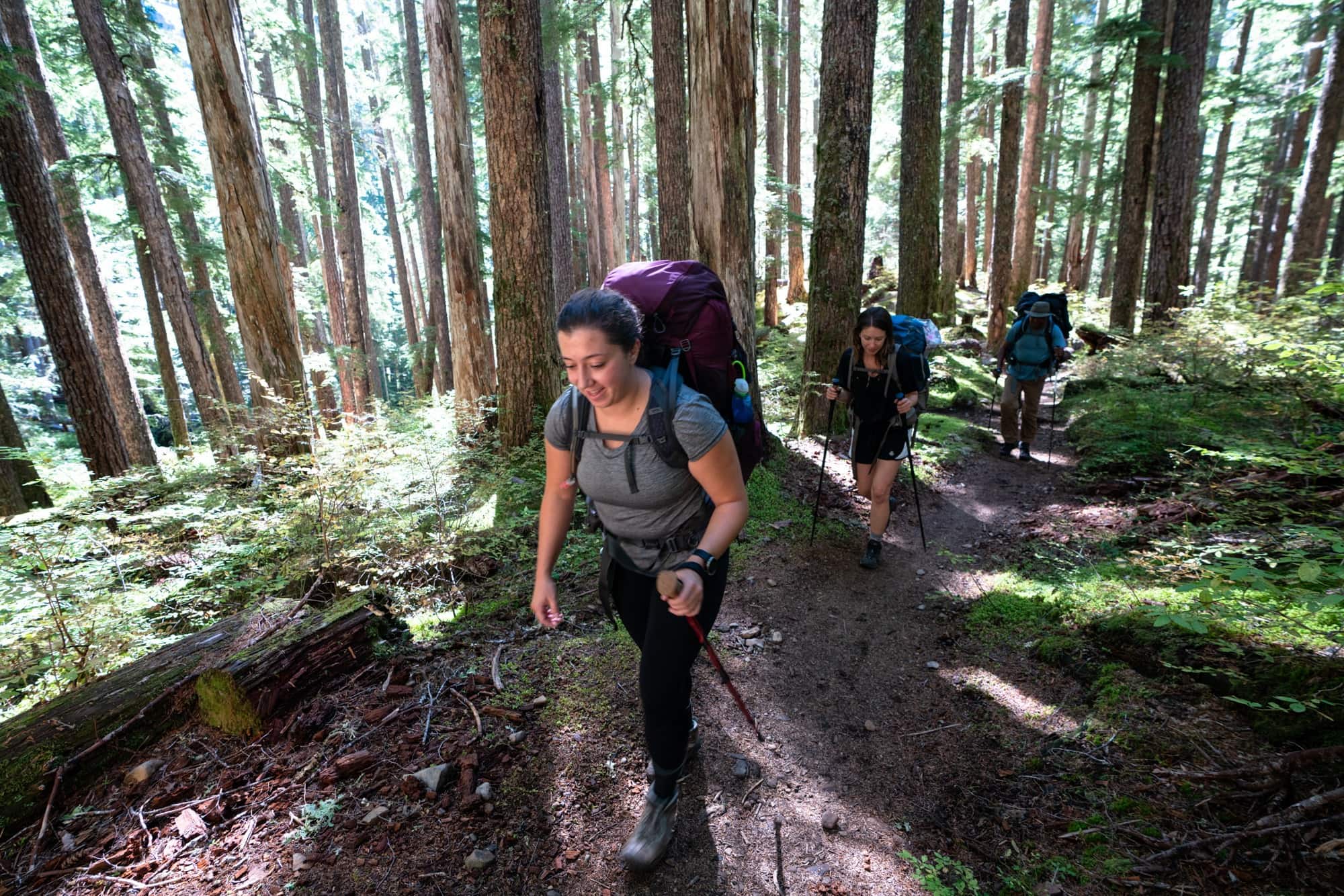 Our hike took place in late September and I wasn't sure what kind of fall colors we would see on the trail.
On the first day in the rainforest, it was all green. But as we started to gain elevation and transition to alpine vegetation, the shorter plants and understory exploded in red, orange, and yellow, creating a vibrant and eye-catching landscape.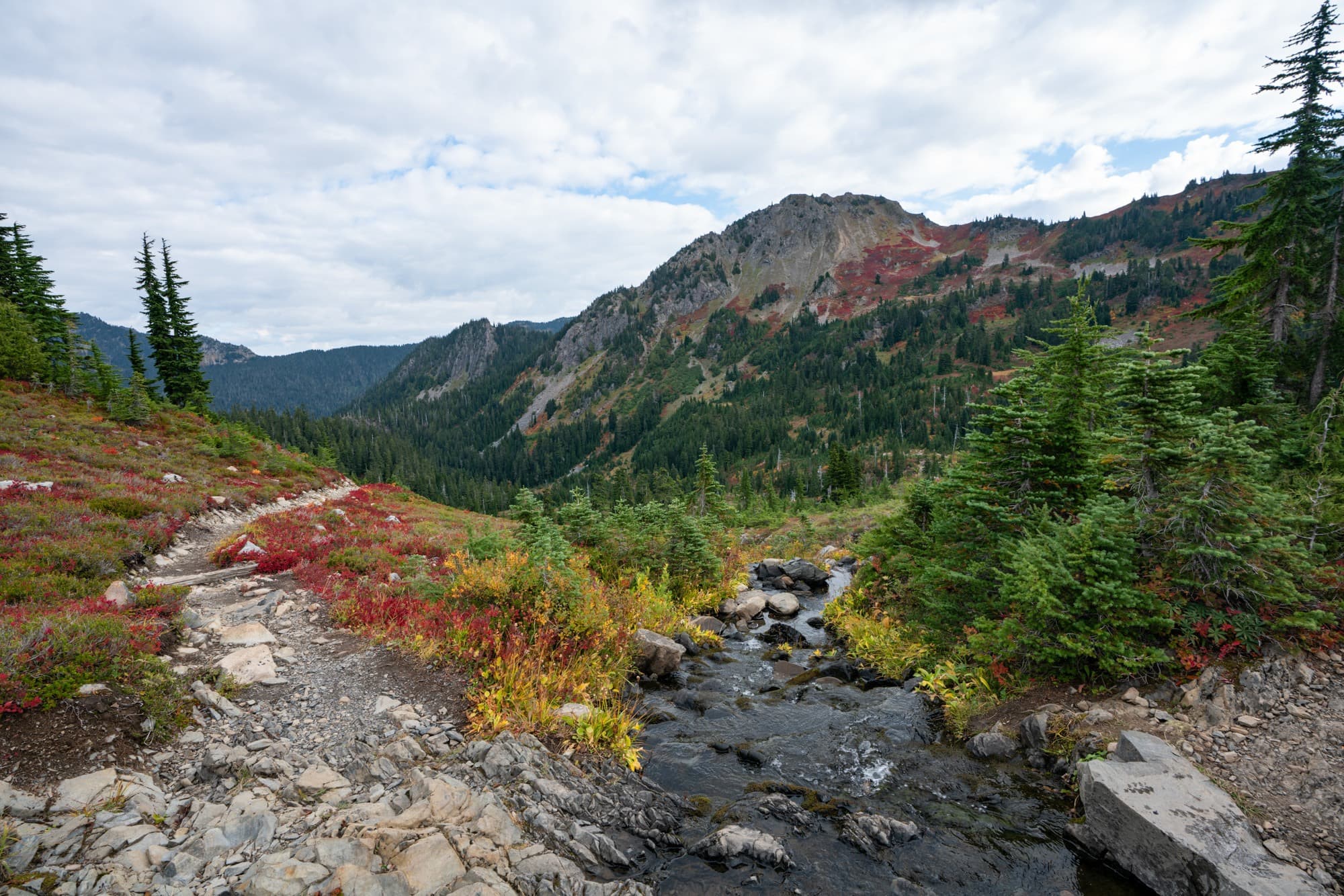 This is also where we saw our first two black bears.
We'd see two more later in the day, just picking away at berries on the hillside. It was clear they had absolutely no interest in us, which made our encounters a stand-out experience from the trip.
After passing Heart Lake, we made our final push to the ridgeline, otherwise known as the High Divide and the Seven Lakes Basin.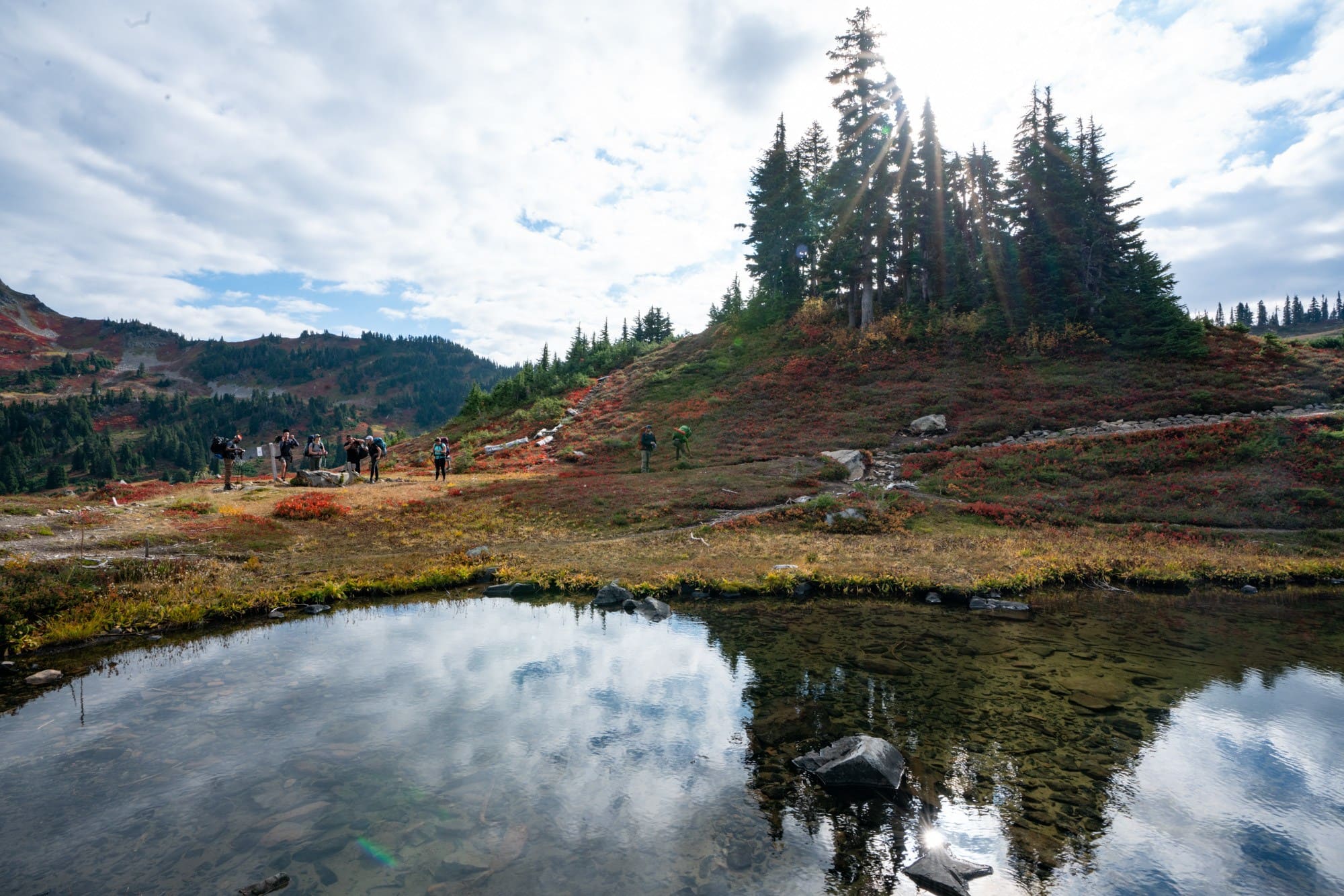 This was really the moment we were waiting for.
It was still dry but the clouds were starting to roll in and we weren't sure whether we were going to get those views of Mount Olympus that make the High Divide such an iconic Pacific Northwest Hike.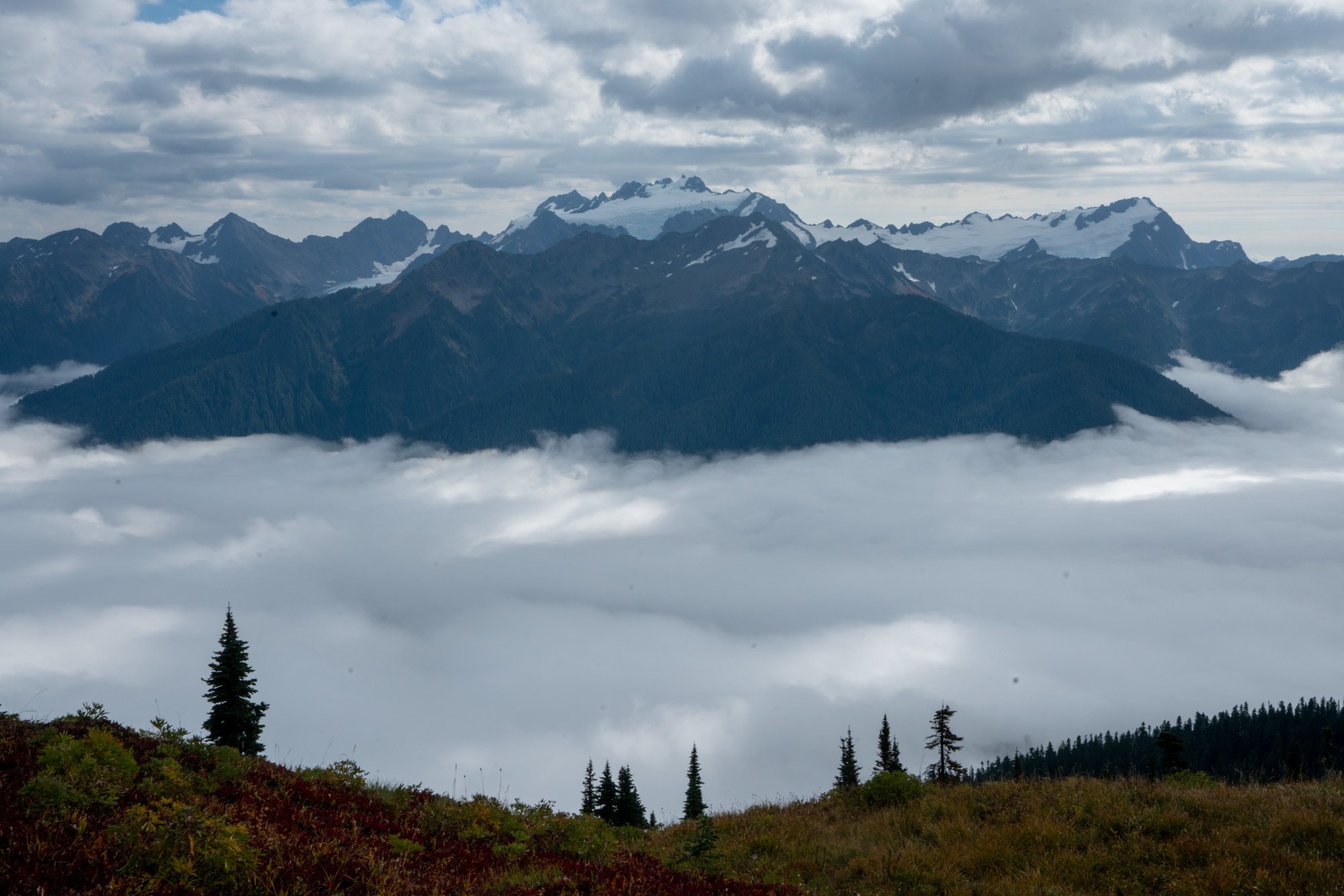 As soon as we got up on the High Divide, Mount Olympus and several glaciers came to light sandwiched between clouds in the sky and low hangers that blanketed the Hoh Valley.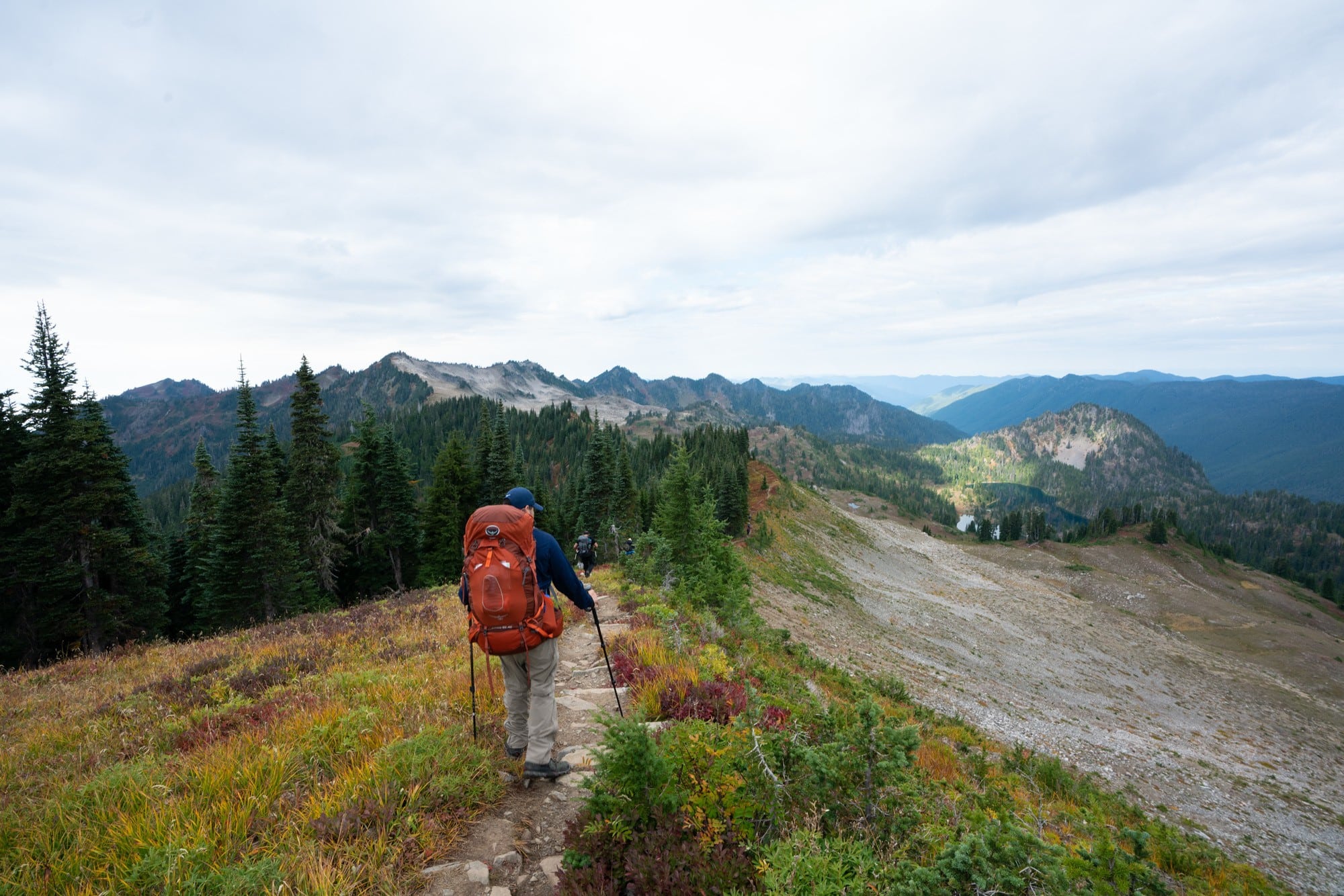 As we continued on, the views weren't just about Mount Olympus. On the north side of the ridge, we peered down into Seven Lakes Basin, a rocky bowl with seven colorful alpine lakes.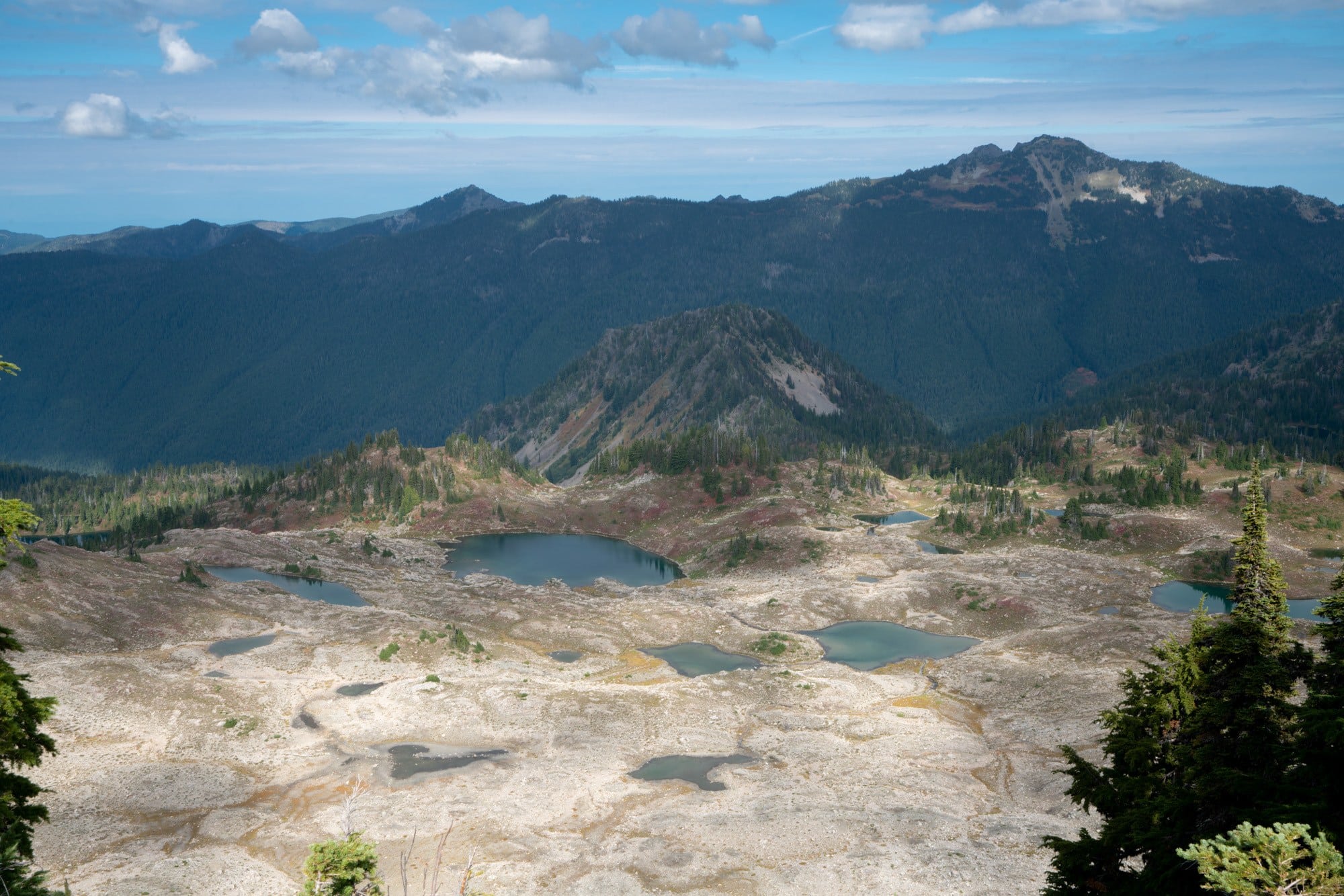 We spent several miles on the High Divide with non-stop views and just as we turned back down towards Sol Duc, the fog thickened. Our timing couldn't have been more perfect.
The mystical fog clogged our views on the way down to our Group Camp at Deer Lake, but the fall colors made up for it.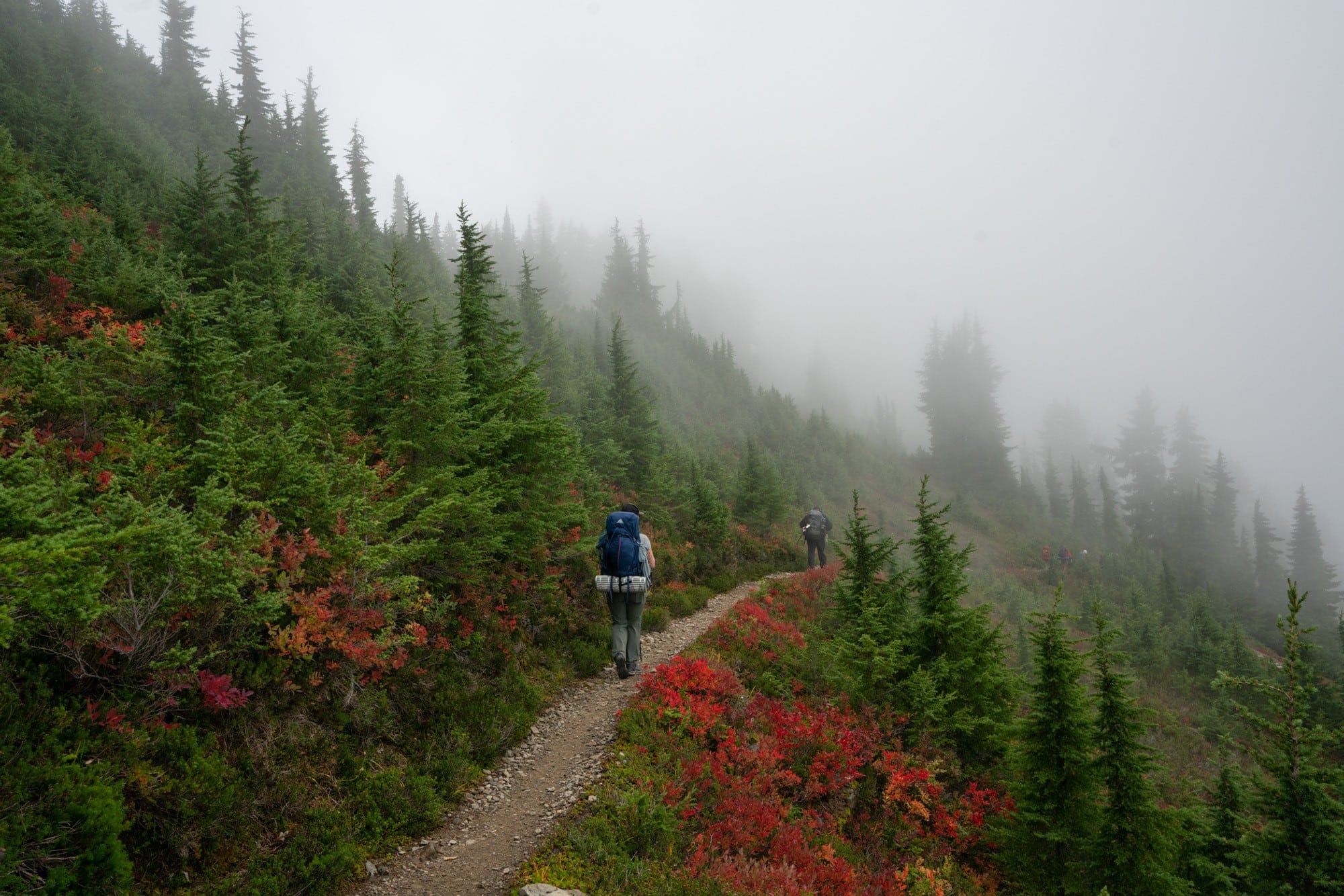 That evening, we had a much-needed stretch session, chowed down on a tasty homemade pasta, and sat around and told stories with hot drinks until the rain started to fall.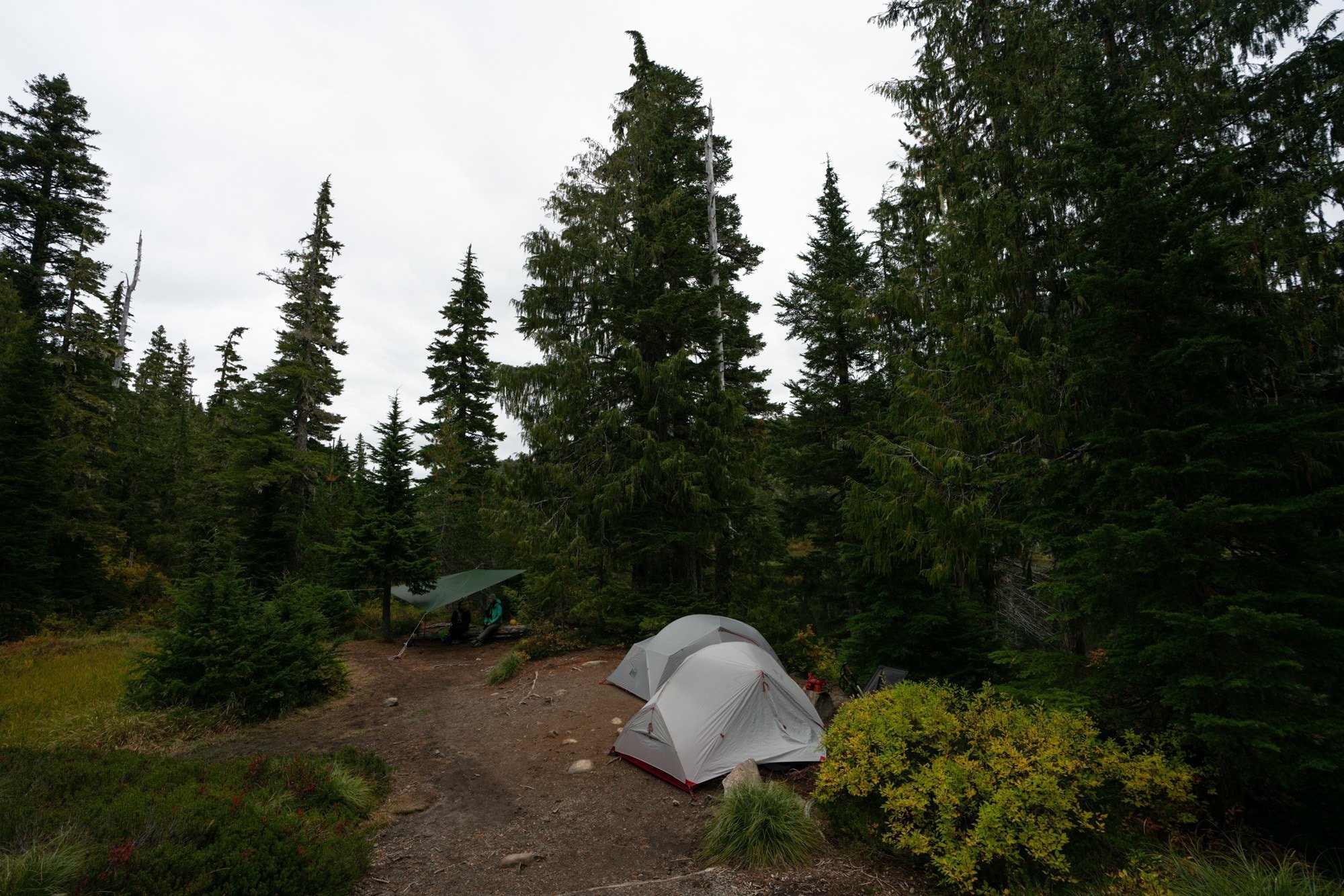 Day 3
It rained all night, but it wouldn't be a proper Pacific Northwest backpacking trip without a bit of rain.
Luckily we were all prepared with the right backpacking gear. We also all lined our backpacks with trash bags for extra waterproof protection.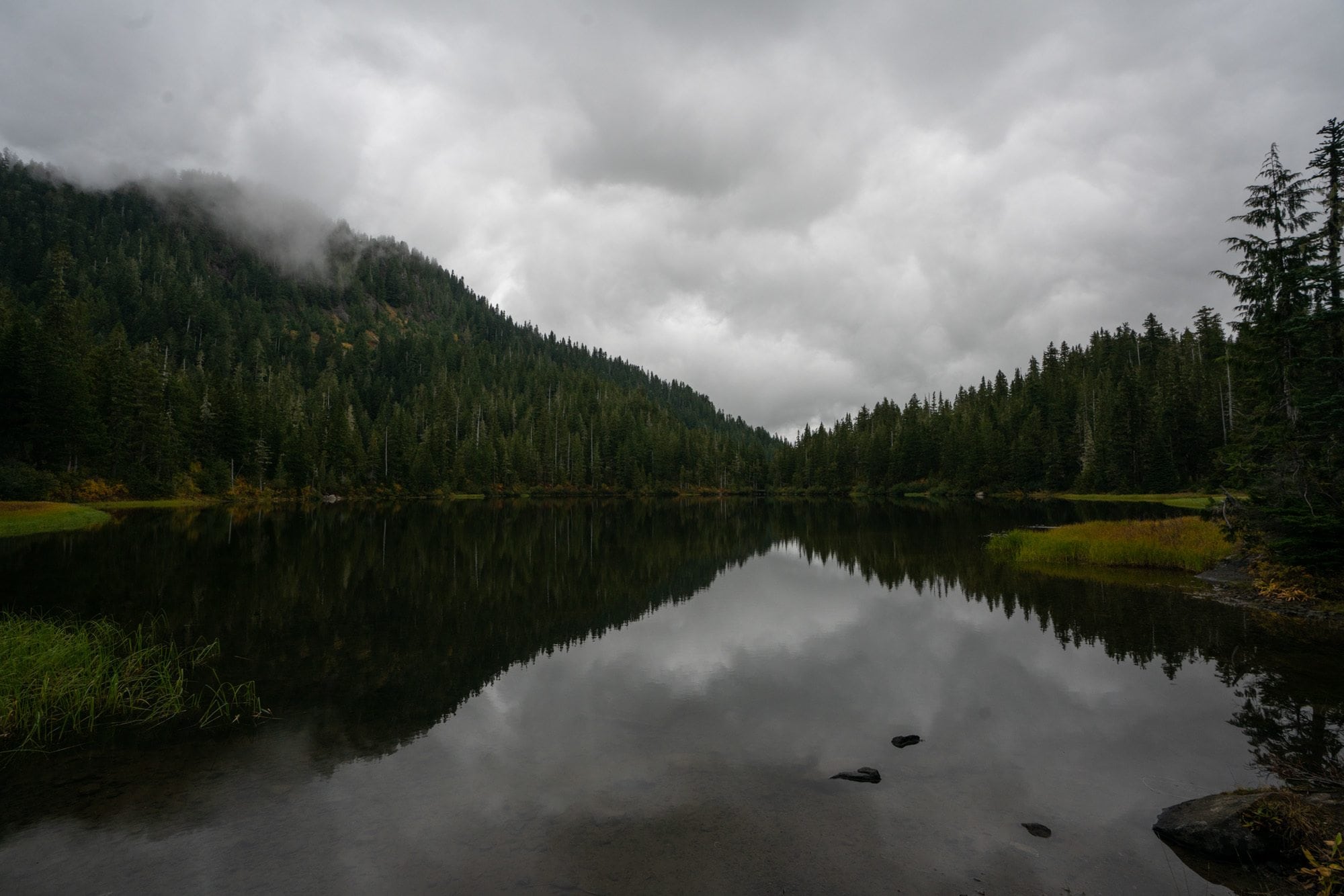 Breakfast and coffee were quick, then we donned our rain gear and hit the trail.
Like Day 1, we were back in the rainforest, but today we had an easy 4 miles back to the parking lot.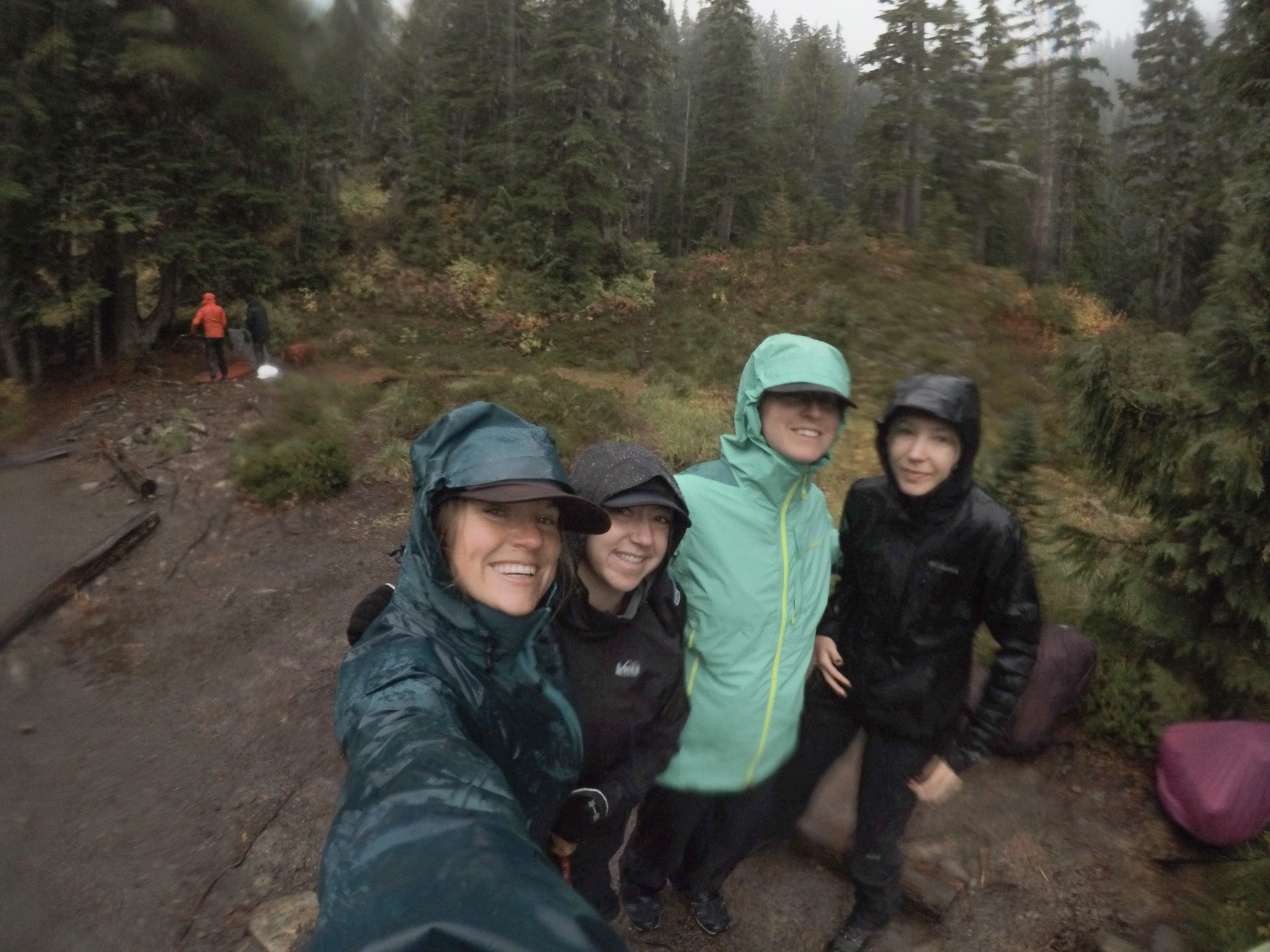 Despite the rain, we still had a blast on the trail.
We revisited Sol Duc Falls one last time as we approached the parking lot for one last group photo before celebrating at the trailhead.
Once we were back in the van, we head over to Sol Duc Hot Springs for hot showers.
For those who were hopping on a plane that night, it was a welcome opportunity to clean up. Just make sure to bring a clean, dry pair of clothes and any toiletries.
We had one last picnic lunch before making the three-hour drive back to Seattle.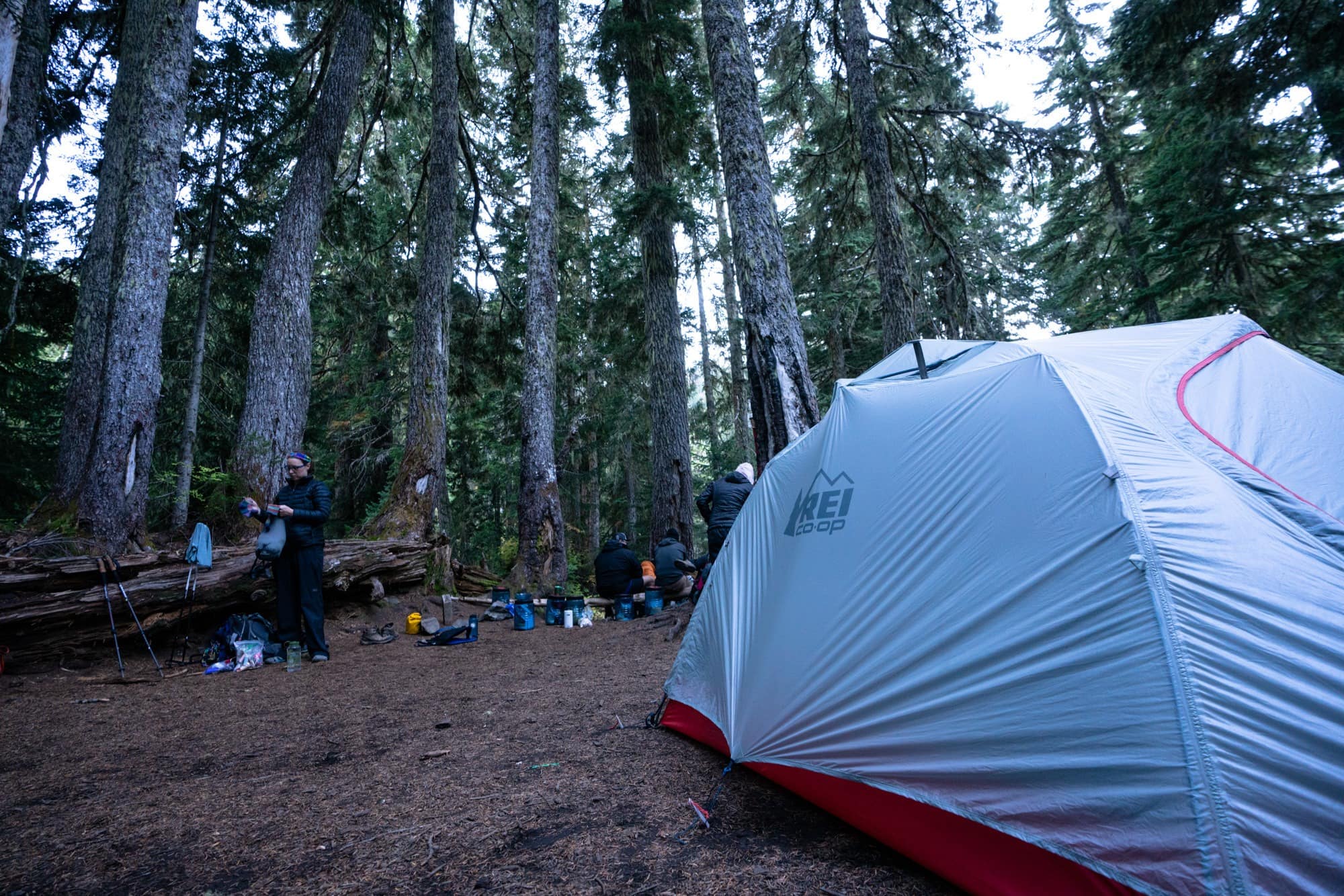 And that's our guide to backpacking the High Divide Trail & Seven Lakes Basin Loop in Olympic National Park!
Planning a trip to the Pacific Northwest? Check out these favorite adventures in Oregon and Washington:
Washington
Oregon
Have you hiked the High Divide Trail or Seven Lakes Basin Loop in Washington? Is it on your bucket list? What questions do you still have? Leave a comment below!