Backpacking the High Divide Trail in Olympic National Park with REI Adventures
Get my full trail report from backpacking the High Divide Trail in Olympic National Park with REI Adventures, including info on campsites, gear & more.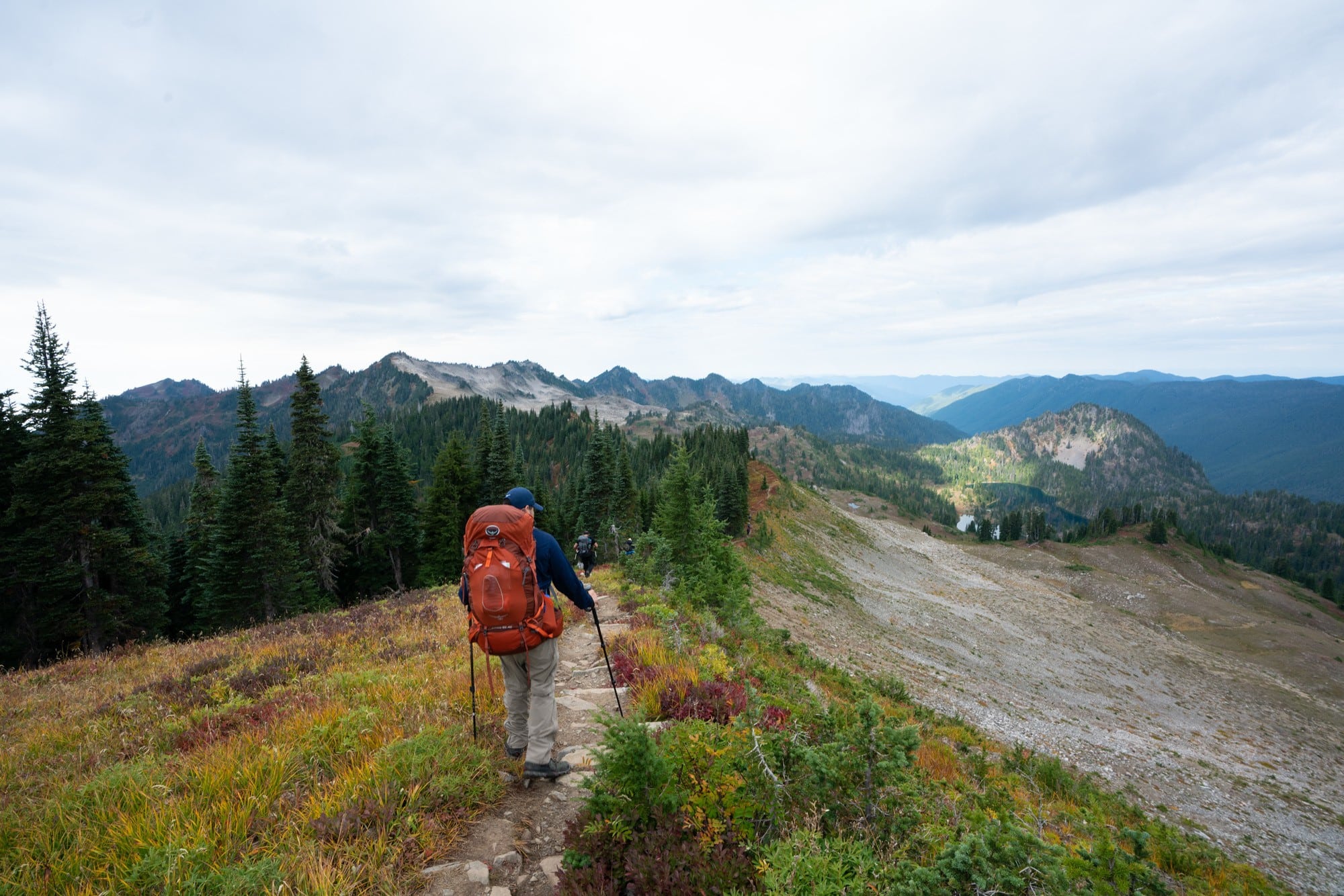 BACKPACKING THE HIGH DIVIDE TRAIL IN OLYMPIC NATIONAL PARK WITH REI ADVENTURES
In 2016, I started running group tours, and each trip has offered incredible scenery, a fun challenge, and a camaraderie that you'd expect from old friends.  Now in our third year, we've been to Alaska, Everest Basecamp, Southern Utah, and most recently Olympic National Park. On these adventures, I partner with expert guides who have local experience to lead the way. While I host the group, take photos, and bring all of you together, the guides handle logistics, our itinerary, and what may be considered most important – making sure we are well fed.
On our most recent trip, we spent four days exploring and backpacking with two REI Adventures Guides on Olympic National Park's High Divide Trail, and let me tell you, it was spectacular. We started in the rainforest and ended up in the high alpine with clear views of the glaciers on Mount Olympus and incredible fall colors.
In this blog post, I recap our experience on REI's Olympic National Park High Divide and Seven Lakes Backpacking Trip and share important information for anyone who is considering backpacking this iconic Pacific Northwest trail.
As it goes in all of the destinations we share, please practice good trail etiquette and remember to Leave No Trace. This means packing out all of your garbage, being respectful to others on busy trails, and following the established rules. 
Plan a backpacking trip on Olympic National Park's High Divide Trail with this trip report.
YouTube Video of the High Divide Trail in Olympic National Park
Watch my YouTube Video highlighting our backpacking trip on Olympic National Park's High Divide Trail with REI Adventures.
High Divide Trail Map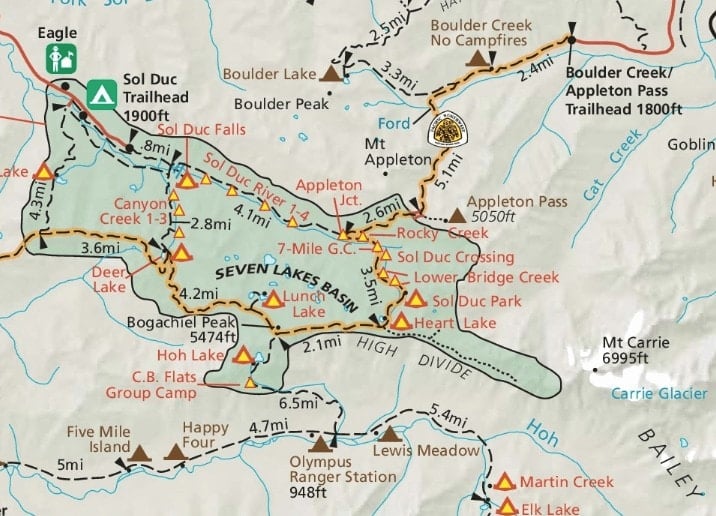 When on the trail, you should always be prepared with the basic essentials, one of which is navigation, or in other words, a map. For Olympic National Park we recommend the National Geographic Olympic National Park map.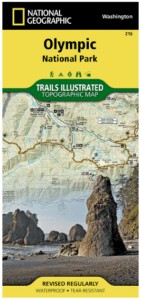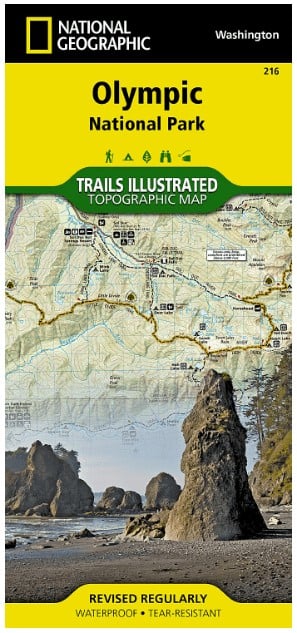 Olympic National Park's High Divide Trail Basics
18.2-mile loop
Elevation gain of +3,050 ft.
REI offers this trip from late July to September fully guided
Camping
Camping is permitted in designated sites only. Campsite permits are limited year-round and must be obtained at the Olympic National Park Wilderness Information Center (located inside the Olympic National Park Visitor Center @ 3002 Mount Angeles Road, Port Angeles, WA).
50% of the permits can be reserved in advance and 50% are available for walk-ups.
Campfires are not permitted above 3,500 feet. If you're camping in an area that does allow fires, please remember to have a safe campfire that leaves no trace.
When to Go
May 1st to September 30th is the most popular time for hiking the trail. We hiked in late September, when the weather can be iffy, but the fall colors were worth the risk. Snow can often be found on the trail until mid-July.
Water Availability
Bear Canisters
NPS-approved bear canisters are required for storing food, garbage & scented items. Olympic National Park has a limited number of bear canisters you can borrow if needed.
Human Waste
All group campsites have vault toilets.
Sol Duc Park, Heart Lake, Lunch Lake, and Dear Lake also all have vault toilets.
Olympic NPS asks that you only use the toilets for #2 & work to urinate on rocks or on the trail (at least 200 feet from campsites & water sources) to prevent animals from digging up plants. If you must go #2 on the trail and are not near a vault toilet please follow Leave No Trace principles.
Backpacking the High Divide Trail in Olympic National Park
Day 1
We met at the SeaTac Marriott Hotel at 9 am the morning our trip started and loaded into the REI van with all of our gear. We had about a three-hour drive ahead of us, which gave us plenty of time to get to know each other. We stopped for lunch at Crescent Lake, where our guides – Domenic and Ryder – prepared fig, prosciutto, and brie sandwiches for us to enjoy on the beach.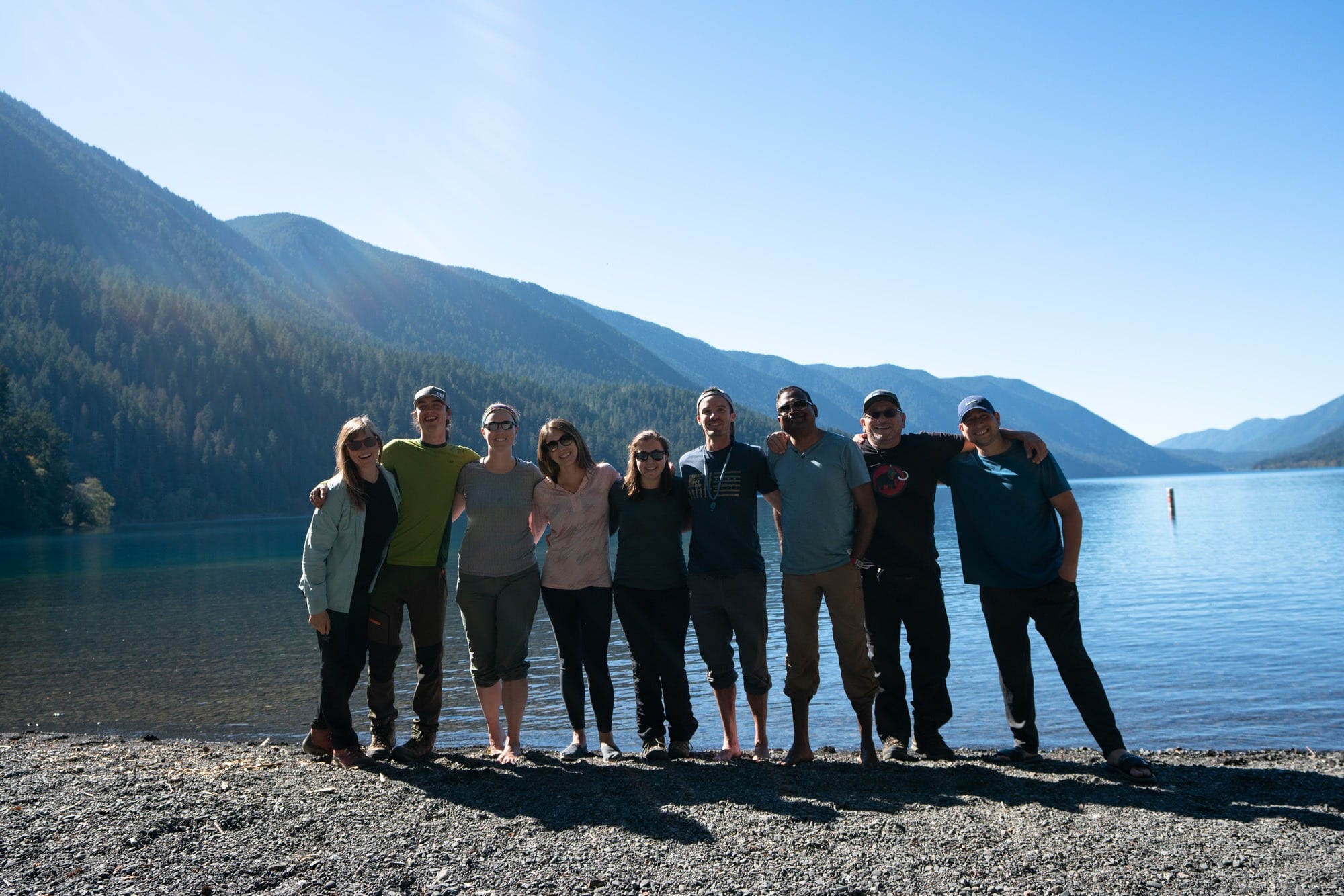 Domenic and Ryder are local to the San Juan Islands, only separated from the Olympic Peninsula by a short ferry ride. They have both been guiding in the region for years and were full of knowledge about the local ecology, history, and Native American culture.
After a stop at the Visitors Center where we got the lay of the land, we continued on to the Salmon Cascades in the Sol Duc River, where boisterous salmon launch themselves up and over waterfalls as they make their way to their spawning grounds.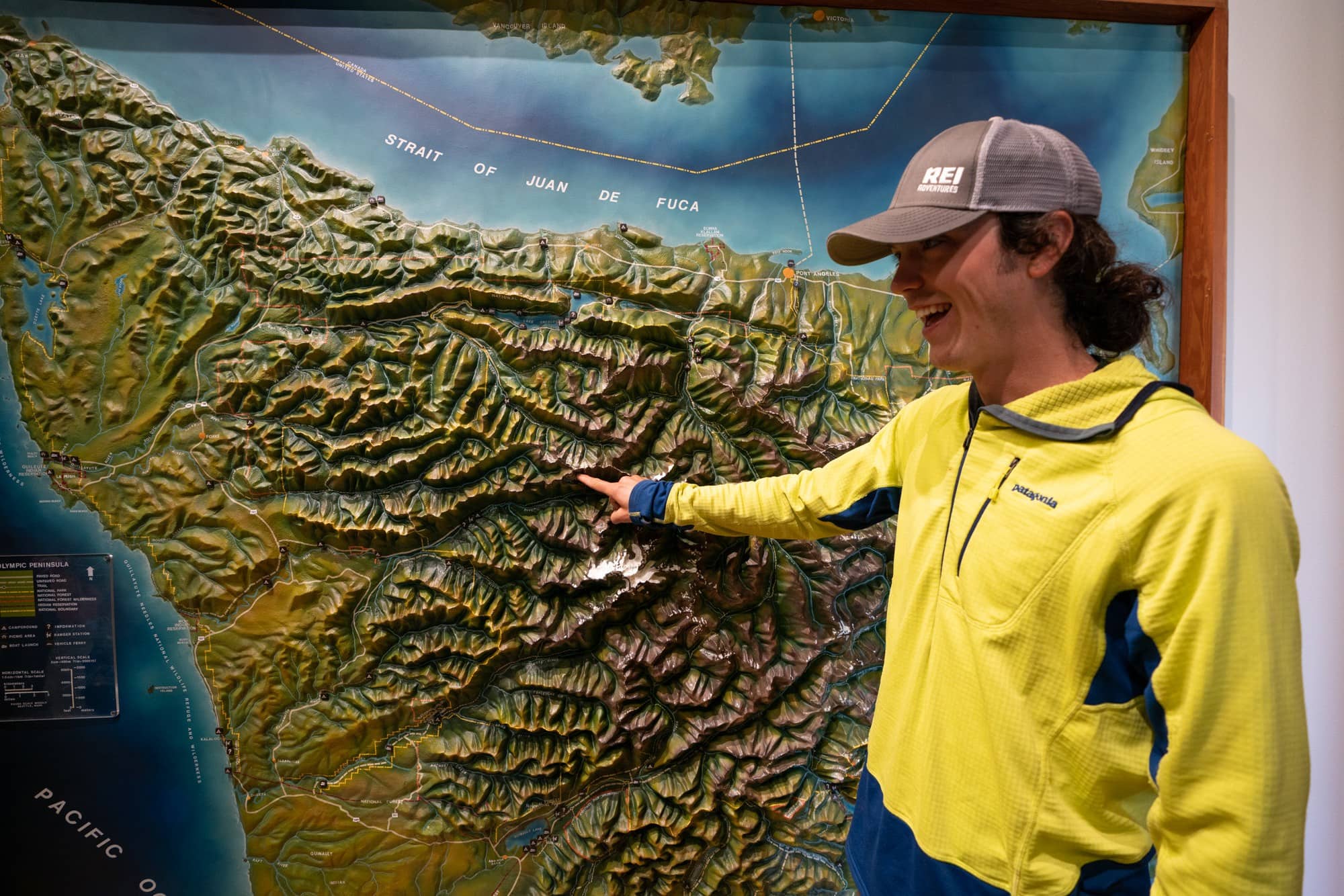 With plenty of daylight left, we reached our night's basecamp, where we'd be car camping and doing a gear check. Ryder gave us the rundown on how to pack our bags with our bear canisters and how to keep our stuff dry in case we ran into any rain. They also supplied snacks for the trip, and we were given free reign to bring as many as we wanted, although they suggested 4-5 a day.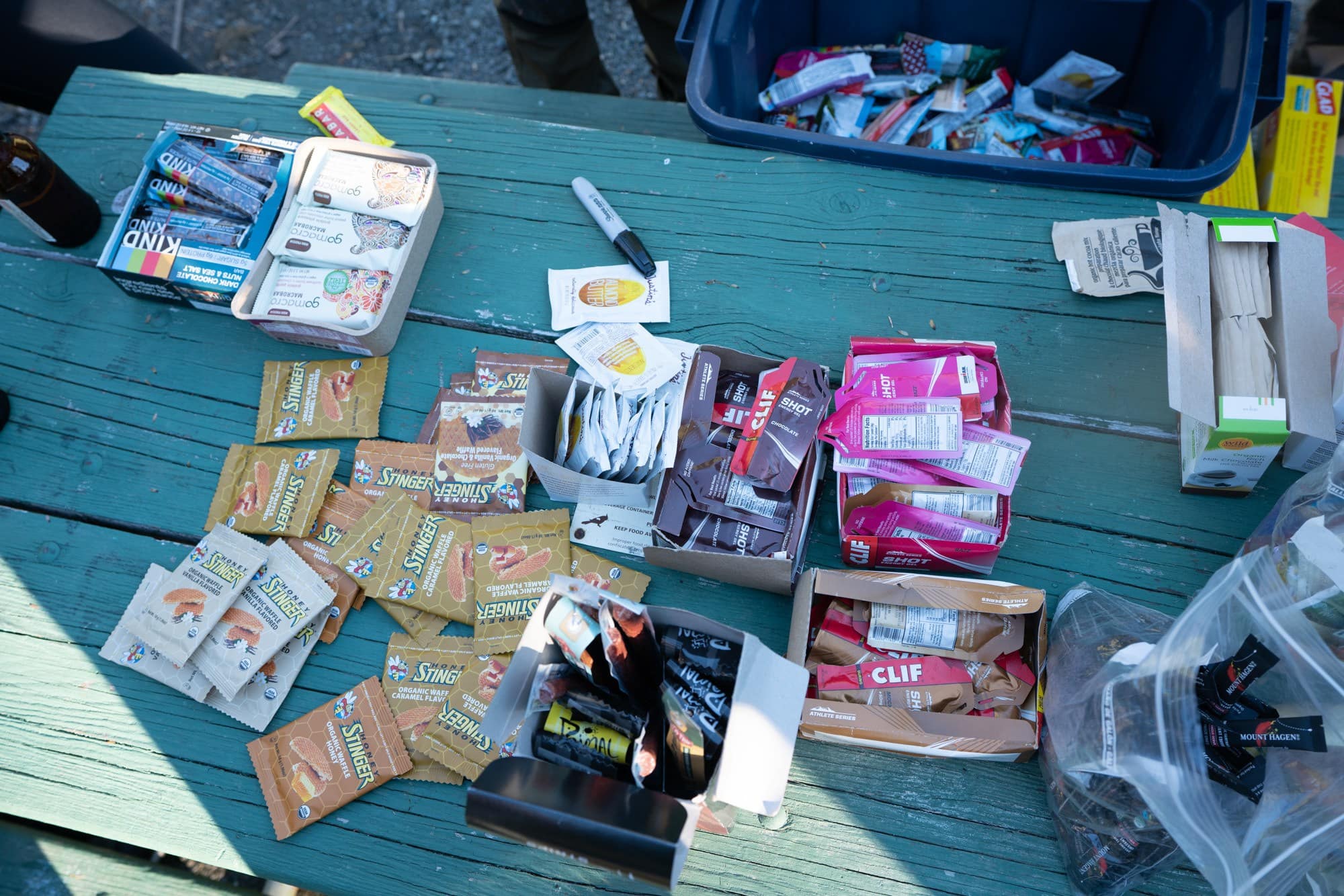 We filled our bellies with a homemade turkey chili and fresh salad, followed by s'mores, and stargazing before we all retired for the evening with a big day ahead of us.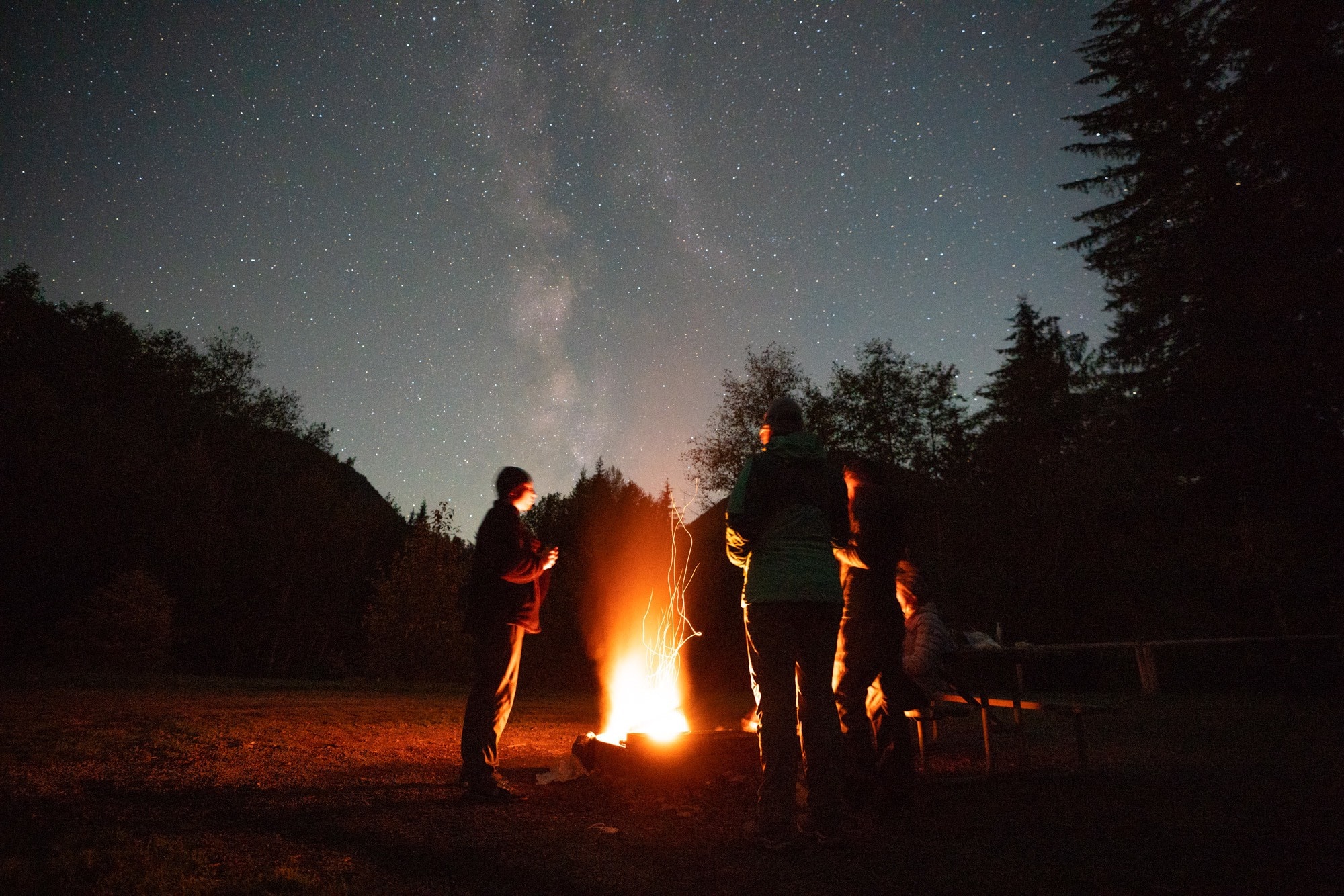 As for tents, REI provided tents and you had the option of a solo tent or pairing up with someone in order to save weight in your pack.
Day 2
One of the things I enjoyed about this trip is that our mornings didn't start at an ungodly hour. For the folks joining me, this was a vacation, after all. After French press coffee and steel cut oats breakfast, we packed up camp and drove up the road to the Sol Duc Falls trailhead.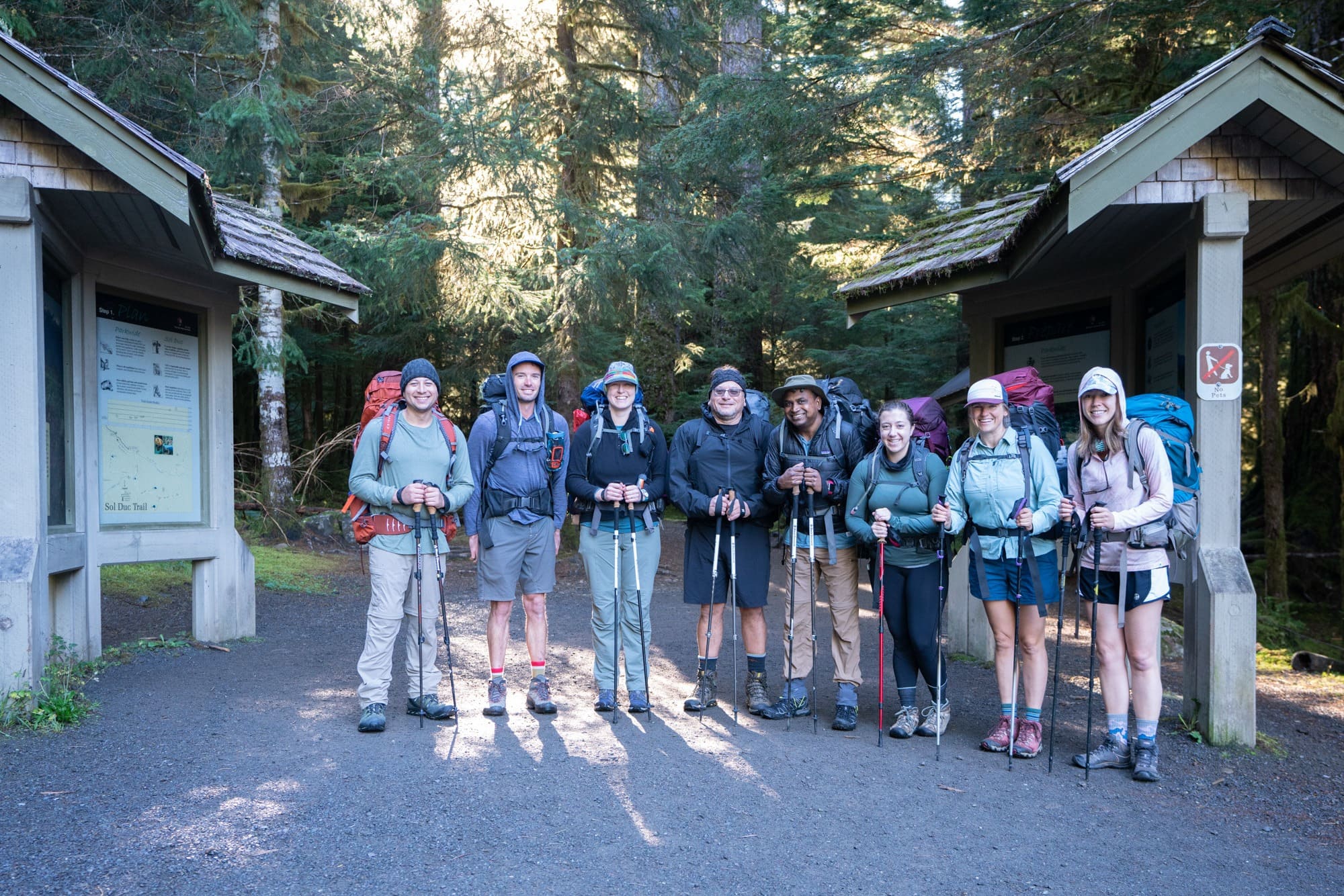 Our first full day on the trail was spent mostly in the rainforest, with a goal of approximately 7 miles and 2,000 ft. of elevation gain. I mentioned on one of my Instagram photos, that typically I prefer the alpine over the forest, but here in Olympic National Park, the forest is far from mundane. Huge ferns, moss-covered trees, and the sound of the Sol Duc River rushing below.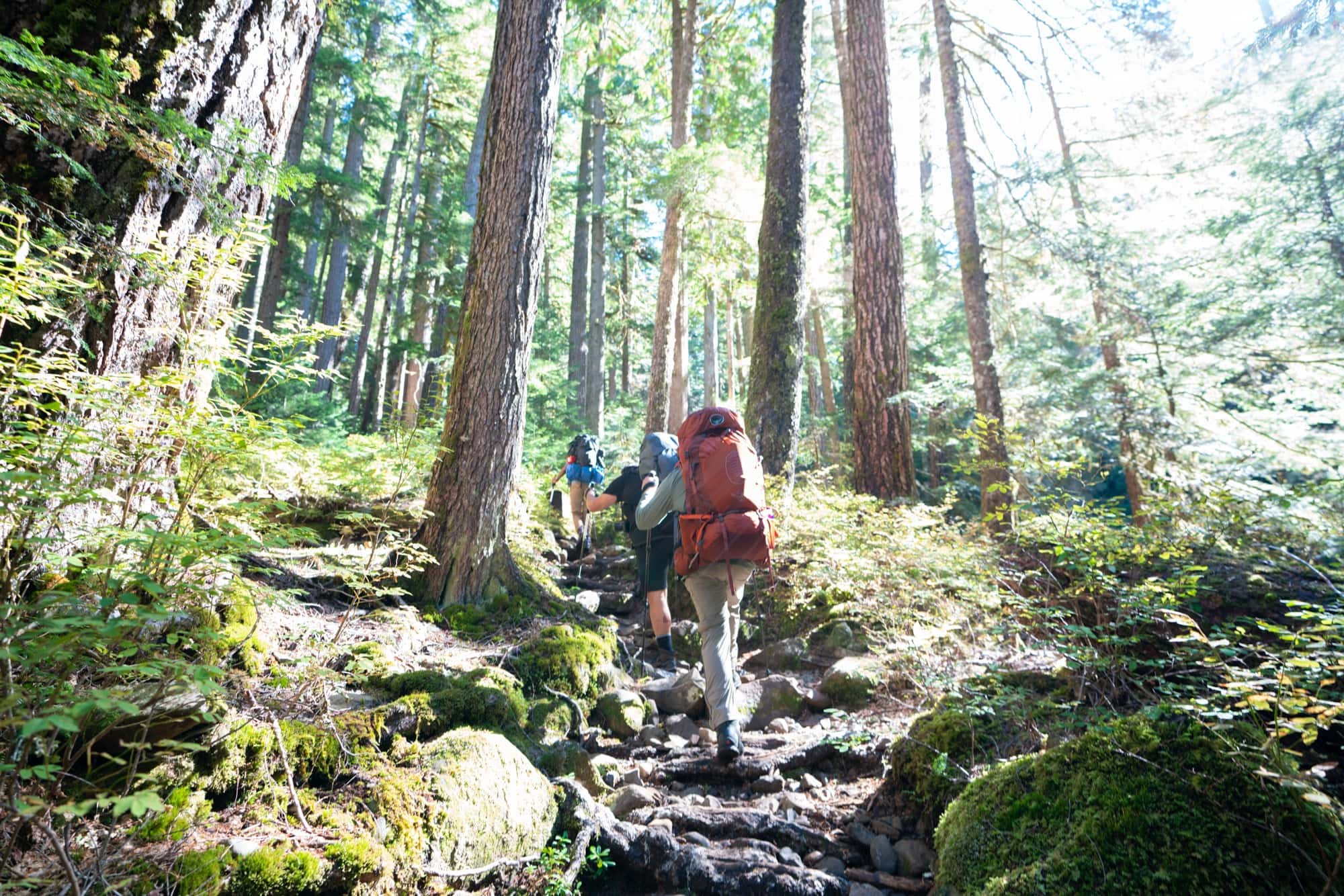 Just under a mile in, we took a short detour to Sol Duc Falls, which for most folks visiting the Park, is a destination in itself. We took some photos before continuing up the trail.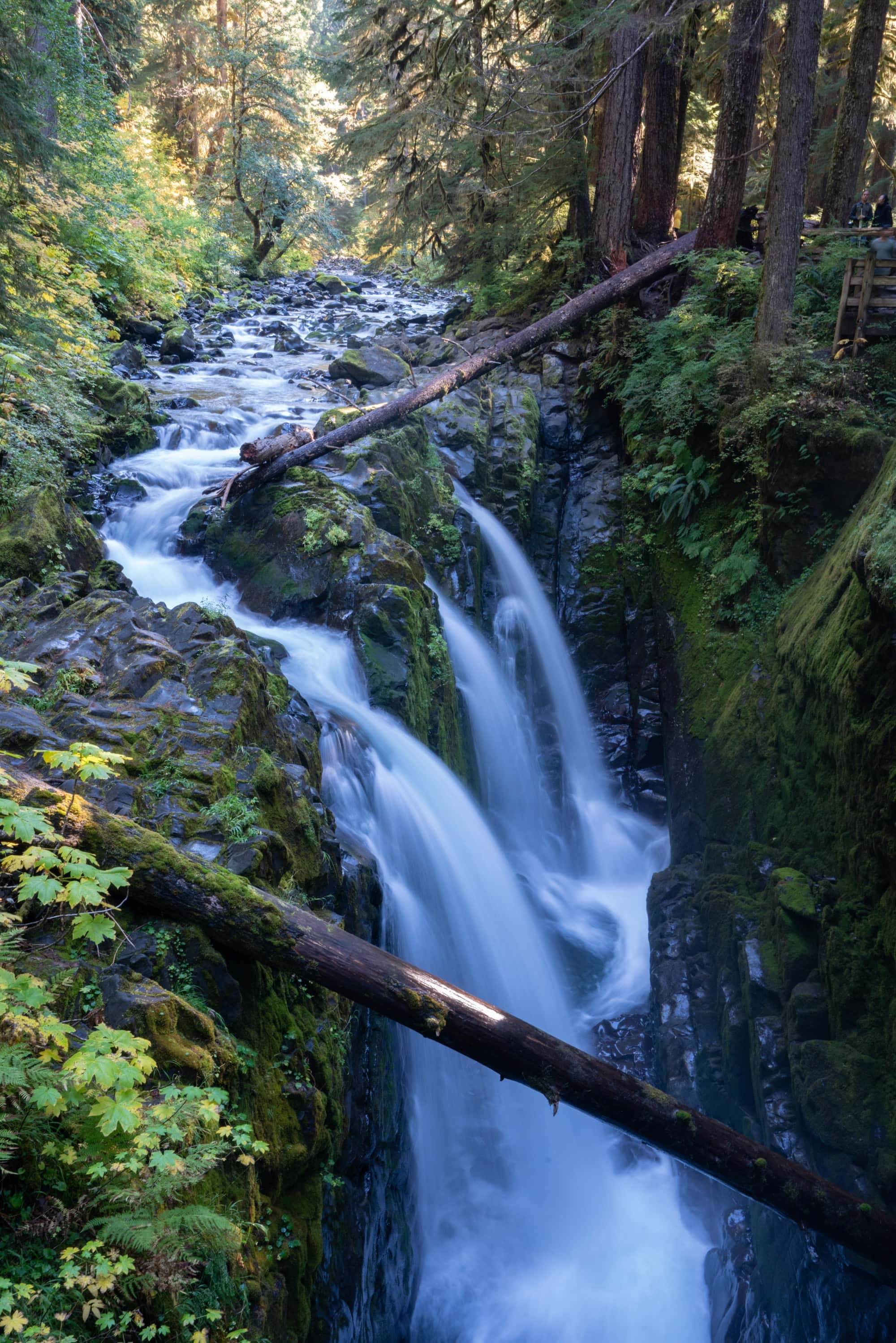 The night before, we had all made sandwiches for today's lunch packed with fresh veggies, turkey, cheese and hummus. We stopped about halfway to camp to indulge.
Most of the trail this day was a gradual incline. We crossed the river a few times on really cool log bridges, eventually reaching a series of switchbacks that dropped us off right at our first Group Camp.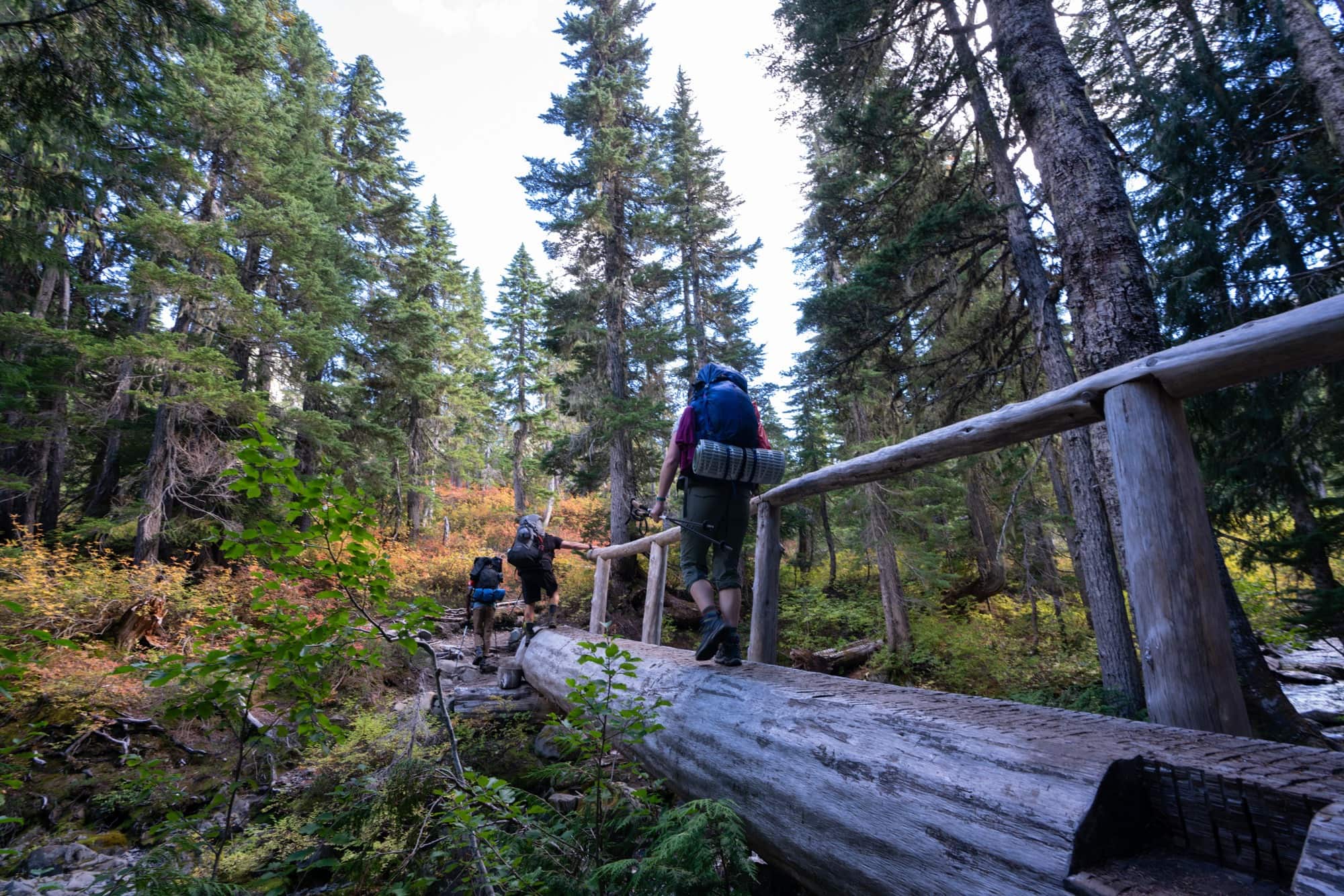 In Olympic National Park, all of the campsites on the High Divide Trail are permitted, so you must stay at your designated campground. At the Group Campgrounds, we had space to spread out and, get this….a clean toilet for doing our #2 business. I have to say, not having to dig a hole was the total luxury, by our standards.
We were also next to a nearby meadow that got beautiful afternoon sun, which allowed us to dry off any gear that was damp from the night before.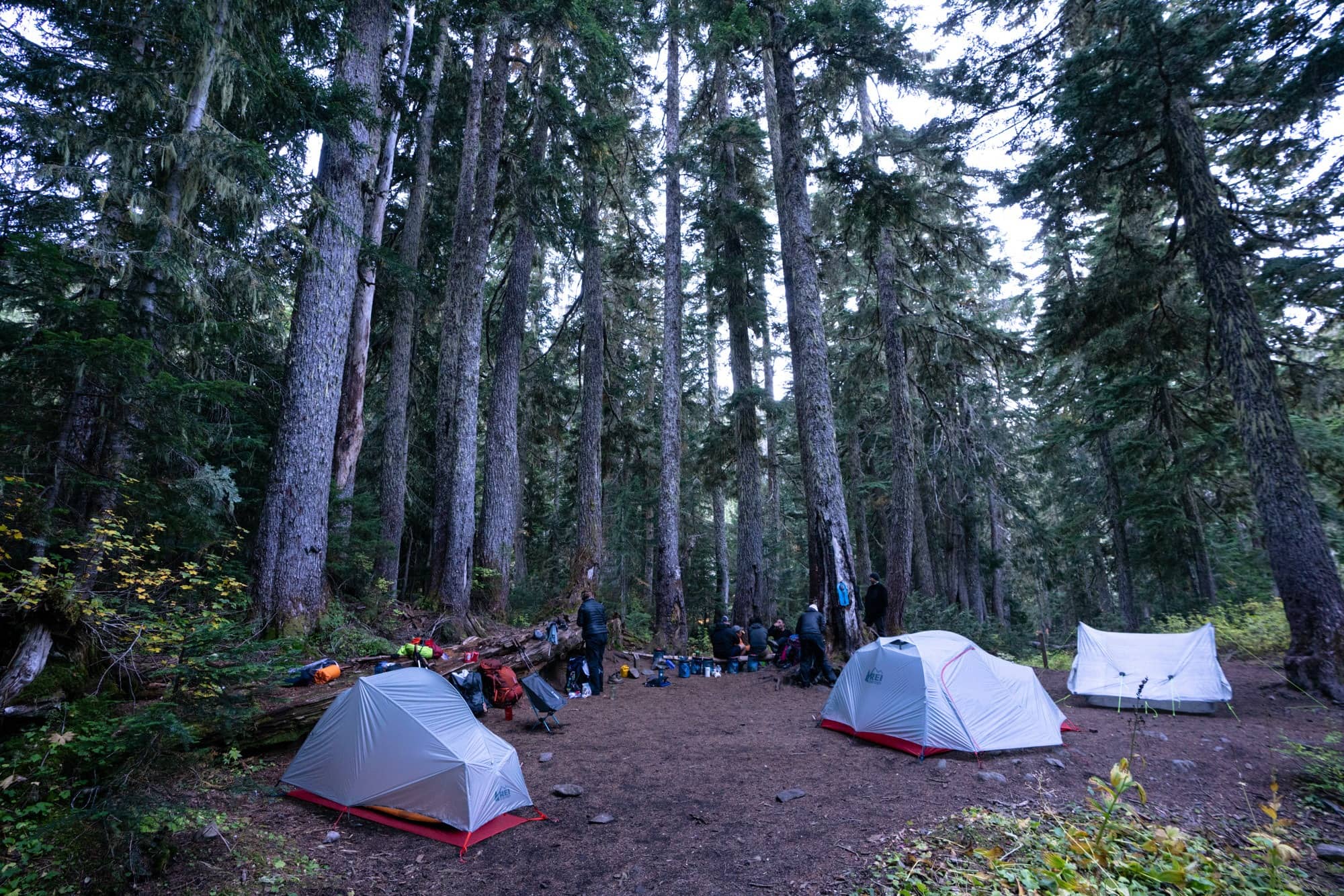 Snacks were followed by dinner. It was obvious we would not go hungry on this trip. Personally, one of my favorite things about going on guided backpacking trips is not just the fact that the food tastes better than anything out of a bag, but that you have the chance to learn how to cook gourmet backcountry meals. Ryder and Domenic had both taken a number of NOLS (National Outdoor Leadership School) courses, where there is a large emphasis on backcountry nutrition, and their chef skills definitely shined.
Our first night we had backcountry burritos made from scratch, stuffed with chicken, beans, corn, couscous, CHEESE, and all the spices. We capped the night off with hot drinks – hot chocolate or tea, your choice, before turning in for the night.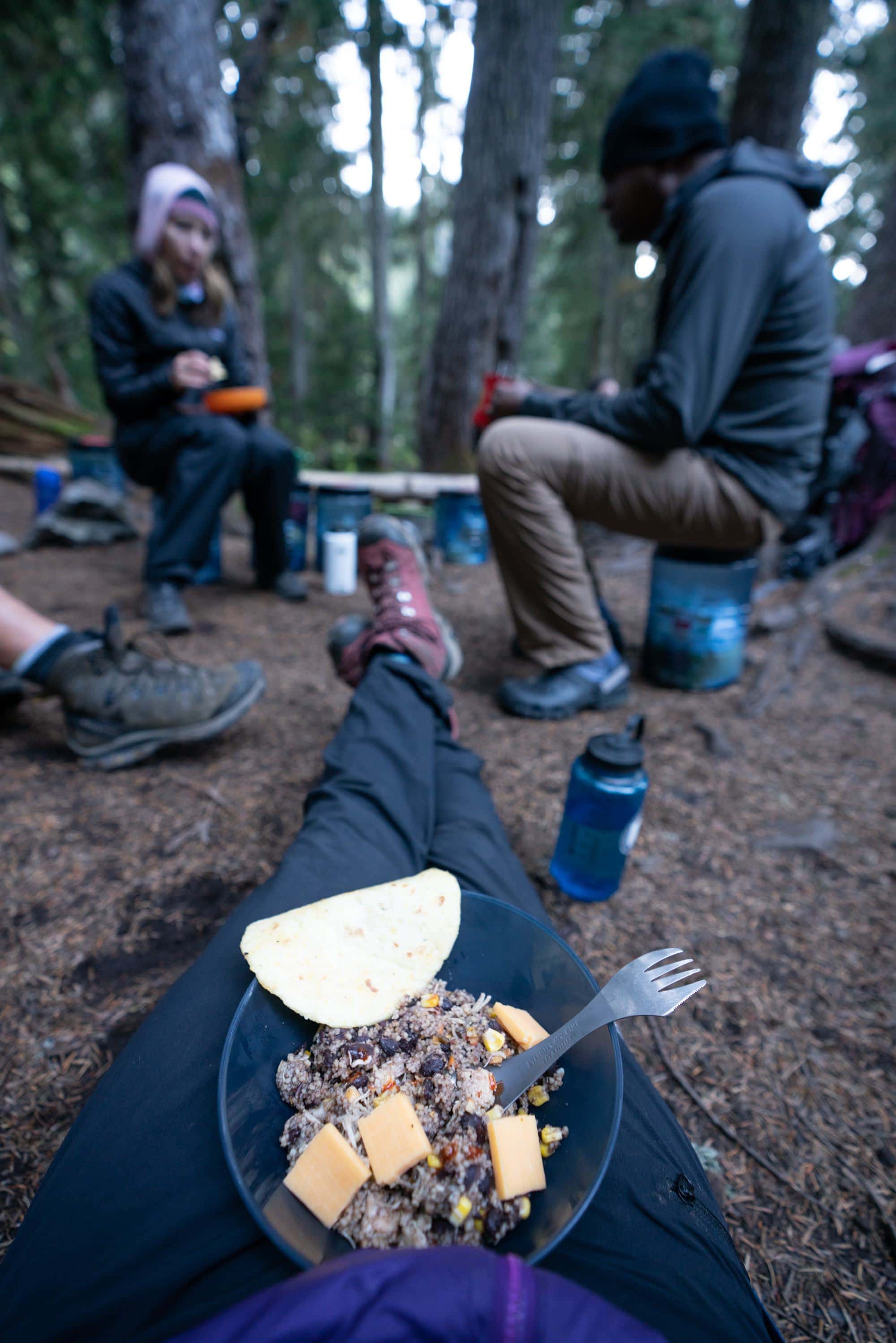 Day 3
This was all of our favorite day on the trail. After an egg, sausage, and potato scramble and coffee, we kicked off hiking at 9:30. We had a little more climbing to do to reach the High Divide. Here we transitioned out of the forest to above the treeline.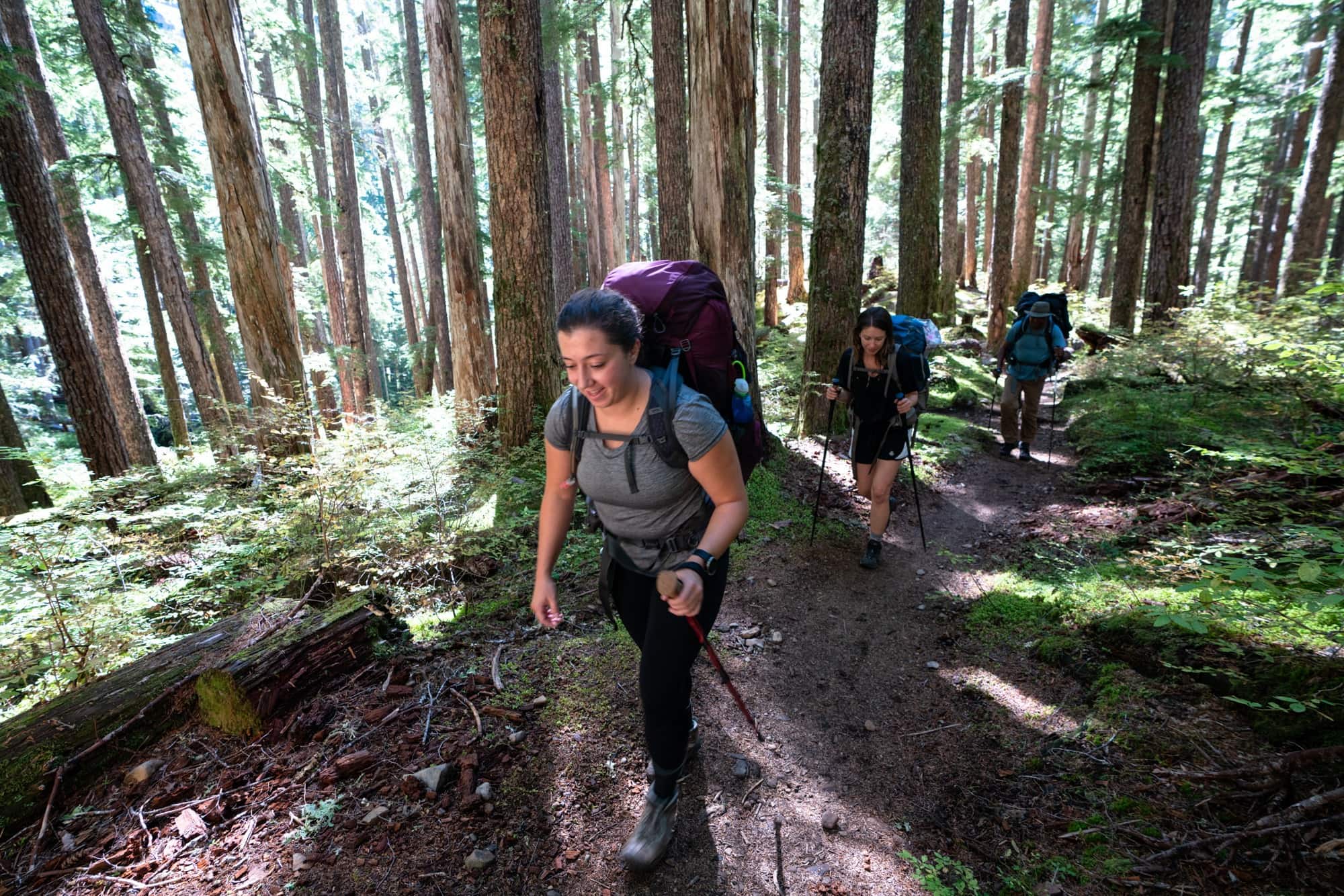 Our hike took place in late September, and I wasn't sure what kind of fall colors we would see on the trail. The first day in the rainforest, it was all green. But as we started to gain elevation and transition to alpine vegetation, the shorter plants and understory exploded in red, orange, and yellow, creating a vibrant and eye-catching landscape.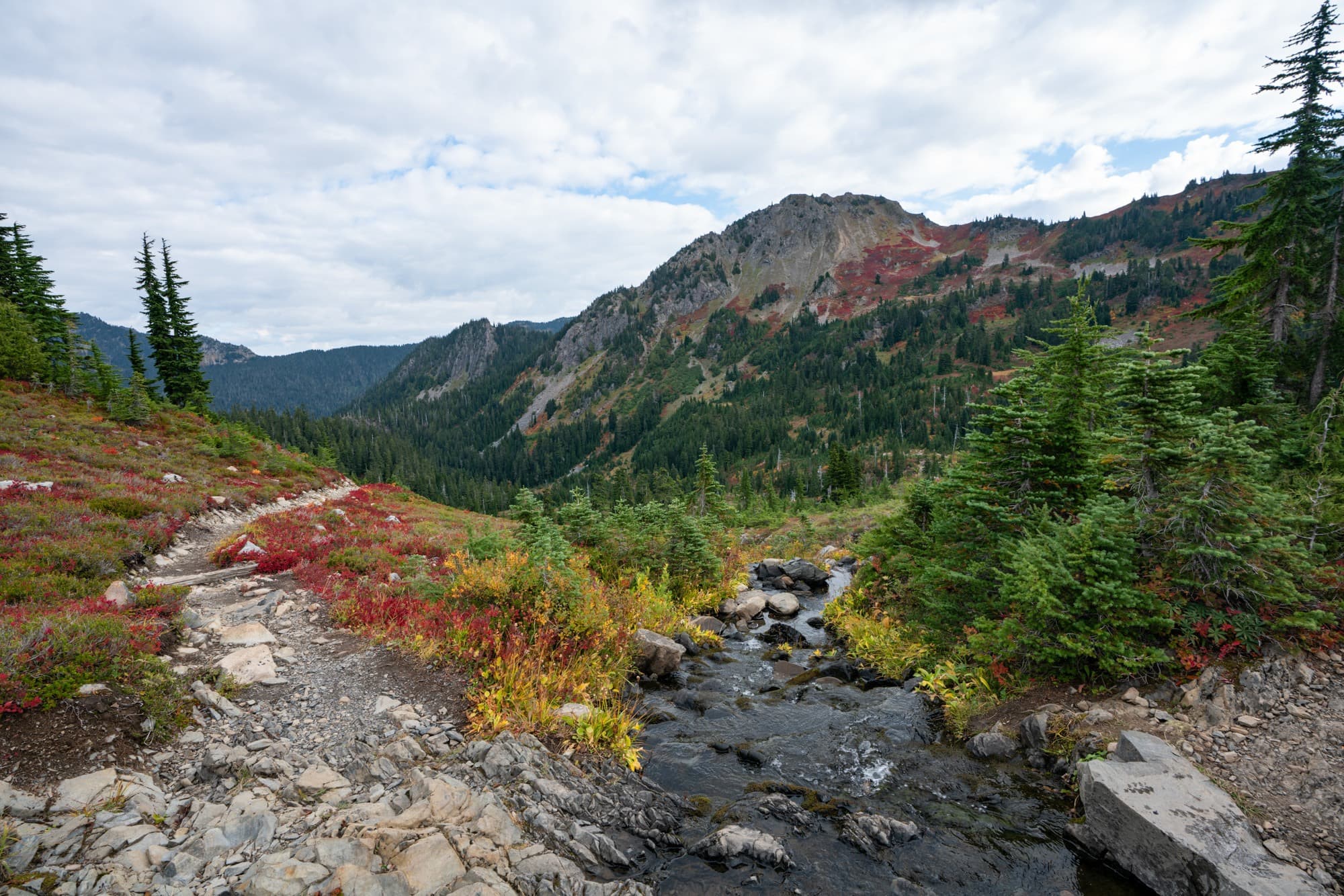 This is also where we saw our first two black bears. We'd see another two later in the day, just picking away at berries on the hillside. It was clear they had absolutely no interest in us, which made our encounters a stand-out experience from the trip.
Our guides took turns leading, while the other hung at the caboose. This allowed everybody to move at a pace they felt comfortable, and we all reconvened at periodic snack breaks.
After passing Heart Lake, we made our final push to the ridgeline, otherwise known as the High Divide and the Seven Lakes Basin.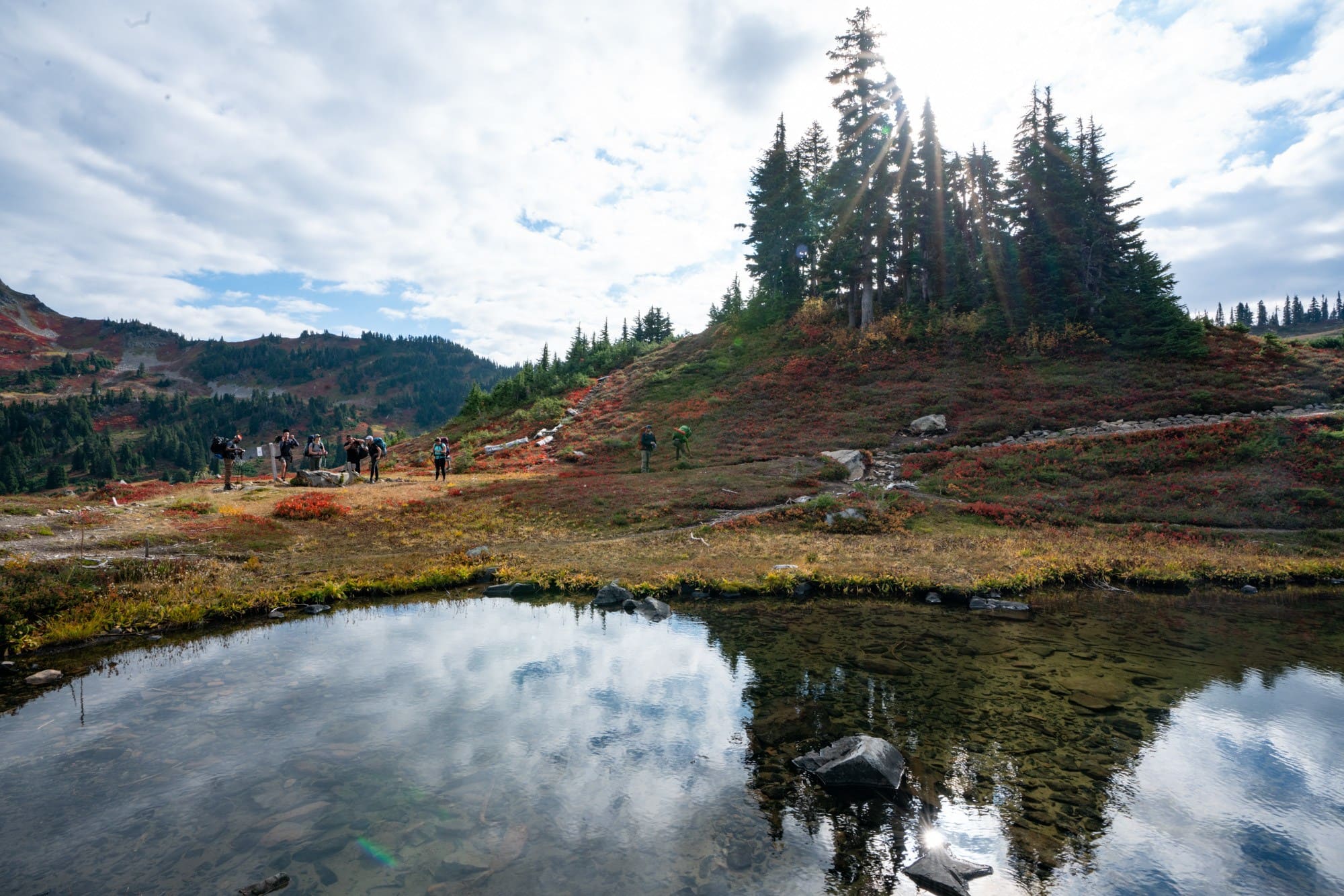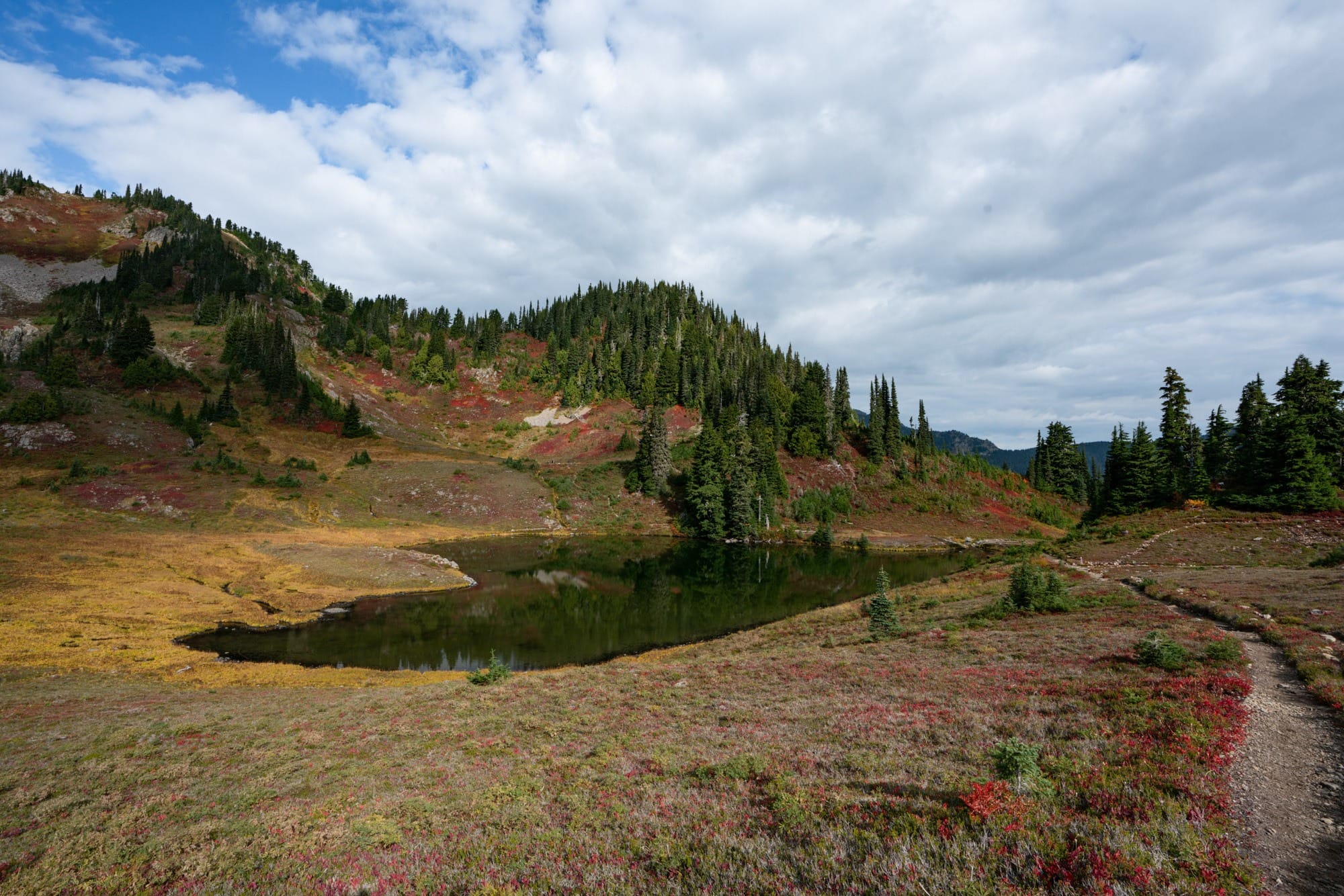 Not to exaggerate, but this was really the moment we were waiting for. We had perfect weather on Day 1. Day 2? It was still dry but the clouds were starting to roll in, and we weren't sure whether we were going to get those views of Mount Olympus that make the High Divide such an iconic Pacific Northwest Hike.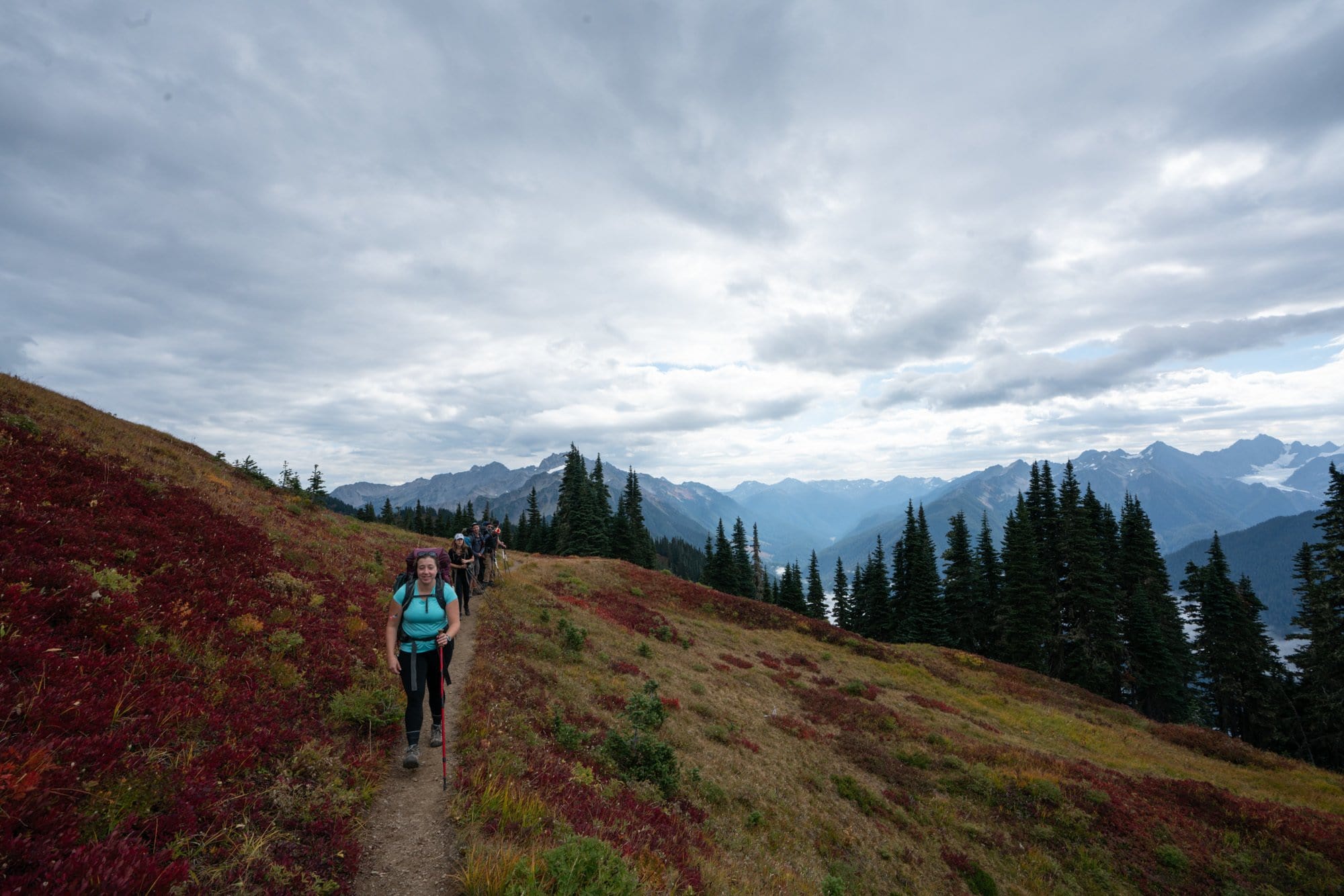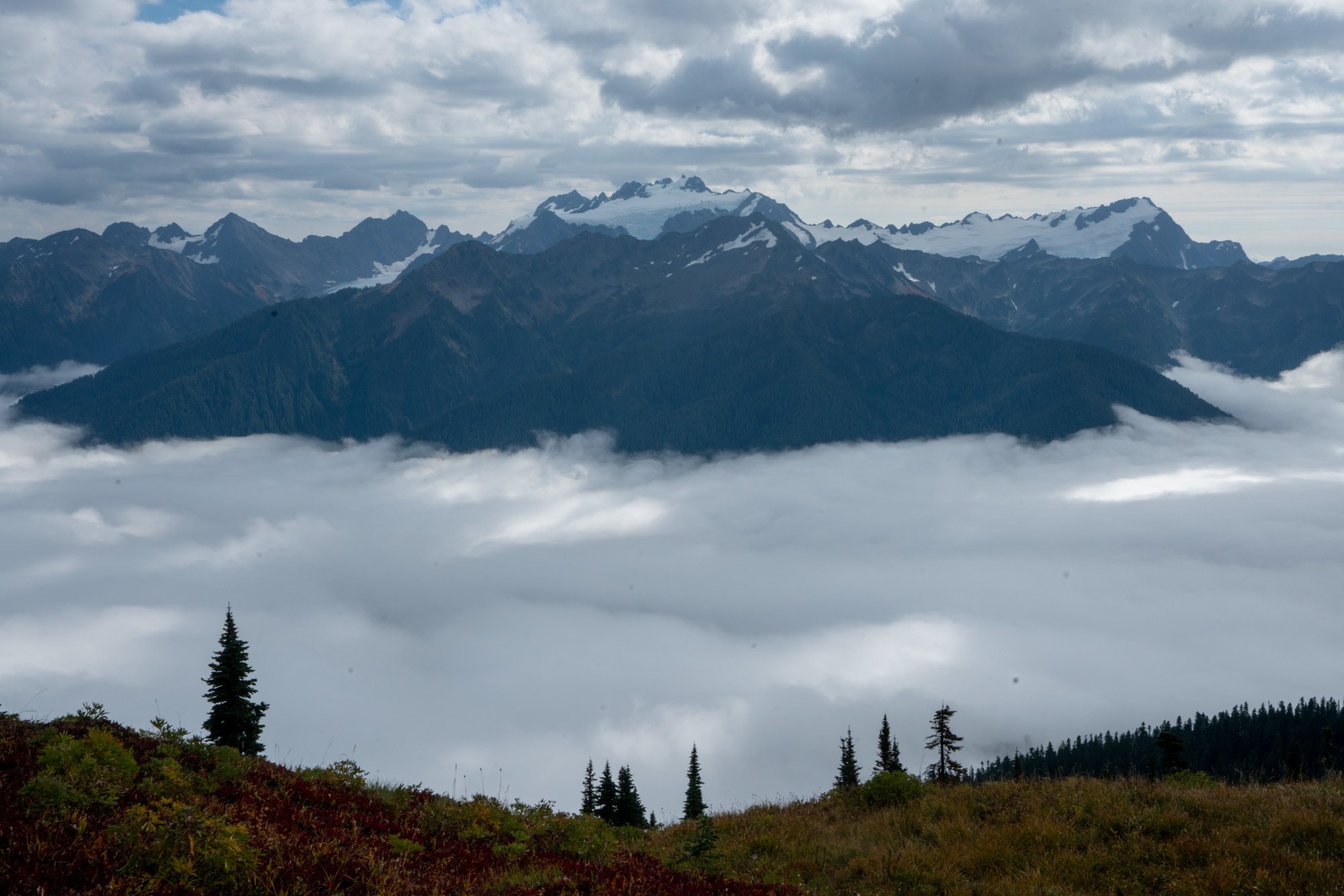 As soon as we got up on the High Divide, Mount Olympus and several glaciers came to light sandwiched between clouds in the sky and low-hangers that blanketed the Hoh Valley.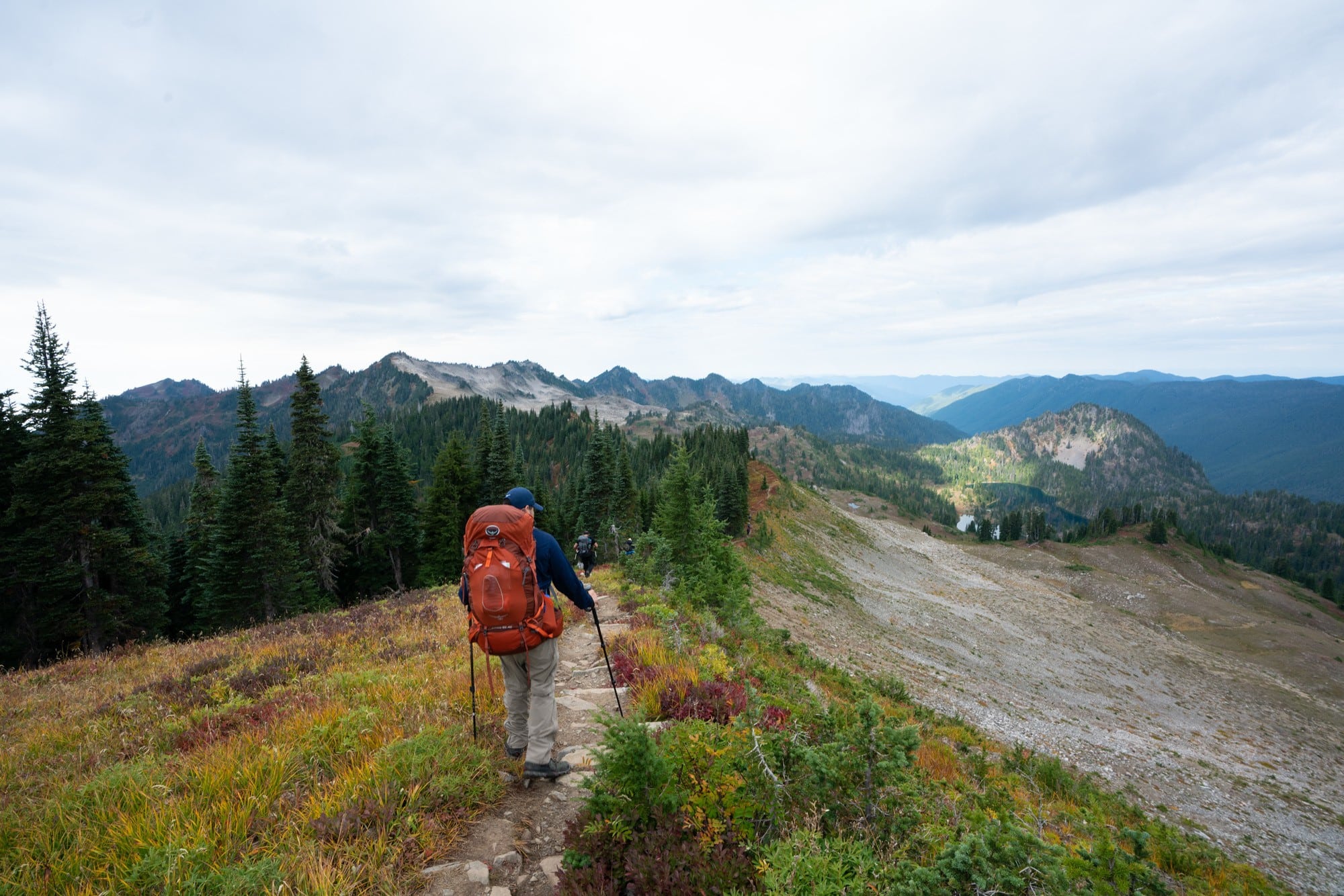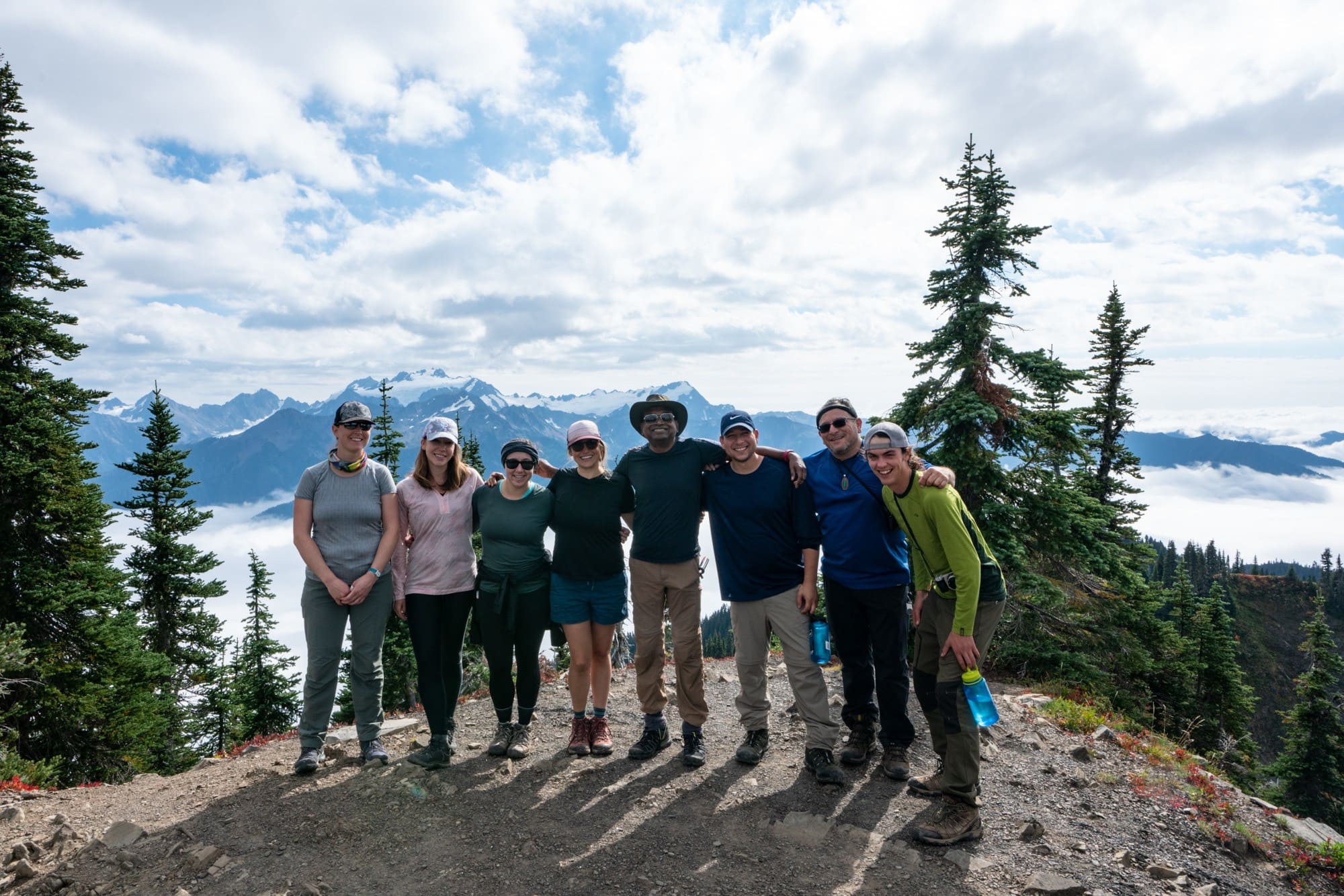 We stopped for lunch which consisted of three kinds of cheese, crackers, salmon, hummus, and other snacks.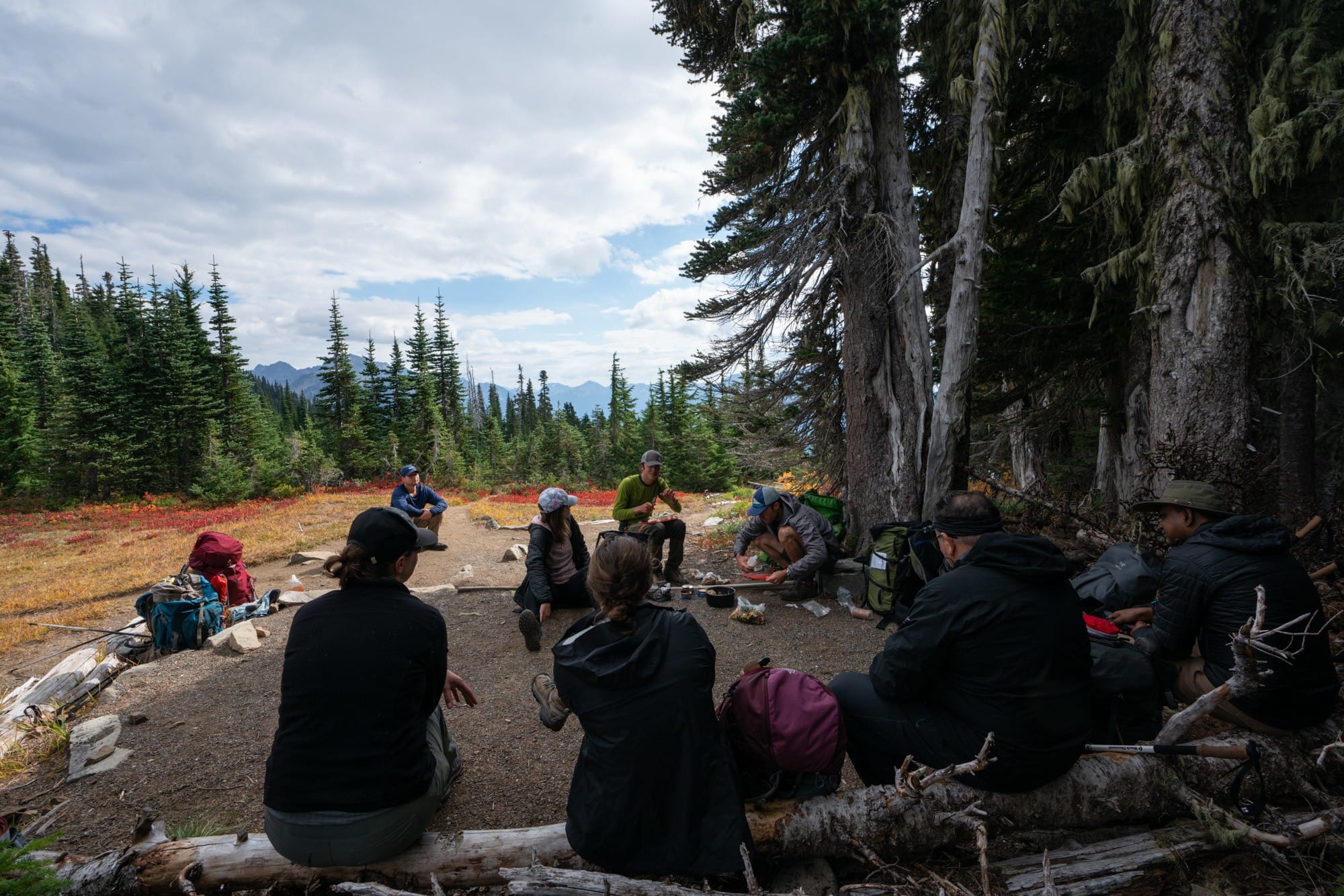 As we continued on, the views weren't just about Mount Olympus. On the north side of the ridge, we peered down into Seven Lakes Basin, a rocky bowl with seven colorful alpine lakes.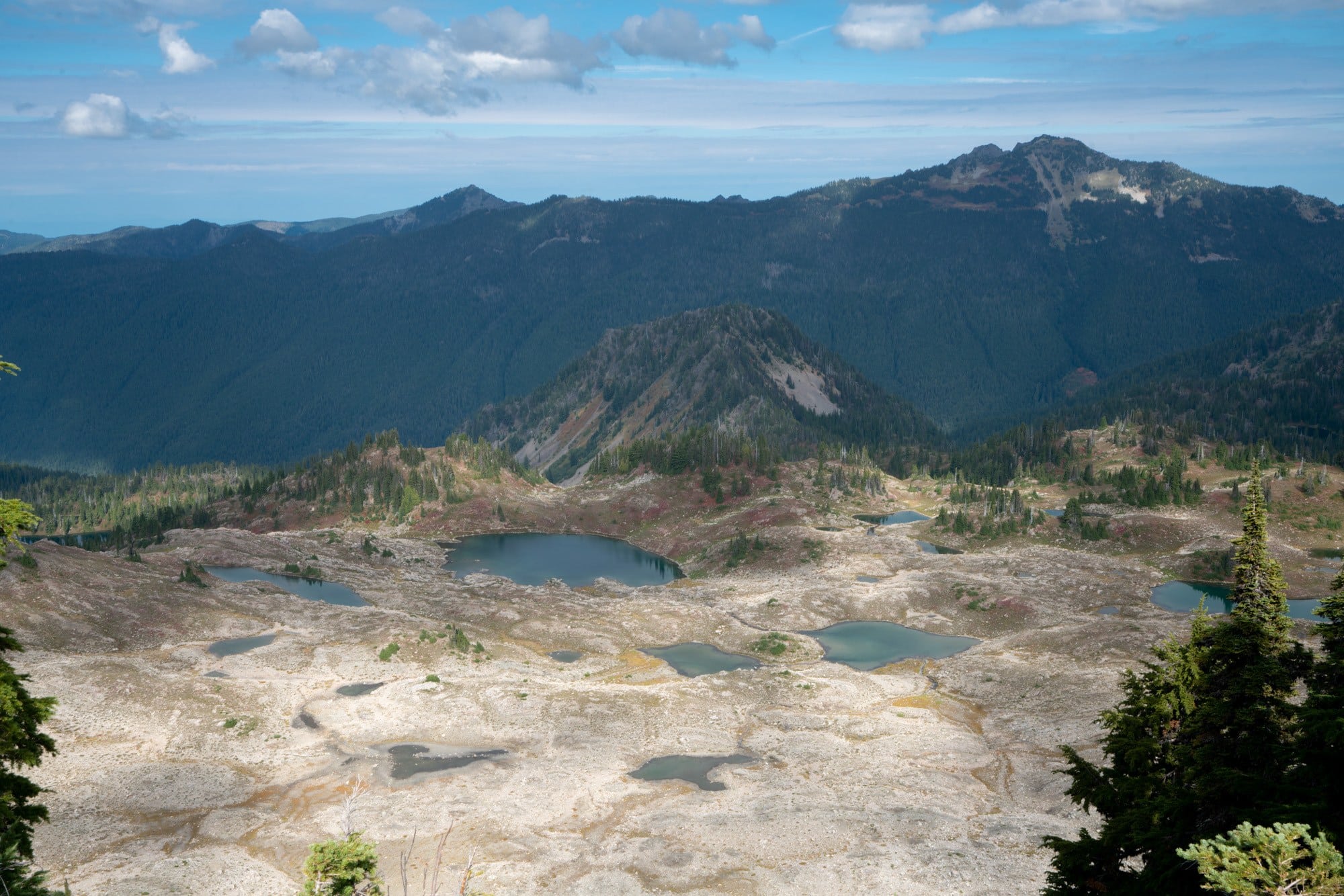 We spent several miles on the High Divide with non-stop views, and just as we turned back down towards Sol Duc, the fog thickened. Our timing couldn't have been more perfect.
The mystical fog clogged our views on the way down to our Group Camp at Deer Lake, but the fall colors made up for it.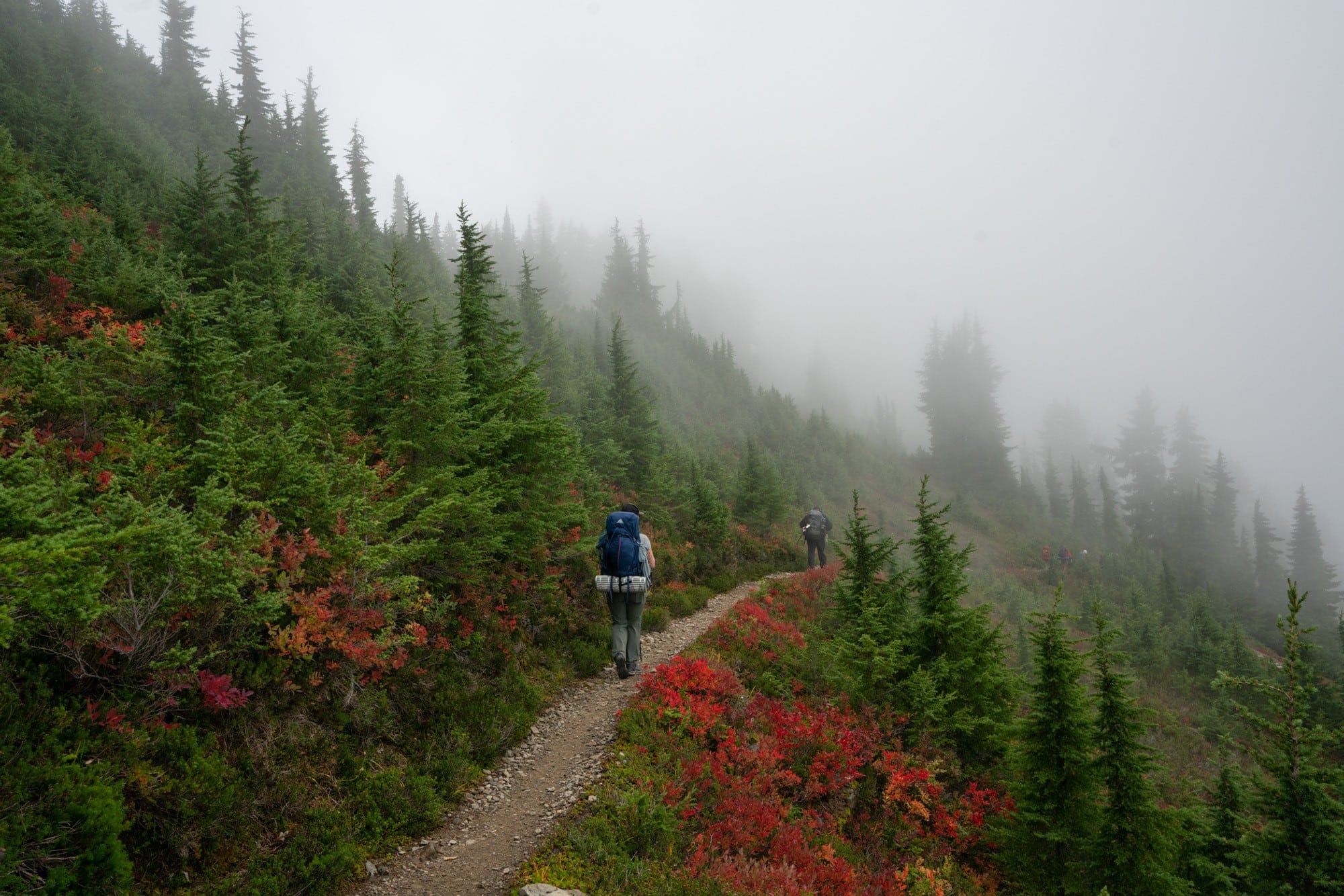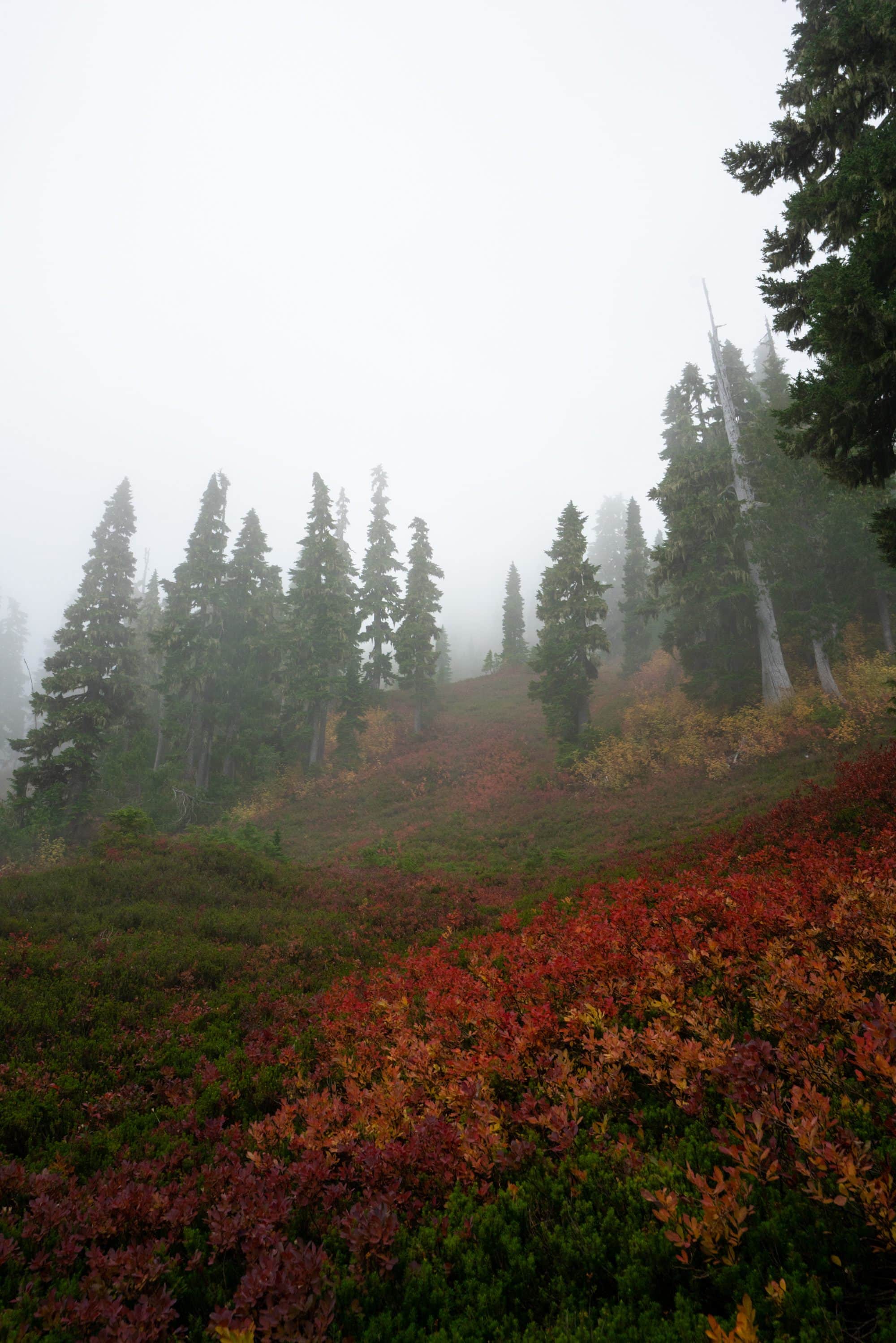 That evening, we had a much-needed stretch session, chowed down on a tasty homemade pasta, and sat around and told stories with hot drinks until the rain started to fall.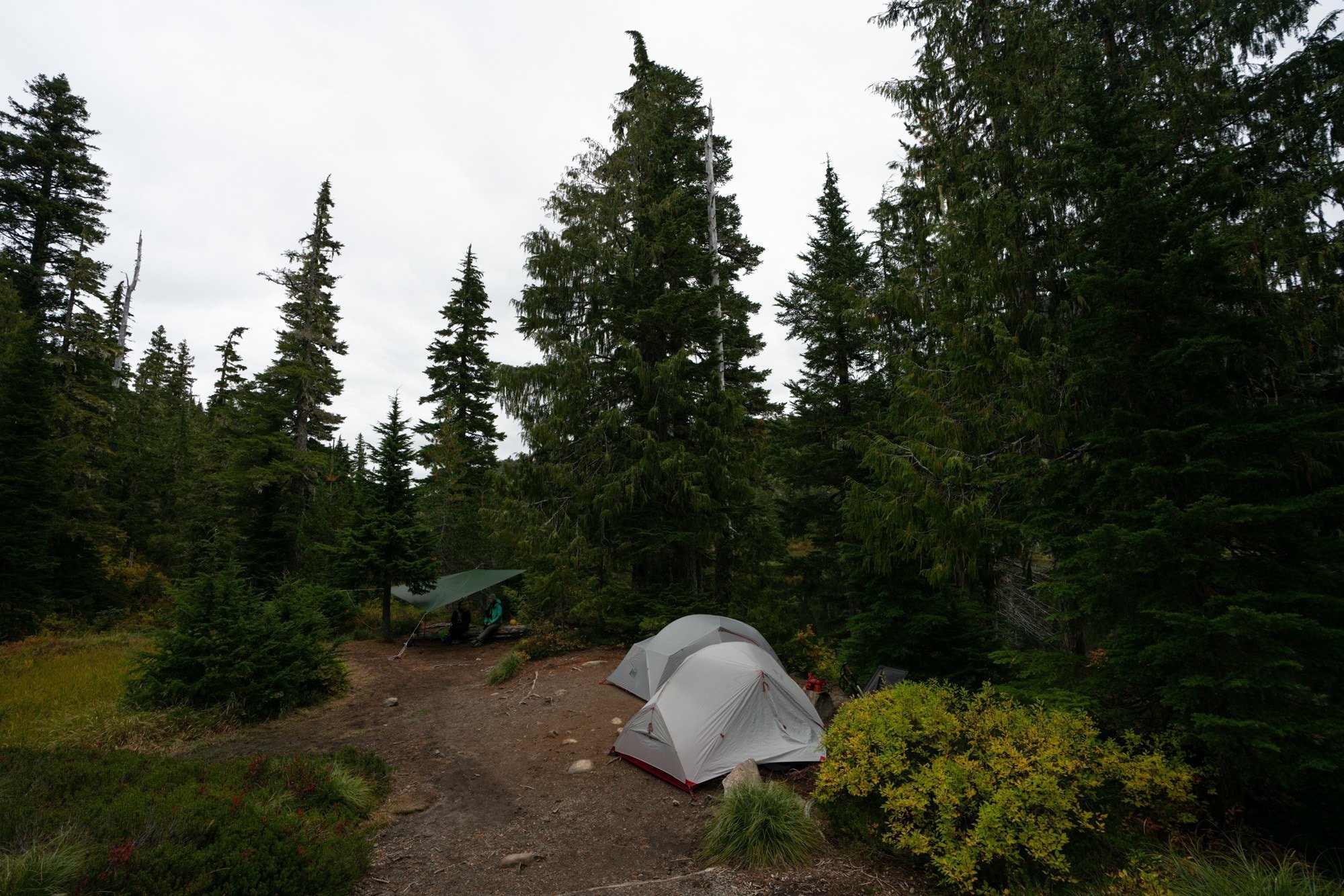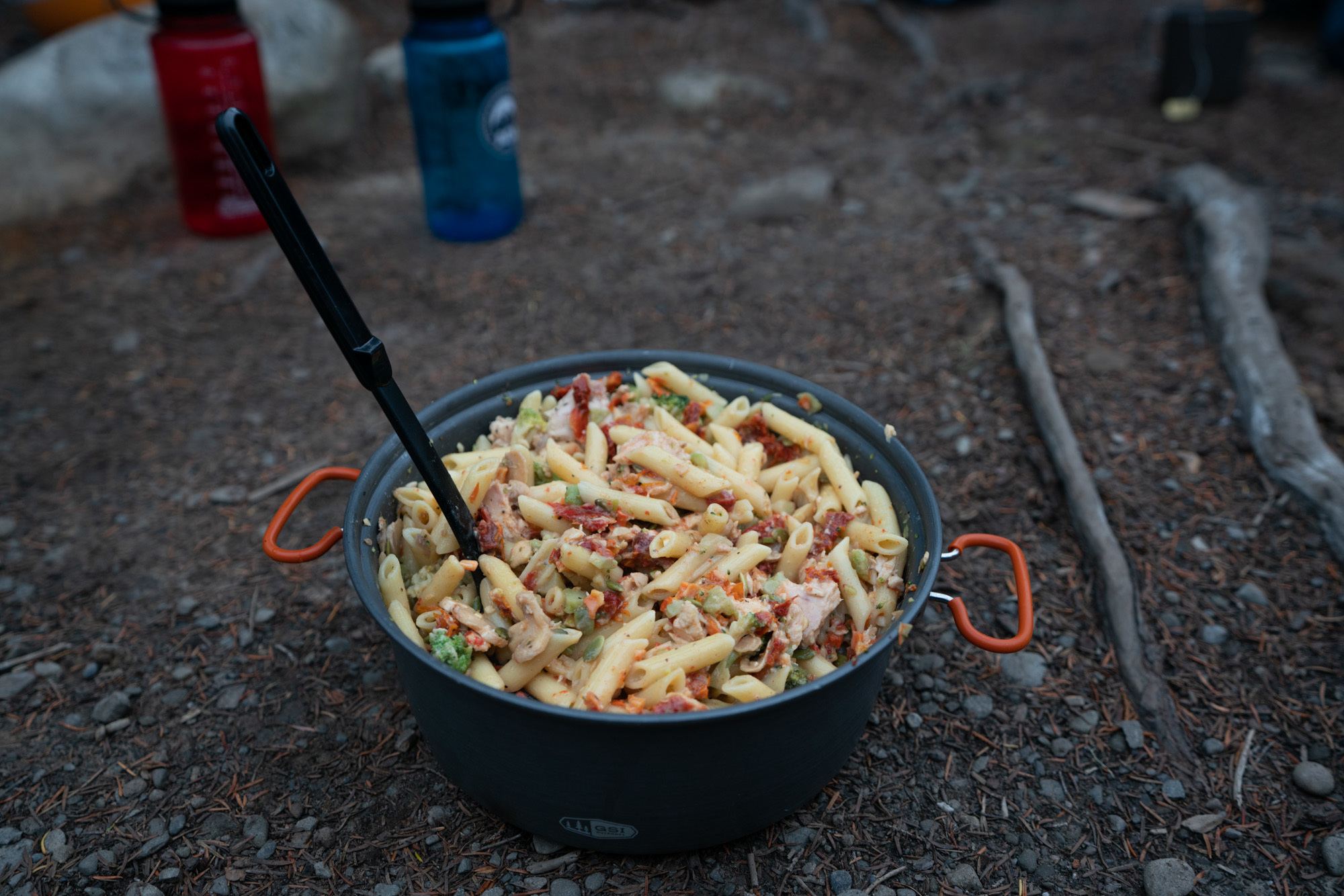 Day 4
It rained all night, but it wouldn't be a proper Pacific Northwest backpacking trip without a bit of rain. Luckily we were all prepared with the right backpacking gear. We also all lined our backpacks with compacter bags for extra waterproof protection, thanks to a tip from our guides.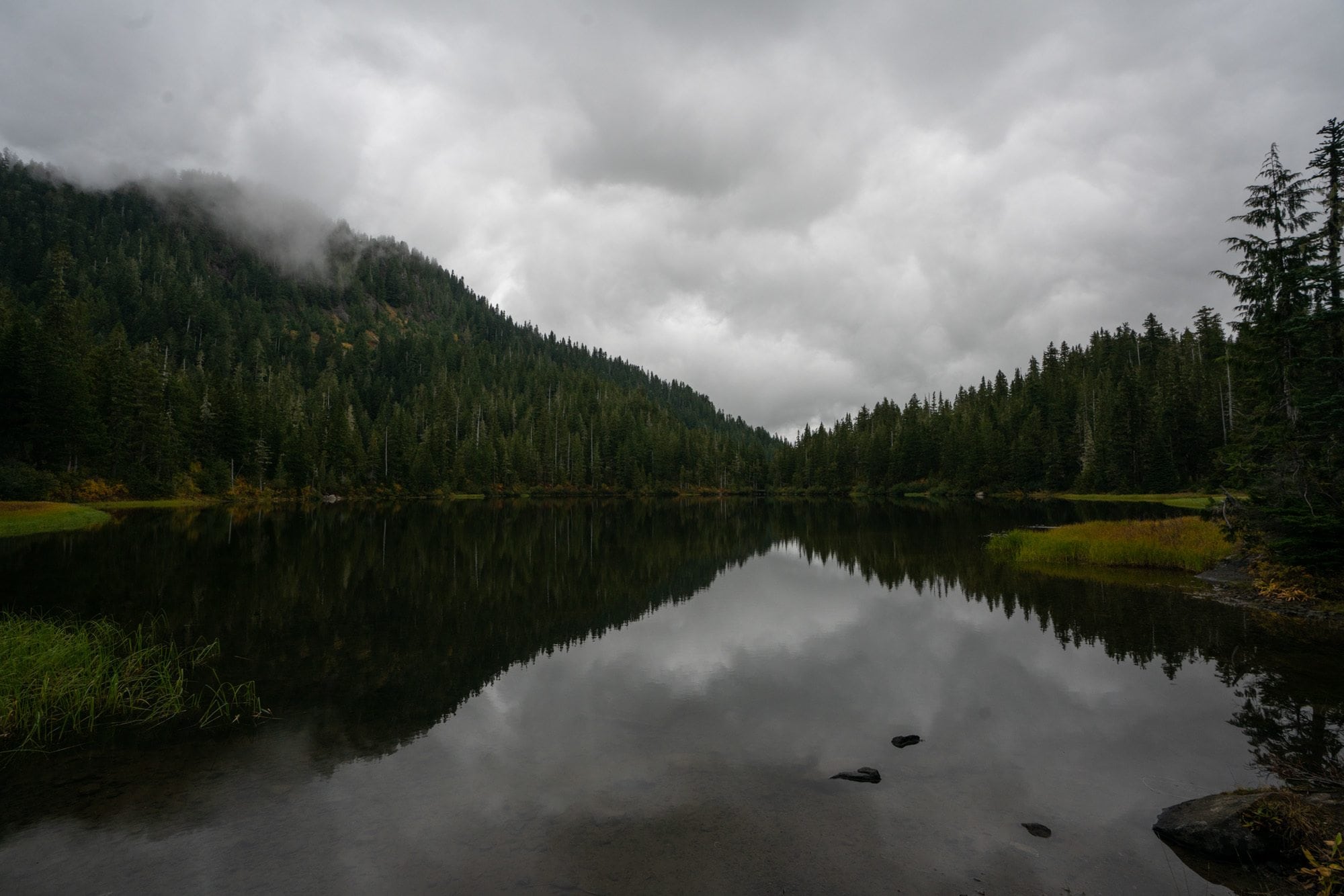 Breakfast and coffee were quick, but tasty – hot oatmeal with all of the fixings. Then we donned our rain gear and hit the trail. Like Day 1, we were back in the rainforest, but today we had an easy 4 miles back to the parking lot.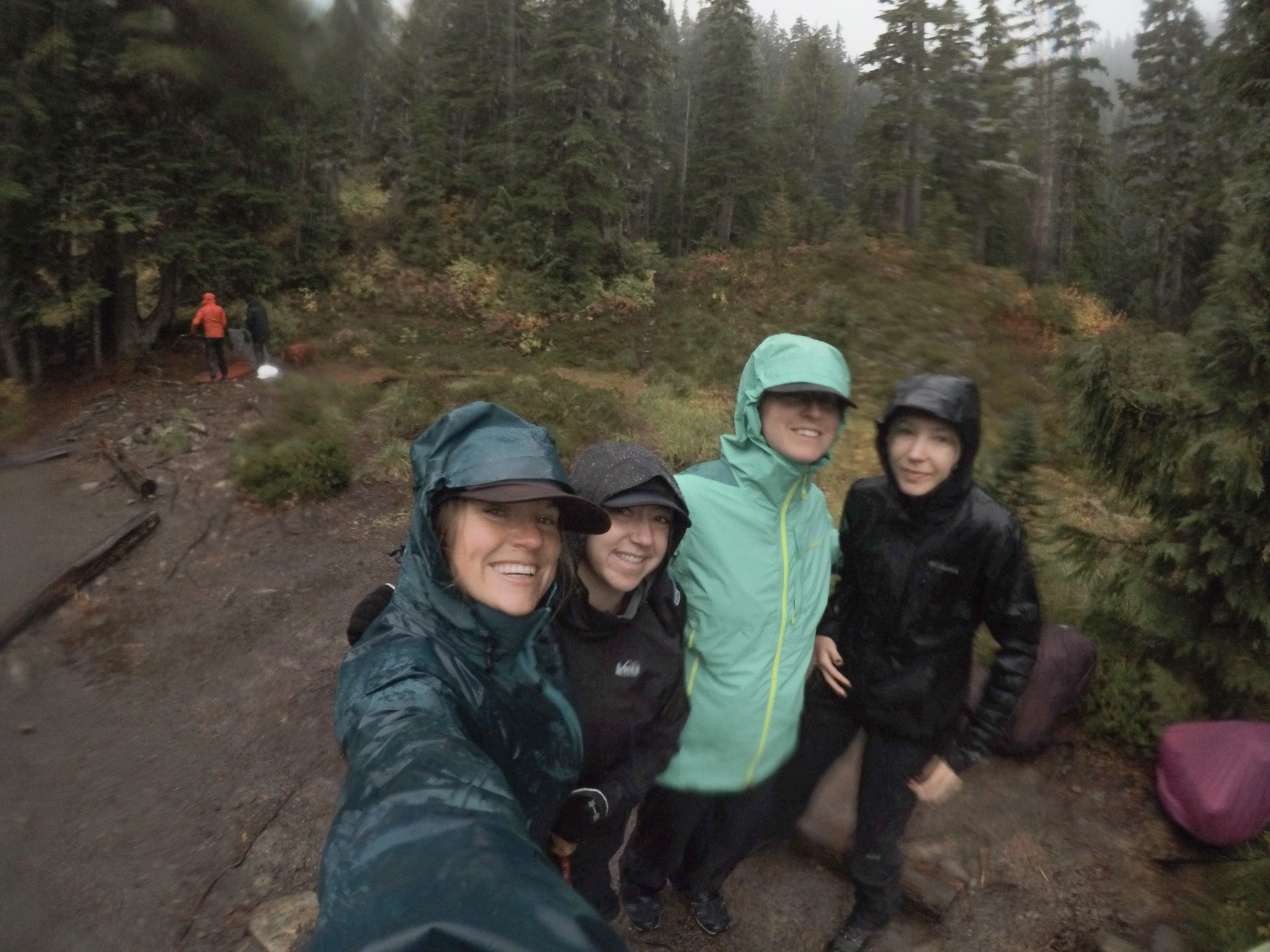 Despite the rain, we still had a blast on the trail. Something about these group trips I've been running attracts a type of traveler that is ready for anything that gets thrown at them, from challenging terrain to unpredictable weather. It's really inspiring to be in a group where everyone has a positive attitude and looks at a situation like rain as all part of the adventure.
We revisited Sol Duc Falls one last time as we approached the parking lot for one last group photo before celebrating at the trailhead.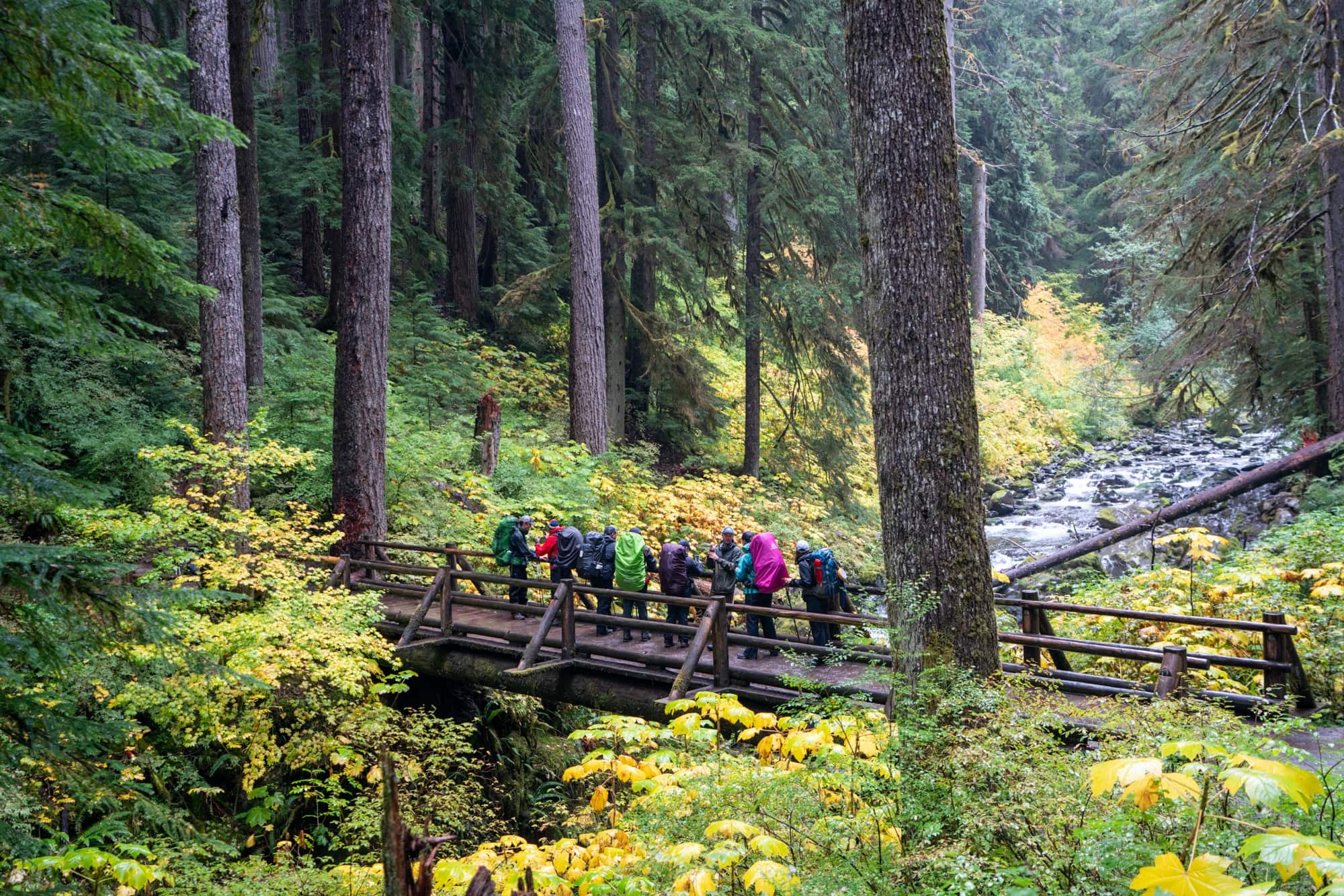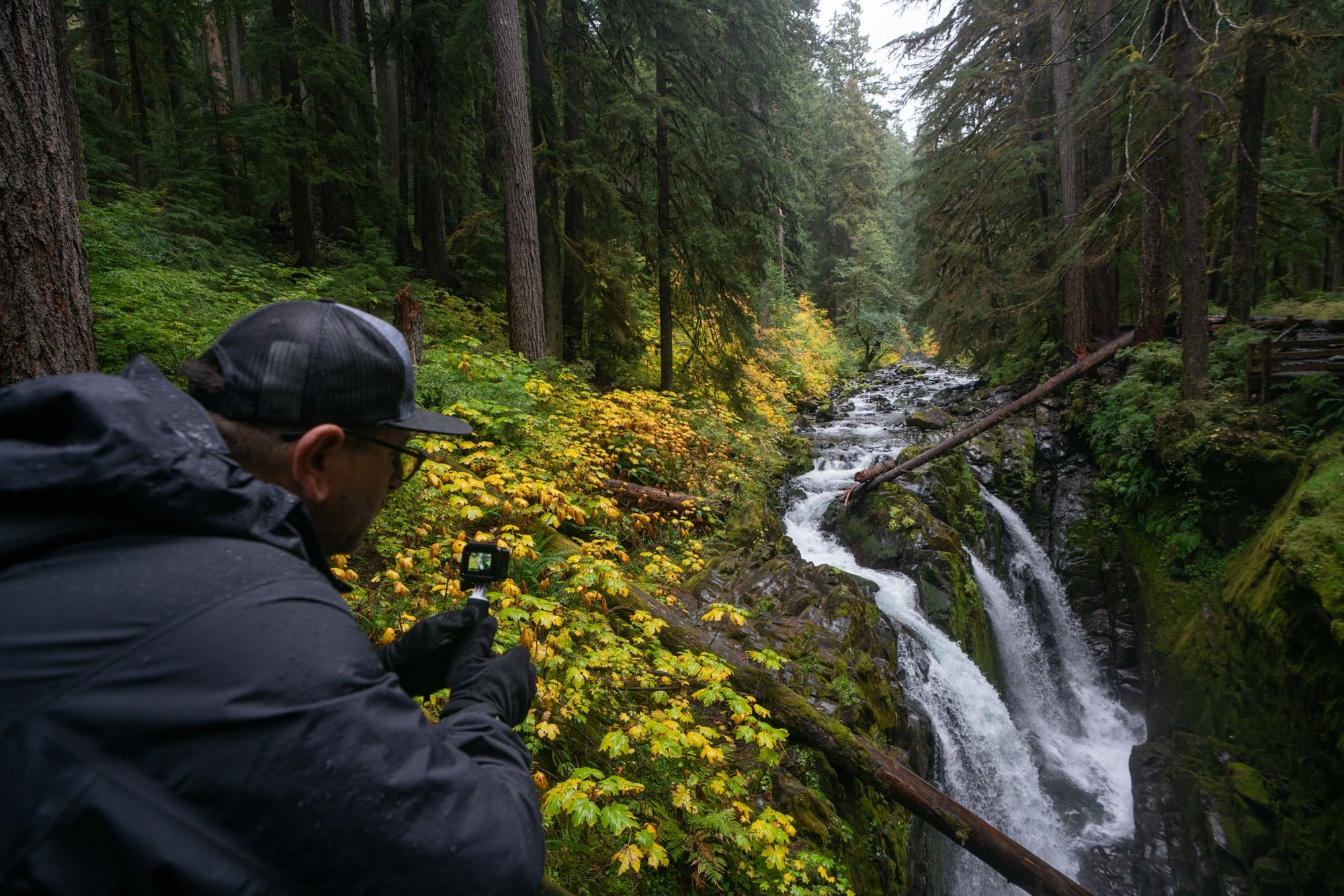 Once we were back in the van, we head over to Sol Duc Hot Springs for hot showers. For those who were hopping on a plane that night, it was a welcome opportunity to clean up. Just make sure to bring a clean, dry pair of clothes and any toiletries.
We had one last picnic lunch with homemade apple crisp before making the three-hour drive back to Seattle.
Gear for Backpacking Olympic National Park's High Divide Trail
If you are planning a backpacking trip on the Olympic National Park High Divide Trail and need to sort out your gear, I'd start with our three-day backpacking gear checklist.
If you're new to backpacking we have plenty of great articles to support you in making the best decisions for building you gear closet:
Of course, if you are doing the trip with REI, you won't need the group gear, as our guides provided things like the stove, water filter, bear canisters, first aid kit, and even the tents. But it's a good place to start.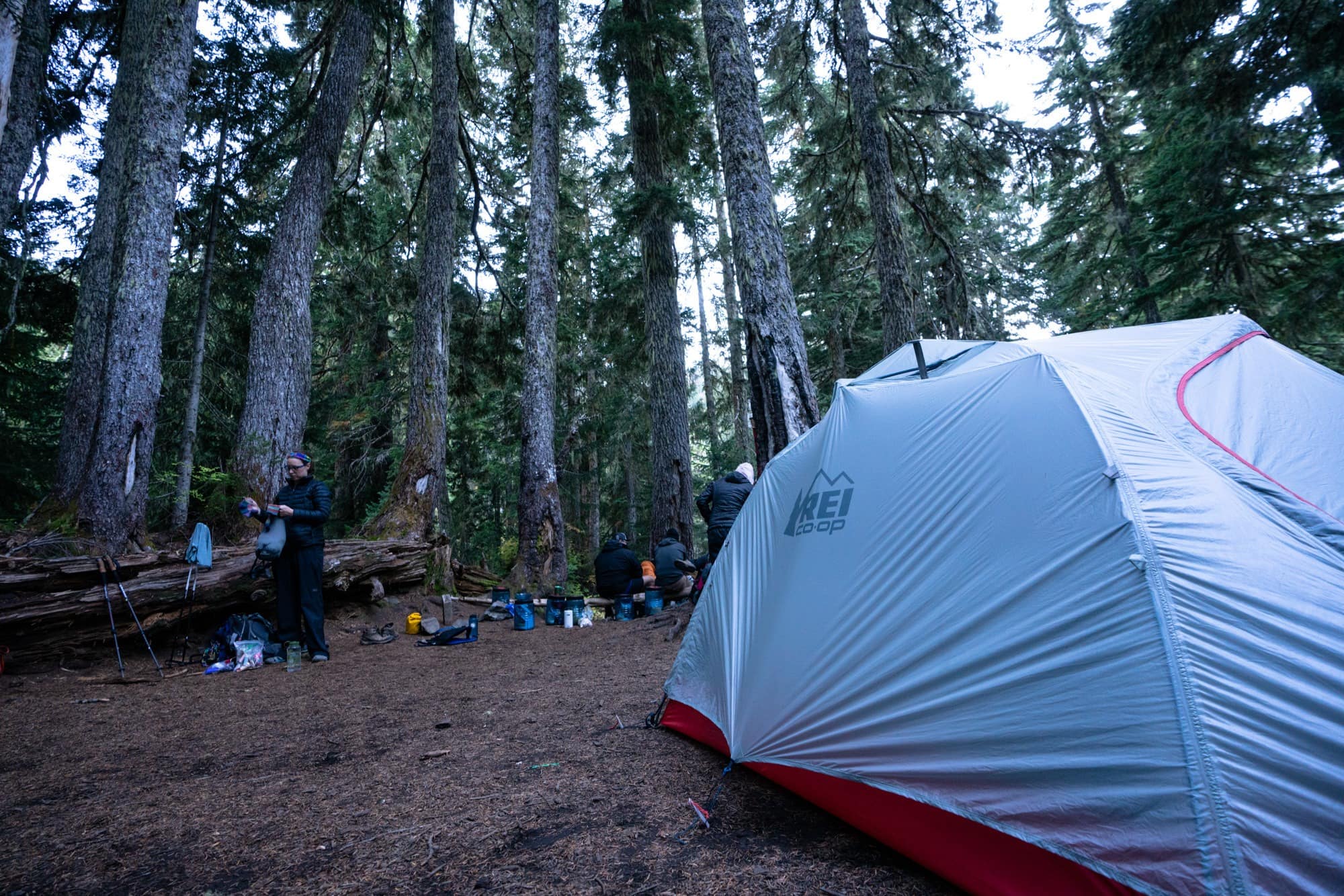 For wet climates like the Pacific Northwest, you'll want a few extra pieces of gear to stay dry and comfortable on the trail, especially if you hike in late September when air temps are cooler. The thing to remember is that in rainy, humid climates, gear doesn't dry. So if you get soaked on day 1, you're going to be wet the entire trip. This can be avoided by planning ahead and coming with a few extra pieces of gear than you would when hiking in the Sierras, for example.
Here are 5 more key essentials to not forget for hiking in the Pacific Northwest:
Neoprene gloves – I actually learned this from a guide in Alaska last summer. If it starts to rain and it's cold out, my hands can get numbingly cold. Neoprene gloves insulate when wet, so they are a great hiking option for people who get cold hands.
Compactor bag – While I'd still suggest a rain cover, it's also smart to line your pack with a compactor bag so it protects your gear from the rain.
Quality Rain Gear – this is the most important thing you'll need when backpacking in Olympic National Park. Check out our post – How to Choose a Rain Jacket for Hiking – for tips on getting a quality rain jacket that fits in your budget.
Extra socks – Normally I hike with 2 pairs of hiking socks, plus one extra pair that I keep in my sleeping bag at all times and only wear to bed. When hiking in a wet climate, I usually bring an extra pair to hike in as well, just in case my socks get extra soggy.
Camera protection – if you are bringing an expensive camera, make sure you bring something to store it in. I like to bring such a simple lightweight dry sack that I can throw my camera in if it starts to rain.
For More Information on Group Tours
And that's our guide to conquering the High Divide Trail in Olympic National Park! Thanks to REI for hosting the fourth Bearfoot Theory Group Tour! For more information on backpacking the High Divide Trail, visit the REI Adventures Olympic High Divide Group Trip page.