6 Best Wind River Range Backpacking Trails
Get off the beaten path and backpack Wyoming's Wind River Range, full of mountain peaks, alpine lakes, and abundant wildlife.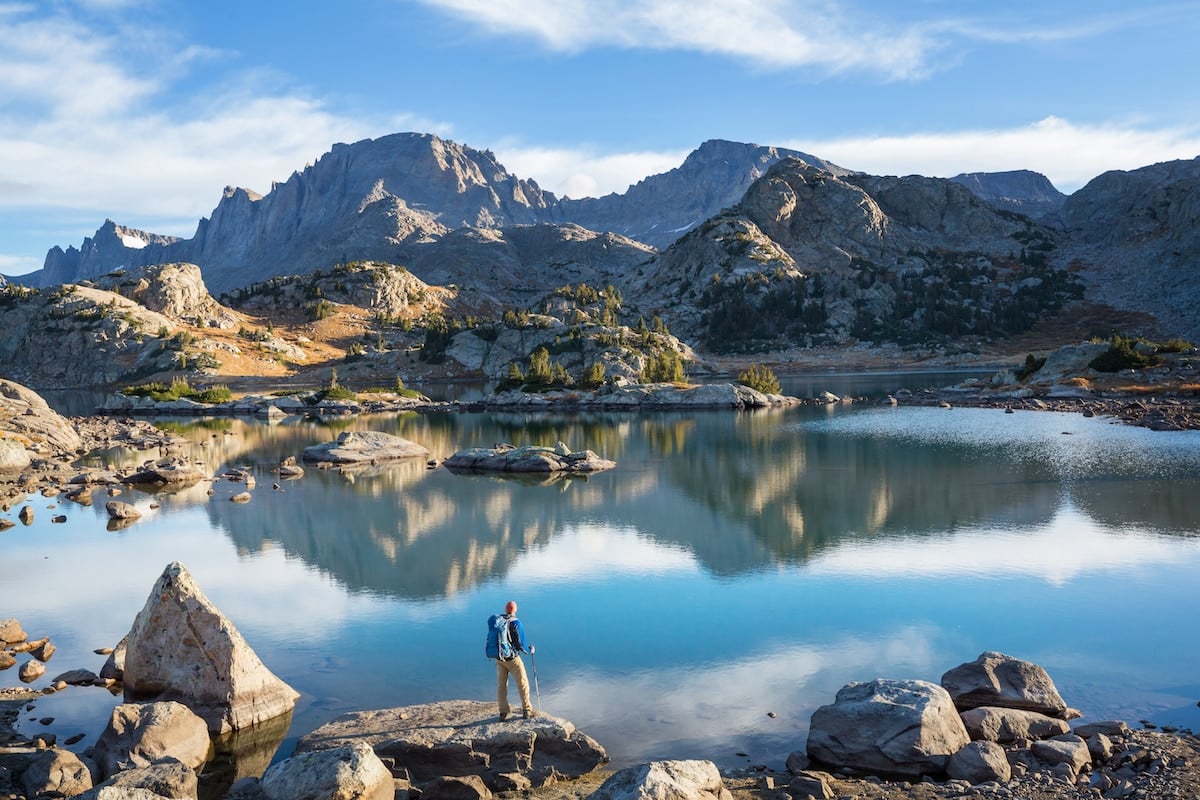 Wyoming's Wind River Range is a place of legend, a granite wonderland where the state's highest summit presides over hundreds of jagged peaks and countless alpine lake basins that straddle both sides of the Continental Divide.
Located 2 hours southeast of Grand Teton National Park and 3 hours southeast of Yellowstone National Park, this is one of the most pristine wilderness areas in the U.S., home to healthy populations of grizzly bears, wolves, elk, and moose.
Getting into the heart of the Winds involves driving long rutted dirt roads and hiking for several days; which means to experience the wild heart of the Winds you'll have to go backpacking. Below we've outlined 6 of the best Wind River Range backpacking routes for your next adventure.
Important Reminder: As it goes in all of the destinations we share, please practice good trail etiquette and remember to Leave No Trace. This means packing out all of your garbage (including toilet paper), being respectful to others, and following the established rules.
Join our community for access to our free member resources!
Download Handy Outdoor Packing Checklists & Trip Planning Guides
---
1. The Cirque of the Towers
Trailhead start: Big Sandy Trailhead
Trail Type: Loop
Distance: 24 miles
Suggested Time: 3-4 days
Difficulty: Moderate
Lay eyes on the most iconic skyline in the Wind River Range on this 24-mile loop to the Cirque of the Towers. The Cirque is a glacially-carved basin surrounded by 12,000 foot-high granite spires that boast the most famous technical climbing routes in the range. You don't have to bring a rack and a rope to enjoy the Cirque, but you should plan to spend a layover day there to explore the high alpine setting.
This is one of the most popular Wind River Range backpacking routes so don't expect solitude. But if you're lucky you may be treated to some prime climbing entertainment as tiny determined humans monkey their way up classic routes on the Wolf's Head, the Shark's Nose, Warbonnet, Warrior, and Pingora Peaks.
The hike starts from the Big Sandy trailhead, after 27 miles of dirt roads; the last 10 miles tend to be rough but are usually passable in a 2WD car. Fit hikers can plan to spend their first night at Shadow Lake, 12 miles from the start, or you can ease your way in by stopping sooner at Mirror Lake, Dad's Lake, or Marm's Lake.
From Shadow Lake, you'll trace around the north side of the lake and then connect a series of unnamed lakes as you make your way up toward Texas Pass. From the top, you'll be rewarded with your first view of the Cirque. From here you'll make your way around the west side of Lonesome Lake (no camping allowed here) into the Cirque, which has plentiful tent sites.
Hopefully, you've budgeted at least a day to explore the Cirque and take side scrambles to the base of some of the towers (always keep an eye out for climbers above you) and Lizard Head Meadows.
To finish the 24-mile loop, you'll leave the Cirque over Jackass Pass, and hike past Big Sandy Lake back to the Big Sandy trailhead. This loop can be done in either direction but the elevation gains are more gradual if you hike clockwise, as written here.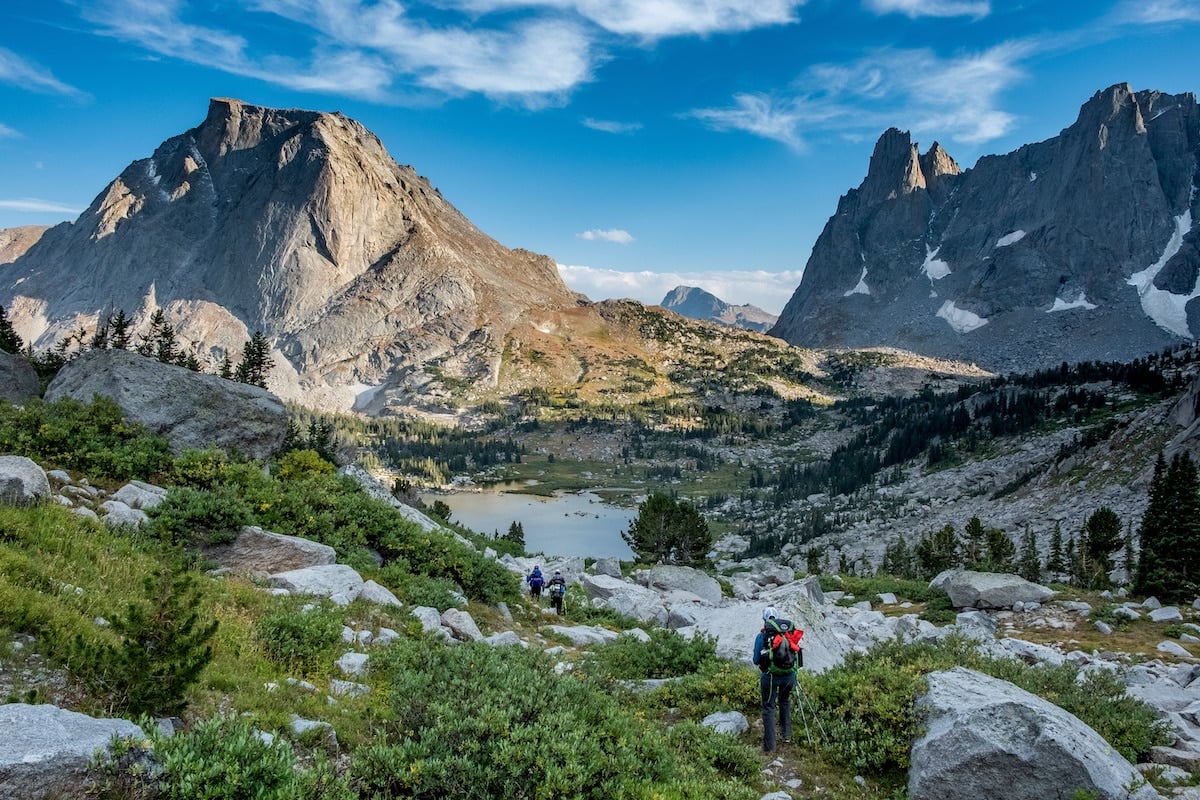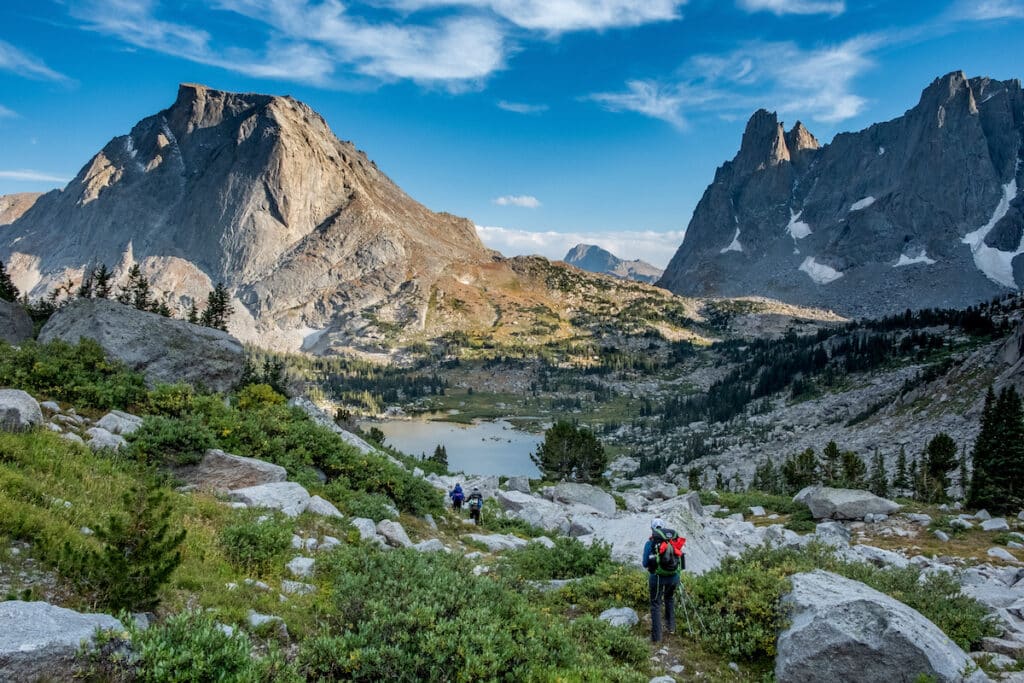 2. Titcomb Basin
Trailhead start: Elkhart Park Trailhead
Trail Type: Out and back
Distance: 30 miles
Suggested Time: 4-5 days
Difficulty: Hard
Titcomb Basin will always hold a special place in my heart, as it's where I witnessed the Total Solar Eclipse of 2017. From our vantage point perched on an exposed granite knoll at 11,000 feet, bookended by two huge alpine lakes, the heart-stopping drama of totality was amplified by a sudden drop in temperature as the Sun disappeared behind the Moon, as well as the remote location, 20 miles from the closest road.
Even without a once-in-a-lifetime celestial event, Titcomb Basin is a bucket list trek and one of the most popular Wind River Range backpacking routes.
You'll start from the Elkhart Park trailhead, one of the only access points into the Winds via a paved road. From there you'll head up the Pole Creek Trail for 4.6 miles to Photographer's Point (a good day hiking option if you're not up for backpacking).
You'll have many options for camps on your way to Titcomb; most people break up the 20-mile approach into two days. You'll want to budget extra time in the basin itself, as there are many side trip options, including summiting Gannett or Fremont Peaks (the highest and third highest points in Wyoming) or straddling the Continental Divide at Indian Pass.
Keep in mind that all of Titcomb Basin sits above the treeline so there are no trees for hanging bear bags so you'll need to pack all your food and scented items into bear canisters.
Dogs are allowed in the Winds but keep in mind that Titcomb Basin is also a popular spot for pack trips so you may encounter horses, llamas, and even pack goats on trail, along with wildlife including bears, elk, moose, and marmots.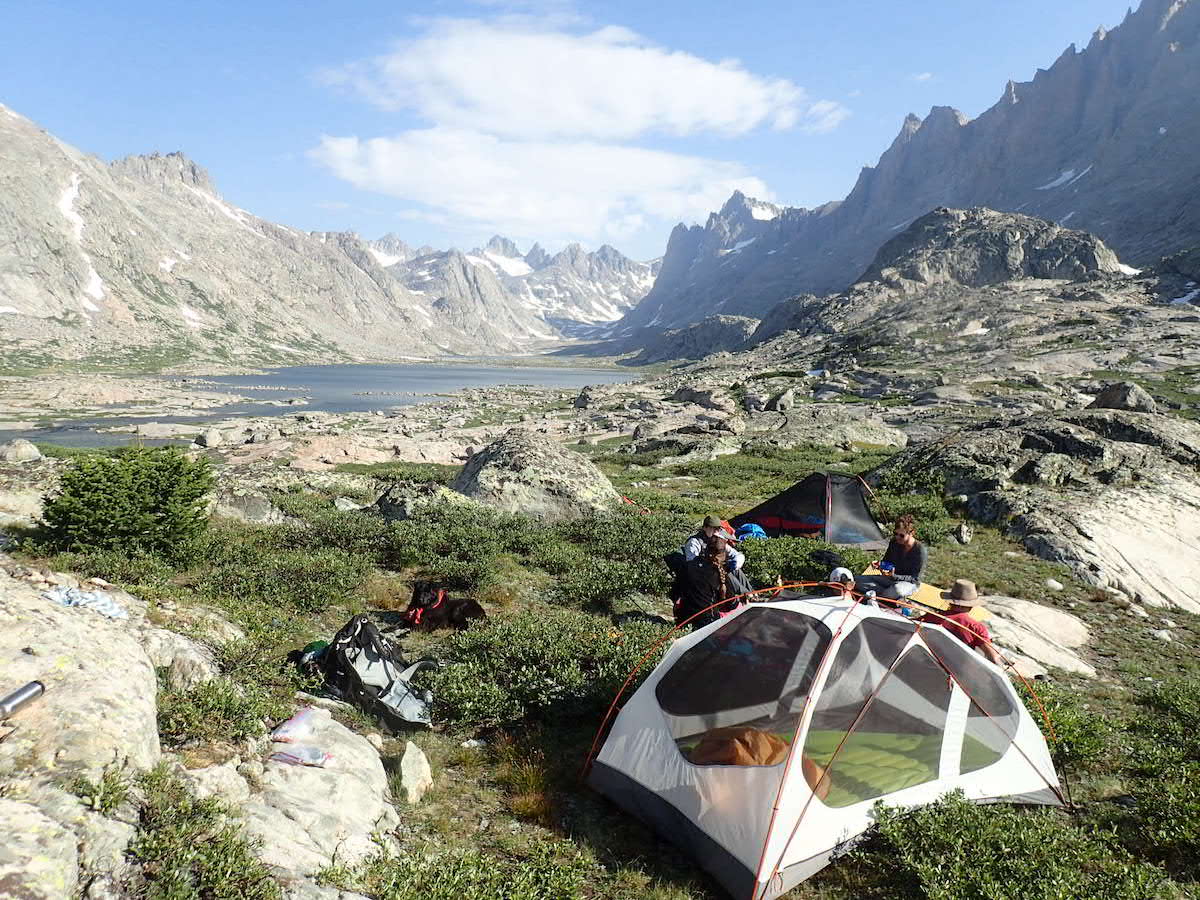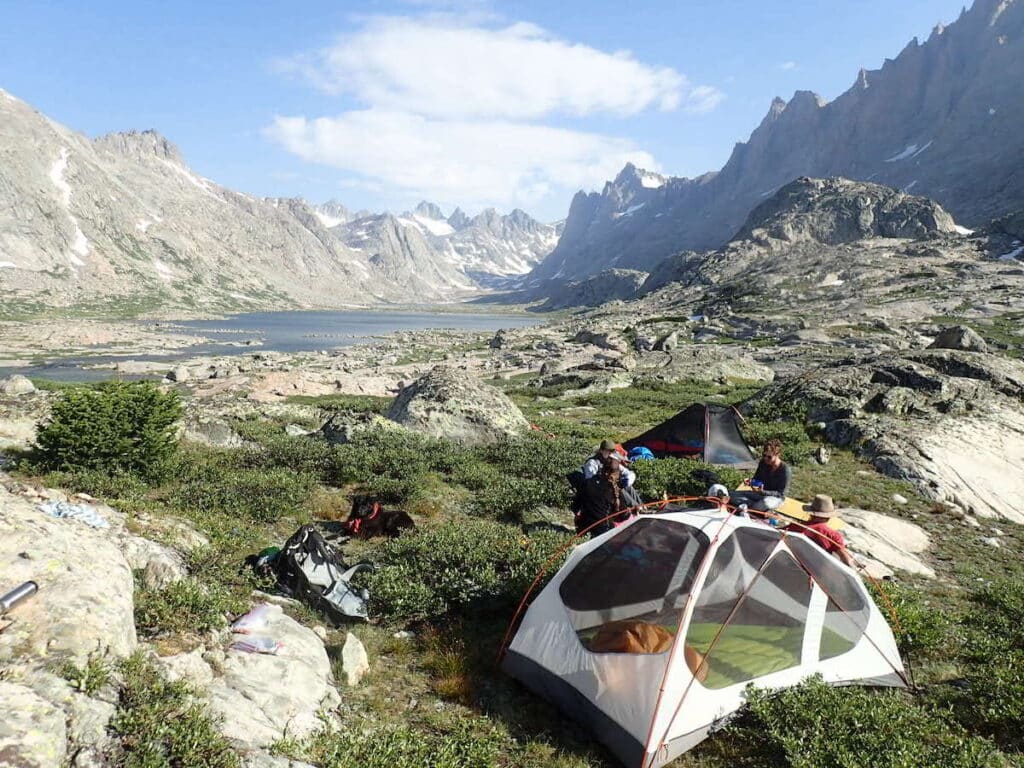 3. The Glacier Trail to Gannett Peak
Trailhead start: Trail Lake Trailhead
Trail Type: Out and back
Distance: 50 miles
Suggested Time: 5-6 days
Difficulty: Very hard, mountaineering skills required
You might assume that Wyoming's most famous mountain, 13,775-foot Grand Teton, is the highest point in the state, but the Wind's Gannett Peak reaches slightly higher to 13,804 feet. Very few people ever lay eyes on Gannett, let alone climb it; Gannett is considered one of the most challenging of the 50 state high points, on par with Alaska's Denali, as it requires a 25-mile approach and real mountaineering skills to tag the summit.
You can approach Gannett from the south via Titcomb Basin or from the north via the Glacier Trail. This route begins at the Trail Lake Trailhead, near Dubois, Wyoming. From there you'll make your way 22 miles into the Winds to set up your basecamp at Tarn's Lake, at the base of Dinwoody Glacier.
From here it's about 3 miles and 3,000 feet of elevation gain up the Dinwoody Glacier/Gooseneck Glacier route to the summit. Don't take this climb lightly; you'll need crampons and an ice ax and many people prefer to rope up for parts of the route, due to crevasses and the risks of glacier travel.
On the summit, you'll be able to look down all the peaks and lakes of the Wind River Range, including Titcomb Basin, with its twin giant lakes to the south. You'll be sitting atop one of the highest points on the Continental Divide of the Rocky Mountains, where all the rivers to the east drain to the Gulf of Mexico and those to the west drain to the Pacific Ocean.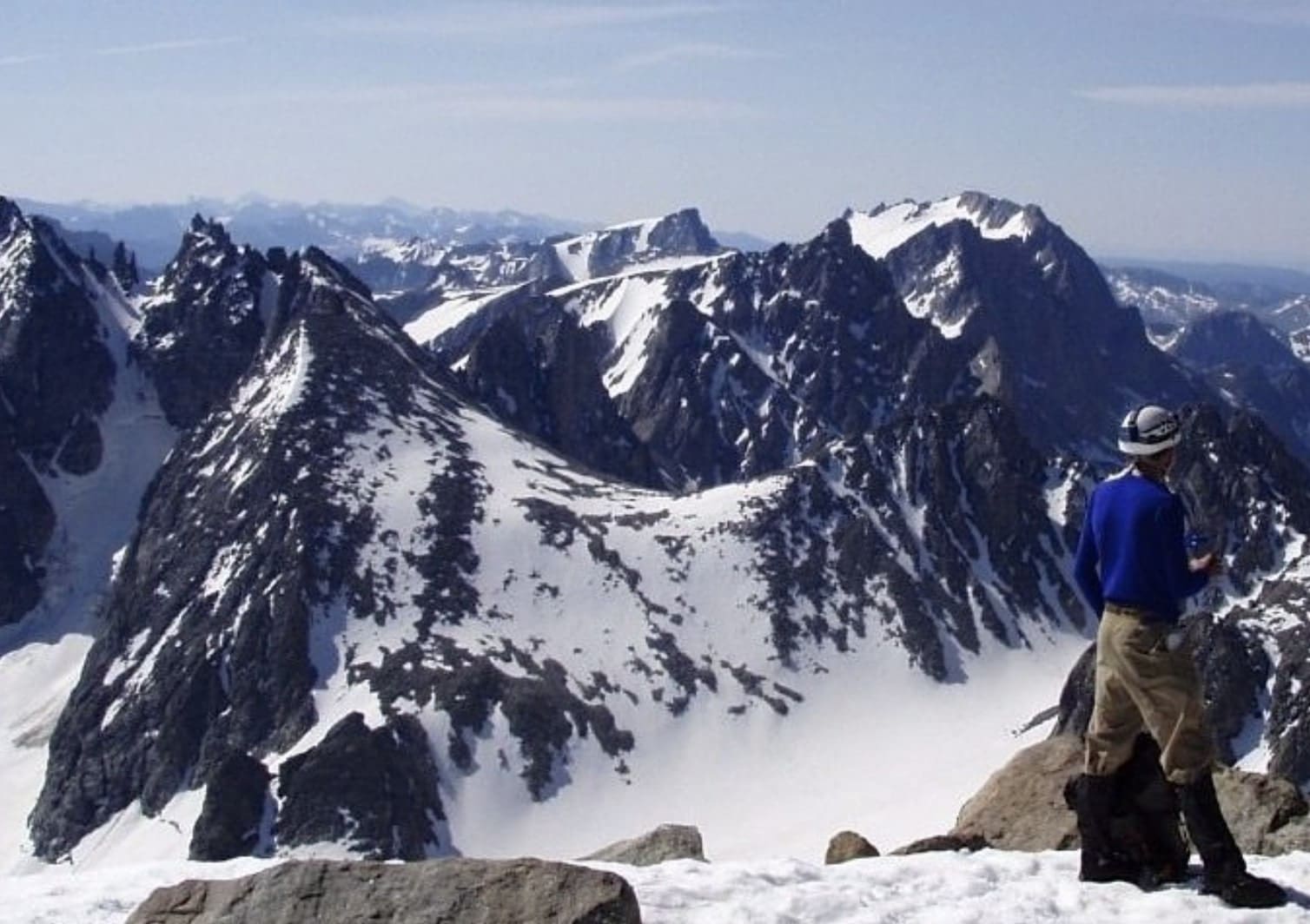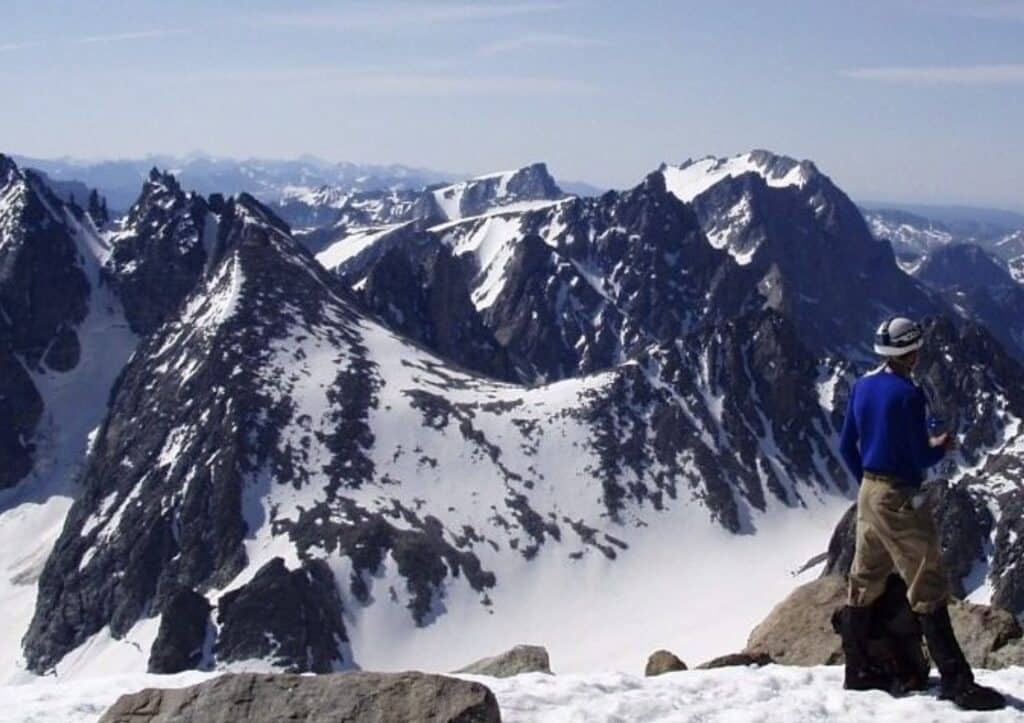 4. Bomber Basin
Trailhead start: Trail Lake Trailhead
Trail Type: Out and back
Distance: 8 miles
Suggested Time: 2 days
Difficulty: Easy
If you like a bit of history in your hikes, head out on the 8-mile out-and-back Bomber Basin trek in the northeast corner of the Winds. This trek can be done as a day hike or an overnight or can be extended into a longer loop hike to Ross Lake.
Starting in Dubois, you'll head to the Trail Lake trailhead, which sits at the edge of the Fitzpatrick Wilderness boundary. From there you'll head south on the East Torrey Creek trail to Bomber Falls.
The falls are lovely, but many people come here seeking wreckage: on August 14, 1943 a B24 bomber with a crew of 11 crashed just above the falls, killing all aboard. Today, a few large pieces of the plane can be seen above and below the falls, although many of the pieces are hidden under lush vegetation.
You can plan to camp near the falls or near Bomber Lake but for a longer adventure, consider tackling the 22-mile Bomber Basin to Ross Lake Loop. This partially off-trail adventure requires navigational and creek-crossing skills as you leapfrog from one lake basin to the next, culminating at Ross Lake, one of the largest lakes in this part of the Winds. You'll then loop back to the Trail Lakes trailhead on the Whiskey Mountain trail.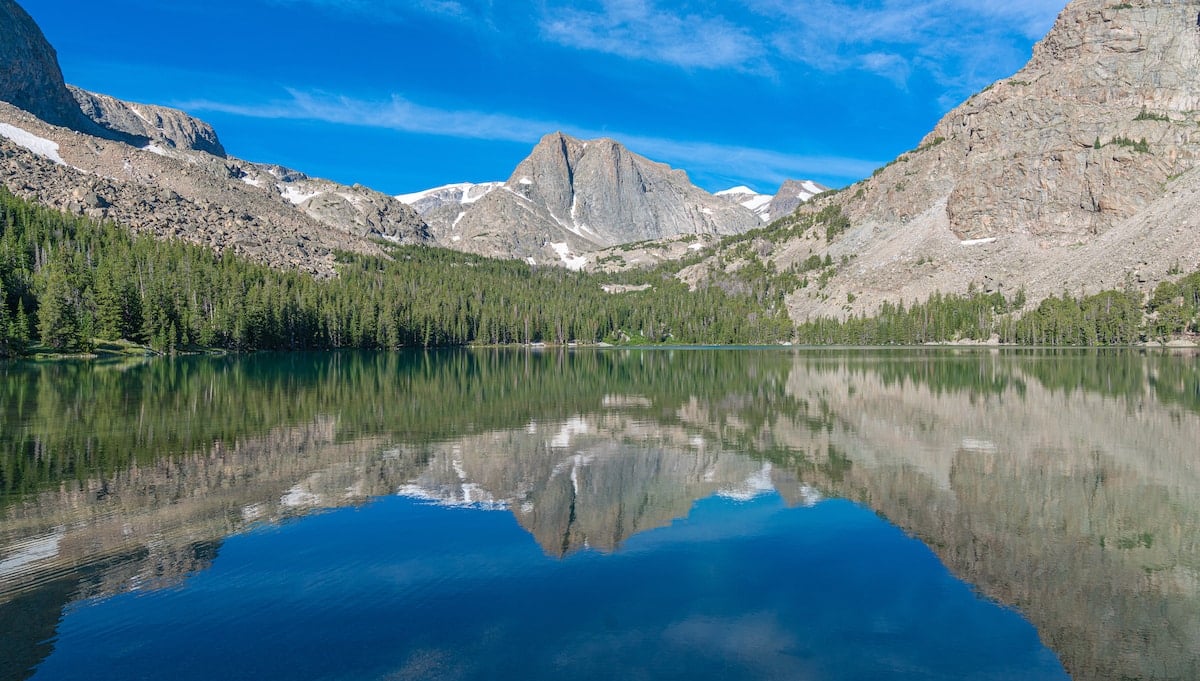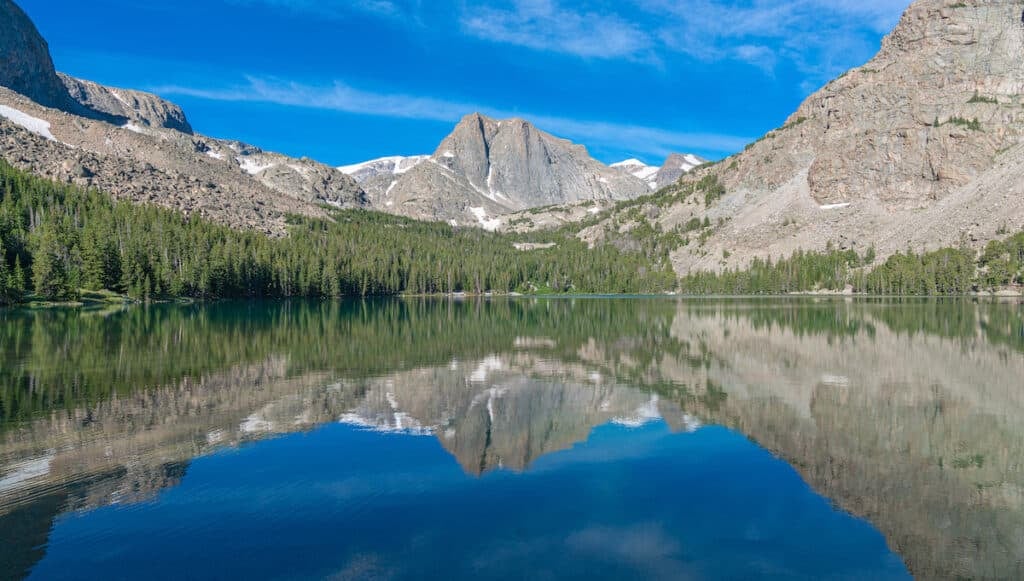 5. Stough Creek Basin
Trailhead starts: Roaring Fork Trailhead
Trail Type: Out and back
Distance: 14.8 miles
Suggested Time: 2-3 days
Difficulty: Moderate
For a short, sweet introduction to the Wind River Range, head to the eastern side of the Continental Divide to Stough Creek Basin. Starting in Lander, you'll drive through the scenic Sinks Canyon State Park to the Roaring Fork trailhead, next to Worthen Meadow campground. This road is paved to Frye Lake and then becomes rough dirt, which is usually passable in a 2WD drive car. From the trailhead, you'll head due west on the Stough Creek Lakes Trail.
This trail may be shorter than most other Winds trips but that doesn't mean it's a walk in the park. The trailhead sits at 8,850 feet and you'll gain 1,600 feet in the first five miles– a considerable effort if you're coming from low elevation. But the rewards are great.
After 6.8 miles you'll drop into the Stough Creek Basin, a glacially-carved basin with over a dozen interconnected lakes surrounded by the semicircular Roaring Fork Mountain Range.
There are plenty of campsites here and the basin is choose-your-own-adventure where you can wander between and around lakes until you find your perfect campsite. This trek can be done as an overnight, but it's better to plan to spend two nights in the basin to really soak in the views from sunset to starlight to sunrise.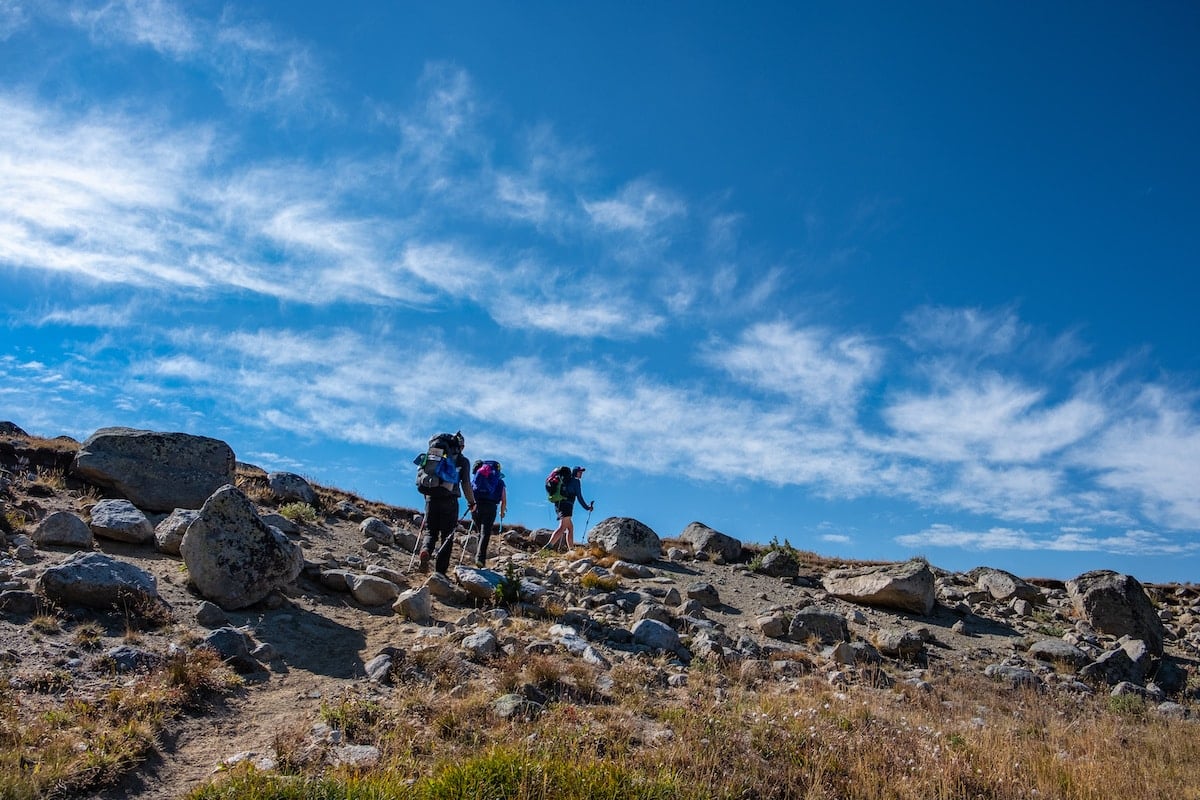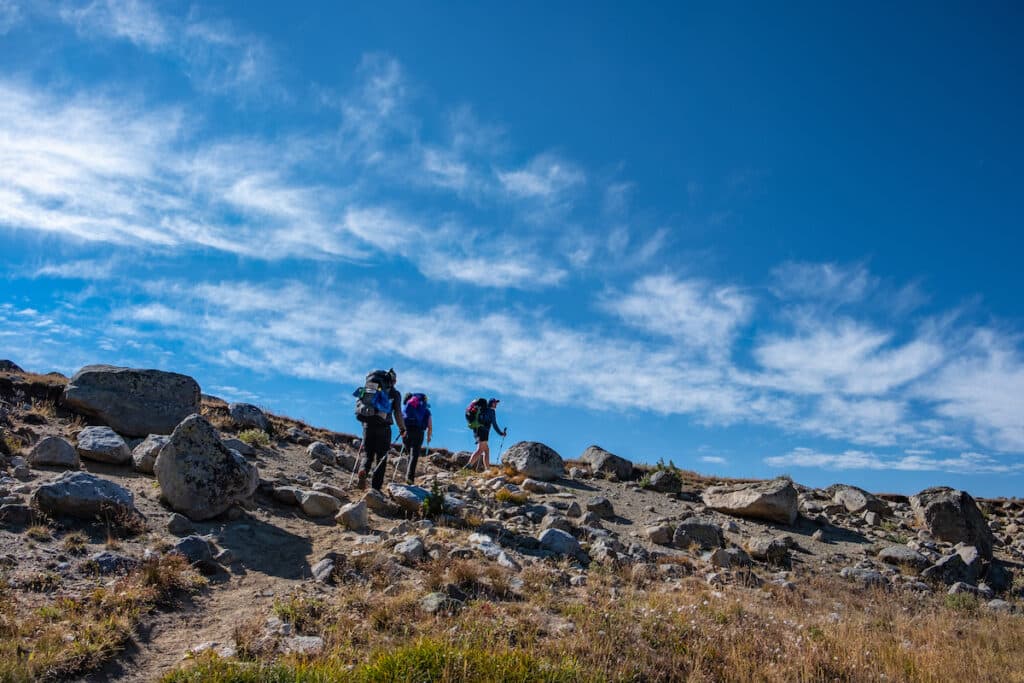 6. Wind River Range Traverse (on the Continental Divide Trail)
Trailhead start: Big Sandy (South) or Green River Lakes (North)
Trail Type: Point to point
Distance: 79 miles
Suggested Time: 7-10 days
Difficulty: Very Hard
Can't get enough of the Winds? Head out on a grand tour of the range on the Continental Divide Trail. The CDT runs from Mexico to Canada following the crest of the Rocky Mountains through New Mexico, Colorado, Wyoming, and Montana. The Winds are famously one of the wildest and most scenic sections of this 3,100 mile thru-hike.
You can start the Wind River Range Traverse section from either the Big Sandy trailhead in the south or the Green River Lakes trailhead in the north, making use of the shuttle services available in the hiker-friendly town of Pinedale.
The trail runs on the west side of the Divide, passing hundreds of lakes. Many CDT hikers also opt for a side excursion to visit the Cirque of the Towers. There are no easy resupply points so you'll need to either carry all your food for the trek or plan a 20-mile round trip side trip to Elkhart Park trailhead, where you can hitch a ride into Pinedale partway through your hike. The logistics are daunting but they're a paltry price of admission to this world-class trek!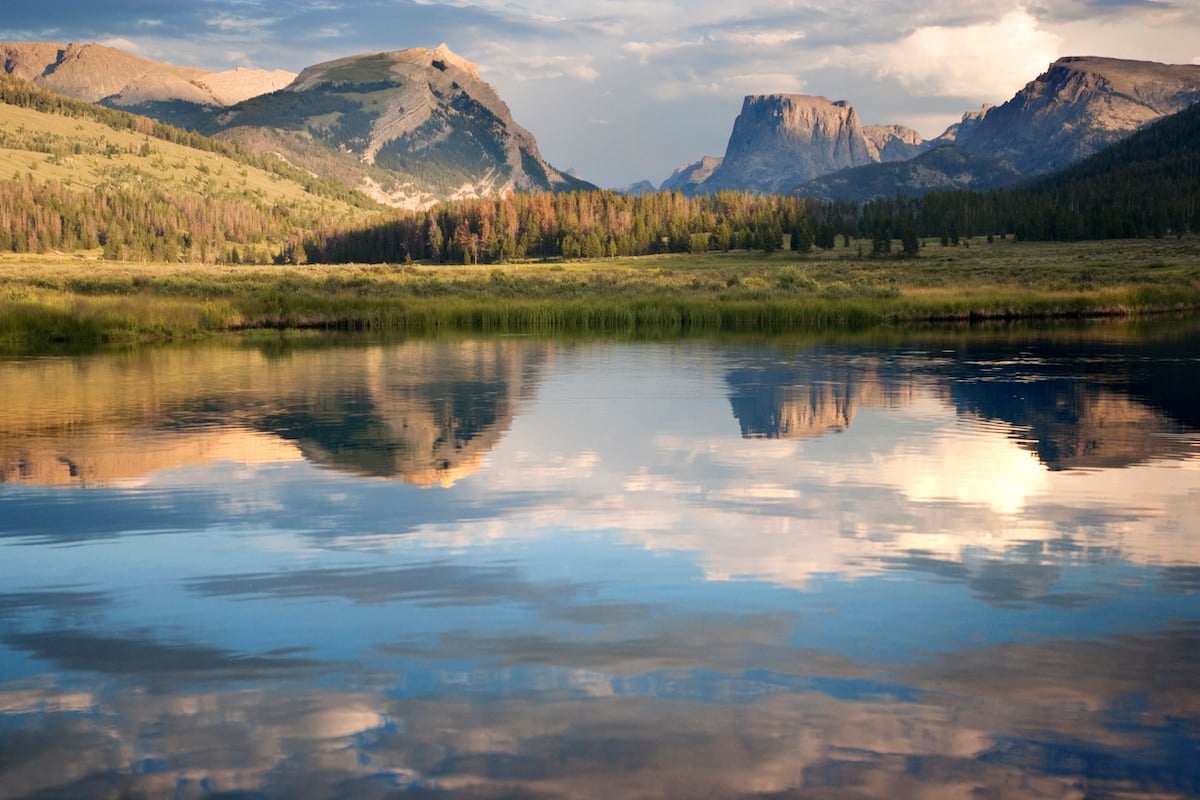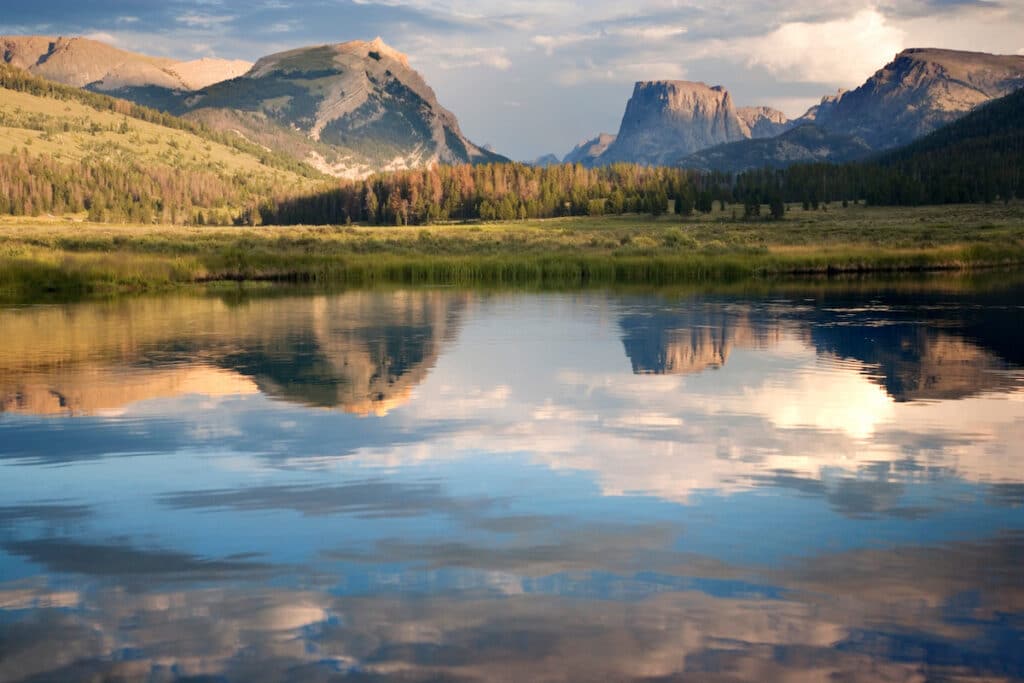 ---
Best Time of Year To Visit the Wind River Range
The Wind River Range is a remote, high-elevation mountain range that receives incredible amounts of snow each winter. Most years, the snow-choked basins and passes aren't melted out until July, making August and September the prime months for Wind River Range backpacking trips. With so much water in thousands of lakes, mosquitoes can be legion. Bugs usually peak in June and July and start tapering off in August.
Winter can return quickly to the Winds, with the first snowfalls often coming in September or October. Elk hunting is serious business in the Winds so if you do venture into the range in the fall, be sure to wear bright colors
Ski mountaineers and ice climbers sometimes tackle winter objectives in the Winds but due to the unforgiving terrain, high avalanche danger, extreme weather, and remote location, winter trips are best left to experienced mountaineers.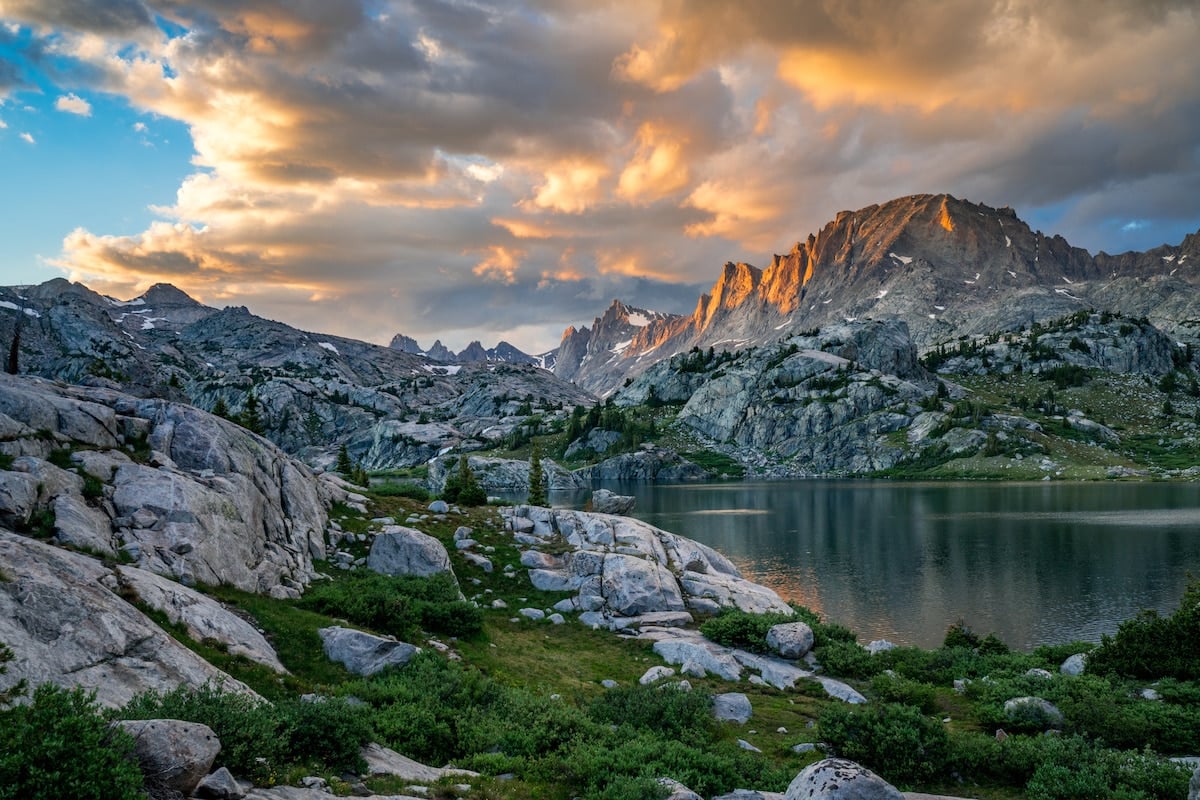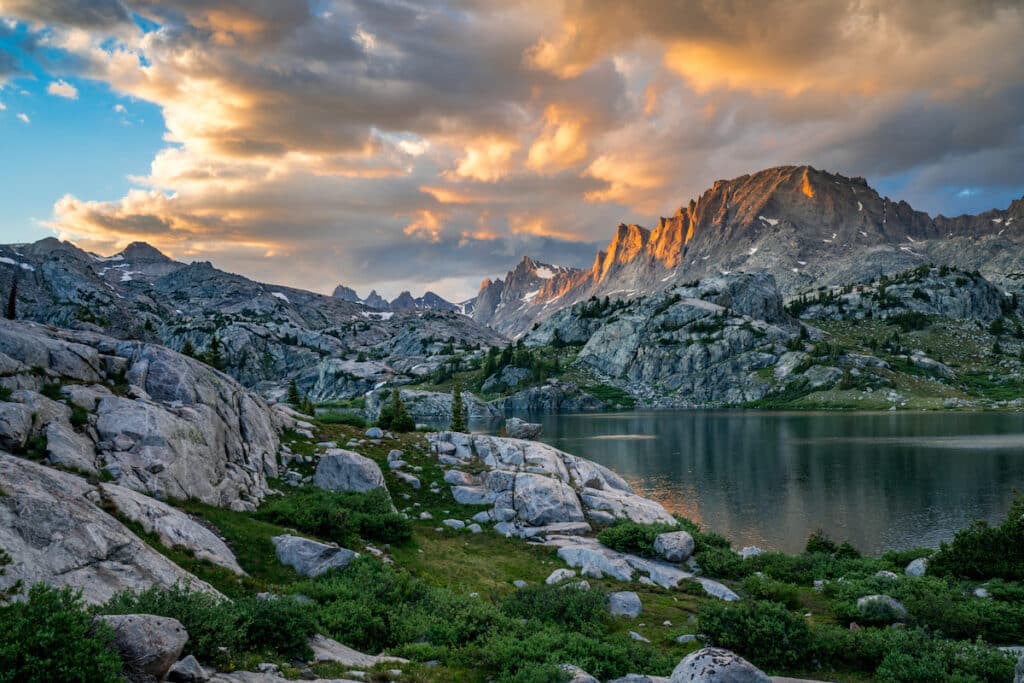 ---
How To Get To the Wind River Range
The Wind River Range is located in west central Wyoming. The closest towns are Pinedale on the west side of the range, Lander to the east, and Dubois to the north.
All of these towns have grocery stores, restaurants, and hotel rooms but none of them have major airports; if you need to fly you can look for flights into Jackson Hole, Wyoming, a 1.5-hour drive to Pinedale, or Salt Lake City, a 4-hour drive to Pinedale. If you're hiking on the east side of the Winds, it's a 6-hour drive from Denver to Lander.
Many of the roads into the Winds are long, rough dirt roads but most major trailheads can be reached by a carefully driven two-wheel drive vehicle. Most trailheads have national forest campgrounds or allow dispersed camping near the trailhead.
---
Winds Backpacking Tips
The Wind River Range is one of the most remote and pristine mountain ranges in the lower 48 states. Visiting the Winds requires planning and experience; this wilderness is not recommended for first-time backpackers.
Many trails are not well marked and some routes require off-trail navigating, often around lakes and over passes into the next lake basin.
Trails are rocky, rugged, and often relentlessly steep. Trailheads start over 8,000 feet of elevation and many lake basins sit over 11,000 feet so altitude sickness is a real concern.
If you're not up for helming your own trip, there are several outfitters who service the Winds and can pack you or your gear into a basecamp on horse, mules, or llamas. But for those who come prepared for a self-supported adventure, the Winds offer the experience of a lifetime.
Permits
There are no permits required for backcountry trips in the Winds. Only organized groups (such as Scouts) and overnight pack and saddle stock users are required to carry permits.
Bear Safety
The Winds are home to many grizzly bears and even more black bears. Be sure to make noise while you hike, carry bear spray at the ready on your hip, and be diligent about keeping a clean camp.
Proper food storage is mandated in the Winds. Food and scented items must be kept in IGBC-approved bear canisters or hung at least 10 feet off of the ground and 4 feet out from the tree.
Canisters can be rented for a small donation from the district ranger offices in Pinedale, Jackson, and Blackrock. These are especially important above treeline, such as in Titcomb Basin and the Cirque, where there are no trees for hanging food.
Leave No Trace
As with all wild places, it's imperative that you leave them untouched by your visit. This means hiking and camping on durable surfaces, properly burying human waste, packing out all trash and food waste (including TP), leaving all artifacts and objects in place, minimizing campfire impacts (and honoring burn bans, when applicable), and respecting wildlife as well as other hikers. Catholes can be particularly difficult to dig in the rocky Winds so consider bringing wag bags for your visit and packing out your waste.
Cell Service
There is no cell service in the Winds. Be sure to download all maps and trail beta using your favorite hiking app before leaving Pinedale, Dubois, or Lander.
Weather
All forms of weather can strike anytime in the Winds. Snowstorms in July are not uncommon. Be prepared for all types of weather with proper layers and shelter. A tarp is worth its weight in gold in inclement weather, as is a rain jacket and synthetic down jacket.
Afternoon thunderstorms are common in July and August. Plan to tackle summits and passes early in the day and stay off high points in the afternoons to reduce the risk of being hit by lightning.
Bugs
The only creature more feared than bears in the Winds are mosquitoes. Biting insects can be horrendous in this watery wonderland. Bring a mesh backpacking tent, head net, and bug spray! Treating your clothing with a bug-repellent spray can also help keep insects at bay.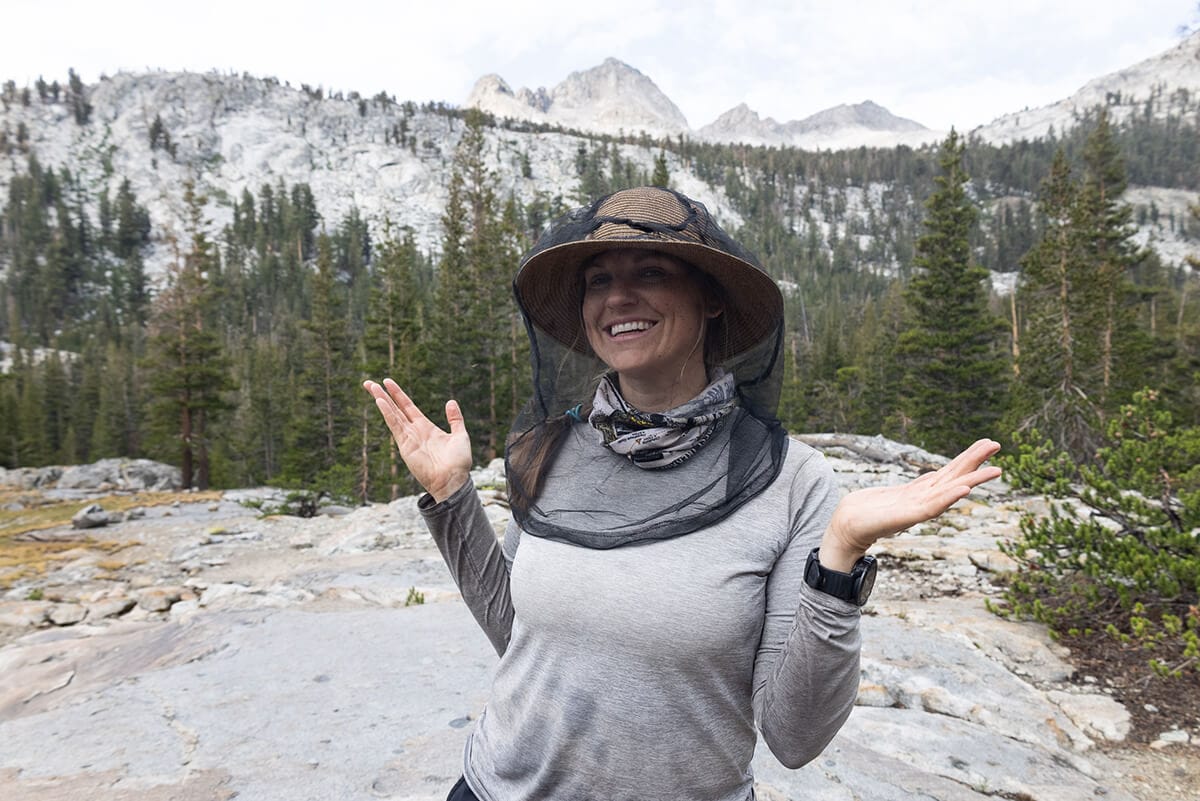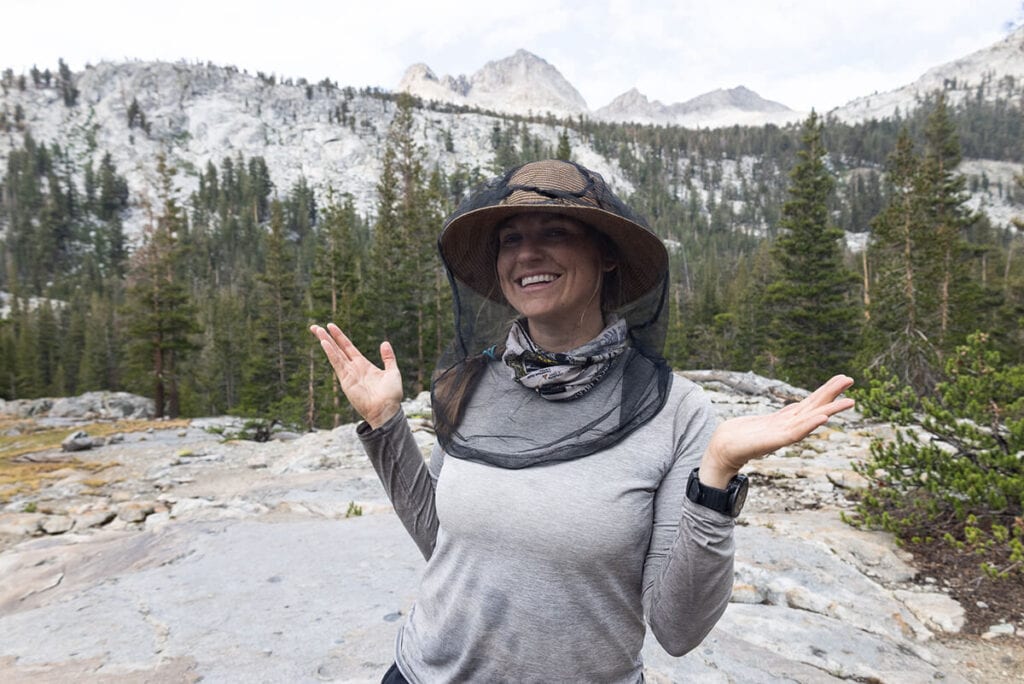 Dogs
Dogs are allowed everywhere in the Winds. There are no leash regulations but dogs cannot be allowed to harass wildlife, other hikers or pack stock. Be aware that a bear or a llama could be around the next bend of the trail and be smart about letting your dog wander. Brush up on tips for how to backpack with a dog here.