Backpacking Gear List: Beginner Recommendations
**2018 UPDATE: Due to earlier models of some products no longer being available we have updated our Backpacking Gear List: Beginner Recommendations.**
When planning for your first backpacking trip, having the right gear can make or break your trip. Being cold at night, having a pack that doesn't fit, or something as simple as forgetting a headlamp can leave a lasting negative impression. With this backpacking gear list, however, you can make sure those things don't happen, so you can focus your time on having fun and enjoying your gorgeous surroundings.
With all of the choices for sleeping bags, cooking equipment, and tents, it can be overwhelming to figure out what you need. Gear review sites often make things even more complicated by comparing gear with technical jargon, when all you really need is for someone to tell you what piece of gear is going to be adequate while giving you the most bang for your buck. In my backpacking gear list below, I tell you some of the major pieces of backpacking gear that I have carried with me out in the field. All of this equipment has been tried and tested and is great for people just starting out with backpacking, as well as folks who are looking for something new without breaking the bank. For a more complete and updated list of my current backpacking gear, check out my post: My Complete John Muir Trail Gear List.
Beginner Backpacking Gear List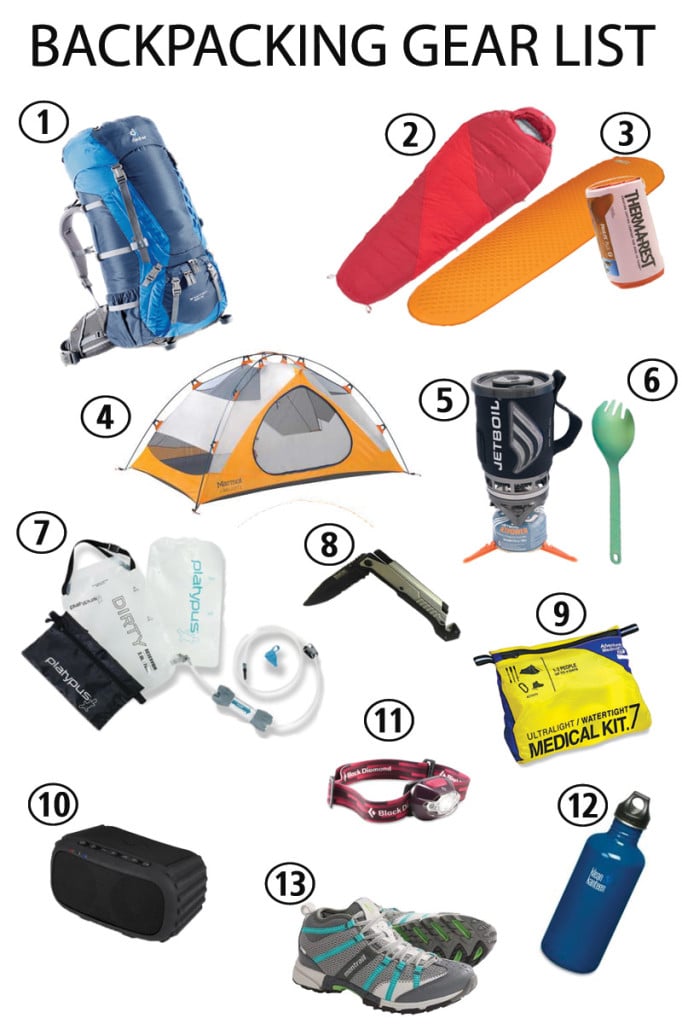 (1) Deuter Aircontact 60 + 10 SL Pack
I've tried many backpacks, and funny enough, the cheapest one I've owned has also been my favorite. Deuter is known for packs that are reasonably priced, while still standing up to nature's elements. At 3 lbs. 14 oz., the Deuter Aircontact 60 + 10 SL Women's Pack weighs 2 pounds less than my old Gregory backpack, and it seamlessly molds to my body. Deuter's Lite series packs can adjust for a variety of torso lengths and also comes in a 50+10 men's model. These packs are plenty big for a multi-day trip, and in fact, an earlier model is the pack I took along on my 25-day hike on the John Muir Trail. 
(2) REI Co-op Joule & Igneo Sleeping Bags
The Joule sleeping bag, for women, and equivalent men's bag, the Igneo sleeping bag, are super lightweight. The Joule weighs a mere 2 lbs. 3 oz. and the Igneo weighs only 1 1lb. 10 oz. They are reasonably priced and pack down smaller than most sleeping bags. They have a fairly good cold rating but if you're prone to getting cold while sleeping you might want to consider a liner. In wet conditions, this bag will also keep you drier than most down sleeping bags due to the durable water repellent finish.
(3) Therm-a-rest ProLite Sleeping Pad
This ultralight sleeping pad by Thermarest is surprisingly comfortable. Fully inflated, it gives you about an inch of padding, just enough to keep you warm and prevent those rocks under your tent from jabbing you all night long. This sleeping pad is one of the lighter blow-up style sleeping pads on the market and can easily be strapped on to the outside of your pack. I've had mine for 10 years, and it's never had a leak. The only thing is after a while, it loses it's self-inflation capabilities. The good news is, it only takes about a minute to blow up using your lungs.
(4) Marmot Limelight 2-person Tent
This is the modern-day version of my 10 year old Marmot tent that is still going strong. What I like about the Marmot Limelight is how fast and easy it is to set up. Thanks to the color-coded poles and the simple design, you can have this tent set up in less than 5 minutes, even if you are by yourself. It's relatively roomy, durable, and will keep you dry even in a downpour. The downsides are at 5 lbs. 7 oz., its a bit on the heavy side for an extended backpacking trip. But if you are new to backpacking, this is a great durable beginner tent that won't leave a hole in your pocket. Plus, in my experience, Marmot has great customer service. 
(5) Jetboil Flash Cooking System
This compact Jetboil stove is one of the most efficient backpacking stoves on the market. Weighing just under a pound, the Jetboil can bring 2 cups of water to a rolling boil in 2 minutes. And that's no exaggeration. With one fuel canister, which are sold separately, you can boil up to 42 cups of water (less if you are in a very cold climate). That's about 20 dehydrated backpacking meals. However, while this lightweight cooking system is awesome for boiling water, making coffee, and heating up soup, don't expect to be cooking anything gourmet, since you have little ability to regulate the temperature.
(6) Snow Peak Titanium Spork
This multi-purpose eating tool weighs less than an ounce. And just so you can keep your spork straight from your hiking partners, they even come in different colors. 
(7) Platypus GravityWorks 2.0 Bottle Kit
This Platypus GravityWorks filter is the easiest and fastest water filter I've ever used. All you have to do is fill up the bag, set it up on a rock and let the water flow downwards through the filter into your water bottle. It protects against the kinds of bacteria and protozoa that you might encounter while hiking in the U.S., and it only weighs 9.5 oz. For more info, check out my detailed video review. In addition to having a filter system, you should always carry some purification tablets as a back up. They weigh nothing and will prove to be a lifesaver in the case that something goes wrong with your filter.
(8) BlizeTec Rescue Survival Knife
A knife always comes in handy on the trail, and this little BlizeTec tool is far more than a knife. It is also an LED light, a fire starter, a seatbelt cutter, and a glass breaker (hopefully you'll never need the last two). This knife weighs 5.4 ounces, and while it takes a little practice to get the spark going, the fire starter does actually work.
(9) Adventure Ultralight Medical Kit
You should always have a first aid kit when you are hiking in the backcountry. This ultralight, waterproof medical kit comes with the bare minimum supplies that you will need to address minor wounds. In addition to what comes in this kit, you should supplement it with some extra blister band-aids and any medications that are specific to the hikers in your group. Side note: for people who are serious about spending more time in the backcountry, you should consider taking a Wilderness First Aid class.
(10) EcoXGear Bluetooth Speaker
Some people may disagree, but I think having some tunes at camp is a necessity. You don't need to listen to music every single night, but it's fun at times to be able to spice things up. This EcoXGear speaker is completely waterproof (trust me, I've dropped it in a pool), and it has relatively good bass for its size. It weighs just 14 oz. and can connect to your phone or mp3 player over Bluetooth or using an auxiliary cable. It comes with a USB and wall charger, and for each charge the battery lasts up to 10 hours. (Update: I have since upgraded to the FUGOO Sport waterproof Bluetooth speaker. The battery lasts 40 hours (no joke), and the bass thumps loud.) 
(11) Black Diamond Cosmo Headlamp
While the middle of the road in price, this water resistant, compact Cosmo headlamp from Black Diamond is super powerful.  Unbelievably powerful actually. With multiple brightness settings and the nice dimming feature, you can adjust the angle and the lighting, making it perfect for night hiking, cooking dinner, or reading in your tent. The only downside is it doesn't have a locking mechanism, so you have to be careful about it turning on in your pack. For a more high tech version with a lock and rechargeable batteries, check out the Black Diamond Spot.
(12) Klean Kanteen Stainless-Steel Water Bottle
No, the Klean Kanteen isn't the lightest water bottle for hiking, but it's durable and doesn't leak. But most importantly, it doesn't smell funky after daily use on the trail. In fact, I've used the same Klean Kanteen on a daily basis now for 3 years and the water tastes just as good as it did on day 1, despite rarely washing it. You also don't have to worry about some of the health concerns that come along with plastic water bottles. Klean Kanteens come in a variety of colors and sizes. (Other option: For extended backpacking trips, I recommend the Platypus Soft Bottles. They weigh next to nothing and roll up very small when empty.)
(13) Oboz Bridger Hiking Boots
I used to wear Montrail hiking boots and truly loved them but they discontinued the boot I loved and also recently merged with Columbia so I knew I had to find a new favorite for the trails. Currently, I am wearing Oboz Bridger B-Dry Hiking Boots and love them. They are waterproof, provide lots of support and unlike most boots, are comfy right out of the box. 
What are your favorite pieces of camping gear? Please tell us in the comments below!