The town of Moab, Utah is a true adventure hub for outdoor enthusiasts. Red rock canyons, winding trails, and panoramic views make it an amazing place for hiking, mountain biking, camping, and rafting. Due to the area's many National Parks, it can also get pretty crowded during the high season. Thankfully, there are plenty of things to do in Moab, Utah other than just seeing the National Parks — although, we highly recommend that you do that too!
Whether you want to escape the crowds or simply make some new tracks outside of Moab's National Parks, this well-balanced outdoor adventure guide gives you a ton of new things to add to your Utah bucket list.
Here are the best things to do in Moab outside of the National Parks.
Important Reminder: As it goes in all of the destinations we share, please practice good trail etiquette and remember to Leave No Trace. This means packing out all of your garbage (including toilet paper) and following the established rules. In the desert, this also means learning how to protect cryptobiotic soil and how it has a huge impact on our ecosystems.
Sunset at Dead Horse Point State Park
Dead Horse Point State Park has expansive views of surrounding Moab and Canyonlands National Park that are impressive during the daytime — but go for the sunset and you'll get some really jaw-dropping scenery. Hike the Dead Horse Rim Loop Trail to get the best views and for a pet-friendly 5 mile-long loop trail around the park that's easy and accessible for all hikers. It's a great spot for photography and will also put you close to Canyonlands National Park if you decide to venture in. For a fun glamping experience, check out the yurts for rent in Dead Horse Point State Park!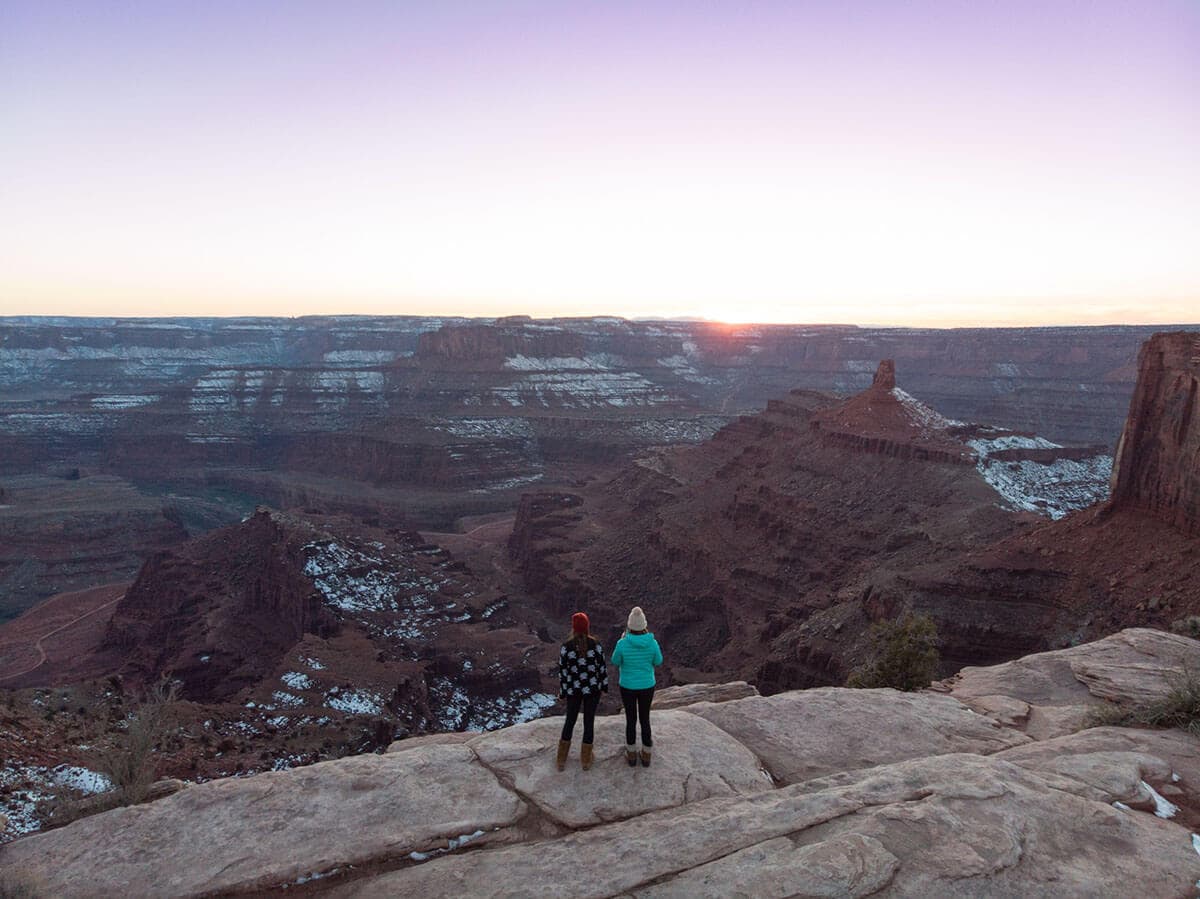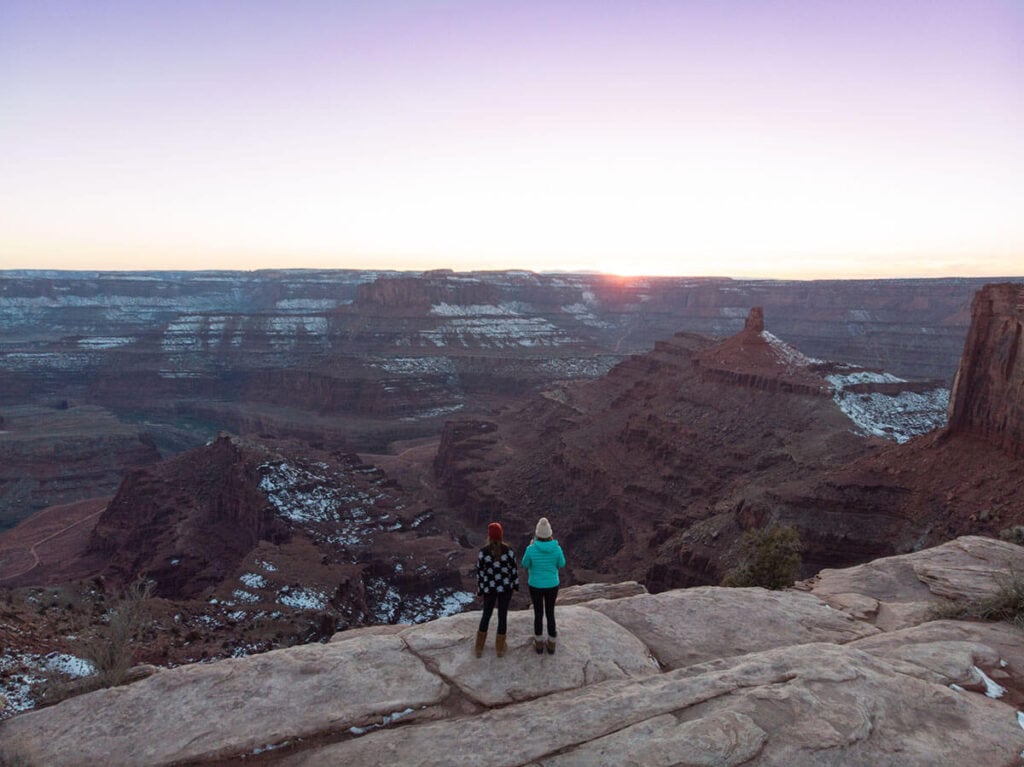 For some awesome vista points of large sandstone fins in Moab's Behind the Rocks section, you'll want to do the Hidden Valley Trail hike near Moab. It's a challenging 6 mile, out and back hike, with steep switchbacks and killer views at the end. To make the most out of it, make sure to start early, bring plenty of food and water, plus sun protection to keep cool.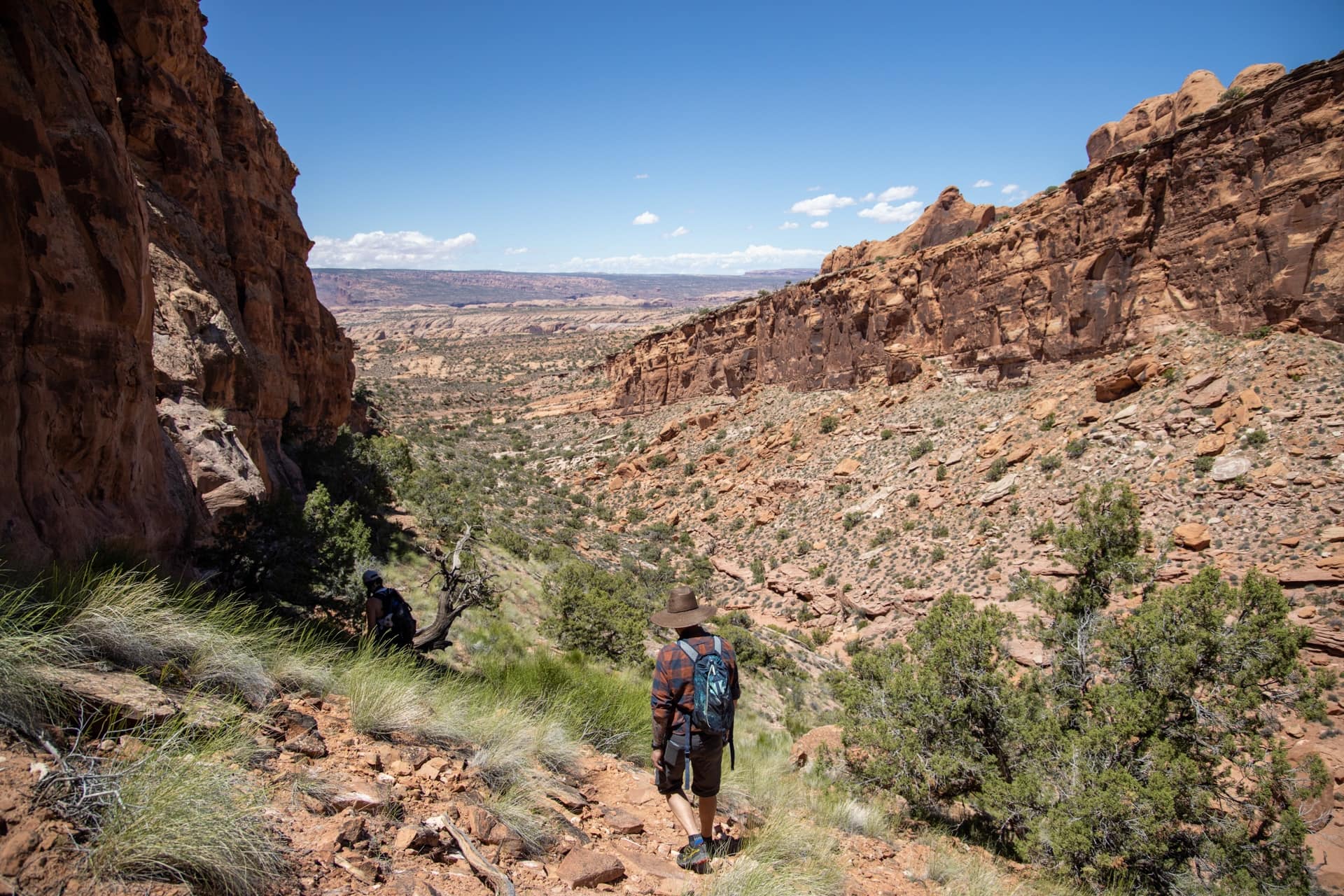 Waterfall Hike on the Mary Jane Canyon Trail
On our recent trip, Ryan and I hiked the Mary Jane Canyon Trail and absolutely loved it! Follow this meandering trail for 7.6 miles up the riverbed deep into the rust-colored canyons. You'll want to wear an old pair of tennis shoes or a supportive pair of water shoes, like Astrals. You'll be in the riverbed the entire time, so you will get wet. As the canyon chokes up, the hike culminates at a waterfall. I highly recommend getting all the way there, as the waterfall is stunning. It's a great hike in Utah for people of all skill levels, plus, it's dog-friendly, so you can bring your pup along, too. Please make sure to pack out their poop!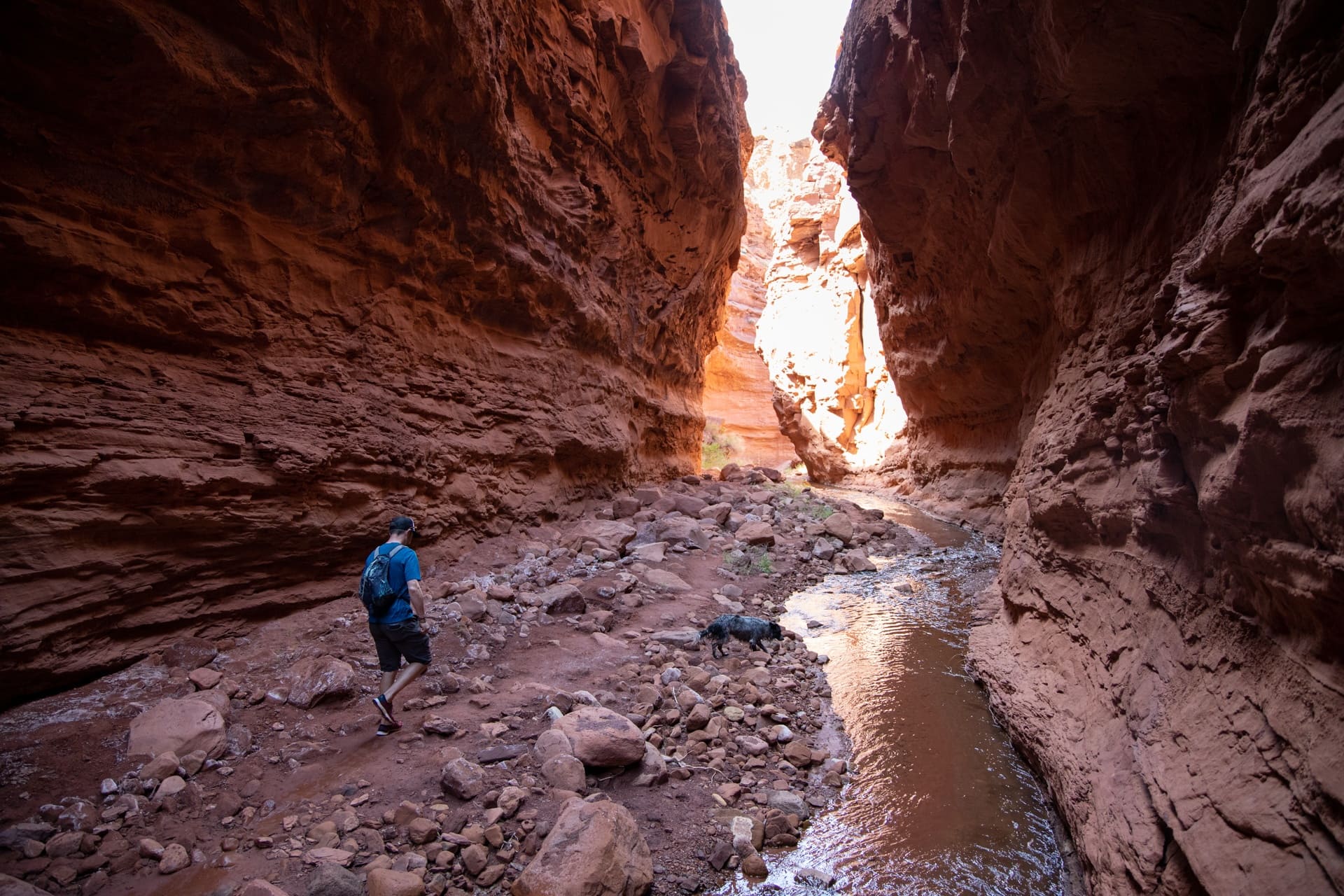 Bike the Slickrock Moab Bike Trails
The Slickrock Trail is one of the most famous singletrack mountain biking trails, worldwide. It also happens to be a e-bike friendly trail, which puts in on my list of things to do next time I'm in Moab. The entire 12-mile loop is challenging for mountain bikers of all levels, so warm up with the 2.3 mile-long Practice Loop that will still give you a taste of this world-famous spot.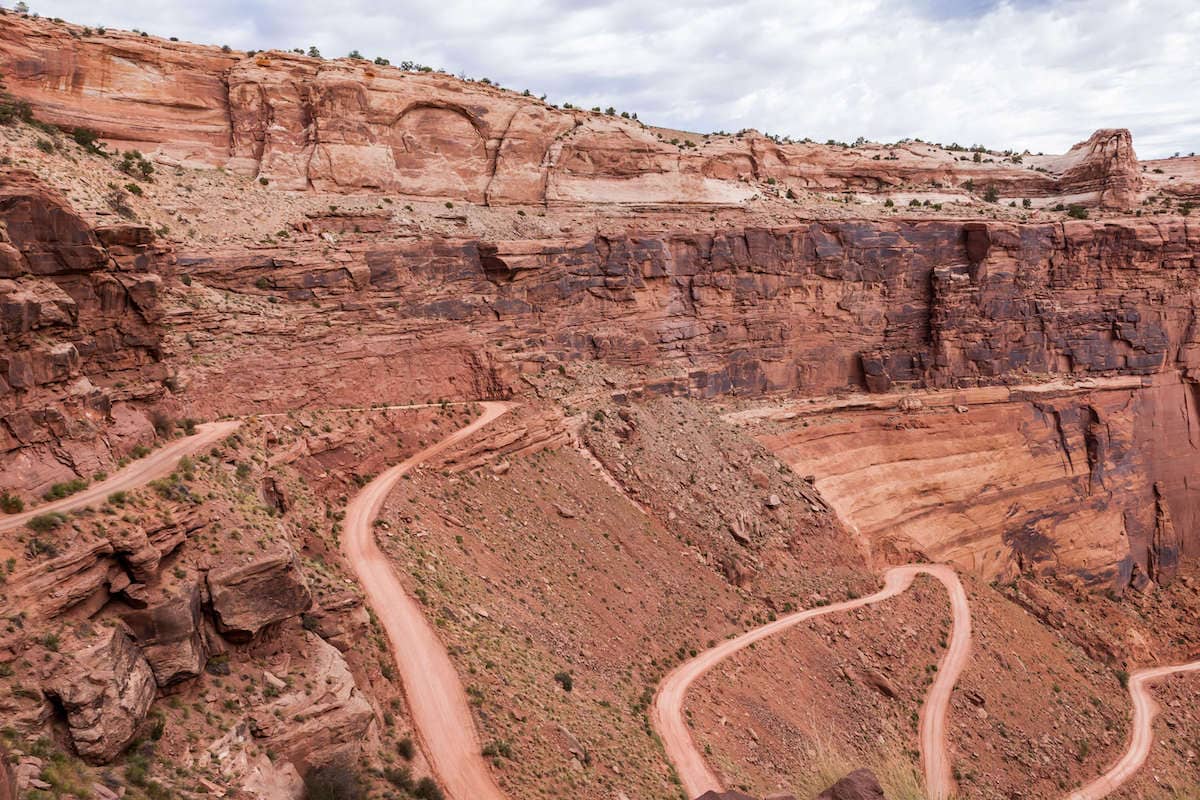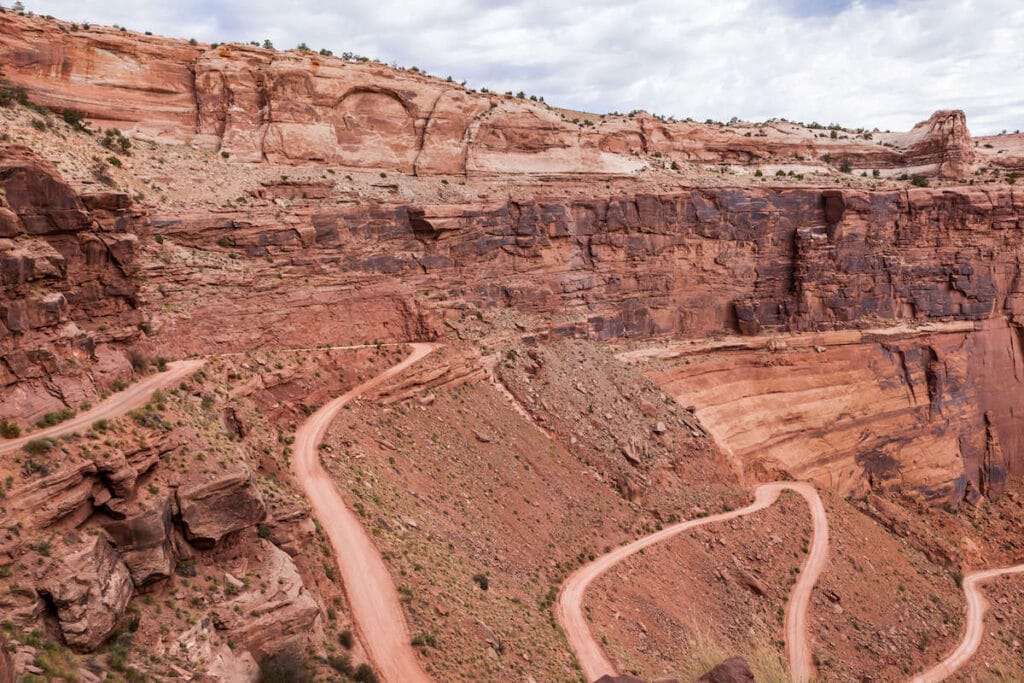 Floating on the Colorado River
Grab your packraft or ducky and some friends for a float down the Colorado River. Apart from the hiking, floating on the Colorado River is one of the best things to do near Moab. Not only is it an easy way to beat the crowds and stay cool, you'll also get a different perspective of the Moab red rocks from the Colorado river. We used our Kokopelli Rogue packrafts and thought they were the perfect boat for this mellow paddle. We put in at the bridge along Highway 191 as you enter town and took out at Wall Street.
Check out our guide to Floating the San Rafael River and Canoeing Labyrinth Canyon on the Green River for more Utah river ideas.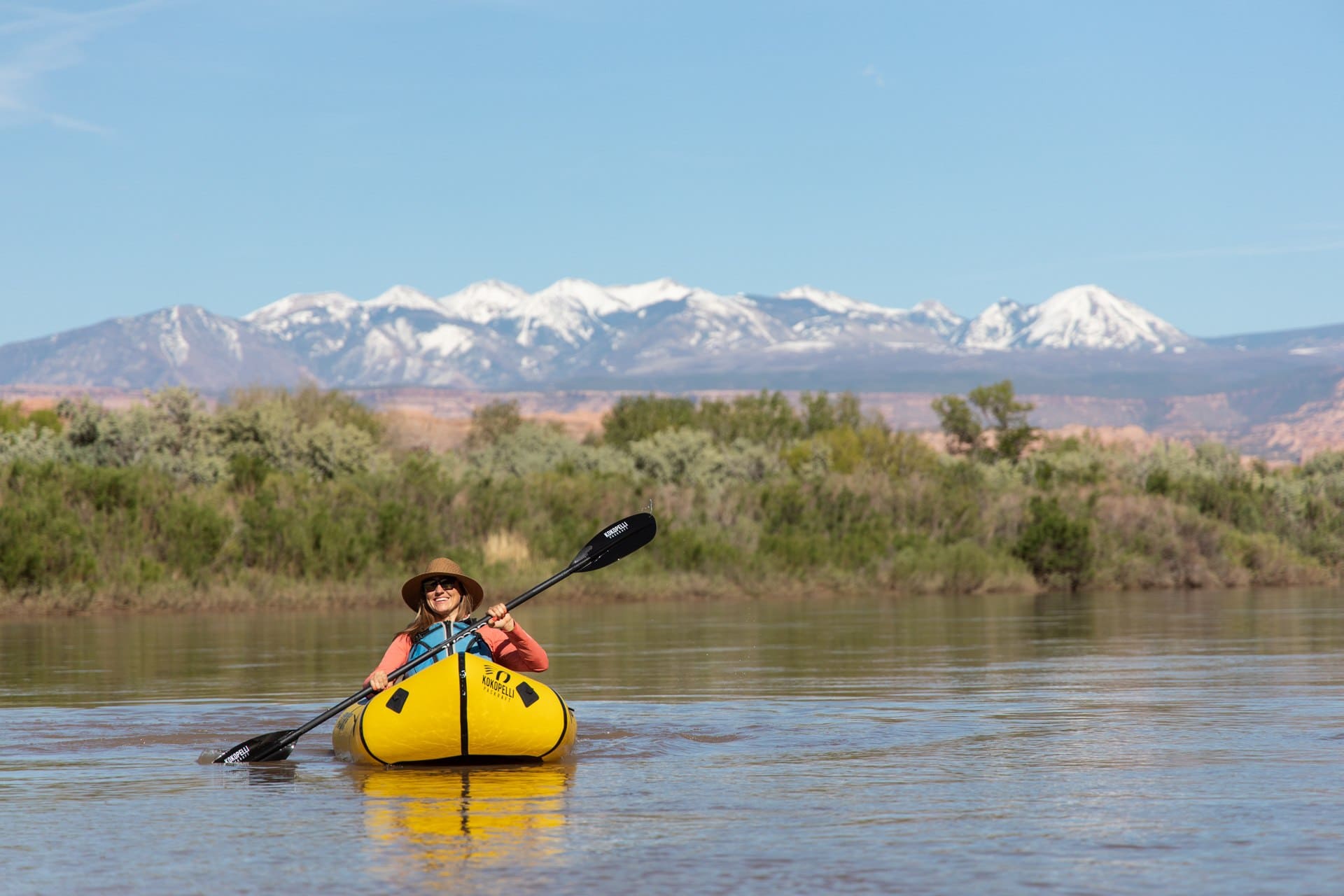 Night Hike to Corona Arch
Southwestern Utah is famous for its beautiful landscapes and its scorching hot temps that visitors have to endure just to be there. Corona Arch is a short 3 mile roundtrip out and back hike through the rock gardens of Moab and can be done in the heat of the day (which I'd advise against), or in the evening when it's cooler. Bring a headlamp and pay attention to the trail markers as you hike out to see this popular geological feature by moonlight. Taking in the starry night sky and moon rising over the Corona Arch is easily one of the best hikes to do near Moab.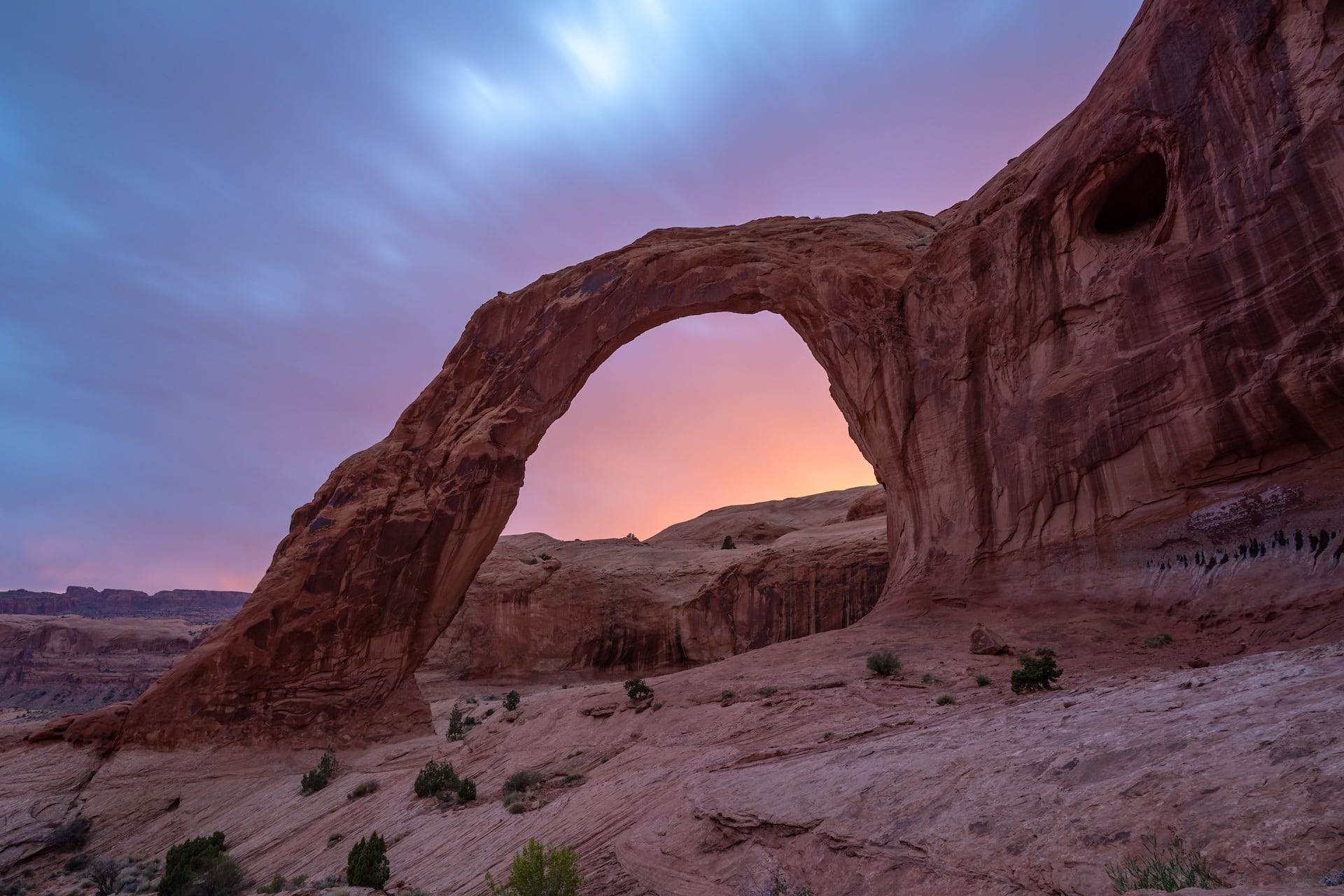 Camping at Porcupine Rim Campground
For sweeping views of the mesa and valleys that make Moab so beautiful, spend a few nights camping out at the Porcupine Rim Campground. Despite it being a popular spot for mountain bikers and outdoor enthusiasts of all kinds, here you'll easily find solitude away from the crowds, making it one of the best places to camp near Moab. It's an hour drive from Moab's downtown and a 4WD vehicle is preferred, but not required if you have good clearance and off-road driving skills. Keep in mind that the road may sometimes be closed if there is any flooding, so stay up to date on the current conditions before heading out.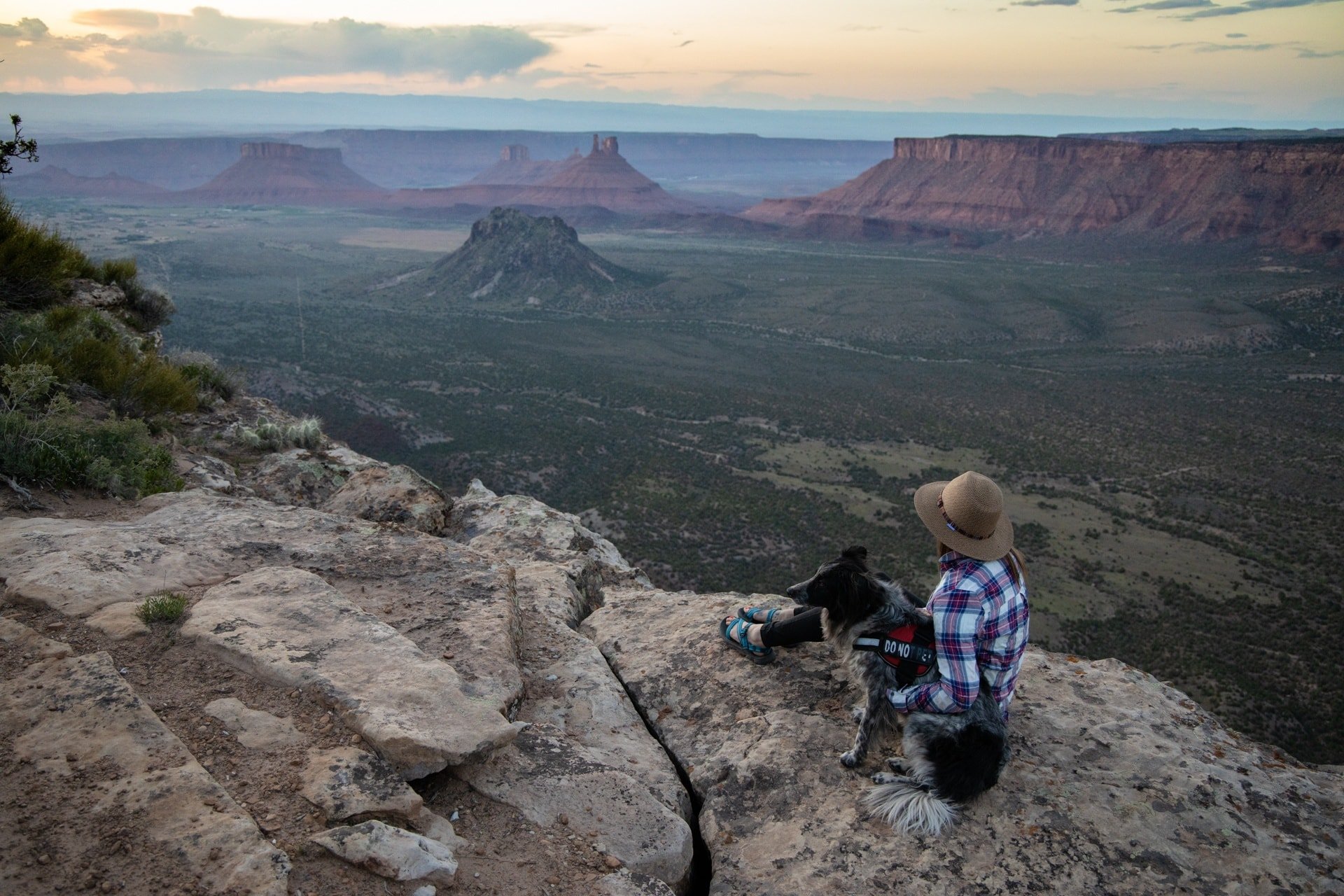 Have you been to Moab? What are your favorite things to do? Share your comments and questions below!