Alta Lodge Women's Ski Camp Review
Want to improve your ski skills? The 3-day Alta Lodge Women's Ski Camp offers world-class instruction with a supportive group of females. Watch my YouTube video and read about my experience to see if the camp is right for you.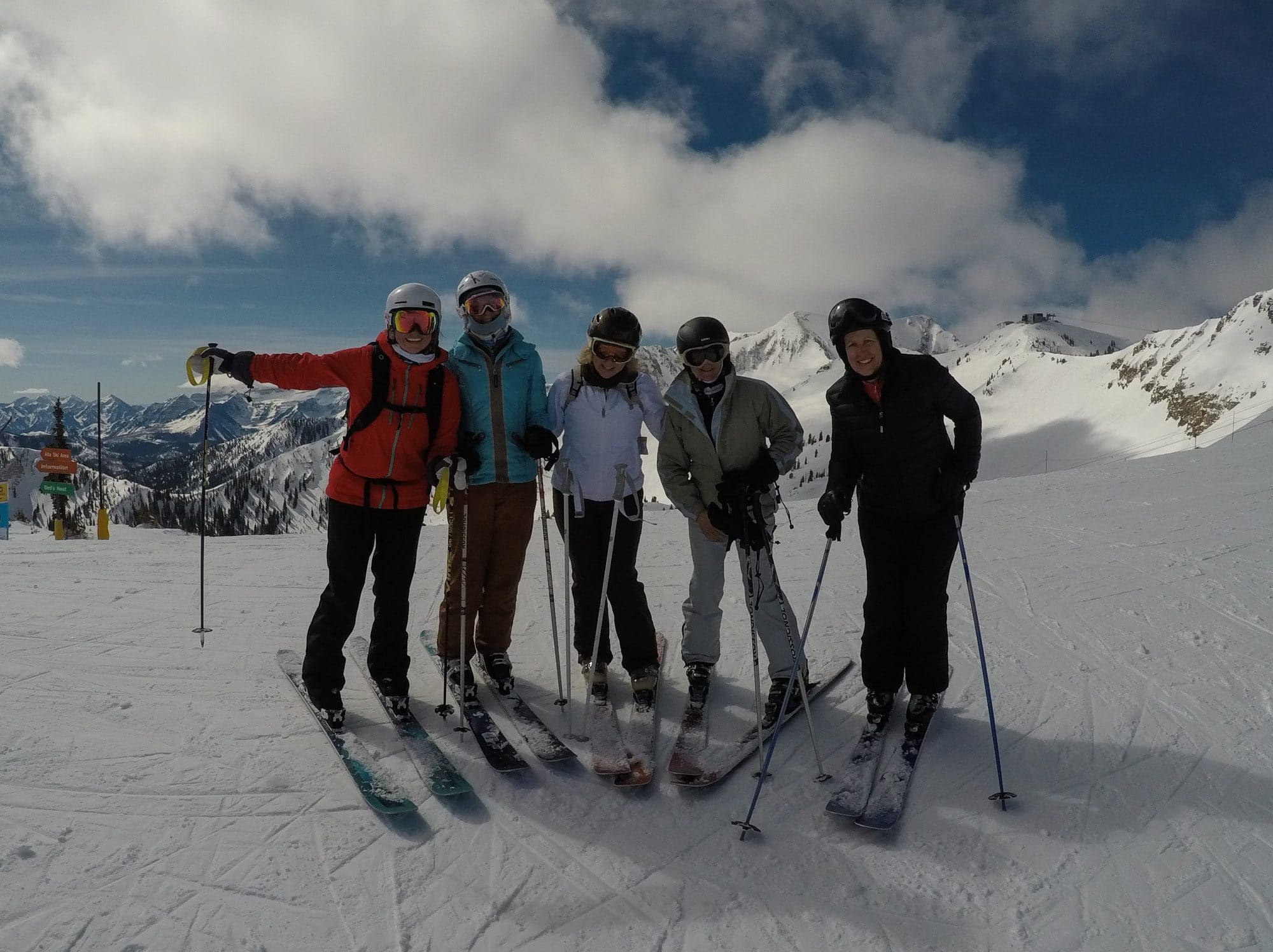 Alta Lodge Women's Ski Camp Review
When I moved to Utah in 2015, I told myself that I better learn how to be a good skier. The skiing in Salt Lake is some of the best in the world, and if I wasn't going to ski, what else would I do all winter? I'll start the story by saying that as a kid, I hated skiing. When I think back to my early days on the slopes, I think about sliding down sheets of ice or that one time that I got completely taken out by some out of control jackass. So when I settled in Salt Lake City, my relationship with snow was going to be an uphill battle. I decided the best way to dive in was to get a season pass at Alta Ski Area where a few of my friends skied. I didn't expect them to actually ski with me considering their levels, but at least we could carpool.
At the end of last year, I wrote about my first year at Alta in a post. I took one lesson, found a pair of boots that didn't make my feet absolutely throb, and ended up skiing about 20 days. On closing day, I skied High Rustler, the longest continuous vertical run on the mountain. I fell a couple of times, but thanks to a couple of swigs of whiskey (hey, it was closing day), I had the courage to make it to the bottom.  I can't tell you how proud I was of myself.
Now enter season 2. I was more stoked about winter than ever before and was 100% committed to building my skill set and confidence. I skied as much as I could in January and February, continually challenging myself on new terrain while trying to keep up with my guy friends who I skied with most frequently. As a result, I saw a lot of progress in my capabilities, but there were a few things holding me back. Most notably, that was my confidence. I've never been a risk taker and have a tendency to underestimate my capabilities. I'm often afraid that I won't be able to keep up, I'll get hurt, or that I'm going to embarrass myself. While I preach here on Bearfoot Theory to believe in yourself and go for it, I too let my nerves hold me back. So what did I do about it?
Well, earlier this winter, I learned about the Alta Lodge Women's Ski Camp. It's a fully immersive 3-day experience where you get to ski with a supportive group of ladies and a female instructor. This sounded like the perfect opportunity to tackle my self-confidence issues while fine-tuning my form and technique.
Learn about the experience in this Alta Lodge Women's Ski Camp Review.
Alta Women's Ski Camp YouTube Video
My Goals for the Alta Lodge Women's Ski Camp
The Alta Lodge has been offering these intermediate/advanced women's ski camps for the past 6 years, and there were about 25 women participating. Before arriving at the camp, we were asked to fill out a questionnaire where we were asked about our goals for the camp and our current skill level.
In addition to building my confidence, there were also a few technical skills I wanted to work on. Alta is known for its challenging traverses that you have to take to access a lot of the more intermediate and advanced terrain. A joke around Alta is that ALTA stands for Another Long Traverse Ahead. What's a traverse? Basically, it's a super skinny cat track where you have to point your skis straight ahead and go. I had been on the High Traverse a number of times this season, but I was never comfortable. My stance was way off, and every time I was on the High T I felt out of control and scared. So I wanted to work on that.
I also wanted to work on my turns and how I hold my body. Generally, I tend to hold my body very tensely when I ski. I stand straight up and often feel like I'm in the backseat. I wanted to learn how to take control of my skis and how to initiate smoother turns.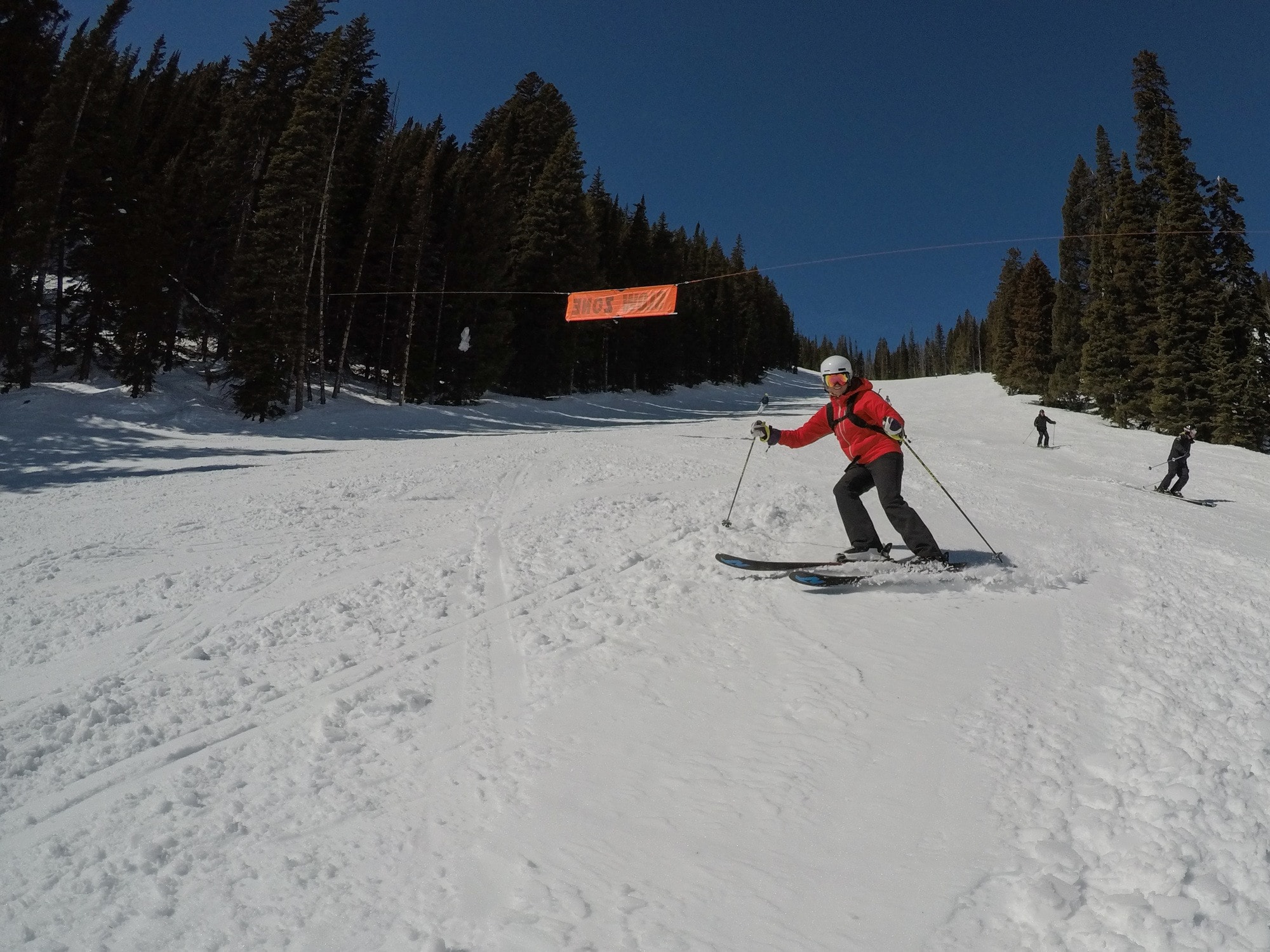 Alta Lodge Women's Ski Camp Instruction
The first morning after breakfast, we were organized into small groups of 5 with an instructor that we'd be skiing with for the duration of the camp. My instructor was Jen, one of the head instructors at the Alta Ski School who started these Alta Lodge Women's Ski Camps.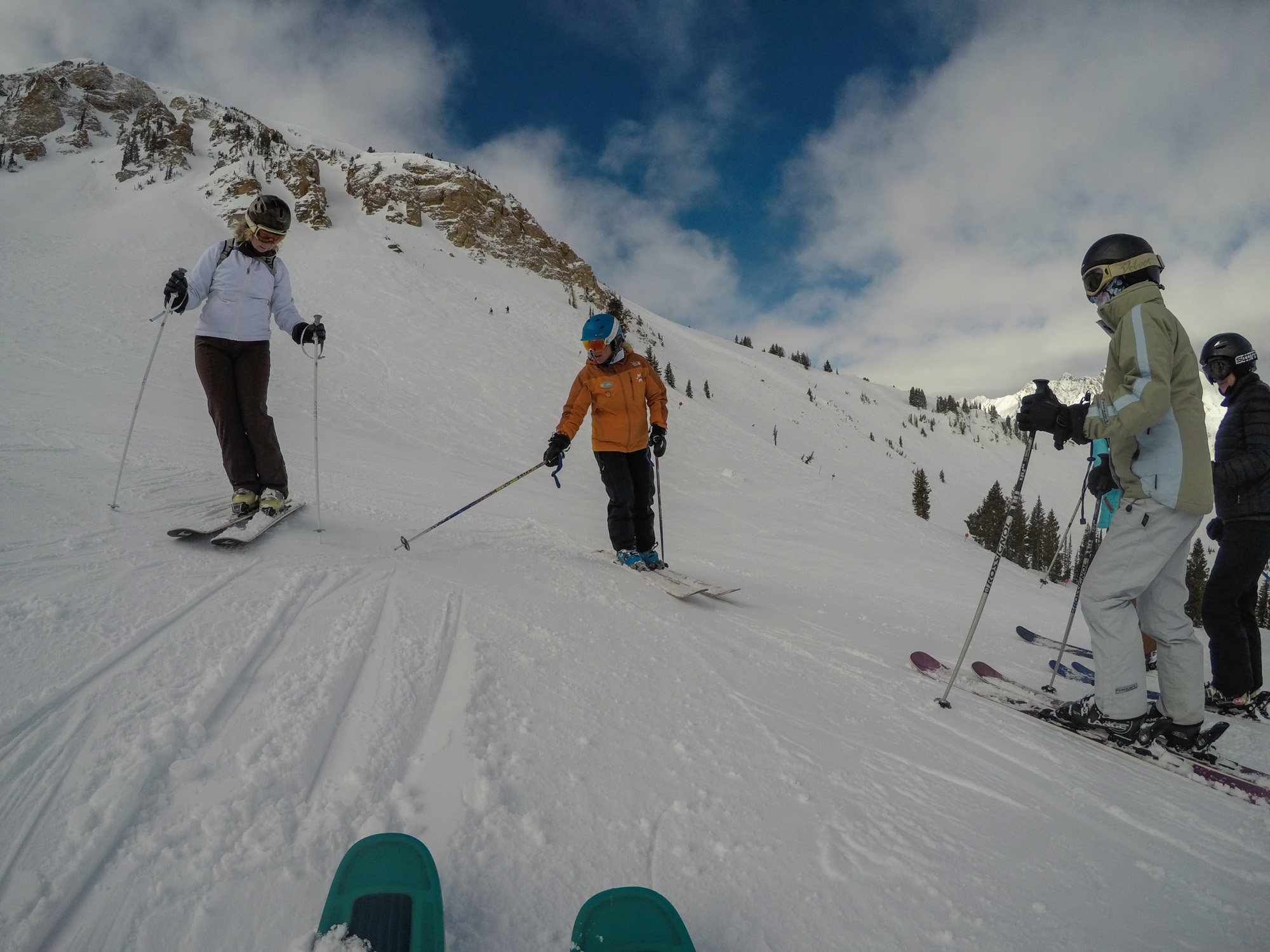 We were on the snow by 9:30 and took a couple of warm-up laps. It just so happened that it snowed 14" the night before so our first turns were in some mellow powder. I haven't skied a whole lot of powder, so the challenge began on that first run. I made it down, barely, but all the ladies in my group were very encouraging. While it was clear that everyone in my group was more experienced than me, I was able to keep up and each person had something they needed to work on. We had a great dynamic where we all motivated each other without showing signs of competition.
The snow our first day was not easy for me. Because of the previous night's storm, there were a lot of bumps on the groomers which I was having some trouble with. Jen watched us, analyzed our habits, and gave each of us very specific instruction on changes we could make that would improve our skiing. Jen also filmed us skiing and showed us on camera the adjustments we needed to make. I was standing way too upright and every time I turned, my uphill arm was swinging backward, which I learned was making me more unstable.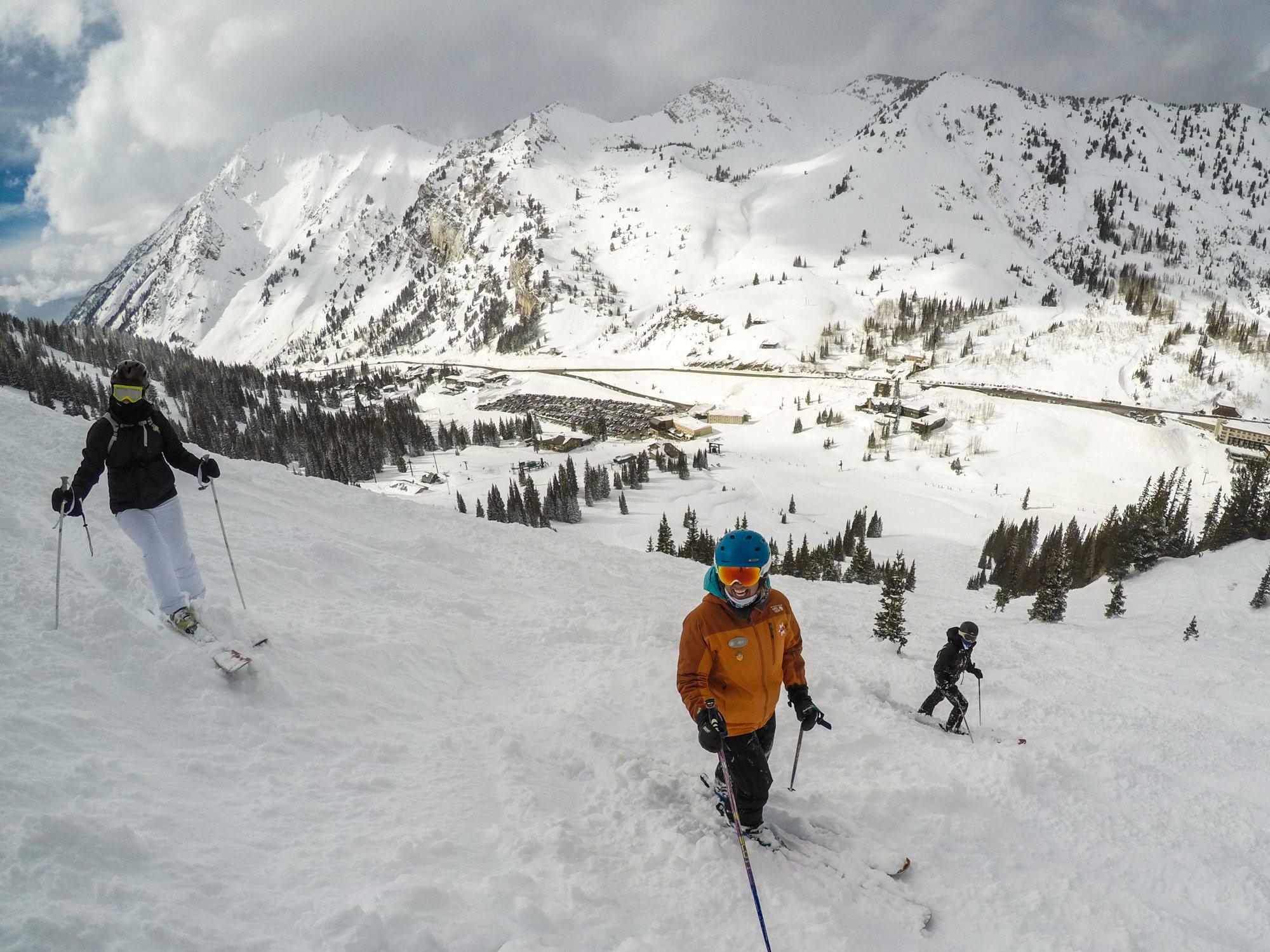 The tough snow conditions on our first day forced me to listen to Jen about leaning forward into my boot, keeping my upper body steady in an aggressive stance, and holding my poles with my arms slightly bent in front of my waist. These suggestions seemed small, but as soon as I started to implement them, I quickly noticed how much easier it was to navigate the bumps.
Instruction lasted until 3:30 every day (with an hour break for lunch), and then from 3:30 until dinner was "free time" where you could continue skiing, relax in the hot tub, or apres at the Alta Lodge's Sitzmark Bar. Most days I chose to continue skiing with the ladies in my group. We explored areas of the mountain together that I would have been intimidated by in the past.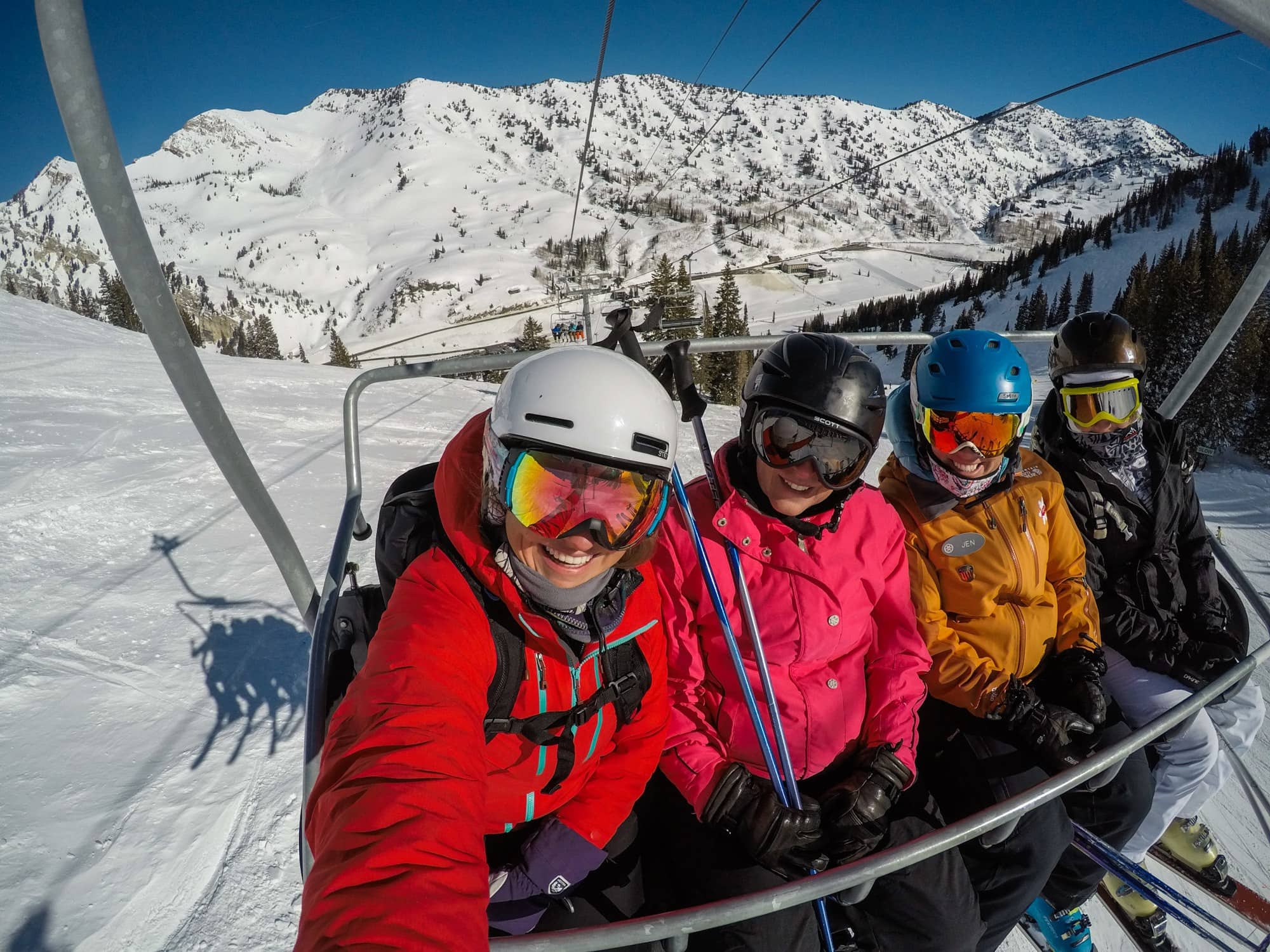 The second morning, the snow on the groomers and off-trail was nice and soft, and we spent a little more time working on our traversing skills. With the changes in my stance that I learned the first day, I found traversing to be much easier. I felt more fluid and in control when going over the bumps and more confident when I picked up speed.
Jen also showed us how to initiate better turns. I learned that I was waiting too late in my turn to roll my ankles and shift my weight to my uphill ski. As a result, my turns were very abrupt and rather than big smooth arcs, I was sliding my skis down the hill every time I turned. We spent some time working on this, and once I was able to combine all of Jen's tips, my turns were looking a lot better.
Another thing I really enjoyed about the second day was that we skied areas of Alta that I had never been to before. For example, at the top of the Collins lift, I've seen people heading down around the back of the ski patrol hut, but I never knew where that went. On day 2, we went down that trail, and I learned that's how you get to the "back side." With Jen leading us around, it opened up a lot of new terrain for me at Alta that I'm no longer afraid to explore.
The afternoon of day 2, we switched things up a little bit. We were paired up by interest with a new group and instructor. I signed up for the group that would be exploring the Catherine's area of Alta. This is an off-trail area that you have to hike a little bit to get to. I'd only been there once before, so it was a good chance to be a little adventurous and ski some deeper snow.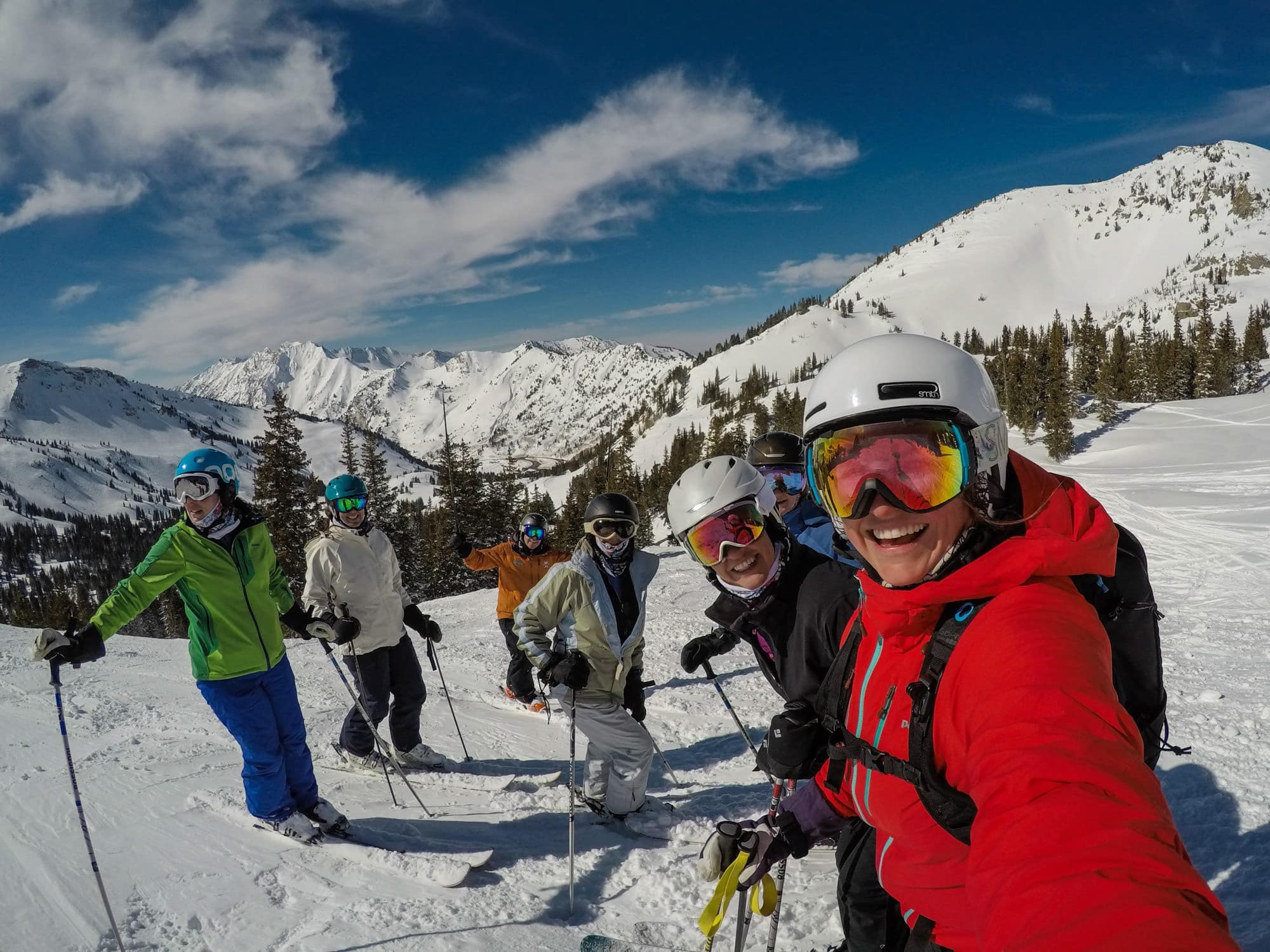 I used my free time later that day to meet up with some friends who took me down a new-to-me run called Eagle's Nest. That run starts at the very end of the High Traverse and requires some pretty careful turns in the trees. I've never felt so confident on the Traverse, and Eagle's Nest was easily the most challenging run I've taken in the last two years at Alta. My friends noted that I seemed less intimidated, and it felt awesome to already be putting my new skills to use.
The final day we went over to Snowbird, a neighboring resort that you can cross over to at the top of Alta. I'd only been to Snowbird twice with my Mountain Collective pass, so it was fun to explore even more terrain. I decided to ski on a different pair of skis on the third day, however, and I was feeling a little less stable than normal. I was struggling to make all of the small adjustments I had learned, but Jen was super patient and helped me focus on keeping my upper body forward in front of my toes and to put weight on the front of my skis.The day finished back at Alta, and for our free time, the ladies and I went out to High Rustler. We totally crushed it! I had a blast skiing with my new female friends, and it was a great way to finish the camp.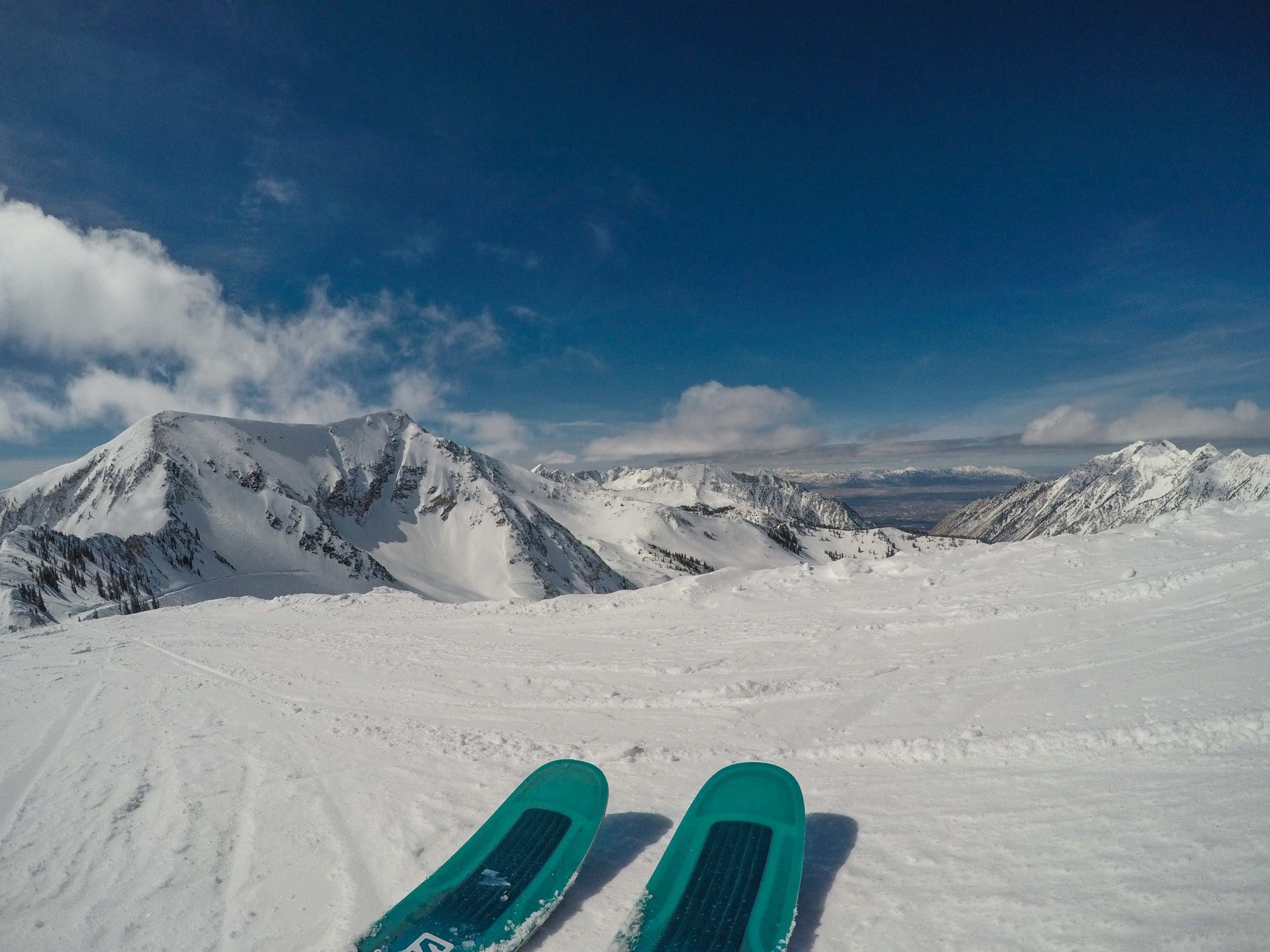 One thing that really stuck with me is that I typically follow other people when I ski. I'm always hesitant to be the leader. It wasn't that way in the ski camp though. We all took turns going first and leading our pack, and this played a large role in shifting my perspective of my capabilities.
I found out that many of these women come back to the Alta Lodge Women's Ski Camp year after year. I now see why. In three short days, I accomplished several of my goals, making big strides in both my skills and my confidence. The camp got me stoked to continue my journey with skiing, a sport that has opened up a whole new world of outdoor recreation. I'm now excited to travel to new ski resorts and know that I can tackle almost any terrain ahead of me. I may not be graceful, but I know I can get down.
Alta Lodge Hotel Review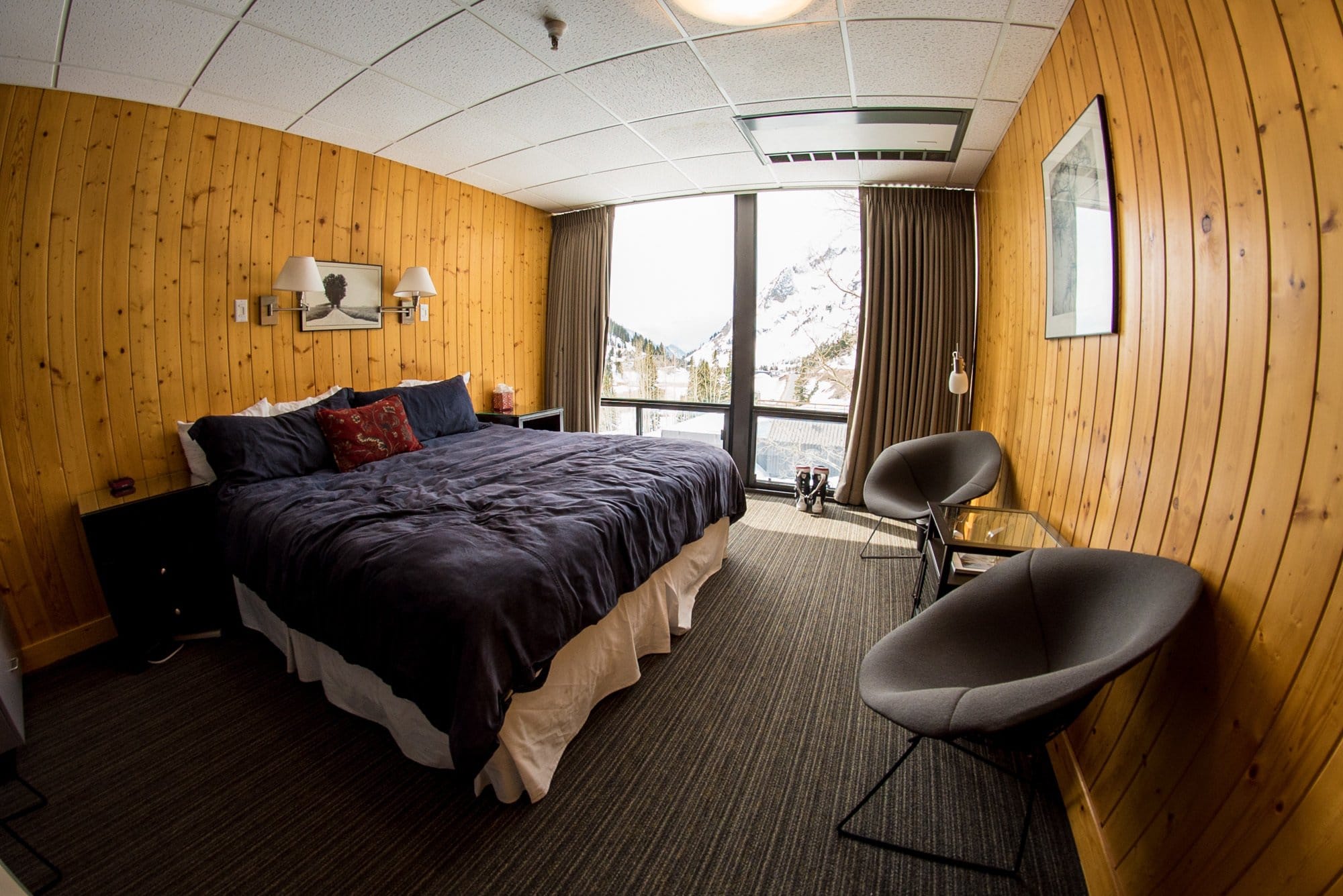 The Alta Lodge is a pretty amazing place to participate in a ski camp. My room was spacious with a king-sized bed and an awesome view of Mount Superior. In addition to the rooms, the Alta Lodge has a great hot tub to relax in, the coziest bar in Little Cottonwood Canyon, and amazing food, so it's a great place to come home to at the end of a long day on the mountain.
All of the meals were included in the camp. Breakfast and lunch were buffet style with an awesome spread, while the dinner menu was three courses and included plates like bison short ribs, Arctic char, and homemade pasta. I was also really impressed with the vegetarian food. I wrote a detailed review of the Alta Lodge last year during one of my stays, so check that out for more photos of the property.
Perks of the camp included an hour-long optional yoga class every morning and free demos from the on-site Deep Powder House Ski Shop. The guys at the ski shop also offered a boot fitting clinic where we learned all about how your boot should feel and adjustments you can make for a better fit.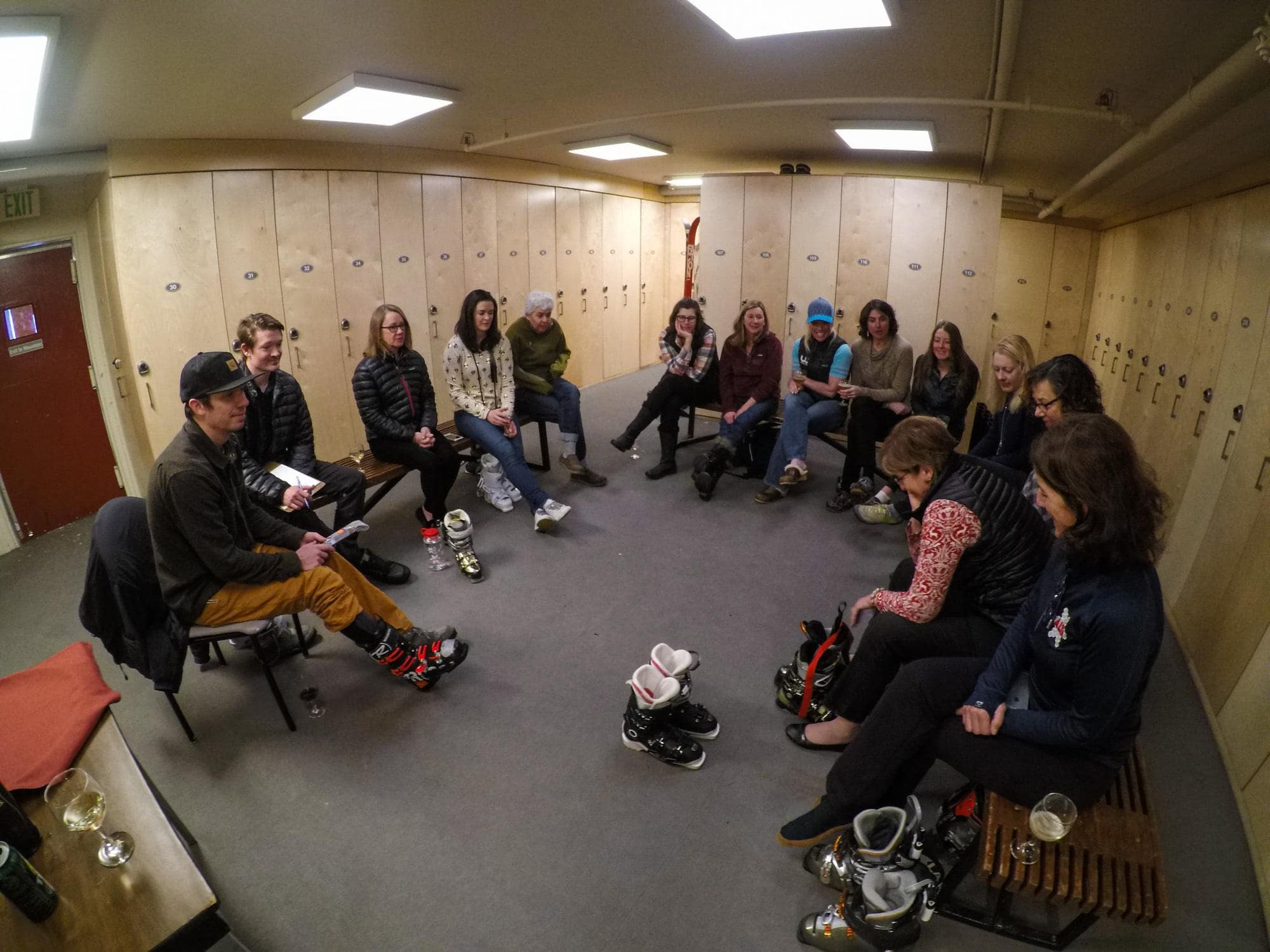 Check out my detailed hotel review of the Alta Lodge
For more info on the Alta Lodge Women's Ski Camp
Since the camp I've been thinking, how cool it is that I'm developing a new hobby that is going to bring me happiness for as long as I'm able to ski. Now no matter what time of year it is, I have something to look forward to. I can live in anywhere in the mountains and at any time of year I can get outside and have a blast.
For you ladies out there who are interested in taking your skills to the next level, the Alta Lodge Women's Ski Camp is a damn good way to do it. The support system, the instruction, the mountain, the cozy place you get to call home at the end of the day. The experience was top notch, and I'd recommend it without hesitation. Maybe I'll even see you there next year!
The Alta Lodge Women's Ski Camp is offered three times every season – once in January and twice in March. For more information, visit the Alta Lodge website.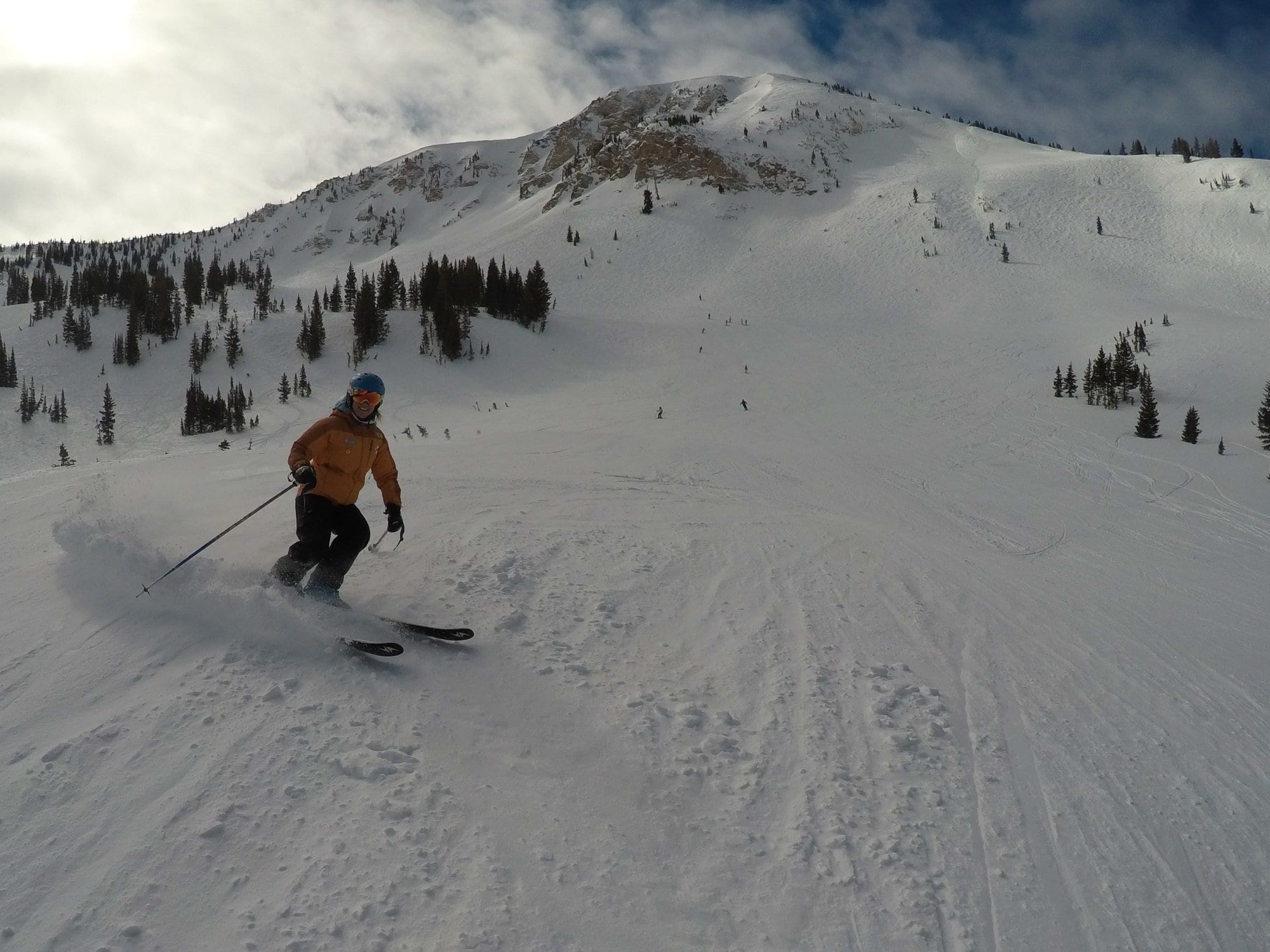 WOULD YOU LIKE TO ATTEND THE ALTA LODGE WOMEN'S SKI CAMP? LEAVE A COMMENT BELOW, TWEET ME, OR WRITE ME A POST ON FACEBOOK. 

Disclaimer: The Alta Lodge hosted me as their guest in exchange for this review. As always, all opinions and words are my own. If you have questions about my sponsored post policy, please see this page.