8-DAY ALASKA ROAD TRIP ITINERARY FOR ADVENTURE TRAVELERS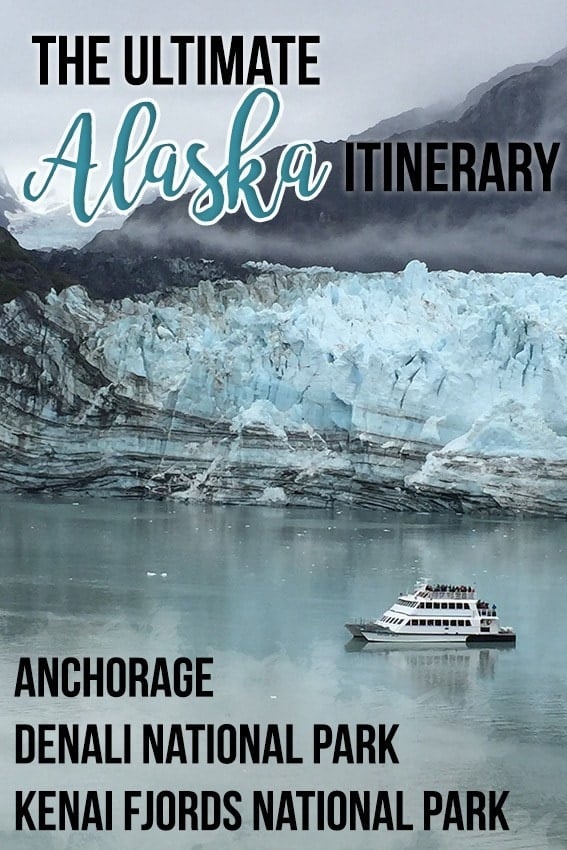 By Kim Vawter, Bearfoot Theory's Community Manager 
Alaska is a wild land of incredible people, nature, culture and stunning National Parks. Year after year as I continue to explore more National Parks my mind always races back to memories of my Alaska Road Trip to visit Kenai Fjords & Denali National Park. With my goal to visit all the National Parks I know I'll be returning to Alaska another summer soon. I was only able to see 2 of Alaska's 8 National Parks on our 1,535-mile road trip that started & ended in Anchorage. If you're looking to visit more National Parks while in Alaska, don't miss Kristen's 10-day recap of backpacking in Lake Clark National Park.
After skimming my itinerary it might seem impossible that all this fit within a week but you can do things around the clock in Alaska—we never once saw darkness during our trip. You can even book a midnight golf tee time (to my dad's disappointment, we didn't).
Check out my 8-day Alaska Road Trip Itinerary that includes Denali National Park and Kenai Fjords National Park. I share where to stop, things to do &  the best places to eat and stay along the route.
As it goes in all of the destinations we share, please practice good trail etiquette and remember to Leave No Trace. This means packing out all of your garbage, being respectful to others on busy trails, and following the established rules. 
Getting to Alaska
Alaska is a huge state, and Anchorage will be your starting out point for visiting Denali and Kenai Fjords. While taking the train is popular in Alaska, in my opinion, renting a car is the best option for covering lots of territory in a short amount of time. Keep in mind though that gas in Alaska is more expensive than in the lower 48. Generally in the summer months gas can range from $3.50 to $4.50 for a gallon of gas.
Best Time to Visit Alaska
In Alaska they joke that June is Spring, July is Summer, and August is fall. For the best weather on your Alaska road trip, visit from mid-June to mid-August. If you visit in the shoulder of that time period, you'll have fewer crowds, but you risk running into rain and even snow. By late August or early September, the bugs have mostly died off, so that's also something to think about.
Keep in mind that in Denali National Park, some services and parts of the park don't open until late June. June is the driest of the summer months and August is generally the rainiest so make sure to pack appropriately. With all this being said the next time I head to Alaska I'm hoping to travel up there sometime between December and March so I can see the aurora borealis, also known as the Northern Lights. The Iditarod Sled Dog Race is also in early March, which I'd love to see the start of.
What to Pack for an Alaska Road Trip
Check the average temperature for your trip and be prepared for all types of weather.
Pack clothing that you can easily layer. In the summer you can often wear shorts and short-sleeve shirts but you'll want layers if the weather turns or for evenings. Check out these posts for more on how to layer and what to wear hiking.
Mosquito repellent and head nets are a must for traveling in the summer months if you plan to hike outdoors. We thought nets would be overkill but ended up purchasing them in Wasilla once we saw how bad the bugs could be.
Sun protection is key, don't forget sunscreen, sunglasses and a brimmed hat.
A beanie will come in handy even if visiting during the summer.
A lightweight and breathable raincoat is important. See our guide for How to Choose the Best Lightweight Rain Jacket for Hiking. Alaska can be fairly wet, especially in August, so make sure your hiking boots can hold up well with moisture. This was one outdoor vacation that I was really glad I packed full hiking boots versus trail runners, you'll want something sturdy and supportive. Check out our post on 5 Tips for Hiking in the Rain.
If you are going to venture out solo check out our ultimate guide to planning a solo road trip.
The Ultimate 9 Day Alaska Road Trip Itinerary
— Day 1: Arrive in Anchorage —
The Anchorage Museum is a great start for kicking off your trip with an introduction to the history of Alaska. Post museum, get outside and appreciate how easy it is to enjoy nature within Anchorage city limits. Rent a bike downtown and pick up an Anchorage bike map. We biked along the Tony Knowles Coastal Trail for more than 20 miles. We got to see our first moose while on the path, not a bad sighting for our first day in Alaska. Make sure to go to Lake Hood. This lake has the greatest number of daily float plane landings or takeoffs of any lake in the world.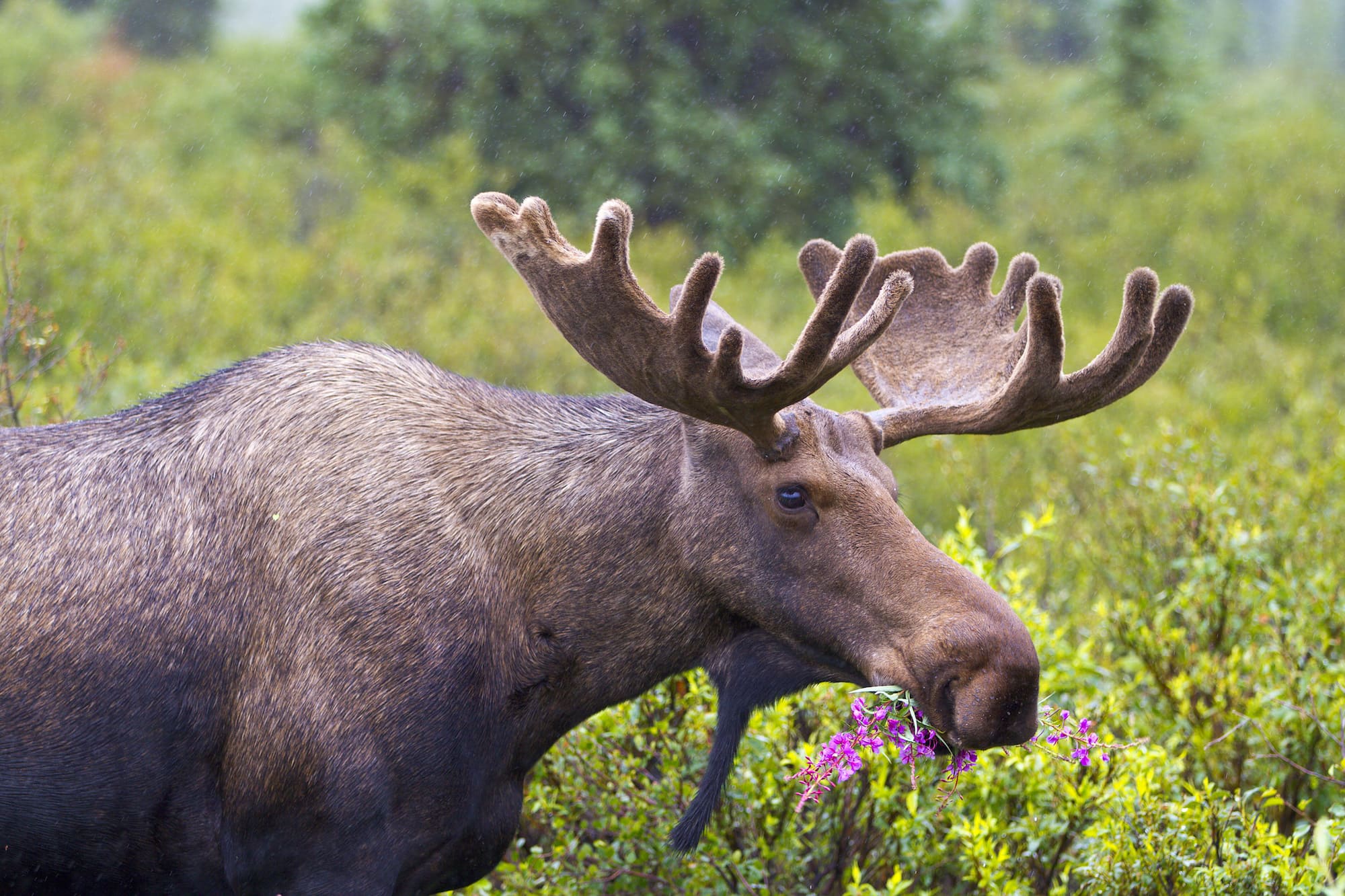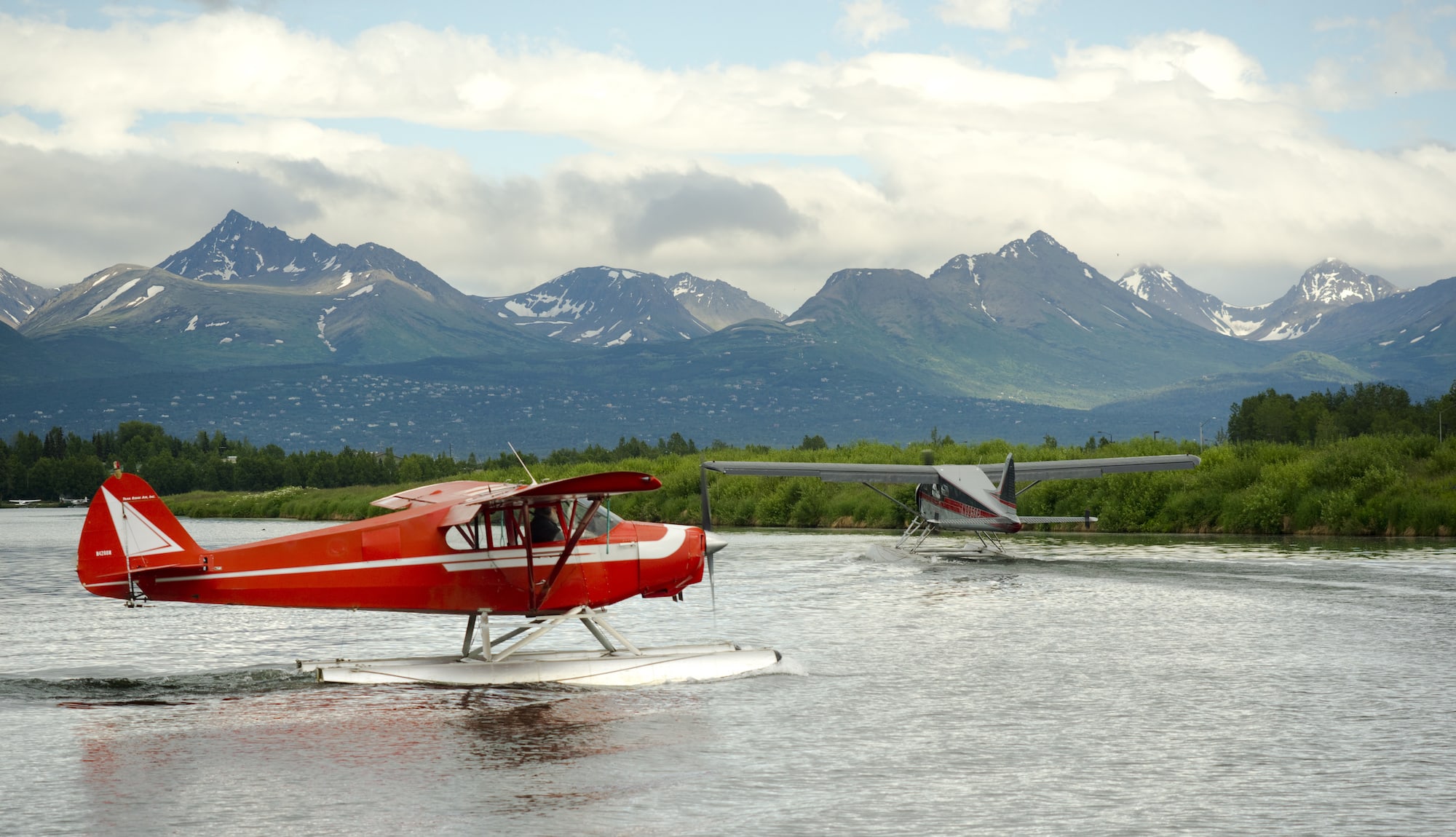 Fun Alaskan fact: one of our tour guides told us that 1 in 6 people in Alaska own an airplane!
Looking for more outside time? Hike 3,150 ft. Flattop Mountain just south of Anchorage for incredible views of the city. It was roughly a 3-mile hike that affords a dramatic city skyline.
Food Favorites in Anchorage
Snow City Cafe is a must for breakfast. Moose's Tooth Pub & Pizzeria is awesome for lunch or dinner.
Lodging Recommendation in Anchorage
Arctic Adventure Hostel is perfect for a budget-friendly option.
— Day 2: Travel 226 Miles to Homer, AK on the Kenai Peninsula —
If you didn't learn on your first day, Alaska = wildlife. We spent the morning exploring Potter Bird Marsh, Keep an eye out for bald eagles! Afterward, we went to the Alaska Wildlife Conservation Center, in Portage, which is totally worth a stop. They are a refuge center and take injured animals or young abandoned by their parents. They are also leading a massive initiative to breed bison and reenter the animals back into Alaskan wilderness areas. It was an informative and fun stop.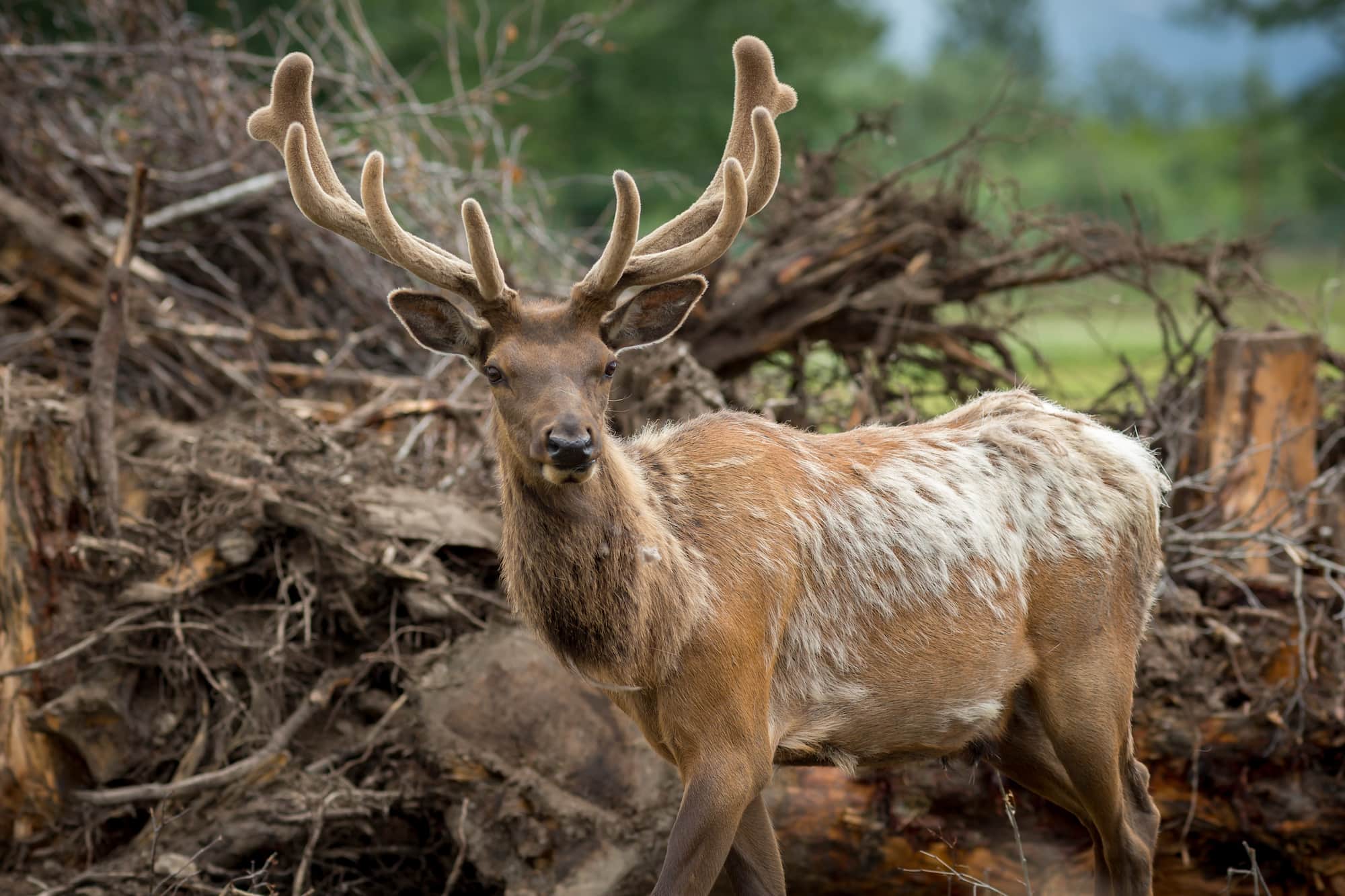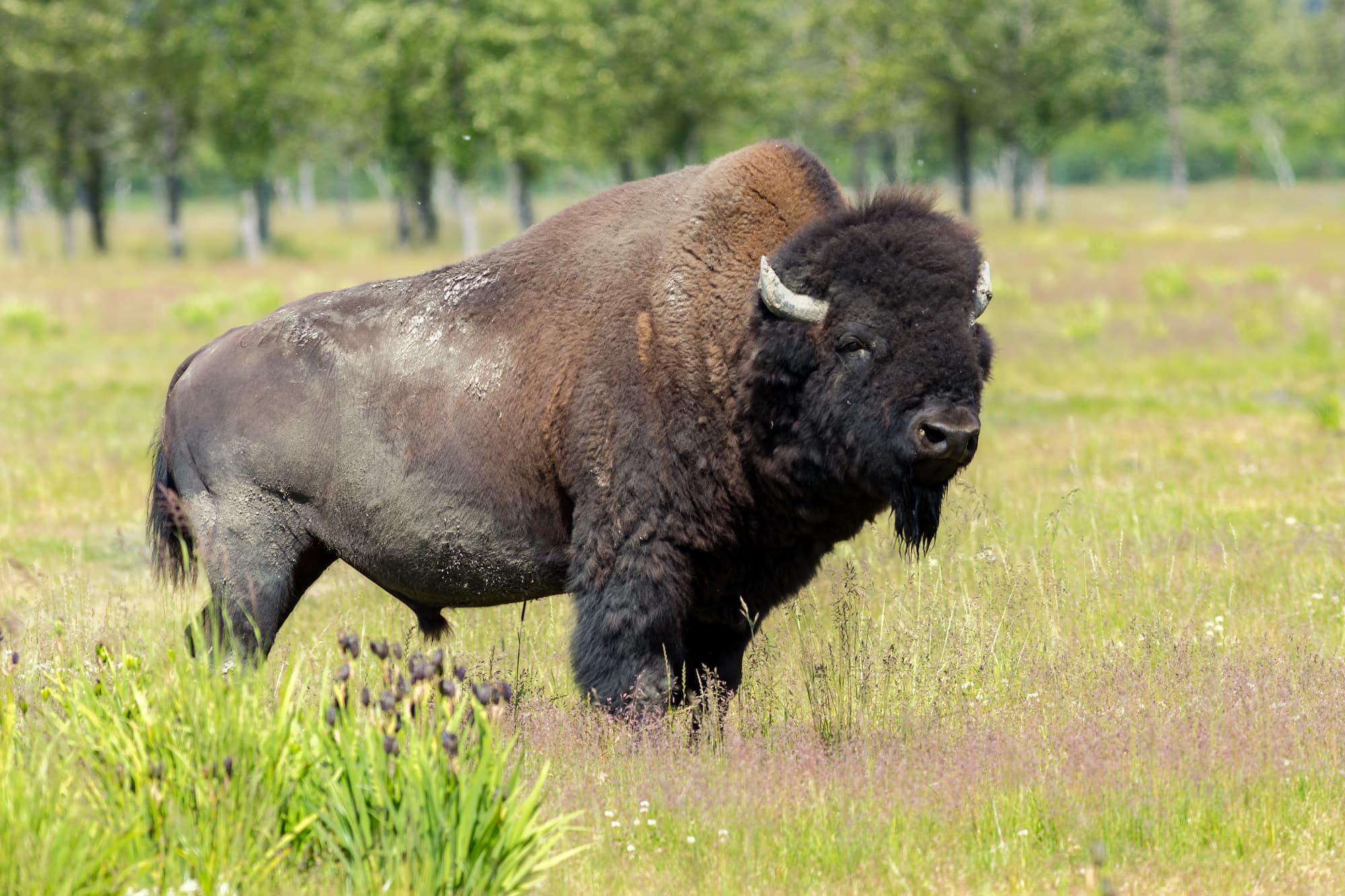 When you arrive in Homer, head to the "spit" a small sliver of land extending into the bay. This is as far south and west as the road goes in Alaska.  If you are interested in ocean fishing at all, this is a place to do it. And don't miss a stop in at the famous Salty Dog Saloon for a drink to celebrate your first day on the road.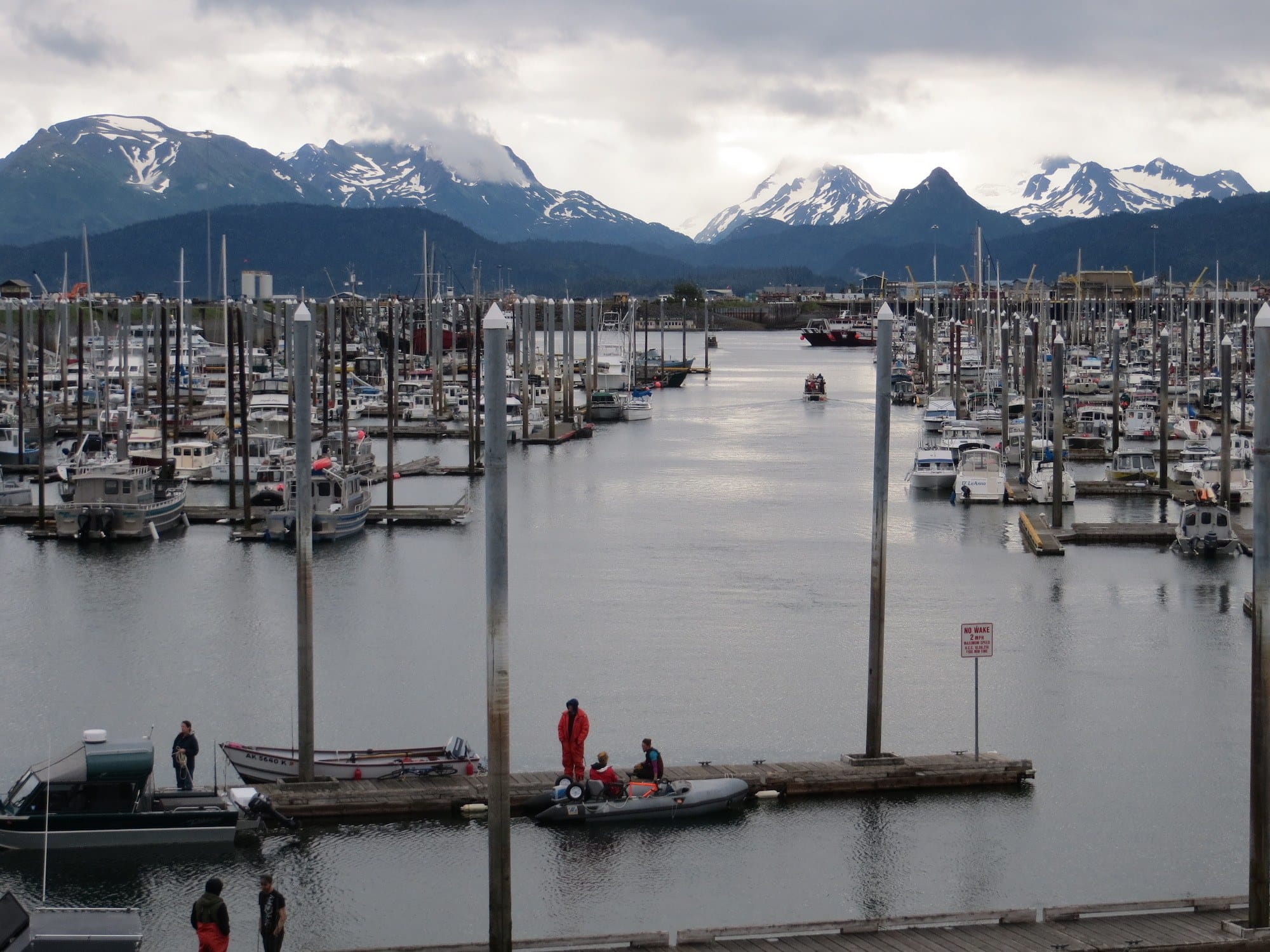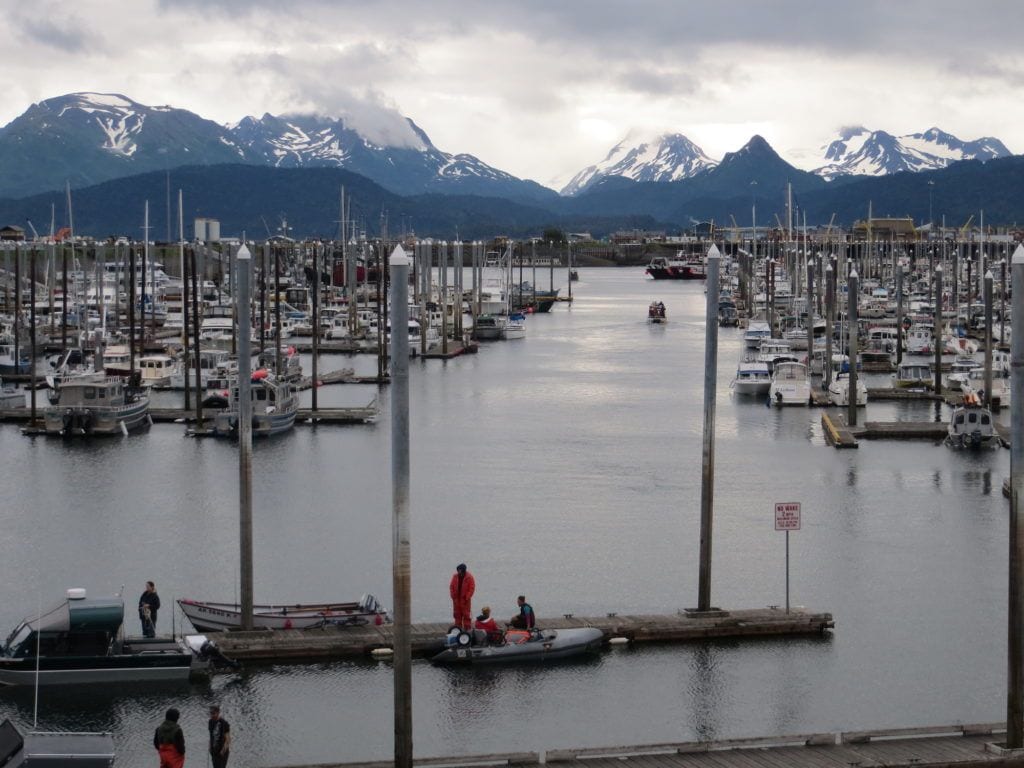 Homer had some of our favorite food stops during the entire trip. Cafe Cups for lunch or dinner is a definite and Two Sisters Cafe for coffee and pastries is also nice.
— Day 3: Travel 175 Miles to Seward, AK on the Kenai Peninsula —
If you are in town on the 4th of July you can't miss the Mount Marathon Race. It is a 3.1-mile race with an elevation change of 1700 feet. It takes approximately 35 minutes to get to the top and they run down the mountain in less than 10 minutes.  In 2013 when I visited I watched two runners break the 1981 record, and they had 4 runners less than 45 minutes for the first time. It's an incredible site to see if you have the opportunity.
If you're looking to fish while in Alaska, both Homer & Seward have tons of options for half-day & full-day fishing charters. There are also numerous companies who will mail your fresh catch back to the lower 48 for you.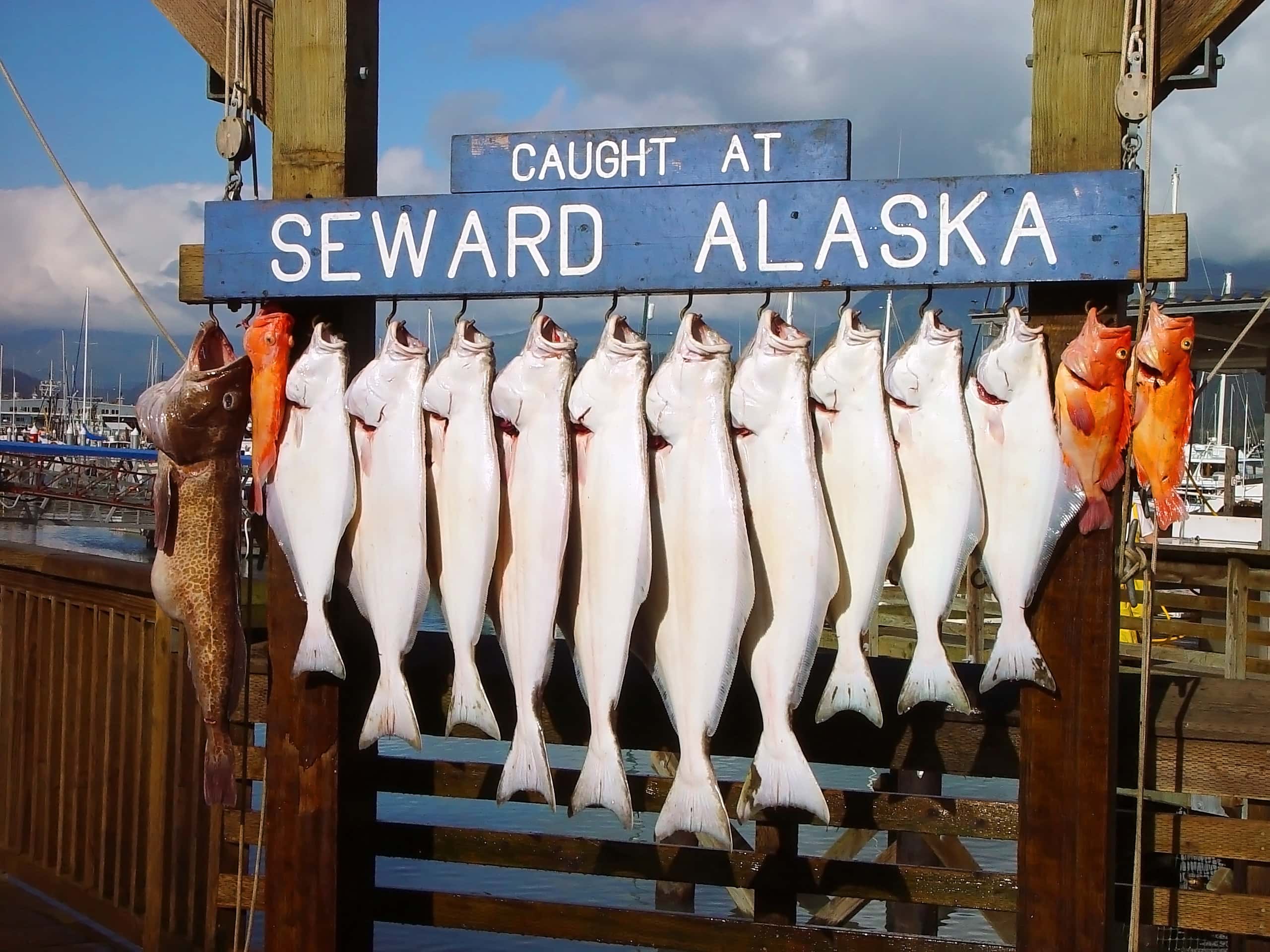 The Alaska Sealife Center in downtown Seward, AK  is unique and interesting–if you are extremely interested in marine life they even offer "behind the scenes" tours.
Exit Glacier Area is great for a quick hike. As you are driving into the park you'll notice multiple signs with four-digit numbers on them. The numbers mark the location of Exit Glacier in previous years. It is fascinating to see how much the glacier has rescinded.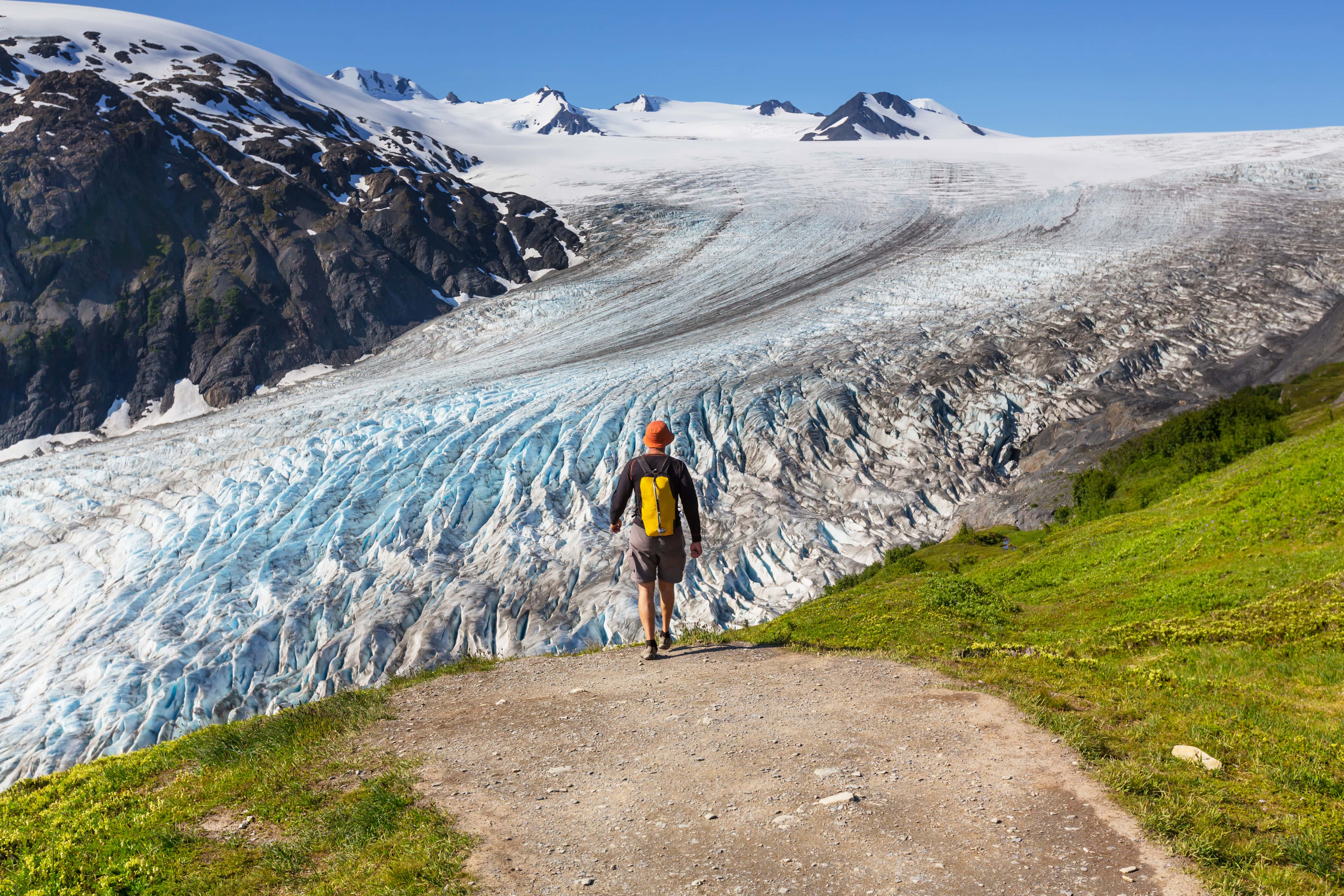 For dinner the Salmon Bake Restaurant is great.
Lodging Favorites in Seward
One of our favorite lodging nights was the Nauti Otter Hotel. They have hostel-style rooms as well as old renovated camper trailers and freestanding cabins.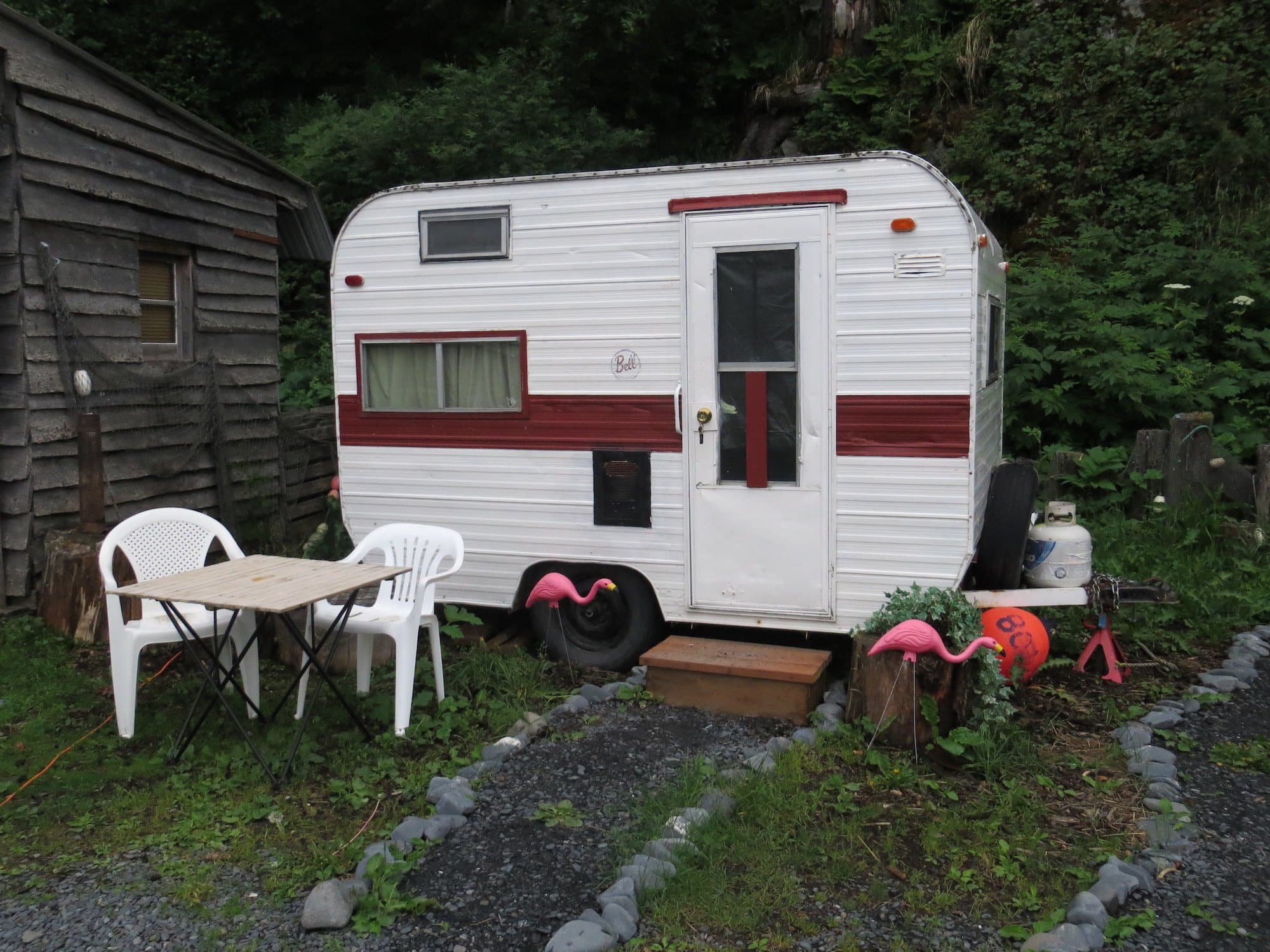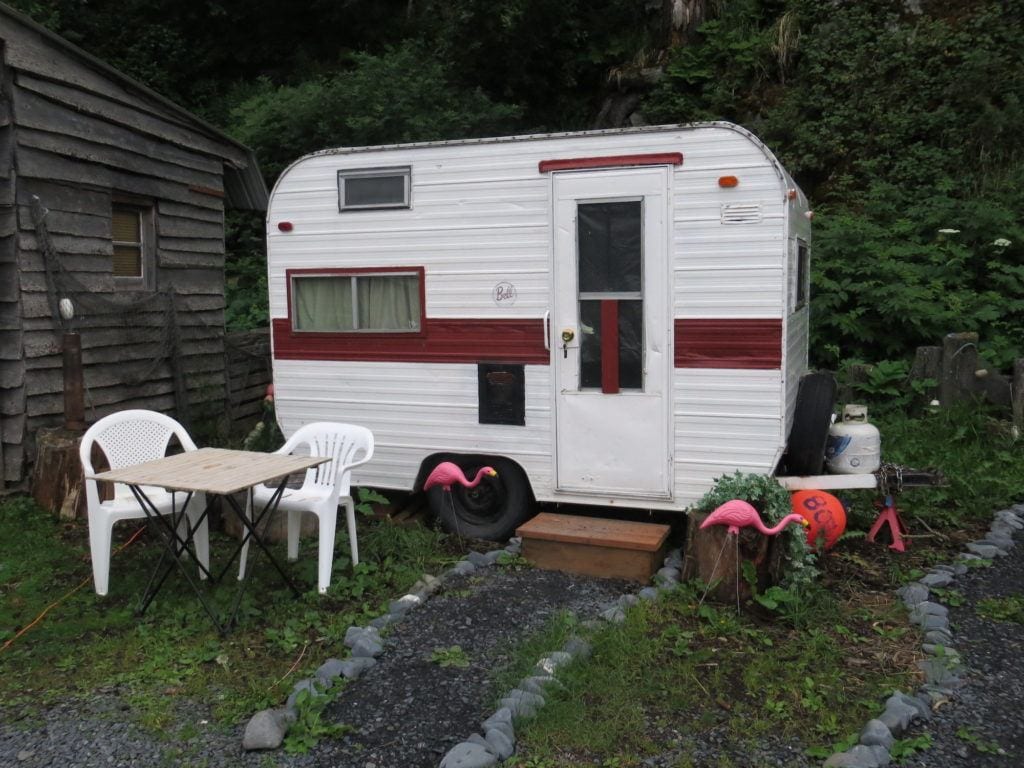 Insider Tip: I should point out that that one of my only regrets from my 10 day road trip in Alaska was not spending the money to visit Katmai National Park. Multiple outfitters in Seward & Homer will advertise day trips to Katmai if you're interested.
— Day 4: Explore Kenai Fjords National Park —
We took an 8-hour boat tour of Kenai Fjords National Park to see sea life and the Ailiaki glacier up close. This glacier extends from the Harding Icefield. While up close, a portion of the glacier "calved" and water gushed out from under the ice of the glacier.  It was a sight to see.  They say this water forms the "lubricant" allowing the ice to move over the rocks beneath the ice.  This icefield received 132 feet of snow last year!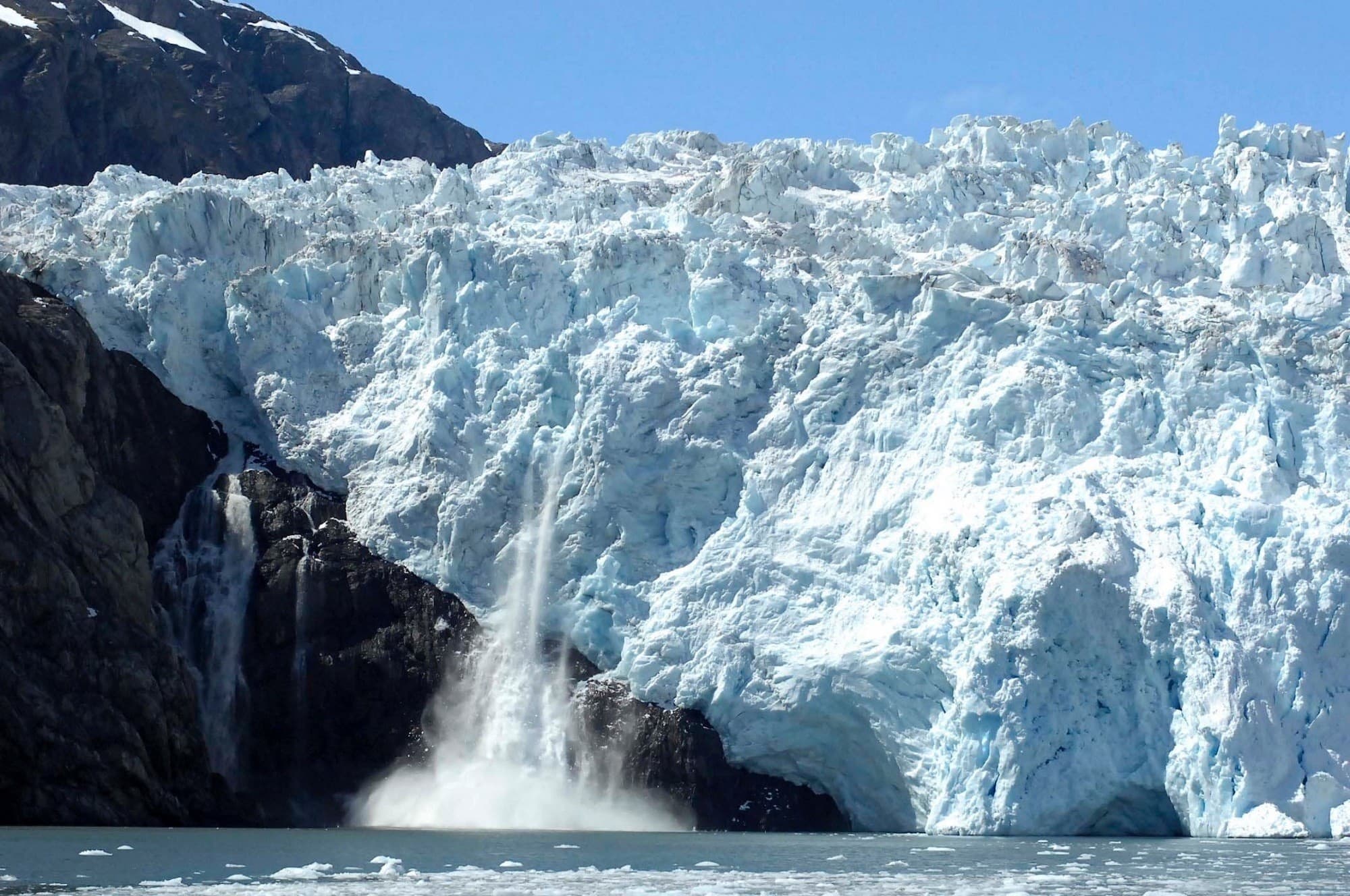 On the trip, we saw sea otters, sea lions, humpback whales, eagles, and several other birds that nest on the rock cliffs of several islands in the area.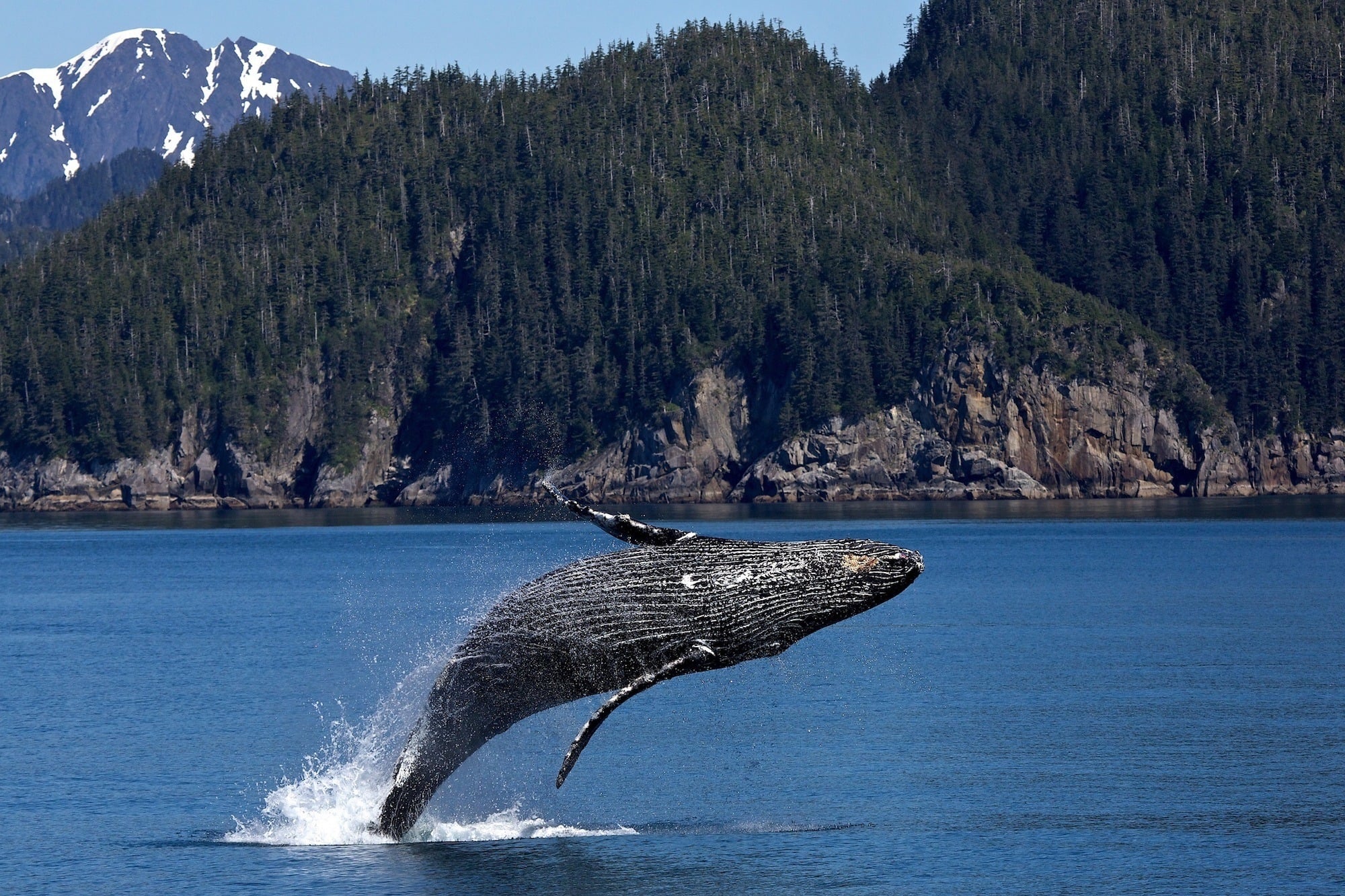 On the return trip, the boat stopped at Fox Island (owned by the tour operator) and we had a buffet with prime rib and salmon. If we went again I'd skip the stop at Fox Island and head into town to a local place for food.
Don't forget it doesn't get dark until close to midnight so make the most of your time & make the 200-mile drive to Palmer, AK for glacier trekking. We stayed near the Matanuska glacier at an Airbnb. We also used an Airbnb in Talkeetna.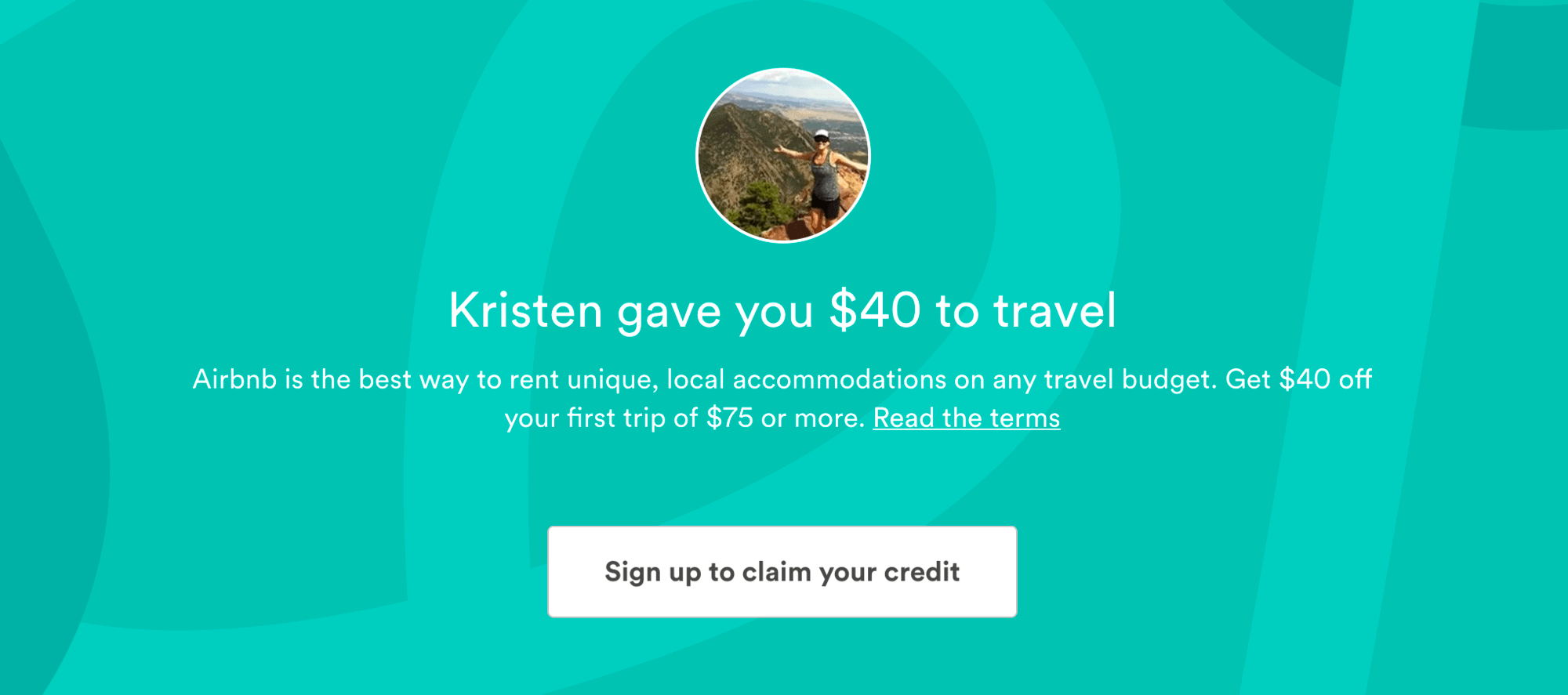 — Day 5: Glacier Trekking with MICA Guides & 120 Drive to Talkeetna, AK —
We started our 5th morning in Alaska, glacier trekking with MICA Guides. It was a neat experience trekking on the Matanuska Glacier. If I went back I'd opt to do their ice climbing expedition.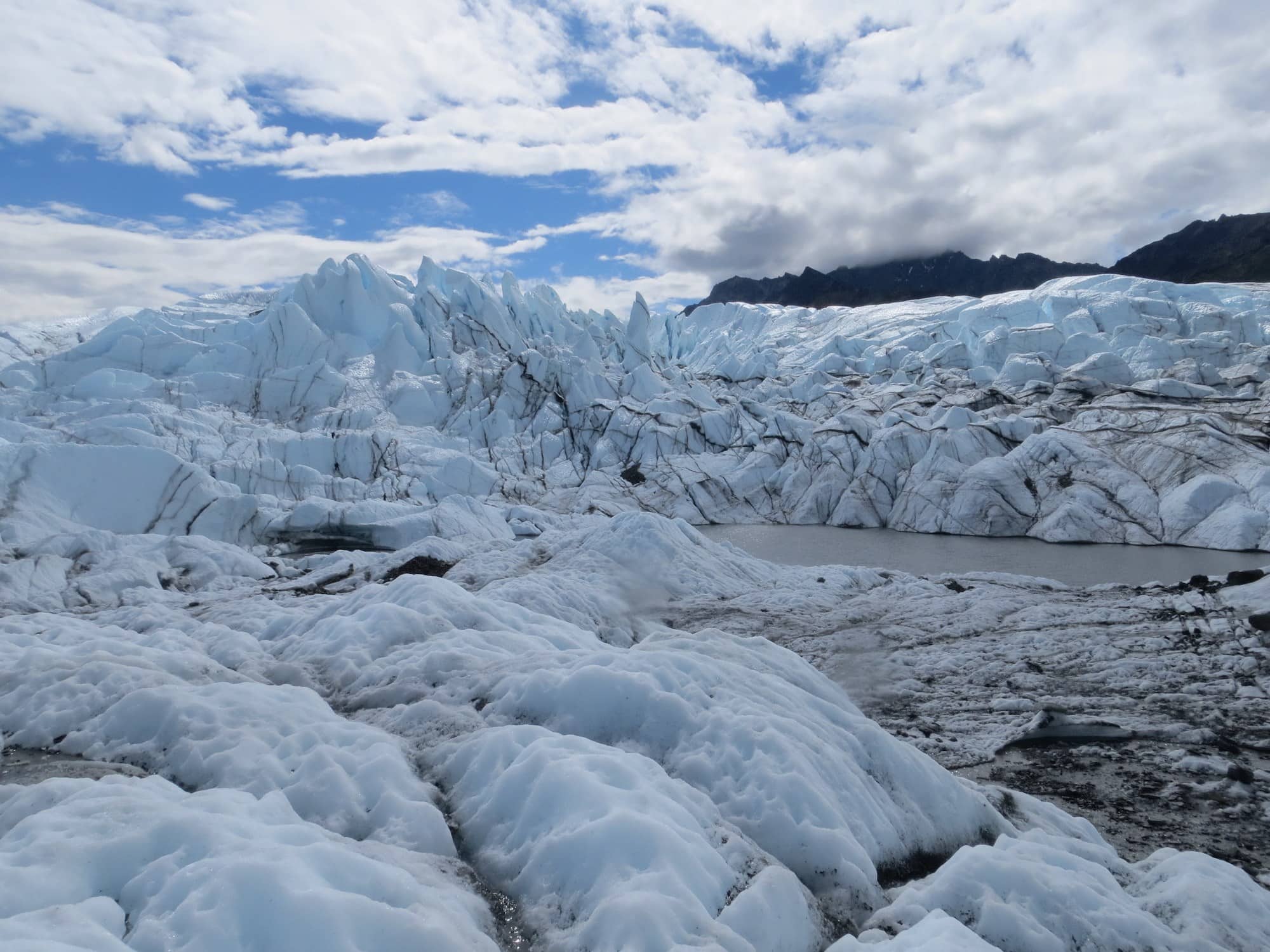 Post-trip we headed on to Talkeetna, my favorite town on our entire Alaska road trip. This is the starting point for climbers headed to 20,400 foot summit of Mount McKinley (the tallest mountain in North America).
The Talkeetna Museum was small and informative. Also, don't miss the  Denali National Park Visitor Center in Talkeetna.  they have a great video on the challenges of summiting Mount McKinley. Visiting the town cemetery is a solemn experience to pay tribute to over 140 people who have perished while attempting to summit Mt. McKinley, as well as pilots, rescue personnel, and others.
Food Favorites in Talkeetna
The Denali Brewery is fun at night and is a hotspot in town. Breakfast at the Talkeetna Roadhouse is a must for their "fall off your plate pancakes" (they are MASSIVE!).
— Day 6: 137 Mile Drive to Denali National Park —
The Denali Visitor's Center is large and has various displays and stories, as well as a film on the national park. Check out the dog sled demonstration at the Denali Kennels if you have time. It is really interesting to learn how the park operates during the winter with dogs. If you don't have time to catch a demonstration, you can visit the kennels daily from 8am-5pm during the summer. Free buses leave the Denali Visitor Center 40 minutes prior to each demonstration since no parking is available at the kennels. You can also walk 1.5 miles from the Denali Visitor Center to the kennels.
Hiking in Denali is interesting–I expected there to be hundreds of trails for both day hikes and backpacking but quickly realized that Denali is mostly wilderness with few trails. Triple Lakes Trail is the longest trail in Denali National Park, it is just 9 miles. You can access the Triple Lakes Trail from either the Denali Visitor Center or off of HWY 3. Another great hike is the 2.7 mile Mount Healy Trail, which gains 1,7000 feet, to a viewpoint part-way up Mount Healy. The trailhead can be found off the Taiga Trail, near the Denali Visitor Center.
Otherwise, be prepared with the skills to navigate, as a majority of the hiking here is completely off-trail.
Lodging Favorites Near Denali National Park
Denali Hostel is 13 miles south of the Denali National Park entrance and was perfect for us. Our room was called, "Train Wreck" and consisted of two bunks beds in a co-ed room. It was a short walk to the bathrooms and "community house" area.
— Day 7: Explore Denali National Park —
We took the 13-hour bus tour (90.3 miles) to Kantishna, which is known as the "end of the road". During the summer private vehicles can only access the first fifteen miles of the Denali Park Road and I knew I wanted to see more than that.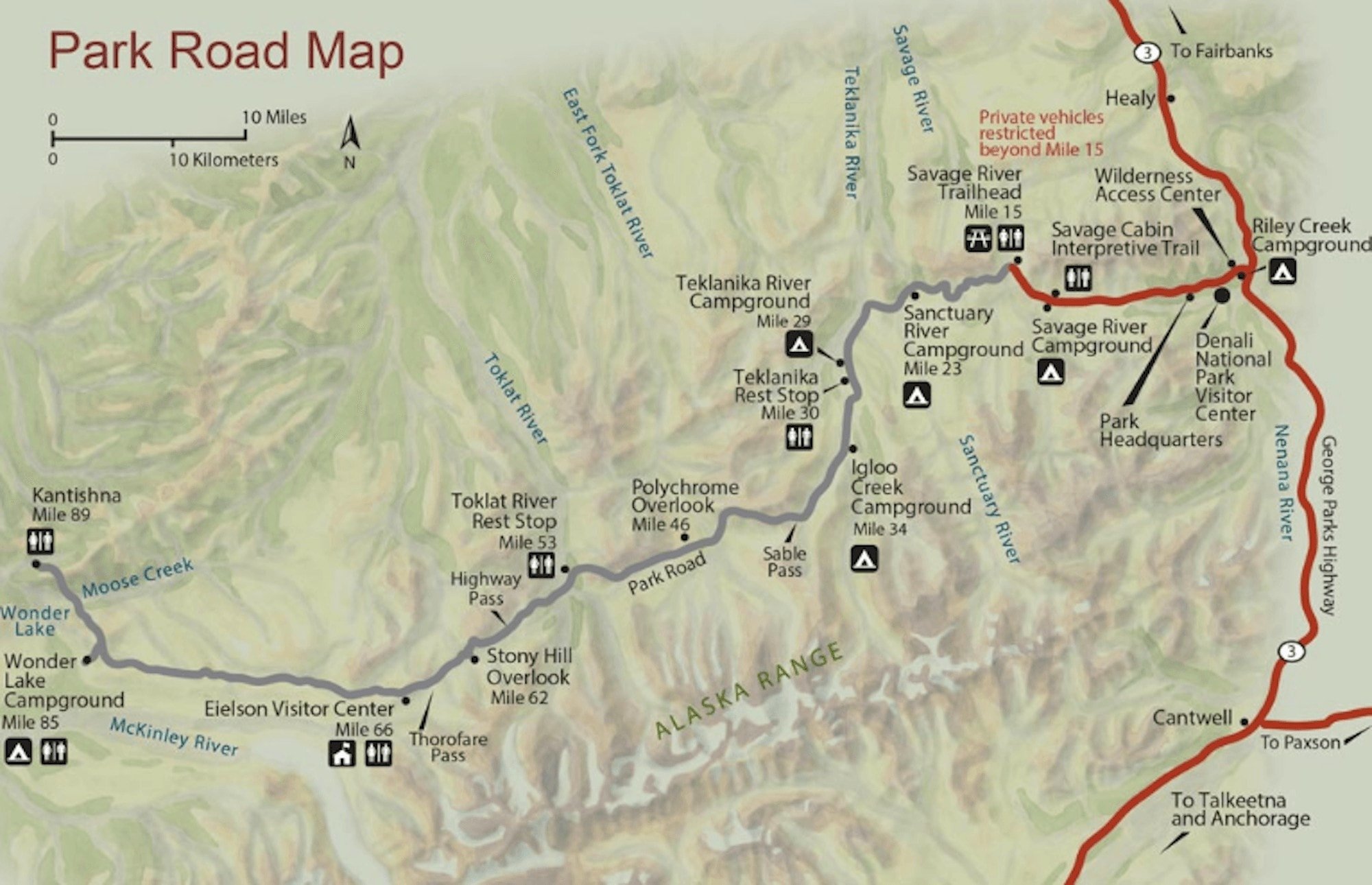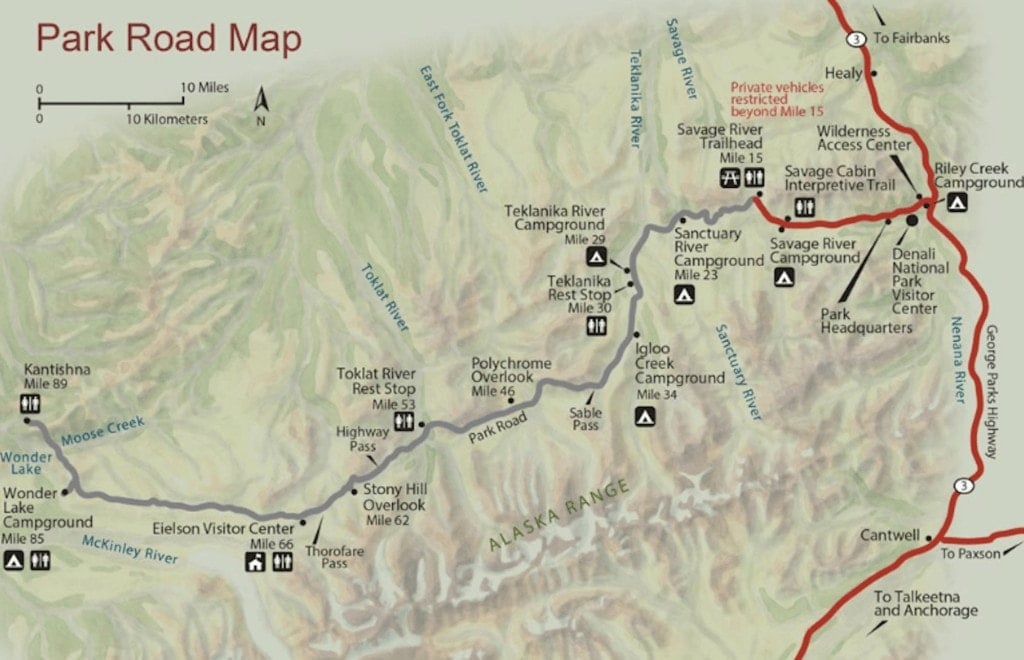 I was super nervous when I booked the tour since this was technically our only day in the park and for the most part, we were going to spend it on a bus–I still to this day don't regret it. We opted for the narrated tour vs. just a shuttle bus further back into the park because I wanted to learn as much as I could about the park in the one full day we had, as well as see as much wildlife as possible. We observed caribou, moose, ptarmigan (bird), ground squirrels, Dall mountain sheep, and one grizzly bear (for a split second, no pictures).
The terrain was unique and varied.  Mount Denali, also known as Mount McKinley, can be seen on clear days as early as mile 9. The park estimates that only 40% of those who visit Denali National Park have clear skies to see the mountain. We, unfortunately, were in the "60% club" and never got a totally clear glimpse of Mount McKinley. The tour also stopped at the Eielson Visitor Center (Mile 66) which, on clear days, offers amazing views of Denali and the Alaska Range.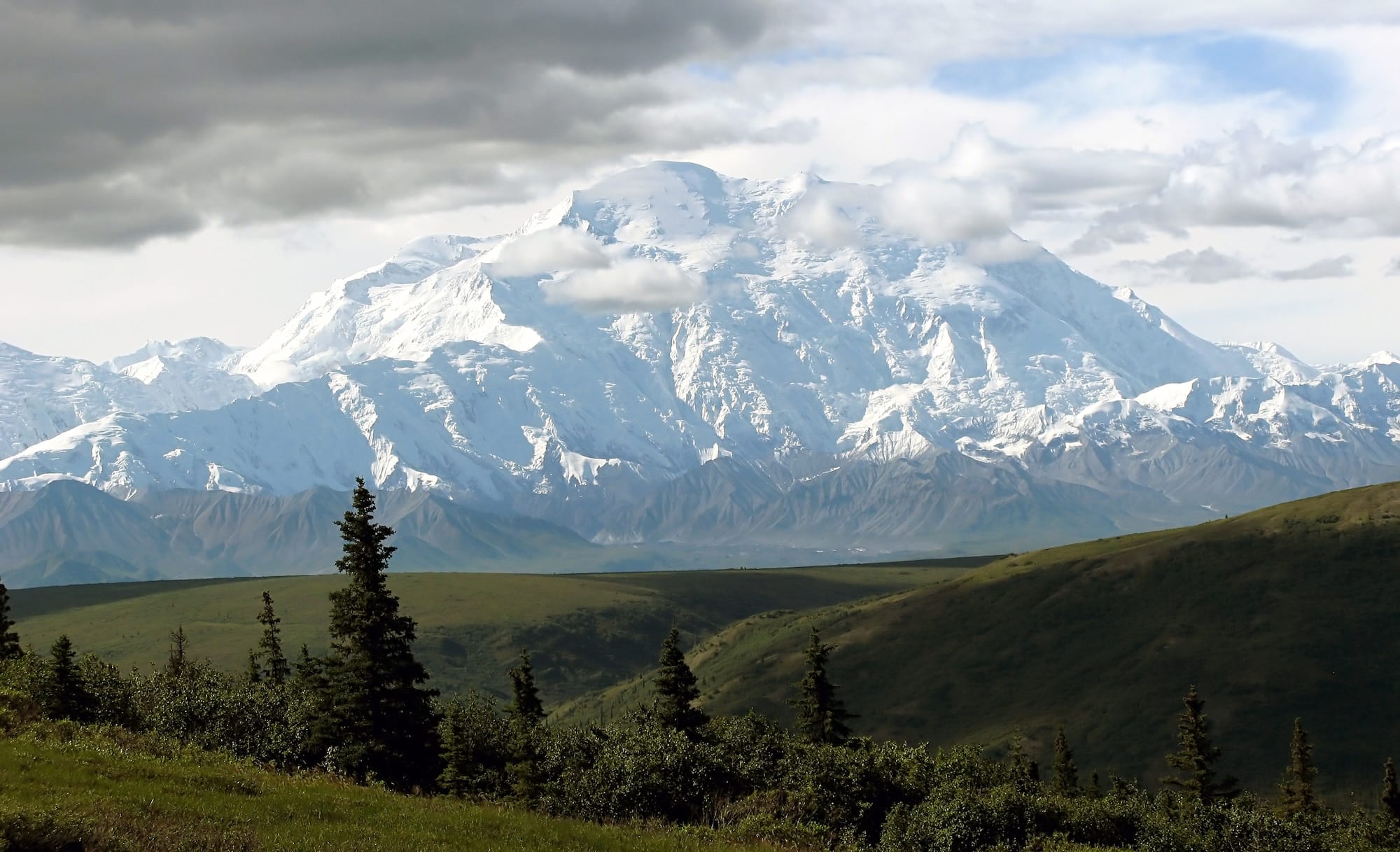 Denali on a clear day
My only regret after visiting Denali National Park is that we didn't spend an entire week in the park. I wish we would have packed enough gear to have camped for an evening at the Wonder Lake Campground at Mile 85. You'll definitely need mosquito nets for exploring this area, it is very wet and mosquitos plague the area all summer. The campground has 28 tent sites which must be reserved ahead of time.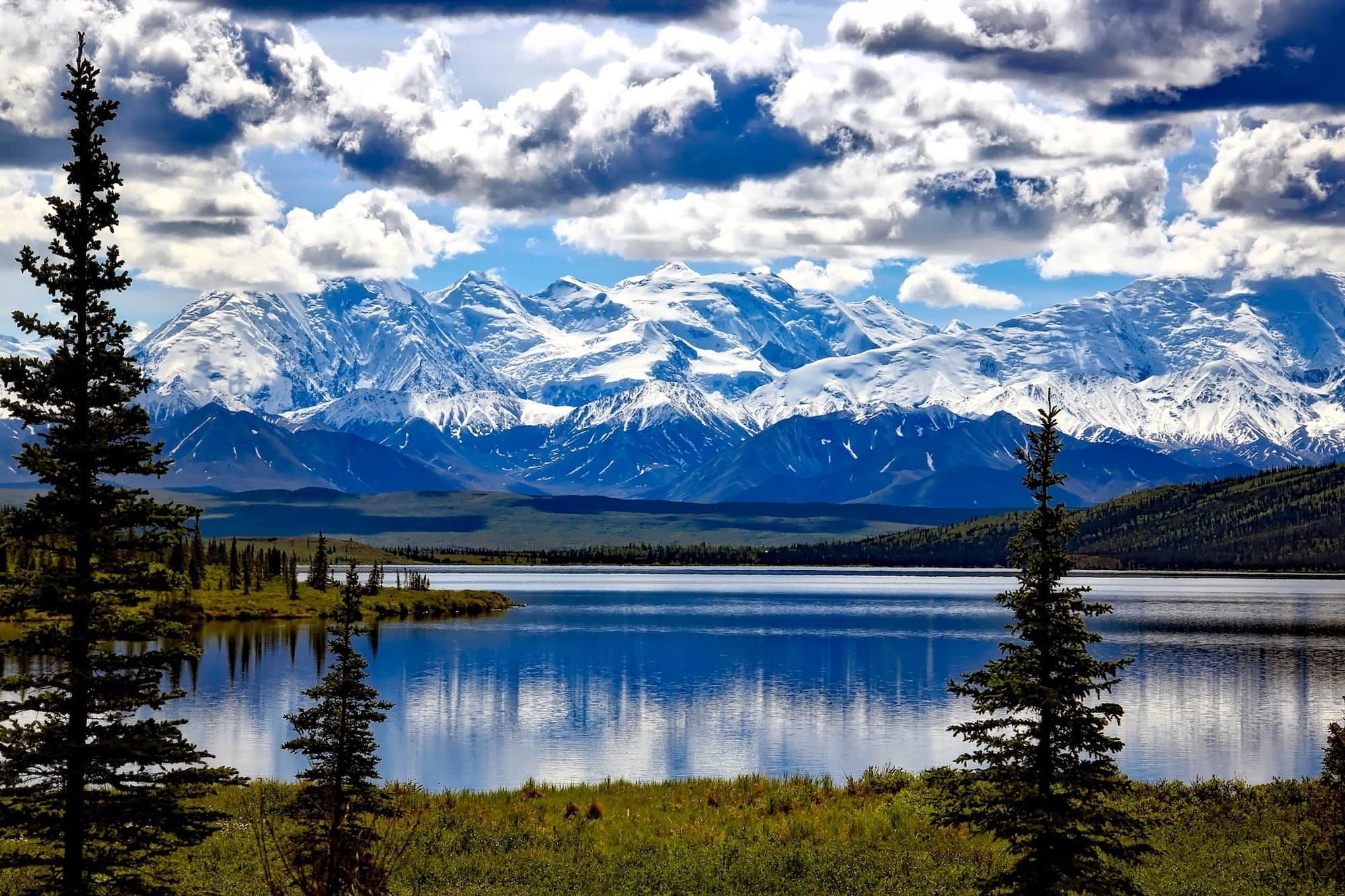 Food Favorites near Denali National Park
Just 8 miles north of Denali is a small town called Healy, which is worth the drive to go to 49th State Brewery for great food and the best microbrew I found in Alaska.
— Day 8: Drive back to Anchorage & Depart —
For the final day on our Alaska road trip itinerary, we got an early start and joined a ranger for a 3 mile guided walk to Horseshoe Lake. Then we said goodbye to Denali and hit the road for Anchorage. We stretched our legs again in Wasilla to visit the Iditarod Trail Dog Sled Headquarters. The famous race is a large part of the Alaskan culture. They have an 18-minute film on the race which has great footage about the 1,049-mile dogsled race and explains how they set up for it yearly.
We also joined a guided tour of the abandoned Independence Gold Mine, just outside of Wasilla, which operated for only 4-5 years before the vein was depleted. It was neat to see the historical buildings left and learn about the area which through history has been home to 8 different gold mines, the last of which discontinued operations just 5 years ago. Getting to the mine is half the fun, you'll have to travel down Hatcher Pass Road for an incredibly scenic 30-minute drive.
Have you been to Alaska's National Parks? Have you done an Alaska road trip before? Got questions about our Alaska road trip itinerary? Leave us a comment below!