10 Things to Do in El Calafate, Argentina
Discover Perito Moreno Glacier, local estancias, the best restaurants & town highlights with our list of the best things to do in El Calafate.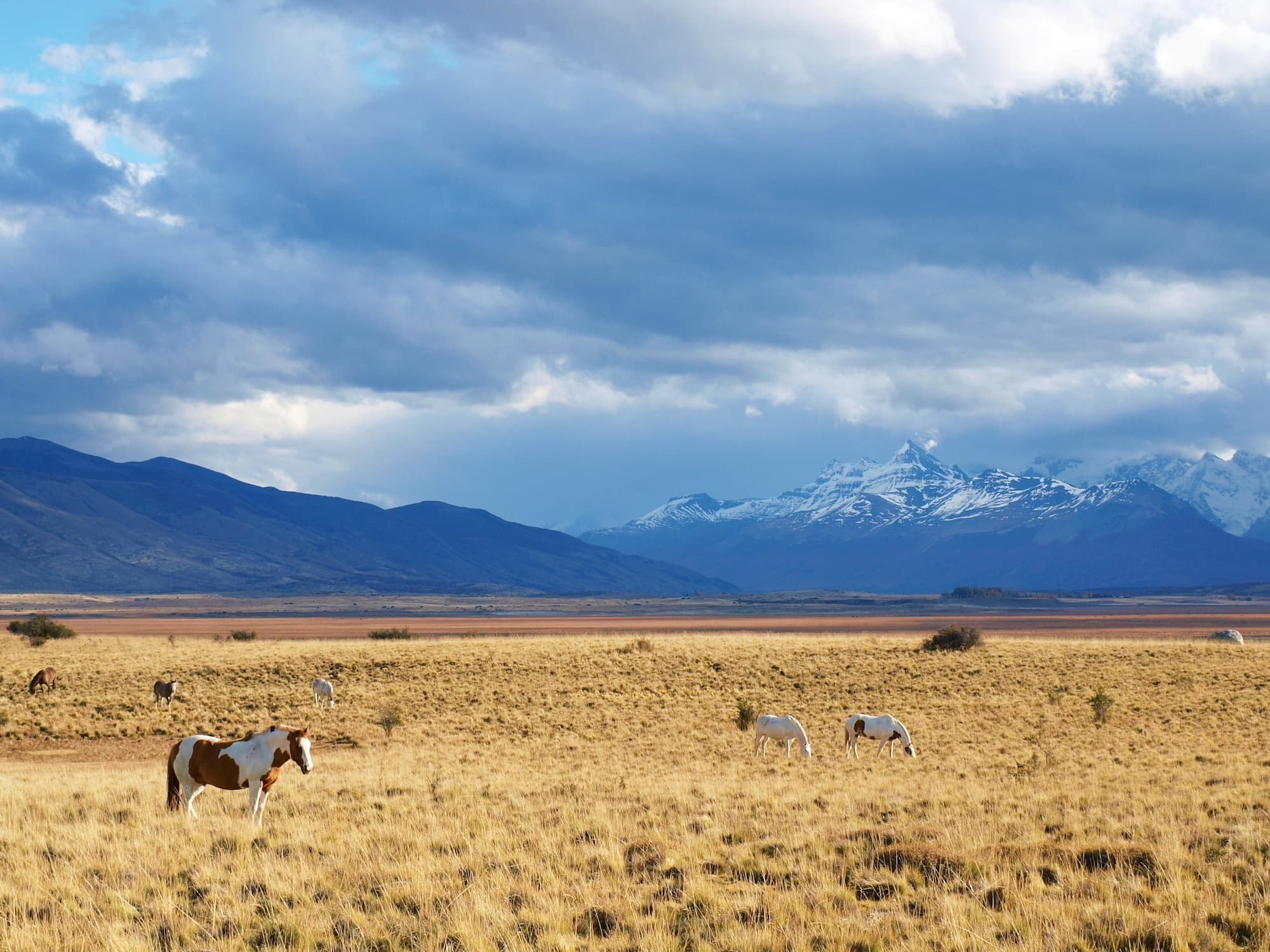 El Calafate is a town along the border of Los Glaciares National Park and is the major hub for people looking to explore Perito Merino Glacier. While that may scream "tourist trap," I found El Calafate to be a cute little town with a lot more to offer than just a trip to the Glacier.
We spent two and a half days in El Calafate as part of G Adventure's Hiking Patagonia in Depth Tour.  We spent one day visiting the Glacier and the other day exploring town…but for those with more time, there are a number of other things to do in El Calafate. The town itself has a couple of trails, but most of the activities (apart from eating and drinking in town) require a bit of a drive or joining a tour.
In this blog post, I share a list of adventures that caught my eye and things to do in El Calafate.
[separator style_type="icon" /]
El Calafate YouTube Video
Watch my new YouTube vlogs of our G Adventures Hiking Patagonia in Depth trip!
[separator style_type="single" /]
How many days do you need in El Calafate?
I think three days is the right amount of time to spend in El Calafate. The town itself can be explored in a single day. Then you'll want 1-2 days to explore Perito Moreno Glacier. With weather being variable, you might consider building in an extra day just in case you get totally skunked with weather one day.
[separator style_type="single" /]
Explore Perito Moreno Glacier
Perito Moreno Glacier is 1.5 hours from the town of Calafate and is a must-do during your time in Patagonia. You can either go independently and cruise the boardwalk, or you can join an adventure tour – like kayaking or trekking on the ice. Check out my detailed post about all of the ways you can explore Perito Moreno Glacier.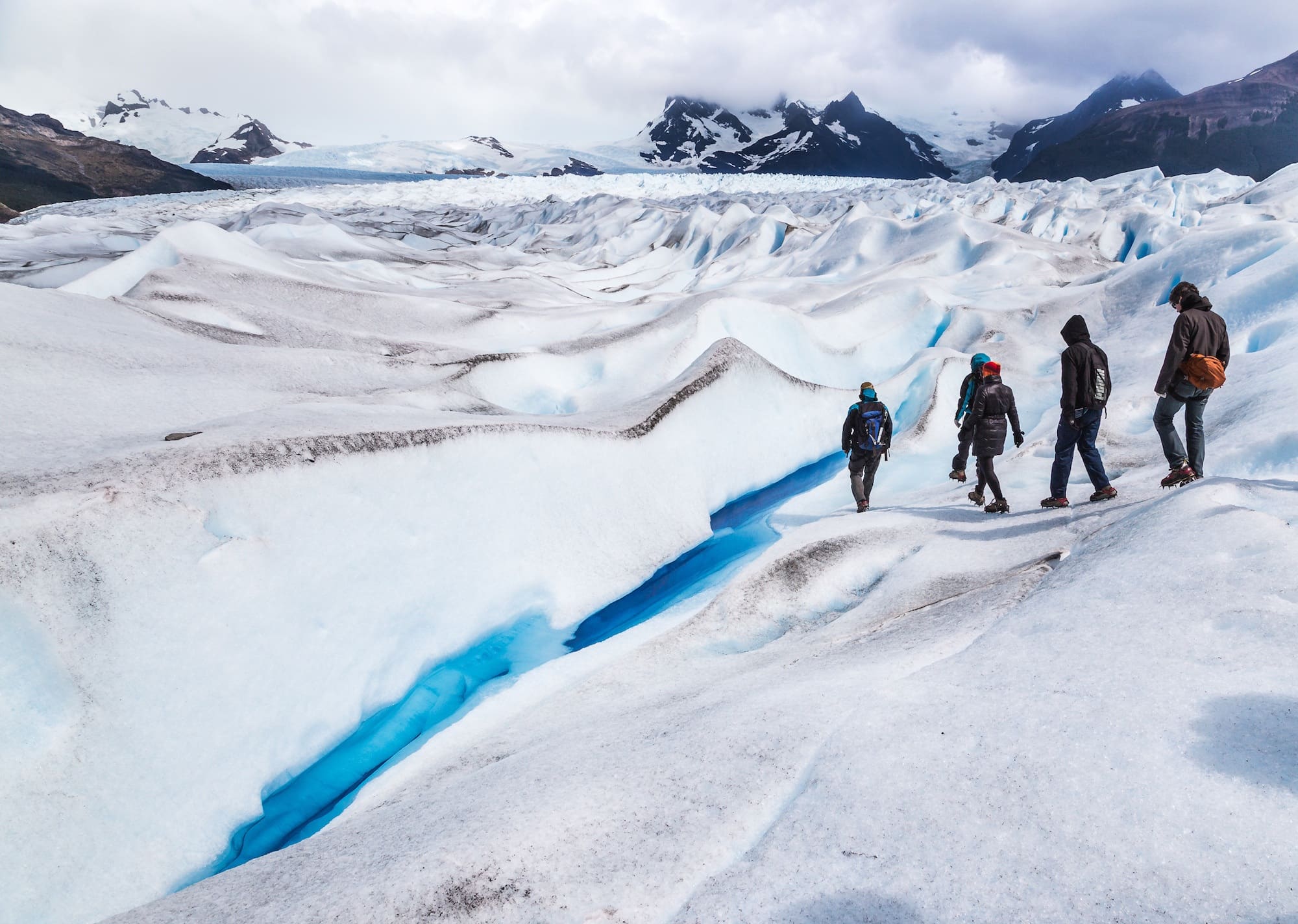 [tagline_box link="https://bearfoottheory.com/perito-moreno-glacier-travel-guide"]Check out our complete guide to visiting Perito Moreno Glacier. [/tagline_box]
[separator style_type="single" /]
Visit an Estancia
What is an estancia in Argentina? An estancia is basically what we in the US would call a ranch where livestock are raised. In Argentina, estancias have played a huge role in history and the gaucho way of life, and in recent years many have been converted to guest houses that host overnight and day-tripping tourists where you can learn about the gaucho way of life.
Here are two great estancias to look into visiting:
Nibeko Aike: A few people in our group went to Nibeko Aike Hosteria and had a very enjoyable experience. One advantage of Nibeko Aike is that it is one of the closer Hosteria's to town, so you don't waste too much time in transit. Your day consists of horseback riding, a sheep shearing demonstration, and a tasty lamb bbq.
Estancia Christina:  This is one of the more expensive hosterias near El Calafate that you can visit on a day trip, but the perks are the location near the Upsala Glacier. Christina Hosteria is located in a remote area on the northwest coast of Lago Argentina and takes about 2 hours to get there by boat, a trip that gets you right up close to the icebergs. Once you are at the Estancia, they have a number of activities depending on your interests. If you like to hike, they have a 14 km guided hike that takes you to a viewpoint of the Upsala Glacier and Cañadón de los Fósiles, where there is a high concentration of marine fossils. Alternatively, if that sounds like too much hiking, they have other more culturally focused itineraries with lunch at the Estancia.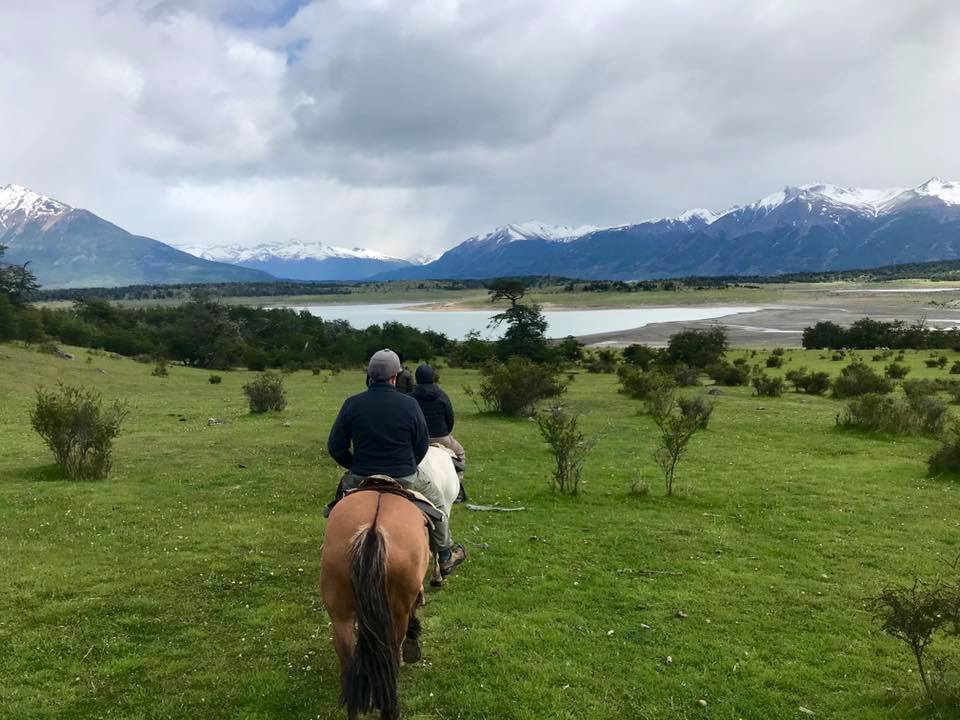 Photo: Tonya Steffens
[separator style_type="single" /]
Relax in the Town of El Calafate
We had a free day in Calafate and instead of doing an organized activity, we decided to chill in Calafate. The town of Calafate is a pleasant little tourist spot with friendly locals, amazing food, and the cutest street dogs you've ever seen. Here are a few of the highlights in town:
Watch the Short film at the Glacier Museum: This Red Bull Productions film features some incredible aerial footage of Argentina's glaciers and is worth a few minutes of your time. It's also free.
Eat braised lamb at La Zaina: This place is fabulous. The most popular dish on the menu is the lamb that's been braised in Malbec for over four hours, and it literally falls right off the bone. The cocktail menu was also one of the best I found in Patagonia, with classics like an Old Fashioned that was as good as you can get at home. Finish your meal with the chocolate mousse topped with passionfruit ice cream.
Get a cortado at Olivia Cafe: Get your coffee fix with a cortado (espresso with milk) at Olivia Cafe. This place has a cute vibe, awesome pastries, and free wi-fi for catching up on work or planning the next part of your trip. If you're feeling saucy, order the coffee with Baileys.
Grab a beer at La Zorra: This is a hip beer bar with outdoor seating and is a great place to kill an hour or two. The golden, honey, and the West Coast APA were all hits.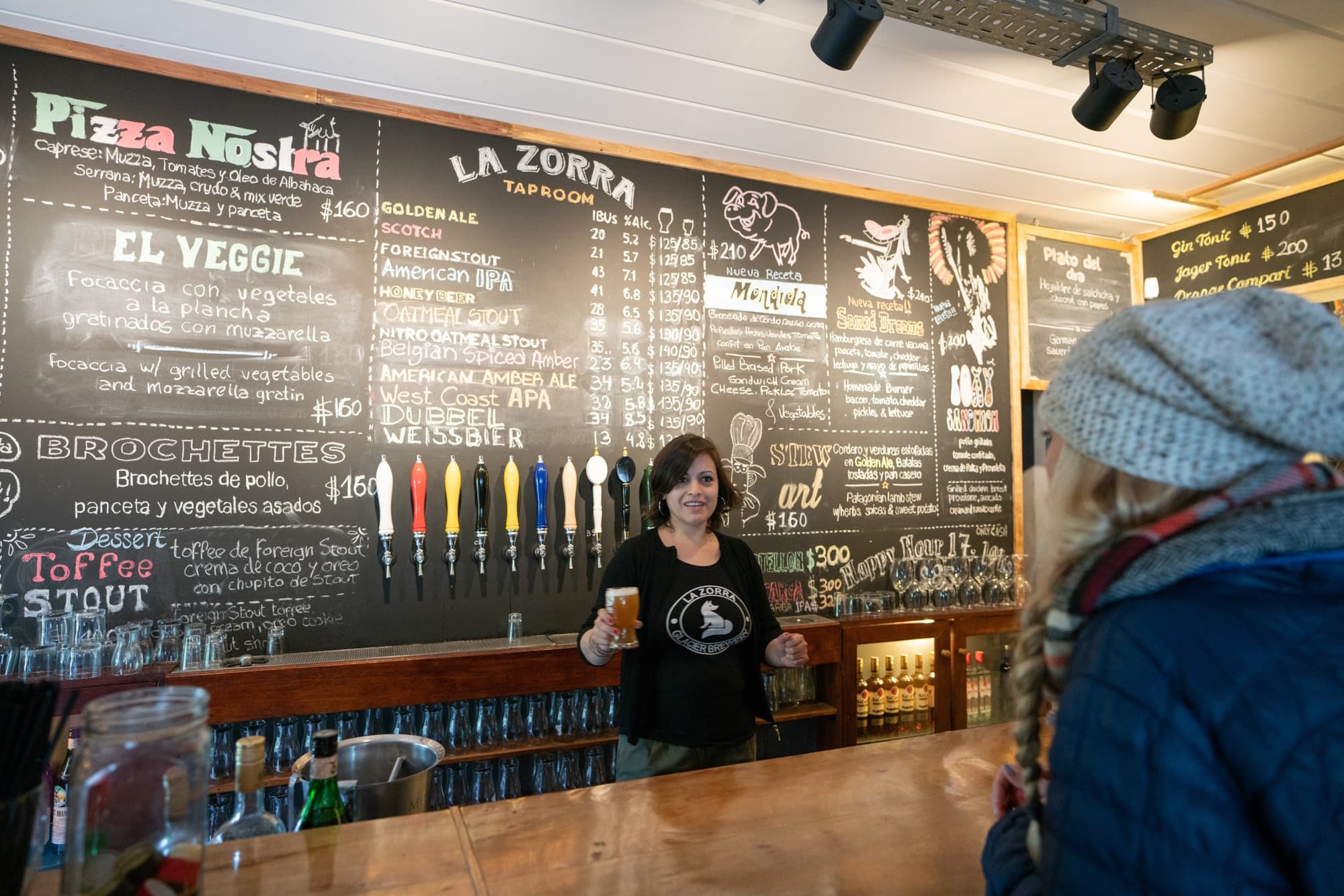 [separator style_type="single" /]
Connect with a Local Chef
Our trip coincided with Thanksgiving, so our G Adventures guide – Marina – had something special up her sleeve. There is a local chef in Calafate – Gabo Carrizzo – who hosts (very reasonably priced) private dinners in his home right above town, so we celebrated Thanksgiving at his house, Argentina style.
Gabo's home was incredibly warm, inviting, and filled with keepsakes, and he was an even warmer host. For an appetizer, he whipped up creamy zucchini soup made with garlic, onions, olive oil and a hint of pesto. Our main course consisted of a slow-cooked Carbonada al Disco, which is a hearty Argentinian stew with beef, potatoes, corn, peppers, onions, cooked in red wine, served inside a half of a squash. You had a choice of red or white wine, and dinner was followed by a homemade crepe with banana and dulce de leche.
It was one of the most memorable travel experiences I've ever had. Not only was the food and company fabulous, but it was also a wonderful opportunity to learn about Argentinian culture and to have a meaningful conversation.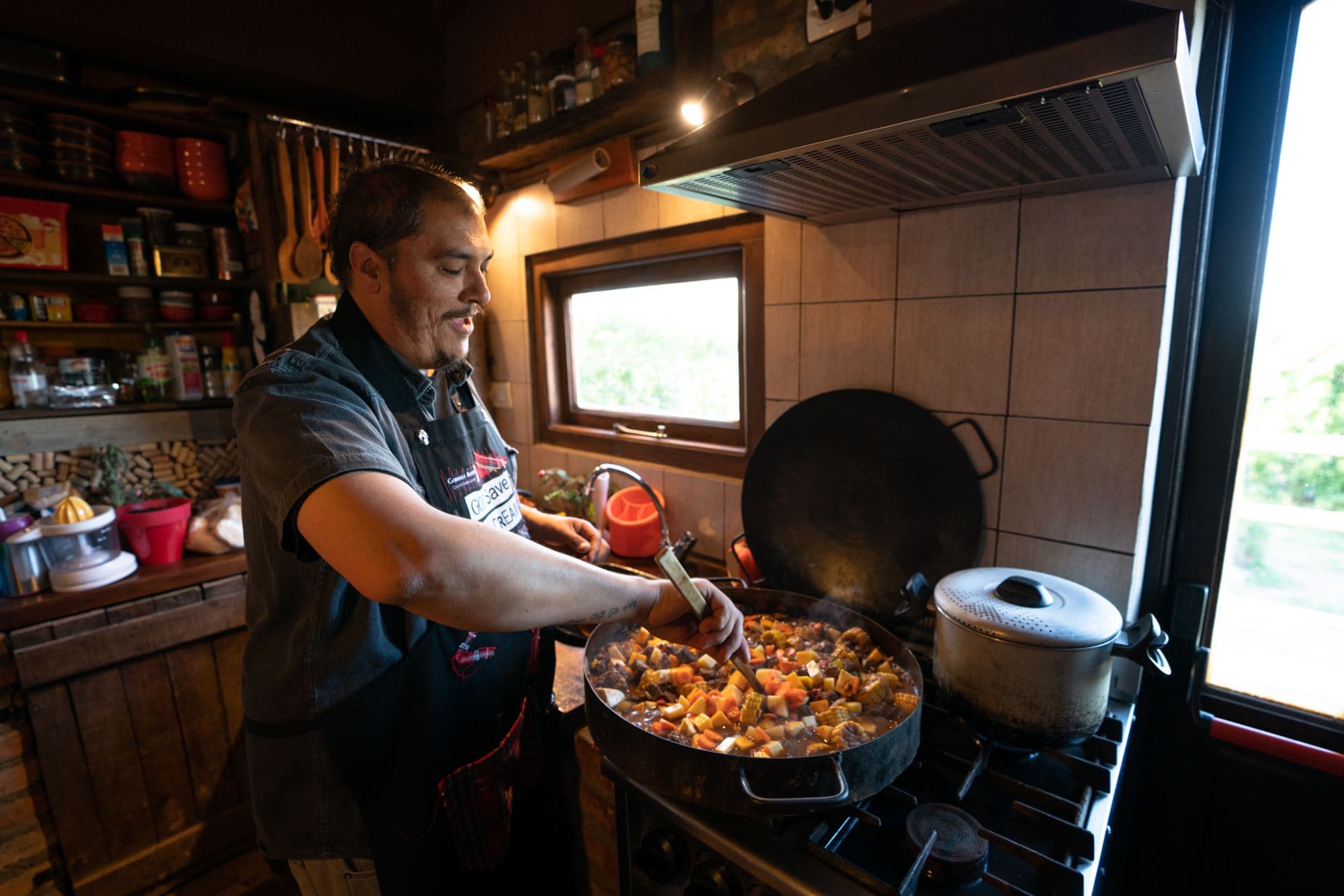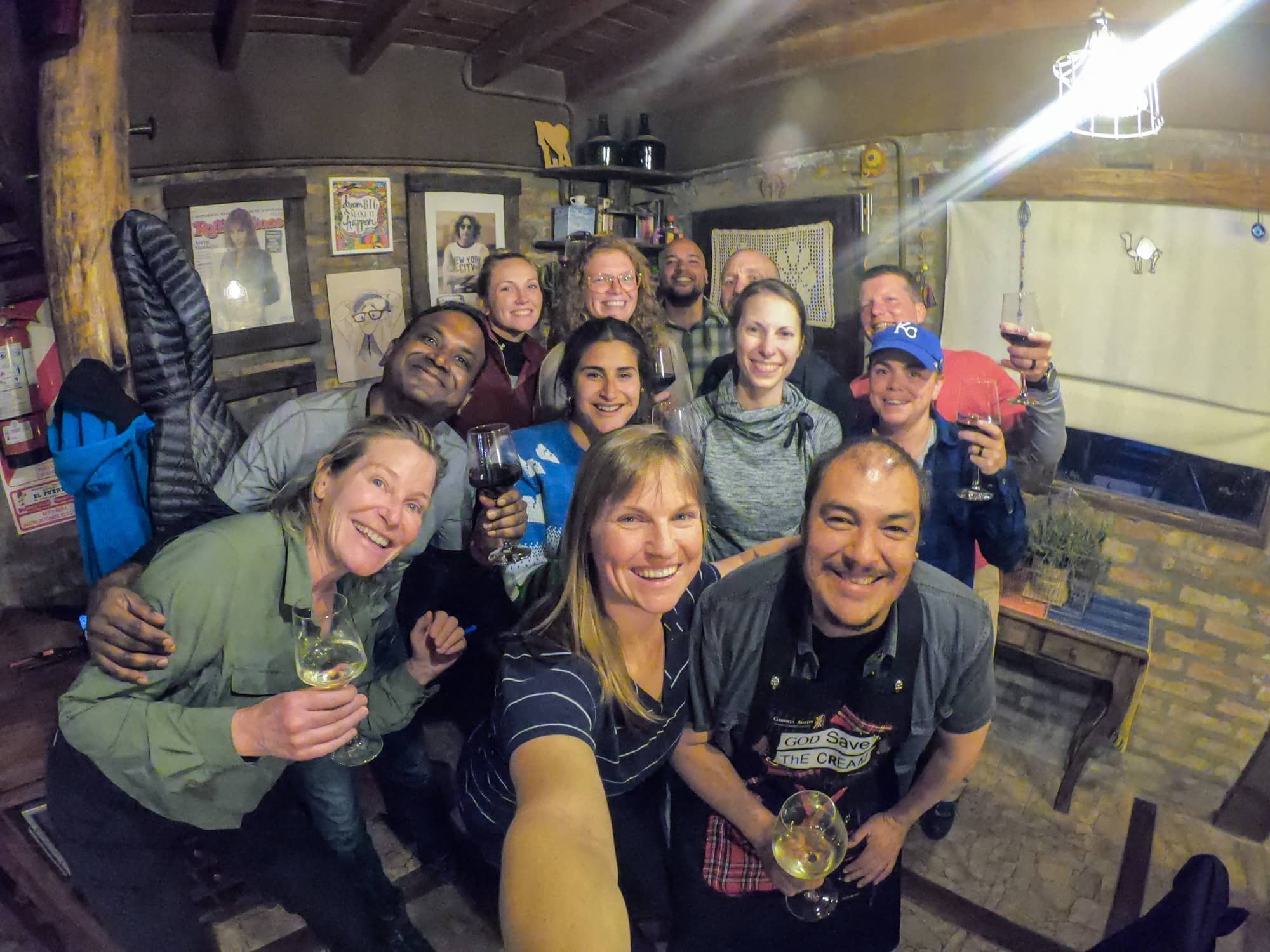 [separator style_type="single" /]
Get off the Beaten Path in Los Glaciares National Park
If you're looking to do some off-the-beaten-path trekking, Glaciar Sur Tours is a newer company in El Calafate that operates tours in a quiet part of Los Glaciares National Park. They have a full-day adventure tour where you get to take a zodiac boat and hike to a very remote part of Los Glaciares National Park that very few tourists get to see. I really wanted to do this, but we got skunked with the weather and it was too windy to operate the zodiac. For more info, check out the reviews on Trip Advisor.
[tagline_box link="https://bearfoottheory.com/cold-weather-hiking-clothes-winter-layering-basics/"]Read our tips for how to layer & how to stay warm why hiking in the winter.
[/tagline_box]
[separator style_type="single" /]
Go Bird Watching at Laguna Nimez Nature Reserve
Laguna Nimez is a mile from downtown El Calafate and is home to over 70 species of birds, including flamingos. (If you know me, you know I hate birds, so you probably wouldn't catch me here…but bird-lovers read on haha). I've heard both sunrise and sunset here are amazing, and there is a short self-guided nature trail for those of you who want to do something low-key. Just make sure to bring a bit of change as there is a small entrance fee. Want to rent a bike and ride here? Check out this blog post for more info.
[images_2_col image_1="35454″ image_2="35455″ /]
Hope this list of things to do in El Calafate helps you plan an exciting trip to Patagonia. Got questions? Leave them in the comments below.
[separator style_type="single" /]
[content_box title="Read Next" icon="fa-star-o" backgroundcolor="#eaeaea" iconcolor="" circlecolor="#74c3ae" circlebordercolor="#74c3ae" outercirclebordercolor="#74c3ae" image_width="21″ image_height="21″]
[/content_box]