How to Plan an Overnight Kayaking Trip on Lake Powell
Lake Powell, a 200 mile long reservoir on the Utah/Arizona border was filled in the 1960s following the construction of the Glen Canyon Dam on the Colorado River.
The most common way to cruise Lake Powell is by houseboat. I'm sure it's a blast of a party…I mean most of those boats have double decker waterslides…but it's also very expensive. During my recent trip to Lake Powell, a houseboat wasn't an option for my friend and I, so we decided to rent a couple of kayaks and explore that way instead.
Plus, the kayaks have a couple of advantages over houseboats. First, with a kayak you can get way back into some quiet, narrow slot canyons that a houseboat couldn't access….and we'd also be getting a little exercise to boot.
The prime (and free) beach camping, mysterious canyons, and quiet paddling made my kayaking trip on Lake Powell one of my favorite southwest adventures to date.
In this guide, I share all the logistics you need to know to plan your own overnight kayaking trip on Lake Powell – from the best places to paddle and camp, how to get there, where to rent a kayak & the best time of the year to visit.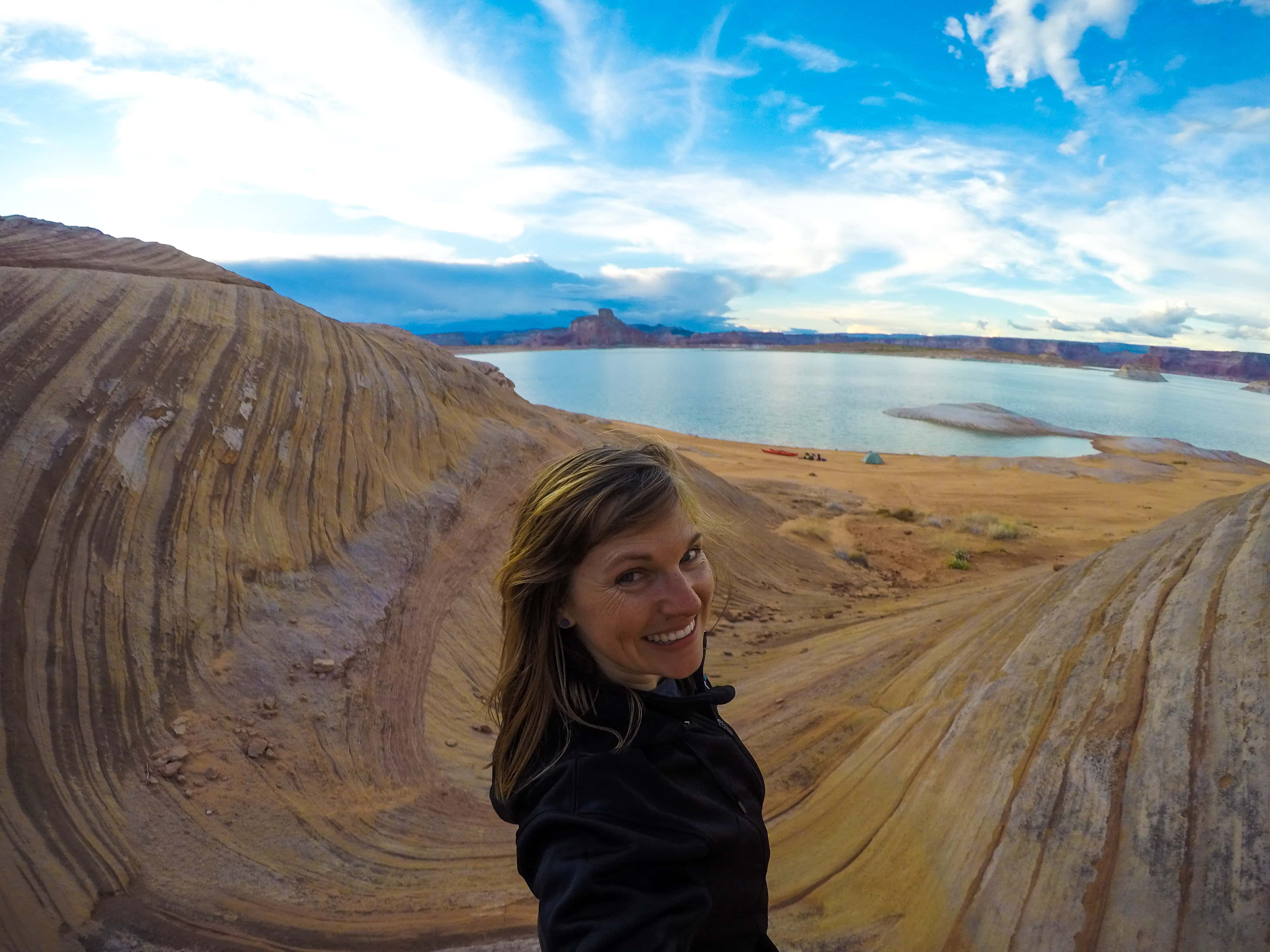 Where is Lake Powell?
Lake Powell is located on the Utah / Arizona border in the Glen Canyon National Recreation Area with several marinas speckled around the lake. We started our trip out of Page, Arizona where there are two large marinas, a couple of kayak rental companies, and other services that made it a convenient launching point. The closest international airports to Page are Las Vegas and Phoenix, both 280 miles away.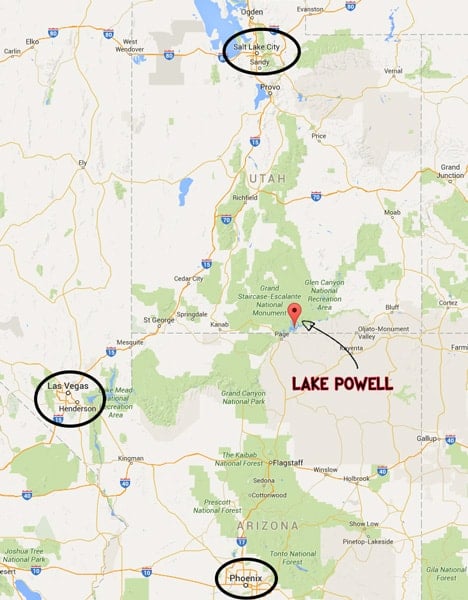 Near Page, the two biggest marinas are Wahweap (where we launched from) and Antelope Point. No matter where you enter Glen Canyon National Recreation Area, you must pay the $25 entrance fee per car, which grants you 7 day admission and overnight parking. However, if you have an annual National Park pass, the fee is waived.
The reason we chose to launch at Wahweap is because we would be spending our time around Labyrinth Canyon, and in order to get to Labyrinth for a quick overnighter, you must be transported to the mouth of the canyon by a motor boat. The ride from Wahweap to the mouth of Labyrinth Cayon is just under 20 miles and takes about an hour…more on this below.
In addition to the established marinas, you can also launch at any of the primitive beach camping areas, such as Lone Rock which is a popular starting point for folks who don't have access to boat transportation or want to pay for a water taxi.
If you are coming from Salt Lake City, you might also consider accessing the lake from the Utah side at Bullfrog or Hite Marinas. However, services are more limited and to my knowledge, the closest place to rent a touring kayak is about an hour and a half drive (minimum) from these marinas. If you have a way to transport the kayaks for such a long distance, the Hite Marina will get you off the beaten path the fastest…but I haven't done this (yet), so my information is limited.
The Glen Canyon National Recreation Area website has a series of maps, and if you end up going, I suggest you pick up a waterproof copy of the National Geographic Lake Powell Map to bring with you.
Where to rent a kayak on Lake Powell
We rented two single touring kayaks from Kayak Lake Powell, located right in Page, and the price was very reasonable. The first day was $45 with each additional day at a reduced price of $35 per day. So for a two-day / one-night trip, the total was $80 per person, including a life jacket and paddle.
I drive a Subaru Outback, and two of these kayaks did fit on top of my car…but barely. The guy named Brett at the shop helped us strap them to the roof, and we carefully made our way to Wahweap, which is about a 15 minute drive from the shop.
The kayaks were a little squirrely getting in and out, but once you got moving, they felt very stable and moved quickly through the water. Both of our back rests were pretty uncomfortable when we first launched, so we ended up placing some gear behind the back rests for extra support which helped quite a bit.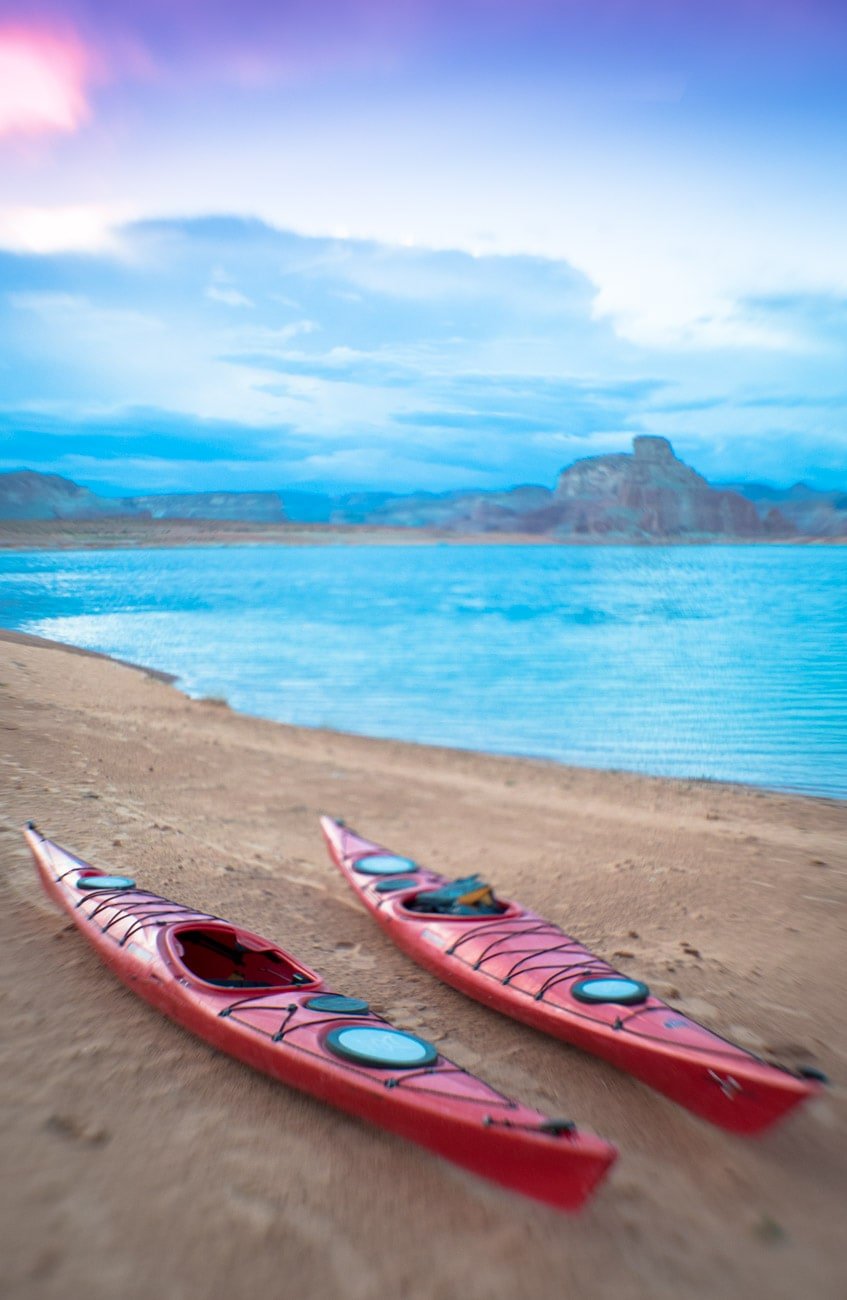 Each kayak had plenty of room to store gear, including tents, sleeping bags, clothes, water, and food.
They also offer sit on top kayaks which are a little more stable and comfortable, but they aren't as efficient. Plus the only place to store gear is right on the top of the kayak, so they aren't recommend for overnight trips.
Want to know more about gear? Check out: My Complete Gear List for an Overnight Kayaking Trip on Lake Powell
Route Options for an Overnight Kayaking Trip on Lake Powell
For a one night kayak trip, you have a couple of options. The easiest and economical option would be to drive from Page, launch at Lone Rock or Wahweap (the Stateline ramp), paddle downlake (west) or across the Lake to Ice Cream Canyon and Lone Rock Canyon. Both of these areas have a ton of options for camping and cool geological features to explore.
Another popular overnight option is to launch at Antelope Point, kayak to and camp at the mouth of Navajo Canyon, and then explore Antelope anyone as a day trip.
Staff we talked to at the shop were very knowledgable and provided us a lot of advice about where to go on Lake Powell and what to check out.  Depending on your time and financial constraints, I'd suggest discussing the different kayaking route options when you call to reserve your kayaks.
Our Kayaking Route on Lake Powell
We wanted to get a little further away from the marina in hopes of calmer water, fewer boats, and a chance of having a big beach all to ourselves. Brett suggested we check out Labyrinth Canyon. He said there was great beach-front camping right at the mouth of the canyon and that Labyrinth was one of the most scenic canyons for both kayaking and hiking on this side of Lake Powell.
The only problem is that Labyrinth Canyon is about 20 miles away from Wahweap Marina, so unless you get dropped off with your kayak and gear by a motor boat, one night is not enough time to explore Labyrinth.
In a stroke of good luck, we were able to snag a round trip ride with a local guy on his fishing boat who offered to take us and our kayaks out to Labyrinth if we threw him some gas money. We weren't sure it was all going to work out….but fortunately it did.
By the time we got dropped at the beach at the mouth of Labyrinth Canyon, it was getting close to sunset. So we set up camp and had the beach pretty much all to ourselves.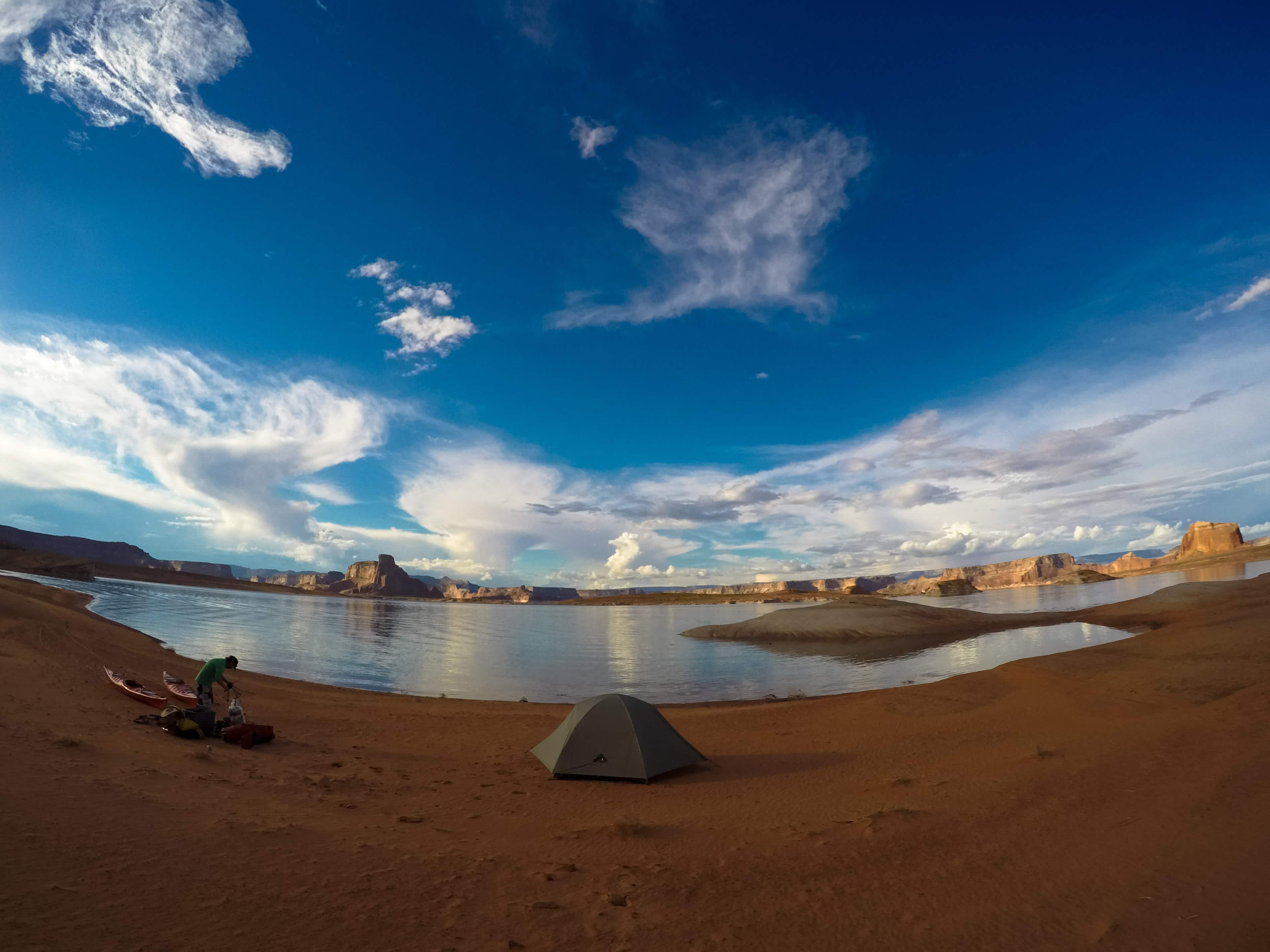 Ok, so I know not everyone is going to be able to hitch a ride. But that doesn't mean you struck out. According to Kayak Lake Powell, water taxis are available from both Wahweap (Aramark Executive Services: 928-645-1037) and Antelope Point (Antelope Point Outfitters: 928-645-5900). They charge by the hour and it can be a bit pricey, but if you have a larger group or are going for several days, this service could be worth it.
Another alternative if you want to explore Labyrinth Canyon would be to go on a guided trip with one of the several kayak companies in Page. During our trip, we ran into on other group who was on a guided tour with another company that seemed to be having a great time.
Our route is shown on the map below with the black arrows being the boat ride and the orange arrow being our day trip in our kayaks.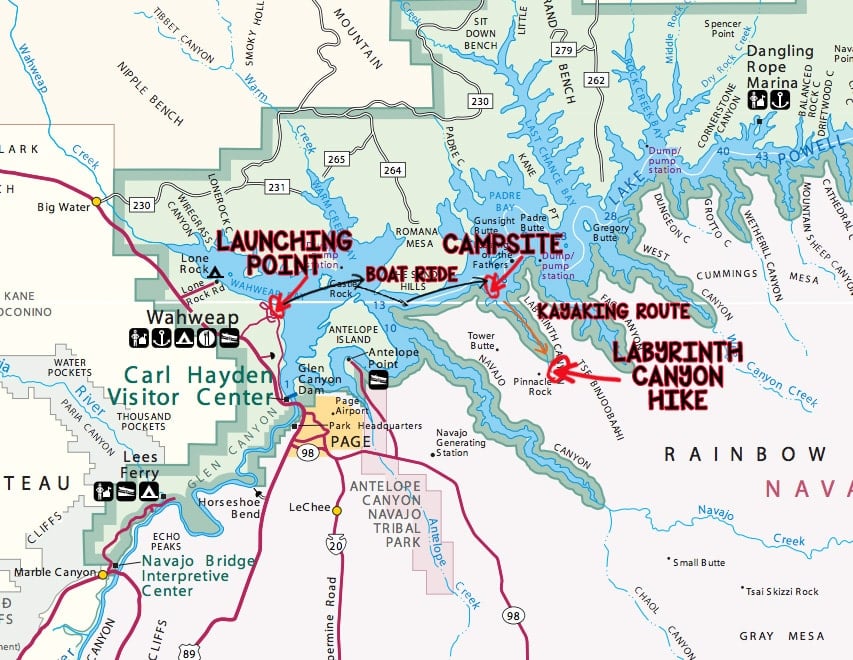 We had an awesome night sitting on the beach by the campfire, and woke up early-ish the next day so we'd have plenty of time to explore Labyrinth Canyon.
In the morning, we loaded up the kayaks with lunch, water, a couple of cold beers, my camera gear, sunscreen, and shoes, and we set off.
Finding the entrance to Labyrinth Canyon was pretty easy. If you just hug the south side of the lake, you'll spill right into it.
As we made our way towards the back of the canyon, the canyon walls closed in and got very tight, and It wasn't long before the canyon was too narrow for most boats. We didn't encounter a single other paddler until we reached the very end of the canyon where a few other kayakers were parked and people off exploring.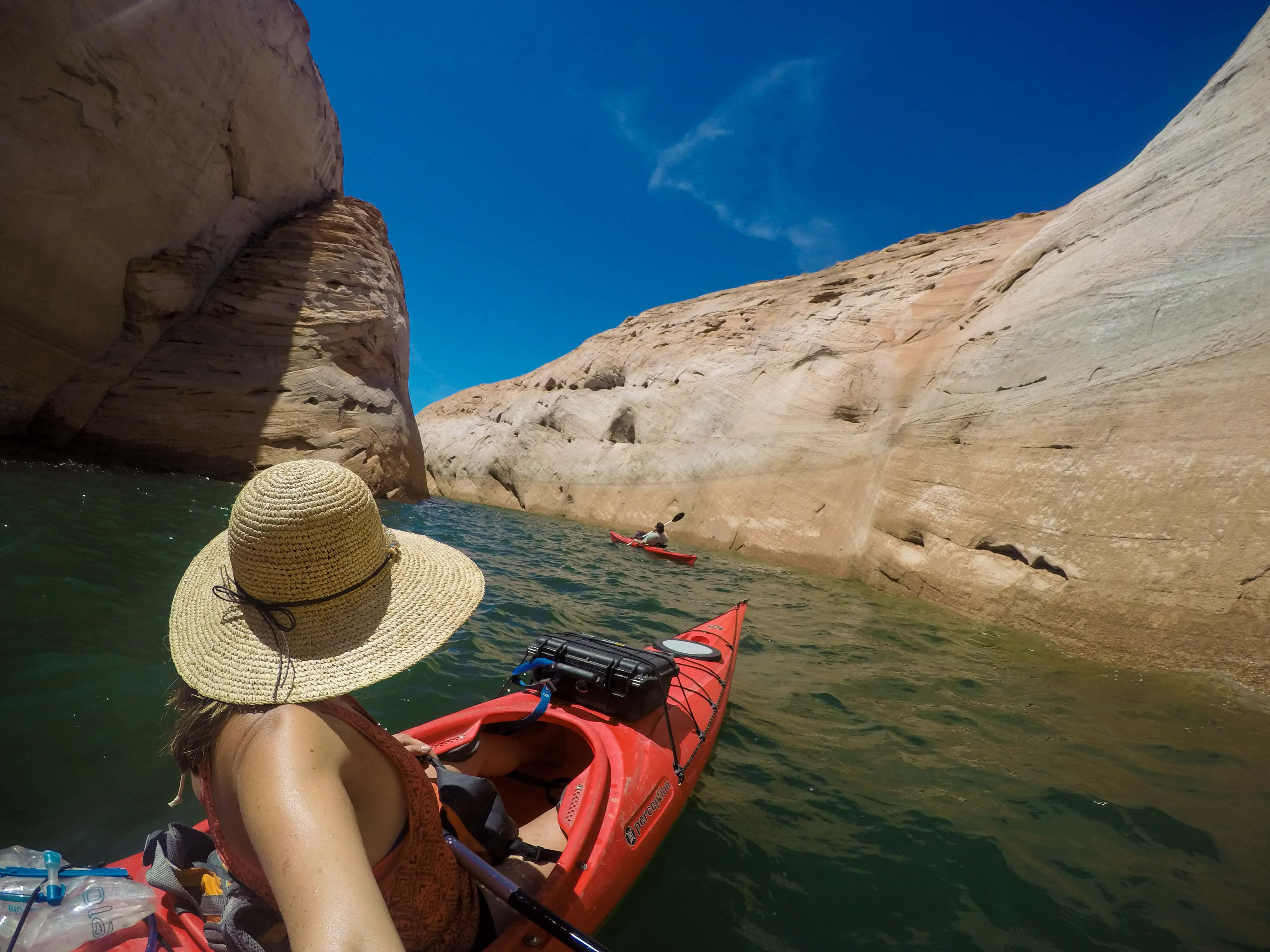 At the back of the canyon, we beached our kayaks, threw on some shoes, and started hiking back into the narrows. The walls in some places were more than 200 feet tall and less than 2 feet wide. Eventually we hit some pools of water. We probed a little deeper, but the water was freezing and some other folks told us that it got quite deep. Not being ready for a canyon swim, we turned around and headed back to our kayaks.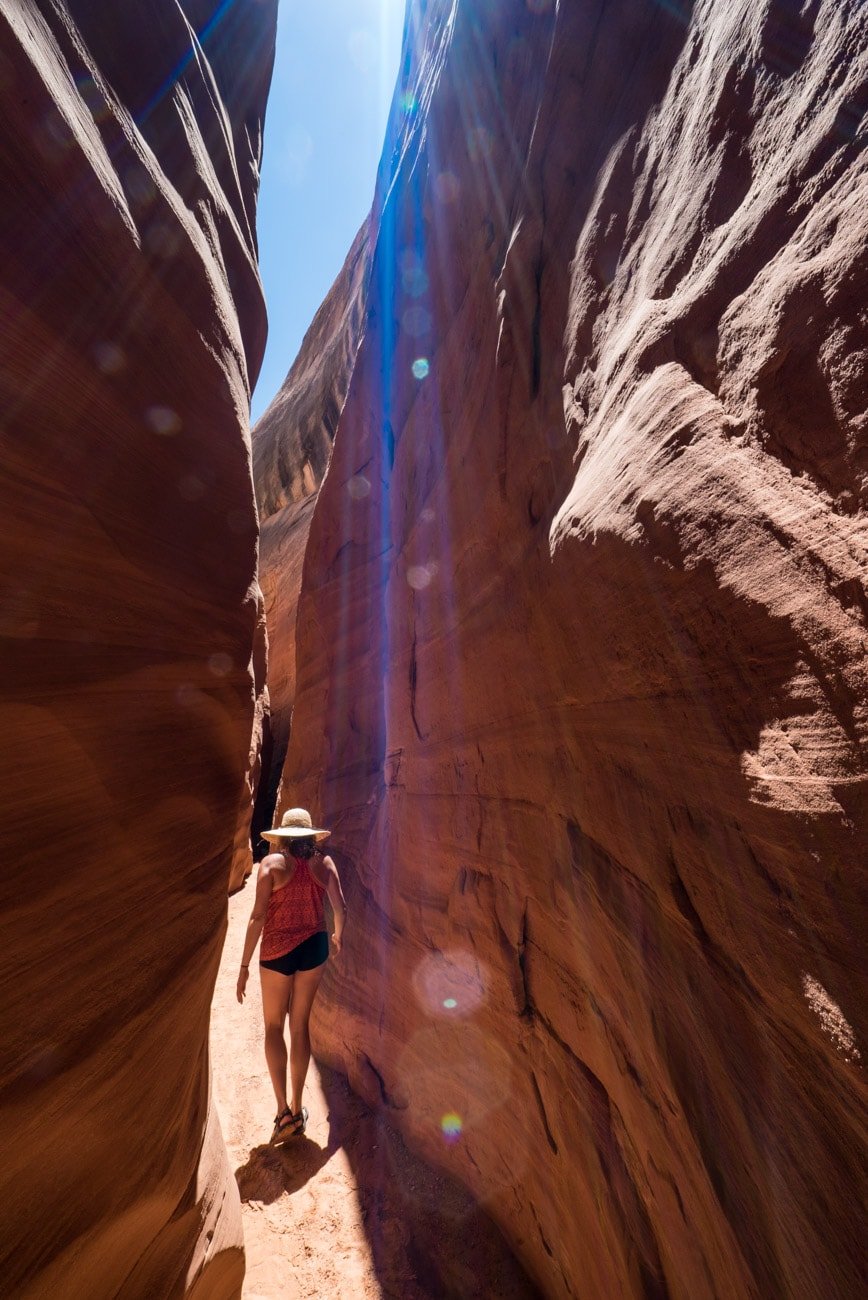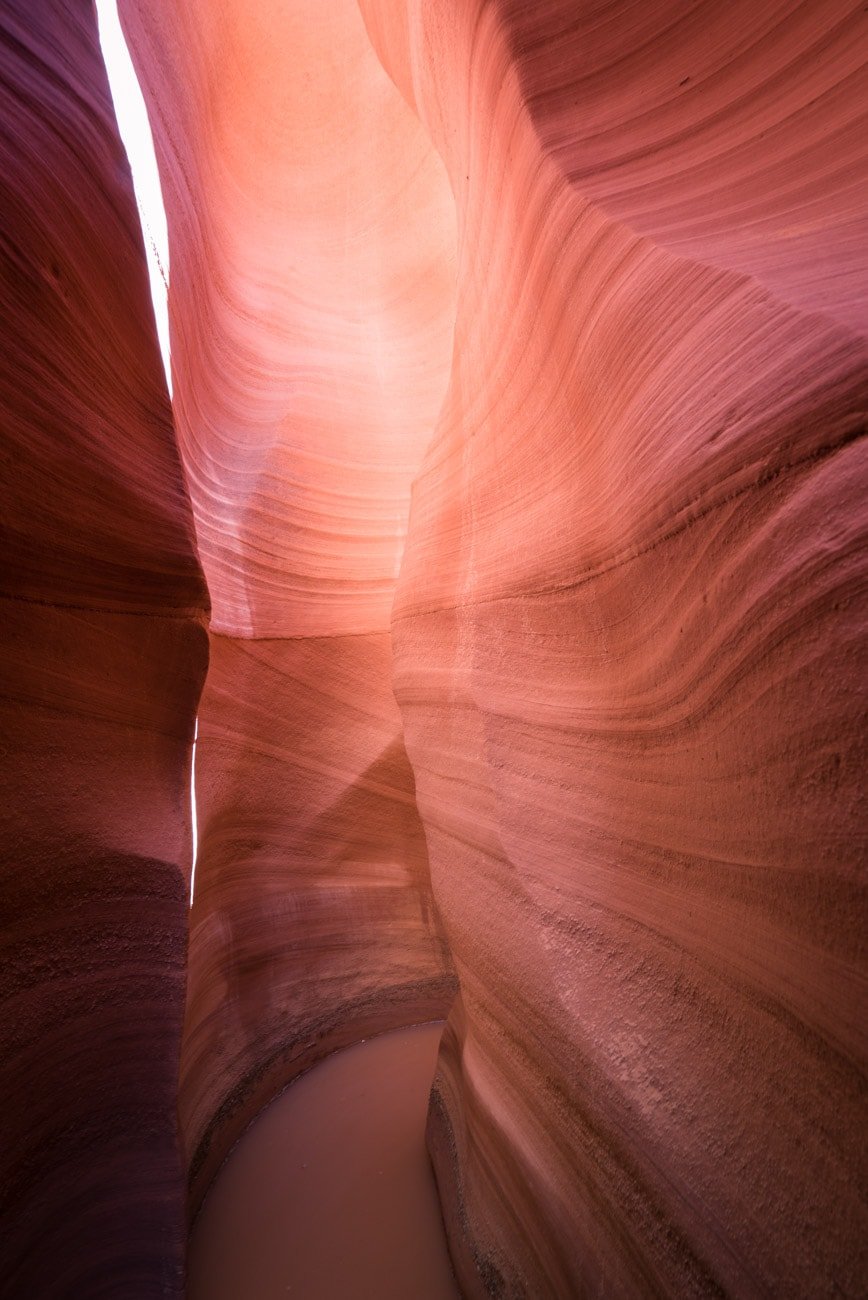 It took us about 6 hours in all to get to the back of the canyon, hike, and return to our campsite at a very leisurely pace with a few stops along the way.
Camping on Lake Powell
 Where you can camp: Once you are out on Lake Powell, you allowed to camp anywhere along the shoreline. Most of the camping is primitive in undeveloped sites, meaning there are no services of any kind, and camping is free. You also don't need a permit or reservation.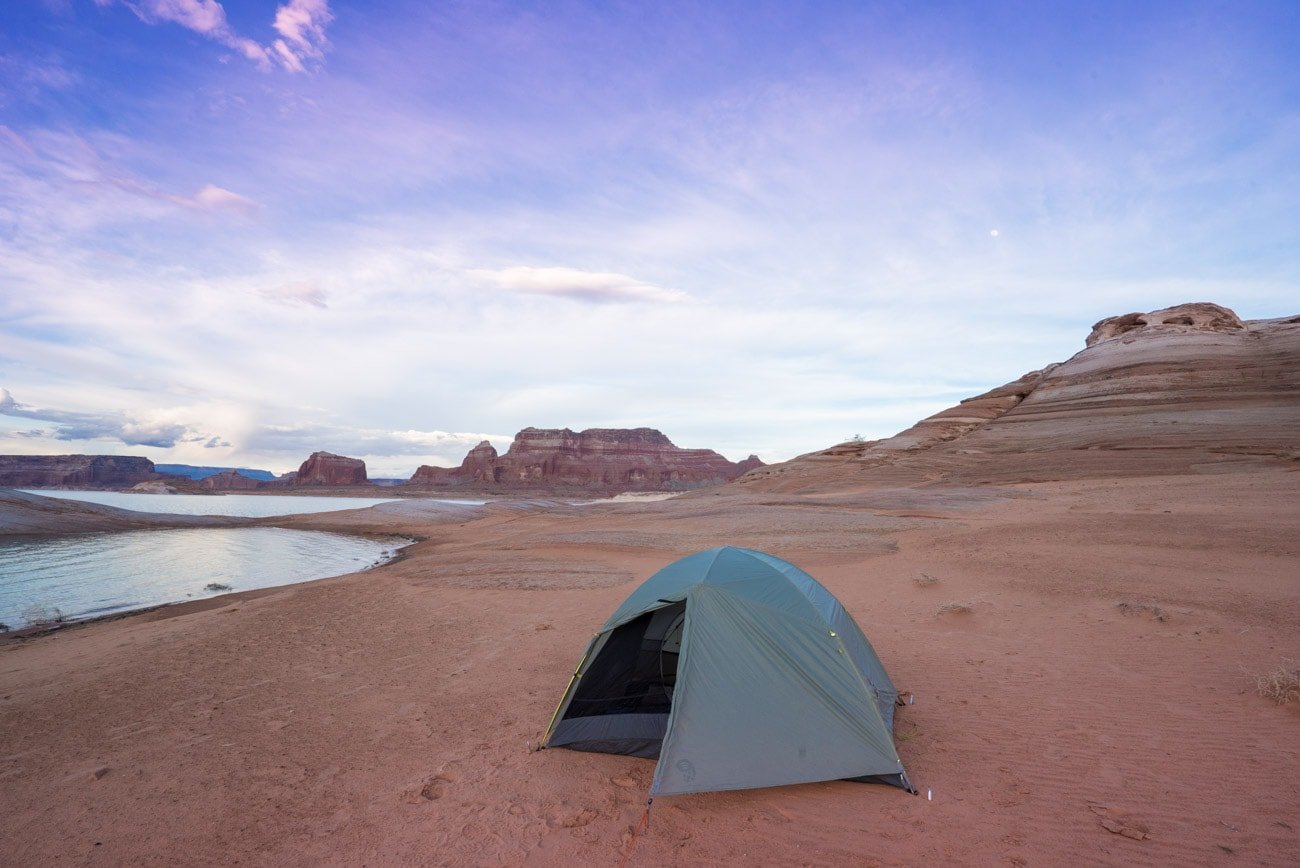 On the subject of poop: You do, however, have to carry out your poop….ewwww i know. But if everyone pooped and left it, the place and the water would be disgusting. You must carry out your poop AND toilet paper in a National Park-approved Waste Bag Containment System – otherwise known as a wag bag which you carry out and later throw in the trash. For more info on how to use a wag bag, check out this informative post. I promise it's not as bad as it looks.
 Fires: You are allowed to have a fire, but you must bring your own wood. Just dig a pit in the sand below the high water line, and make sure your fire doesn't get bigger than 4 feet tall x 4 feet wide.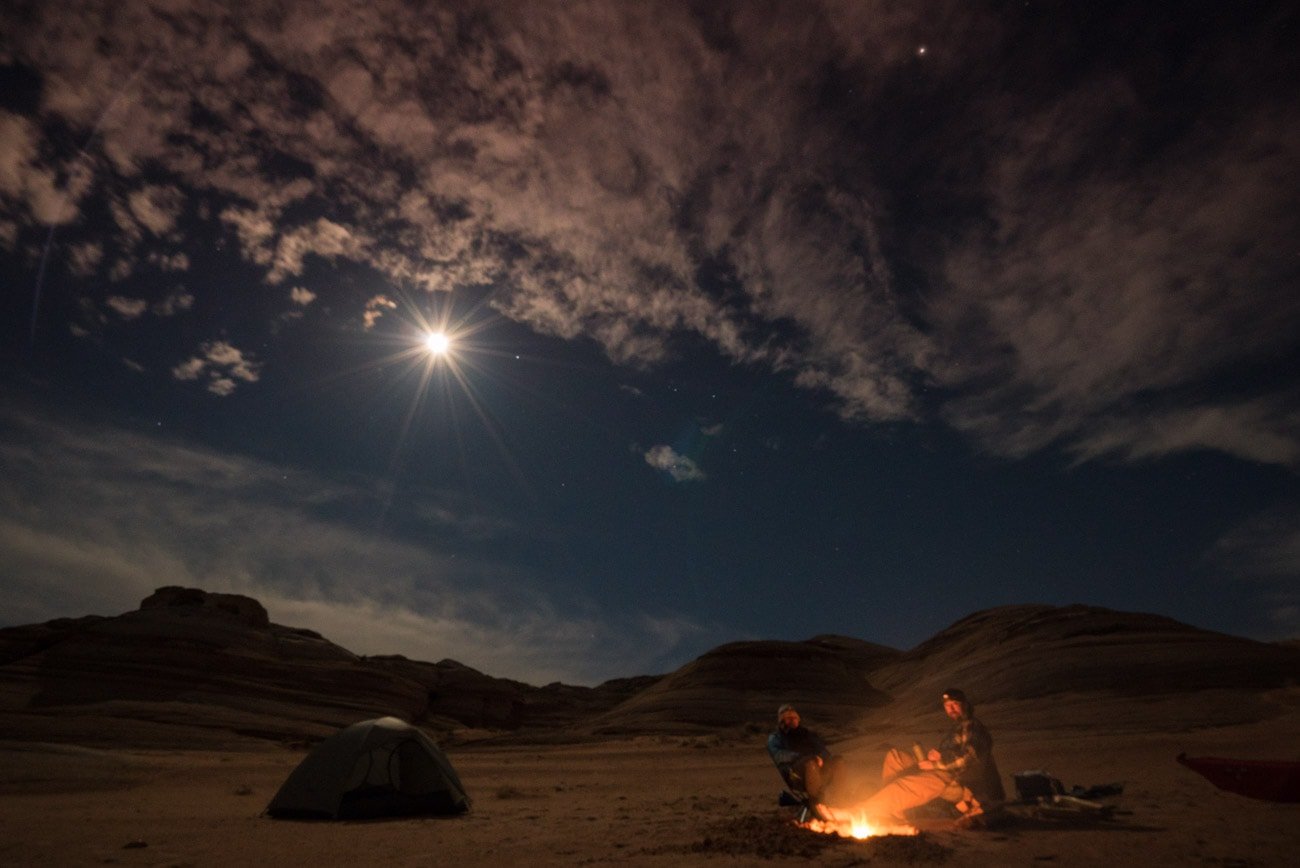 When is the Best Time to Visit Lake Powell
No matter when you visit, keep an eye on the weather prior to your trip. You'll want to watch out for winds and thunderstorms. The lake can get incredibly choppy, and not only would it not be fun to kayak in super rough conditions, it can also be dangerous.
 Spring: I visited Lake Powell in mid-May and got perfect weather. No wind, warm daytime temps, and the water was warm enough to take a quick dip in. That said, you would not want to tip over and if you did, you'd want to be wearing a wet suit. Hypothermia does happen, and it is serious. In Spring, the water level is also lower which allows you better access to the back of the canyons and chance of rain is lower than later in summer.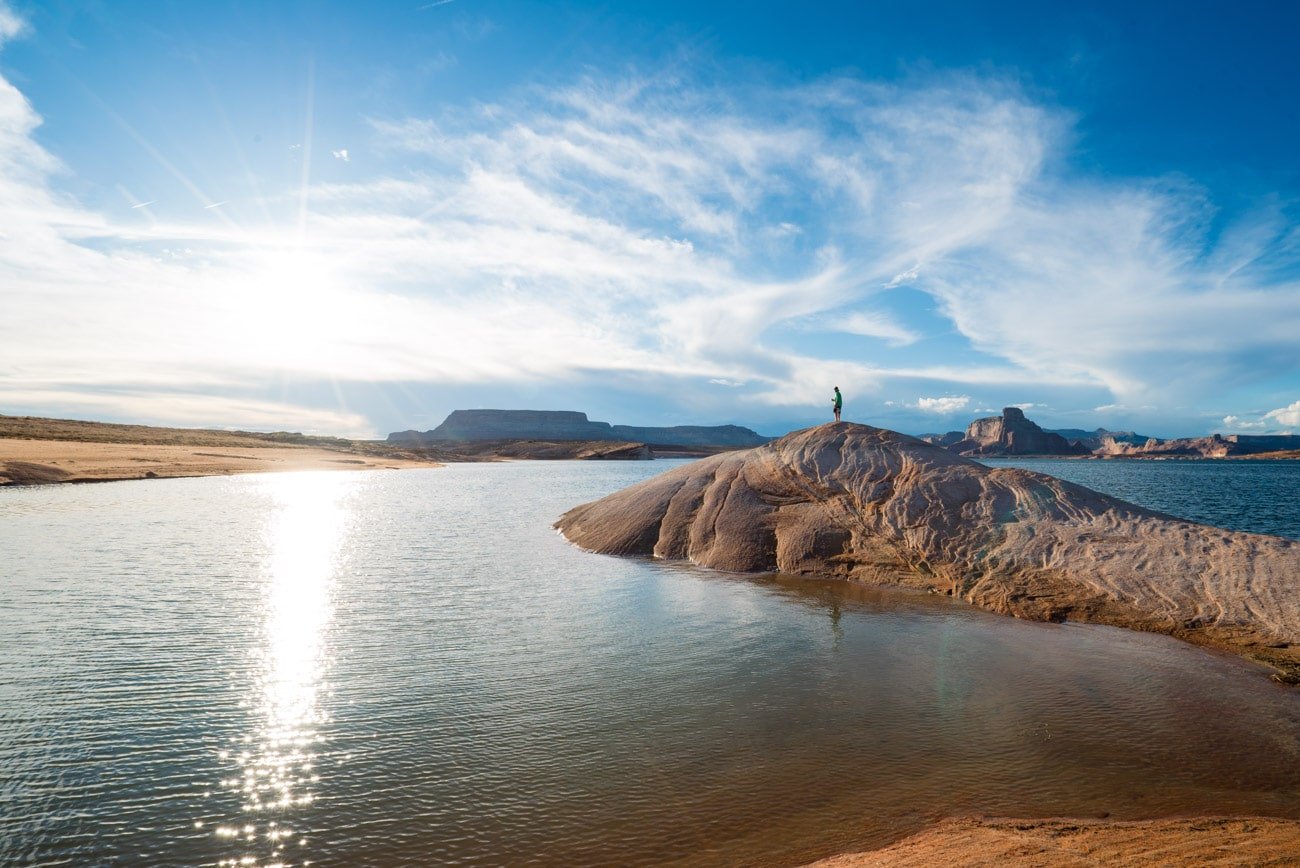 Summer: Summers are a scorcher at Lake Powell. Swimming is comfortable, but paddling not so much…at least in the heat of the day. If you go in summer, plan to paddle in the early morning and late afternoon and spend the hottest part of the day on the beach swimming. Chance of flash floods are highest July through September, and the beginning of summer through Labor Day is the busiest time on the lake.
 Fall: Expect very pleasant air and water temps in fall and fewer people.
 Winter: Winter is only recommended for experienced paddlers and you should wear a wet suit even when you are in your boat. Days are short, temps are cold, and swimming isn't possible. However, with the right weather window, Lake Powell can be a very special place in the winter.
What Gear to Pack for your Lake Powell Kayaking Trip
Not sure what to pack for your overnight kayaking trip?"
One night was barely enough to scratch the surface of this magical place, but even so, it was worth the effort to get to Labyrinth Canyon. I'm officially hooked on Lake Powell, and I can't wait to go back to explore more. Next time, I'm hoping to do a 4-5 day trip launching from the Utah side.
Explore More Of The Southwest
HAVE YOU EVER BEEN ON AN OVERNIGHT KAYAKING TRIP? WOULD YOU LIKE TO VISIT LAKE POWELL? LEAVE A COMMENT BELOW, TWEET ME, OR WRITE ME A POST ON FACEBOOK.