Trail Guide: Hiking to Corona Arch in Moab, Utah
Moab, Utah is famous for its sandstone arches, most notably those found in Arches National Park (and to a lesser degree Canyonlands National Park). But what if you have a dog and can't hit the National Park trails? Or you only have a day and don't want to pay the National Park entrance fees? There are several other trails that lead to impressive arches in the area, including the trail to Corona Arch, a dog-friendly hike on BLM land.  Commonly referred to as the "Little Rainbow Bridge," Corona Arch is stunning with its 140 ft x 105 ft opening, and the trip to get out to Corona Arch only requires a 3-mile round trip hike with beautiful red rock landscapes the entire way.  If you are in Moab, the Corona Arch trail is a great option for a quick hike that can be knocked off your list in a morning or afternoon.
Here's everything you need to know about hiking the Corona Arch Trail.
••• Corona Arch Trail Details •••
Out & Back.
1.5 miles each way; 3.0 miles roundtrip
440 feet of elevation gain
Less than 2 hours
••• Best Time To Hike to Corona Arch •••
The best time to hike to Corona Arch or anywhere in Moab for that matter is fall, winter, or spring. Summer is unbearably hot and dry. There is no shade along the hike, and in the hotter summer months, you'll want to hit the trail in the very early morning or early evening. The bonus of that is sunrise and sunset are beautiful times to photograph Corona Arch.  During those times, you'll also be most likely to beat the crowds. When I was there on a mid-week afternoon in January, we had the trail almost all to ourselves.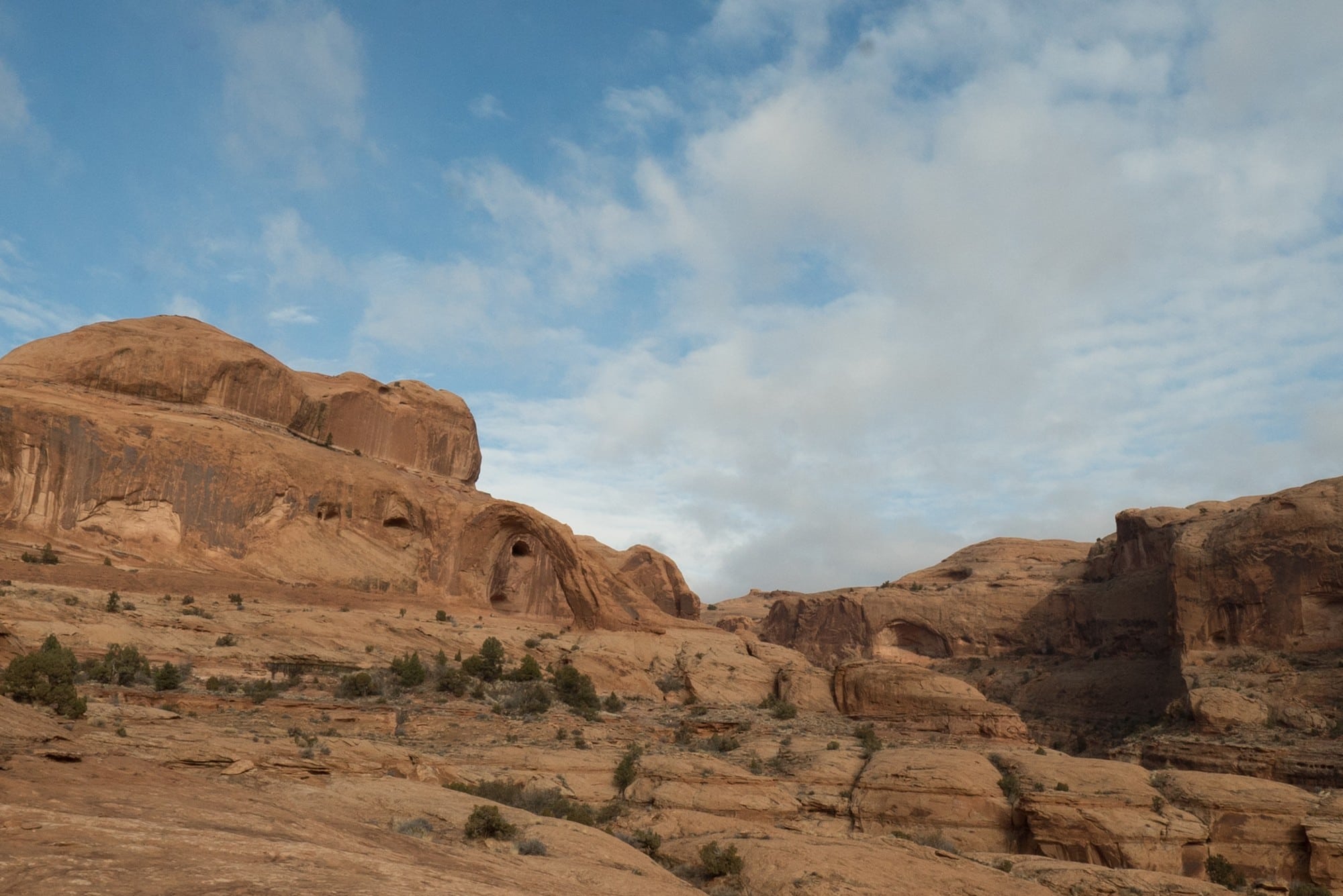 ••• Getting to the Corona Arch •••
Corona Arch is located in Bootlegger Canyon, about 20 minutes from Moab.
If you are in Moab head 4 miles North on HWY 191 towards Potash Road (State Road 279). Turn left on Potash Road and head west for 10 miles down Potash Road to the trailhead which is well signed as "Corona Arch Trailhead". Turn right into the Corona Arch parking lot and a kiosk with information.
••• The Corona Arch Trail •••
From the trailhead you'll hike east and cross the railroad tracks.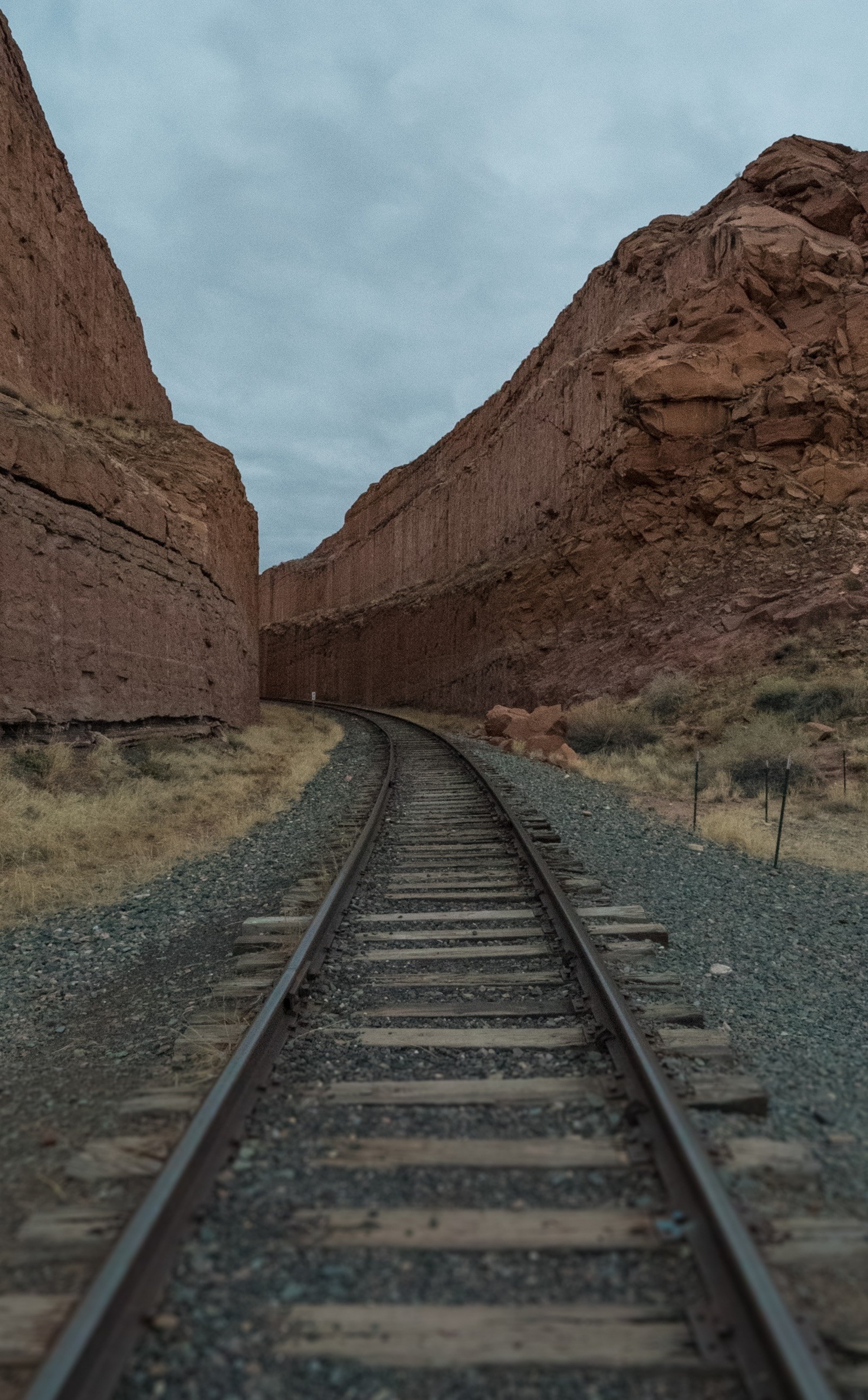 The great thing about this trail is it is mostly easy to follow, and any time it becomes less obvious there are cairns along the trail.  New to desert hiking? Cairns are little piles of rock that are commonly used to mark trails.
After about 20-30 minutes of hiking, you'll reach a short steep section with a set of safety cables that you can use to help maintain your balance and pull you up the slickrock. It sounds a lot more difficult than it is. As soon as you are up this short section, you'll have to climb a small 4 foot ladder.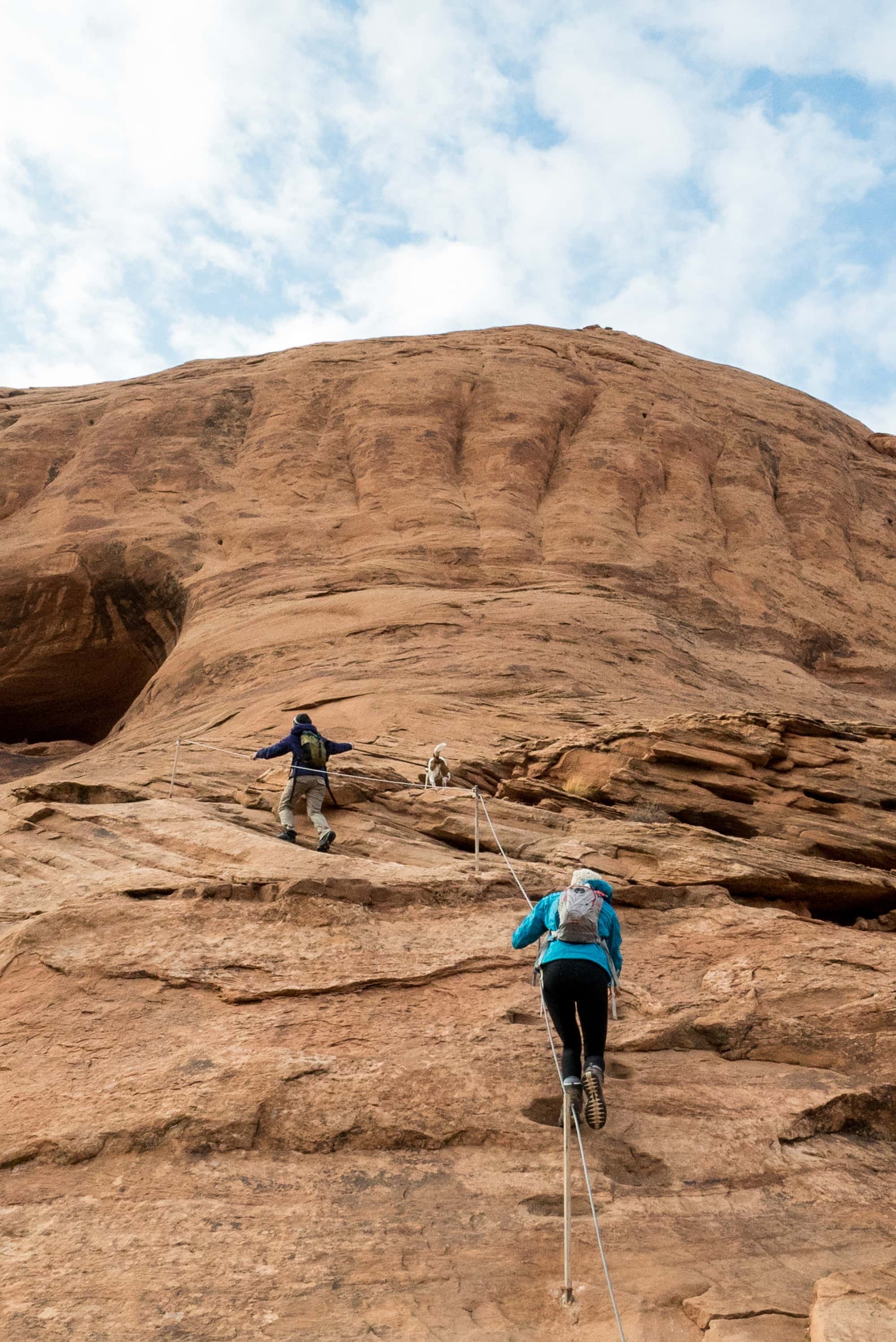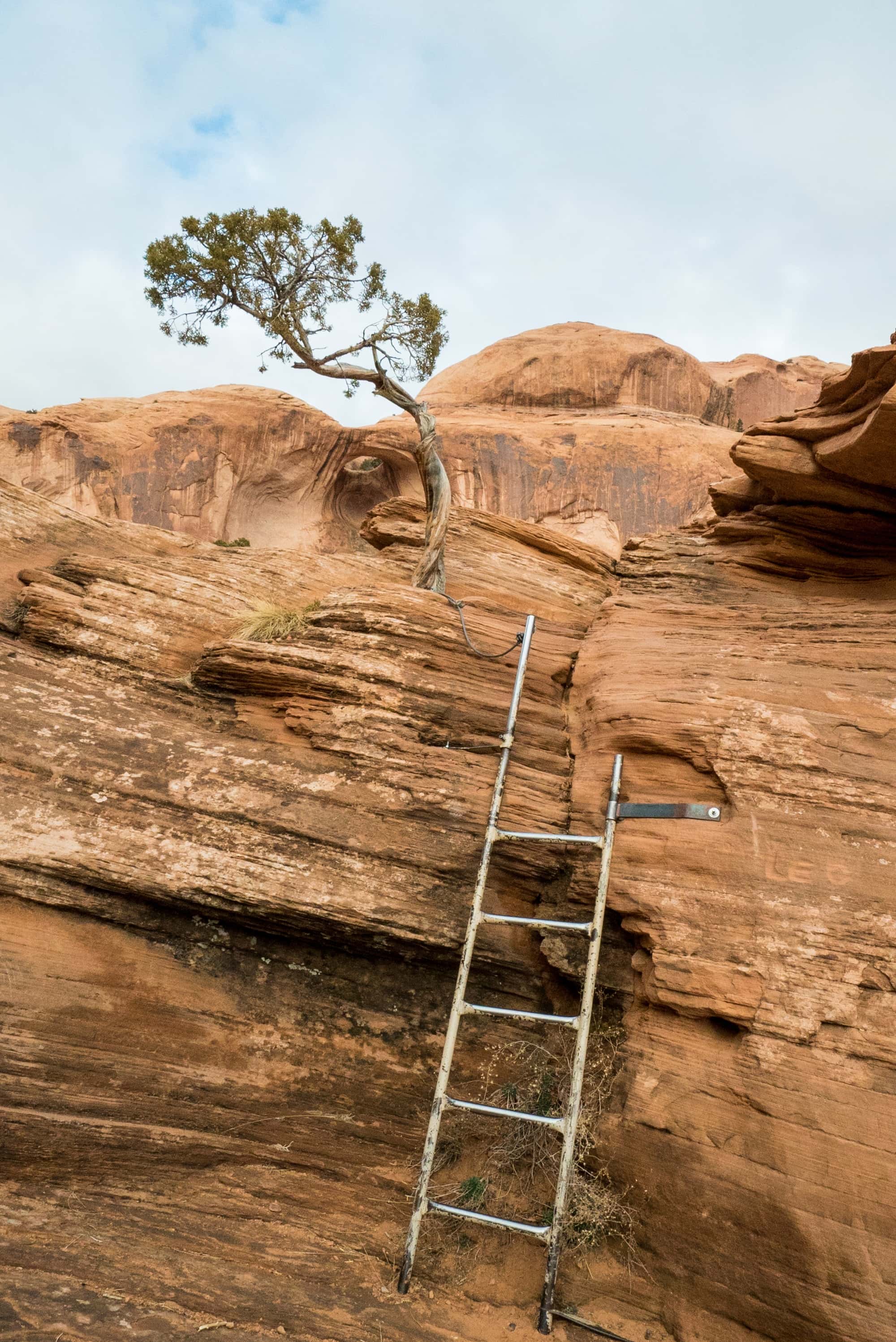 After that, Corona Arch will be in plain view. Hug the sandstone with the cliff on your left. First you'll pass under Bowtie Arch, a pothole-type arch that is high on the cliff above the trail. Shortly after, you'll arrive at your final destination, Corona Arch. Make sure to walk all the way underneath it and through to the other side, where you'll get the best views of the landscape through Corona Arch.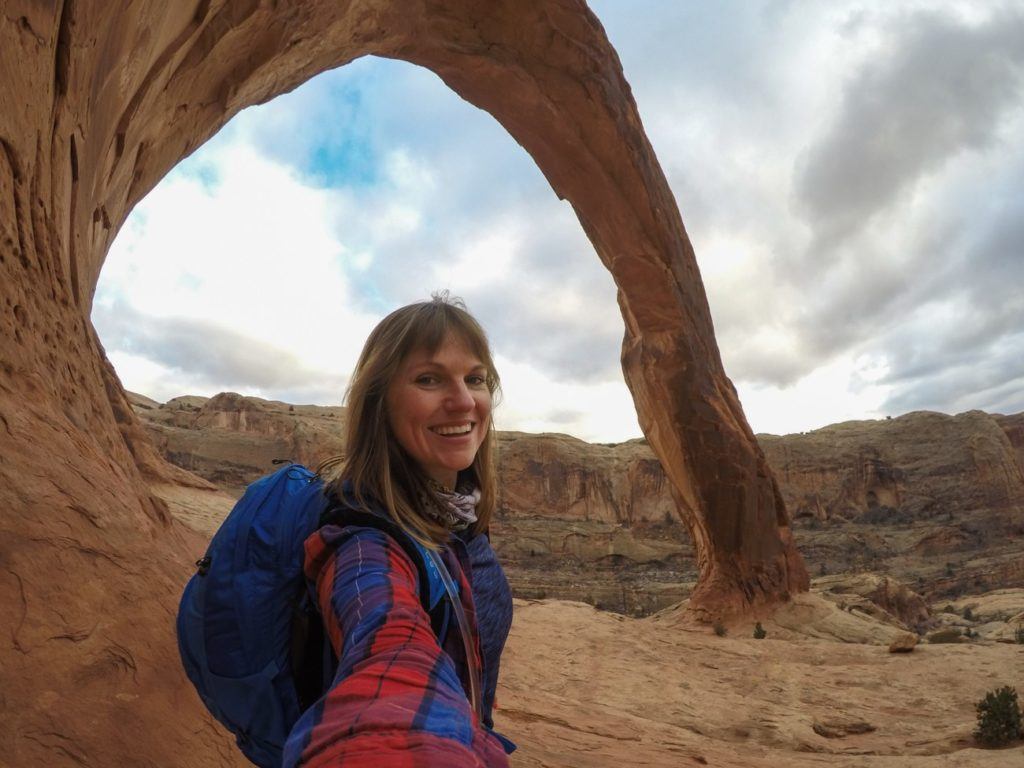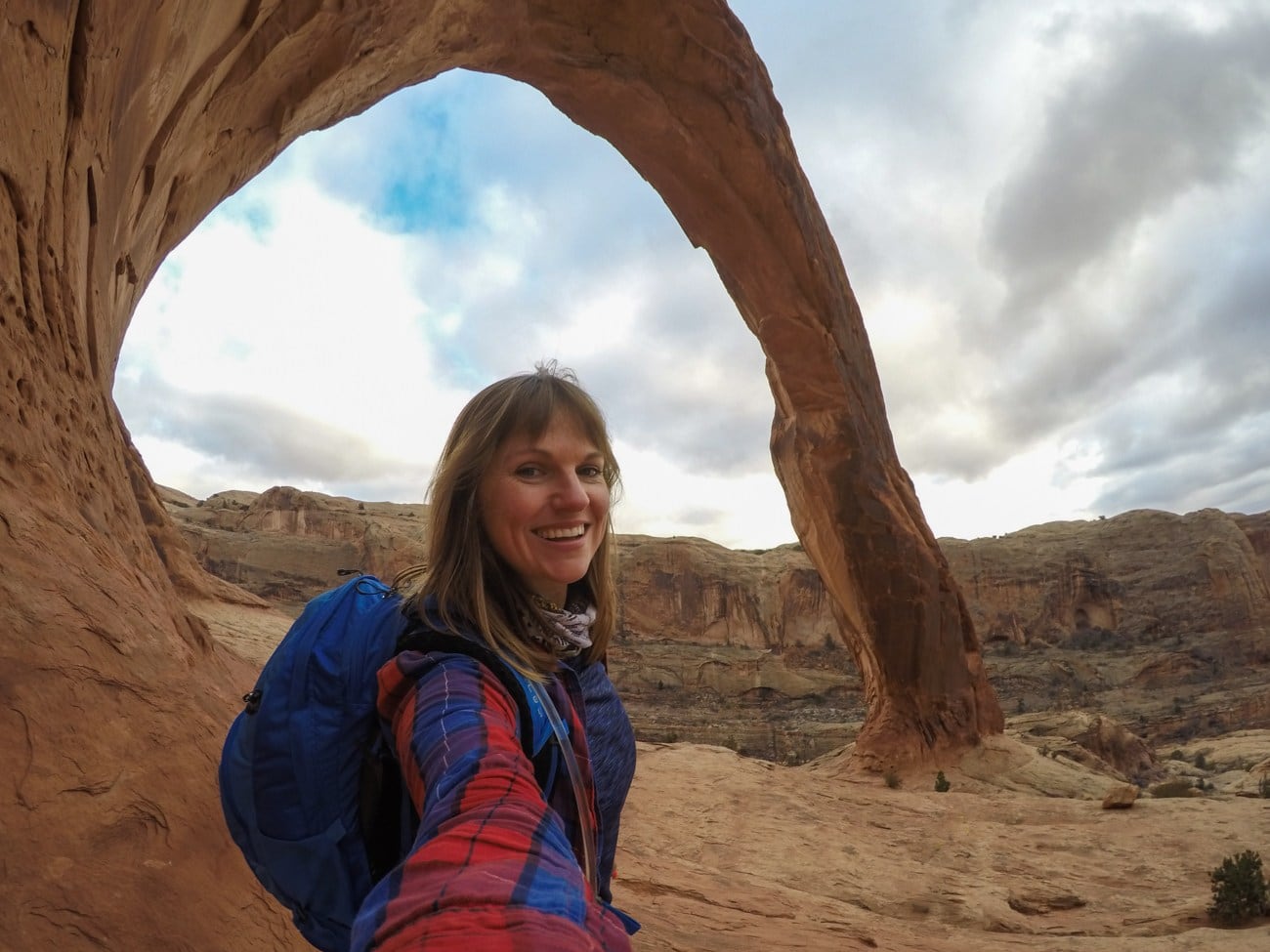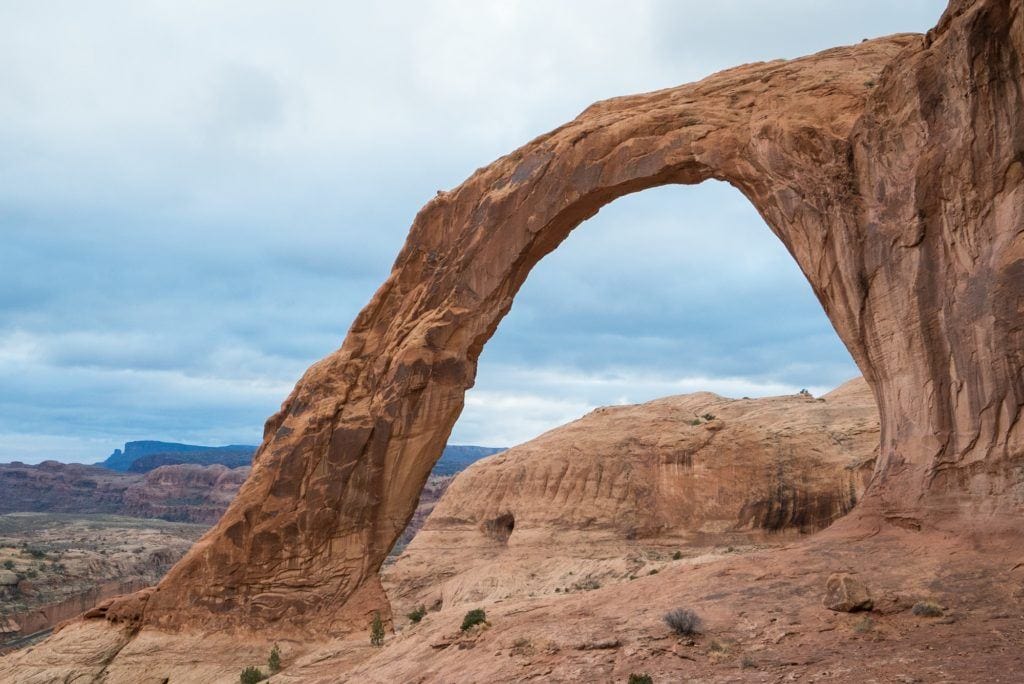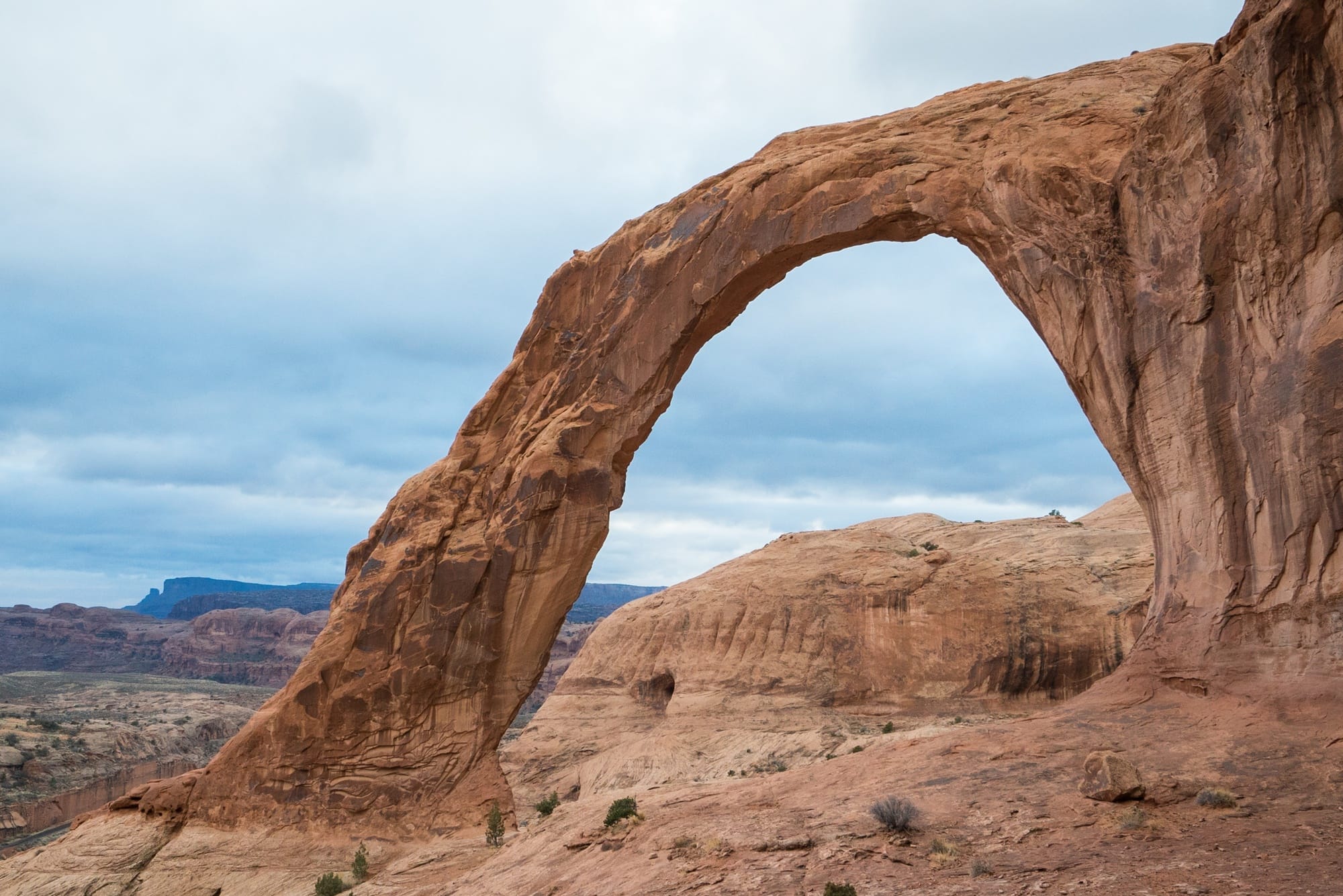 ••• Where to camp near corona arch •••
Gold Bar Campground is just across the road from the trailhead and offers campsites along the Colorado River. Campsites are available are on a first come, first serve basis and are only $10 a night.
GOT QUESTIONS? HAVE YOU EVER HIKED TO CORONA ARCH? LEAVE A COMMENT BELOW, TWEET ME, OR WRITE ME A POST ON FACEBOOK.

Bearfoot Theory is a big proponent of Leave No Trace. Learn how to reduce your impact on the environment so we can save these special places for future generations of adventurers.
Disclosure: The links in this post are affiliate links which means if you make a purchase, I receive a tiny bit of compensation at no added cost to you. Any purchases you make help keep this blog going…so thanks for all of your support! If you ever have any questions about any of the products featured on my site, please email me. Thanks! Kristen