The word is already out about Moab, Utah. A bustling adventure hub that's become a popular destination for outdoor enthusiasts, this town sees plenty of visitors from adrenaline junkies to thrill-seekers and even families who are avid hikers. While an influx of people is a boon to the community and local businesses, there is inevitably a little bit more wear and tear. The good news is being a responsible visitor isn't a challenge if you know what to look for and how to tread lightly, and these Moab tips will help you do just that.
We tapped the pros at Do it Like a Moab Local to get their very best tips and tricks on how to have a stellar first visit without causing any harm. Thanks to their insight and expert advice, this blog post covers how to best explore the red rock canyons and slickrock trails, get off the beaten path, and be a respectful visitor at the same time.
Ready to do Moab like a local? Check out these tips for your visit to Moab, Utah.
Sponsored by Discover Moab
Important Reminder: As it goes in all of the destinations we share, please practice good trail etiquette and remember to Leave No Trace. This means packing out all of your garbage (including toilet paper) and following the established rules. In the desert, this also means learning how to protect cryptobiotic soil and how it has a huge impact on our ecosystems.
The Best Time to Visit Moab, Utah
Southern Utah is known for its intense summer heat. If you are sensitive to hot weather or know that it won't be enjoyable (or even safe) for you to visit during peak heat, then plan a trip for shoulder season instead. Both spring and fall are mild enough so you can spend the whole day outside without being in the sweltering summer heat, or on the flip side, dealing with freezing cold temperatures in the winter.
Conditions can be seriously dangerous when the temperatures get more extreme. Grand County, home to Moab, Arches National Park, Canyonlands National Park, and the surrounding area, receives the most search and rescue calls of anywhere in Utah. It's important to know the basics before you go and come prepared so you can have a much more pleasant and safe visit.
Keep in mind that the best time to visit Moab is also the busiest time to be there. Peak season is during spring and fall, so try to avoid weekends and holidays to beat the crowds. Not only will it be more pleasant for you, but overcrowding can damage trails and the delicate surrounding environment, so come ready with a plan using the tips for visiting Moab during each season below.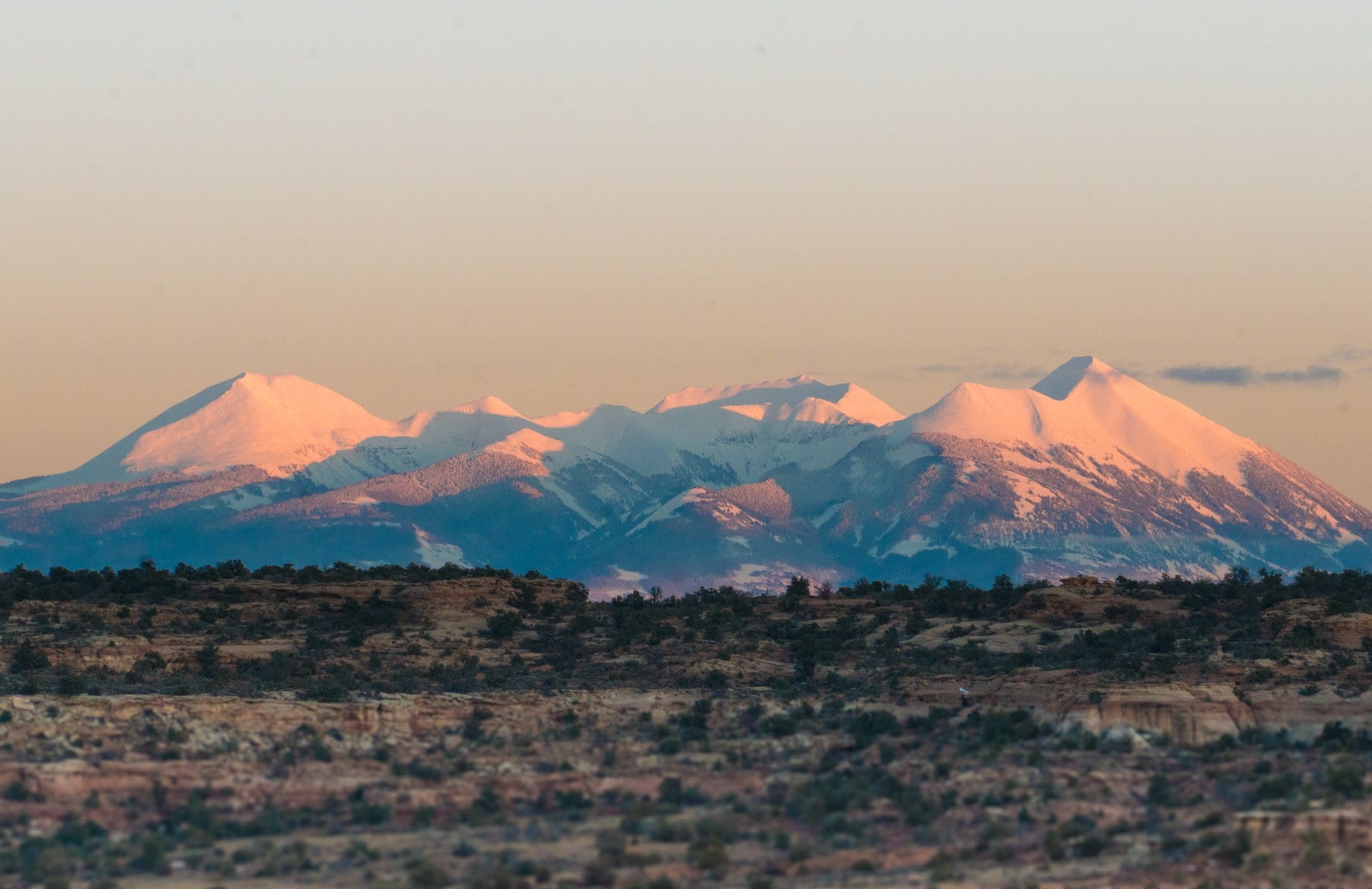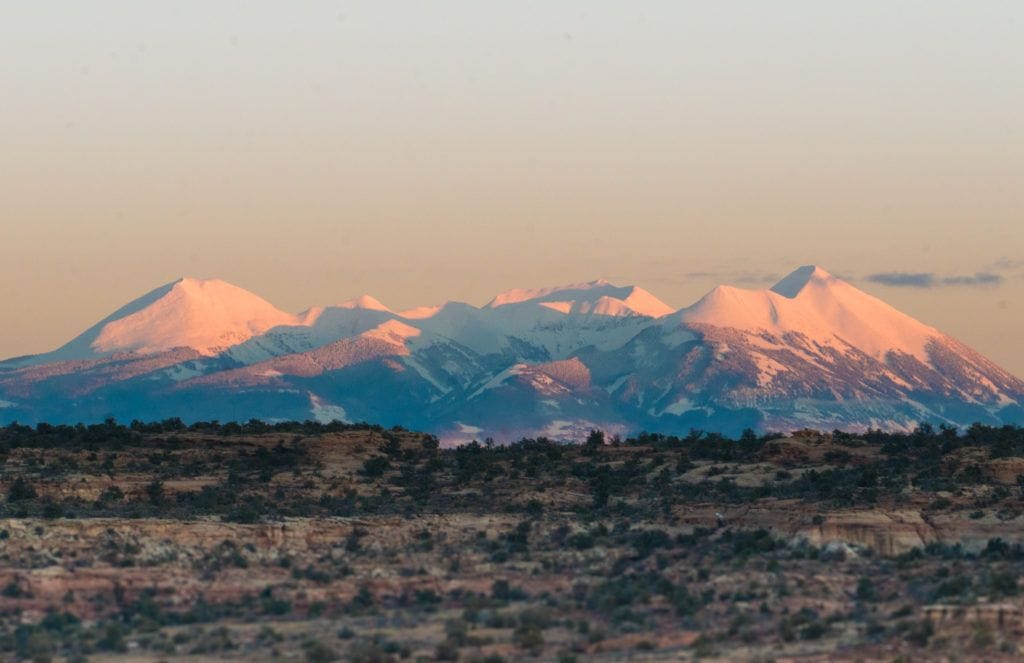 ---
How to Prepare for the Conditions in Moab, Utah
Each season has different kinds of weather conditions that you will want to prepare for, so use these helpful tips for planning your visit to Moab. Then check the weather before you head out so you can plan ahead and pack accordingly to make the best of your time exploring the natural wonders of this region.
Spring brings crowds (which is like its own kind of condition), so plan to hike mid-week, early morning, or choose lesser-known trails. Weather-wise, plan on days with temps in the 60-80 degree range. Wear hiking layers that you can adjust as needed to keep cool and warm as the temps change throughout the day. You'll want synthetic base layers that will wick sweat with warmer layers on top. See our guide to what to wear hiking for specific recommendations.
Summer, to put it simply, is scorching hot. Daytime temperatures from June into September tend to be in the 90s and even 100s. Hike early in the morning or later in the evening to avoid being outside during the high heat of the day when you can. Or even better, plan your activities around the Colorado River, like white water rafting. Be sure to bring sun protection for all your outdoor adventures and plenty of water.
Fall brings more pleasant conditions and beautiful autumn hikes from late September through November. While September can still be busy, crowds tend to die down a bit in October and November. Just bring rain gear and warm layers in anticipation of the occasional fall thunderstorm. It can be cooler, especially in the evenings, than you might anticipate. See our guide to what to wear hiking in Fall for specific recommendations.
Winter in Red Rock country can be surprisingly icy. Warm winter hiking layers and a shoe traction device are necessary if you want to hike in the parks during this season. Temps can be extreme, but the quiet of the parks and stunning scenery can make a winter visit well worth it as long as you're prepared.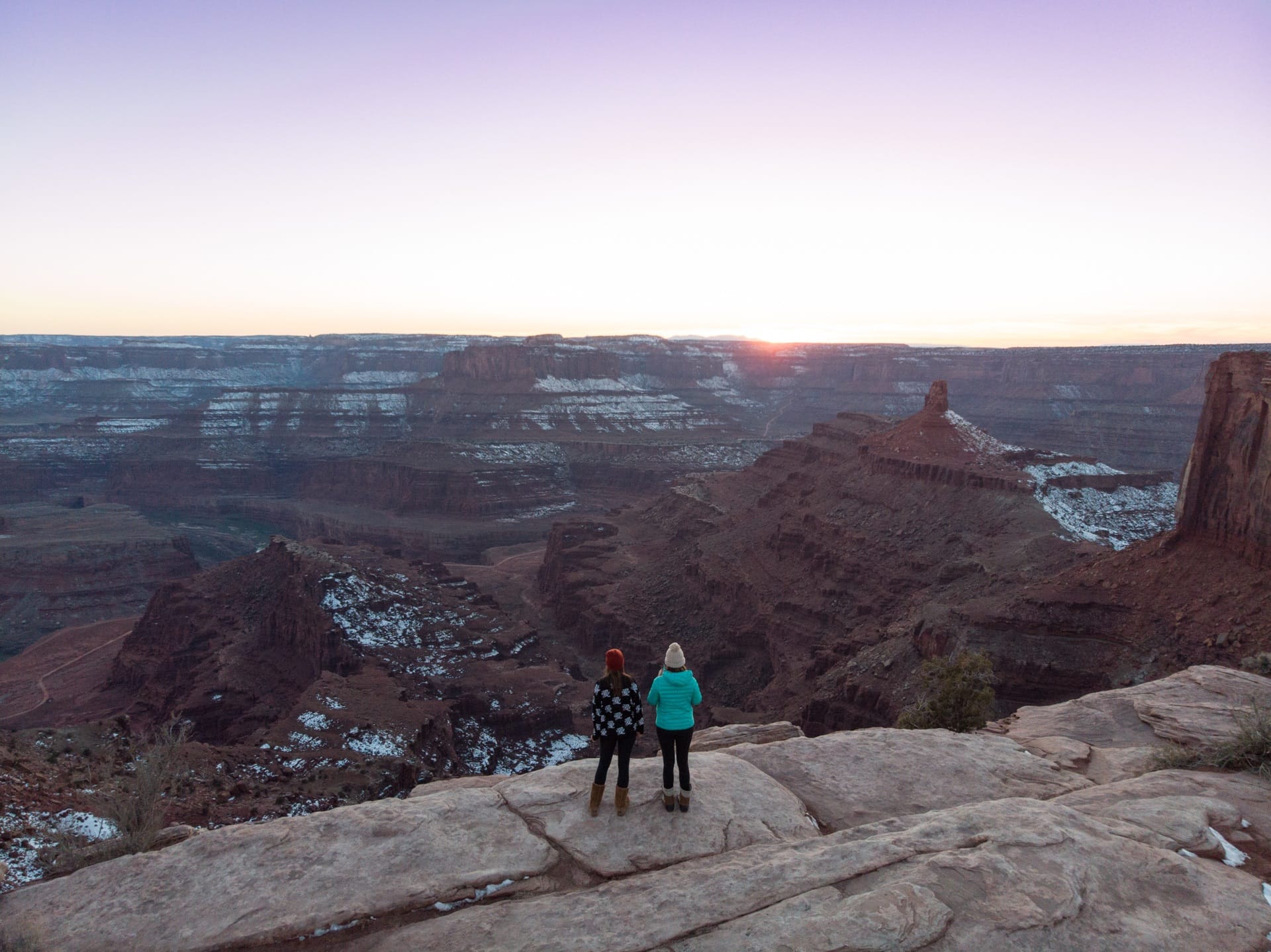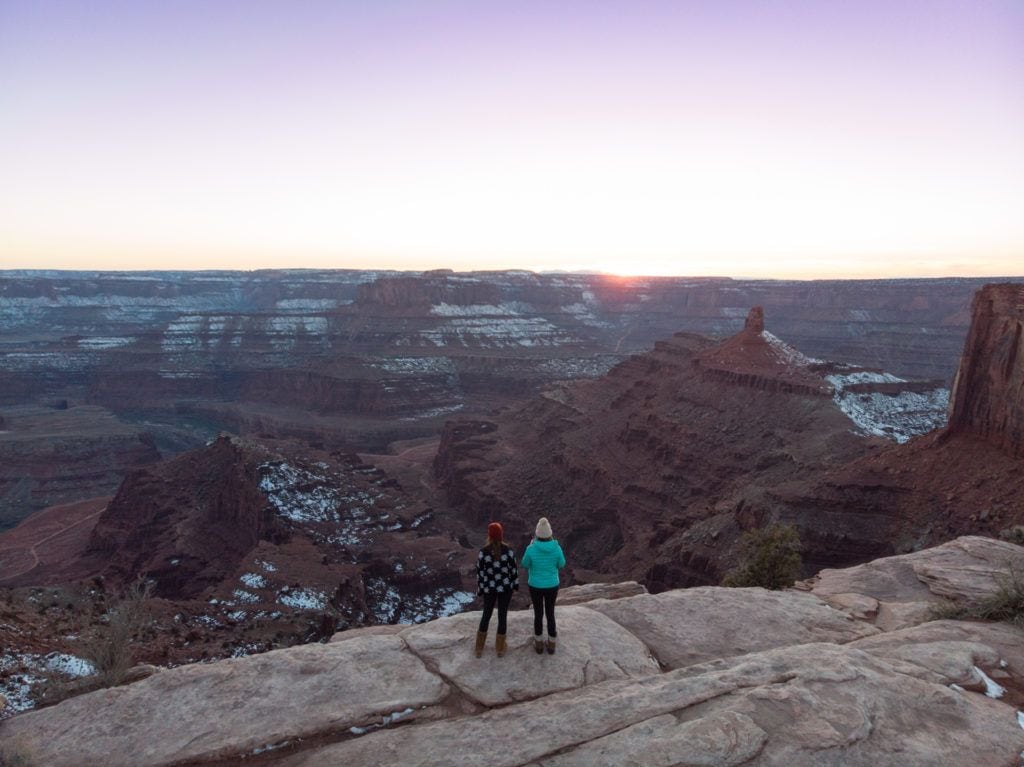 ---
How to Do Moab Like a Local
When planning your visit to Moab, Utah, it's essential to understand this unique desert environment so you can be prepared for a fun and safe trip while being a responsible visitor at the same time. No matter the destination, it is essential to practice the ethics of Leave No Trace. However, the sensitive landscape of Moab requires folks to be even more mindful of their impact and to tread lightly in this naturally beautiful place. Small missteps can add up to long-term impacts, and it's up to all of us to responsibly enjoy each destination we visit to keep it beautiful for future generations.
So, while you're planning, use these tips for visiting Moab to get up to speed on what to look out for, how to be prepared, and how to be a responsible outdoor enthusiast when you visit this outdoor adventure hub.
Explore Beyond the National Parks
A good adventure means getting off the beaten path, and there's plenty to explore in Moab beyond the most popular trails and National Parks. Think like a local and seek out different adventures that are not the most obvious. This will help prevent overcrowding and any unnecessary wear and tear or damage to the area. Oh, and if you do find an unexpected slice of paradise, don't geotag the exact location to share on social media; keep the spot a hidden local gem, and simply enjoy having it to yourself.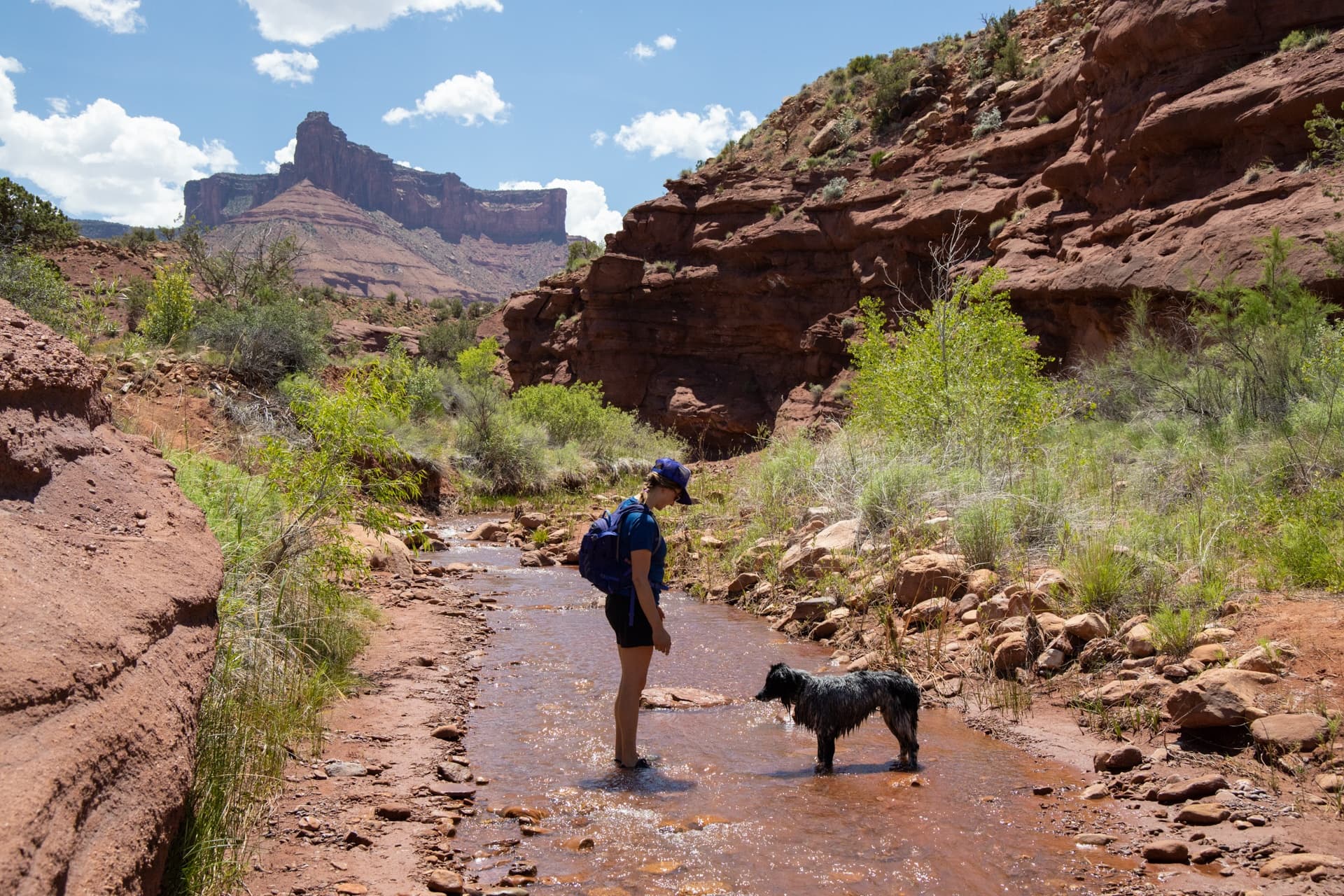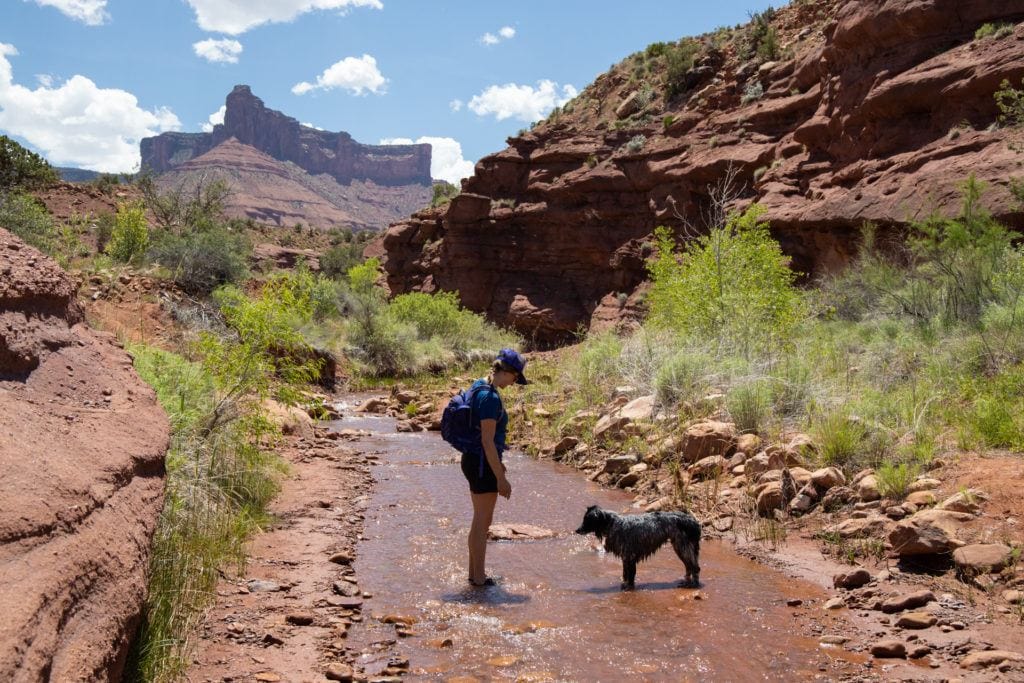 Practice Good Trail Etiquette
On Moab's multi-use trails, it's not unlikely that you will encounter other visitors, some on foot, two wheels, or even four. Many of the backcountry dirt roads in and around Moab are open to ATVs, and other kinds of Off-Highway Vehicles (OHVs) — including any vehicle with four-wheel-drive — so things can get busy. Some areas along the trail systems are also nearby neighborhoods. Be respectful to the locals by staying aware of your surroundings and keep your speed down.
If you're hiking or mountain biking, practice good trail etiquette while sharing the trail: be courteous, know the rules (mountain bikers should always yield to hikers), and be friendly to others. Not only does this create a great experience for everyone, but you'll be leading by example as well.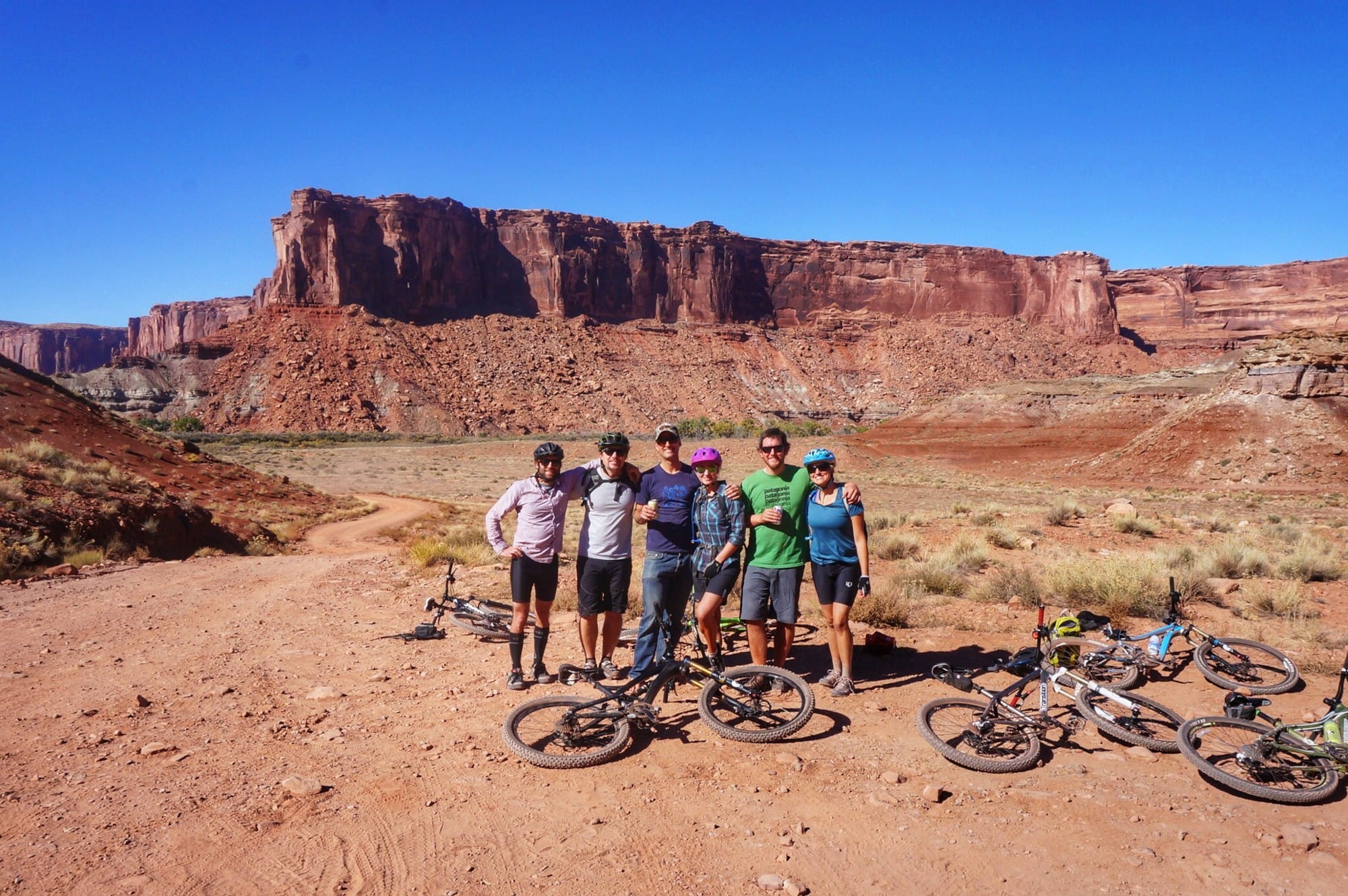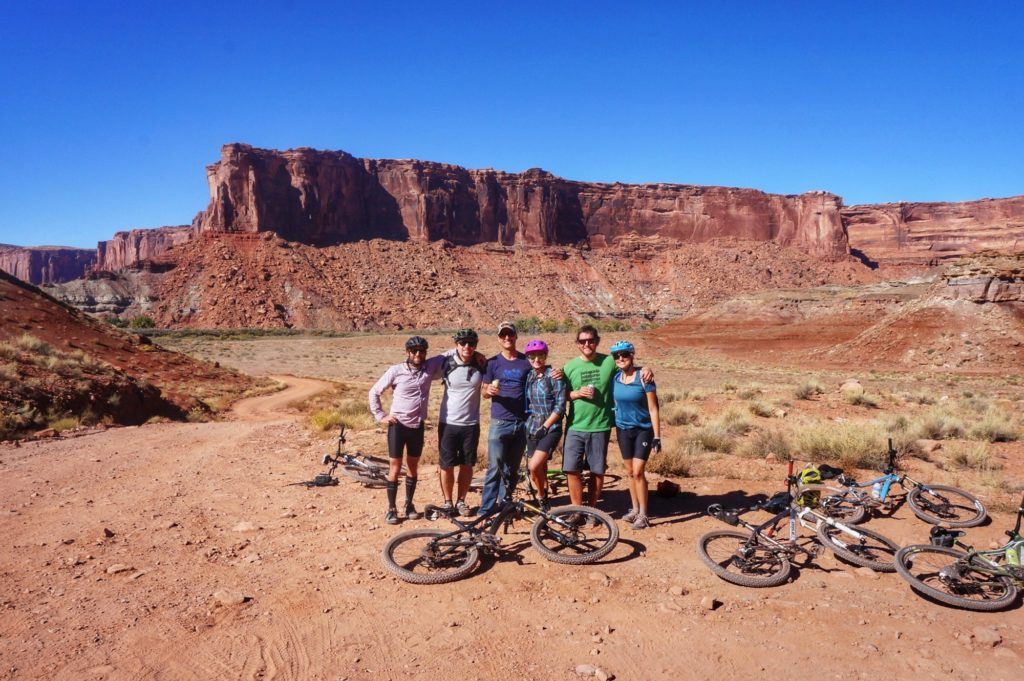 Pack it In, Pack it Out
Whether you're hiking or camping, be sure to pack out and properly dispose of everything, including your poop AND your toilet paper if bathroom facilities are not available. One of the best tips for visiting Moab is to come prepared to do this! Due to high use, human waste is a serious issue at dispersed campsites, and in some areas (like the Canyonlands backcountry), poop must be packed out in approved waste bags or portable toilet systems. Approved waste bags can be purchased at the Moab Information Center and local outdoor retailers.
If you see a piece of trash while you're out and about, pick it up and help leave the area even better. Pack out pet waste as well.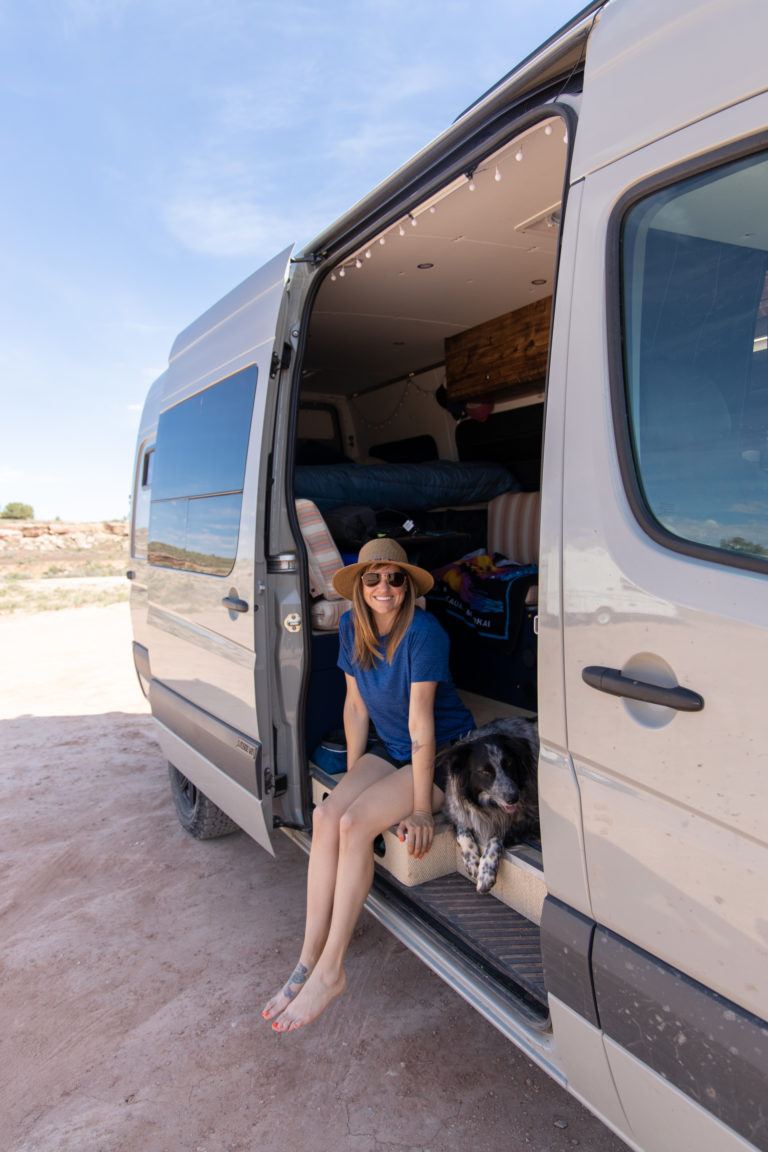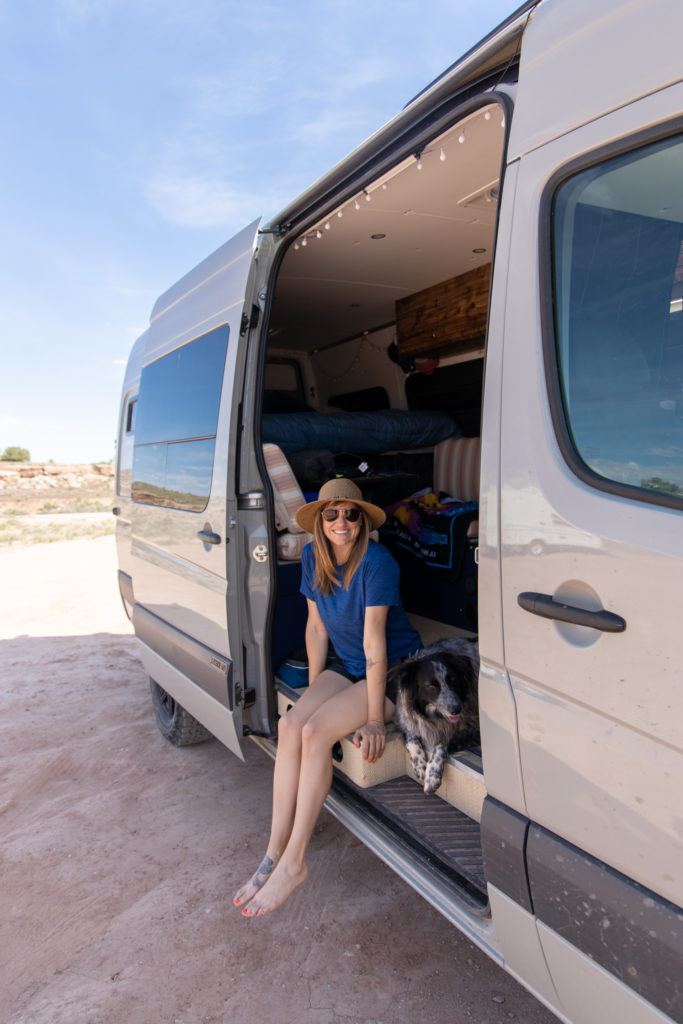 Tread Lightly and Stay on the Trail
There are many reasons to stay on established trails while recreating in Moab. This avoids damaging the cryptobiotic soil, which has delicate flora that's crucial to the health of the desert ecosystem and can literally take thousands of years to grow. The soil is made up of moss, lichen, and fungi that retain moisture for other species to thrive and helps reduce erosion in desert environments. Even a single footprint can have a seriously negative impact, and in some cases, it may never recover.
Local's even have a catchy slogan to help visitors remember, "don't bust the crust". When you meet a group on the trail, let them pass or politely pass them without stepping off the trail to avoid making it wider.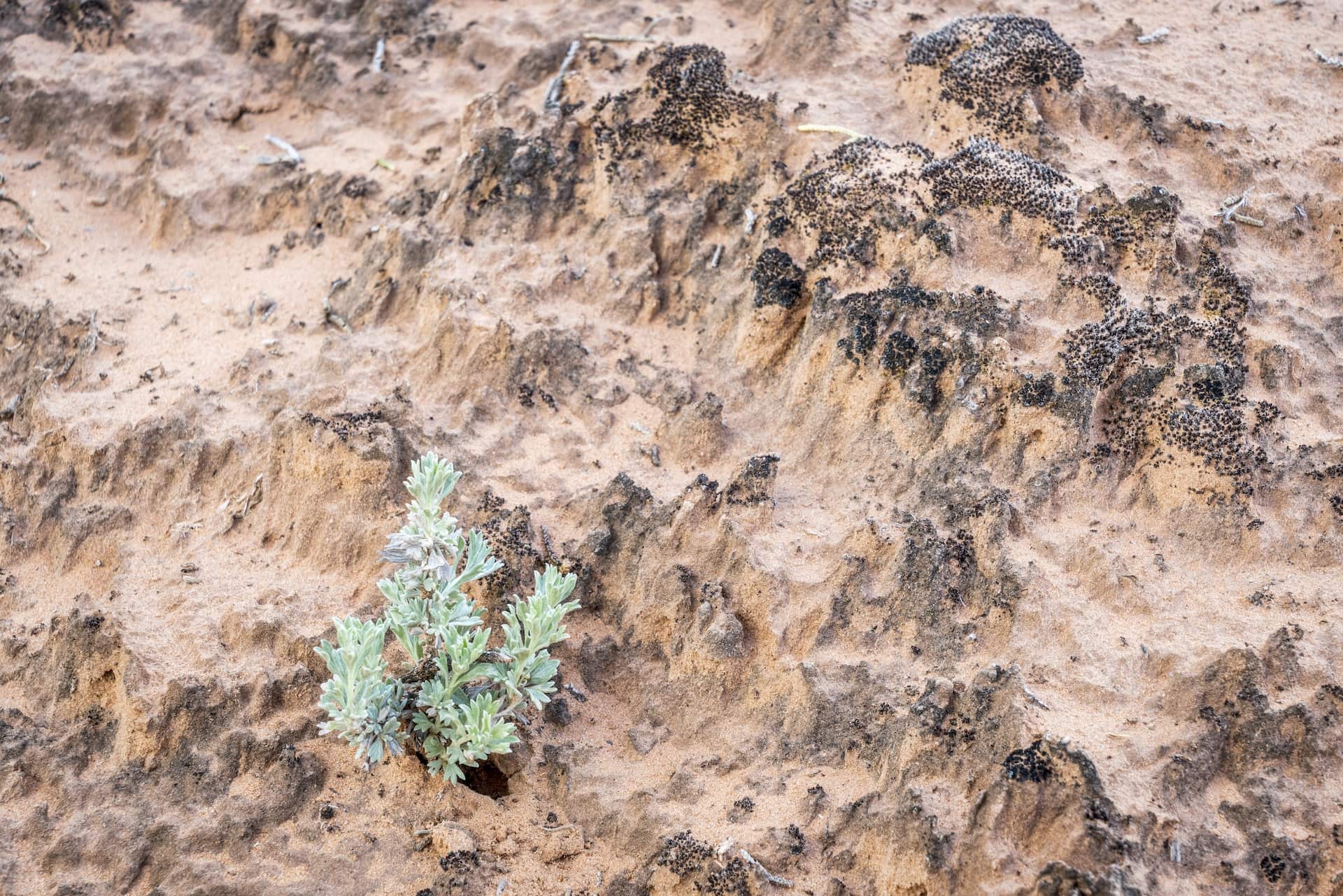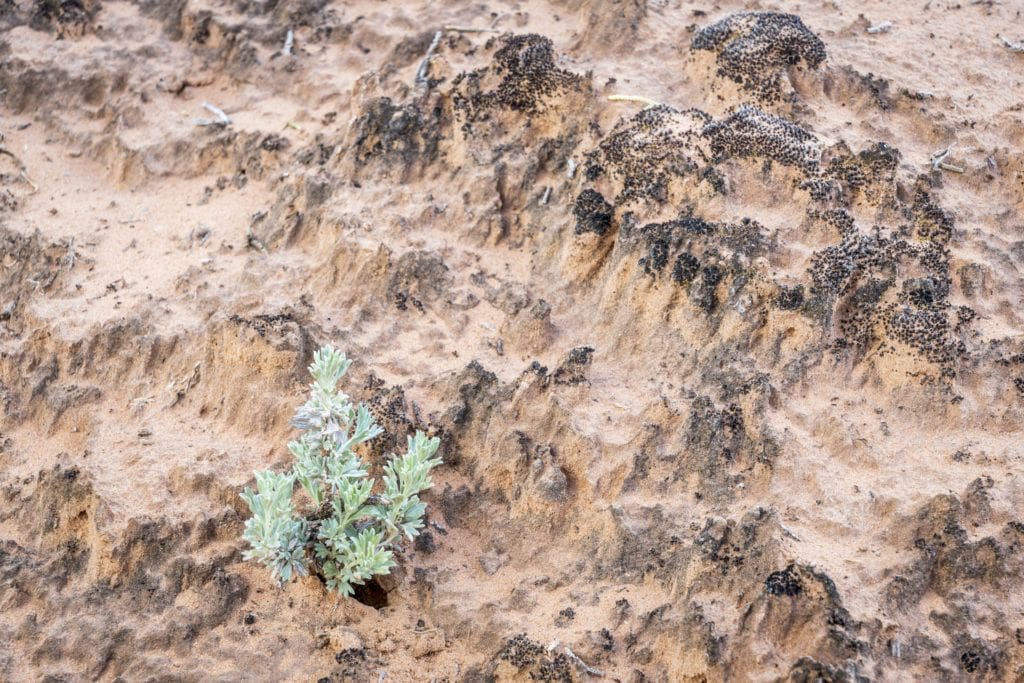 Leave Behind What You Find
In addition to preserving the soil, don't pick up, move, or take home any rocks or artifacts of any kind. Moab is home to many natural cultural features, like Native American artifacts from the Navajo, Ute, and Pueblo Tribes. Here, you are able to see preserved remnants that are thousands of years old, like ancient stone dwellings and former places of worship. There are also preserved dinosaur footprints, wall drawings, and more. If you are lucky enough to stumble upon something that is a part of Moab's heritage, treat it like a local would and leave it just as you found it for others to enjoy.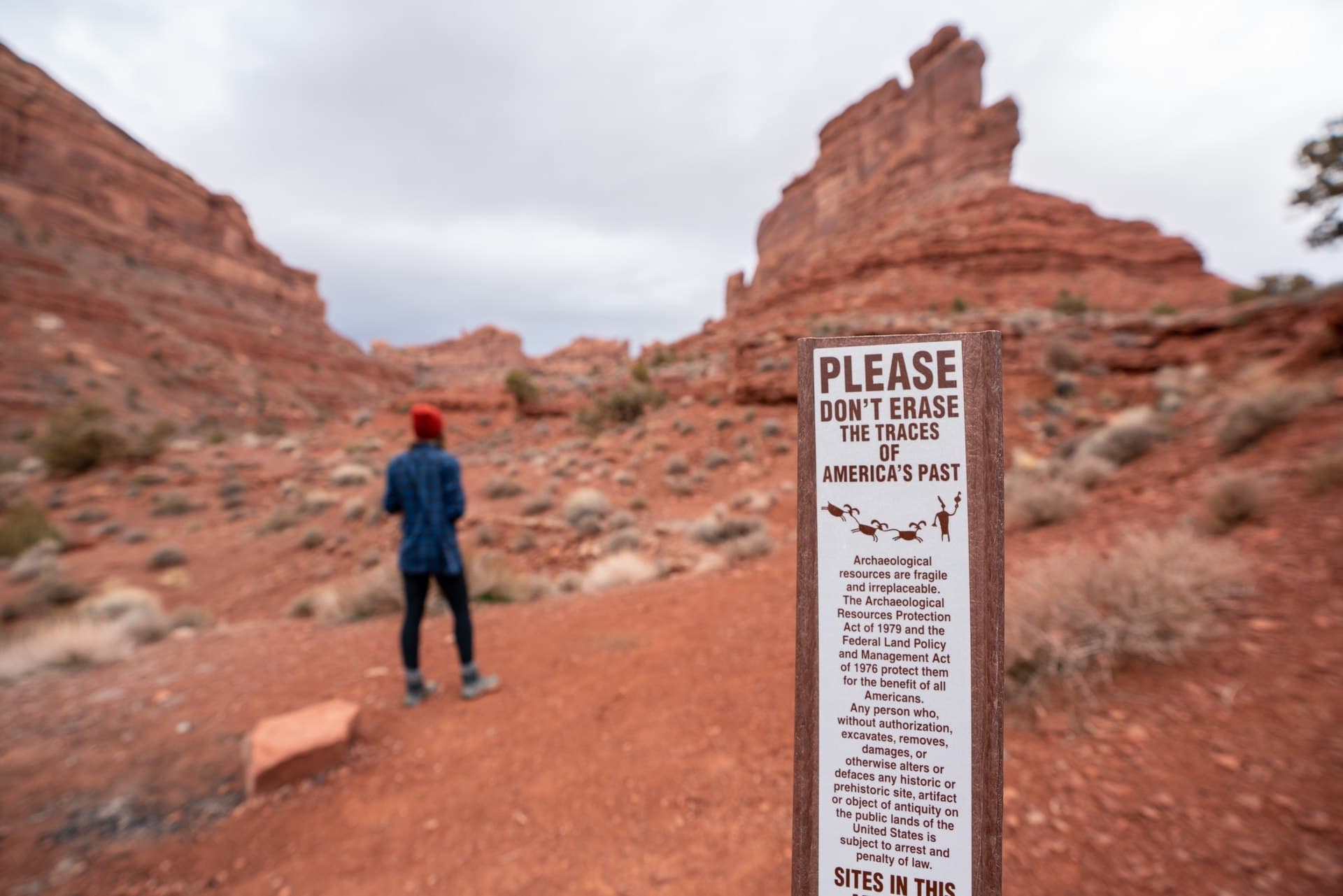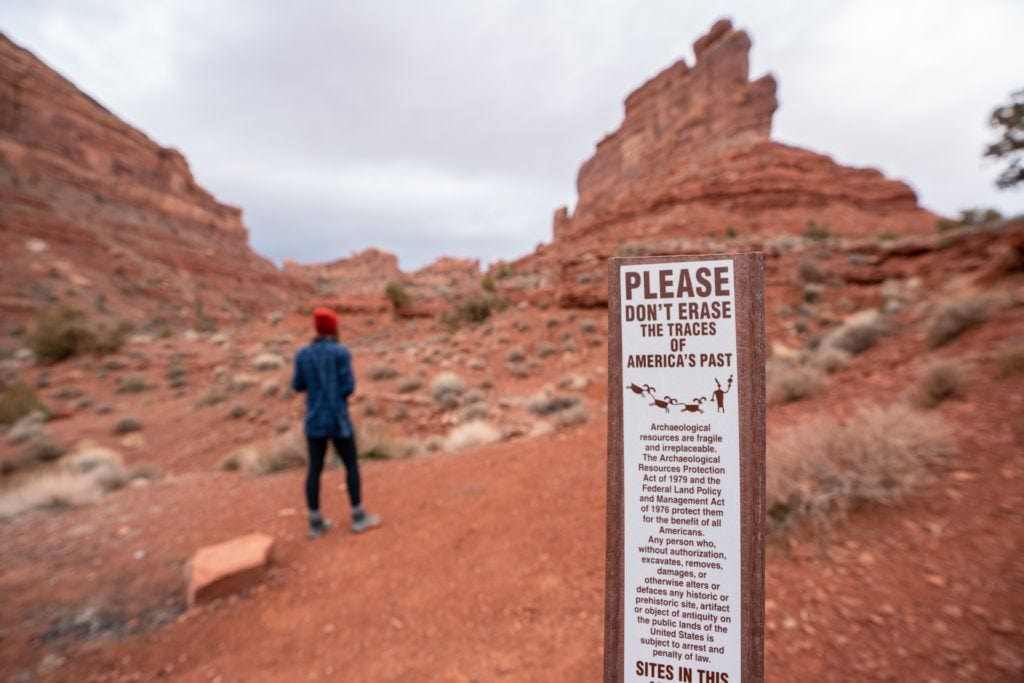 Prepare for the Heat
Moab's heat and terrain are two things to be prepared for ahead of time. Bring plenty of food, and especially water, to stay fueled and hydrated while you're out exploring the canyons and trails. Some tips for visiting Moab straight from the locals is to drink one gallon of water per day, per person. Sun protection and moisture-wicking clothing are a must-have, and so is good footwear. Make sure you have durable hiking boots that provide arch and ankle support, plus enough grip for trekking around rocky desert terrain.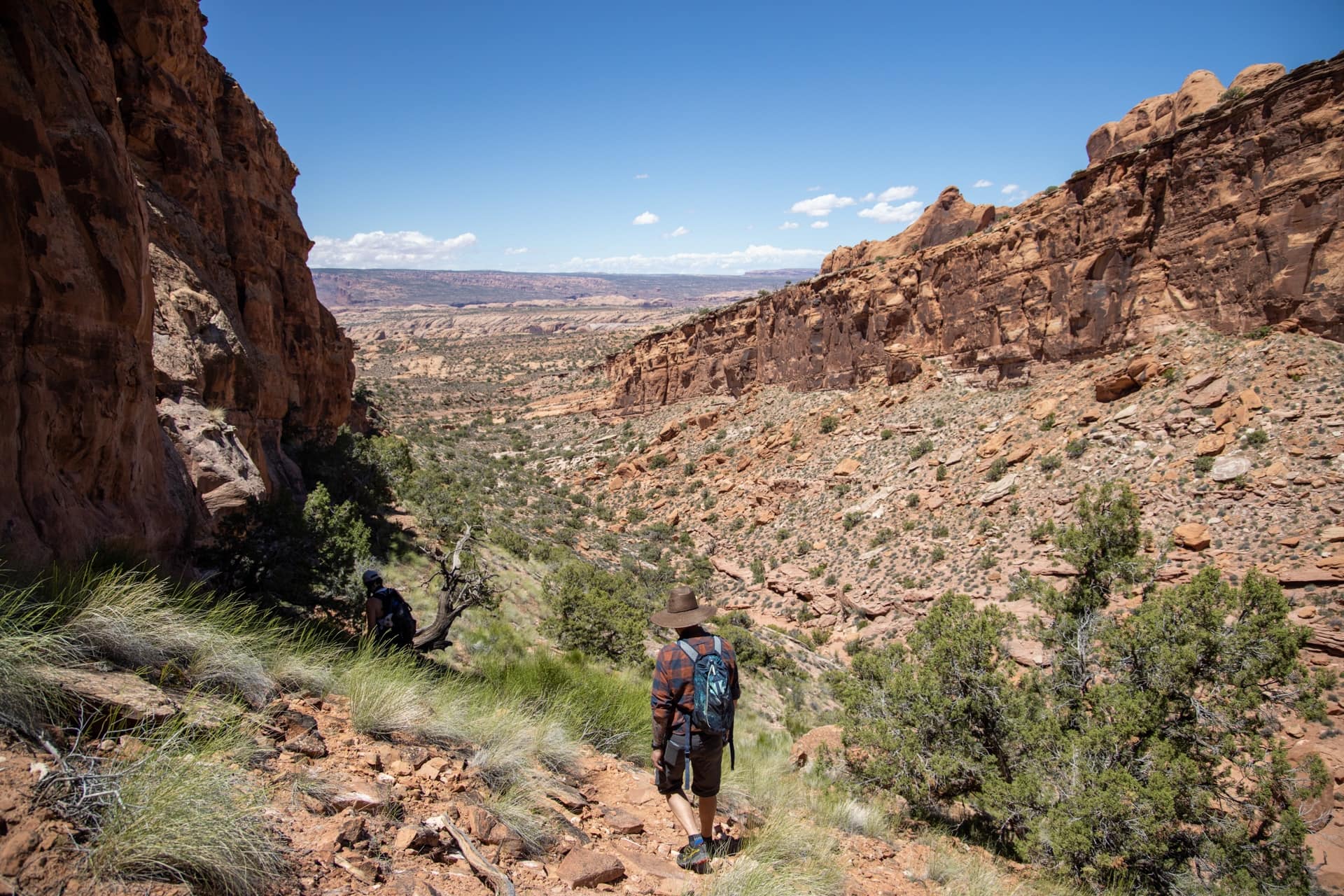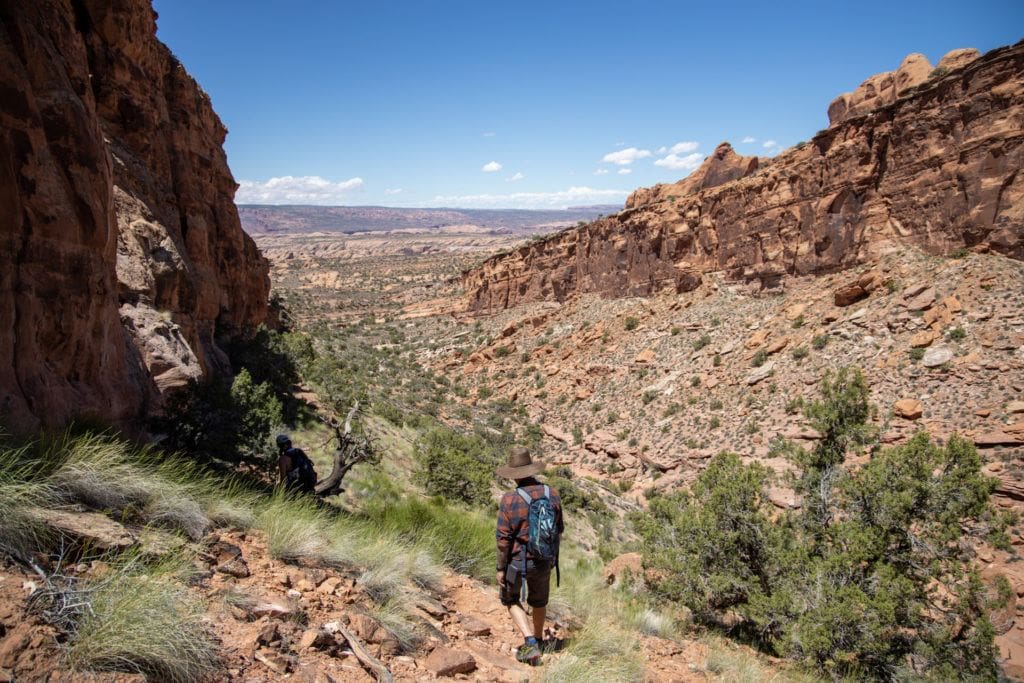 Plan Ahead
Plan your route, do your research, and know where you're going ahead of time to reduce your chances of getting lost. Since cell coverage can be spotty around Moab, let someone know your plans so they can be on the alert if they don't hear from you when you're supposed to return. For remote locations, you may even want to consider bringing a satellite communication device such as a Garmin InReach so you can get a hold of someone if the unexpected happens. A great tip for visiting Moab is to avoid hiking alone unless you are very confident in your abilities, are super prepared, and have notified someone of your plan.
It's much easier to get lost in the desert because there aren't as many defining features as there are in the alpine. Even if you are alert and aware of your surroundings, it isn't hard to get confused or lose your way. Always carry a map or your navigational tool, like the Garmin InReach mentioned above, and familiarize yourself with the route before you start hiking.
---
Tips for Supporting Local Businesses in Moab
The locally-owned shops and restaurants of Moab are what give it a distinct character and culture all its own. Set aside some time to explore the downtown area, patronize local businesses, and support the folks who live there. Check out some of these spots during your next visit.
Shops to Visit in Moab
GearHeads Outdoor Store has a big selection of outdoor gear (just in case you forget something!) and apparel for everything from camping, climbing, biking, and more. They also rent equipment so you can try something out for a day, or avoid lugging all your stuff with you.
Stop by the Visitor Center in the heart of Moab to chat with a local guide and get some ideas for your next adventure.
Pick up an awesome handmade souvenir, or piece of art at Moab Made. This local boutique is a must-see stop while you're cruising through the downtown.
Where to Eat in Downtown Moab
A good outdoor adventure should always include refueling with delicious food and drinks. Sample the local flavors of Moab's food scene, and check out some of the best spots to grab a bite in the downtown area. Keep an eye out for businesses with a Green to Gold sign, indicating that particular establishment is taking steps to reduce their environmental impact.
Stop by 98 Center Moab for a bite at a cool Vietnamese inspired restaurant with fresh, organic, and locally-sourced meals. They run the gamut and serve vegan-friendly dishes in addition to meatier plates. Not to mention, signature cocktails, mocktails, and live music.
If you want a quick bite, head to Quesadilla Mobilla – a food truck on Main street that serves up unique and flavorful quesadillas stuffed with fresh ingredients like slow-cooked red chili beef and their signature spicy sweet potatoes. For more local food truck options, head a block down to the Food Truck Park.
Grab breakfast burritos or sandwiches at Love Muffin Cafe, both are delish! There can be a line in the mornings so get their early or stop by for lunch.
---
Tips for catching live music in Moab
At the heart of Utah's jam-band community, Stonefed has been filling shows up at Woody's Tavern for nearly 20 years. With original tunes featuring rock n' roll drumming and groovy bass lines, this Moab music ensemble is worth checking out.
Local acoustic trio Meandercat plays every Tuesday at the BluePig (call ahead to confirm). Grab some BBQ and watch lead singer and song writer Lenore perform her sweet Americana tunes.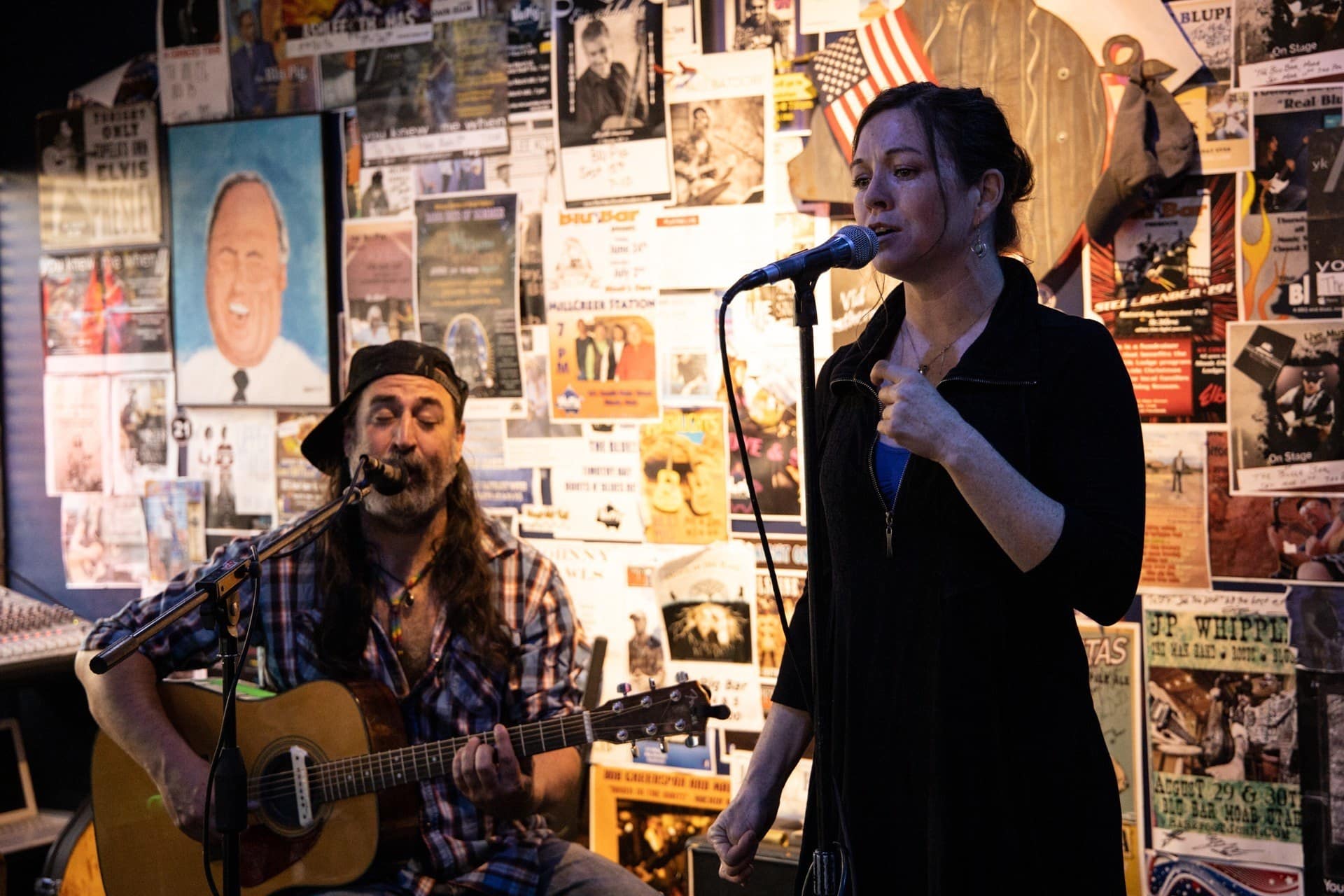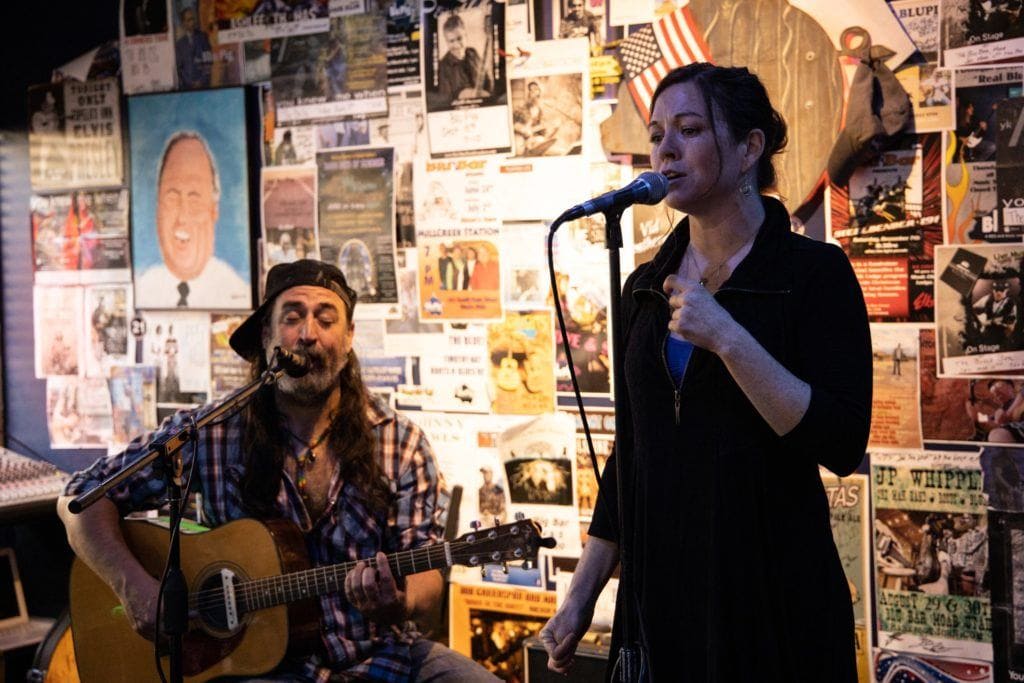 ---
We hope that this guide helps you plan an epic visit to Moab while preserving the natural landscape and practicing Leave No Trace so Moab stays beautiful, wild, and clean.
Got any more tips for visiting Moab or anything to share? Leave a comment below!