Backpacking the Copland Track in New Zealand
The Copland Track on New Zealand's South Island is an incredible overnight backpacking trek with dense forest, glacier rivers, alpine views, and HOT SPRINGS! See the pics and learn how to plan this must-do trek with this backpacking guide!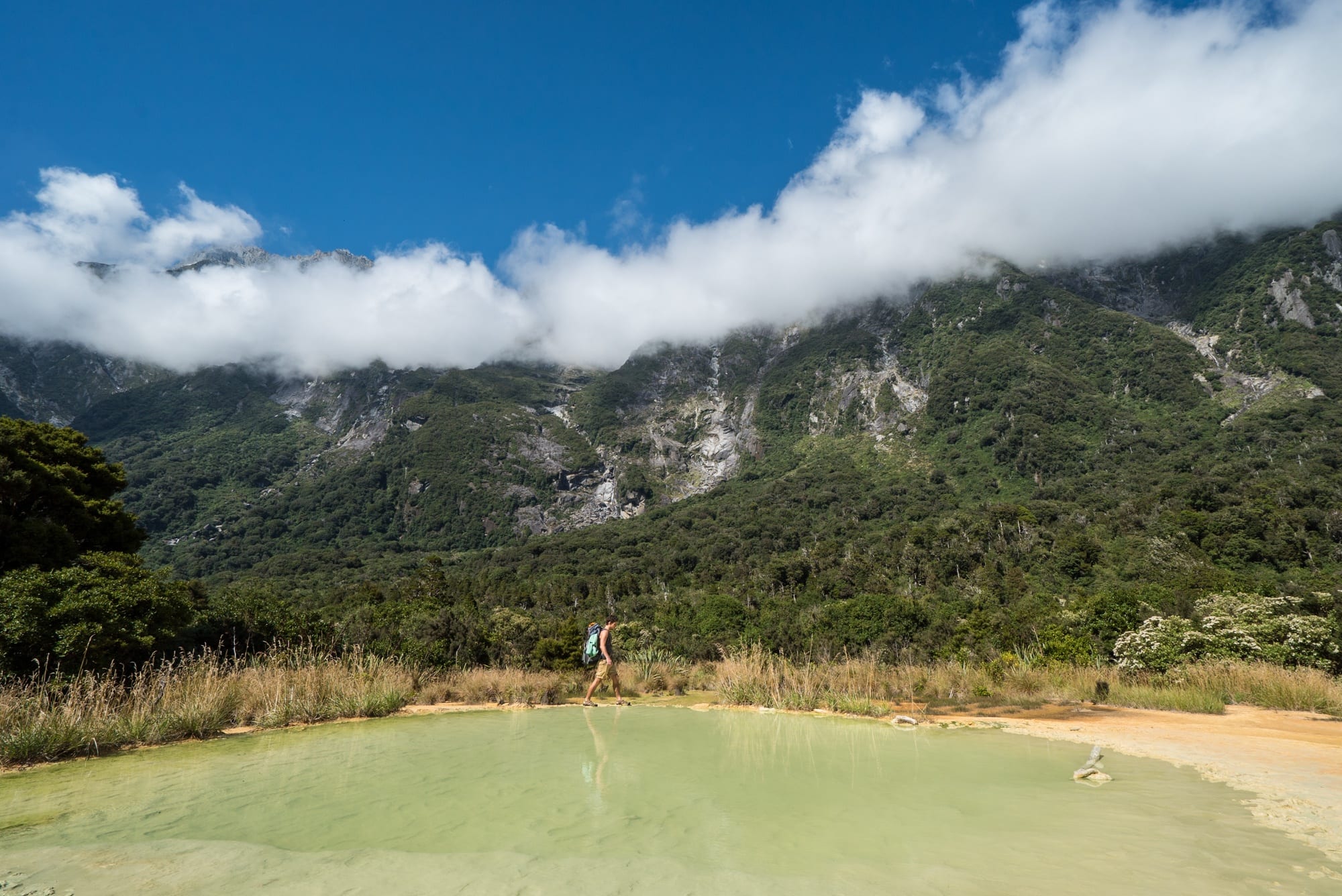 Hiking the Copland Track to Welcome Flat Hot Springs in New Zealand
The Copland Track in New Zealand is an incredible overnight backpacking trek (22 miles roundtrip) on the West Coast of the South Island, and was one of my favorite adventures during my 3-month New Zealand road trip. The trail travels up the Copland Valley glacier region where you'll get to experience the West coast's beautiful forests, icy blue rivers and mountain scenery. If the trail isn't enough, after a full day of hiking, you get to relax in an awesome natural hot spring pool which is less than a 5 minute walk from the newly renovated Welcome Flat Hut.
In this blog post, learn everything you need to know to plan your backpacking trip on the Copland Track to Welcome Flat Hot Springs!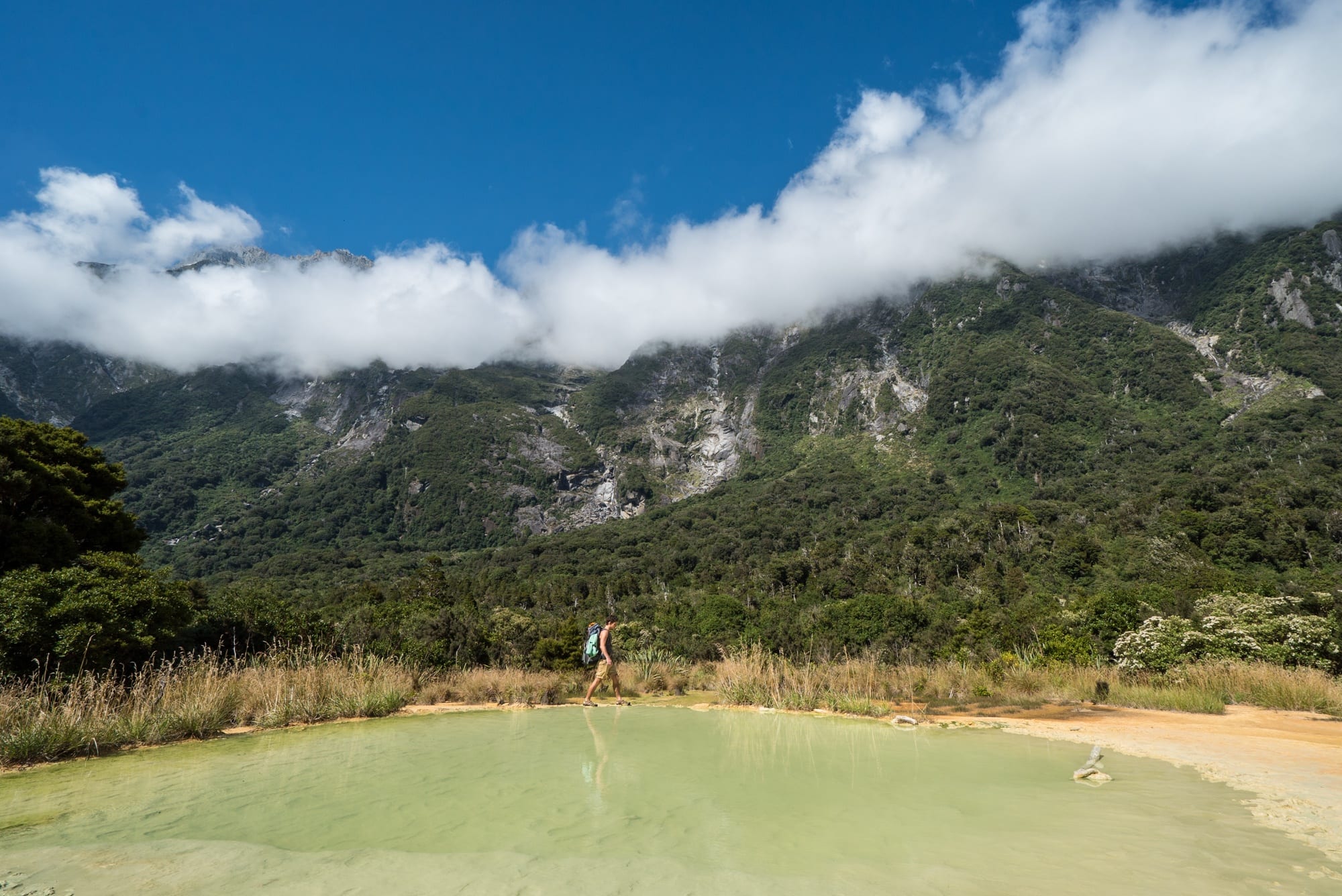 ••• Copland Track Basics •••
Distance: 18 km (11 miles) each way
Difficulty: Intermediate
Reservations required: YES
••• Best time to hike the Copland Track •••
The best time to hike the Copland Track is during New Zealand's summer and fall (December through May). The downside of summer it is the worst time for sandflys – the obnoxious biting gnat-like insect that you'll find all over the South Island. During the high season, you'll also be sharing the hot springs with other trampers.
I hiked the Copland Track in late February. The sandflys were pretty awful at sunset, but after dark the sandflys went to sleep (along with our hut mates), and we had the pools all to ourselves.
Winter, if the weather has been mild (dry and not too cold), can also be a good time to hike to Welcome Flat Hot Springs. I imagine winter is really pretty with a bit of snow covering the peaks and less people to share the trail with.
No matter when you go, make sure to check the forecast and current trail conditions. The weather is unpredictable in New Zealand, and even during the summer months you can find yourself in a downpour. So be prepared with the right gear. Also know that the region is prone to flooding and can be closed if trail conditions are dangerous.
••• Getting to the Copland Track in New Zealand •••
The Copland Track in New Zealand is about 30 minutes (26km) south of Fox Glacier. Access is off State Highway 6.  If you are headed south, the turn off will be on the left and is well-signed. If you pass the Karangarua River, you've gone too far.
Once you turn off the main highway, go through a gate (please close it afterwards) and drive down the gravel road to the car park. There are no camping facilities at the trailhead.
You can also access the trail from Queenstown or Franz Joseph Glacier using the local city bus.
 ••• Welcome Flat Hut Reservations and Fees •••
There are two "huts" along the Copland Track. The first, called Architect Creek Hut, I'd avoid. It's several miles away from the hot springs and didn't appear to be as well maintained. The Hut you want is called Welcome Flat hut, which is a 5 minute walk from the Hot Springs. It's a little more expensive than camping in a tent, but you'll need to pack less gear, making your hike more enjoyable. Also those sandflys really are a pain in the ass, and staying in the Hut minimizes the annoyance they'll cause you while you are cooking and hanging out.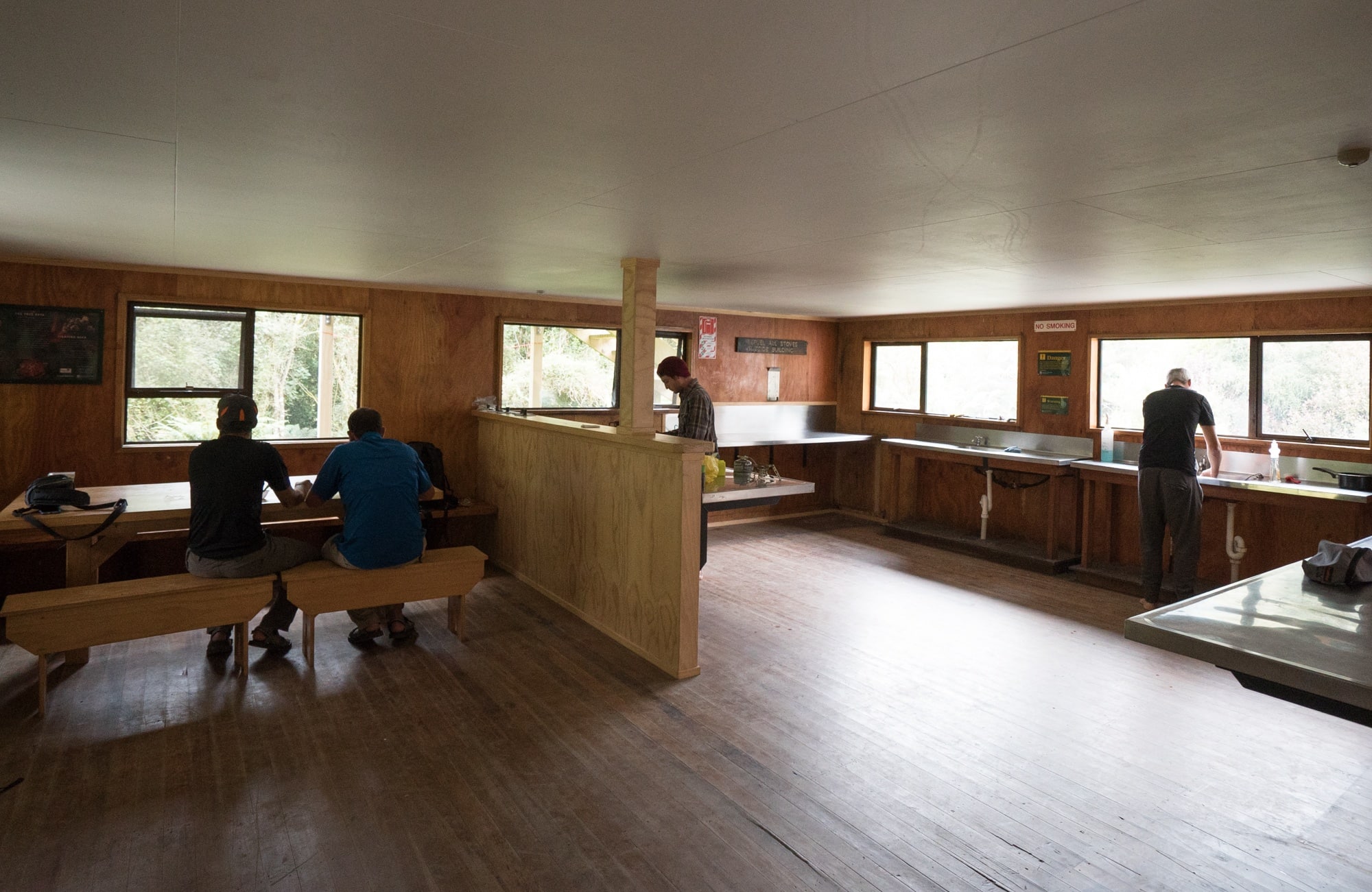 Things to Know about Welcome Flat Hut
The Welcome Flat Hut was just recently renovated and was comfortable and quiet.
There are a total of 31 beds with comfortable mattresses (you can leave the sleeping pad at home)
Reservations are required to stay at the Welcome Flat Hut. You can book a bed here.
Beds in Welcome Flat Hut are $15 NZD per person.
Hikers need to have their own sleeping bags, cooking equipment (including gas), and headlamps (there is no electricity in the hut).
There are 2 shared toilets located outside the hut. No showers.
There are no trash receptacles at Welcome Flat Hut, and you are required to pack out your trash.
If you are a group of 4 or less looking for privacy, you can book the Sierra Room which has 4 bunk beds for $100 per night. The Sierra Room also comes stocked with gas for cooking, kitchen equipment, lighting, and a shower. I did not see this room personally, so book at your own risk.
Tent Camping at Welcome Flat Hut
Looking to save money? There are also 8 campsites, which are $5 NZD each. Like I said, as much as I like to sleep under the stars, here I'd recommend putting up a few extra dollars for a night in the Hut.
••• The Copland Track Trail•••
The sign at the beginning of the Copland Track says 7 hours. If you are a quick hiker who doesn't stop a lot, you can definitely conquer the 11 miles in less time. For us, the 7 hours was spot on.
The trail starts by weaving in and out of the forest with occasional views of the river down below.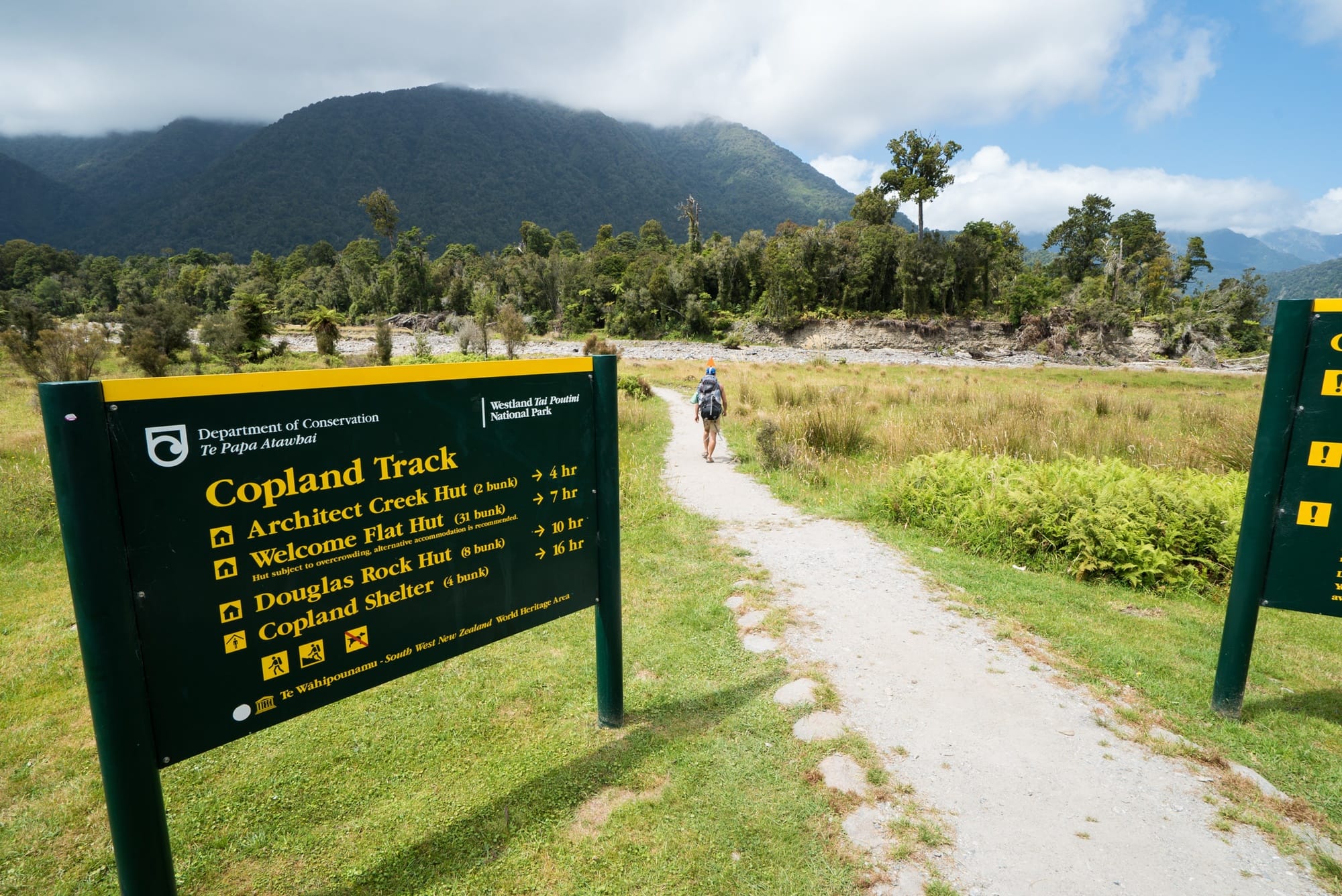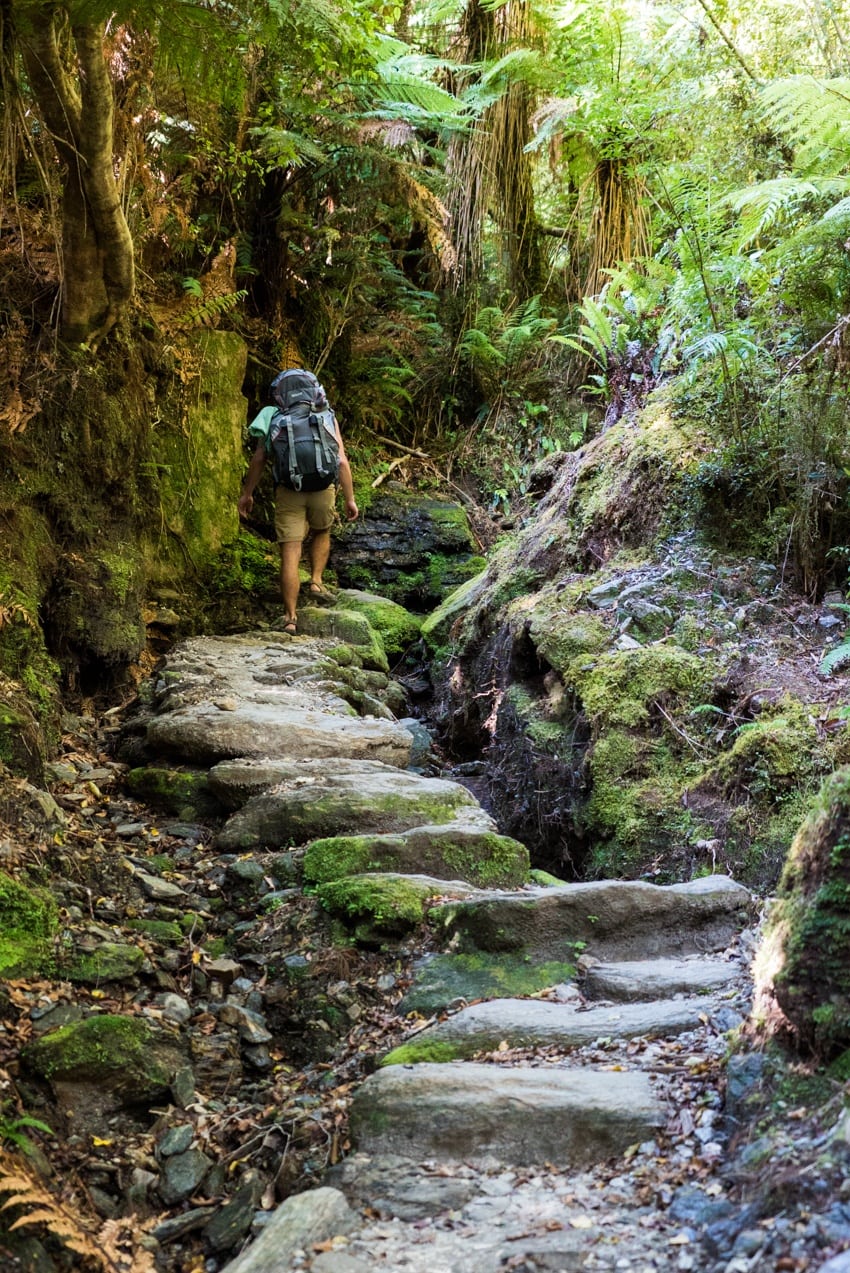 Eventually you reach an overlook of the confluence of the Karangarua and Copland Rivers, and it's super cool to see these two very different rivers converge.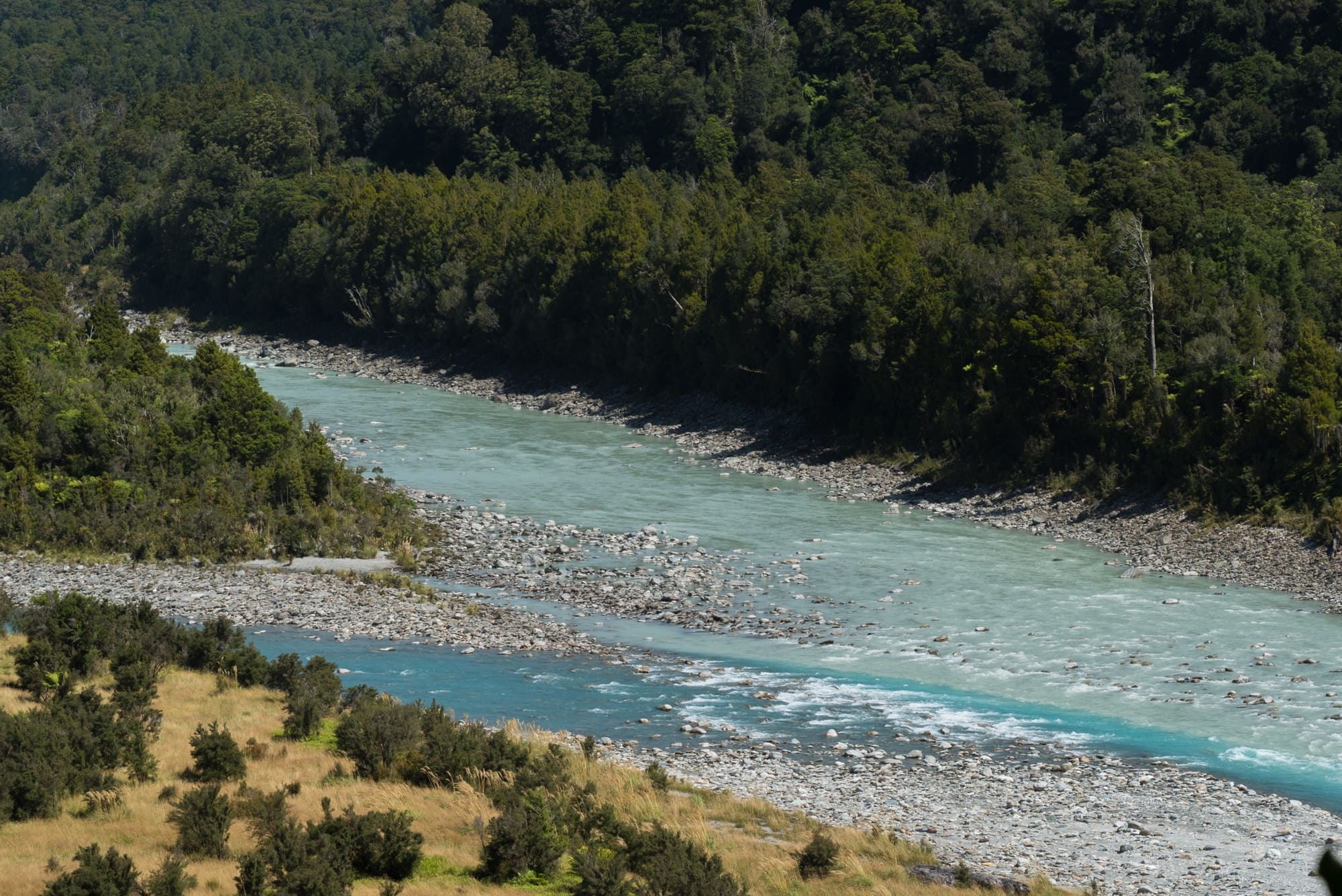 After the confluence, you'll start to hug the Copland River, and shortly afterwards you'll reach an awesome beach that is great for a lunch break.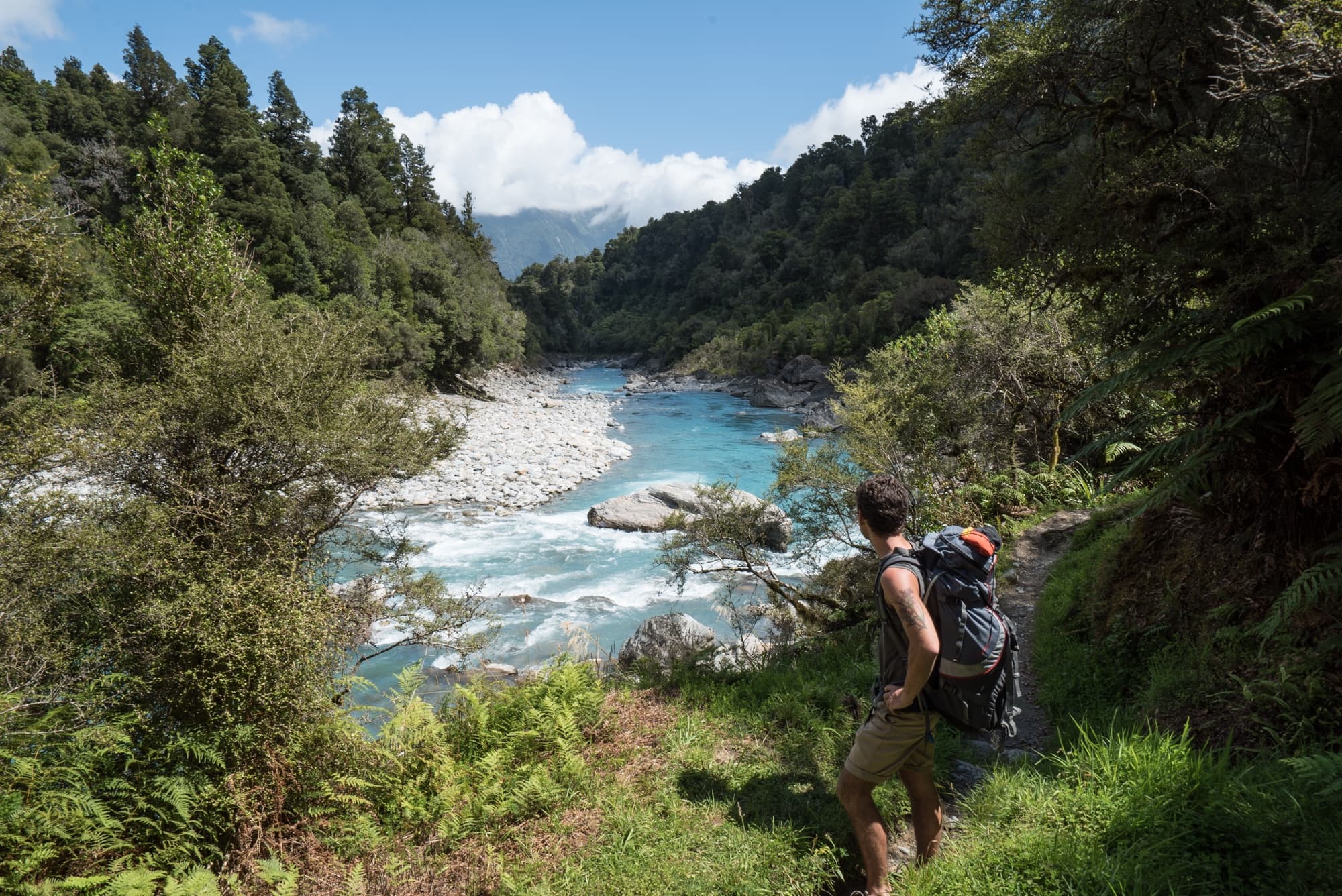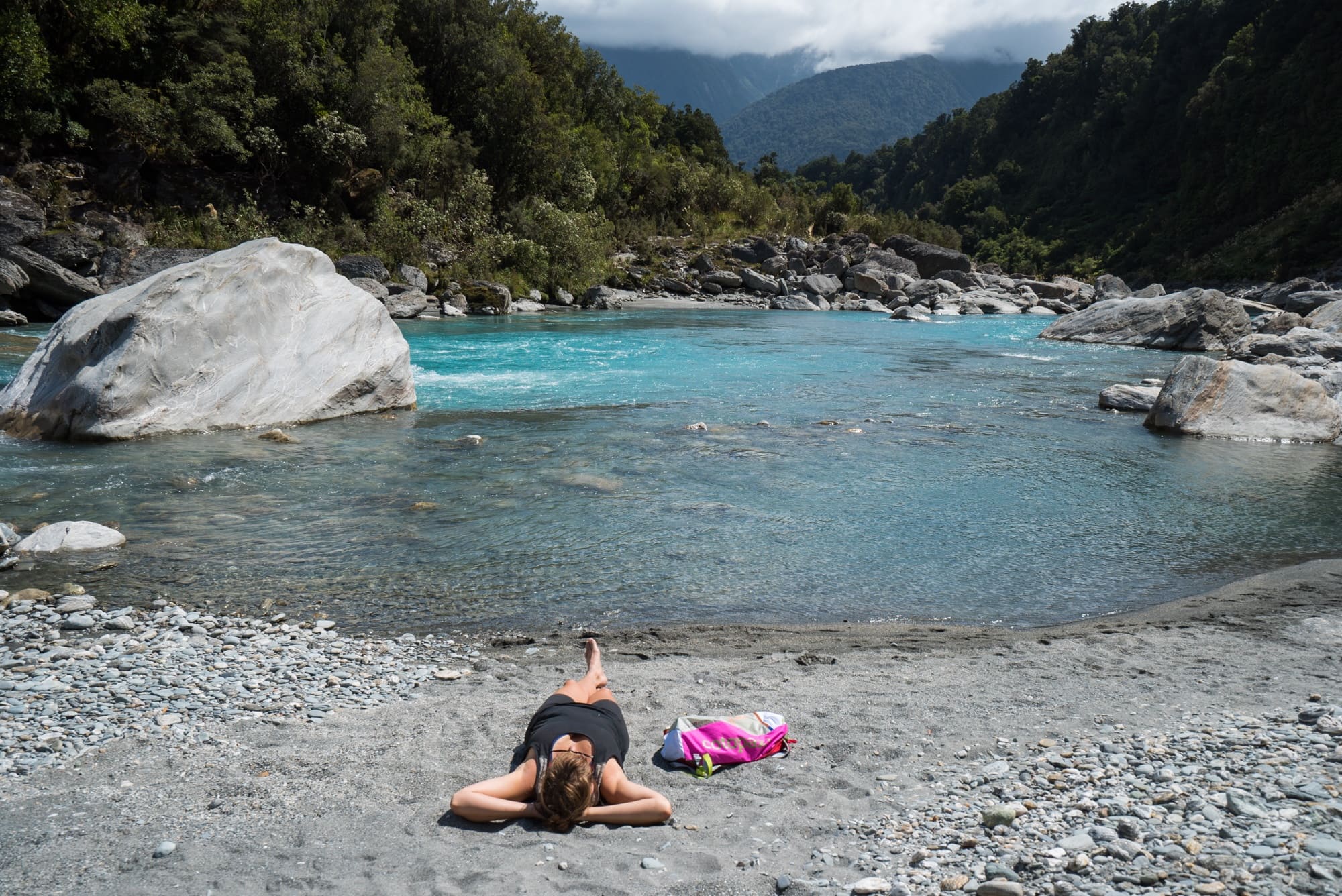 After that you'll start a gradual climb, crossing over a number of very long swing bridges.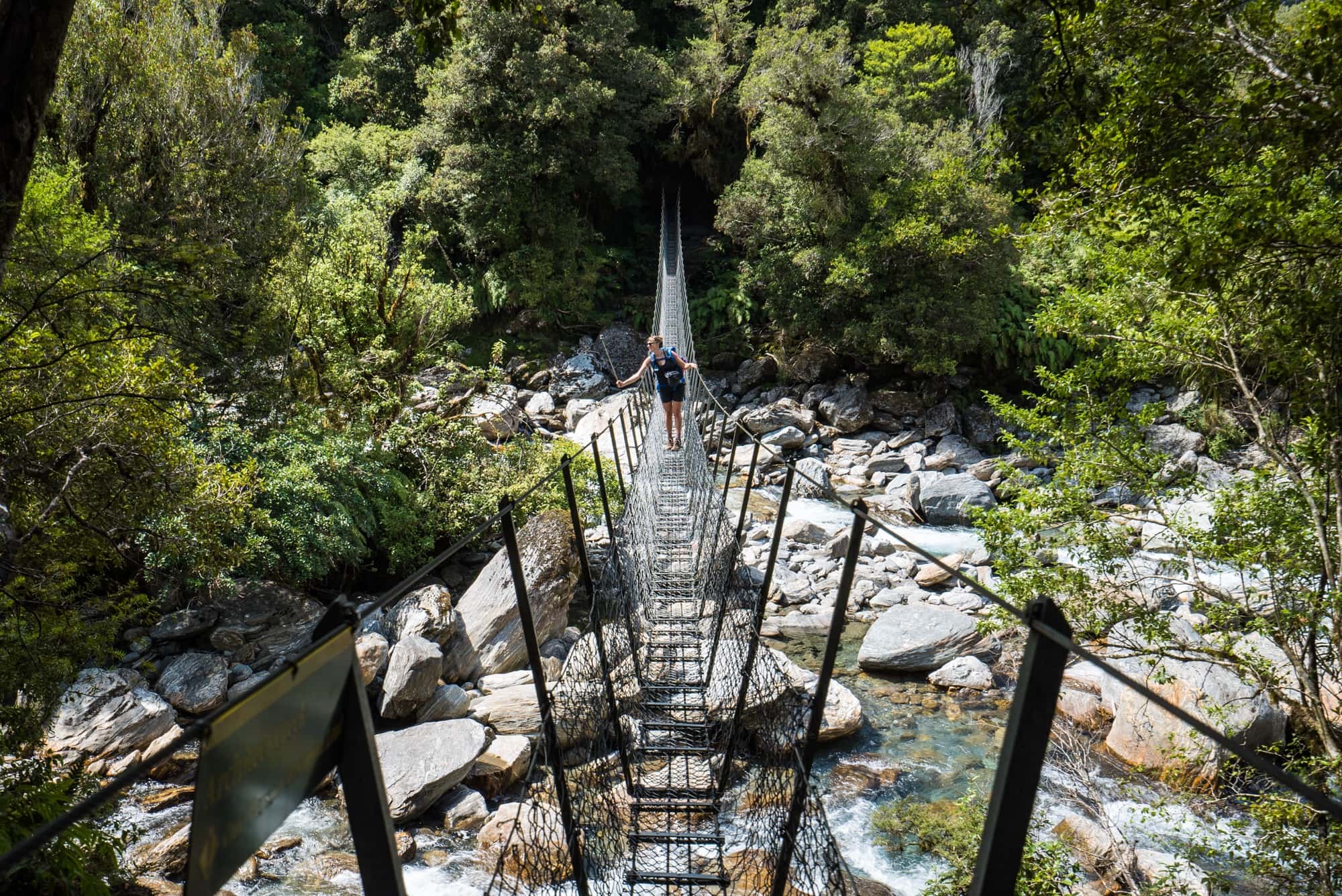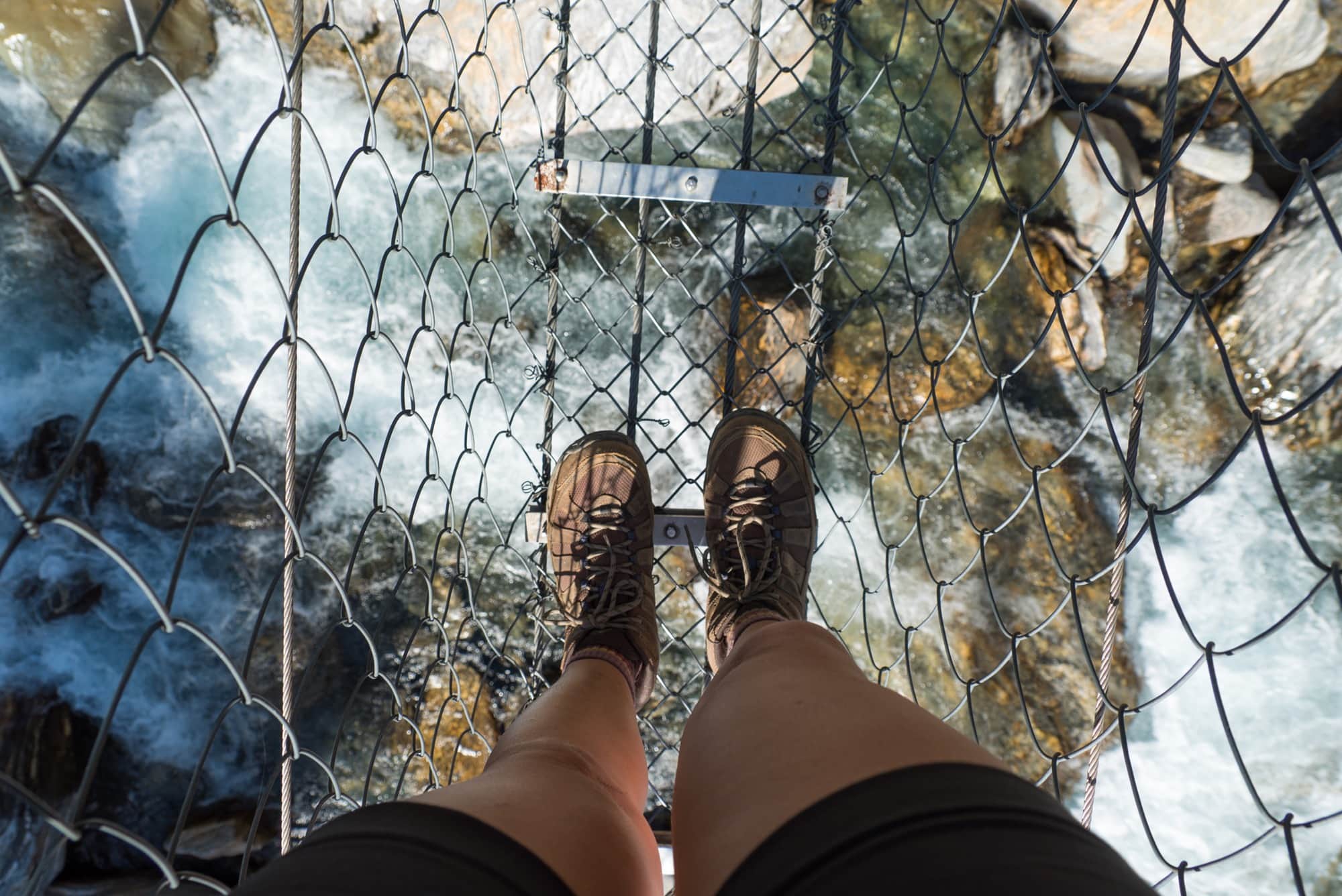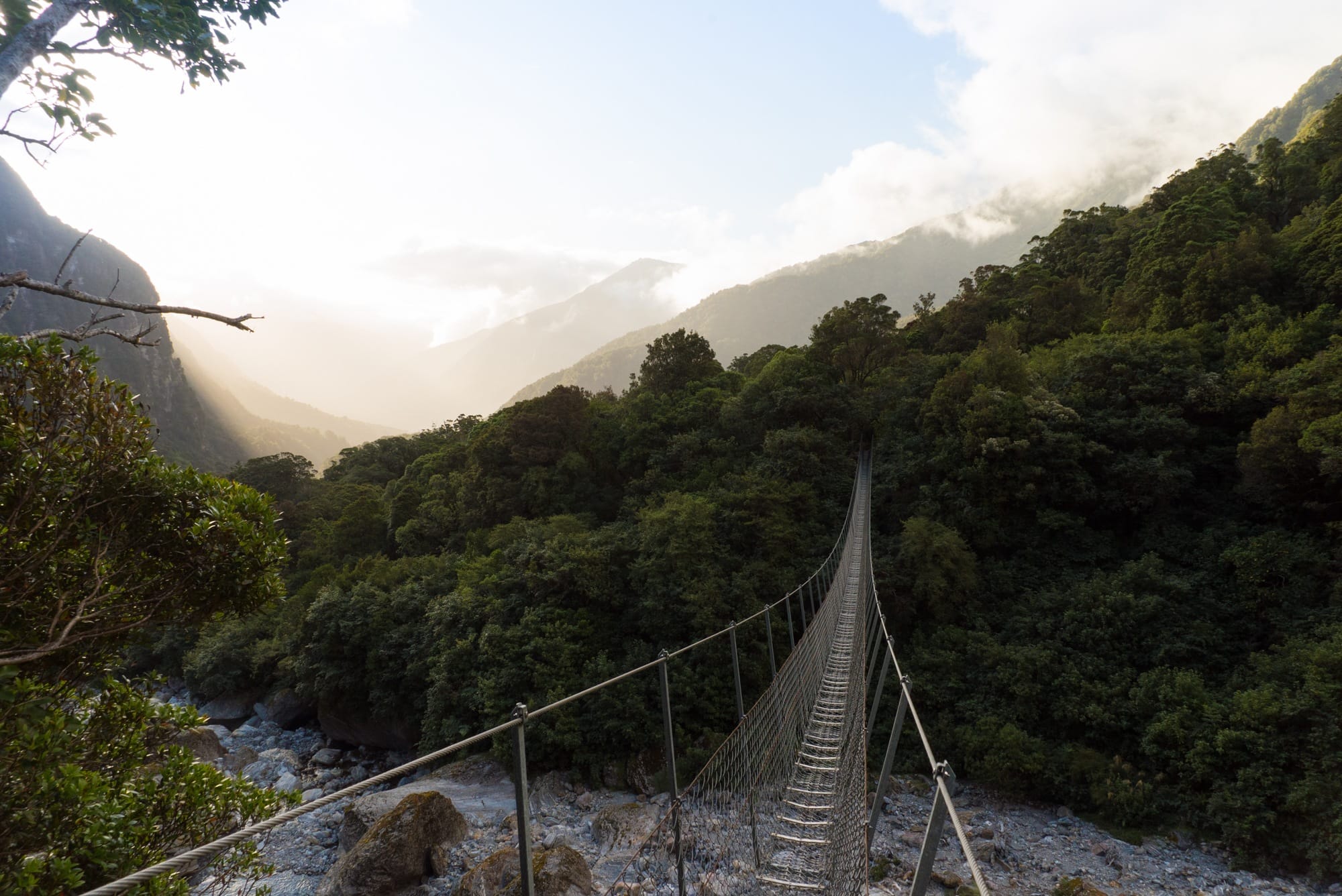 The trail is pretty non-descript the rest of the way, but is easy to follow. Once you pass Architect Hut, you'll still have a couple of hours ahead of you depending on how fast you are hiking. Eventually you emerge from the forest into a long, open valley, a sign that you are getting close. And then boom, you're there.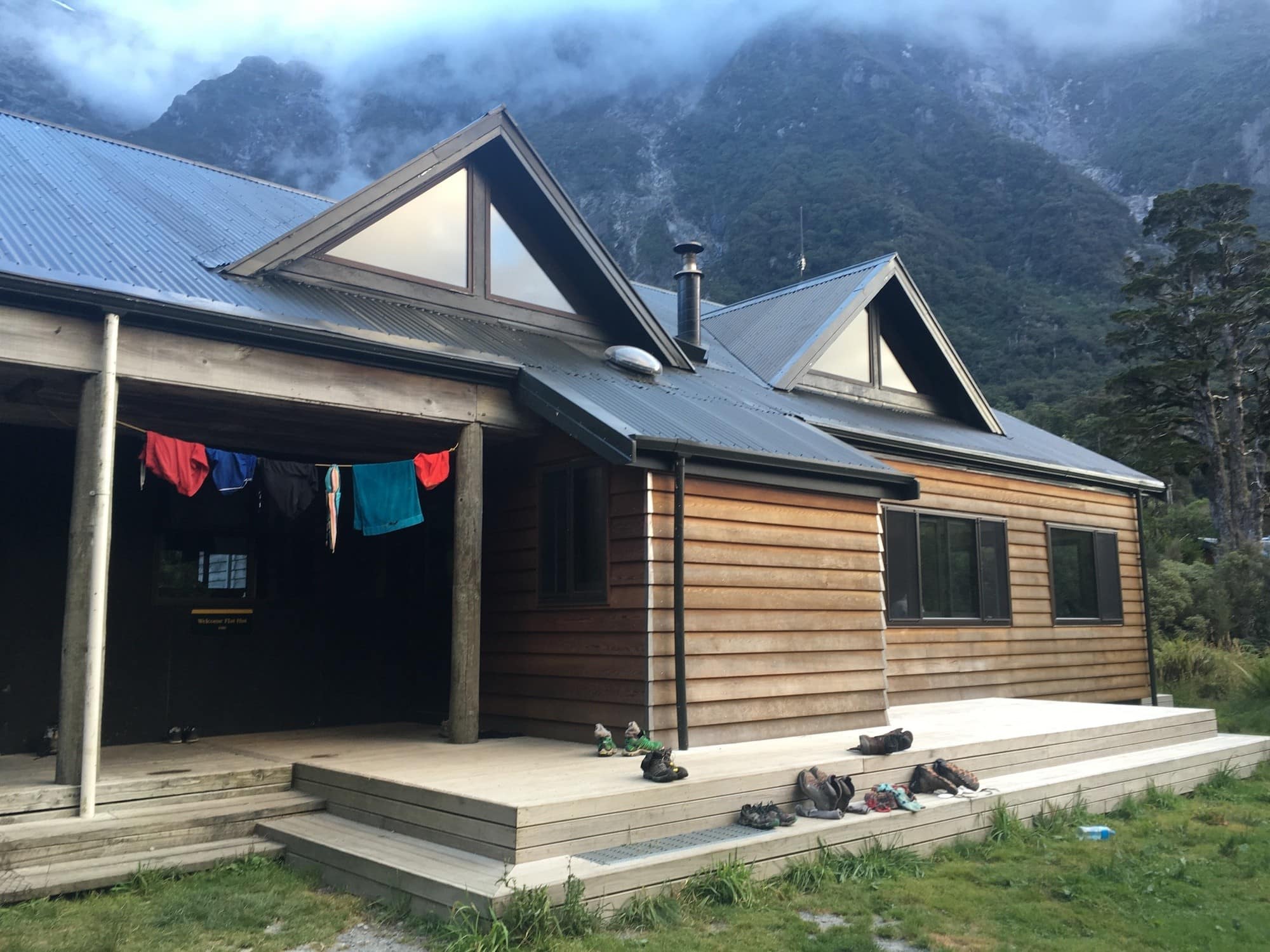 Throw down your bag, put on your suit and follow the signs for the 5 minute walk to the hot pools. Be careful before you get in. Some of them are very hot. The big bright green pool (behind us in the photo below) was the most comfortable temperature-wise and also seemed the cleanest to me. There's a little wooden structure next to the pools where you can put your towel and other personal belongings….but I'd head down to the Springs ready to jump in so you can avoid the sandflys.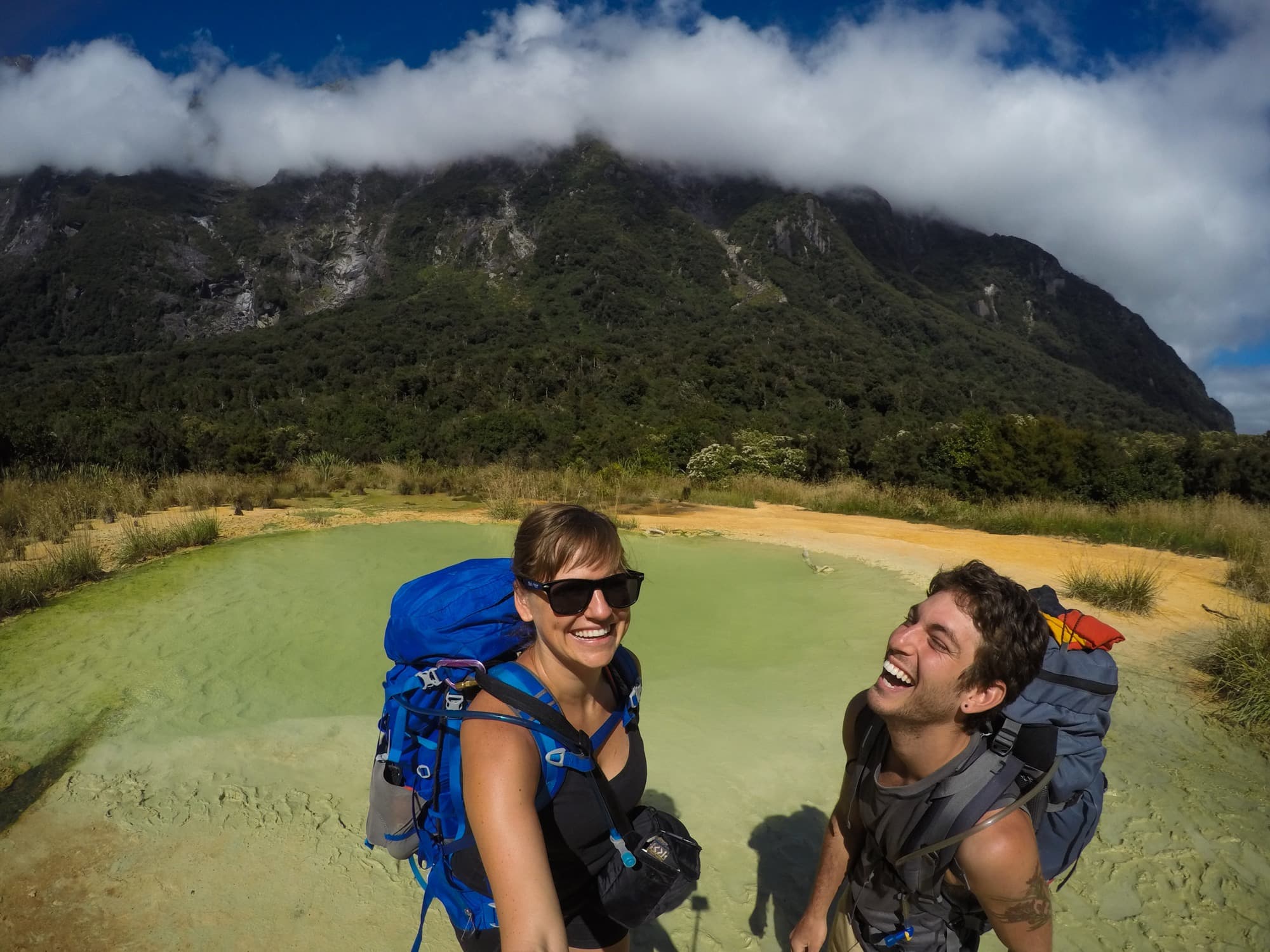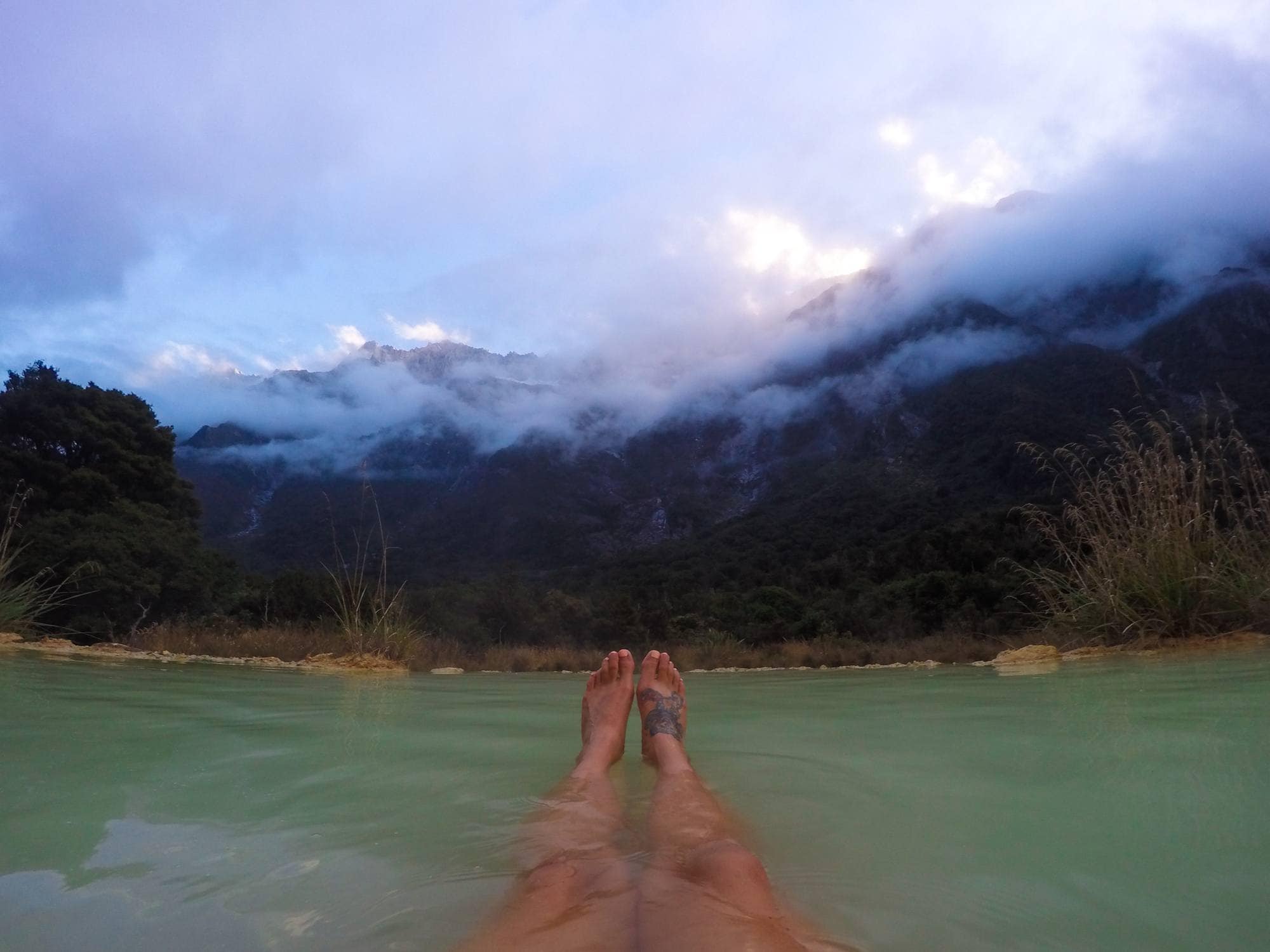 ••• Copland Track Gear List•••
You don't need too much more than your regular old backpacking gear for your Copland Track hike. However, there's a few extra considerations which I mention here.
Hut reservations do include a mattress but do not include sleeping bags so make sure to pack your own!
Sturdy hiking boots, preferably with ankle support
Comfortable hiking clothing that can be layered. Waterproof clothing (especially a rain coat) is recommended as the trail can get very wet if it starts raining.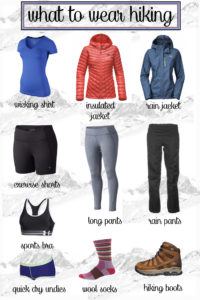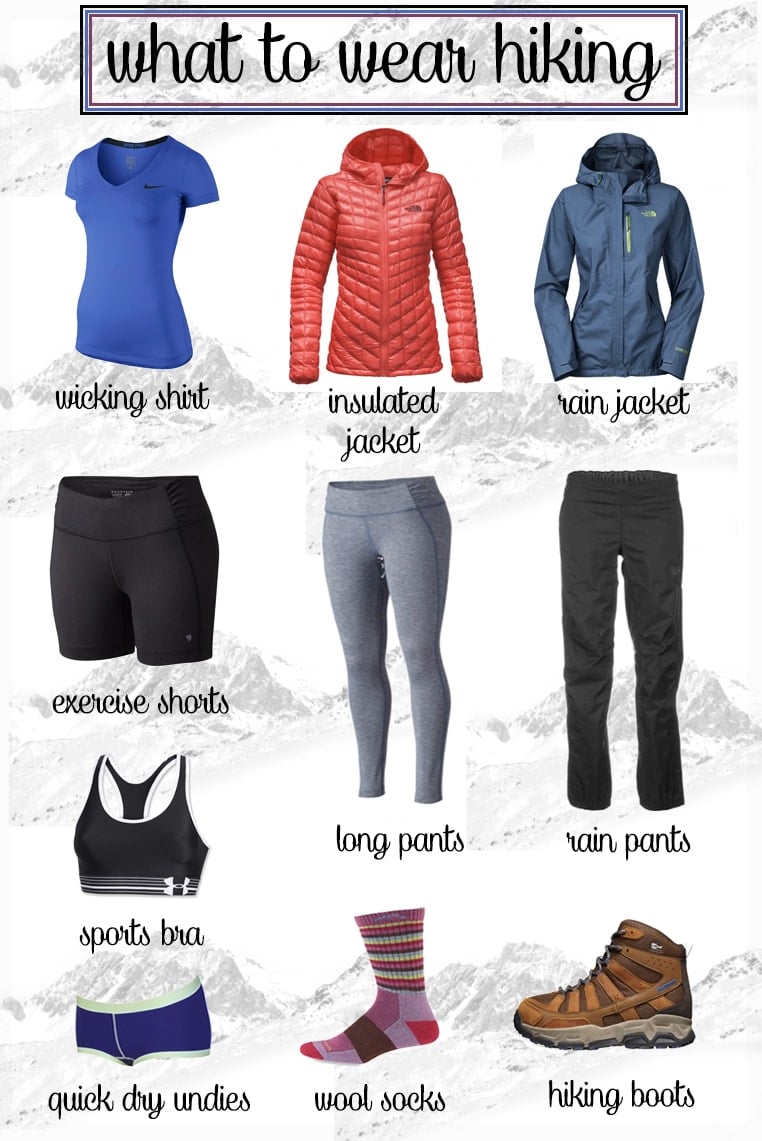 Sun protection, including sunglasses and sunscreen, is key as New Zealand's sun can be brutal with "burn-time" of about 3 minutes in summer. You might also want a hat to keep the sun off your face and the sweat out of your eyes since this part of New Zealand can get very humid.
Map – you can get a map for this trek from any Department of Conservation office on the South Island.
Personal first-aid kit – for minor scrapes and blisters. Don't forget to include toilet paper and ziplock bags for any garbage.
Water – filtered water is available at the hut, but make sure to pack enough for your hike in. People do drink directly from streams in New Zealand, but if you do so (at your own risk), choose side streams, rather than the main river which carries sediments from the glaciers. Also make sure there aren't any livestock upstream that will make the water unsafe to drink.
Bug spray – Get bug spray in New Zealand (rather than bringing some from the US) since it's specific to the insects there. And if you really want to be protected, cover up your skin with a long sleeved shirt and pants (I obviously didn't follow this advice).
Headlamp – there is no electricity in the hut at night.
Ear plugs – People snore in the huts and it can ruin your night of sleep if you are a light sleeper.
HAVE YOU HIKED THE COPLAND TRACK IN NEW ZEALAND? WHAT ARE YOUR FAVORITE HIKES IN NEW ZEALAND? LEAVE A COMMENT BELOW,
TWEET
ME, OR WRITE ME A POST ON
FACEBOOK
.

Disclosure: The links in this post are affiliate links which means if you make a purchase, I receive a tiny bit of compensation at no added cost to you. Any purchases you make help keep this blog going…so thanks for all of your support! If you ever have any questions about any of the products featured on my site, please email me. Thanks! Kristen