Trail Guide: Hiking to Sawtooth Lake in Idaho
Sawtooth Lake in Stanley Idaho is one of the most beautiful dayhikes in the Sawtooth wilderness. Learn how to tackle the trail in this hiking guide.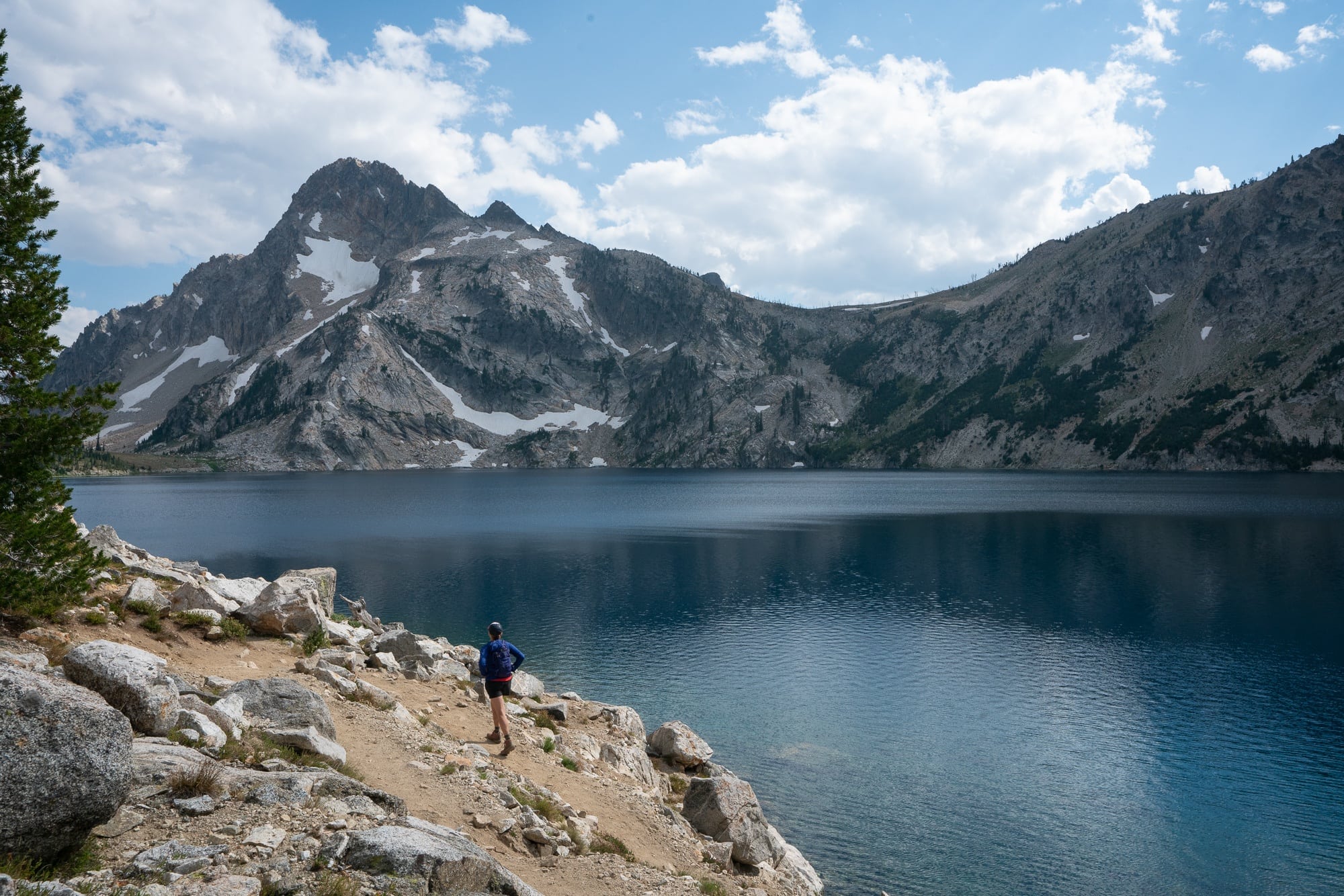 Trail Guide: Hiking to Sawtooth Lake in Idaho
Funny enough, it took me three tries hiking up Iron Creek to actually make it to Sawtooth Lake. Not because it's too difficult, but because the first two attempts I didn't give myself enough time. Once you get into the alpine, the trail up to Sawtooth Lake is so gorgeous that I was stopping at every corner to take in the views and snap a few photos. Before I knew it, I was out of time and had to turn around. On each hike I was satisfied, but I had no idea what I was missing out on.
On our recent trip to Stanley, Idaho, we got our butts in gear and hit the Iron Creek trailhead at a more reasonable hour. I learned that each time I hiked this trail, I turned around just as the views started to get really good. The hike to Sawtooth Lake is filled with non-stop views of craggy peaks and three lakes, and the hike itself isn't too tough considering all of the visual distractions. In this Sawtooth Lake hiking guide you'll learn everything you need to know to prepare for this awesome day-hike.
And as it goes in all of the destinations we share, please practice good trail etiquette and remember to Leave No Trace. This means packing out all of your garbage, being respectful to others on the trail, and following the established rules. 
Start planning your hike to Sawtooth Lake now with this trail guide!
Best Time to Hike to Sawtooth Lake
July-September is the best time to visit the Sawtooth Wilderness. The trail begins at almost 7,000 feet in elevation and climbs above 8,250 feet so if you try to hike the trail from October-May you'll likely run into snow. Given the elevation, the trail can be cool and windy, so make sure to pack a jacket for your hike.
Sawtooth Lake Hiking Basics
9.6 mile out & back hike starting at Iron Creek trailhead with 1,758 feet of elevation gain.
Dogs are allowed on the trail. July 1 through Labor Day they are required to be on a leash. Outside of those dates, they can be off-leash.
Sawtooth Lake is within the 217,00 acre Sawtooth Wilderness
Roundtrip the trail took us about 4-5 hours, including several breaks.
The trail is well marked & fairly popular, so be prepared to share the trail.
Sawtooth Lake is also popular for camping, so expect to share the trail with backpackers. Iron Creek and Sawtooth Lake can be great for trout fishing, but you'll need to pick up a fishing license before heading out if interested.
Learn about our favorite day hiking essentials
What to Know Before You Go
There is no cell service once you leave the town of Stanley. Make sure you know where you are going before you leave town.
There is water all along the trail. You'll follow Iron Creek at the beginning of the trail. Then you'll pass Alpine Lake, so you have plenty of opportunities if you run low on water on the way up. You'll want to pack at least 2 liters and consider bringing a water filter in case you want to refill along the way.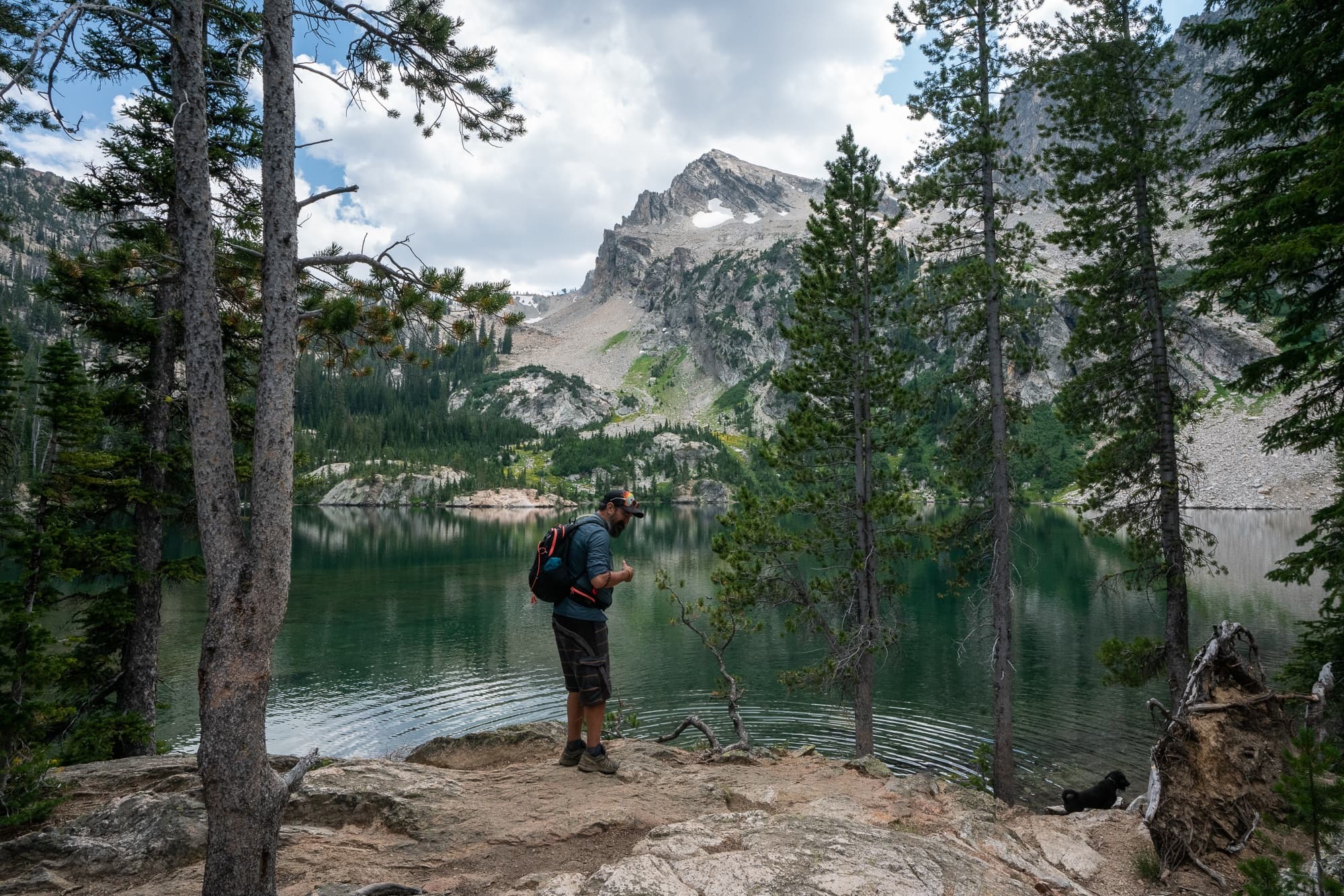 Alpine Lake is a great place to refill before the second stretch of uphill hiking
The trail is well-maintained, and hiking boots or trail runners are recommended footwear, unless there is snow. You can check trail conditions online.
Whether you are day hiking or backpacking, a free wilderness permit is required and can be obtained at the trailhead. If you're camping, permit regulations require you to camp at least 100 feet from trails, lakes, and streams.
Getting to the Iron Creek Trailhead
From Stanley, Idaho, go northwest 2.5 miles on ID 21 and then take Forest Road 619 south for 5 miles. The Forest Road is not paved, but the road is well-maintained, and no 4×4 is required.
Sawtooth Lake Trail Guide
Before you start your hike, make sure to check out the bulletin board at the Iron Creek Trailhead for any pertinent information. I also recommend pulling up a trail map on your favorite hiking app (while you are still in town), so you can follow your progress.  Then fill out a wilderness permit form, which is required even for dayhikers. The entire hike is well-signed, so pay attention at any forks in the trail to make sure you are on the right path to Sawtooth Lake.
The first mile is fairly easy as you meander through the forest with Iron Creek on your left. At 1 mile, you curve away from Iron Creek, reaching a junction at 1.7 miles.  Here you hang a left and begin your climb to Alpine Lake. Here you will begin the switchbacks, affording gorgeous views as you make your way up.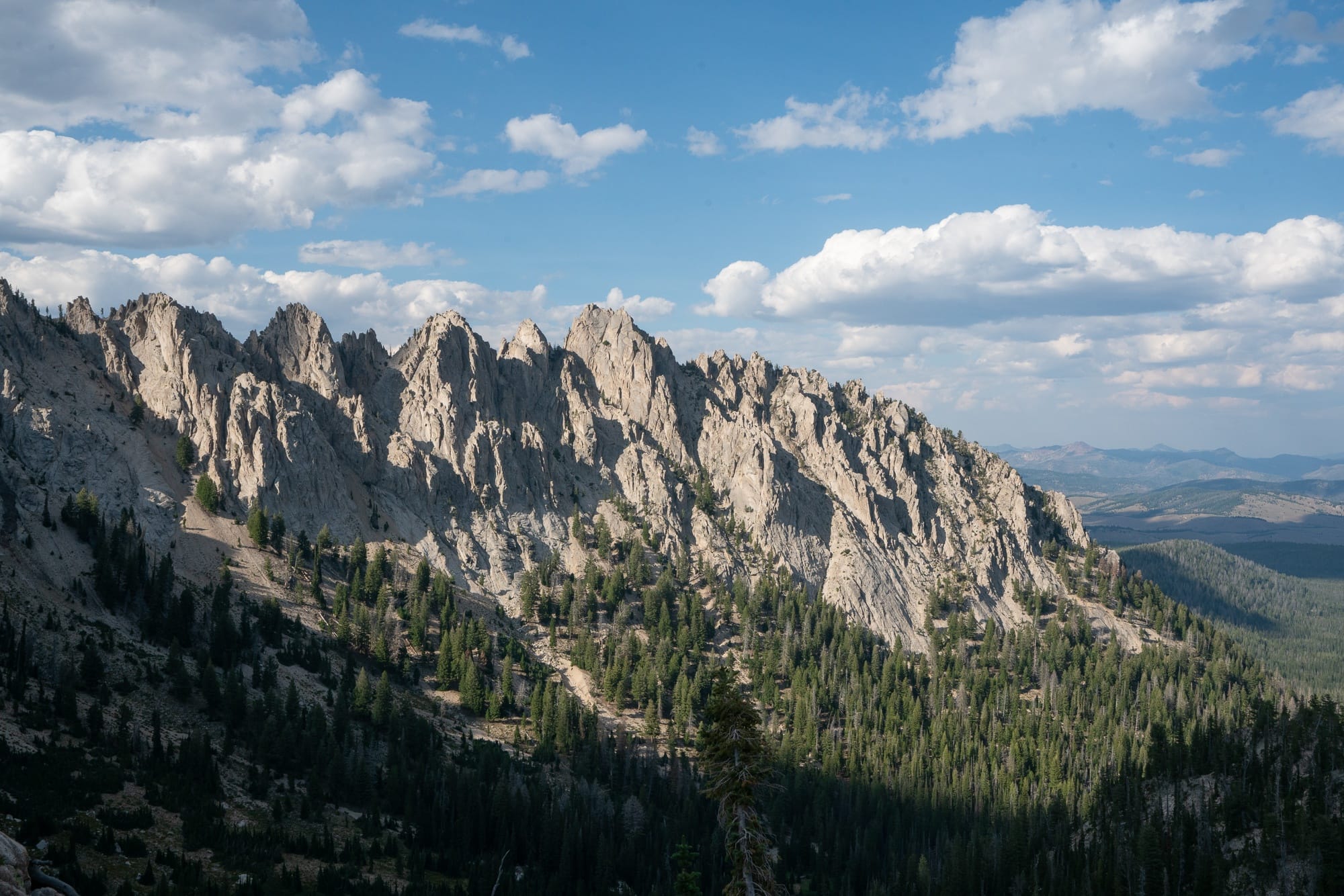 At 3.8 miles, you'll reach the junction for Alpine Lake. It's only 100 feet down to the lake, so I'd recommend stopping and at least checking it out before you continue to Sawtooth Lake. It's also a good place to filter some water if you need a refill.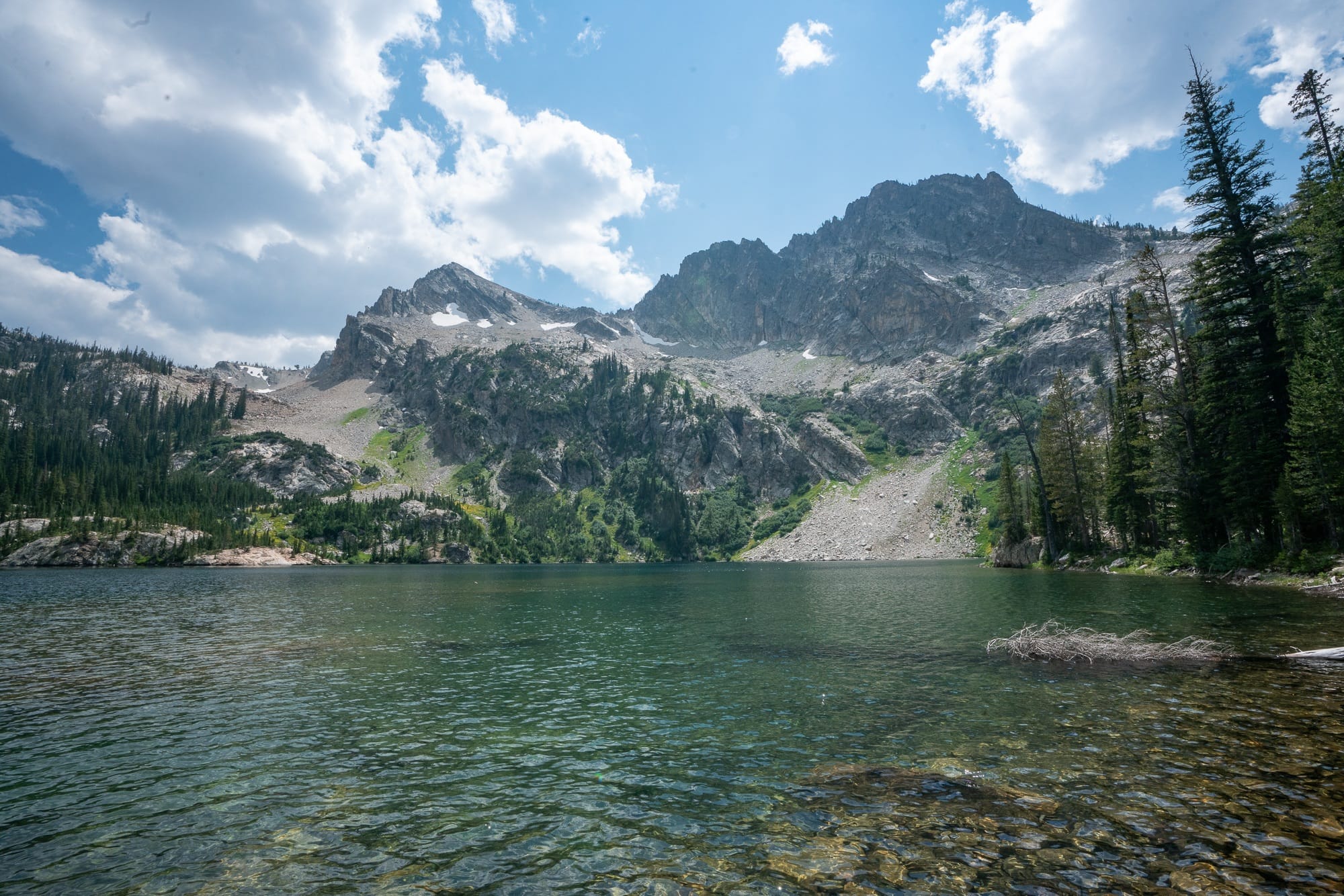 Alpine Lake – There are a number of campsites around this lake if you are looking for a quick backpacking trip.
Beyond Alpine Lake, the trail winds up a ridge eventually giving you views of Alpine Lake on one side and jagged Sawtooth peaks on the other. At every corner and switchback, the trail gets more exciting.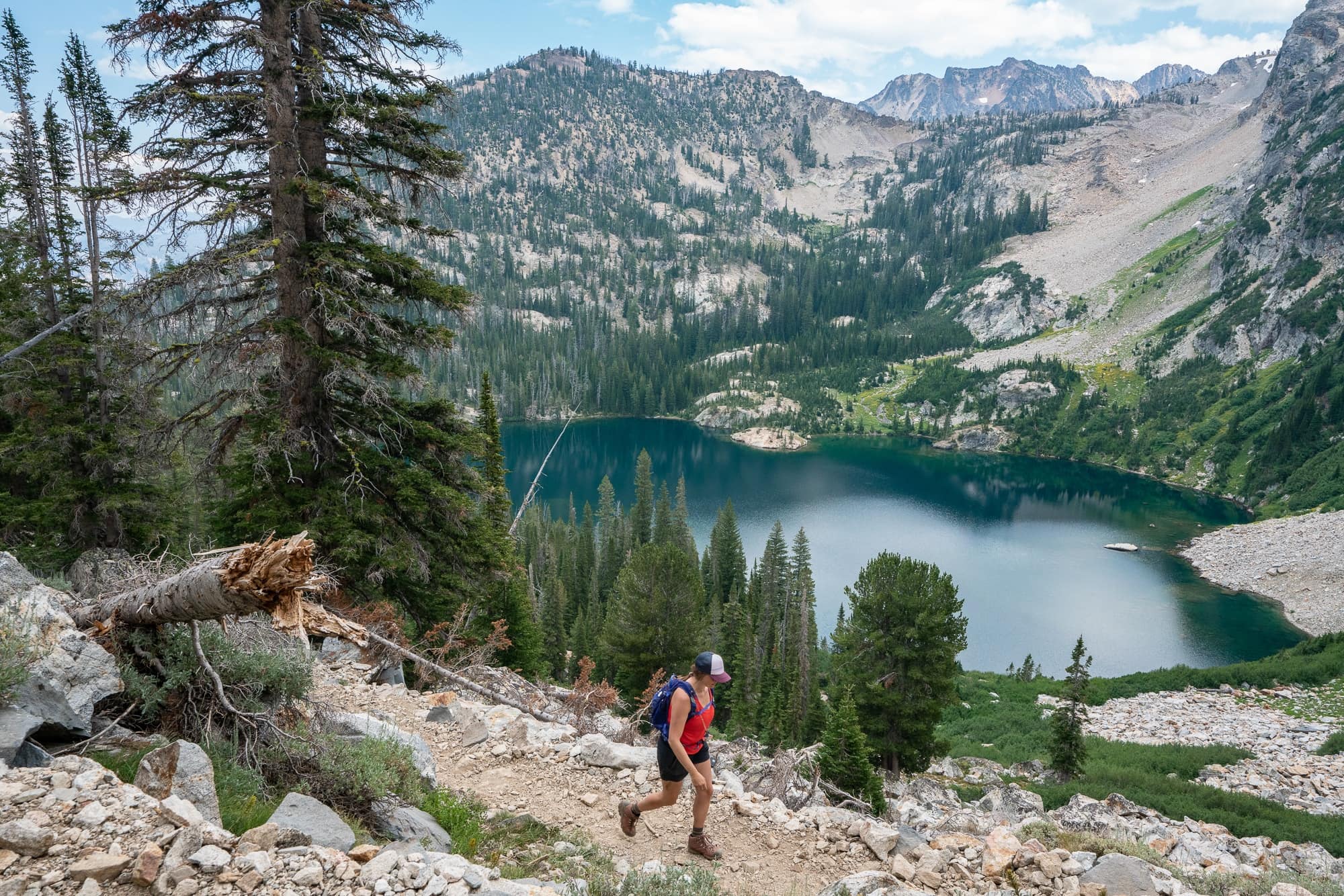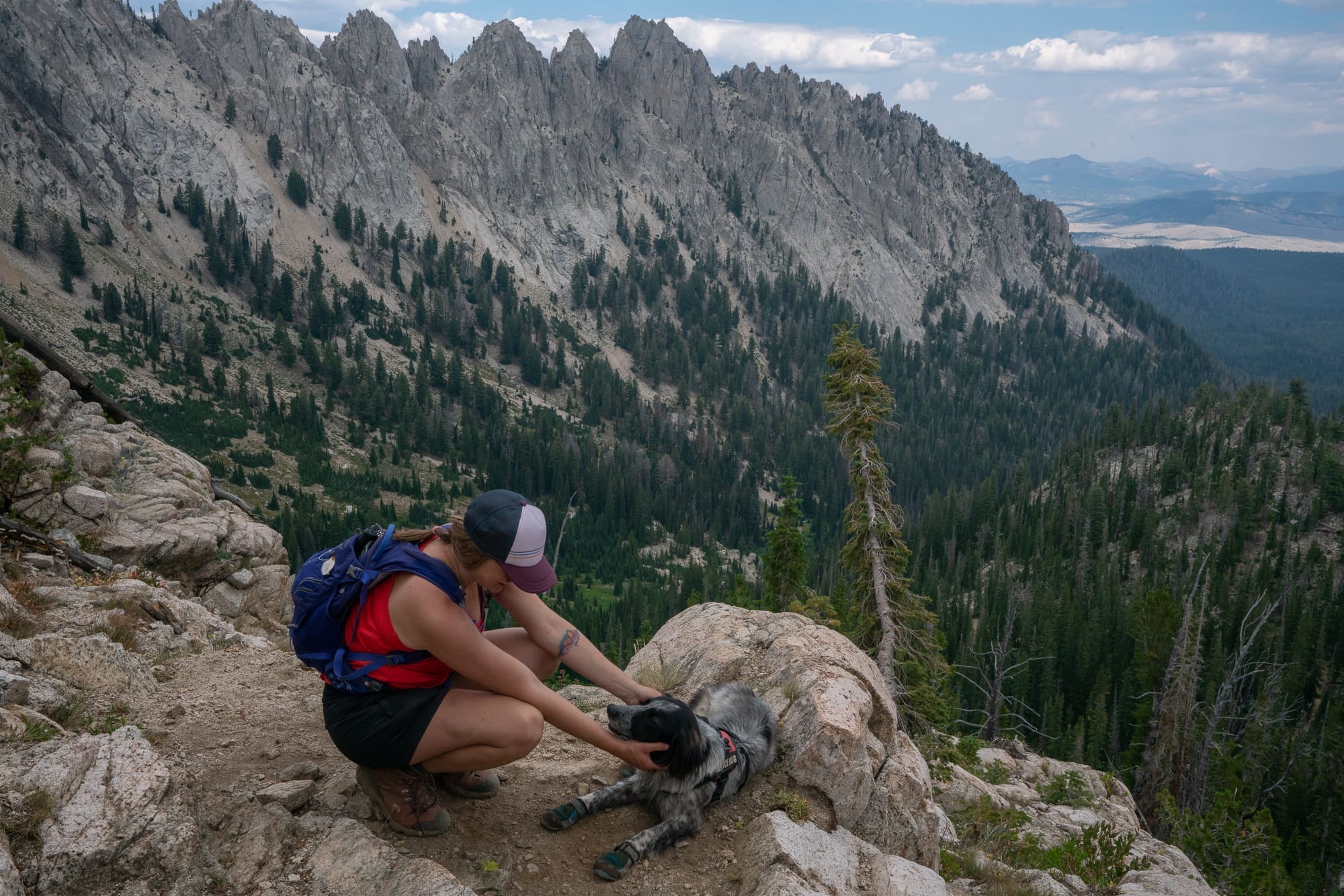 After 500 feet of quick ascent you reach a small, but beautiful lake/pond. If you are looking for a quiet campsite, there was one awesome spot on this lake. There is a small foot path that leads right to it. The views weren't quite as spectacular as Sawtooth Lake up ahead, but you'll have more solitude at this campsite.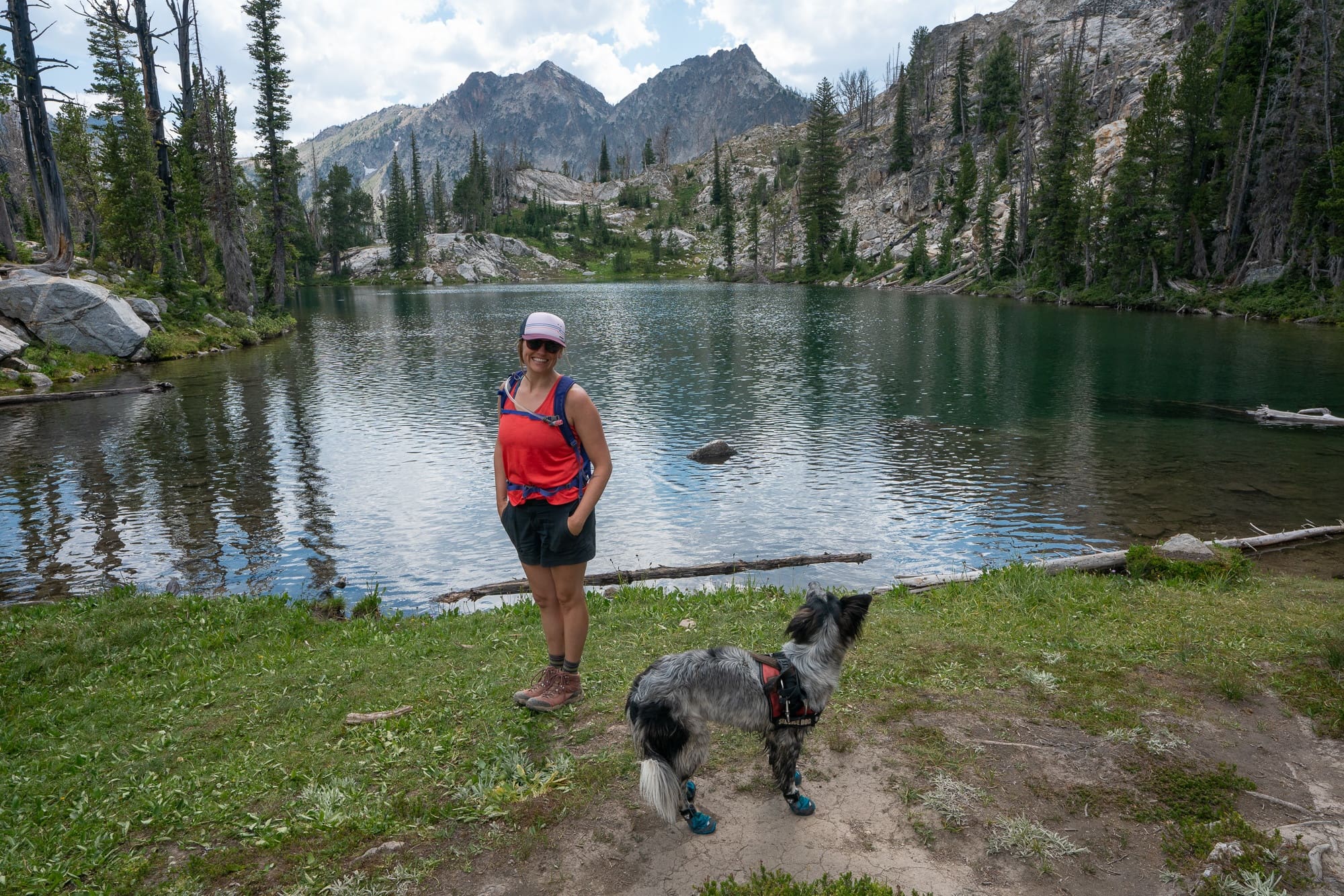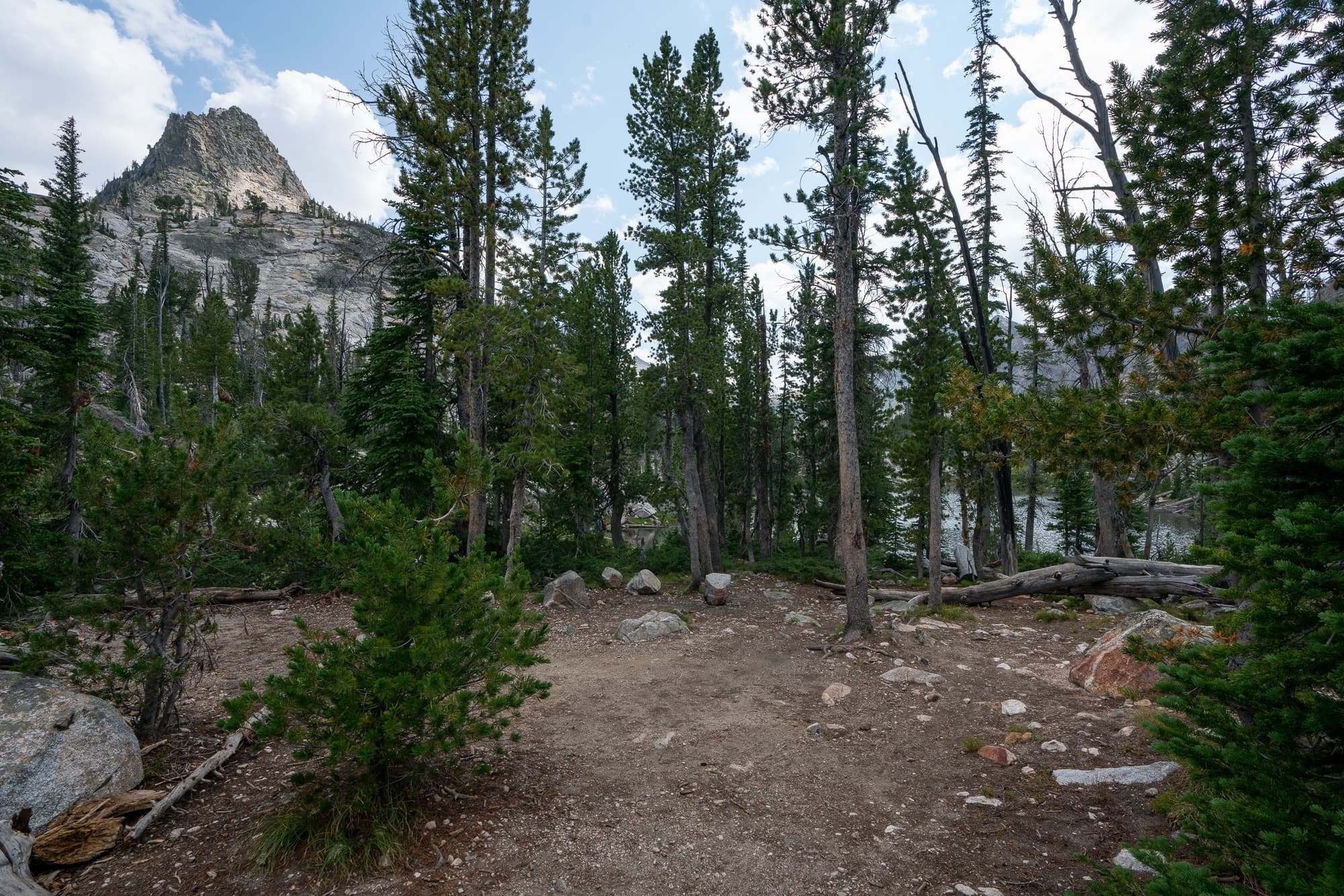 Once you reach the pond, the trail flattens, and Sawtooth Lake is just around the corner. At Sawtooth Lake, there a couple campsites right at the outlet where there was a big log jam. Beyond that, we found another private campsite up on a ledge above the lake. We hiked to the end of the lake where the 10,190-foot Mount Regan towers above.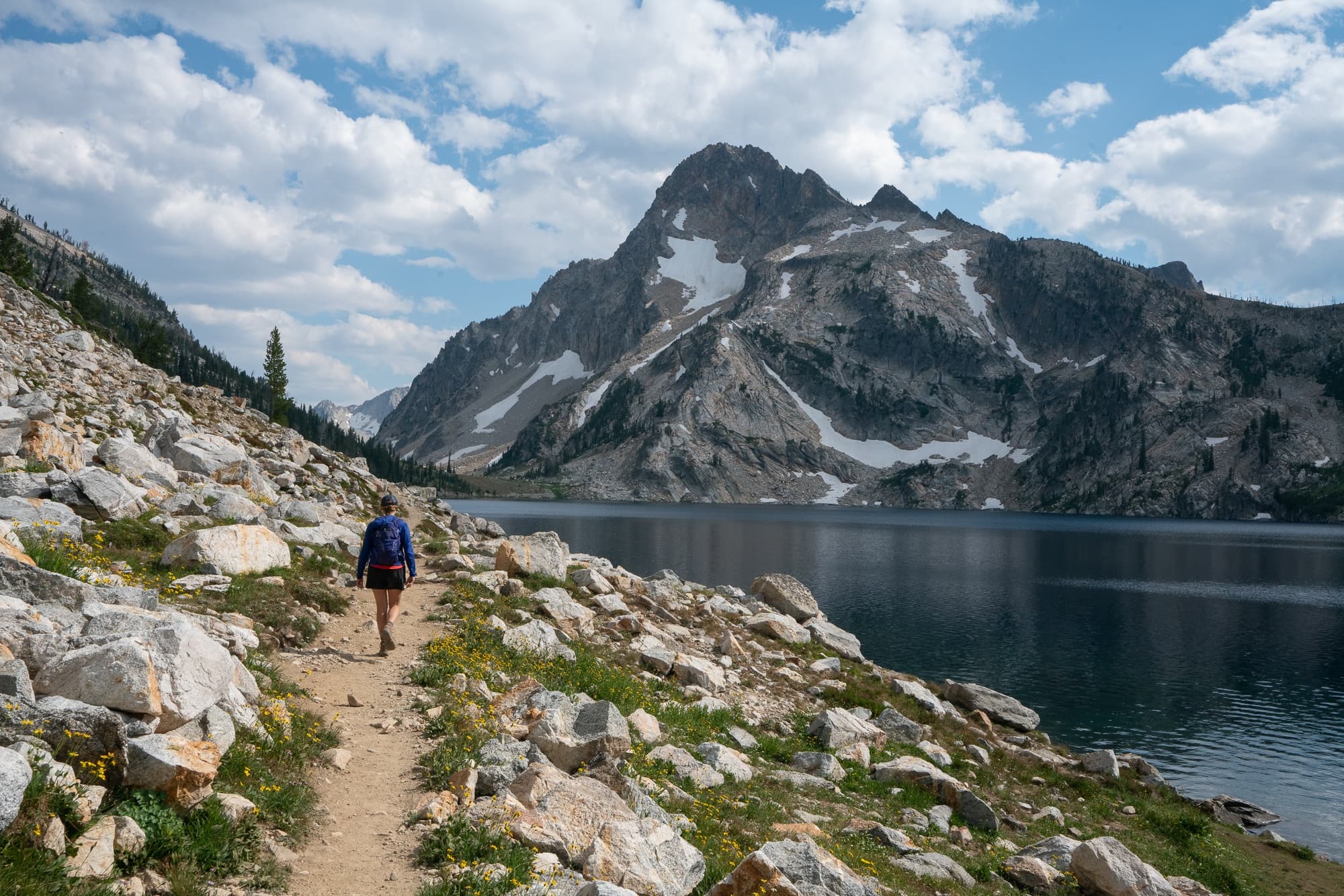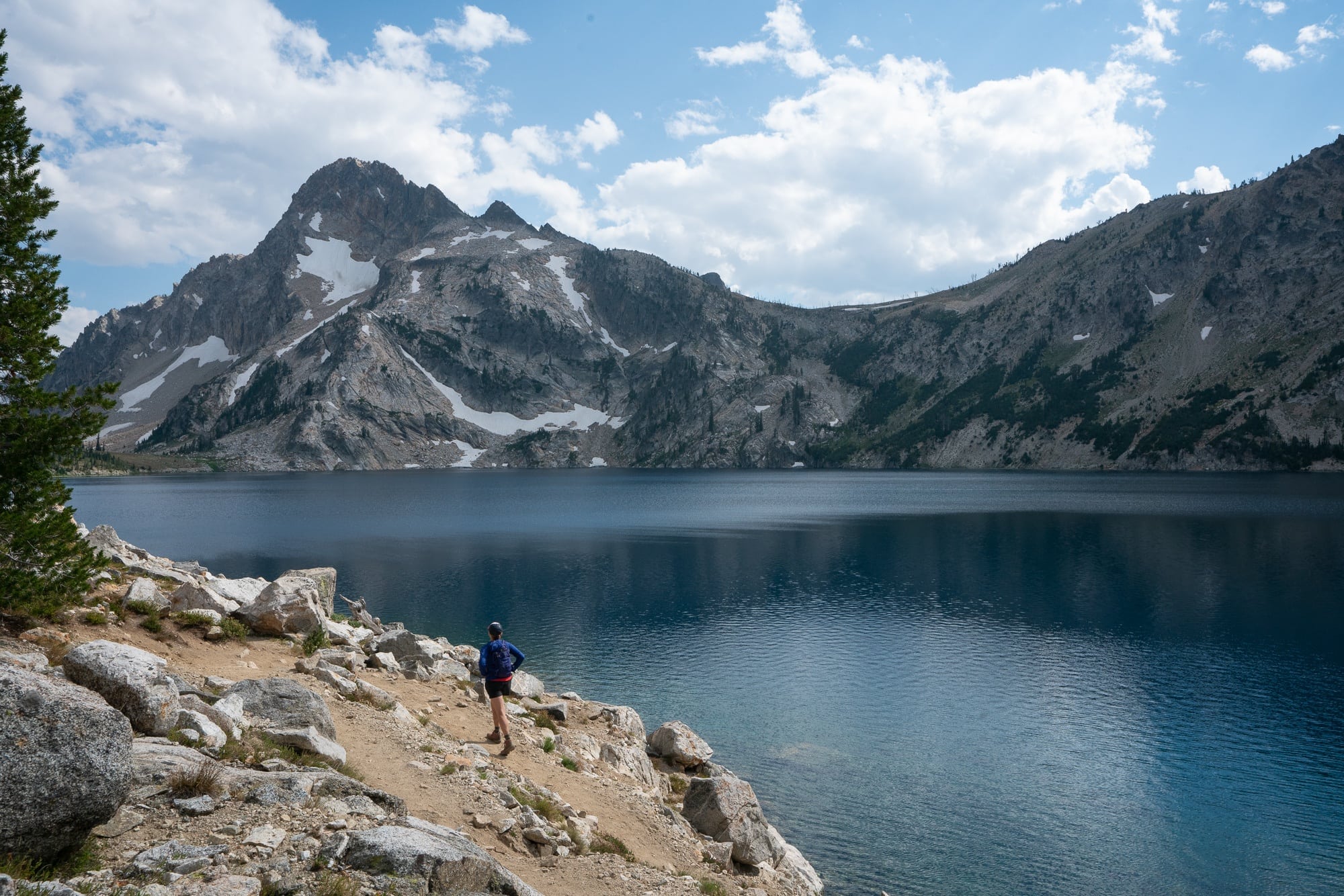 We found a nice little lakeside meadow below the trail to relax and have a snack towards the end of the lake before turning around and returning to the Iron Creek Trailhead.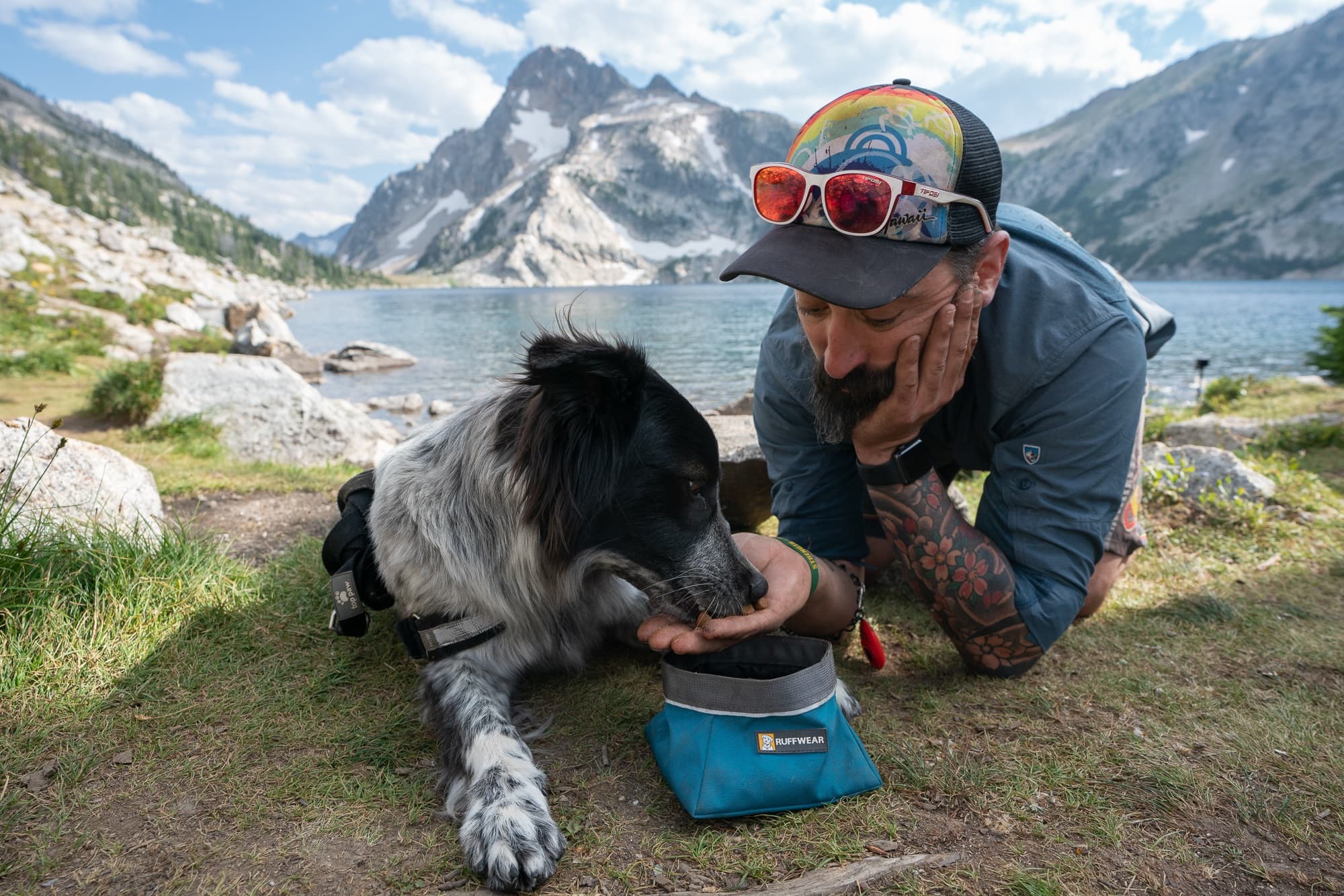 If you have more steam in you, we heard that if you cross the creek near the log jam at the outlet of Sawtooth Lake, there is a side trail that climbs high above Sawtooth Lake where you can get even better views.
Learn more about Leave No Trace & how to be responsible on the trail
Car Camping Near Iron Creek Trailhead
The Iron Creek campground at the trailhead has 9 campsites that are along the creek and makes a convenient place to camp when day hiking to Sawtooth Lake.  Campsites are first-come, first-serve and are $16 per day.
There are also plenty of dispersed, free campsites around Stanley. Check out our blog post – How to Find Free Campsites – to learn how to find them.
Stanley Idaho Hiking Resources
Given cell phone service is so limited around Stanley, I'd recommend bringing a map or hiking books with you on your trip. Here are my favorites:
GOT QUESTIONS? HAVE YOU HIKED SAWTOOTH LAKE?  WHAT IS YOUR FAVORITE HIKE IN IDAHO? LEAVE A COMMENT BELOW, TWEET ME, OR WRITE ME A POST ON FACEBOOK.