Overnight Kayaking Trip in Vermont's Green River Reservoir State Park
Learn how to plan an overnight kayaking trip in Green River Reservoir State Park & enjoy solitude at one of 27 paddle-in campsites.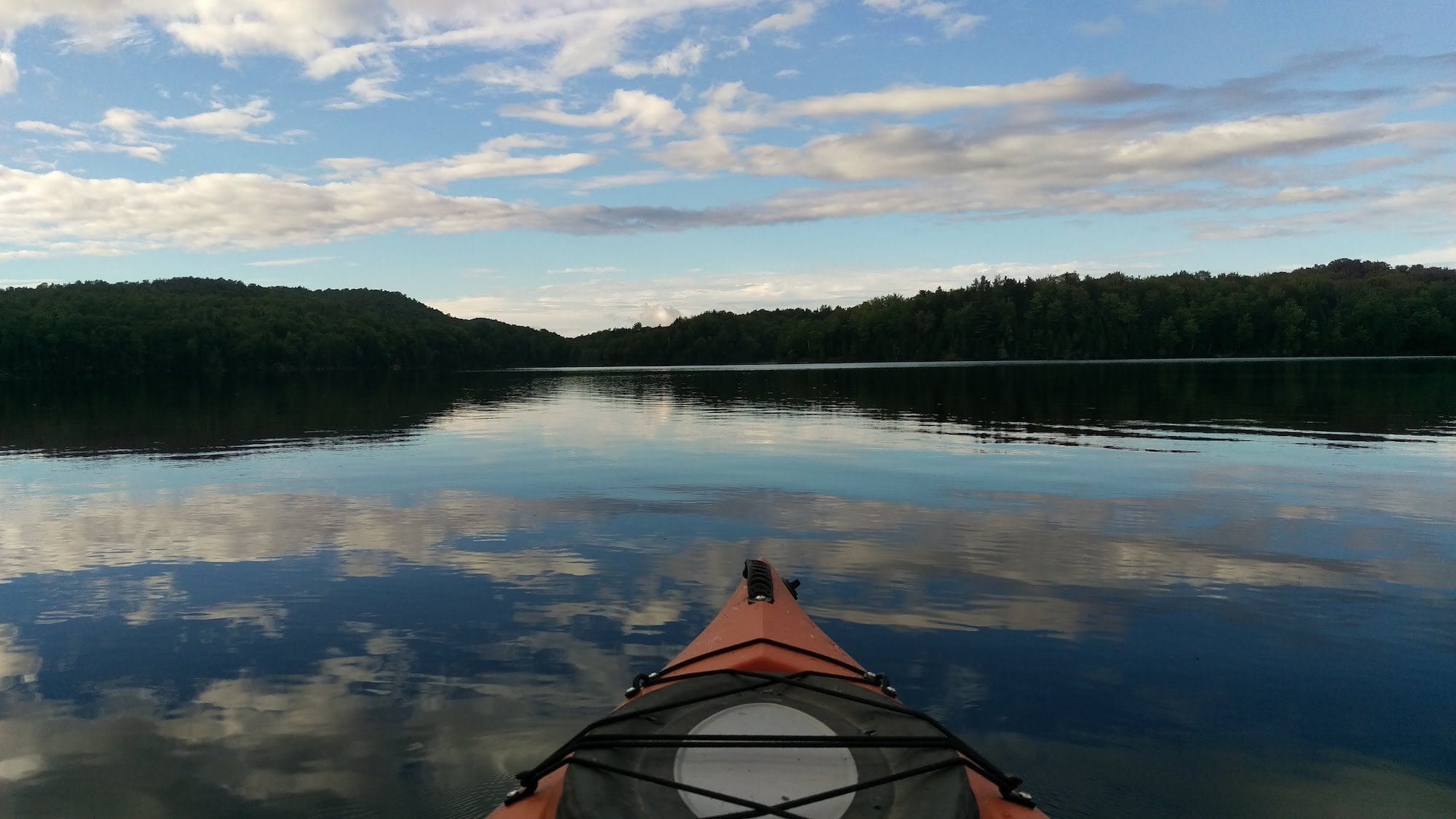 OVERNIGHT KAYAKING TRIP IN VERMONT'S GREEN RIVER RESERVOIR STATE PARK
By Bearfoot Theory's East Coast expert Katherine Oakes
It's not every day that you get to really travel to a remote and wild area. Even our National Parks, trails, and waterways tend to get overcrowded and busy. Seeing other folks enjoying the outdoors is an awesome thing to witness, but once in a while, it's nice to really get out there…
To get your fix, plan an overnight kayaking trip to Green River Reservoir State Park in Vermont. This beautiful body of water is known for its commitment to remaining a wild, remote and undeveloped area that is an outdoor lover's paradise. Think, swimming, fishing, boating, camping and wildlife against an idyllic New England backdrop. The Green River Reservoir State Park is that and more.
To help you plan your best paddling trip yet, we've rounded up all the details and helpful tips to know before heading out.
Here's your guide to planning an overnight kayaking trip in Green River Reservoir State Park, Vermont.
Important Reminder: As outdoor recreationists, it's our responsibility to know how to recreate responsibly on the water whether we're kayaking, paddleboarding, canoeing, rafting, or boating. Learn how to prevent the spread of aquatic invasive species with 3 easy steps that have a huge impact on our ecosystems.
Green River Reservoir State Park Basics
The scenic Green River Reservoir State Park is located in the heart of the Green Mountains all the way up North in Hyde Park, Vermont. It's just under an hour away from the US-Canada border, the Stowe Mountain area and Northwest of Burlington and Lake Champlain. The 653-acre Reservoir includes about 19 miles of shoreline and is one of the longest stretches of undeveloped shorelines in Vermont. This New England locale was developed in 1999, a fairly young park, that's dedicated to remaining a low-impact, wild setting with it's remote and primitive campsites that are only accessible by paddling.
The season runs from May 18th through Columbus Day Weekend, so make sure to get your trip in during this time.
Parking is limited. If you arrive and there is no parking left in the lot you will not be able to enter the park
It really is remote camping! The 27 campsites are only accessible by boat
Green River Reservoir is a "Quiet Lake". No motorized boats are allowed, with the exception of electric motor boats with a 5 mph electric trolling motor
There are two designated group campsites that can accommodate up to 12 people each. Call the park's number at 1-888-409-7579 to reserve your group camping site.
There are park fees that vary depending on campsites and number of occupants; when you call to reserve your site ask the rangers for pricing info
Non-group campsites must also be reserved by calling the park, it is highly recommended you call the park
Dogs are allowed on leash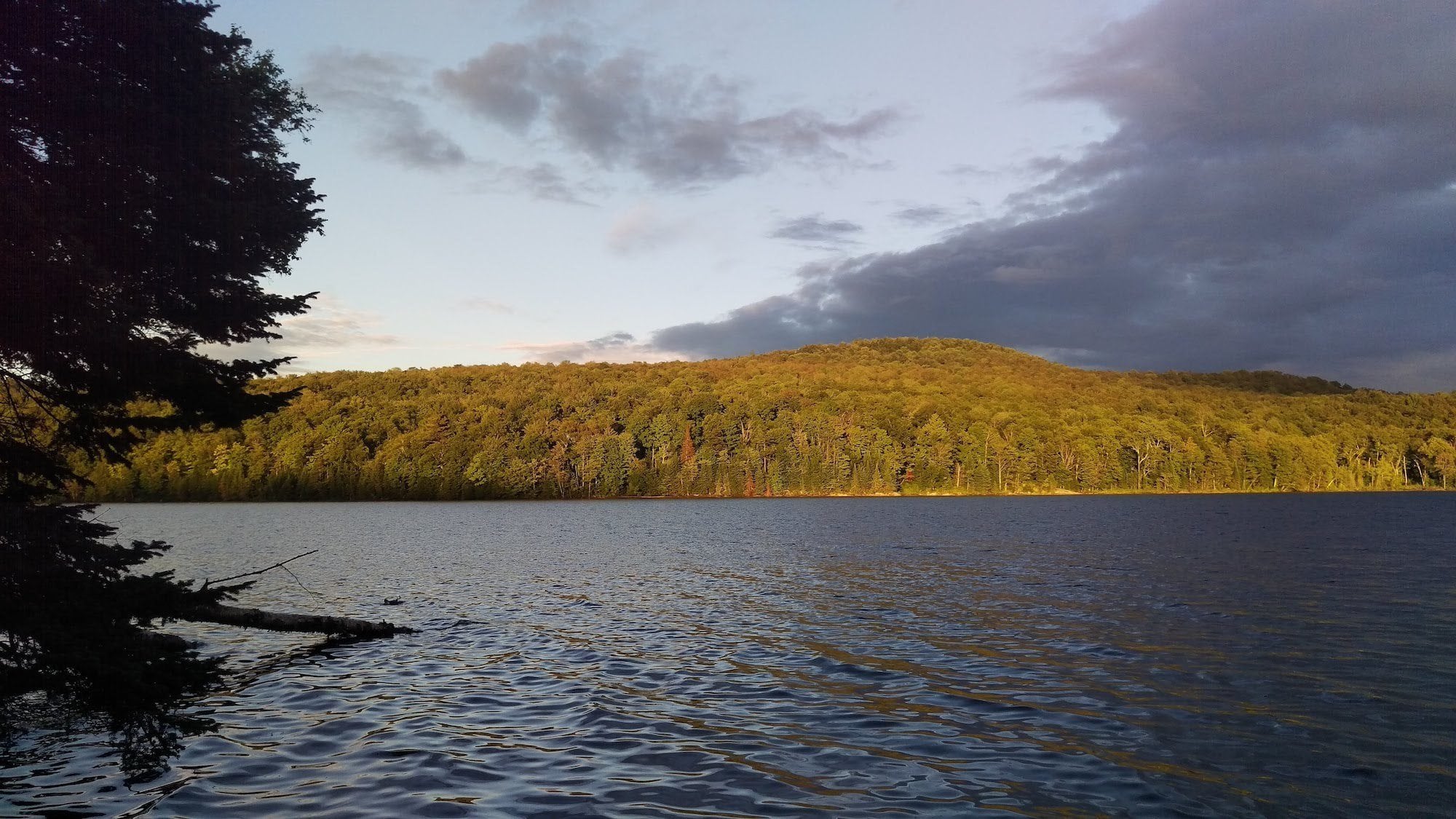 The lush and pastoral landscape of Vermont with its rolling hills, serene lakes, and peaceful aura is your quintessential New England setting. While it's certainly a calming experience there's really so much to explore and discover here (including the craft breweries in neighboring towns!).
Looking for another great East Coast lake to visit? Check out our Lake Champlain 3-day itinerary
How to Get to Green River Reservoir State Park in Vermont
Service in the area is spotty so you won't be able to rely on Google Maps when you eventually end up on the country roads that zigzag through rural Northern Vermont. Take some time to write down your directions and know where to go before you head into the cellular dead zones. It's a pretty isolated area so there is only one way to access the park via Vermont (VT) Route 100. Luckily, is accessible from nearby major highways like Interstate 89 or 91 if you are coming from out of state or out of town.
At the junction of Route 100 and Route 12 in Morrisville continue on Route 12 to 15A and eventually Route 15 East. Make a left onto Garfield Road and continue on for 3.1 miles until you reach a yield sign. Turn right to stay on Garfield Road and take the next left turn onto Green River Reservoir Dam Rd which you will follow 1.3 miles to the park entrance.
The Best Time to Visit Green River Reservoir State Park in Vermont
Since the park season begins late Spring on May 18th and ends Columbus Day Weekend in October, you'll need to pick a time in between those two dates to visit. Planning a trip for the spring and early summer will give you the best kind of warm weather and allow you to avoid the crowds. High summer in Vermont (July-August) is equally as beautiful, just hotter and more crowded as school lets out and other campers head out to the park as well.
Arguably one of the loveliest times to visit the area is late summer or early fall. Warm days lead into cool and crisp nights, plus you're likely to get a glimpse of that iconic New England foliage, so it really is magical.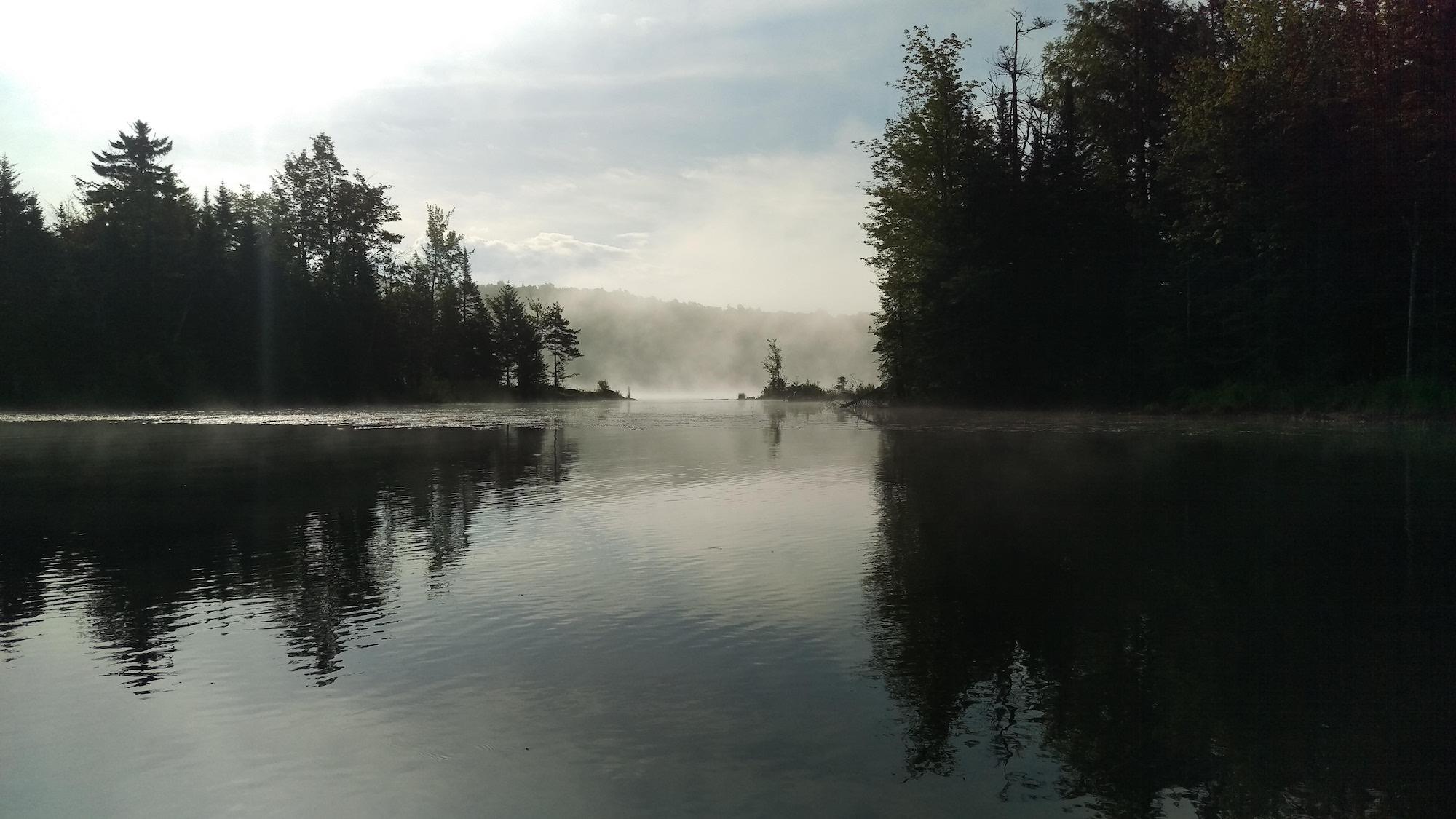 Where to Rent a Kayak Near Green River Reservoir State Park
There aren't a lot of options in the area for canoe and kayak rentals but luckily Up North Canoe and Kayak Rental is nearby in Morristown, Vermont to get you out on the water. Up North is the go-to boat rental shop for all local waterways, Green River Reservoir included.
Here are a few things to know before heading to Up North for your boat
Up North drops off and picks up all equipment on site
Rentals include life jackets, paddles, boats, plus drop off and pick up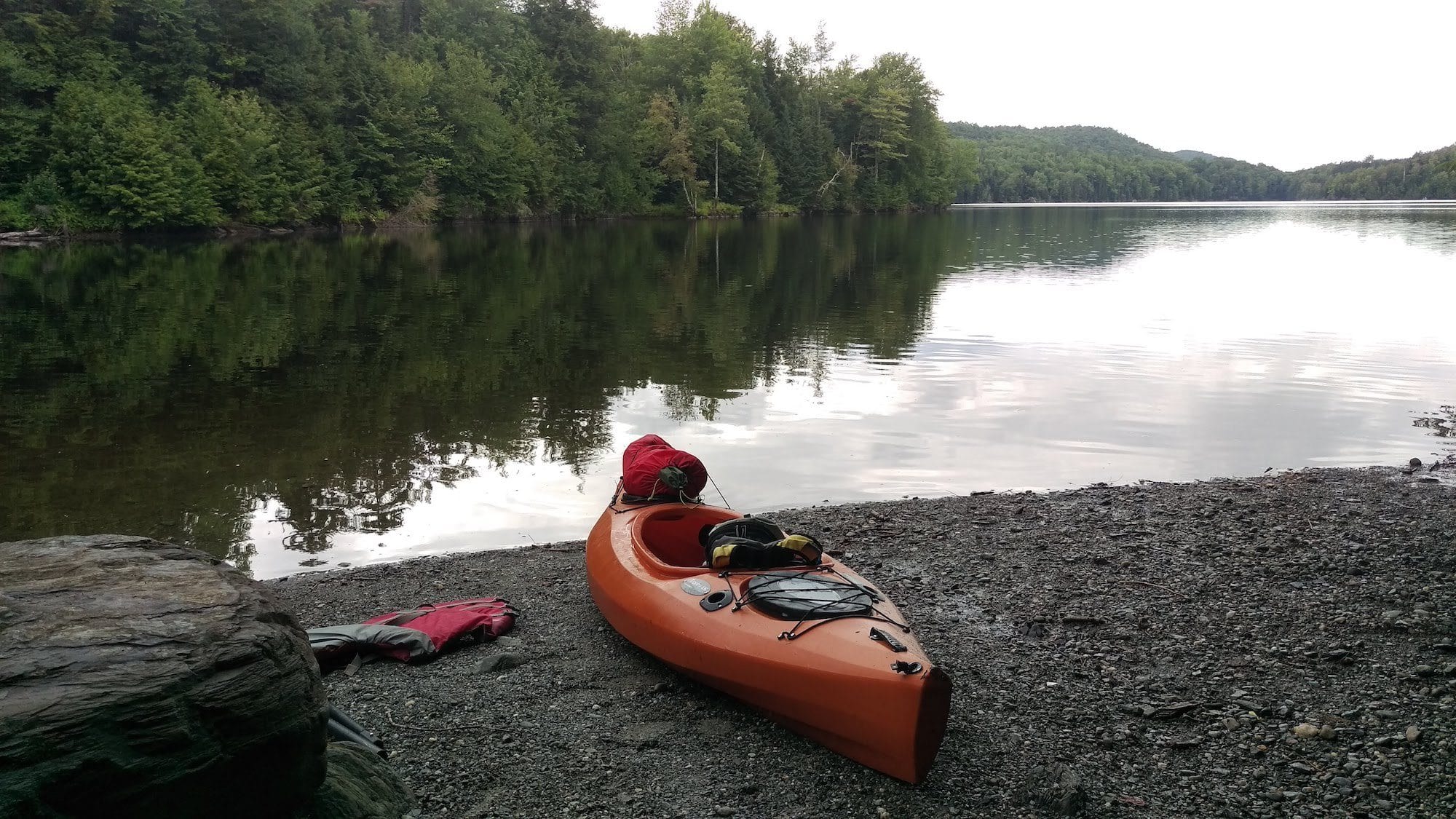 Camping on the Green River Reservoir
Each of the 27 campsites are meant to be primitive and remote. Not all of the sites have waterfront access, so docking and launching your boat can be a bit tricky. There are also some areas that are closed due to overuse and degradation of the land and vegetation. To make sure that this doesn't happen on your watch be cautious when docking and launching in your boat. Look out for plants and other wildlife and stay within the boundaries of what has already been used by other campers. If you get lucky enough to have a wide open sandy shoreline, you're good! Again, be respectful and mindful of all flora and fauna.
Most campsites have a fire ring or a fire pit that you are welcome to use for cooking and warmth. Plan ahead to bring firewood with you if you wish to cook and always clean up your area afterward. The park recommends bringing your own portable camping stove and not cooking over the fire. Whatever you decided to do make sure you follow the rules of Leave No Trace and always, always carry out what you carry in.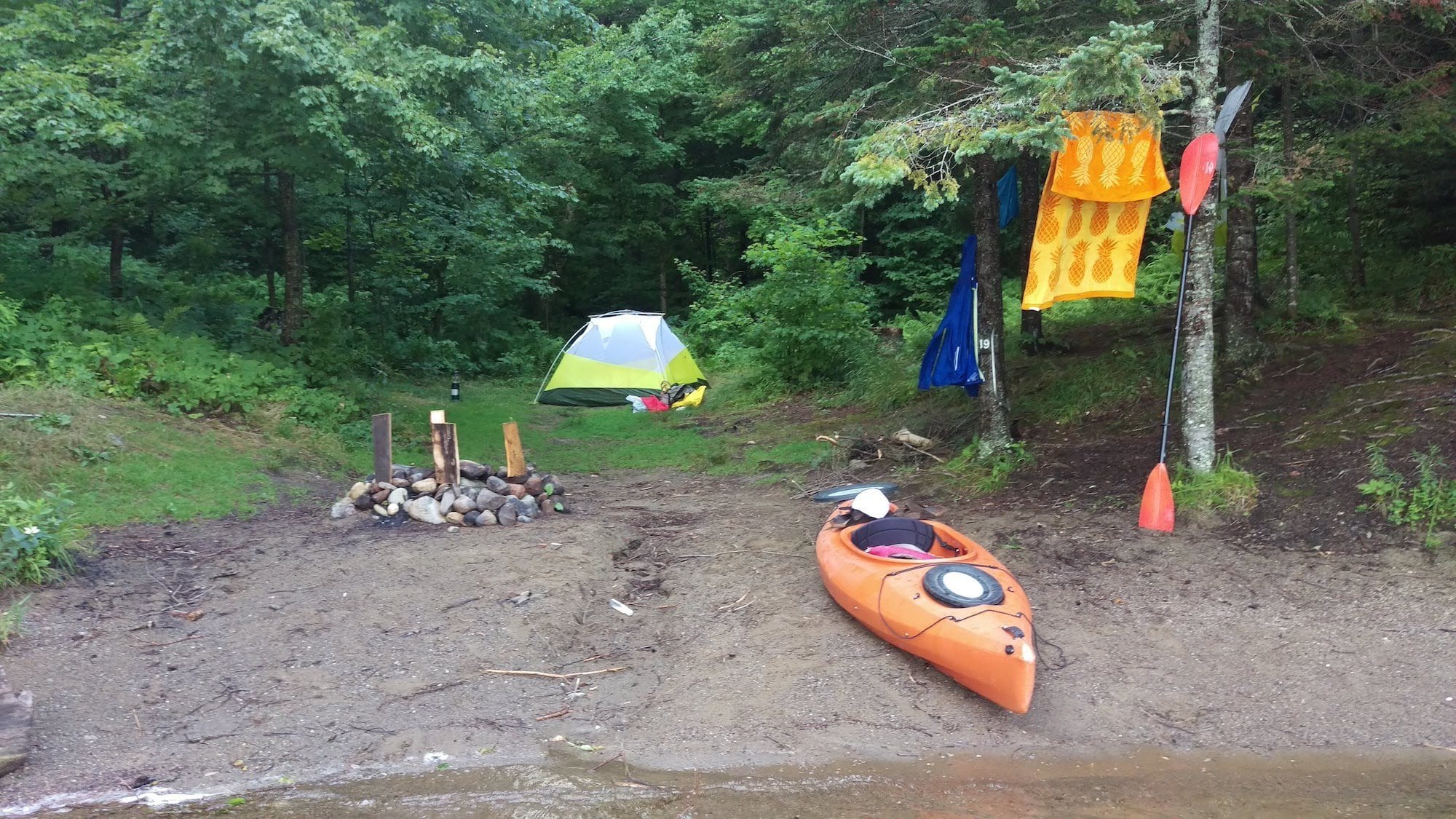 How to Make Camping Reservations for Green River Reservoir State Park
The campground at Green River Reservoir State Park is reservation only. In order to reserve your spot ahead of time call the park or call center according to the season.
On Season Reservations: May 18th – Columbus Day call the park directly at 802-888-1349

Off Season Reservations: Winter months, Mon-Fri, 9am-4pm call the Call Center at 1-888-409-7579
There are 3 campsites available for large groups (max. occupancy is 12), so make sure you mention that to the park ranger while making your reservation.
All of the campsites are equally beautiful and located on the waterfront, check out their interactive park map to select your spot — just click on the number to see a photo and details about the site! I'm partial to site #19, as you can see from the pictures.
Getting to Your Campsite and Paddling Around the Green River Reservoir State Park
Green River Reservoir's 19 miles of shoreline means there's plenty of paddling to do while you're here. Start by making your way out to your assigned campsite, which for some may only be under a mile and for the farthest locations, nearly 2 miles away from the boat launch. A quick note about the boat launch is that it is a very small area and you cannot pull your up to the waterfront to unpack. The good news is that the park will provide you with a rolling cart to help transport your things from car to boat, so if you need a hand, be sure to ask. Once in your boat, make sure you secure all of your things in your kayak and store your belongings in dry sacks to keep them from getting wet.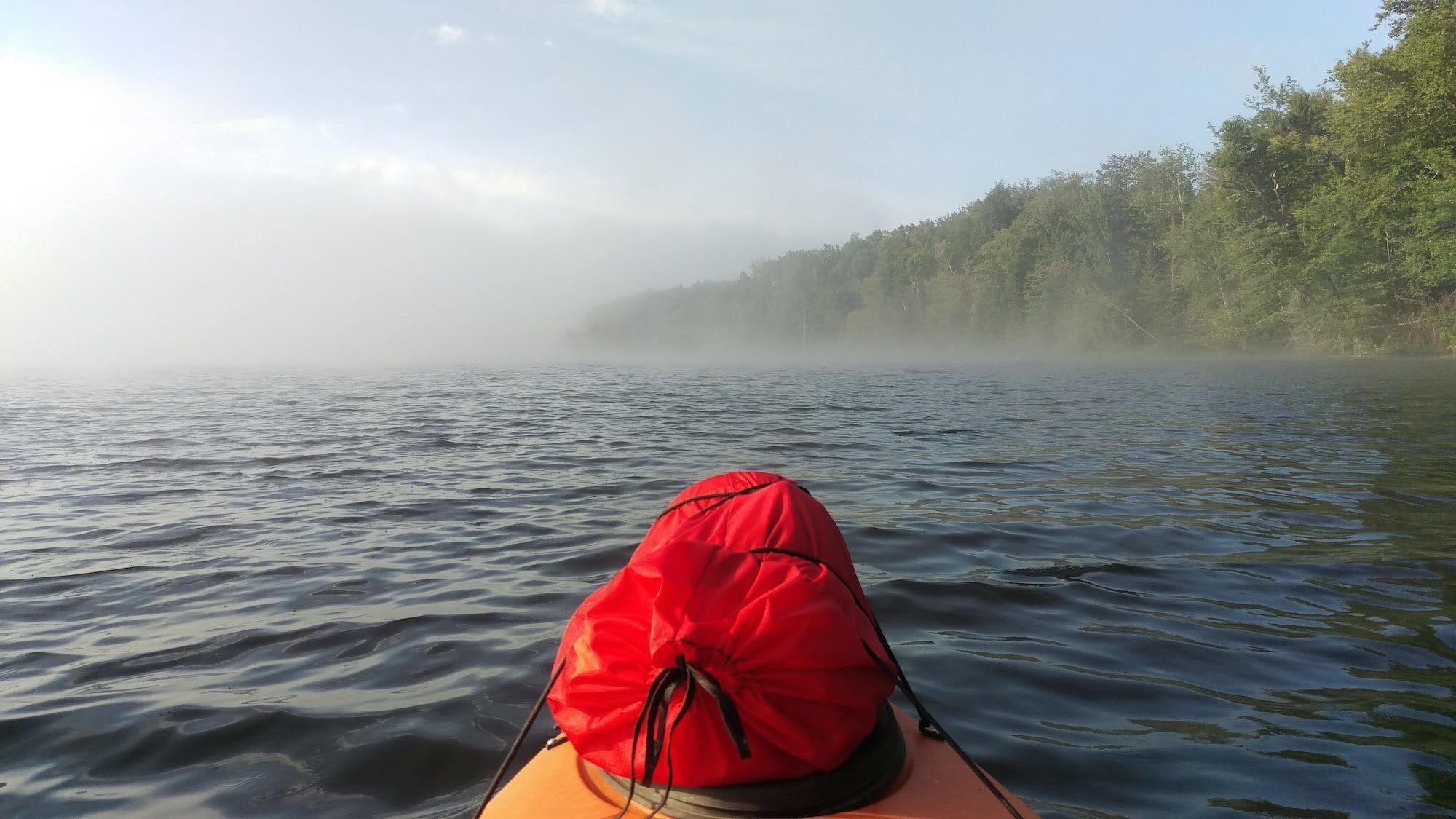 Learn more about how to pack your kayak for an overnight adventure
When paddling out to your site, look for a signpost with your designated campsite number and pull ashore. Once you've unpacked and set up camp get back in your boat and explore the rest of the reservoir. The water is pretty wide open, save for a handful of both small and large islands, Big Island being the biggest, so paddle through the Merganser Inlet to explore the nooks and crannies of the reservoir.
If you are lucky enough to have good weather, pack a lunch and paddle over to Picnic Island for, you guessed it, a picnic. The island is available for day trippers so you might meet some other paddlers out there. In any case, this is a great spot for swimming, fishing, picnicking and enjoying the waterfront, as some campsites don't have waterfront or beach access. All of the reservoir is open to fishing, swimming, and paddling so take advantage of this by doing all three!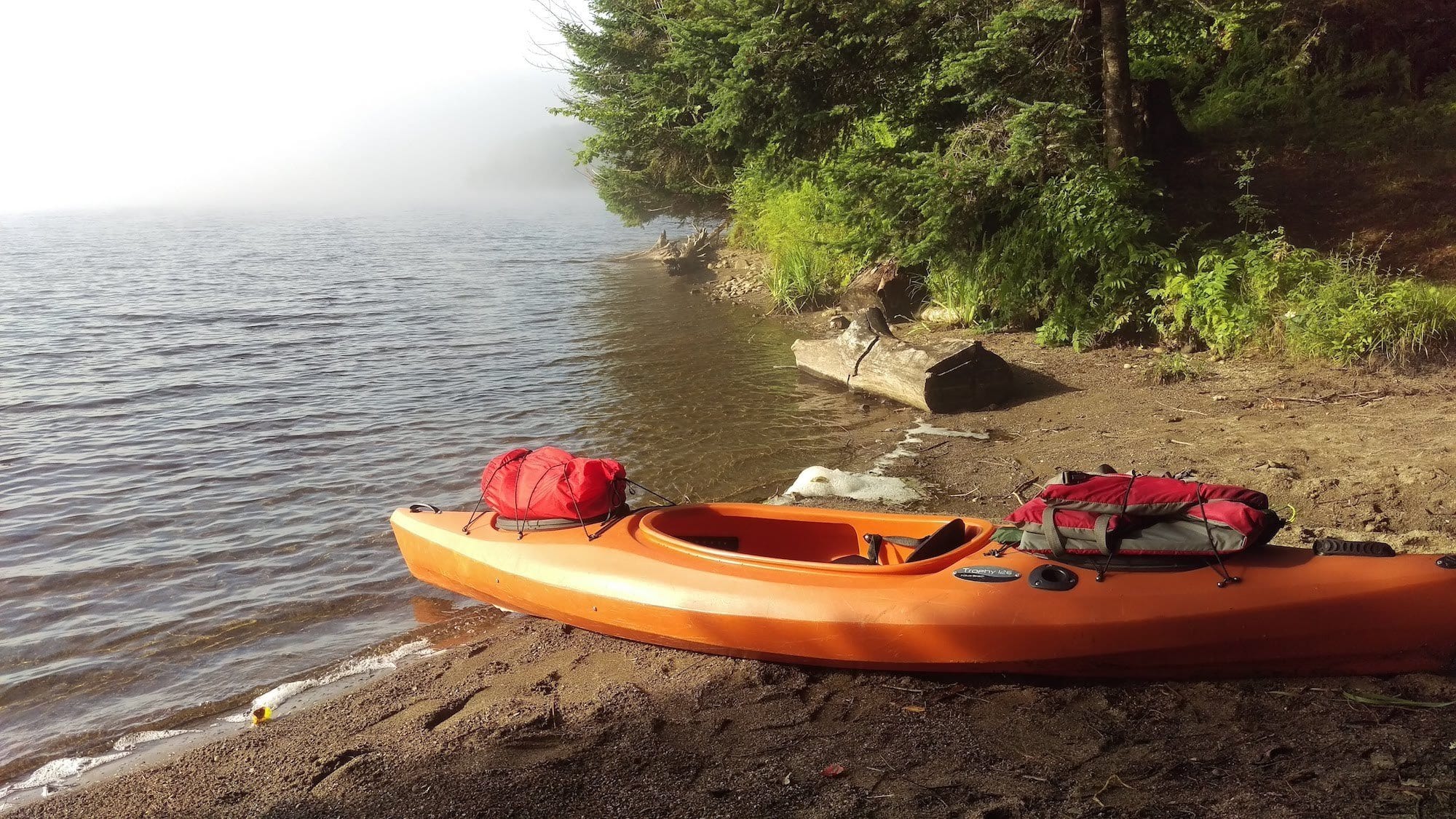 Have you done an overnight Green River Reservoir State Park kayak trip in Vermont? If you have questions about visiting the area, please us a comment below.