4-Day Cascade, Idaho Itinerary for Outdoor Enthusiasts
Explore the best outdoor adventure in Cascade, Idaho with this 4-day itinerary featuring hot springs, hiking, off-roading, biking, and more.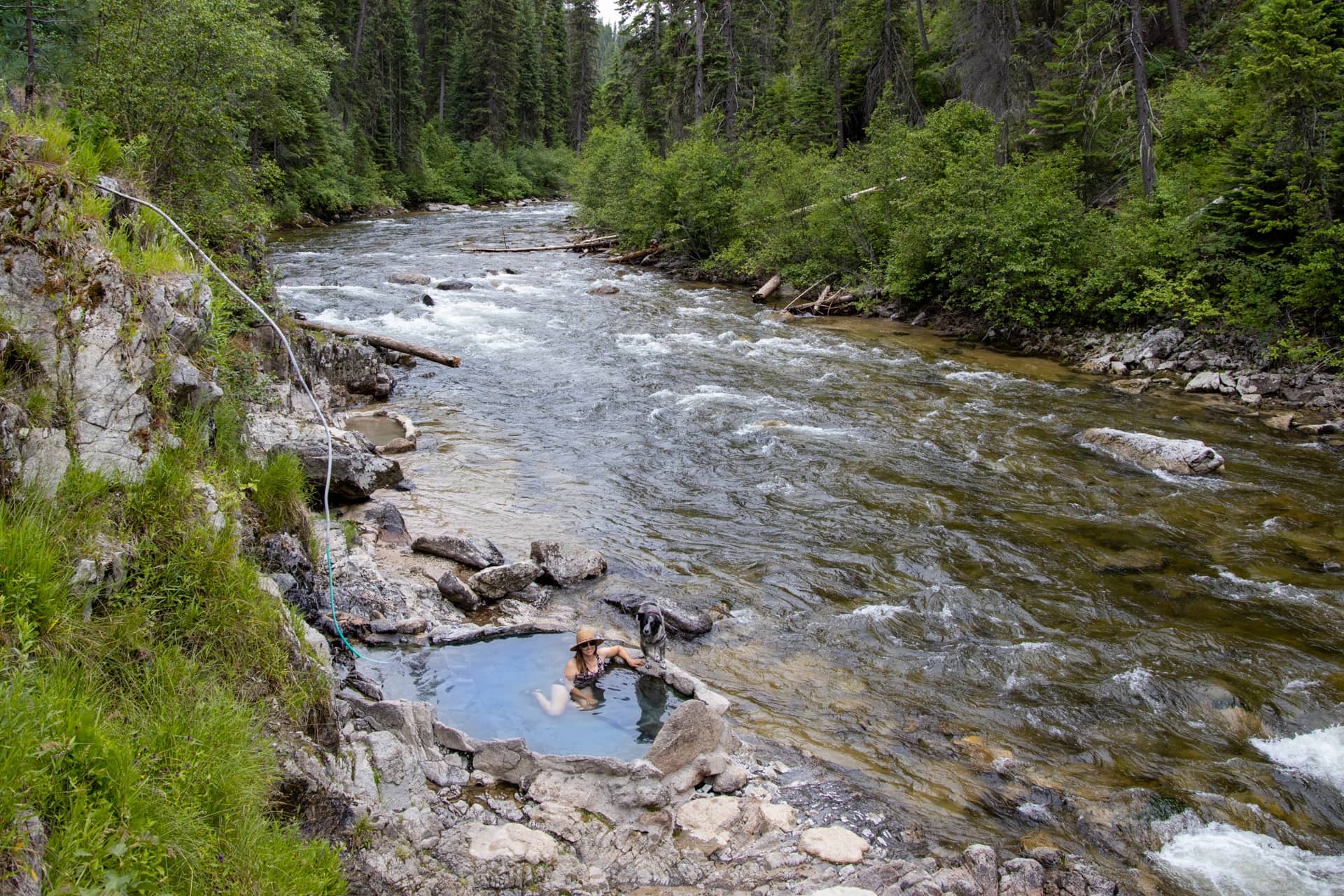 Cascade, Idaho is a small town on Highway 55 that most people pass through from Boise on their way to McCall. Little do they know what Cascade has to offer. I recently spent 4 days exploring Cascade's lakes, hot springs, trails, campgrounds, restaurants, and more and discovered that Cascade is a very worthy destination for outdoor enthusiasts.
In this blog post, I share my 4-day itinerary featuring the best things to do in Cascade, Idaho.
This post was originally sponsored by the Cascade Chamber of Commerce.
Important Reminder: As it goes in all of the destinations we share, please practice good trail etiquette and remember to Leave No Trace. This means packing out all of your garbage (including toilet paper), being respectful to others on busy trails, and following the established rules.
Getting to Cascade Idaho
Cascade, Idaho is less than a 2-hour drive from Boise and lies just 30 miles south of McCall, another one of our favorite Idaho destinations for outdoor adventure. If you're flying in, you'll want to rent a car at the airport so you can explore at your own pace. Another great option would be to rent a campervan.
#1 campsite finder app
Try The Dyrt PRO free for 30 days
Get a FREE 30-Day membership to The Dyrt PRO, one of our favorite apps for finding campsites.
Perks include:
• 5,000+ free camping locations
• 1,000+ campground discount network
• $0 extra booking fees
• Get reservations at sold-out campgrounds, and more
Use the code BEARFOOT to get 30 days free!
Cascade Idaho Weather
The best time of year to visit Cascade, Idaho really depends on whether you're looking for summer or winter activities. I visited in June and loved the early summer weather – not too hot yet, but still chilly enough to have a campfire in the evenings. Peak season in Cascade is July-September when the snow has melted and most trails are open. This is also the best time for visiting Cascade Lake for water activities.
Winter brings a lot of snow, but as long as you are prepared, winter can be magical for hot spring soaking and winter sports like snowshoeing.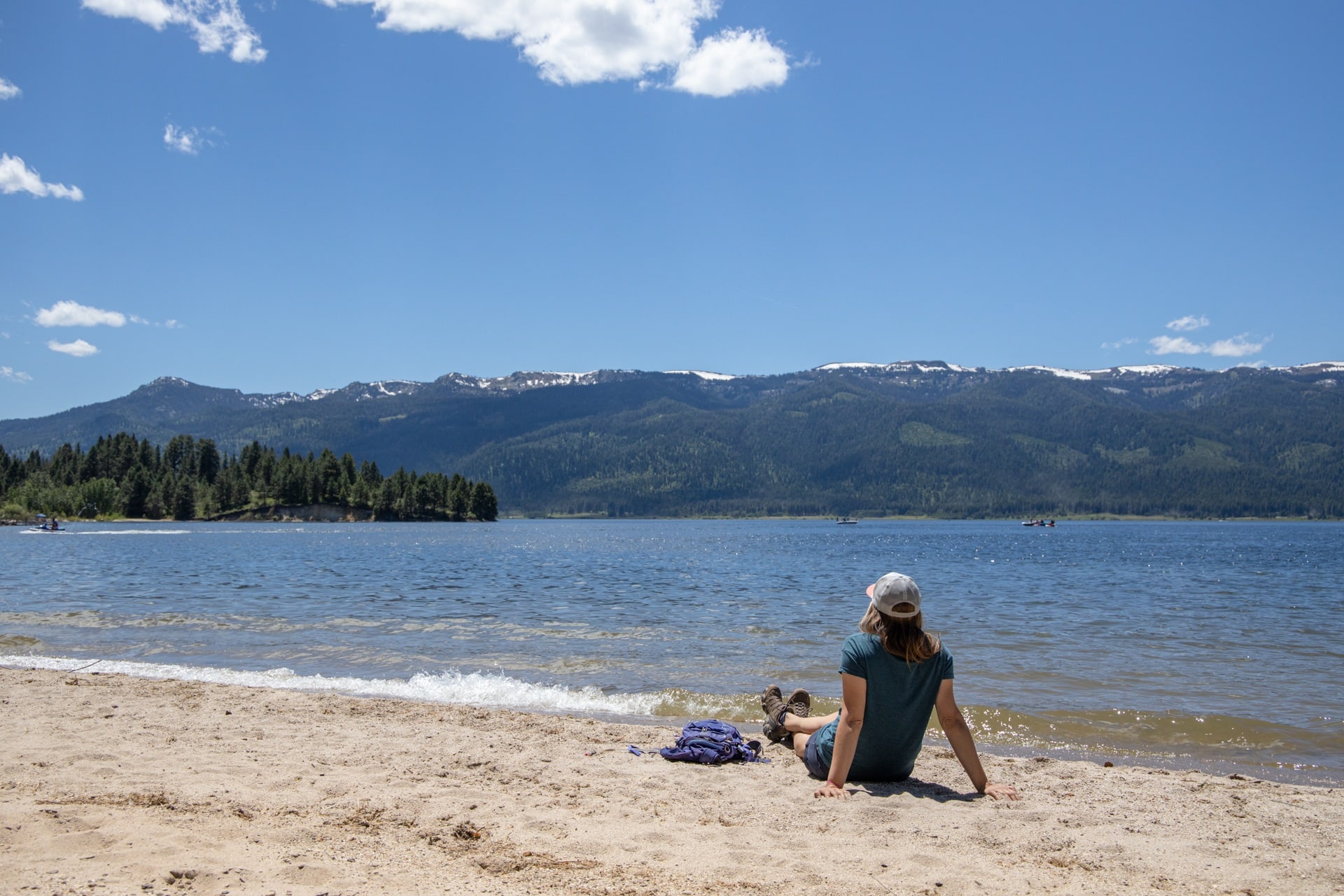 Cascade Idaho Itinerary
Day 1 – Hot Springs & Warm Lake
You're going to want to get an early start. Today you're on a hot spring tour, and your best chance of having them to yourself is to get there early in the morning.
Cascade has at least 7 different hot springs. To find out where they are, stop by the new Idaho State Parks Visitors Center in Cascade (100 Kelly's Parkway). They have a brochure that has a description and directions to all of the hot springs around Cascade. Some are right off the major highways, others you have to work for, and the further out you go, the more likely you'll find solitude. Once you have your bearings, head up the Warm Lake Highway where a majority of the hot springs are located.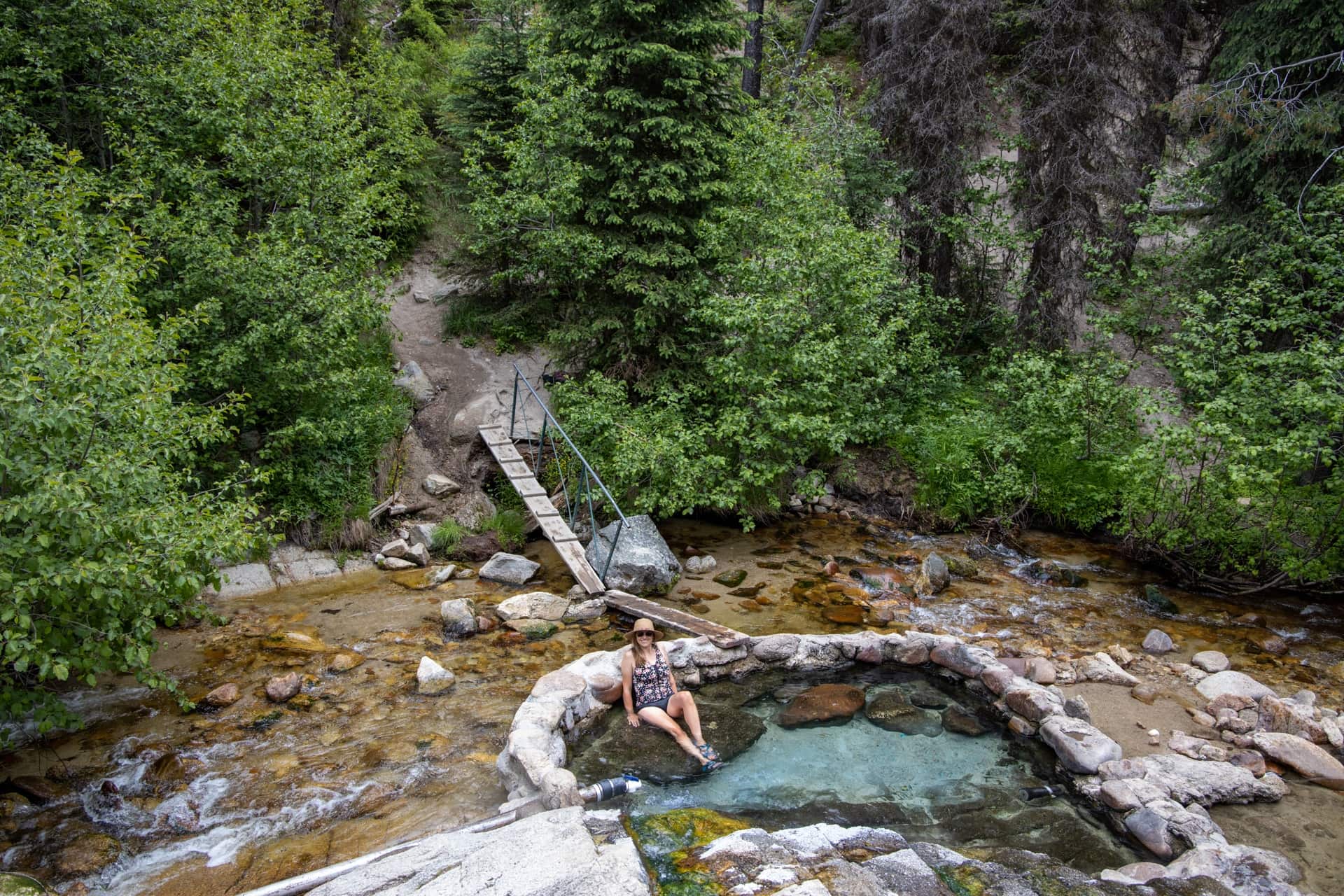 While I've got your attention on the hot springs….please please please don't litter at the hot springs. Instead, pack out all of your trash and any other trash you find and be respectful of other users. Even better, brush up on your hot springs etiquette before you visit these special places in Idaho.
After you've had enough soaking, head to Warm Lake for a night in one of the cute cabins at the Warm Lake Lodge. Located 26 miles from Cascade on the shores of Boise National Forest's largest natural lake, the Warm Lake Lodge offers a quiet getaway with 7 rustic-chic cabins. They also have 5 small dry campsites just 250 yards from the shore of the lake recommended for tents and small bumper pull trailers (less than 30ft). Warm Lake Lodge also has a restaurant and bar serving up refined Idaho mountain fare.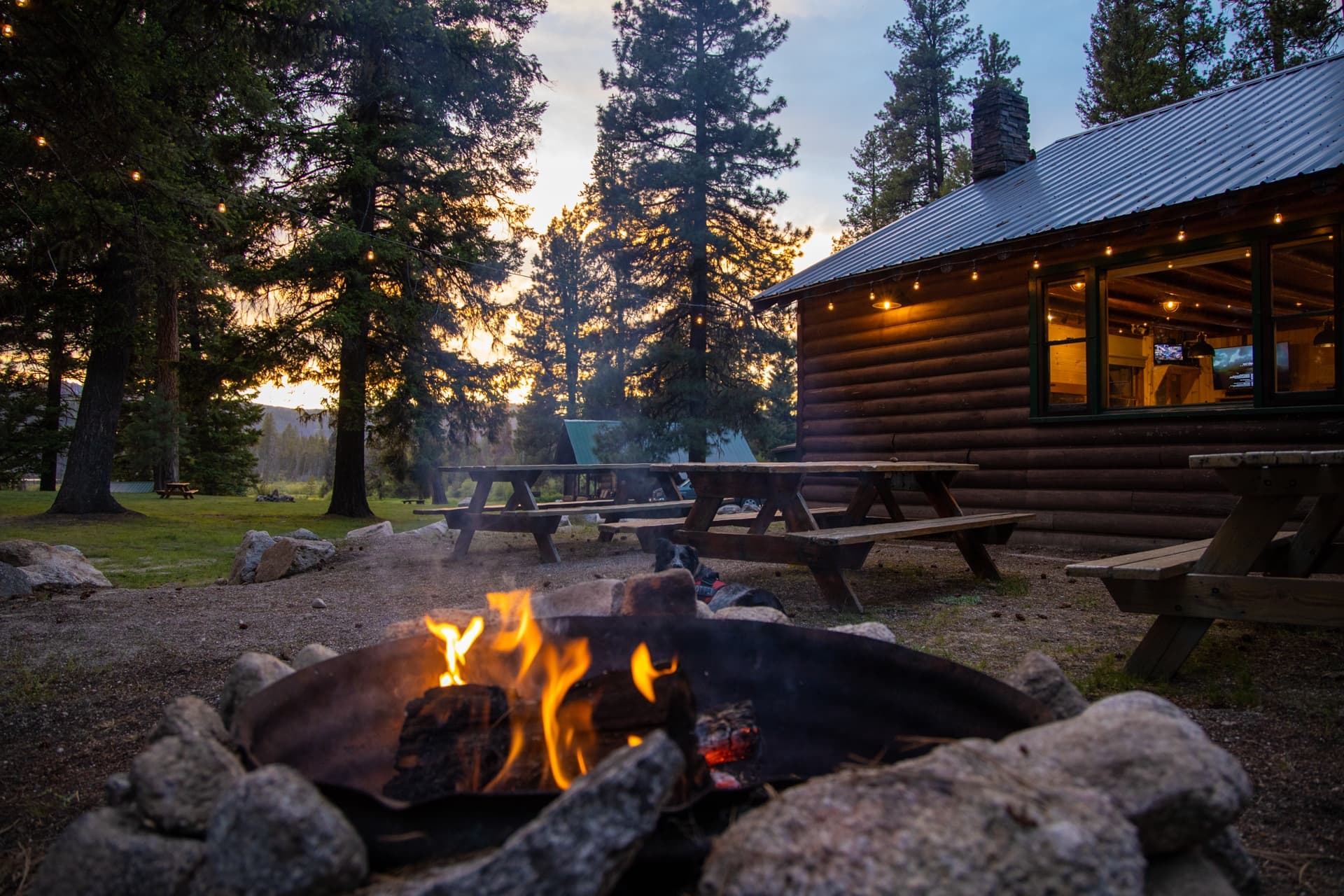 The lake is a 5-minute walk from the cabins. Keep your eyes peeled for bears, moose, and all kinds of birds. If you want to get out on the lake, the Warm Lake Lodge has a number of stand-up paddleboards available, or for boat rentals, drive over the marina at the North Shore Lodge.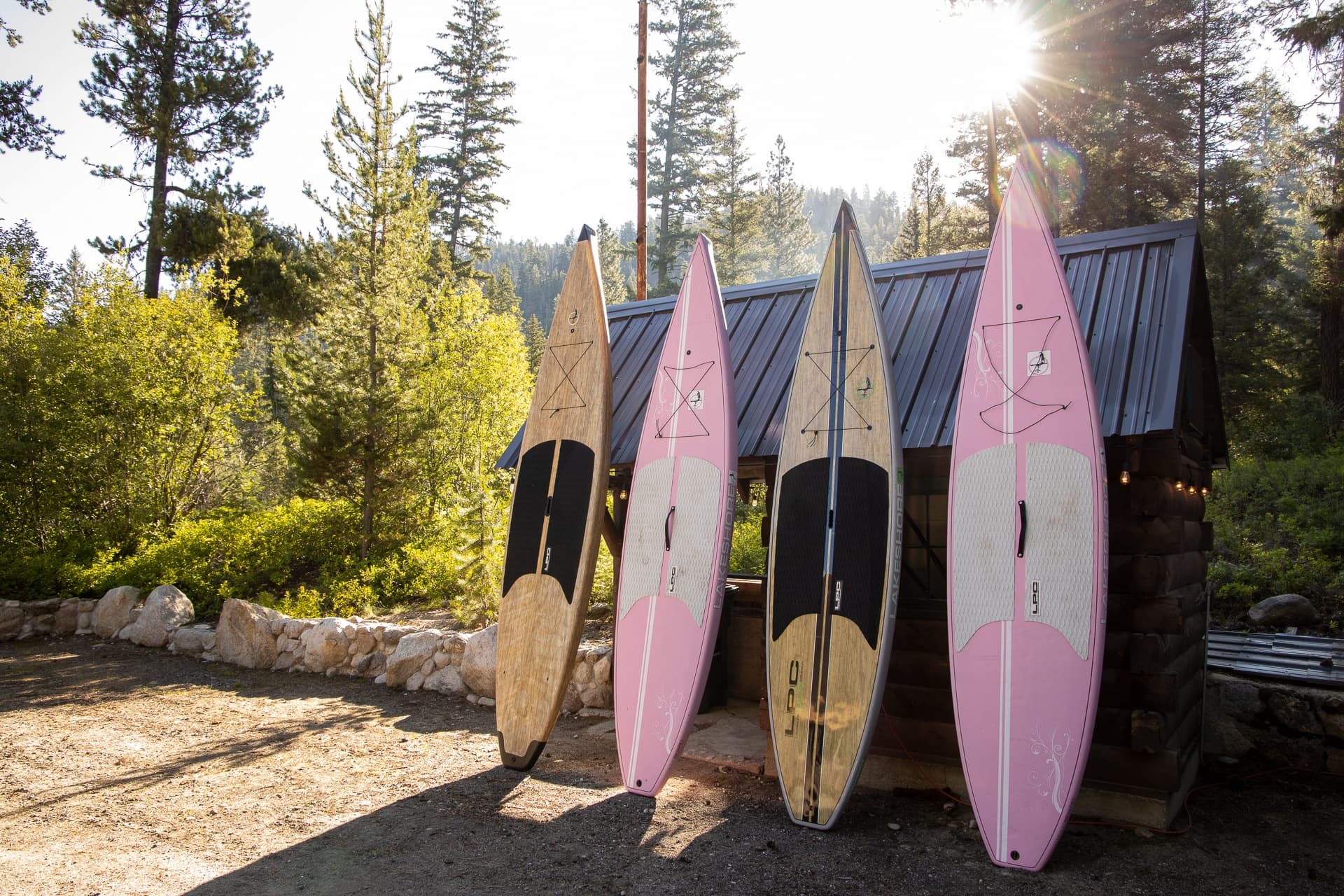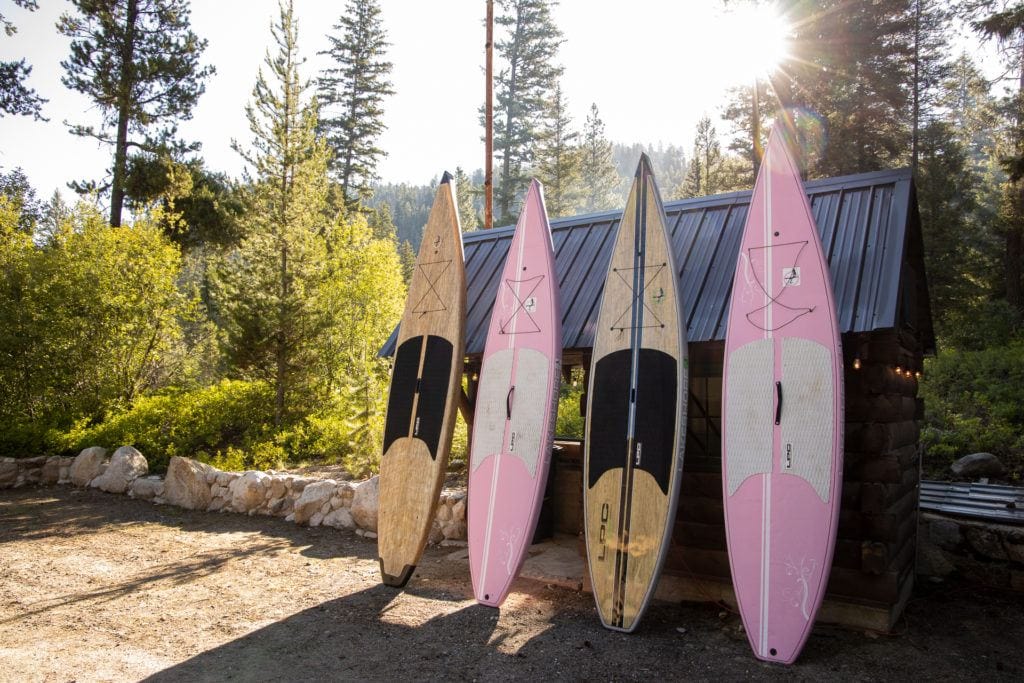 If you prefer to camp or if the lodge is full, there is a walk-in campground at Picnic Point.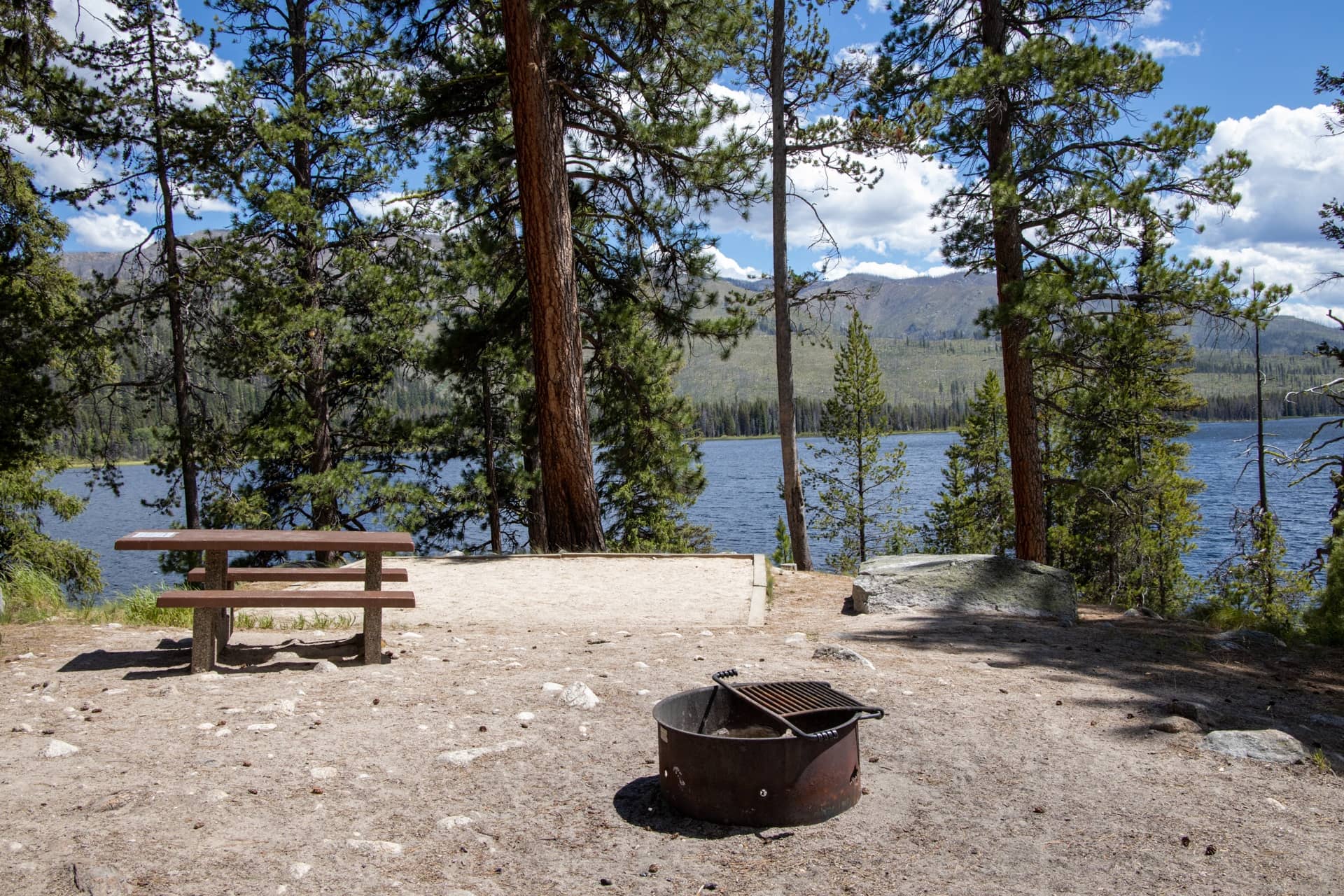 Day 2 – Explore Lake Cascade State Park
Head down to the Warm Lake shoreline for that early morning glow as the fog rises off the lake. After a tasty breakfast at the Warm Lake Lodge, pack up and drive back to Cascade for a day under the sun on Idaho's fourth-largest lake.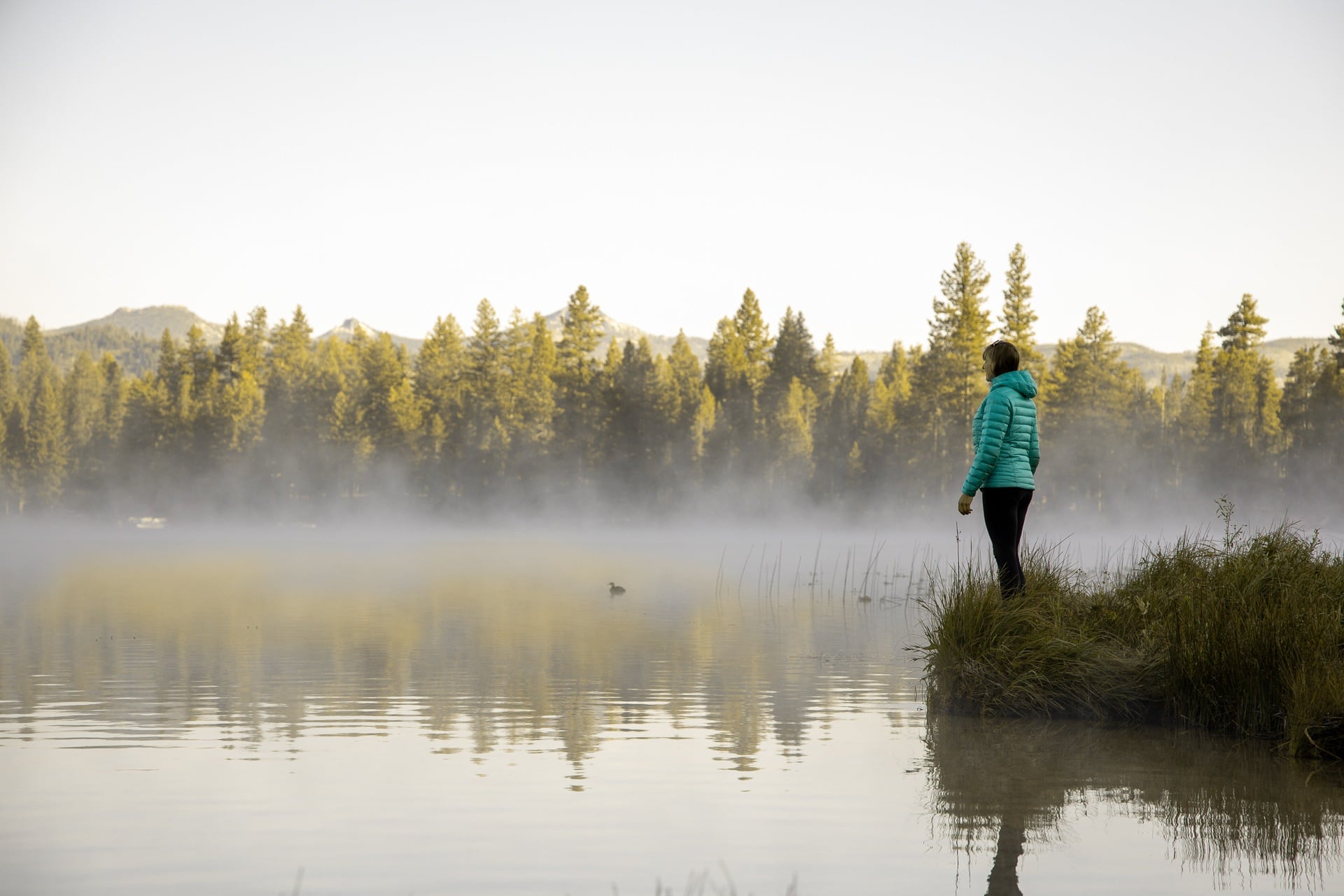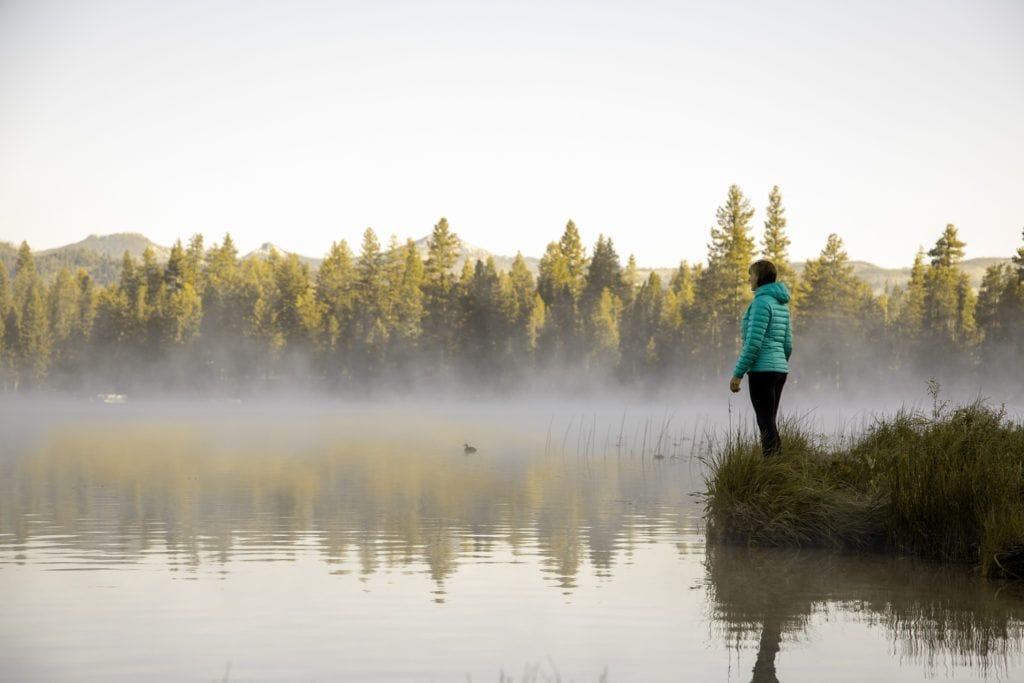 Lake Cascade is a state park with over 500 acres and ample opportunity for boating, kayaking, or exploring the shoreline. I recommend starting out with some kayaks, which you can rent from the camp host at the Van Wyck campground. If you'd prefer a boat, you can rent one from Lake Cascade Sport and Marine.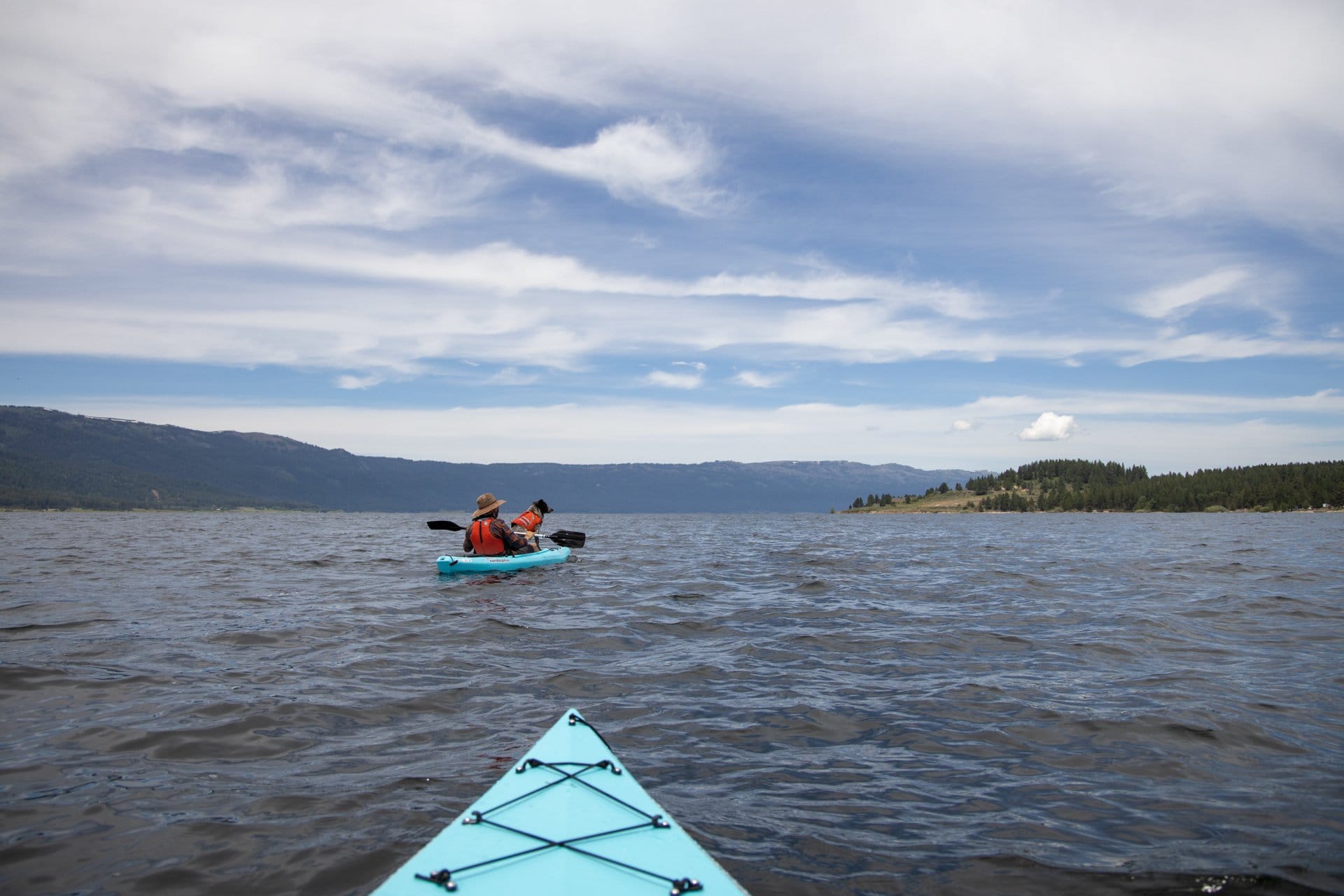 After paddling, stop in the Lakefront Bar and Grill for lunch on their patio overlooking Lake Cascade.
For the afternoon, grab everything you need for a relaxing beach day – cold drinks, a beach chair/towel, swimsuit, and tunes. If you have a bike, you'll want that too. (You can also rent one from River Gear in Cascade). Otherwise, set out on foot along the Crown Point Trail, a rail trail that runs along the eastern shore of Lake Cascade. You'll notice a bunch of spur trails leading down to different coves and beaches. Pick one and set up shop for the rest of the day.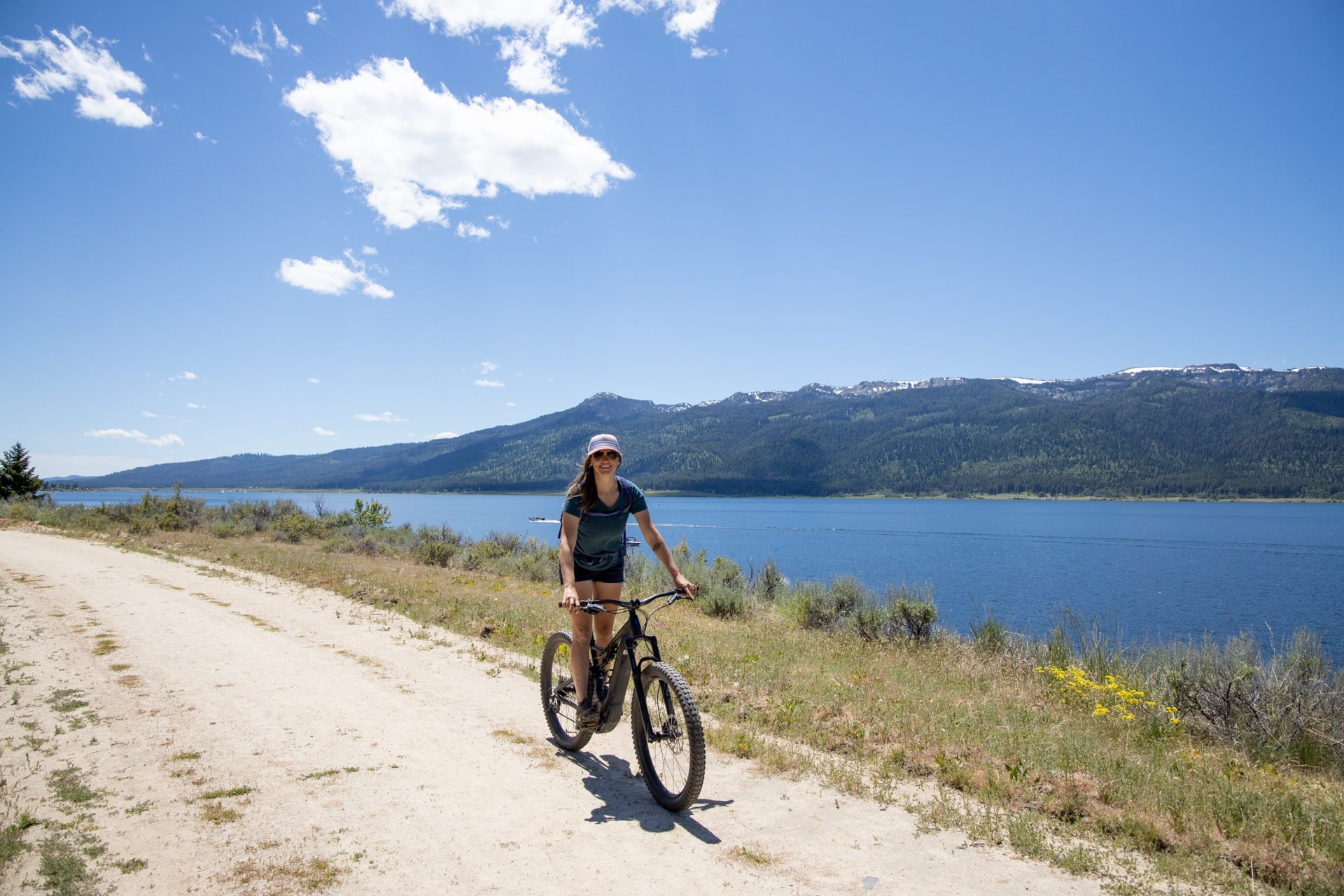 That night, your options for camping are endless. You can snag a site at one of the 12 campgrounds at Lake Cascade State Park (reservations, especially on weekends, are recommended). For those who need LTE, I did have full Verizon signal near the Van Wyck Campground, which is first-come, first served.
If you want to rent a room or are traveling in an RV, check out Alpine Lodge & RV. They have 11 hotel rooms, a lodge with two suites, and 31 RV sites with full hookups tucked in the trees. You'll also find a large common area with pool tables, games, and a kitchen.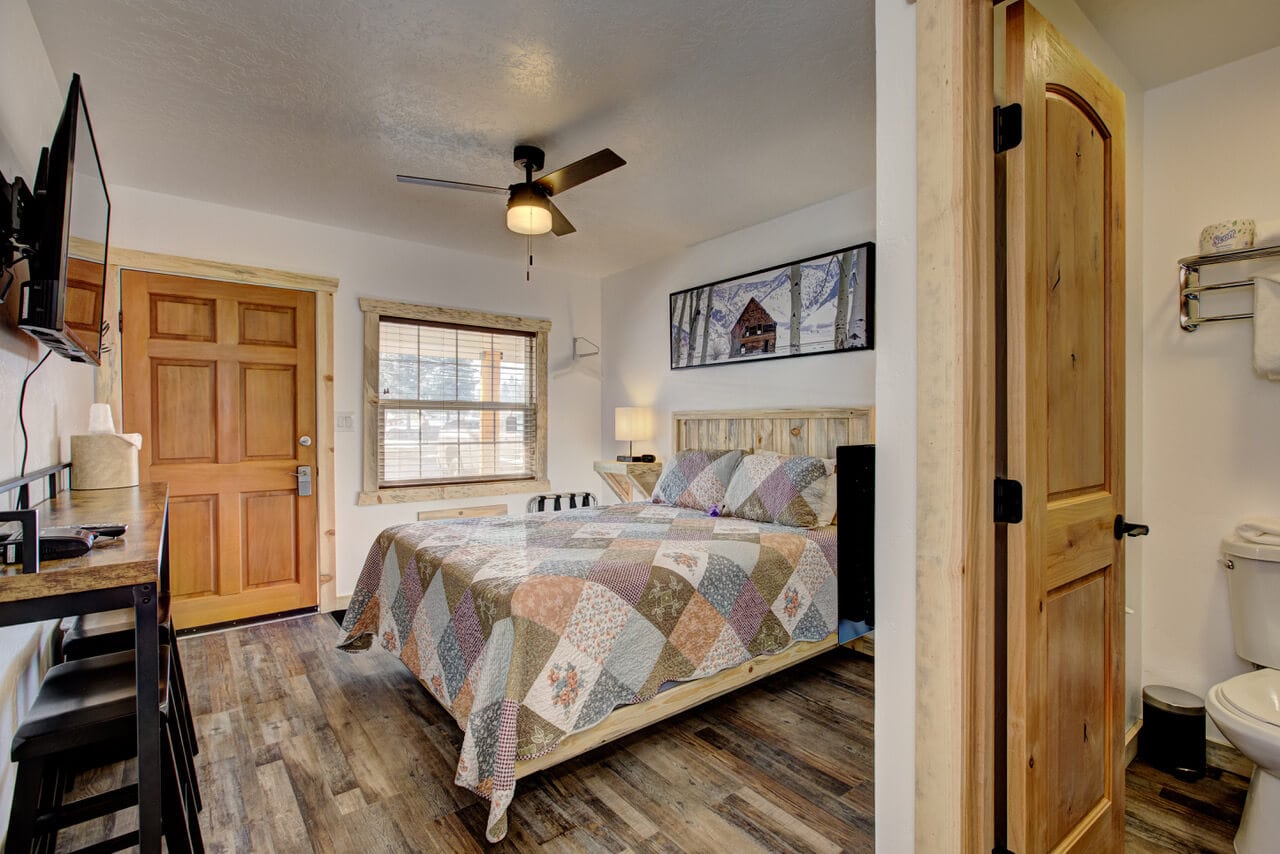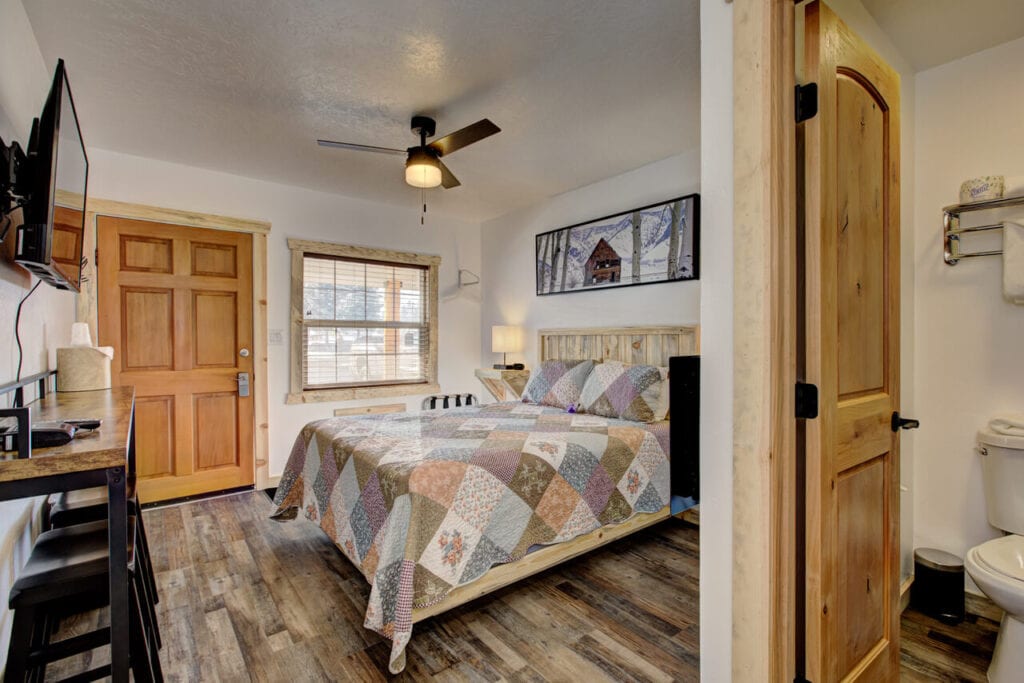 Another option if you need to shower or plug in is Arrowhead RV Park at the south end of Cascade and right on the river's edge. Finally, if you prefer to wild camp, Lake Cascade is surrounded by Forest Service land with plenty of opportunities for dispersed camping. Check out this list of my favorite apps and tools for finding free and legal dispersed camping.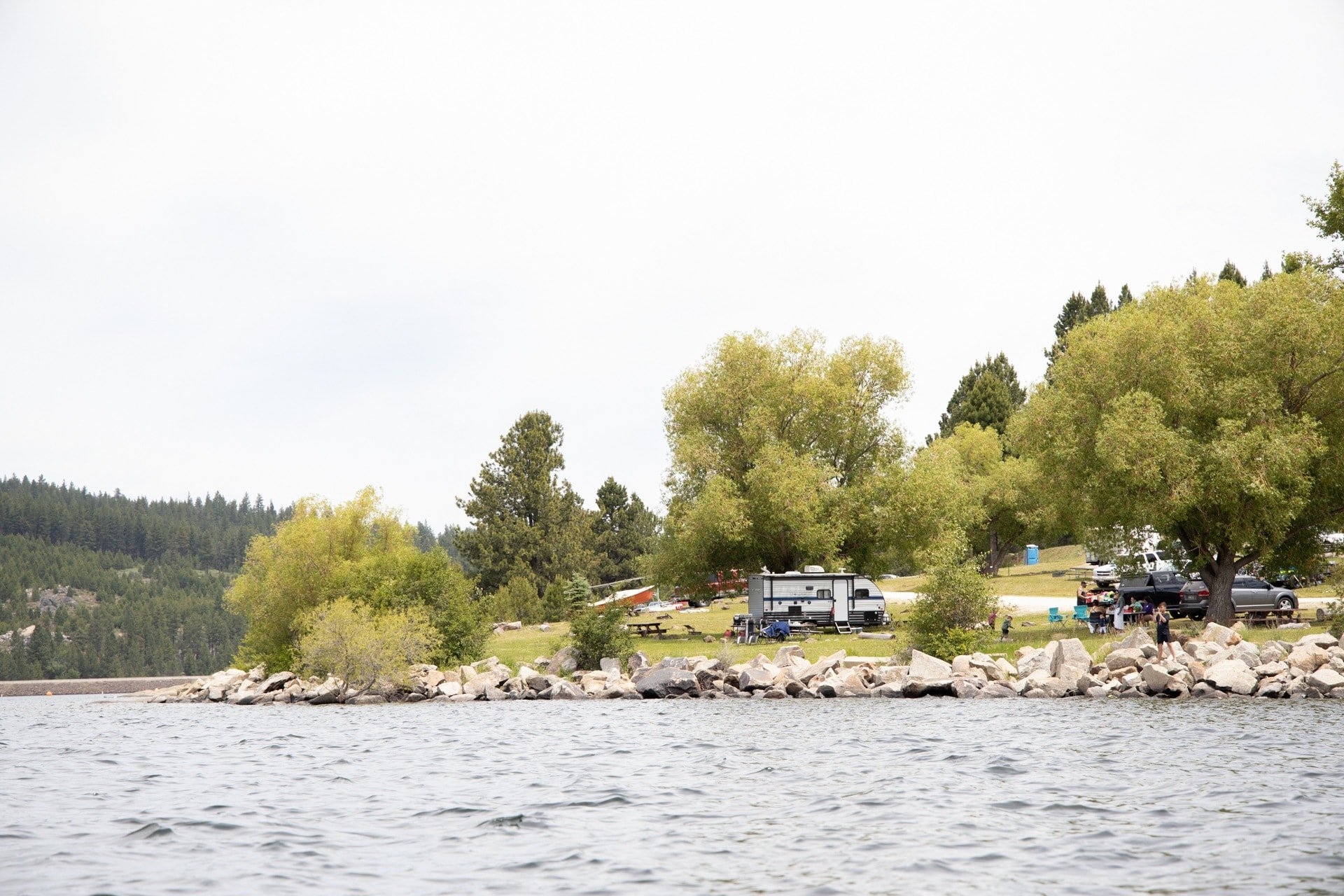 Day 3 – ATV & Hike to Blue Lake
The area around Cascade has miles and miles of Forest Service and 4×4 roads to explore. For the maximum amount of dirt road fun, rent a side-by-side from Lake Cascade Sport and Marine.
Side note: I've always been kind of anti-ATV, and this was my first time in a side-by-side. I have to admit, it was incredibly fun, and I now see why people do it, especially in a place like Cascade. Ok continuing on…
First, stop by the Idaho State Parks Visitors Center in Cascade (once again) and grab the brochure on Cascade's 4×4 and ATV Roads. You can also find an electronic version here.
Your first mission is to head south along Cascade Lake and turn up FS #446 (Snowbank Mountain Road). This is a well-graded dirt road (2WD-friendly) that typically opens June 1st with incredible scenery the higher you get. About 8.5 miles up the Forest Service road, you get to a big dirt pull-out with an overlook of Blue Lake. Stop here for pics and then continue up another couple of corners to the Blue Lake Trailhead.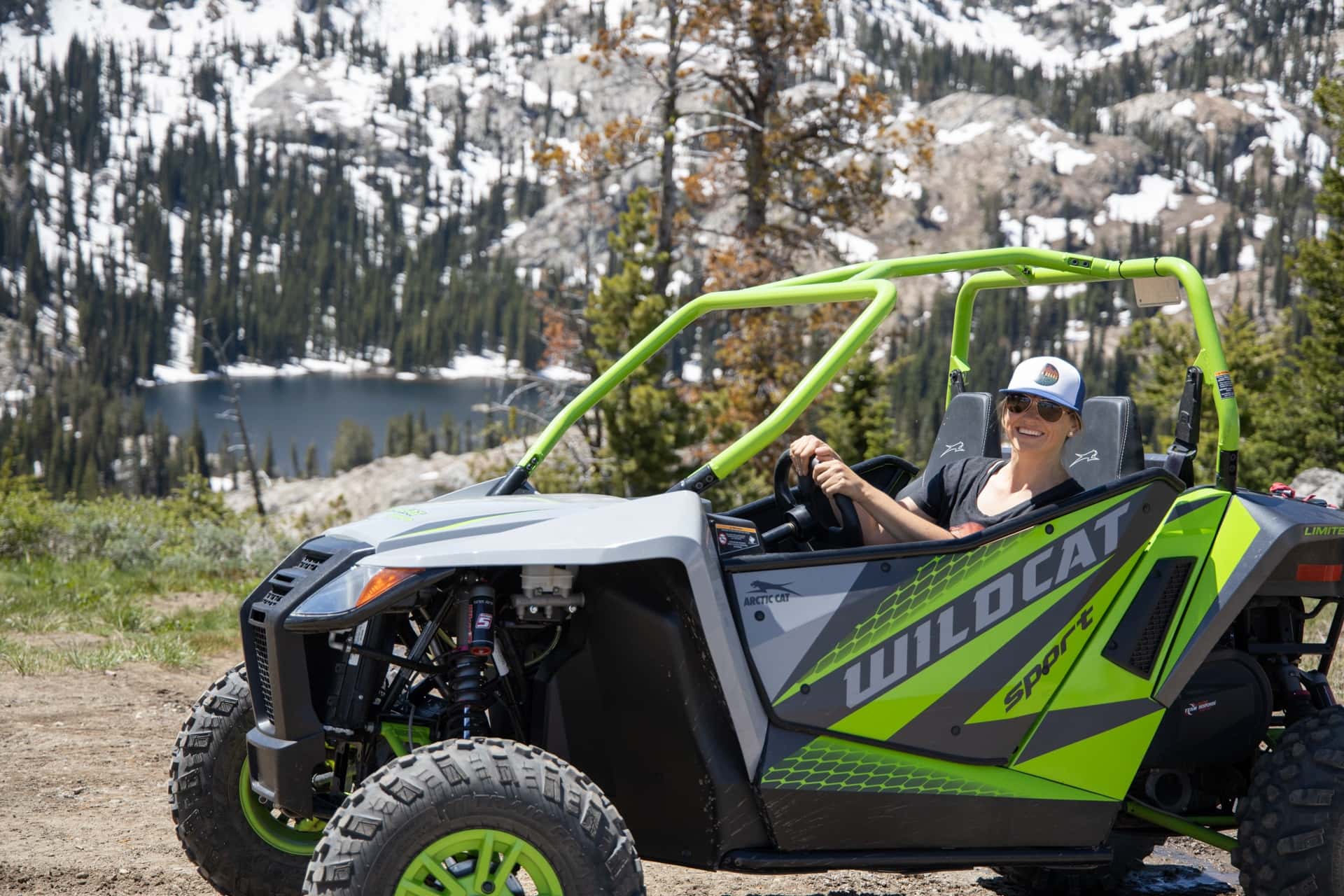 Park the ATV, grab your pack, and hit the 2-mile round-trip trail down to Blue Lake. You lose about 400 feet on your way down to the lake, so it's a nice quick workout on the way back up. Also, the Blue Lake Trail is popular, so be prepared to share the trail.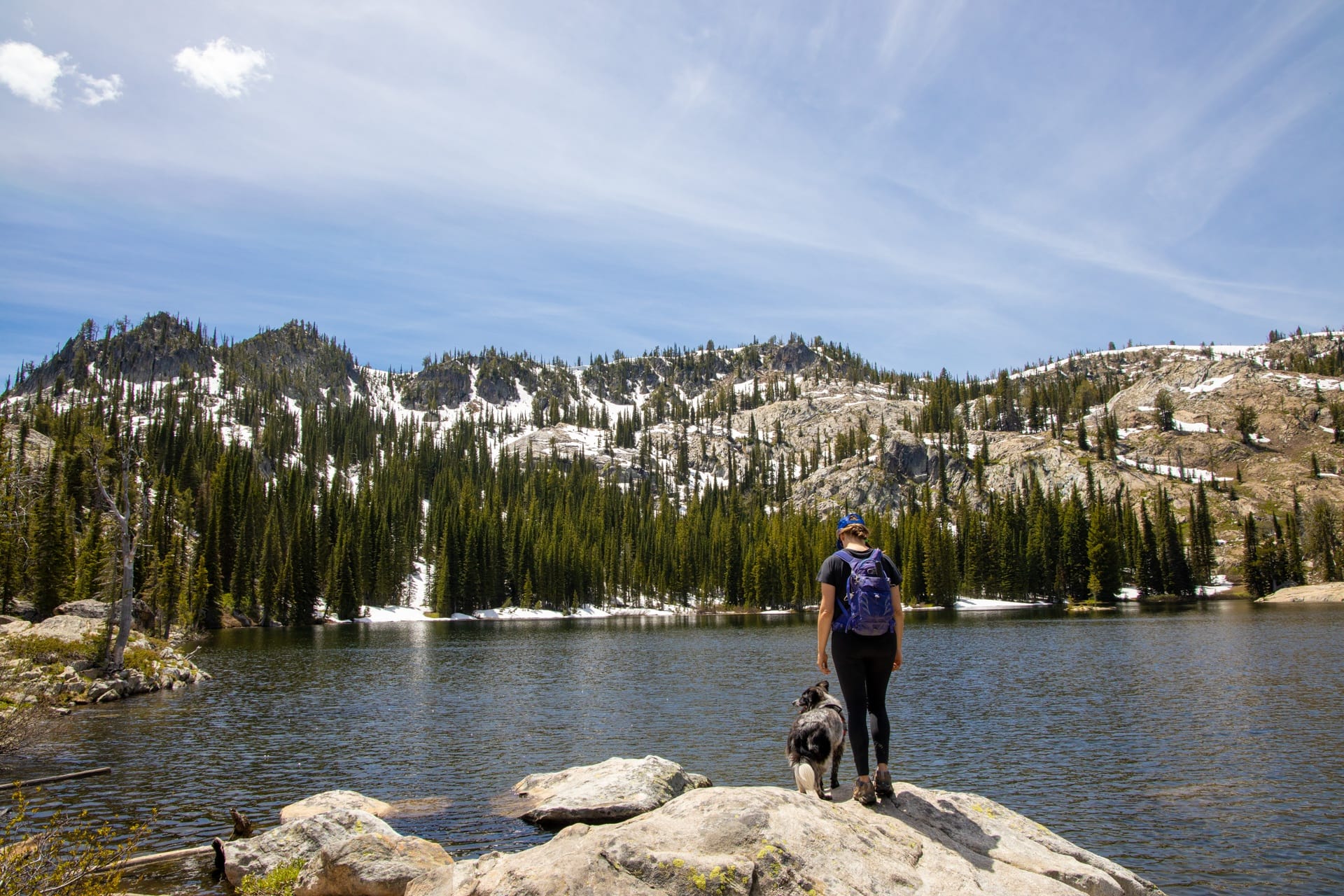 After your hike, continue up FS #446 until it ends at the air traffic control station. Note the location of some awesome free campsites if you want to come back up here to camp.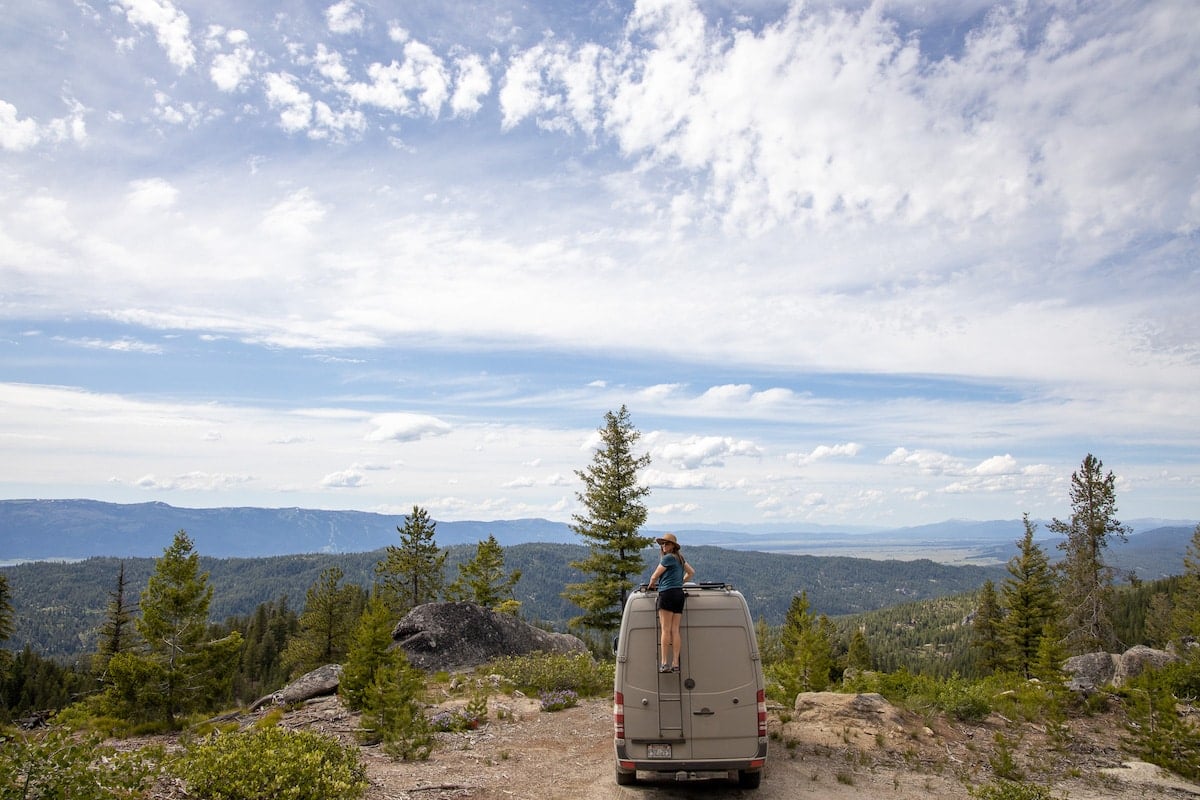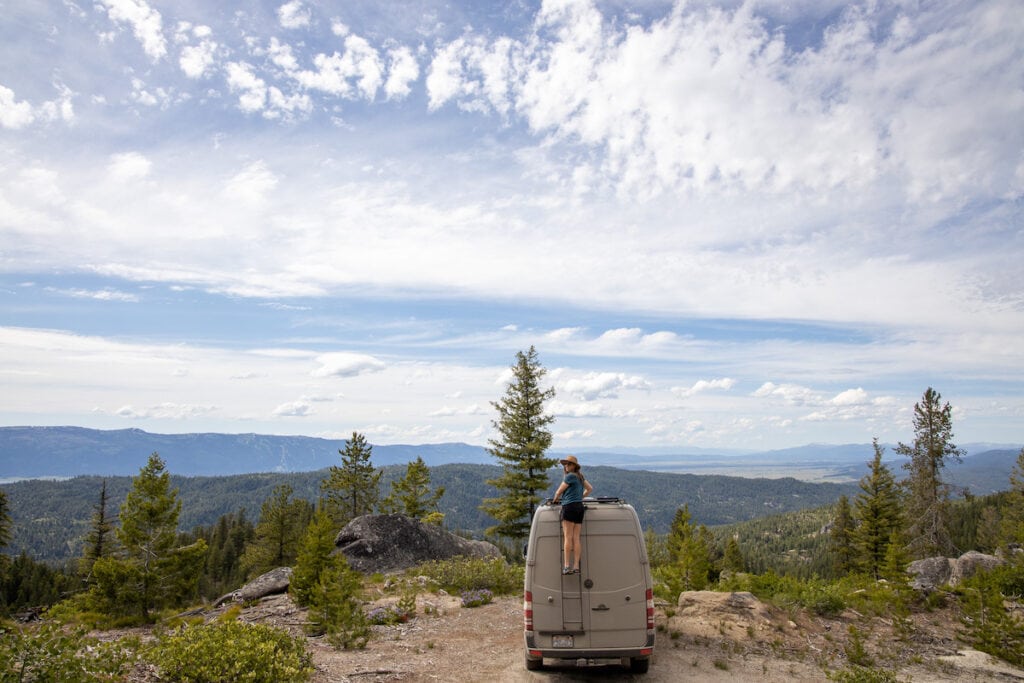 On the way down, you'll notice some rougher roads that offshoot from FS #446. Many of these dead-end at private land, which you'll see in the ATV brochure I mentioned above. However, if you want to test your ATV driving skills, you can have a lot of fun on these side roads.
Instead, I suggest going all the way back down to Cabarton Road where you started, and then head to West Mountain Road for a different perspective of Lake Cascade. Once you are past the homes, take a left up Anderson Creek (FS #435). From there, you are in off-roading heaven. Grab your map and choose your own adventure.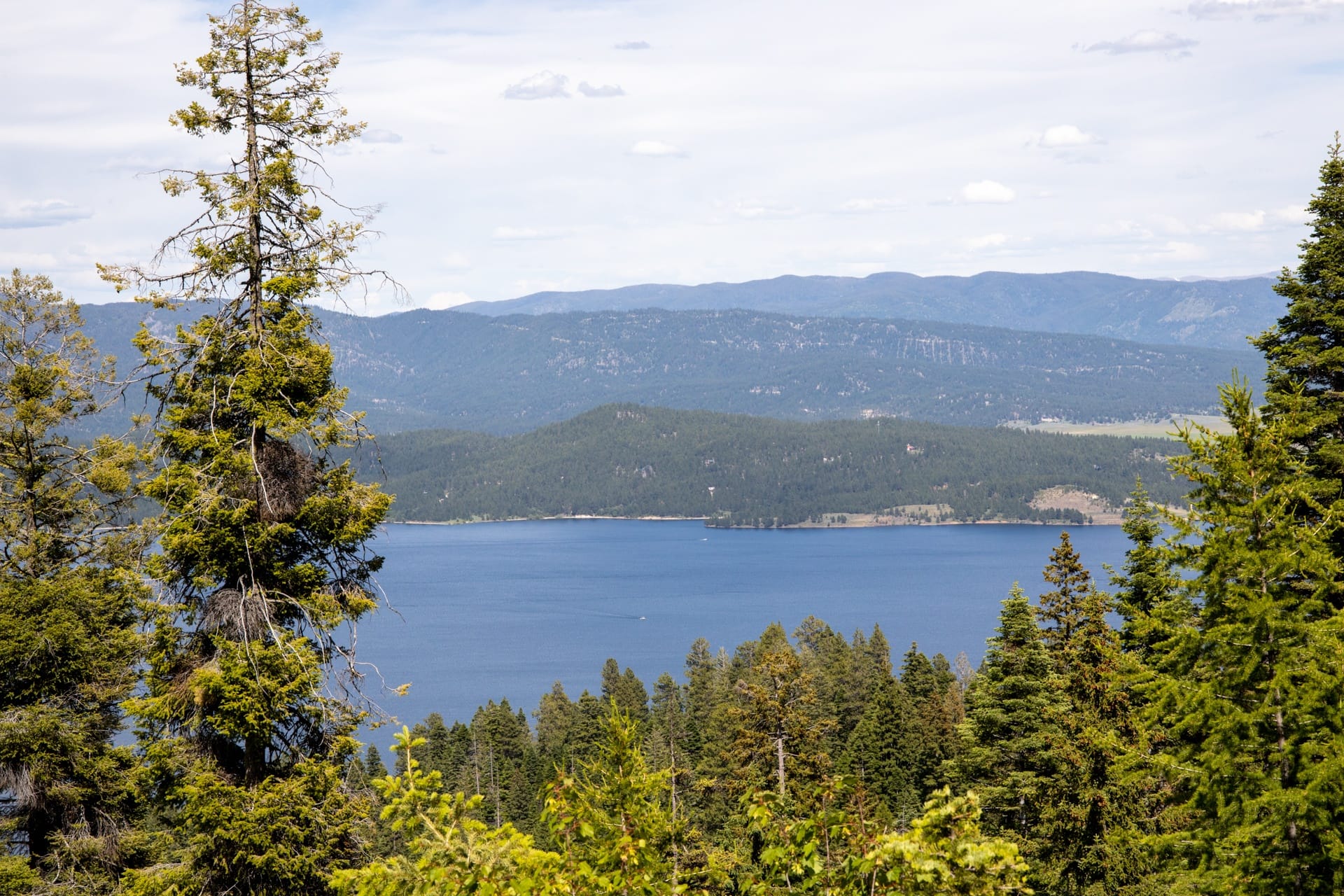 Day 4 – Float & Play at Kelly's Whitewater Park
For your last day in Cascade, grab breakfast at Grandma's Restaurant – a classic Cascade diner and the only place in town serving breakfast.
Then you'll want to check out Kelly's Whitewater Park. Kelly's is a huge asset to the community and gives kayakers and stand-up paddleboard enthusiasts a chance to practice their skills on four man-made waves. We went early in the day so it was empty, but on a hot summer afternoon, this place is jammin'.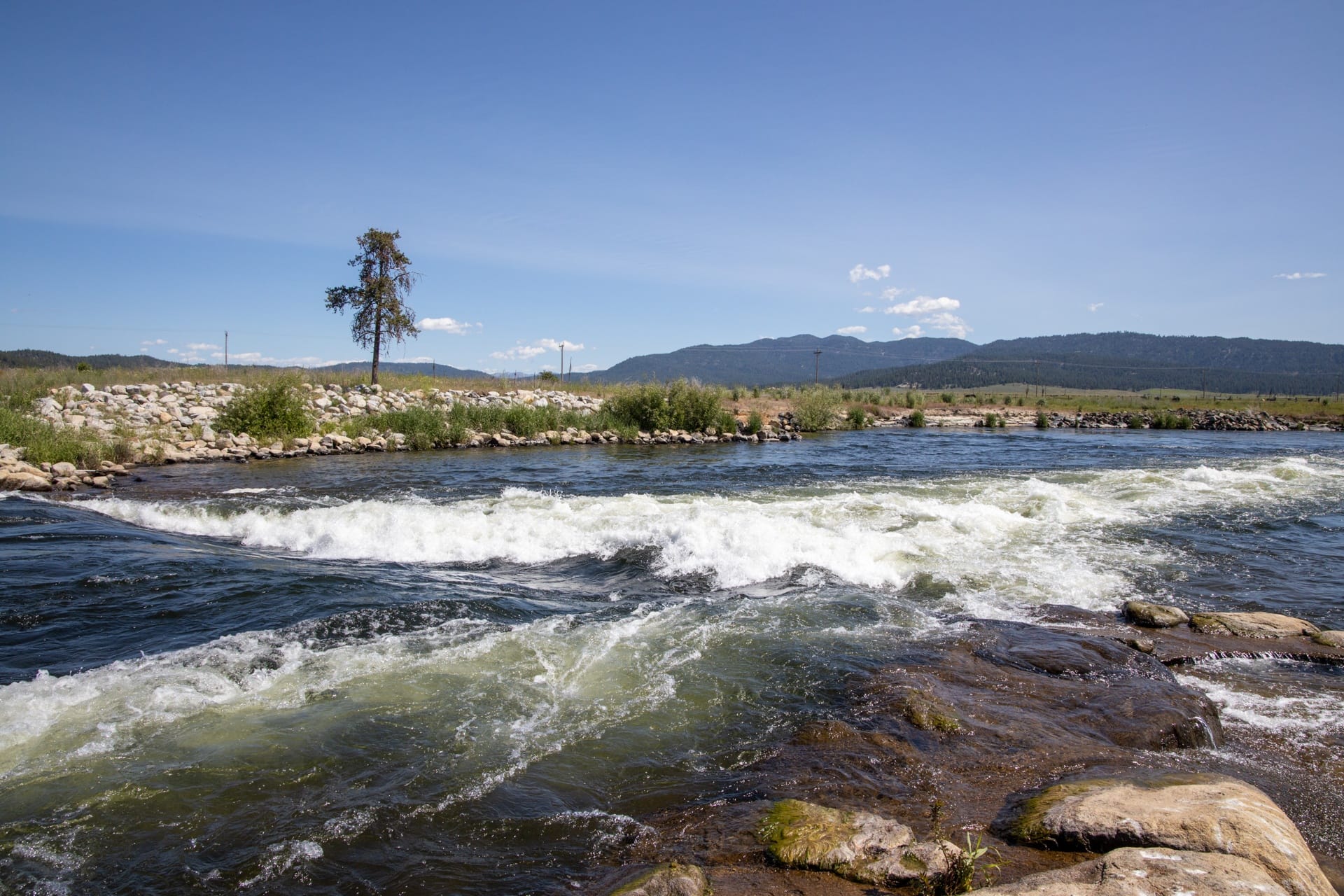 If a mellow float is more your thing, you can rent a paddleboard or an inner tube in the parking lot or from the River Gear shop in Cascade. Your best bet is to put in at the North Bridge. You'll float for about 45 minutes before you reach Kelly's Whitewater Park. At that point, you can cruise through the waves on your inner tube (wear your life jacket 🙂 ) or you can get out and walk around.
Then continue for another hour or so to the South Bridge where you'll take out. You'll have to run your own car shuttle, or if you have a bike, lock it up at the takeout before you start and you can ride the Strand (Cascade's Riverfront bike path) back to the top.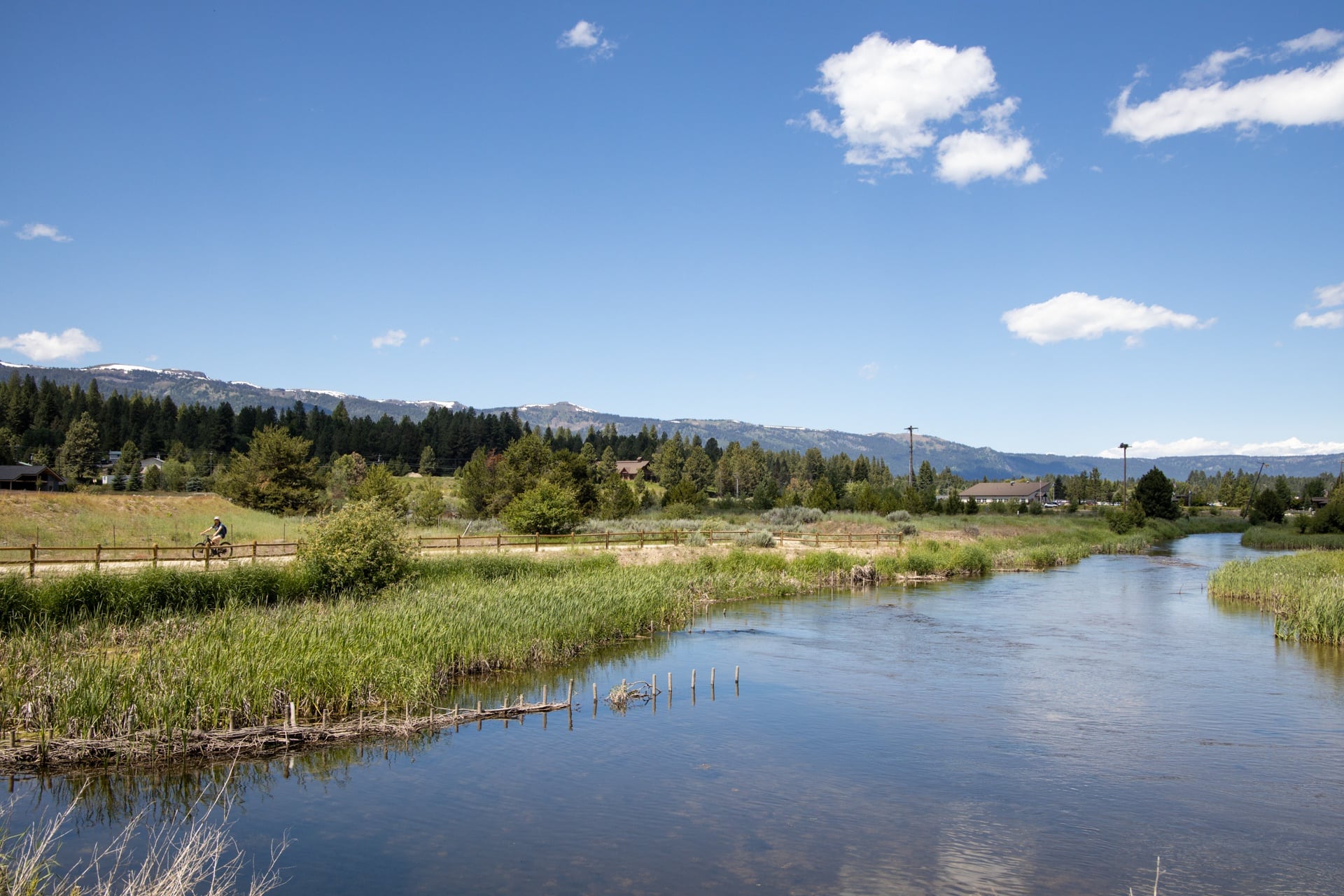 I hope you enjoy Cascade as much as we did. Got questions? Leave a comment below!