Trail Guide: Backpacking to Baron Lakes in Idaho
Plan an epic backpacking trip to Baron Lakes in Idaho's Sawtooth Mountains with this trail guide.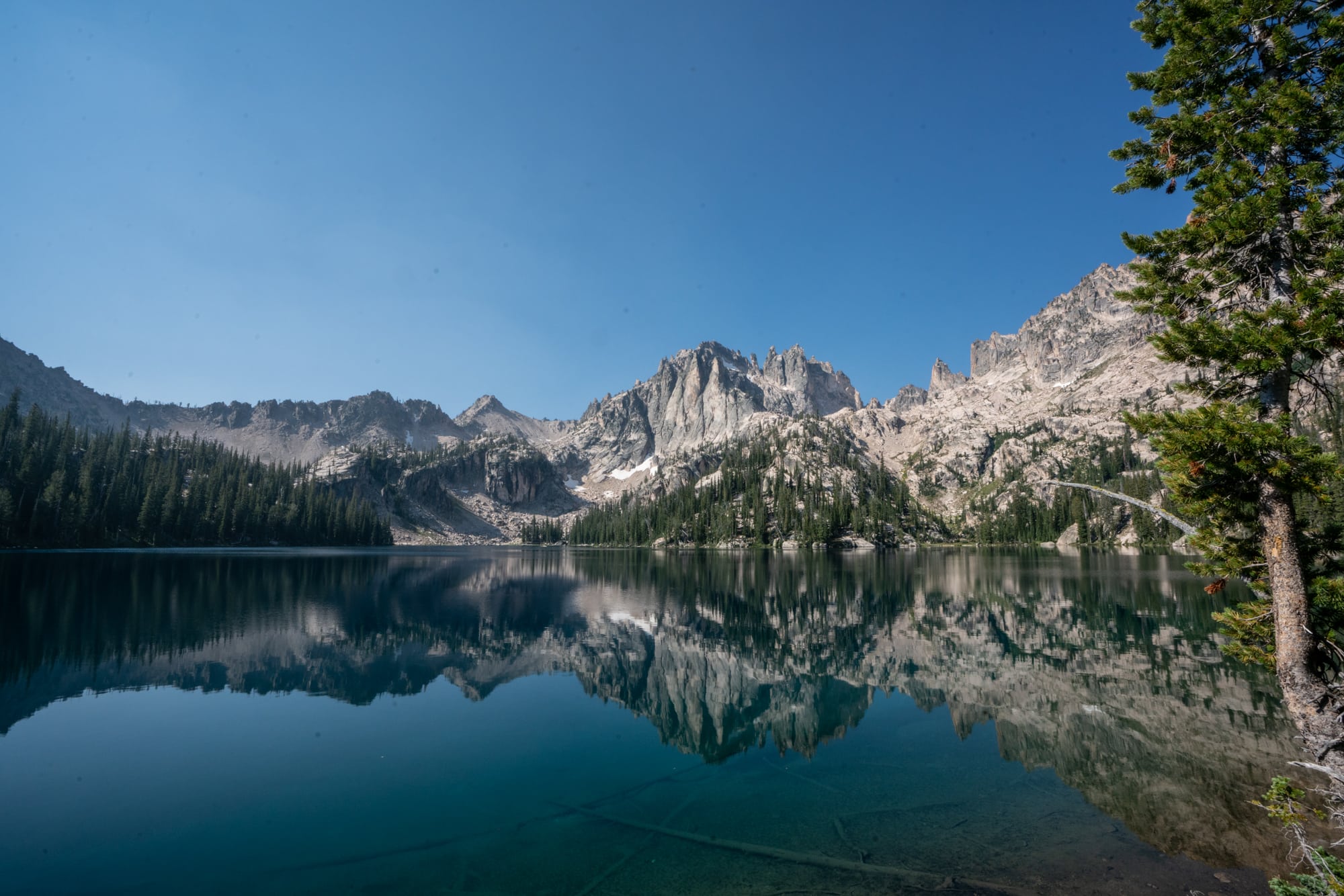 TRAIL GUIDE: BACKPACKING TO BARON LAKES IN IDAHO
Last summer, we spent a few weeks in Idaho's Sawtooth Mountains and had a chance to tick off a trail on my backpacking bucketlist. Baron Lakes is one of those iconic hikes in the Sawtooths with several high alpine lakes to choose from and wide open views of the jagged Sawtooth Range.  We spent three nights exploring the area, and our only regret was not bringing a fishing pole.
In this Baron Lakes Backpacking Guide, you'll learn everything you need to know to successfully plan a backpacking trip to the Baron Lakes in Idaho.
As it goes in all of the destinations we share, please practice good trail etiquette and remember to Leave No Trace. This means packing out all of your garbage, being respectful to others on busy trails, and following the established rules. 
Best Time to Visit Idaho's Sawtooth Mountains
The best time to hike in the Sawtooth Mountains is from July through September. We hiked in late July and got hot days, cool nights, and experienced very few bugs.
Snow can last through June, so if you come in the early season, come prepared with proper equipment, navigation skills, and a high tolerance for bugs. Later in the season, there is a risk of smoky skies. Idaho is very dry and the fire season is getting longer. Whenever you come, know that the Sawtooths can be very chilly at night, even in the height of summer.
Baron Lakes Hiking Basics
Redfish Lake to Baron Lakse is 15 miles out & back with 3,533 foot of elevation gain.
Fido-friendly! Regulations say dogs must be on leash while on trails from July 1st through Labor Day (use common sense, especially if your dog is not under voice control). It's important you're prepared to keep your dog cool on the trail and you know the essentials of backpacking with your dog.
You'll need to take a water taxi to access the trailhead so make sure you pack cash or a credit card for your trip.
What to Know Before You Go
There is limited cell phone service at Redfish Lake, and once you get to the trailhead, it is non-existent.
Water is available all along the trail. You can fill up at the trailhead, in Redfish Creek, at Alpine Lake (5 miles), at seasonal tarns leading up to the Baron Divide, and at your final destination, Baron Lakes.
Permits are free at the trailhead.
All campfires must be on a fire pan or fire blanket. We saw evidence of a lot of illegal fires and people not following the rules. Campfires are NOT allowed more than a quarter of a mile off-trail from July 1st through Labor Day. Campfires are also not allowed within 200 yards of Alpine Lake. Gas stoves are highly recommended.
Please brush up on Leave No Trace before you backpack to Baron Lakes to help keep it pristine. You are required to camp on a durable surface at least 100 feet from the water's edge, and please don't set up your tent right on the trail. Also, know how to poop outdoors and ALWAYS (I beg you) pack out your used toilet paper.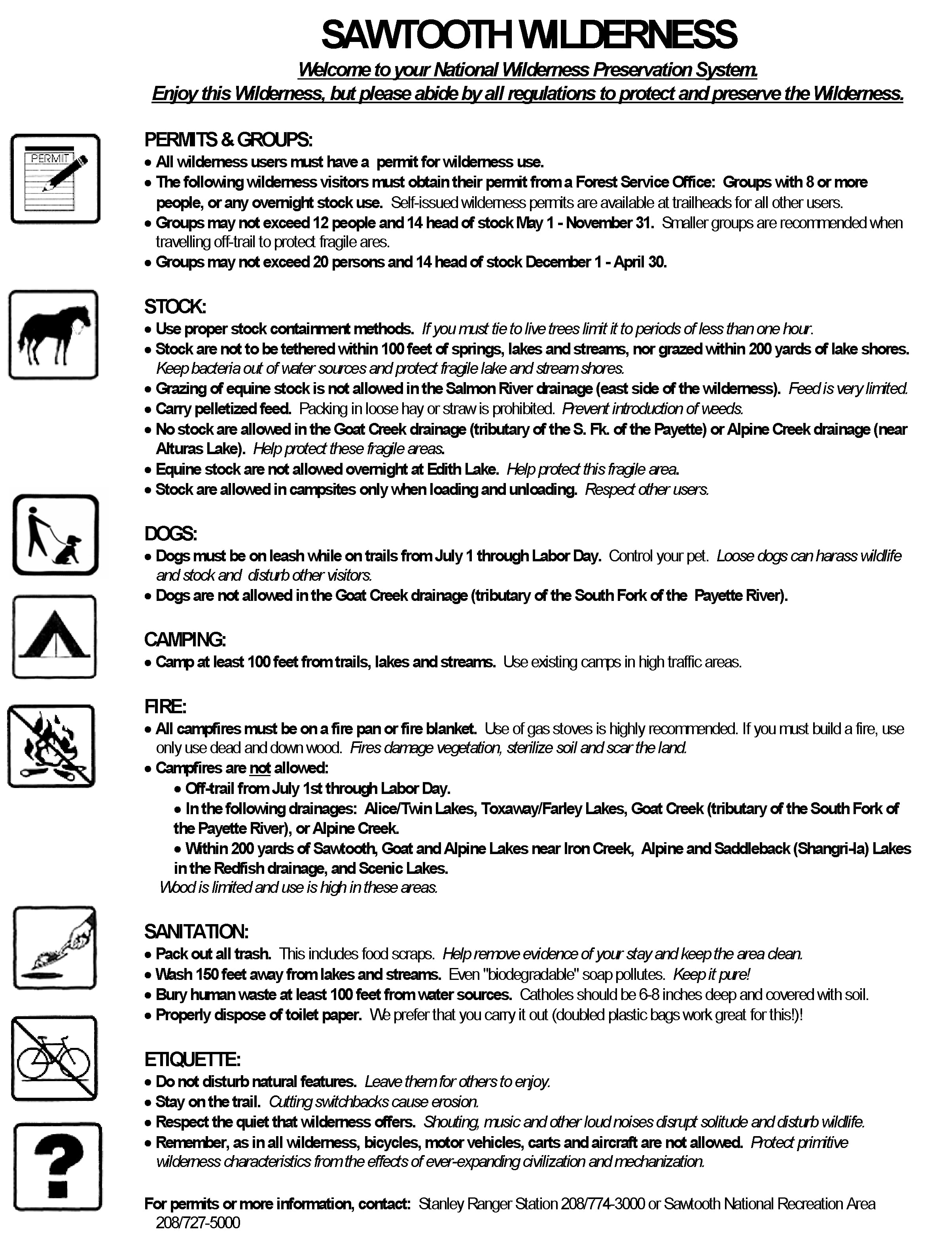 Getting to the Baron Lakes Trailhead
The adventure starts with just getting to the trailhead! You can walk 4 miles around the Redfish Lake to the trailhead or you can take the water taxi. The Redfish Lake Marina has a water taxi service that'll deliver you to the base of the Sawtooth Mountains. You don't have to arrange a reservation ahead of time; just show up and they will shuttle you over as long as there are two or more people. They do however have set pick-up times on the other side when you're returning. Those times are 9am, 12pm, 3pm, 5pm and 7pm; 7 days a week. The shuttle is $12 one-way or $17 roundtrip & $3.00 for dogs. *Sidenote: When we were there, it seemed like they were running continuous shuttles all day each way due to high demand.
Baron Lakes Backpacking Trip Report & Photos
We planned on a three-night, four-day trip to Baron Lakes, which would give us time for a full layover day at Baron Lakes.
We got a late start out of Redfish Inlet on Day 1, so our plan was to spend our first night five miles in at Alpine Lakes.
After taking the Redfish boat taxi across, we set off on the well-marked trail from Redfish Inlet.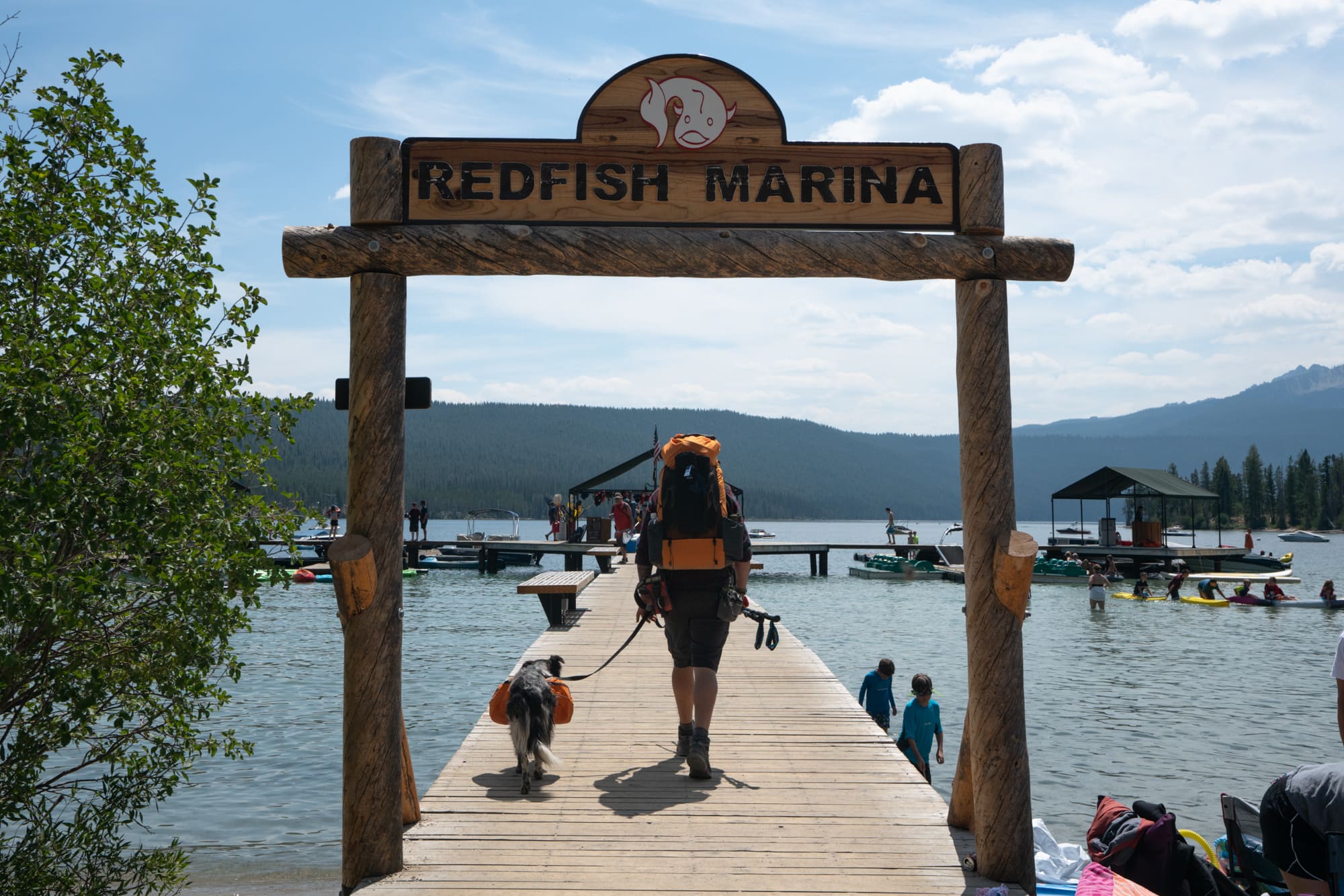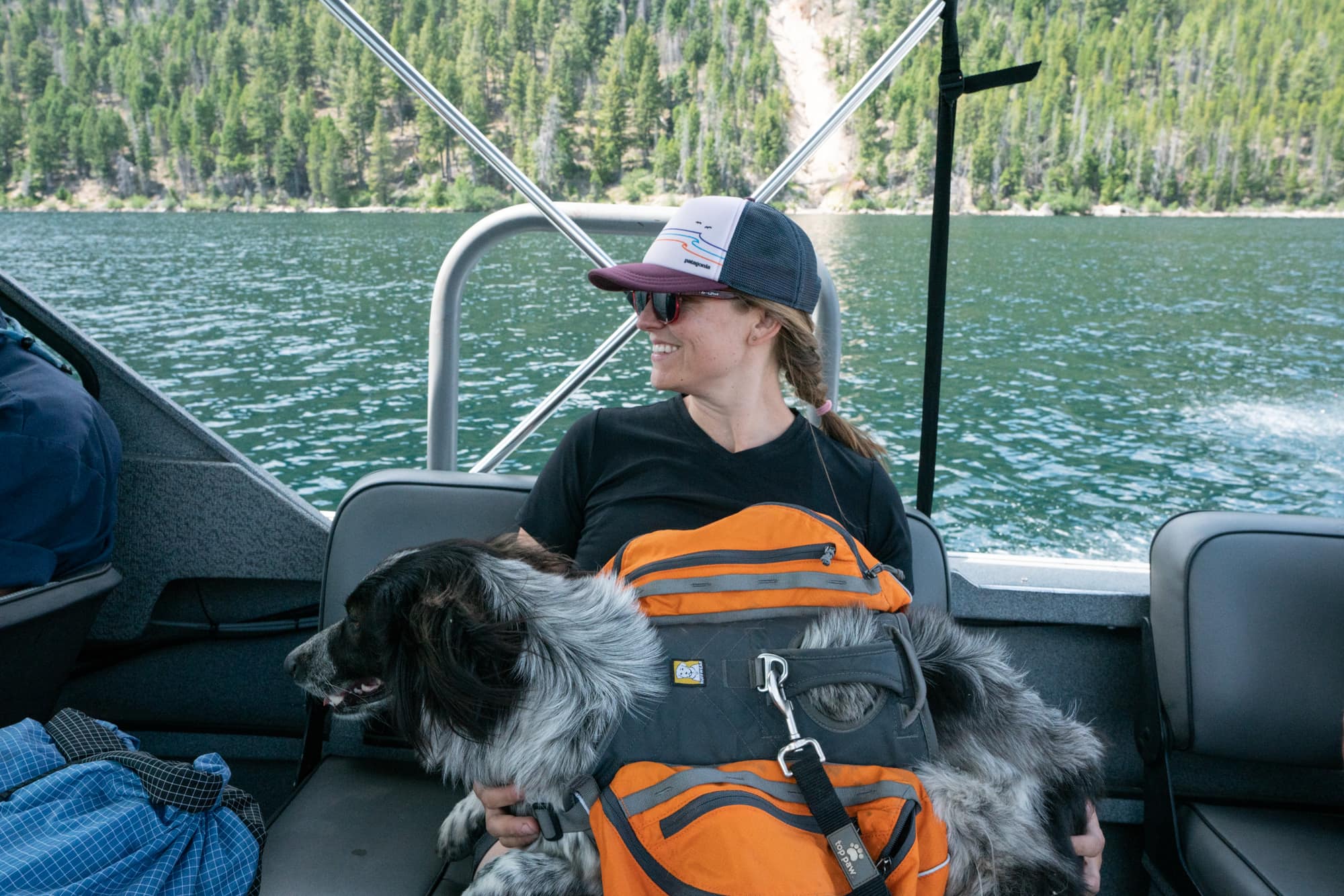 At your starting point, you are at about 6,600 feet above sea level, and the trail has a gradual incline for the first 3.7 miles until you reach Flatrock Junction. I thought we'd be right next to Redfish Creek the entire way, as it appeared on the map, but the trail only hits the creek a couple of times. So make sure to fill your water bottles up before you leave the trailhead. Where it does hit the creek, there are several nice places to stop and rest and splash your face with some cold water if it's a really hot day.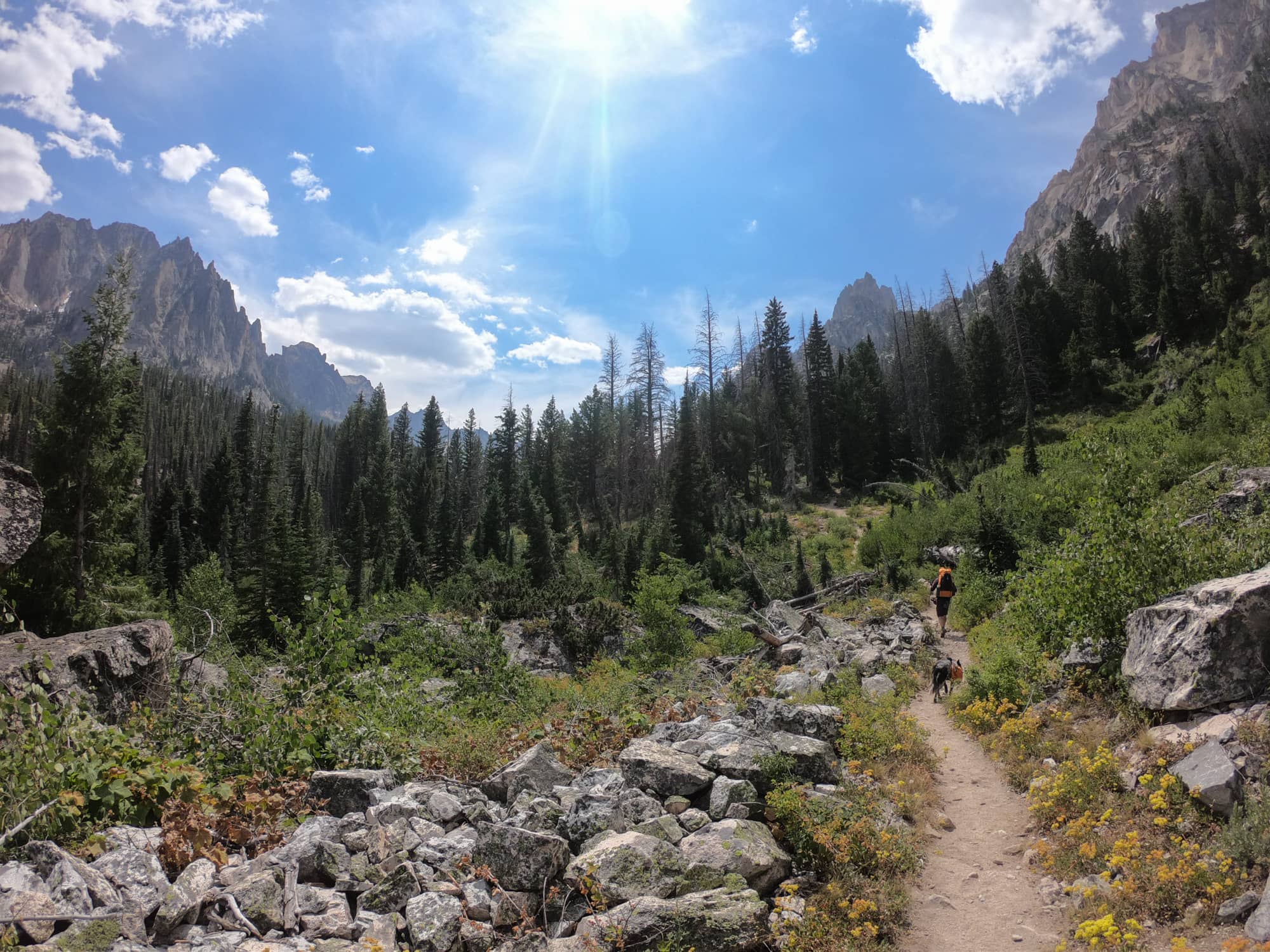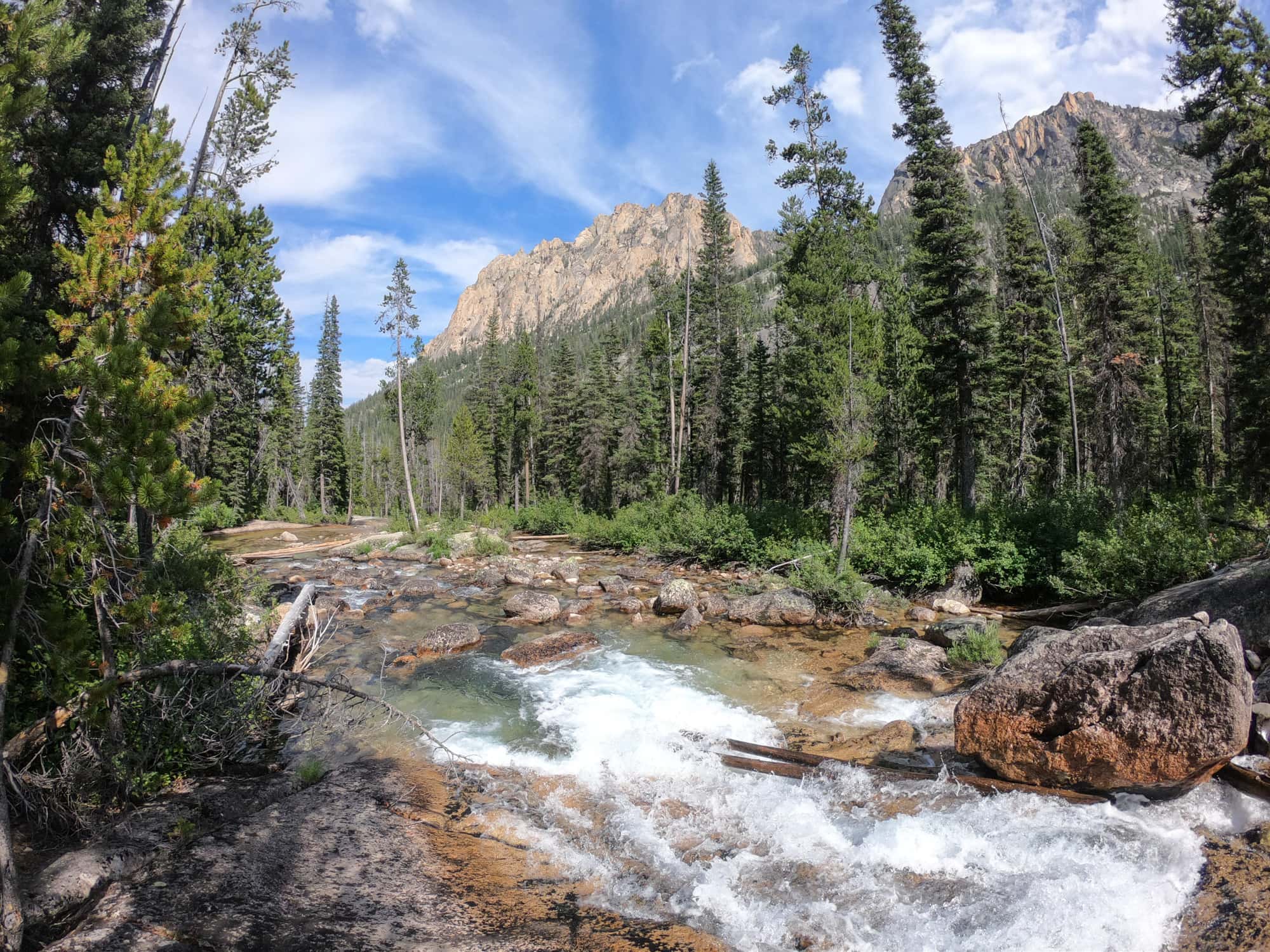 When you hit Flatrock Junction, you hang a right, and this is where your steeper climb begins. Over the next mile and a half, you'll climb a total of 850 feet up non-stop switchbacks. There isn't a ton of shade and there is no water on this section. Luckily you have the good views to distract you.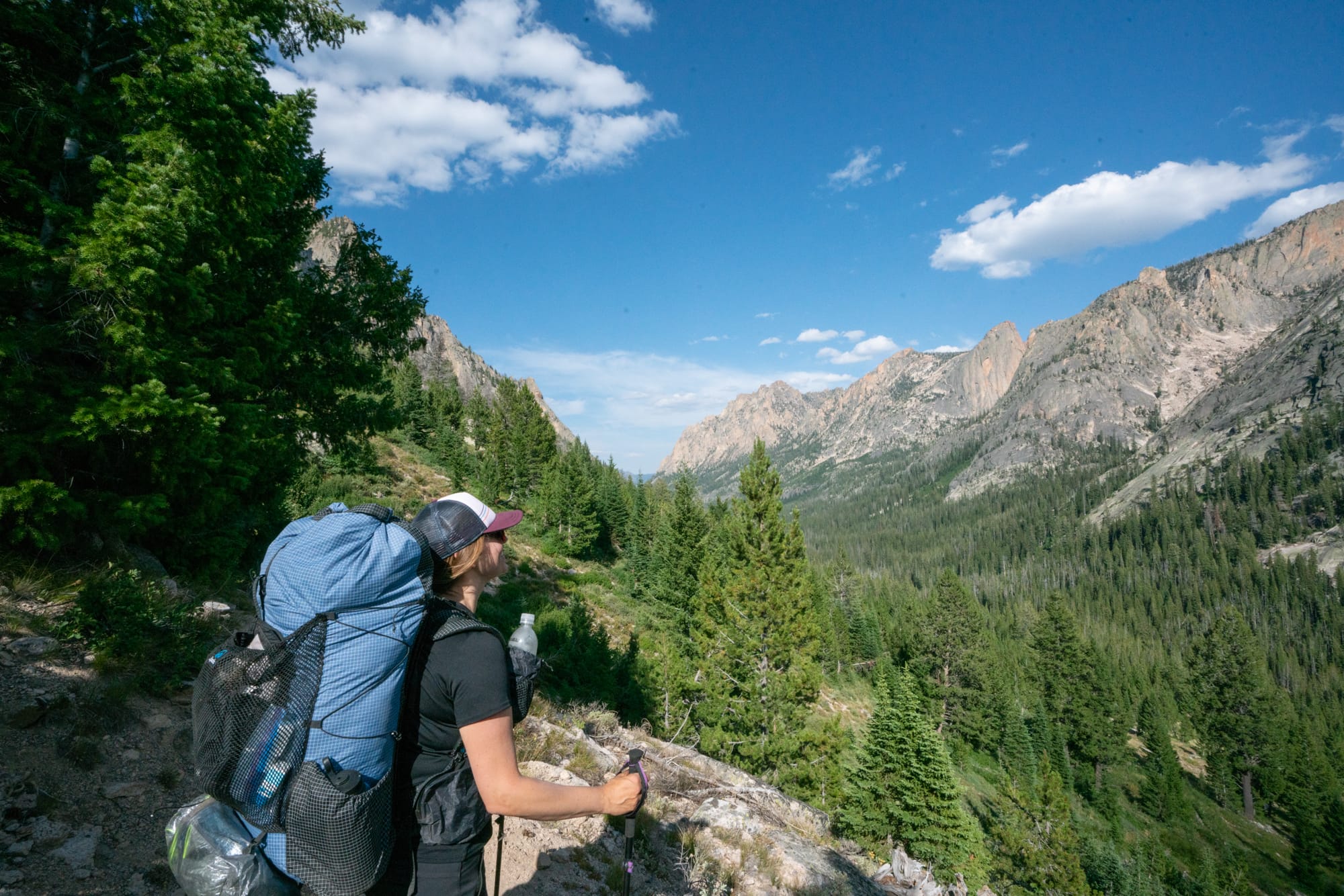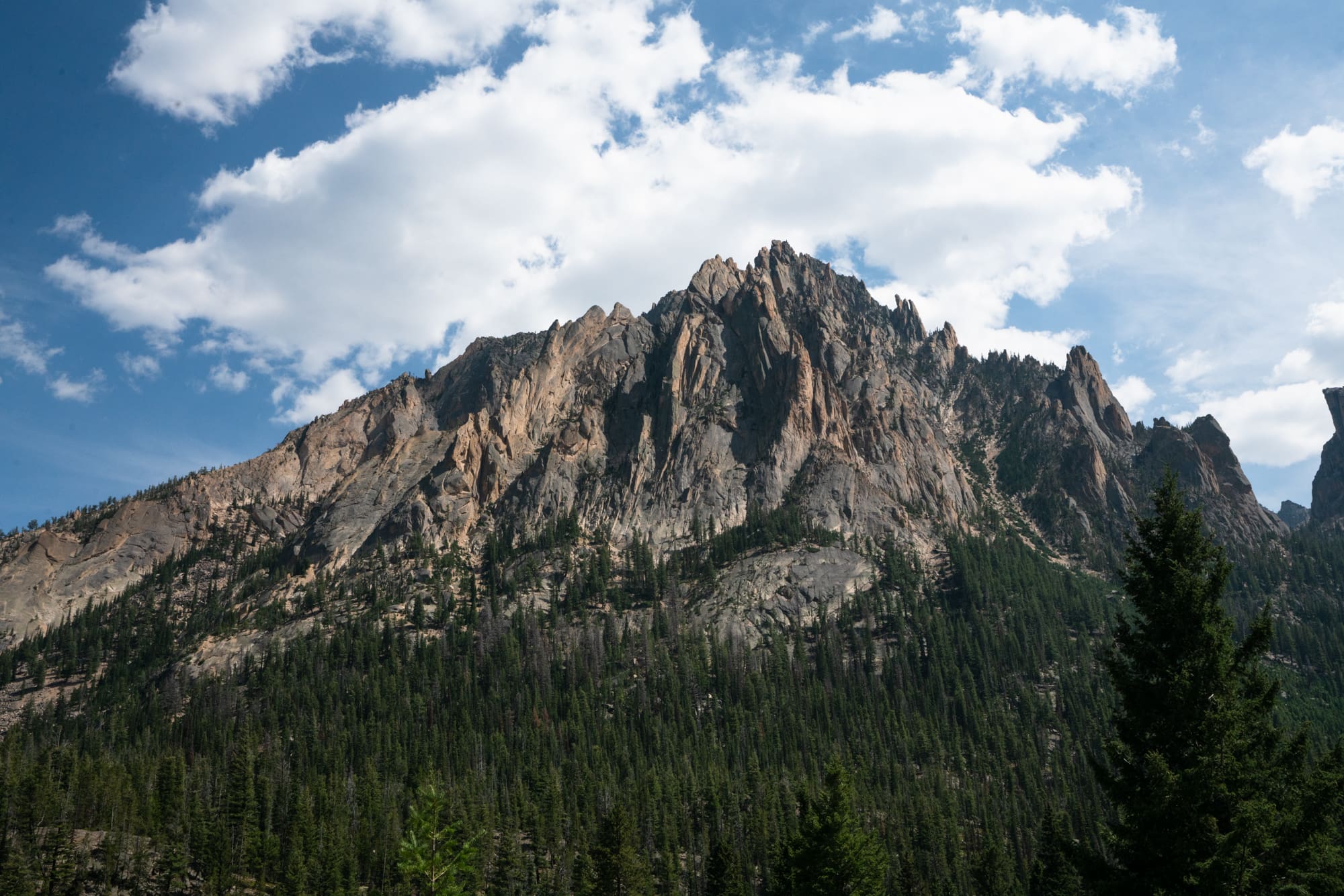 At 5.6 miles, you reach a side trail that takes you down to Alpine Lake, which was our destination for day 1. This is a popular spot, so don't expect much solitude, and remember that noise travels quickly across the lake. We had some noisy neighbors on the other side of the lake, and I'm not sure they realized that we could pretty much hear their entire conversation.
We found a secluded campsite on the east edge of the lake (the first end you hit when you are hiking) with a durable spot to pitch our tent away from the water. We spent the rest of the afternoon playing fetch with Charlie and enjoying the views. The fish were jumping like crazy here, and we wished we had brought a fishing pole, like everyone else we were camping near.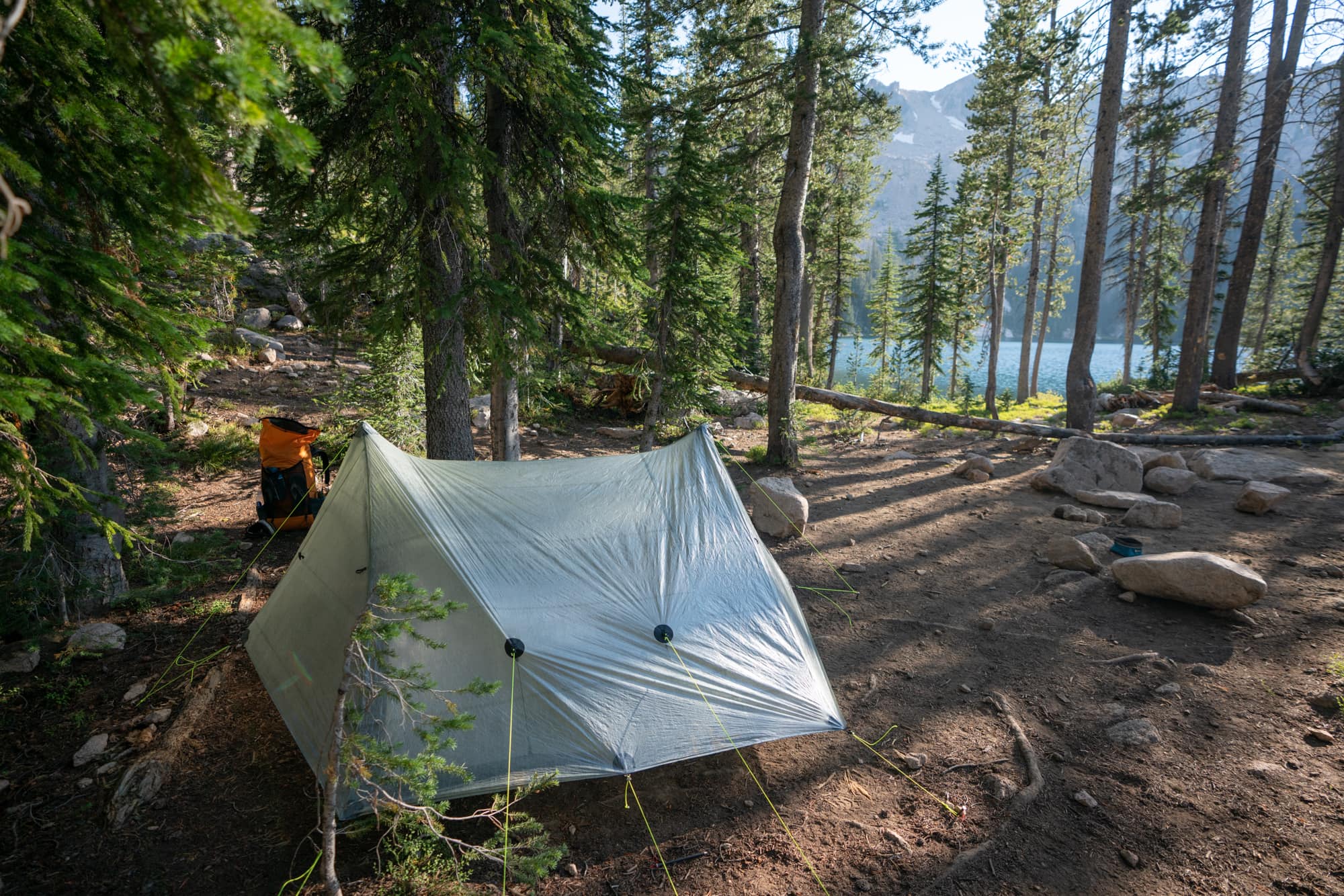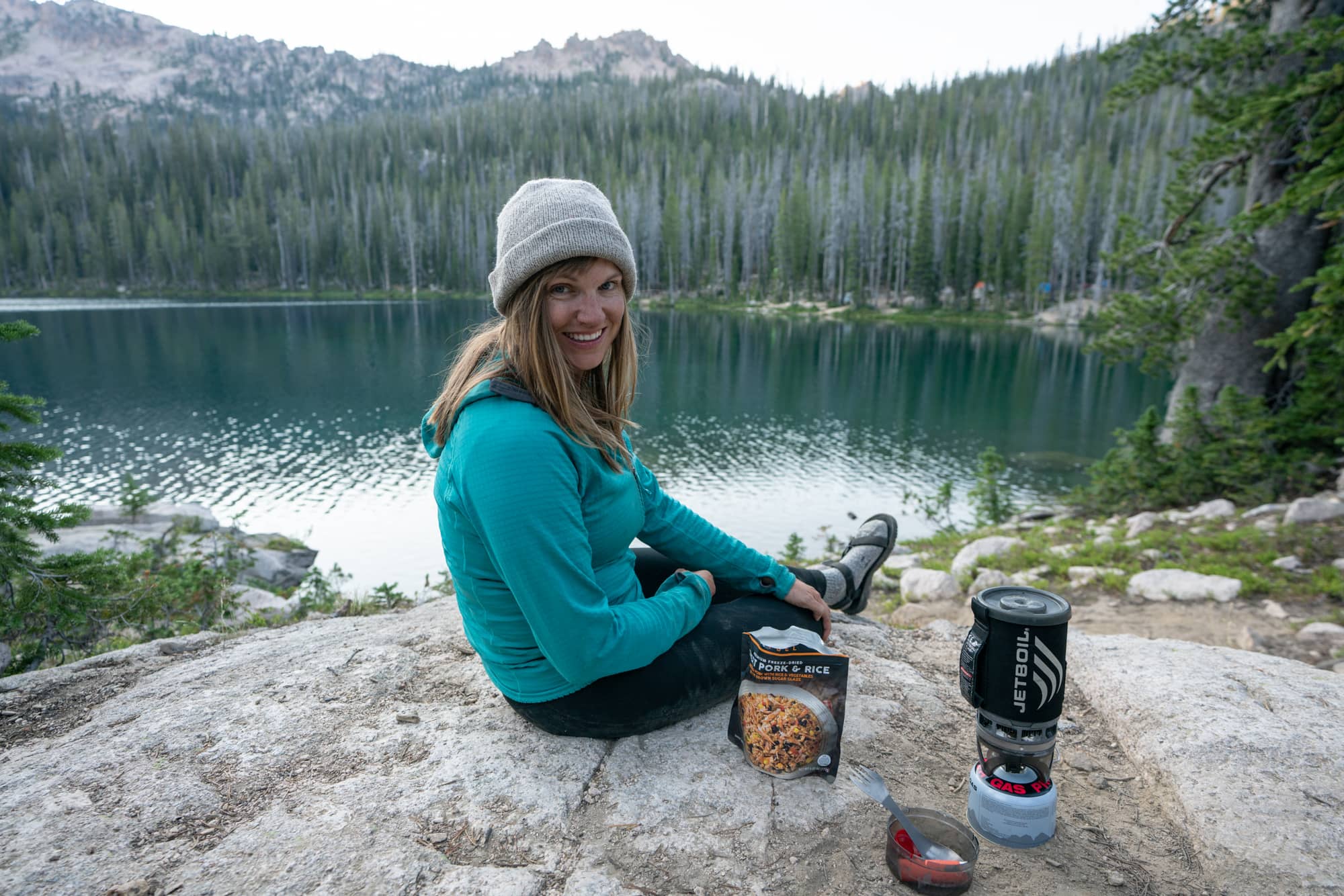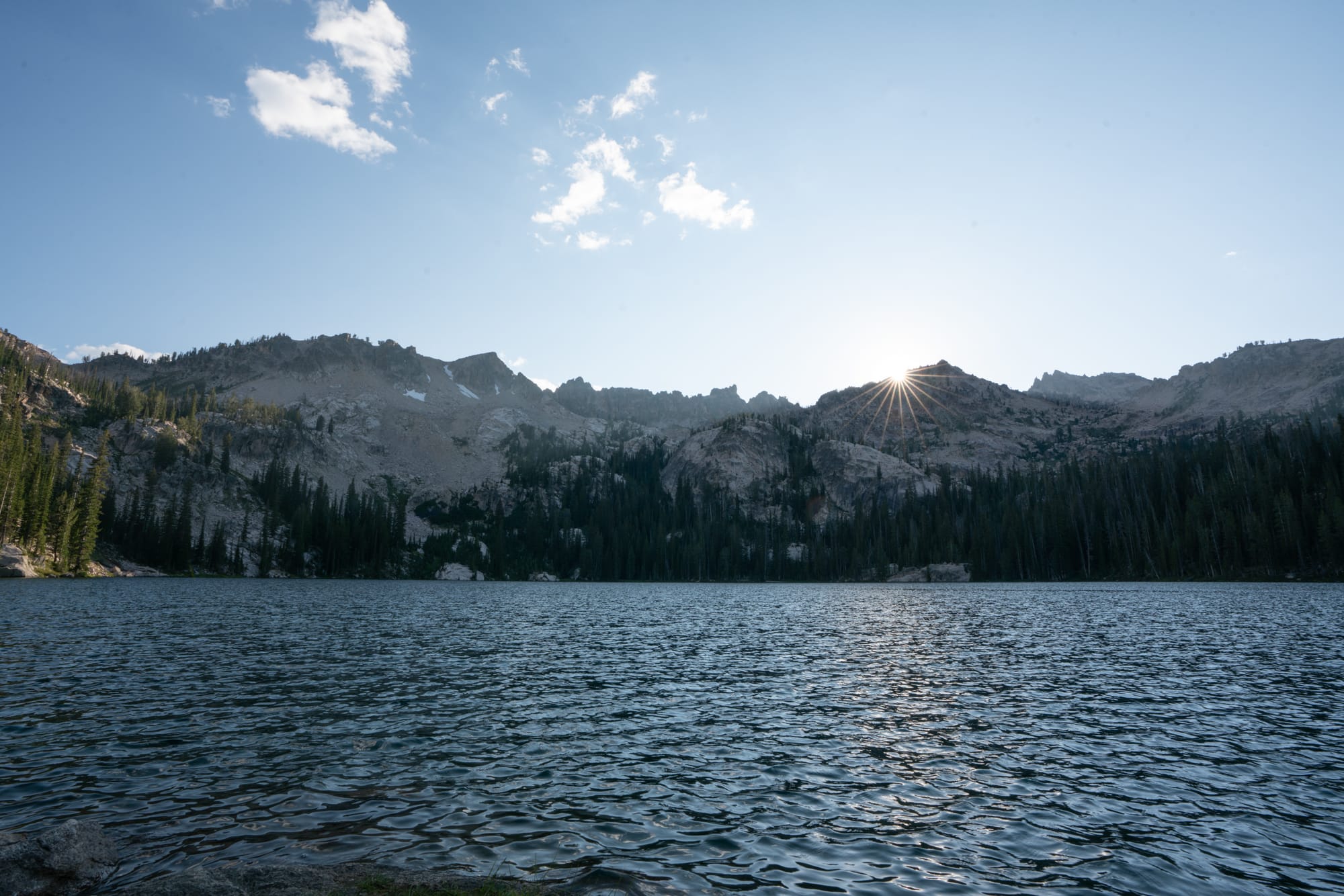 The next morning we got up early, packed up and made our way up to Baron Divide. You pass a small pond and a few more seasonal tarns on the way up. As you can see in the photos, the sky was a bit hazy on day 2 from a fire in the nearby town of Bellevue.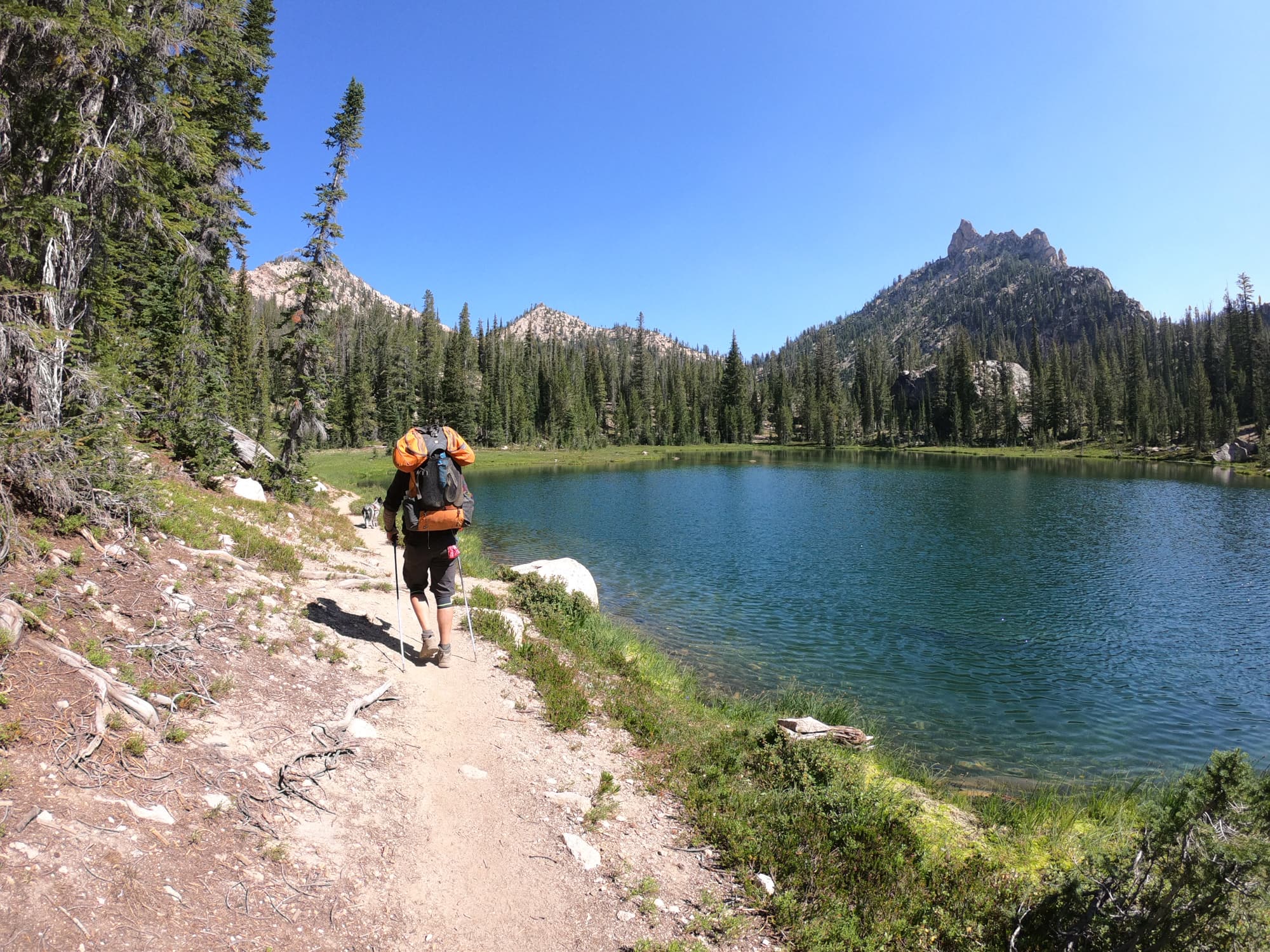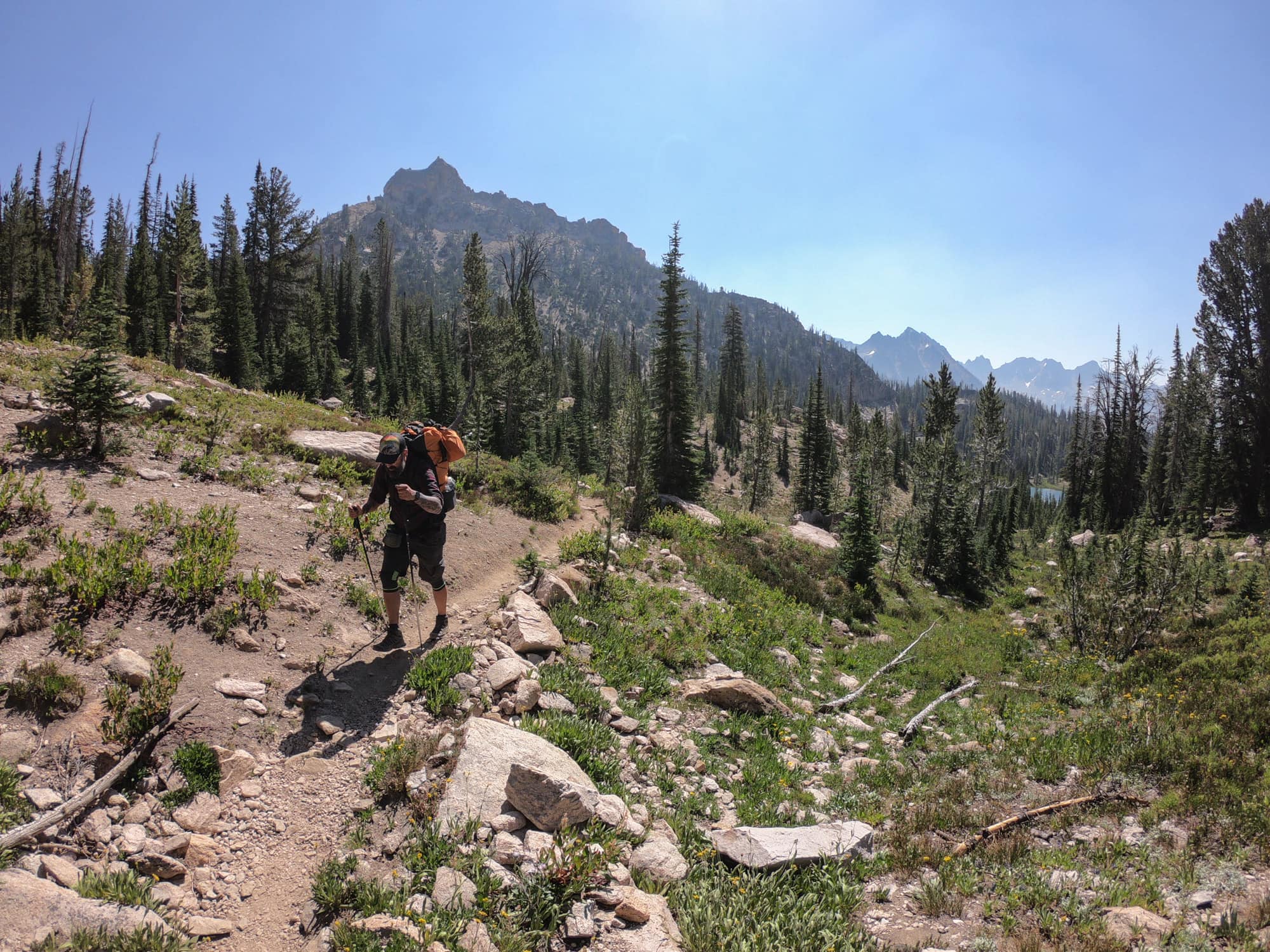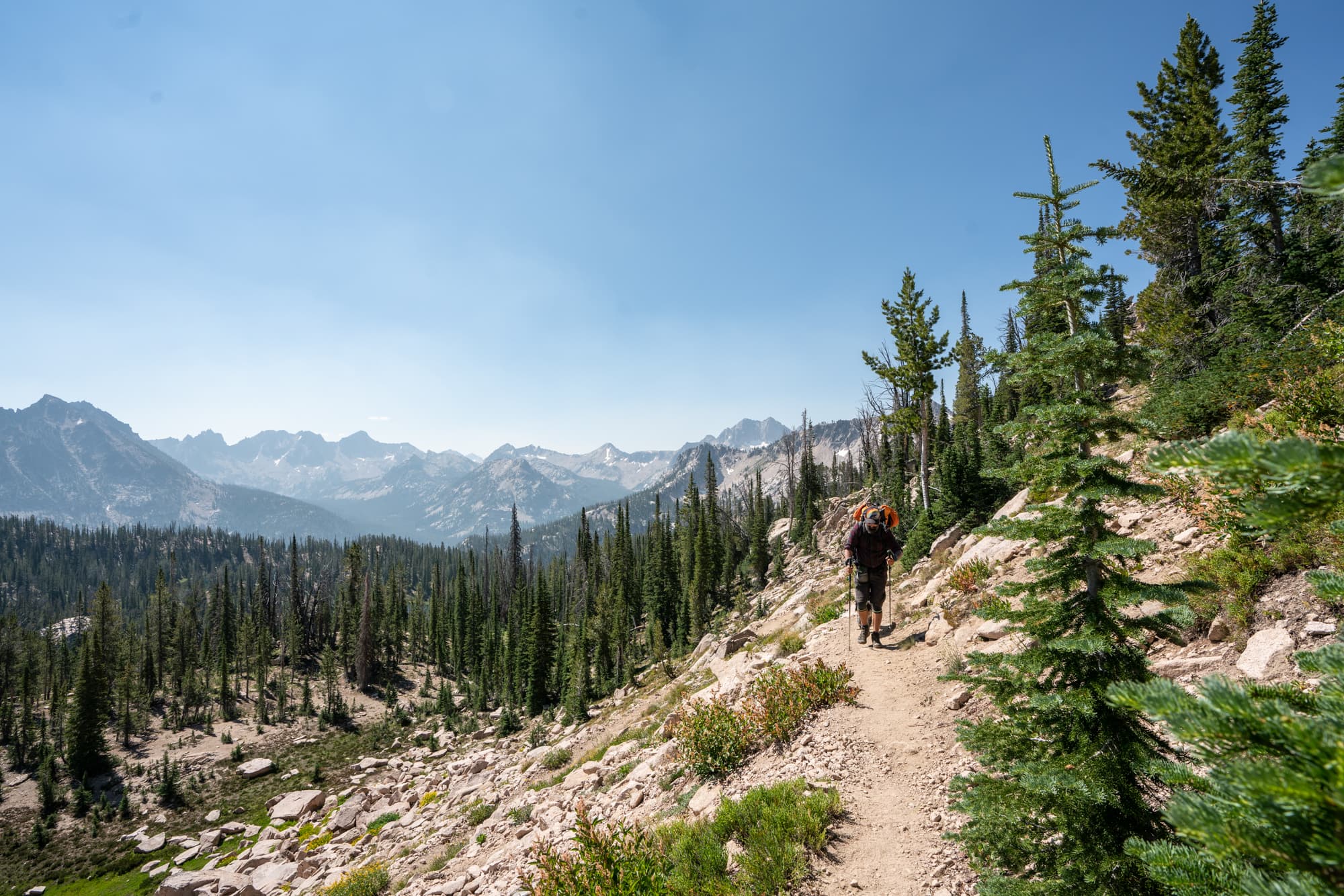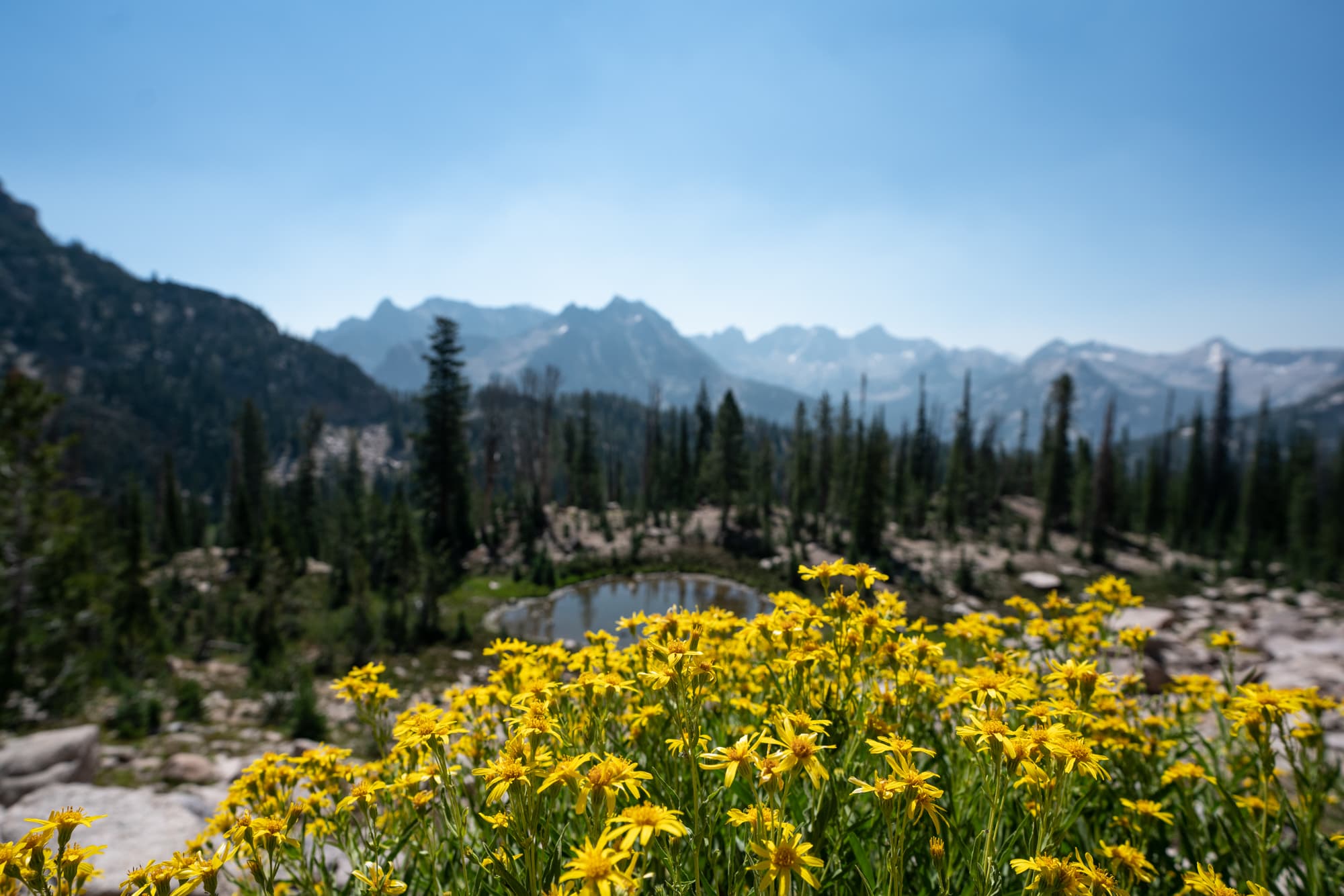 It's a little more than 1.5 miles and another 1000 feet of switchback climbing until you reach the top of Baron Divide, where you get your first glimpse of Baron Lakes.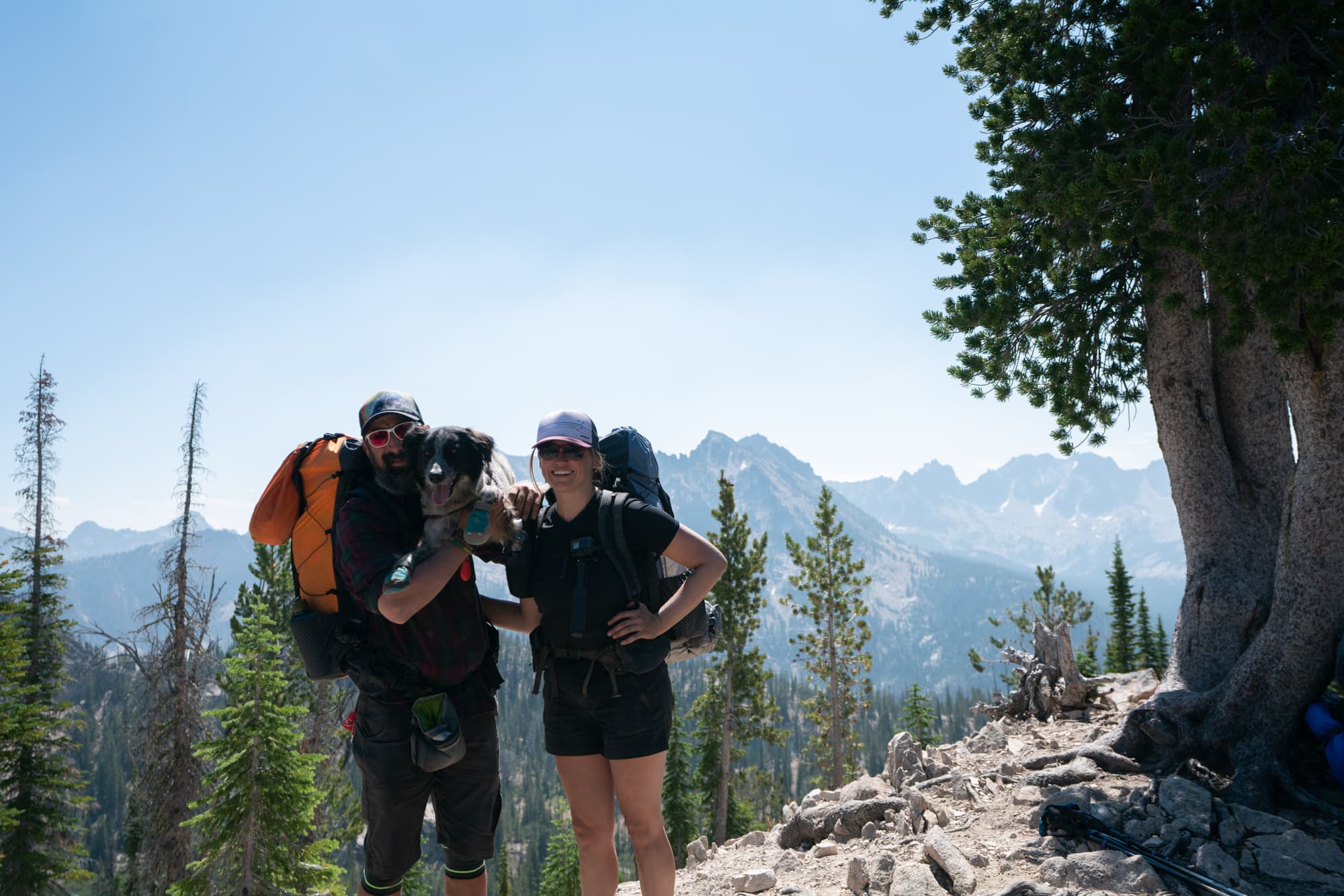 From the top of Baron Divide, it's a short, but steep hike down over two dozen switchbacks to reach Upper Baron Lake. We found a couple of amazing campsites on the north shore of the lake in between Upper Baron and Middle Baron Lake. Since there was no one else set up there, we decided to set up camp at one of these spots.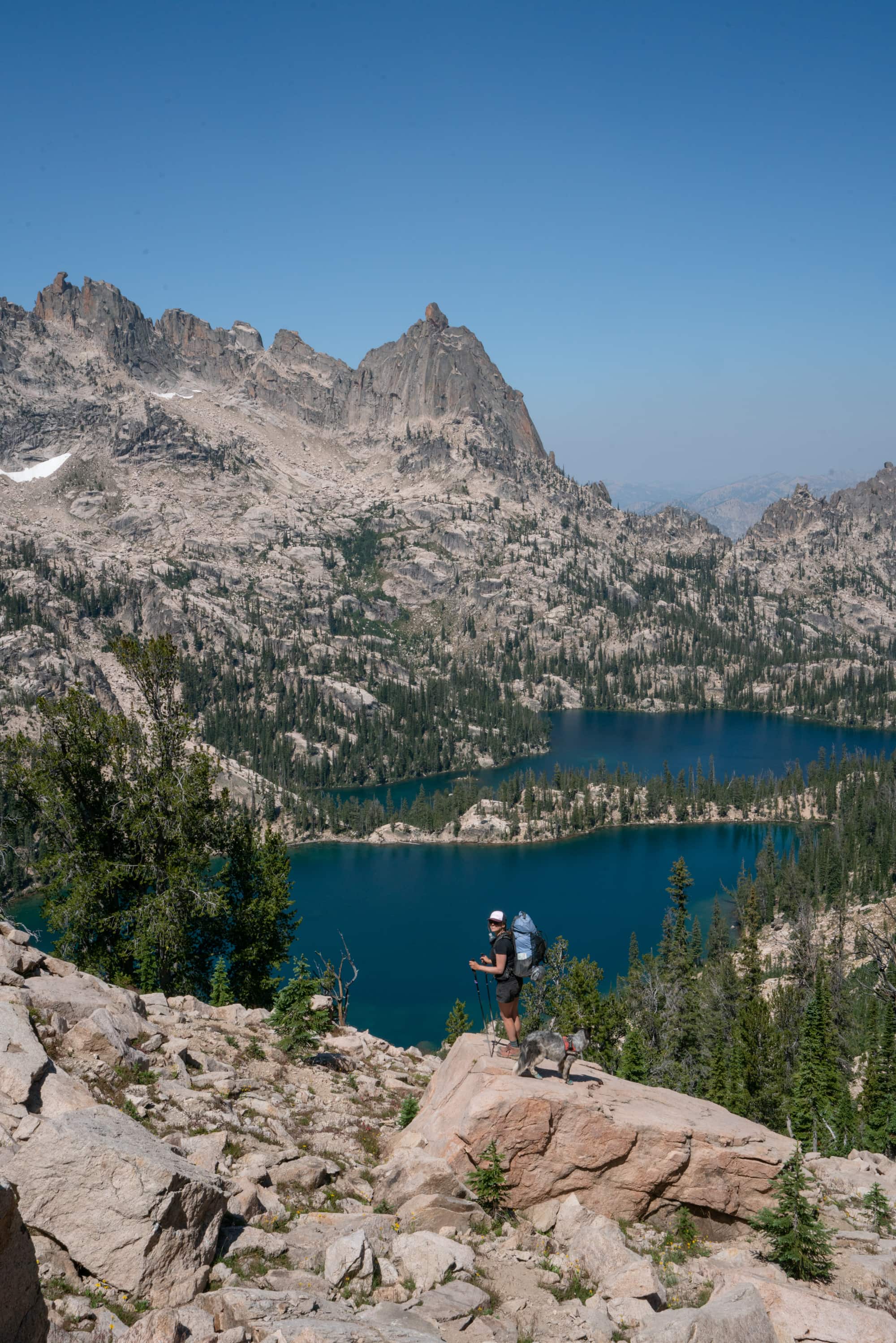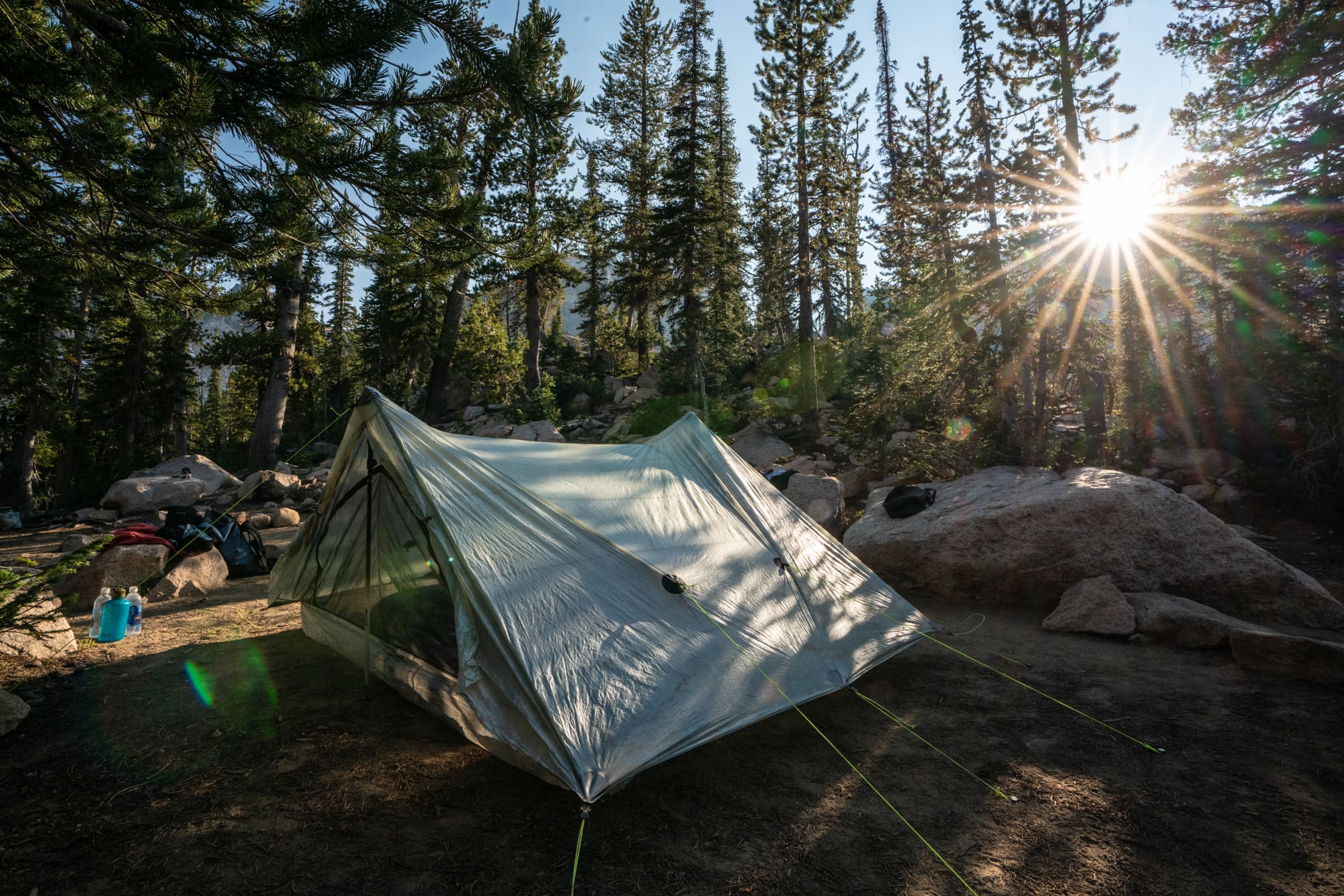 Camping with my ultralight Z-packs Triplex tent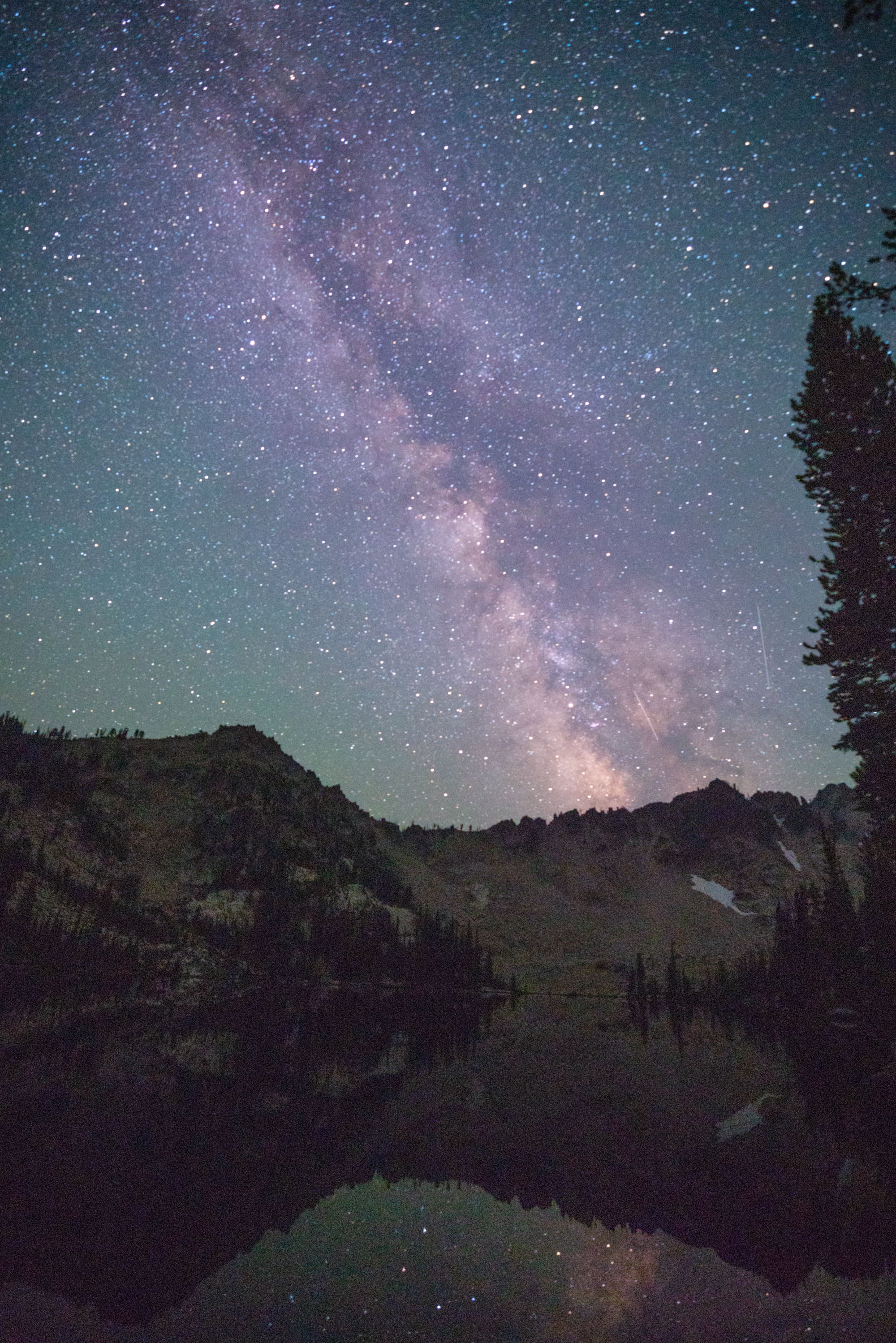 The next day we planned on leaving our camp set up and going further down the trail to explore Middle Baron Lake and beyond. Once you get down to Middle Baron Lake, which is much larger than Upper, you'll find a bunch of campsites, again on the north edge of the lake. Here we found a number of groups set up, which confirmed our good decision to stay at the Upper Lake.
We hugged the north side on what seemed like a game trail until we found a place to hang out on the lake shore away from the other campers.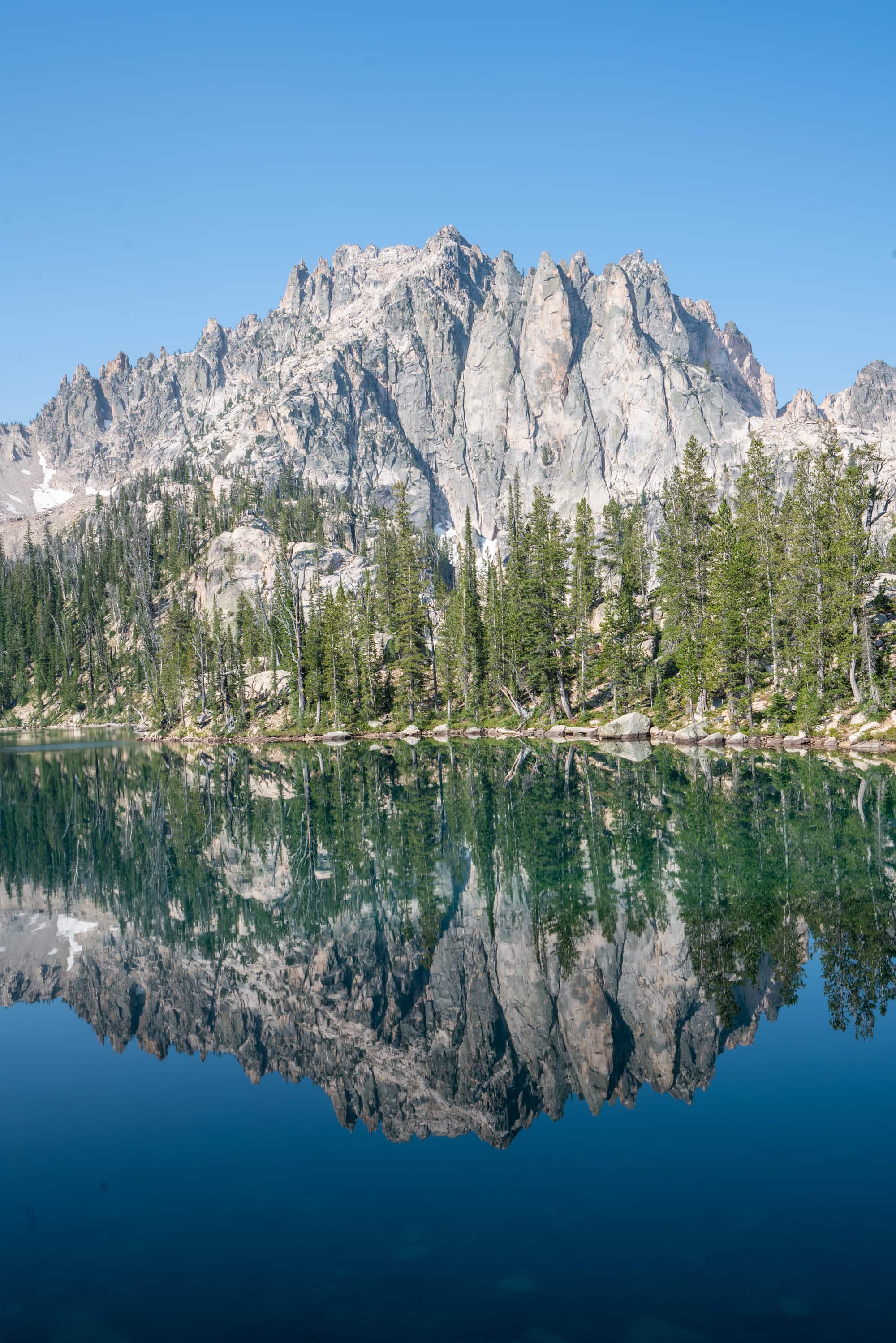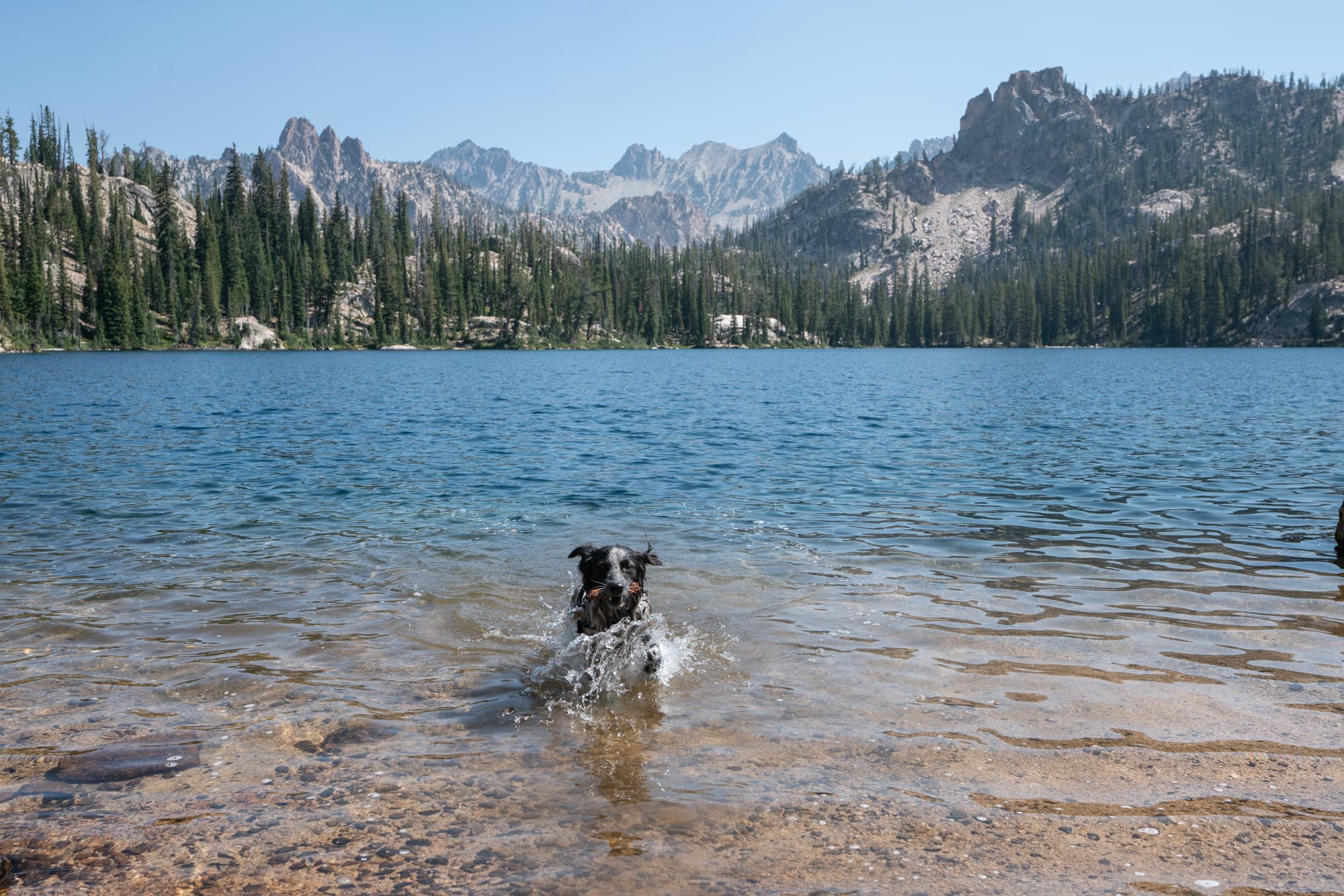 After relaxing here, we decided to continue further down the trail. We passed a series of river cascades, eventually reaching a meadow, where we dipped our toes and found a few additional campsites that I imagine don't get too much use. We decided not to try and find the lowest of the Baron Lakes. We caught a peek of it at the top of some boulders at Middle Baron and it didn't look that inviting or worth the effort.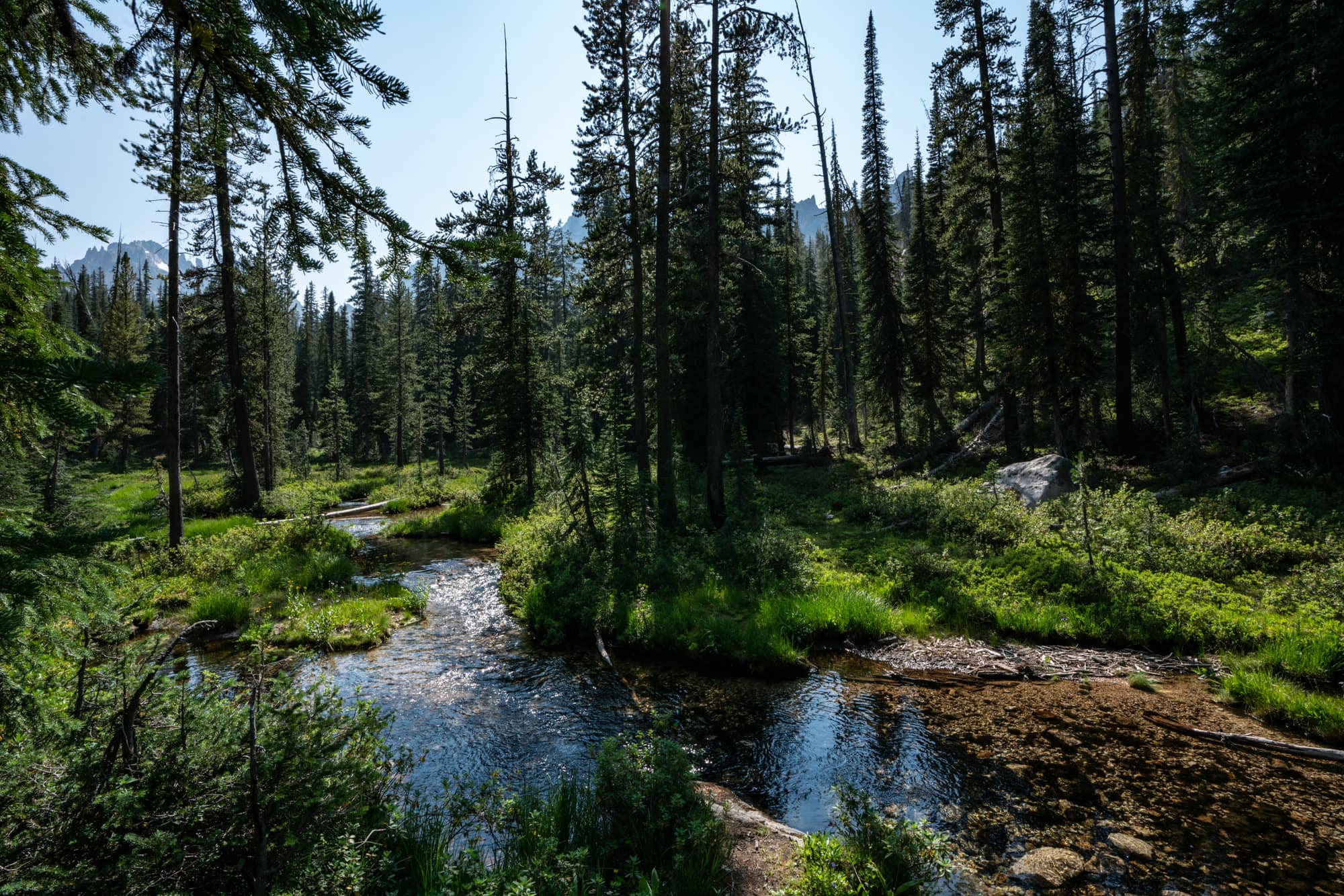 In the late afternoon, we made our way back up to camp, where we watched the sunset and cooked dinner, and the next day we packed up and hiked back out to Redfish Lake the same way we came.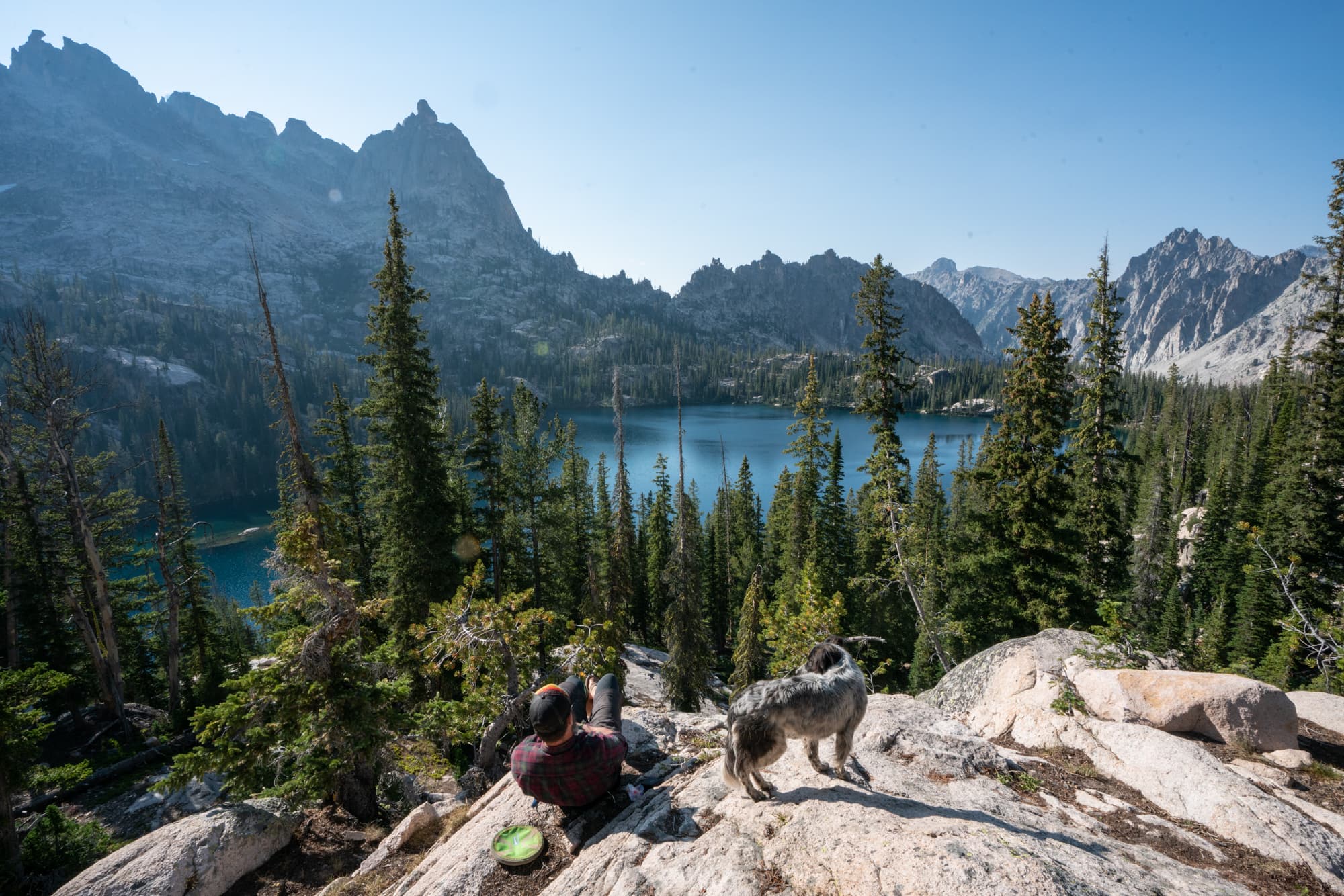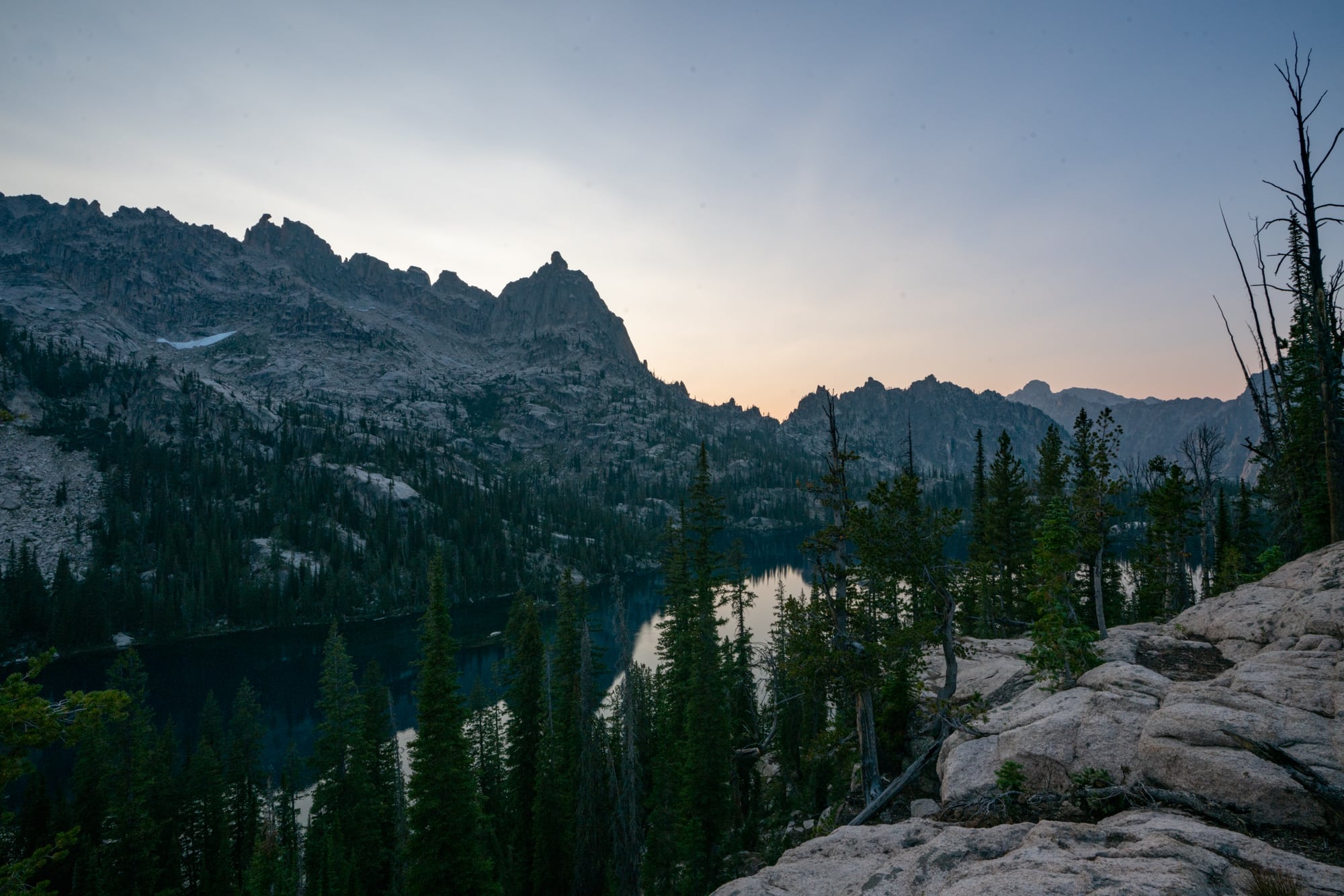 Gear for Your Baron Lakes Backpacking Trip
I've written a ton of gear guides that will help you plan for your backpacking trip to Baron Lakes. Here is where I'd recommend starting:
I also highly suggest the book "The Hikers Guide: Idaho's Sawtooth Country" by Scott Marchant.
Hope this Baron Lakes Backpacking Trail Guide helps you plan an awesome trip in the Sawtooths! If you have questions, please leave a comment below or join the Bearfoot Theory Outdoor Adventurers Facebook Group!