21 Best Things to Do In McCall, Idaho in Summer
An outdoor enthusiast's guide to the best things to do in McCall, Idaho from hiking, hot springs, biking, rafting, and more.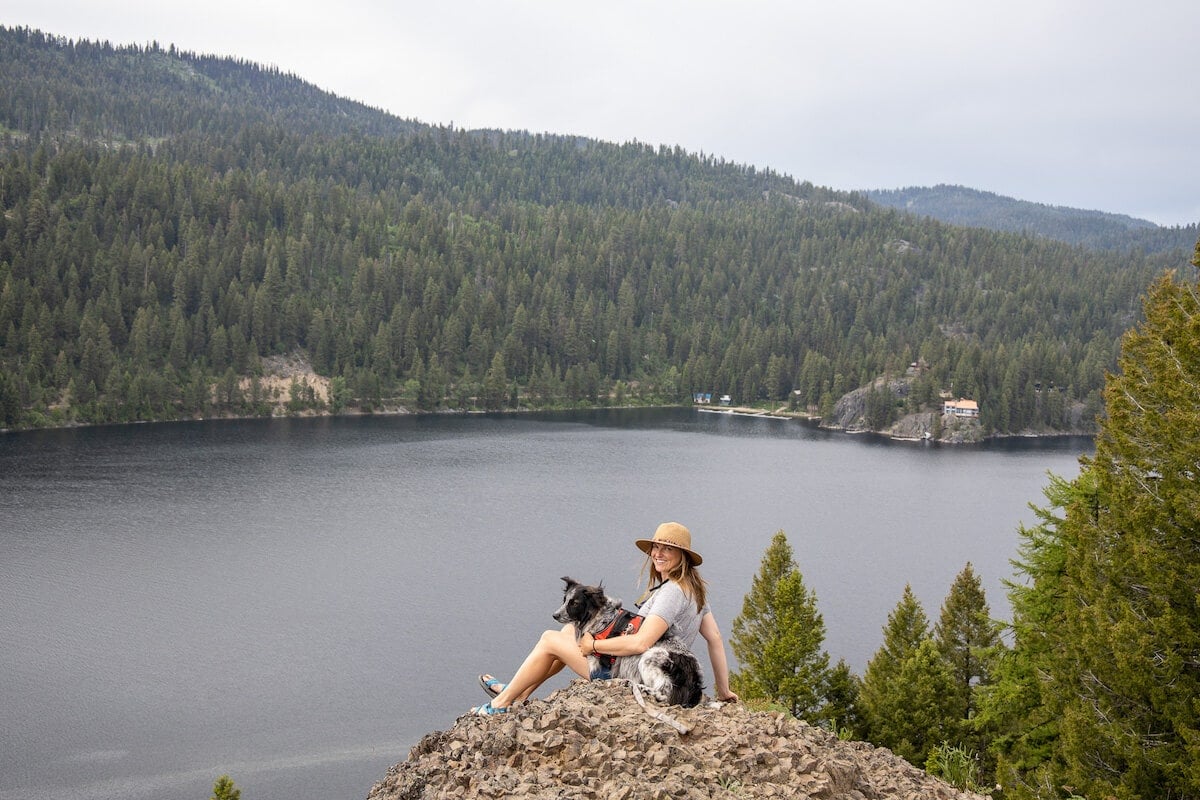 Sitting on the shores of glacier-formed Payette Lake in the Cascade Mountains, McCall Idaho is one of my favorite mountain towns in the West. Between the gorgeous forested landscapes, four seasons of outdoor recreation, and the unpretentious vibe, there are endless things to do in McCall, Idaho and I've considered moving here more than once.
Visiting McCall, Idaho should be a must on every outdoor enthusiast's dream destination list because of the amazing outdoor adventure.
With hundreds of lakes and some of the best whitewater in the country, there are countless ways to get your adrenaline pumping. Or if you prefer to explore the mountains and take a scenic drive, that's an option too! We've rounded up the best things to do in McCall, Idaho from hiking to hot springs to restaurants and more in this guide.
Start planning your trip with this list of the best things to do in McCall Idaho.
Important Reminder: As it goes in all of the destinations we share, please practice good trail etiquette and remember to Leave No Trace. This means packing out all of your garbage (including toilet paper), being respectful to others on busy trails, and following the established rules.
Join our community for access to our free member resources!
Download Handy Outdoor Packing Checklists & Trip Planning Guides
---
Hiking
Hiking is hands down one of the best things to do in McCall, Idaho. Get out on the trail with a hike through the beautiful Douglas Fir tree-filled forests alongside rivers and streams. Check out these top hikes while you're in town:
1) Hike to Goose Creek Falls
Goose Creek Falls is a moderate hike in McCall that begins just below the base of Brundage Mountain, accessible from Last Chance Campground. During this 3-mile hike, you'll drop 750 feet in a mile and a half as you weave through ponderosa pine and Douglas fir trees that hug the banks of Goose Creek.
As you approach the top of the falls, you'll cross a bridge and then take a left at the fork to reach the waterfall. Remember to save a little energy, as you'll be gaining all of that elevation you lost on the way back to your car. Waterfalls, steady incline, and breathtaking scenery make this quick walk in the woods a must-see while in McCall.
2) Hike to Louie Lake / Boulder Lake Loop
This hike combines the Boulder Lake Trail #105 with Louie Lake Trail making for a 7-mile loop. It provides access to three different lakes without too much effort and amazing views, with a free car campground at the trailhead.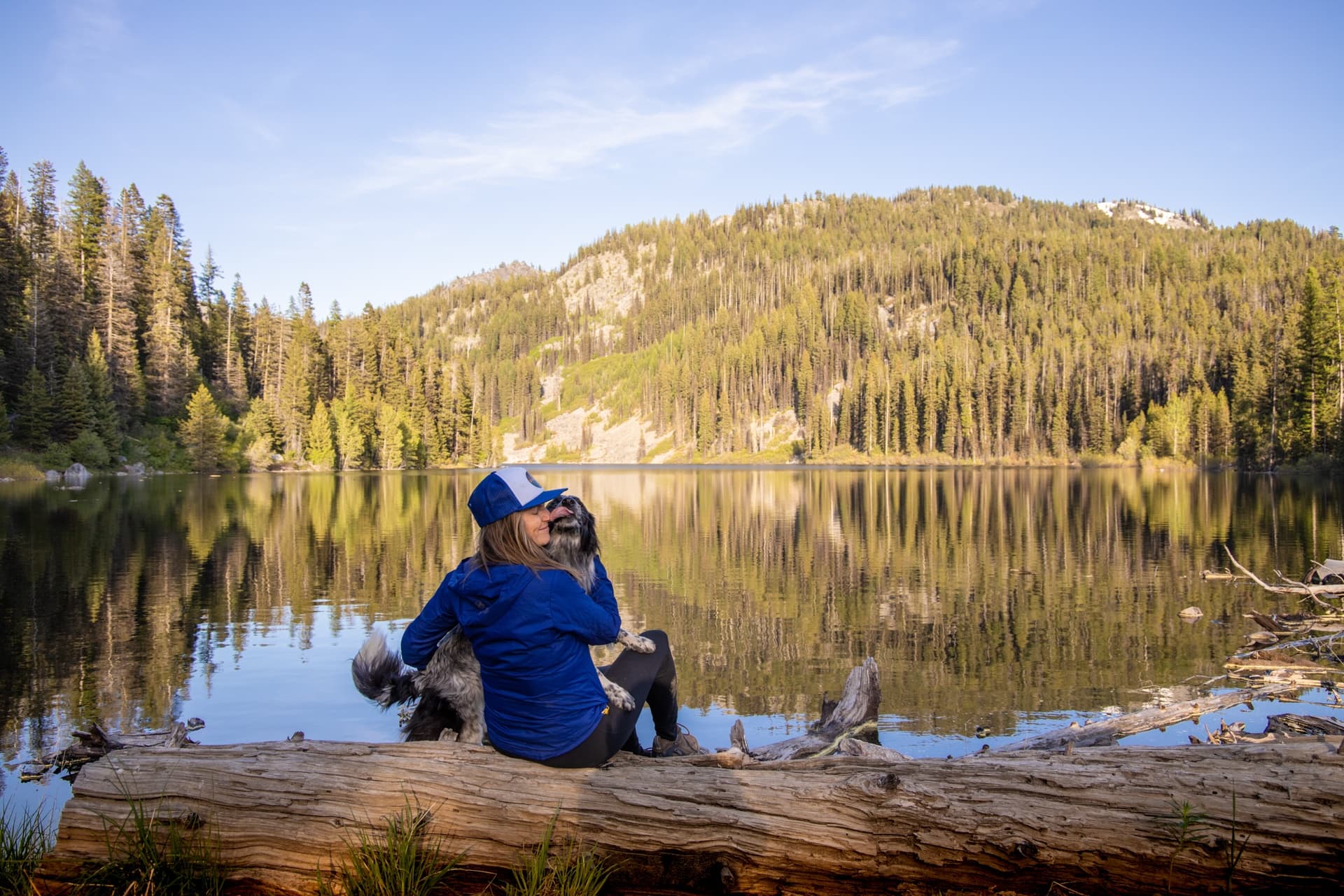 Scenic Backcountry Drives
We love a good road trip and there's no better kind than a scenic backcountry drive in McCall during the summer. Map out your most picturesque route as you make your way in or out of McCall. Here are a few great options.
3) Take the Scenic Byway from McCall to Stanley
Heading out of town? Drive the scenic byway from McCall to Stanley and make sure you bring your camera. This three-hour-long route takes you past beautiful Lake Cascade and snakes alongside the Payette River on Highway 55 for 158 miles. Stop for views at Rainbow Bridge, Smith's Ferry, and Boise National Forest before turning off on Route 21 to get to Stanley. Once you turn on Highway 21, keep an eye out for roadside hot springs.
4) Road Trip to Riggins, Idaho
Another option is to take a scenic drive out to Riggins, Idaho nestled in a canyon near the Salmon River. Here you can hike the Rapid River Trail which skirts along the river and offers some vertical gain that opens up to beautiful views of the area. You can also spend a day rafting if you're looking for more adventure.
5) Spend a day in Yellow Pine
Yellow Pine is a cool destination point that offers camping, hiking, biking, and horseback riding. This tiny, remote town is nestled in between the Payette and Boise National Forest. Sunny skies and warm weather make this road trip a top summer outdoor activity when visiting McCall.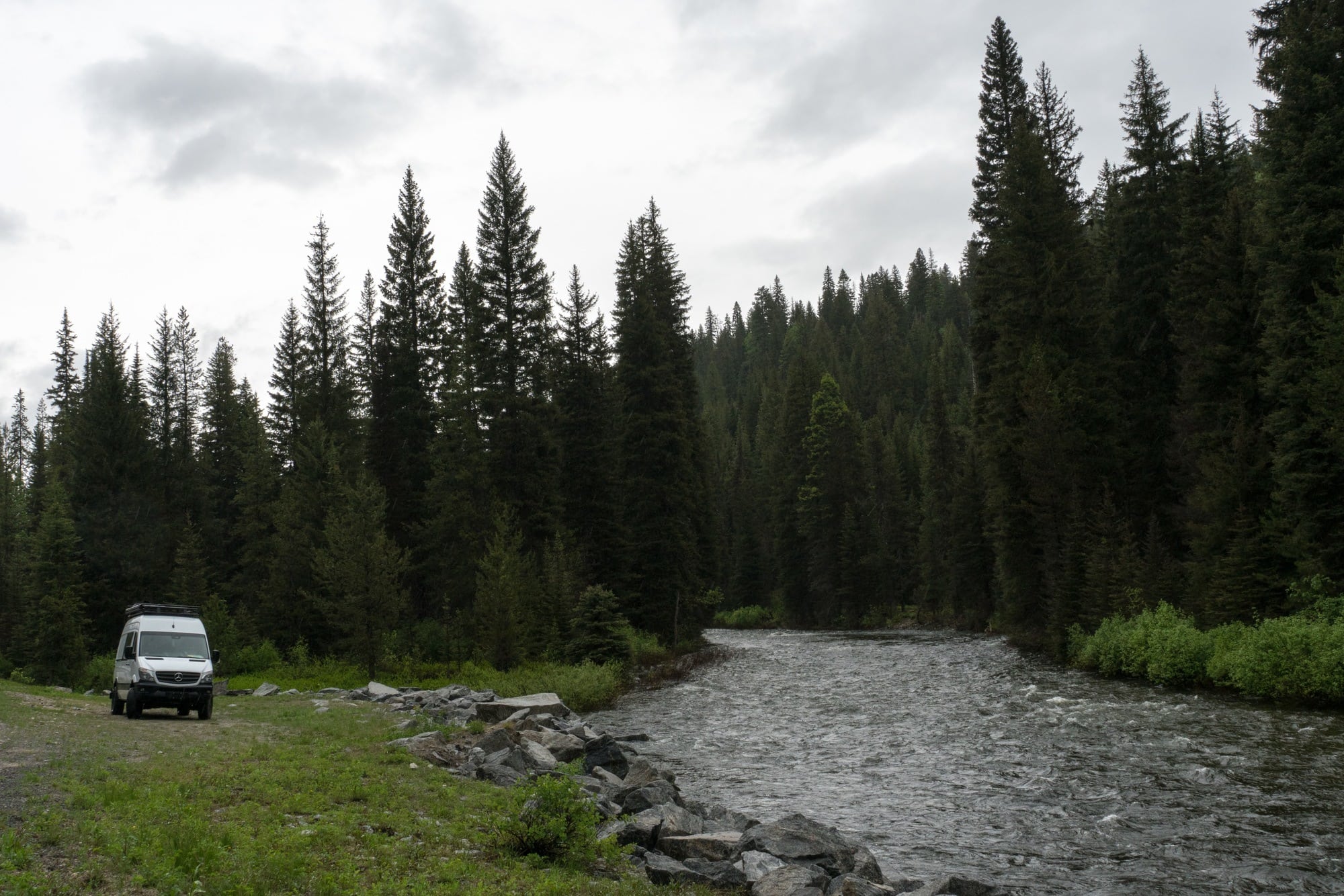 Mountain Biking
Bring your bike or rent one while you're in town because you won't want to miss out on the famous single and double tracks near McCall. It's one of the best things to do in McCall, Idaho in summer for the scenery and quality of the trails — plus, it's suitable for hardcore mountain bikers or people who just want to try it out. Here are some of the best mountain biking spots in McCall.
6) Ride the Tamarack Bike Path
The Tamarack Resort's version of fun in the summer consists of tons of lift-access single track and is totally worth a visit. Check out our guide to skiing Tamarack during the wintertime.
7) Lift accessed mountain biking at Brundage Mountain
Spend the day cruising around Brundage Mountain's bike trails that are suitable for all levels of mountain bikers. You can head up the lift and bike down or, for a more hardcore type 2 kind of fun, bike up and down the trails.
8) Ride singletrack at Jug Mountain Ranch
The world-class, singletrack trail network at Jug Mountain Ranch is free and open to the public and offers everything from flat, meandering rides through ponderosa forest to expert-level terrain with jumps to the nine. On the weekends in summer, you can also take advantage of their mountain biking shuttle that transports you to the very top of the trail system.
The trails are well mapped and marked to ensure you don't end up somewhere beyond your riding capability. Finish your ride at the on-site Clubhouse Restaurant and Bar to help support trail building and maintenance.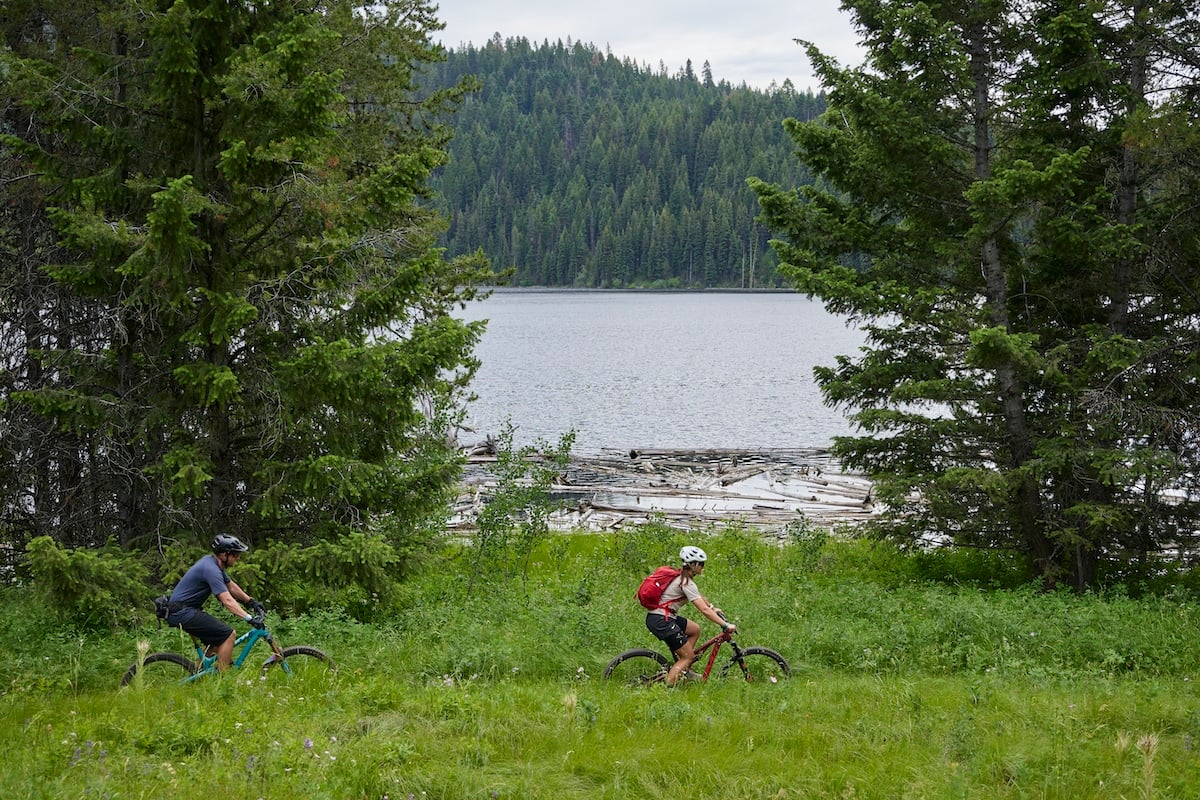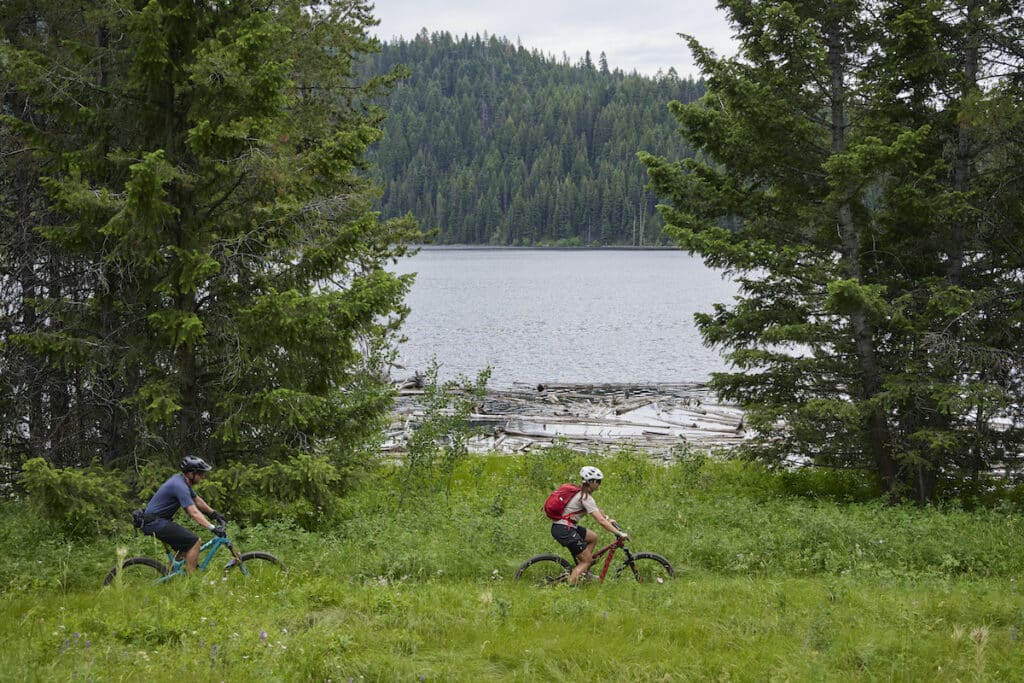 9) Mountain bike the Eagles Nest Trail
Take the out and back 14 mile-long single track located in the town just south called Cascade, Idaho. It's a fun combo of easygoing trails with steep and technical sections, plus a little climbing for good measure.
10) Mountain Bike in Payette National Forest
You can hike or bike the 11-mile-long loop trail at Loon Lake (just a heads up that it does get crowded in the summer) and the brand new biking and hiking Payette Lake Rim Trail that's also 11 miles long for picturesque mountain and lake views.
For those looking for a shorter, more challenging trail with some technical features, take your bike to Goose Creek which is accessible from Last Chance Campground by bike, as well as by foot.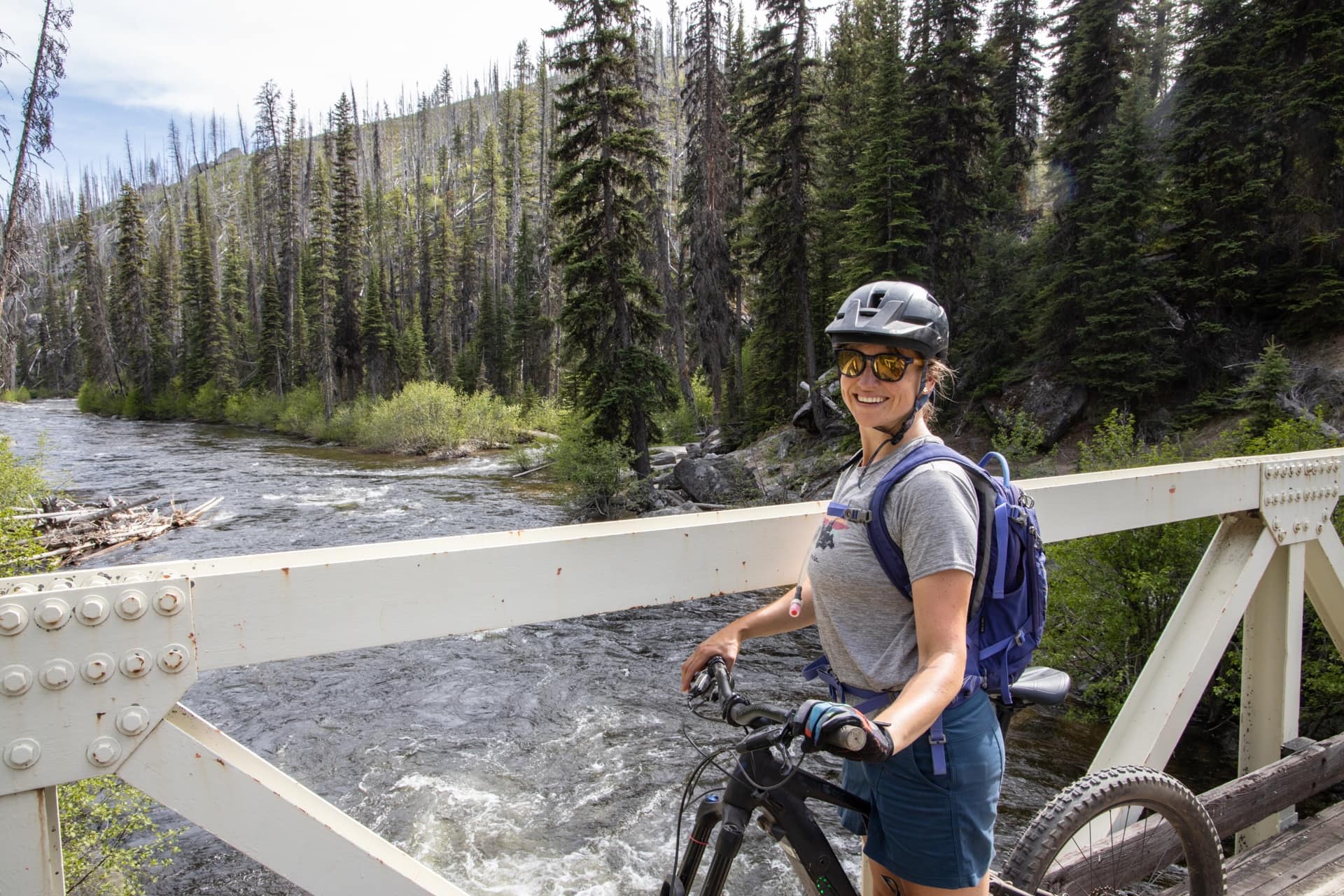 Water Activities
There are lots of lakes and rivers worth a visit throughout all of Idaho. While the state is definitely a go-to for mountain lovers, it's also a haven for water lovers as well. No surprise that kayaking, rafting, fly fishing, and more top our list for some of the best things to do in McCall, Idaho in summer. Here are some ideas for your next trip.
11) Go Boating on Payette Lake
The town of McCall is situated on the southern banks of Payette Lake. Great for kayakers, fishers, swimmers, and lake lovers alike, Payette gives the resort town its picture-perfect backdrop. McCall Lake Cruises also run several boat cruises, including sunset cruises during the summer. 2 hours cruising the lake while enjoying live piano music and a fully stocked bar – what could be better?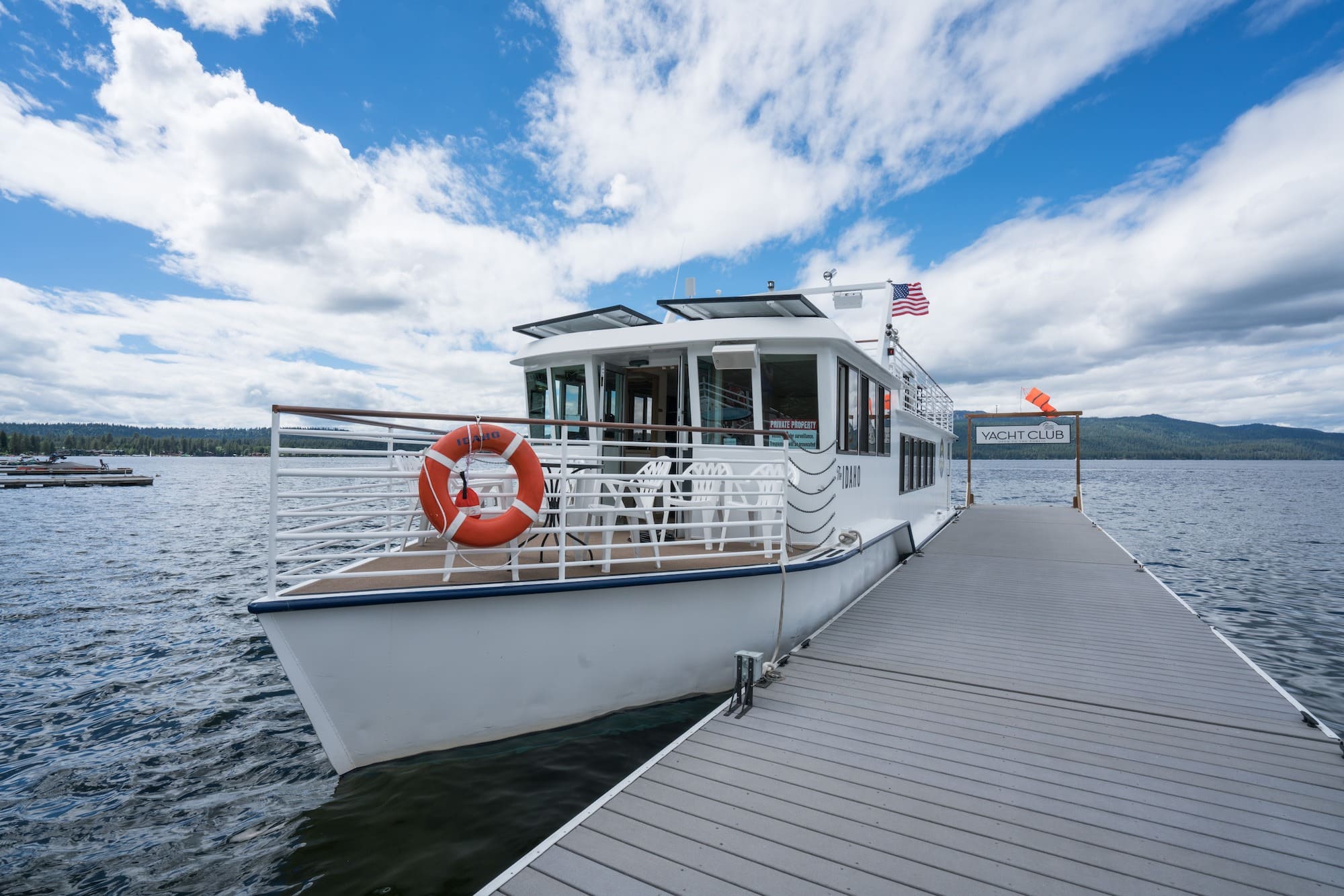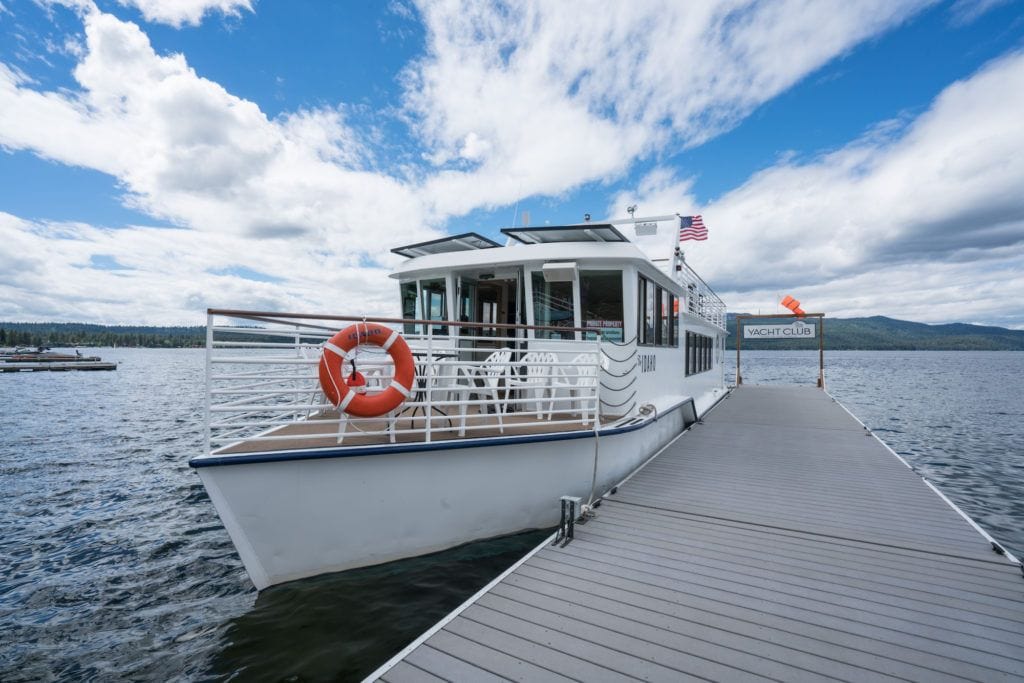 12) Paddle the Upper North Fork of the Payette River
The Upper North Fork flatwater section of the Payette River is located at the north end of Payette Lake and is perfect for stand up paddleboarding. This gorgeous, lazy creek is a non-motorized area, and the only other folks you'll run into are the occasional paddler and fisher hanging out on the banks.
It's a great place to search for moose and other wildlife while taking in the sights and sounds of the river.
If you don't have your own, Backwoods Adventures rents kayaks, canoes, and stand-up paddle boards. Head out and travel upstream as far as 7 miles. I'd recommend starting as early as possible for the most solitude and the best chance of seeing moose and black bears which frequent the area.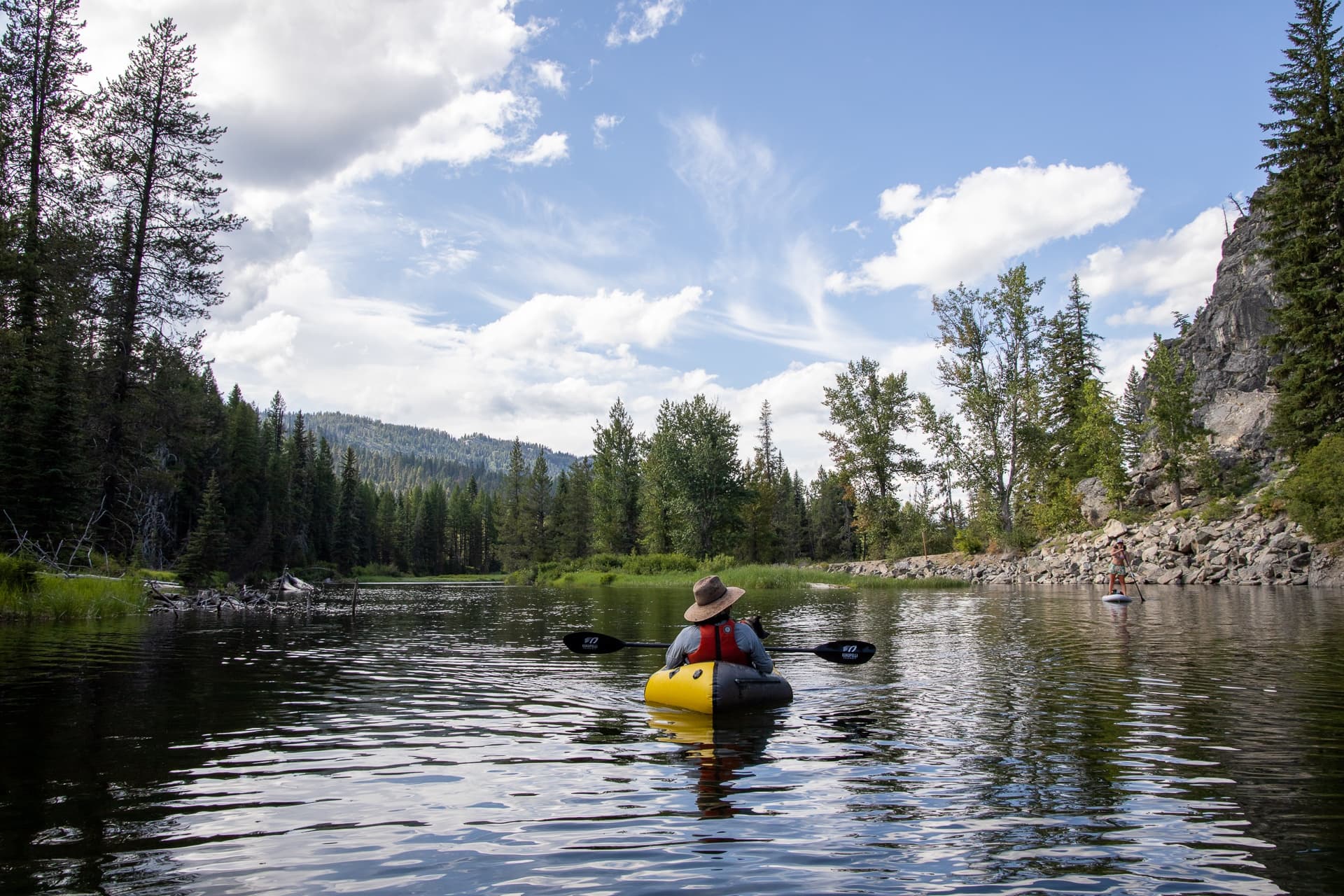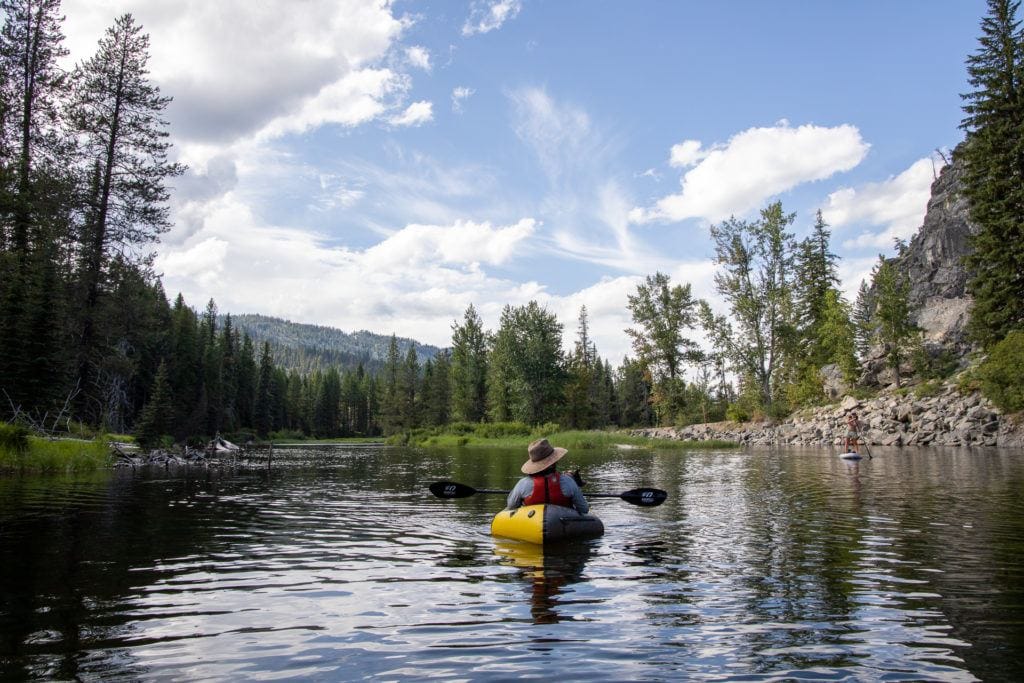 13) Go Whitewater Rafting on the Payette River
Idaho has more miles of whitewater than any other state, and the Payette River between Boise and McCall is an exciting way to get a taste. Numerous outfitters run half and full-day trips, and different stretches offer a variety of thrills – whether you're looking for adrenaline-pumping rapids or a mellow float with the family.
Most trips depart from Banks located on Highway 55. We recommend Tamarack Rafting who cover the beautiful and exciting Cabarton stretch of the Payette River. Their experienced guides are super professional and will set you up for a good time regardless of your skill level.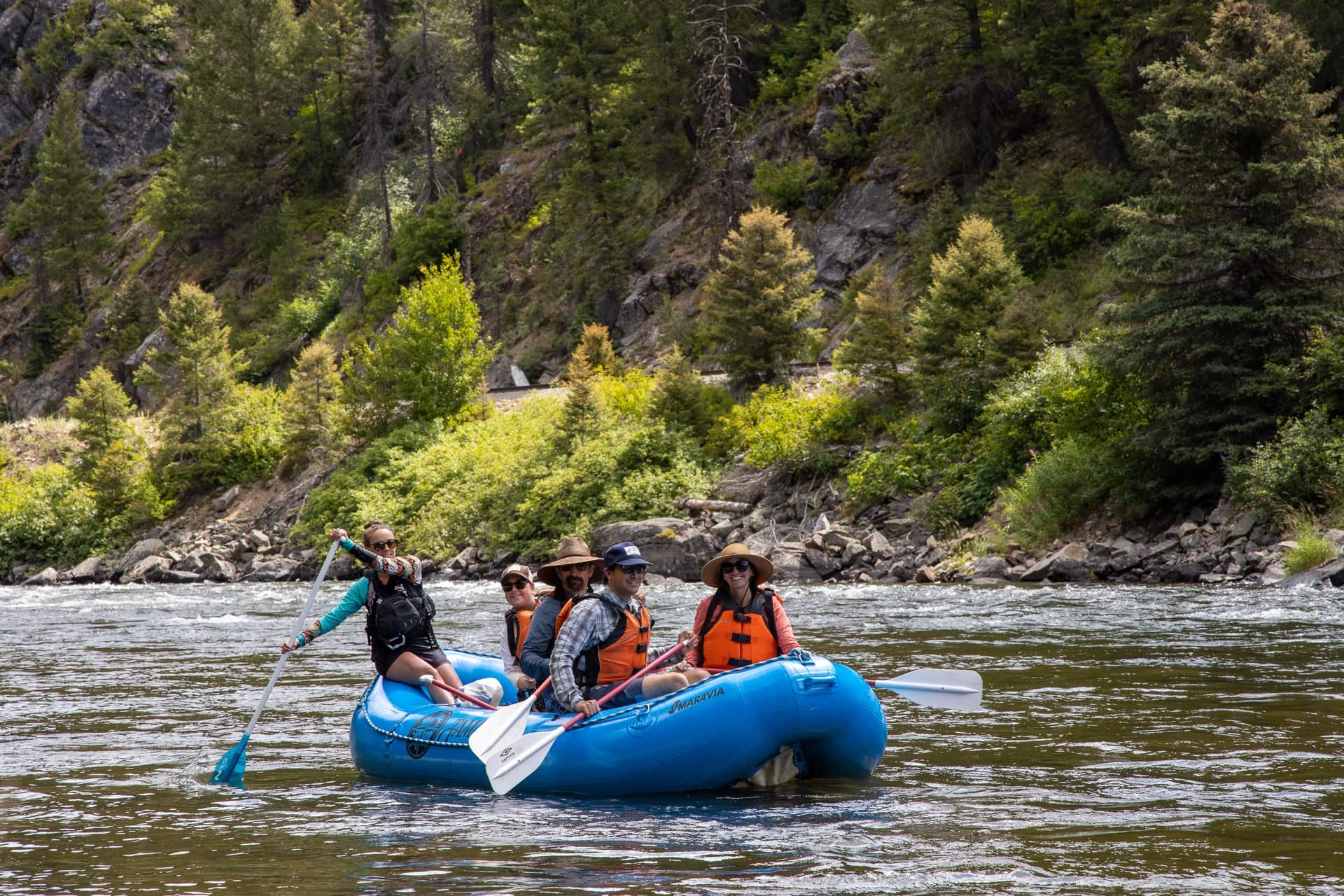 14) Go Fly Fishing
Try your cast in one of many rivers or lakes in McCall. There are several outfitters in town to rent gear from or take lessons, and spending an afternoon fly fishing is one of the unique things to do in McCall, Idaho.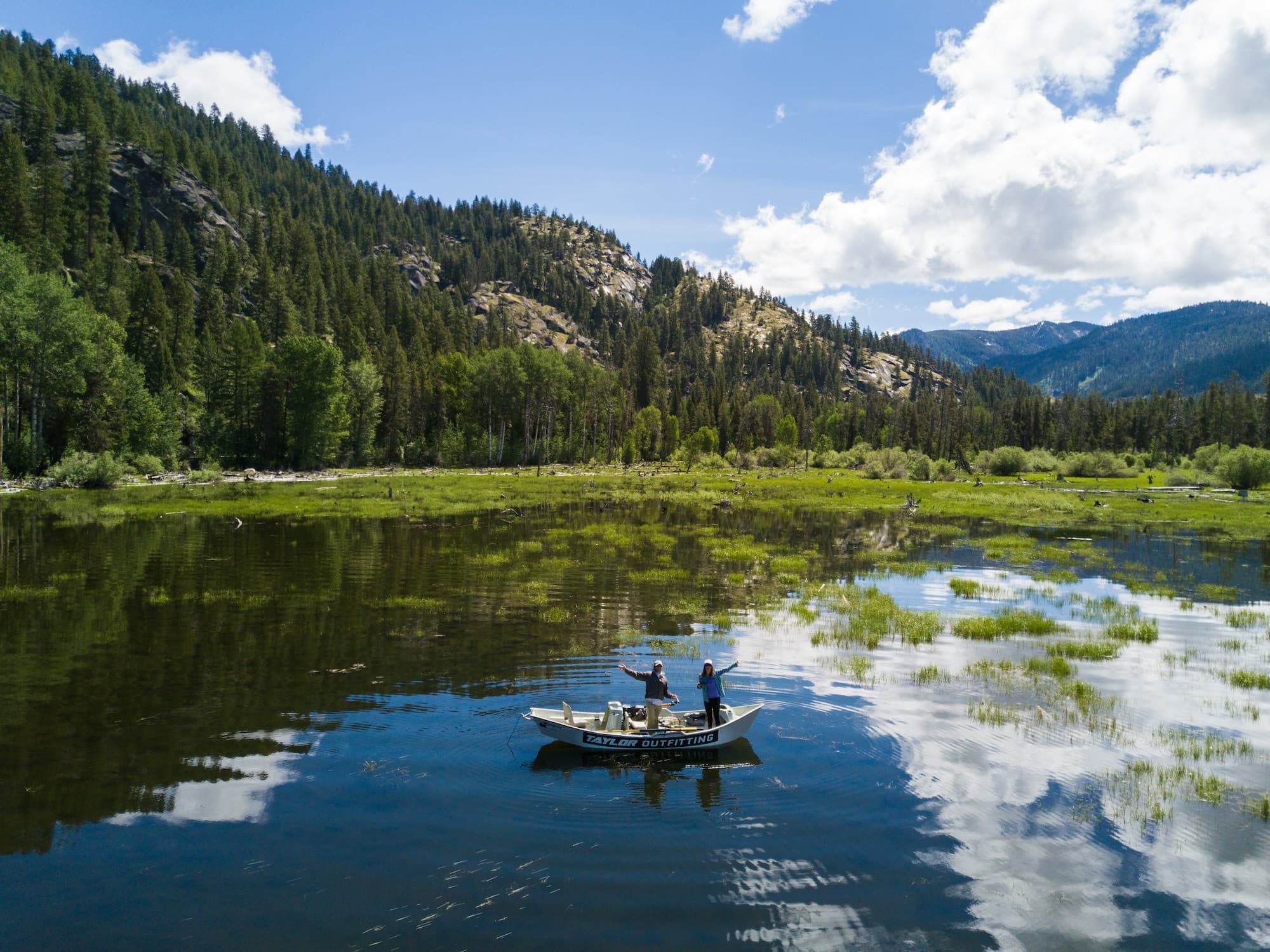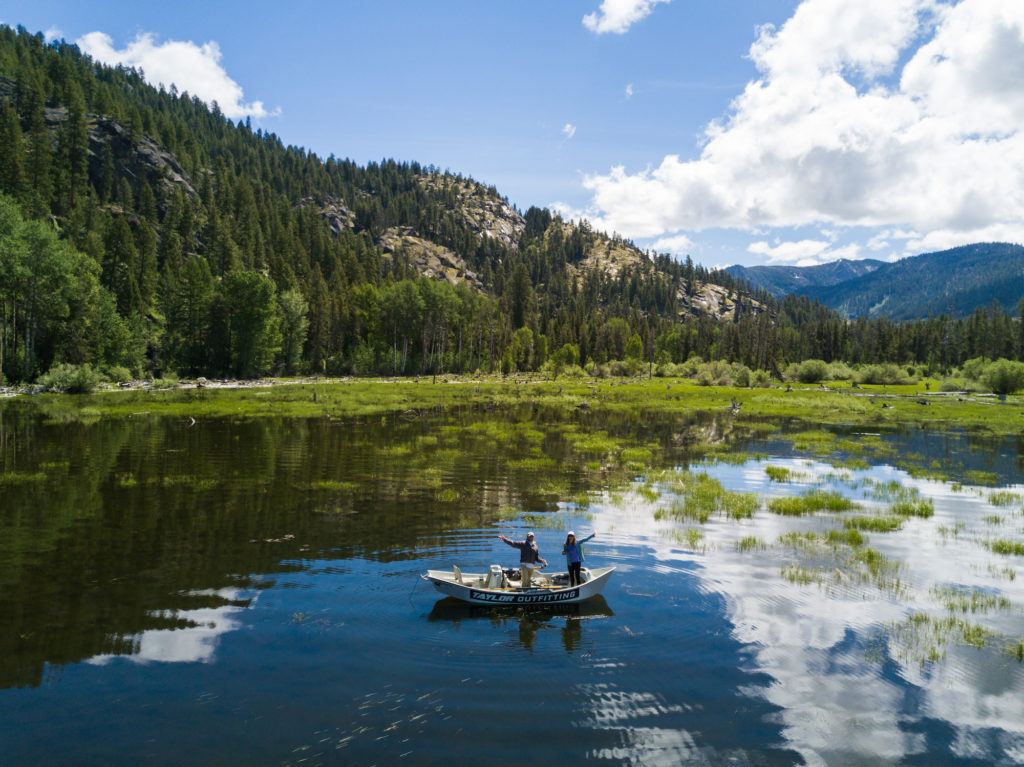 Soak in Hot Springs
Like the rest of Idaho, visiting hot springs is one of the best things to do in McCall. This area in particular is known for its epic hot springs that you can enjoy year-round. Grab a few friends or go solo to soak in McCall's hot springs! We've listed a few well-known hot springs here, and we'll leave it to you to do some sleuthing to find the lesser-known local spots. Be sure to brush up on your hot springs etiquette beforehand and do your part in preserving these areas.
15) Visit Gold Fork Hot Springs
For just $10 (cash only), you can spend an entire day soaking in Gold Fork Hot Springs outside of Donnely, just south of McCall. Located off of a dirt road at the foothills of the North Fork Range, Gold Fork Hot Springs has beautiful forest views and 6 soaking pools with varying temperatures from 85-110°F.
16) Soak at Burgdorf Hot Springs
Burgdorf Hot Springs is a must-visit and my favorite hot springs in McCall, located 30 minutes north of town. A day pass is $20 and advance reservations are required.
An even better way to enjoy Burgdorf is to bring a sleeping bag, food, and a camping stove, and rent one of their rustic on-site cabins. This gives you access to the pools 24 hours a day, including at night after they are closed to the general public. There is also a Forest Service campground right next door if you prefer to camp.
Check out our detailed guide to Burgdorf Hot Springs for more planning tips.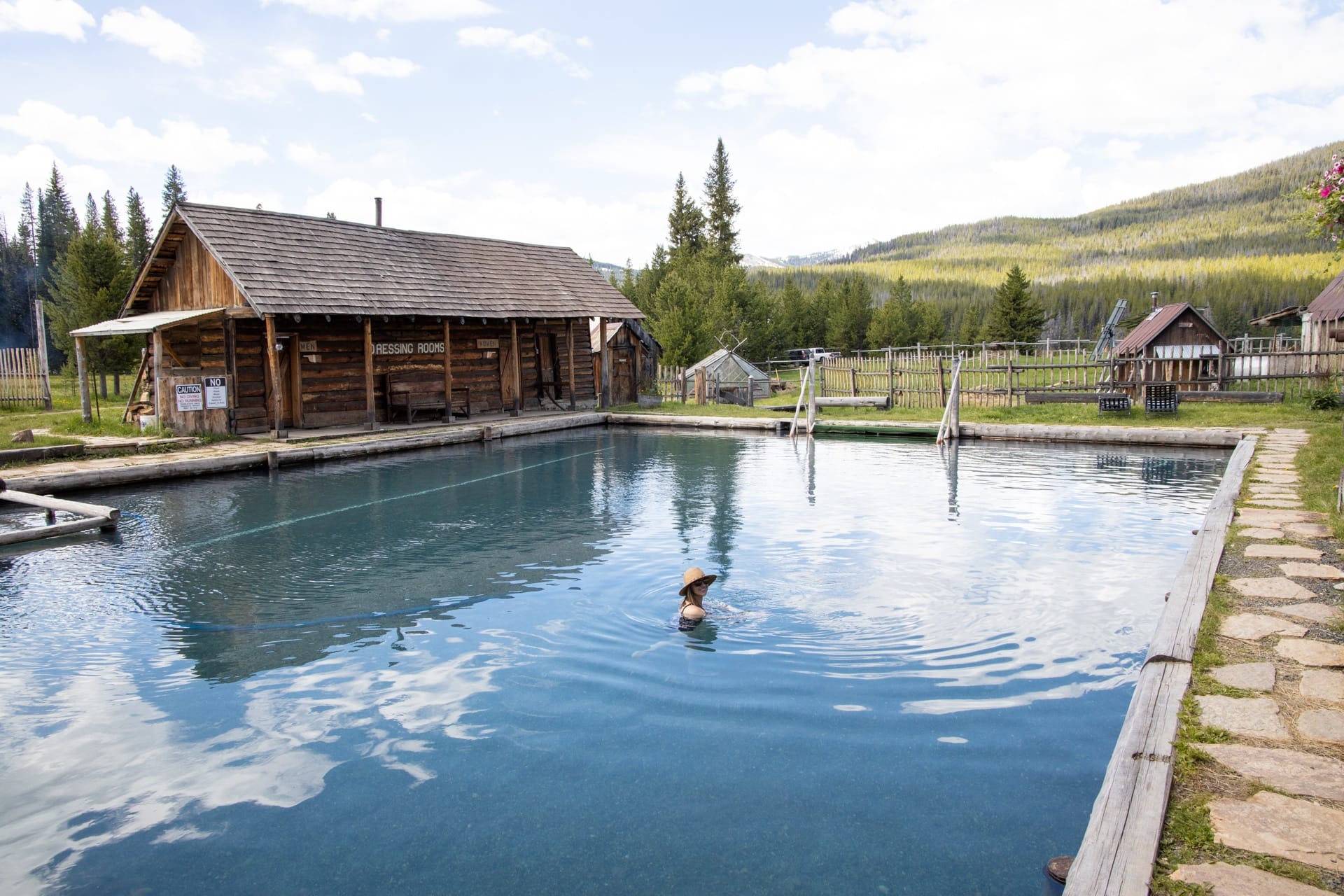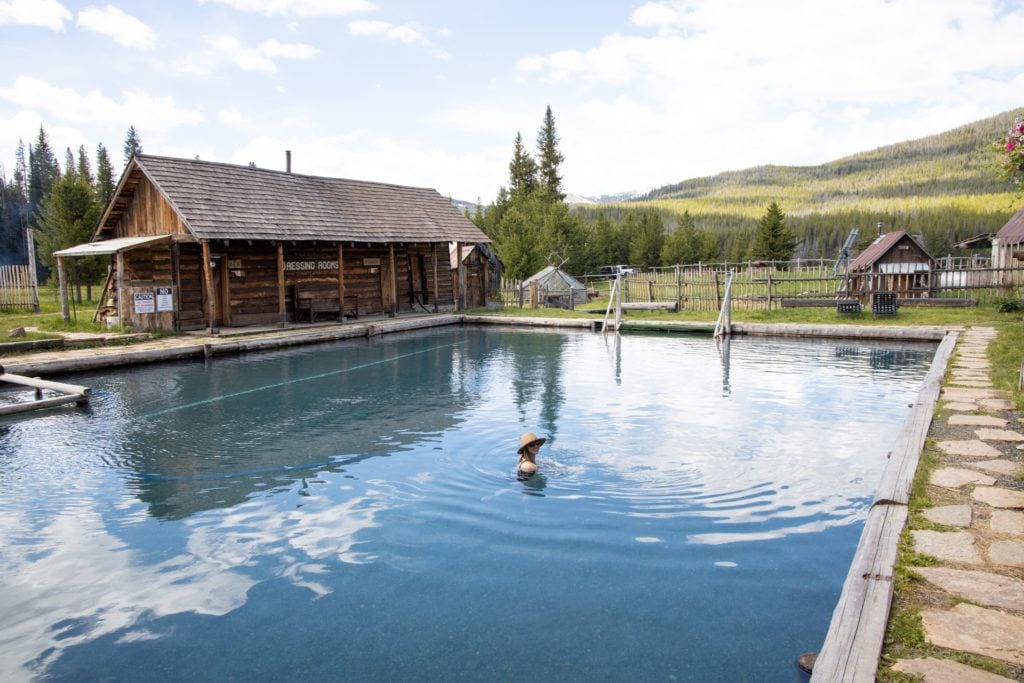 Explore Town and Local Events
McCall has a great dining scene, cute shops, and fun events that are worth checking out. Here are some things to do in town and the best places to eat and drink in summer.
17) Go to Open Roads Festival
The team here at Bearfoot Theory loves McCall so much that we chose it as the location for our annual van life & camping festival, Open Roads Fest. If you're an aspiring or current van lifer who loves the outdoors, keep an eye out for dates for our next van life gathering at the beautiful Jug Mountain Ranch.
Open Roads Fest is an all-ages festival packed with outdoor activities, workshops, wellness sessions, and social events for van lifers, tent campers, and the road-trippin' community. With tons of mountain biking trails, hiking trails, a private reservoir for paddling, and more, Open Roads is one of our favorite things to do in McCall, Idaho in summer!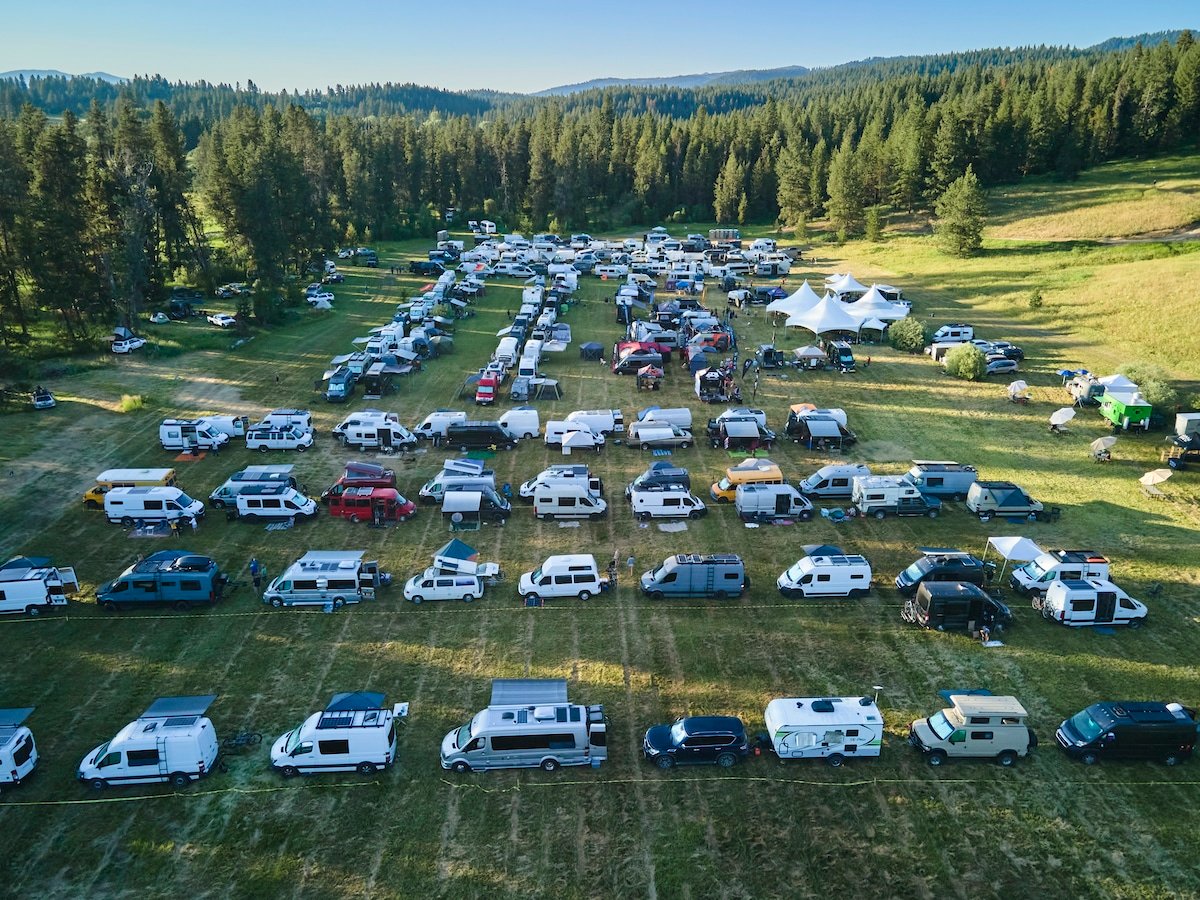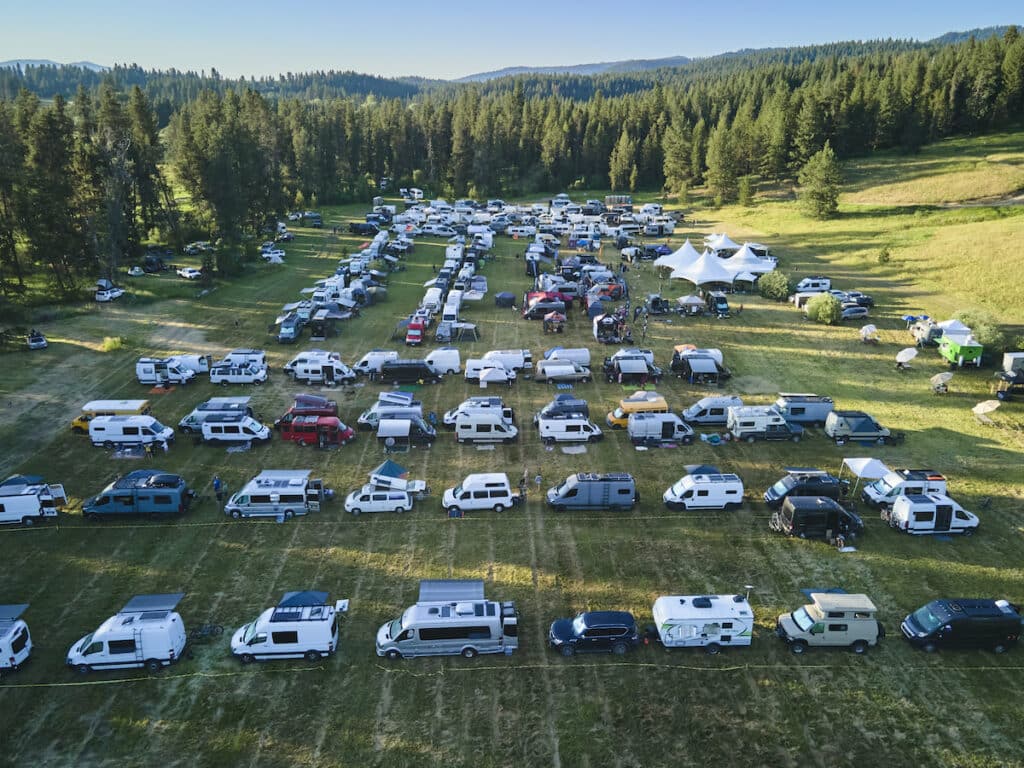 18) Grab a beer or meal at Salmon River Brewery
A local's favorite! Enjoy delicious food and their in-house brewed beers on their outdoor patio. Salmon River Brewery also offers vegetarian meat substitutes.
19) Dine on the patio at The Shore Lodge
The Shore Lodge offers the best lakefront dining patio in McCall and is an awesome place to grab lunch. They are known for their burgers, but also have tasty salads and delicious cocktails and usually have a couple of vegan options on the menu.
20) Grab a bite at My Fathers Place
This place has been around FOREVER and is a quick classic burger joint. Grab a burger (or their famous veggie burger) and a side of Idaho tots with fry sauce after a big morning on the trail.
21) Have a nice dinner at Rupert's
Treat yourself to dinner at Hotel McCall's Rupert's, one of the "fancier" restaurants in town, where you can try some mountain classics. Think locally raised venison and elk and locally picked huckleberries.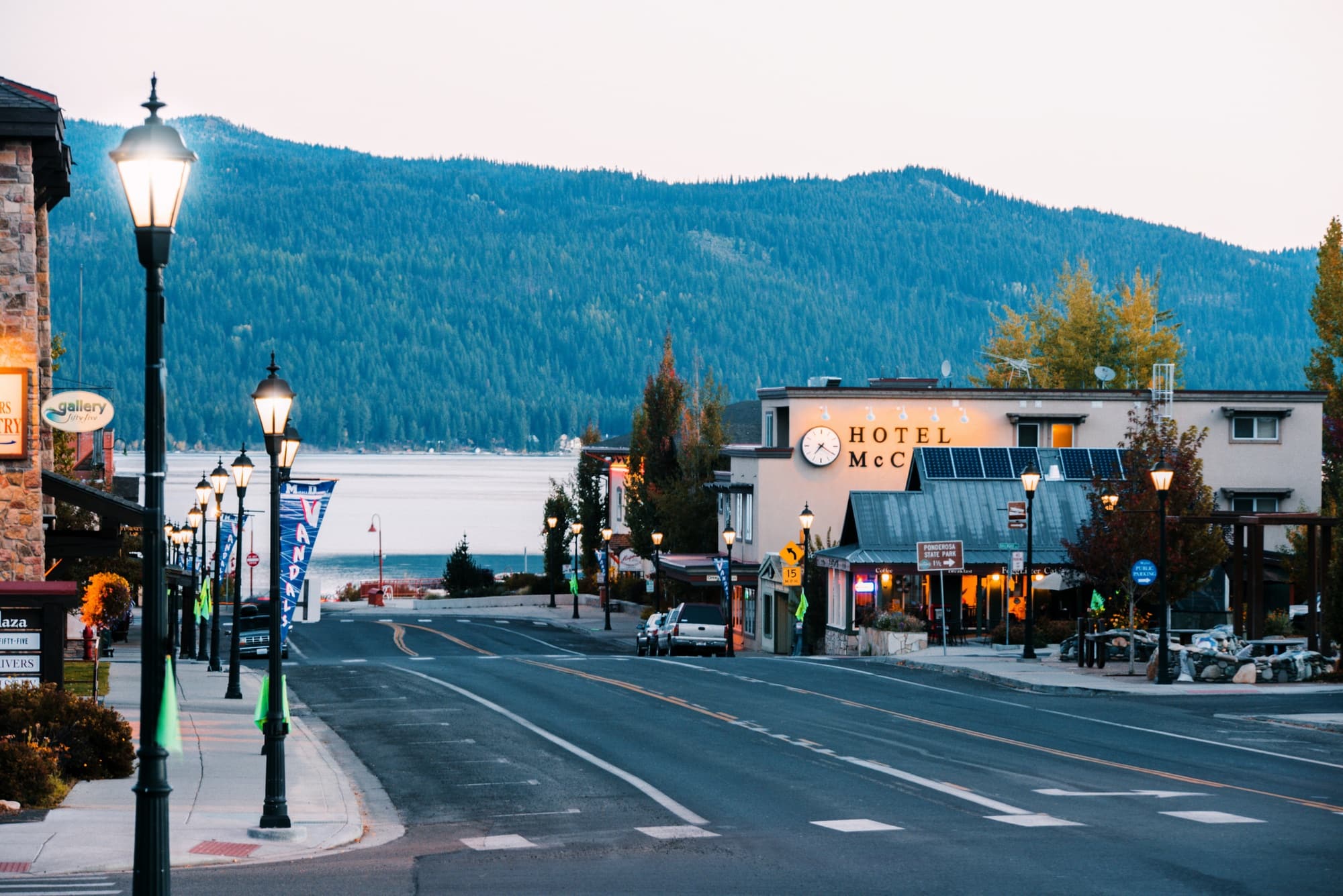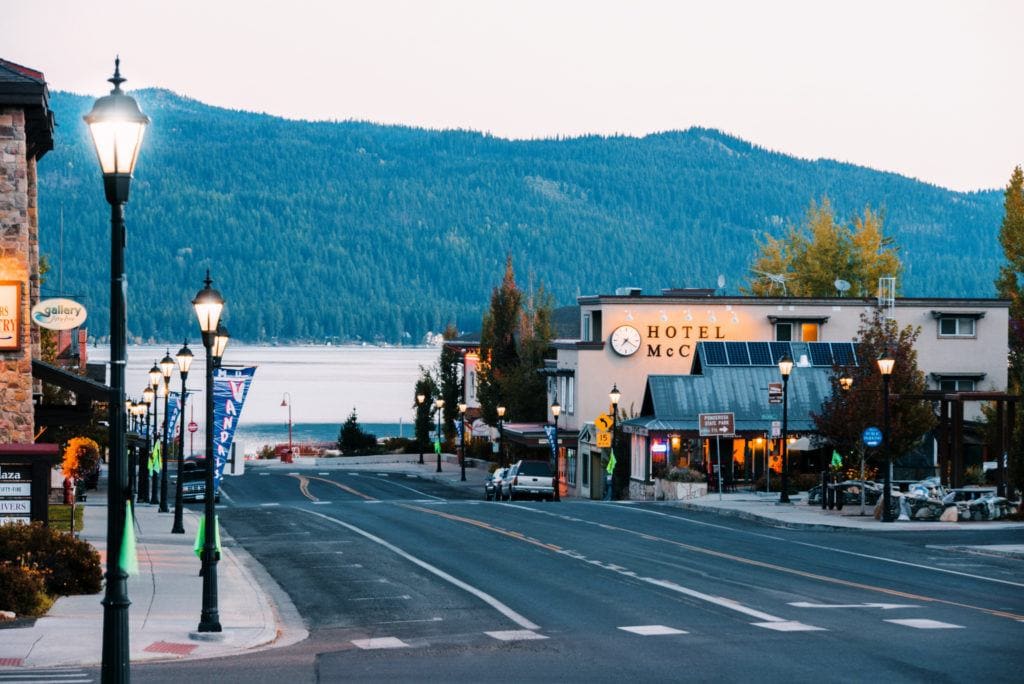 Where To Stay in McCall
Ponderosa State Park Camping
Ponderosa State Park sits on a skinny 1,000-acre peninsula that extends out in the middle of Payette Lake and is the perfect place to catch the sunset, as it faces directly west. Take a stroll on the Peninsula Trail which hugs the shoreline, or drive up to Osprey Cliff Overlook, the highest point in the Park, for the best views. If you visit in May, keep an eye out for wild morel mushrooms. If you find any of these local delicacies, feel free to pick them, but make sure to leave the base intact, so they grow back the following year.
There are four areas within the park where you can stay:
The Peninsula Campground has 113 campsites, 23 of which have 30-amp electric hook-ups & there are 3 bathhouses with hot showers & flush toilets.
The RV Group Campground with 50 campsites, all of which have 30/50-amp electric and sewer hook-ups.
The Northwest Passage Campground has 22 non-reservable campsites and vault toilets only.
Finally, there are 5 deluxe cabins right on the shore of Payette Lake, each cabin sleeps 5-8 people & has all the "comforts of home."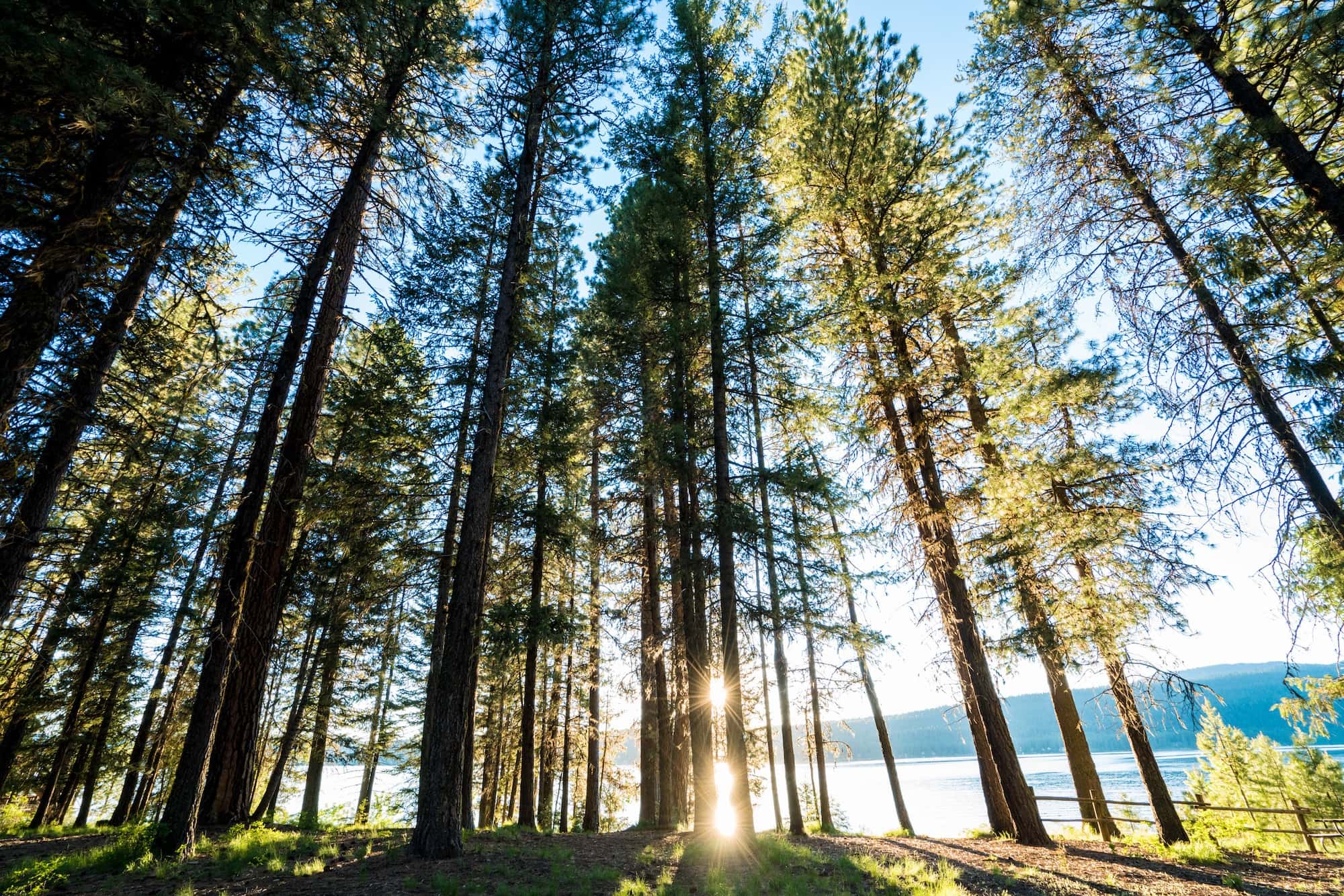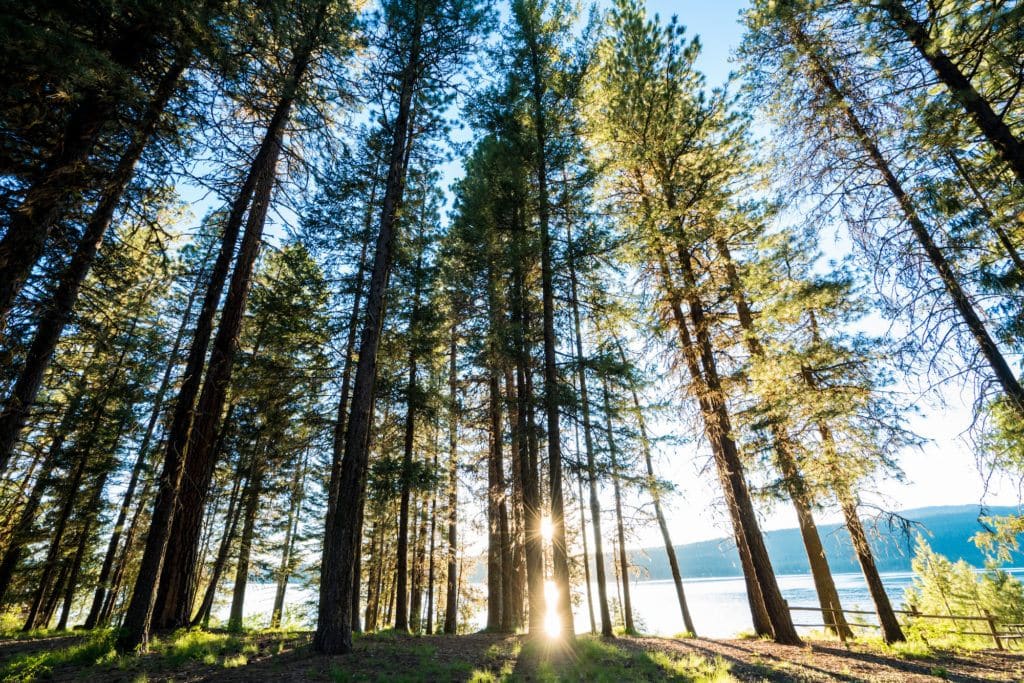 Dispersed/National Forest Camping
McCall also has many forest service campgrounds and places where you can camp for free on the outskirts of town. Check out our blog post "How to Find Free Campsites" to arm you with the tools you need to find the perfect private spot to park for the night.
Hotel McCall
In the heart of McCall, the historic lakefront Hotel McCall is within walking distance of everything McCall has to offer. Rooms are comfortable, there is an indoor saline pool, and the onsite restaurant has a continental breakfast so you can get on with your day.
---
How to Get to McCall
If you are flying, Boise is the closest airport, located in Southwest Idaho. From Boise, get ready for 2 hours of non-stop scenery as you drive north on Highway 55 to McCall. Here you'll hug the Payette River which is home to some of the state's best whitewater. If you have time on the way back down to Boise, there are several companies that offer full-day and half-day rafting trips on the Payette.
If you're driving to McCall, you'll want to stop in Boise to fill up on gas and other essentials. Boise is 6.5 hours from Portland, 5.5 hours from Salt Lake, 7.5 hours from Seattle, and 9.5 hours from Vegas.
What are you looking forward to visiting in McCall, Idaho? Did we leave any of the best things to do in McCall off our list? Leave your comments & questions below!