Idaho is a beautiful state full of endless activities for the outdoor enthusiast from hiking, skiing, biking, and more. One of my favorite Idaho activities is soaking in hot springs and Burgdorf Hot Springs outside of McCall, Idaho is one of the best. Hidden away off of a remote dirt road, this hot spring resort provides visitors with a relaxing soak in a rustic backcountry oasis setting.
Burgdorf is open to visitors during both summer and winter months, with each season offering its own kind of adventure. In this post, I share everything you need to know about visiting this quintessential hot spring destination.
Ready to plan your trip? Here's your guide to visiting the beautiful Burgdorf Hot Springs in Idaho.
Important note: As it goes with all of the hot springs we share, please practice good hot springs etiquette, be respectful to other soakers, and follow the established rules.
Burgdorf Hot Springs History & Location
Burgdorf Hot Springs opened its doors in 1870 after geothermal water was discovered by local miners. Lucky for us because Burgdorf is one of the coolest hot springs "resorts" I've ever been to. It's located thirty miles north of McCall, Idaho and the hot pools are open to the public daily in both the summer and winter.
In the summer (June-October), visitors can access the springs by car via Warren Wagon Road (a very scenic drive), while during the winter (December-April), access is limited to snowmobiles only. The resort is closed during the months of November and May due to limited accessibility.
If you're planning a trip to McCall, Idaho be sure to check out our other planning guides:
---
Soaking at Burgdorf Hot Springs
Visitors can soak in the hot pools at Burgdorf as a guest for the day or enjoy them any time when you're renting a cabin. Fed by natural geothermal springs, the water at Burgdorf stays a balmy 100 degrees all year round, offering the perfect tonic for soothing your muscles after a long day on the trail. Since the pool can hold up to 200 people, be aware that it can get crowded, so you should always practice good hot springs etiquette.
There are two larger pools at the inlet and one smaller, partitioned pool that is shallow. In addition, there are two small covered soaking tubs. These are HOT HOT HOT and will get your blood pumping.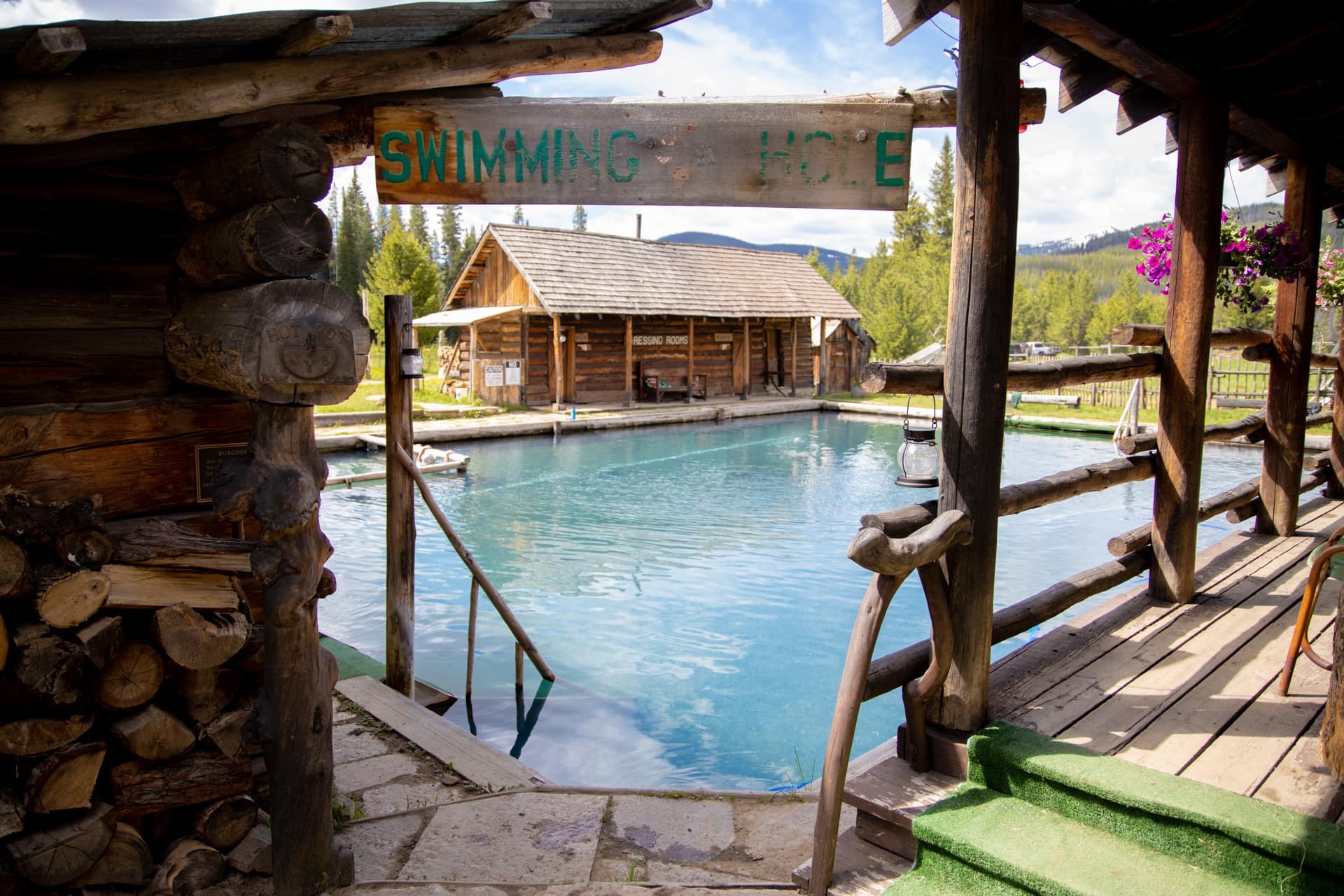 Burgdorf Hot Springs during COVID
During COVID, day visitors must make a reservation to soak in the hot springs, which you can do through their website. Only 10 visitors are allowed to use the pool at a time and you can book a two-hour time slot. No walk-ins are accepted.
Proof of COVID-19 vaccination is also required for all guests 16+ years of age and older.
Burgdorf Hot Springs hours & rates
Day rates are $20 per adult and $15 per child or senior. If you're visiting for the day, the pools are open from 10am-6pm, but you must reserve a two-hour time slot. There are no showers available at Burgdorf.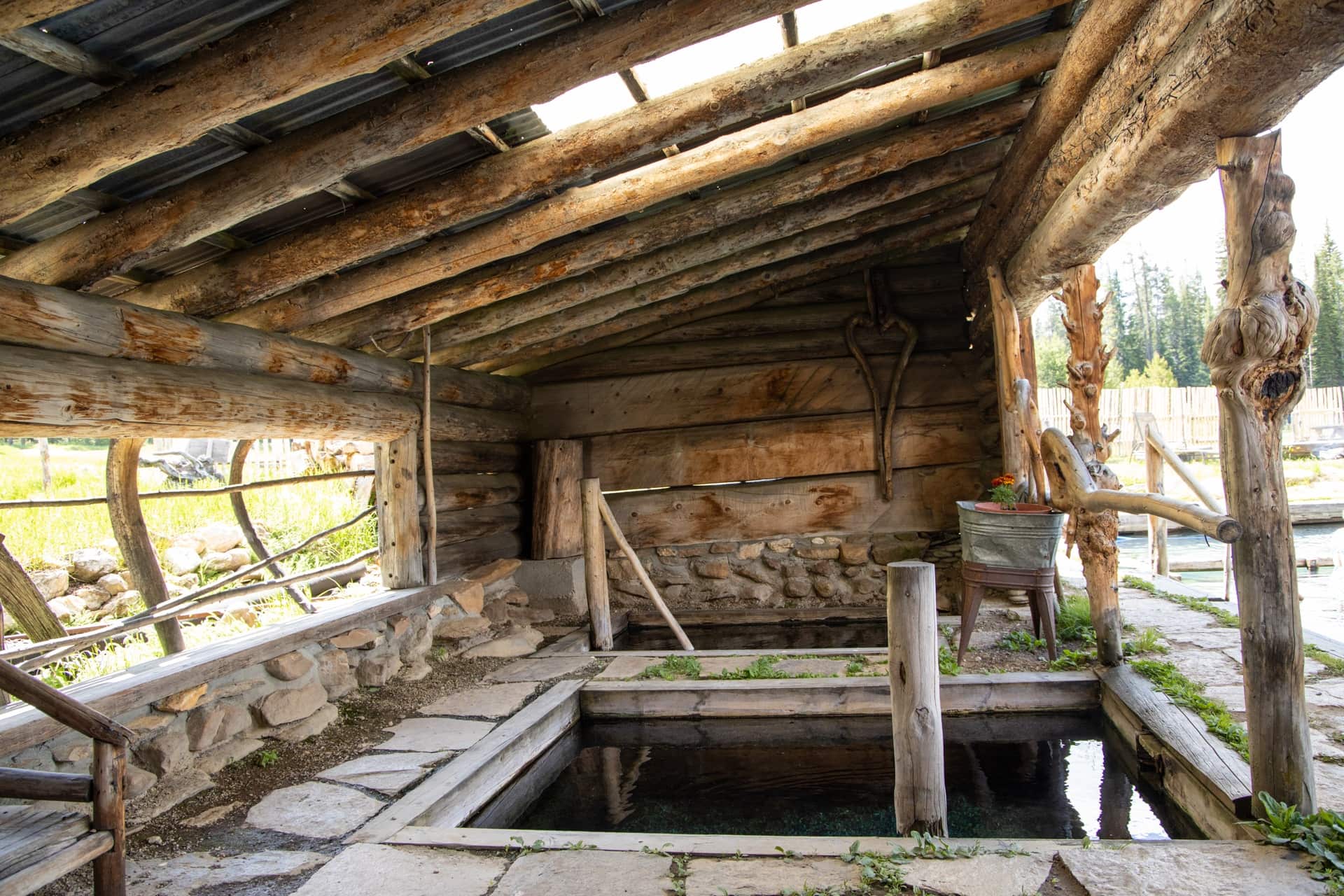 ---
Renting a Cabin at Burgdorf Hot Springs
Burgdorf Hot Springs has 15 rustic and historic cabins for rent year-round. They're all within walking distance to the hot springs, outhouses, and main office. The advantage of renting a cabin is you get 24-hour access to the hot springs, which are otherwise closed to the public at 6pm Sunday through Thursday and at 8pm Friday and Saturday.
None of the cabins have running water or electricity, however, they do have wood-fired stoves, beds, and basic furnishings.
Cabins can sleep 2-6 people depending on the cabin and there is a 2-night minimum stay. Rates start at $175 per night. Pets are not allowed on the property.
Since the cabins only come with the bare minimum, you'll have to bring along your own amenities. So, be prepared to bring the following:
Sleeping bags and pillows (mattress and mattress cover are included)
Battery or solar-powered lighting including a headlamp
Warm clothing, appropriate for each season
Swimsuit and towels
Cooking needs: pots, pans, utensils
Food
Water container. Water is available at the hot springs, but you'll need a container or jug to carry it to your cabin
Bags for packing in and out all food waste and trash
To make a reservation, go to the Burgdorf website, or call 208-636-3036.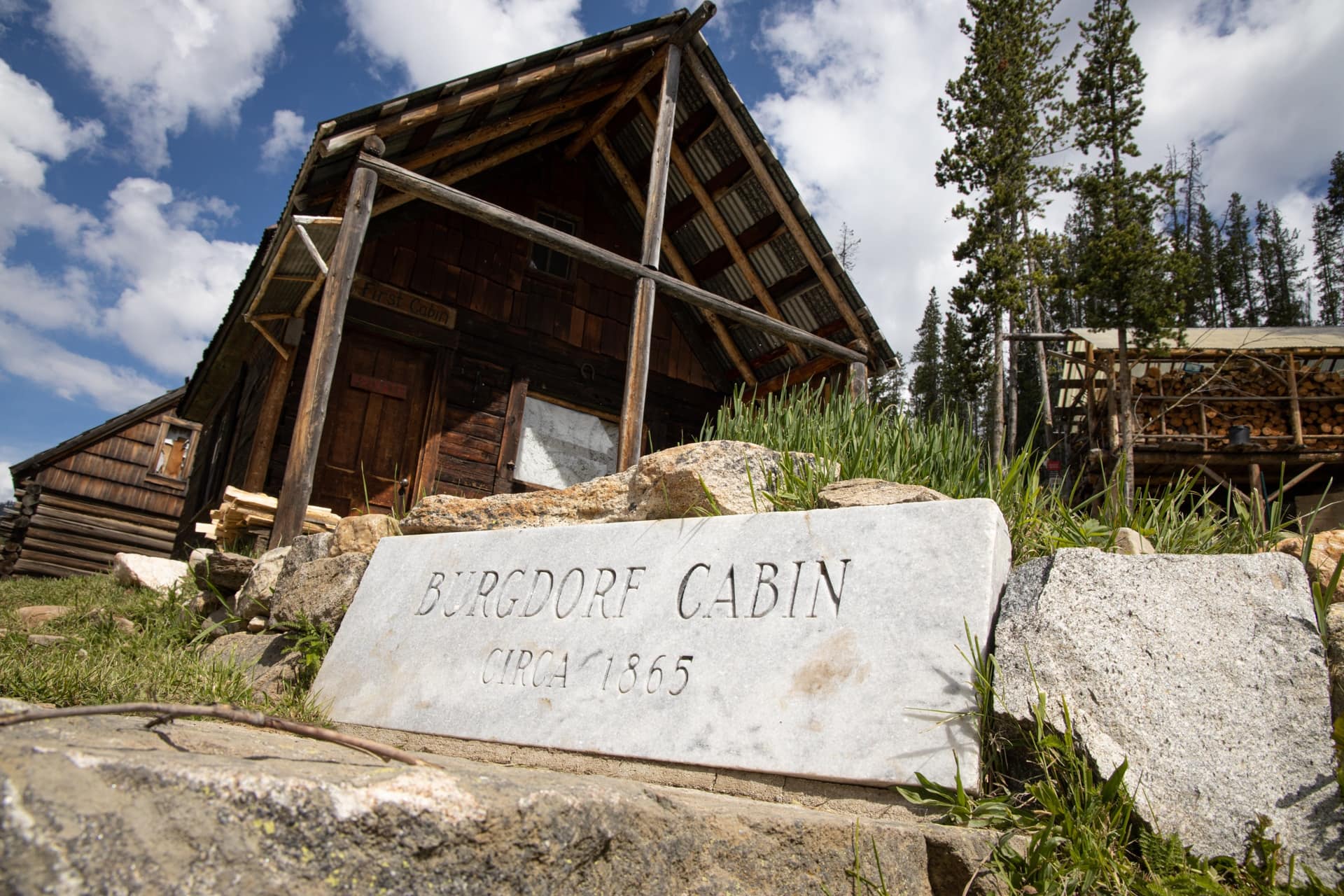 ---
Visiting Burgdorf Hot Springs in the Summer
Between the summer months of June-October, the roads to Burgdorf Hot Springs are usually fully accessible by car via Warren Wagon Road. It's worth spending a few nights in this scenic backcountry by either renting one of the cabins or camping overnight at the first-come-first-serve Jeanette Campground, which is just $10 per night and directly next door. Know that if you camp next door though, you can only access the hot springs during the hours they are open to the general public.
There are plenty of hiking trails in and around Burgdorf that are especially beautiful in the summertime. The 12-mile Loon Lake Loop is beautiful and moderate. There's no better way to end a long day of hiking in the backcountry than a relaxing soak in the Burgdorf Hot Springs. Other options for outdoor enthusiasts here include mountain biking, fishing, and wildlife viewing.
The elevation in the area ranges from 6,000 to 8,500 feet above sea level. Even though temps during the day are warm, it can get pretty chilly at night. Make sure you pack proper layers and bring hiking essentials while you're spending time out in the backcountry.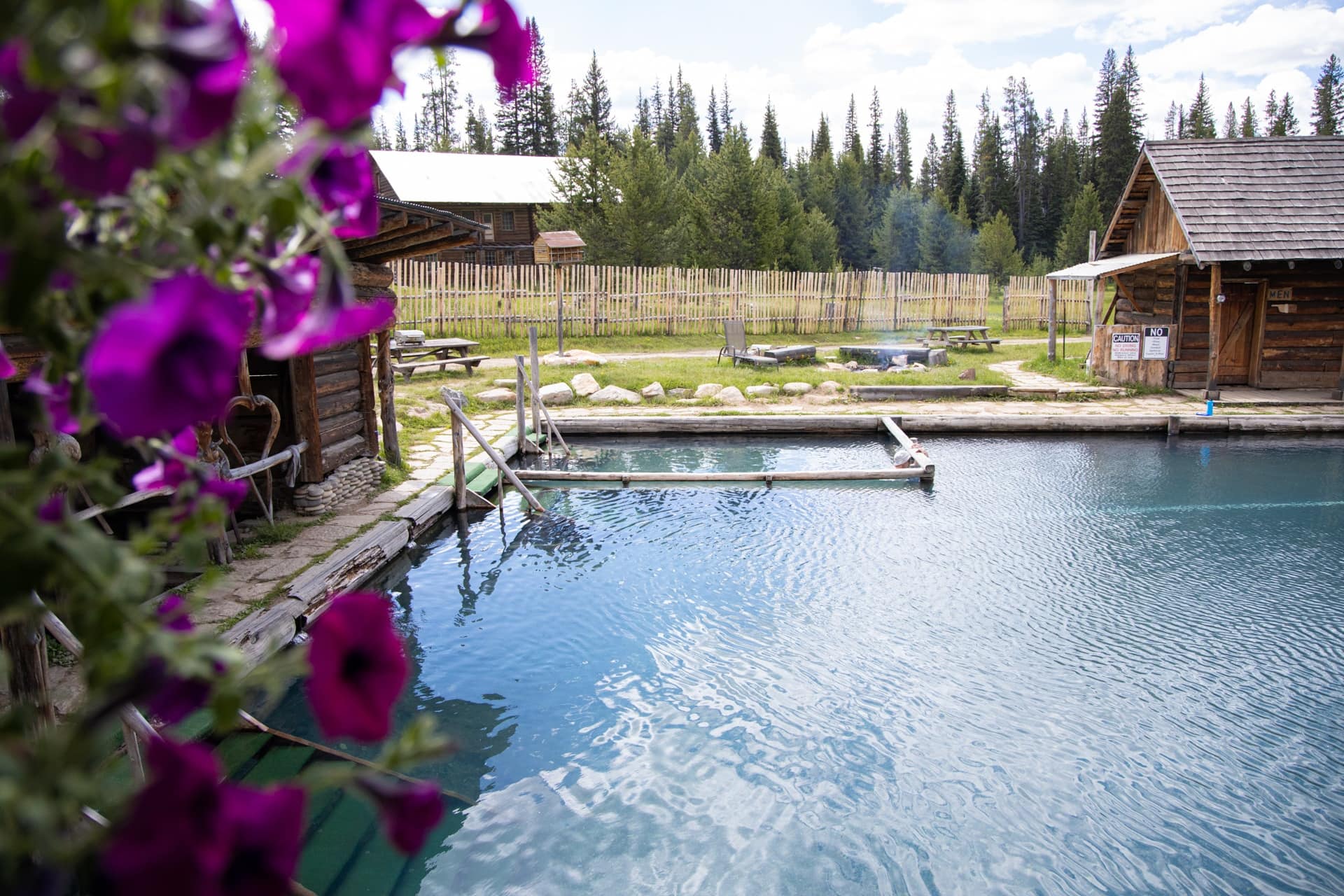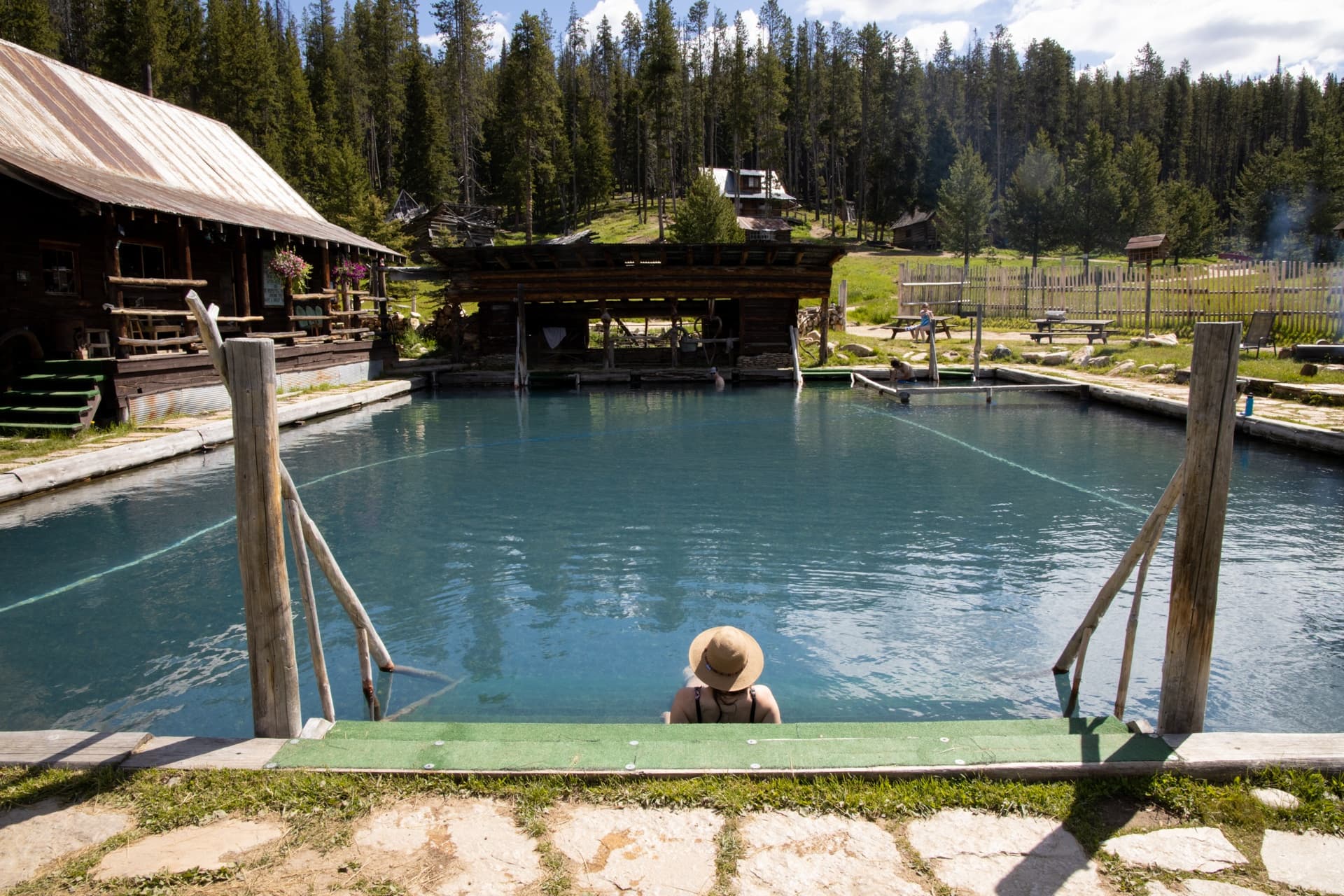 ---
Snowmobiling to Burgdorf Hot Springs in the Winter
The only way to reach Burgdorf in the winter is by snowmobile, as the road is covered in snow. While you can rent snowmobiles in town and take the direct route up Warren Wagon Road, we chose to explore on a guided snowmobile adventure leaving from Brundage Mountain.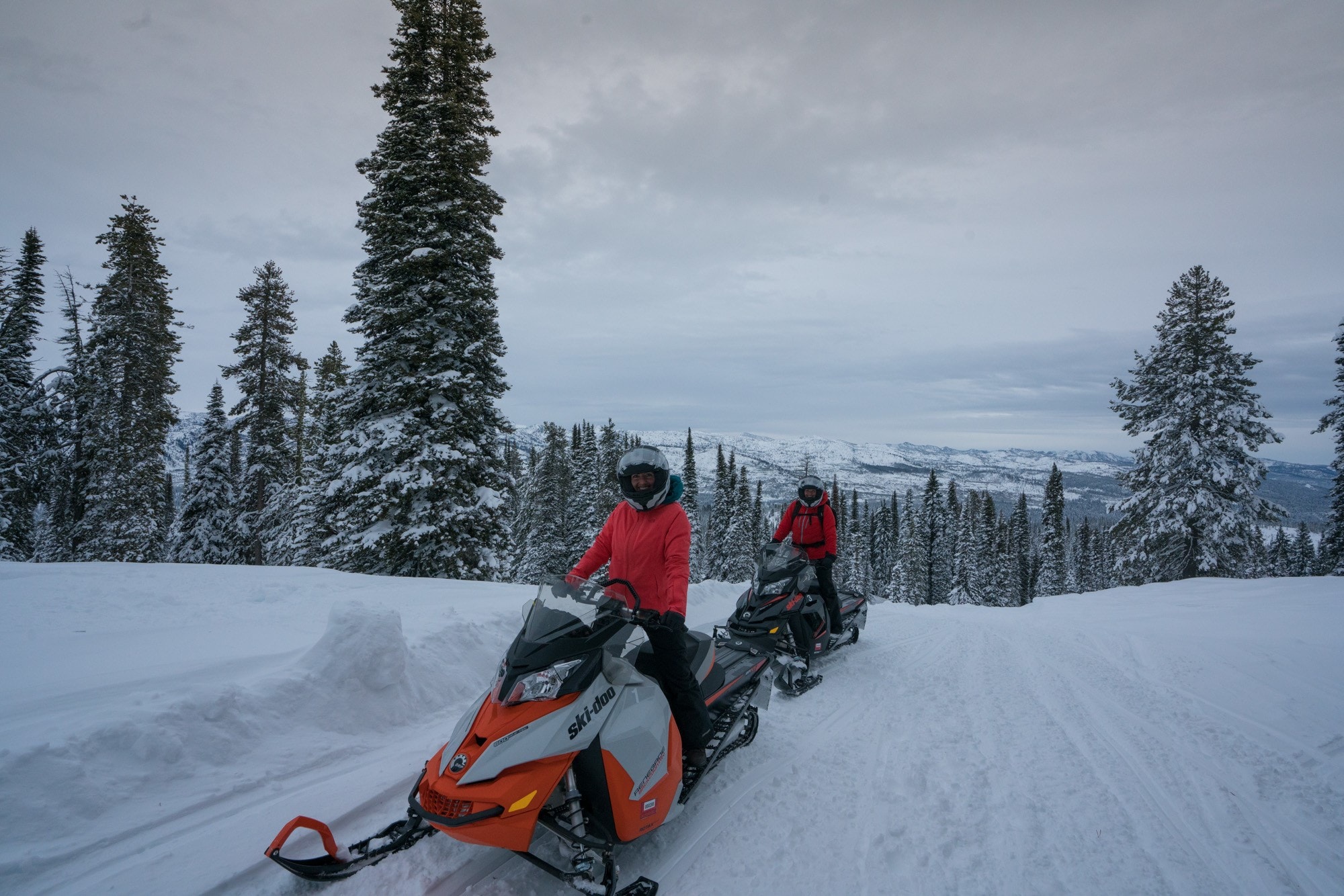 Our guides Jake and Robbie led us along backcountry ridges, through winding rows of powder-pillowed pine trees, and deep down into the valley before catching up with the main drag (a snow-covered Warren Wagon Road) where we cranked the throttle to 50mph. It was the perfect combination of practicing some technical riding skills before getting fast and furious.
Make sure you start your day early so you have plenty of time to enjoy the pools and make it back to McCall by sundown. If you want to stay overnight, cabin rentals are available in the winter too. Make sure to pack lots of extra food, layers, and a sleeping bag with a temperature rating of at least 15 degrees.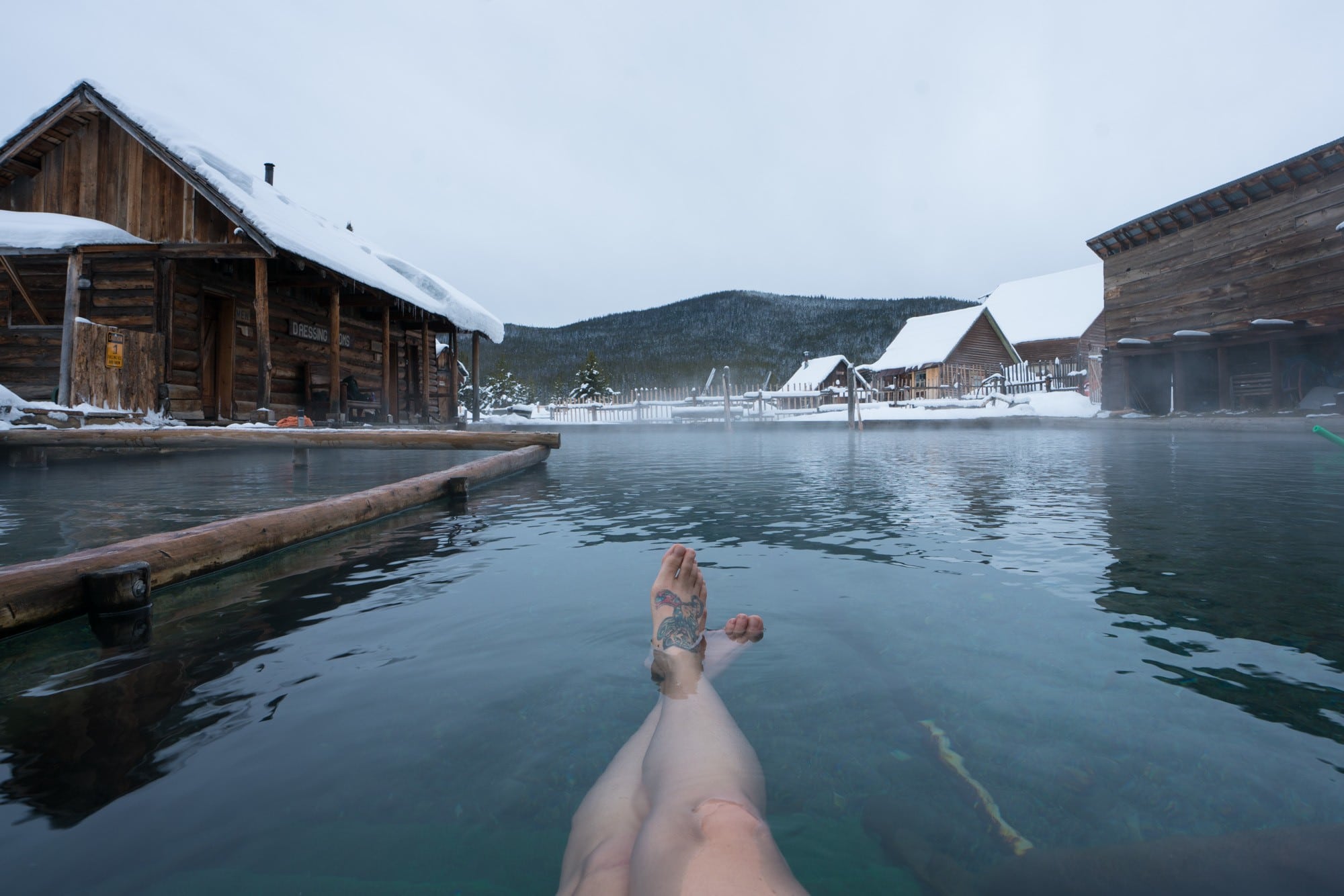 ---
Cooking, Eating, & Drinking at Burgdorf Hot Springs
Burgdorf cabins and hot springs are located in the remote backcountry of Idaho. This means you'll have to drive in and pack everything in and out yourself, which can be trickier on snowmobiles in the winter.
The Burgdorf Café
I recommend coming prepared with all of your own food, but if you run out, Burgdorf has a small café-style snack bar where you can enjoy locally-roasted coffee, baked goods, and treats. While I've never ordered anything there, they also have a small menu with pizzas that are available. Pizza is not available for day-soak guests.
The Secesh Stage Stop
The Secesh Stage Stop is a nearby tavern and is the closest place to Burgdorf for a casual beer and bite to eat. It's located about seven miles away from the hot springs and is open every day. Ryan and I rode our bikes there last year on the gravel road which hugs a river most of the way.
Alcohol at Burgdorf Hot Springs
The rules recently changed for the 2019 season and NO BOOZE IS ALLOWED AT THE POOLS. People were getting too drunk and rowdy, ruining the serene experience for everyone else. Now there is a no-alcohol rule.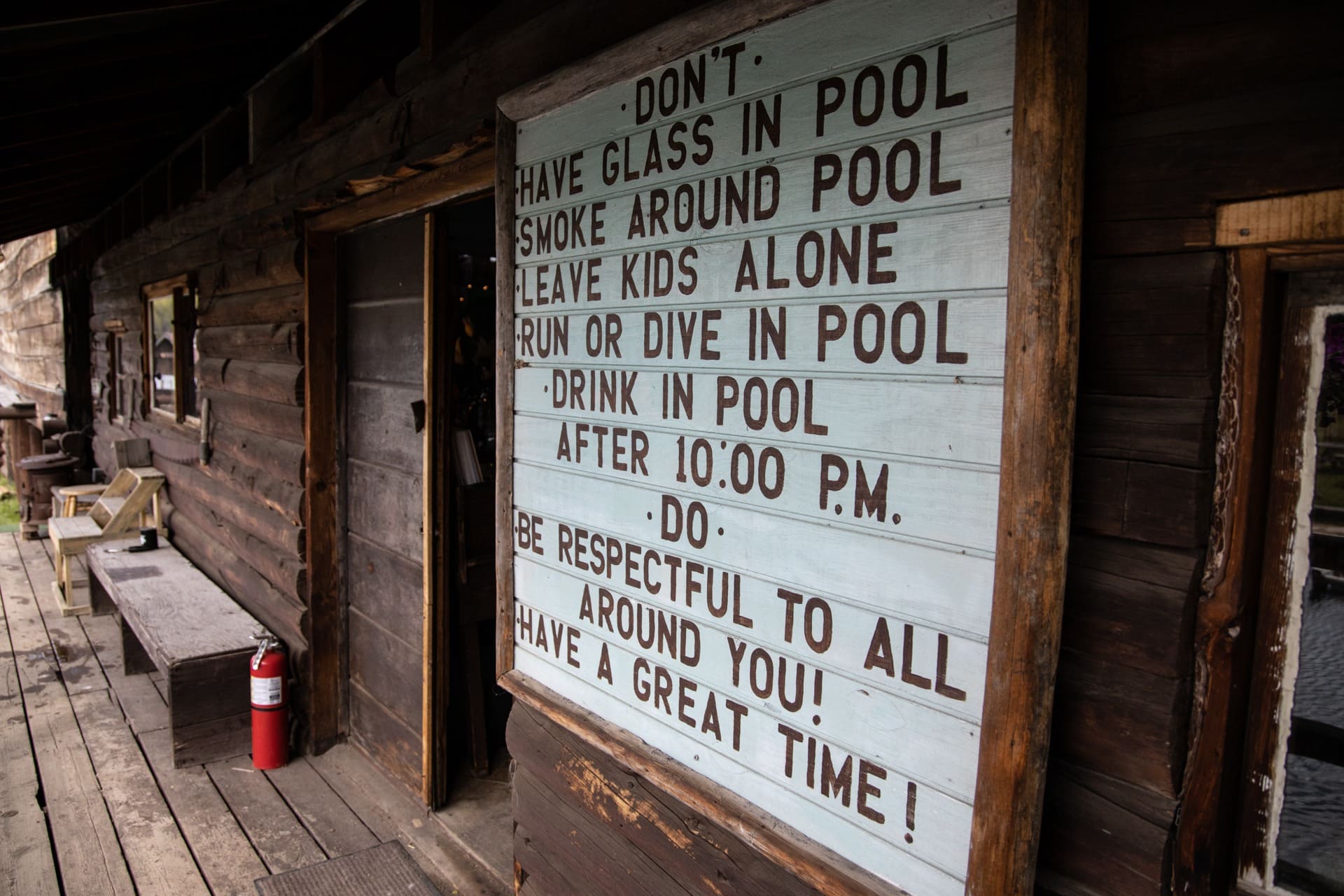 ---
Do you have any questions about visiting Burgdorf Hot Springs that we haven't answered here? Let us know in the comments below!