The first step for van life is choosing the right vehicle platform. What vehicle works best for one person might not be the best option for you. A surf van is different than a ski van. A family has different needs than a solo traveler. If you plan to stealth camp a lot, then you'll want something incognito, while another van lifer might just want the most badass looking van around. My point is there is no one size fits all solution when it comes to choosing the right vehicle for van life. Instead, your first step is to consider your lifestyle, the locations you plan to use your van, and your budget in order to narrow down your choices.
In this blog post, we help you ask the right questions so you end up with the right vehicle to live in. I'm mostly focused on those wanting to do van life in this post, but know that you aren't limited to vans, as many people live in smaller SUVs and cars too!
At the end of this lesson, you'll want to download the worksheet "Evaluating Your Van Lifestyle" and spend some time answering the questions that will help you make your decision, which we'll go through now.
Once you're done with that, then I suggest you move on to the blog post where we compare the best vans for van life, including popular panel style vans, as well as old classics.
Get tips on choosing the right vehicle to live in that meets your personal lifestyle and needs.
Personal Considerations for Choosing a Van
What is your budget for a van?
Your answer to this question should guide all of your decisions moving forward.
I often get the question: How much does a van conversion cost? Unfortunately, there is no single answer here. The good news is, van life can be really really cheap. You certainly don't need a $150,000 Sprinter Van to do van life, and unless you plan on tackling gnarly mountain Jeep roads, you can get by with a cheaper vehicle and a simpler build.
Remember, people have been doing van life long before the hashtag and the fully decked out Sprinter vans that you see on social media. The key here is that if van life imposes too much financial stress on you, you'll be missing the point altogether. If you really want to enjoy van life and the freedom it affords, the right vehicle for you is one that's within your means. If you want to know more about what van life costs, check out this blog post.
Do you want to do van life part-time or full-time and for how long?
There is no right or wrong way to do van life. Maybe you're not in a stage in life where you can take off long-term, and that's ok. A van can still provide an easy solution for getting away on the weekends without all the planning and hassle, especially if you have a family. It can also be great for a few longer road trips each year.
The reason this question is important is if you are only going to use the van on the weekends vs long-term travel, you might not need or want as extensive of a build. This can also influence the size of vehicle you'll need for van life. If you plan on living in your van full-time, you may want a shower, a bathroom, and a bit more space. If you're using it for traveling here and there, you might not need these things.
Where do you plan to use your van?
If you plan to use it as a winter ski van or to travel to cold destinations, you'll want to make sure you look for a van that you can winterize for 4 season use, or buy one that's already outfitted this way. Or maybe you want to use your van to escape winter, and in that case, you'll want something that's comfortable for warmer temps, with windows that open so you can get a nice cross breeze. If you plan to rally your van on gnarly dirt roads or sand, then 4×4 may be non-negotiable. And finally, if you frequently need to go stealth in the city, then you'll want something smaller, easier to park, and more discrete.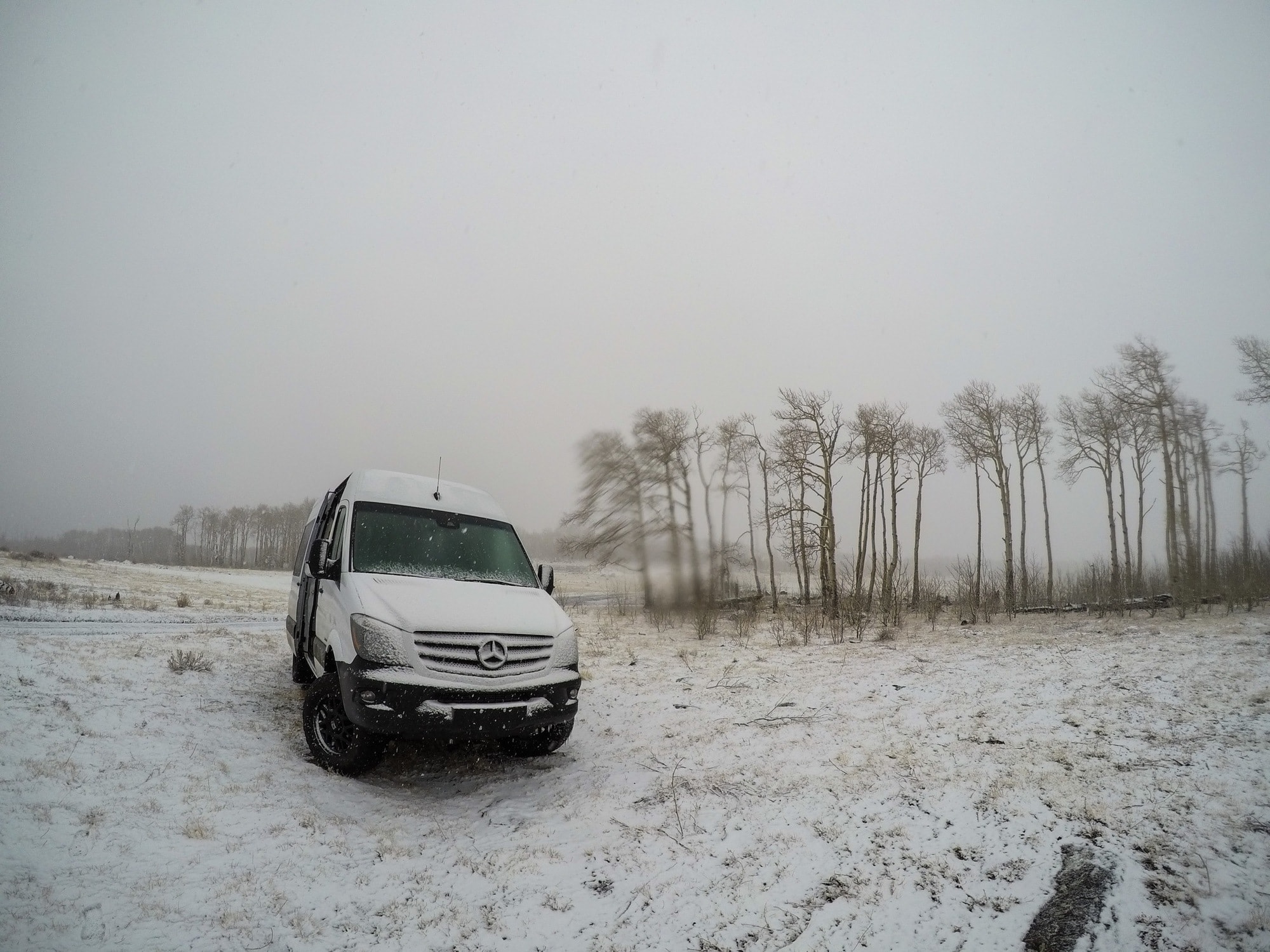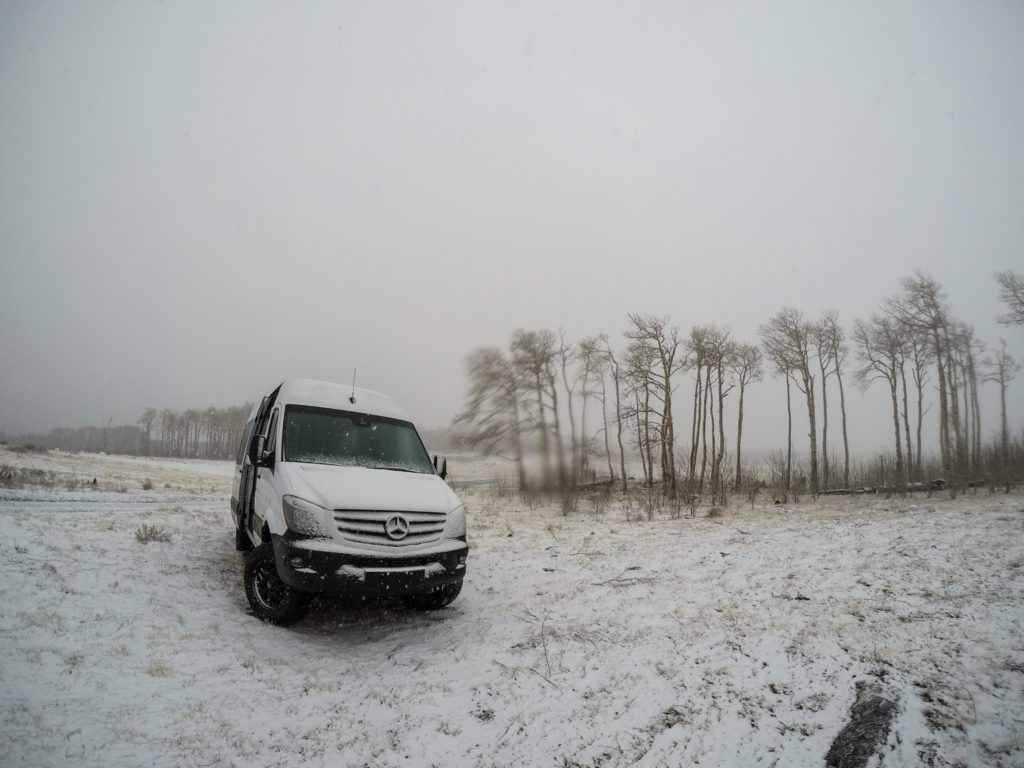 How many people will be living in the vehicle?
If it'll just be you in the van, that's one thing, but if your partner or family is along for the ride, you'll want to make sure they're comfortable too. Another thing to consider is: If you're solo now, do you think you'll still be solo by the time you hit the road?
When my first Sprinter was being built, I was single and the layout was perfect for one person. But by the time it was done being converted, I had a partner and a dog and the layout didn't really accommodate him and his stuff. If only I had some foresight, I might have ended up with the longer Sprinter the first time around.
If you plan on doing van life with a family, check out this blog post on the best campervan layouts for families.
What gear is a must for you in the van?
Next, think about what gear is a must for you in the van. If you're a mountain biker and you want to fit your bike inside the van, a platform bed in a panel-type van is likely what you'll end up with. If you prefer to hike and all you need is a pack and a pair of shoes, then you might not need so much space and you'll have a lot more layout options. In this case, you might even be able to get away with a mini-van or a hatchback.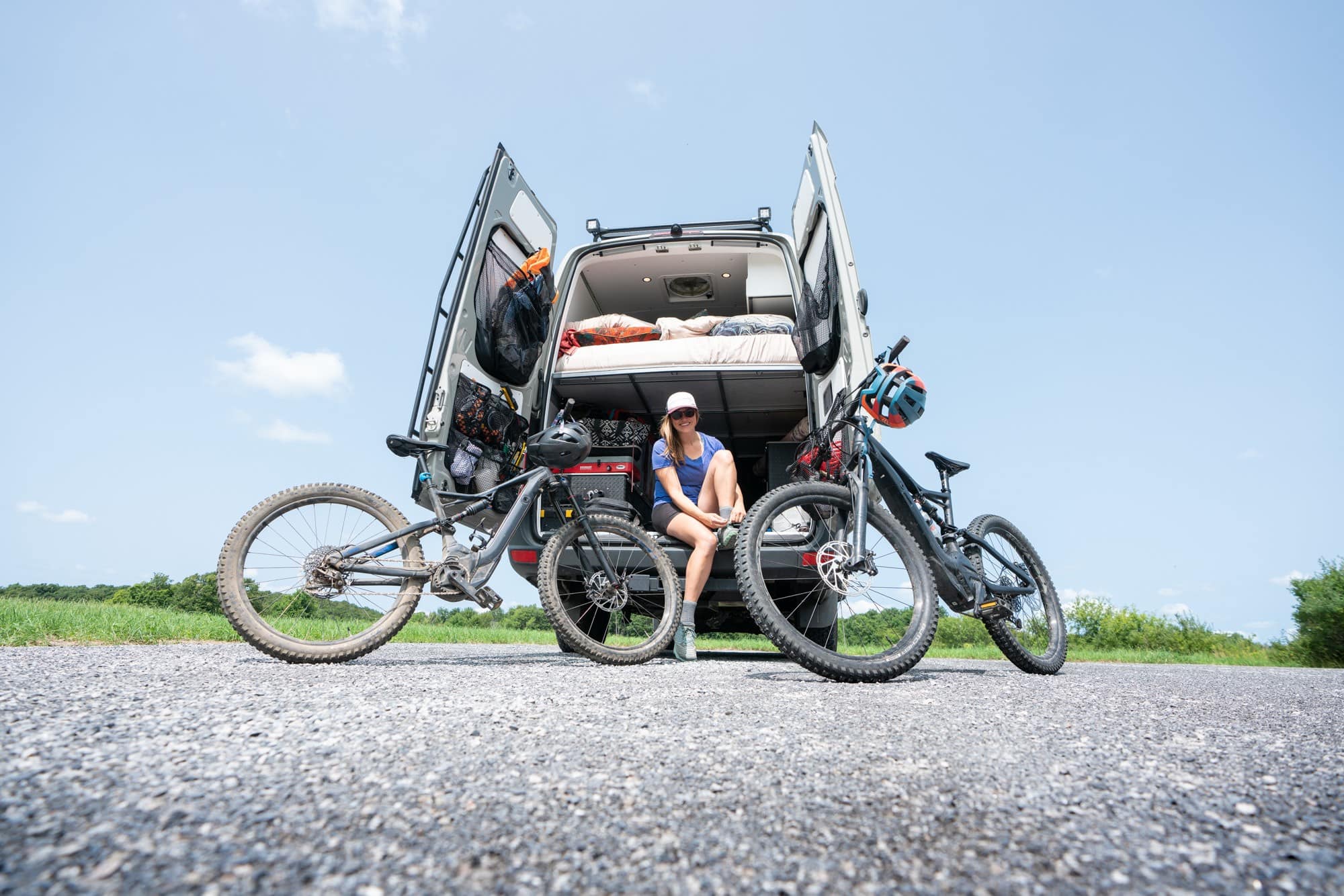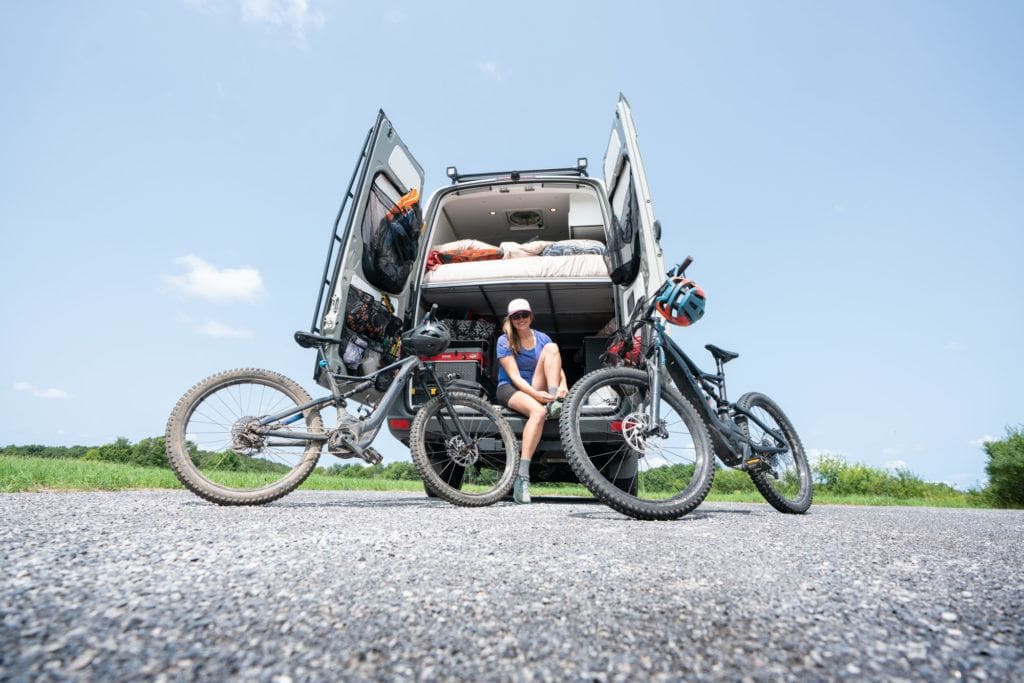 How tall are you?
How tall are you? The Ford Transit has the most interior headspace, followed by the High Roof Sprinter. If you want to stand up inside your van, these and the Promaster are your best options… but again, you should let your budget do the talking. If standing up isn't important to you, then a cargo van, like the Econoline, will be much cheaper.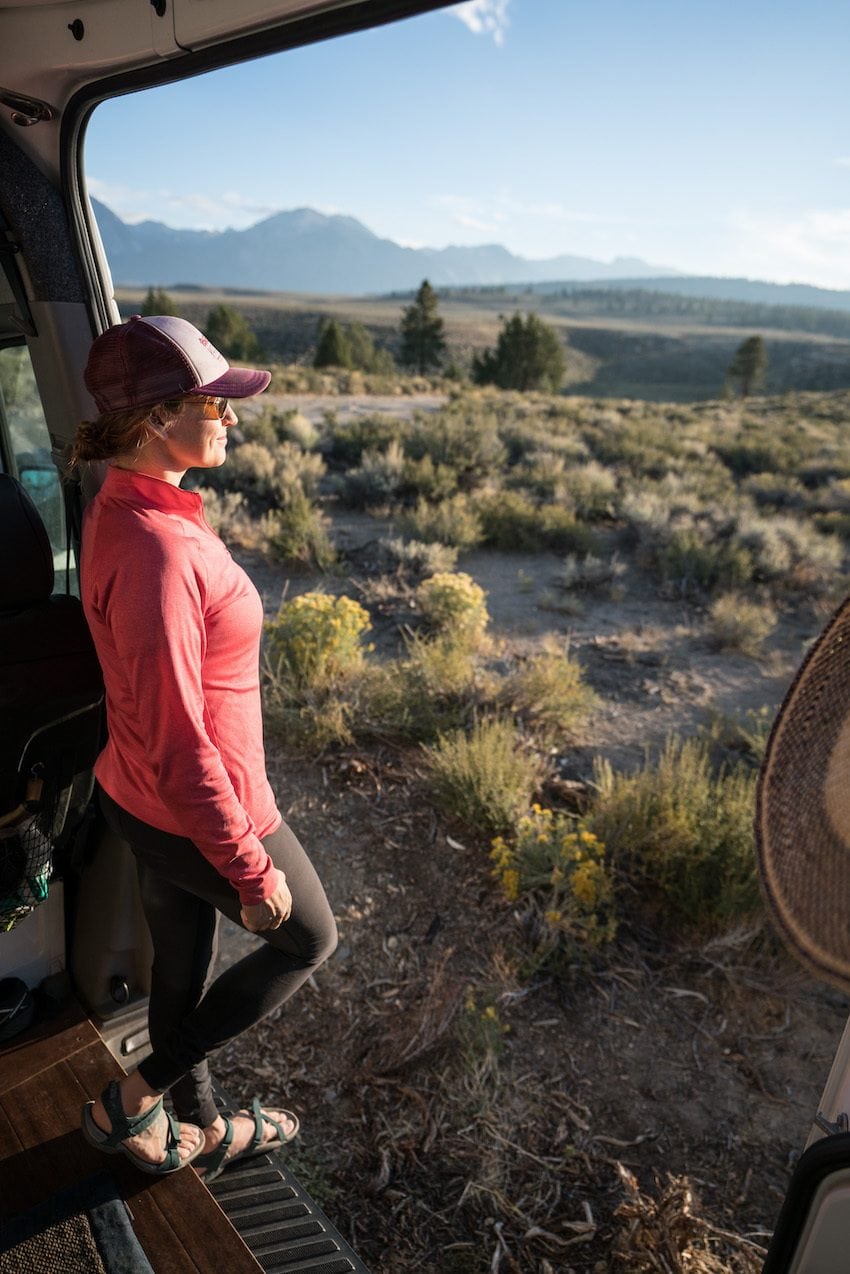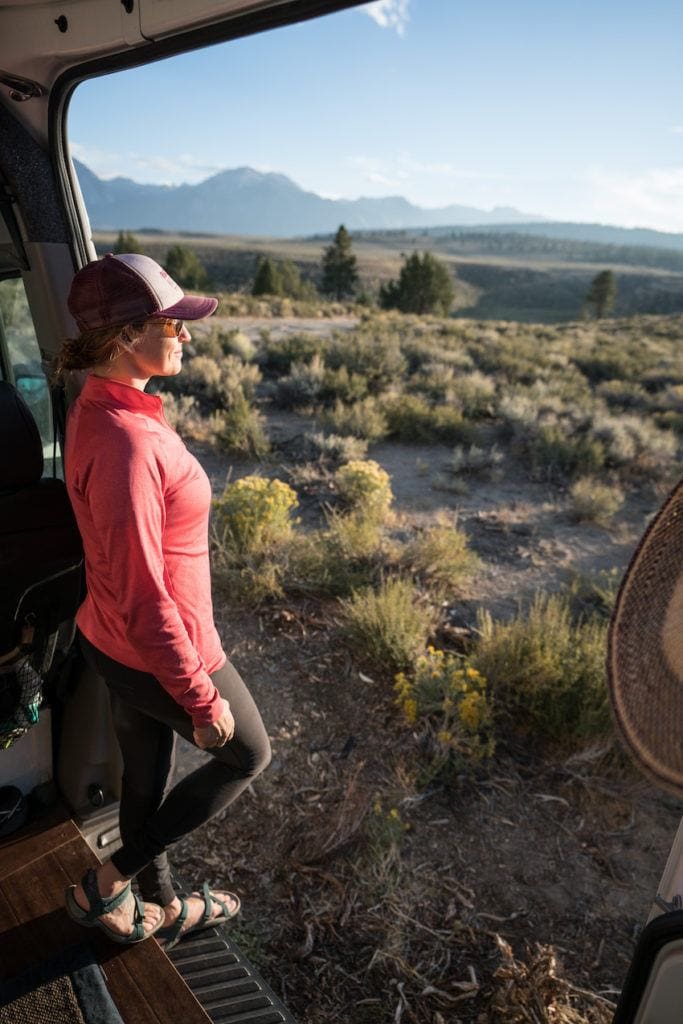 When do you want to start van life?
This is the final question. If you want to start van life as soon as possible, you're going to be looking at used vans that are already built out. If you want a custom build, you'll obviously need more time. Certain vans – particularly the 4×4 Sprinter and those converted by popular conversion companies – have a waitlist and could take a year to be ready.
You might not have answers to all of these lifestyle questions just yet, and that's ok. As you make your way through all of our van life blog posts, you'll know what considerations to keep in mind.
Resources Section
Browse the other van life lessons in Module 1.
What questions do you have about choosing a vehicle to live in? Leave a comment below and make sure to sign up for course updates!