My Sprinter Suspension Upgrade: A Van Compass Review
Are the Van Compass suspension upgrades worth it? Read my Van Compass review & learn how the upgrades have affected the way my 4×4 170″ Sprinter Van drives.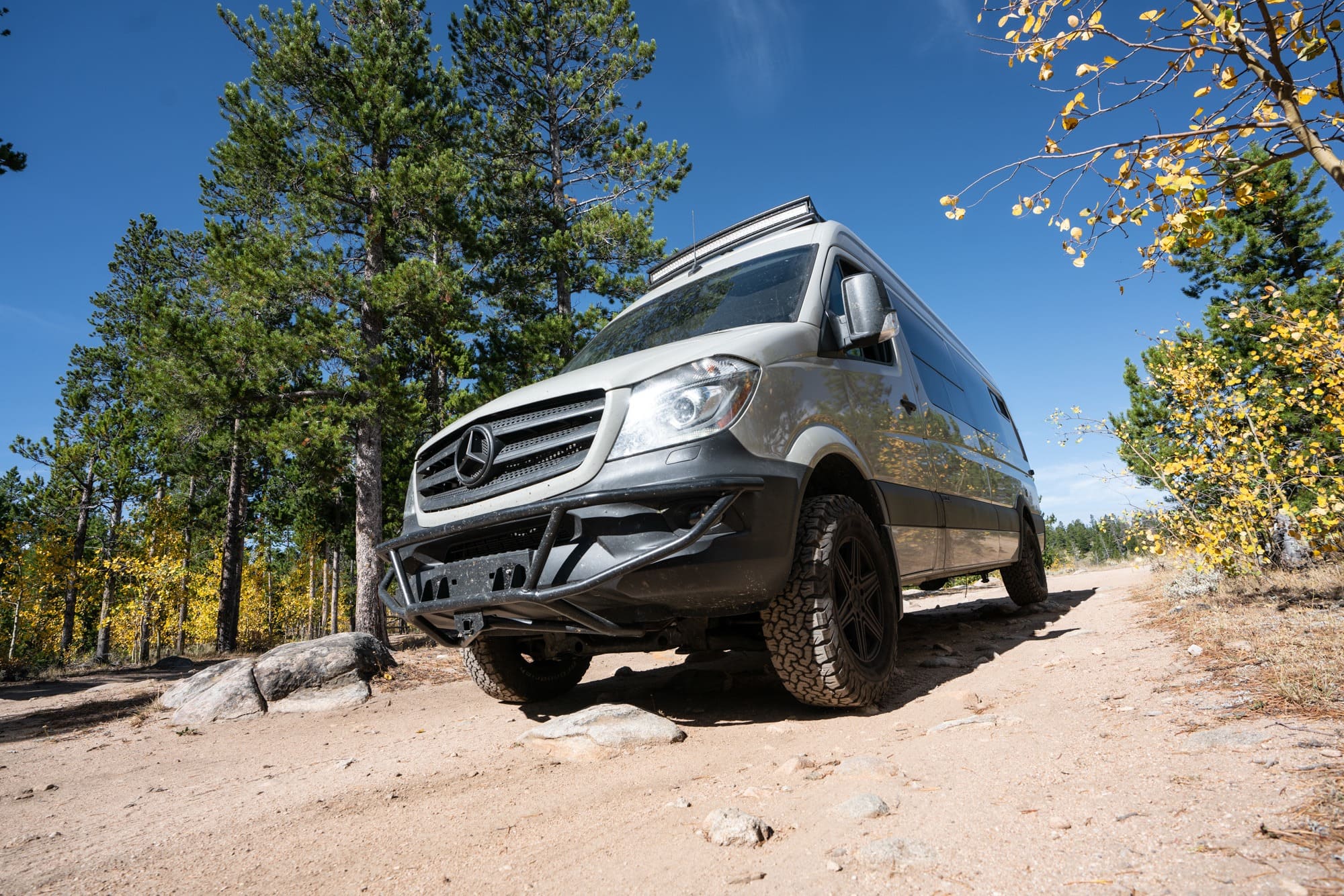 Many van lifers opt for a Sprinter suspension upgrade after spending a few months on the road. While Sprinter vans are pretty maneuverable, let's be honest, they're no Jeep or Toyota Tacoma when it comes to off-roading. Sprinter vans can feel clunky on pot-holed roads, top-heavy when pulling into an uneven parking lot, or like a bread truck when hit by a strong crosswind on the highway.
A lot of these issues have to do with the fact that every single Sprinter – from the dually, to a standard 2WD low top, to the 4×4 170 High Top Sprinter, like mine – all come with the same exact shocks. These stock shocks are designed to be used by delivery vehicles and work trucks, not heavy conversion vans with people living in them.
Thankfully, there are a few aftermarket companies that offer suspension upgrades. Van Compass is one of these companies and after a couple of hairy drives across windy plains and constantly trying to keep up with my truck-driving friends on Forest Service roads, I decided to upgrade my suspension with the Van Compass front and rear suspension kits.
Read my honest review of Van Compass's Sprinter suspension upgrade kits and the impact they have made on our driving experience.
Why Do a Sprinter Suspension Upgrade?
Improved vehicle handling
Every Sprinter van comes with the same factory shocks. These shocks aren't tuned for a specific type of driving or even, really, for off-road adventures. If you hit bumps going fast, the result is a very jarring ride. A suspension upgrade can improve vehicle handling on and off-road.
Greater stability
If your build isn't weighted properly, the stock Sprinter shocks can prompt a strong pull towards the outside of your turns, which might make it feel like you could topple right over. Sprinter suspension upgrades help negate this unwanted sway.
More fun to drive!
After doing my Van Compass upgrade, it doesn't feel like I'm driving a heavy, wallowing van. The chassis responds better to input and drives as a Mercedes should.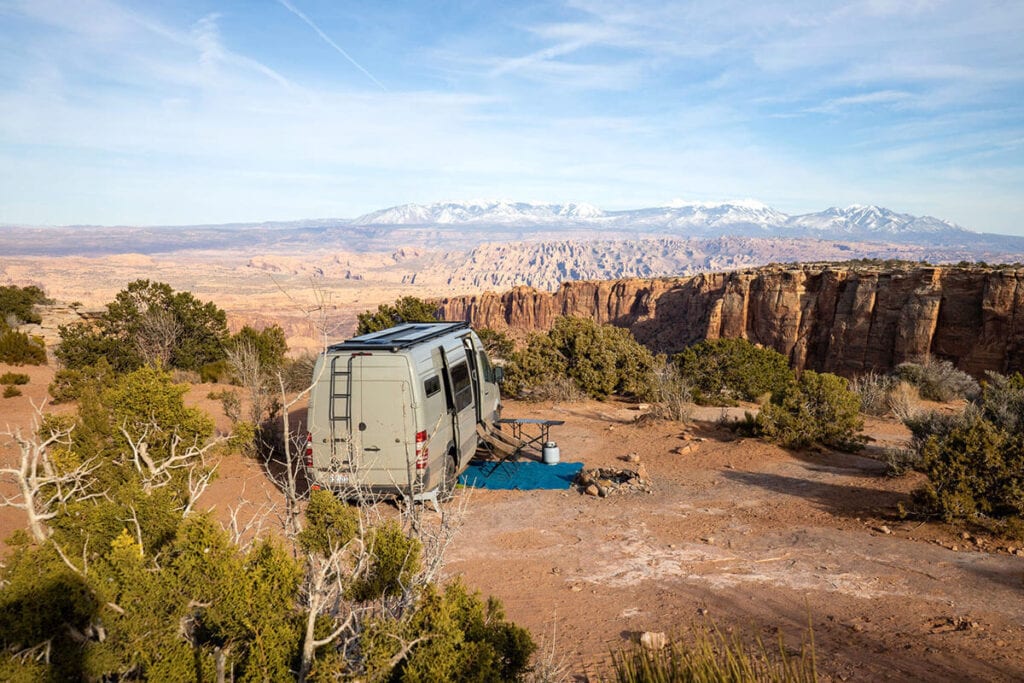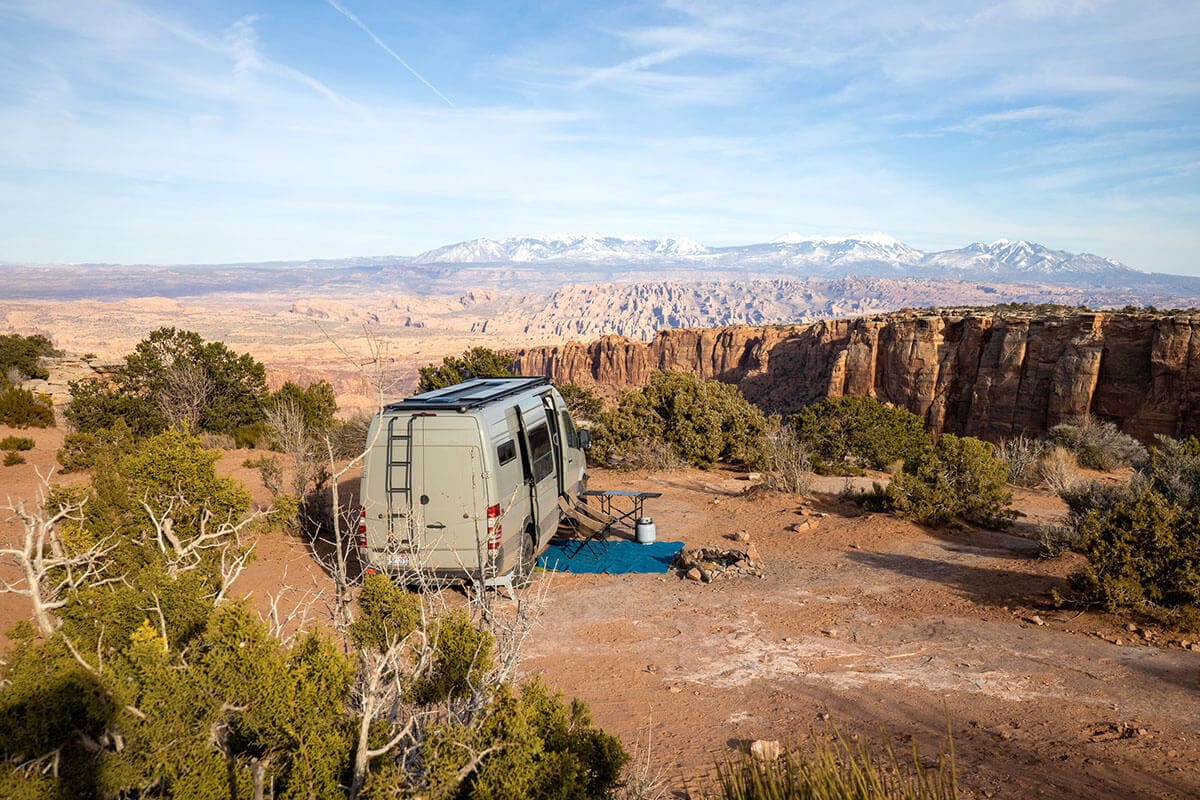 ---
About Van Compass
Van Compass is a small company out of Post Falls, Idaho (one of our favorite small towns in Idaho). Their mission is to help van owners make their vans "more capable and comfortable on dirt road adventures".
Prior to starting Van Compass, co-owners Mark Hesser (a Ford Transit owner) and Rob Peterson (a Sprinter owner) designed parts for Jeeps, Dodge trucks, and full-on rock crawlers. They wanted to take what they learned and bring improved suspension and off-road components to Sprinter vans as well as Ford Transits and Dodge Promaster's.
Van Compass's improved suspension system works to prevent unwanted sway and result in a more sturdy ride through turbulent bumps and sharp turns.
They do this by custom tuning every set of shocks they install based on the weight of the van's front and rear axles and the type of driving you like to do.
---
My Van Compass Sprinter Suspension Upgrades
Below, I share exactly what upgrades I made with Van Compass. The upgrades are sold as a kit called the Stage 3 System – Sprinter 4×4.
A note before you start: If you want to upgrade your shocks, you should be aware of any alternations a company might make that could void your factory warranty. Van Compass uses your van's existing suspension geometry and none of these upgrades should affect the factory warranty, but do your research to make sure before committing.
Rear mini spring pack
Have you ever noticed the way the back end of your Sprinter van sags? If you've got a layout like mine with a platform bed in the back with water, batteries, and gear underneath, the back of your van carries more weight than the front. The Rear Mini Spring Pack gives the back of your van a little boost so that the rear is horizontal and even with the front – the same neutral alignment that an empty van would have.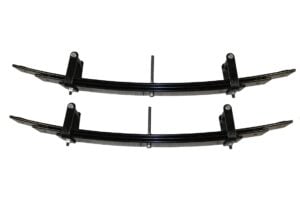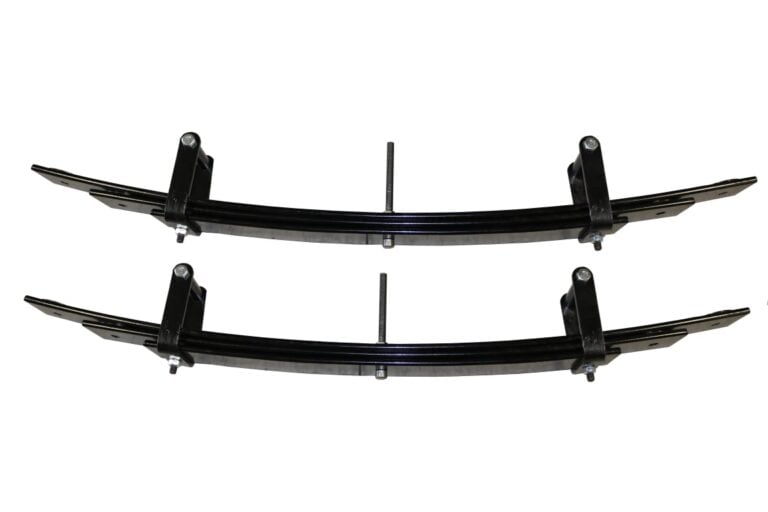 By reducing the sagging in the rear, you regain suspension travel, which is critical to a smooth ride in bumpy terrain. You also reduce the likelihood of the rear suspension bottoming out.
Van Compass installs this rear mini spring pack underneath the factory leaf pack. They say that the factory leaf pack is a quality Mercedes part, so they are simply supplementing it to compensate for the added rear weight.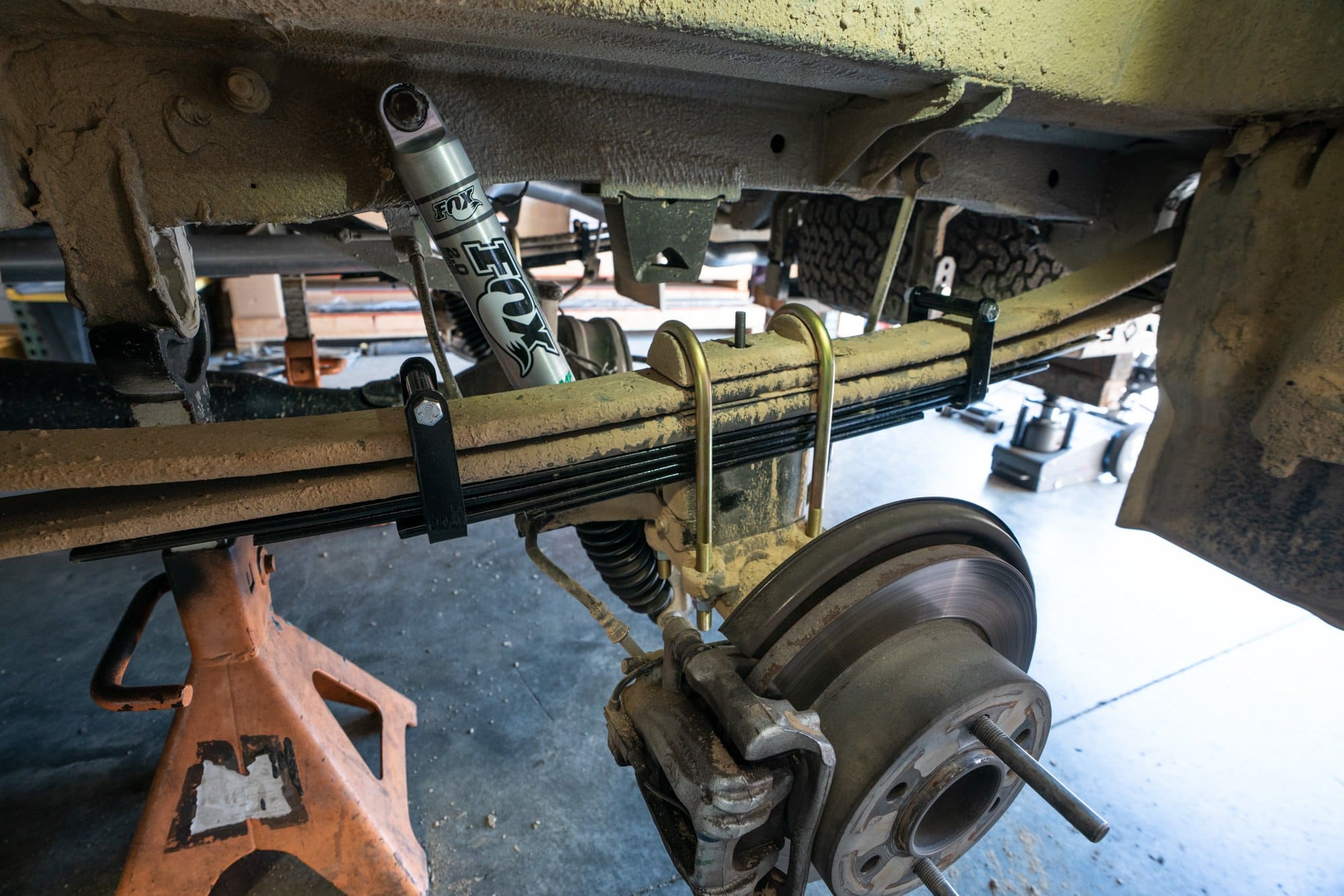 Rear custom-tune shocks
The shocks are the main component of the suspension system and control everything about the way the van feels. Quality shocks are critical for damping the movement of weight when you pull into a driveway at an angle or hit a speed bump at an angle.
The Van Compass custom-tuned rear shocks reduce rocking and make the ride feel less abrupt. Their shocks specifically add low-speed damping, which has the biggest impact when you are driving between 15-35 mph, such as on washboard dirt roads and sharp corners.
Front custom-tuned shocks
The Van Compass front suspension kit comes with a bracket that allows for secondary custom-tuned shocks on the front wheels. The front shocks add a bunch of damping to the front of the vehicle and allow for better control of the extra weight. Like the rear shocks, that translates to a smoother ride overall.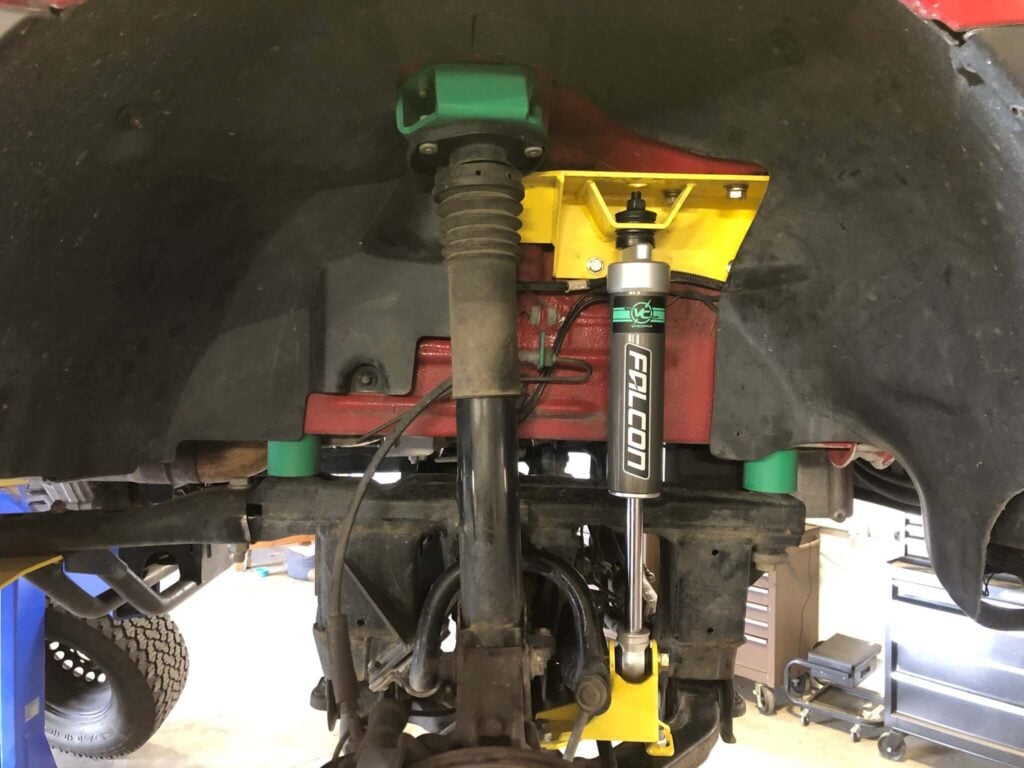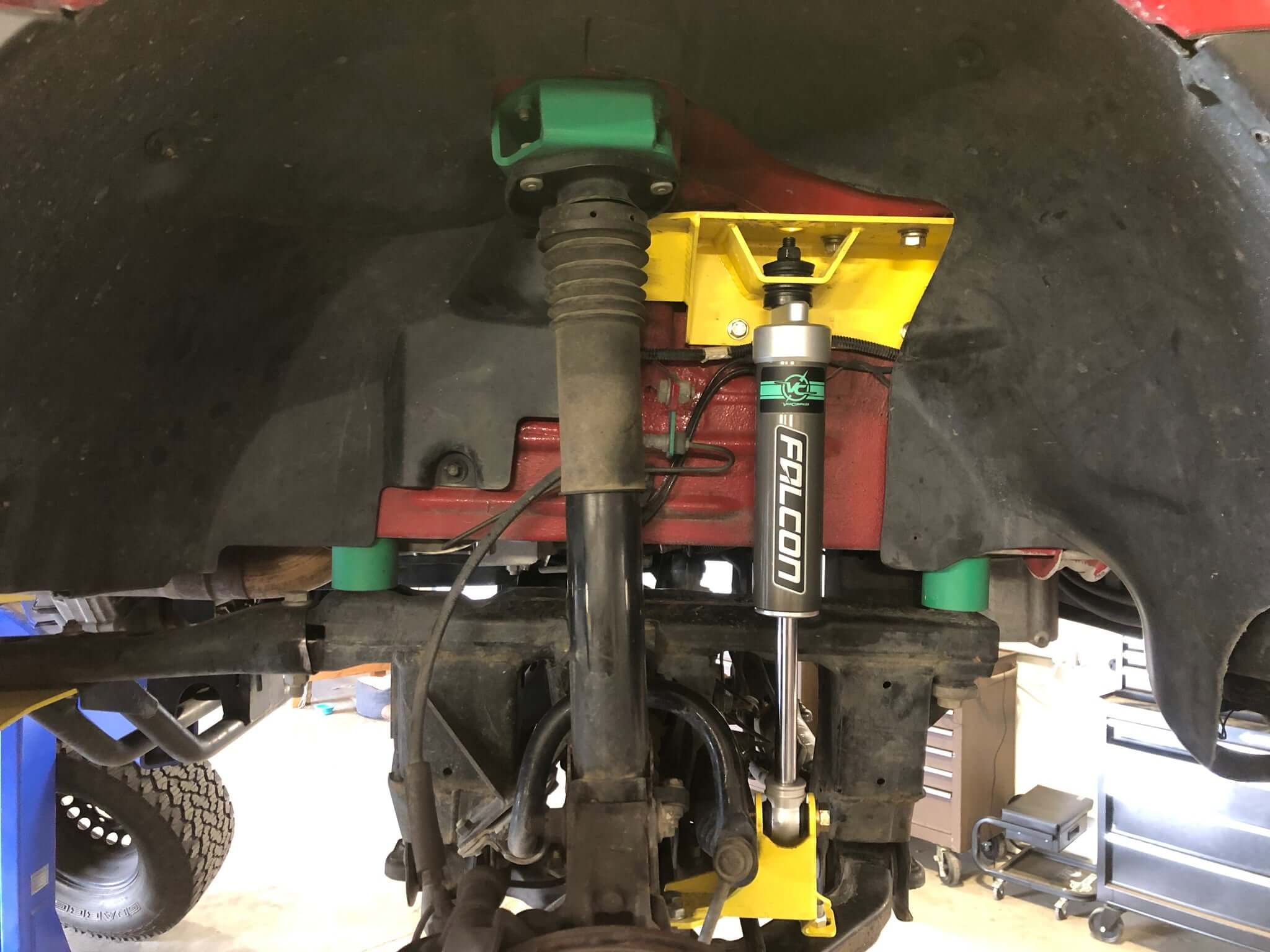 Sumo spring
First, let's talk about what a bump stop is. The bump stop is the last line of defense for your suspension. When you hit a bump too hard and the suspension bottoms out, the bump stop prevents metal-on-metal contact. The Sumo Spring that Van Compass installs is a replacement for the factory bump stop and does more than just prevent metal from hitting metal. It works in conjunction with the factory front leaf-spring to give the suspension slightly more spring while making the van more responsive to steering.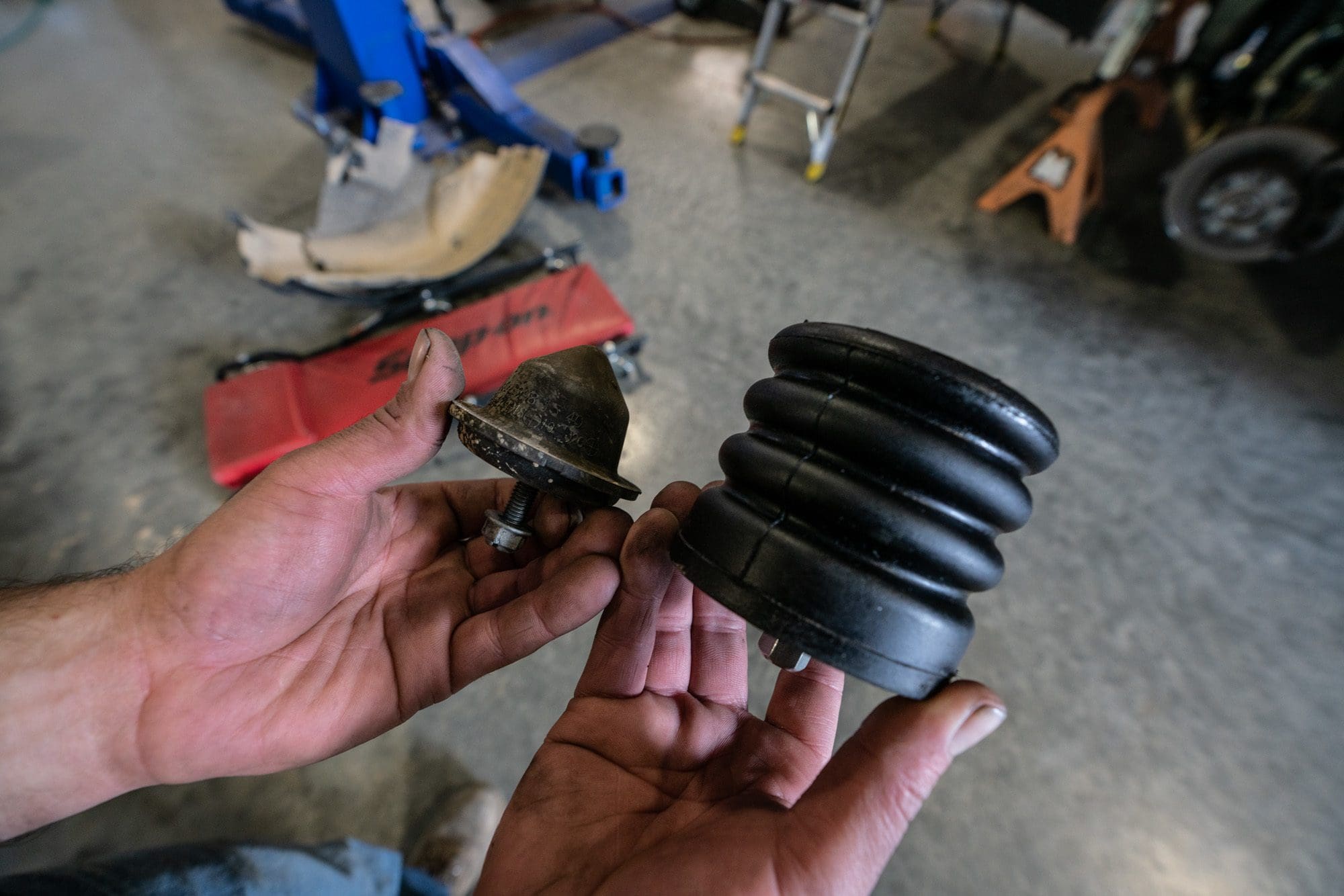 ---
Thoughts from 4,000 Miles Post Suspension Upgrades
So far, we've put 4,000 miles on our new Sprinter suspension upgrade, including extended off-road driving in Idaho, Washington, and Oregon. The shocks have not only resulted in a smoother ride, but they also give me more confidence that my Sprinter Van can handle any kind of terrain I might encounter. It's still not a Jeep, but I can tackle a majority of Forest Service roads that I want, even those that are pretty beat up. Washboard roads don't shake my van up like they used to. I can also cruise on the highway and backroads and take curves without feeling the van pull against me.
I'll also say that Mark and Rob seemed like stand-up guys with a lot of patience. They wanted to make sure I totally understood what I was getting from them and wasn't paying for anything I didn't need based on the type of driving we generally do. They never tried to sell me on anything.
Overall, I'm very happy with the Van Compass upgrade. And the best part is, Van Compass says the shocks they installed should, in theory, last the lifetime of the van. Factory shocks, on the other hand, are reported to last about 50,000-60,000 miles and then they need to be replaced. So if I was going to have to replace the factory shocks when they wore out at 60,000 miles, why not do it now and reap the benefits?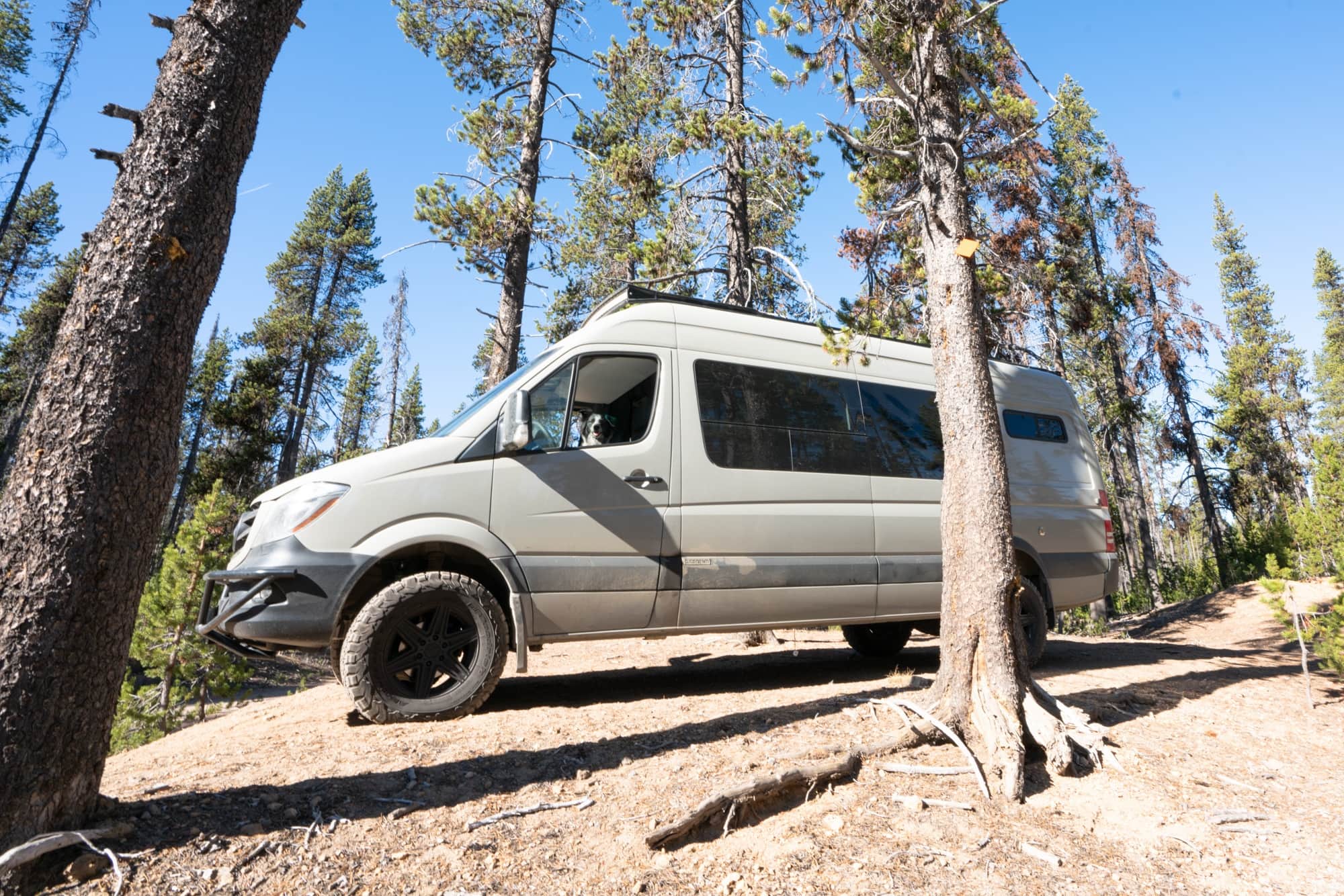 At the time of writing, the total price of the upgrades is $2,069 if you buy the upgrades sold as a complete kit. Van Compass no longer does installations. You can find installation dealers on this page.
---
Have you done a Sprinter suspension upgrade? What kit did you use and what has been your experience? If you have questions about my Van Compass suspension kit leave a comment below, and make sure to sign up for our van life newsletter here!