Big Bend National Park lies in the heart of the Chihuahuan Desert, stretching across West Texas on the border of the USA and Mexico. Rising up from the desert floor are the impressive Chisos Mountains, and the Rio Grande River cuts through steep canyon walls to create a natural border. Between the mountains, desert, and river, Big Bend National Park is rich in biological diversity, and its remote location gives way to some of the darkest skies in the country as a designated "International Dark Sky Park".
Looking for the best things to do in Big Bend National Park? This complete guide includes info on hiking, camping, what to pack, and more.
Important Reminder: As it goes in all of the destinations we share, please practice good trail etiquette and remember to Leave No Trace. This means packing out all of your garbage (including toilet paper), being respectful to others on busy trails, and following the established rules.
Where is Big Bend National Park?
Big Bend is located in a very remote part of West Texas. The closest major city is El Paso, which is 4.5 hours away by car. There is no public transportation to or within Big Bend National Park, so you will need to drive yourself. Midland/Odessa has the closest airport (3 hours from the park) but not many airlines service this airport, so we recommend flying into El Paso to rent a car.
Distances between towns in West Texas are vast – be sure you are road trip ready with gas, food, and water for your trip. There are 4 convenience stores and 2 gas stations located within the park, however they can be limited on supplies. The closest towns to stock up before heading into Big Bend are Alpine (coming from El Paso) and Fort Stockton (coming from Midland). A trip to Big Bend National Park requires a lot of preparation – but the remoteness of the park is exactly why it should be on your list of places to visit!
---
Best Time to Visit Big Bend National Park
Big Bend National Park is open year round, with hot summers and mild winters. The mountains in the park offer much cooler temperatures than the low desert regions of the park, and the mountains receive more rainfall as well.
Spring is the best time to visit Big Bend National Park due to mild temperatures and plentiful sunshine, but it is also the busiest time. Summer temperatures can be above 100 degrees on the desert floor, so while we don't recommend visiting in summer, if you do, be prepared with a heat safety plan and stick to the Chisos Mountains which are often 10-20 degrees cooler than the desert floor in summer.
May-September is the rainy season, which can include heavy thunderstorms and flash floods. The upside of visiting during the rainy season is cooler temperatures in the afternoons/evenings.
Fall and winter are typically mild with bouts of cloudiness – snow is rare to find in the park, although there were two large snowstorms in 2021 that shut down the park for several days.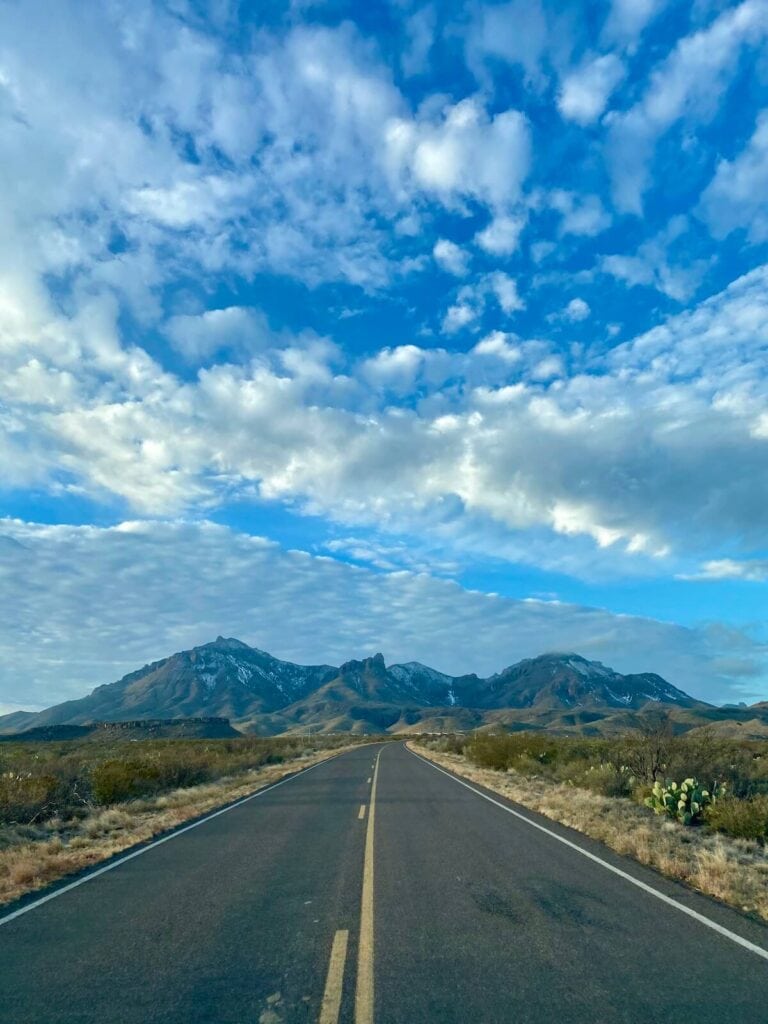 ---
Big Bend National Park Lodging
Big Bend offers only one lodging option within the park – the Chisos Mountain Lodge. Located in the heart of the park at 5,400ft elevation, they offer a variety of hotel rooms, motel rooms, and cottages with 360 degree mountain views. As the only non-camping option in the park, reservations are extremely limited and you need to book well in advance. Reservations for 2022 will open on June 1, 2021 and booking information can be found on the lodge website.
Terlingua is a small town located about an hour from the park that has the largest accommodation selection outside of the park. Terlingua is a well-known ghost town with a true old Western feel – I recommend checking it out whether or not you plan to stay there. The Starlight Theatre is a famous local watering hole known for its annual chili cookoff and frequent live music, and Espresso y Poco Mas is a great breakfast spot.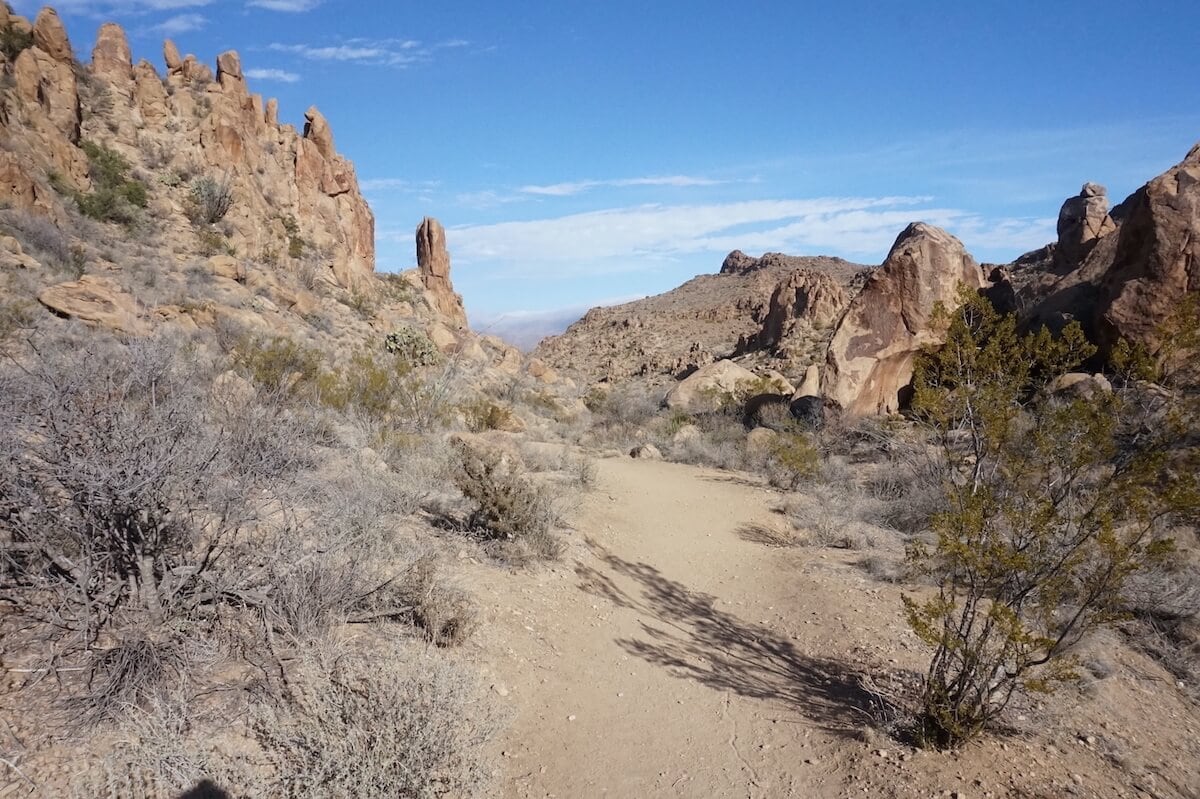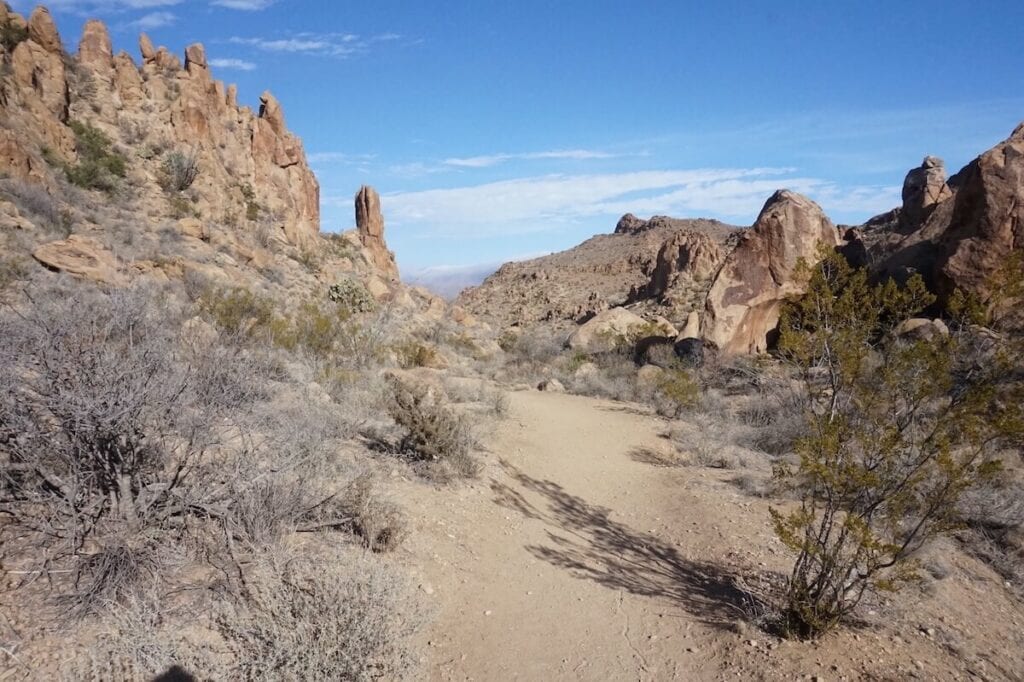 ---
Big Bend National Park Camping
There are 4 established campgrounds located within Big Bend National Park, as well as primitive backcountry dispersed camping spots, and several camping options outside the park. Visitation has recently exploded, so be sure to have a Big Bend National Park lodging plan in place ahead of time; if you plan to visit without an advanced reservation, be prepared with a backup plan outside of the park. November-April is the park's busiest season where most established campgrounds and dispersed camping spots are fully booked each night, but the weather also makes this the best time to visit Big Bend National Park for camping.
Campgrounds within Big Bend National Park
All established campgrounds require advanced reservations that can be made up to 6 months in advance. No first come, first serve camping is allowed in established campgrounds.
Chisos Basin Campground : this is the most centrally located campground in the park, however trailers over 20' and RVs over 24' are not recommended because the road is narrow and campsites are small. No hookups are available at Chisos Basin campground, but there are flush toilets, water, grills, and a dump station.
Rio Grande Village Campground : located on the far east side of the park, this campground is set along the Rio Grande river among a large grove of trees. There are flush toilets, water, grills, and a camp store with a gas station, showers, and laundromat attached. (Please note: due to Covid-19, showers and laundry facilities are currently closed).
Rio Grande Village RV Park: This is the only campground with full hookups in Big Bend. Sites are available by phone reservation only (432-477-2293). Sites are located in a paved lot next to the camp store (and adjacent to the campground). Pets are allowed, but must be leashed at all times.
Cottonwood Campground : located on the far west side of the park, this campground is a quiet, desert oasis near the popular Santa Elena Canyon. This is the most remote campground in the park with no hookups, no dump station, and no generators allowed. Pit toilets, grills, and water are available at this campground.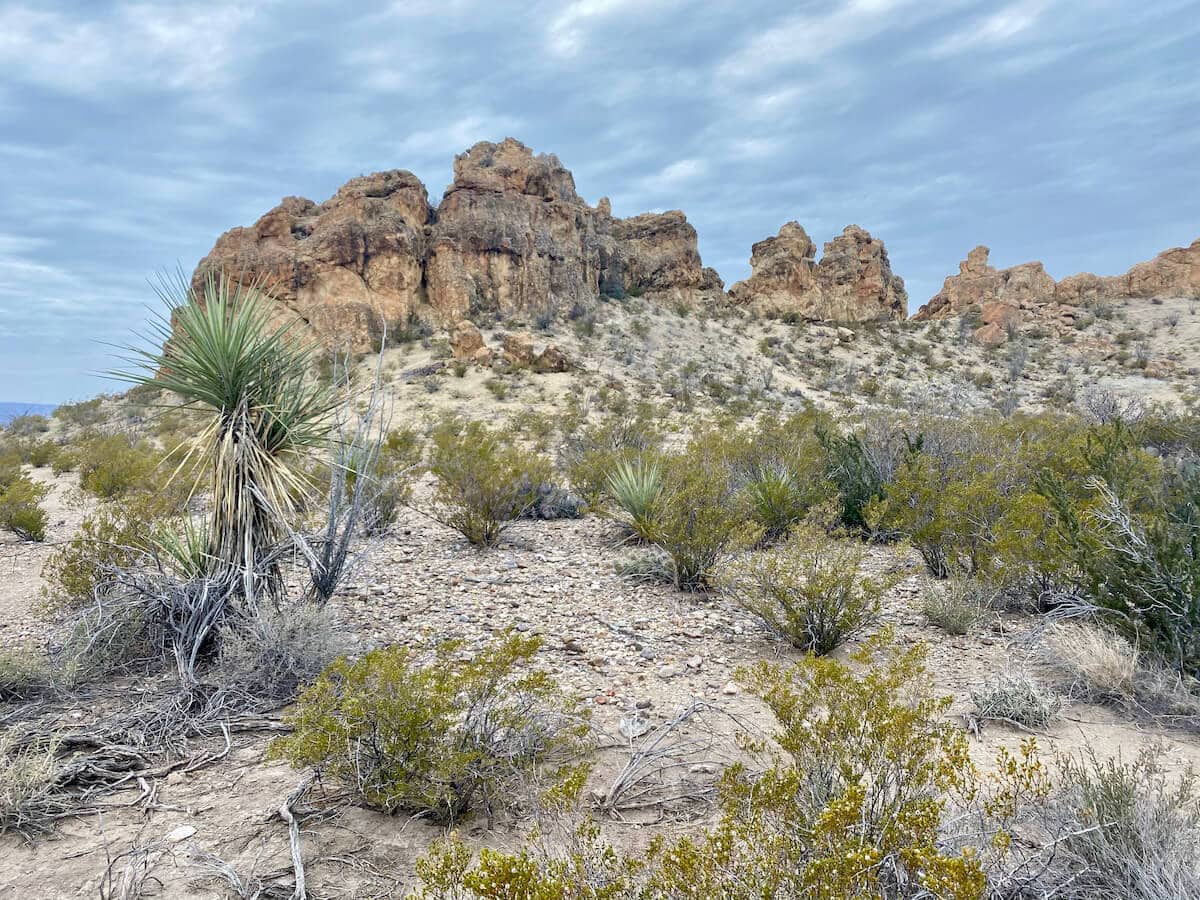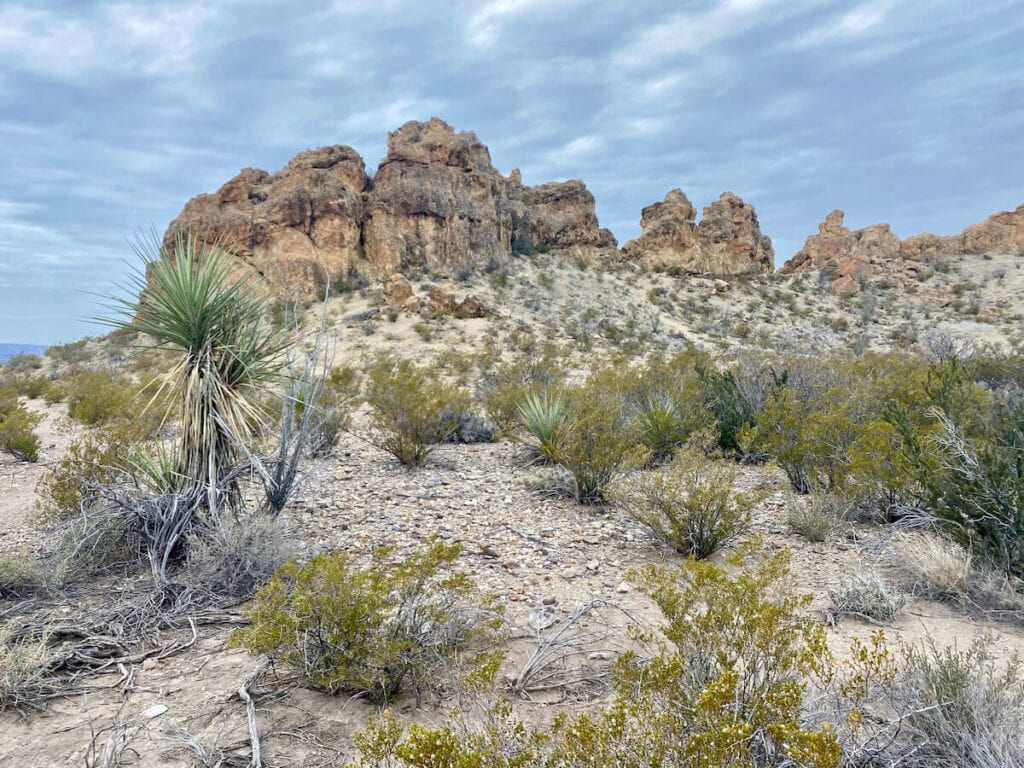 Dispersed Camping in Big Bend National Park
Big Bend offers the unique option to car camp at primitive roadside spots, or you can leave your car behind and backpack into the desert wilderness to camp. Primitive roadside spots are located on backcountry roads – most require a vehicle with good clearance and/or 4×4; I drive a 2WD Ford van and had no issues getting to my roadside spot – the ranger at the Visitor Center was able to help me pick a site that would accommodate my van. Roadside sites are small, flat gravel patches with no toilets, water, shade, or other amenities, but they offer amazing views and total solitude in the park. If you plan to dispersed camp in Big Bend National Park, please note you will need to pack out all trash, know how to use the bathroom, and minimize your impact.
A $10/night permit is required for all primitive roadside and backcountry camping sites, and most sites are reservable up to 6 months in advance here. There are a handful of roadside sites that are only available to book in-person at either Panther Junction or Chisos Basin Visitor Center – I chose this option during my trip in January and was able to secure a spot by arriving at opening time (8:30am), but this is not always the case, especially on weekends or anytime during busy season.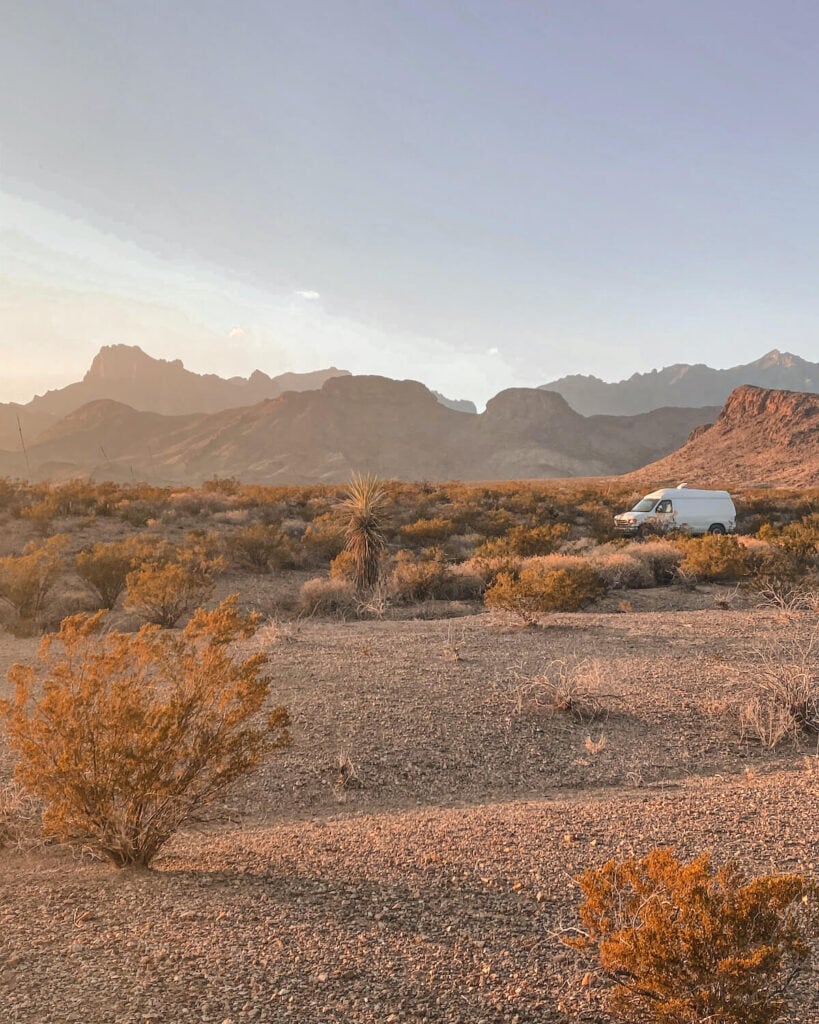 Camping Outside of Big Bend National Park
If you are unable to secure a campsite within Big Bend National Park, Big Bend Ranch State Park is close by and has a handful of campgrounds. I stayed here on my way out of the National Park and the campground I chose was nearly empty on a Saturday night. Terlingua, Study Butte, and Lajitas also offer private campgrounds within an hour outside the park. A roundup of all lodging/camping options outside of Big Bend National Park can be found here.
Want to check out all the Big Bend camping options in one place? Bearfoot Theory readers get a FREE 30-day membership to The Dyrt PRO, one of our favorite apps for finding campgrounds (if you're signing up on mobile, use the code "Bearfoot"). You can read reviews, view photos, save campgrounds you're interested in, view maps offline, use road trip planning tools, and more!
---
Things to Do in Big Bend National Park
Big Bend National Park offers tons of hiking trails, river trips, scenic drives, and historical landmarks – it truly has something for everyone!
Hiking
Big Bend National Park has three distinct sections of the park to find hiking trails – desert, mountains, and river. Elevation changes between these regions mean that you can choose your own adventure based on which terrain you prefer, or what season you're visiting in. Hikes in the park range from short, paved paths under 1 mile, to full day – or multi day – hikes. Top hike highlights include the Window View Trail (.3 miles roundtrip, paved), Santa Elena Canyon (1.7 miles roundtrip), Grapevine Hills Trail (2.2 miles roundtrip), and the South Rim Trail (12-14.5 miles roundtrip). Check out our full roundup of the best Big Bend hikes for more.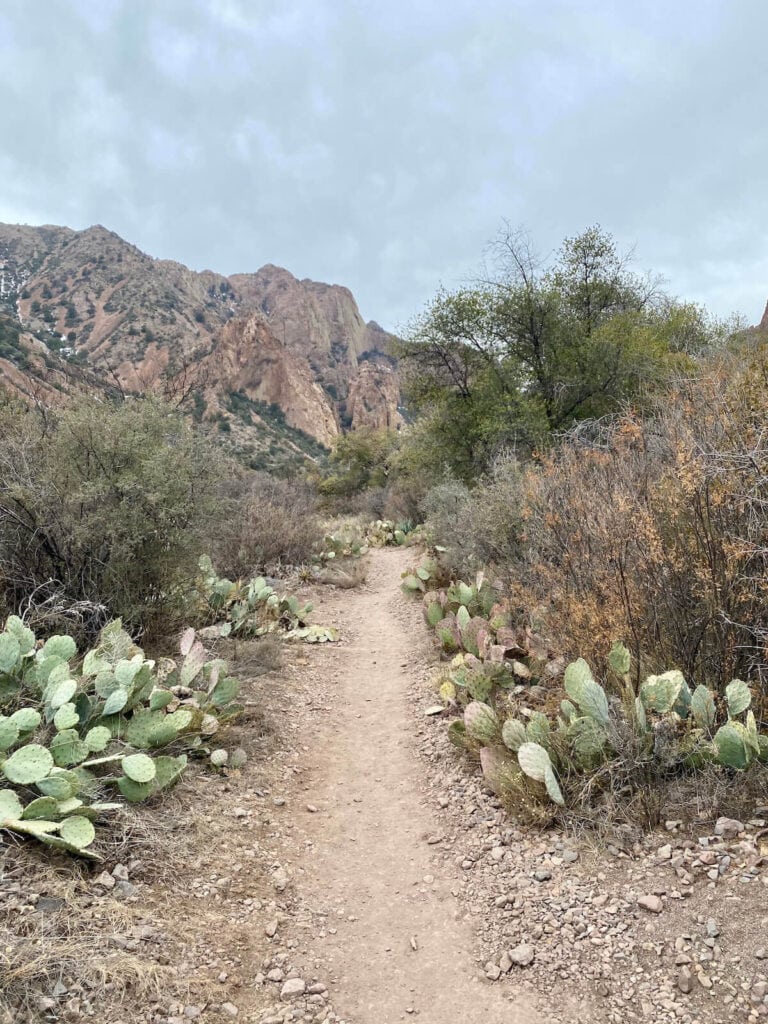 Ross Maxwell Scenic Drive
This 30 mile drive highlights the Chisos mountains and vast Chihuahuan desert, ending at Santa Elena Canyon. You can find several overlooks along the road, or stop for a quick hike on many different trails. If you are up for adventure and have a vehicle with good clearance, consider taking Old Maverick Road back to the western park entrance. This road is only 14 miles but plan on a one hour drive due to the gravel and bumpy road.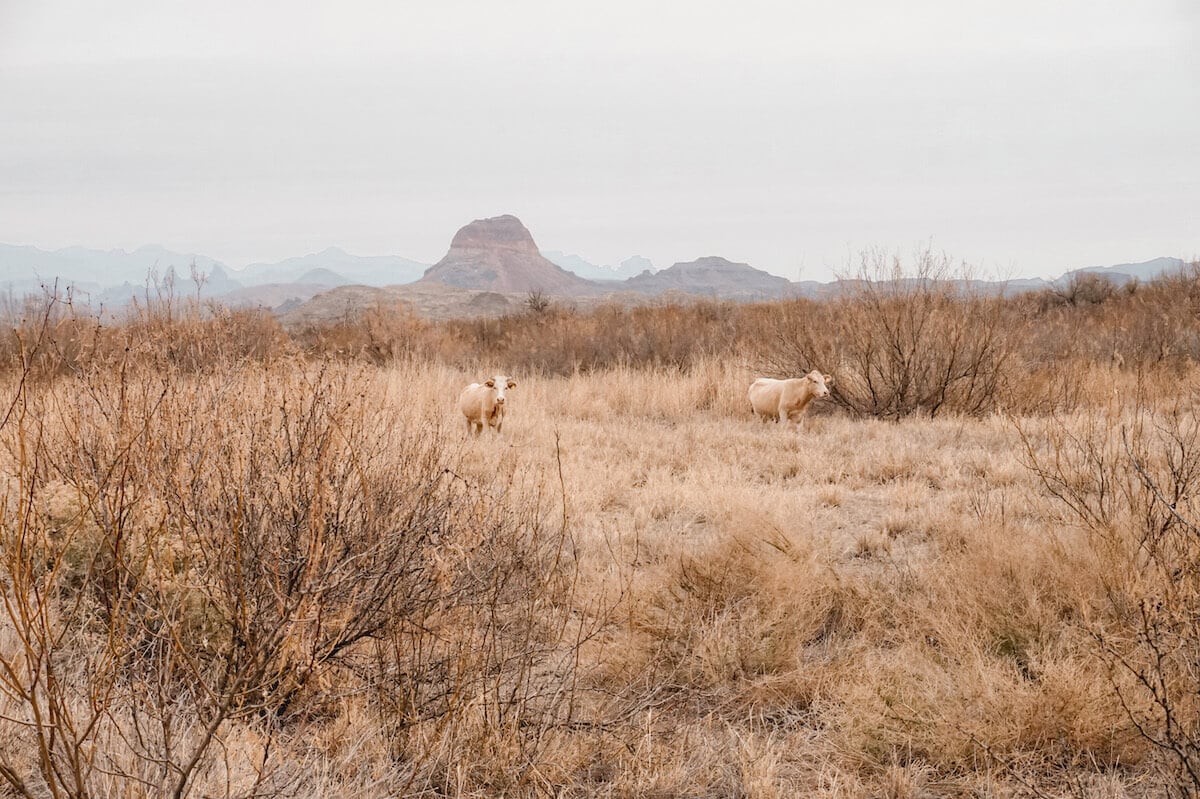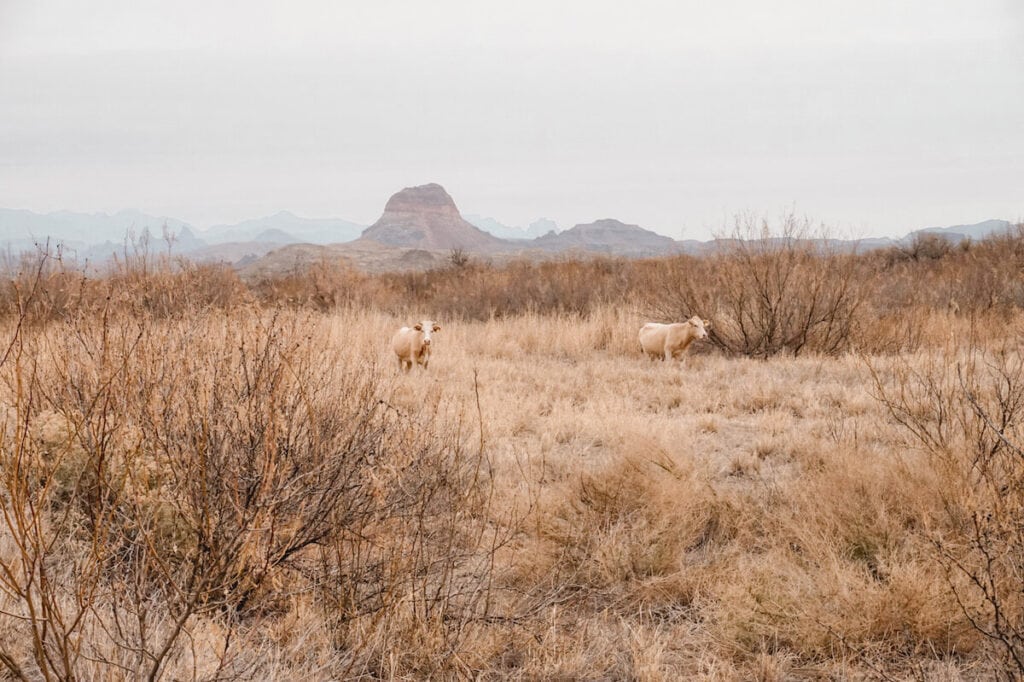 Boquillas Crossing
Big Bend is the only National Park with a Port of Entry location – if you have a valid passport, you can visit the small town of Boquillas, Mexico during your trip to Big Bend. US currency is currently accepted in Boquillas so no need to exchange money ahead of time. The border crossing is located on the east side of the park, close to Boquillas Canyon. You can cross by rowboat ($5/person roundtrip) or by wading through the river (if the water level is low enough). There are many restaurants, food stalls, and vendors selling local handicrafts – this is such a unique opportunity to do while visiting a National Park, and I can't wait to return to visit Boquillas. (Please note: at the time of writing, this Port of Entry is currently closed due to COVID-19.)
River Trips
Guided or self-guided river trips are a great way to see the Big Bend National Park canyons from a different perspective, floating between the US and Mexico. These trips can vary from half-day to multi day excursions. If you plan to do an independent river trip, regulations and permit information can be found here.
Hot Springs Historic District
Located along the Rio Grande on the east side of the park, step back in time by visiting this area of the park, which preserves a rich, human history dating back thousands of years. You can see rock art on the limestone cliffs, learn about the Langford family that inhabited the area in the early 1900s, and also soak in natural hot springs that flow right next to the river. (Please note: at the time of writing, the Hot Springs Historic District is currently closed due to COVID-19.)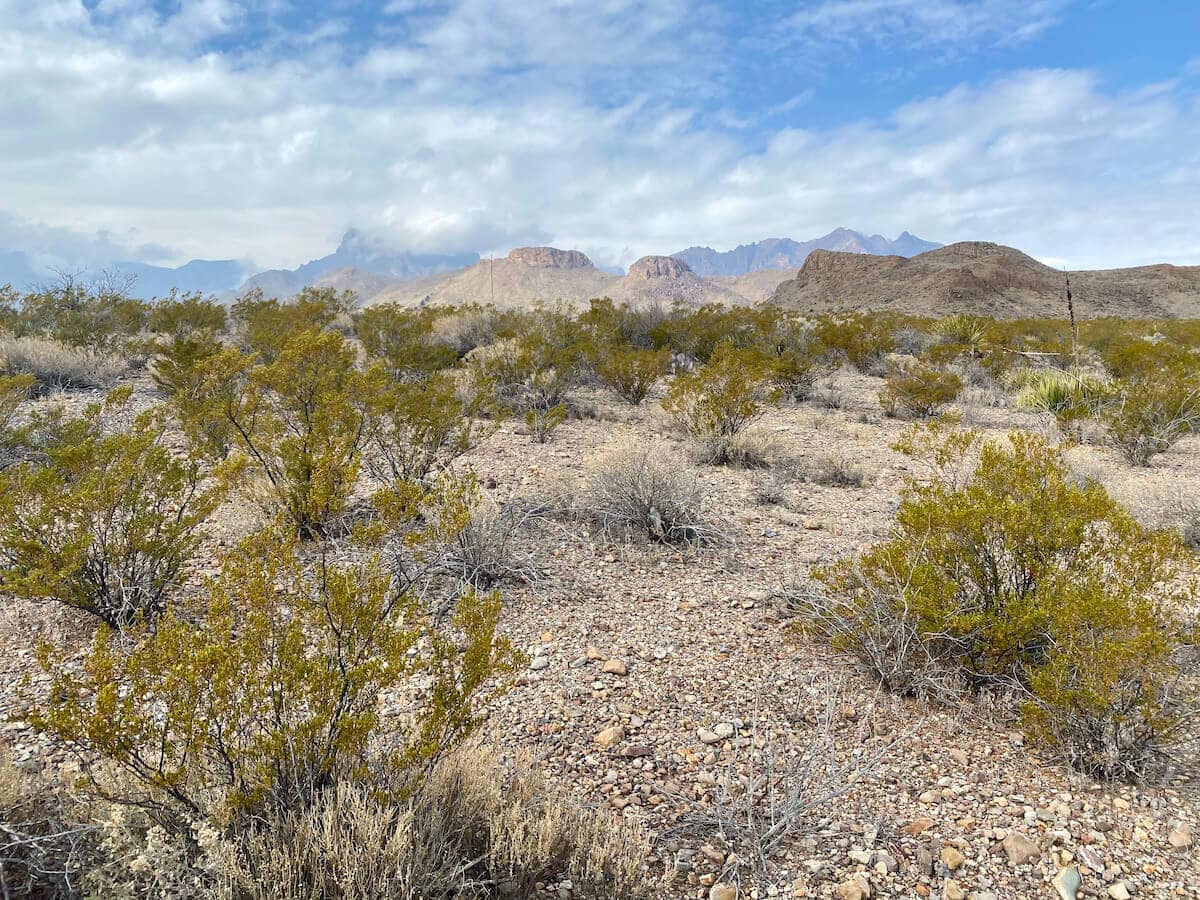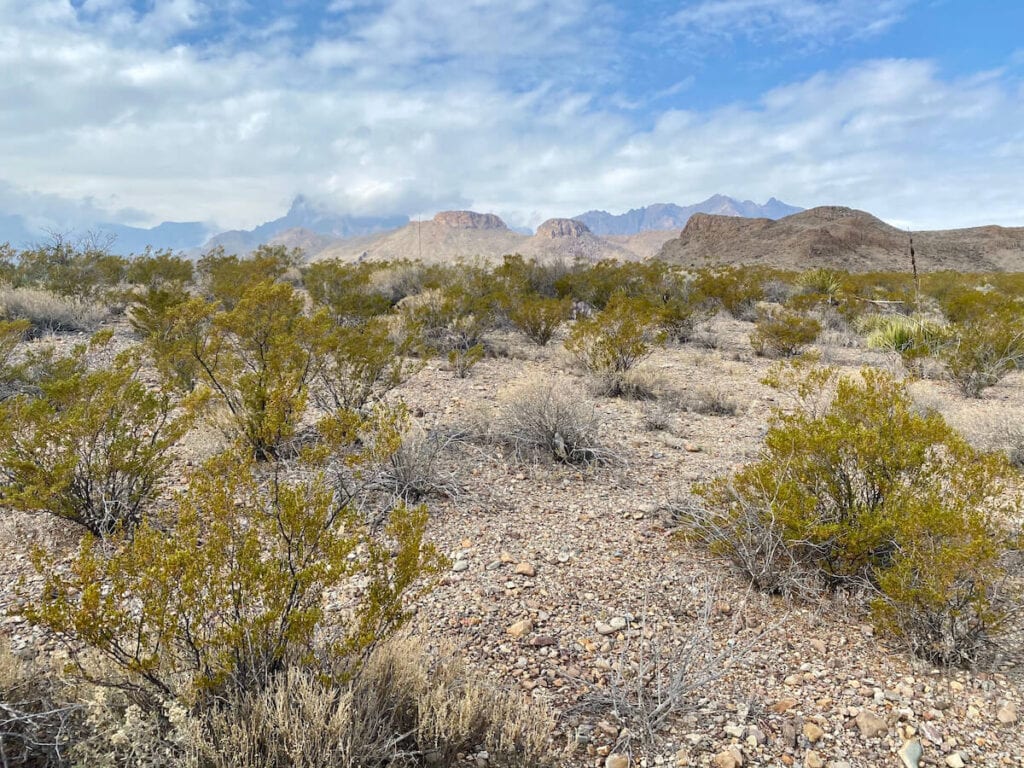 ---
What to Pack for Big Bend National Park
Knowing the basics of what to wear hiking in the desert is key for any outdoor adventure. Since Big Bend National Park is sunny most of the year, adequate sun protection is a must here. If you are exploring Big Bend during the spring or summer, be sure to carry plenty of water as sun exposure and high temperatures can quickly lead to dangerous conditions. Sturdy hiking boots are another key item to pack for your trip if you plan on doing any hikes, as the terrain can be uneven and rocky, especially on desert hikes.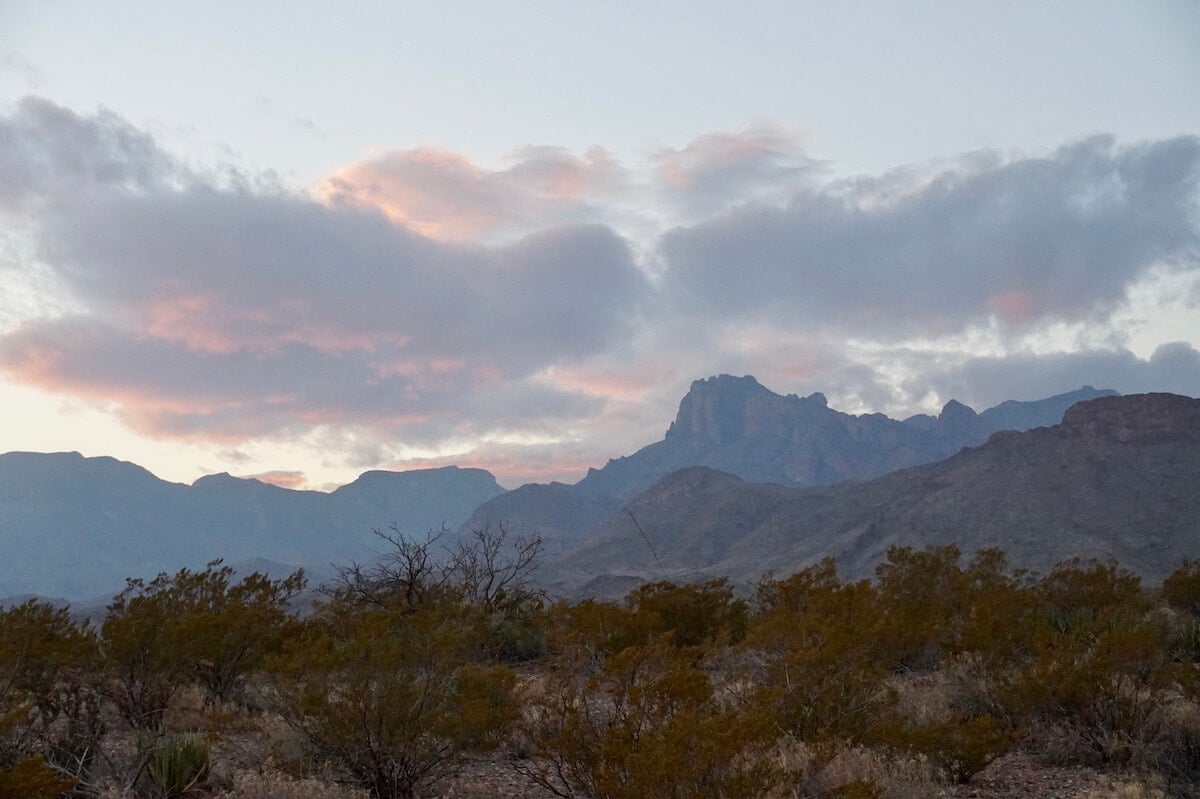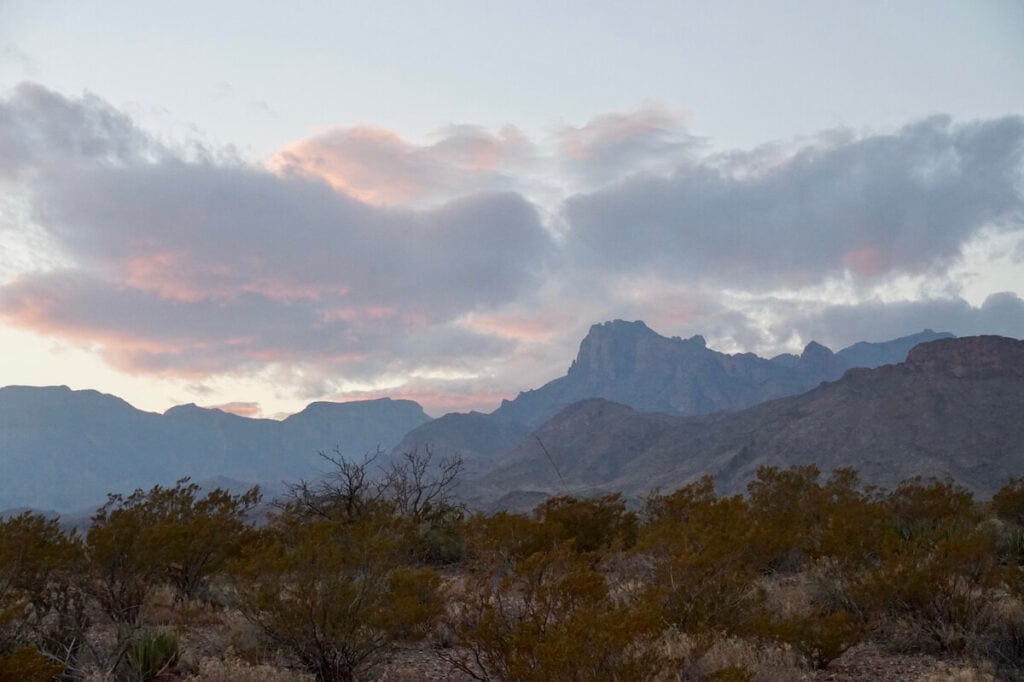 ---
Have you been to Big Bend National Park or are you planning a trip there? Share your questions, comments, and experiences in the comments below!