Ultimate Saguaro National Park Outdoor Adventure Guide
Saguaro National Park, just outside of Tucson, Arizona, is home to the largest cacti in the US. If you've visited Joshua Tree and…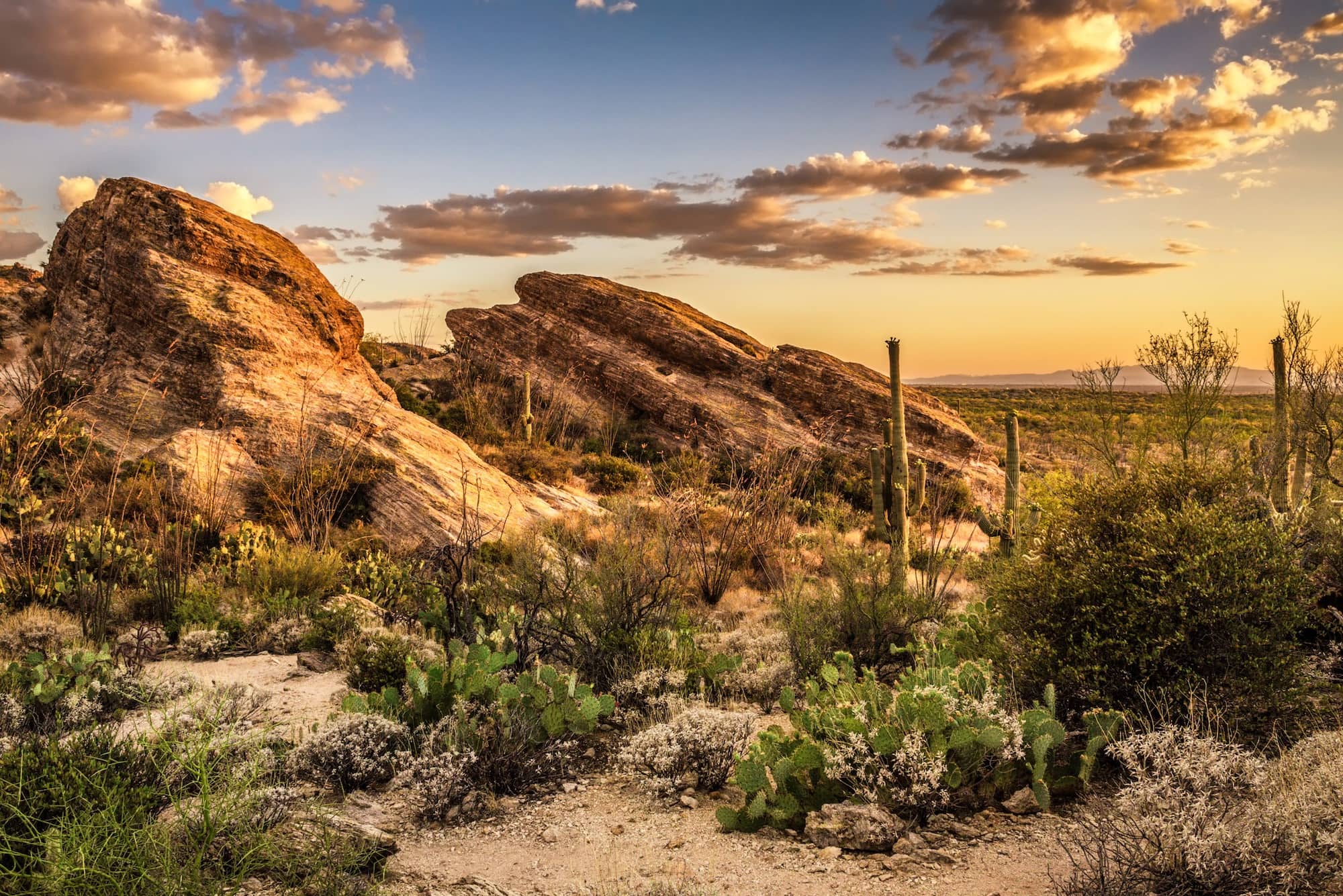 Saguaro National Park, just outside of Tucson, Arizona, is home to the largest cacti in the US. If you've visited Joshua Tree and loved it, then Saguaro National Park might be next on your list – it's a similar vibe but with big cactuses instead of Joshua Trees, and with a larger town nearby. just with a larger town.
Kim Vawter, Bearfoot Theory's past Community Manager, checked Saguaro National Park off her list a while back and shares her favorite hikes and tips for visiting here. For more National Park guides from Kim, check out her 7 day Yellowstone/Grand Teton National Park Itinerary or her 7-day Florida National Park Itinerary. Kim's also into long-distance hiking and plans to hike the backcountry of Saguaro National Park someday when she tackles the Arizona Trail.
In this blog post, Kim shares her favorite hikes and best travel tips for exploring Saguaro National Park.
Important Reminder: As it goes in all of the destinations we share, please practice good trail etiquette and remember to Leave No Trace. This means packing out all of your garbage (including toilet paper) and following the established rules. In the desert, this also means learning how to protect cryptobiotic soil and how it has a huge impact on our ecosystems.
[separator style_type="icon" /]
Where is Saguaro National Park?
Saguaro National Park is located within 1 hour of Tucson, Arizona. The park is split into two diverse sections: Saguaro National Park West & Saguaro National Park East. There is a $20 fee per vehicle to enter either side.
We flew in/out of the Tucson Airport and rented a car for our stay. There is no public transportation to Saguaro National Park so you'll need to rent a car.
Budget Tip: Flying into Phoenix can usually be cheaper and it's only an hour drive from Tucson.
[separator style_type="single" /]
Best Time to Visit Saguaro National Park
Winter is the best time to visit Saguaro National Park as temperatures are mild with a high of 65 degrees. The Fall and Spring can be nice as well, with mild temperatures from November to March, although Spring can get busy. Visiting in the Summer is not recommended as daytime temperatures can exceed 105 degrees. Summer thunderstorms can bring lightning and flash flooding as well – another reason to avoid visiting that time of year. If you're planning to camp, know that temperatures usually drop by about 30 degrees overnight.
[images_2_col image_1="36475″ image_2="36469″ /]
[separator style_type="single" /]
What to Do in Saguaro National Park
Take a full day to enjoy each side of Saguaro National Park. That way you'll have more time to explore and will have a chance to do some longer hikes. If you don't have extra time in your itinerary you can visit both sides in one day but you'll need to get an early start and don't expect to have much time for hiking; luckily the park has lots of great short walks.
Things to Do in Saguaro National Park West
Stop at the Red Hills Visitor Center to check out some cool exhibits and get a lay of the land.
Drive the 6-mile Bajada Loop – The car route is unpaved and is denoted in YELLOW on the map below. We enjoyed stopping at the Desert Discovery Nature Trail (only 0.5 miles) to learn more about the different subspecies of cacti and animals found in the desert.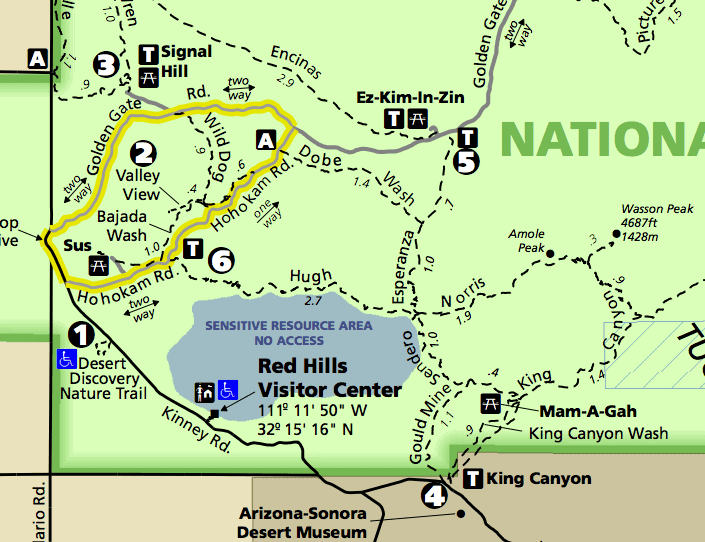 Hike the Signal Hill Petroglyph Trail (0.25 miles roundtrip) – A quick, easy jaunt to see petroglyphs as well as a great view. There are picnic tables in this area and since it is at the end of the Bajada Loop Road it's the perfect place to stop for a snack or lunch.
Hike the Valley View Trail (0.8 miles roundtrip) – This was our favorite walk we did in Saguaro National Park. Parking can be difficult so be patient and wait for a spot to open up.
Hike Wasson Peak (7.9 miles roundtrip) – You can either start from the Hugh Norris Trail or King Canyon Trail. The King Canyon trailhead is before the Visitor's Center and the Hugh Norris Trail is off the Bajada Loop Road. The trail has about 1,800 feet of elevation gain and is intermediate level given its length and elevation gain. Since I was visiting both sides of the park in a single day we didn't have time to hike Wasson Peak. If you hike this trail, make sure you bring plenty of water and adequate sun protection.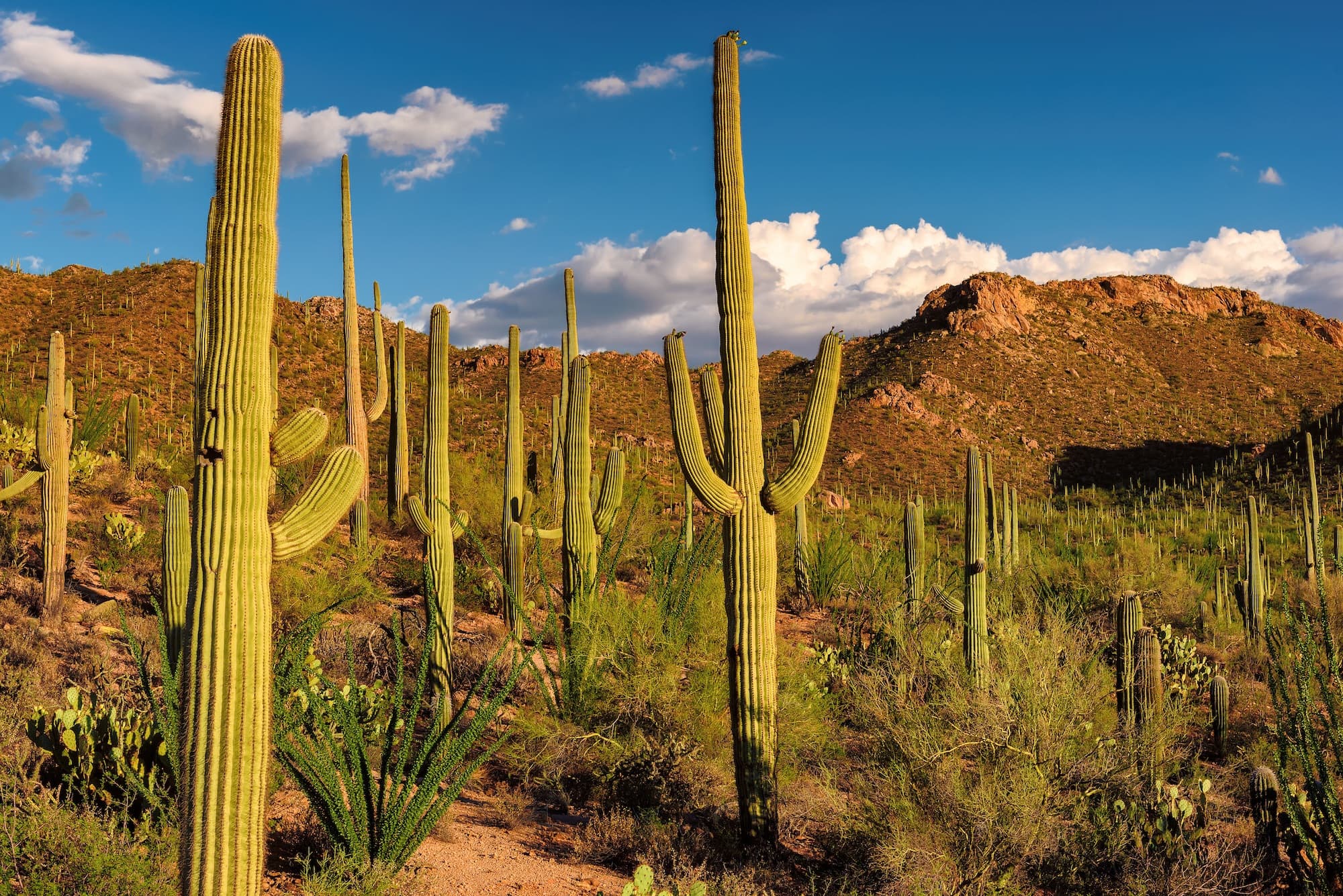 Things to Do in Saguaro National Park East
Drive the 8-mile Cactus Forest Loop Drive – The Cactus Forest Loop Drive is paved and there are lots of stops along the route, similar to the Bajada Loop Road in the West side of the park. We didn't enjoy the walks and stops as much on the East side as the West side but you can't miss the drive, it's breathtaking especially if you time it to be around sunset.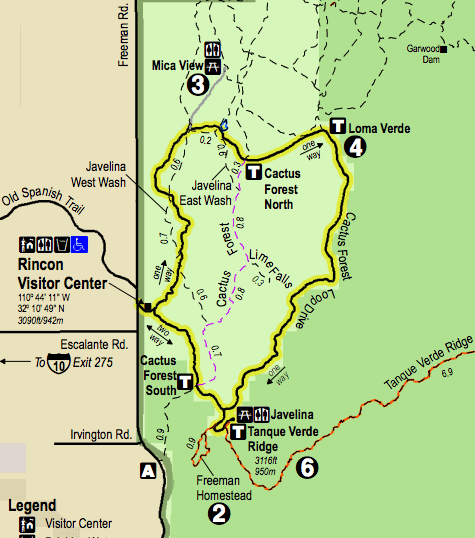 Hike the Freeman Homestead Trail (1 mile) – Don't expect to find a house when you get to the end of the trail….there isn't one! The trail does have a few interpretative signs along the route and has really neat views of a cliff side. On the return trek, you'll be walking in a wash basin–we were hoping to see a javelina but didn't get lucky – maybe you will!
Go backpacking and stay at a wilderness campsite – The only campsites in the park are wilderness sites (meaning they can only be accessed by backpacking in) and they are all on the East side of the park. More details on camping in Saguaro National Park below.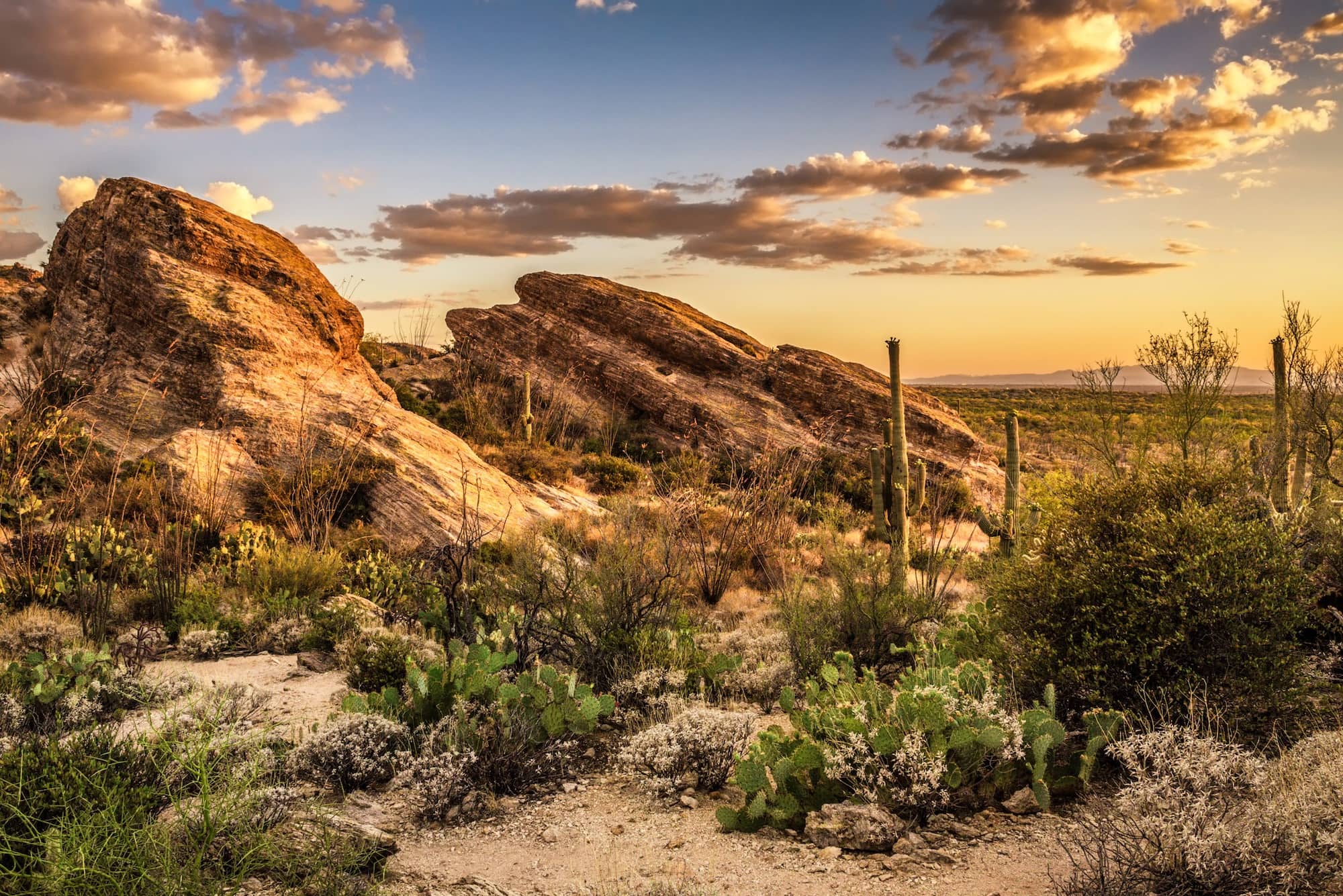 [separator style_type="single" /]
Where to Stay When Visiting Saguaro National Park
There are no established campgrounds for tents, van, or RV camping in Saguaro National Park. There are options for backcountry camping by permit listed below. There are 6 wilderness campgrounds for interested backpackers:

Permits may be obtained up to 2 months in advance, but no later than noon on the day of the trip. It is $8/per campsite per night.
If you're thinking of backpacking in Saguaro National Park, here are some helpful tips for backpacking in the desert.
If you're not planning on backpacking, don't worry, there are plenty of accommodation options in nearby Tucson. I'm all about staying like a local when I travel so we booked an Airbnb in Tucson. There are tons of options in all different areas of the city.
Have you been to Saguaro National Park? What are your favorite things to do there? Leave us a comment below.