ULTIMATE GUIDE TO YELLOWSTONE CAMPGROUNDS & LODGING
Yellowstone is a behemoth National Park. There is so much to explore in the park and luckily lodging in Yellowstone is plentiful. Yellowstone has more National Park hotels within park boundaries than any other park, and campsites are plentiful as well. Behind Yosemite National Park, Yellowstone is routinely the second-most popular national park for camping. Now you are probably thinking, "plan ahead…" And yes, while planning ahead is important in helping you maximize a Yellowstone National Park vacation, if you are planning a last minute get-a-way you might still be able to snag a first-come, first-serve camping spot or hotel room. Last month, I did just that. Using Yellowstone's online tools, which we'll talk about in this blog post, I was able to get a last minute campsite with my Sprinter Van with zero ahead planning.
In this blog post, we've put together a guide to help you find campsites in Yellowstone National Park, as well as other lodging options.  If you can't get a spot in the park, you'll find some helpful tips for lodging outside the park as well.
Choosing a Yellowstone Campground
Yellowstone has 12 campgrounds, 5 of which offer reservable sites. The 8 remaining sites run on a first come, first serve basis. Yellowstone National park has a great printable map that marks all the lodging options. This table below shows the fees and dates that each campground is open.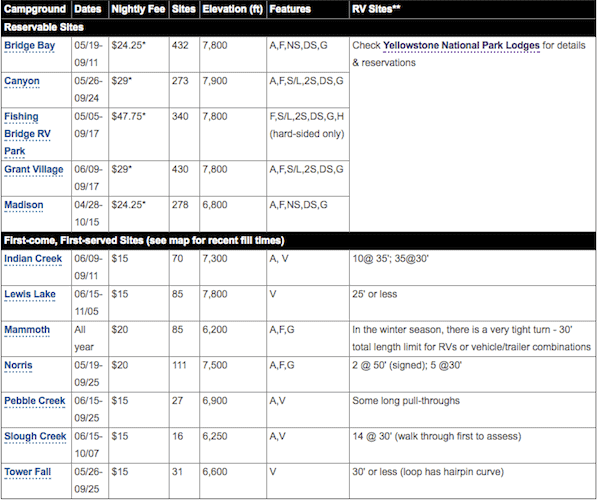 When choosing your Yellowstone campsite, start by figuring out what Yellowstone sights you want to check out. I would plan to stay at 2-3 campgrounds for 1-2 nights each depending on how long you want to be in the park and how much you want to see. The park is huge and spreading your stay out at 2 different campsites will minimize your back and forth driving.
The campground prices for tent sites range from $15-$29.
In busy summer months, plan on arriving to your desired campsite early.
As you'll see on the availability calendar we talk about below, many of the campsites are full by 8am.
The largest Yellowstone Campgrounds are Grant Village (430 sites) and Bridge Bay (432 sites), both of which can be reserved online.  Canyon, Madison and Fishing Bridge RV Park all have over 200+ sites and can also be reserved online. Reservations open for the season on May 1st and can sell out months in advance. So if you want peace of mind and to have a guaranteed spot, plan accordingly.
Camping is limited to 14 days from July 1st to the first weekend in September so don't get too crazy in your itinerary length.
Important Factors to Consider About The Campgrounds
The only tent campgrounds with pay showers/laundry on site: Canyon & Grant Village.
Note that these campgrounds only have vault toilets: Indian Creek, Lewis Lake, Pebble Creek, Slough Creek, and Tower Fall.
These campgrounds allow generators from 8am-8pm: Norris, Mammoth, Bridge Bay, Canyon, Grant Village and Madison.
Fishing Bridge RV campground is only for hard-sided RV's; there is no tent camping there.
Mammoth Campground is the ONLY campground open year-round.
During Ryan and I's 3-night visit in August, we stayed at a small campground called Indian Creek between Norris Geyser Basin and Mammoth Hot Springs. The first day we hiked to the top of Bunsen Peak and Osprey Falls and checked out Mammoth Hot Springs, day 2 we hiked Mount Washburn and drove out to Lamar Valley for sunset wildlife viewing, and on the third day we checked out and hit up all of the geysers in the southwest region of Yellowstone.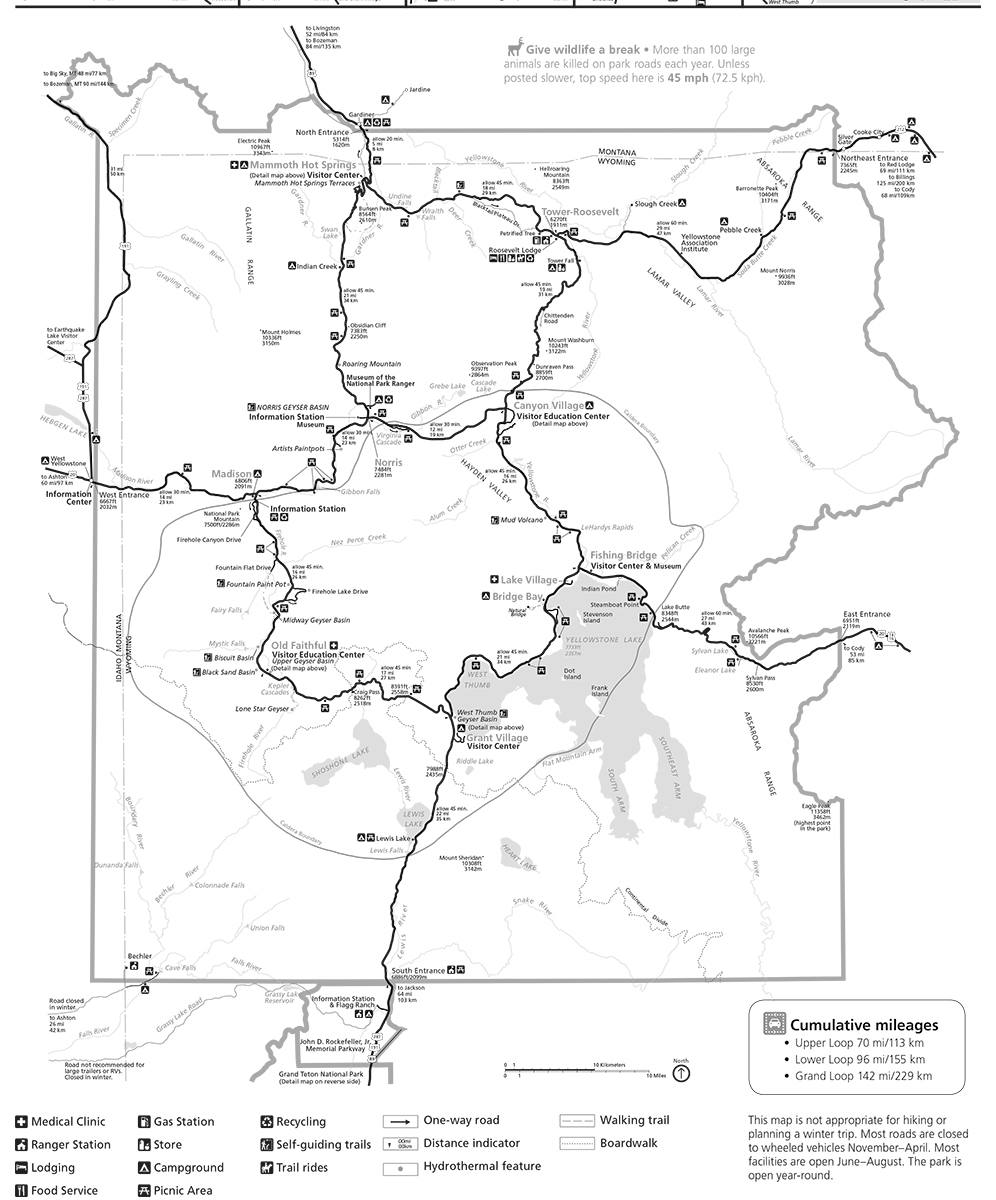 First-Come, First-Serve Campsite Availability
The first website you need to go to if you are trying to find a first-come, first-serve campsite in Yellowstone is their live-time website that provides updates on campground availability.  It tells you:
1) Which campgrounds are open or closed. 
2) The time that the campground was filled to 100% capacity the day before.
3) If the campground still has availability currently or what time it was filled that day.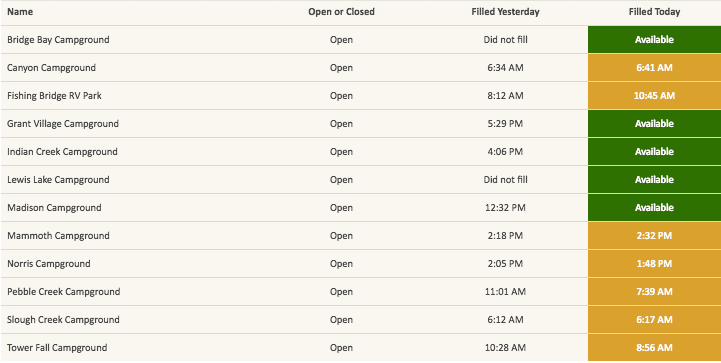 Keep in mind while within Yellowstone National Park you won't always pick up cell service or find wifi readily available to check lodging updates.  In fact, we didn't have any service anywhere between the West Yellowstone entrance and Mammoth Hot Springs. It was also sparse on the east and south ends of the park. So I suggest checking this website before you enter the park and make a plan of action for where you want to head. All of the visitor centers also post this information.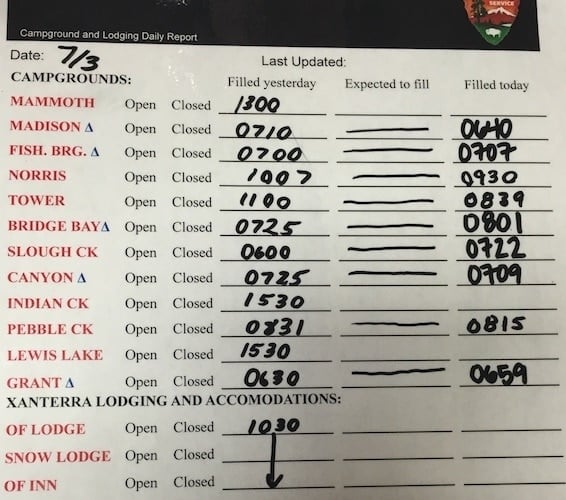 Other Yellowstone Lodging Options
Not into camping? There are 9 various options scattered around the park for staying indoors. You will pay a pretty penny for staying within the park, but if you're an early morning person, it is worth it just to get outside and beat the morning Yellowstone crowds. Prices range from roughly $100-$500+; there are numerous options to fit all types of budgets and needs. If you do want to spend a night indoors make sure to book early but you can find last minute cancellations just like with the campgrounds. Also, consider booking dinner reservations when booking your lodging as the restaurants also can fill up.
Speaking of reservations and availability—the National Park also hosts a live-time website to showcase the availability of indoor lodging options:

Important Notes to Consider About Yellowstone Lodging
Old Faithful Snow Lodge & Cabins are the only indoor lodging options open year-round.

Roosevelt Lodge & Cabins are the earliest to close at the end of the summer season. They are only open early June to early September.
None of the lodging options in Yellowstone have televisions. We only say this to remind you that you are staying in a lodge in a National Park. Expect it to be a little rustic!
And don't get too caught about trying to figure out which lodge/cabins are the best. They are all run by the same park concessionaire, Xanterra. The amenities from one lodge to another only differ slightly. Again, same advice as selecting campgrounds–focus on the area of the park you want to stay for the night.
It is worth checking out a few of the lodges during your Yellowstone adventure if just for a pit-stop, as some of them are National Historic Landmarks. Here are our favorites for scoping out:
Lake Yellowstone Hotel has a beautiful sun room that overlooks Yellowstone Lake with numerous comfy couches and chairs available to take in the view. Outside you'll often find vintage Yellowstone touring cars. The hotel is among the nicest in the park and features a large bar, which makes for a great place to grab a cocktail and take a little break from touring.
Don't miss the famous map room at the Mammoth Hot Springs Hotel. It features a map of the United States built from various types of wood.
Old Faithful Inn is a must visit; it is one of the most historic and famous hotels in the entire National Park system. You can't miss its grand presence behind Old Faithful. The Inn is the largest log hotel in the entire world. They offer FREE tours daily when the hotel is open, call or check online for tour times. Insider Tip: There is a great little coffee stand tucked away upstairs and there is also a bake shop in the hotel if you are craving a sweet treat.
Staying Outside Yellowstone Park
There are some unique towns just outside some of the Yellowstone entrances that offer a broad range of competitive lodging options–both campgrounds and hotels. Just keep in mind, you might encounter long lines every day going to and from the park. West Yellowstone is probably the most famous town for staying outside the park. And yes, based on its name, it is just outside the West entrance of the park. Gardiner is just outside the North entrance and is an option if you are visiting the Lamar Valley area and Mammoth Hot Springs. Rates are competitive, and hotels can book up early. Don't forget AirBnB, which has some fun rental by owner options just outside the park. If you are new to Airbnb and sign up with this link, you'll get $40 off your first stay.
Just one insider tip: The farther you travel from the park, the cheaper lodging will get.
If you are looking for camping options outside of Yellowstone, check out my favorite tools in my Ultimate Guide to Finding Free Camping.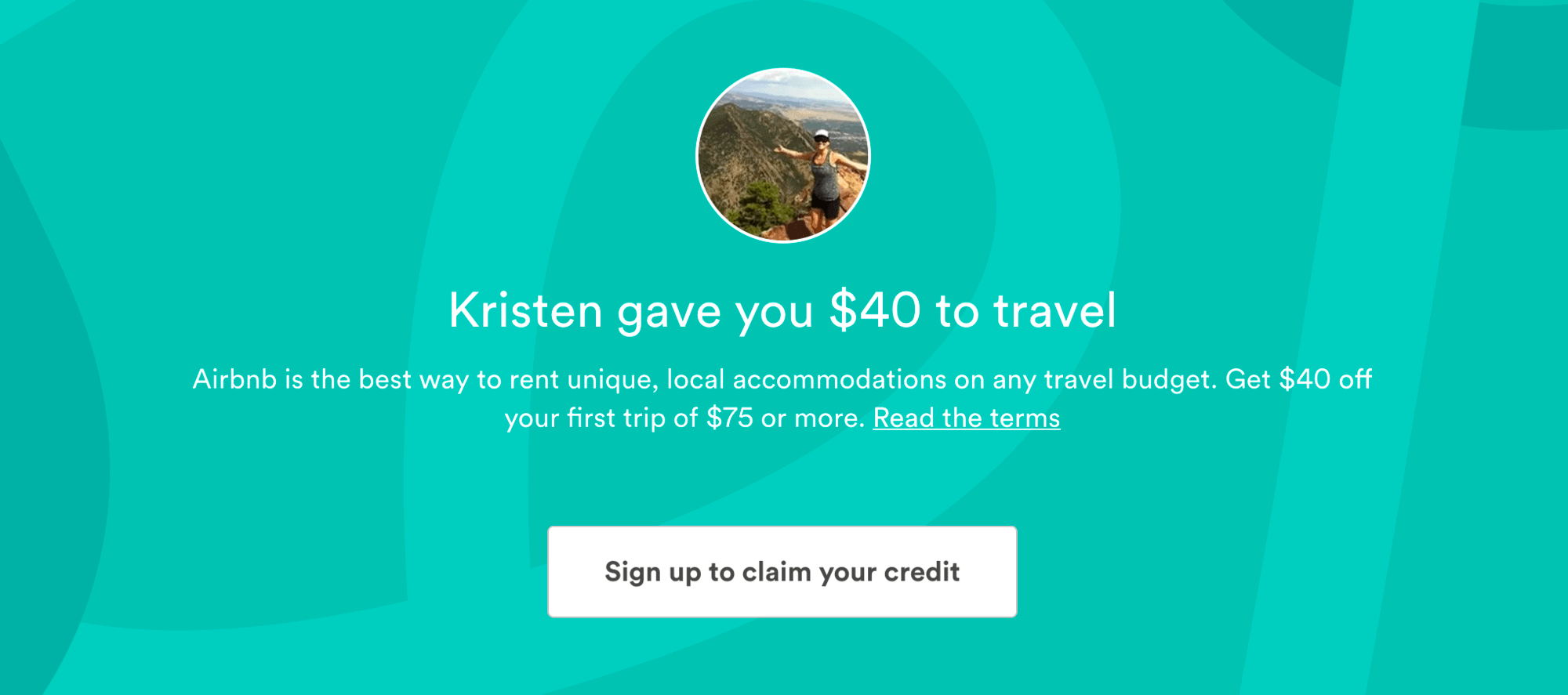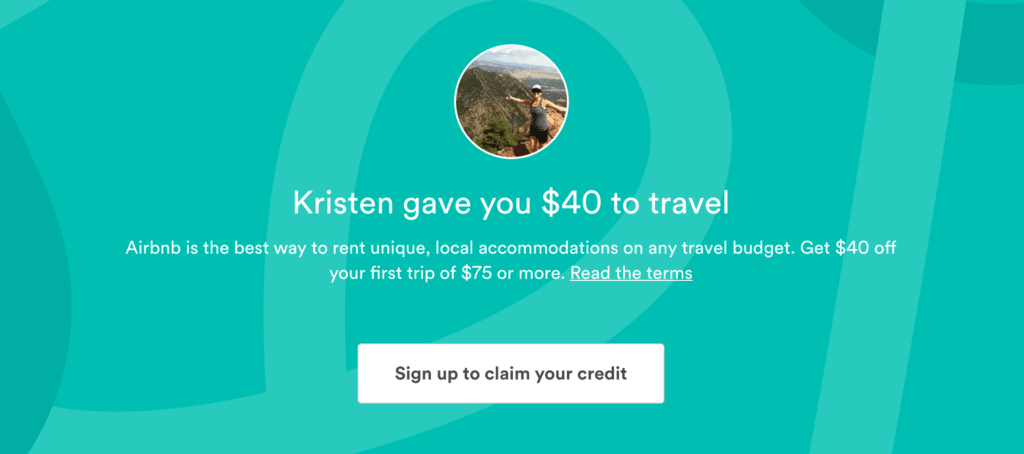 My Favorite Yellowstone National Park Resources
These were the books and the map that we took with us on our trip and found them all to be extremely useful for on the spot planning. 
We hope this Yellowstone Campground and Lodging guide helps you get ready for an epic road trip in one of our nation's most unique National Parks.
WHERE ARE YOUR FAVORITE PLACES TO STAY IN YELLOWSTONE? GOT QUESTIONS? LEAVE A COMMENT BELOW, TWEET ME, OR WRITE ME A POST ON FACEBOOK.