HIKING THE JOHN MUIR TRAIL? HERE'S HOW TO LEAVE NO TRACE
In 2014 I hiked for 22 days on the John Muir Trail and to this day it is still one of the best trips and one of my best life experiences. Beginning in Yosemite National Park and ending at the highest peak in the lower 48, Mount Whitney, the John Muir Trail has everything you could want in a long-distance backpacking trip. Which is why it's important to make sure it stays that way. It's critical all JMT hikers & backpackers know how to Leave No Trace on the John Muir Trail.
Being responsible stewards of the natural places we love is essential when enjoying your time outdoors. The John Muir Trail is well-known and loved for its pristine wilderness and untouched landscapes, so in addition to our many guides on how to hike the John Muir Trail, we've created one more on how to best preserve and protect it.
For many of you this might be your first big backpacking trip, so before you hit the trail, it's important you educate yourself on the best Leave No Trace practices. That means knowing how and why to pack out your used toilet paper, how to store your food, and how to choose a campsite, to name a few examples.
If you're looking for more resources for planning your John Muir Trail hike, start with our 8-step JMT Planning Guide.
Here's your guide for how to Leave No Trace on the John Muir Trail.
What Is Leave No Trace?
If you are new to Leave No Trace or simply need a refresher, Leave No Trace is an organization that encourages outdoor enthusiasts to responsibly enjoy their wild places by following seven core principles:
Plan ahead and prepare
Camp on hard and durable surfaces
Dispose of waste properly
Leave what you find
Minimize campfire impacts
Respect wildlife
Be considerate of other visitors
As their name suggests, the Leave No Trace ideologies is centered on making as little as an impact on the environment as possible. At Bearfoot Theory we are staunch supporters of Leave No Trace and make sure to champion their principles in every trail guide, how-to, and outdoor adventure travel guide provided here.
Why It's Important to Leave No Trace on the John Muir Trail
The John Muir Trail is 221 miles of pristine wilderness within the Sierra Nevadas and boasts some of the most beautiful trails in the country. Thanks to its competitive permit requirements and closely monitored trailheads, the John Muir Trail's entrance is largely protected by the park management service but how it is treated by visitors once they've gained access to the parks is crucial to its existence.
Be diligent about practicing the principles of Leave No Trace on the John Muir Trail, adhering to rules and regulations and overall, being responsible stewards of this iconic place. We want to ensure that we are preserving and protecting the John Muir Trail so future generations can continue to enjoy it in the same way. Okay, let's dive in on how to Leave No Trace on the John Muir Trail.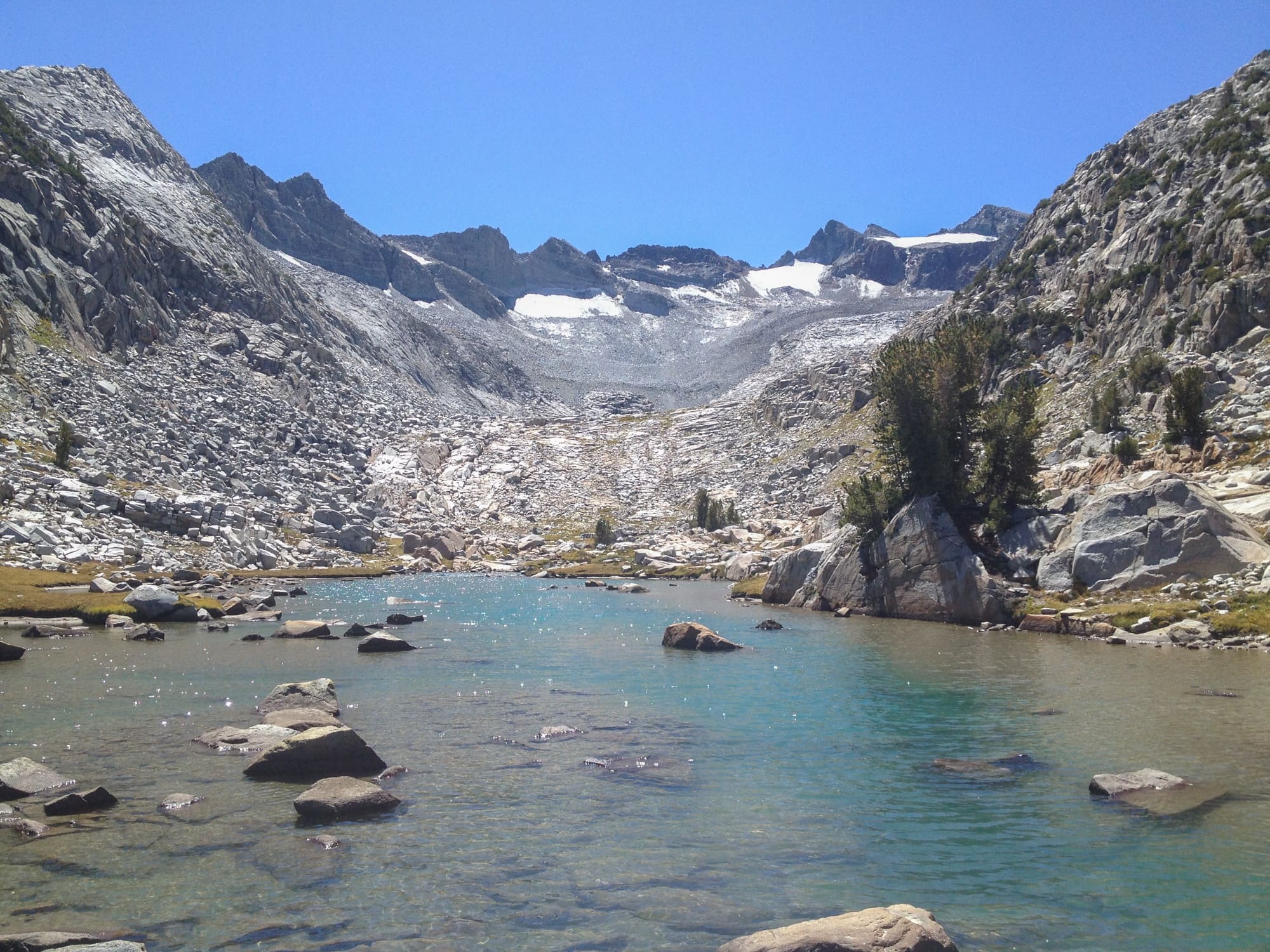 Going to the Bathroom While Hiking the John Muir Trail
Knowing best practices for going to the bathroom is important on the John Muir Trail and every other park or campsite you encounter. We put this as #1 in our Leave No Trace on the John Muir Trail guide because, well, no one wants to stumble on the remains of someone else's poop-covered toilet paper or have to worry about their water sources being contaminated from another hiker's poor choice of where they went to go pee.
Brush up on basic outdoor bathroom etiquette and remember to bring a light trowel to dig your cathole, a Ziploc baggie for used toilet paper, and another a plastic Ziploc baggie for your clean toilet paper and hand sanitizer. In general, make sure you are following the principles of Leave No Trace.
When choosing a spot, this is what you are looking for:
Private and off the trail (but try not to trample sensitive vegetation when looking for your spot)
At least 200 feet from a water source
For #2, deep soil where you can easily dig a cathole, and where there is some sun (the sun hitting the cathole will speed up the decomposition)
Once you are done, fill your cathole back up and put your used toilet paper in a bag that is stored somewhere private in your backpack.
Note: While you are hiking on Mount Whitney you are required to pack out your poop in a wag bag, so hikers need to carry one with them. You can either carry one from the beginning or pack it in your resupply box.
Read more about how to poop outdoors & Leave No Trace
Where to Pitch your Tent on the John Muir Trail
There are FOUR different sections of the John Muir Trail: Yosemite, John Muir Wilderness, Sequoia and Kings Canyon. Each section has its own set of guidelines to follow when making camp. In all areas, you must adhere to the rules of the wilderness permit. You are not allowed to have more than 15 people at a campsite, and always camp in an existing campsite on a durable surface. If you're ever unsure refer to the Leave No Trace guidelines on how to choose a campsite.
Sequoia and Kings Canyon Campsite Regulations for the John Muir Trail
Standard Leave No Trace regulations recommend selecting a campsite at least 200 feet away from the water. Sequoia and Kings Canyon National Park regulations recommend staying 100 feet away but legally require your campsite be 25 feet away from the water. Around the Rae Lakes area, for example, there are several established campsites that are 25 feet from the water. The National Park would prefer you camp there at the established sites near the water than walk 100 feet off trail and create a brand new campsite. There's a saying: Good campsites are found, not made.  The park's Wilderness Trip Planner provides a detailed overview of what is legally allowed and prohibited when selecting a campsite.
Never camp on vegetation, especially meadows. Camp on bare ground, such as established sites, rock, gravel, or snow. Avoid camping beneath dead trees or overhanging dead branches. "Improvements" such as rock walls, trenches, or bough beds are prohibited. Building new fire rings is strongly discouraged.
Yosemite National Park Campsite Regulations on the John Muir Trail
In Yosemite National Park, campers are required to choose a campsite 100 feet away from the water. There is no camping allowed within four trail miles of Tuolumne Meadows, Yosemite Valley, and Glacier Point, and at least one air mile from any road. The trailheads map (1.5 mb PDF) shows minimum legal camping distances for each trail (beyond the arrows). To read more, go to the Yosemite National Park official website to plan your trip.
John Muir Wilderness Campsite Regulations for the John Muir Trail
When selecting a campsite in the John Muir Wilderness you should follow the guidelines provided by Leave No Trace:
Durable surfaces include established campsites, rock, gravel, dry grasses or snow.
Protect riparian areas by camping at least 200 feet from lakes and streams.
Good campsites are found, not made. Altering a site is not necessary.
In popular areas always make sure to:
Concentrate use on existing trails and campsites.
Walk single file in the middle of the trail, even when wet or muddy.
Keep campsites small. Focus activity in areas where vegetation is absent.
And in pristine areas, it's important to:
Disperse use to prevent the creation of campsites and trails.
Avoid places where impacts are just becoming noticeable.
Also avoid camping directly on the trail. If people have to step over you or walk through your site to continue their hike, then that is not a good place to pitch your tent.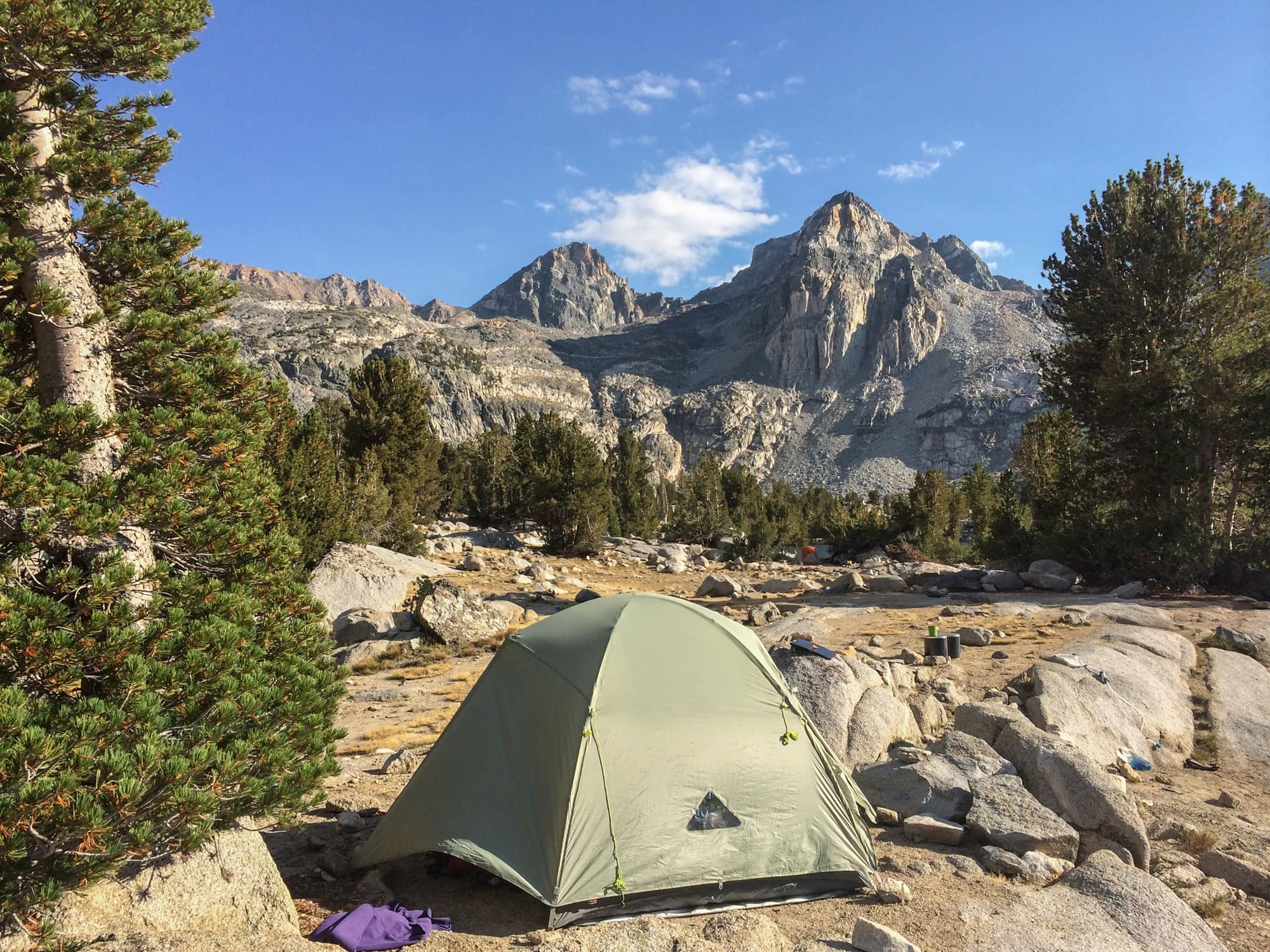 This is an example of a durable, established campsite away from the water in Kings Canyon National Park.
Don't miss the 10 best campsites on the John Muir Trail
Campfire Regulations on the John Muir Trail
You'll have to obtain a campfire permit in order to legally build campfires on the John Muir Trail. However, the website states that "U.S. Forest Service and National Park Service have restrictions that ban campfires, restrict smoking and certain types of stoves along most of the John Muir Trail south of Yosemite, even with a campfire permit.
Here are important campfire rules to Leave No Trace on the John Muir Trail:
When making a campfire it must be below 9,600 feet and in an existing fire ring. Not following these rules could result in devastating fire damage and is not in accordance with Leave No Trace principles, especially if you making fires outside of a fire ring
You can only use stoves that use gas or pressurized liquid fuel. Any other type of stoves are not permitted in the parks or on the trail
Smoking is not allowed on much of the trail and restricted in other places
What you'll find is that there are actually very few places on the John Muir Trail where it's actually legal to have a campfire. During my hike, we were excited for those campsites where it was legal, but once we got there, we were so tired we didn't feel like staying up late to tend to the fire, so we scratched the whole idea.
Read more tips on having a safe campfire that leaves no trace
How to Store and Bearproof your Food on the John Muir Trail
Hikers are required to properly store their food, toiletries, trash, and other scented items in an approved bear canister. Your bear canister should be stored at least 100 feet away from your campsite or as close as possible to that distance. Make sure you don't stash your bear canister near lakes, rivers or cliffs in case a bear or other animal gets a hold of your canister. I always like to wedge my bear canister between rocks or trees if possible. That way it can't roll away.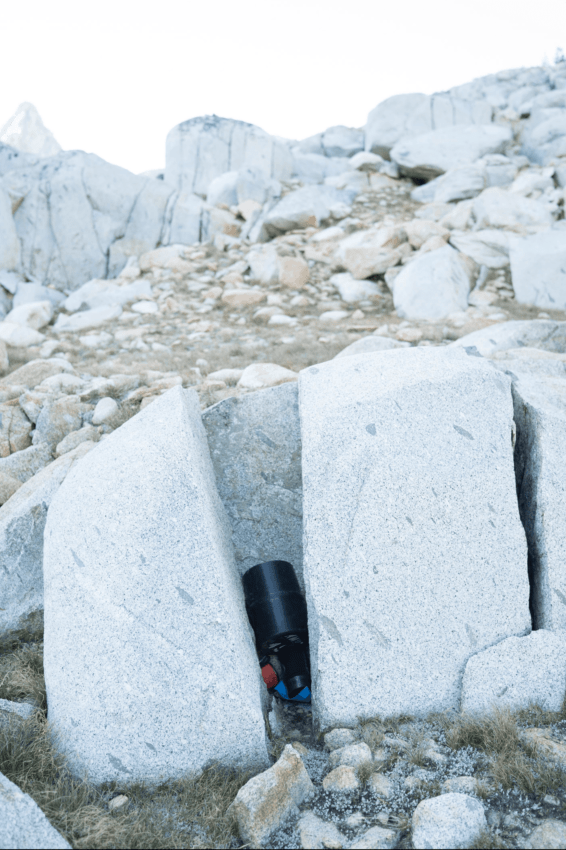 Approved bear canisters for the John Muir Trail are:
Learn more about choosing a bear canister for your backpacking trip.
How to wash dishes and your body on the John Muir Trail
When washing yourself, your cookware, or clothing, it's important to make sure no soap (even biodegradable soap like Dr. Bronner's) gets in the water. Just like you would stay 200 feet away from water sources while peeing in the woods you should also keep all soaps the same distance away from waterways. (This is why I stick to dehydrated backpacking food so I don't have to deal with dishes!)
While biodegradable soap will eventually break down, it still contaminates water and won't break down in liquid as it would in the soil. When I was at Rae Lakes there was a soapy film and bubbles all over the lake from people soaping up in the water.
A good rule to follow is: if you wouldn't drink it, don't put it in the water.
Here's how to responsibly use biodegradable soaps on the John Muir Trail:
Use a washcloth, microfiber towel or rag
Stay 200 feet away from water sources
Dispose of soapy water in a cathole at least 6 inches deep, 200 feet away
Opt for hand sanitizer when possible
As you can see, using soap in the wilderness requires a lot of care. It's easier to just forget about soap and use wipes (that you pack out) instead.
Proper Hiker Etiquette on the John Muir Trail
Being one of many considerate and respectful hikers is paramount to having a great experience on the John Muir Trail. Proper trail etiquette isn't just a handful of unspoken rules that "real hikers and backpackers" know about, it's a combination of common sense and being aware of how your actions can impact other people.
Here are important things to keep in mind on the trail:
Solo hikers should always move out of the way of large groups
Uphill hikers have the right of way
Carry in and carry out all trash — no exceptions
Be friendly and chatty to fellow thru-hikers and let them know if there is anything they should be aware of
Keep your music to yourself
It's not polite to set up your tent right next to someone else, unless you really have no other options. If that's the case, say hello and ask them if they mind. Most people will say "no problem" and appreciate that you were considerate enough to ask.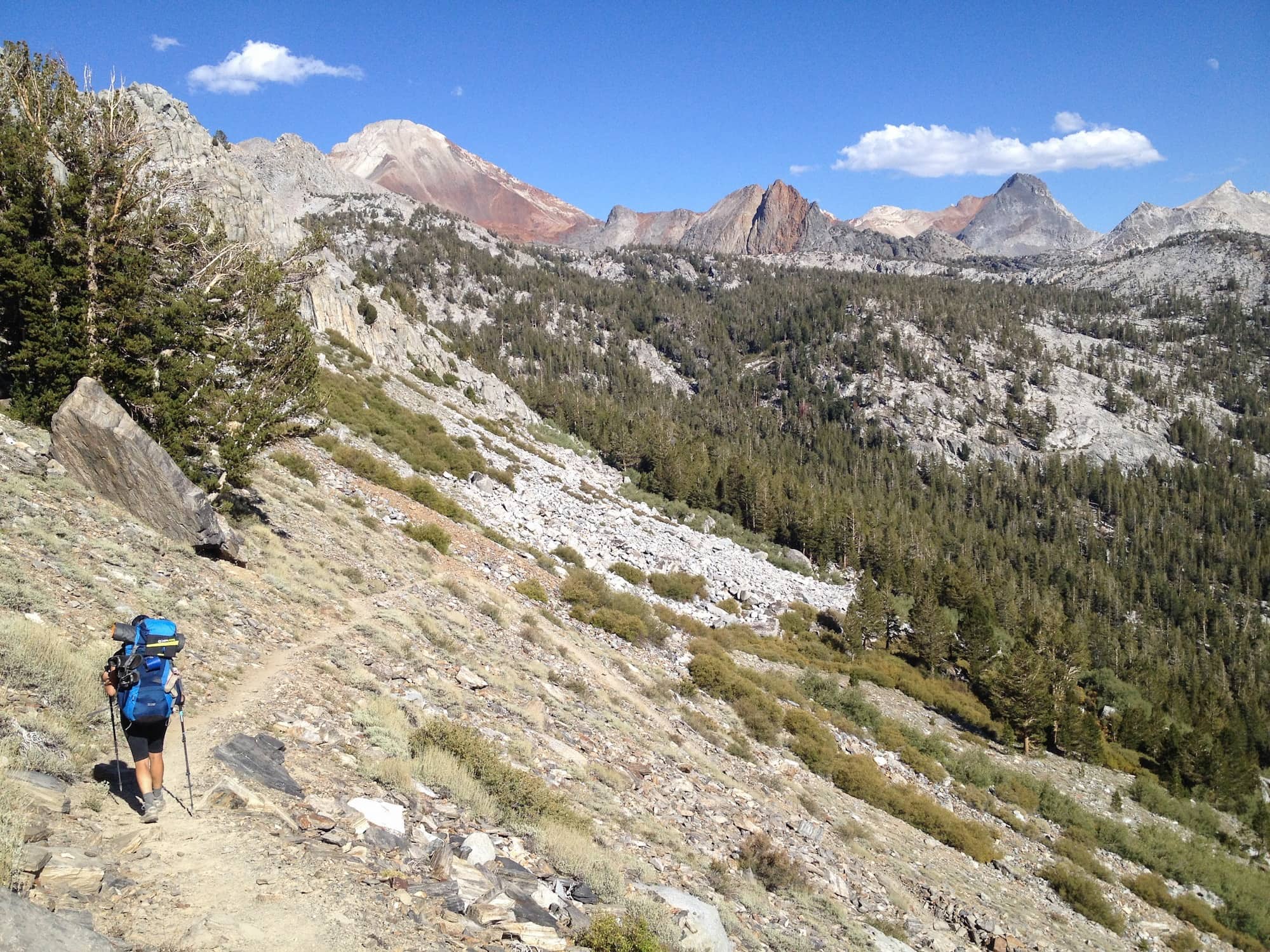 Learn more about proper trail etiquette in this blog post.
Have you hiked the JMT? How did you Leave No Trace on the John Muir Trail? What other recommendations do you have for prospective JMT thru-hikers?