John Muir Trail Food Shopping List
Simplify your John Muir Trail food & meal planning with my complete JMT food shopping list that details what & how much food I brought on my 22 day hike.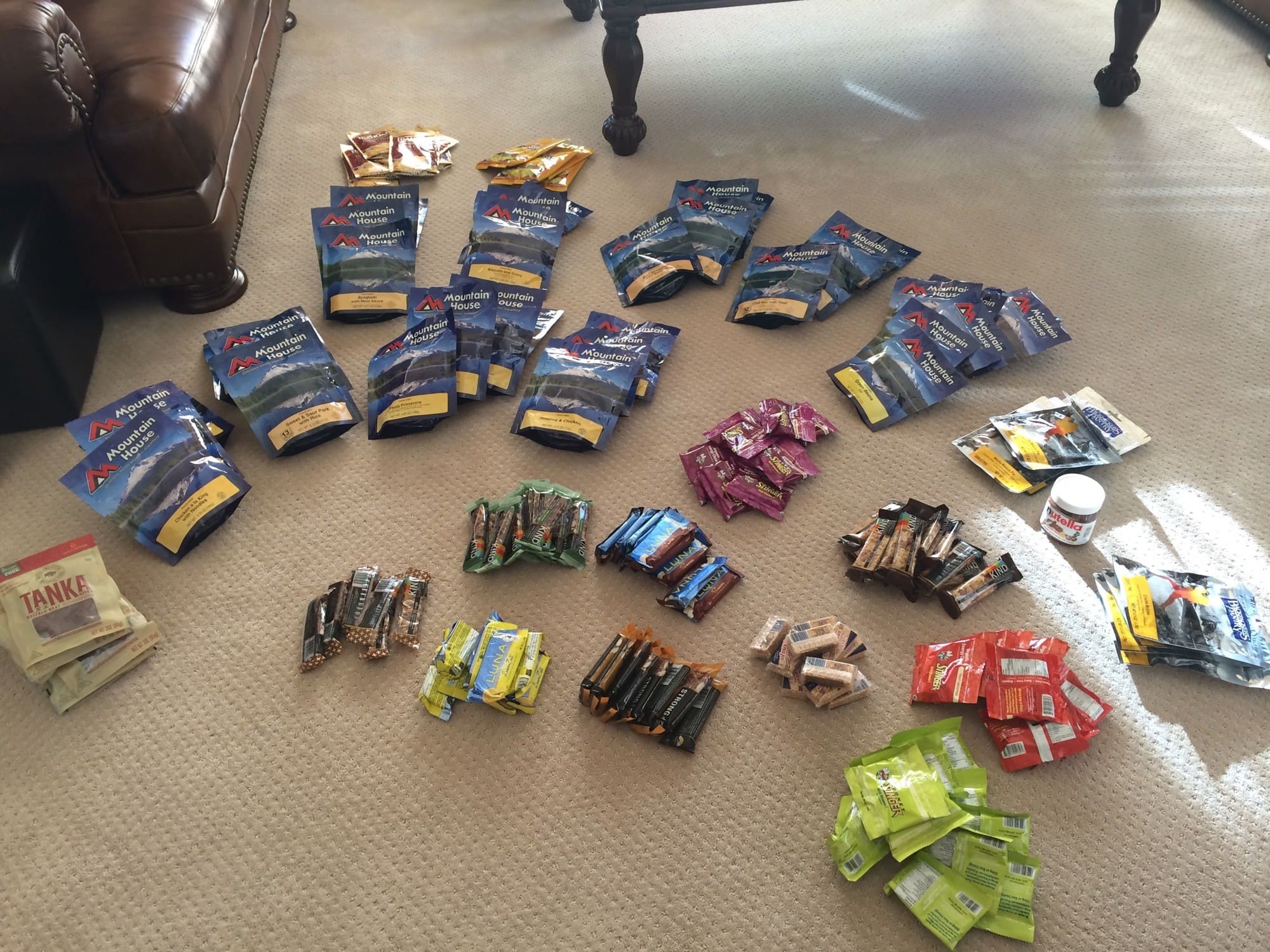 John Muir Trail Food Shopping List
Food shopping for a long-distance hike on the John Muir Trail is one of the most difficult parts of planning. What to buy? How much? How to avoid meals that require a bunch of cleanup? In an earlier post, I shared some of my favorite food items from the trip, but in order to make it even easier for you, in this post I share my complete John Muir Trail food shopping list with quantities.
And as it goes in all of the destinations we share, please practice good trail etiquette and remember to Leave No Trace. This means packing out all of your garbage, being respectful to others on busy trails, and following the established rules. 
This food packing list was for 2 people with average hunger levels. I didn't calculate calories consumed vs calories burned. That seemed like way too much work.  Instead, I tried to pick foods that were high calories for their weight. Then, I planned out how many meals and snacks I thought we would need each day and made piles for each day of the trip. I also chose pre-made food, as opposed to dehydrating my own.
For more info on my planning strategy, make sure to check out my John Muir Trail Resupply Guide. It's got some cool tables to help you plan your resupply boxes, as well as info on all the places you can mail yourself food.
** Read More: John Muir Trail Resupply Planning Guide **
Our breakfasts and lunches were pretty straight forward. For dinners, we usually split a 2-person Mountain House meal, along with something else, like a pack or two of ramen, cous cous, or mashed potatoes, depending on how hungry we were. In addition, on top of the items in my John Muir Trail food shopping list, we were gifted some food in Tuolumne Meadows by some folks who overpacked. This included some Snickers bars and a few other snacks.
Overall I'd say we were mostly satisfied, but we were never really too full after our meals. We probably could've eaten more, but this was all that we could fit in our Bearikade Weekender bear canisters, even after repackaging all of the Mountain House meals in ziplock bags.
The stores I bought food at were Trader Joe's, Amazon.com, and the regular grocery store. Here I break it down so you can walk into each store with a succinct list, shop, swap anything out you don't like, and be done with it. And even better, many of these items can be bought right online (hello Amazon Prime!), saving you multiple trips to multiple stores.
A final note…when shopping for your John Muir Trail food, you need to assess your appetite, realize you are going to be much hungrier out there than you are at home, consider the size of your bear canister, and plan accordingly. This was my JMT food list, which is intended to help you plan, but it may not be the perfect list for you.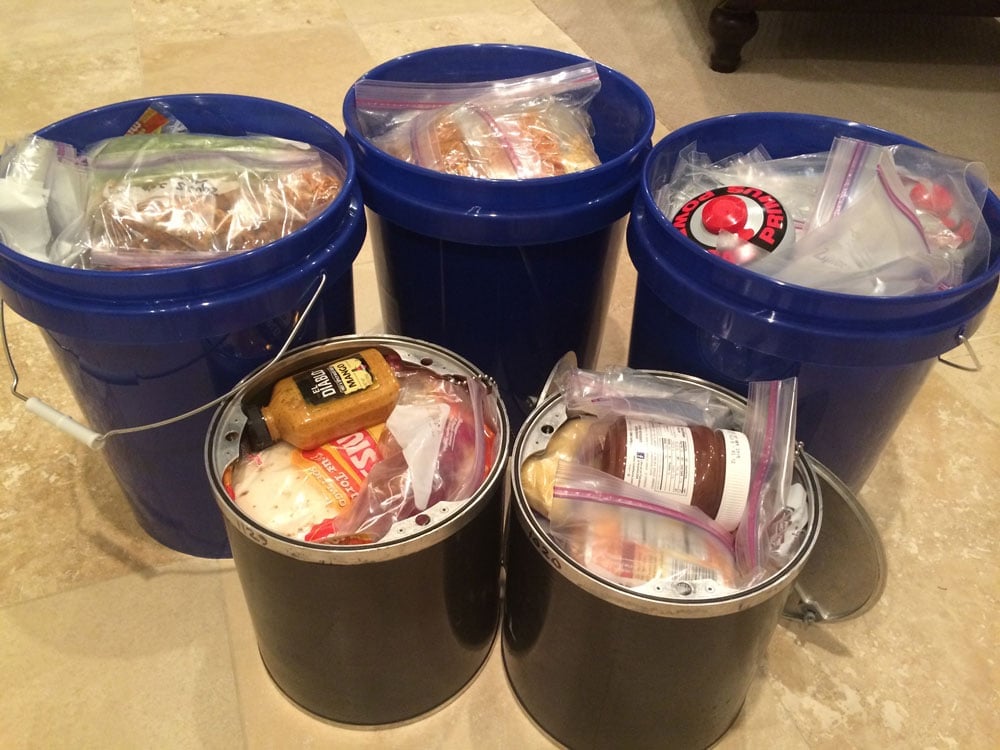 — Amazon —
2 packs of Ova Easy Egg Crystals
4 Mountain House Biscuits and Gravy
20 Luna Bars (Lemon Zest / Smores ) – 20 bars
34 Kind Bars (Almond Coconut / Dark chocolate & Peanut Butter / Dark Chocolate Cherry Cashew)
32 packs of Honey Stingers (Pomegranate / Limeade / Grapefruit)
4 Clif Shot Blocks (Cran-Razz)
11 Packs of Spicy Pepper Tanka Bites
10 packs of Sesame Snaps
26 foil pouches of Starkist Tuna Creations
22 Mountain House Dinners (2 servings packs) (Favorites: Spaghetti with Meat Sauce / Sweet & Sour Pork / Beef Stroganoff / Chili Mac)
11 Packs of Chicken Ramen
4 boxes of Near East Instant Cous Cous
4 Backpackers Pantry Mocha Mousse Pie
4 Backpackers Pantry Creme Brûlée
Maxim Gold Korean Instant Coffee – THE BEST INSTANT COFFEE
— Trader Joe's —
15 packs of Multigrain Triple Berry Oatmeal
1 pack of Cherry Pomegranate Pop Tarts
2 packs of Tart Montgomery Cherries
1 pack of dried Just Mangos
3 packs of Dried Apricots
3 packs of Dried Apples
2 packs of Dried Coconut Sticks
1 pack of Dried Cranberries
2 Sticks of Chianti Red Wine Artisan Salami
2 Sticks of Pinot Grigio White Wine Artisan Salami
4 packs of Omega Trek Mix
1 pack of Candied Walnuts
Sweet and Spicy Pecans
— Regular Grocery Store —
4 packs of Idahoan Four Cheese Mashed Potatoes
 44 Mission Burrito-Sized Flour Tortillas
Sour Patch Kids
Gummy Bears
Mustard/Condiments
Nutella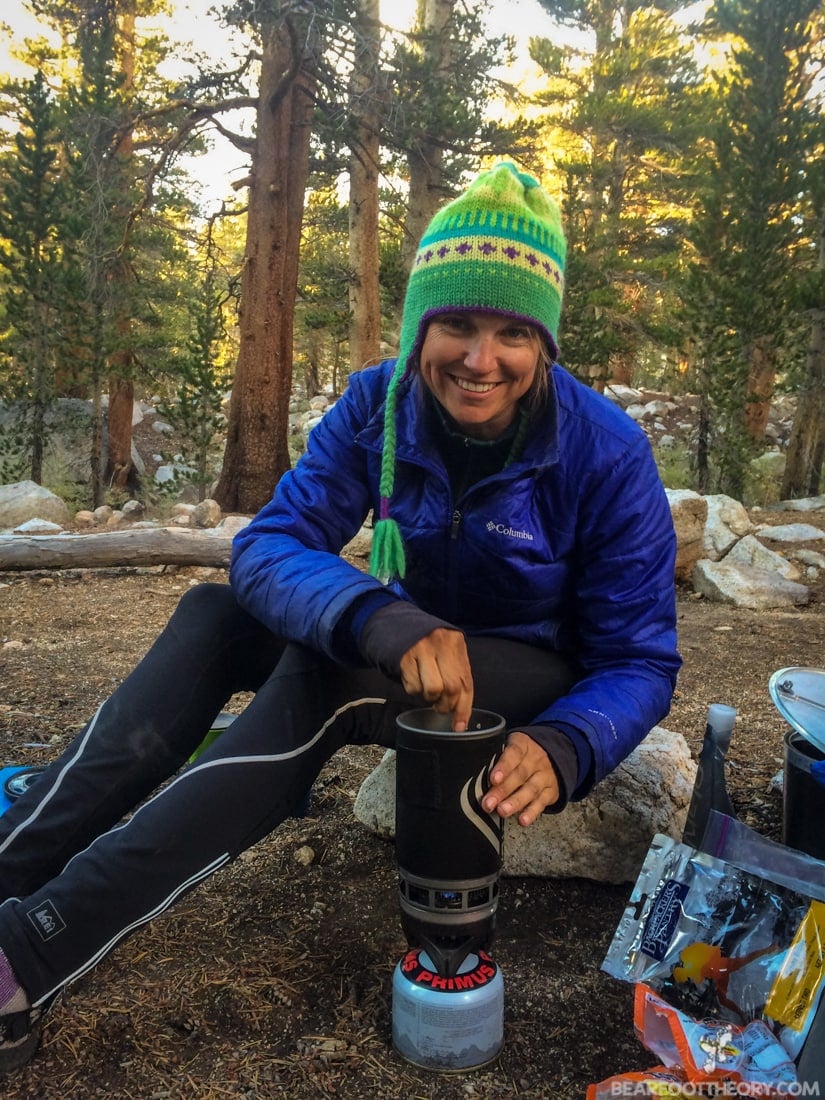 DO YOU HAVE QUESTIONS ABOUT THE JOHN MUIR TRAIL? LEAVE A COMMENT BELOW, TWEET ME, OR FIND ME ON FACEBOOK. 

Some of the links in this post are affiliate links. Any purchases you make help to support this blog at no added cost to you. I only recommend products that I stand behind, and if you ever have any questions about any of the products featured on my site, please email me. Thanks! Kristen