13 Best Nevada Road Trip Stops for Outdoor Adventure
Visit the best and most unique Nevada road trip stops including beautiful state parks, relaxing hot springs, eerie ghost towns, & more.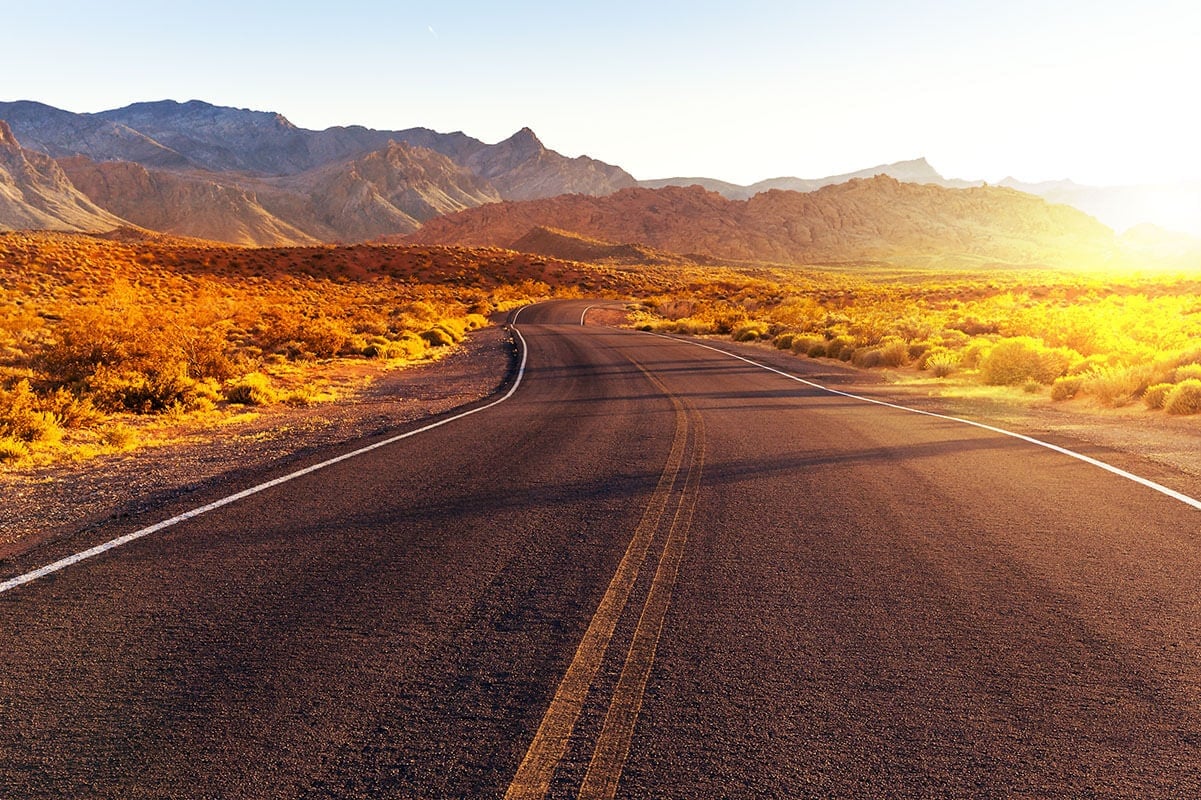 A few years ago, I went on an incredible solo Nevada road trip. I found empty roads, snow-capped mountains, colorful caves, quirky ghost towns, and so many more things to do that I would have never expected. And the best part – no crowds and lots of stress-free open space for camping and hiking.
Give yourself a week in Nevada and you'll have some amazing and unexpected landscapes all to yourself. In this blog post, I share a list of my favorite Nevada road trip stops and things to do for those looking to get away from Vegas and off the beaten path.
Plan your next Nevada road trip with these 13 best road trip stops for outdoor adventure.
Important Reminder: As it goes in all of the destinations we share, please practice good trail etiquette and remember to Leave No Trace. This means packing out all of your garbage (including toilet paper), being respectful to others on busy trails, and following the established rules.
Nevada Road Trip Stops – Mapped
Click on any of the points on the map to locate the best Nevada road trip stops shared in this blog post.
#1 campsite finder app
Try the Dyrt PRO free for 30 days
If you're going to be camping on your road trip, get a FREE 30-day membership to The Dyrt PRO, one of our favorite apps for finding campgrounds (use the code "Bearfoot" if you're signing up on mobile!). You can read reviews, view photos, save your favorite campgrounds, view maps offline, plan a route, and more!
---
Best Nevada Road Trip Stops
1) Cathedral Gorge State Park
On the eastern border of Nevada, less than 30 minutes from Utah, Cathedral Gorge State Park reminds me a little of Bryce Canyon, but without the crowds. With its cathedral-like spires towering over the land (hence the name Cathedral Gorge) and canyon walls layered in different hues of red, you'll want to spend a day walking the trails, exploring the caves, and taking it all in.
Campsites and day-use areas at the park are shaded and include all the amenities you need.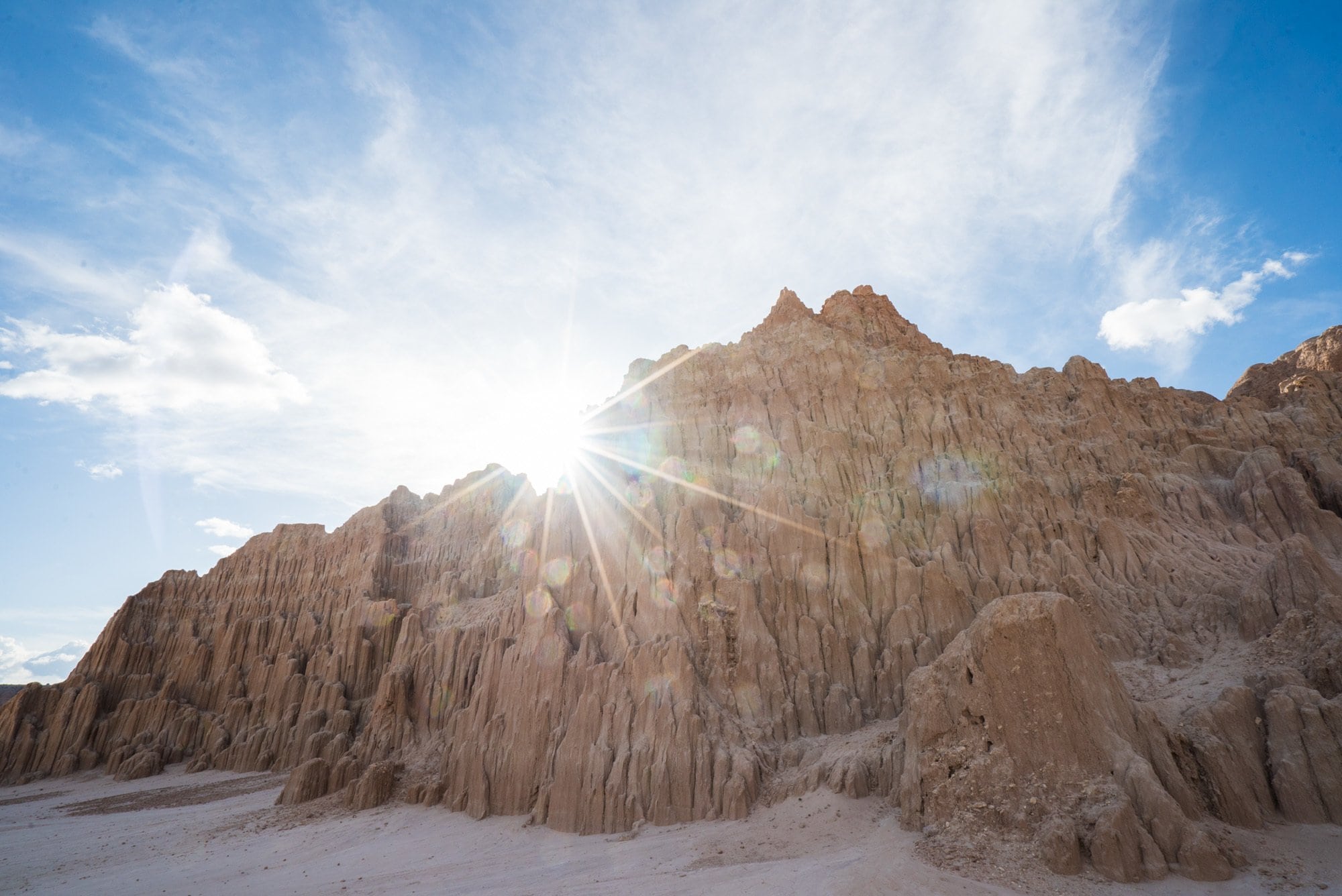 2) Valley of Fire State Park
The bright red Aztec sandstone this park is known for will have you feeling like you're on Mars. Only an hour northeast of Las Vegas, the stunning Valley of Fire State Park is home to petrified trees, 2,000-year-old petroglyphs, and great hiking trails.
Don't miss the Fire Wave Trail which leads to a picturesque rock that folds into a rainbow of reds, oranges, yellows, and pinks.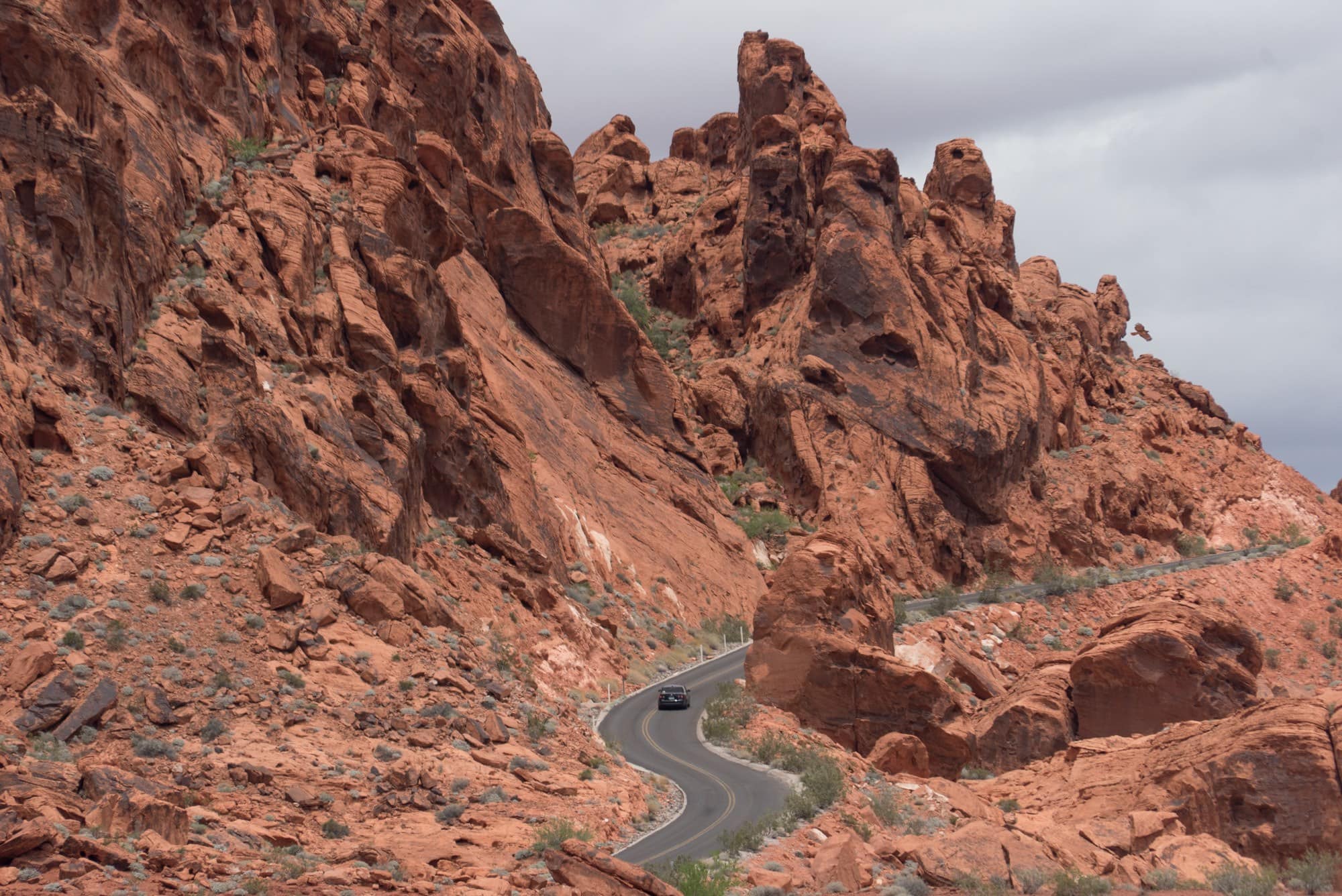 3) Red Rock Canyon National Conservation Area
Less than 30 minutes west of Las Vegas, Red Rock Canyon Conservation Area is a must-hit for climbers as well as hikers with 19 marked hiking trails. Ice Box Canyon is a cool, shady hike through a canyon with seasonal waterfalls. Calico Tanks Trail is one of the most popular hikes in the area and leads to beautiful views after a little bit of scrambling.
There is also a 13-mile scenic drive loop that's nice to explore for those not looking to climb or hike a summit.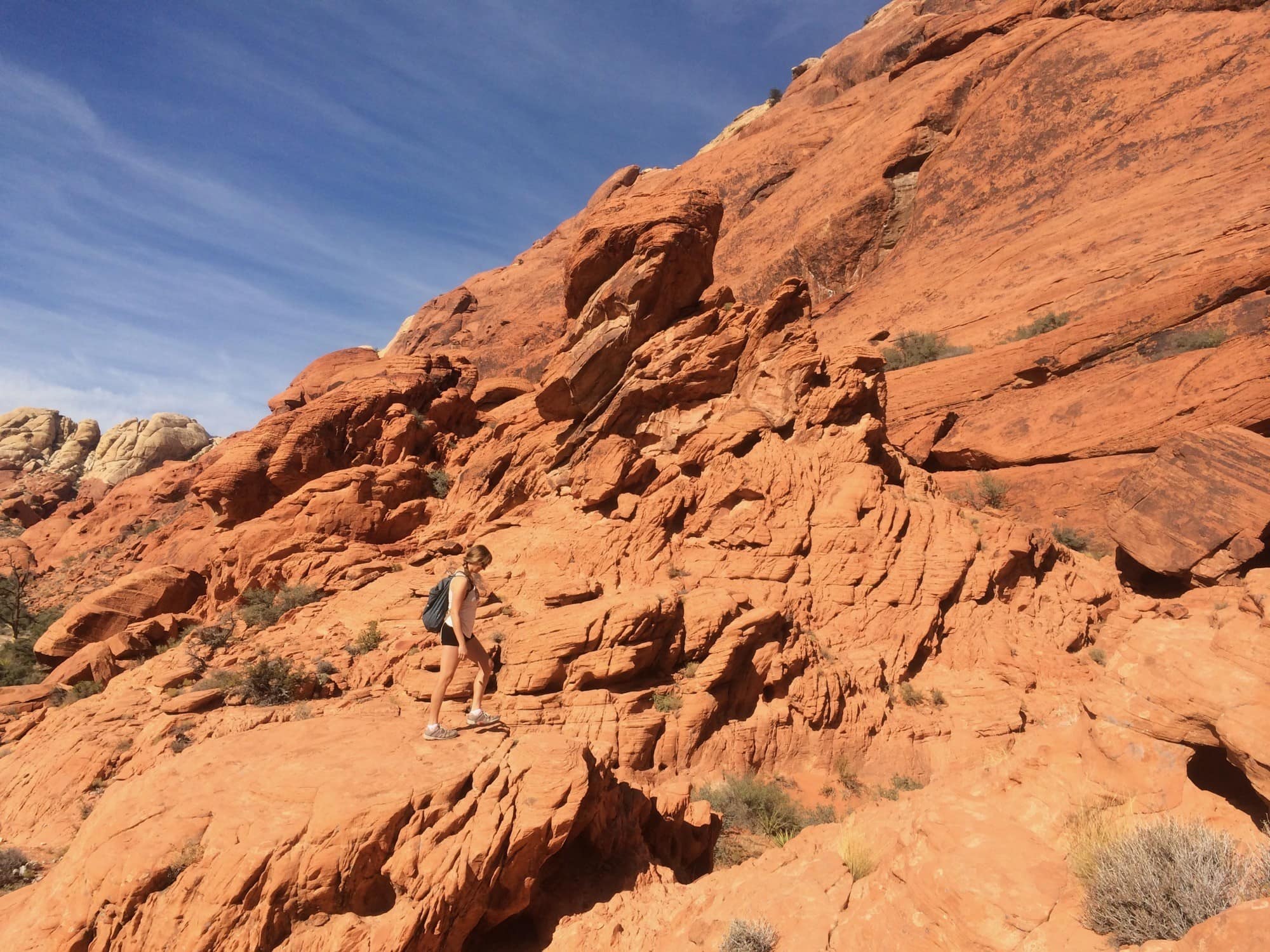 4) Ruby Lake National Wildlife Refuge
In the northeast corner of Nevada, you'll find Ruby Lake National Wildlife Refuge, a key nesting area for waterfowl and a stopover for migratory birds. Not just for bird nerds, the refuge is also home to wildlife like mule deer and pronghorn antelope. It's a beautiful place to stretch your legs, pull out those binos, and practice your nature photography.
This takes some effort to get to on your Nevada road trip since the only way to get to it is via dirt roads. I didn't see a single other car for at least 2 hours, so make sure you have plenty of gas, water, and food in your car.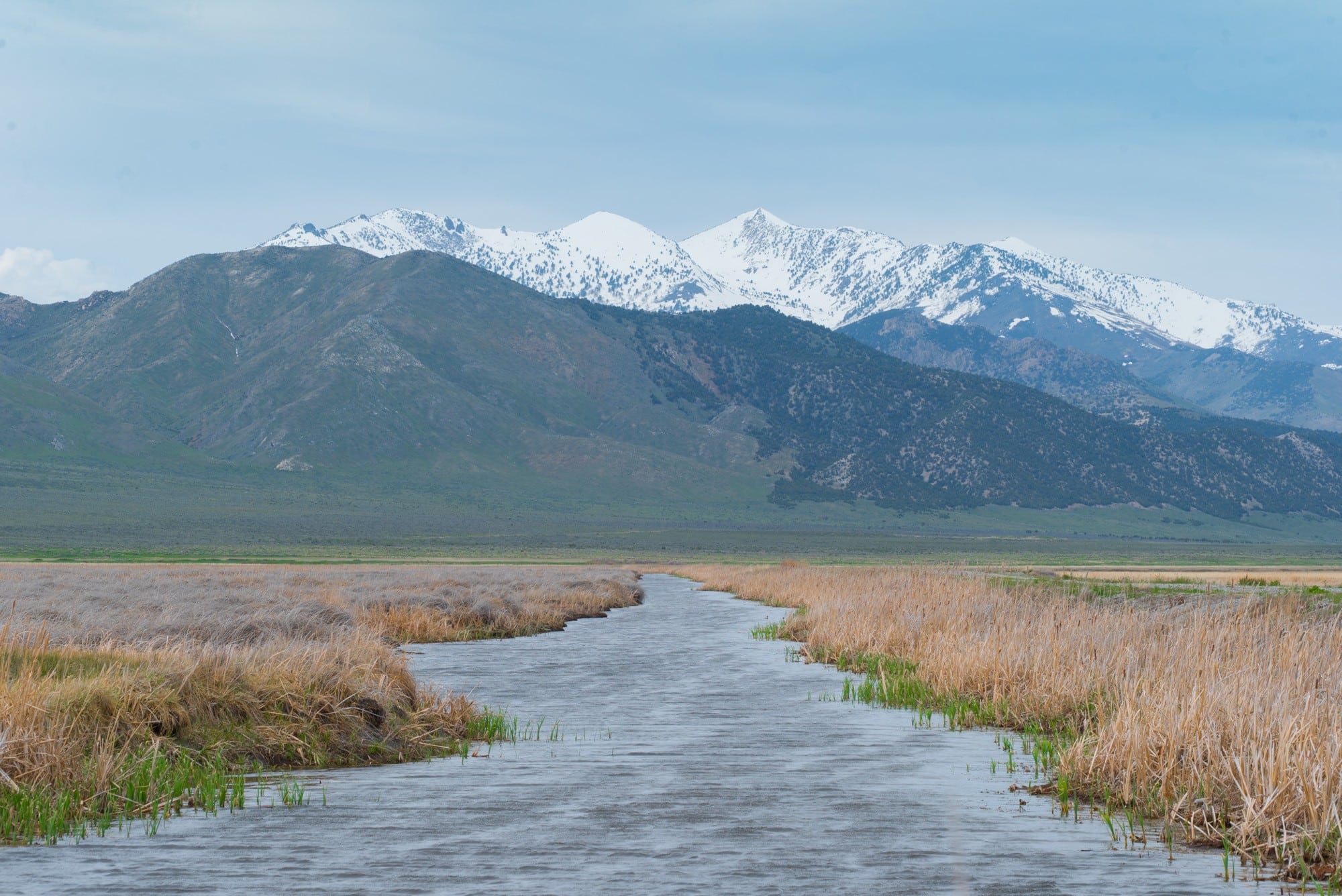 5) The Black Rock Desert
Home to Burning Man, the Black Rock Desert is the largest wilderness area managed by the Bureau of Land Management. That means you can find solitude and camp anywhere you like. Just remember to leave no trace.
Mountain biking is a great way to explore the area by day, and the stargazing at night is incomparable.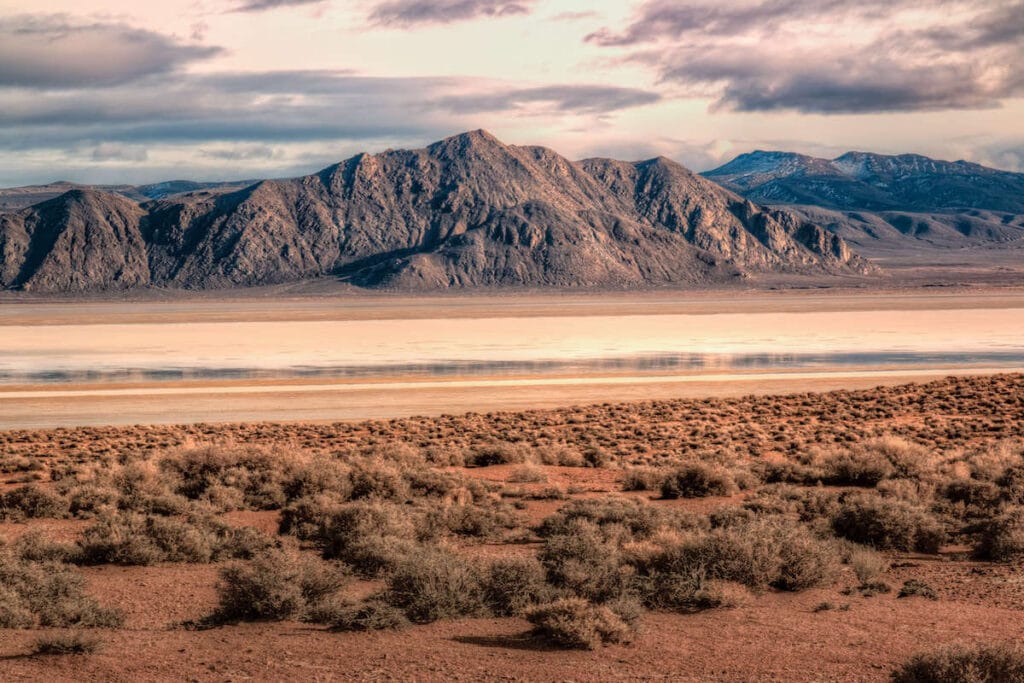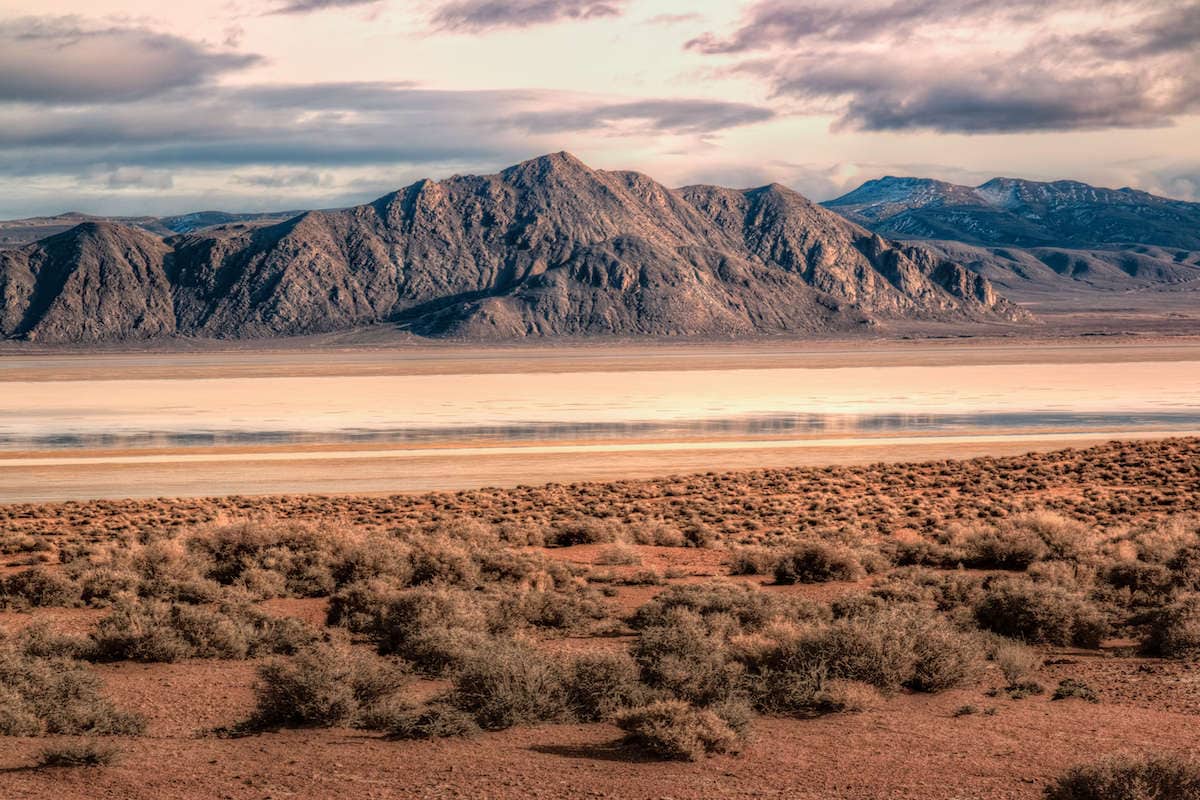 6) Lake Tahoe
On the western border of Nevada and California lies the third deepest lake in North America, Lake Tahoe. While winter is prime time for hitting the snowy peaks at the surrounding ski resorts, in the summer the lake takes center stage.
There are multiple campgrounds nestled under pine trees around the lake which make the perfect place to stop on your Nevada road trip for some hiking, swimming, stand-up paddling, and all-out relaxing.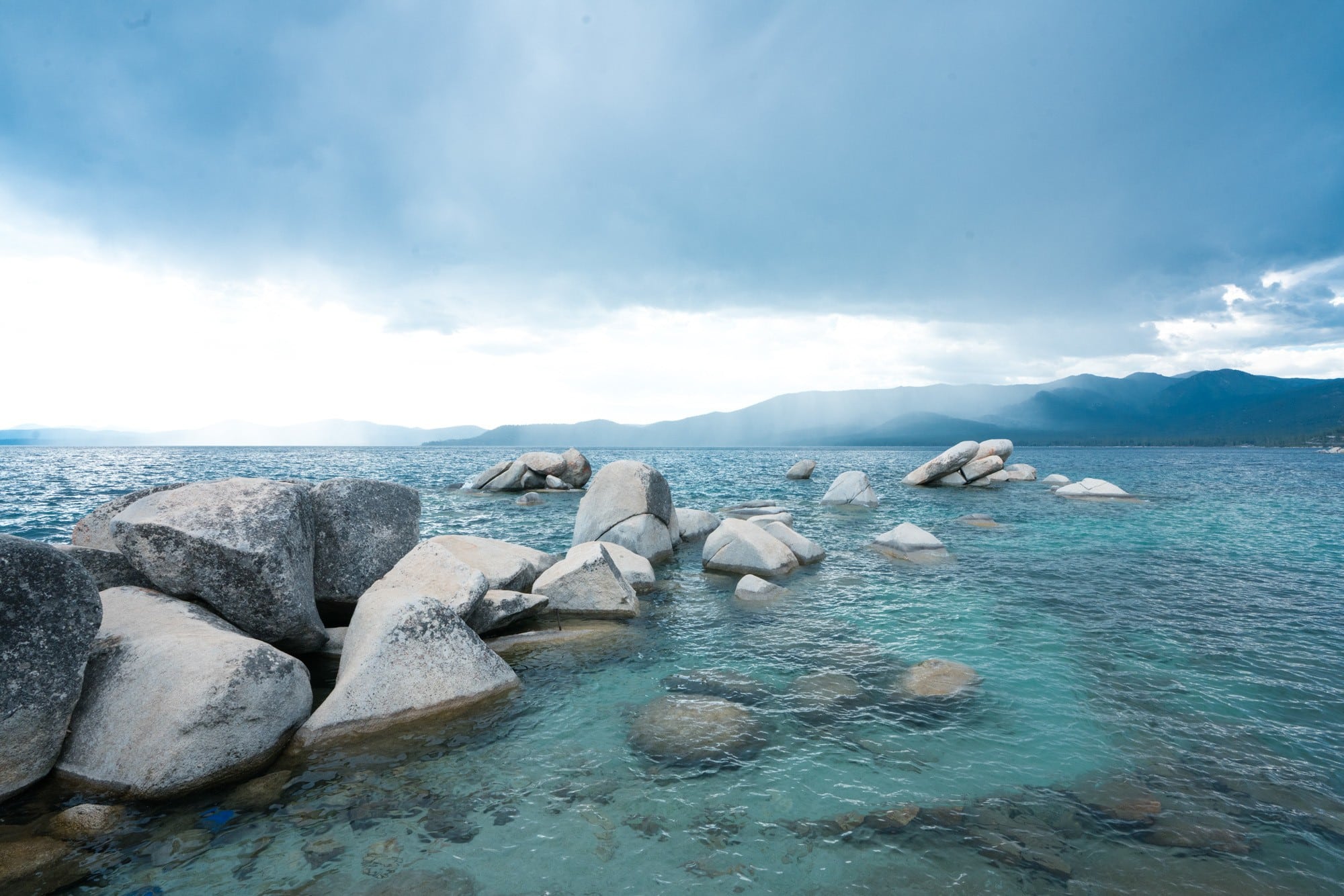 7) Goldwell Open Air Museum
About two hours northwest of Las Vegas and just outside of an interesting ghost town, you will find seven massive art sculptures built onsite by a group of Belgian artists. Set against the spectacular backdrop of the Mojave Desert, this artistic roadside attraction is a sight to see.
This open-air museum is easy to visit too since it's free and open 24/7. Learn more about the Goldwell Open Air Museum here.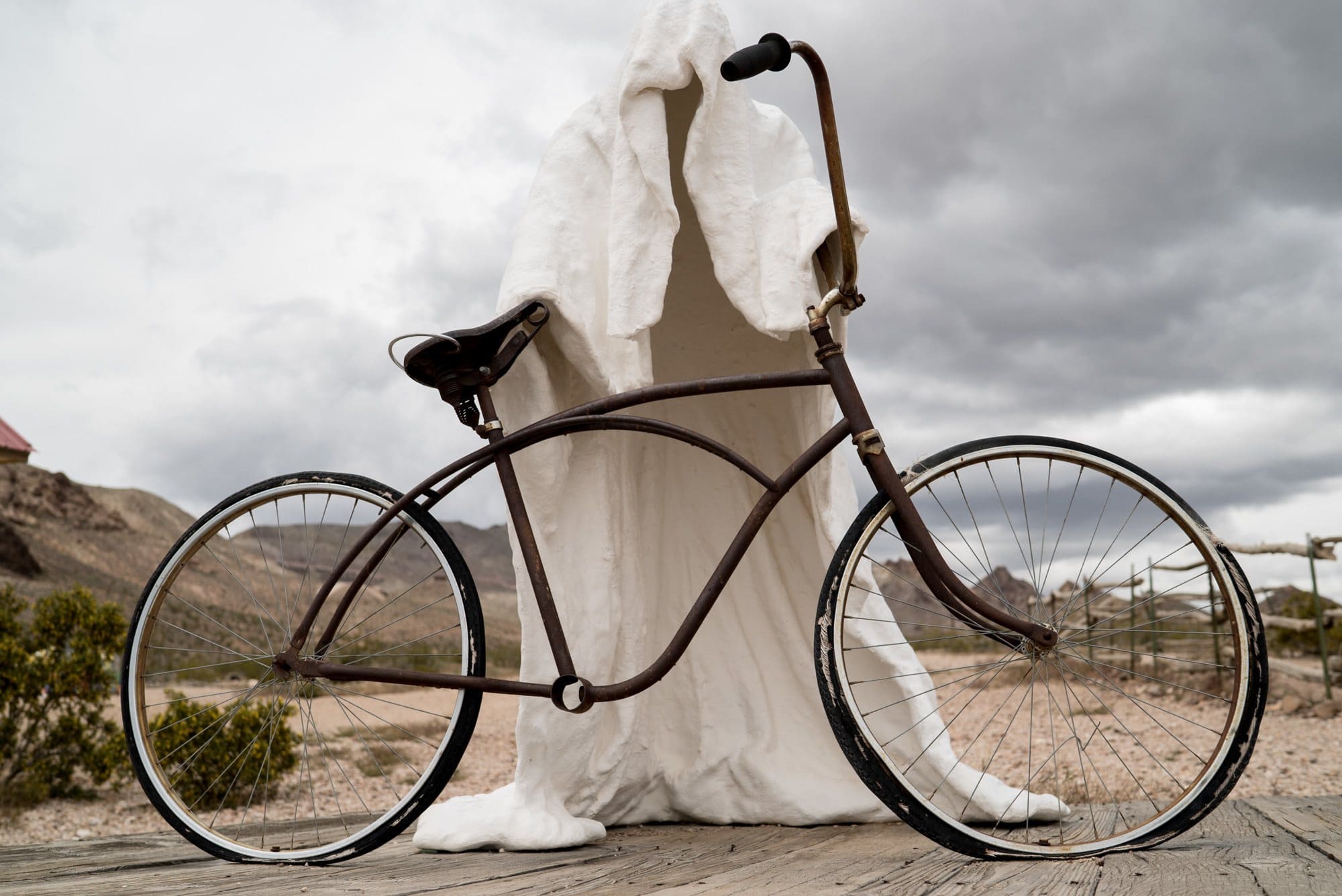 8) Great Basin National Park
Great Basin National Park, located near the eastern border of Nevada & Utah, is incredibly diverse. You can tour the Lehman caves (highly recommended), climb 13,000-foot Wheeler Peak, or explore over 60 miles of hiking trails. As an International Dark Sky Park, this is also a great place for stargazing and practicing your night sky photography.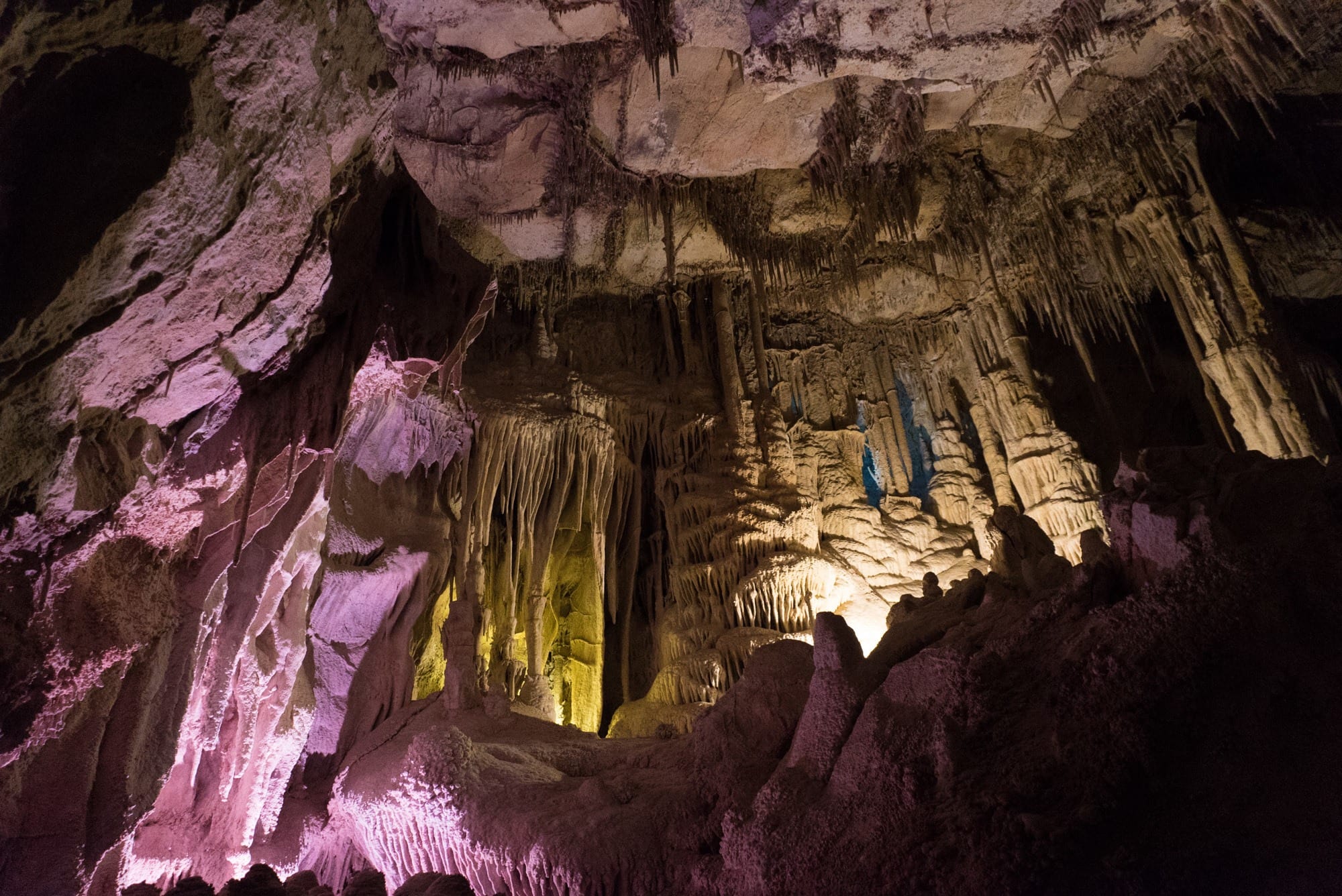 9) The Loneliest Highway
This is the most famous highway to drive on your Nevada road trip. The famed east-west US Route 50 stretches 400 miles through Nevada, connecting Lake Tahoe in the west to Great Basin National Park in the east. Dubbed the Loneliest Highway for a reason, this portion of the highway crosses large desert valleys with few signs of civilization except for a few ghost towns. Enjoy the silence, the expansive blue sky, and the distant mountain views.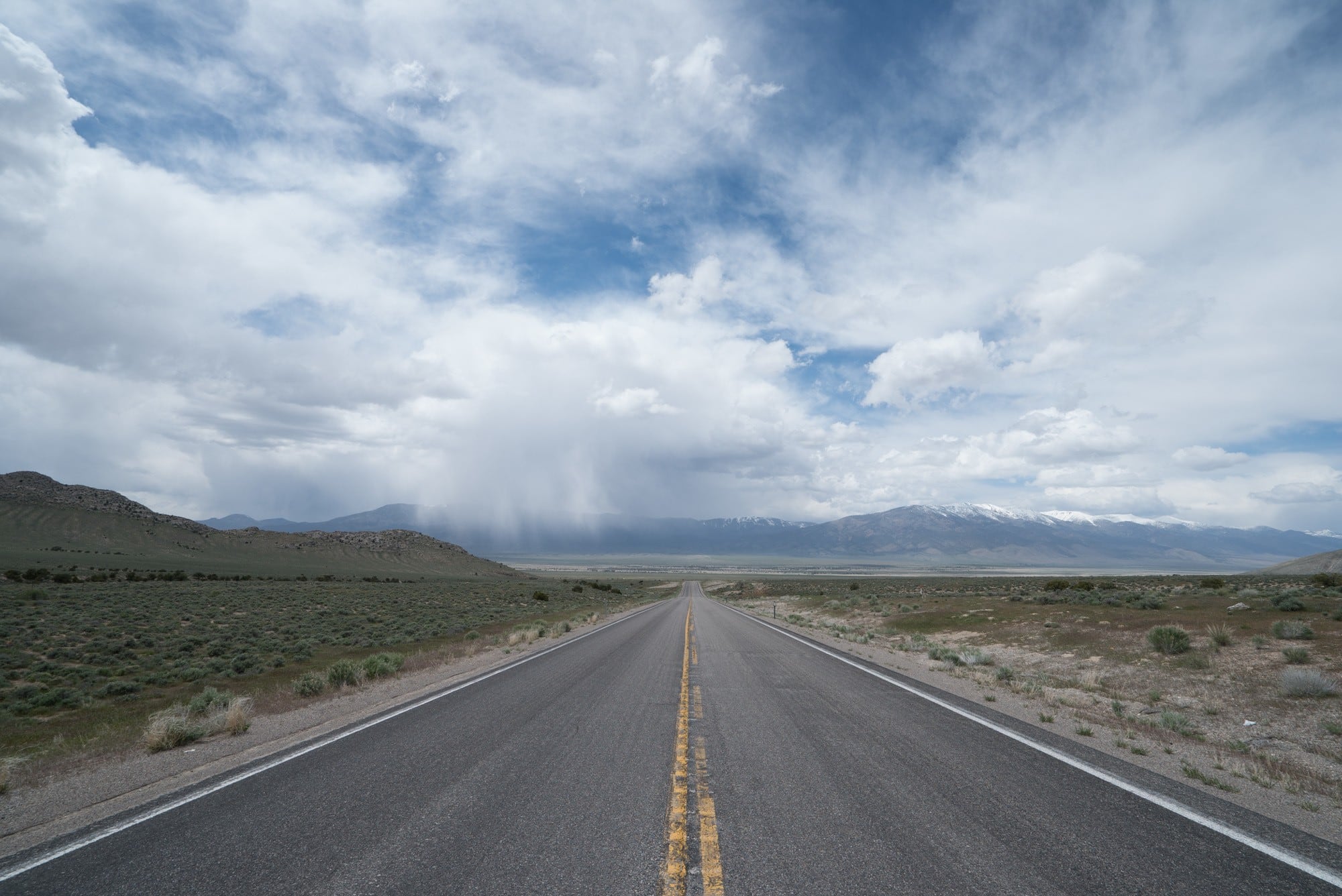 10) Lamoille Canyon
Off of Interstate 80 in the northwest of the state is the "Grand Canyon" of Nevada. Roll down the windows and road trip the beautiful 12-mile scenic byway through Lamoille Canyon for views of the snow-capped Ruby Mountains. Make sure to stop at the Lamoille Glacier Overlook for a stunning view of the glacial valley.
Being the wettest region of Nevada, the nearby Ruby Mountains are a wonderful place for hiking and backpacking with over 100 miles of trails, many of which lead to alpine lakes. Lamoille Lake trail is a great day hiking option while the Lakes Loop in the Ruby Mountains is perfect for a 1-2 night backpacking trip.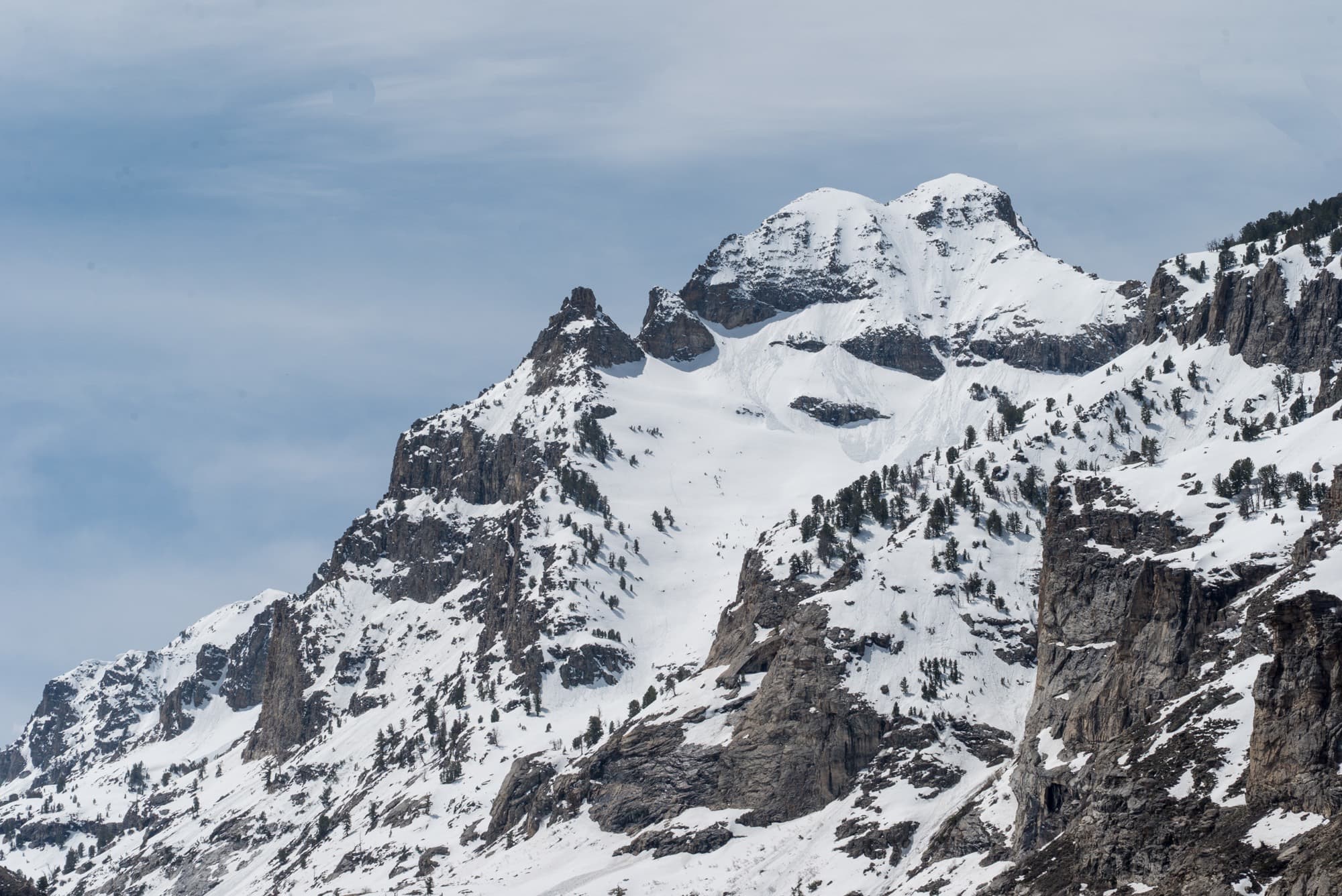 11) Spencer Hot Springs
Located off of "America's Loneliest Highway," these hot springs are easily accessible and consist of a super-steamy metal tub and an in-ground spring. After you are done soaking, spend a night camping here for free or head to nearby Austin, a small historical town with a few cute cafes, antique shops, and hotels where you can shack up for the night.
**Note: People go nude here, so be ready for that. Also, please don't litter, and remember to follow Leave No Trace principles and hot springs etiquette during your visit.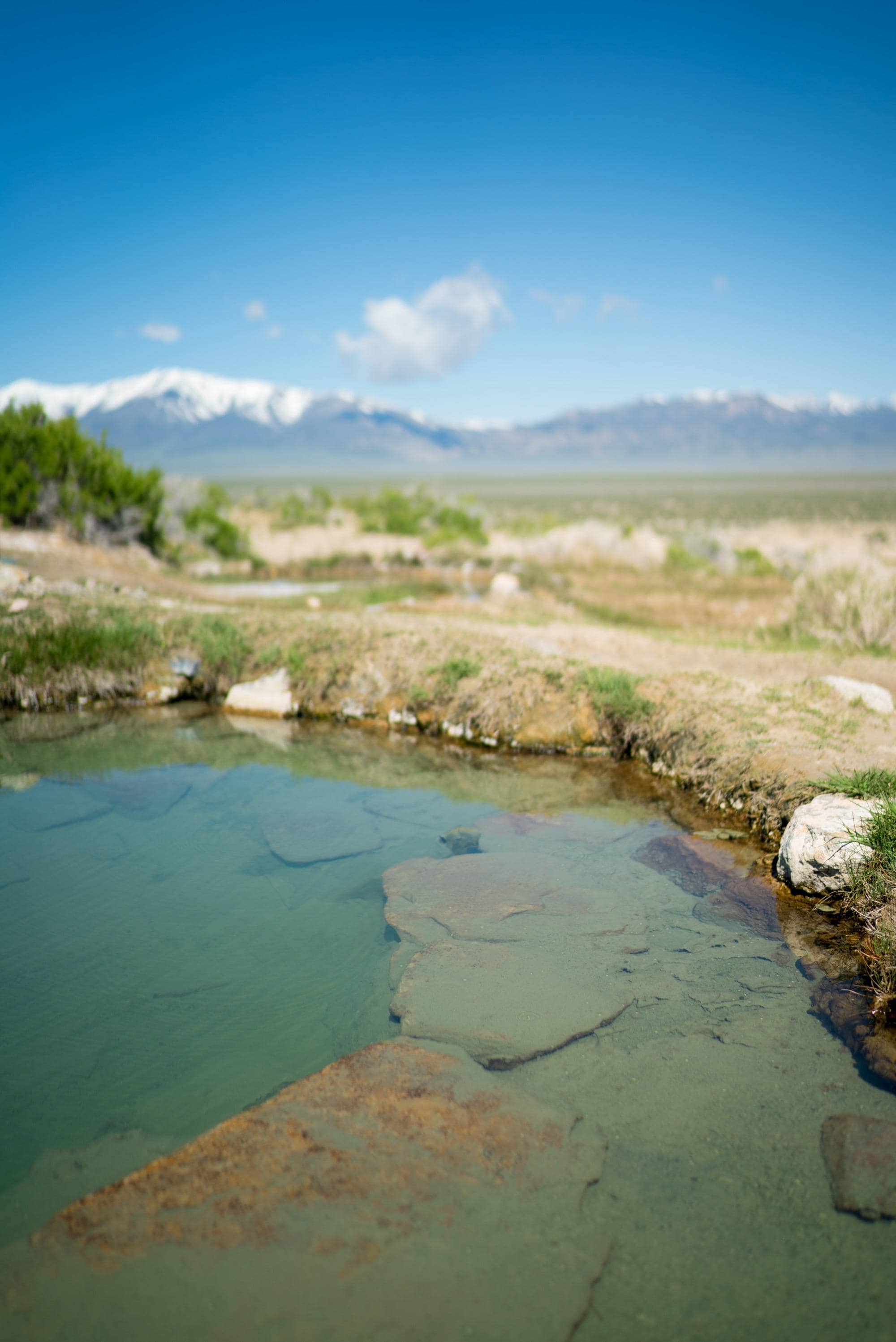 12) Lake Mead
Lake Mead National Recreation Area lies just east of Las Vegas. The best way to explore this area is by boat or via the 34 mile River Mountains Loop Trail which connects Lake Mead, Hoover Dam, Henderson, Boulder City, and the rest of the Las Vegas Valley.
You'll have a chance to spot wildlife and ride through wildflowers while enjoying scenic views of the Mojave Desert.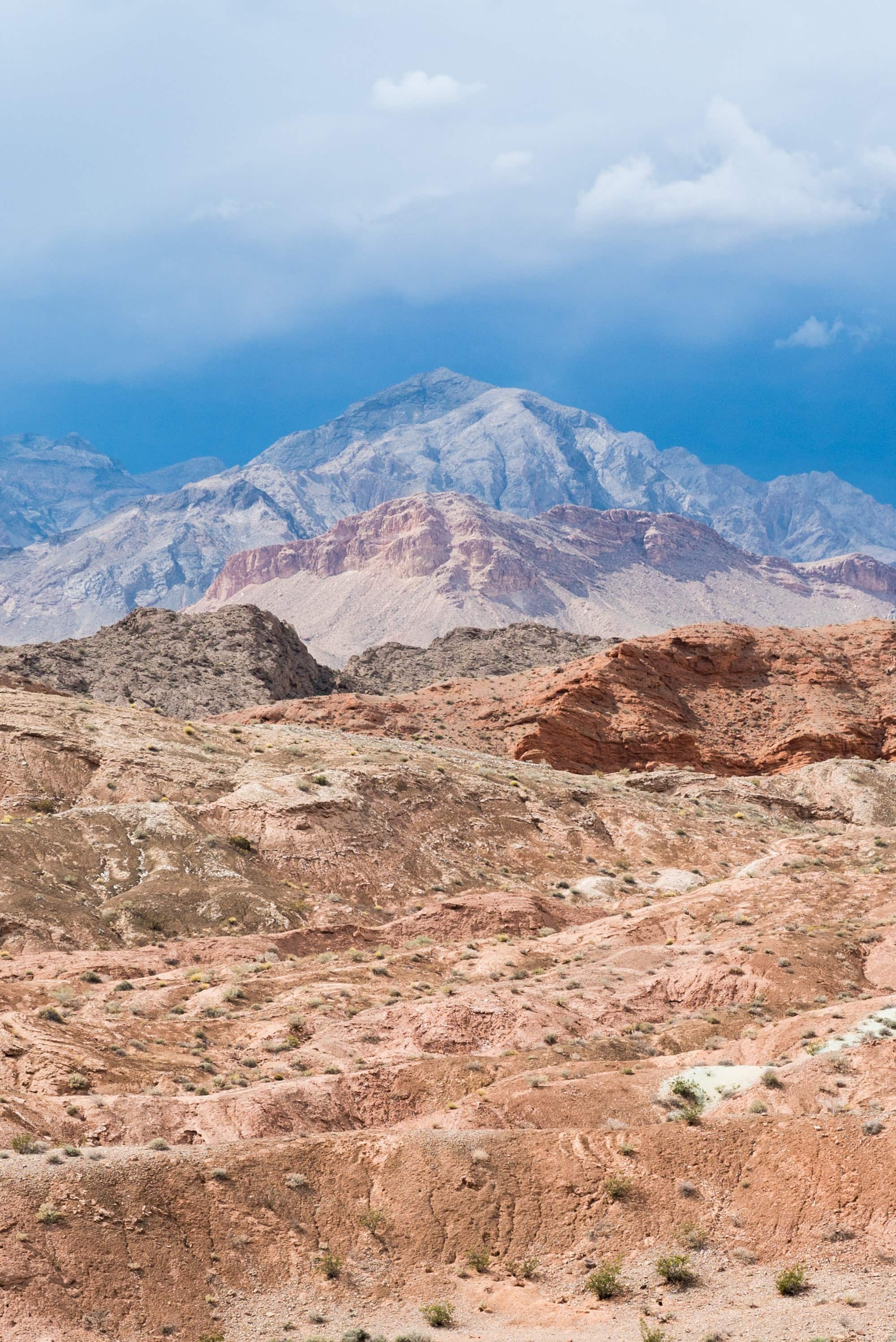 13) The Black Canyon
The Black Canyon Water Trail lies only 45 minutes from the Las Vegas strip. This 12 mile, tranquil stretch of the Colorado River is a paddler's paradise that will take you through dramatic desert landscapes and narrow slot canyons. And as if that weren't enough, there are some awesome natural hot springs to soak in too. Check out my blog post on Kayaking the Black Canyon for all the logistical details.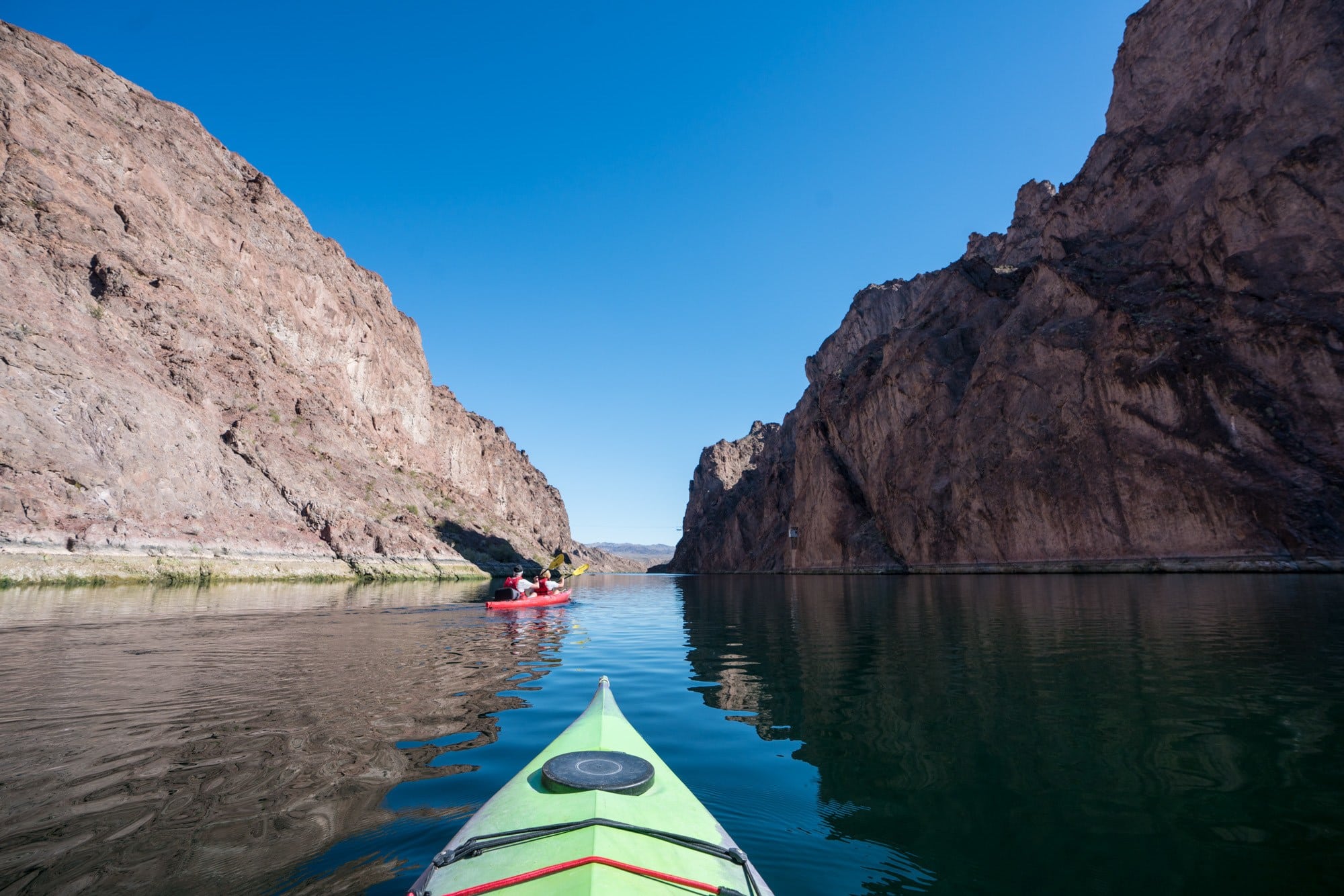 ---
What is your favorite Nevada road trip stop? Have you been to any of the stops in this post? Let us know in the comments below!