12 THINGS TO DO AROUND LAKE TAHOE
This summer one of the first destinations we hit up in the new Sprinter Van was Lake Tahoe. We went there for the Phish concerts but stayed for the outdoor recreation. From hiking and biking, to epic swimming holes, to relaxing beach days, the outdoor enthusiast can keep themselves plenty busy on a Lake Tahoe vacation. We ended up camping around the Lake for nearly two weeks, and in this blog post I share some of the best things to do around Lake Tahoe that we found.
And as it goes in all of the destinations we share, please practice good trail etiquette and remember to Leave No Trace. This means packing out all of your garbage, being respectful to others on busy trails, and following the established rules. 
Start planning your outdoor adventure with this list of 12 things to do around Lake Tahoe for outdoor enthusiasts.
Map of the Best Things to Do around Lake Tahoe
On this map you can get directions to all of the adventures in this blog post.
1. Hike Mt. Tallac
This is one of the more challenging day hikes on Lake Tahoe with 3,500 feet of elevation gain in 10.2 round trip miles. If you're up for the challenge, hiking Mount Tallac was one of our favorite things to do around Lake Tahoe. You'll want to get an early start to beat the crowds and the heat – think like 7am. Bring plenty of water, all of your day hiking essentials, and some snacks for the summit and you're in for non-stop views and a feat to be proud of.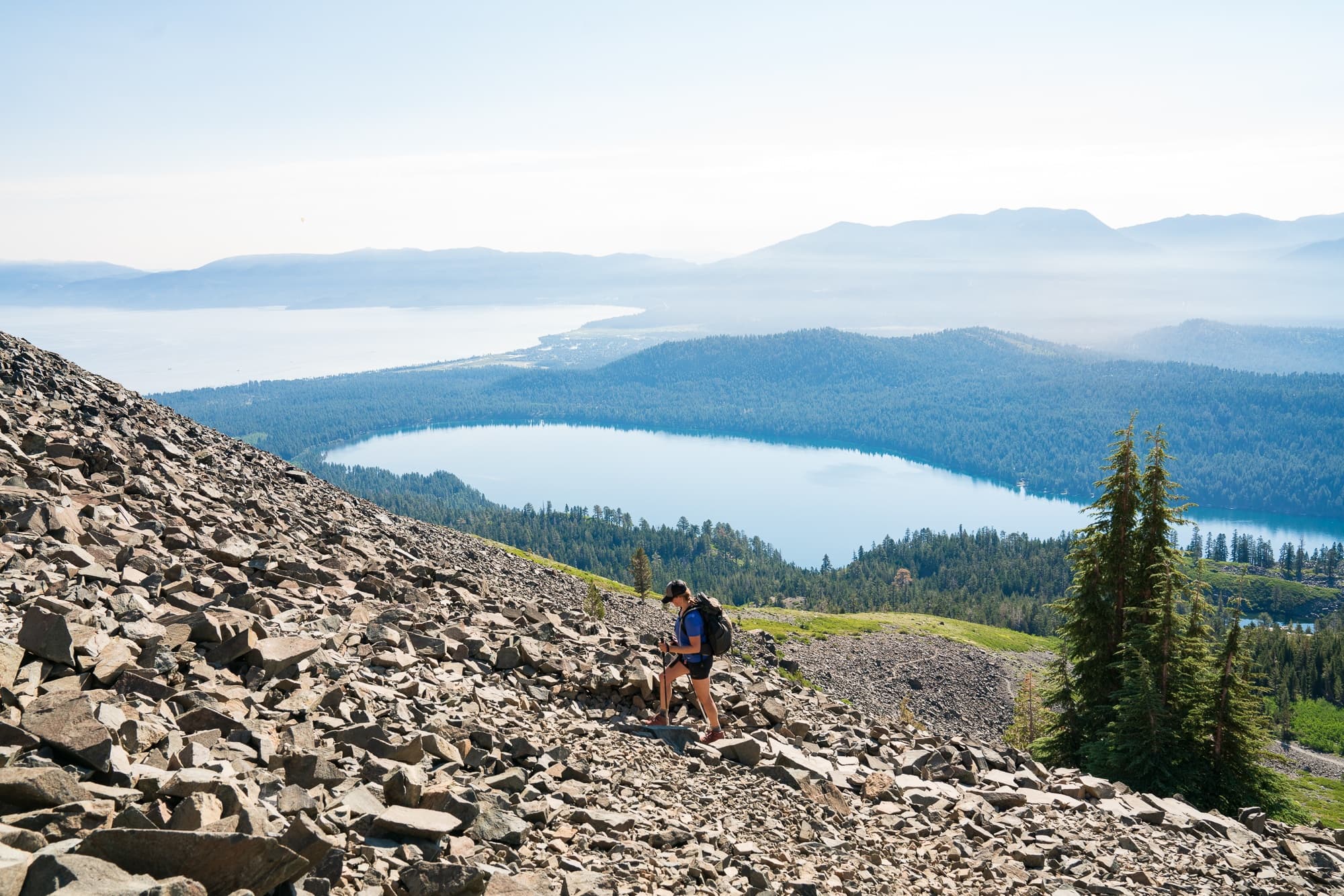 2. Ride a woody around Lake Tahoe
Get a taste for Tahoe's history as you are cruising the shoreline in a BEAUTIFUL Chris Craft Woody. On Wednesdays and Saturdays in the summer, the Tahoe Maritime Museum offers 30-minute boat rides to the public on this Chris Craft woody, leaving from the Homewood Marina. Reservations are required, so call ahead: 530.583.9283 Ext. 103. Adults are $25, and kids under 13 yrs $15.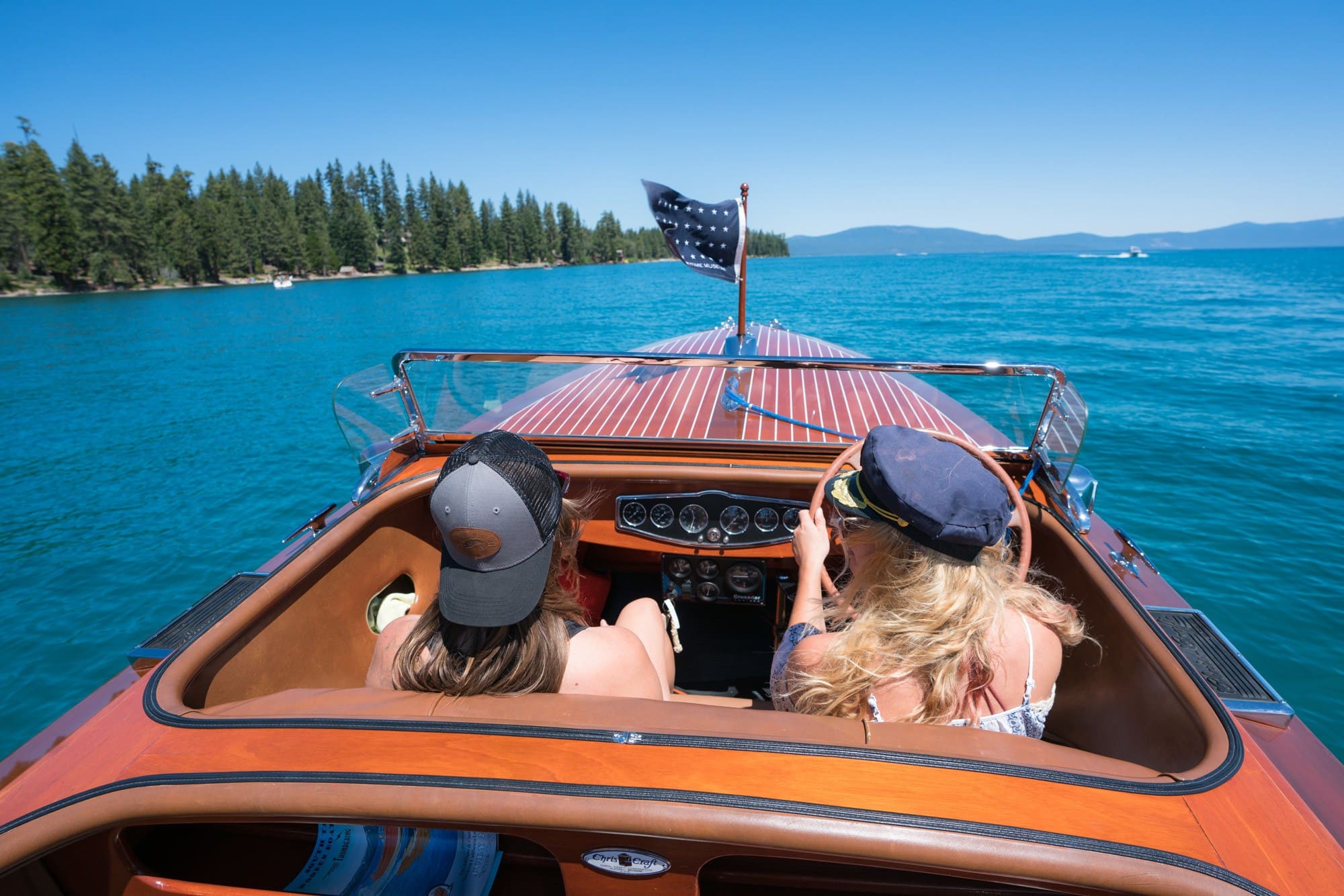 3. Go Mountain Biking
Bike the Angora Ridge Loop (Advanced)
Mountain bikers looking for a challenge should check out the Angora Ridge Loop near Fallen Leaf Lake. This 12.4 mile ride offers awesome views, a variety of terrain, and an optional pitstop at Angora Lakes where you can take a dip and grab an ice-cold, fresh-squeezed lemonade. This ride features over 1,700 feet of vertical gain and descent. The hardest and most technical part was the beginning – the rock creek garden and the first ascent up the Angora Ridge Trail (we rode counter-clockwise). If this is too much for you, you can also ride the road up the first section, picking up the trail at the Mule Deer Connector. There is a great description of this ride on the free MTB Project App. The best part of this ride? Finishing the day with a dip in Fallen Leaf Lake!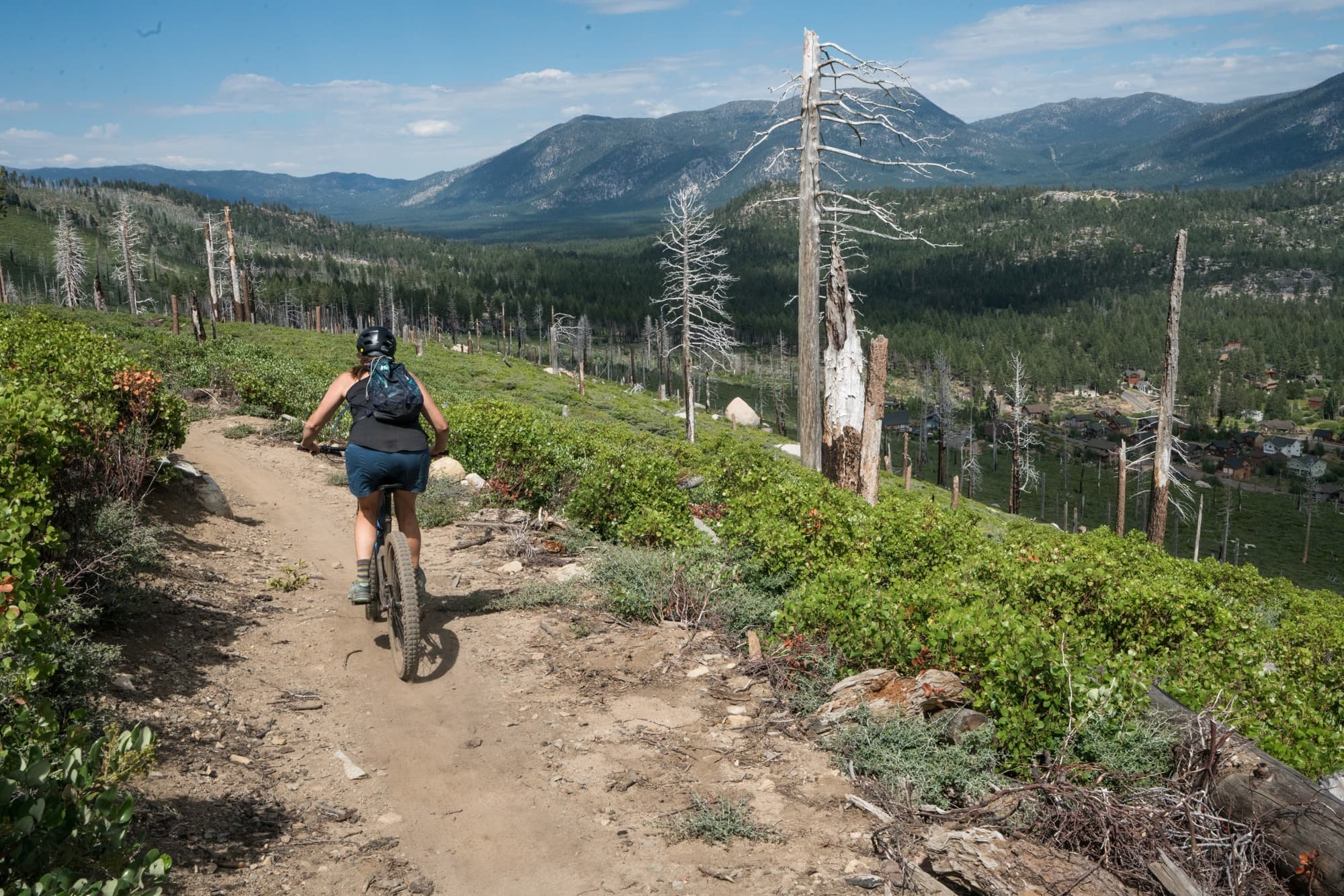 Bike the Antone Meadows Loop (Beginner)
If the Angora Ridge Loop is more than you want/can chew off, the Antone Meadows Loop in North Tahoe is part of a beginner-friendly trail system. It doesn't offer the same views as some of the other trails, but Antone Meadows has some fun single track where you can burn off some steam and practice your mountain biking skills. You can connect multiple trails (the trail system is well-signed) for a shorter or longer ride.
4. Stand-up Paddleboard from Kiva Beach to Emerald Bay
Emerald Bay is home to Lake Tahoe's only island, and the entire Bay is a wake-free zone. Either way, you'll want to get up early to get ahead start of the boat traffic.
We have Red Paddle Co inflatable stand-up paddle boards, but if you don't have your own, there are a ton of shops in South Lake that you can rent paddle boards from. Check out SUP Tahoe's rental pricing. Launch from Kiva Beach, where there is free parking and head north. It took us about an hour to get to Emerald Bay. There is a nice beach on the left side of the bay that you can take a swim break at, and for those who are feeling adventurous, circumnavigate the island before heading back. I can't emphasize enough the importance of getting an early start though (like no later than 8am). The lake gets very choppy once the boats are out and the wind tends to pick up in the afternoon.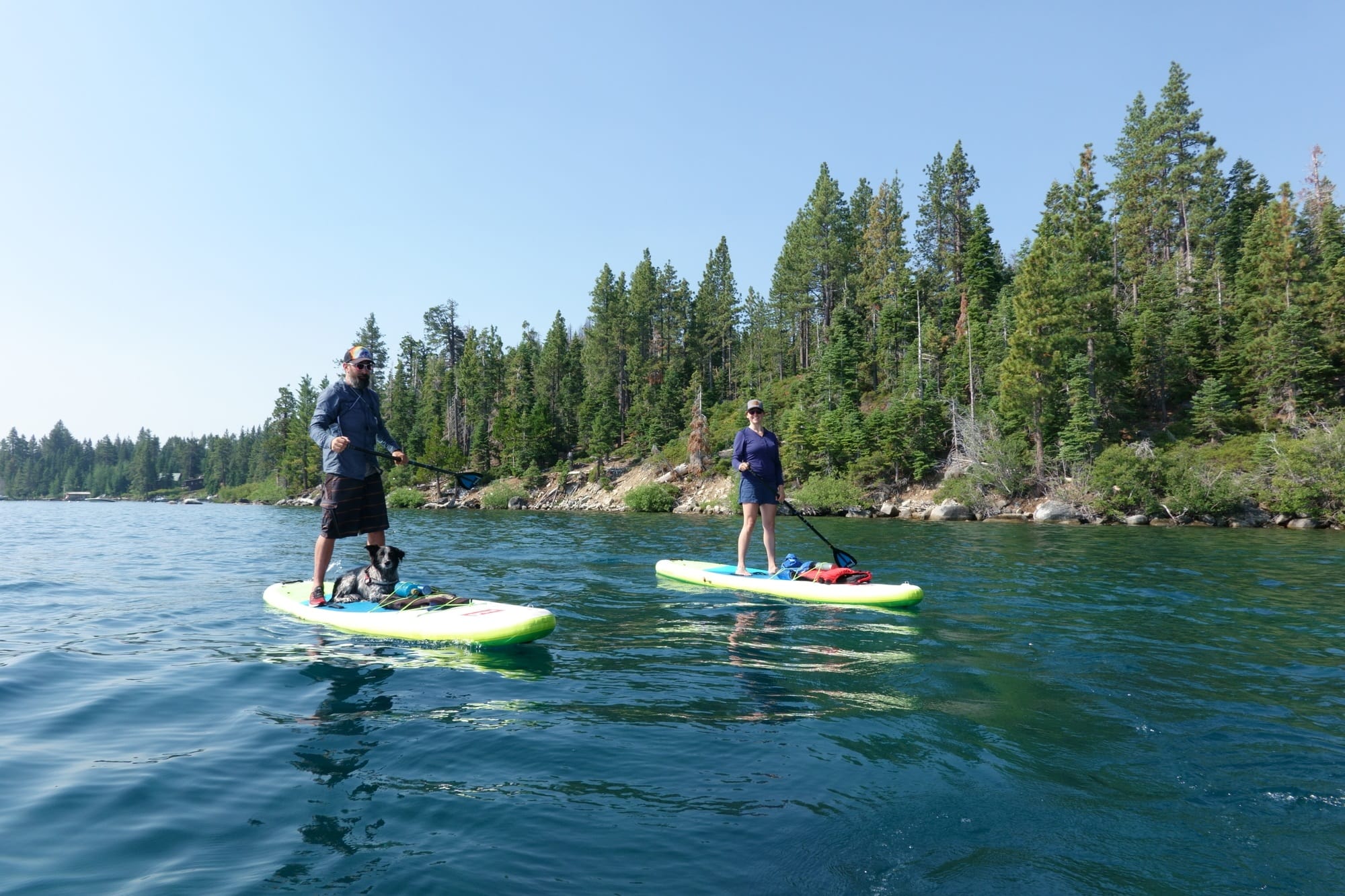 5. Relax at Sand Harbor
Sand Harbor is a popular beach, for a reason. Not only does it have a nice sandy beach perfect for swimming but big granite boulders dot the shoreline, making for some beautiful photos. Come with a good attitude that's prepared for crowds, a couple of beach chairs, and a float toy, and be prepared to easily spend a day chilling out here as your muscles recover from the other things to do around Tahoe described in this blog post. If you're not too tired you can even rent a SUP or kayak here. Sand Harbor is also home to the Lake Tahoe Shakespeare Festival.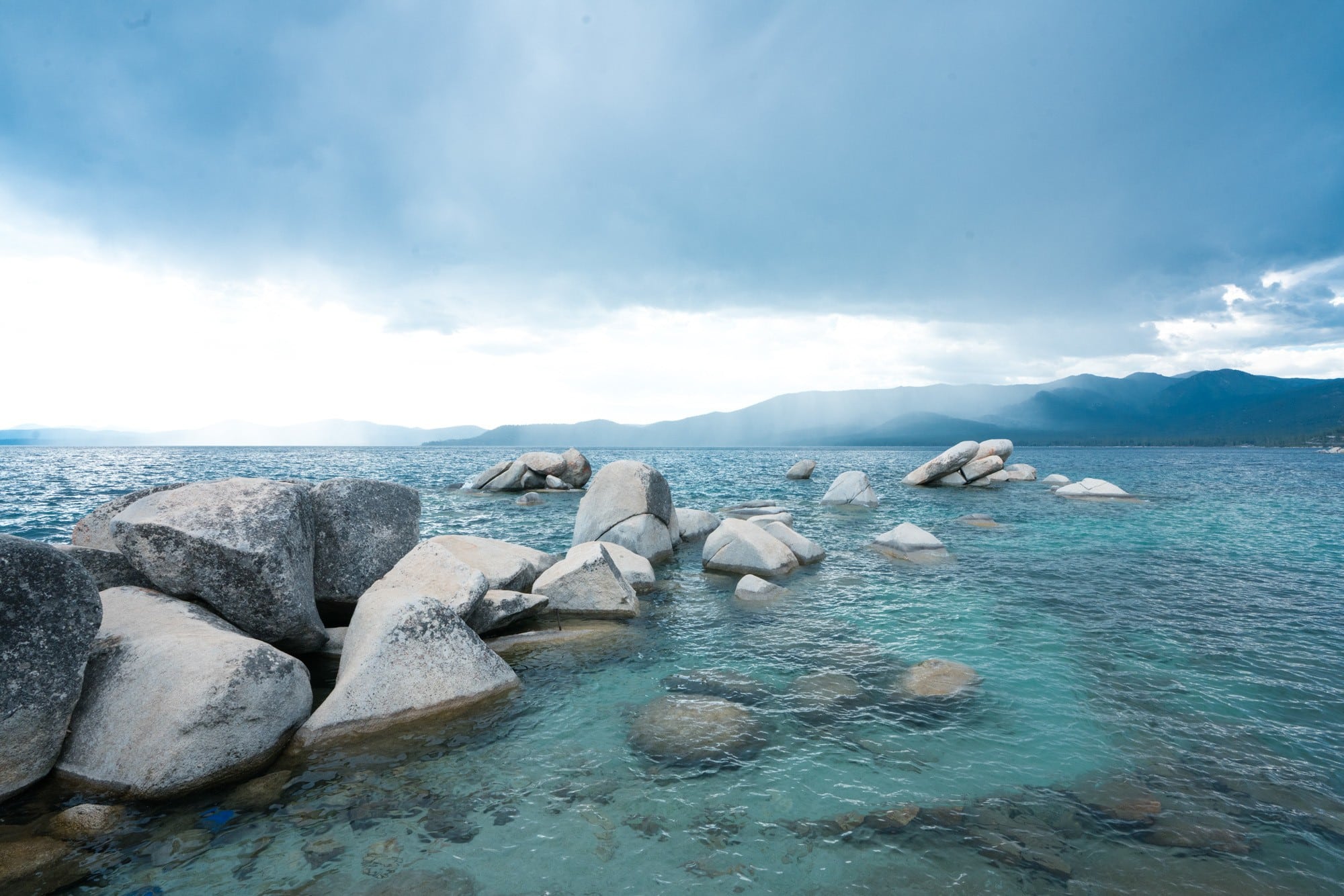 6. Watch the sunset at Inspiration Point
Emerald Bay is one of the busiest spots on Lake Tahoe. Weekends are a zoo and you'll be tough pressed to find parking mid-day. Skip the crowds and visit Inspiration Point at either sunrise or sunset, where you'll be able to find some peace and quiet. For the ultimate convenience, spend a night or two camping at the Bayview Campground right across the street from Inspiration Point. It's a no-frills campground (no water, no hook-ups) with a mellow vibe, especially compared to the larger established campgrounds on Lake Tahoe.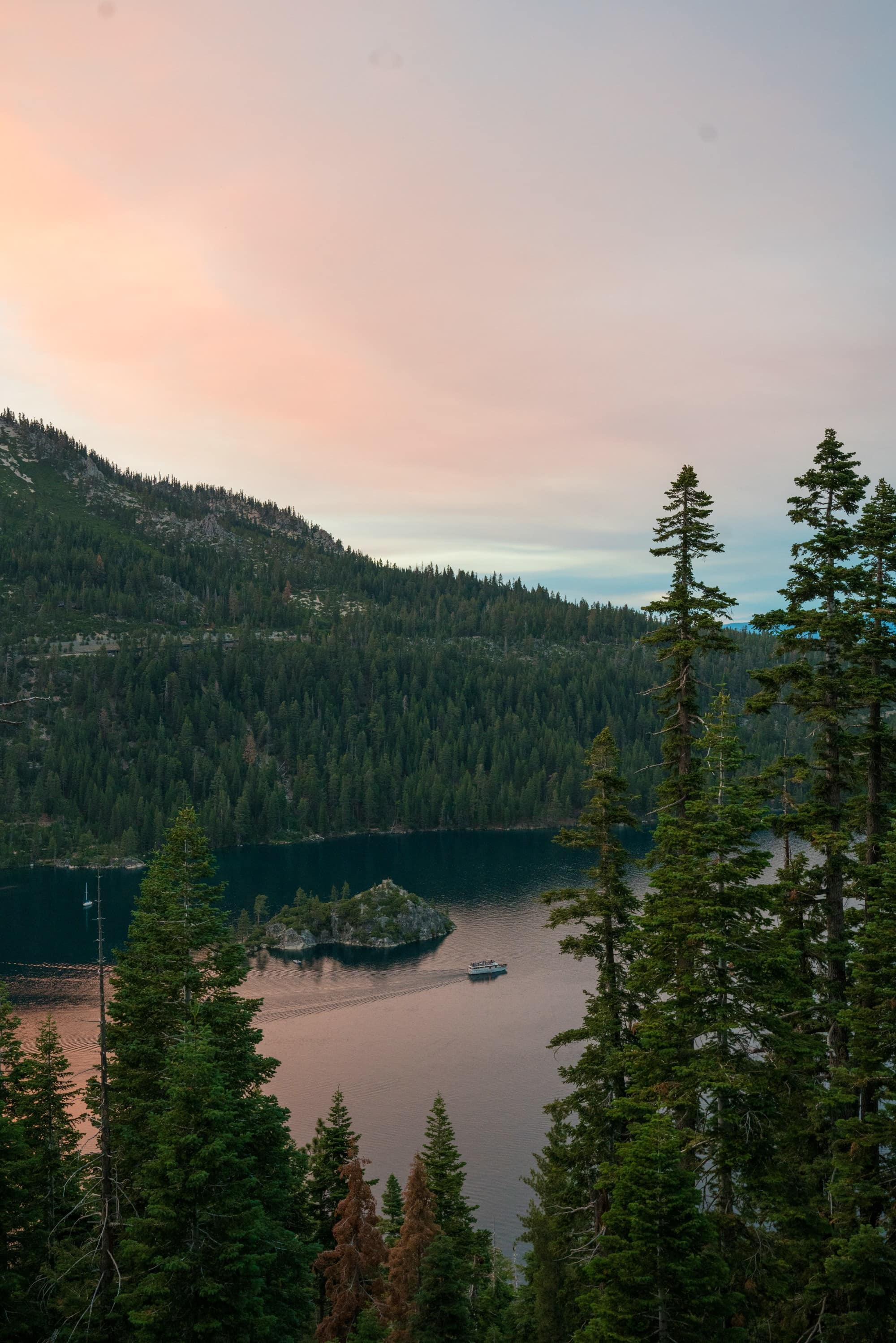 7. Hike Five Lakes Basin
This is a nice hike near Squaw Valley that leads to a series of alpine lakes surrounded by granite mountains. The Five Lakes Trail is a 4.4-mile lollipop loop in the Granite Chief Wilderness that's dog-friendly. You'll gain about 1,000 feet in elevation so come ready to sweat a bit. The best lake for swimming was the biggest one right on the main trail, but you can also explore the others on your return loop. The Pacific Crest Trail connects here so if you're looking for a longer hike or a backpacking trip, rest assured you've found a winner. There is very little shade on the trail, so take plenty of water, sunscreen, and a hat.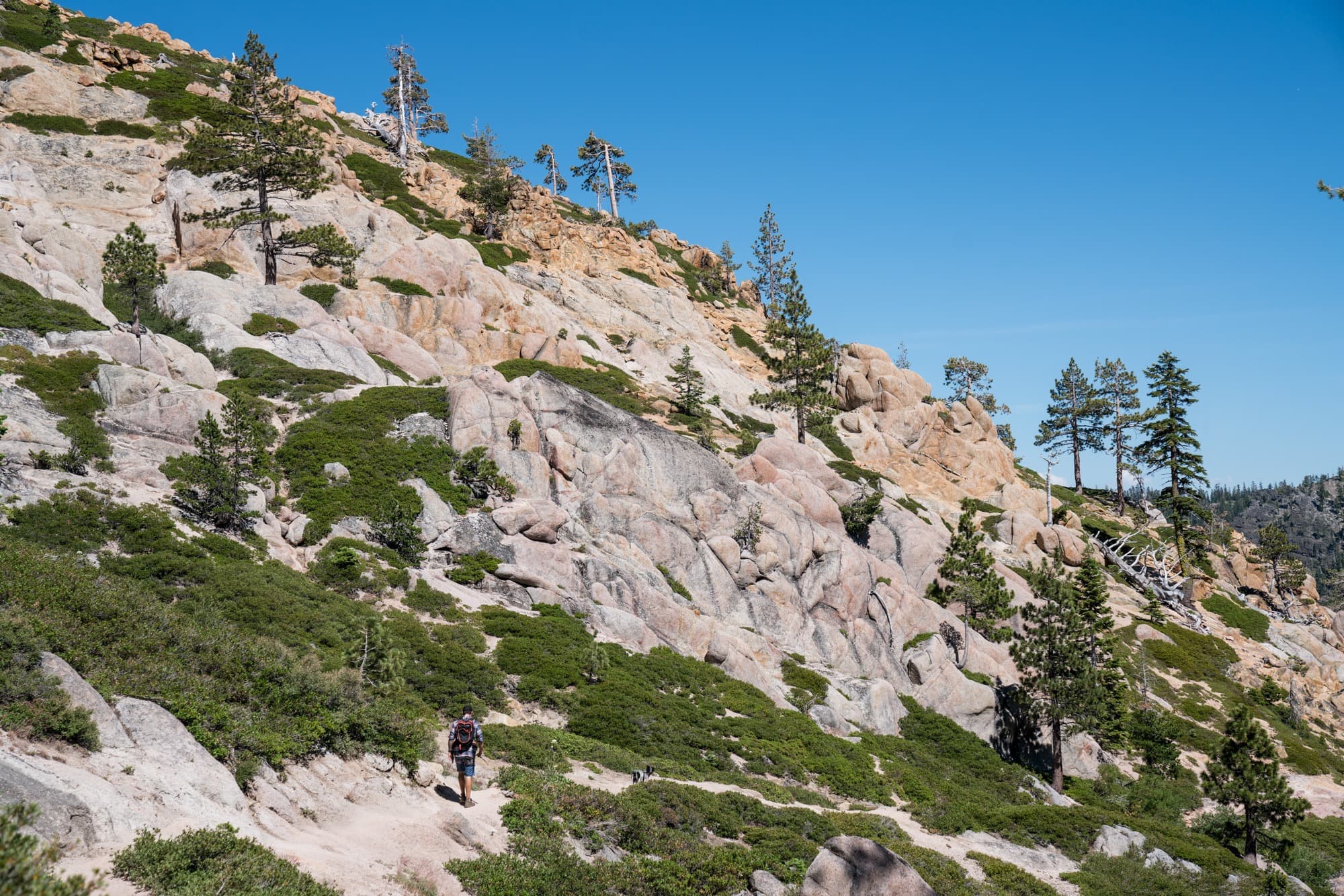 8. Float the Truckee River
We didn't do this on this trip, but way back in my college days, I had the chance to the float the Truckee River on the 4th of July. This is a booze cruise at its finest. You can float it in an inner tube or in a small raft, and a majority of the river is flat except for a small rapid at the very end. Traveling with kids? You'll find plenty of families on the water as well. Truckee River Rafting rents rafts & operates a return shuttle bus post trip, and kids 2-5 years old are FREE.
9. Hit the docks on Donner Lake
Donner Lake, just north of Tahoe, has a ton of public docks to set up shop on. Grab a free parking spot on the side of the road, and spend the day relaxing, swimming, and taking in the views. If you're looking for some historical background make a quick stop into the Donner Memorial State Park Visitor Center while you're in the neighborhood. The Donner Lake Marina has plenty of paddle sport rentals (SUPS, kayaks, canoes, hydro bikes & pedal boats) as well as motorboat rentals.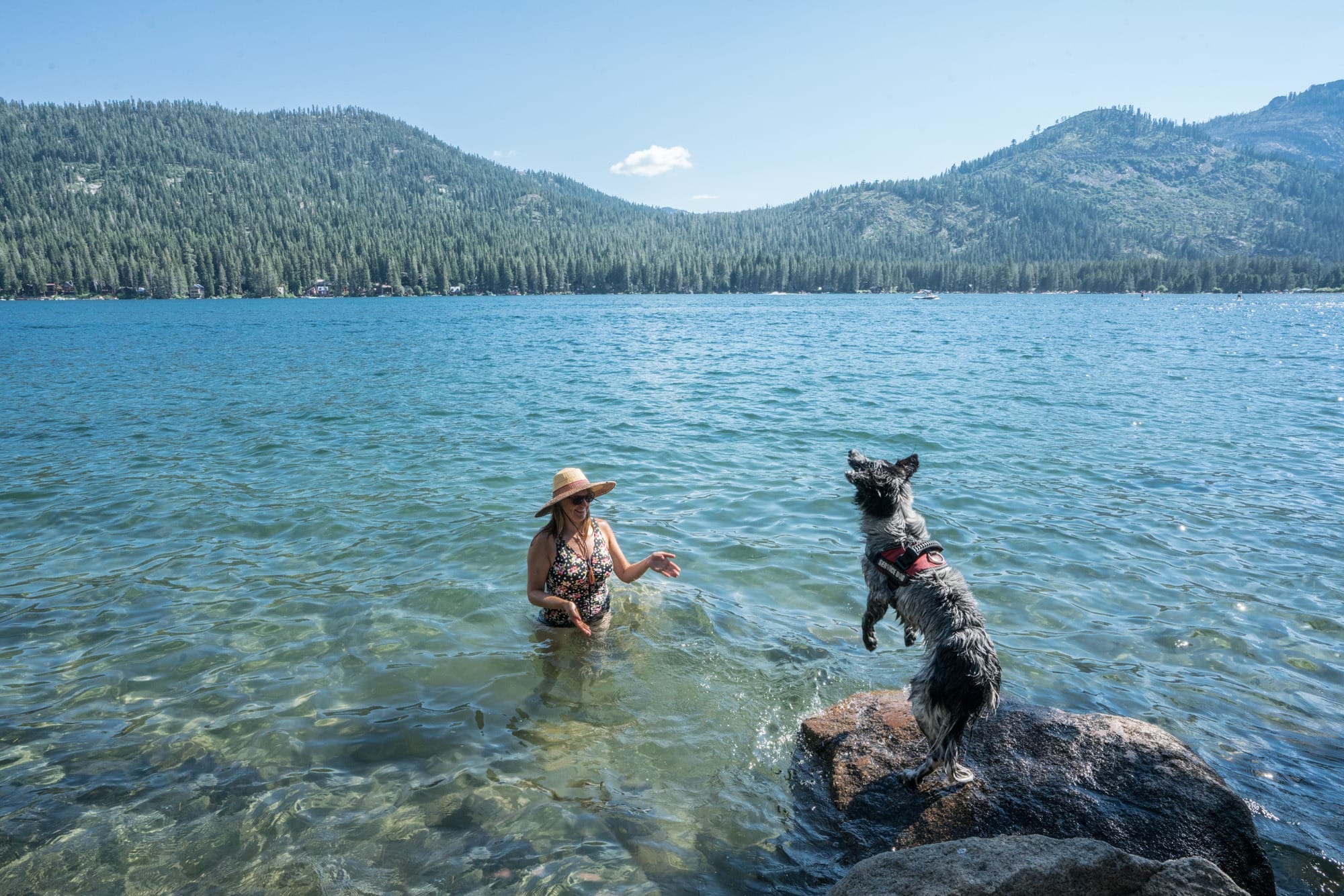 10. Swim at Webber Falls
The ultimate swimming hole, Webber Falls is the perfect temp, has natural rock lounges, and is a lot less busy than the nearby Yuba River. Some local friends took us here, and we spent a few hours hanging out in the water and around the falls. To get here, take Hwy 89 north of Truckee to Little Truckee Summit. Turn left toward Jackson Meadows on Road 07. After 6.5 miles watch for signage to Lake of the Woods. A few hundred feet after there will be a pullout on your left lined with boulders. Take caution on the road as it's pretty rough in a few spots. From the dirt parking area, walk down the dirt road and look for a trail on your left. The falls lie about 500 feet from the parking area. The main swimming hole is right off of the trail above the main falls. Be careful exploring beyond this main swimming hole as the cliffs are very steep and crumbly.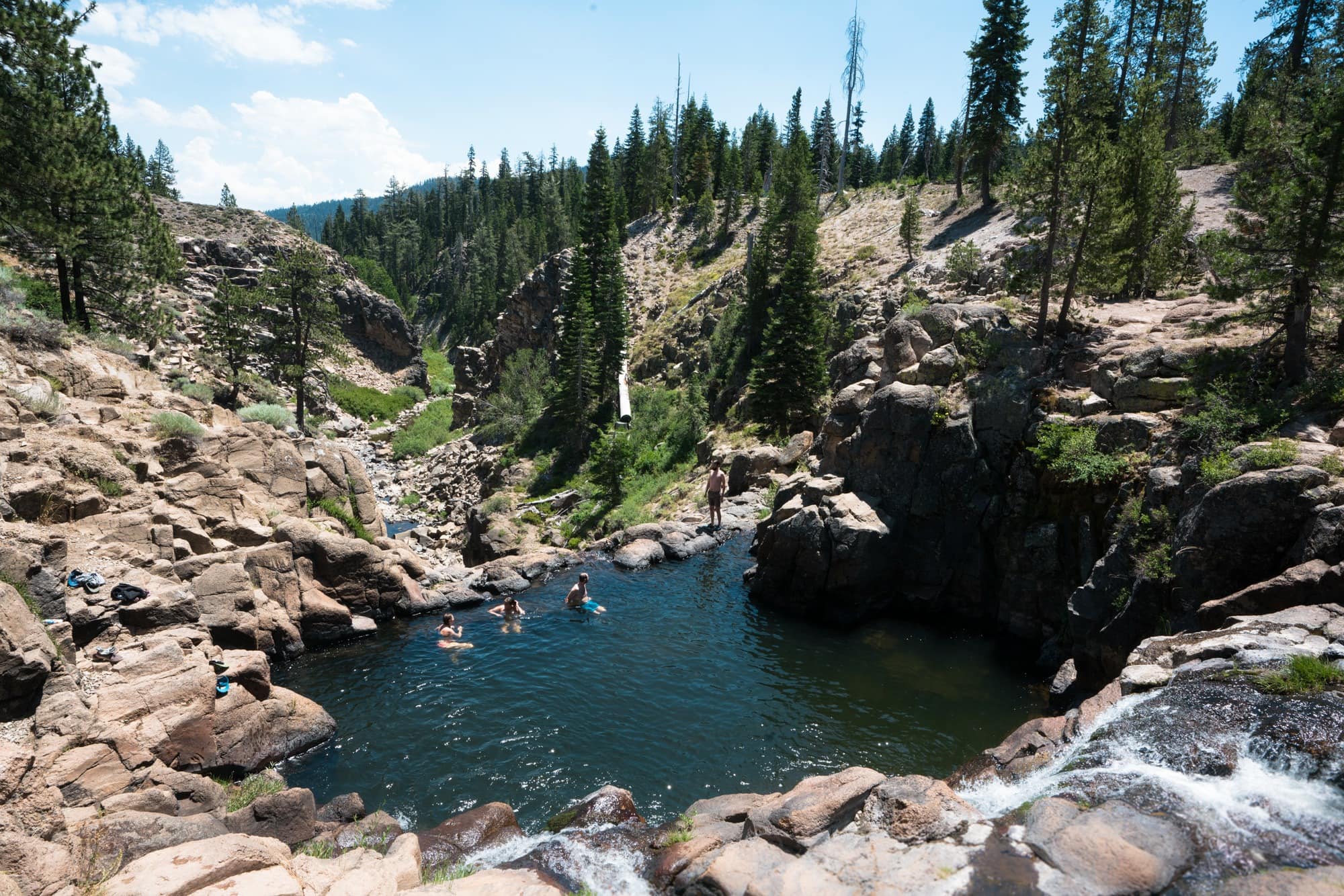 11. Explore Echo Lake
When Kim, Bearfoot Theory's former Community Manager, hiked the Pacific Crest Trail there were about 10 locations she promised herself she'd return someday to visit. Echo Lake was one of them. If you've got younger children or older parents in tow this is a great destination for the day. You can even pay to take a taxi across the lake. Rental cabins are also available on the island.
Echo Lake is right at the edge of the Desolation Wilderness, making it a great starting point for some epic hikes or even overnights in the backcountry. Here is Kim's suggested hike/backpacking trip in the area:
If you're looking for a great trail in the area, hike from Echo Lake to Aloha Lake. It's a 14.5 mile relatively flat loop trail that is dog-friendly. If you're looking to backpack you can easily extend to an overnight backpacking trip. Make sure to book a permit ahead of time (Lake Aloha is Zone 33), which can be reserved online.
Echo Lake is located 10 miles from South Lake Tahoe off U.S. Highway 50.
12. Hike the Tahoe Rim Trail
Really feeling the adventure bug? Backpack the 165 mile Tahoe Rim Trail with non-stop views of the lake.  You can also mountain bike a majority of the Tahoe Rim Trail (bikes are prohibited in the Desolation, Granite Chief and Mount Rose wilderness areas). Don't have that much time? The Tahoe Rim Trail Association breaks down the trail into great day hikes that range from 12-33 miles.
What things have you done around Lake Tahoe? Share your Lake Tahoe tips in the comments!