Paddle Boarding for Beginners: SUP Tips and Gear
Want to try stand up paddleboarding this summer? Learn the basics of SUP with our paddle boarding for beginners guide including tips and gear!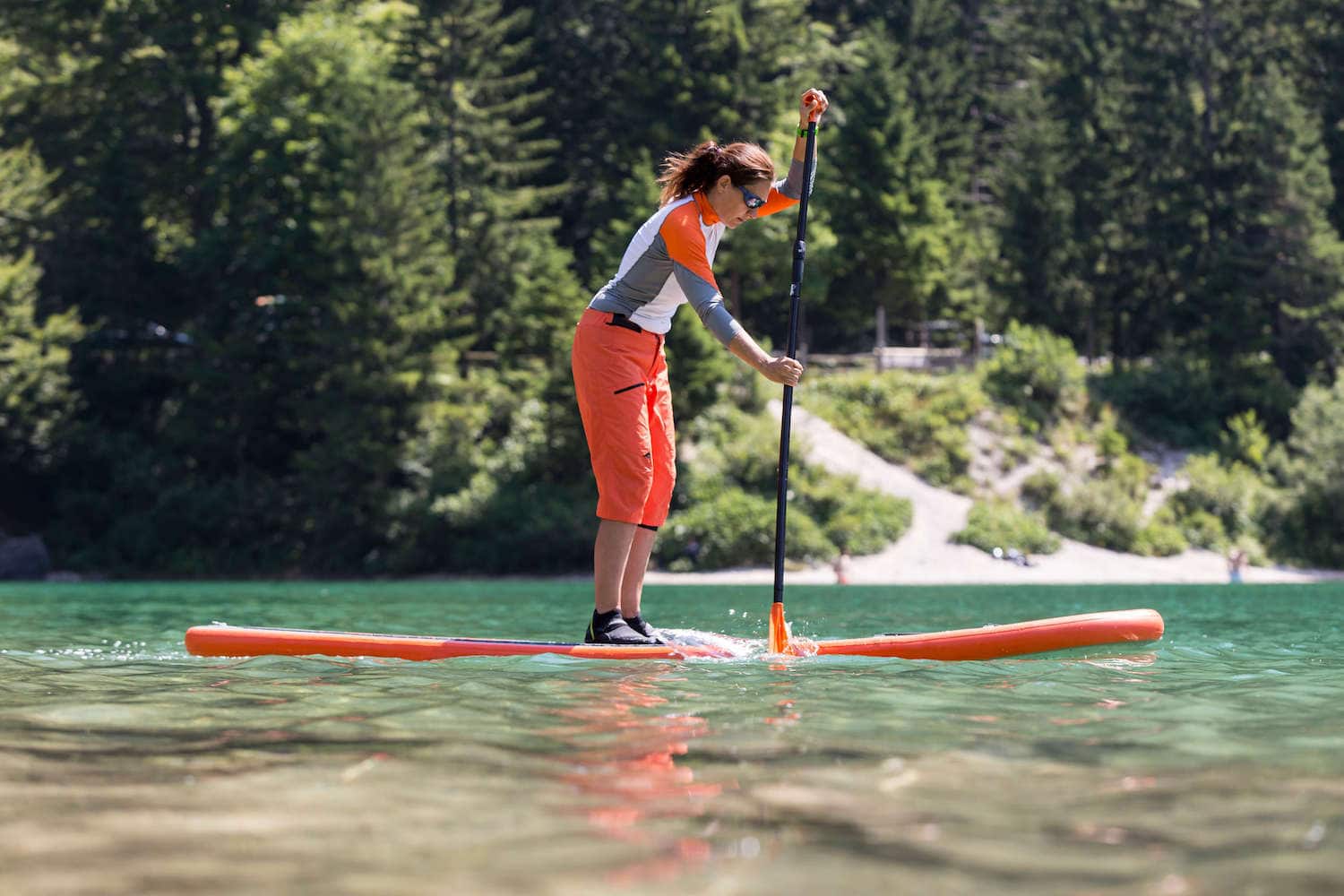 Paddle boarding (also known as SUP-ing) is a great way to get outside and enjoy the sun and water. It's also an excellent form of exercise, especially for the core. But paddle boarding for beginners can be daunting to know where to start.
This blog post will give you SUP tips and gear recommendations for beginners. So whether you're looking for your first board or just want to know how to stay safe on the water, read on for some essential SUP advice. Happy paddling!
Looking to try out SUP? Read our complete paddle boarding for beginners guide below!
Important Reminder: As outdoor recreationists, it's our responsibility to know how to recreate responsibly on the water whether we're kayaking, paddleboarding, canoeing, rafting, or boating. Learn how to prevent the spread of aquatic invasive species with 3 easy steps that have a huge impact on our ecosystems.
What Is Stand Up Paddle Boarding?
Stand-up paddle boarding is a water sport that allows you to explore and enjoy the water without necessarily swimming in it (although you can definitely do that, too!). Unlike canoes and kayaks, paddle boards are completely flat boards that you can stand, kneel, or sit on to paddle.
SUP paddles are similar to canoe paddles with a blade on one end and a handle on the other, but they are longer than your typical canoe paddle so you can fully stand comfortably.
Paddle boarding has gained popularity in the last few years because it's a relaxing, fun, and engaging way to paddle across various waterways including lakes, oceans, bays, rivers.
You can also do other activities on a paddle board like SUP yoga or surf some waves.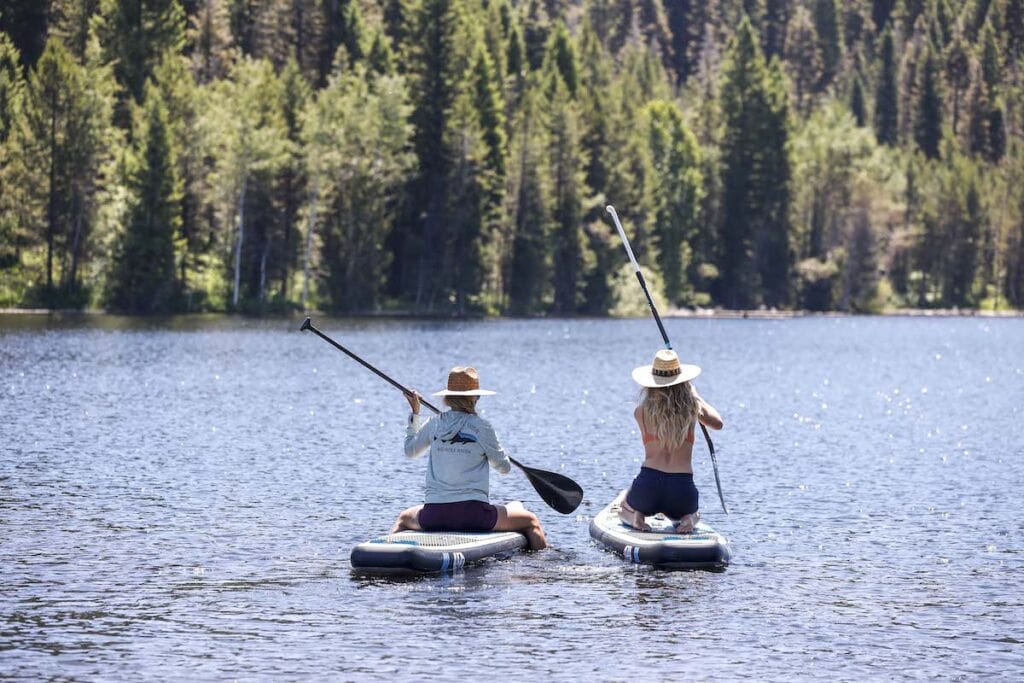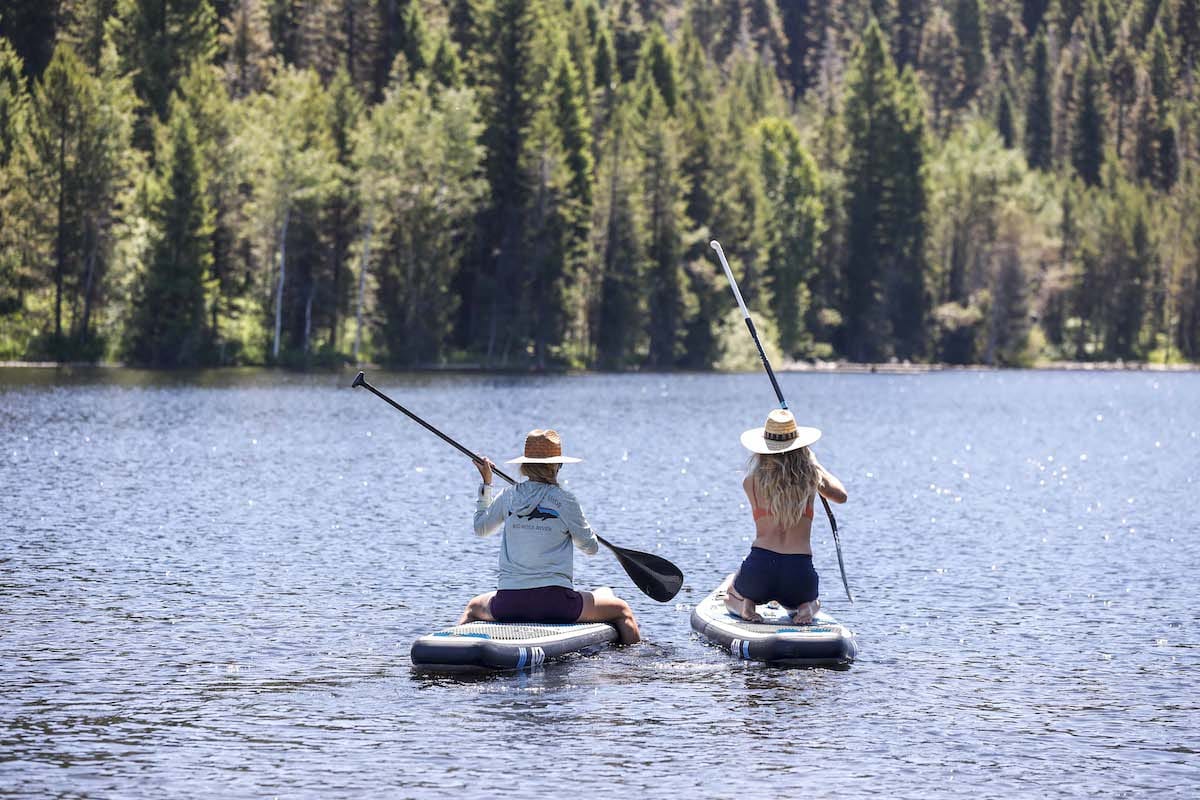 How To Paddle Board
Learning how to paddle board properly is essential for maximizing power and torque out of each stroke as well as improving your balance. This will increase your paddling speed and give you more of a workout. By learning the proper technique, you will also have better control of the board and be able to maneuver more effectively. Below are a few paddle boarding beginner basics:
How To Stand On a Paddle Board
Stand next to the board in shallow water. Keep an eye on the fin so it's not dragging on the bottom.
Place your paddle down across the board
Attach the ankle leash if there is one
Plant your hands firmly on the paddle and kneel on the board just behind the board's halfway point
When you feel like you are balanced, slowly stand up
Position yourself so you're standing at the center of the board – it should be flat on the water with neither the nose or tail lifting up or pushing into the water
Your feet should be facing forward about hip-distance apart or wider with knees slightly bent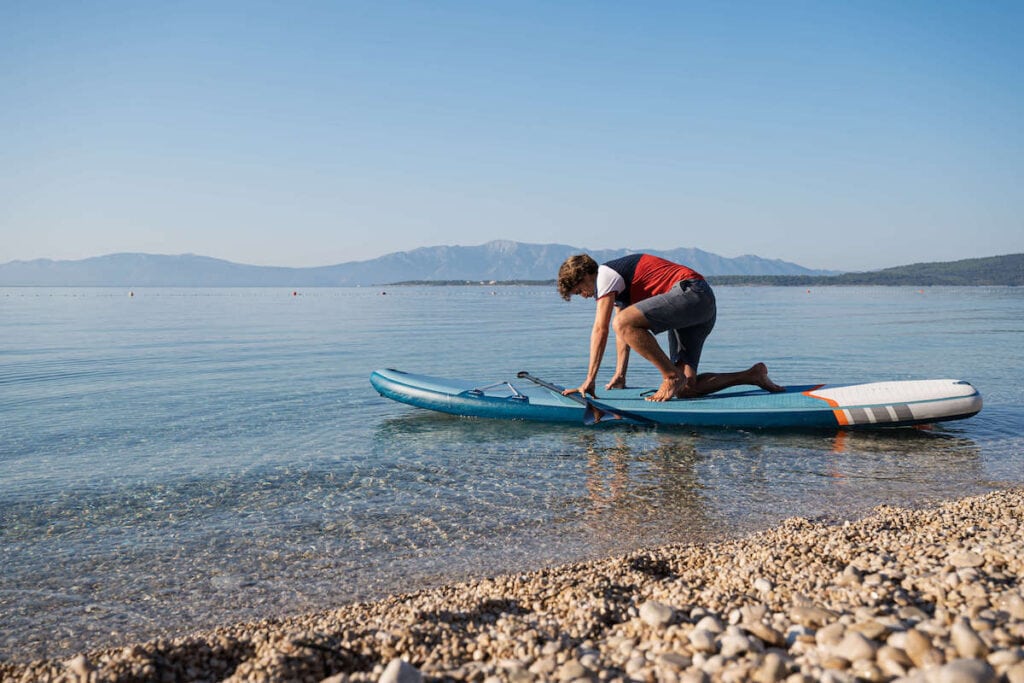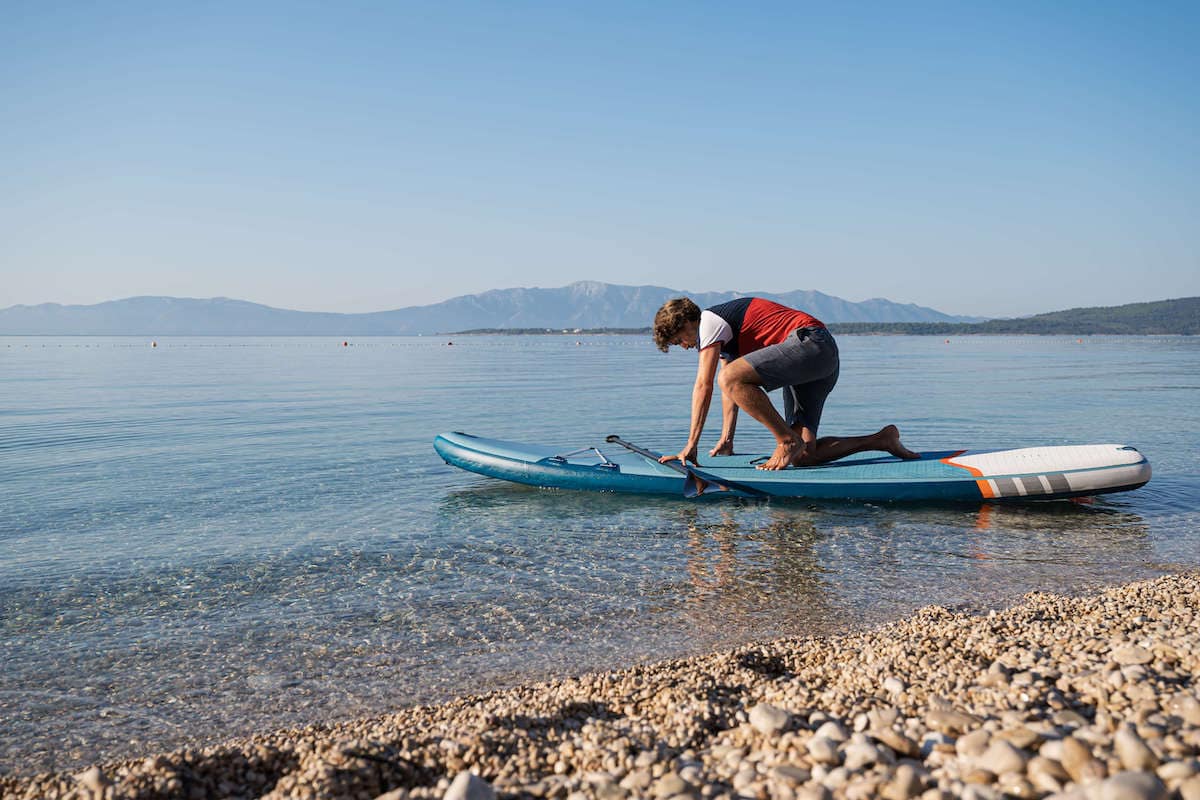 How to hold a paddle board paddle
Grip the T bar at the top of the paddle with one hand and place your other hand at a comfortable distance about halfway down the paddle
The angle in the paddle blade should face away from you, which is the opposite of how you would hold a kayak paddle.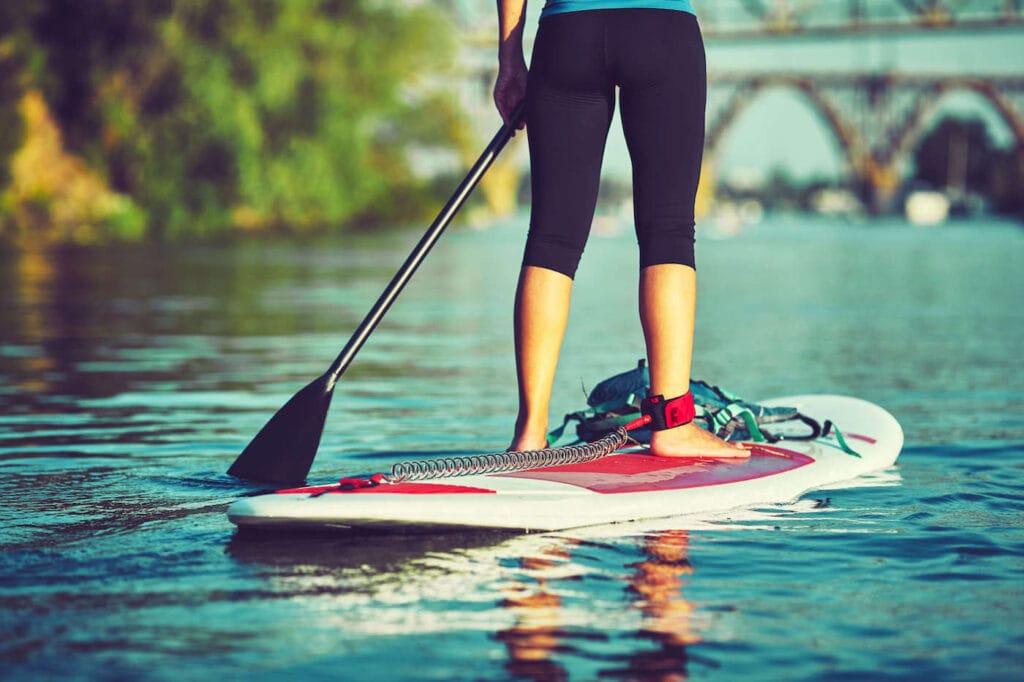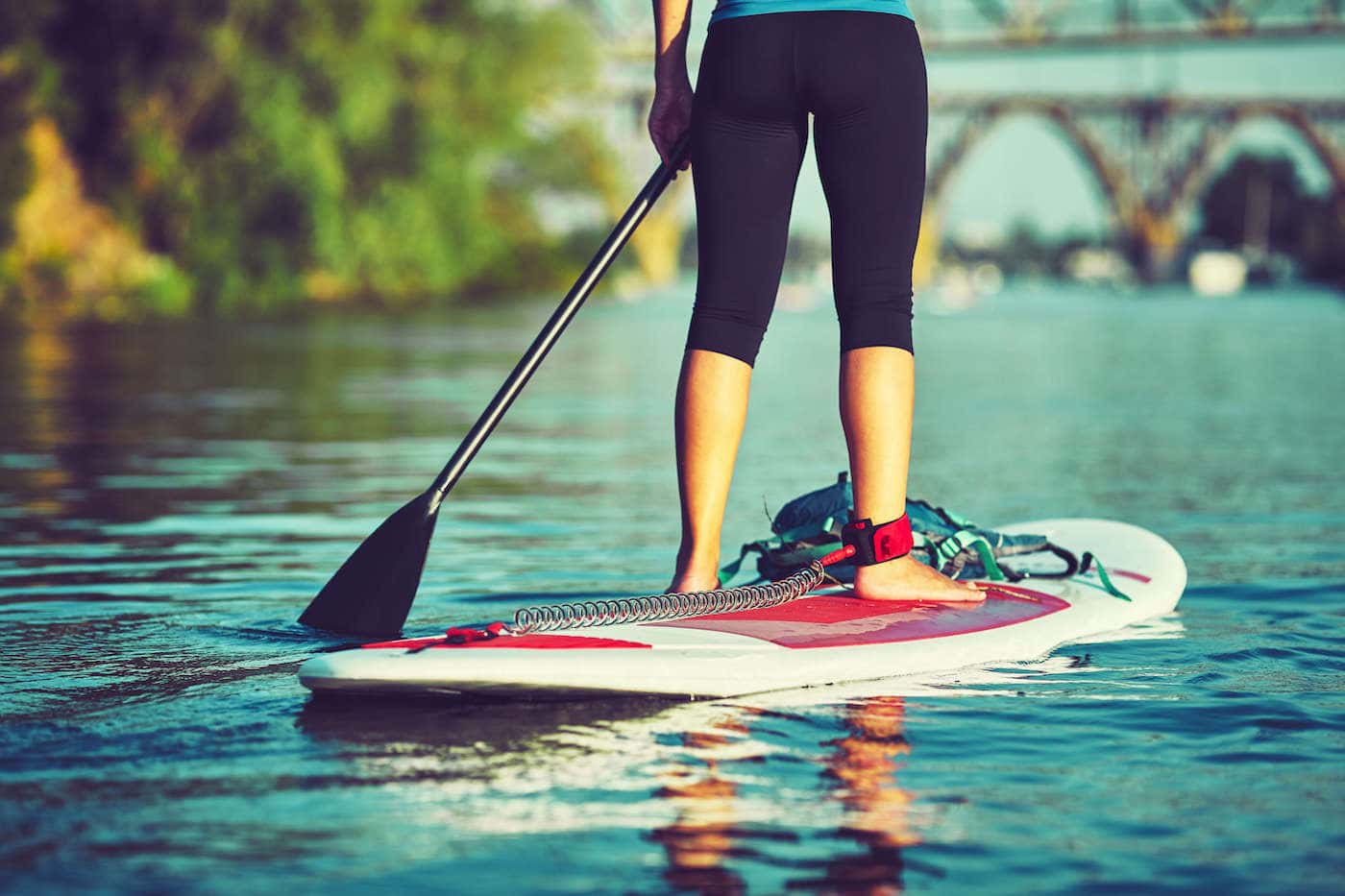 How To Paddle a SUP
Keep your core engaged to help with your balance
Keep your arms straight as you extend the paddle forward for each stroke
Make 4-5 short, close strokes on each side of the board and then switch sides and reverse your hand positions
To turn, keep paddling on one side (paddling on the right will cause you to go left). Or for a quicker turn, drag your paddle backward on the side you want to turn in the direction of
The best thing about paddle boarding versus kayaking or canoeing is that you have many options for how to paddle. While we outline how to stand up on a paddle board above, you can also paddle board while kneeling or sitting on your board.
Beginner paddle boarders can feel out what works best for them or what is most comfortable. Once you're out on the water, you can even lie down on your paddle board to relax! Another helpful option is a packable chair that you can use to sit on a paddle board and paddle kayak style if you feel fatigued or are struggling with balance while standing.
Types of Paddle Boards
There are two types of paddle boards: solid and inflatable. If you are renting a paddle board, it will likely be a solid SUP. However, inflatable paddle boards are gaining popularity for their affordability, packable size, and versatility. Here are a few key differences between solid and inflatable paddle boards:
Solid Paddle Boards
Pros: best performance on the water, no time to set up, more stable, less effort to paddle, easier to custom fit
Cons: More challenging to store and transport
Bearfoot Theory Pick: Surftech Bark Catalyst Tuflite V-Tech Stand Up Paddle Board
The Surftech Bark Catalyst Tuflite V-Tech Stand Up Paddle Board is a great choice for entry-level paddlers because it is super stable, durable, and versatile. Whether you want to take it out on a lake, down a river, or even in the ocean, this board will keep you feeling comfortable and secure.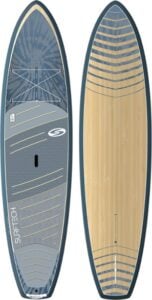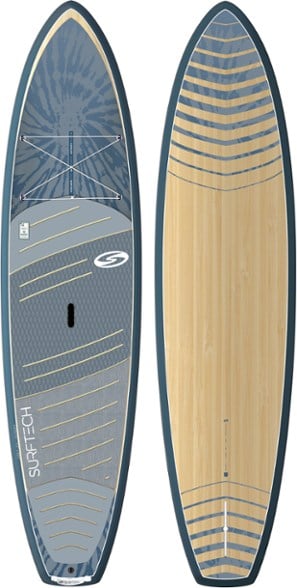 Check price: REI
Inflatable Paddle Boards
Pros: easily stored and transported, softer and more comfortable to sit or do yoga on, can paddle more places (like a short hike to a lake), better suited for rapids
Cons: inflating and deflating is time-consuming, less stability
Bearfoot Theory pick: Bote Breeze Aero Inflatable Stand Up Paddle Board
The Bote Breeze Aero Inflatable Stand Up Paddle Board is our top choice for an inflatable SUP. Designed to be packable and lightweight, it's the perfect board for water-focused adventures. When packed away in its own backpack, it weighs just under 22 lbs and can easily be carried on a short hike or stowed in the back of your car.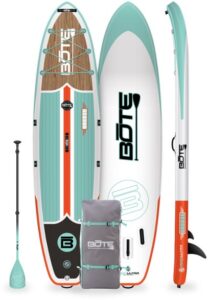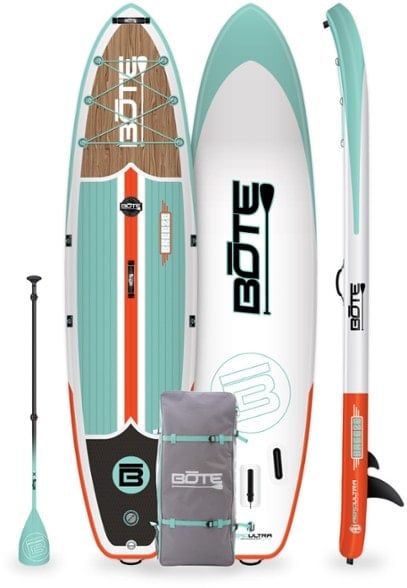 Check price: REI | Backcountry
Stand Up Paddle Board Features
Planing hull vs displacement hull
You should choose your paddle board based on the kind of activities you plan to use your board for and what kind of water you will be paddling on. There are two body types for SUP boards:
Planing Hull: wide, flat body with a rounded nose. Best for leisure paddling, SUP yoga, surfing, and whitewater.
Displacement Hull: narrower body with a pointed nose. Best for fitness paddling, long-distance or overnight paddling, and racing
For most beginner stand up paddlers, finding a board with a planing hull is best because the wider width gives more stability so you can focus on the correct paddling stroke without the constant concern of falling in the water.
Weight capacity & length
Other factors to consider when renting or buying a paddle board are weight capacity and length. It is important to calculate the total weight on your board (including gear, any pets, food, etc.) to ensure your board will sit high in the water and you will be able to paddle easily.
Paddle boards usually come in 3 lengths: short boards (under 10′) are best for children or surfing, medium boards (10-12′) are best for leisure and everyday paddling, and long boards (over 12′) are best for long-distance and fitness paddling.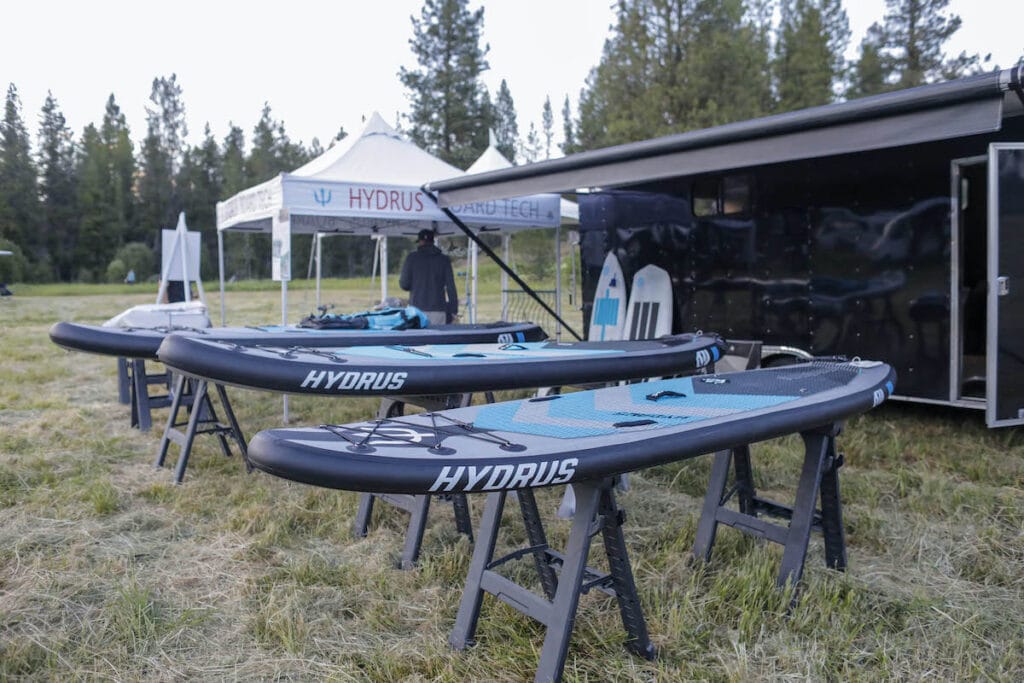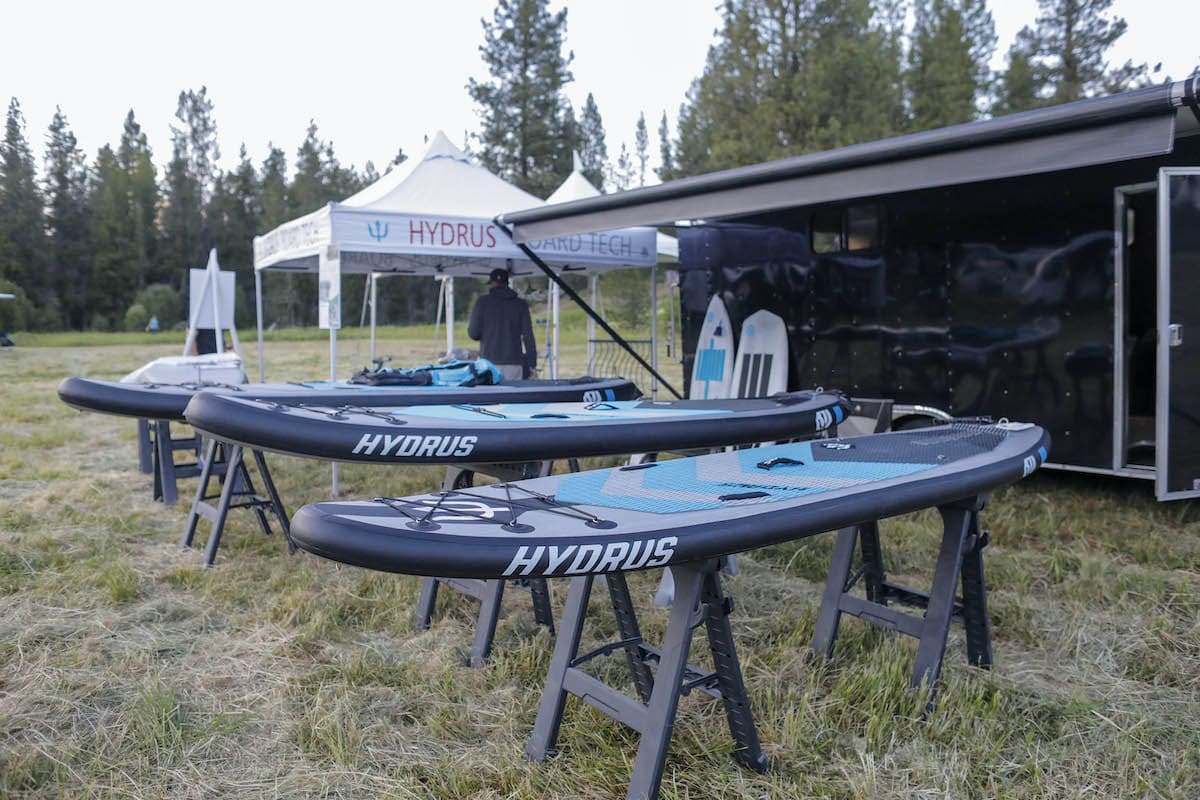 Beginner Stand Up Paddle Boarding Tips
Now that you have a better understanding of what paddle boarding is, the different types of paddle boards, and how to choose the right one for you, let's dive into some paddle boarding tips:
1. Check Conditions
This is an important step before venturing out for any SUP adventure. Make sure that conditions are safe and fit for your ability so you can have an enjoyable time. Flatwater (a lake or a bay) is best for beginners versus moving water in the ocean or on a river.
I also recommend picking a calm, sunny day with little to no wind – mornings and evenings usually have calmer waters. If you are planning to paddle board in windy conditions, pick a spot where the wind will be at your back on your way back in so you are not fighting against the wind when you are more tired. If you ever get caught in a windstorm, lay down on your stomach with your paddle underneath you and paddle like you are on a surfboard.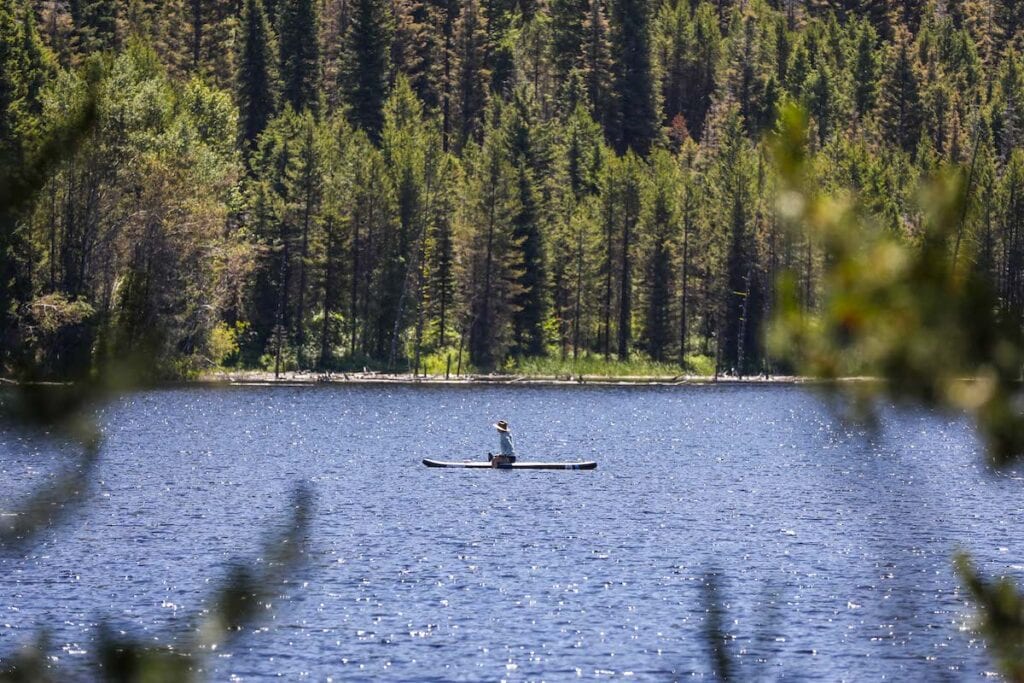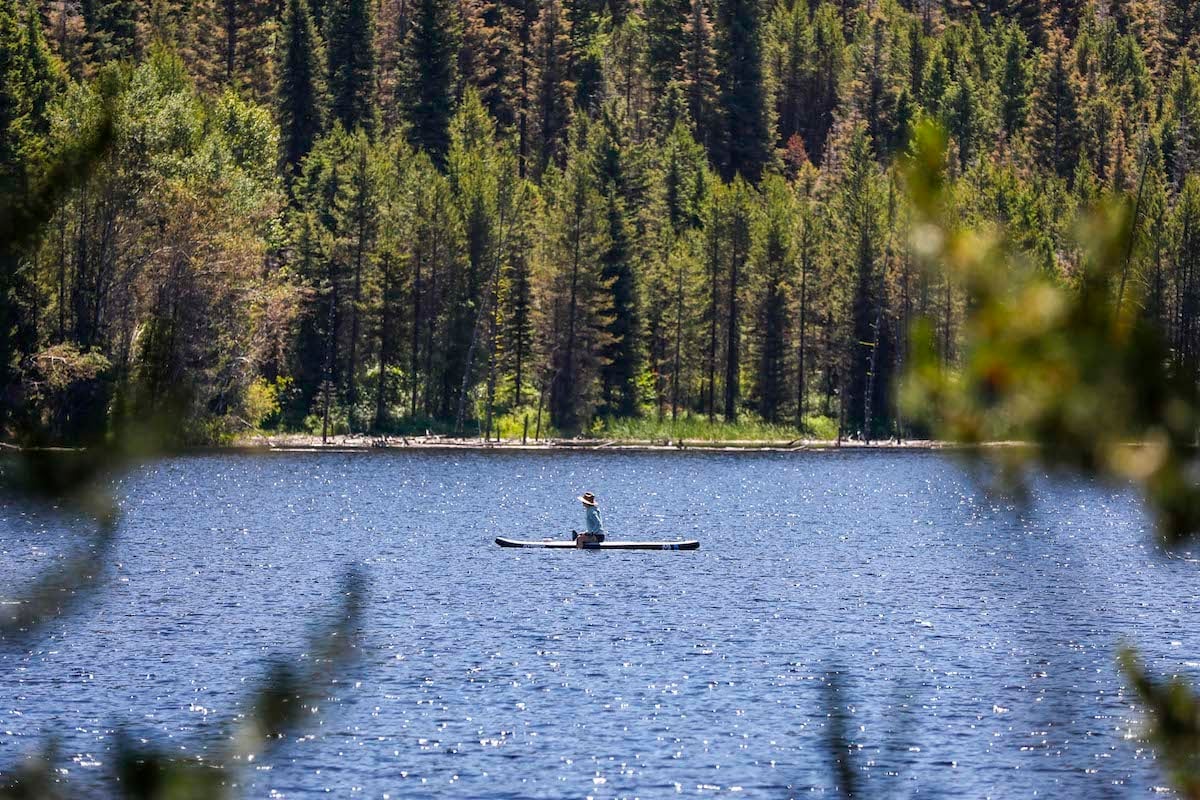 2. Take a Buddy
If you are brand new to paddling, bring a friend! This will not only enhance your enjoyment out on the water but also creates a safer learning space. Try to pick a spot that is not crowded by boats, buoys, or other obstacles in the water.
Do not plan a long trip for your first outing – paddle boarding is a full-body workout, and you may be surprised at how sore you are the next day!
3. Always Use a Leash
A paddle board leash loops around your ankle and keeps you attached to your board. Let's face it – at some point, you might fall off your paddle board (and that is part of the fun of water sports!). To ensure you stay close to your board and can easily retrieve it, always use a leash.
There are different leashes for different types of paddleboarding activities, so be sure to buy the correct leash.
4. Use Your Core
Don't rely on your arms to do all the paddling – this is the quickest way to tire yourself out! Be sure to keep your core muscles engaged to even out how hard your body is working while paddling. Stand up tall while on your SUP. Your large back muscles should be doing the bulk of the work and be sure to also dip your blade fully into the water with each stroke to get the maximum resistance.
5. Consider Taking a Paddle Boarding Lesson
Whether you are just learning or an experienced paddler, there are always new techniques that can be picked up to enhance your paddling experience. Guided paddle boarding trips mean more structure, less planning, and a safe group to explore with.
I highly recommend taking a lesson before paddle boarding in the ocean or if you plan to do long distance SUP trips.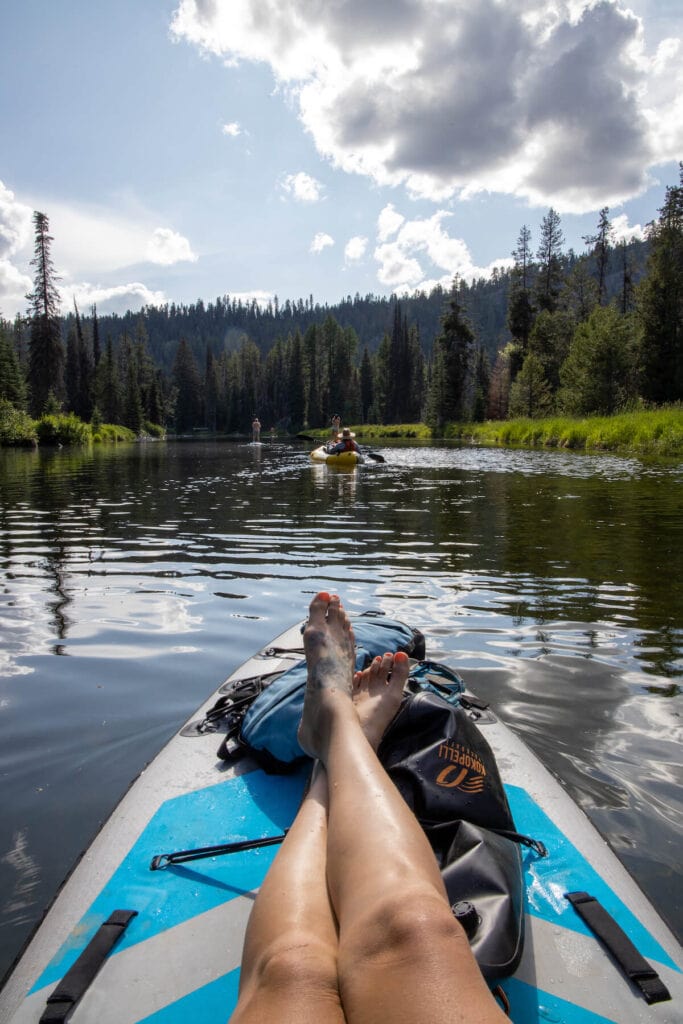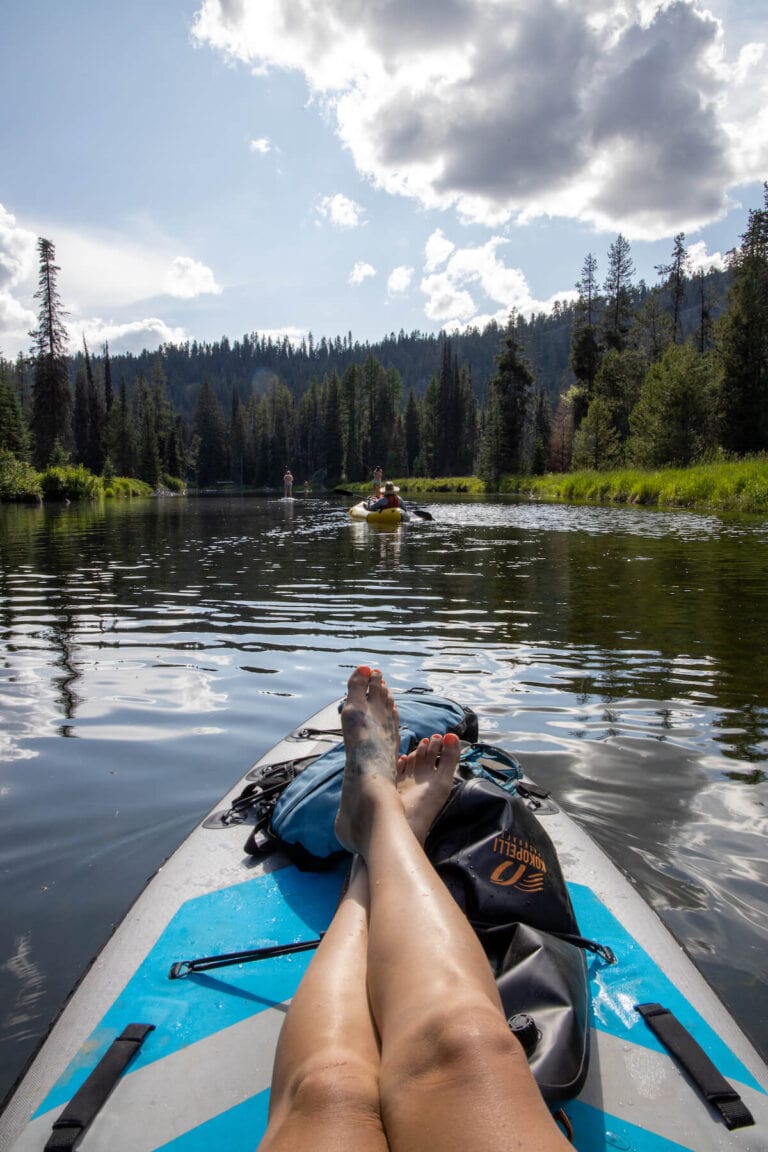 Paddle Boarding Gear
What to Pack for Paddle Boarding
If you are just beginning to learn how to paddle board, it's best to rent gear or borrow from a friend. Paddle boards are an investment, so you should make sure you enjoy it before pulling the trigger on buying one.
Here is our recommended list on what to pack for paddle boarding:
Besides the absolute basics listed above, we also recommend packing the following for paddle boarding:
Camera – a GoPro is the perfect waterproof camera
Carabiners – some paddleboards have bungee straps so you can easily strap down your gear. We also recommend attaching a carabiner to anything important (like your dry bag, portable speaker, etc.)
Lip Balm with SPF
Waterproof Portable Speaker – who doesn't love listening to tunes while on the water? Just be respectful of other people and remember that sound carries over water.
Garmin inReach Mini – I always recommend carrying an emergency communication device if you are out of cell range
What to Wear Paddle Boarding
Since you'll likely be getting wet, you want to stay away from anything cotton which will leave you dripping and soggy all day. Assuming it's warm and you don't need a wet or dry suit of any kind, you'll want lightweight, quick-drying layers – like a rash guard and boardshorts – which also provide sun protection.
Here is what we recommend you wear while paddle boarding:
We hope these beginner paddle boarding tips inspire you to try SUP for the first time this summer. What questions or tips do you have? Leave them in the comments below!