Stand-up Paddle Boarding: Tips from a Pro
Stand up paddle boarding may just be my new favorite outdoor activity. Not only do you get a healthy dose of Vitamin D and get to be out of the water, it's also a great form of exercise for toning up those abs. And now that summer is in full swing, it's the perfect time to give it a try.
I recently went to Huntington Beach, California and had the chance to take a stand-up paddle boarding lesson with Rocky McKinnon. I had SUPed a couple of times before, but this was my first time learning stand-up paddleboarding tips from an expert. Rocky is a former pro-surfer, local instructor, and custom paddleboard maker, so I knew I was in good hands.
Rocky met us in the Huntington Beach harbor. For this first lesson, we would be paddling in an area where we would be sheltered from the waves, giving us a chance to work on our form and to get comfortable with balancing and steering.
Before heading out, Rocky gave us his best stand up paddleboarding tips including how to stand, hold the paddle, and move efficiently on the water. Here are the lessons I learned.
1) Choose the right equipment for your size and ability
Width equals stability. When you are first starting off, you will want a wide, stable board so you can focus on the correct paddling stroke without the constant concern of falling in the water. Wherever you are renting or borrowing your board from, make sure to tell them that you are a beginner, so they can set you up with the right board.
2) Check Conditions
This is an important step before venturing out for your SUP adventure. Make sure that conditions are safe and fit for your ability so you can have an enjoyable time. For example, if it's really windy, that may not be the best time to try SUPing for the first time. Unless you have experience surfing, you'll also want your first time to be on flatwater where you are sheltered from waves.
3) Learn Correct Paddling Technique
This is essential for maximizing power and torque out of each stroke. This will increase your paddling speed and give you more of a workout. By learning the proper technique, you will also have better control of the board and be able to maneuver more effectively.
How to Get up
Stand next to the board in shallow water. Keep an eye on the fin so it's not dragging on the bottom.
Place your paddle down across the board
Plant your hands firmly on the paddle and kneel on the board just behind the board's halfway point
When you feel like you are balanced, slowly stand up
How to Paddle
Your feet should be facing forward about hip distance apart with knees slightly bent
Keep your core engaged to help with your balance
Grip the top of the paddle with one hand and place your other hand at a comfortable distance about halfway down the paddle
The angle in the paddle should face away from you, which is the opposite of how you would hold a kayak paddle.
Keep your arms straight as you extend the paddle forward for each stroke.
Make 4-5 short, close strokes on each side of the board and then switch sides and reverse your hand position.
To turn, keep paddling on one side (paddling on the right will cause you to go left). Or for a quicker turn, drag your paddle backward
After a quick demo, we set off for an hour of paddling around the harbor. With Rocky's SUPing tips, we all quickly got the hang of it and had a blast gliding through the water under that warm California sun.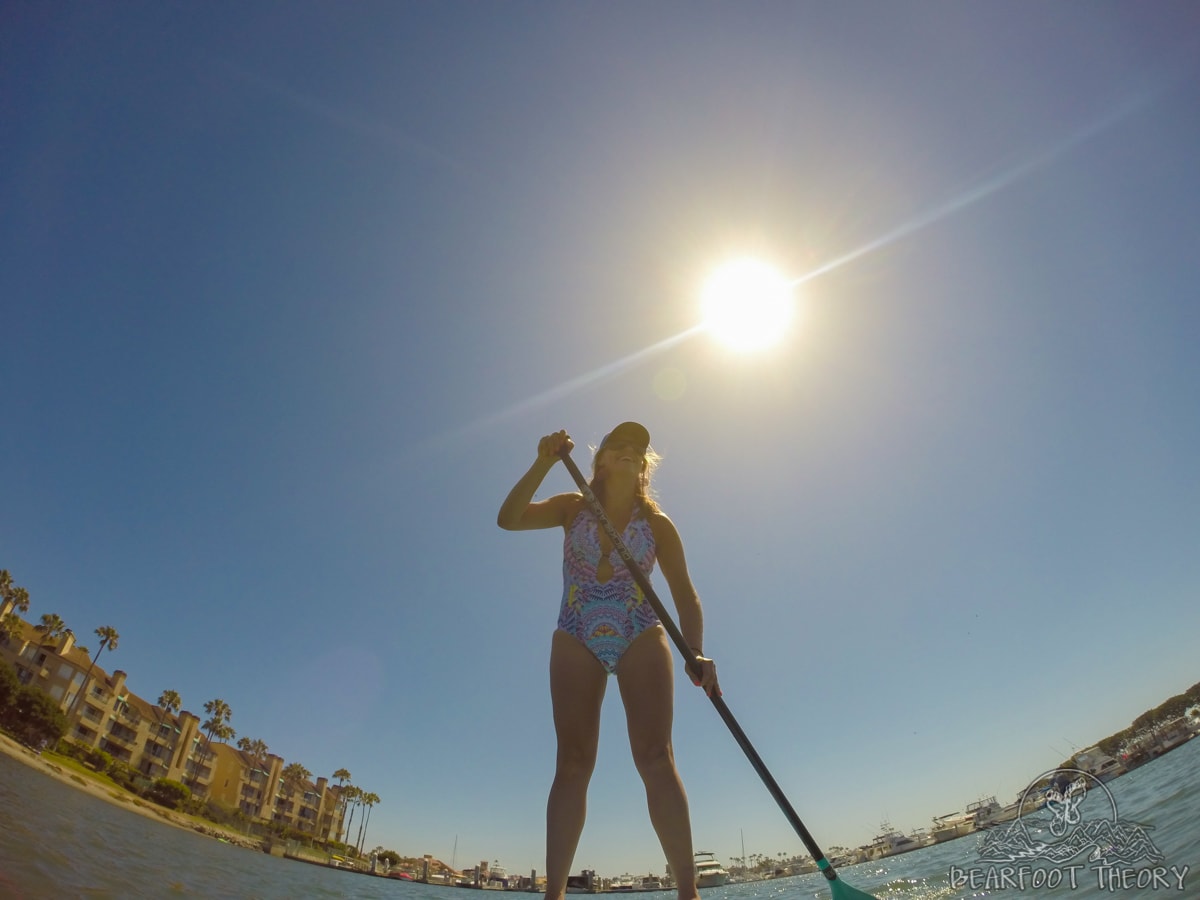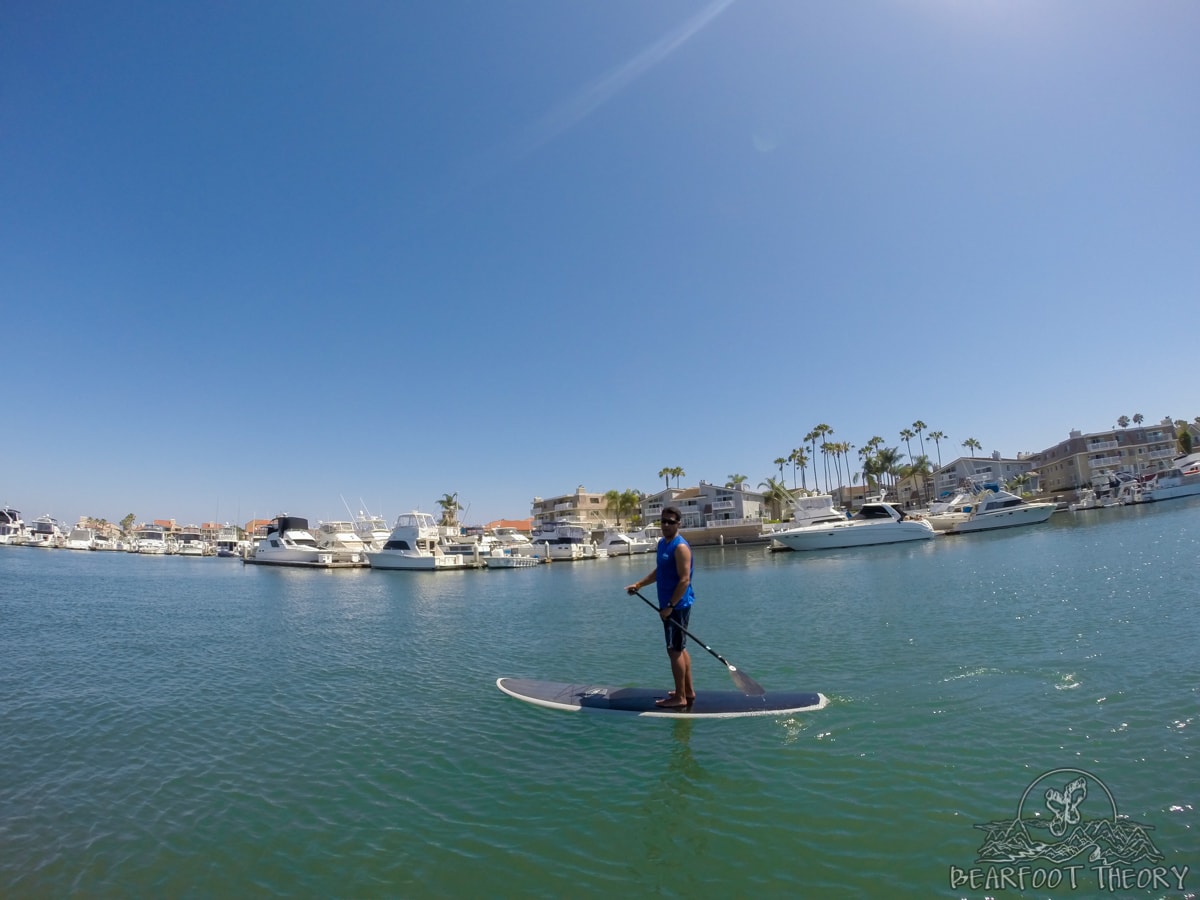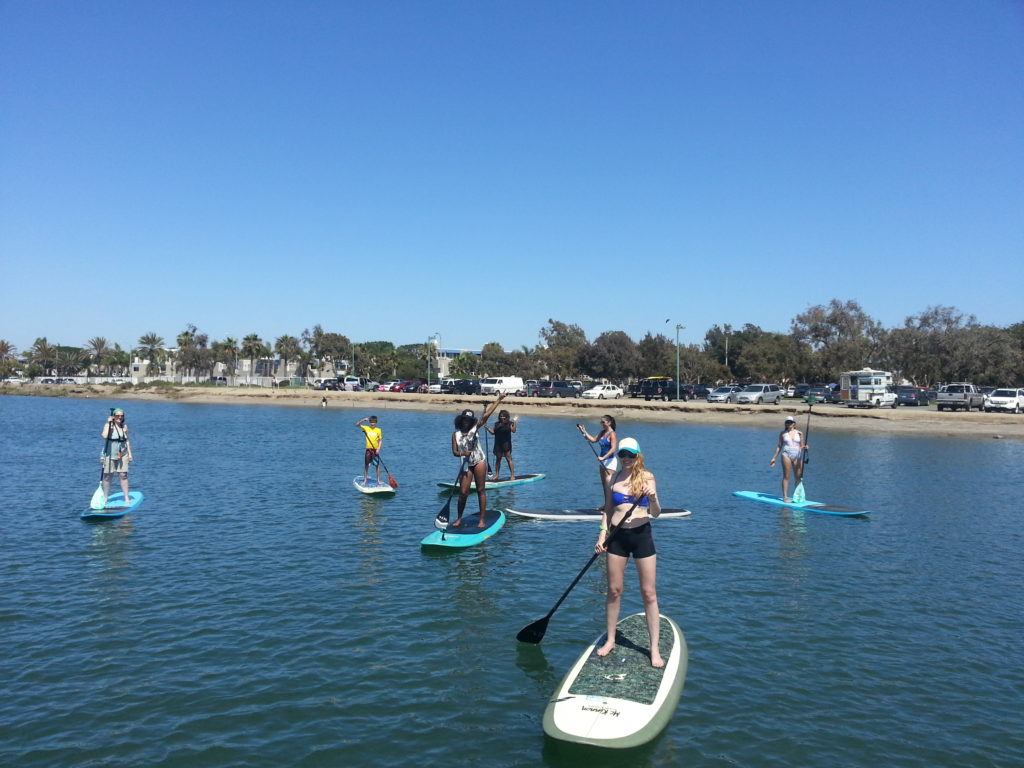 If you are new to stand up paddle boarding, Rocky also suggests taking a lesson or clinic. He said that whether you are just learning or an experienced paddler, there are always new techniques that can be picked up to enhance your paddling experience. If a lesson isn't possible, here is a helpful video that demonstrates many of the things we talk about here.
SUP Lessons Huntington Beach…
I loved the class we took with Rocky and would recommend it for anyone who is in Huntington Beach and looking to give SUPing a try. Rocky offers private and group lessons ranging from 1-2 hours and includes all of the equipment you need. And he'll even snap some photos of you while you are out there. For more info on lessons and pricing, visit the SUP page on Rocky's website or give him a call at (714) 377-6101.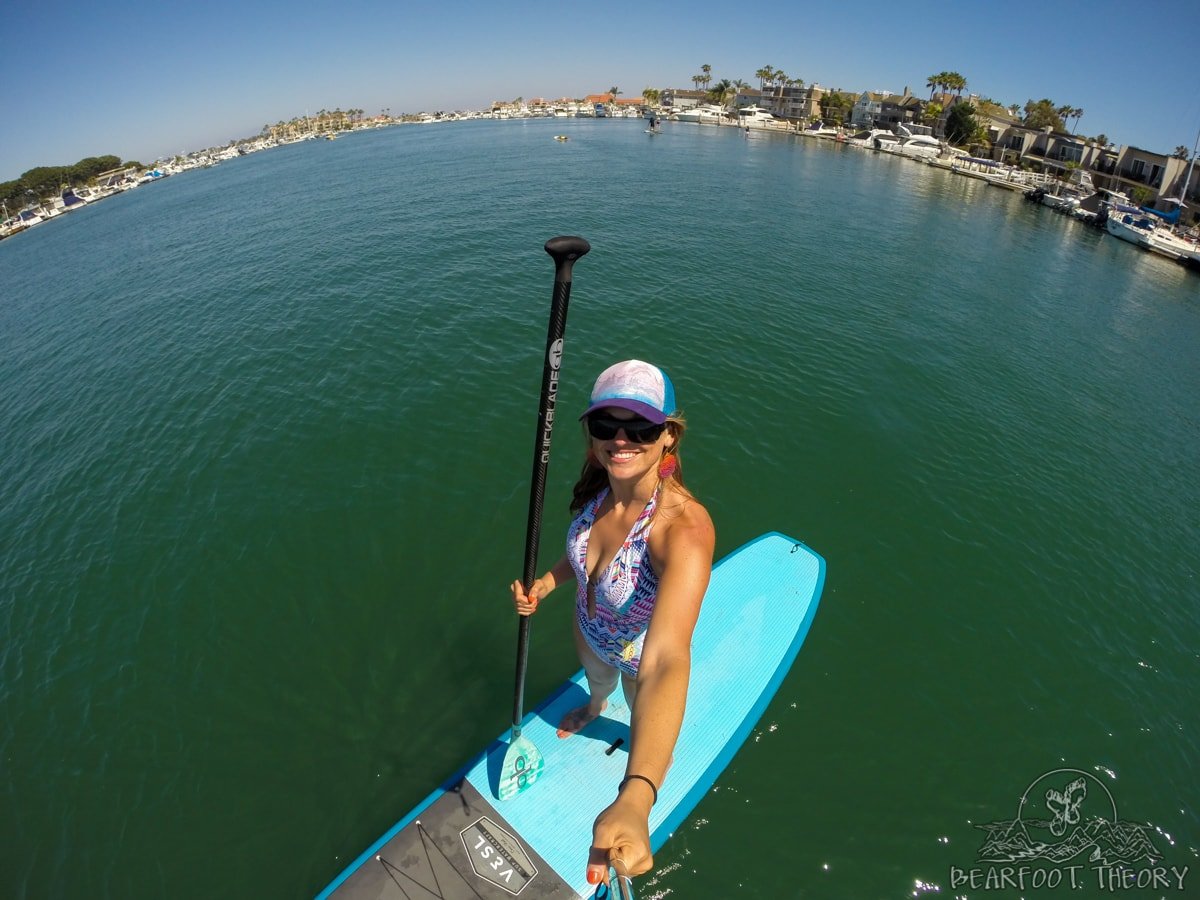 WOULD YOU LIKE TO TRY STAND UP PADDLE BOARDING? SHARE YOUR THOUGHTS IN THE  COMMENTS, TWEET ME, OR HIT ME UP ON FACEBOOK. 

*Thanks to Visit California and Visit Huntington Beach for setting me up with my stand-up paddle boarding lesson*