Backpacking the Grand Canyon of the Tuolumne Trail in Yosemite
Plan an epic Yosemite backpacking trip through the Grand Canyon of the Tuolumne with our trail guide containing info on permits, transportation & more.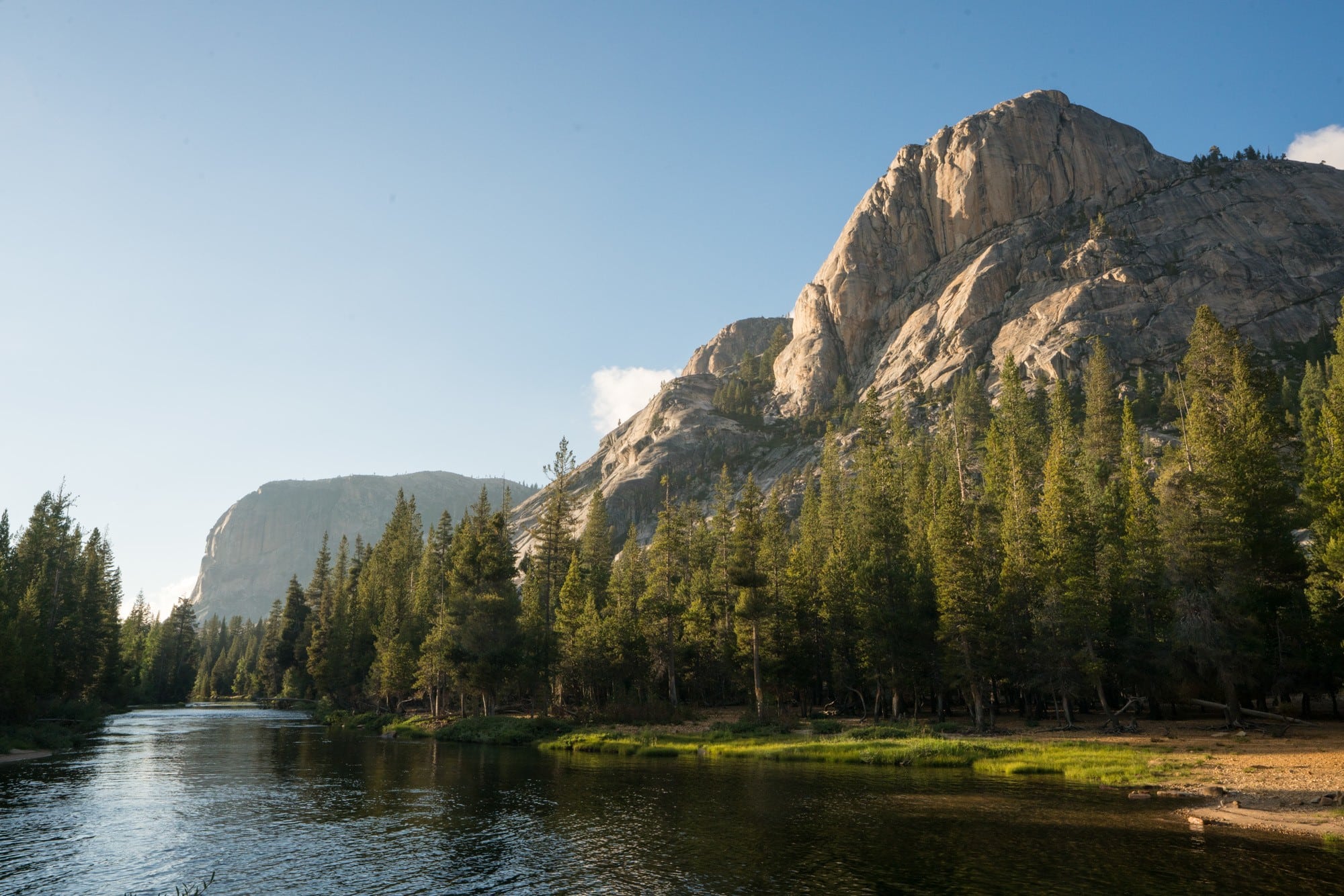 The Grand Canyon of the Tuolumne Trail in Yosemite National park is a 33-mile one-way trail that follows the Tuolumne River through a 3,000-foot deep canyon. Normally done over four days, it's a challenging trail with a demanding amount of elevation change. The payoff is that around every corner you'll find giant waterfalls or enticing swimming holes, all surrounded by the granite cliffs that Yosemite is known for.
We backpacked the Grand Canyon of the Tuolume in mid-September, and it was the perfect time to hike. With fewer crowds, permits are easier to score, and while the weather can be unpredictable, you might get get lucky with comfortable temps and sunny blue skies.
In this trail guide, I share the details of my Grand Canyon of the Tuolumne backpacking trip, including information on the best places to camp, which direction to hike it in, and transportation back to your car.
Grand Canyon of the Tuolumne Trail Basics
Trail Type: One-way (most common and described in this trail guide;) you can also make a 50-mile loop out of it
Length: 33 miles
Elevation Change: +/- 4,500 feet
Dogs allowed: No*
Best Season: Late Spring / Early Fall (more on that below)
Time: 3-4 days
Permit required: YES
Campfires: Check seasonal fire restrictions
* Trained medical service dogs that performed a specific medical function are allowed. This does not include Emotional Support Animals (ESAs). For medical service animals, you are required to either bury or pack out their poop and keep your pet under your direct control at all times. Our dog Charlie is a diabetic alert dog for my boyfriend Ryan's Type 1 Diabetes, which is why you'll see a few pictures of him here.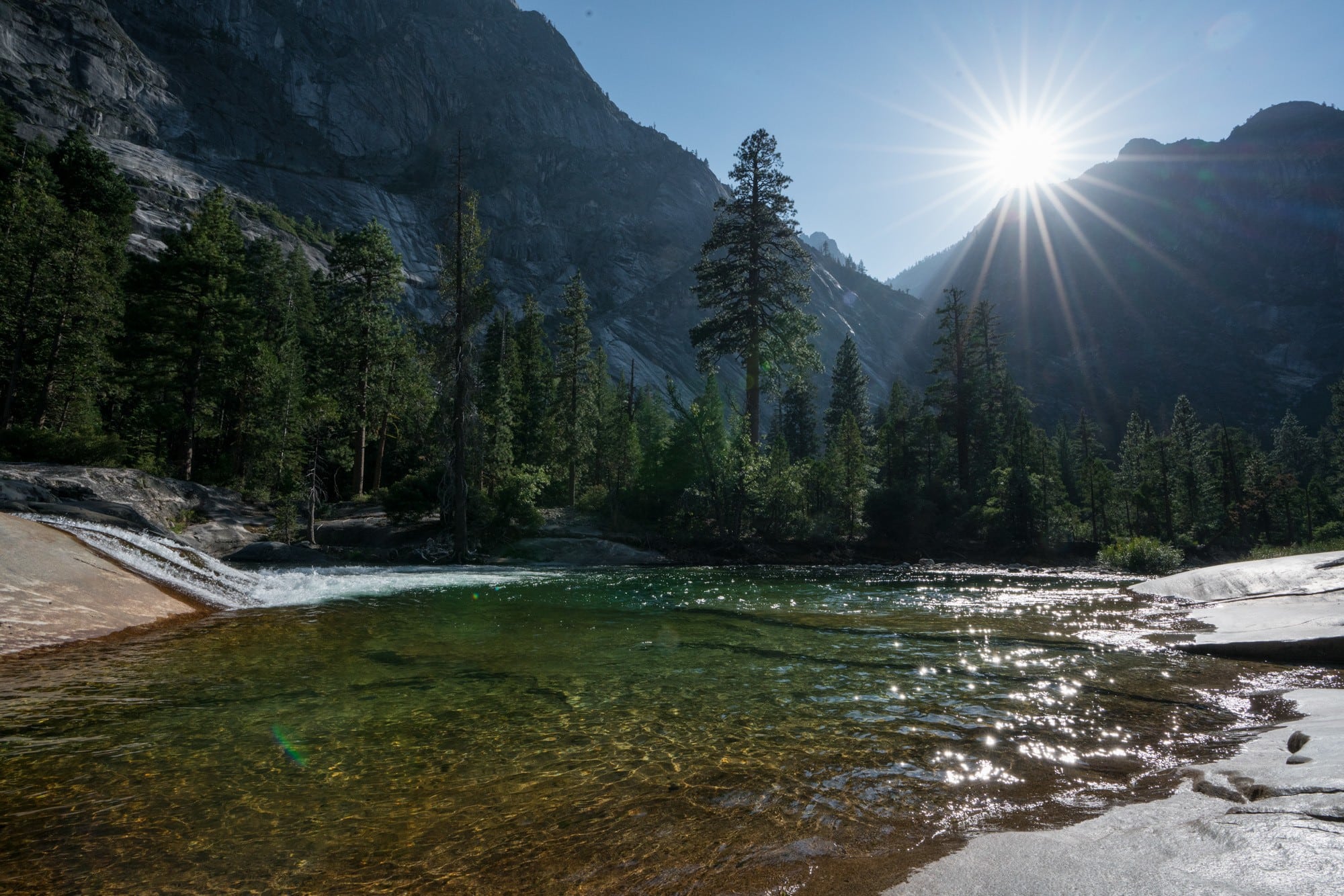 Best direction to hike the Grand Canyon of the Tuolumne
There are two different ways to hike the Grand Canyon of the Tuolumne, and there are pros and cons to each.
Tuolumne Meadows to White Wolf
Gradual downhill at the beginning
Very steep switchbacks up from Pate Valley at the end
Scenery was best the first half
More difficult to get back to your car afterward
White Wolf to Tuolumne Meadows
Very steep downhill at the beginning
Constant uphill slog for a majority of your hike
Scenery gets better as you go
Easier to get back to your car afterward.
My recommendation
While the most popular direction to hike the Grand Canyon of the Tuolumne is from White Wolf to Tuolumne Meadows, we decided to go against the grain. We hiked from Tuolumne Meadow to White Wolf, and if I could do it again, I would do it the same. I'll discuss our itinerary below, but we tackled the first half of the uphill on our third afternoon and the rest on our fourth and final morning. Hiking this direction, you have a mellow downhill stroll a majority of the time, and you save the steep uphill for the very end when your pack is lightest. The only thing that was a bummer about this direction is if you don't catch the bus (which leaves right from the White Wolf campground), you have to walk quite a ways up to the main highway in order to hitch a ride. And then once you are on the highway, you'll have to walk about a half mile east on the road until there is a safe place for a driver to pull over and pick you up.
If you go from White Wolf to Tuolumne, you start with a heavy pack and immediately descend 3,500 feet in one day. If you suffer from any sort of knee issues, this would be pretty tough. Then once you are down, the uphill isn't by any means easy. In fact, I thought it seemed quite hard, especially in the heat. The advantages of this direction is the swimming holes get more appealing by the mile, at the end you get dumped out right near the Tuolumne Meadows General's store, where it will be easier to hitch a ride back up to White Wolf.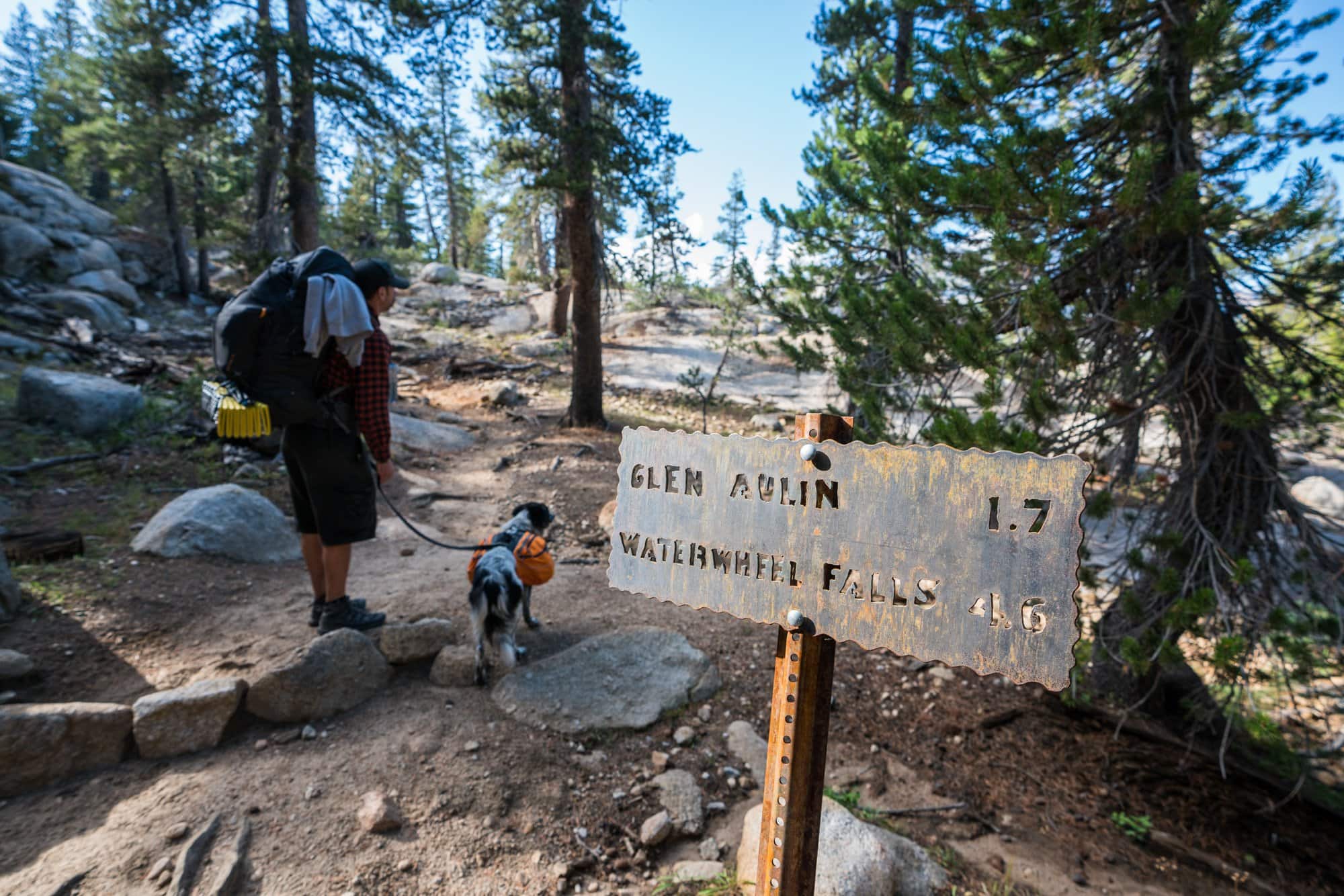 ---
Getting to the trailhead
Tuolumne Meadows is on the east side of Yosemite and is easily accessed from Highway 395 via Tioga Pass. Due to the one-way nature of the hike, you should make your transportation plan and check public transportation schedules before you apply for your permit.
Driving
If you have two cars, your best option is to park one at each trailhead and then you don't have to worry about catching the bus or hitch-hiking. To get to White Wolf Campground from Tuolumne Meadows, head 25 miles west on Highway 120, the major road that runs through Yosemite.
Public Transportation
If you only have one car and want to take public transportation, there are two different bus options.
Hitch Hiking
Hitch-hiking is legal in Yosemite, but you should do so at your own risk. As I mentioned in the above section, if you are hitch-hiking, you'll probably have an easier time if you end in Tuolumne Meadows.
---
Grand Canyon of the Tuolumne Wilderness Permits
When you apply for your Yosemite wilderness permit, you'll need to know where you want to start and where you plan on camping your first night.
From Tuolumne, you can either spend your first night at the Glen Aulin backpacker camp (5.3 miles) or pass-through and camp anywhere beyond that. We did the pass-through and found we didn't have to hike too far past Glen Aulin to find some really cool and private campsites near the river.
If you start at White Wolf, you'll likely want to make it all the way down to Pate Valley for your first night. That way you can spread the uphill over your remaining days.
60% of the quota is available for advanced reservations, which can be made 24 weeks (168 days) in advance of your trip. If you are unable to get an advanced permit, 40% are put available the week prior online. Yosemite has pretty clear instructions on how to apply for a wilderness permit on this page.
Backpacking Gear
My 3-day backpacking gear checklist is a good place to start when figuring out what gear to bring on the Grand Canyon of the Tuolumne. You'll also need a bear canister, and I highly recommend trekking poles.
---
Our Grand Canyon of the Tuolumne Itinerary & Map
Before heading out on your trip, I'd highly recommend picking up the Tom Harrison waterproof map. There are not too many junctions where you could get lost on this hike, but you'll want a map so you can estimate how far you've gone each day.
Day 1
We got a late start, setting off at the Glen Aulin trailhead around 1:30pm. The trail meanders away from the road, and you reach the banks of the Tuolumne River about 2.5 miles in. The trail is well-signed, and you gradually begin your descent into the canyon. As you get closer to Glen Aulin, there is a large waterfall and number of swimming holes that are nice to stop at if you get an early enough start. At 5.1 miles you cross the river on a footbridge. Follow the sign to Glen Aulin camp if that is your first night's destination. Otherwise, once you are on the north side of the river, you hang a left towards Pate's Valley, and this is your trail for the next 18 miles. We stopped shortly after this junction around 5:30, just in time for sunset. There are a few established campsites on the left that follow Leave No Trace Principles that are right below a waterfall and are next to a swimming hole that has an open view down canyon.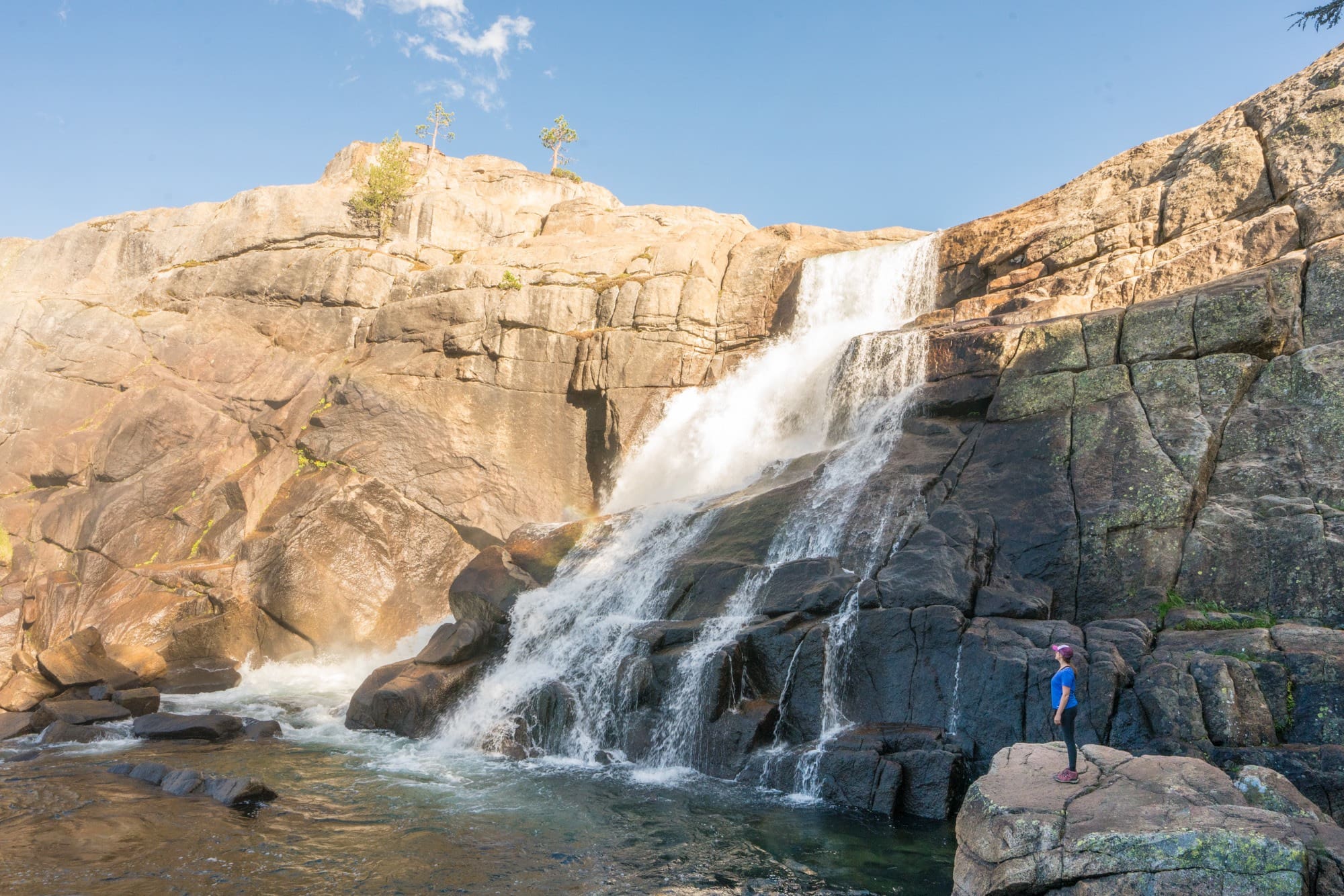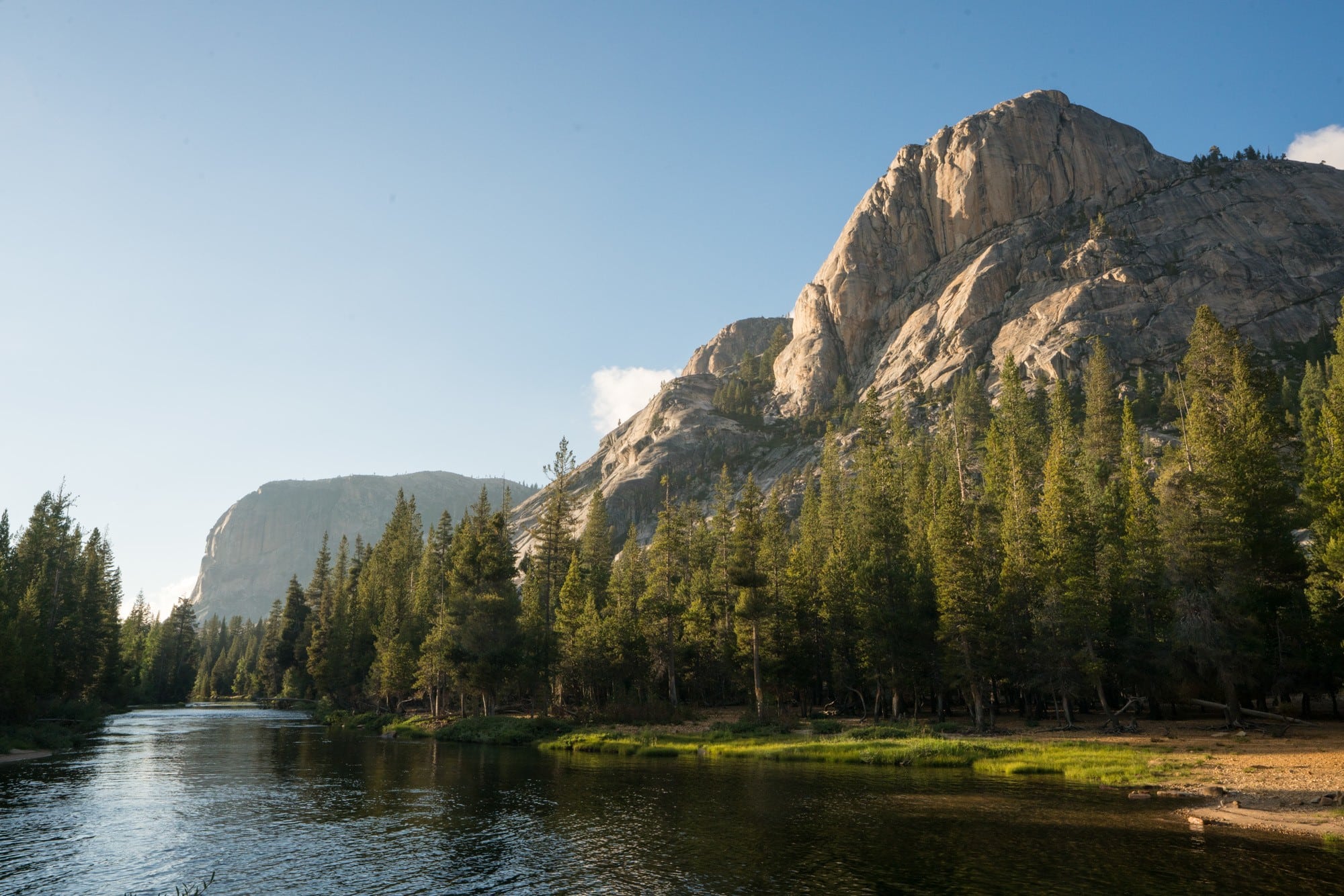 Day 2
The section below Glen Aulin was my favorite stretch of the hike, and on this day I was glad we had 4 days to complete our hike. It meant we didn't have to rush and had time to stop and enjoy the scenery. You pass several large waterfalls, including California, LeConte, and Waterwheel Falls, lots of sandy beaches, and have plenty of opportunities to swim. From Glen Aulin to Pate Valley, you drop about 3,500 feet. There were some steep areas where our trekking poles came in handy. As you descend, the trails transitions from granite rock to sand, and the air temperature can increase quite a bit with the decreasing elevation. As we got lower we also noticed more bugs. The rangers also warned us of rattlesnakes, although we didn't see any.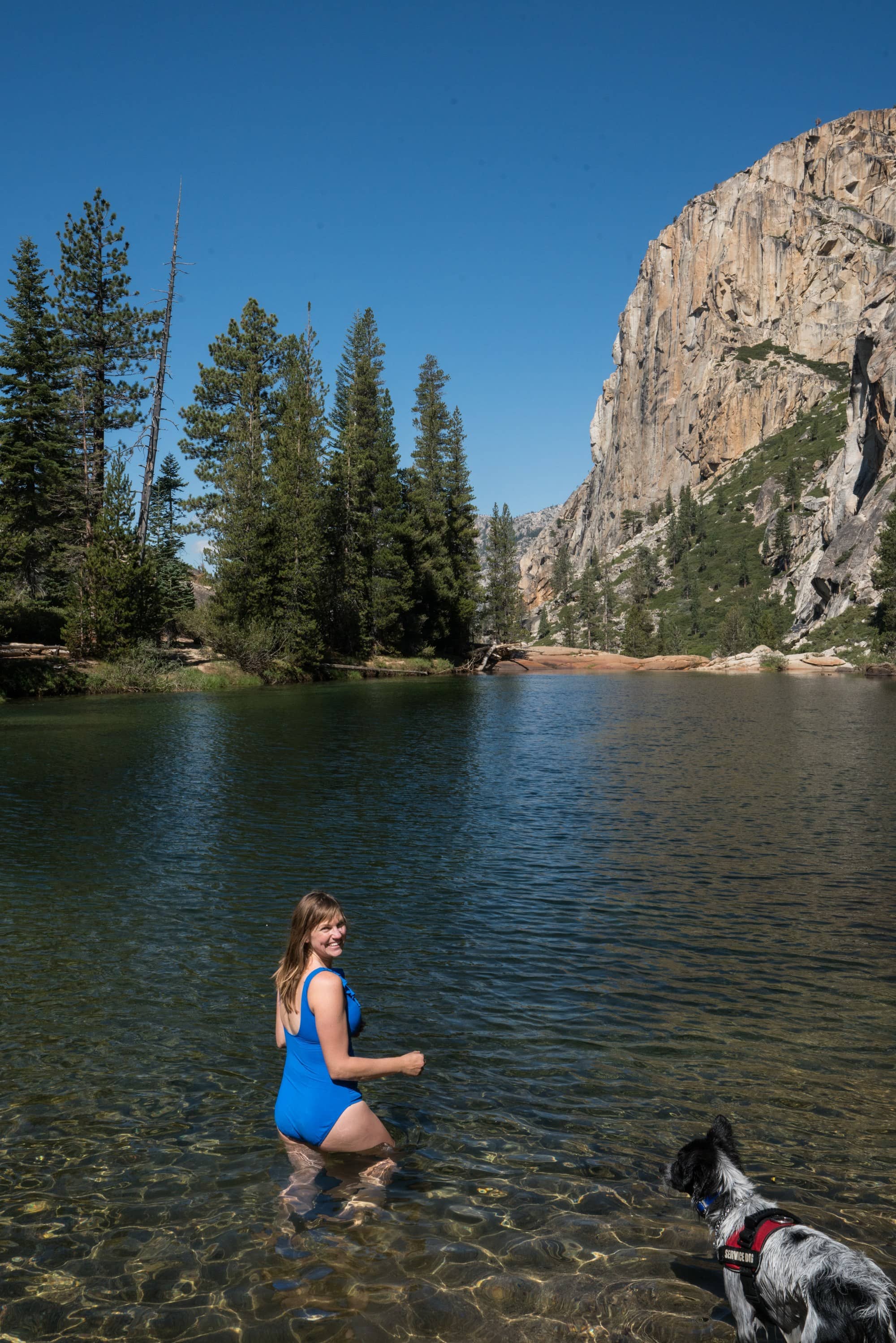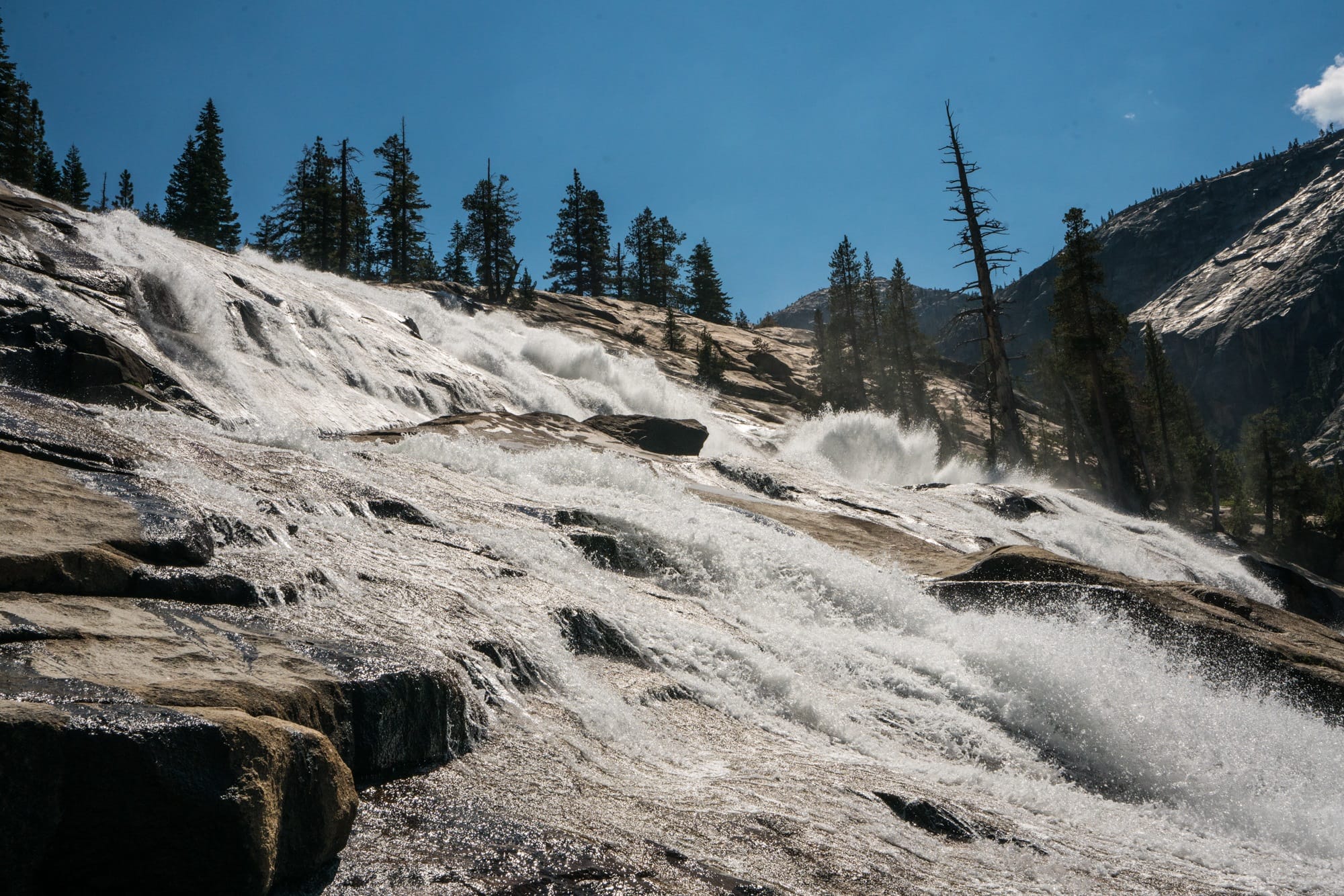 With the exception of a couple of creek crossings, there's not a ton of landmarks on the trail past Waterwheel Falls, and I did find it a little difficult to determine our exact location just by looking at the map. I was glad I was able to cross-reference the map with my Garmin InReach, a handheld GPS and communication device. It's important to pay attention to your topo map because there are some short sections that are away from the river, particularly the up and downhill section right before Register Creek. There are no good campsites when you are in these sections away from the river, and you'll want to make sure you have enough water before starting them. There were also some long sections a few miles down from Waterwheel Falls that were buggy and had a lot of dead and downed trees. So if you see a good campsite without bugs and you're tired, you might consider stopping.
We hiked about 8 miles our second day and camped across the canyon from Grand and Colby Mountain. Our campsite was on the left side of the trail and was tucked in behind some bushes. It was a private site on a bluff above the river with an awesome swimming hole. There was a fire ring here as well, but fire restrictions were in place for lower elevations.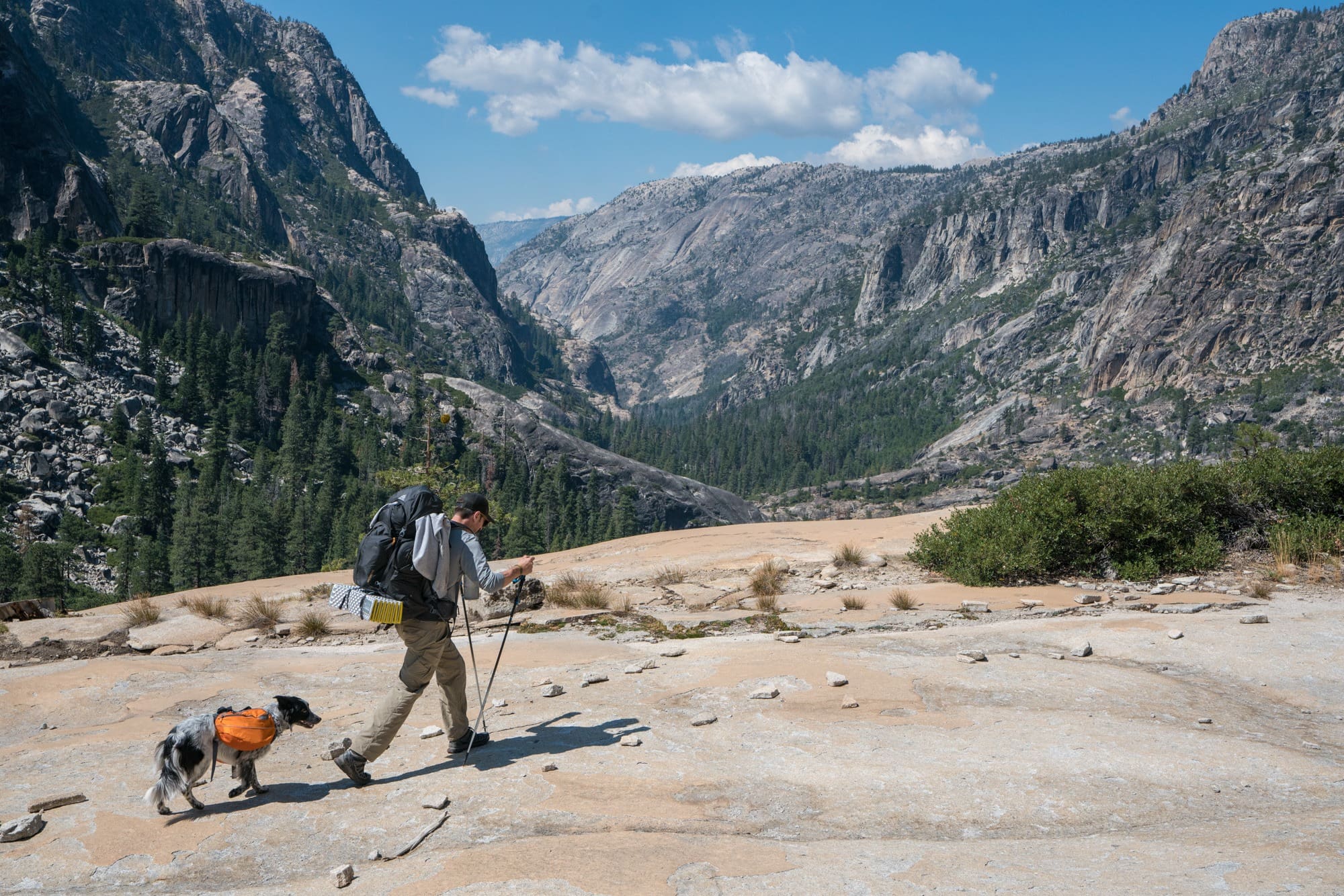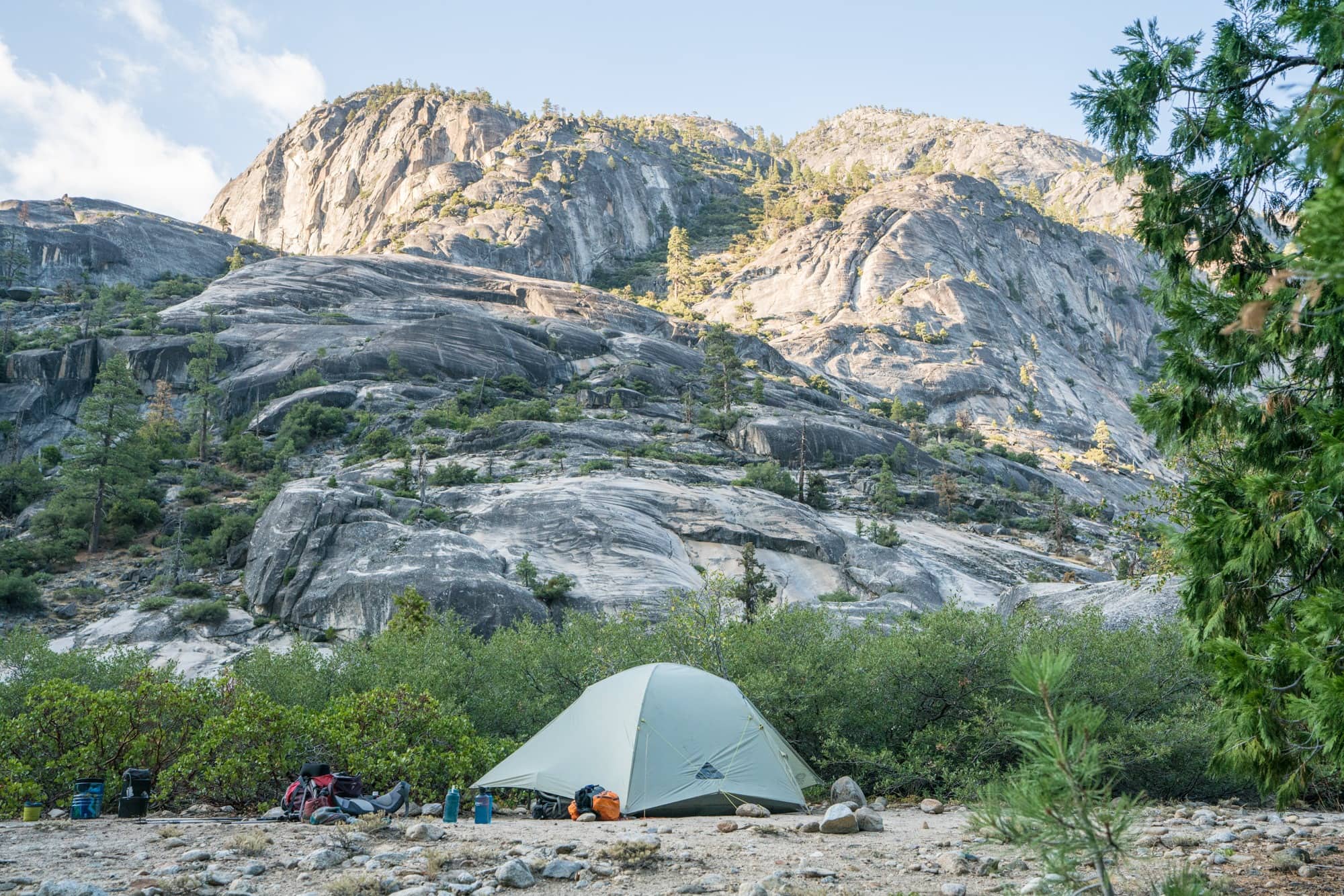 Day 3
Because of where we stopped on our second day, we had a long day planned for day 3. Rather than stopping in Pate Valley, we wanted to start the ascent out of the canyon and camp halfway to the top. The ranger told us there were some sites around Mosquito Creek, which still had running water in mid-September. Approaching Pate Valley, the river is increasingly rocky, and the vegetation becomes more desert-like.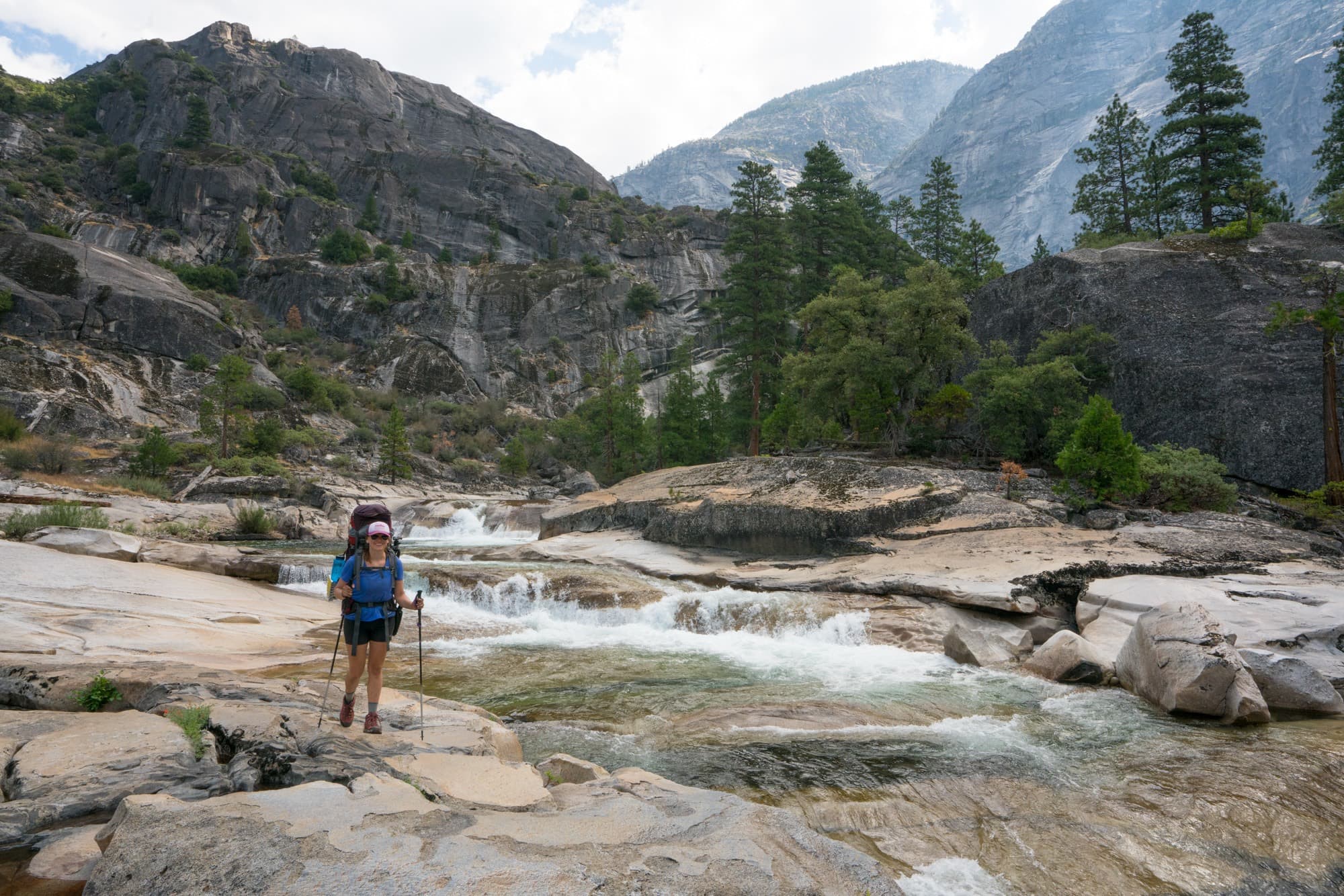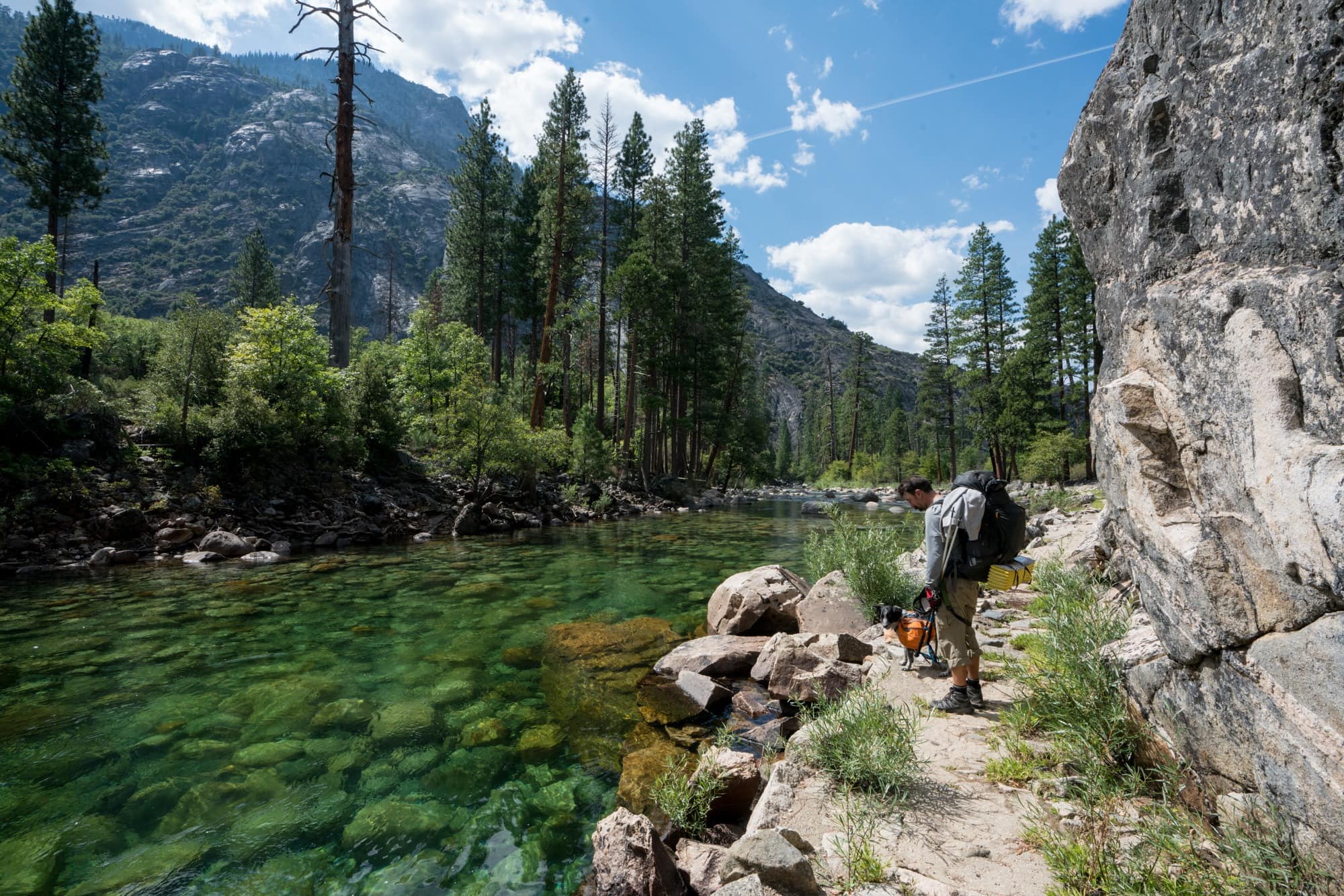 We got to Pate Valley around 1pm. Due to the strong water flows in 2017, the bridge that goes across the river here was out. That meant we had to cross the river at the shallowest spot, which was still almost waist deep in some places. Hopefully by 2018, this bridge will be fixed. If not, I recommend wearing sturdy shoes (I wore my hiking boots) and unbuckling all of your backpack straps in case you happen to fall and need to ditch your bag quickly. I didn't get any pictures because I was focused on making it across safely, and we made it to the other side without a problem.
Once you leave Pate Valley, you start your climb up to White Wolf. A majority of the 3,500 feet of gain happens in the first 6 miles, and the entire climb consists of short steep switchbacks. I was really nervous about the ascent, and while it was challenging, it wasn't as horrendous as I expected. I just focused on going slow and pacing my steps with my breath. Before I knew it, we had tackled the first set of switchbacks. About 3 miles up, the trail flattens for no more than 150 feet. There is a small side trail down to Morrison Creek on the left, and on the right is a large campsite overlooking the canyon and Hatch Hetchy. It was a pretty incredible campsite, and not knowing what the sites further up would look like, we decided to stop here for the night.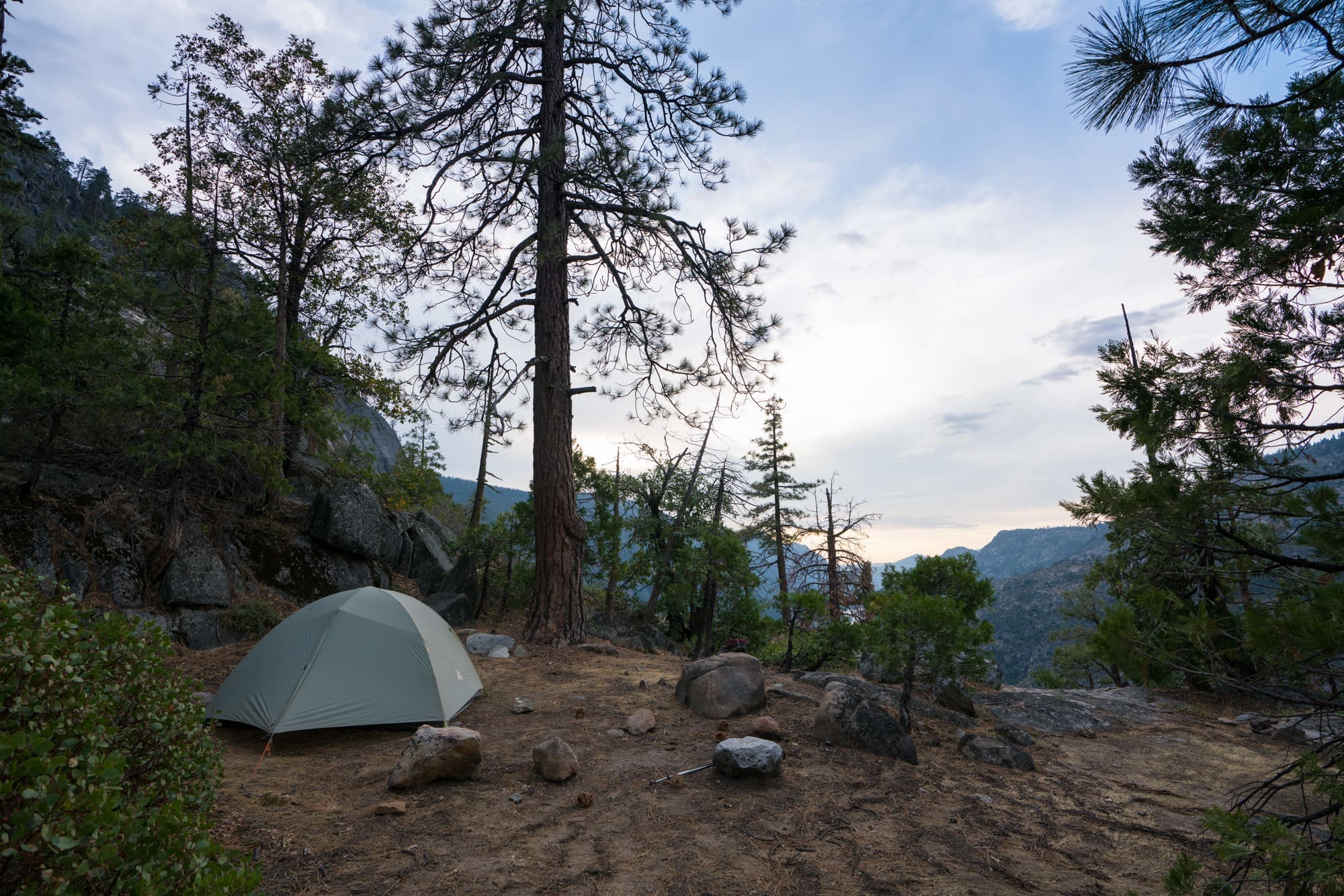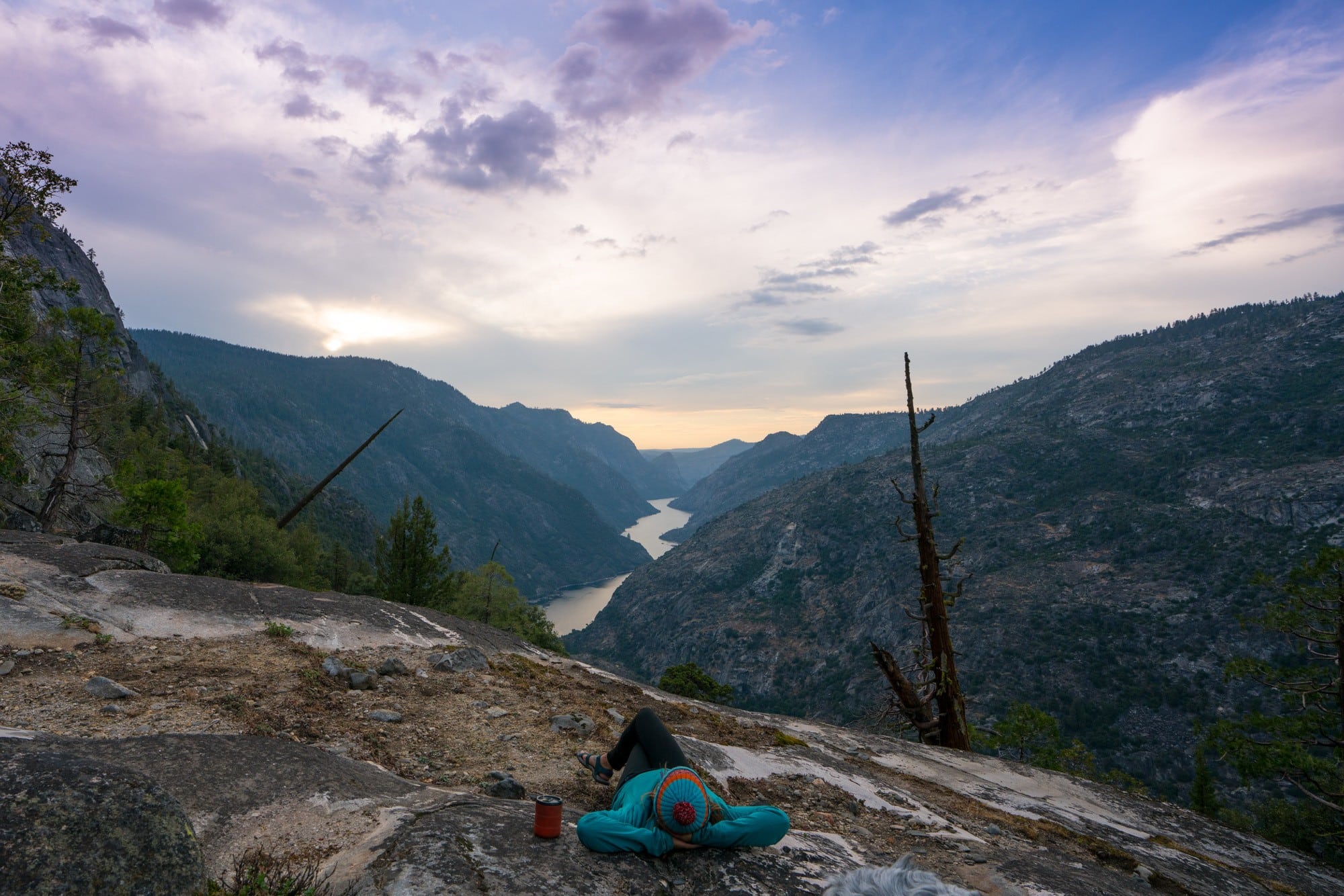 Day 4
Immediately leaving camp, we started the next long set of switchbacks. It was shorter than the first day, and we were happy we stopped where we did because the remaining campsites we passed on Morrison Creek were not as nice or private. Once you reach the 7,000-foot mark, you get to a junction, and there are two different ways to get to White Wolf. We choose to go towards Harden Lake. The trail was swampy in places and Harden Lake was pretty, but not as stunning as other lakes in Yosemite. It is a place you can fill up water though if necessary. Shortly after Harden Lake, the trail pretty much ends, and the last 2 miles are on a service road.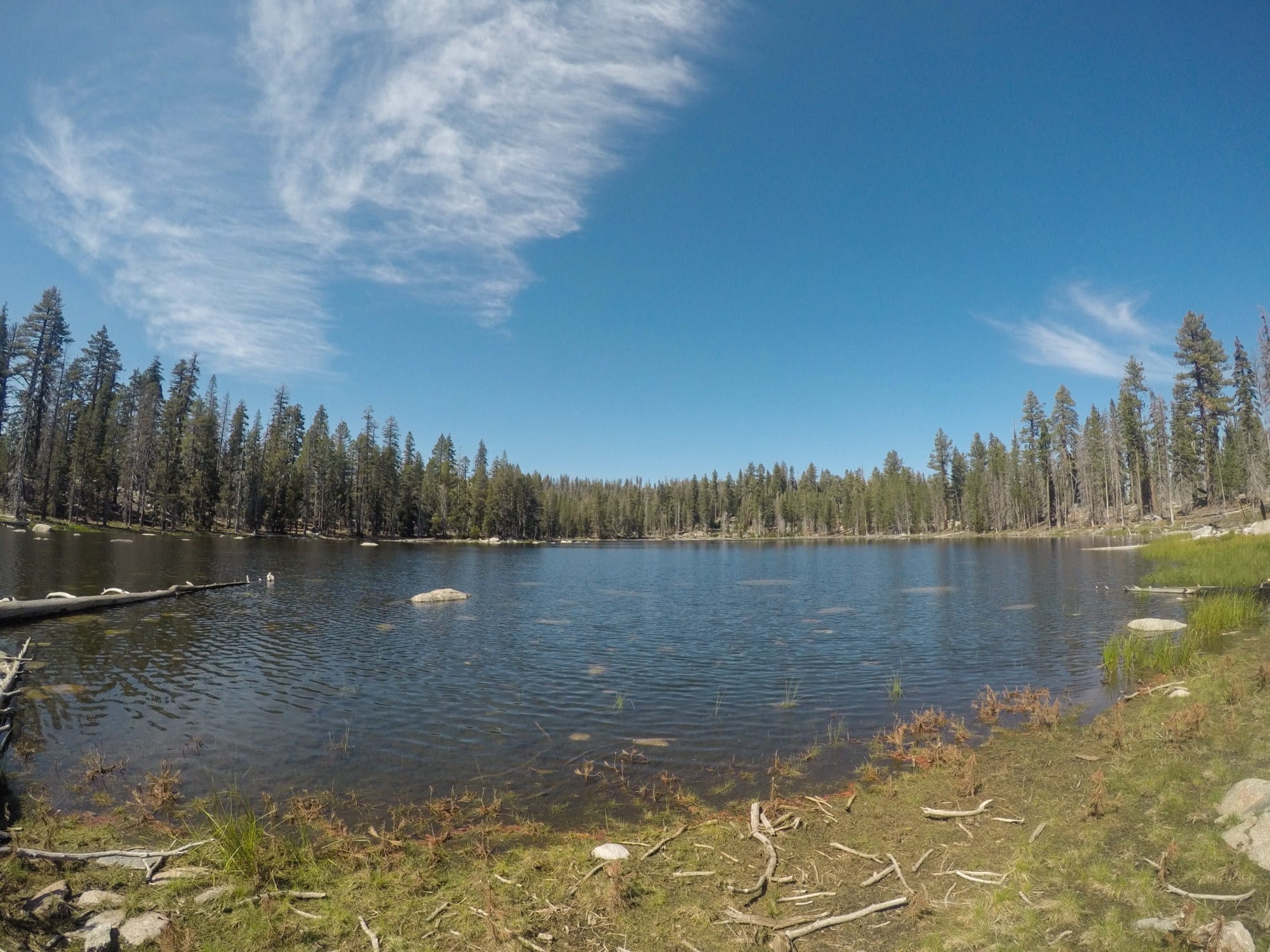 If I could do it again, I'd probably skip Harden Lake and take the interior route. I don't know what it's like, but on the map it looks like a regular trail vs a service road, which sounds like a nicer way to end the hike.
Once you get to White Wolf, the bus stop is right at the campground entrance. If you have to hitchhike, try to get a ride right from that parking lot. Otherwise, you have another 1.5-2 miles of hiking on the pavement to reach the main highway that goes back to Tuolumne.
Other Things to Be Aware Of
This is bear country. You need to be bear aware and store all food and scented-items (toothpaste, baby wipes, etc) in a park-approved bear-proof canister. Place your canister and do your cooking at least 100 feet from your tent at night. For more information on what to do if you see a bear, see this post about wildlife safety. However, note that bear spray in Yosemite is illegal.
We saw quite a bit of used toilet paper on the trail. Please follow Leave No Trace principles and pack it out. For tips about how to pack out your toilet paper, see this post about pooping outside.
I hope this prepares your for an amazing backpacking trip through the Grand Canyon of the Tuolumne. If you have questions, leave them below in the comments!