A Secret Vegas Oasis: Kayaking the Vegas Black Canyon on the Colorado River
People come to Las Vegas, Nevada thinking that the only place to take a dip in is their hotel pool. Well, I'm about to show you a secret side of sin city that most locals don't even know about.
Forty-five minutes from the Las Vegas Nevada Strip is a paddler's paradise. Named the Black Canyon Water Trail, this 12 mile stretch along the Colorado River begins directly below the Hoover Dam and is loaded with dramatic desert landscapes, narrow slot canyons, and some seriously awesome hot springs.
Organizing a day trip or overnight paddling trip on the Vegas Black Canyon in Nevada is super easy. I've done it twice and both times I used the local company Desert Adventures. They provide both guided trips and boat rentals for a reasonable price that includes round-trip shuttle transportation from the Hoover Dam Lodge.
Important Reminder: As outdoor recreationists, it's our responsibility to know how to recreate responsibly on the water whether we're kayaking, paddleboarding, canoeing, rafting, or boating. Learn how to prevent the spread of aquatic invasive species with 3 easy steps that have a huge impact on our ecosystems.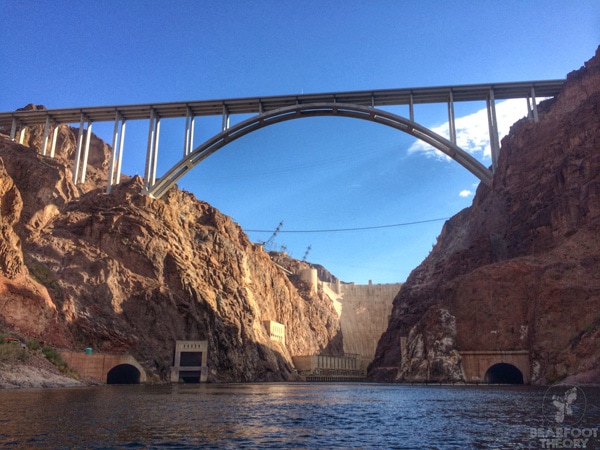 Guided vs. Self-Guided Kayak Tour of the Black Canyon in Nevada
The Black Canyon section of the Colorado River is entirely flat water. There's not even a hint of rapid. So even if it's your first time paddling, you shouldn't really run into any problems doing it self-guided. When the shuttle driver drops you off with your boat at the launch point, they will provide you with a map showing all of the cool spots to check out along the river. There are also mile markers on the river bank, so it is easy to navigate and keep track of your progress.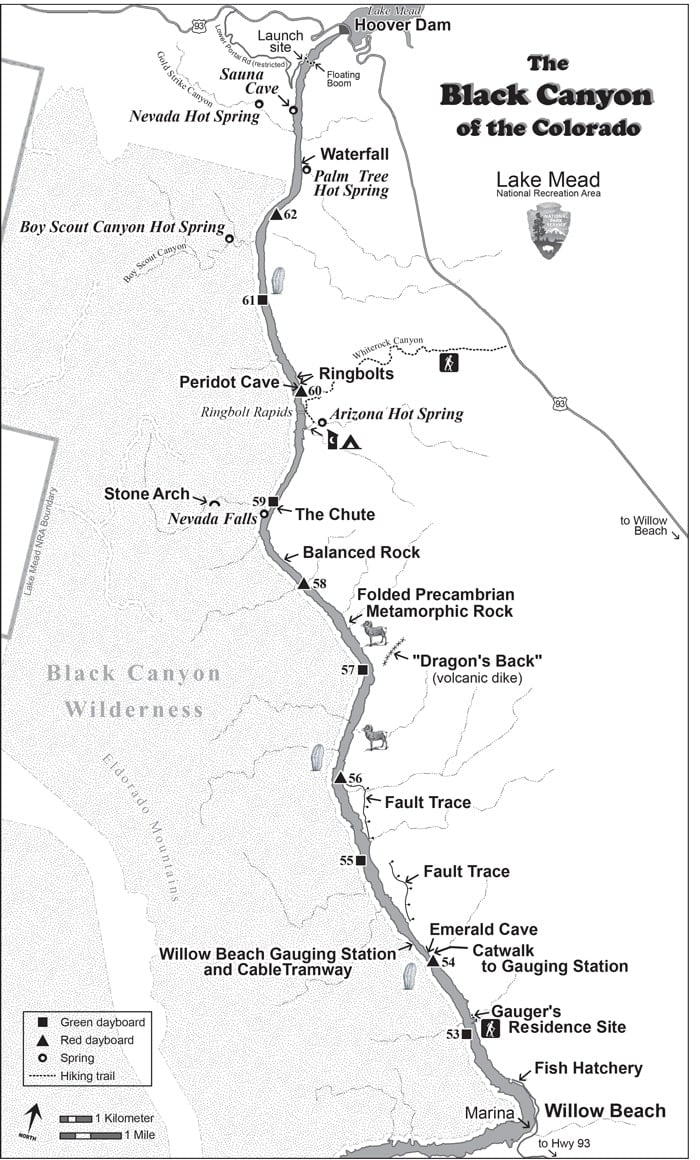 On the flip side, if you are feeling a little nervous about doing this trip self-guided, it's totally worth inquiring about a guided kayak tour. A tour guide will be able to tell you all about the local geology and make sure you don't miss the best canyon sites.
Whether you choose an independent or guided trip, Desert Adventures rents dry bags, camping gear, and anything else you might need. Just be sure to wear clothes that you don't mind getting wet and a good pair of water shoes for hiking up the side canyons. Terrain can be a bit rough, and flip-flops just won't cut it. It's also a good idea to bring a small daypack for the side hikes. Some of the hot springs take a bit of scrambling to reach, and you'll want to have your hands free.
Your kayaking trip also requires a $22 per-person permit from the National Park Service. These permits are in limited quantity in order to minimize traffic in the canyon. So you should call to book your trip as soon as you know the dates you will be in the Vegas area. Desert Adventures will tell you whether there are permits available, and if so, they will handle the whole process for you.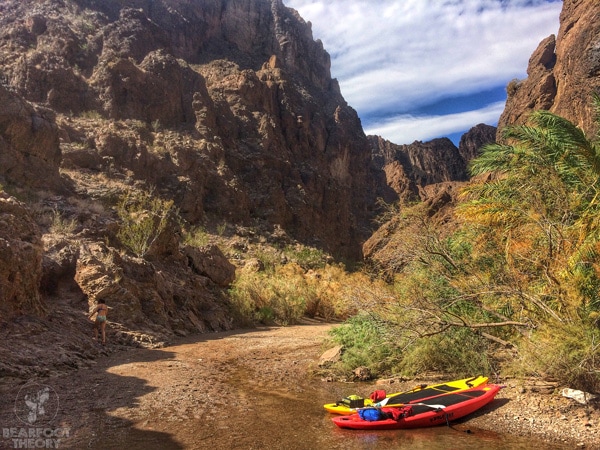 When to Kayak the Vegas Black Canyon
The hot springs are what make this paddling trip so unique, so I recommend visiting in the spring or fall when the air temperatures are comfortable and you can actually enjoy them.  Summer is also nice, but as you can guess, the Vegas heat is extremely intense, making a hot spring soak pretty unpleasant from June through September. Alternatively, during the summer months, you can spend more time in the river, where the water temperatures average a very cool 54 degrees.
Black Canyon Highlights
Since rain and flooding can alter the geography of the side canyons, the description and pictures of these sites may change from season to season. For the most up to date information, visit the National Park Service's Black Canyon Water Trail website.  Additionally, water levels are controlled by releases from the Hoover Dam, and the height of the Colorado River can change drastically from hour to hour. This means that a beach you park on could be under water an hour later. So when you stop to explore the side canyons, make sure to tie up your boat.
Sauna Cave (mile 63)
This is a man-made cave that was originally dug out during the construction of Hoover Dam. Thanks to geothermal activity, this cave is like a natural steam room. You have to do a bit of crawling to make your way to the very back of the cave, but it's worth it for a good schvitz.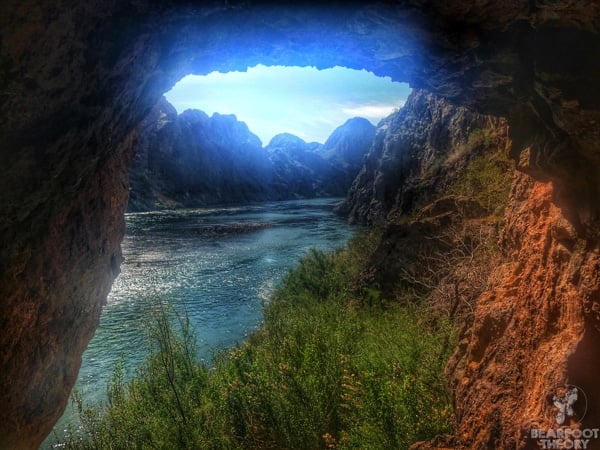 Nevada Hot Springs (mile 62.5)
Walk up the Gold Strike Canyon wash to reach a series of beautiful blue springs with temperatures ranging from 85-105 degrees. These pools are also accessible by hiking from the road, so you may encounter larger groups at these pools.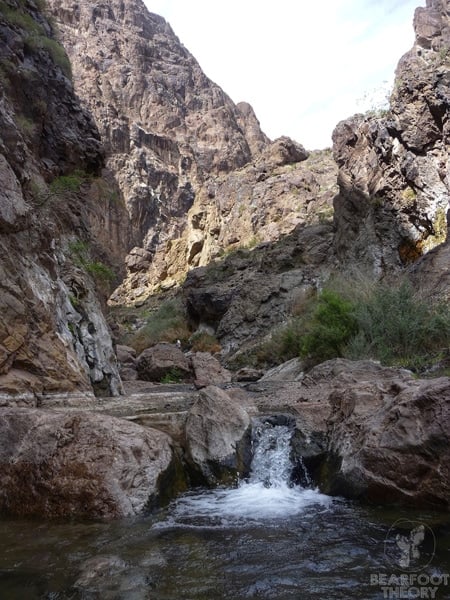 Boy Scout Canyon (mile 61.75)
The first pools are located a 1/4 mile walk upstream from the river. If you want to continue further be prepared to do some scrambling using the ropes that have been installed at some of the small waterfalls.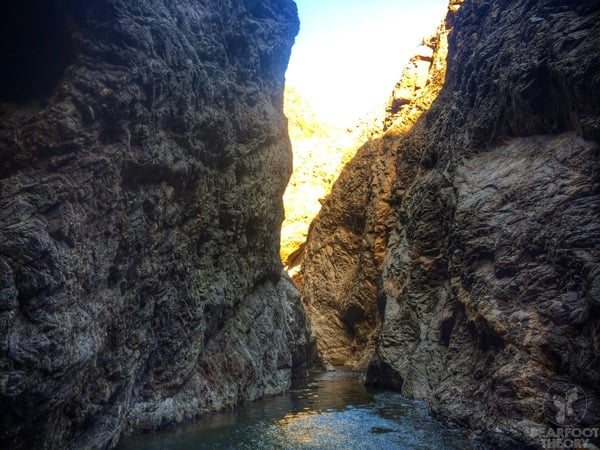 Arizona Hot Springs (mile 59.75)
Out of all of the hot springs, these are located in the most dramatic slot canyon with canyon walls that are as narrow as 6 feet apart. Arizona hot springs is especially cool at night! The best hot springs are reached by climbing a 20-foot ladder that has been installed by the National Park Service.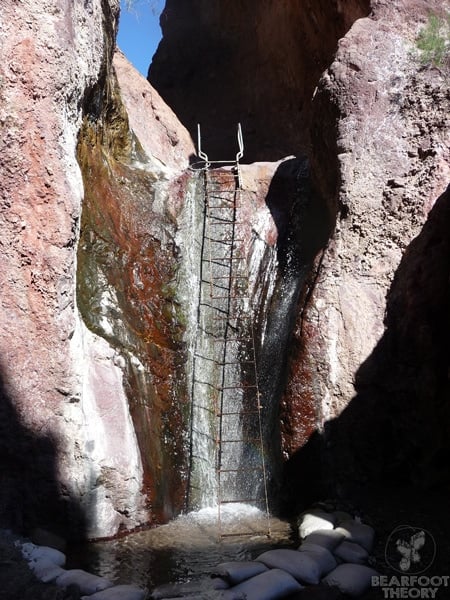 Emerald Cave (mile 54.75)
This is a shallow cave on the Arizona side of the river. When the sun hits it at the right angle, the water sparkles like an incredible emerald gem, making for some really cool photographs.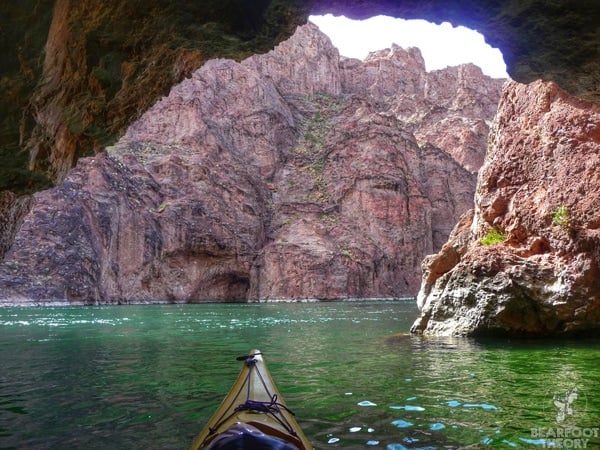 Boat Options for Exploring the Black Canyon in Nevada
Desert Adventures rents stand-up paddle boards, kayaks, and canoes. They each have their advantages depending on the season.
Stand-up Paddle Boarding
This past August, I went through the Black Canyon on a stand-up paddleboard and unfortunately, conditions for my trip were not ideal. All day, we were paddling against a strong headwind and the water was relatively rough. I'll tell you it was fun but tough, and we spent most of our time kneeling as it was more efficient against the gusts….not really the most comfortable for 12 whole miles.  The water in the Colorado River is also pretty frigid, so I would only recommend paddle boarding on a hot summer day with no wind.
Rental price: $60 including transportation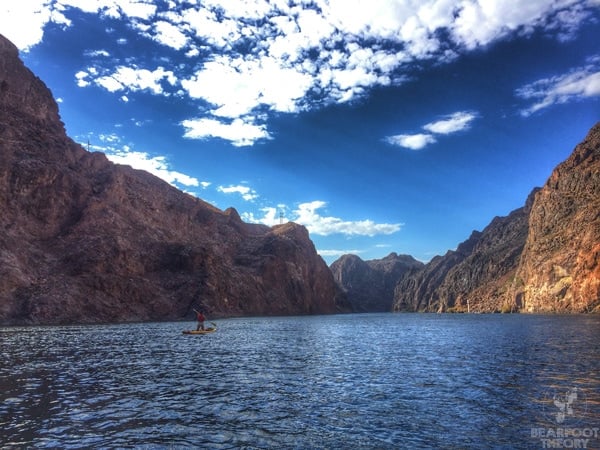 Kayaking
In 2011, I paddled this stretch in a single-man kayak over a two-day period, camping at Arizona hot springs. The kayak was efficient and easy to steer. For a single day adventure, I think a kayak is the right way to go. The downside of a kayak if you choose to camp is that you will have to pack light since there is limited space to strap on your gear.
Rental price: $65-$75 including transportation (additional days: $15/day)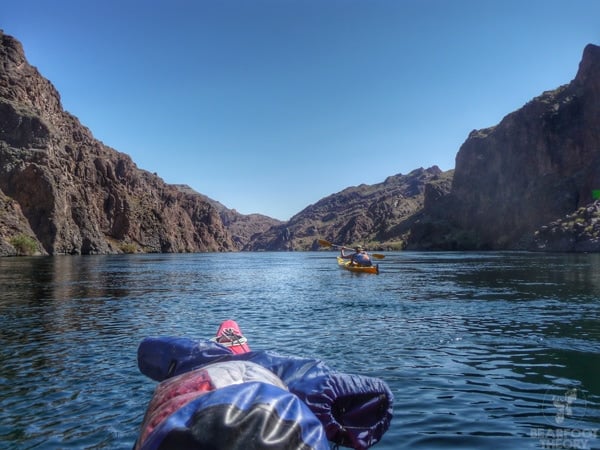 Canoe
If you have a larger group and are planning on camping overnight, you should consider renting a canoe. A canoe allows you to carry more gear, including coolers. And you know you are going to want that ice cold beer when you get to camp.
Rental price: $55 per person including transportation (additional days: $15 per person/day)
What to Pack For The Vegas Black Canyon
It really depends on whether you are just spending a day in the Black Canyon or camping overnight in regards to what to pack. Also, what clothing you bring depends on when you are going so make sure to check conditions. Pack as you would for a hiking trip. Bring layers and if you are visiting in warmer months, don't forget a swimsuit.
Day Trip Recommended Essentials
For camping overnight, check out our detailed Lake Powell overnight kayak gear list that can be used for overnights in the Black Canyon. 
Camping in the Vegas Black Canyon
I gotta put a plug in for camping. If you really want to have time to relax in the springs, do an overnight trip. Camping is allowed on any available beach, with portable restrooms located at Arizona hot springs. Fires are permitted, but you must bring your own firewood (another reason to rent a canoe). Please practice Leave No Trace by packing out all of your trash and making sure your food is concealed.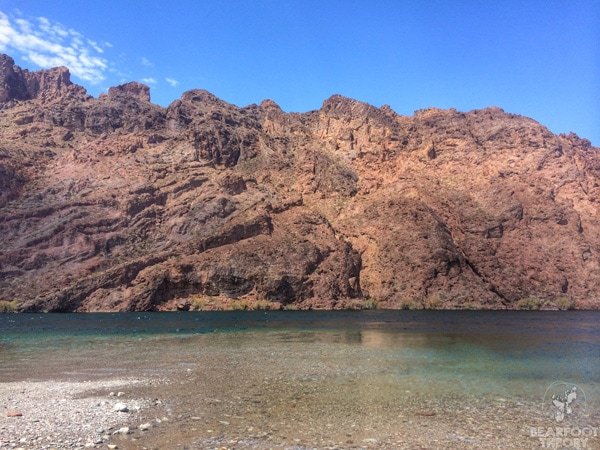 So what are you waiting for? Next time you're in Vegas, get off the Strip! Your Black Canyon paddling adventure will cost you less than a day at the Cosmo Pool, and it's so close that you can still celebrate your day on the river with a wild night out on the town.
WOULD YOU LIKE TO KAYAK THE BLACK CANYON?  LEAVE A COMMENT BELOW, TWEET ME, OR WRITE ME A POST ON FACEBOOK.