Many people visit Las Vegas thinking that the only place to take a dip is in their hotel pool. It's the desert after all, right? Well, I'm about to show you a secret side of Sin City that most locals don't even know about: the Black Canyon Water Trail.
Located about 45 minutes for the Vegas Strip, this 30-mile stretch of water along the Colorado River is a paddler's paradise. The waterway begins directly below the Hoover Dam and is loaded with dramatic desert landscapes, narrow slot canyons, and some seriously awesome hot springs.
Organizing a day trip or overnight paddle on the Black Canyon is super easy. I've done it twice and in my opinion, it's one of the best outdoor adventures near Las Vegas.
Cool off with a paddle down the Black Canyon Water Trail. Learn how to book a shuttle, what gear you need, unique highlights and more.
Important Reminder: As outdoor recreationists, it's our responsibility to know how to recreate responsibly on the water whether we're kayaking, paddleboarding, canoeing, rafting, or boating. Learn how to prevent the spread of aquatic invasive species with 3 easy steps that have a huge impact on our ecosystems.
Black Canyon Water Trail Map + Overview
The Black Canyon Water Trail is a 30-mile stretch of the Colorado River that starts at the base of Hoover Dam and ends at Eldorado Canyon. Along the way, paddlers can explore numerous slot canyons, secluded beaches, hidden caves, hot springs, and so much more.
A popular day or overnight paddle is to do a 12-mile stretch from Hoover Dam to Willow Beach, which I provide more details on below. This stretch of water is typically flat, calm, and easy to maneuver in a kayak. If you choose to do the full 30 miles, the water further down the canyon can be fast-moving in places with hidden rocks under the surface.
There are mile markers on the river bank, so it is easy to navigate and keep track of your progress whether you're doing a day trip or an overnight excursion.
Year-round water temps are typically in the low to mid-50s.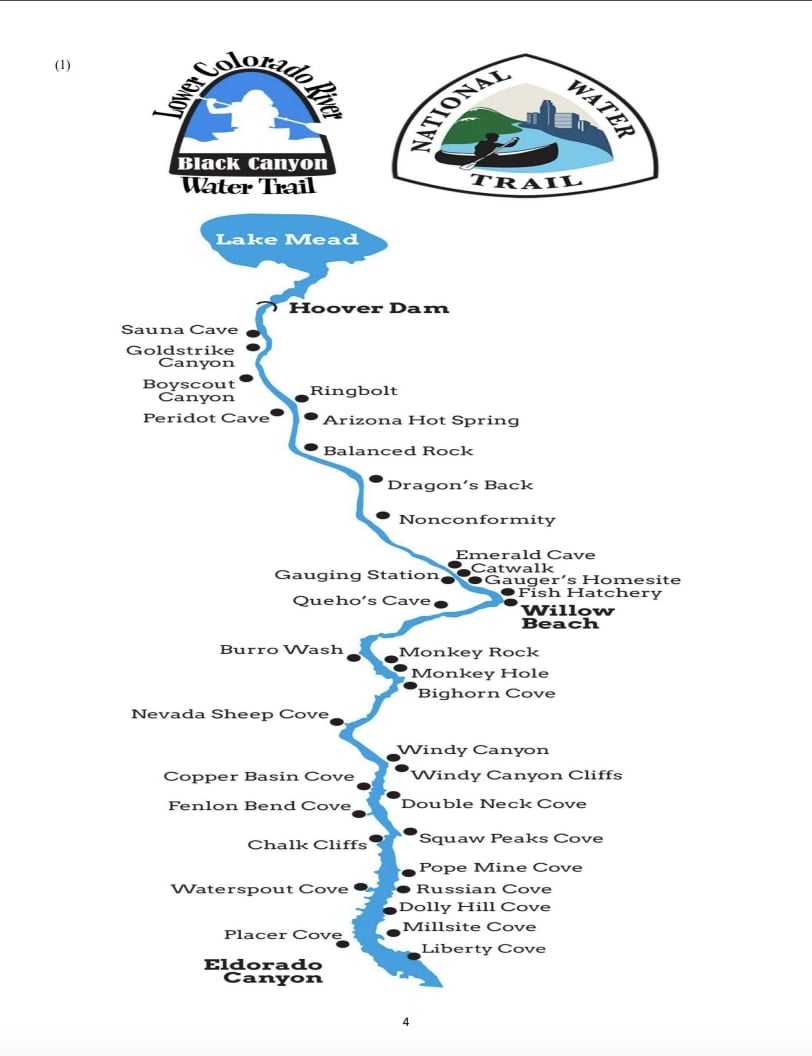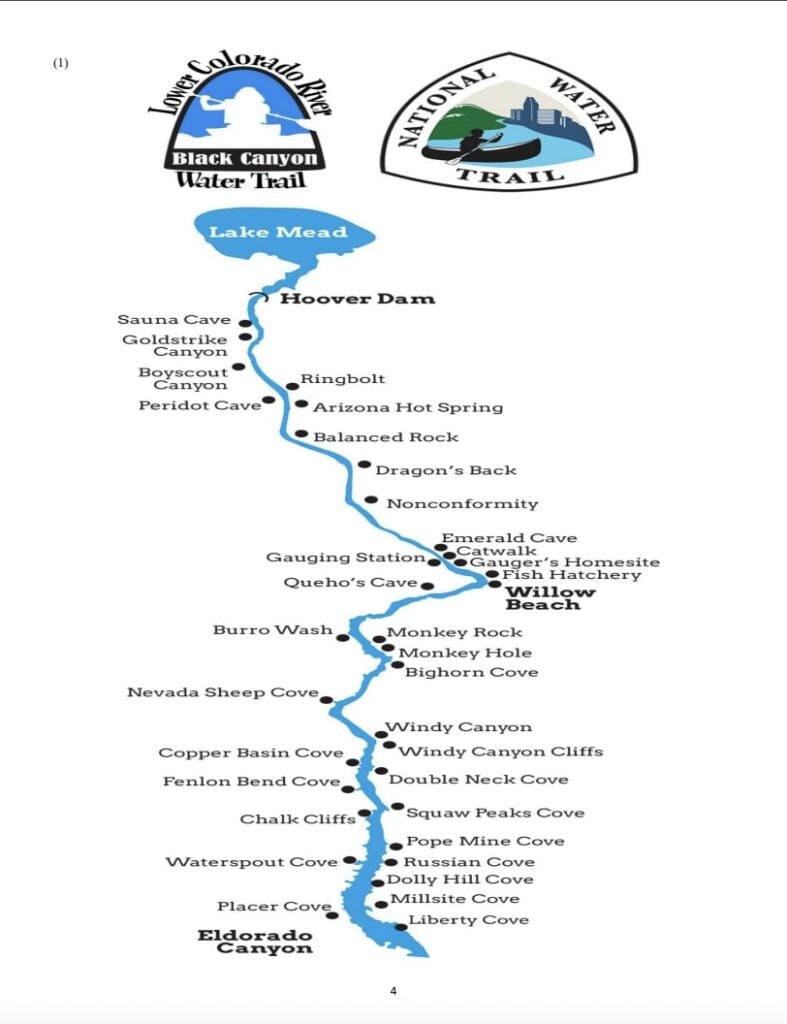 ---
Shuttle & Permit Information for the Black Canyon Water Trail
Whether you're doing a day trip or an overnight paddle, a shuttle from an approved vendor is required to get to the launch point of the Black Canyon Water Trail. The launching point is actually located in a Federal Security Zone, so you have only 15 minutes to get your gear together and launch your boat.
In addition to the shuttle, a permit is also required for both day and overnight paddlers. Permits are granted when booking your shuttle with an approved vendor. Each permit costs $32 and they can sell out months in advance, so grab your spot early! You can find a list of approved shuttle companies here.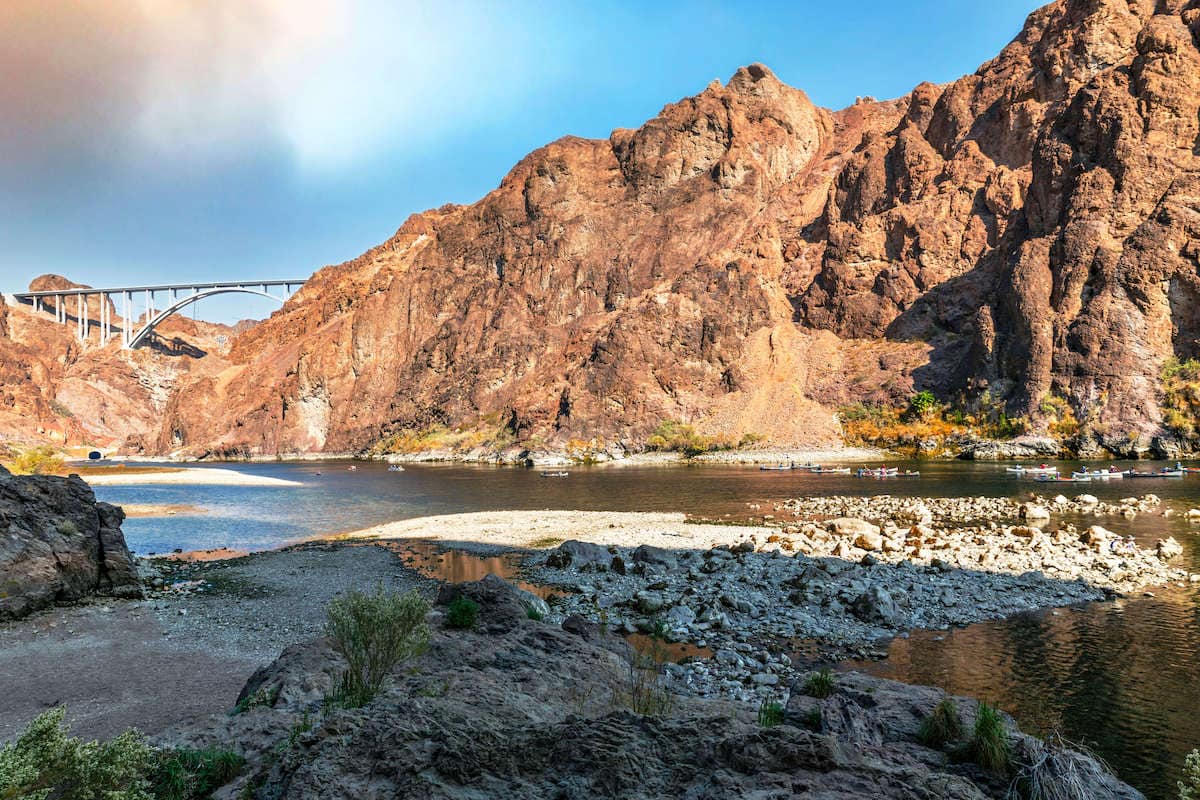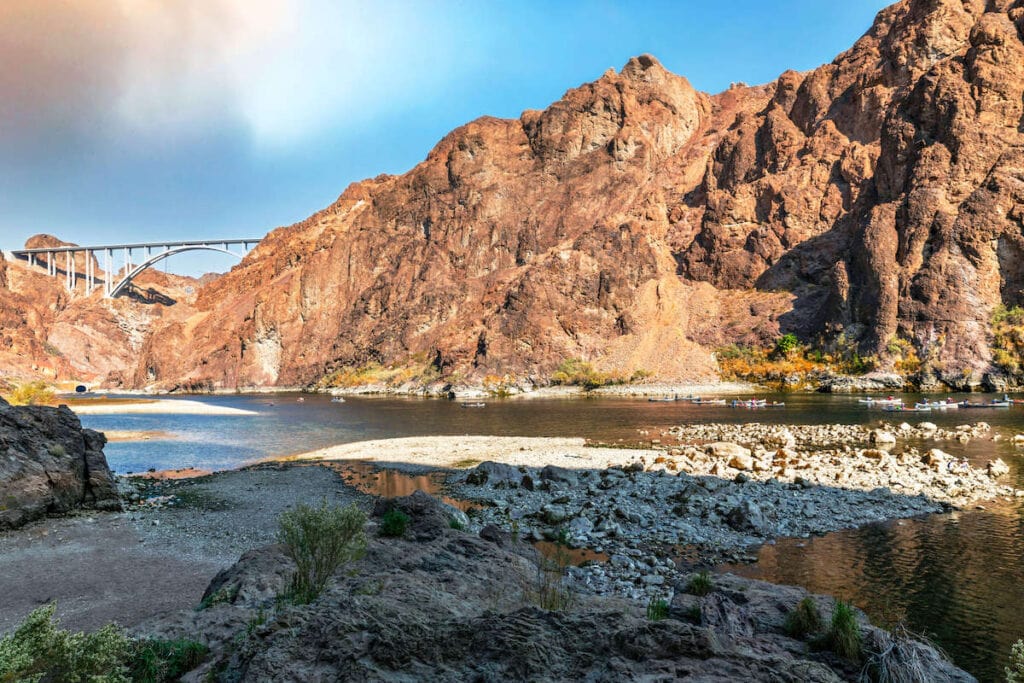 ---
Guided vs Self-Guided Tour
Depending on your skill and comfort on the water, paddlers can opt for a guided or self-guided kayak tour of the Black Canyon. For newer paddlers, it's highly recommended to do a guided tour since the canyon is remote in places and rescue options are limited. A tour guide will also be able to tell you all about the local geology and make sure you don't miss the best canyon sites.
For experienced kayakers, you can arrange for a shuttle to drop you off at the start and pick you up downriver. Both times I kayaked the Black Canyon I used the local company Desert Adventures for shuttles. They provide both guided trips and boat rentals for a reasonable price that includes round-trip shuttle transportation. They also rent dry bags, camping gear, and anything else you might need.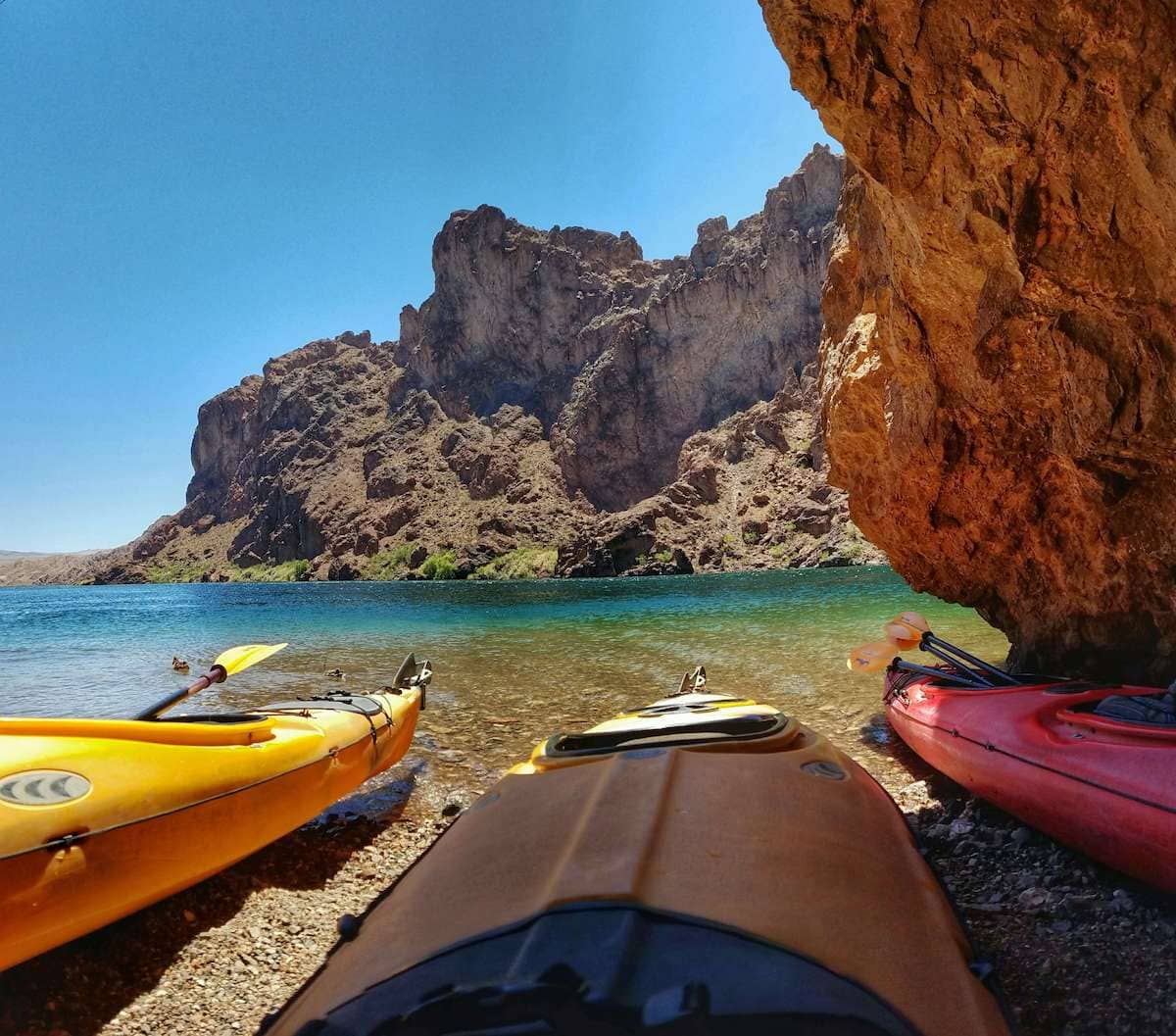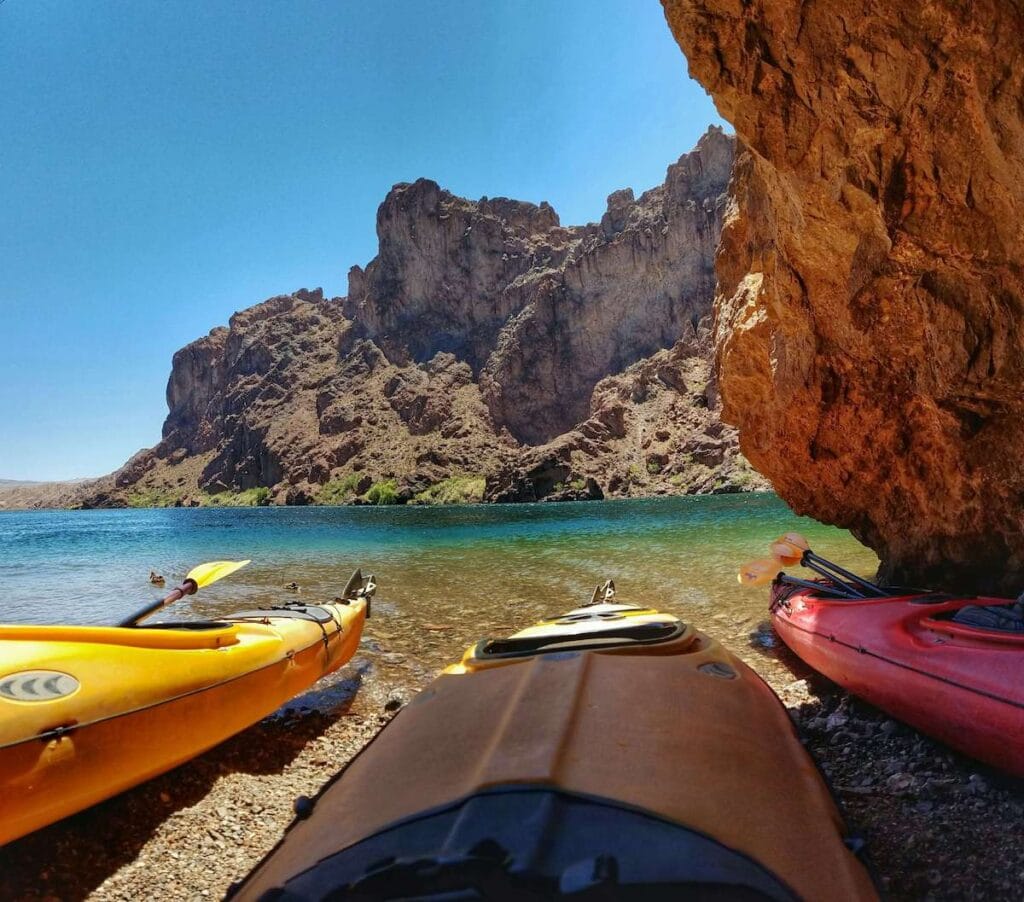 ---
Day vs Overnight Excursions
If you only have one day to explore the Black Canyon, a popular option is to do the 12-mile paddle from Hoover Dam to Willow Beach. Along the way, there are numerous opportunities to explore side canyons, hot springs, geological sites, and more.
See some of my favorite highlights in the next section below.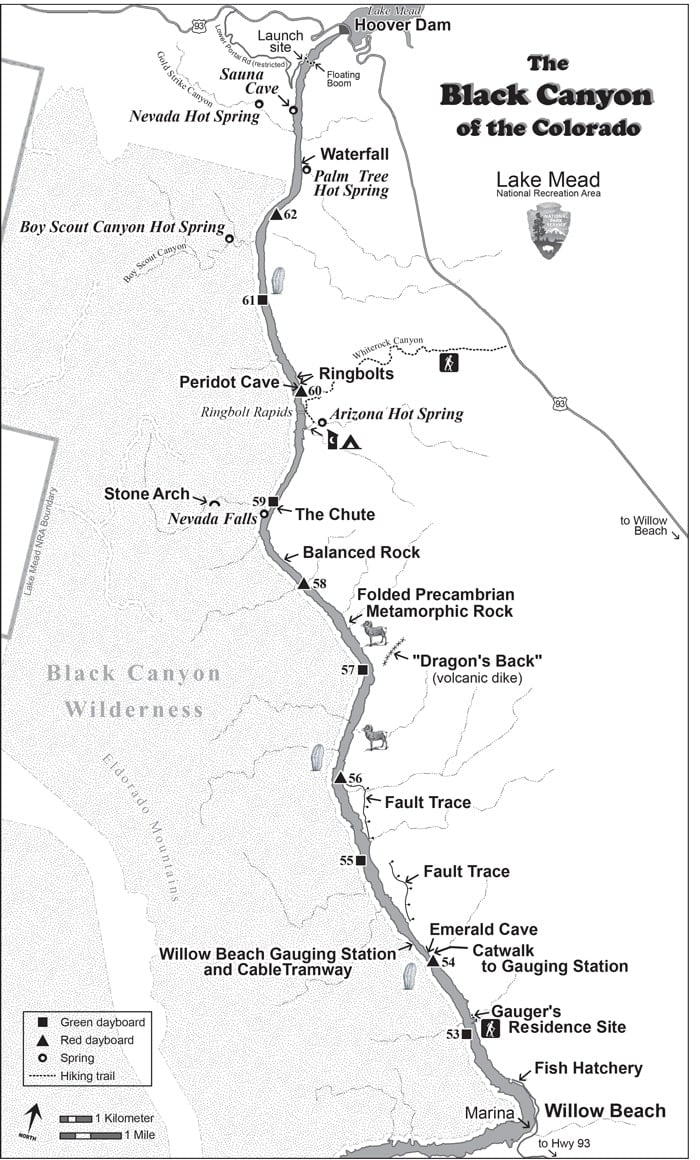 If you have more time or want to explore further down the Black Canyon, which extends 18 more miles to Eldorado Canyon, you can plan an overnight trip – either guided or self-guided. An overnight trip allows you to really enjoy the hot springs and solitude of the canyon whether you're only doing the first 12 miles or the whole length.
Camping is allowed on any available beach, with a pit toilet located at Arizona Hot Springs.
Multi-day kayakers are required to pack out all trash and solid human waste in a portable toilet (if you don't use the pit toilet at Arizona Hot Springs). Kayakers must also be confident in their kayaking and self-rescue skills. For tips on planning an overnight kayaking trip, head over to our Kayak Camping blog post.
---
Boat Options for Exploring the Black Canyon
You can paddle the Black Canyon Water Trail on a paddleboard or in a kayak or canoe. They each have their advantages depending on the season and whether you're doing a day or overnight trip.
Stand-up Paddle Board
For my second trip on the Black Canyon, I opted for a stand-up paddleboard and unfortunately, the conditions were not ideal. All day, we were paddling against a strong headwind and the water was relatively rough. It was fun but tough, and we spent most of our time kneeling as it was more efficient against the gusts…. not really the most comfortable for 12 whole miles.
The water in the Colorado River is also pretty frigid, so I would only recommend paddle boarding on a hot summer day with no wind.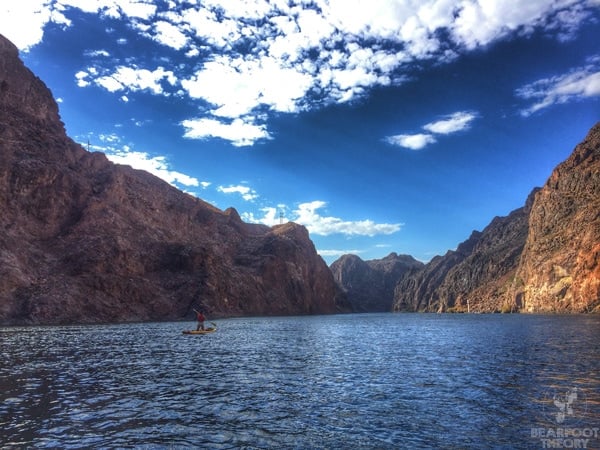 Kayak
In 2011, I paddled the Black Canyon Water Trail in a single kayak over a two-day period, camping at Arizona Hot Springs. The kayak was efficient and easy to steer. For a single-day adventure, I think a kayak is the right way to go. The downside of a kayak if you choose to camp is that you will have to pack light since there is limited space to strap on your gear.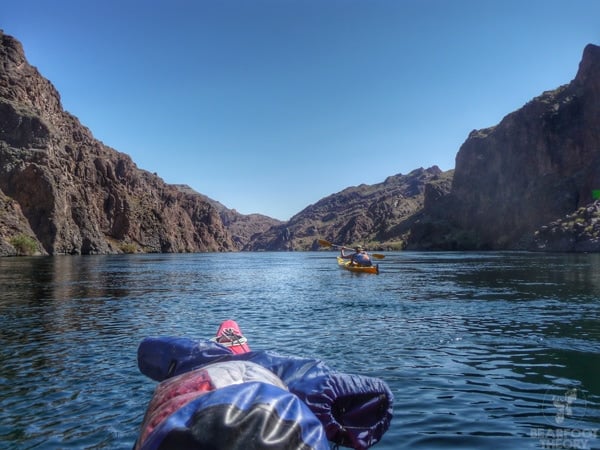 Canoe
If you have a larger group and are planning on camping overnight, definitely consider renting canoes. A canoe allows you to carry more gear, including coolers. And you know you are going to want that ice-cold beverage when you get to camp!
---
Best Time to Kayak the Black Canyon Water Trail
The hot springs are what make this paddling trip so unique, so I recommend visiting in the spring or fall when the air temperatures are comfortable and you can actually enjoy them. Summer is also nice, but as you can guess, the Vegas heat is extremely intense making a hot spring soak pretty unpleasant from June through September.
Alternatively, during the summer months, you can spend more time in the river, where the water temperatures average a very cool 54 degrees. Some hot springs including Gold Strike and Arizona, are closed from mid-May to September due to extreme temperatures.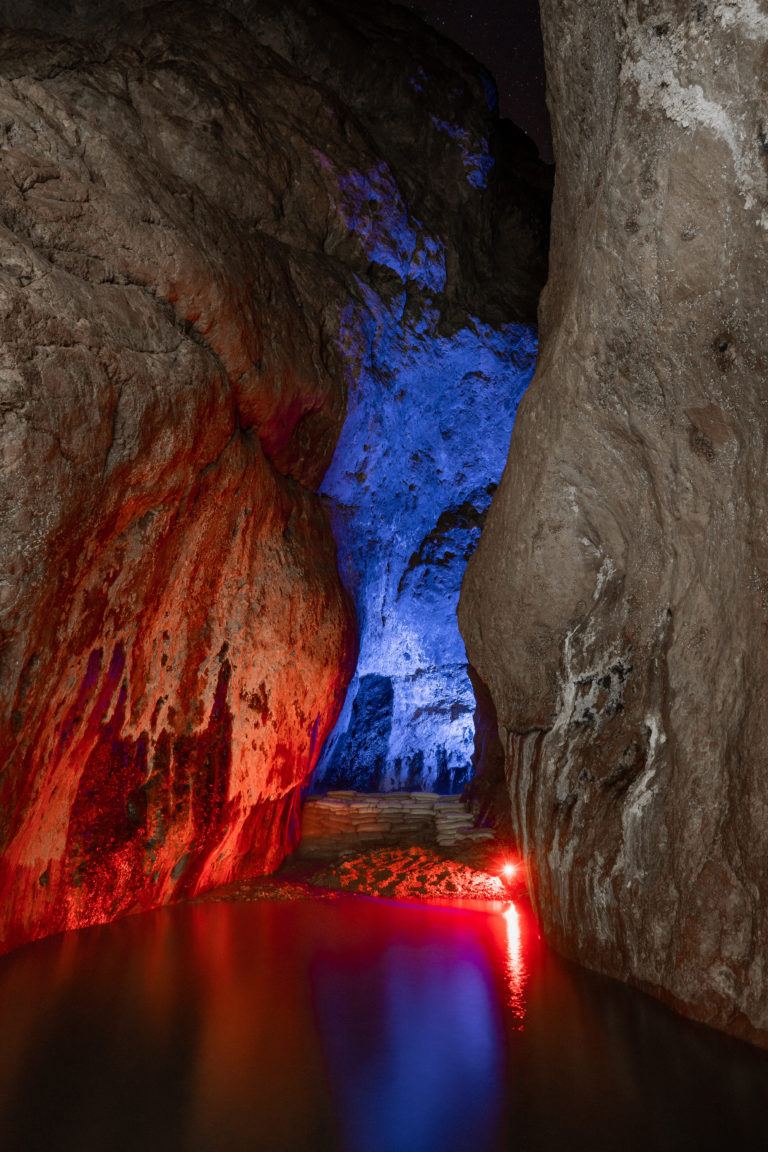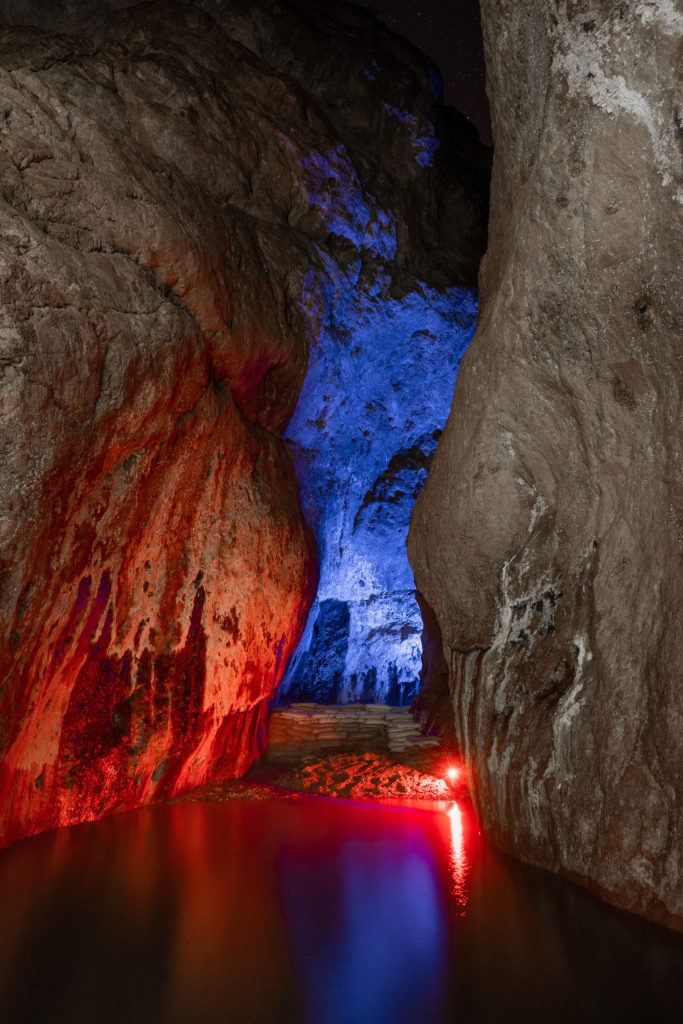 ---
Black Canyon Water Trail Highlights
There are dozens of fun, cool, and unique stops and sights along the Black Canyon Water Trail. If you want to see all of them, you'll need to do a 1-2 night trip. Below are a few of my favorite highlights, but feel free to explore further.
Also note that since rain and flooding can alter the geography of the side canyons, the description and pictures of these sites may also change from season to season. For the most up-to-date information, visit the National Park Service's Black Canyon Water Trail website.
Additionally, water levels are controlled by releases from the Hoover Dam and the height of the Colorado River can change drastically from hour to hour. This means that a beach you park on could be underwater an hour later. When you stop to explore the side canyons, make sure to tie up your boat!
Note that mile markers are measured in river miles, which is the distance in miles from its mouth, NOT from the start of the Black Canyon Water Trail.
Sauna Cave (mile marker 63)
Sauna Cave is a 50′ man-made tunnel that ends in a geothermal pool and natural steam room. It was originally dug out during the construction of Hoover Dam, but when the workers met the intense heat of the water, they abandoned the tunnel.
You have to do a bit of crawling to make your way to the very back of the cave, but it's worth it for a good schvitz.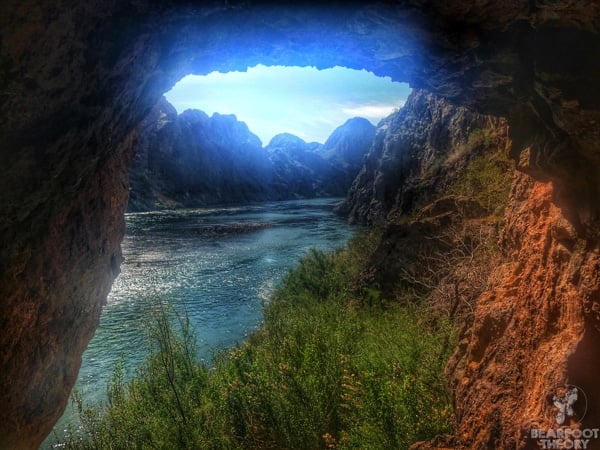 Nevada Hot Springs (mile marker 62.5)
Take a walk up Gold Strike Canyon wash to reach a series of beautiful blue hot springs with temperatures ranging from 85-105 degrees. These pools are also accessible by hiking from the road, so you may encounter larger groups. Gold Strike Canyon is closed from mid-May to September due to extreme temperatures.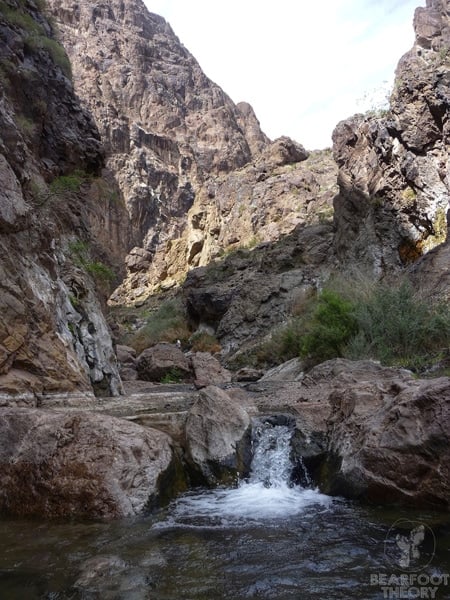 Boy Scout Canyon (mile marker 61.75)
The first pools in Boy Scout Canyon are located a 1/4 mile walk upstream from the river. If you want to continue further be prepared to do some scrambling using the ropes that have been installed at some of the small waterfalls.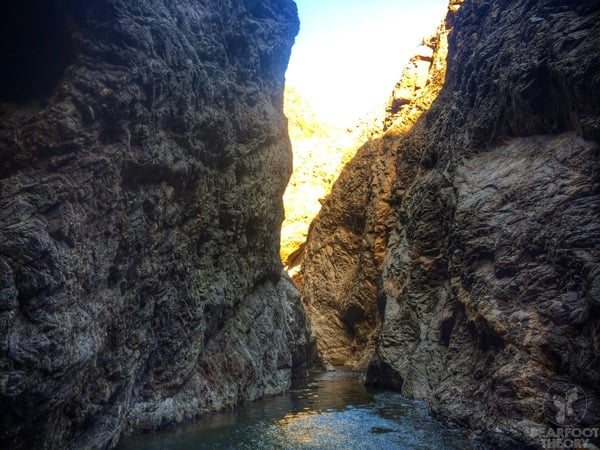 Arizona Hot Springs (mile marker 59.75)
Out of all of the hot springs along the Black Canyon, these are located in the most dramatic slot canyon with canyon walls that are as narrow as 6 feet apart. Arizona Hot Springs are especially cool at night! The best hot springs are reached by climbing a 20-foot ladder that has been installed by the National Park Service.
Note: The ladder at the Arizona hot springs was damaged by a flood. As of June 2022, there is no access to the upper pools from the river at this time. These hot springs are also closed from mid-May to September due to extreme temperatures.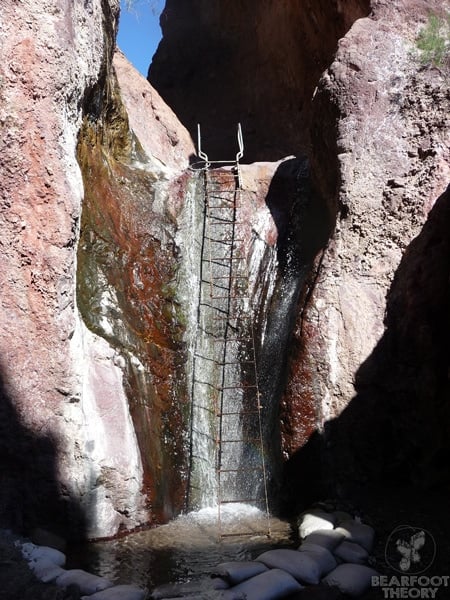 Emerald Cave (mile marker 54.75)
This is a shallow cave on the Arizona side of the river. When the sun hits it at the right angle, the water sparkles like an incredible emerald gem, making for some really cool photographs.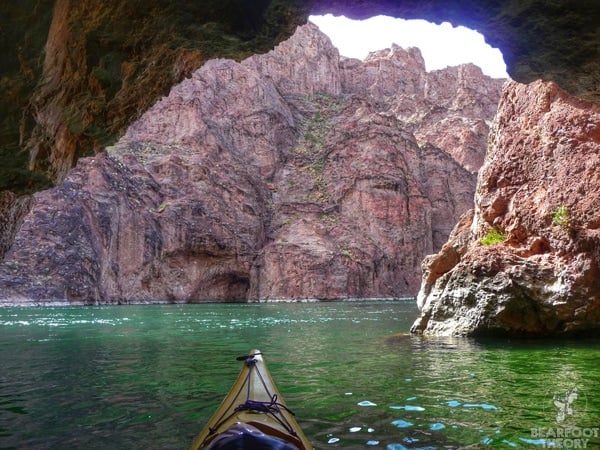 ---
What to Pack For Your Black Canyon Trip
What gear you need on the Black Canyon Water Trail really depends on whether you are just spending a day on the water or camping overnight. You'll also need to take into consideration weather conditions, time of year, and personal preferences. Check out our 3-day backpacking checklist for lightweight gear recommendations if you're doing an overnight trip.
A good rule of thumb is to wear clothes that you don't mind getting wet and a good pair of water shoes for hiking up the side canyons. The terrain can be a bit rough and flip-flops just won't cut it. It's also a good idea to bring a small daypack for the side hikes. Some of the hot springs take a bit of scrambling to reach, and you'll want to have your hands free.
Day Trip Recommended Essentials
A small daypack stored in a dry bag
Clothing
Map and/or guidebook with permits in a waterproof bag
A small cooler for a day trip or larger cooler for an overnight trip
Hydration Essentials

Water Filter (a good idea even if you're doing a day trip, especially if temperatures are hot)

If you are packing any expensive electronics, like a DSLR camera, a Pelican case is the safest bet. I strap it onto the front of my kayak's cockpit, so I can get in and out of it as needed.
Sun Protection Essentials
---
So what are you waiting for? Next time you're in Vegas, get off the Strip! Your Black Canyon paddling adventure will cost you less than a day at the Cosmo Pool, and it's so close that you can still celebrate your day on the river with a wild night out on the town.
Would you like to kayak the Black Canyon Water Trail? What questions do you still have? Leave a comment below!