YETI Trailhead® Camp Chair Review
See our in-depth review of the YETI Trailhead® Camp Chair with details on comfort, packability, durability, and more.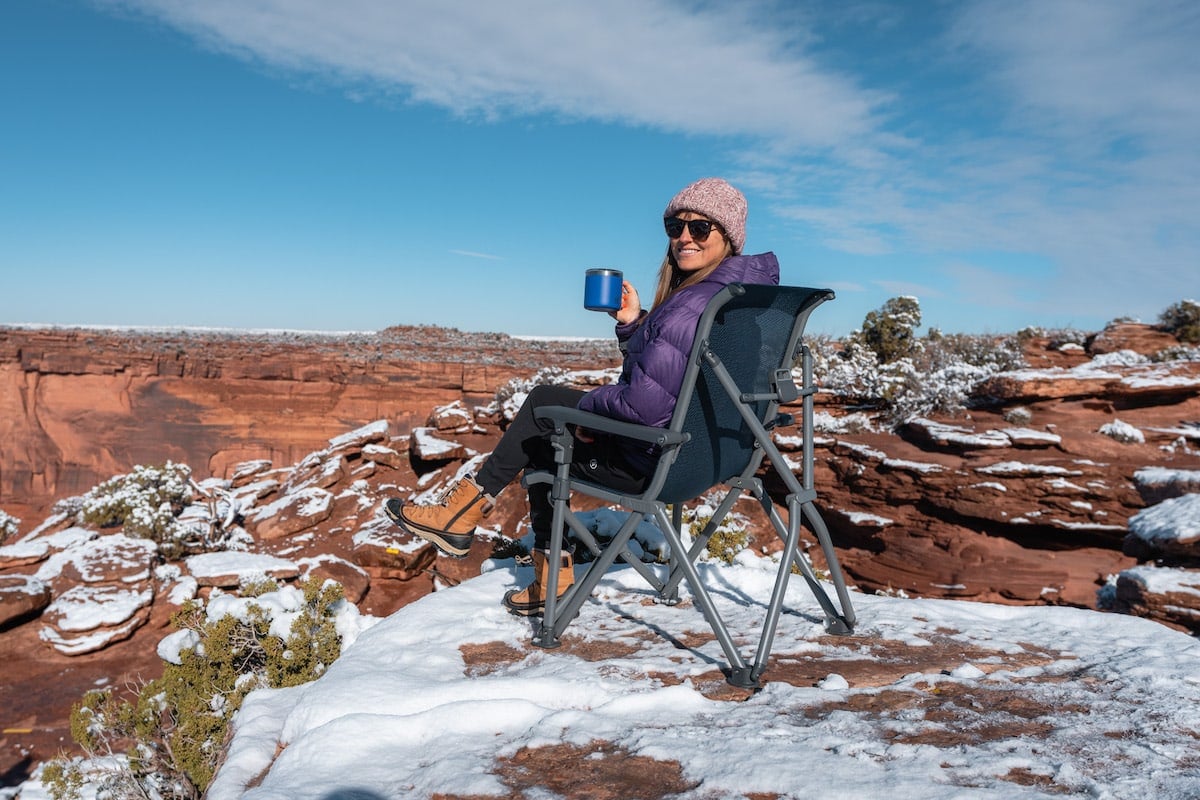 YETI has a reputation for making some of the best-performing and most durable gear on the planet. So when given the chance to test out the YETI Trailhead® Camp Chair, a rugged, collapsible camp chair, I jumped at the chance.
Before testing the YETI Trailhead® Camp Chair out in the field, I spent a week relaxing in it in my living room. I wanted to get a good number of hours sitting in it before writing this review. So while lounging at home in my YETI chair, I watched a couple of movies, ate several meals, and read my Kindle to see how my back and body felt.
When I first unpacked the chair, I wondered what made the YETI Trailhead® Camp Chair so special, but after finding myself choosing the camp chair over my couch, I've come to realize this is no ordinary camp chair.
The YETI Trailhead® Camp Chair offers superior comfort and support, ultimate durability, and a number of features that really set it apart from the competition. In this YETI Trailhead® Camp Chair review, I'll share why I think this camp chair is worth the space and what type of camper it is good for.
Sponsored by REI Co-op
REI Co-op is our favorite outdoor gear retailer and a long-time supporter of our work here at Bearfoot Theory. We appreciate their 1-year return policy, their Member-only coupons, and the fact that REI Members receive 10% back on their purchases every year. We only recommend products we truly love and think you will love too.
---
YETI Trailhead® Camp Chair Pros & Cons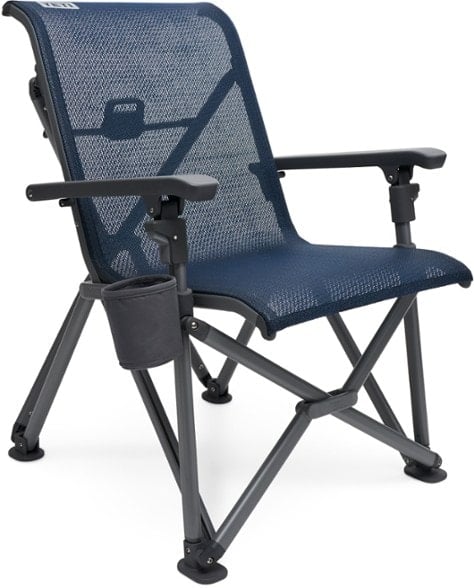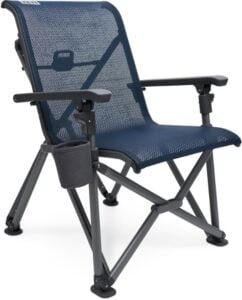 Pros
One of the most supportive, ergonomic camp chairs I've ever sat in that conforms to your body
With a 500-pound weight capacity and extra-wide feet, it's incredibly sturdy on a variety of terrain
Sits high above the ground so it's easy to get in and out of
Cup holder can be placed on either side depending on what hand you like to drink with
Quick drying due to the mesh-like Flex-Grid fabric
Sets up in seconds
Included storage bag has ample space making it easy to pack away, with cushioned backpack straps so it's comfortable to carry short distances
Comes with a 5-year YETI warranty when purchased at REI or other authorized YETI dealers (doesn't cover normal wear and tear)
Cons
At 13.3 pounds, this is not the lightest or most portable camp chair
It's also rather bulky compared to ultralight camp chairs
It only has one cup holder, and a second cup holder would be nice for your phone, keys, or other essentials
It's at the top end of the price range for camp chairs (but in exchange, you're getting a camp chair built to last for years and years of adventures)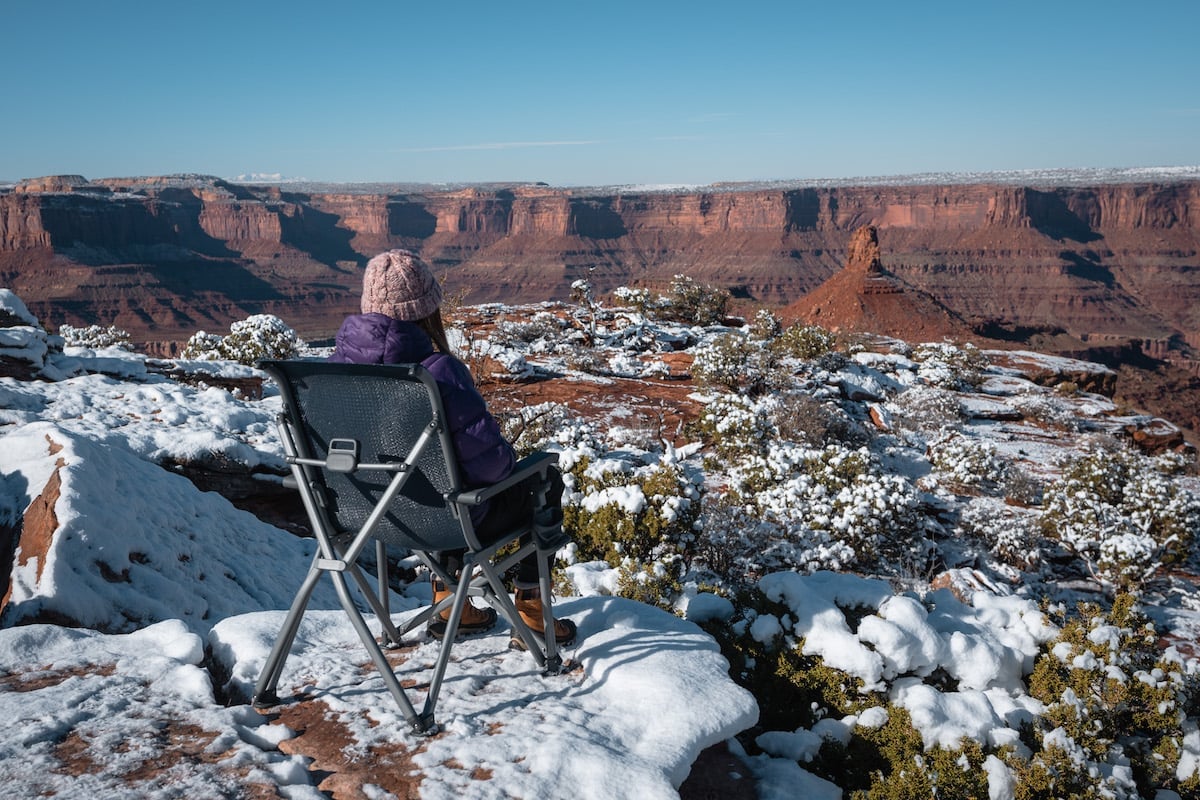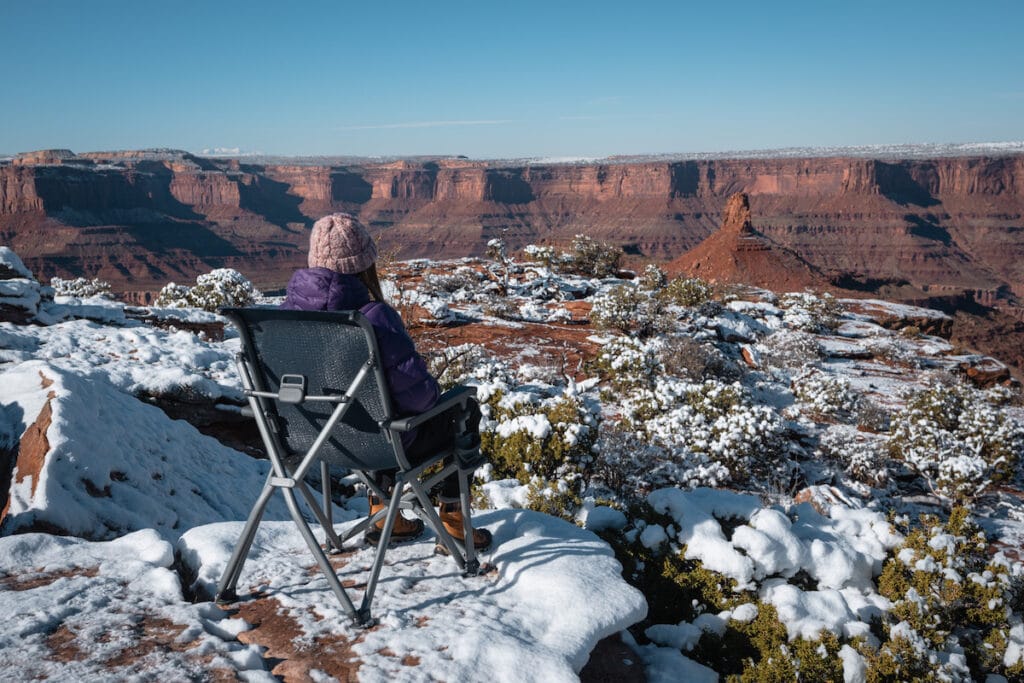 ---
Setting up the YETI Trailhead® Camp Chair
The YETI Trailhead® Camp Chair is incredibly easy to set up. Being collapsible accordion style, there are no poles or extra parts to deal with. You simply pull the four corners apart and firmly press the arms down until the click. Then on the back of the chair, there is a handle you push down which makes the chair's fabric taught. It takes less than 20 seconds, and the same goes for putting it away.
While it takes a few seconds longer than generic collapsible camp chairs, the extra steps of locking it in place contribute to its sturdiness.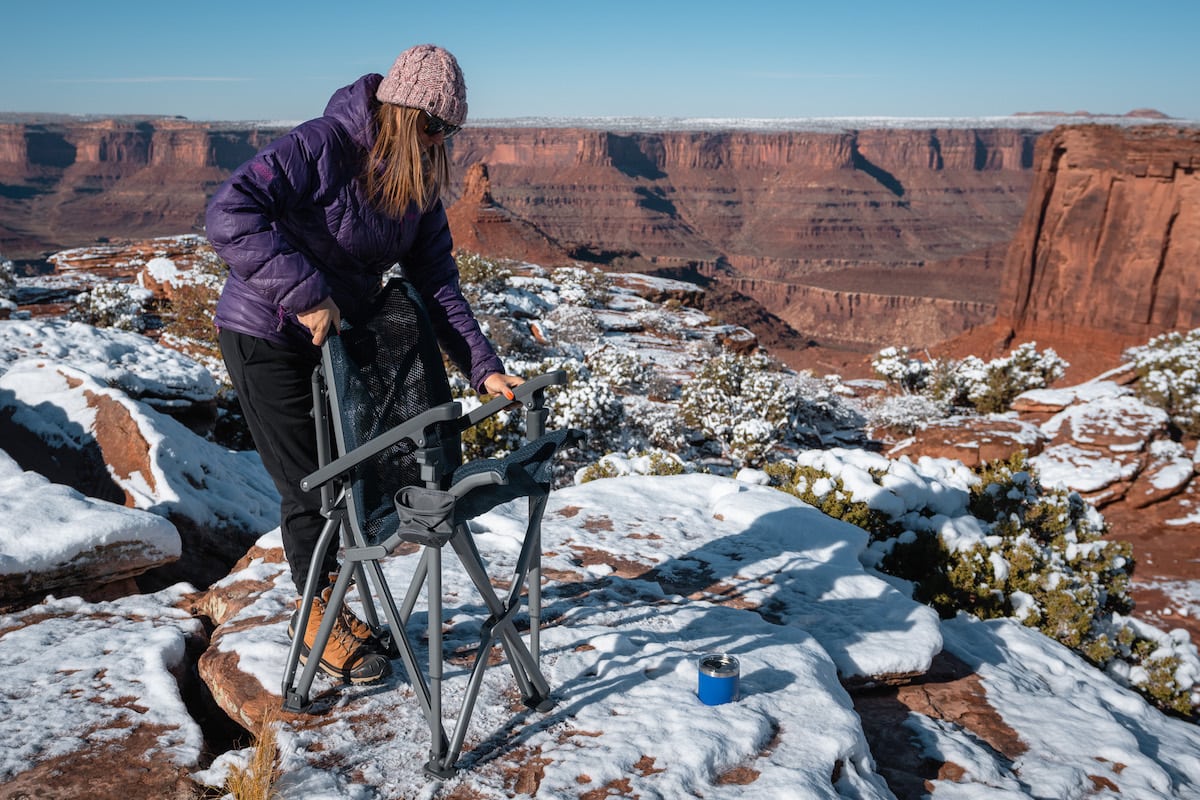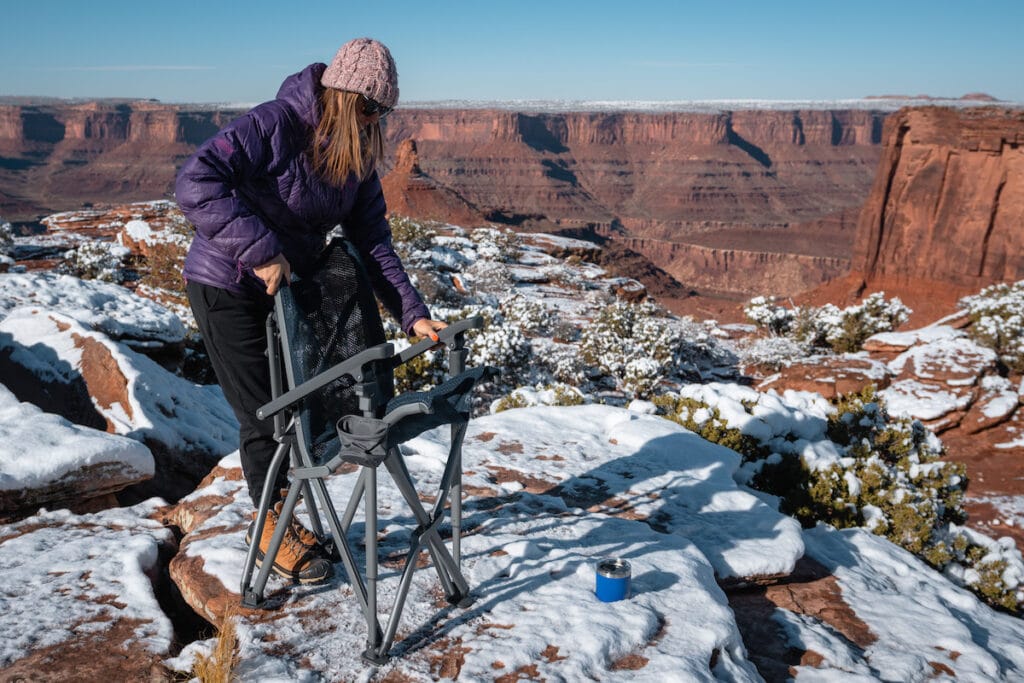 ---
FlexGrid™ Fabric
The FlexGrid™ Fabric on the YETI Trailhead® Camp Chair is a mesh-like weave that conforms to your body, which has a few advantages. While I've only tested it out in cooler fall weather, on a hot summer day, the YETI FlexGrid™ Fabric should be breathable so your back doesn't get too sweaty.
Second, if you accidentally leave this chair out in the rain, water drains through and won't pool up in the seat. This also means the chair dries very fast, saving you from a soaking wet butt.
One thing to note is the fabric is free of fire retardants, which are known to be toxic chemicals, so you'll want to be careful if there are lots of embers crackling around your campfire. Burning a hole in this camp chair would be a major bummer.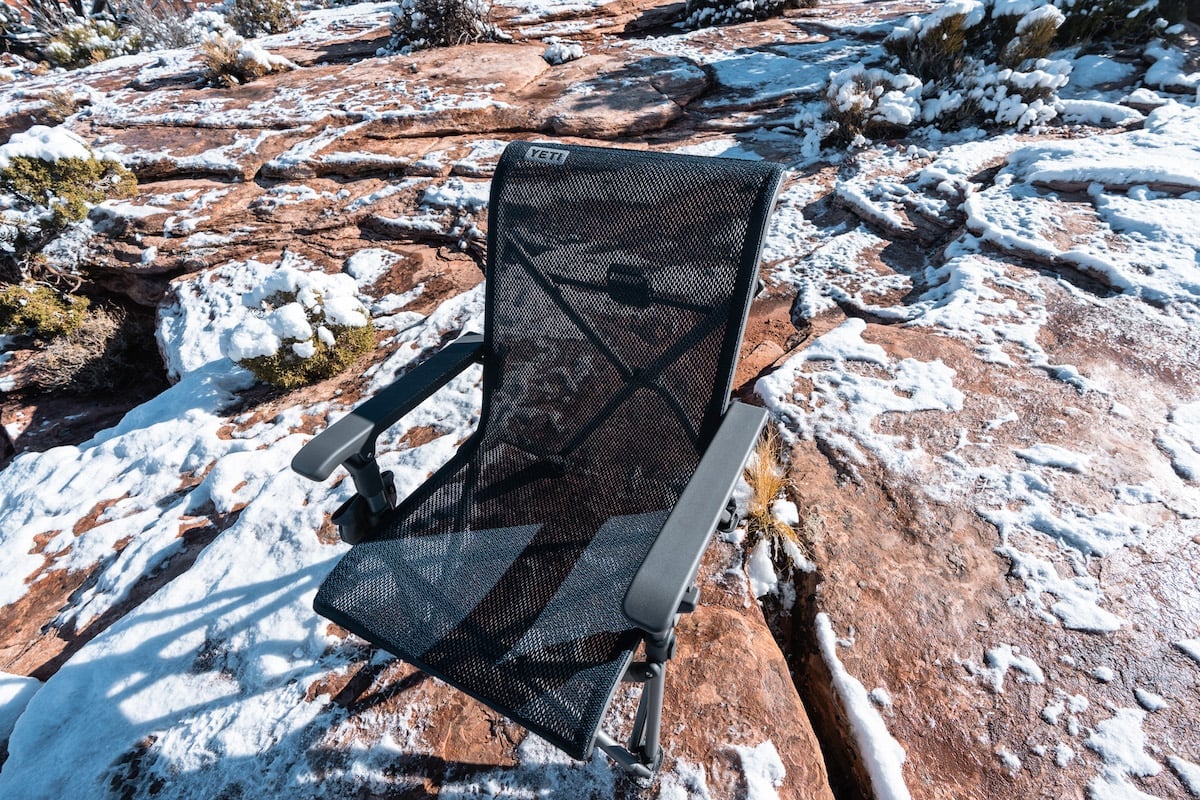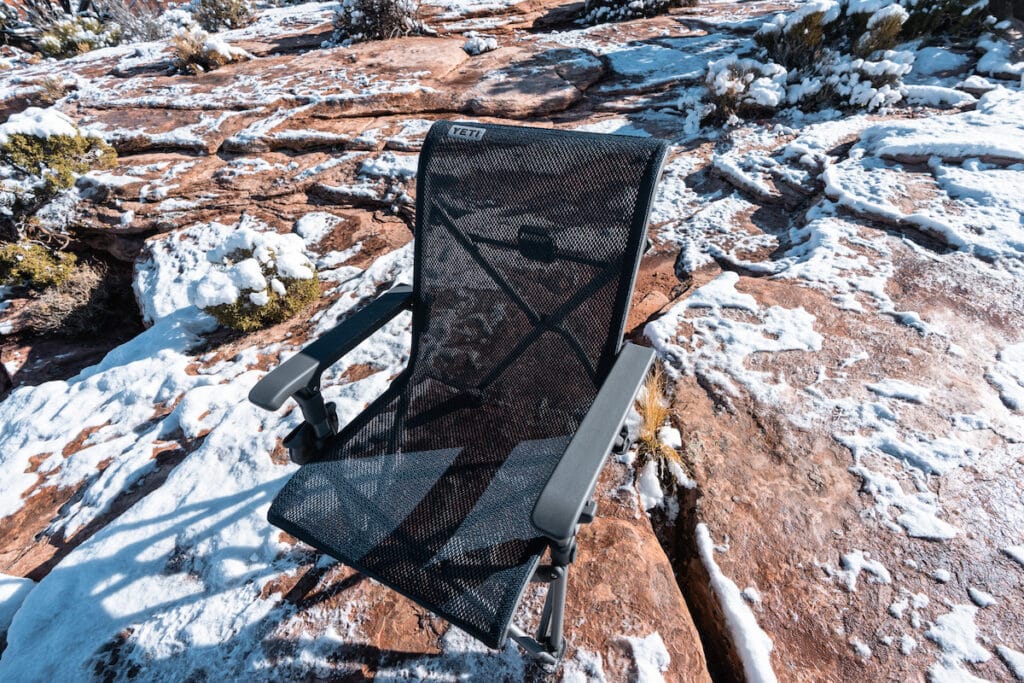 ---
Support and Comfort
The YETI Trailhead® Camp Chair is as ergonomic as it gets when it comes to camp chairs. Typically, collapsible, accordion-style camp chairs force your back to curve in unnatural ways making them rather uncomfortable after a short period of time. When sitting in this chair, my posture is upright yet relaxed and the fabric conforms to my body so it's supported in all the right places. There is no slumping over and rounding of my back or weird pressure points that have left my back and hips in pain with other chairs.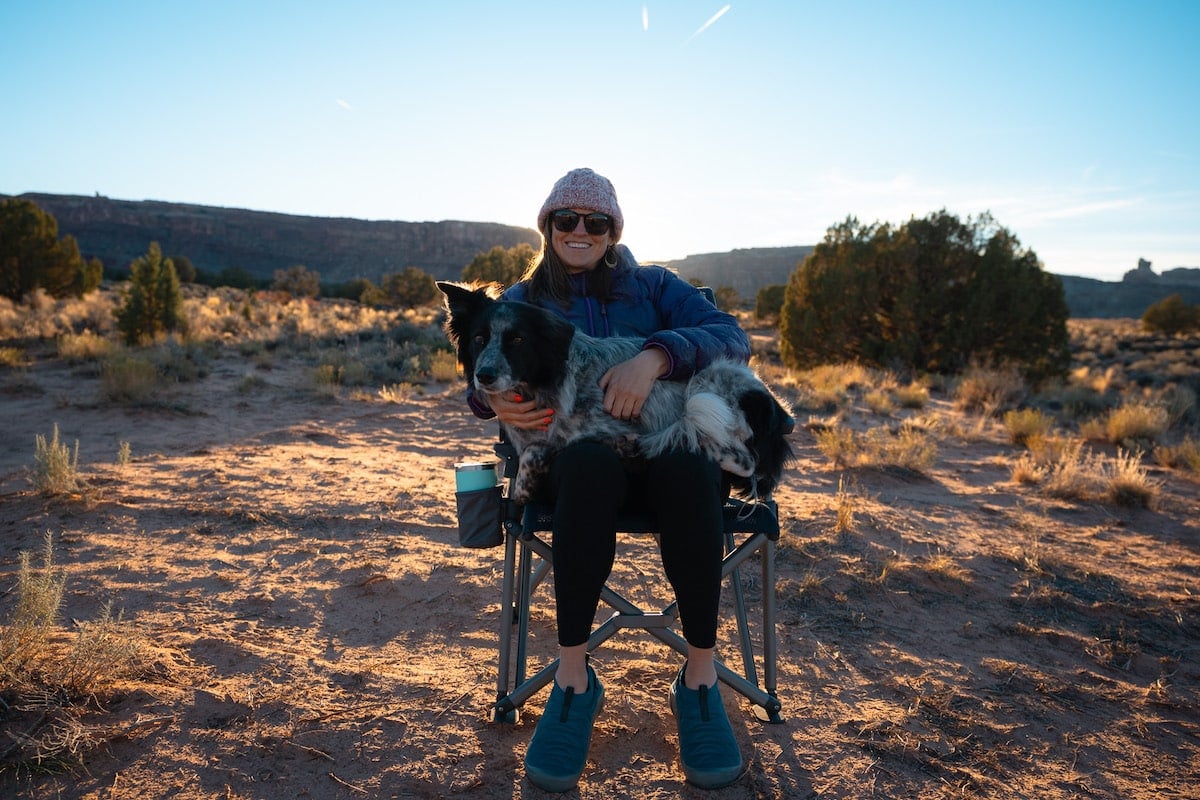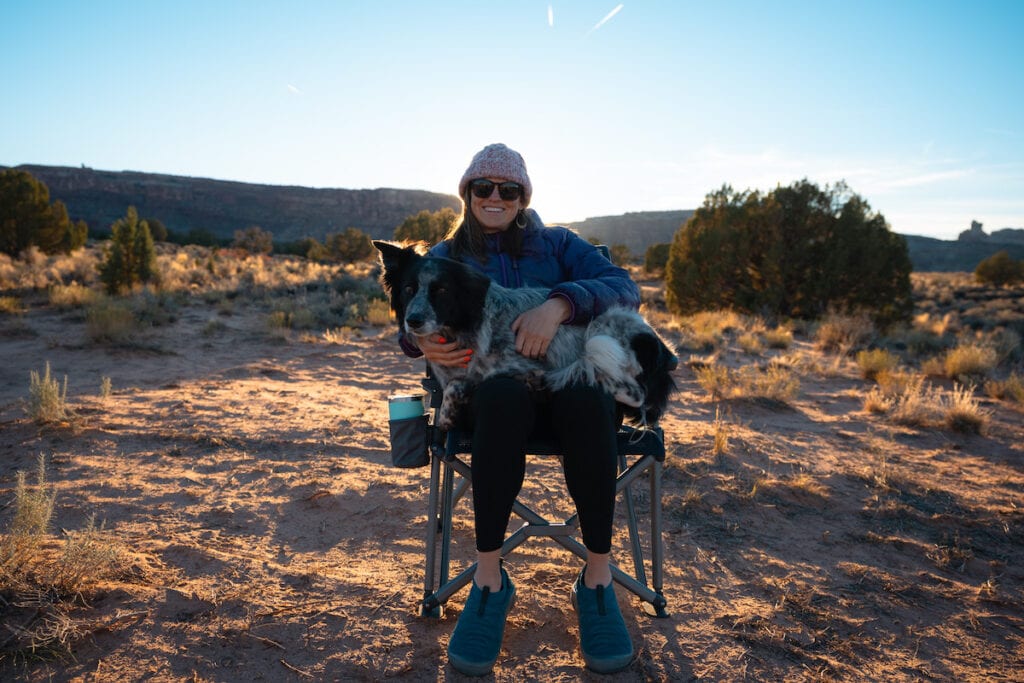 The YETI FlexGrid™ Fabric is quite taut, further contributing to the chair's ample support. At the same time, the fabric has just enough give that if you want to adjust your angle or position in the chair, the fabric molds to your body.
If you are one of those people who hates chairs that are low to the ground, you'll really like how easy it is to stand up out of this chair. It's at a normal chair height so it's no more difficult than standing up from a dining chair. The armrests are very sturdy so you can put your full weight on them as you are getting in and out. I have been testing this chair out during my second trimester of pregnancy, and this is a feature I really appreciate as standing up is taking a bit more effort than normal these days.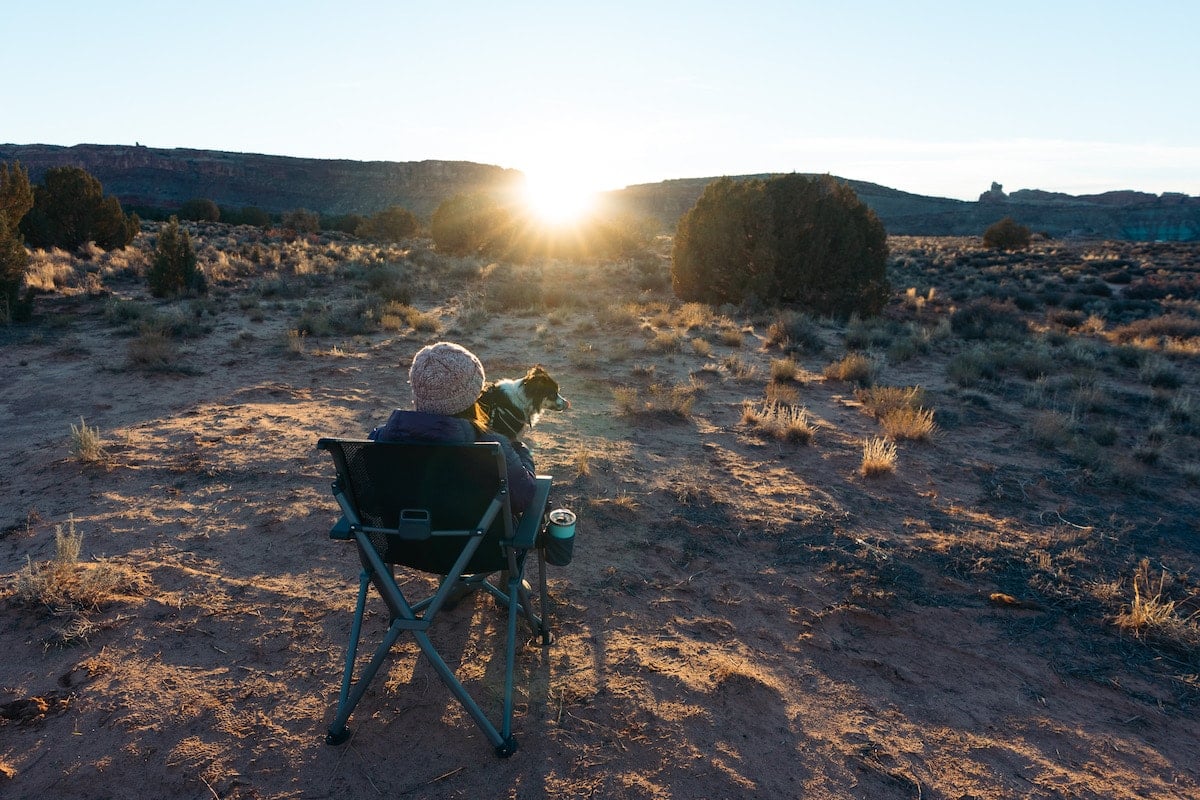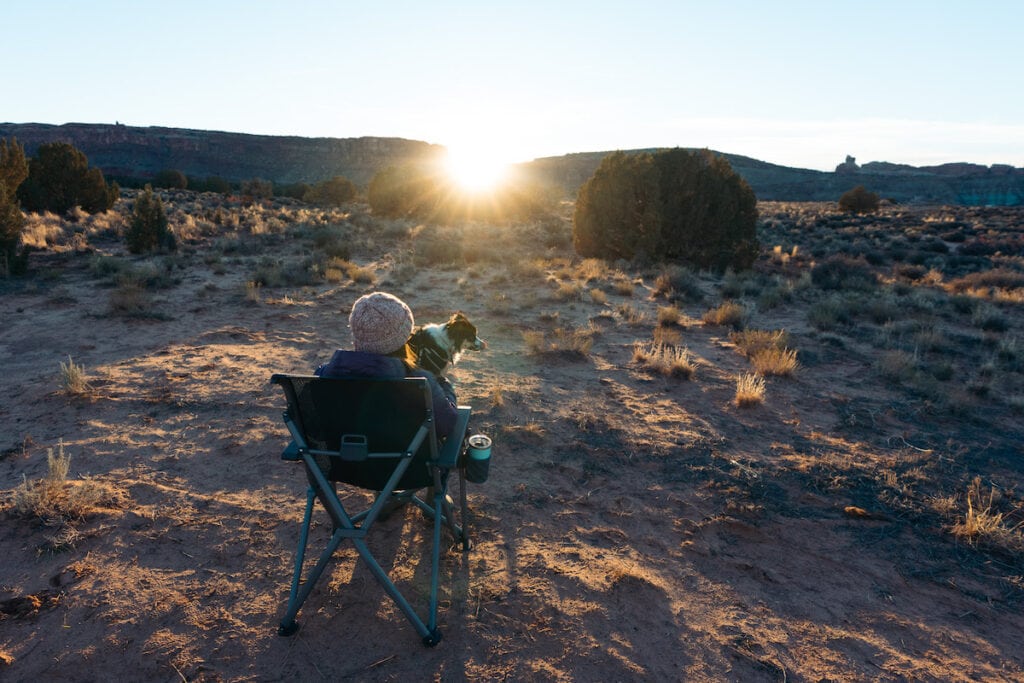 The seat height is also perfect for eating dinner at a camp table or eating out of your lap since your thighs are essentially flat when you sit in it, making it easy to balance a plate. The added bonus of having your legs at a 90-degree angle is that your hip flexors are able to remain in a relaxed position as well.
The armrests are very sturdy and long enough to rest on when you're relaxing or reading a book. On one of the armrests, there is a cup holder that can be moved from one side to the other depending on which is your dominant hand.
I'll share that one of the biggest complaints about this chair is that an additional cup holder would be handy for holding other essentials like your phone or keys. But before the YETI Chair, I was primarily using the Helinox Sunset Chair which has no built-in cupholder at all, so even a single cup holder is an upgrade for me.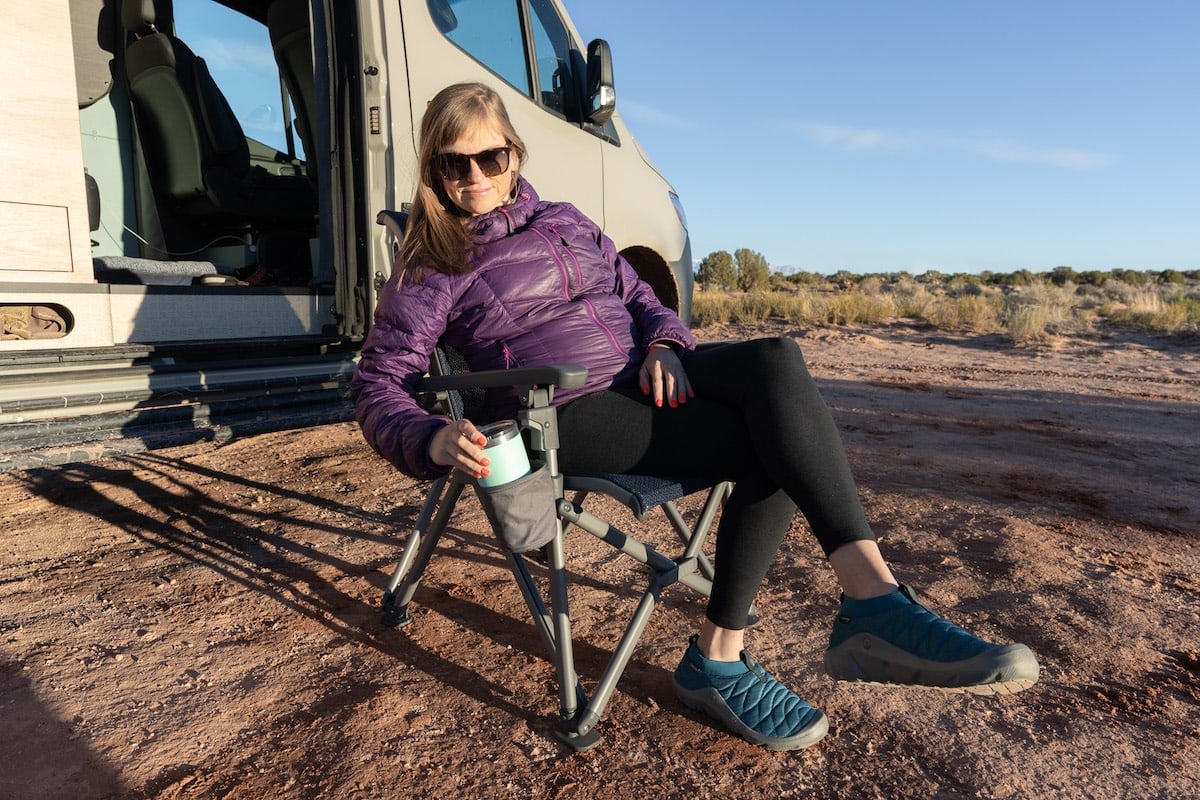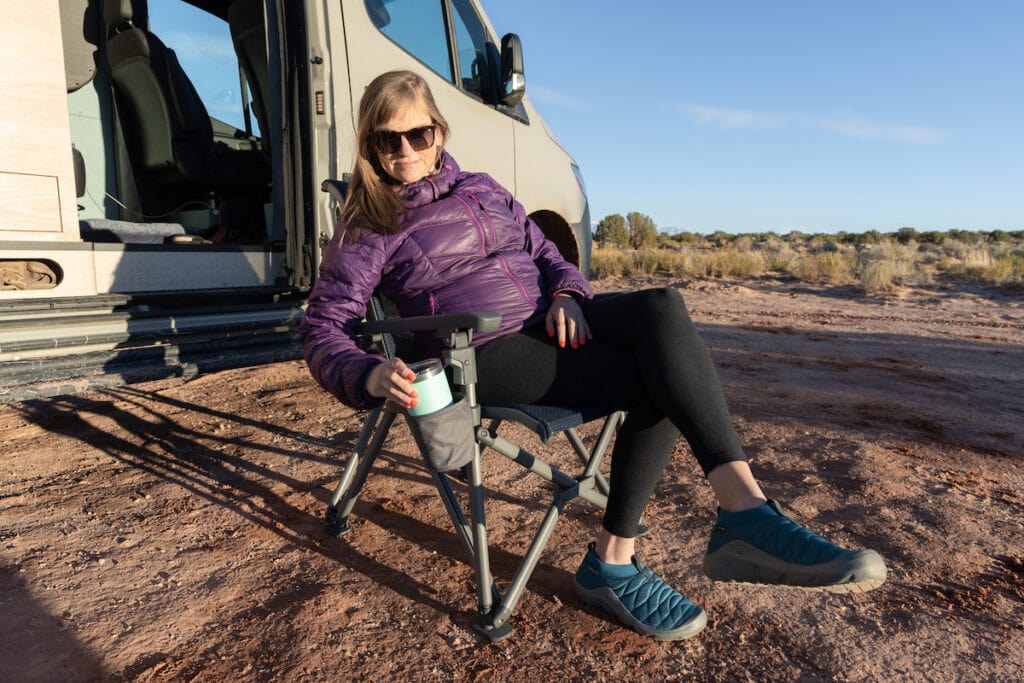 ---
Durability
The YETI Trailhead® Camp chair has a 500-pound capacity thanks to its locking steel frame. That means you can plop down in it at full force, no matter your weight. You can sit on someone's lap, have your dog or kid in the chair with you, and the wind certainly won't blow it over into the campfire. My partner Ryan and I both sat in this chair together (our current combined weight is 340 lbs) and it showed zero signs of stress. It's extremely sturdy and you can lean every which way in it without worrying about falling over.
The steel frame is also powder coated, so it can withstand being tossed around.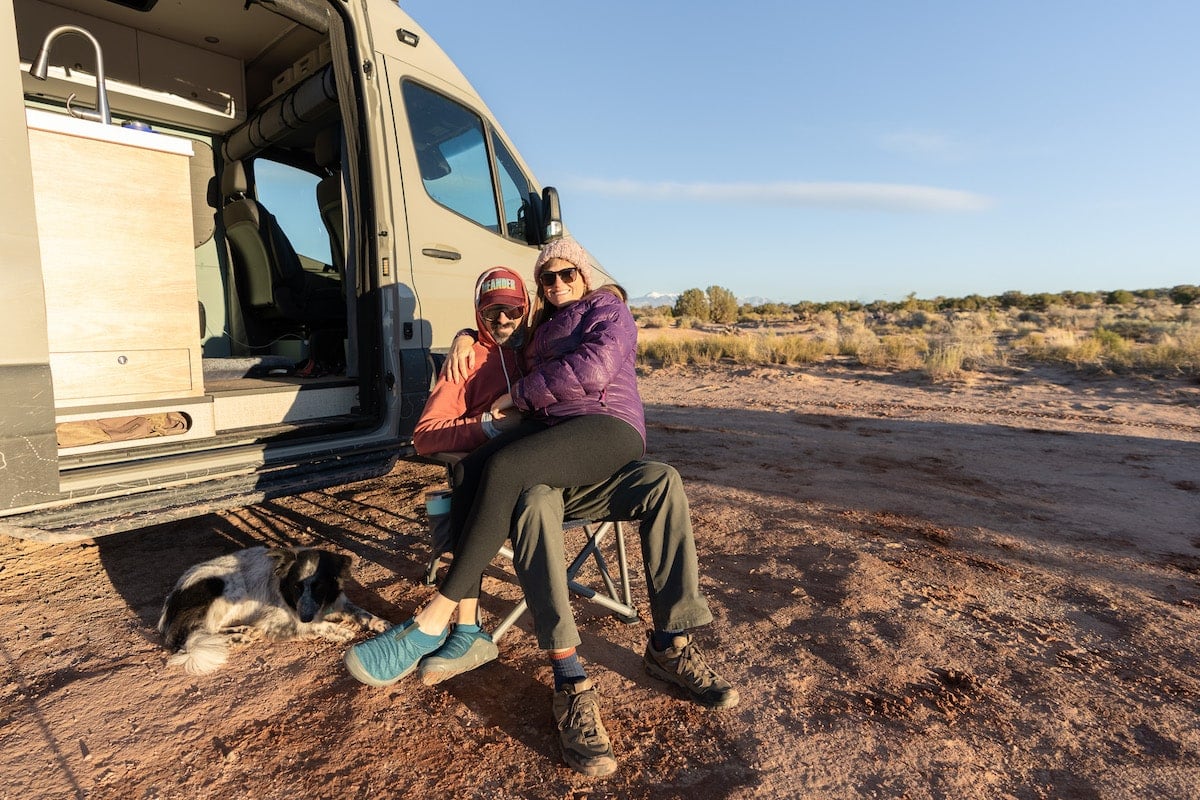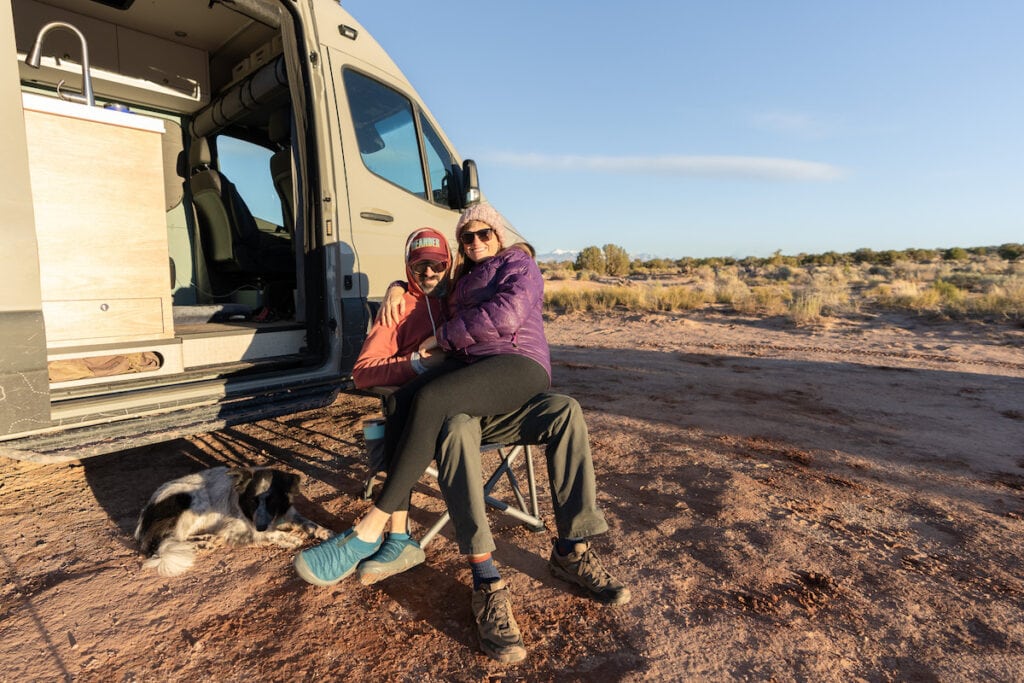 ---
Packability and Size
This isn't an ultralight, super compact camping chair. This chair is designed for uber-comfortable car camping where you probably aren't walking more than a couple hundred feet from your car. At 13.3 pounds, it is significantly bigger than some of the previous camp chairs I've owned which tend to be ultralight and portable.
With that said, the YETI Trailhead® Camp Chair comes with a strong two-strap carry bag that has ample space making it very quick and easy to store the chair away. You don't have to wrestle to get the chair in the bag. The bag also has cushioned, adjustable backpack straps that allow you to carry the chair a reasonable distance if you wanted to head to a nearby viewpoint for your morning coffee, your kid's soccer game, or down to the river near your campsite to read.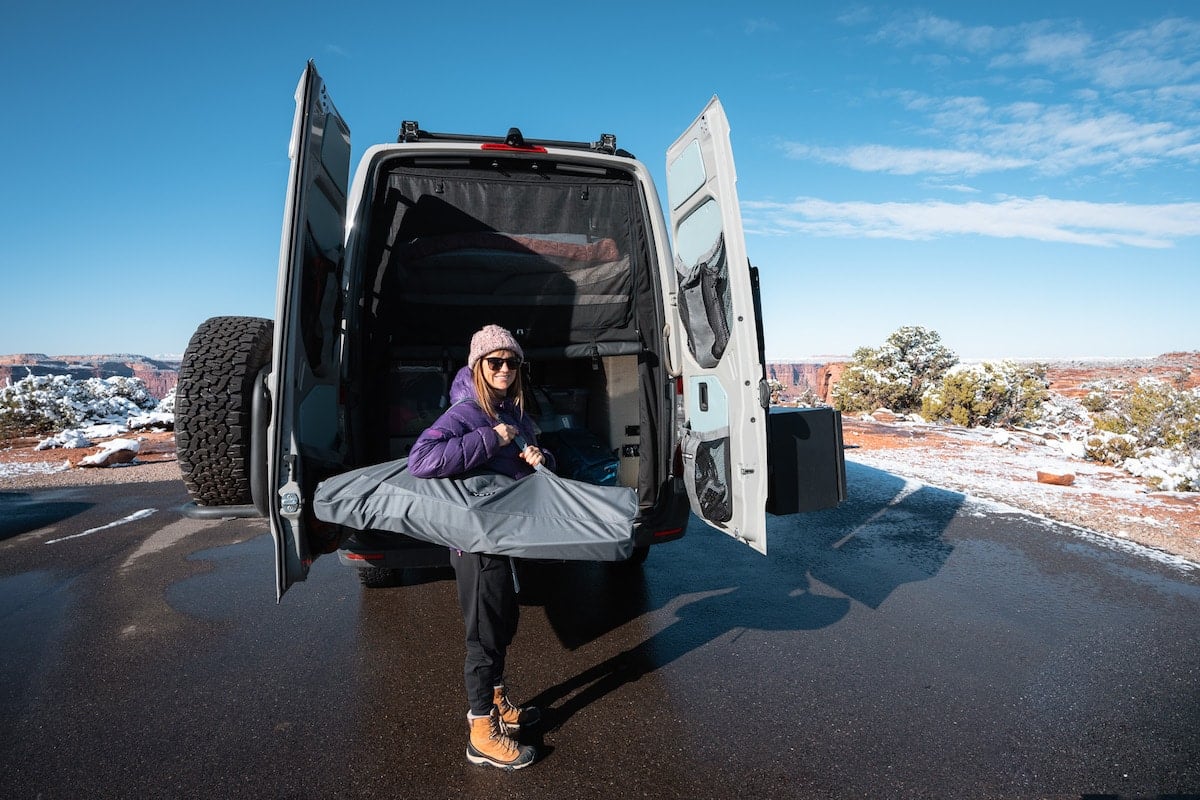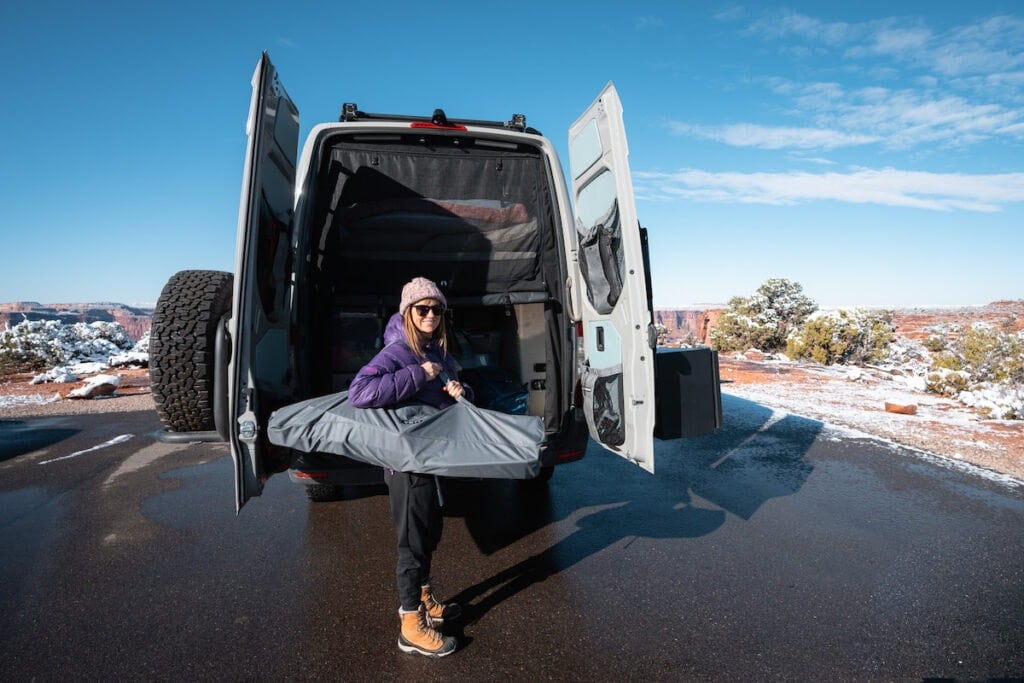 ---
Final Thoughts
If you're looking for a camp chair that offers next-level comfort and you don't mind the size and weight, the YETI Trailhead® Camp Chair is an excellent choice. It comes with a hefty price tag, but if you plan to sit in it regularly and it's within your budget, it's worth it in order to avoid the back pain caused by many other camp chairs.
It's also a chair that should last a very long time. YETI designed this chair to be bulletproof, and I have no doubts that this is a chair that will get years of use in my family.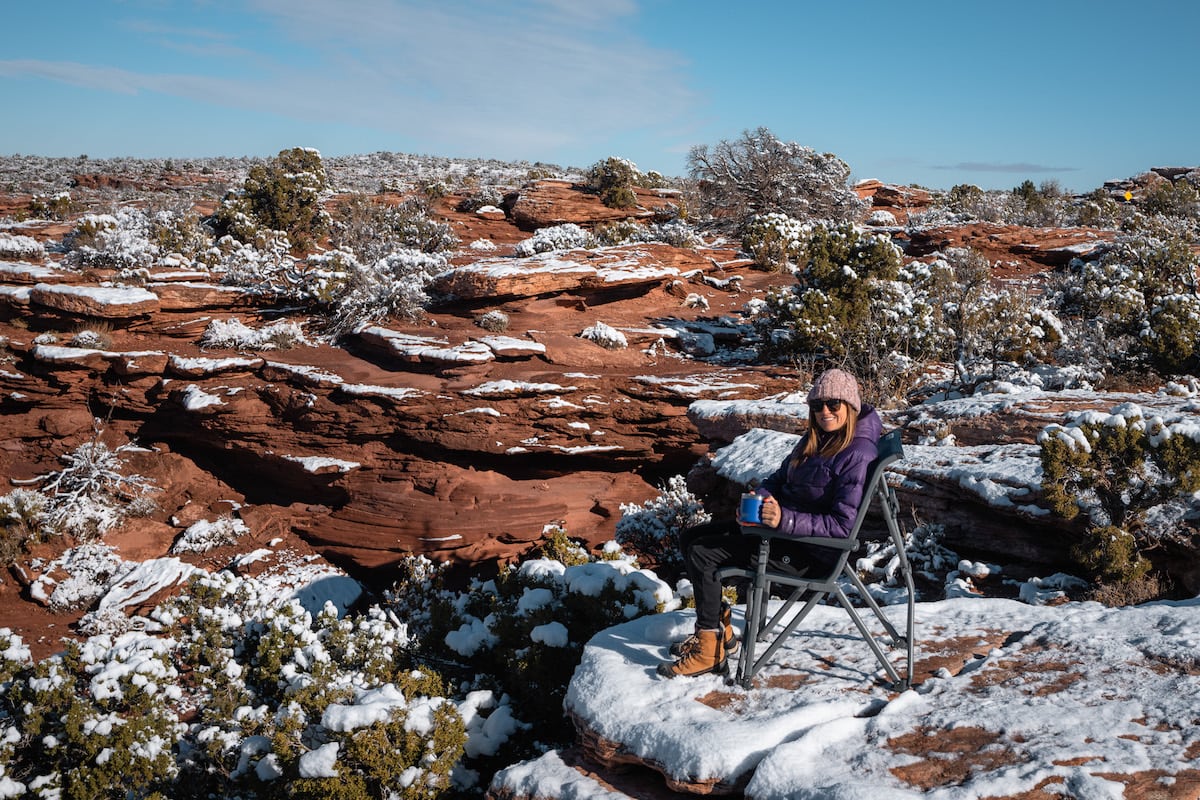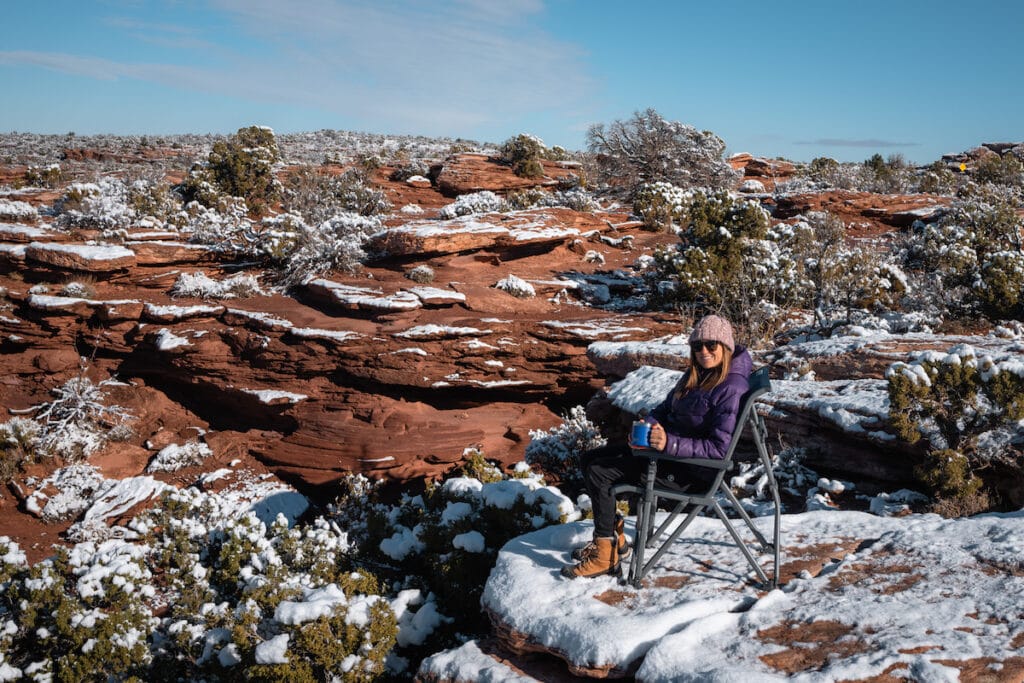 ---
Where to Buy the YETI Trailhead® Camp Chair
The YETI Trailhead® Camp Chair is available at a few retailers, however, we recommend shopping at REI for their generous return policy and annual dividends.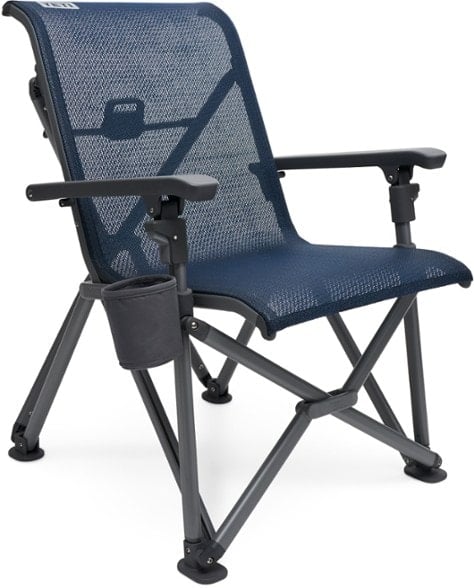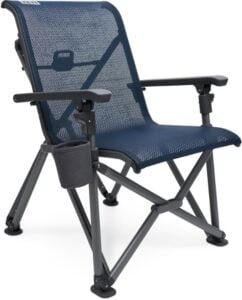 If you're not yet an REI Co-op member, you can learn more about all the benefits here.
We hope you found our YETI Trailhead® Camp Chair review helpful! Any questions? Let us know in the comments!