TIP #1: DON'T FORGET TO TAKE THE STICKER OFF YOUR HELMET 🙂
Learning to Ski at Alta & Tips for Adult Beginners
When I moved to Utah last summer, I knew I was going to have to learn how to ski. I mean, what else do you do all winter when you live 45 minutes from 10 different ski resorts. Go to the bar? Or sit in front of the television and be all pouty-faced for 6 months. Not me, that's for damn sure.
I'll start by saying that I did ski a bit here and there growing up in Idaho. We took the occasional weekend trip to Sun Valley, but I never liked skiing, I was pretty terrible, and I would have rather sat in the lodge and drank hot chocolate than been out there when it was dumping snow. Silly girl. Then as I avoided skiing, my friends got good. Like real good. So good that there was no way I was going to keep up with them. So instead of trying, I threw the towel in and swore off skiing forever. I know I'm not alone here….so who's with me?
In this post, I share a personal anecdote of my first year back on skis at Alta Ski Area. I hope that it provides those of you who are new to skiing the inspiration to get out there and try it this winter.
— Why Alta? —
As I made the commitment to learn to ski this winter, I chose Alta Ski Area as my mountain for a few different reasons. First, it is skiers-only. Sorry snowboarders. Totally, nothing against you. But I knew it would help calm my nerves if everyone was moving down the mountain in the same pattern. Second, I had read about Alta over and over again as having the best snow in the country. I knew I wouldn't have the skills to ski in neck deep powder (just yet), but I definitely didn't want to be skiing on sheets of ice. With Alta's 551" long term annual average, I knew that this wouldn't be a problem, and I'd have my fair share of good snow days no matter what.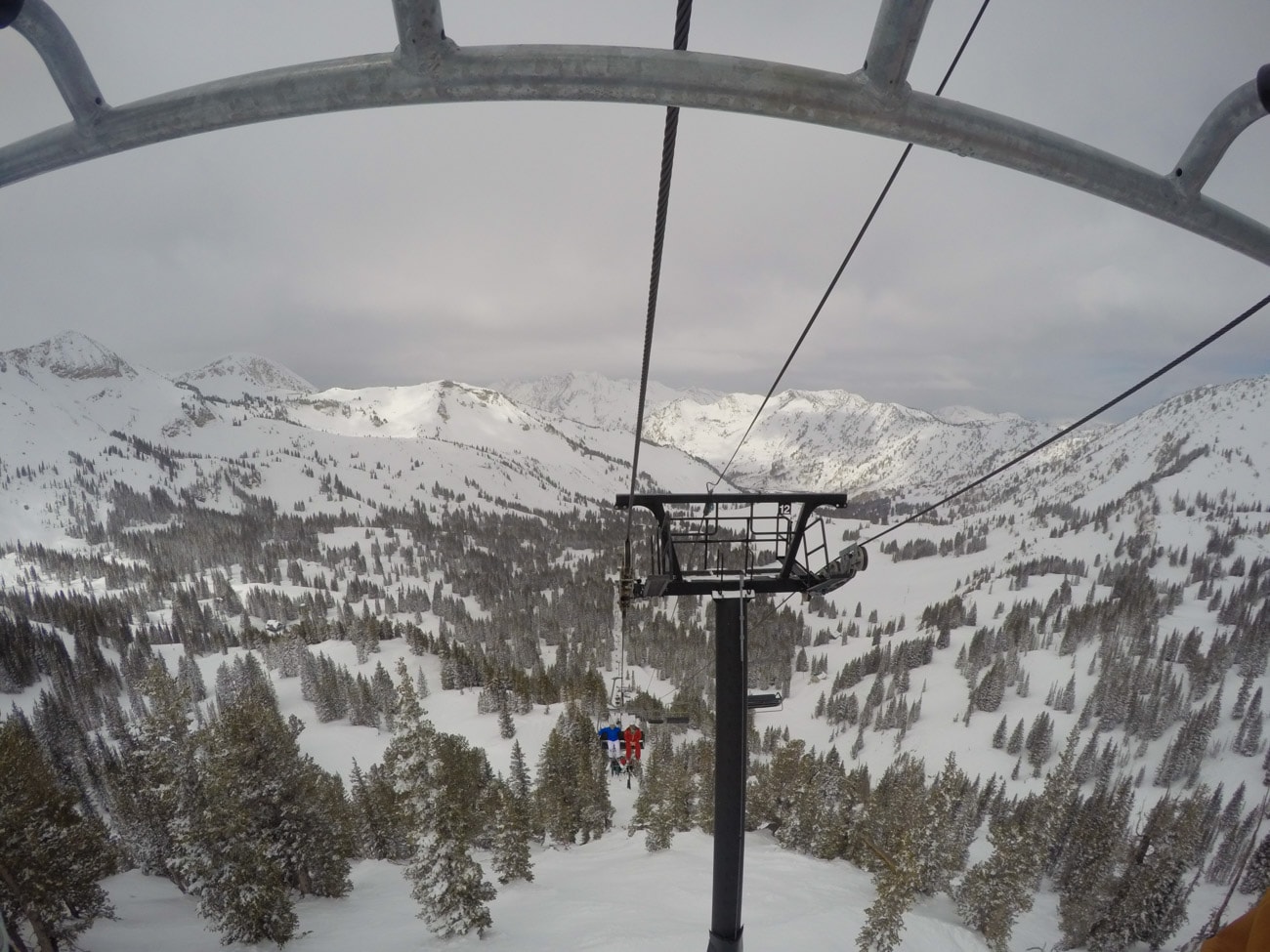 The only thing I was worried about is Alta has the reputation of being a mountain for shredders. I was sitting on the lift one day with my friend Kim and she said, "I totally hit a cliff today." And I said "oh my god, are you ok?" Everyone on the chair belted out laughing. Apparently hitting a cliff means successfully jumping off a cliff. Duh. So there was a slight intimidation factor as a beginner. However, I told myself that I wouldn't let my fears (or the likelihood of me eating shit right under the chairlift) get to me.
— Learning to Ski at Alta —
I was only in Salt Lake for 5 short weeks this winter, but I went up to Alta every chance I could, managing to get 20+ days under my belt. And I'll tell you, not only were my fears unfounded, I actually surprised myself with my progress. Plus I learned that there is actually way more beginner and intermediate groomed terrain at Alta than you'd guess by looking at Alta's Instagram feed (65% of the mountain to be exact).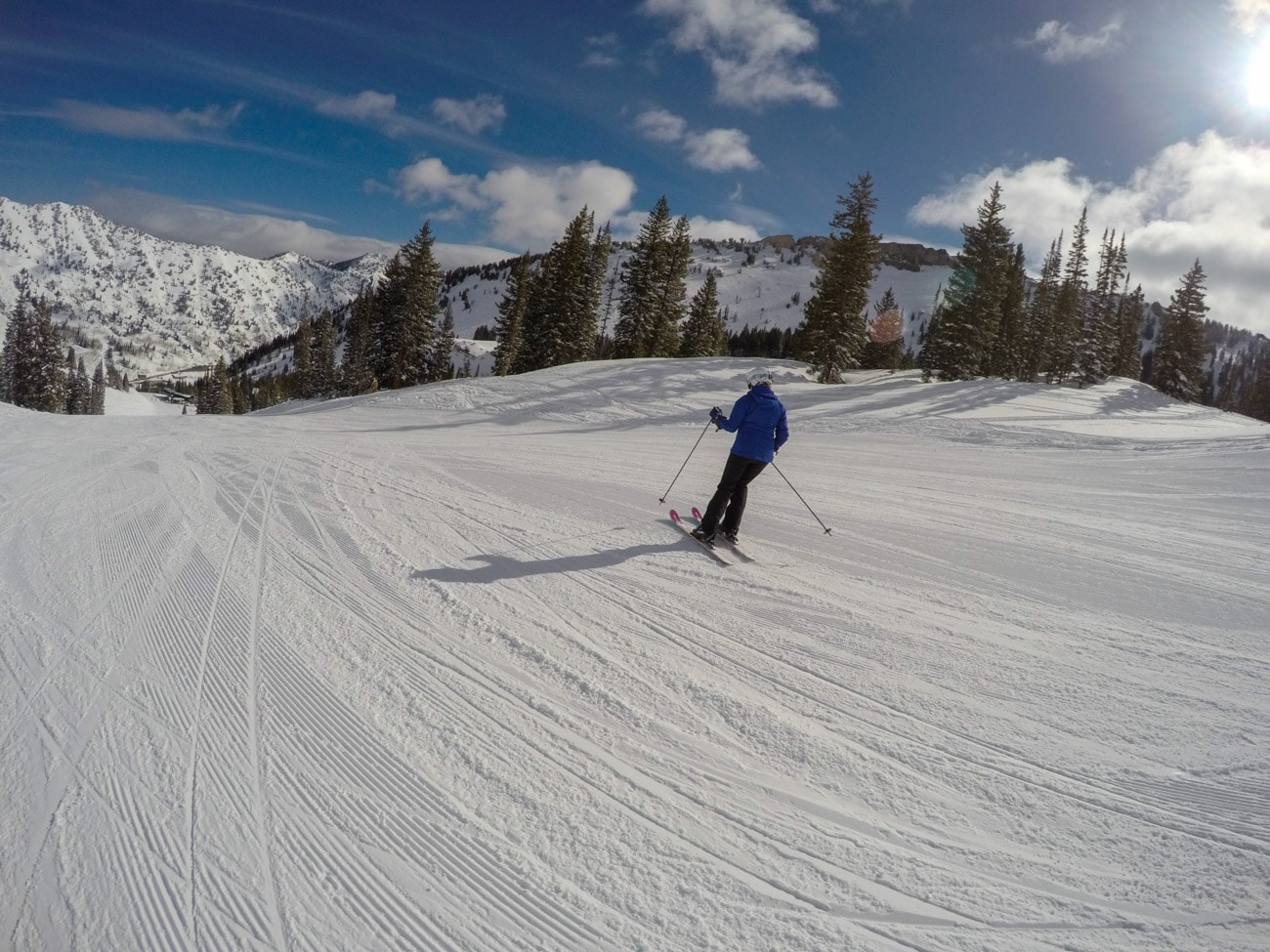 So the story goes….I started the season by sort-of-confidently skiing green runs. I have my friend Calah to thank for pushing me to the blues, as well as my awesome ski instructor from the Alta Ski School named Jonathan who I took a 3 hour private lesson with.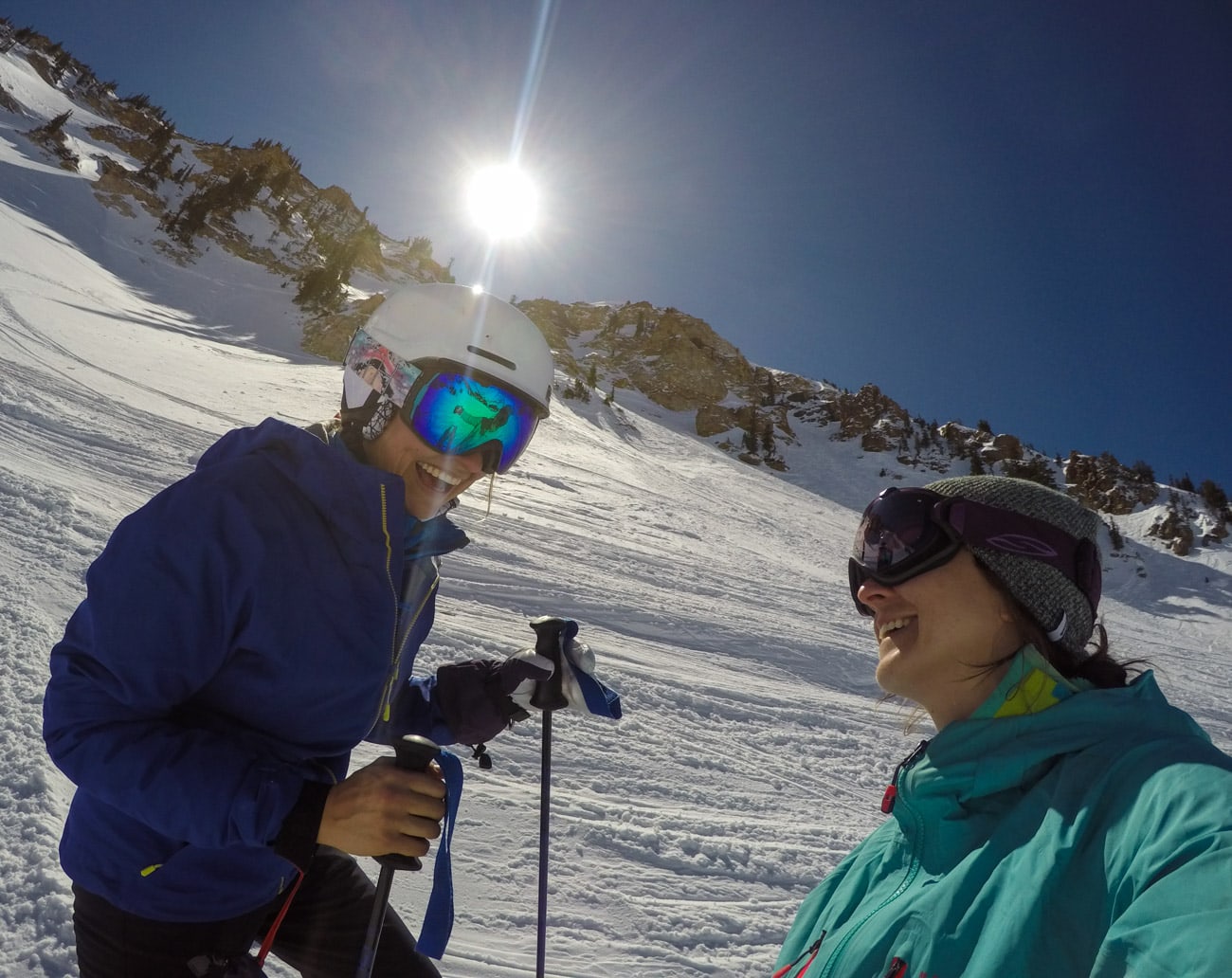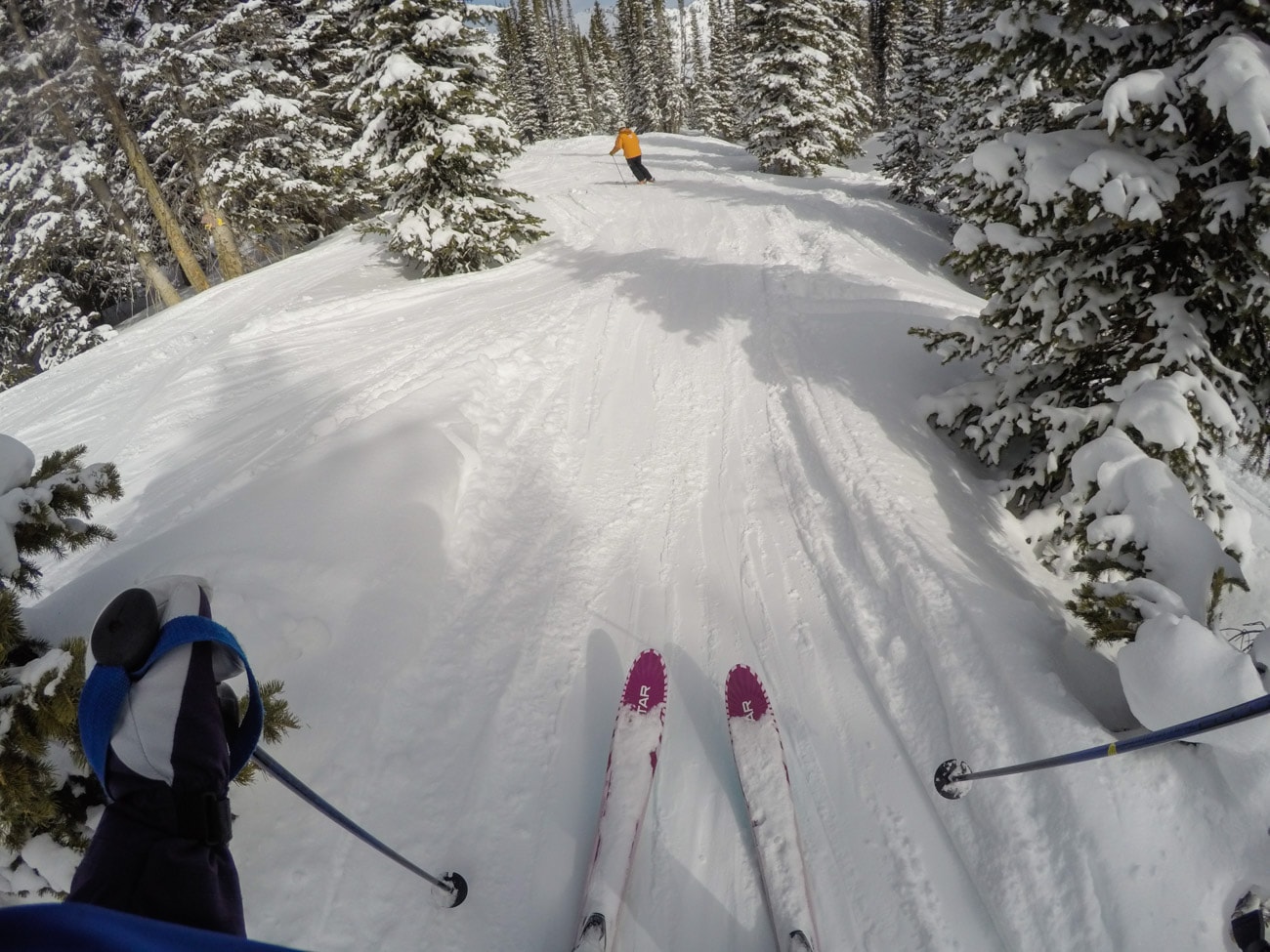 Then during my staycation at the Peruvian, I met a couple of other guys (who happened to be really good skiers) that took me under their wings. They showed me parts of the mountain I would have never skied on my own, and while skiing with them I learned that I was actually way more capable than I thought. I was slowly figuring out how shift my weight, hold my poles, and lean down the mountain. I even went back into the trees a few times and tested my ski legs in some fresh powder (which is NOT as easy as people make it look).
Finally on closing day, everything came to a head when I was faced with the choice of attending the closing day party – High Boy – where everyone is wearing costumes, chugging PBR, and dancing in ski boots. High Boy takes place at the top of one of Alta's signature black diamonds called High Rustler, and if you asked me at the beginning of the season if I would IN A MILLION YEARS ski that run, I would have laughed hysterically in your face. But I've got a bit of wild child in me, and I knew I wanted to be at that party.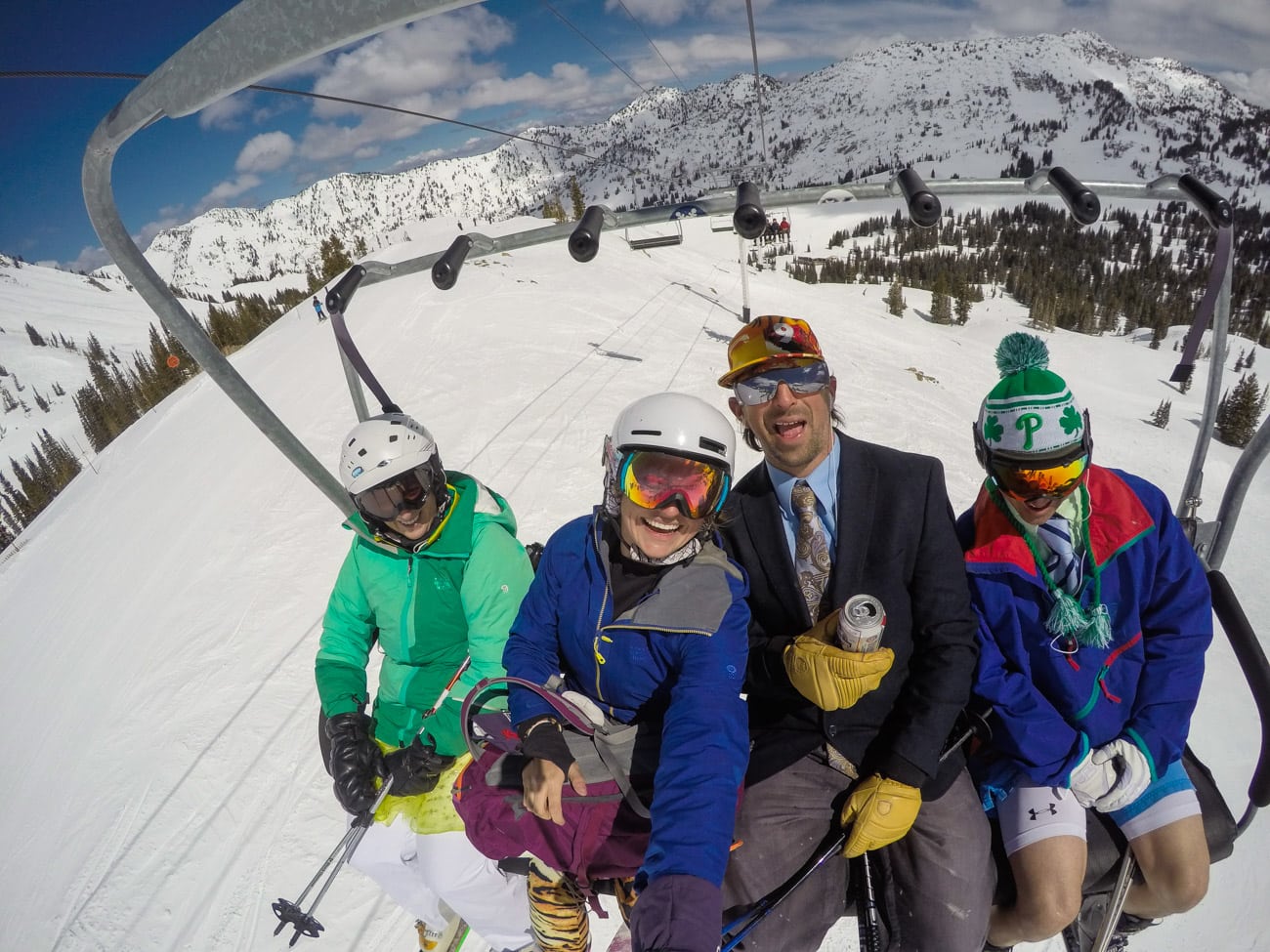 Getting to High Boy required skiing the long and often treacherous High Traverse. Some of my new ski friends – named Ryan, Dusty, and Becky – told me they would help me get out there. One would go in front of me and the other behind, and anyone else who wanted to ski past me could go around. No big deal.
My trip out on the High Traverse went smoother than I thought. Well I didn't look at that smooth, but I made it. And that was all that mattered. Once I was out there, I was so happy I trusted them. The views were the best I'd seen all winter at Alta, and it was so fun to be up there cheers-ing with a group of 100 or so skiers to celebrate the season (unfortunately/fortunately it was so much fun that the picture below is the only one I have from the top).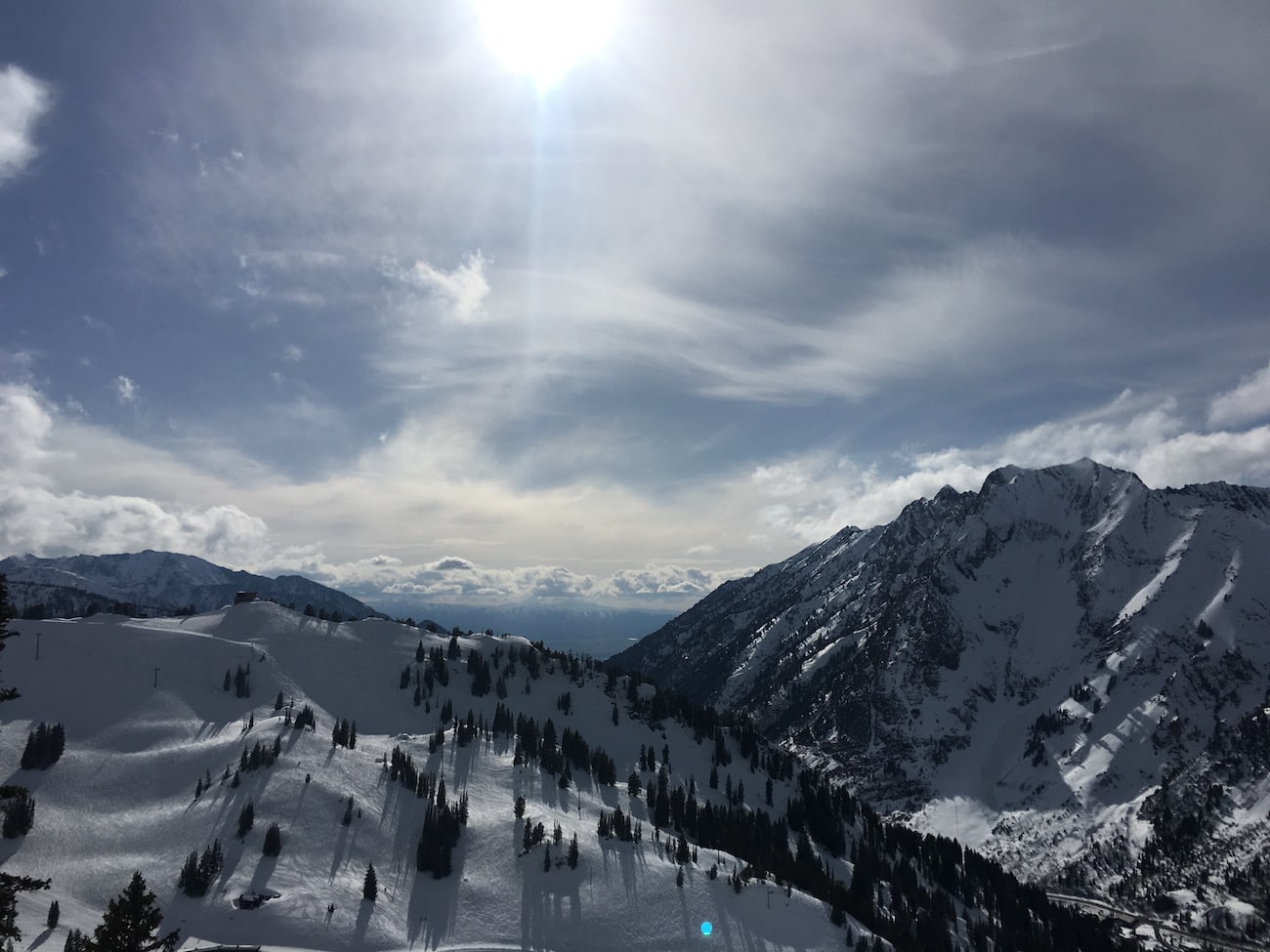 After about an hour of hanging out and making all kinds of new friends up there, it was time to come down. I wasn't really sure how I was going to manage that. My friends offered to take me the easy way down but assured me that I could make it down High Rustler – which appeared to be very steep and full of moguls….both of which I was not overly confident about. However, I was feeling a little loose thanks to a couple of small sips on the whiskey flask, so I thought what the hell. I felt that if I didn't go for it, I would be disappointed in myself.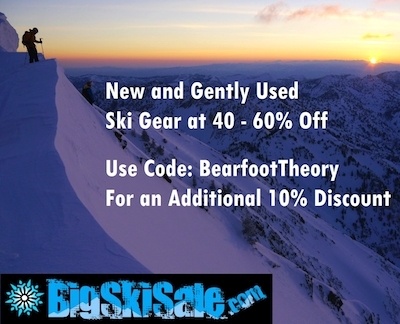 So I let my friends lead the way. When I first got onto High Rustler, I looked down and thought "geez…what have I gotten myself into." But not wanting to slide my way down looking like a complete fool, I knew I'd just have to buck up. I waited until there was no one above me and then made my first clumsy turn. One turn down. Only like 100 more to go. So I made another. And another. With every turn I got more confident and more aggressive with my skis, only falling once. Woot woot!
When I was almost on the home stretch, I stopped and looked up. I couldn't believe what I just skied. Hell yes!  But seriously. I haven't been that proud of myself in a long time. And it wasn't even that scary. I was so grateful to my friends for encouraging me to have the confidence in myself to ski that run, so I could end my first season of skiing on such an incredible high.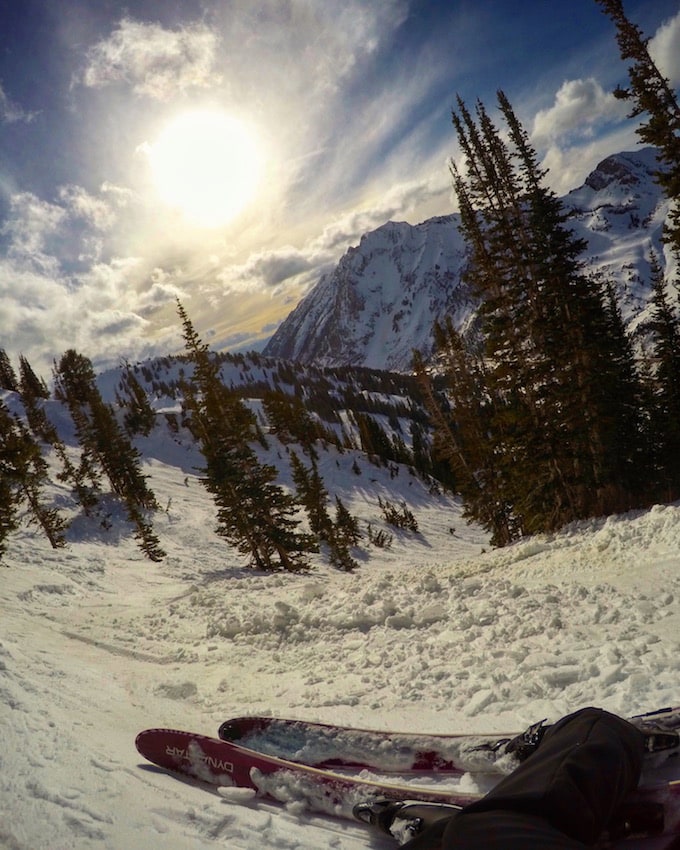 I've never been excited about winter. Not in my entire life. But now, with my new little love affair with skiing, I'm realizing I can enjoy the mountains and their bounty year round.
I'm officially an Alta addict, and I can't wait to see what next winter brings. Hopefully tons of fresh powder (which I will learn to ski in), new friends, a super strong booty (skiing has its perks), and more fun than I could ever imagine.
If you are interested in picking up skiing next winter, click the link below for some helpful beginner skiing tips that I learned over the winter. 
Hopefully this post inspired you to consider learning how to ski this next season! If you have questions about being a beginner skier at Alta, my equipment, or anything else, feel free to get in touch!
SO ARE YOU GOING TO LEARN TO SKI NEXT SEASON OR WHAT?!? LEAVE A COMMENT BELOW, TWEET ME, OR WRITE ME A POST ON FACEBOOK. 

Disclaimer: Thanks to Alta Ski Area for providing me with a discounted ski pass this winter. As always, all opinions and words are my own.