BEST JOHN MUIR TRAIL SECTION HIKES
Taking off 3 weeks to hike the John Muir Trail isn't always feasible. Not to mention you also have to score a JMT permit with a date that works for you. If you aren't able to hike the entire JMT, why not section hike a portion of the trail? One of the biggest advantages to section hikes on the John Muir Trail vs. a thru-hike is that you also don't need to worry about the infamous JMT resupply hassles.
We've put together a list of our favorite John Muir Trail section hikes to get you out the door and exploring. These incredible backpacking trips are also great options for visiting Pacific Crest Trail or JMT thru-hiking friends during their trek.
Ranging from 28 miles to 65 miles, these 5 section hikes will give you a taste of all you can experience on the John Muir Trail and the High Sierra. Most JMT hikers travel North, starting in Yosemite Valley, and heading South, ending at Mt. Whitney, so we have listed all of these hikes in a similar fashion. Keep in mind any of these hikes could be reversed.
And as it goes in all of the destinations we share, please practice good trail etiquette and remember to Leave No Trace. This means packing out all of your garbage, being respectful to others on busy trails, and following the established rules. 
Just a few important notes before we share our favorite section hikes on the John Muir Trail:
Transportation Options between the Trailheads
You'll need to plan for transportation. Where public transit is available, we list those options below. Otherwise, you'll need to plan on having two cars or hitch-hiking to and from trailheads. There are also numerous private shuttle companies that offer one-way and roundtrip transportation to trailheads all over the Eastern Sierra Nevada mountains. Depending on your start and end point, you might find some applicable info our JMT Transportation Planning Guide.
Don't forget that a bear canister is required for the entire length of the JMT. You can rent one at the Yosemite Wilderness permit office for $5.00/week or purchase one. Our favorites are the BV500 food container and the Garcia bear-resistant container. Or for big spenders, the Bearikade is the lightest option which can also be rented.
One logistical note specific to permits. For all section hikes on the John Muir Trail, you'll need a permit. Not a full-blown JMT thru-hiking permit, but still – a permit. 60% of permits for most access trails can be reserved online ahead of time, and 40% are available on a walk-in basis beginning at 11 a.m. one day before the trip entry date. More information on wilderness permits for overnight trips in Inyo National Forest and the John Muir Wilderness areas can be found on the Recreation.gov website. On all National Forest sections of the JMT, campfire permits are also required for campfires, stoves, and lanterns. You can quickly and easily get a California campfire permit online.
Yosemite Valley to Tuolumne Meadows (~20 miles)
Starting Point: Happy Isles Trailhead in Yosemite Valley
Ending Point: Cathedral Lake Trailhead in Tuolumne Meadows
JMT Miles: Mile 0 to Mile 20.8
An iconic section hike through Yosemite National Park, this route generally takes 2-3 nights depending on your pace. Cathedral Lakes is a must-see in Yosemite and offered one of my favorite campsites in all of the JMT. This section also passes by some of Yosemite's most iconic waterfalls, as long as it's early enough in the season that water is still running. Yosemite offers an awesome shuttle system between the two trailheads making planning with just one car and a one-way route a cinch. You can also summit Half Dome from this route (an additional permit is required for Half Dome).
Transportation Options between the Trailheads
In the busy months of July & August you can take YARTS to and from your start locations which make completing section hikes on the John Muir Trail easy with just one car. We prefer to have our car waiting for us in the end so that at the end of your hike you don't have to deal with shuttles. So we recommend parking your car at the Tuolumne Meadows Visitor Center and taking a shuttle to Yosemite Valley.
Yosemite wilderness permits are required for overnight trips in Yosemite. Permits are available through an advanced lottery system 168 days prior to your start date. Check the NPS website for more information and for permit applications.  If you want to add summiting Half Dome to your route you'll need to get a Half Dome permit as well.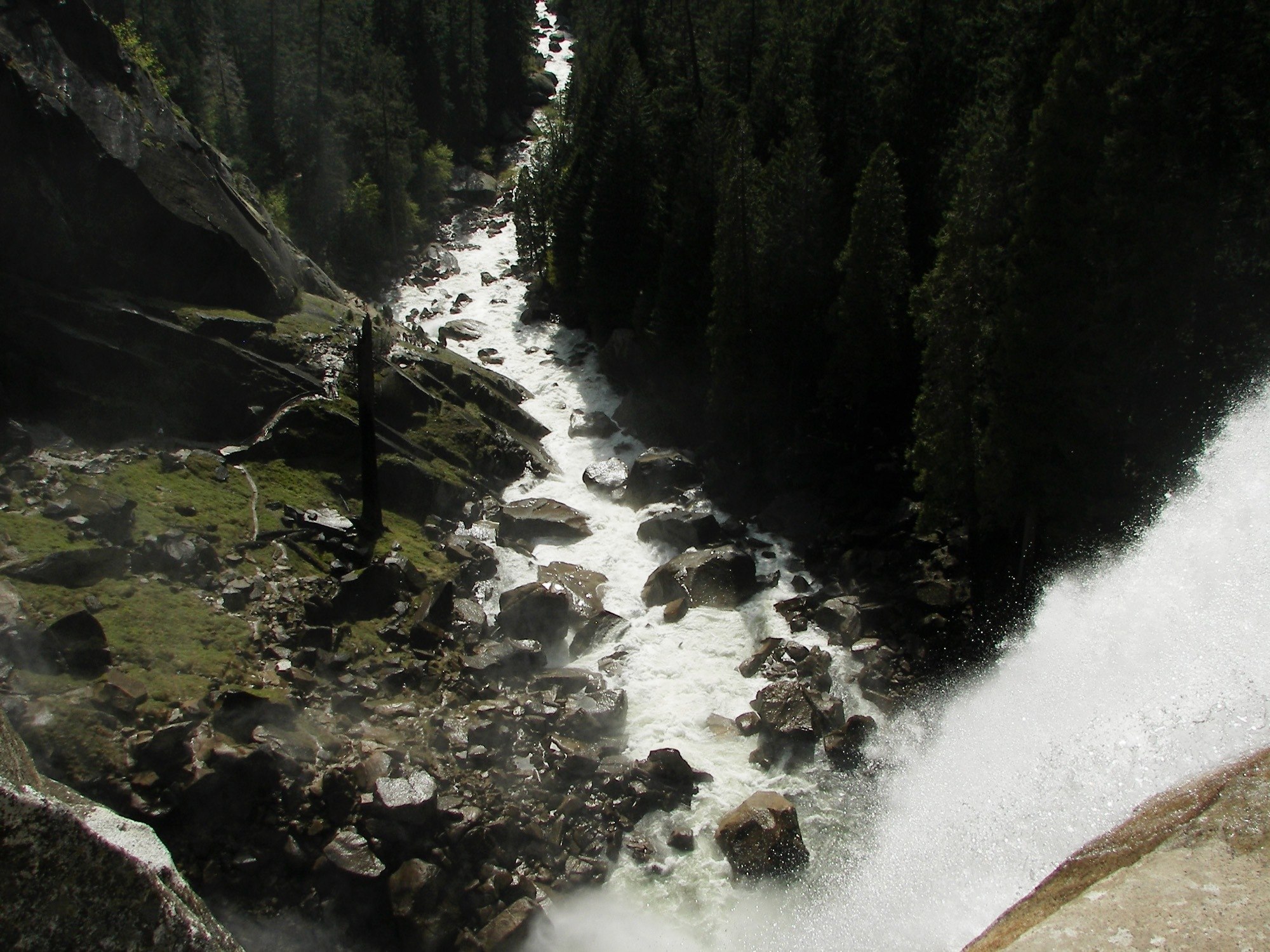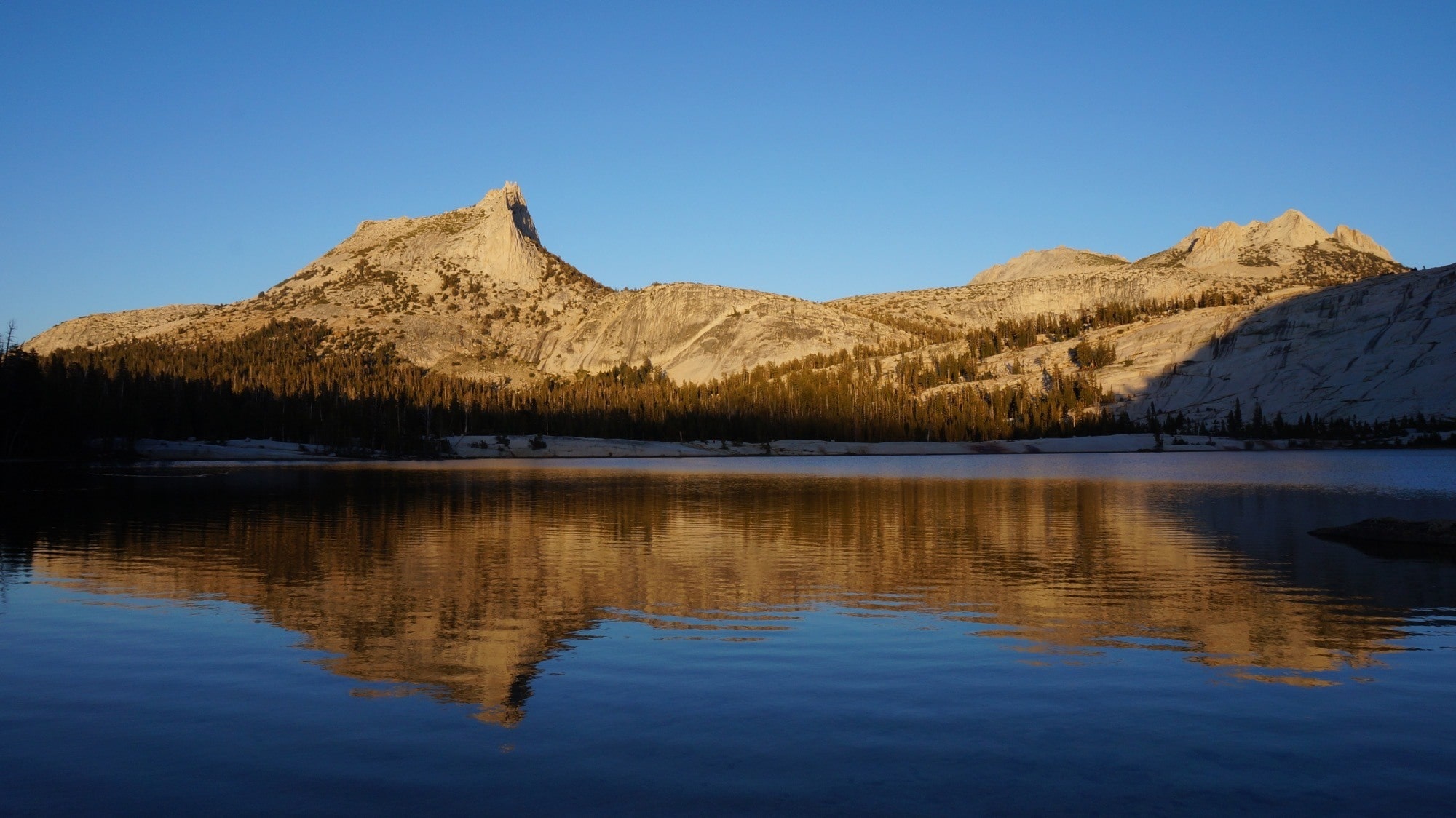 Tuolumne Meadows to Devils Postpile (~34 miles)
Starting Point: Tuolumne Meadows
Ending Point: Devils Postpile
JMT Miles: Mile 21 to 56.6
You beat the crowds of Yosemite Valley by starting in Yosemite's quieter Tuolumne Meadows. You'll conquer Donahue Pass and Island Pass while also walking alongside Garnet Lake, Gladys Lake, Rosalie Lake, and Kim, our Director of Content's personal favorite, Thousand Island Lake. Thousand Island Lake was also the subject of some of park photographer Ansel Adam's most famous work.
Transportation Options between the Trailheads
You can't park a car during the high season summer months at Devils Postpile. You have to take the $7 shuttle that leaves and returns from from Mammoth Ski Resort.I took this shuttle when I was dropping off my resupply, and found it to be very simple. To get from Mammoth to Yosemite, you can take YARTS.
Yosemite wilderness permits are required for overnight trips in Yosemite. Permits are available through an advanced lottery system 168 days prior to your start date. Check the NPS website for more information and for permit applications.
If both of the above routes sound great, keep in mind you could easily connect them for a 60-mile trip!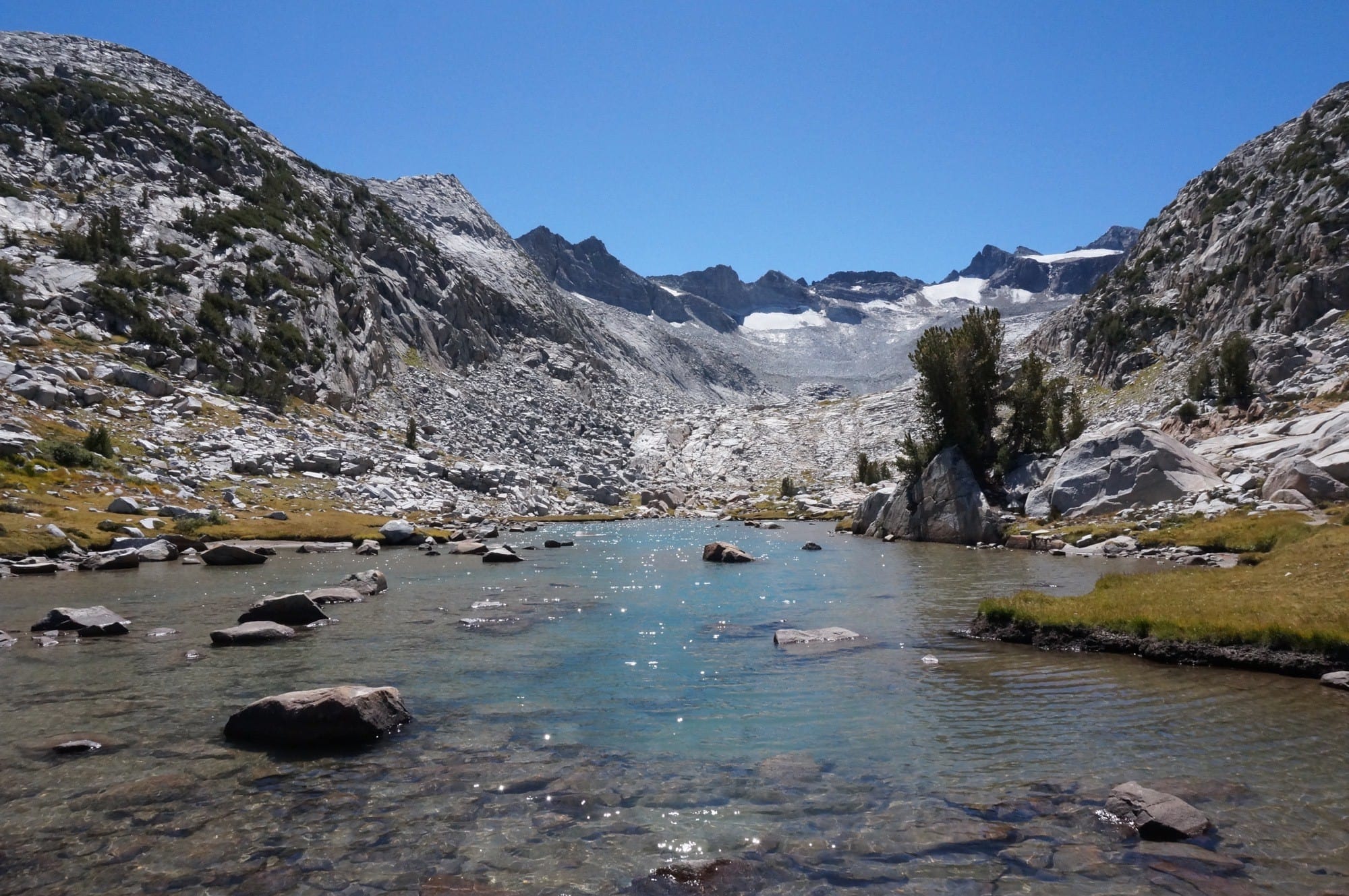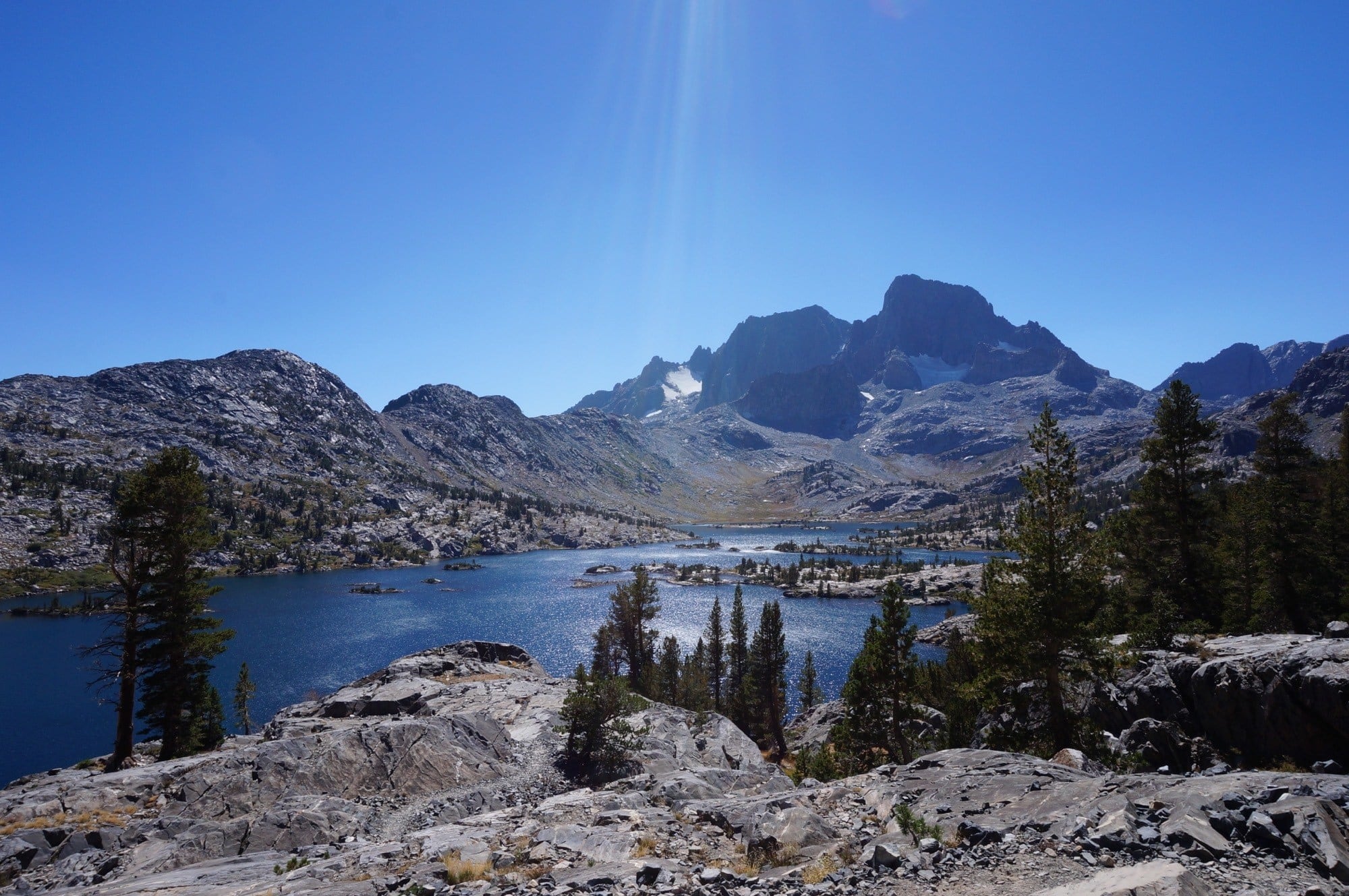 Purple Lake to Big Pete's Meadow (~84 miles)
Starting Point: Duck Pass Trailhead
Ending Point: Bishop Pass Trailhead at South Lake
JMT Miles: 70.5  to 134.5
This is one of the longer sections with non-stop scenery. You'll climb through Evolution Basin up the infamous Muir Pass and get to visit Muir Hut, all named in memory of the naturalist John Muir. You also get to climb Silver and Seldon Passes with some incredible campsite opportunities at gorgeous Purple Lake, Lake Virginia, Bear Creek, McClure Meadow, and Big Pete's Meadow.
The hike up out Le Conte Canyon and out over Bishop Pass is a big one. I'd suggest planning for a night in Dusy Basin on the way out.
Transportation Options between the Trailheads
From Mammoth, CA you can take the Orange Line (Lakes Basin Trolley) to stop 99 which is right along the shore of Lake Mary. From there it's a short hike uphill 0.2 miles through the Coldwater Creek Campground to the parking area where you'll find the Duck Pass Trailhead in the uppermost corner of the parking lot. For more information check out the VisitMammoth.com website.
Permits need to be secured through Inyo National Forest and can be secured online here.
If this section is too long, you can reduce the section to 57 miles by starting at the North Lake Piute Trailhead.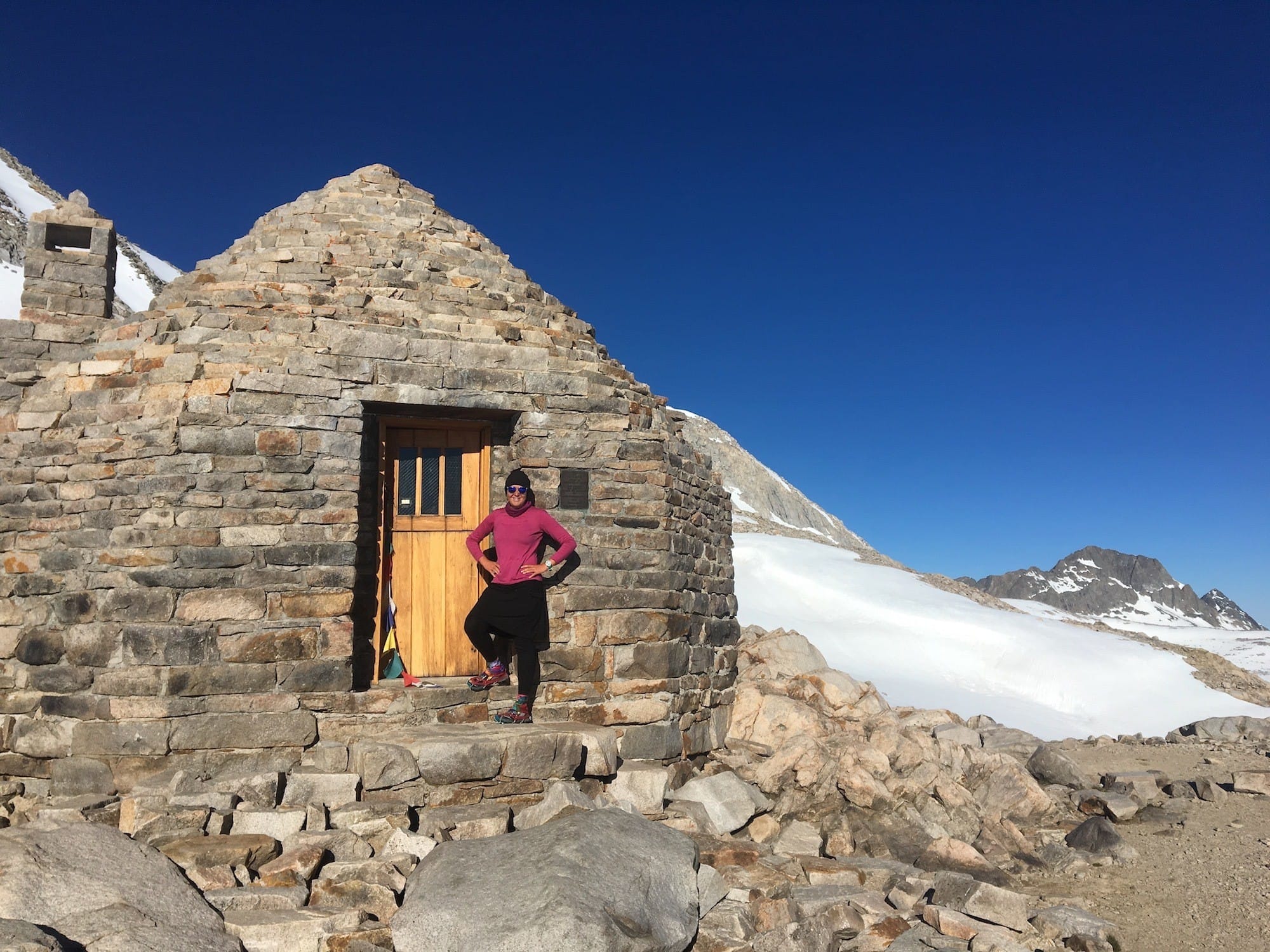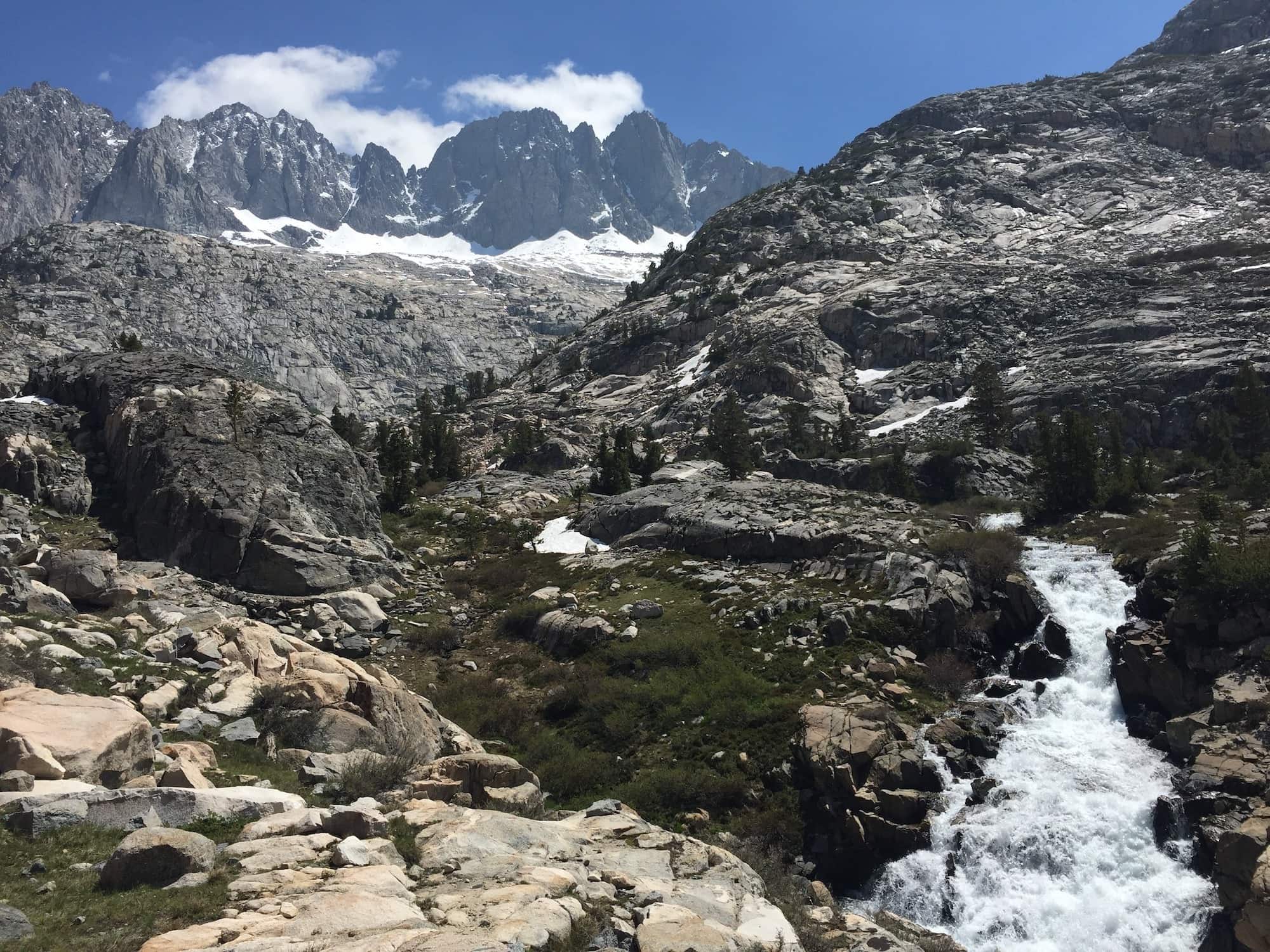 Big Pete's Meadow to Kearsarge Pass (~65 miles)
Starting Point: Bishop Pass Trailhead at South Lake
Ending Point: Onion Valley Trailhead
JMT Miles: Mile 134.5 to Mile 177.9
This is an epic section hike of the JMT. You'll cross three 12,000 foot passes (Glen, Pinchot and Mather). Plan at least 5 days for this route that travels through Kings Canyon National Park. You'll tramp through LeConte Canyon, Grouse Meadows and conquer the Golden Staircase. Make sure to camp at Middle Rae Lake for a night. While it's a slightly busier site, the morning reflections of the Painted Lady make it worth it. The exit over Kearsarge Pass isn't too bad, and there are some nice lakeside campsites on the east side of the pass. I suggest Flower Lake for your final night of camp. You also get to experience two awesome trail towns; Lone Pine and Bishop!
Transportation Options between the Trailheads
Hitching from Onion Valley trailhead is fairly simple since this is a commonly trafficked area and there is a large campground at the bottom of the road as well. You might have to hitch into town (Independence or Bishop) and then hitch to the other trailhead. The best option would be to take two cars and drop one at the Onion Valley trailhead then drive to Bishop Pass trailhead to park, it is about an hour drive between the two trailheads. East Side Sierra Shuttle also offers transportation between the two for $220 for the first 2 passengers and $40 for each additional. There are a few other companies also offering shuttle services between the two trailheads or between the trailheads and town.
Since you'll be hiking through Inyo National Forest & Kings Canyon National Park you'll need a permit. The great news is since the trail starts in the Inyo National Forest and NOT in Kings Canyon National Park, your Inyo Wilderness permit is good for the entire itinerary of your hike.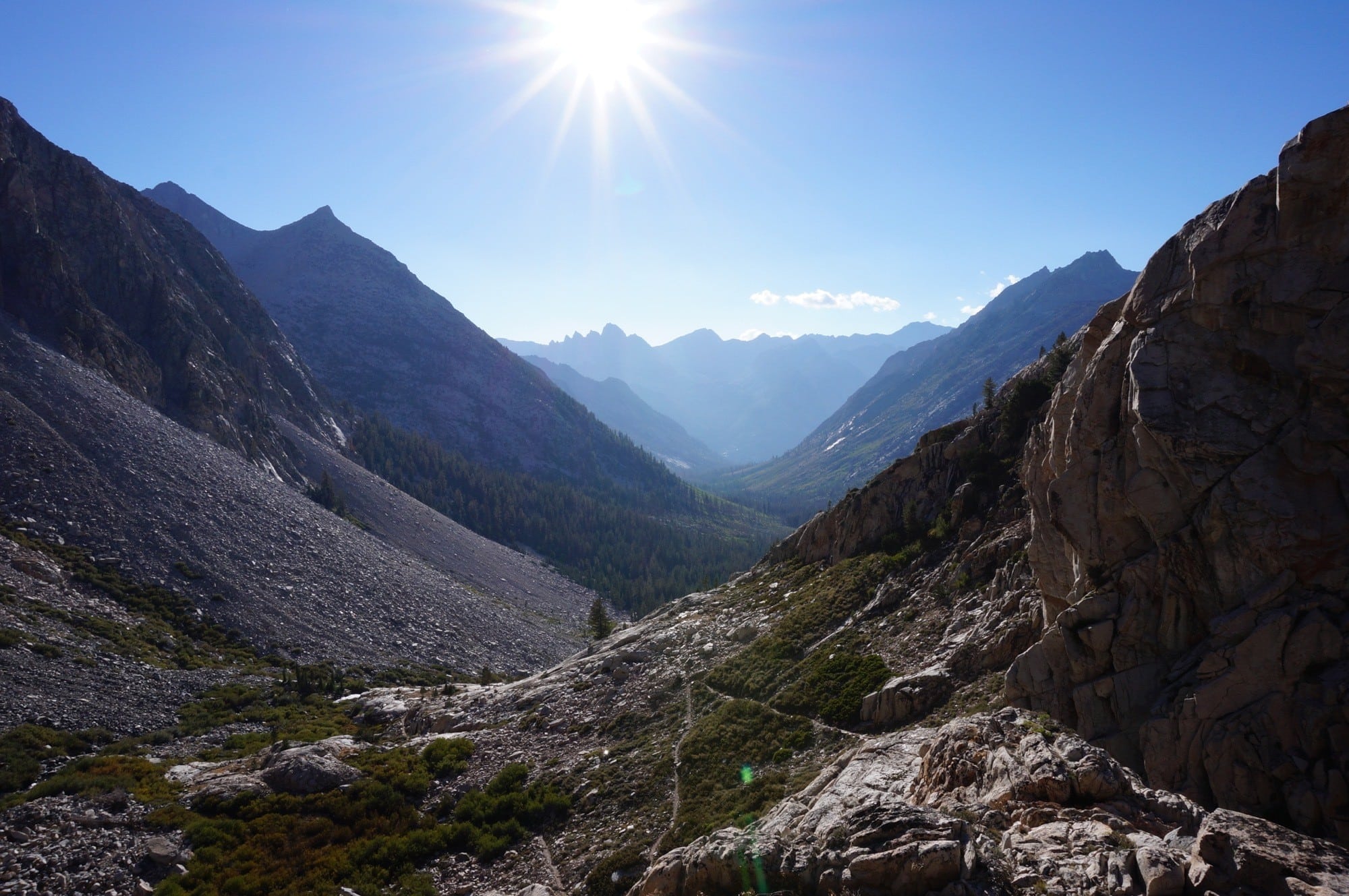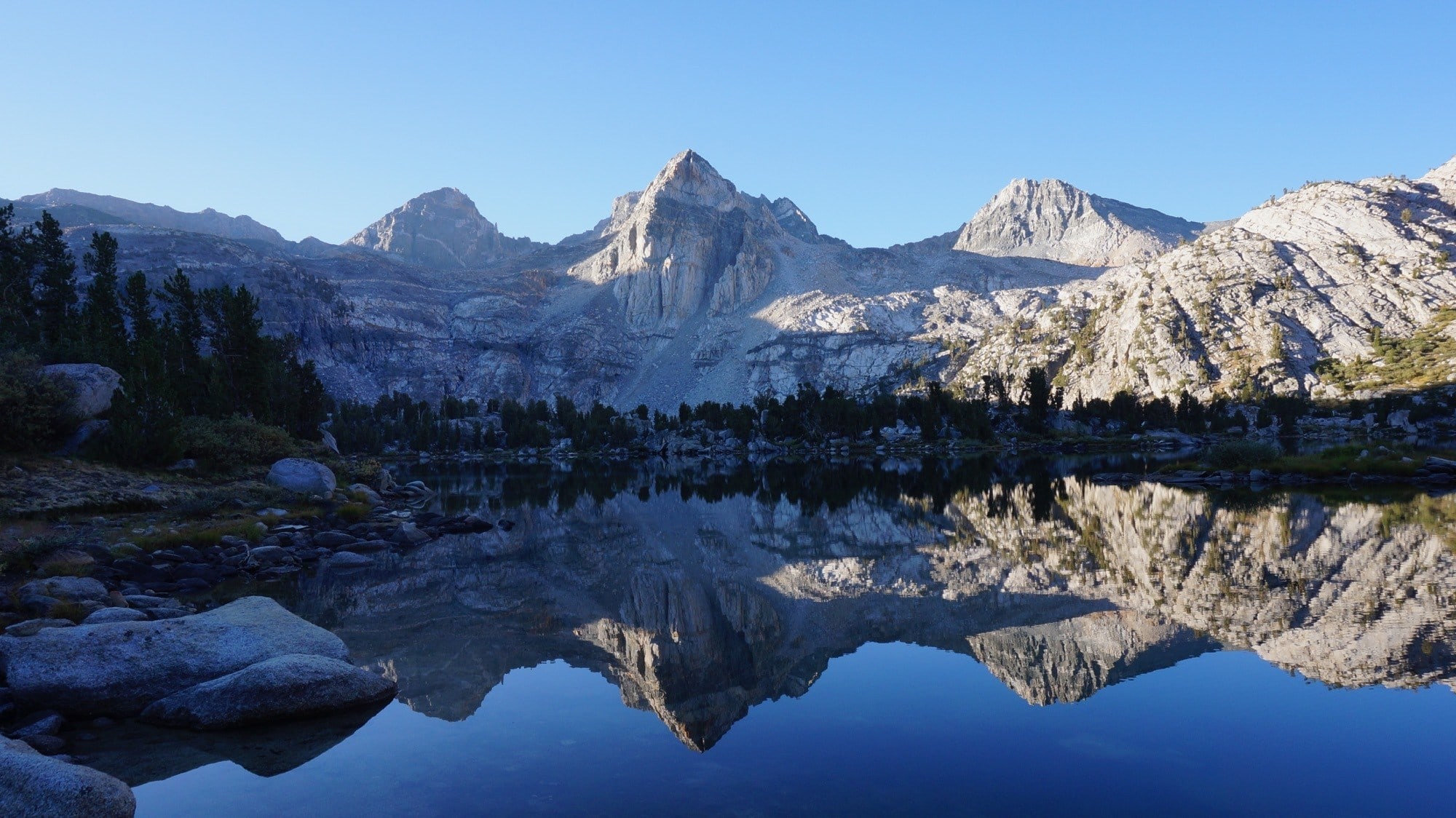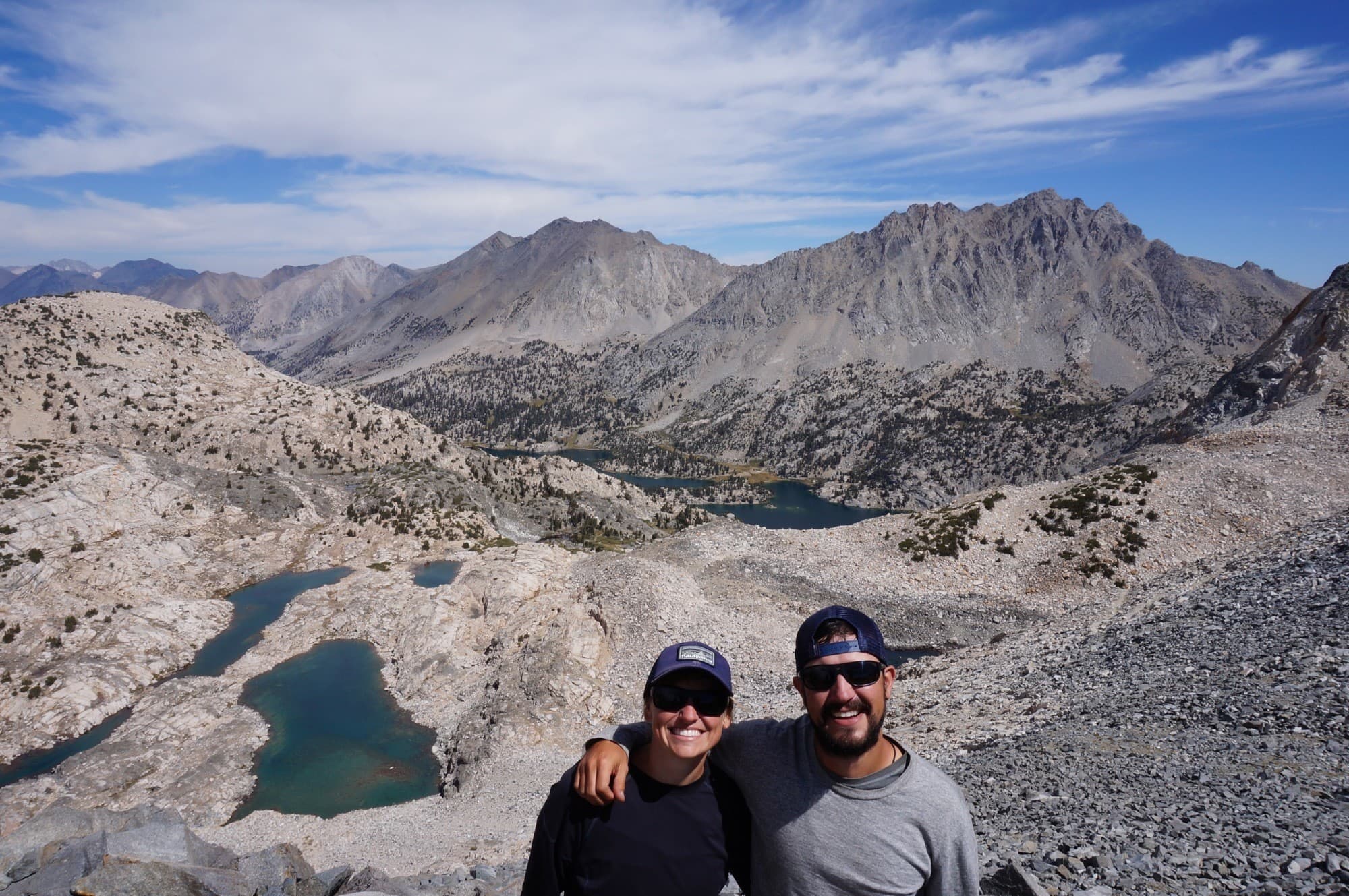 Kearsarge to Whitney Portal (~49 miles)
Starting Point: Onion Valley Trailhead
Ending Point: Whitney Portal
JMT Miles: Mile 177.9 to Mile 222.4 (the southern terminus of the JMT)
If packing a summit of Mt. Whitney is important to you then this is the section hike for you! You'll also have the opportunity to climb Forester Pass, the highest point on the Pacific Crest Trail, as well as visit Crabtree Meadows at the base of Mt. Whitney. Allow at least 5 days for this route. This southernmost route along the end of the JMT takes you from Onion Valley over Kearsarge Pass to the highest point in the continental United States, what more could you need? Another benefit of this section is that you get to climb Whitney from the back and come out the portal vs. day hikers on Whitney who climb up and back down the portal route. Don't be nervous about carrying food for this stretch, here are some simple backpacking food ideas & my top picks from when I hiked the JMT.
Transportation Options between the Trailheads
There are frequent shuttle services from Whitney Portal to the Onion Valley campground, there seem to be new companies every year so check hiking forums online for the most up to date information. Hitchhiking this distance is also very common.
Permits are required for this section since you're starting at the Onion Valley trailhead and hiking through the Inyo Forest on an overnight trip. Permits can be reserved online up to 6 months in advance. You'll need to use the recreation.gov website and search for "Inyo National Forest- Wilderness Permits". You'll then search a permit that starts at "Kearsarge Pass" and "Exits Mt. Whitney" via Mt. Whitney (Traill Crest Exit). You'll need to know your start date and your exit date to obtain permits. Planning is key for this section.