THE BEST OF THE JOHN MUIR TRAIL, PART 2
(REDS MEADOW TO MUIR TRAIL RANCH)
Welcome to week 2 on the John Muir Trail. If you missed the highlights from week 1, be sure to check them out. The first 60 miles were a doozy.
The second section from Reds Meadow to Muir Trail Ranch introduced us to some higher elevations, some out-of-this-world swimming holes, relaxing hot springs, and new challenges.
Here in Part 2 of my Best of the John Muir Trail series, I tell you everything you need to know about the trail from mile 60 to mile 108.
For additional information on the John Muir Trail, see these posts:
And as it goes in all of the destinations we share, please practice good trail etiquette and remember to Leave No Trace. This means packing out all of your garbage, being respectful to others on busy trails, and following the established rules. 
DAY 7 – REDS MEADOW (MILE 60) TO DUCK PASS JUNCTION (MILE 70.5)
Highlight: arriving at camp
Not to start on a low note, but I want to mentally prepare you for this day. There's no good way of putting it. This stretch between Reds Meadow and Duck Pass Junction was just awful. Everyone we met on the trail agreed. First, your pack is about 10 pounds heavier than the day before thanks to your resupply at Reds Meadow. But what's worse is that after leaving Reds Meadow, you begin the day by traversing through a burn area where the trees are dead and there is absolutely no shade. I'd recommend getting an early start so you can avoid getting stuck in the blazing sun (another reason why camping at Reds Meadow the night before is a good idea).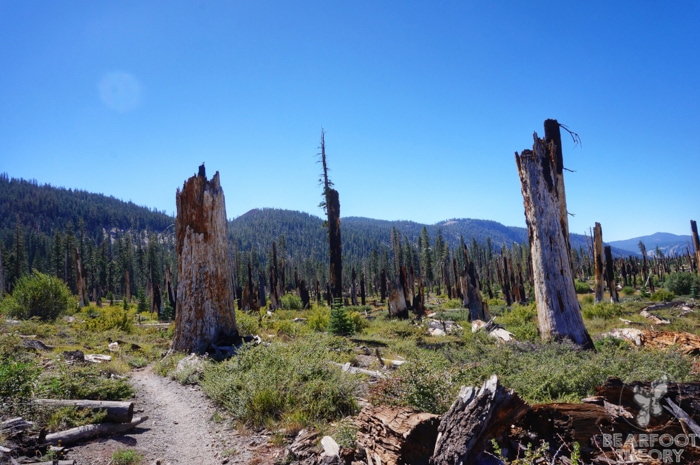 The John Muir Trail leaving Reds Meadow
Once you finally enter the forest, you begin to climb, climb, climb. The uphill will seem relentless. And the scenery?…meh.
We originally talked about camping at Deer Creek, but when we arrived, the stream was nothing more than a trickle, and it was still early in the afternoon. Hence, we kept trucking.
There are very few stretches along the JMT where there is no water. The 4.5 mile section between Deer Creek and the Duck Pass Junction is one of them. So make sure to fill up before continuing uphill.
As we got closer to our destination, we were treated to occasional views of the Silver Divide. It's the only thing that kept me going with the enduring twinge I was feeling in between my shoulder blades.
The Silver Divide
When we finally arrived at the creek at Duck Pass Junction, we found a nice place to set up our tent just below the trail on the west side of the creek.
It's clear from the photo below that the mental trials of our tough trail day were quickly buried once we were at camp….I believe this was the night that we polished off the last our whiskey.

Preparing a whiskey-hot apple cider nightcap
DAY 8 – DUCK PASS JUNCTION (MILE 70.5) TO FISH CREEK (MILE 77.5)
Highlight: Swimming in Lake Virginia
After the previous day, we needed a little pick me up. We had read in our guidebook that Lake Virginia, 4 miles up the trail, was heavenly. So we hit the trail, first coming to Purple Lake. For those who have some stamina left in them the day before, Purple Lake appeared to have some pretty nice campsites.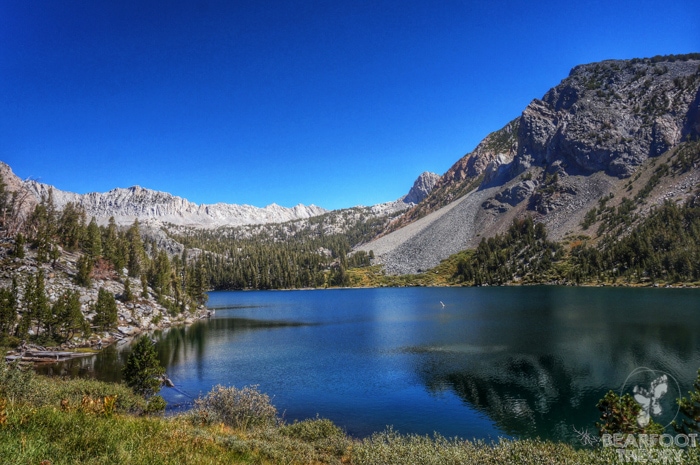 Purple Lake
We arrived at Lake Virginia around lunchtime. We decided to follow a side trail that veered off to the west side of the lake and found a perfect spot to set up shop for a few hours. The sun was beating down on the warm granite. We suited up and dove in. Burrrrrr. That water was cold, but man did it feel good. My aches and mental pains from the previous day melted away.

Washing away the grime in Lake Virginia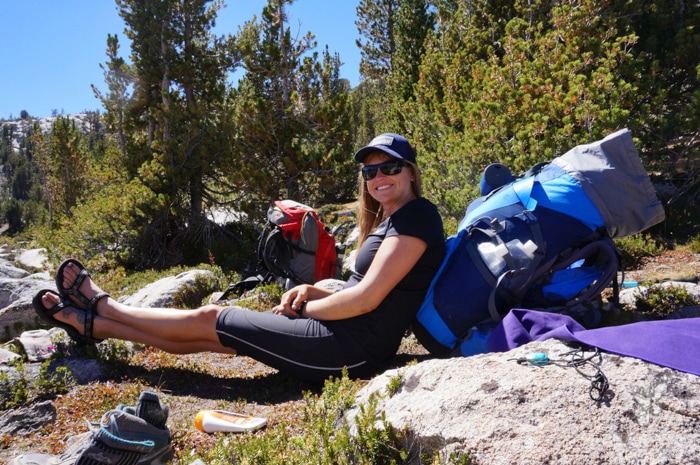 Lunching at Lake Virginia
We hung out for a couple of hours, and around 2:30 we agreed it was time to move on. But I really didn't want to. I envisioned the sunset over Lake Virginia and contemplated just staying there for the rest of the day. But since we had only hiked 4 miles so far, we felt that we needed to keep going, and we threw our packs on.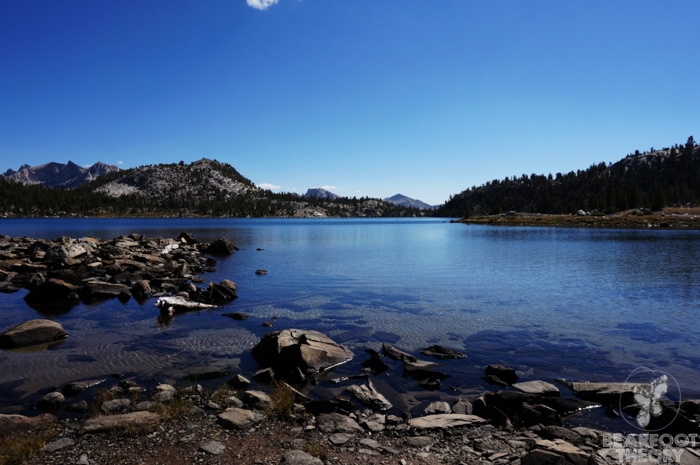 Lake Virginia

Leaving Lake Virginia
As we descended the switchbacks down into Tully Hole, I began to think that we made a big mistake. Even though it was pretty, all of the campsites we passed on Fish Creek were shady and cold. Eventually we spotted some sun on the other side of the creek and found a safe place to cross. After mulling about for a while, we settled on a campsite. It was nice, but it was no Lake Virginia.

Looking down into Tully Hole and Fish Creek
To this day, one of my biggest regrets from my time on the trail was leaving Lake Virginia that afternoon. We only hiked about 2.5 miles past the lake and could have easily made up those miles the next day with an early start. Oh well. Guess it gives me a reason to go back. Don't miss Lake Virginia!
DAY 9 – FISH CREEK (MILE 77.5) TO QUAIL MEADOWS (MILE 88)
Highlight: Lunch at Chief Lake / the view from Silver Pass
Today we tackled Silver Pass. The climb to the top was quite easy compared to some of the other passes on the trail. But take your time getting there, as there are several beautiful lakes on the way.
My favorite lake of Day 9 was Chief Lake which is right at the timberline below Silver Pass. The dramatic views and aquamarine water made it a great place to stop for lunch before making the last uphill push.

Our lunch spot at Chief Lake
Between Chief Lake and Silver Pass, you will be completely above the treeline. As you ascend the barren landscape, you'll get sweeping views of the lakes below and the mountains where you spent the last several days.

Heading up to Silver Pass

The view looking down as we climbed Silver Pass

The view of Chief Lake and our lunch spot from the top of Silver Pass
Traveling south from Silver Pass, you head down along the North Fork of Mono Creek. There are many shady campsites along the way. Our goal was to make it to close to Quail Meadows, since we wanted to take on the upcoming 2,000 foot climb to Bear Ridge first thing the next morning when our legs were fresh.
Quail Meadows is located at the Lake Edison Junction which is the trail you would take if you were planning to stop and resupply at Vermillion Valley Resort (VVR). We skipped VVR because it required a bit of maneuvering to get there – a combination of hiking, a ferry, and/or a jeep ride. Plus, we were all fueled up with our supplies from our visit to Reds Meadow a few days prior. Because of its close proximity to VVR, Quail Meadows was a popular camp spot for JMT hikers.
To avoid the crowds, we settled on a site just north of Quail Meadows that was reminiscent of an old cowboy camp and had easy access to some nice hang-out spots on the creek. To find this huge campsite, veer left off the trail just above the intersection of the North Fork with Mono Creek.

Cowboy camp along Fish Creek
DAY 10 – QUAIL MEADOW (MILE 88) TO BEAR CREEK (96.3)
Highlight: Swimming at our Bear Creek camp
Our day started with a 4 mile long, but gentle climb up a series of switchbacks to the top of Bear Ridge. If you are tired when you get to the top, stop for snacks, but don't be tempted to take your lunch break here. Some of the best swimming holes on the trail are just a short ways ahead.
After reaching the top, you will drop down to the Bear Creek Junction, where the trail begins to run parallel to Bear Creek for the next two miles. We were hot and tired when we arrived at the creek so we threw our bags down at the first sight of water. We cooled off, bird bath style, and chowed down on some lunch.

Our lunch stop at Bear Creek
While our lunch spot was lovely, we found that the further we got along Bear Creek, the better the swimming opportunities. When we turned a corner around mile 95, we stopped dead in our tracks when we came across a long straightaway in the river with a cascading waterfall full of calm, clear, and deep swimming holes. We wished we had stopped here for lunch instead. We debated taking another dip, but it was already mid-afternoon and we still had a good distance to cover that day. We we moved on and felt very guilty about it.

The most perfect swimming hole EVER. Bear Creek
About a mile later, we stumbled upon another idyllic series of pools. Could we pass these ones up too? Neither of us took much convincing. We immediately threw our bags down, where we would later set up camp. This spot in the river had some huge flat boulders forming a series of waterfalls. Since the water was low, you could walk right out onto the granite and sit in the middle of the waterfalls. It was heaven. We were grateful to say goodbye to our earlier guilt and spent the rest of the afternoon basking in the glistening sun. This was 100% my favorite camp from the second section of the JMT.

Bear Creek…my favorite camp from the second week on the JMT

Bear Creek camp
DAY 11 – BEAR CREEK (MILE 96.3) TO MUIR TRAIL RANCH (MILE 108)
Highlight: The view from Seldon Pass / Hot springs at Muir Trail Ranch
We work up earlier than normal this morning, and it was still cold when we hit the trail. I think the brisk air made us walk faster, because we made it to Marie Lake in record time.
Marie Lake was dotted with granite islands and offered superb views of the surrounding mountains. Sitting at 10,500 feet, there were several small, sandy, and exposed campsites along the trail. It was windy when we came through, but I imagine on a calm night, this would be an amazing spot to camp.

Traveling alongside of Marie Lake
Next up was Seldon Pass, which was only 500 more feet above Marie Lake. Piece of cake. Make sure to enjoy the wide-open views of Marie Lake and Silver Pass as you climb.

The view from the top of Seldon Pass
Once you are over Seldon, you first drop down to Heart Lake and then Sallie Keyes Lakes. We stopped for lunch at the north end of Sallie Keys. However, if it is a warm day, I recommend heading to the southern edge of the lake where there appeared to be good swimming with easy access.

Looking south to Heart Lake from Seldon Pass

Sallie Keys Lake
Our original plan was to stop at Sallie Keys and camp for the night. But it was a windy day and since we made such good time, we set off for Muir Trail Ranch, our second resupply point.
The trail between Sallie Keys and Muir Trail Ranch ends with a long section of downhill switchbacks into a beautiful river canyon. There is no suitable camping along this stretch. At mile 108, you reach the northern cutoff to Muir Trail Ranch (MTR), where you will undoubtedly stop, as it is the last place directly on the JMT to resupply. Follow the signs which lead you down a dry, dusty trail to the camp.

Hiking down towards Muir Trail Ranch
Be prepared to camp with a bunch of other thru-hikers on your night at MTR. Sites are spaced closed together and there is little privacy. There are also no bathrooms, so finding a hidden place to go was a bit of a challenge.
On a high note, we ran into our friends that we met at Reds Meadow the week before, and it was fun to hear about how their trip was going.
Also, definitely don't miss taking a soak in Blaney Hot Springs across the river. From the MTR campsites, carefully cross the river, and then follow the trail downstream for about five minutes until you reach a series of natural hot pools. They are small and a bit murky, but the hot water will do wonders for your sore muscles. This alone made staying at MTR worth it.

Hot Springs at Muir Trail Ranch (Source)
Well there you have Part 2 of the Best of the John Muir Trail. We are just about at the halfway point. And I have to say that from here on out, the scenery just gets better, bigger, and more dramatic. On Day 12, we entered Kings Canyon National Park, which is where my dreams of the John Muir Trail all started. I can't wait to share Part 3 of this series with you.
Are you thinking about hiking the John Muir Trail? What are your questions / fears? What are you most excited for? Spill your thoughts in the comments below!