Bishop Pass to Dusy Basin Backpacking Guide
Lakes? Waterfalls? Granite Peaks? Get it all in a weekend backpacking trip over Bishop Pass to Dusy Basin in California's eastern Sierras.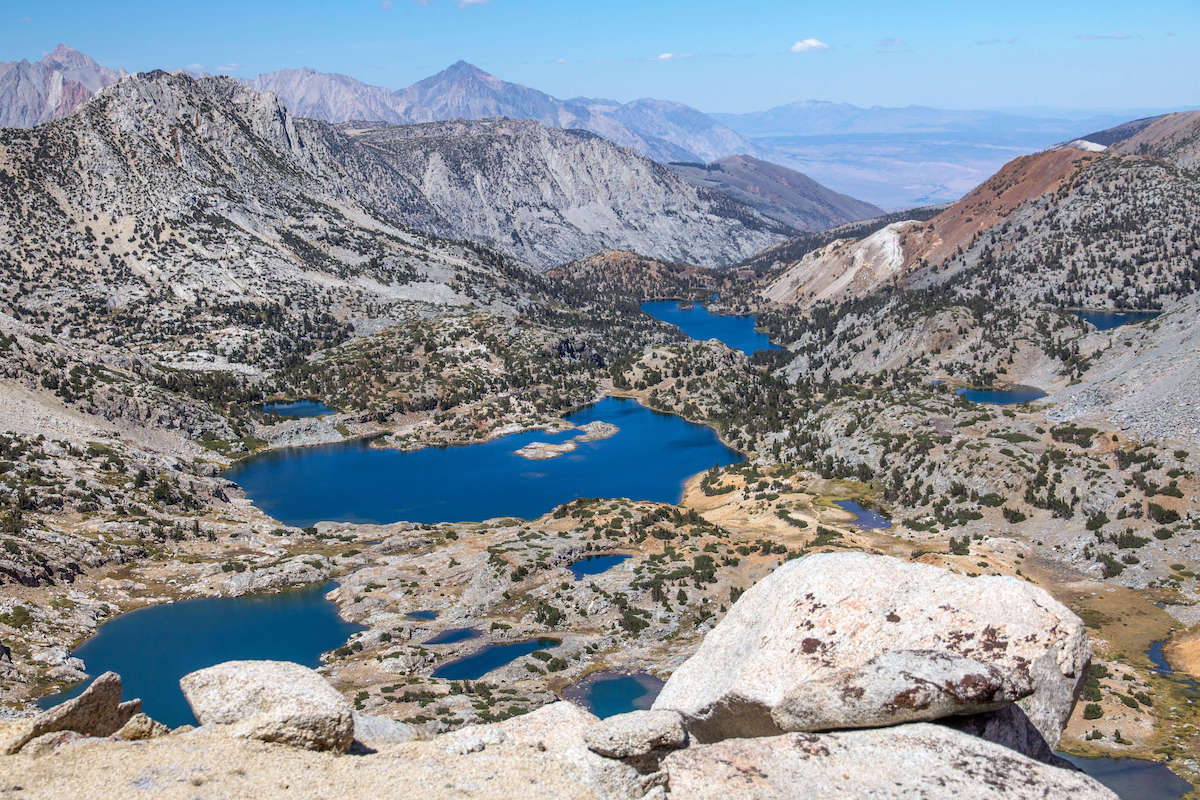 Dusy Basin is a stunning alpine basin located in the Eastern Sierra region of California. It's part of the John Muir Wilderness and lies within Kings Canyon National Park.
Back in 2014, I hiked the 220-mile John Muir Trail in California this area was one of my favorite parts of the trail – big views, over a dozen lakes, waterfalls, and isolated camping. It's incredible!
A few years later, I returned to the area and did a backpacking trip from the South Lake Trailhead in Bishop, California up over Bishop Pass to Dusy Basin. I spent 3 days exploring the valley and was incredible!
in this post, I share everything you need to know to plan your own backpacking trip to this awesome spot in the Eastern Sierra.
---
Dusy Basin Trail Statistics
Trail Type: Out-and-back
Length: 12 miles round trip + 4 mile side hike
Starting Elevation: 9,797 feet
Maximum Elevation: 11,979 feet
Total elevation gain: +/-2,900
Dogs allowed: Only from South Lake to the top of Bishop Pass
Best Hiking Season: July through September
Time: 4-7 hours each way
Permit required: Yes
Campfires: Illegal over 10,400 feet. Check with the ranger about current fire restrictions below 10,000 feet
---
Getting a Dusy Basin Permit
Wilderness permits are required for all backpackers camping in Dusy Basin and the surrounding areas (day hikers do not need a permit).
In order to maintain the wilderness experience during the high season (5/1 – 11/1), the Bishop Pass trail is managed by a quota system under the Inyo National Forest.
Every day, a maximum of 36 people are allowed to begin their hike over Bishop Pass. Out of this quota, 22 spots are for advanced reservations, while 14 are saved for walk-ups.
The issuing permit office is the Inyo National Forest and permits can be reserved online up to 6 months in advance on recreation.gov.
If you are successful in getting a permit, you'll still need to stop by the White Mountain Rangers Station and Visitors Center prior to your hike to pick up your permit.
HOW TO APPLY FOR A DUSY BASIN PERMIT
Go to the Inyo National Forest – Wilderness Permits website
Click on "Explore Available Permits"
Under Permit Type select "overnight"
Choose start date and group size
See available permits for "Bishop Pass – South Lake"
For those of you looking for a walk-up permit, they become available at 11am the day before your start date.
The White Mountain Rangers Station and Visitors Center is located right on the main drag in the town of Bishop at 798 N. Main Street. They sell trail maps and rent bear canisters, which are required.
---
Getting to the South Lake Trailhead
The trail to Dusy Basin starts at the South Lake Trailhead about 22 miles from the town of Bishop, CA.
If you are flying, the closest airports are Bishop (summer and winter flights only) and Los Angeles.
There is plenty of overnight parking at the trailhead.
---
Dusy Basin Backpacking Itinerary & Map
Before heading out on your trip, I'd highly recommend purchasing the Tom Harrison Palisades waterproof map, especially if you plan on doing any cross-country travel in Dusy Basin.
The Tom Harrison Palisades map cuts off the first couple of miles of trail from South Lake, but that part of the trail is well-marked and easy to follow. If you want a map of that first section of the trail, you can purchase the map at the Rangers station.
Day 1: South Lake Trail to Dusy Basin
On the first day, we followed the red track on the map below from South Lake Trailhead over Bishop Pass and down to Dusy Basin.
Despite gaining over 2,000 feet in elevation, the climb felt pretty gradual. On the way up to the pass, you'll hike up through the forest, passing a series of alpine lakes. Don't be surprised if you encounter a number of fishermen and women at Long Lake, which is about 2 miles from the Trailhead.
As you continue, you'll pass Saddlerock Lake and Bishop Lakes – both quieter places to stop and take a break and reenergize before making the climb to the top of Bishop Pass.
Beginning the final descent to 11,900 feet, the trail begins to snake into steep switchbacks with some hefty steps. But don't worry, this section doesn't last long.
When you approach the crest, you'll have incredible views back to the east allowing you to see all the ground you have covered in the day.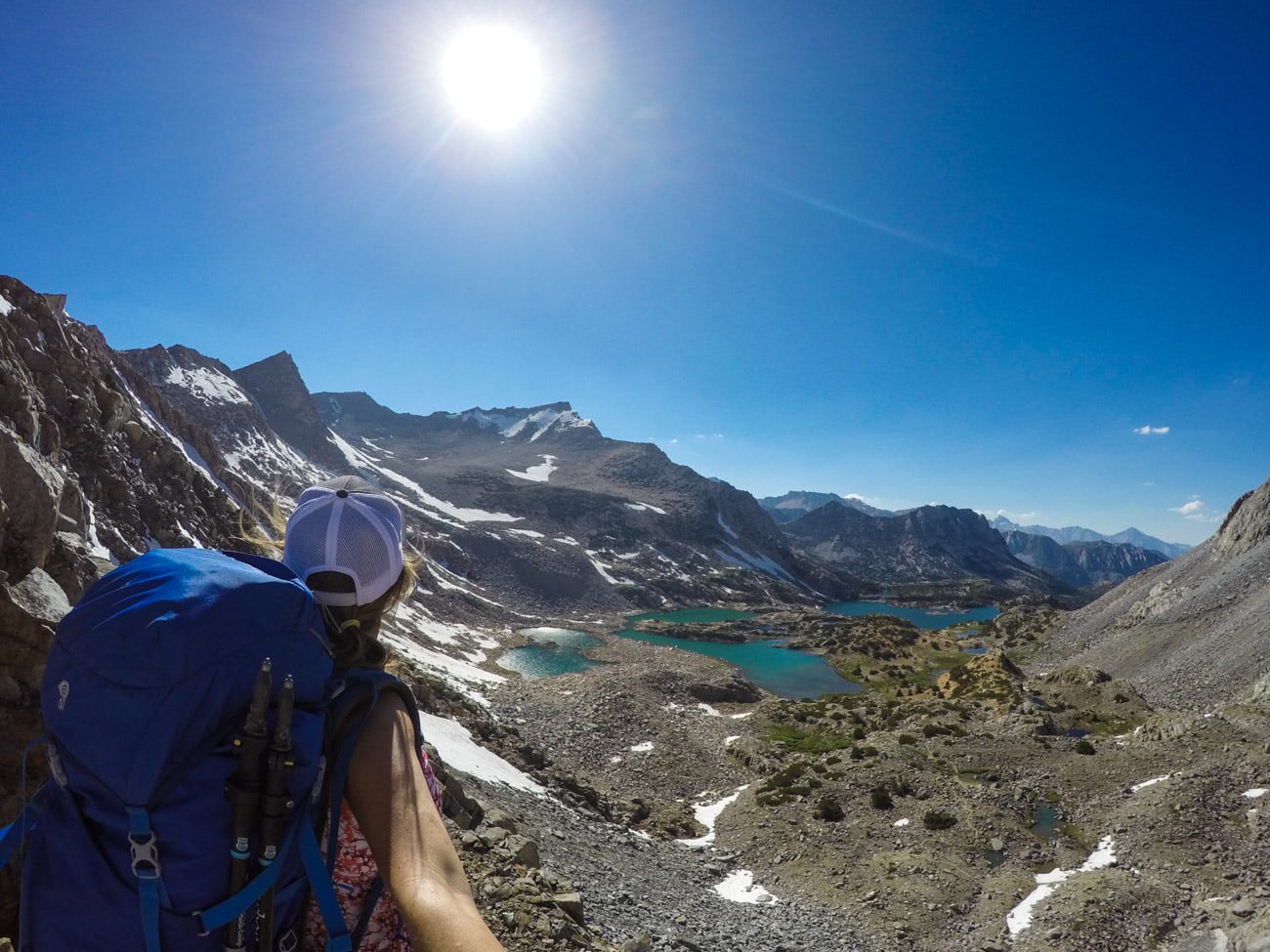 Eventually, you reach the top of the switchbacks, leaving behind the views to the east. We hit a small section of snow (in early July) right as we got to the top of the Pass.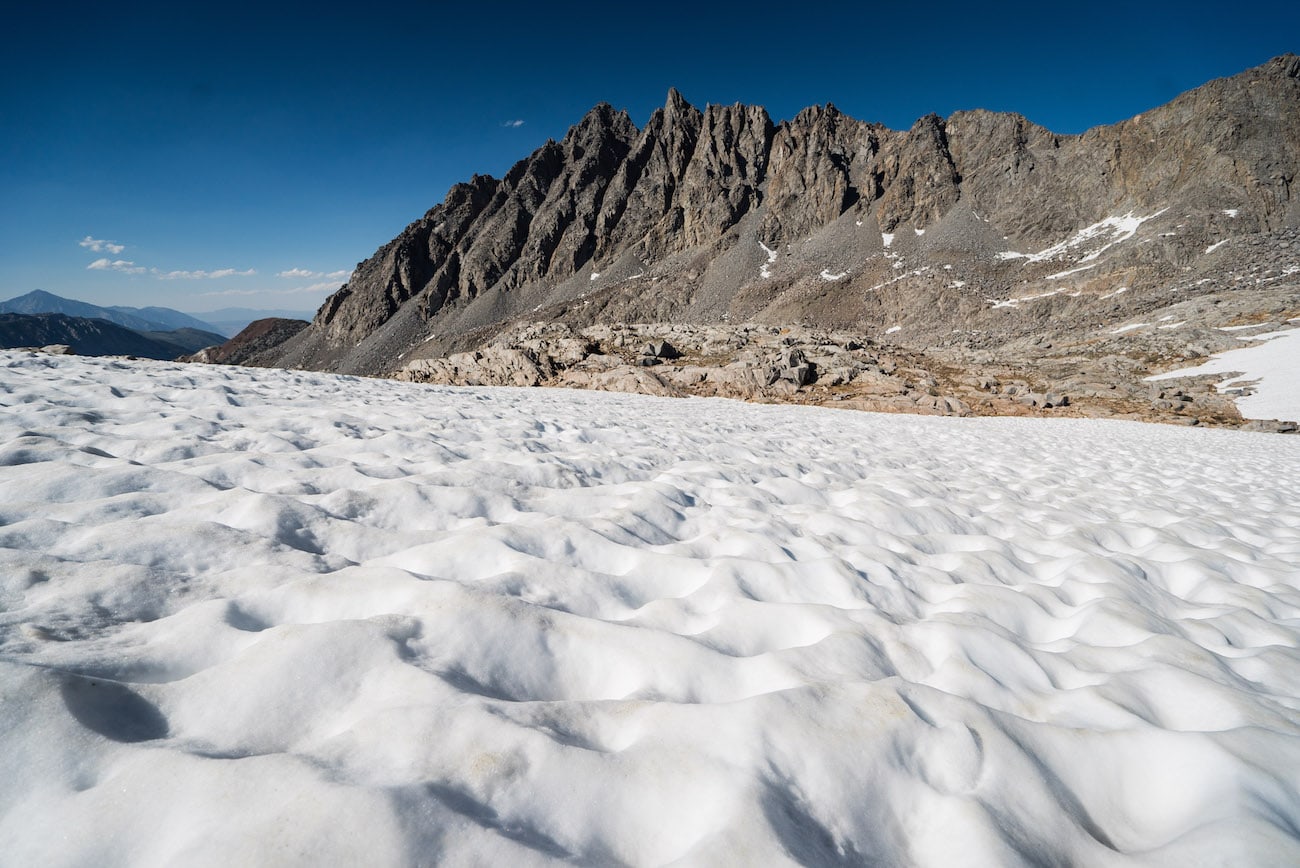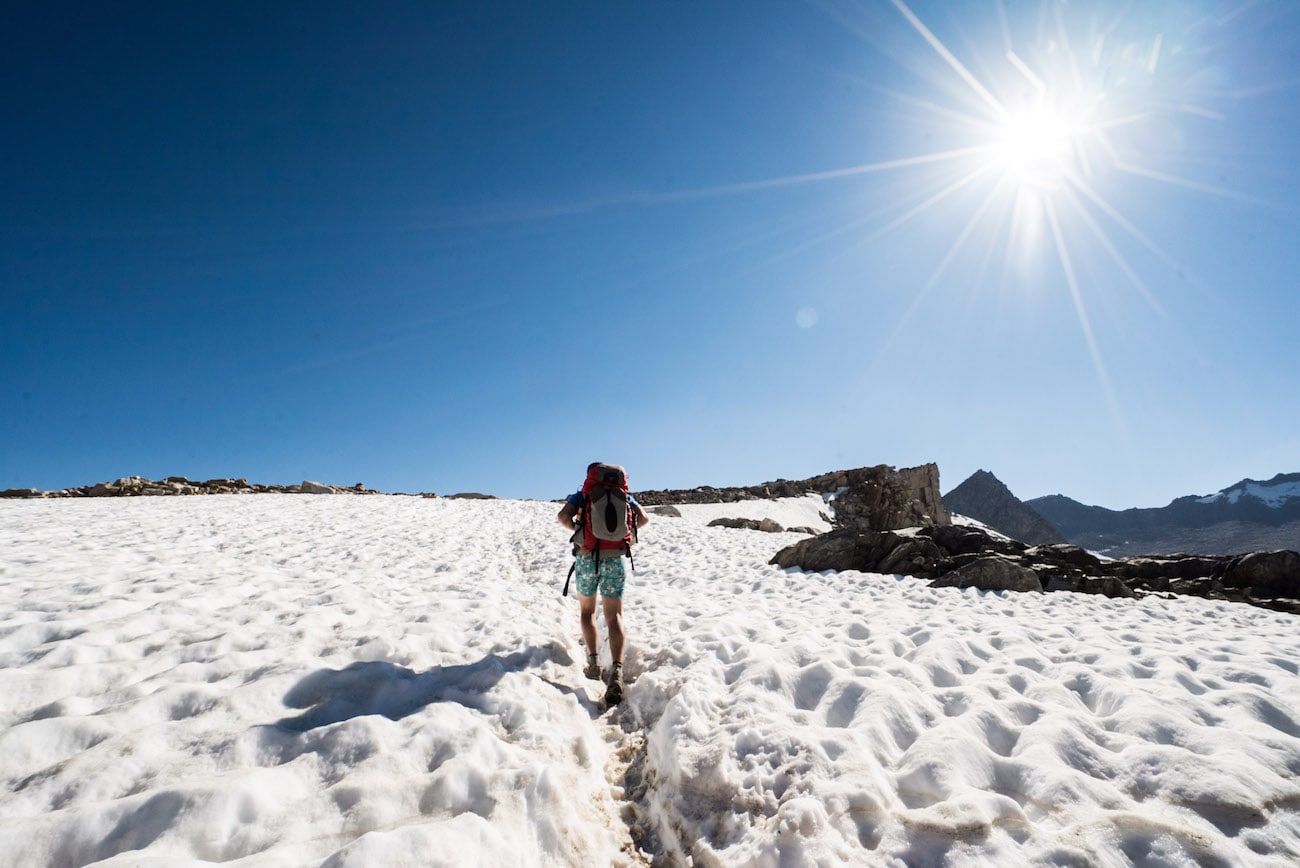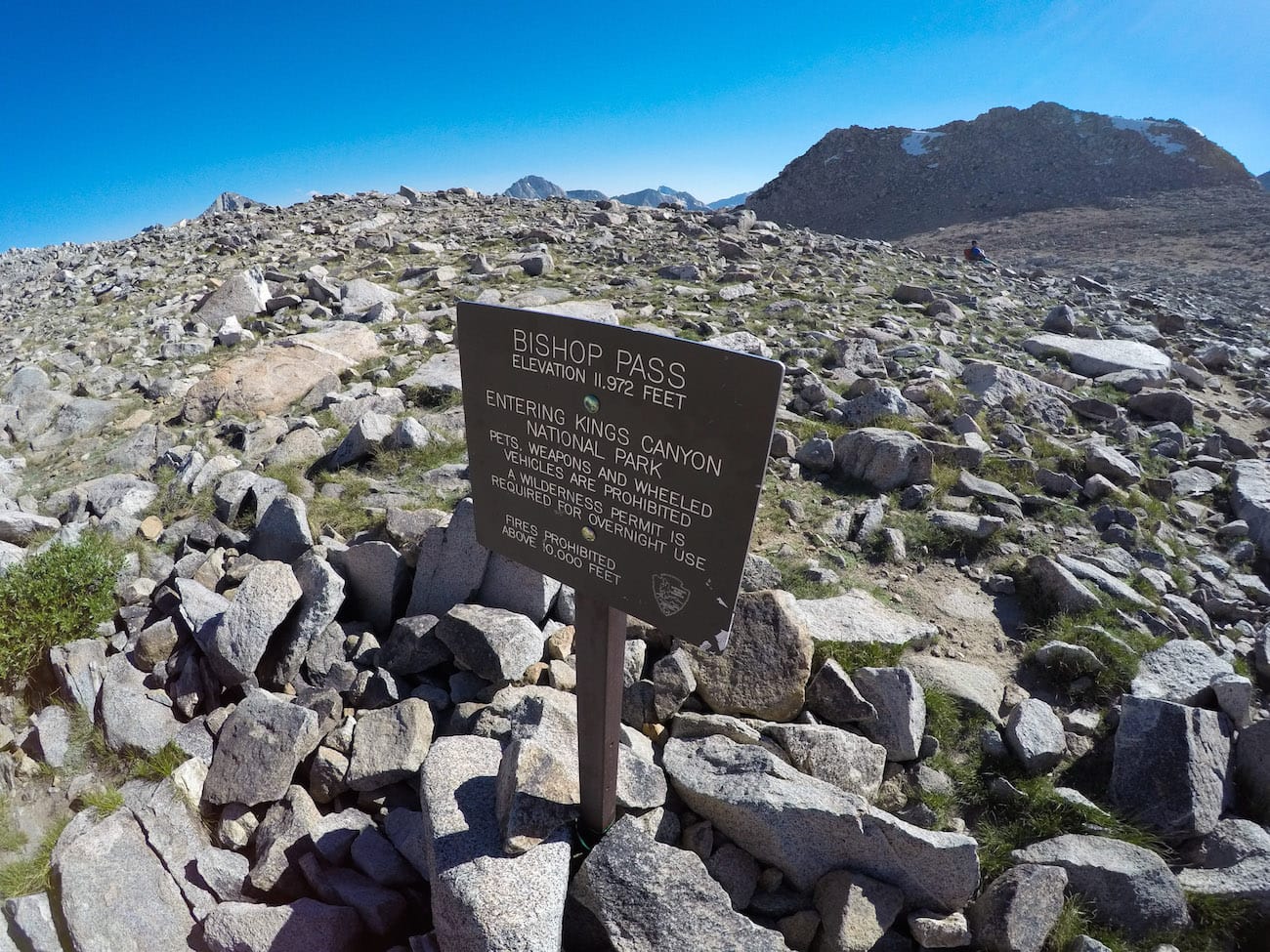 From Bishop Pass, it's a 1.5-mile (or so) stroll down to Dusy Basin. From the first lake, we veered off to the left in search of a campsite.
We got a late start and by the time we reached Dusy Basin, the sun was starting to set so we were eager to find a place to set up.
We decided on a spot perched above the south side of the first lake, which I've marked on the map above.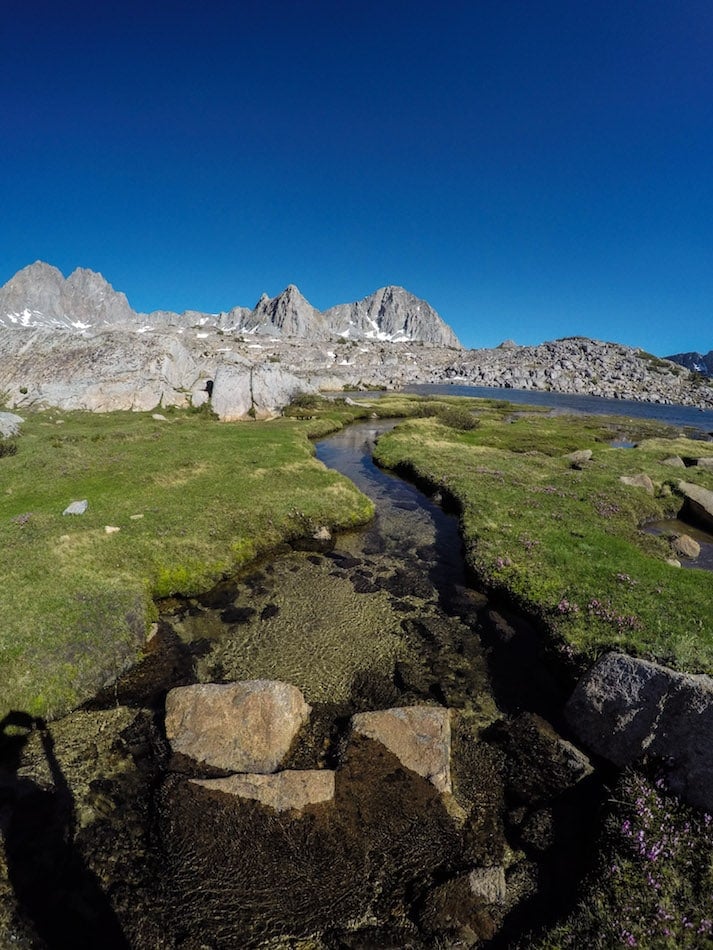 If you have the energy to travel a little further off the trail, any of the other lakes in Dusy Basin offer spectacular camping. Also, the further you venture, the less likely you'll see other people.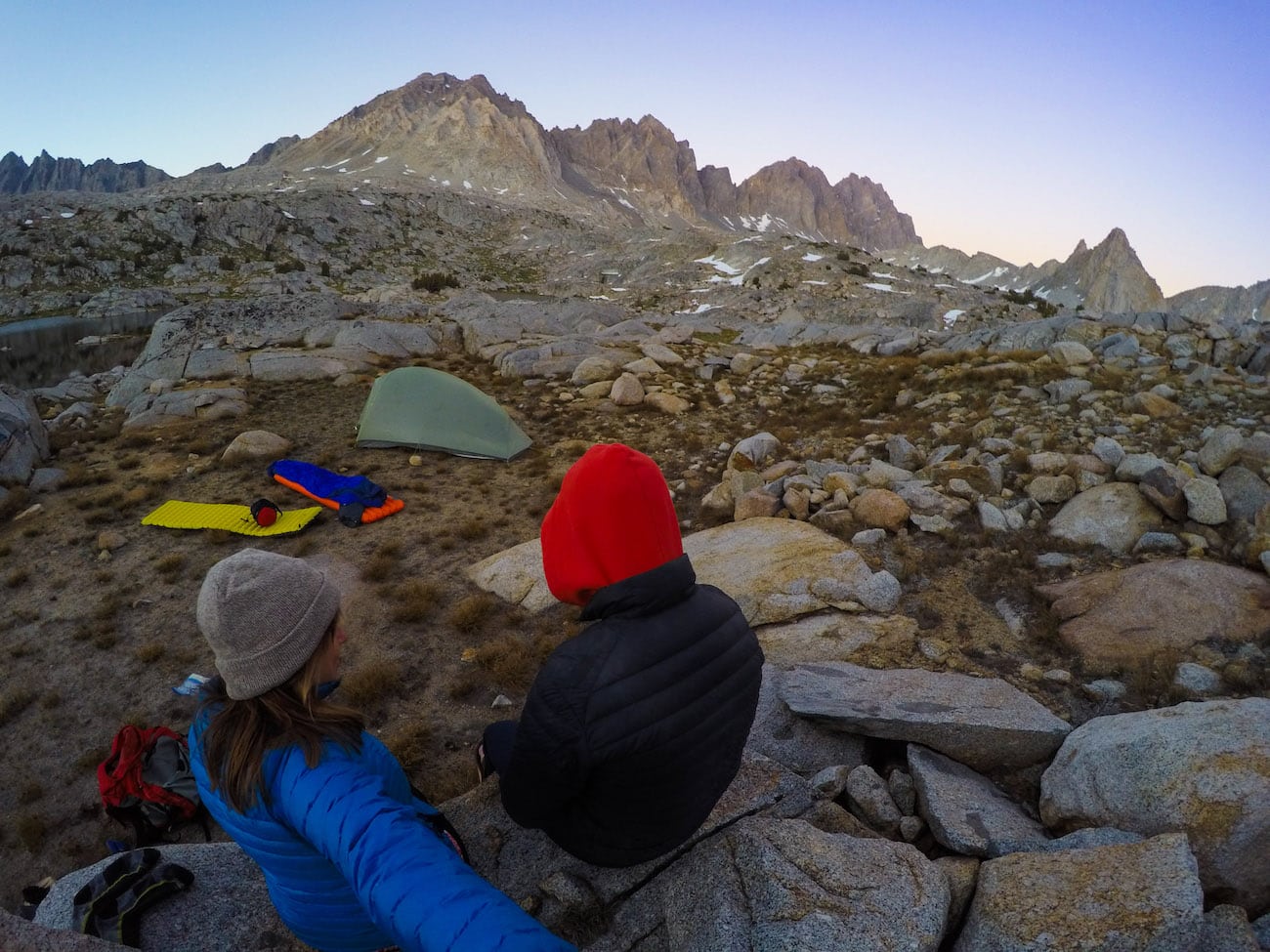 Day 2: Exploring Dusy Basin
On our second day, rather than packing up and moving camp, we decided to leave all of our gear at our lovely little base camp and venture out with daypacks.
On the map above, we followed (approximately) the purple track cross-country through Dusy Basin meeting back up with the trail at the overlook to Le Conte Canyon.
I don't have a ton of cross-country experience and I would say that for those of you who are looking to try navigating off-trail, Dusy Basin is a great place to give it a go.
Just make sure you bring a topo map or a GPS. I also like to carry some sort of emergency communication device such as a Garmin inReach Mini in case something were to go wrong.
We chose to stay on the northwest side of the drainage. In a few spots we had to find a good way to get around some short drop-offs, but overall the terrain was very friendly for cross-country travel.
Once you reach the lowest of Dusy Basin's lakes, you meet right back up with the official trail that leads down to Le Conte Canyon (and the John Muir Trail).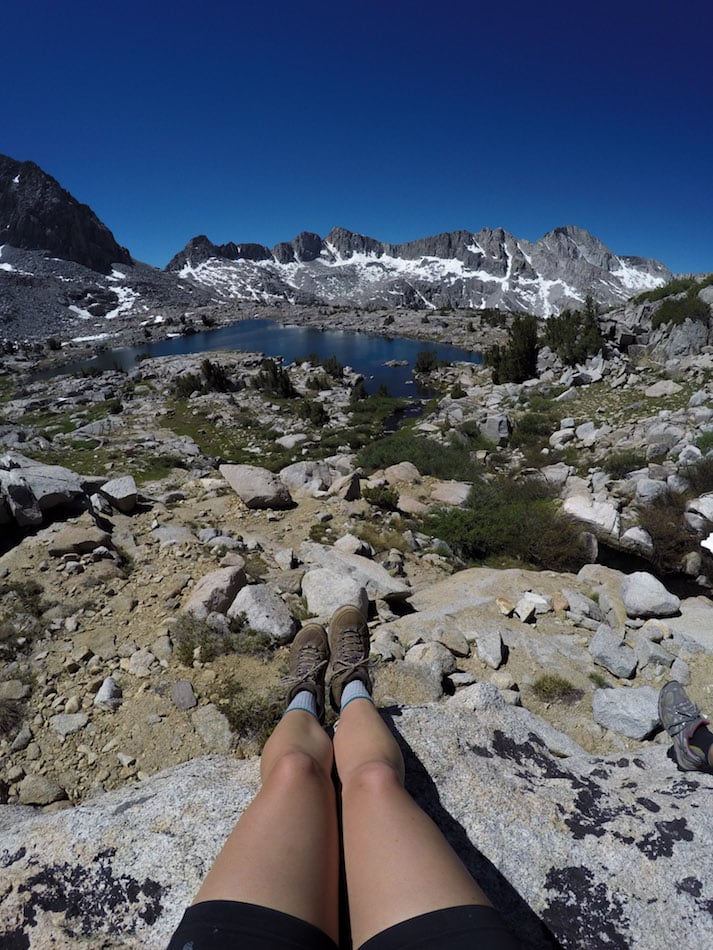 Shortly past Lake 10742 on the map, you get to an amazing overlook of LeConte Canyon. This is where we decided to stop and chill before turning around. Beyond that, you sharply descend down into the canyon, and we didn't feel like making the steep climb that would have been required to get back to camp.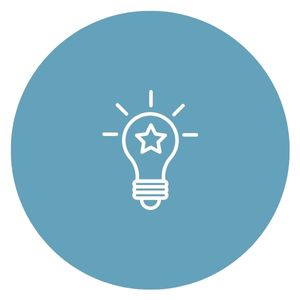 Tip: *If you have time for a longer backpacking trip, you can keep going down this trail. Down in the valley, you'll meet up with the John Muir Trail where you can head north, and exit over Piute Pass / North Lake. This total trip is 57 miles and takes most people 5-6 days.
We got back to camp with plenty of time to hang out and enjoy the views and gorgeous Sierra Alpenglow. And make sure to stay up at least one night to do some stargazing!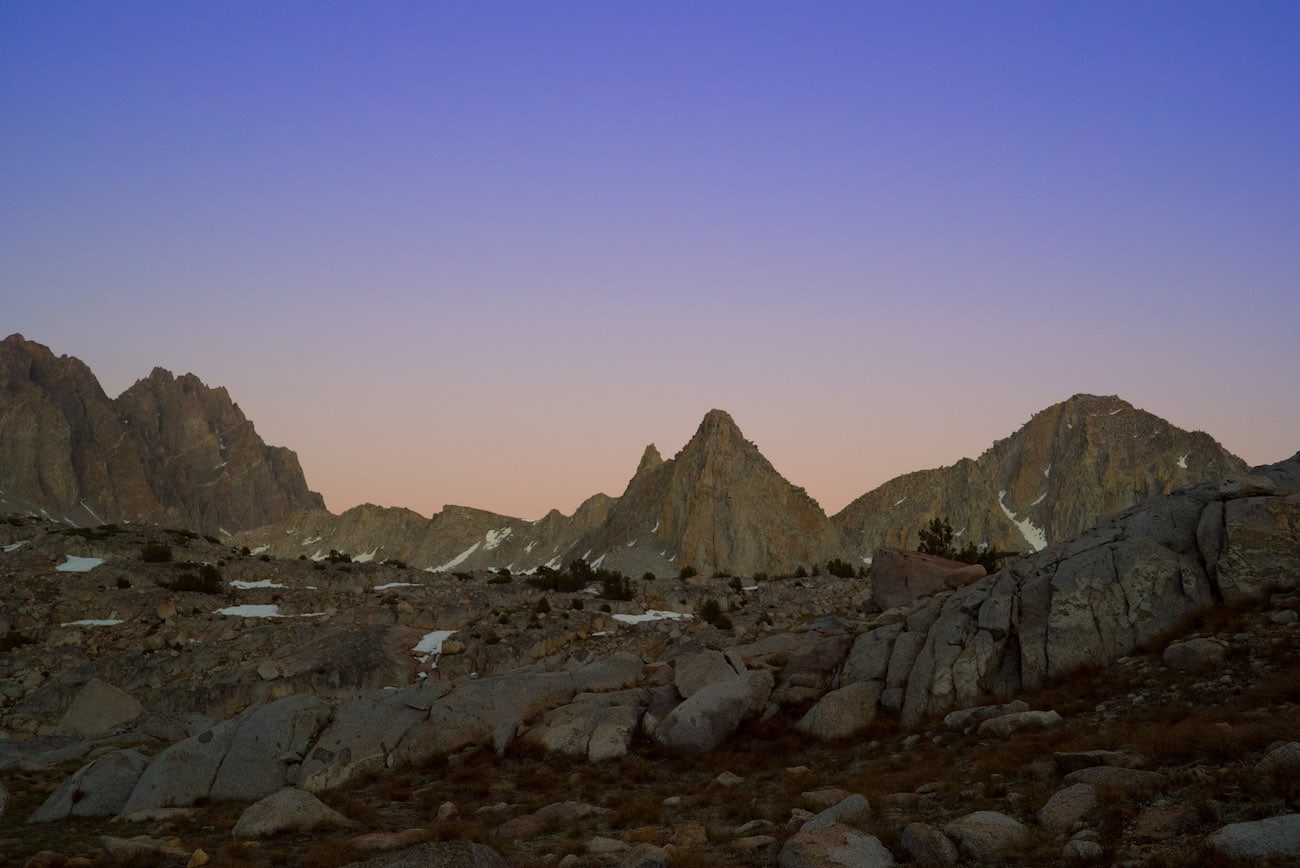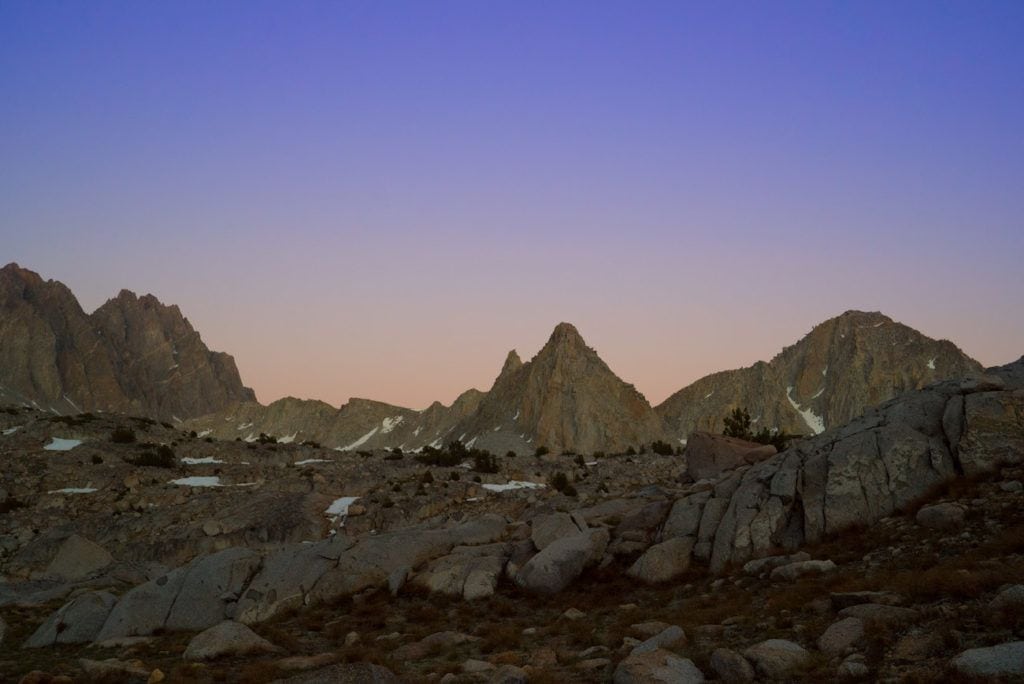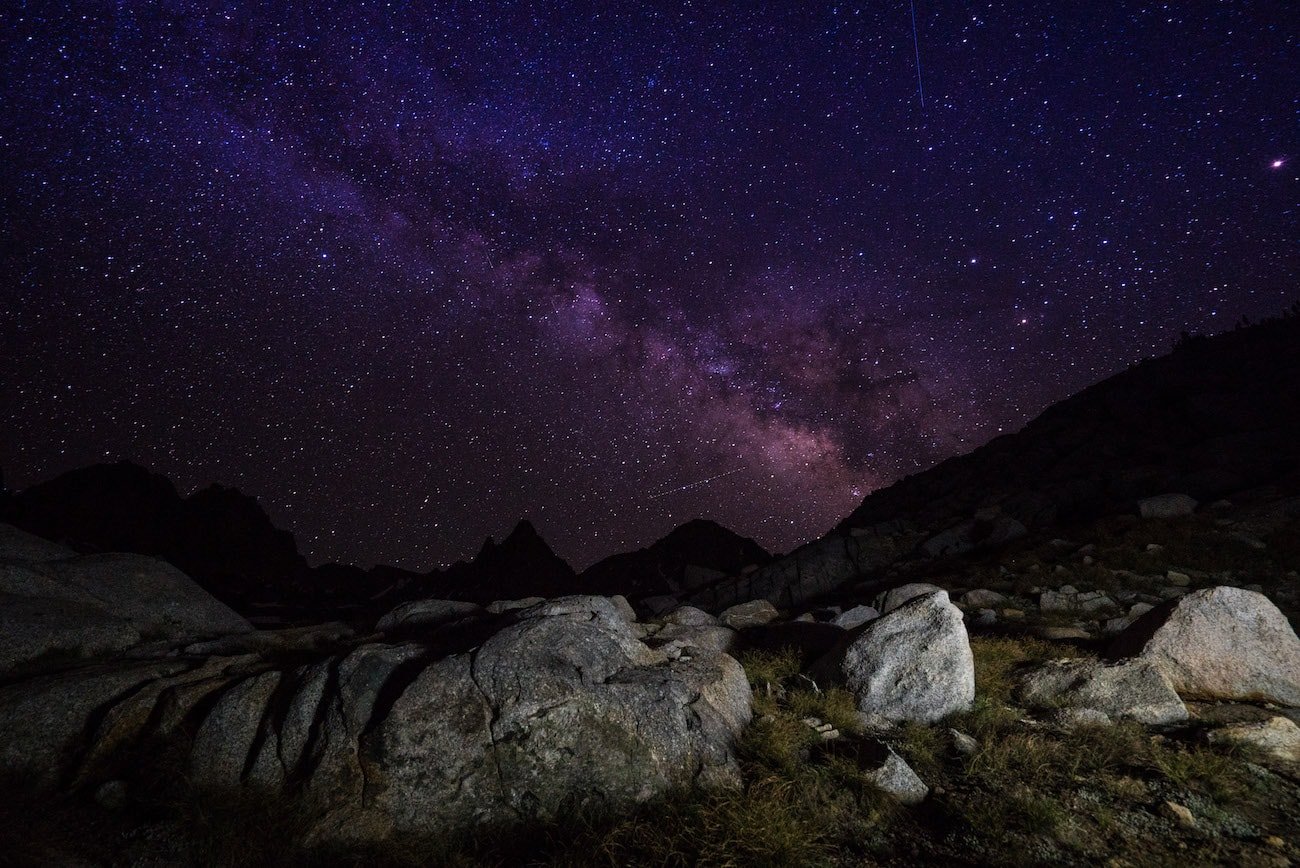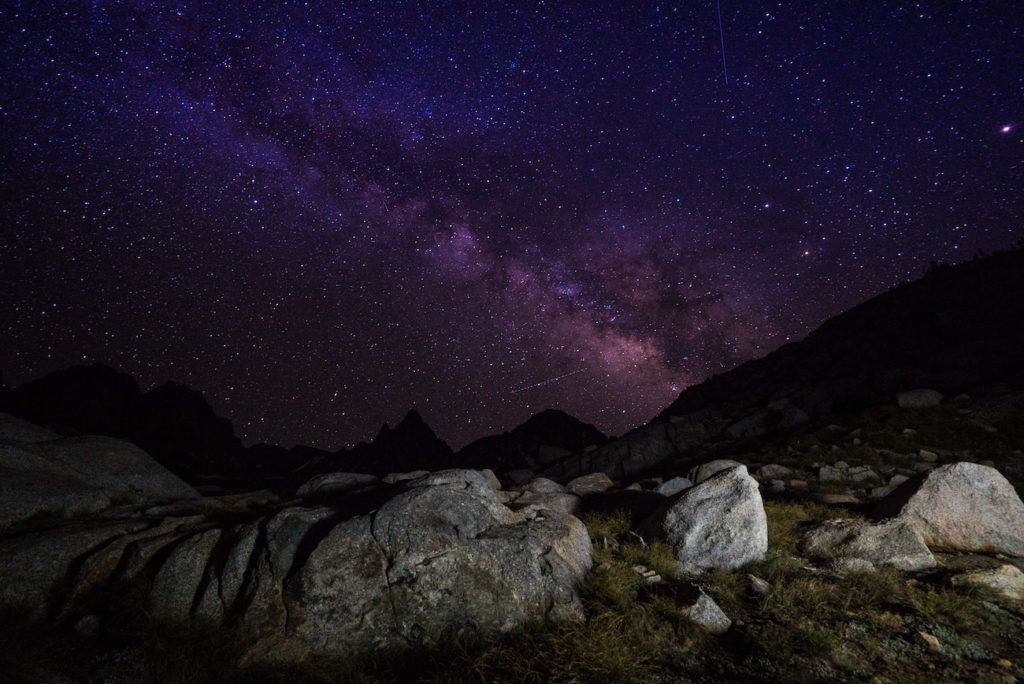 Day 3: Return to the trailhead
On Day 3, we woke up early in order to try and beat the bugs. The bugs were pretty bad around 8-9am when it started to get warm and we didn't want to be battling mosquitos as we packed up camp.
Once we were ready to go, we made our way back up over Bishop Pass and down the east side of the range to South Lake, following the same route as Day 1.
The exit was much faster, as most of the way you are gradually descending. If you cruise back without many breaks, you can finish the entire 7.5 miles in about 3 hours.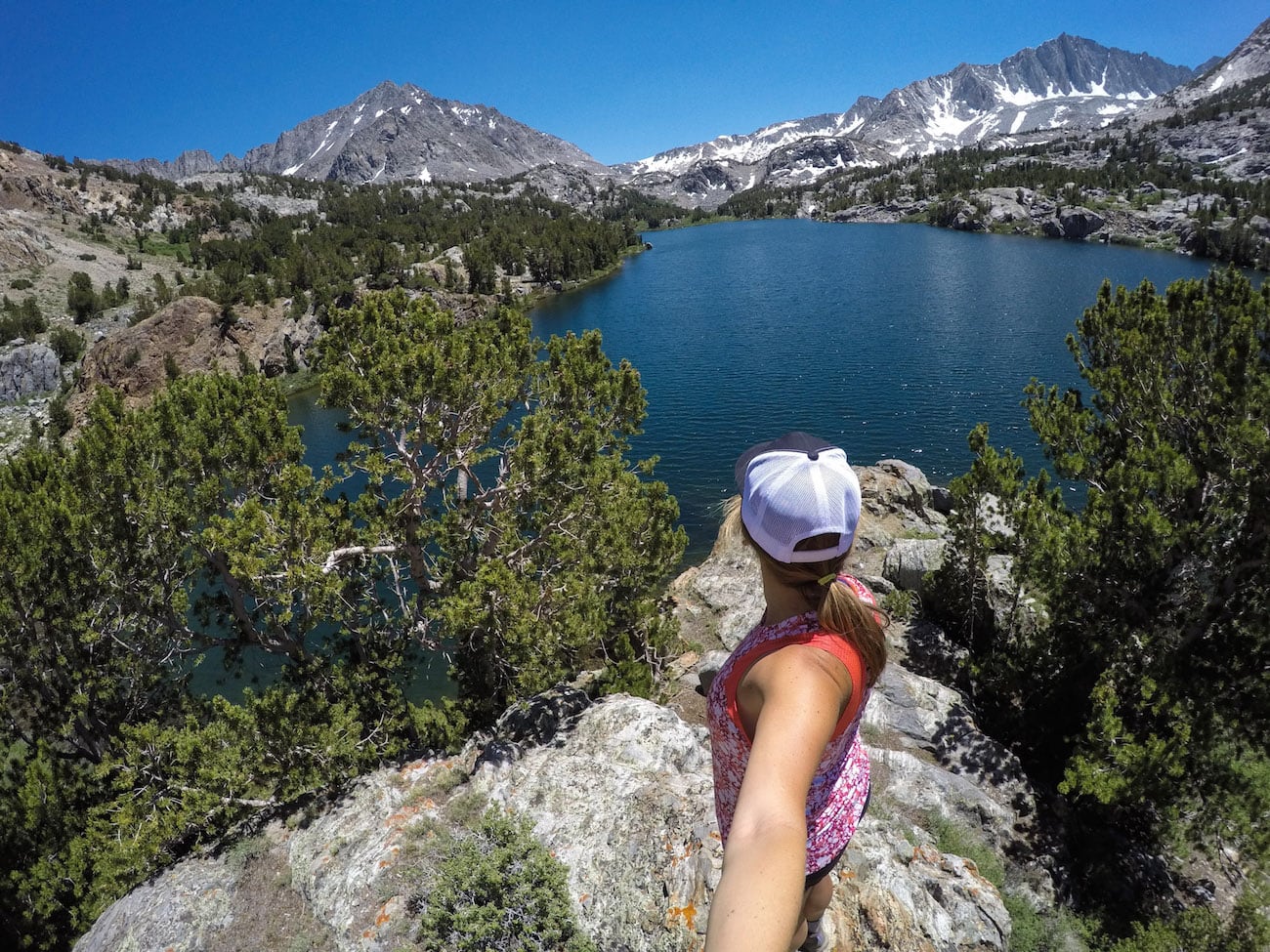 ---
What Gear to Pack
For a complete list of all of the backpacking gear I took on my 3-day trip to Dusy Basin, head over to my 3-Day Backpacking Checklist post.
Here are a few additional notes about what gear to bring on your Dusy Basin backpacking trip: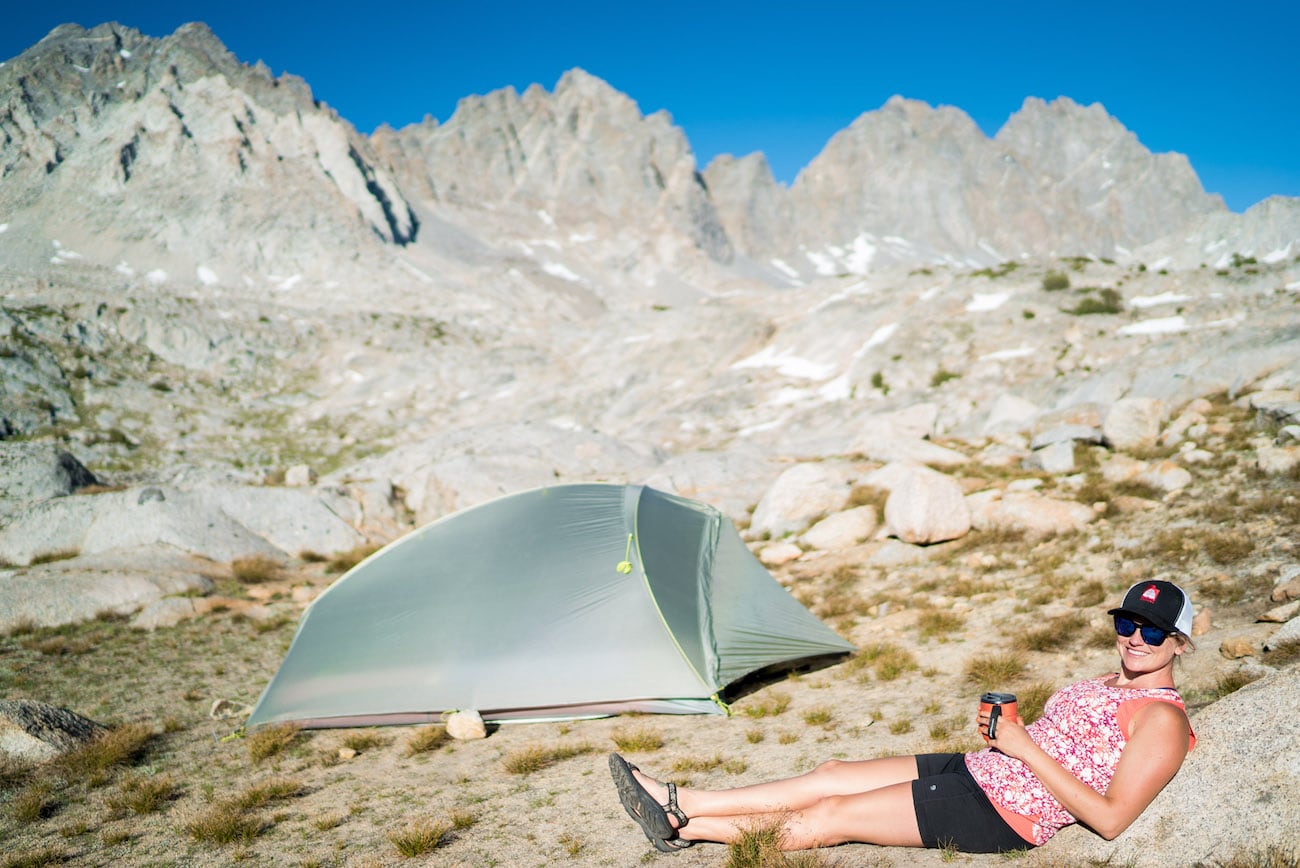 Looking for more adventures in the Eastern Sierra? Check out these blog posts:
Have you backpacked in Dusy Basin? What was your experience like? Is this a trip you'd like to do? Leave a comment below!