Photo: Ben Thomas
COLORADO GEMS: 11 AFFORDABLE SKI RESORTS IN COLORADO
A few years ago when I was living in Las Vegas, I decided to get back on skis for the first time in a decade. Rather than going on an expensive ski vacation, I was looking for an affordable place to ski. So I stayed local and hit up the Las Vegas Ski and Snowboard Resort. This little mountain offered plenty of terrain at an affordable price, a great ski school, and NO LINES! My experience there confirmed that you don't have to go to a big fancy mountain to have a great time on the slopes, and the smaller mountains often have major advantages, especially for larger families where a ski vacation might be cost-prohibitive.
Small ski resorts exist all over the West, including Colorado, which is typically known for glitzy resorts such as Vail and Aspen. Understandably, major ski resorts aren't an option for everyone. So, we set out to find cheap places to ski in Colorado when you want to hit the slopes without breaking the bank. In this post by Bearfoot Theory's Colorado contributor Ben Thomas, he tells us all about the Colorado Gems – a series of eleven small and affordable ski resorts in Colorado's Rocky Mountains. All of the smaller resorts below are budget-friendly ski areas that are worth checking out!
Skiing is the lifeblood of Colorado. Back in the mid-twentieth century, when mining towns were shutting down, it was skiing and tourism that saved them from extinction (the lucky ones anyway). Small tow-ropes, single and double chair lifts eventually turned places like Aspen, Telluride, and Crested Butte into resort towns.
Ever since then, the resort lifestyle has gotten bigger and bigger. But with this expansion, the resorts have also lost some of the old charms of expansion-era ski hills. Plus, even with the improved lifts and amenities, there are still plenty of frustrations; just ask anyone waiting in line for Lift 5 out of Vail's back bowls on a Saturday in February, or the day-tripper who dropped over $100 for a single day ticket.
Luckily, the magic of small Colorado ski-hills has not been completely lost. Enter the Gems.
Colorado has eleven ski areas nicknamed the "Colorado Gems". Scattered across the state, these hills harken back to an older time. Lift ticket prices and crowds are significantly reduced. The mountains are smaller, the lifts a bit slower; but what these places lack in modern efficiency, they make up for in charm. This is throwback skiing. These are resorts you can get to on back roads. Below is a quick summary of the Gems, along with their closest big mountain resort. If you're already thinking of heading to a large resort this winter, consider spending at least a day at one of the Gems, for an old-school ski-vacation. You won't go wrong with any of these Gems if you're looking for an affordable place to ski in Colorado.
The Black Diamonds:
Arapahoe Basin & Loveland Ski Area
Nearest Mega Resorts: Keystone, Breckenridge, Copper Mountain
These two areas are the closest Colorado Gems to compete with the large resorts for mountain size and high-speed lifts. But they're most famous for battling it out with each other for the longest ski season; every fall they try to beat each other for the earliest opening day.
Loveland is the closest ski area to Denver on I-70, sitting at the Continental Divide, spanning around and over the Eisenhower Tunnel. On a powder day at Loveland, riding the bowls from the second highest quad lift in the world is the best feeling in the world; shortly followed by the feeling of leaving behind the Summit County traffic and taking the Loveland Pass exit to the free parking lots at the base.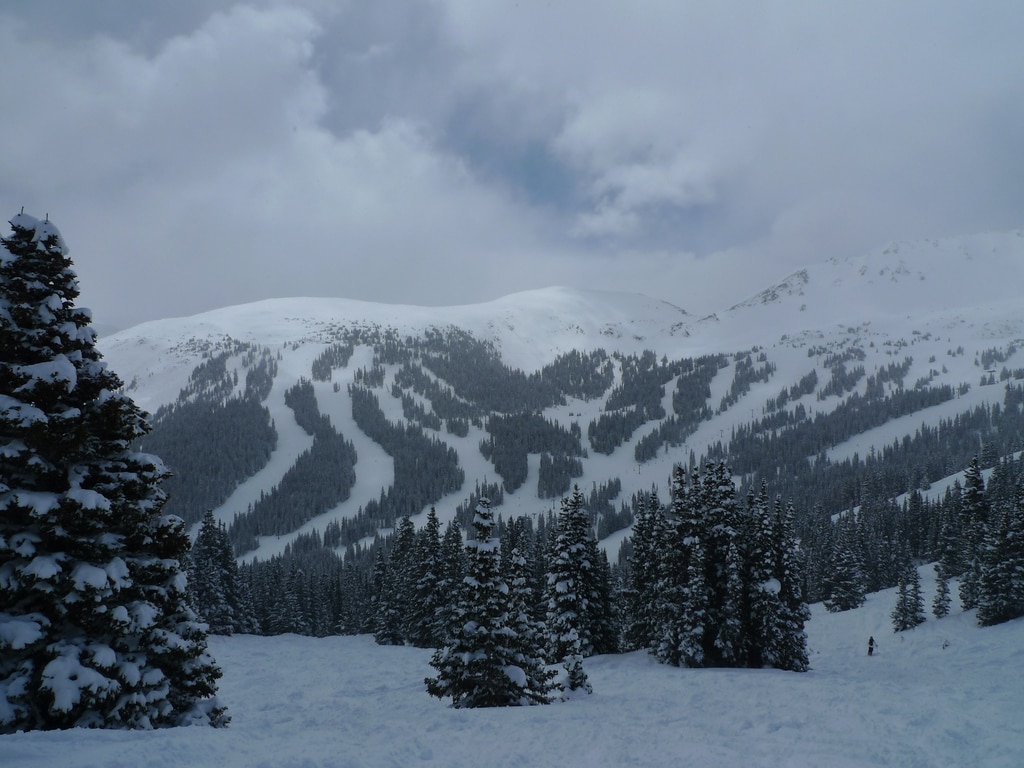 Photo: Jeremiah LaRocco
Arapahoe Basin skiers get that same satisfaction of leaving the I-70 party at the Loveland Pass exit, but they then have to drive over the pass. The extra effort is worth it though! A-Basin has the highest in-bounds skiable terrain in North America. As a bonus, A-basin is part of the multi-mountain Ikon pass, giving you no excuse to miss out on this Gem experience if you are an Ikon pass customer.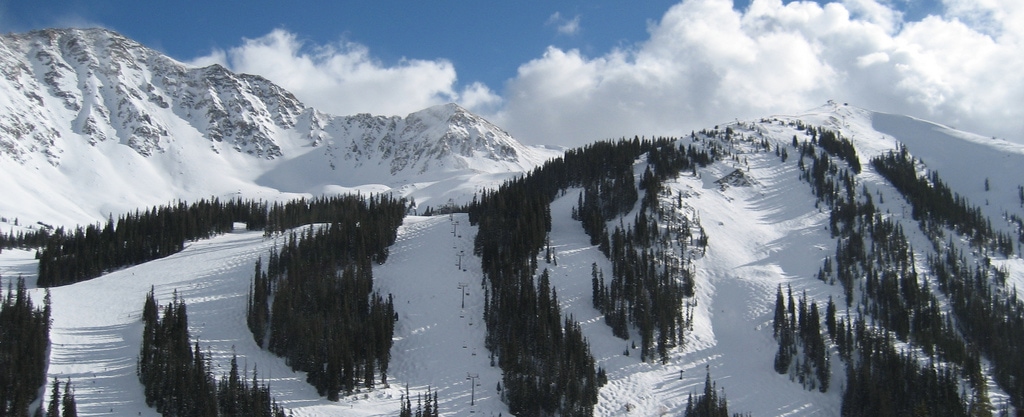 Photo: Justin Knabb
If you are heading to Summit County for a ski holiday, definitely consider adding a day at either hill. A half-day warm-up at Loveland on the way to Breck or a few runs at A-Basin on the road to Keystone is a dynamite way to get your vacation off on the right foot.
The biggest downside with both places for day-trippers is that you are still stuck dealing with I-70 and its hellacious weekend ski traffic to/from Denver. If abandoning the interstate is your goal…
Just Say No…to I-70:
Eldora Mountain Resort & Monarch Mountain
Nearest Mega Resort: Crested Butte (Monarch), None (Eldora)
"Friends Don't Let Friends drive I-70" might as well be the motto of these two resorts. Though they are far apart geographically (Eldora on the Front Range, Monarch out on the Sawatch Range), both places benefit from a major upside: no need to take the interstate. But that's not all that these two have in common. These two ski areas are kindred spirits: mid-size mountains with quad lift access, sitting above die-hard adventure towns (Boulder and Salida, respectively).
Eldora is the true winner going against I-70. If you are staying in Boulder, you can even catch the local bus to get to the mountain (one of my biggest regrets in college was not getting an Eldora student pass and using my free bus pass to get some afternoon turns in). Time your visit with an up-slope storm – the kind that shuts down Denver. Everywhere east of the divide gets pounded with snow and the major resorts on the west-side only get a dusting. Now, Eldora is part of the IKON pass, so you get unlimited skiing at this affordable ski resort in Colorado.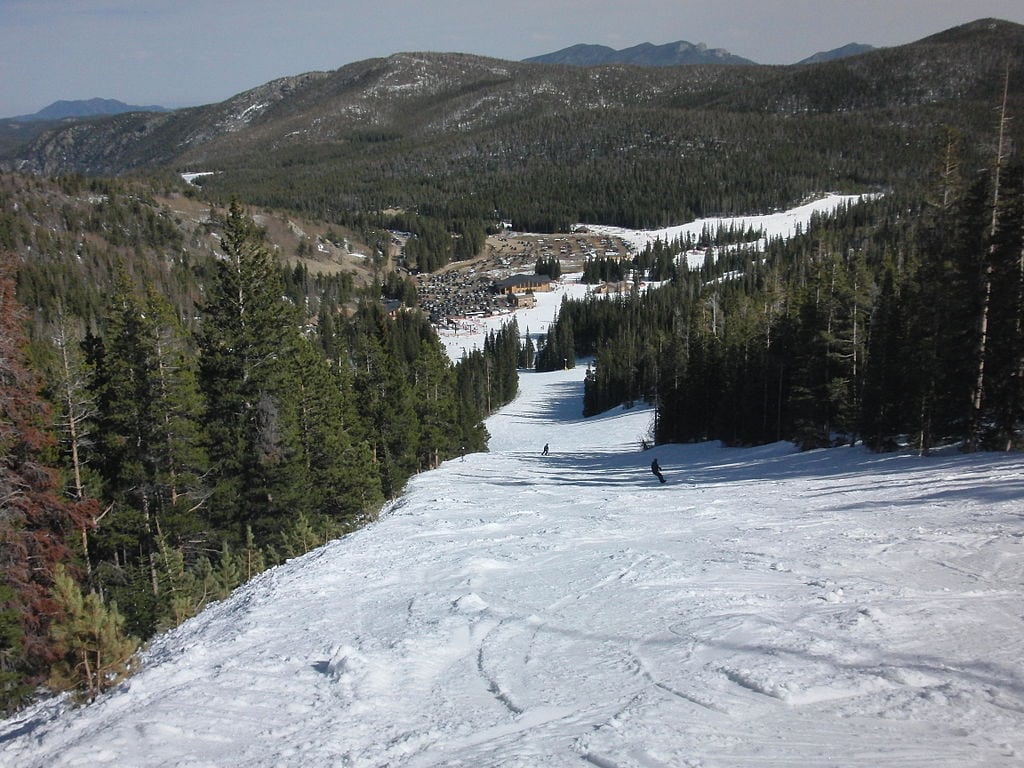 Photo: KamenG
Monarch Mountain can be experienced as its own trip or as a warm-up mountain to those heading over to Crested Butte. It's about a three hour drive from Denver, which at first seems to take the avoiding I-70 concept a bit far—until you remember that day you spent the same three hours going thirteen miles from Georgetown to Idaho Springs, slowly realizing that the license plate number of the car in front of you would be drilled in your memory forever. Suddenly going 65 on US-285 across the South Park Valley from a day of cat-skiing at Monarch seems reasonable.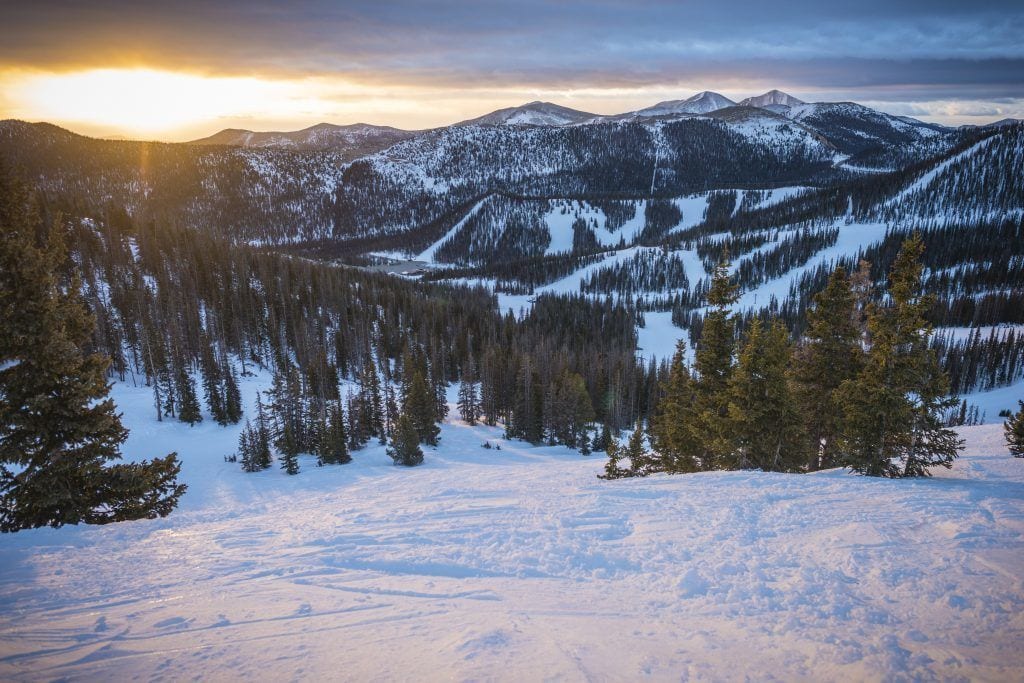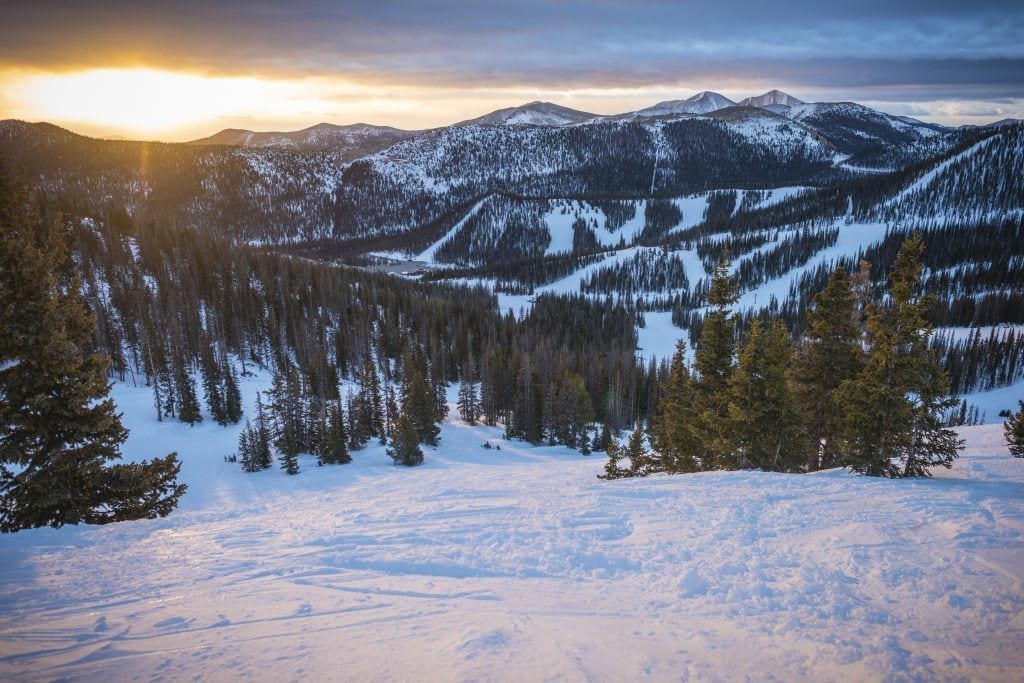 Photo: Ski Monarch
So close, yet so far:
Cooper, Sunlight Mountain Resort, Ski Granby Ranch
Nearest Mega Resorts: Vail and Copper Mountain (Cooper), Aspen-Snowmass (Sunlight), Winter Park and Steamboat (Ski Granby)
Of all the Gems on this list, these three might epitomize the Colorado Gems experience the best. Even though they're within 30 miles of a large resort, skiing here feels like you've gone back in time.
Cooper, (formerly Ski Cooper) at the top of Tennessee Pass, sits above Camp Hale, just west of Vail and Copper Mountain. This area outside of Leadville was the training ground for the 10th Mountain Division during World War II. While 10th Mountain Alumni went on to start Vail and Aspen, modeling them off European ski resorts, Cooper has remained a humble local ski hill. But if you are looking for something a bit more extreme and personal, they also offer snow-cat access skiing up on Chicago Ridge, with terrain similar to Vail's back bowls. If you're overwhelmed by the size of the mountain (or the crowds) at the nearby big resorts, pop over to Cooper for some old-school mountain time.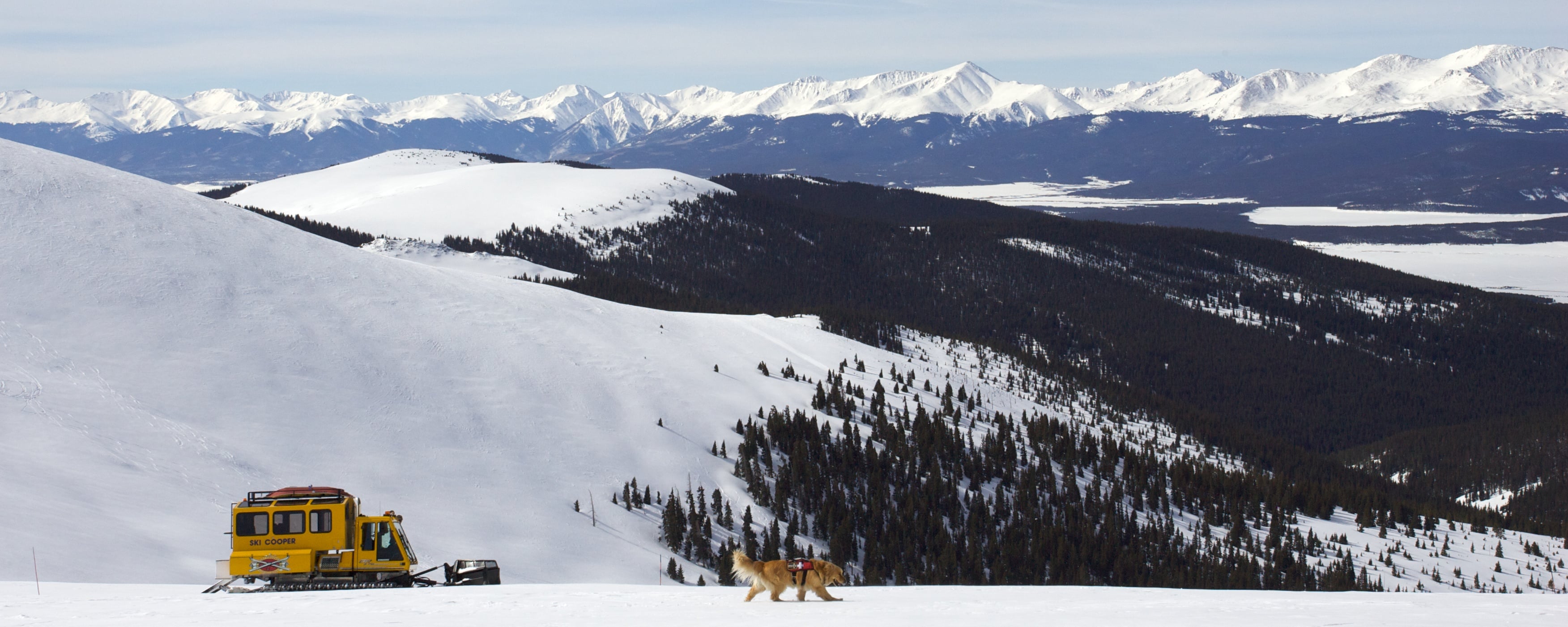 Photo: Casey Day
While Cooper plays little brother to Vail and Copper, Sunlight Mountain Resort is second (well really, fifth) fiddle to the four-mountain monolith that is Aspen-Snowmass. Sitting above Glenwood Springs on the west end of the Roaring Fork Valley, Sunlight offers just about the opposite of everything Aspen. Glitz, modern gondolas, and champagne bars turn into humble, old-school double-chairs, and hot chocolate from the tiny ski patrol hut. Sunlight is a favorite with families. But don't let the kiddos trick you into thinking this mountain is all beginner's luck: the Gibson and Sundown Glades on a powder day is the definition of steep and deep, peaking out at a vertigo-inducing 52 degrees…inbounds.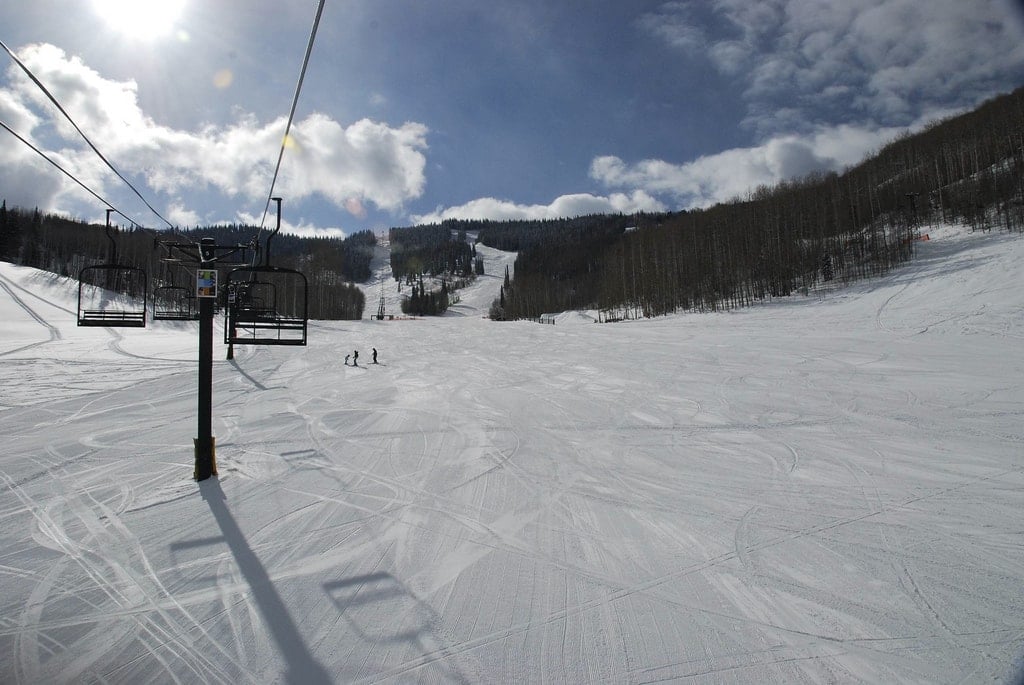 Photo: Curoninja
Ski Granby Ranch, formerly known as Solvista Basin, is sandwiched halfway between Winter Park and Steamboat Springs on US Highway 40. A lot of people overlook this little mountain because it has gentle terrain. But for families that want a more laid-back and budget-friendly spring break, this is a smart way to go. Stay in Grand Lake and fill your days with runs at Ski Granby and snowshoe on the quiet side of nearby Rocky Mountain National Park.
The Lone Gem:
Powderhorn Mountain Resort
Nearest Mega Resort: None
Powderhorn Mountain Resort is the only truly Western Slope ski area. When I say there are no mega-resorts nearby, I mean it. Telluride and Aspen are the closest—over 100 miles away. If you are looking to get far away from the standard ski tourist, Powderhorn is your spot. Located on Grand Mesa, the largest flattop mountain IN THE WORLD, this gem has weather systems practically all its own. On a sunny and dry January day down in Grand Junction, Powderhorn is likely getting dumped on if there's a cloud cap on Grand Mesa.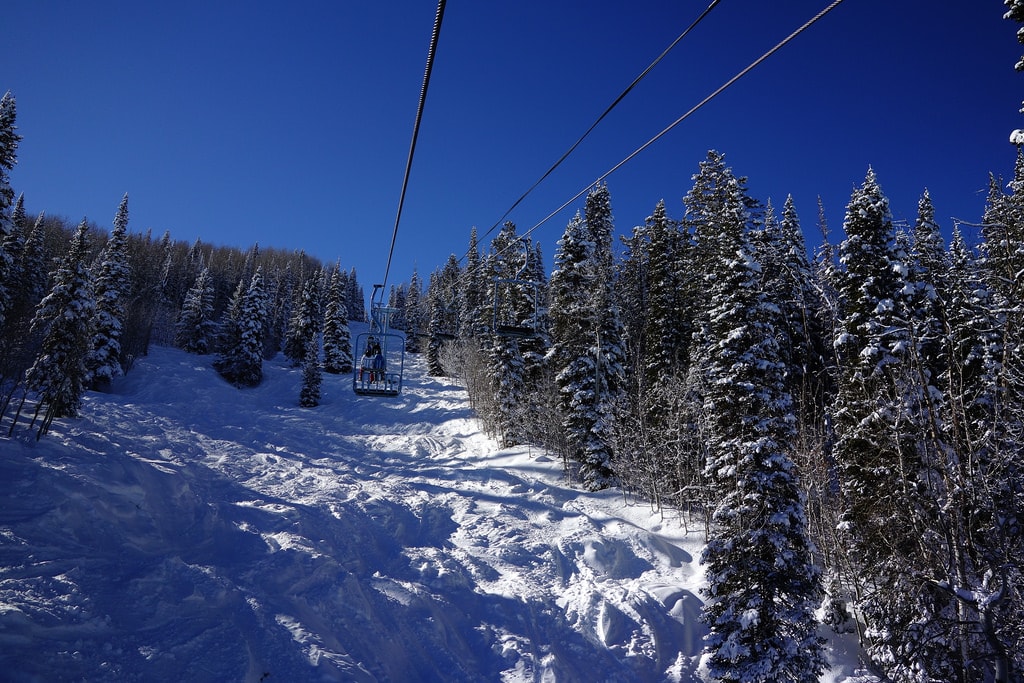 Photo: Peter Stabolepszy
Nearest to Denver:
Echo Mountain Resort
Since 2016, Echo Mountain prides itself on being the closest and most affordable ski area to Denver. 36 miles from downtown, this is a great place to take your family skiing or tubing for cheap. Plus, you can do it all in a single day adventure. Due to its proximity to the city, it's best to make a reservation, especially for tubing. People say they admire the "mom and pop" family feel of this Colorado Gem with affordable skiing near Denver.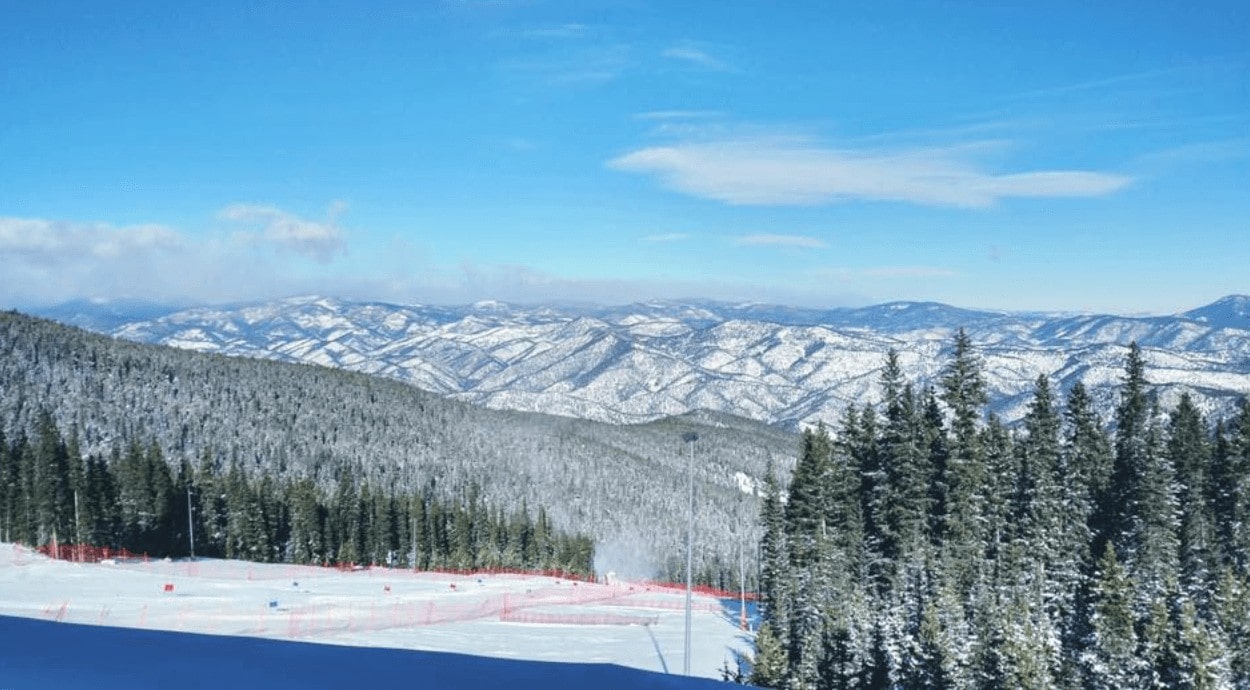 Photo: Echo Mountain Facebook
Down South in San Juan National Forest:
Hesperus Ski Area & Kendall Ski Area
Hesperus Ski Area is one of the most affordable ski resorts in Colorado. Nestled in San Juan National Forest, this ski area is minutes from downtown Durango. At nearly 9,000 feet at the summit, the mountain offers 700 feet of vertical downhill. When you're done skiing with your family, go tubing down the mountain for a sunset cruise. By the end of the day if you've still got it in you, hit up the slopes again for night skiing. Their claim to fame is that they've got the largest night skiing operation in all of the southwest.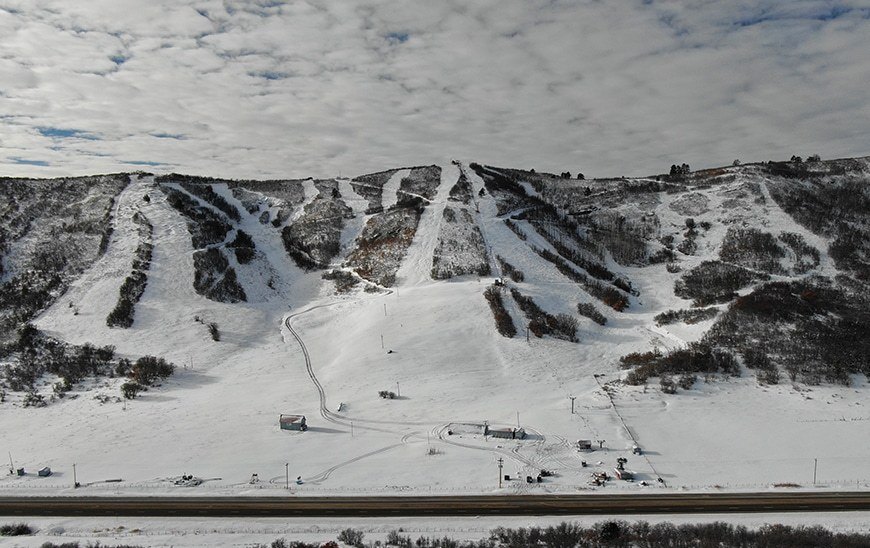 Photo: Hesperus Ski Area
Companion to Hesperus in the San Juan National Forest, Ski Kendall is nearest to the town of Silverton. These two are much smaller than other ski areas in Colorado, but you can't beat the stunning beauty. Kendall is beginner and family-friendly, so take your kids skiing here for a scenic, affordable ski trip this winter. Look out for their free ski days once a month! Though its 300 vertical feet isn't extreme, you honestly cannot get a cheaper ski trip than this in a more picturesque place. Warm up with cocoa in the charming town of Silverton once you're off the slope!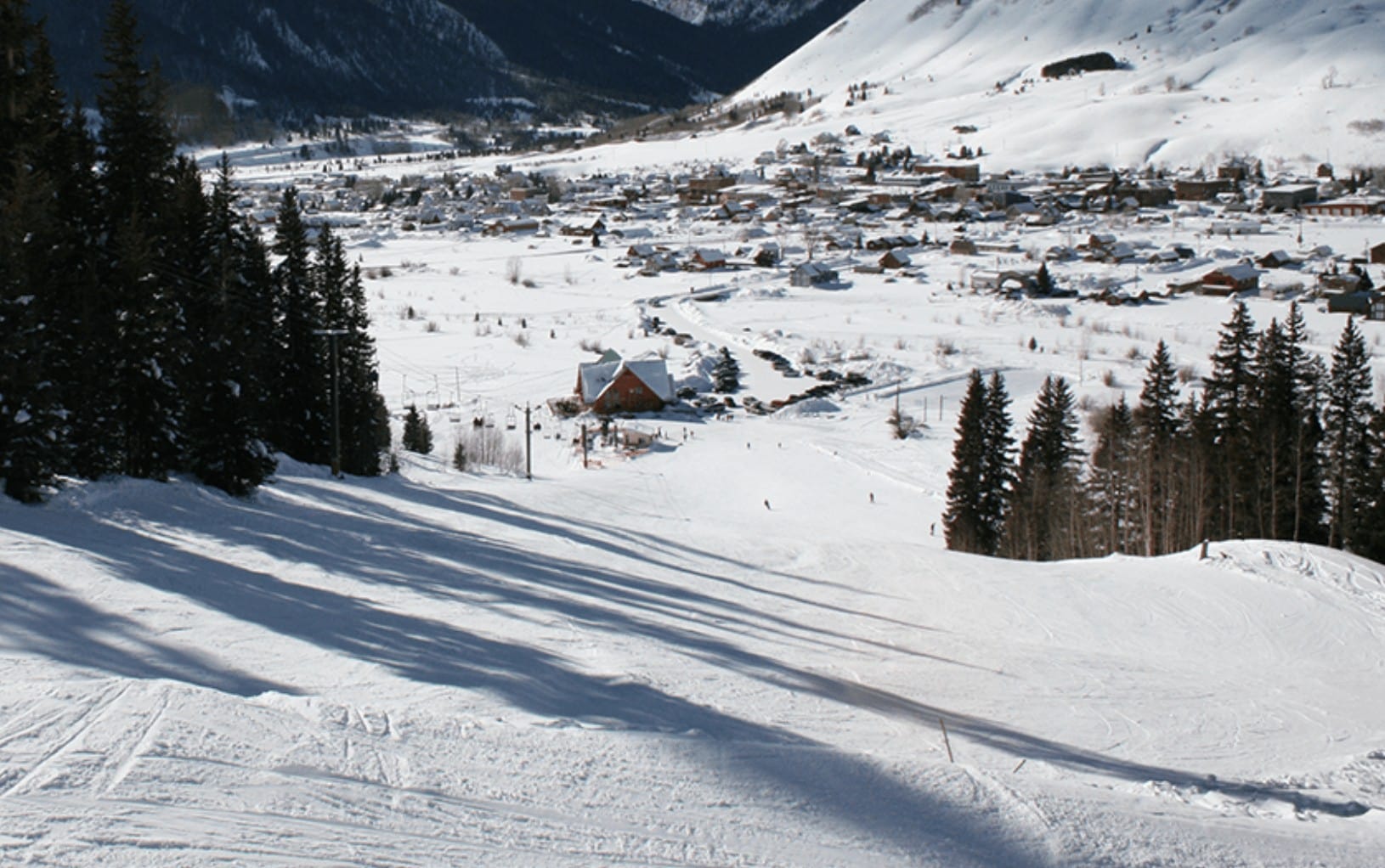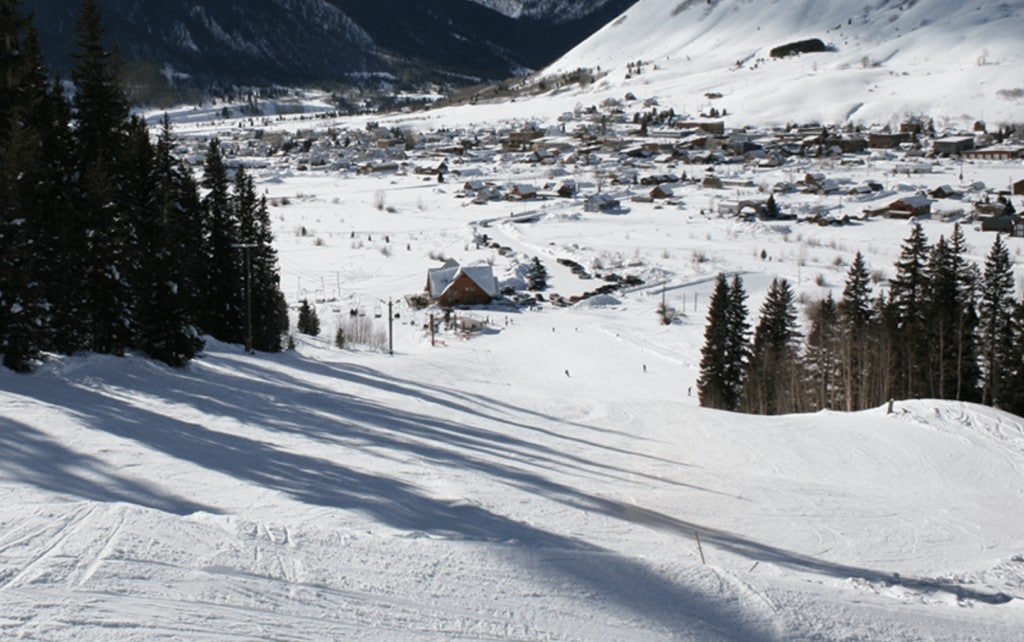 Photo: Colorado Ski
Have you been to one of these affordable ski resorts in Colorado? Share your plans in the comments or join the conversation in our Bearfoot Theory Outdoor Adventurers Facebook Group!