Idaho is one of our favorite places to get outdoors any time of year, and Idaho winter has it all. From backcountry skiing to hot springs to small mountain towns, it's a great place to visit during the snowy months for a winter adventure, but what if you don't like to ski?
Not to worry, there are still a ton of great things to do in Idaho during the winter and in this post, we've rounded up 8 creative ways to get into the winter spirit beyond the slopes.
Start planning your Idaho winter adventure with these fun outdoor activities aside from skiing.
8 Best Idaho Winter Activities
1) Dog sled through the state's mountain landscapes
Most people may think of Alaska or Canada when they hear dog sledding, but Idaho has a long mushing history as well. Originating back in 1917, Ashton's annual American Dog Derby is the longest-standing all-American dog sled race in the lower 48.
Held every year in the third week of February, this two-day event draws the best dog sled teams in North America to race from Ashton, Idaho, to the west corner of Yellowstone National Park, a 55-mile endeavor.
Dog owners who want to give mushing a try can jockey for a title in the 100-yard Mutt Race.
To get started, check out the dog sled tours offered by Silver Sage Mushing, also located in Ashton. You'll get a chance to learn the basics as you navigate the big mountain landscapes in Idaho's Targhee National Forest.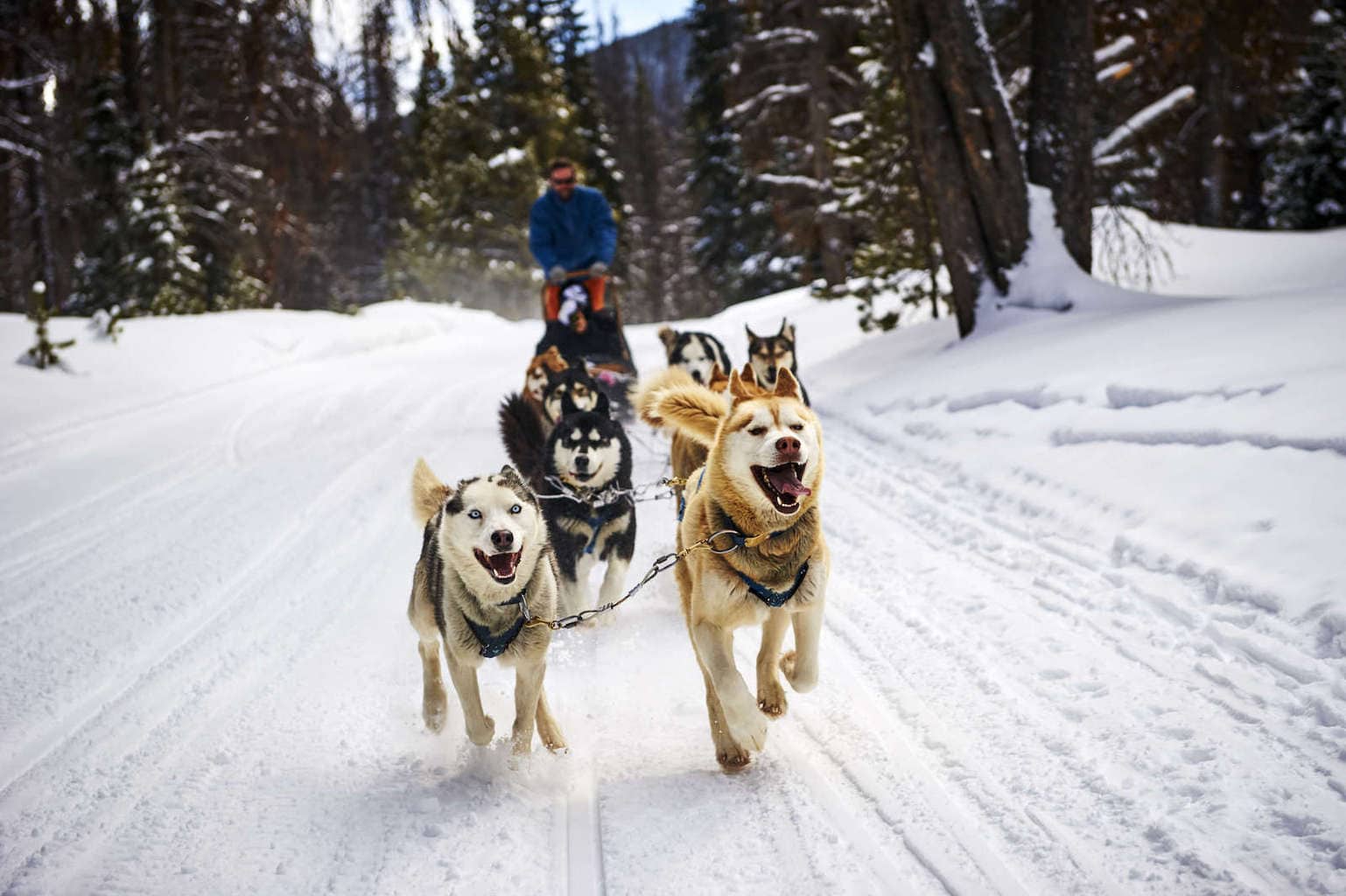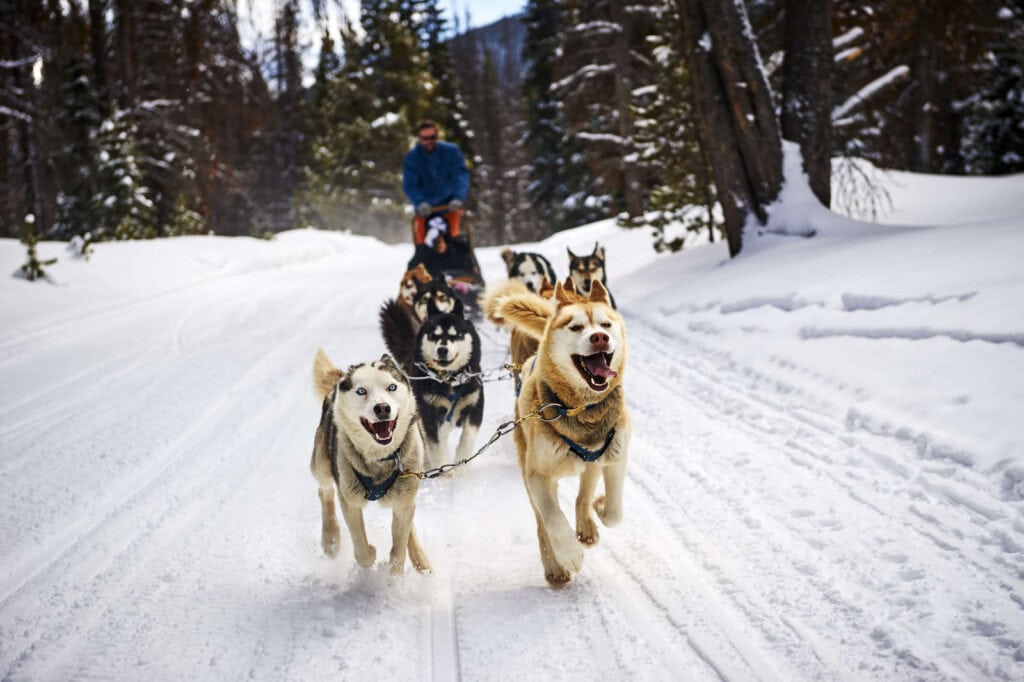 2) Access gorgeous winter terrain on a fat bike
Fat bikes are hefty mountain bikes that are outfitted with even heftier tires. They were first allowed onto ski-mountain Nordic trails at Grand Targhee Resort, just over the state line from Driggs, ID. The trend has quickly spread and today, the 20 miles of forested terrain at northern Idaho's Schweitzer Mountain have become a fat-biking favorite as well.
Farther south, fat bikers can roam for hundreds of miles in Teton Valley. The end of Horseshoe Canyon Road (west of Driggs) is a good place to start — park where the plowing ends and ride out to Packsaddle Road for a quick excursion or venture to the nearby Big Hole Mountains for an all-day fat biking outing.
On the other side of the state, McCall's Jug Mountain Ranch offers some of the best fat biking trails in the country. This private residential community has opened its paths to fat bikers (and their dogs) with 14 miles of singletrack and cross-country trails looping in and out of the woods, along the reservoir, and cruising down into the valley. You can rent a bike on-site at the ranch's Pro Shop.
Fat bike races are also popping up all over the state including Stanley's WinterFest Fat Bike Fondo.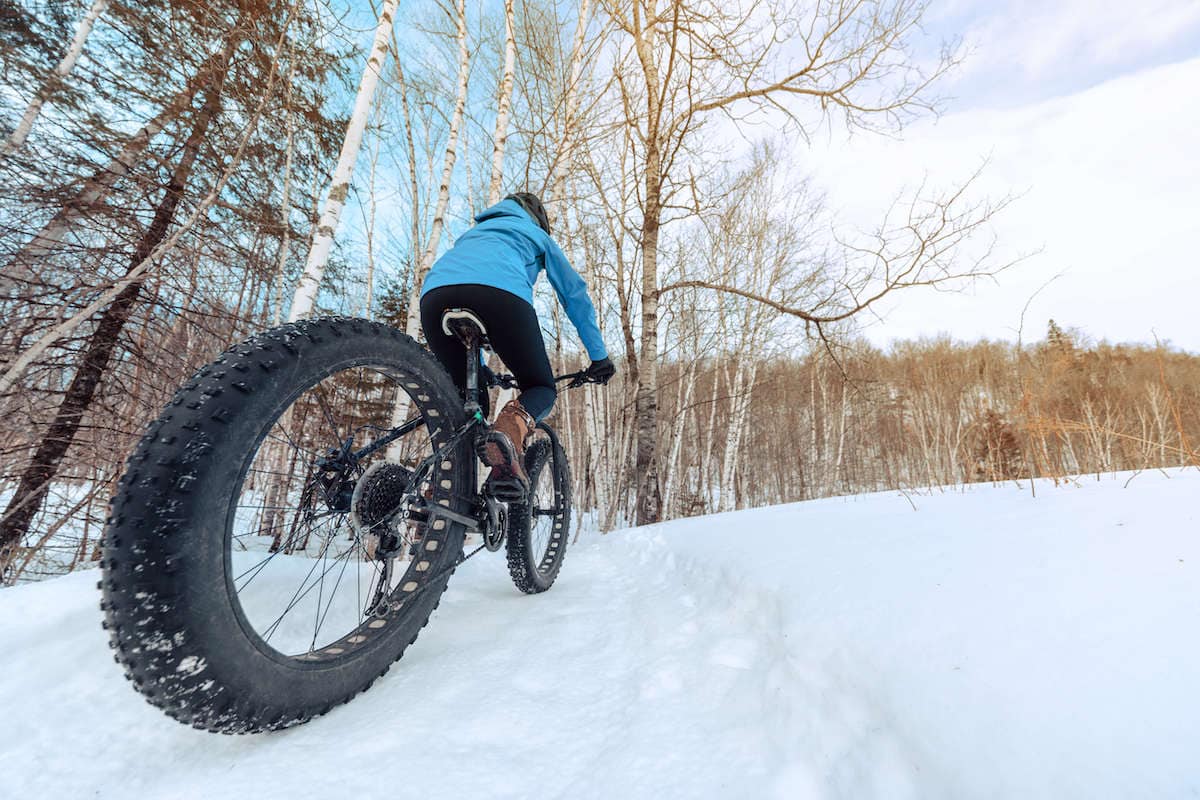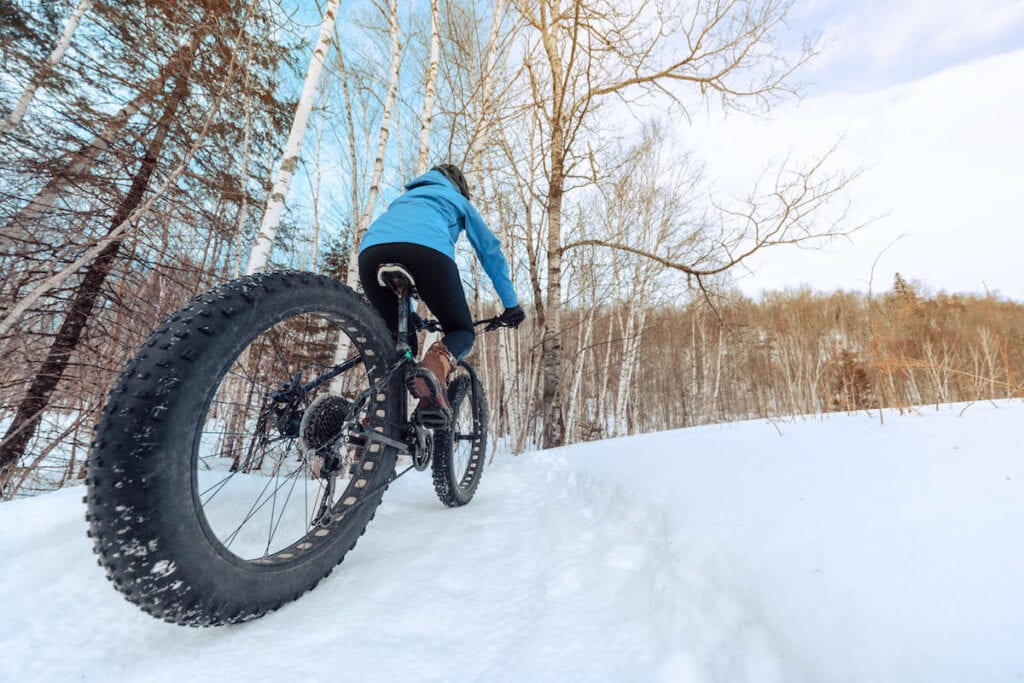 3) Snowshoe your way to hot springs
With more soakable hot springs than any other state, Idaho offers a unique way to keep warm during the winter. There are plenty of springs accessible right off the highway, but for a quieter, more solitary excursion, strap on a pair of snowshoes and hit the trail.
Just north of Lowman in the Boise National Forest, the all-natural Bonneville Hot Springs stays open through winter, even after snow has closed the road to the campground. Best reached with snowshoes, the springs are approximately one mile from the road — enough to deter the crowds that typically visit here in summer.
The four-mile round-trip snowshoe to Goldbug Hot Springs is a slightly more challenging trek. Located in the Salmon-Challis National Forest off Highway 93 (near mile marker 282), this creekside soak consists of a series of steamy, waterfall-fed pools with gorgeous views of Goldbug Ridge and Poison Peak in the distance.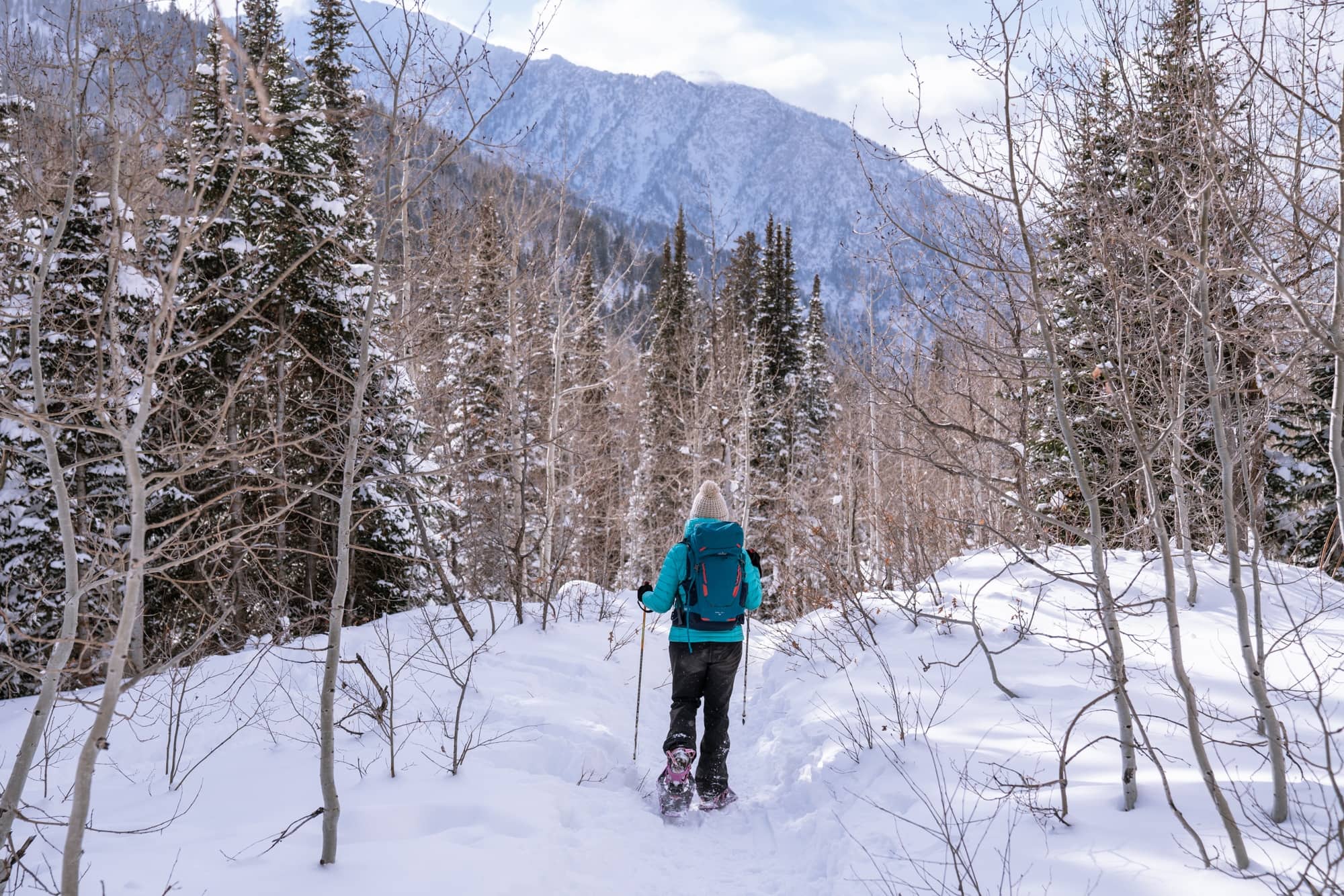 4) Go snowmobiling
If snowshoeing isn't your thing, try snowmobiling. It's a super fun way to explore the wonderland of Idaho winter. You can even pair a day of snomobiling with a visit to Burgdorf Hot Springs – the best of both worlds!
Brundage Mountain Resort offers full-day and half-day guided snowmobile tours that will show you the some of the best of Idaho's winter scenery. If you're already familiar with snowmobiling, you can also rent your own and head out into the snowy backcountry to do your own thing.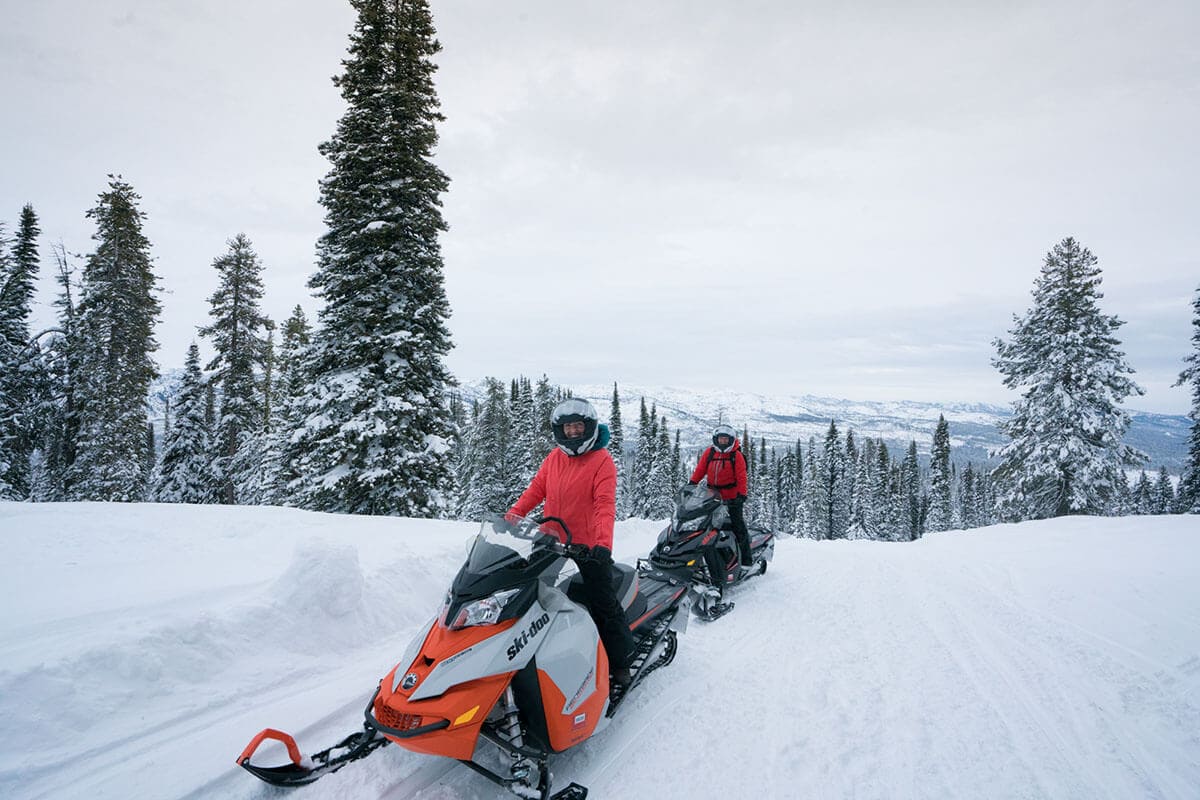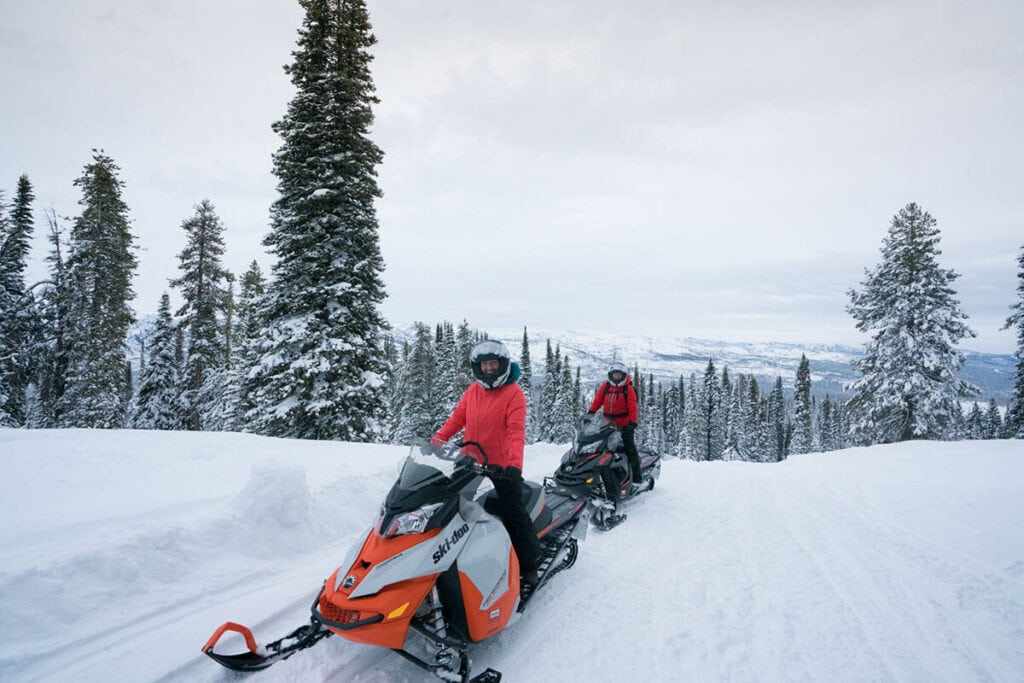 5) Ride a horse-drawn sleigh
Located about an hour away from Boise in Garden Valley, Idaho Sleigh Rides runs draft horse-pulled sleigh rides through the winter wonderland of Garden Valley. You can even add on a delicious slow-cooked Dutch Oven meal back at the lodge.
At the northern end of the state, Western Pleasure Guest Ranch can tailor sleigh rides to your liking: A two-person sleigh is available for the ultimate winter date or a 12-person sleigh can be reserved for a mobile winter party. After being whisked through the forest, where you'll have views of the Selkirk Mountains, you'll end up at the main lodge. There you can warm up by the fire with hot cocoa or a hot toddy in one hand and a bowl of freshly popped popcorn in the other.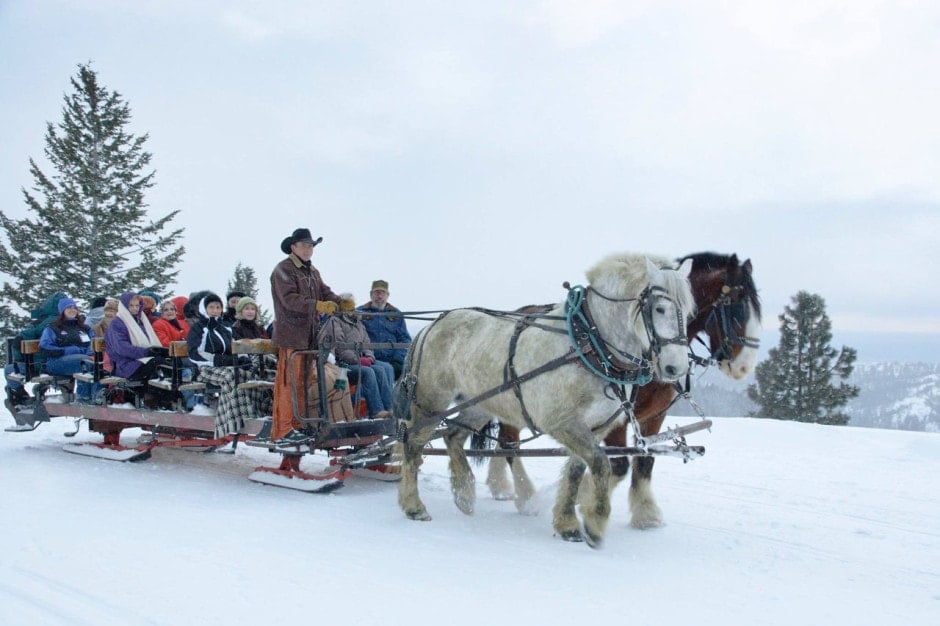 6) Take a break from the snow in a backcountry yurt
Located all over the state, public and privately owned yurts make for an awesome backcountry base camp. These shelters provide access to fresh powder and first turns for skiers and split boarders and miles of peaceful terrain for snowshoeing or the ultimate snowball fight.
Within Idaho's rugged Sawtooth range, Sun Valley Trekking operates six solar-powered wilderness yurts that can each accommodate 16-19 people — some even come with hot tubs. They'll also prepare your meals and transport your gear in by snowmobile.
For something slightly less posh but still clean and well-appointed, the Idaho Department of Parks and Recreation operates another six backcountry yurts near Idaho City. These are located just over an hour from downtown Boise, sleep up to six people per night for $115, and make for a quick getaway where you can spend the day playing in the snow, enjoy a home-cooked meal and some local Idaho wine, and kick back with a game of cards.
Pro tip: Reserve in advance, as they are quite popular!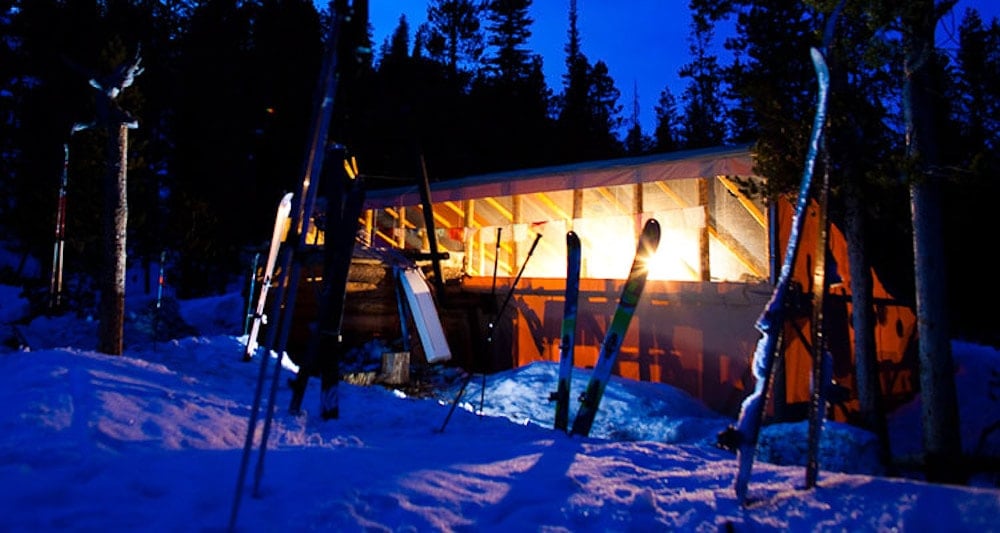 7) Go ice fishing on one of Idaho's many lakes
It is possible to land a big one year-round on Idaho's lakes; all you need in winter is a pole, lures, an auger, and some warm winter clothes (and maybe a thermos with some hot drinks). With four species found nowhere else on earth (including the Bear Lake whitefish), Bear Lake in southeast Idaho is a popular ice fishing spot, but you can set up shop on any lake where the ice is thick enough.
The Idaho Department of Fish and Game recommends an absolute minimum of four inches if you're solo and without an ATV or snow machine, or somewhere between 6 and 10 inches for a large group or those with heavy equipment.
Head to McCall or Sandpoint for lakes coupled with mountain town amenities. For more ideas about where to go, conditions, and regulations, visit the Idaho Department Fish and Game's website.
If you want to drop a line but have no gear or would rather head out with an expert, Southern Idaho Fishing Excursions offers a guided experience on Lake Cascade while Fins & Feathers Tackle Shop covers northern Idaho.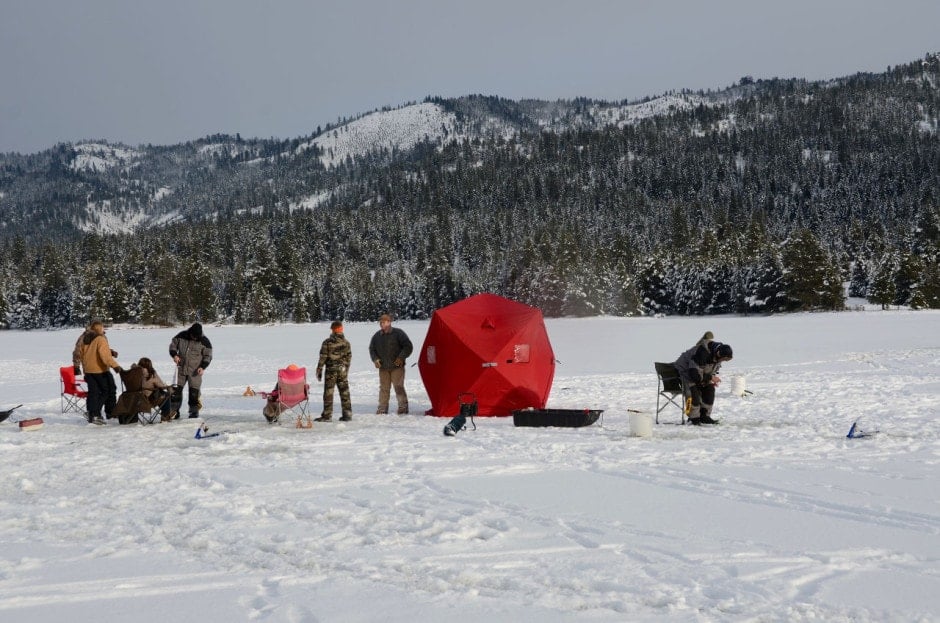 8) Get wild at the McCall Winter Carnival
Kicking off the last weekend in January since the '60s, this Idaho winter festival features some of the world's most elaborate larger-than-life ice sculptures. There's also a beer garden, a full-blown downtown Mardi Gras parade, snow tubing, gold panning, a Dutch oven cookoff, snow golfing, and one of the biggest fireworks displays in the state.
At night, many events are held in venues around town: there's live music, a winemakers dinner, and quirky events like the "most unusual beard" and "sexiest legs" (males only) competitions. It's a wild time!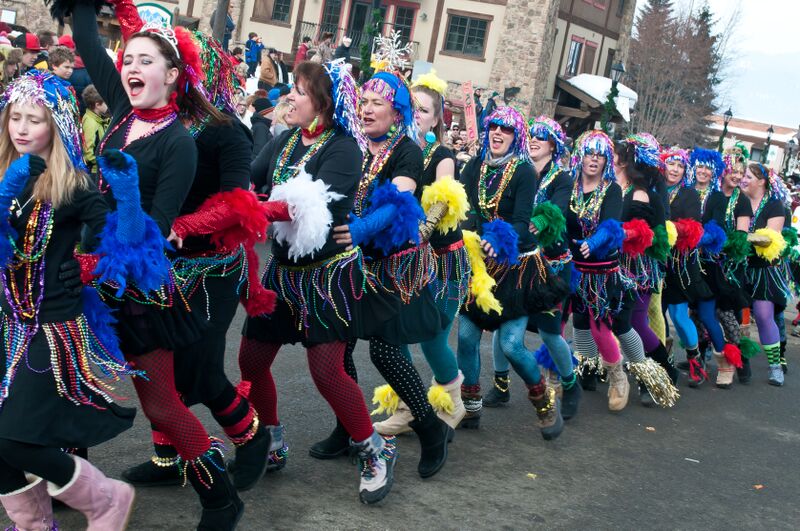 Be sure to check out all our Idaho blog posts for more fun things to do around the state.
---
What are your favorite Idaho winter activities? Have you experienced any of the activities or events above? Let us know in the comments below!